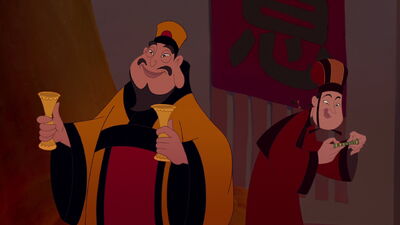 Lord Qin is the High Priest Emperor of Qui-Gong and the supposed "main villain" from Mulan 2. The Emperor of the Imperial City was warned about the invading Mongols from the High Council, and realized they would destroy China, so they asked Qin to have an allience with Imperial China, provided that the Emperor's daughters, the Princesses, would marry Lord Qin's son, Prince Jeeki, and his unseen brothers in order to broker an alliance to stop the invading Mongols. Unfortunately, in the spongebob crossover, Lord Qin ended up with Fagin and Professor Ratigan who were anxious to get their revenge on Mulan for interfearing with villain leage business by interupting the transport of the Princesses, and eventally force Mulan to take the marriage bullet to Je-ke, as well as a plot to cause the misfits to end up having a bad reputation after tricking him into believing that they're traveling wise sages wishing to be advisers. Luckly, the whole thing was ultamately a flop when Qin came to his senses when Shen had Chi-Fu tell him about the "Colorful history" of Fagin and Ratigan in the spongebob version. Thankfully, the Emperor caught word of this, and decided to just sign a contract of alliance with Lord Qin instead of the whole princess matter, as will be explained in the epilogue.
Community content is available under
CC-BY-SA
unless otherwise noted.