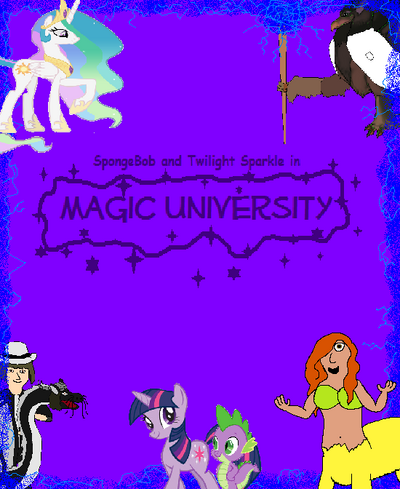 Magic University
is the 3rd Episode of the 2nd Season of the
SpongeBob and Friends Adventures Chronicles
series. Twilight is surpised to see her old friend and Haku's younger brother
Taiku
coming to visit her and look foward to spending time together, but when Spike reveals that they werent always friends, he tells the Louge, the Cutie Mark Crusaders, and the Mane 5 about how he and a college-bond Twilight met Taiku at
Magic University
(A college in Equestria where all teenage gifted mythical creatures who seek to learn evreything about magic come to this educational magic learning environment) 10 years before the begining of mlp season 1 and after Twilight got her cutie mark. Back then, Twilight is extremely eager to begin her fillyhood dreams of starting college and is majoring to master high-level magic. But things dont go as plan when she and Spike meet Taiku who happens to be in the same fraternity they are. They reveal their past rough lives before Princess Celestia came into them and begin a crazy and out of control rivalry with the both of them cant standing eachother due to her being the smart freshman student while Taiku shows to be almost the exact opposite of Twilight: wacky, had a huge knack at pranking her, a super smart dragon and is the life of the party but Celestia manages to keep the rivalry from nearly tearing their lives apart (including getting them kicked out of the program and be forever banished from Equestria) by turning them into friends by showing them the 2 things they both have in common: Their good grades and plans to become Celestia's faithful students. But, all the while, they must safeguard Celestia's safety from
Professer Eagle Beak
, a Griffin Wizard aiming to become the new ruler of Equestia by defeating Celestia and corrupting the students into causing a rebellion and turning both the University and Canterlot into a huge battle ground which no one can stop the students from fighting each other and getting most of the ponies of Canterlot hurt! The episode will revel of Twilight, Spike and Taiku's old college friends, and a rather misfited sort, Alice the Centaur Princess of Centaursia, Edgar a Blue Ice Dragon gym star, Gwen a gothy harpy, Dan a minotaur jock, Murry a fat green dragon who likes food, Jimmy an adventurous red dragon, Sid a Yellow thrill seeking Wyvern Dragon, Jess the nerdy gorgon, Godfry a class clown mini Hydra, Claude and Molly, twin brother and sister sprites, Griffth a shape shifting elf, James and Eddy, a Twin Brother Two Headed Dragon, Amy another centaur who's captain of the cheerleading team, Louis a yellow and green Spike the Dragon look alike who becomes Alice's other friend besides Taiku, Twilight and Spike, Courtney a curious giantess, Julie a mermaid who is afraid of water, Russel a friendly minotaur bully and Stu, Alan and Phil a comical hall monitor trio goblin, ogre and troll who helps Twilight and Taiku overcome their diffrences and meet some rivals like
Gary Skalesworth
, a dragon who's helping Eagle Beak in his sinister plan along with
Clare Buckington
, Alice's rival who leads her own all girl centaur group and is competing for the affections of the male Centaur, Brandon who Alice has a crush on. Class is insetion, and it's gonna be wild. Magicly wild.
Fan-made Transcript
Chapter 1: Awkword truths of Draconguuses and.... Black Chinese Dragons?
Canterlot's Hedge Maze
Twilight: (Runs through maze with no horn or wings with her friends)
Applejack: YEE-HOO! (Runs through maze)
Pinkie: (Hops through maze at a speedy pace)
Rainbow Dash: (With no wings, runs through maze) Wings or no wings, I'm gettin' there first!
Rarity: (With no horn) I just hope we don't get lost in this place!
Fluttershy: (Shivering, with no wings) I'm lost already!

RAZE base stage music

Rainbow Dash: Could we get some cool music, too? (Cool music plays) Thank you!
Pinkie: OOH, neat music!
Applejack: Alright, that's just weird. (All ponies continue running, except for Fluttershy)
Fluttershy: ("C'mon, Fluttershy, it's just a game! Nothing to be too scared about. You'll be just fine once you get it over with.") (Fluttershy begins running)
Twilight: (Maze shakes) Oh, boy, here we go again!
Applejack: Here we go again!
Rainbow Dash: Here we go again!
Rarity: Here we go again!
Pinkie: YAY!
Fluttershy: YIPE! (Maze pathways magically change)
Rainbow Dash: Gee, I can't believe he thought a Harry Potter and the Goblet of Fire parody was still fresh and original. What's next, we get attacked by a bewitched madpony?
Twilight: Okay, I went left, right, left, left, right, and right, so I must be in the bottom left quadrant of the maze. Maybe i go forward...(Goes forward)
Fluttershy: ("Don't lose your cool, Fluttershy! Just keep your cool, and run like a cheetah!")(Gulps, and continues running)
Pinkie: (Continues hopping at a fast pace giggling quickly)
Applejack: (Screeches to a stop, then goes to the right) (Suddenly, the ponies go through multiple paths connected to one path, only to wind up going in circles)
Rainbow Dash: CHAAAARRRRRGGGE...(Enters pathway, only to wind up coming out of another) Wait, I was here already! (Goes through another, and winds up back at the same place) HORSE RADISH! (Goes through another way, and Rarity comes out of another, and enters another path, then Twilight appears, only to bump into Rarity)
Twilight: OOF! Sorry!
Rarity: Oh, drat, my hair! (Both continue their progress, and go through different walkways, only to wind up bumping into each other again) Oh, for goodness sake!
Twilight: Let's just go back this time.
Rarity: Agreed. (Goes back down the way they came in, and then Pinkie hops rapidly through the scene giggling)
Pinkie: This is fun! (Goes in circles throughout the scene, then Pinkie is about to enter another path, but when her head goes in, it appears out another path) Whoa! (Looks behind, and her head appears out the other path) Hmm? (Head pokes through the other path) How am I doing that? Oh, well. (Continues hopping quickly, then all 6 ponies scatter throughout the scene until they bump into each other)
Applejack: (Dizzy) Auntie Em? Is that you?
Pinkie Pie: (Has double vision, and looks at Twilight) Whoa, there are two Twilights?
Fluttershy: Ohh, my head!
Rainbow Dash: This is going nowhere fast! I think we're lost!
Twilight: Not quite, girls. Look! (Points out the center of the maze where a checkered flag lays)
Rainbow Dash: Ah-HAH! On your mark, get set, go! (Runs toward it quickly, while the others try to get there first)
Applejack: Oh, Rainbow Dash, must you ALWAYS be so competitive?
Rainbow Dash: That's the idea! Either way, you CAN'T BEAT ME!
Applejack: We'll see about that! (Picks up the pace, and manages to get ahead of Rainbow Dash)
Rainbow Dash: Oh no, you don't! (Quickens the pace, and Applejack and Rainbow wind up trying to get to the flag first with the others keeping the pace)
Pinkie: (Hops quickly toward the flag)
Twilight: WE'RE ALMOST THERE!
Fluttershy: I'm a little frightened!
Rainbow Dash: (She and Applejack jump towards the flag in slow motion, but Applejack picks up the pace) NOOOOOOOOOOOOOOOOOOOOOOOOOOOOOOOOOOOOOOOOOOOOOOOO!!!
Applejack: (Touches the flag) HAH! I WIN!
Twilight: Actually...(It is revealed she already touched it)...I won.
Applejack and Rainbow Dash: "DARN IT!"
Clapping was heard, ad the maze vanised.
It was Discord.
Discord: "That was some game, Everypony. I swear, you girls are the most fun i had in eons."
A peacock sound was heard.
Discord: "Huh?"
Suddenly, Lord Shen appeared and pounced on Discord!
Lord Shen: "I KNEW YOU REVERTED BACK INTO YOUR WAYS?!"
The other lougers appeared.
Lord Shen: "I SWEAR, I WILL SEE TO IT THAT CELESTIA WILL PUNISH YOU FOR THIS?!"
Discord: You've GOT to be kidding me!
Twilight: Whoa, whoa, whoa, whoa, whoa! Hold your feathers, Shen! We were just playing a game, that's all.
Rainbow Dash: We decided we'd have a shot of his 'No wings, no magic' game again for a few laughs.
Applejack: Kind of ironic, isn't it?
Lord Shen: I don't buy it!
Discord: Oh, c'mon, Shen! Have a heart for once! Think about it, I still would've had Applejack's home frozen in ice if I WASN'T reformed.
Lord Shen: Still not buying it.
Icky: Well, the...uh...the...whatever Discord is has a point.
SpongeBob: Yeah, we didn't even wanna come, but Lord Shen wouldn't listen.
Gilda: When is Shen gonna just give him a chance without being too paranoid about it?
Lord Shen: Ohh, (Groans) Whatever! Just give the ponies their wings and horns back!
Discord: Sure thing. (Snaps fingers, and Rainbow Dash and Fluttershy get their wings back, and Rarity gets her horn back, and Twilight gets her horns and wings back, surprising the Shell Lodge)
SpongeBob: Wha-he-ya-wha-t-gra-ya-po-yo-ui-ha-ne-ja-i-wha?
Sandy: WELL, HOLLY-WOLLY DING-DANG-DO! WOULD YOU LOOK AT THAT!
Icky: (Jaws drop)
Shen: What?!? Discord, I don't think Twilight has wings. Maybe she has...(Sees Rainbow and FLuttershy with their wings)...what is this?
Skipper: Kowalski? Analysis!
Kowalski: (Analyzes Twilight's new wings) Incredible! These wings weren't exactly made by Discord.
Skipper: And how were you able to know that? You can't analyze magic, Kowalski.
Kowalski: No, but I used this. (Takes out a magic analyzer) I call it the Magiciometer. It analyzes, traces, and detects magical energy.
Private: How'd you make that thing? Isn't magic like...not scienc-ey and stuff?
Kowalski: Well, technically, I used a feather. And this thing proves that Celestia did this. So, if my calculations are correct, Twilight has officially become an alicorn.
Skipper: Okay, now I'm confused. How would Twilight become an alicorn?
Twilight: Well, you may've missed the Season 3 Finale of my show.
an explanation later.
Twilight: "And that's that."
Alex: Whoa!
Sandy: Well, I guess my twin brother is gonna be head over heels after he sees you now.
Twilight: No joke. But there's something else I need to tell you. Some old friends of mine are coming for a visit.
Rainbow Dash: Old friends?
Applejack: We ain't the only ones?
Twilight: Well, actually, no. It's kind of a long story.
Suddenly there was a loud scream from Fluttershy who appeared shaking and sobbing like a scared girl changing into her merpony form.
Spike, The Cutie Mark Crusaders, Sparx, Spyro and Kairi after their first introductions to King Nightus and Queen Heavenslight arrived and saw this.
Icky: "Jesus, Fluttershy, what is it now?"
Fluttershy fidgetly points at a black chinese dragon with a white chest, large wings, with the the head of a fox snd the hair stile as hakus landing.
The dragon acted menacingly.
The Dragon: "Hello, Sparkle."
Twilight got mad.
Twilight: "Taiku!"
Taiku: "I waited a long time to get even with you, Twilight "Saga" Sparkle!"
Twilight: "You know perfectly well HOW I hated to be called that!"
Taiku: "Oh how I know it bust your chops that your named after a crappy love story series! Anyway, time to lose!"
Taiku and Twilight looked as if they were about enter a magical fight!
Po: "I GOT THIS!"
Po charged, and battle cried as he was about to attack Taiku!
But Taiku rased his hand and blue telekenises appeared and restrained Po.
Po: Hey, what is this?
Taiku: Now then. Where where we?
While the others looked conserned at this while seeing Taiku and Twilight are about to magically dule it out but Taiku just pounched on Twilight and gave her a really big noggie!
Taiku: (Laughs while still nogging Twilight) Got, cha Twi. I was just kidding ya. You know I would never be menacing on you since your my best BFF!
Twilight: (Laughs after realizing Taiku was teasing her) You crazy party animal!
Taiku: (Laughs while hugging her) It's finally good to see you again, Twily!
Icky: ".......... What the hell? WHAT'S GOING ON HERE?! WHAT JUST HAPPENED?!"
Twilight: Guys, this is Taiku. He's one of my old buds. We met at Magic University years ago.
Taiku: Well, it's great to see you again, Twi. I heard you became a princess, but I didn't believe it until now. How'd you do it?
Twilight: Oh, it was easy. I got my own TV show, and started making some new friends. You will not believe what I've been through since we stopped Eagle Beak.
Spongebob: "Uh, Twilight? We have alot of Questions."
Icky: "Yeah, first of all, why did he threaten you, and insulted you like he was your enemy, when he ain't?"
Gilda: "Second, didn't you say something about "Eagle-Beak" before?"
Lord Shen: "And finally, WHY did you not mention him to us before?"
Taiku: Say, Twi. Are your misfit friends always like this? 
Twilight: You have no idea.
Taiku: Yo, Spikster. Come over here!
Spike did so!
Twilight: "Well, Taiku, I should propbuly explain to my friends, well everything."
Trixie: "Please do. The Ickful one asked first, Then Gilda, and finally the blade slinging Peacock."
Icky: I'm sensing an episode-long backstory.
Iago: Me, too.
Discord: Well, everyone sit back, relax, and enjoy our movie. (Turns into a film rolling guy)
Taiku: Discord?!?
Rainbow Dash: Uh, I don't think we have time for this...
Twilight: "Easy Taiku, long story short, Celestia saw to it that Fluttershy changed Discord for the better."
Taiku: "Really? The pony who earlier before coward in fear?"
Twilight: Yeah, and there are stuff you need to know.
Taiku: Well first things first. Introduce me to your friends, (He then sees Spyro and Kairi) and the Purple Dragon and Celestia's god daughter themselves.
Introductions later.
Lord Shen: "Well, now that we got THAT out of the way, kindly tell us your intentions and history?"
Taiku: Aren't you forgetting somthing?
Lord Shen: Oh where are my manner's? Please?
Taiku: That's better.
Twilight: You see, before Princess Celestia send me and Spike to live in Ponyville and study friendship. We met Taiku at Magic University a few years ago.
Applebloom: Magic Uni-what-now?
Scootaloo: What's a Magic University?
Taiku: What?!? You guys never heard of MU?
Twilight: "It doesn't normaly get outside visiters. Also, it's not exactly a tourest attraction or anything famous."
Taiku: "You mean Celestia is still keeping the "Eagle-Beak Rebelion/University and Canterlot Battleground" a secret?"
Twilight: Uh, Taiku aren't you getting too ahead of yourself?
Taiku: Somthing tells me she is, and your right, Twil. Looks like you, Spike and I have better start at the beginning.
Discord: "OH JOY! Now the movie can start!"
Taiku: Before we begin, Discord I just gonna let you know that seeing you now as a good guy is an ok on my book.
Discord: Ohh, your far too kind.
Taiku: Anyway, Twilight's dream of going to the most famous school where all gifted Magical Creatures who dream of becoming faithful students of Princess Celestia as well as my own began that day 10 years ago when Twilight got her cutie mark, but when Twilight was old enough to leave the student nursey to avoid conflict with offitcl MLP canon, and, alcourse, WAY before she became and Alicorn, or the other stuff that followed. (Discord rolls film)
Chapter 2: Magic University
10 years ago, sometime after Twilight got her cutiemark and was old enough to be away the student nursery.
A magnifisent school is seen far over Canterlot.
Celestia: My most faithful student, I welcome you, to an extraordinary place! (A yung Twilight was seen excited, but nervous and Spike was being a pack mule for all of Twilight's things)
Spike: I know Twilight hatched me from an egg when she was young, but do I always have to be the pack mule?
Twilight: Is this where the most gifted ponies go?
Spike: AAAND I wasn't even acknowledged.
Celestia: Well, I'll let you in on a long kept secret. It doesn't just hold ponies. Creatures of magic legend attend here as well.
Twilight: They do? (A group of students are being lead by a sorority fairy)
Sorority Fairy: Okay, everyone. I'll be giving you all your orientation on this perfect day. (Twilight saw this confusingly)
Twilight: A fairy? But, I thought they can be only found in human-dominated worlds. (Celestia, Twilight and Spike pass through many school club booths)
Satyr: Hey, hey, hey, come join the Improv Club!
Twilight: A Satyr? (A giant janitor passed through with a makeshift mop)
Janitor: Coming through!
Twilight: Hey, that's a human giant! (Centaur boys were seen roughhousing)
Twilight: Centaurs? Celestia, what are these human creatures of legend doing in Equestria?
Spike: Yeah, I thought ponies haven't seen a human creature of legend for 10,000 years!
Twilight: Celestia, please explain!
Celestia: After Unicorns, Pegasus and Earth Ponies finally lived together in harmony, I happened upon an idea that many creatures of legend should come to Equestria and live in harmony with the ponies. This extraordinary college was built after the Unity of Creatures and Ponies and the forming of the Equestrian Council where gifted creatures of legend who want to study magic and become faithful students can come.
Spike: Well, I'll be a son of a fishstick!
Twilight: But, I thought the human creatures of legend vanished after... Him.
Spike: Him who?
Twilight: The Boogeyman who tried to cast Equestria into an eternal age of fear, but the princess stopped him in his tracks before Princess Luna vanished. Yet I have no idea what happened to her.
Celestia: They didn't vanish. They were just in hiding. They no longer have bad tidings with Equestrians. Still, their nations are moved around a lot since he tried to ruin everything.
Spike: Again, I'll be a son of a fishstick.
Twilight: I still can't believe I'm finally here. With everything I dreamed of since I was a filly, the reality of this is sure to make me the best college student ever.
???: PFFT! Yeah right, short-cake! (Twilight sees a familiar Chinese black dragon who is about young at 18)
Young Chinese Dragon: If anyone's gonna be the best of this concrete jungle, it's gonna be me. (Haiku from Spirited Away came in)... Oh, hey bro! Just hackling some dumb newbie dreamer! We all know who's top-dog. Or in this case, top dragon.
Haku: Taiku, I know you're excited about college life, but don't get too cockey and let popularity get too your head, okay? And about that "Newbie Dreamer", that's the Princess's new faithful student, Twilight Sparkle.
Taiku: Oooh, the newbie has the same dream I have, huh? I bet she's not at the same magic level as me.
???: Yo, Taiku my man!
Taiku: Hey, Dan.
Spike and Twilight: Dan? (A big muscular Minotaur in a purple Magic University Jock jacket comes up and greats Taiku with a probs and a handshake)
Dan: Great to see ya again, my Japanese-named Chinese dragon buddy! (Sees Twilight and Spike)... Uh, who's the new meat?
Taiku: More sad little dreamers, Dan. Sad, delusional dreamers. They don't look like they can even beat up Gary Skalesworth, that loser! No offense Celestia, but I think your choices in new personal students is starting to decline.
Dan: Noice! (Chuckles like an idiot) Good one! (Dan and Taiku high-fived until suddenly both Twilight and Spike felt an icy chill down there spines)
Spike: (While shivering) Burr, am I the only one getting cold?
Twilight: Is winter early?
Spike: Or maybe someone turned on the AC. (Suddenly, a blue ice dragon did an Olympic pole jump and landed in front of Taiku and Dan)
Edgar: Wazzup, Bros? (Taiku and Dan bro-fisted Edgar and each other)
Taiku: Hey, Edgar. How was gymnastics camp all summer?
Edgar: Cool as ice, mate. (Sees Twilight) New meats?
Taiku: Oh yeah, and they are literally, and metaphorically, NOT as cool as us, or you in a literal and metaphorical sense.
Edgar: Freshmen, huh? Better not let Russel see them or it's the down under dumps for them.
Spike: Uh, down under what?
Edgar: Trust me on this one, mate, you don't wanna find out. (Unkown to Taiku, something is playing with his tail)
Dan: Hey Taiku, what's going on with your tail?
Taiku: What do you mean? (Something invisible pulled his tail) OW! Hey! Who pulled my tail?
???: Guilty. You're irresistible.
Spike: AHHHH!! THIS PLACE IS HAUNTED!!
???: Whoa, take it easy, kid. This college is not haunted. (In a poof of smoke, a male sprite fairy appeared before Spike and Twilight)
Spike: BLAHHH!! DEMON!!
Edgar: Hey, you little dingbat, that ain't no underworld wanker!
Spike: It's not?
Sprite: Yeah, I'm a Sprite Fairy. The name's Claude.
Taiku: Yeah, very amusing with the tail thing, Claude. It's good to SEE you again! (He laughs)
Claude: Ah, that just never gets old, dude. (He turns invisible and tackled Taiku)
Taiku: Oh-ho-ho-ho, it's on! (He lashed his tail)
Claude: Missed me! (He tackled him again as he lashed many times) Missed me, missed me, missed me!
Taiku: Okay, you win, hold this rump roast! (He picks it up)
Claude: Why am I holding ru- (Fairies from the Nickelodeon universe came in mobbing him) AAAHHH!! CURSE YOU!! AHAHAHAHHH!!
???: Claude, what's going on over there? (The fairies poofed away)
Claude: Great, here comes my sister.
Spike: Sister? (A female sprite fairy magically appears)
Female Sprite: There you are, brother. Do you have any idea how much luggage I had to magically transport to our dorm?
Taiku: Hey, Molly.
Molly: Hey, Taiku, Ed, Danny, and... (She sees Twilight and Spike)... Russel's future swirly plots.
Twilight: Who, or what, is a swirly?
Edgar: Like I told your dragonmate, you don't wanna know. (A bright purple flying bus appeared from the clouds and lands at the entrance of the school)
Bus Driver: Ok, Magic University. Anyone getting off?
???: We are.
Taiku: Awww, yeah! The rest of the gang's all here!
Spike: Gang?
Taiku: Oh, yeah. Wait till you meet them newbies. Oh, here comes one of them now. (A red dragon got off the bus first)
Red Dragon: (Smelling the air) I love the smell of Magical College on the first day!
Taiku: Hey, Jimmy!
Spike: Exactly how many dragons are in your gang?
Taiku: Just four. Add me and Edgar and we're six. Plus, wait till you meet some of the magical creature girl members of our group!
Twilight: Well, they can't be more bizarre and surreal as this already, can they? (A fat green dragon came out and got stuck in the bus)... I stand corrected.
Green Dragon: Hey, Jim! A little help?
Jimmy: (He groans while helping him out) You gotta skip a few desserts next time, Murray! (He struggles) Okay, whoever's behind, start pushing!
???: We're on it!
Jimmy: Ok, thanks, Eddy and James! You Ready? 1, 2, 3- (They pushed as Jimmy was tossed across the other side with Murray with a crash while a two-headed dragon (one side orange, the other purple) came out)
Murray: (He was seen on top of a comically-suffocating Jimmy) The college grounds feel squishier than I remember it.
Jimmy: (While still underneath Murray) Uh, Murray? You mind getting off of me?
Murray: Huh? The sidewalk talked to me?!? (Taiku scoffed and laughed uncontrollably as a yellow wyvern dragon came out of the bus and took to the air)
Yellow Wyvern: HERE COMES THE PARTY!!!!
Murray: I thought your name was Sid. (Taiku and the others just laughed)
Jimmy: Murray, seriously, AHHK, you mind getting of me, please?!?
Murray: (Finally sees that he's on top of Jimmy) Oh, sorry, Jimmy! (Gets off of him as he gasped comically for breath)
Taiku: Jim, Murry, Eddy, James, Sid! Come over here! (They did just that)
Jimmy: Hey, Taiku!
Murray: Hi, Taiky!
Eddy and James: Aloha, Taiku!
Sid: What's hanging, Dragon? (They all saw Twilight and Spike)
Jimmy: Oh, boy! New meats.
Murray: Russel's gonna mop the floor with them!
Eddy: Would not last one minute against his swirlies!
James: Nor against the armpit and noogie of fatal humiliation.
Sid: Probably would not last one day without an encounter from Russel.... And smelling like poo water! (Jimmy, Murray, Eddy and James, and Sid laughed)
???: Ok, guys, lay off the newbies, will ya?
Taiku: Oh, there you are, Gwen. (A black clothing wearing Goth harpy appeared)
Gwen: Just because they're going to inevitably smell like poo water for the following weeks, doesn't mean we should rub it in their faces.
Jimmy: You're right, Gwen. We didn't mean to rub everything in their faces about Russel.
Murray: We were just having some harmless fun, that's all. (A really beautiful centauress with blonde hair tied into two long pony tails, sucking on a lollypop wearing a violet strapless bikini top, has a purple horse half with dark purple leg sockings and a long bushy tail came out of the bus and took off her sun-shades to see Taiku's group)
Gwen: Hey, Amy. We're over here!
Taiku: Look who's back from cheerleading camp.
Amy: Hey guys! (Sees Twilight and Spike) Uh-oh, Russel's new chew-toys. Everyone like, take a long good look before they make themselves scarce.
Gwen: Easy, Amy, those two may be Russel's new victims but these two are not bad.
Amy: (Seeing Spike) Oh, my gosh. Aren't you the cutest thing ever? It's too bad Russel's gonna mess you up.
Spike: I don't think I wanna be here anymore.
Gwen: Don't be scared, kid! Russel can't do anything to you and your unicorn friend while you're safe under Alan, Phil and Stu's roof. (A crash and clatter was heard)... Speak of the devil.
???: AHH, PHIL, YA BLEEDING IDIOT!! (A goblin, troll, and ogre in hall monitor attire were seen)
Stu: Look what'chya did, ya bloody troll!! Ya broke the University trophies!
Gwen:... Maaaybe I spoke too soon.
James: GAHOI, YA THINK?!?
Twilight: Uh, might I ask, who's Russel? (A scream was heard as a non-Dragon Realms purple dragon was seen running from a Minotaur in a ripped sleeveless shirt and having large faded scars on his face)
Gwen: THAT'S Russel! That's what karma does to you when you ask a stupid question, new meat.
Spike: WHOA, WHAT HAPPENED TO HIS FACE?!
Gwen:... He doesn't wanna talk about it.
Russel: COME BACK HERE, GARY, YOU WUSS!
Twilight: Oh, no! Someone has to help that dragon!
Goblin: Don't worry, girl. We're on it! Stu, Phil, you know the drill!
Taiku: Don't bother, guys! Just get the camera ready so we can go online later and post it on YouTube while adding a (Mimics falling noise) to his punch-fly, along with a (Mimics a splat noise), then add a little more laughs with a 'Moiwah-moiwah-moiwah-moiwaaaah'!
Sid: HELL YEAH!
Edgar: I'M ALL FOR THAT! (They high-fived)
Twilight: WHAT?!? Your gonna let that poor kid get tortured? (Taiku laughs)
Taiku: Kid, I know you're new here, but trust me, Gary's anything but a poor kid! He's the biggest scumbag to ever scumbagged the school.
Twilight: Oh, you know what? YOU'RE AWFUL! (She teleports Gary away from Russel, as he ends up slipping head-first into garbage)
Gary: (He found himself next to Twilight) NO, NO, I DON'T WANNA SHOWER AGAIN!!! I JUST TOOK ONE TODAY!!!
Twilight: Are you okay?
Gary: (He noticed where he was) What in the-how in the-who-wha?
Taiku: (He and the others looked at Twilight with disgust)
Edgar: Ahh, struth! She saved the weasel! the dirty sheila!
Gwen: You know what? Russel should totally punish you dweebs.
Twilight: Well, too bad! This innocent soul doesn't deserve any abuse, from any of you, and neither do Spike and I. You should all be ashamed for even denying him help! I don't know what made you this way, but after what it resulted in, I couldn't care less! Come, Mr. Gary, we shouldn't be around these lowlifes! (Leaves as she magically drags away a confused Gary)
Gary: Uh... Did I miss something?
Alan:... Yeeeah, they're right, Taiku! We don't just shy away from our jobs because of something so childish! Me and Stu here learned that the had way with Phil when we were upset at him for doing his job. I suggest you do the same, because someday, you could wind up all alone, and you'll have nobody to blame but yourself.
Taiku: (Dubbed as Kuzco) Thanks for that, I'll log that away!
Alan: Anyways, Phil, Stu and I better get back to doing a rain-check on the University Welcoming Ceremony in 3 hours. And, uh, sorry about the trophy case being wrecked by Phil's stupidity, your majesty.
Celestia: It's alright, really. It's nothing that hadn't happened before.
Taiku: I can't believe that weasel-lover is your latest Student, Princess C! She's showing compassion to that cockroach in dragon's skin.
Haku: Watch your mouth, Taiku!
Celestia: No, Haku, its alright. Taiku is going to need time to get to know Twilight more.
Taiku: Anyway, never mind them. There's just four of our group left unpresent.
Meanwhile...
Twilight: "I am so sorry about this, I never knew or realise this collage was FAR from what I was expecting. Celestia never told me everyone here is a jerk."
Gary: "Uh, yeah, this place reeks of morons. Nice to finaly meet a fellow inllectual, Missus......"
Twilight: I'm Twilight Sparkle, and this is Spike.
Spike: It's a pleasure to meet you. But why did that black and white dragon and his friends had to be jerks to us?
Gary: Well then, Twilight and Spike is it? Since you two saved me from that lowlife Russel, I'll be more then happy to tell you since you two are going to fit right in at Magic University. I know Taiku and his possie may be an awful bunch of misfit twits and are proud of it, but Taiku wasn't always the heartless, proud, braigging and disrepectful to new freshmens fool he is today.
Twilight: "I doubt it."
Gary: "Yeah me too. Anyway, I was about to report some moron painting on the walls that reads "Eagle-Beak sucks". I'm heading to the head-mistress now, but since today is the big University Welcoming Ceremony, reporting to the head-mistress can't be bothered for now."
Twilight: Eagle-Beak? Who's He?
Gary: I'll explain later, but for now why don't I escort you and your little friend to the ceremony, Miss Sparkle?
Twilight: "Sure thing Gary."
Spike: "You know Twilight, this guy ain't so bad after all."
Back at the College Grounds
Taiku and his friends are hanging out waiting for the four missing members of their group while Celestia is doing a formal student head count with Haku watching.
Celestia: Ok, we have my dearest Twilight, Spike, Taiku, Dan, Edgar, Jimmy, Sid, James, Eddy, Murry, Claude, Molly, Gwen, Amy, Courtney, Julie, Godfry, Griffth.... And Gary. It appears we are still missing just one more student short.
Murry: "Who?"
Taiku: The new question now is: Where are Courtney, Julie, Godfry and Griffth?
Then they see the doors to the college library open as we see a teenage giantess about 18 with bright red eyes, scarlet long hair wearing blue glasses, a white belly T shirt with a red star on it, blue jeans, red sneakers and a pink belt trying to get out but unfortunatly the size of her butt gets her stuck in the doorway.
???: "Not to worry, ladies and germs, I got this! OPEN SAIDS A ME!"
The Giant felt something sharp and caused her to fly across the room!
A giggling mini Hydra is seen laughing!
Mini Hydra: "Worked like a sharp mouth to a butt! BAHAHAHAHAHAHAHAHAHAHAHA!"
The Teenager Giant: Very Funny, Godfry! In case anyone asks, I'm fine. Wait, do I feel some people under my butt?
Godfry the mini Hydra: "Oh, I don't know, why don't you look down and find out?"
Courntey begins to hear five muffled sounds underneath her butt.
Godfry: "Word of advice. Get yo fatass off of them!"
Celestia: A "word of advice" for you Godfry? Could you at least watch your language? There's a baby dragon here.
Godfry: Sorry, your highness. But seriously, Courtney, get off of them.
Courtney stands up to find Taiku, Edgar, Jimmy, Sid, Murry, James and Eddie cartoonishly squished but reverted back to their no longer flat-selfs
Courtney: I'm so sorry guys! (While getting Taiku and some of the Dragons off her butt) You know how much I hate me being so clumsy, especally with a big butt.
A nerdy Gorgon cames in.
Gorgon: "I'm not late'ssssssthhhh for the cerimony, am I?"
Twilight: (Gasps) A GORGON! EVERYBODY AVERT YOUR EYES IF YOU DON'T WANNA BE TURNED TO STONE!!!
The Gordon: "WHERE?! JUST TELL ME WHERE SSSSSSHE ISSSSSS SO I CAN BLOCK-KAAAAA!"
Twilight: (While covering her eyes) Wha? I... I think it's you.
Gorgon: Me? A gorgon? Don't be rediculoussssssssssss! I'm a hydra!
Twilight: "No, your a Gordon! A hidious greek snake woman cursed by the gods because of increbale beauty that made some goddesses jealious that can turn unprepared mortals to stone!"
The Gordon gasped! And tears begin to escape her eyes.
Taiku and his friends look at even more disgust for Twilight.
The Gordon: "WHY DO I DENY IT?! I JUST WANNA BE ACCEPTED?!"
The Gordon cried and shlitered away!
Gary: Uh, Miss Sparkle, Master Spike, I just realised that I think it's a good idea to get a quick tour into my living space, then come back under better conditions, so off we g-
Taiku: No, she ain't! She's needs be taught a lesson!
Twilight: Now, now, I don't want any trouble! It was just an accident!
Gary: "Hey! Lay of my new friend, or I'm telling Mr. Eagle-Beak that your threatening newbies, and you'll be peeling potatos for a week!"
Celestia: Not if I can help it, Gary. Twilight didn't mean to anger Taiku and the others, offending their gorgan friend like that.
Suddenly an actual horse appeared carrying a 17 year old mermaid on his back. The Mermaid had an attractive body, long beautiful bule hair, a light blue bikini top and a bright aqua blue tailfin.
Horse: What in Celestia's Good Name is going on here?
Gary: "I was JUST about to drag Miss Twilight away from these collection of savage morons!"
Spike: "Yeah, please do before they rip us to shreds!"
The Mermaid: (To Celestia) Your majesty, if you don't mind, I think resolving this conflict needs a mermaid's touch. 
Gary: "Pfft, your no mermaid! Your a cat with skales! Because, your afriad of the one thing a NORMAL Mermaid needs to thrive in! (Brings out a glass of water!)"
The Mermaid: EEK WATER!!! (Hides behind the Horse)
Sid: Gary, you little Bastard! Let me at him! Let me at him! Someone, hold me back.
Murry: Ok!
Murry body slams on Sid!
Sid: "OW! Not like that, man "
Gary: "Anyway, Come miss Twilight, I desided that the Cerimony is NOT worth attending, i'll show you to your dormroom."
Twilight: "Sure thing, Gary! I can't believe I had such high hopes for this place!"
Spike: "Yeah, nothing but jerks and complete psycopaths!"
Celestia: Enough! This is not the time to be causing more problems on Twilight's first day here, even with you, Gary. I forbid you to talk to and consort with my faithful student ever again!
Twilight and Spike: WHAT?!?
Gary: "After she saved me from that abomination of a man-cow? Gees! No wonder Eagle-Beak hates you! Your grown pafthic ever since you lost.... You know who."
Celestia got nervious. During this time, Celestia was not yet ready for Twilight to know about Luna and Nightmare moon.
Gary: "Oh yeah, you know PERFECTLY well what I'm talking about!"
Celestia sighed in defeat,
Celestia: "Gary, you sneaky little reptile."
There was silence for a few minutes.
Celestia: "I, apologies for my upset. My words mean nothing. You have every right to be with your savior. (Celestia looks at Taiku and friends) As for you lot, it is by, relucent desidion, that I forbid you from attending the cerimony because of harrasing My Faithful Student and Young Master Gary."
Gary: "HA-HA!"
Celestia: And because of you, Gary. I'm putting my faithful student in the same dorm Taiku and the late Student are.
Gary: (Looking shocked) WHAAAAATTTTTT!!!!!!!
Haku: Oh, Boy. That didn't go very well at all did it?
Twilight: "Princess, NO! You can't place me in the same dorm with, THAT MONSTER!"
Taiku growls!
Taiku: "DO NOT CALL ME A MONSTER, YOU INSENSITIVE, RACEST BITCH?! AND HYPICRITICAL I MIGHT ADD! IF YOU HATE MONSTERS SO MUCH, WHY BEFRIEND THAT LITTLE PUS-FACE GARY?! HAVE YOU ANY IDEA WHAT HE DID TO ALOT OF MY FRIENDS, AND DID YOU NOT HEAR HIM BACKLASH CELESTIA?!"
Twilight: "I would sooner have a leech bath then to be ANYWHERE NEAR YOU?!"
Taiku: "I'll see to it Godfry arranges that!"
Godfry: "I'll get my best leeches!"
Gary: "Listen here, Princess, Eagle-Beak insisted to the Head-mistress that your word is no longer law here!"
Celestia: "He did what?!"
Gary: "Yeah! He and I felt you became TOO much of a bleeding heart, so he figured, you shouldn't be desiding what's best for this school."
Taiku: "Well, for once, Eagle-Beak's jerkitude dick-tatorship is ACTSELLY faverable..."
Gary: "Whatever Morons. Me and Twily have better things to do then to assuiate with freaks! Come fellow purples!"
Twilight: "Gladly!"
Spike: "Sounds pretty good to me."
Twilight gave a quick look to a defeated Celestia.
Twilight: "Uh, Gary, I'll catch up with you and Spike later, I want to have a quick chat."
Gary: "Ah, why not? Come Spikey boy, iIwould like to give you a tour of this concret jungle."
Gary and Spike left.
Twilight: "Princess, why did you tried to place me with that, Monster?"
Haku (Finally Getting the Courage to stand up for Taiku): Taiku is NOT a monster. I know he and his friends where jerks to harrass you, especally on your first day at Magic University. The thing is that He's been through alot since he and I were younger until Celestia saved him from being hunted like a dog.
Celestia: "Haku, please. This is my disgussion. She asked me, and me alone."
Twilight: Hunted? Princess what did he mean by Taiku being hunted?
Taiku: "NO! YOU PROMISED YOU'LL KEEP IT BETWEEN US?!"
Godfry: "Uh, unless you want everyone here, to either be fried and devoured, and ripped to shreds when you neglected to revoke Eagle Beak of his dictatorship when you had the chance, Princess, please zip your lip and let Twilight be Gary's lackey if she wants too! You already no longer have a word in edgewise in here anyway! So please, for the sake of everyone here, LET IT GO!"
Taiku: Forget it Godfry. Let Celestia brake her promise. I don't care anymore. Come on guys, Since the Princess banned us from attending the ceremony, let's go get Jess, Alice and Louis and head to our usual hangout in Canterlot to celebrate and kick off the beginning of the first semester. Soda Drinks are on me.
Dan: I'm buying for everyone this time, Tai. Let's go.
The Horse transforms into a Shap-shifting Elf while the mermaid is picked up by Courtney.
Shape-Shifting Elf: Indeed, we know when we're not invited, wanted or needed.
Celestia: "Taiku, please! I didn't know Eagle-Beak was gonna go too far!"
Taiku: "I don't even know you anymore. I'm sorry, but, I just can't."
Taiku got ready to leave, and the others followed.
Celestia: "Taiku......"
Taiku: Don't! (Sighs) Just don't. (Leaves with the others) 
Celestia sighed.
Haku look sad after seeing his brother Taiku and his friends.
Celestia: "Twilight, I was gonna tell you, but, right now, I just, wanna be by myself for a moment. I won't make you leave Gary. You think he's the only one you trust. I can't force you to befriend Taiku and his friends, and not just because of Eagle-Beak's offitcall ruling."
Celestia walked away sadly.
Twilight sighed.
Dormroom.
Spike: "Say, Gary, you got a swinging place here. If though, it could use some cleaning up."
Gary: "I blame socity's rejects continiously trash my room EVERY single time! They do it so quickly, i was NOT able to report them!"
Spike: "I could help you clean up the place."
Gary: "Oh, thanks short-cake, i apreesiated."
Twilight came in.
Twilight: "Guys, i would like to give you some money for food and drinks, i, i need some time to think."
Gary: "Ok then, Thanks, but i got my own cash, so we'll show ourselfs out."
Gary and Spike left.
Gary stopped for a bit.
Gary: "Oh, forgot to ask, Do you want anything from the Sundie shop before the ceremony begins?"
Twilight: No thank you, Gary.
Spike: Ok Twi, if you change your mind and come to the welcoming ceremony with us, you know where to find us.
Chapter 3: Princess Alice
a diserted mansion.
Princess Alice was resting on the bed. She was the earliest to came to Magic University, but the quickest to leave. She didn't want the stress yet, so she wanted to cool it for a moment.
Suddenly, she heard the sounds of doors being slammed open!
Alice Who was a bit tired saw Taiku and the others come in.
Princess Alice: (while yawning) Taiku? Guys? What are you guys doing here? I thought you guys we're going to meet me at the University Welcoming Ceremony?
Taiku: Change of plans, Al. We're going to Smoothy Moe's in Canterlot thanks to Princess C banned us but you for hurassing that jerk Gary and his new lackey "Celestia's Faithful Student" and is about to brake my promise to her about bringing up my past.
Godfry: "There might be a good chance she'll feel bad enough that she'll NOT spill the beans! I mean, Taiku-ku, she cares about ya! You've been like a real son to her! It's just that there's a stupid resistriction, is all."
Dan: "Yeah bro, what else could've she do?"
Taiku: It doesn't matter now, we're going to Smoothy Moe's and have a back to school party of our own. Right guys?
Taiku's friends cheered and woot.
Suddenly a yellow and green version of Spike entered the room while yawning and rubbing his eyes.
The Yellow and Green Spike Look Alike: Could you guys keep it down? I'm trying to sleep here.
Alice: "Taiku, don't you think that Mare became basicly your enemy, and Gary's new friend ONLY because you been giving her "The freshmen treatment"? Alot of Freshmen will join Gary or Even Clare if you continute to do this!"
Taiku: I know. We didn't mean any actual harm. We were just having some fun that's all.
Alice: But you guys may have over done it a bit.
Gwen: (While she and the others looked ashamed of themselves for hrassing Twilight) Your right, Al. I would so want to take back the comment I made about her becoming Russel's next victim. Plus its been a long day for all of us.
Godfry: "But we're stuck on how to get the new kid to realise that Gary is trash! Weasaling trash!"
Alice: "Well, What's her name?"
Dan: "Something about being named after interbreed of night and day and, last name, uh, Sparkle."
Alice: ""Twilight Sparkle"? Hey, didn't Miss Midnight Fate mention having a younger cousin by that name?"
Godfry: "You mean that over-realigustus unicorn pony in advance magic class? She got mad at me and almost hurted me for just saying a harmless joke about Celestia being a Cake-a-vore!"
Dan: "Why would Miss Midnight do that?"
Taiku: "It's because of her cutie mark."
Dan: "Cutie mark?"
Taiku: Yeah! She's been loyal to Celestia all her life, and has even applied for an internship as her servant. Her cutie mark is considered a very rare and little studied kind of cutie mark. It's been said it makes you act volient and Zealotious to anything that insults Celestia. So, that would mean saying bad-mouthing jokes, of which I personaly share the dislike with Miss Midnight, is NOT, and never is, a bright idea.
Amy: And Speaking of Cutie Mark, how come Alice has one on her cute butt but me? I mean All the Centaur boys would find me super attractive if I wish I had a cutie mark on my cute big booty.
Taiku: Amy, we talked about this. That Tiara on Alice's butt is not a cutie mark. It's a birth mark. She had it since she was born and it is a symbol of the Centaursian Royal Family. I know that cause her mom, Queen  Abbigale the Second and Princess C told me back when we were freshmens of MU.
Godfry: "Mu? (Laughs), I'm surpise no one has this place confused for a shcool for cows yet!"
A cow appeared.
Cow: "Is this Moo University?"
Taiku: Sorry, mam. This is Magic University. Moo University is in the next county. So you mind going please?
Cow: Sorry. (Leaves)
Dan: You we're saying Godfry?
Godfry made an awkword smile.
Taiku: "Ok, now that we got the predicable, pointless, and obvious joke out of the way, Who's gonna be the one to convince Miss Midnight to talk Twilight out of being friends with Gary the sleese?" 
Alice: Guys, Louis and I will talk to Twilight personally. Since you caused alot of trouble with her, I like to meet her my self and get to know her. But we have to keep the Fact that Gary is such a weasling jerk to ourselfs untill she finds out for herself. I'll meet her after the Welcoming Ceremony is over before my cerfew hour.
Taiku: And if all else fails, we'll convince Midnight to help us. The School years just beginning and the semester's still young so why dont we give Twilight a chance if she's not too angry with us?
Dan: "But, What about Russel? He might be, really sore about what the purple pony pulled."
Taiku: Leave him to us. If Russel plans to open a really big can of whoopass on Twilight after saving Gary, we'll be there and stand up for her, cause we never leave a friend behind to suffer at the hands of a bully.
Gwen: Woah, looks like the Princess and your brother did a really god job of teaching you about friendship, didnt they?
Taiku: "Yeah, but Russel is argueably our fickle friend, and cause of status, he almost always listens to me. So, maybe if i can convince him to make Twily and that Spike dude expections for his "freshmen treatments" in exchange for "trolling" Gary into reveling what a douchebag he is, well, he can kiss having those 2 as friends goodbye."
Gwen: "Isn't that alittle, coniving and deserate?"
Taiku: "(Sighs), I know, but let's remember Gary is ALOT worse in that department, so it's only fair that we, when it comes to Gary, fight fire with fire!"
Godfry: "Uh, may I remind everyone here that Gary is aware of our, usual brand of shenanigains, and would almost always be on top of us? And the next thing we know, we're suddenly scrubbing Eagle-Beak's private toliet!"
Taiku: I know that. That is why our shenanigains may want a low profile from both him and Eagle Beak untill we get Russel on our side and both Twily and Spike sees his true nature revealed.
Sid: "Ok, but, what about the "Celestia has no power in the shcool anymore" thing? Should Gary be wise on us somehow, she can't protact us from Eagle-butt's wrath."
Taiku: Sid, Eagle-Beak may have started playing school dictator on Celestia thing, but he'll sing a diffrent tune when I become the College President, and with that comes one of the university's powerful traditions that even Eagle-Beak wouldn't dare change that could cost him his power.
Murry: "You mean, if Clare doesn't win first?"
Alice: "CLARE'S IN THE PRESIDENTSAL RACE?!"
Murry: "Didn't you see the posters in the cafertearia? They were everywhere!"
Taiku: Murry, what did I tell you about saying that name while Alice is around?
Murry: "But, isn't it impourent to warn Alice about Clare becoming president just for popularity?"
Alice:... (Camera on mansion) AAAAAAAAAAAAAAAAAAAAAAAAAAAARRRRRRRRRRRRRRRGGGH!!!! (Birds are scared away) THAT STUPID PAIN IN MY ROYAL CENTAUR ASS!!
Her friends were sacttered about in a comical way!
Godfry: "Wow, who knew a centaur had good lungs?"
Sid: She had a good reason for doing it dude. She's still a bit ticked off since You-know-who became Brandon's Centaur Girlfriend.
Taiku: Guys, please. She gets VERY sensitive when people say that.
Alice:... (Starts crying)
Taiku: See? Look what you've done! Usually she doesn't stop crying for half an hour!
Gwen: "She is still hanging on to that?"
Louis the Spike-look-alike: "Alice, calm down, so what if, "She" is getting involved into this! Brandon does not know who he's missing out on! Who knows? Maybe they might have a nasty break-up."
Alice just threw herself on her bed, puts her head down and start's sobbing even more.
Louis: "Well that worked handsomely."
Godfry: "Oh worry not! I know just how to cheer her up! (Brings out a Poster of Clare Buckington's election campaign poster) Hey Alice, look! (He starts ripping up the poster!)"
Alice: Oh, that always cheers me up. But what would cheer me up COMPLETELY is if I could tear her to pieces with my bare hands! OOOOOOHHHH!!!... But thinking about Brandon, it's a different story!... (Continues crying)
Godfry: "Well that was close but No cigar!"
Taiku: Guys, I think I know what will make Alice stop crying. I was saving it for her birthday next month but this is an emergency.
Murry: "What'd you got her?"
Taiku: I didn't get her anything yet. But we are going to sing some of our favorite songs Princess C's neice and my best sister-like friend, Cadence taught us the first summer after you met me and Alice in Creature of Legend Kindergarden.
Godfry: "Please don't. I have a difficult time getting just ONE of those tunes out of my head! They're often too dang catchy!"
Gwen: Not one of the annoying songs, Godfry. One of the songs we all loved especally after we all became Glee Fans.
Scroopfan's voice: "WAIT WAIT WAIT, STOP?! I'm sorry, but I am terrorably unfamilier and not all very interested in Glee Club!"
Taiku: (Talking to the Producer) Your not a big glee fan? Ok then, do you have a specail cheer up song in mind?
Scroopfan's voice: "Well, tecnecly it's still too soon for songs. They don't start showing up until later in the story."
Godfry: "Uh, your not gonna use "High School Musical" songs, are you!"
Scroopfan's voice: "OH HELL NO, NOBODY LIKES THAT SHIT?! Not to mention too predicable and clished!"
Taiku: So, your saying nows not the time for songs? Well can we at least have our party here and cheer up Alice while we get her and Louis to talk to Twily and Spike while I get our drinks and apologize to Celestia for the way we treated Twilight?
Scroopfan's voice: "That works."
Taiku: That's good enough for me, Mr. Producer. Thanks a bunch!
Murry: "Uh, since the Original Spongebob and Friends series, tecnecly doesn't exsit yet, because this is suppose to be ten years before that and the real MLP-FIM series, wouldn't this be a big lipped alligater moment?"
(This happens)
Godfry: "Did ya had to ask, Murry? We're suppose to help the story move, not criticised the plot holes! The main focus is just to ignor them, and it'll be easier to appresiate the story for what it is, not what it should've been or what could've been done to plug the holes."
Taiku: "Ok, are we done with being post-modern now?"
The others but the still crying Alice agreed.
Louis: Come on Al. (Gets out a tissue) We're all here with you. Just dry your sensitive tears and blow.
Alice blows like an elephant!
Dan: (To himself) Ok, that was a bit trippy.
Godfry: "Sweet Celestia, that's some honker for a woman!"
Taiku and Friends: Godfry!
Godfry: What? She does.
Amy: Anyway, we'll have a big slumber party/sleep over right here. We'll brade our hair and tails, Molly will paint those pretty pictures on our butts, give ourselves makeovers, stay up all night, do eachother's fingernails and talk about...
Amy, Alice, Courtney, Julie, Molly and Jess: Boys!! (sequeal)
Gwen sighed unimpressed but momentarly got over it.
Gwen: And let's not forget playing truth or dare while Taiku and the boys play poker.
Alice: "Hey, you guys are great. But all randomness aside, That man-stealer in the election is gonna be an issue for us that, if left uncheck, would make it easier for Eagle-Beak to make things in this school even more bad then it already is."
Taiku: We'll worry about old Egale Beak in good time. But for now let's just enjoy our first night back here. Alice, if you still want to go to the ceremony with Louis, we're quite cool with it. As long as you two meet Twily and Spike and tell them we're sorry for the way we treated them if their not still mad at us while speaking to the Princess about how wrong we were to harrass them and we decided to give Twilight and Spike a change, but if she still want's them to hang out with Gary, we'll still go with my plan, ok?
Alice: "Got it."
The film stops.
Icky: "HEY! WHY DID THE FILM STOP?!"
Discord: "Well, 2 reasons, one, it's so long of an adventure, it had to be in seperate films, and second, I thought we should you know, talk about inbetween films as they load, so it's to remind the audience that this is a Spongebob and Friends cronicles episode, and not a lost My Little Pony Friendship is Magic episode or something like that."
Icky: "Oh, and not only that, but also a reference to the prequil lion king movie, and MST 3000, right?"
Taiku: Ok Discord. Thanks for coming up with the idea.
Discord: My pleasure.
SpongeBob: Well, while we take a break, let's have some chit-chat.
Applejack: "Ok, then here's our first topic: Why in Tarnation did Twilight befriended that varmet!?"
Taiku: Back then, Twilight didn't know about his true nature that he's just a little weasel of a creep. Back then, she thought everyone in the school was either jerks or insane!
Icky: And I thought that Randel kid form that Recess world before Shen destroyed Benedict's Tractor Beam with his cannon was a little snittching kid and a big jerk of a punk like Ronno.
Kairi: Twilight, I have two questions for you and Taiku. Who is this Clare that Alice threw a really big fit over and when did you two, Spike, Alice and the others become best friends?
Twilight: "That's going to be answered in the later films, I guess."
Taiku: Yep, but I have a question for guys to ask. What do you guys think about our friends: Dan, Jimmy, Edgar, Murry, Sid, James, Eddy, Godfry, Claude, Molly, Griffth, Courtney, Amy, Julie, Gwen and Louis?
Lord Shen: "They were.... Unqite."
Spyro: Yeah, I wish I could meet them personally.
Applejack: Same here, I'd never seen anything like them before.
Taiku: I have one more question before we continue the story. Why did the yellow pony get scared of me in my Dragon Form? Her's names Fluttershy is it?
Icky: "Oh, it's because she's afraid of Drag- WAIT A FREAKING SECOND! You mean this, Chinese Dragon, thing, is not really you?!"
Taiku: Yeah, I'm actually a human in dragon form like my Brother, Haku. But is it true that Fluttershy is scared of my, Haku, Spyro and the rest of you dragon louger's kind? I mean, care to explain why, I mean, aside from the obvious talk of dragons tending to be, dangeriously anti-social if you get my drift?
Twilight: Taiku, I need to talk to you about Fluttershy's fear of your, Spyro's, and the rest of our Dragon Friends' kin.
Taiku: "Well, yeah, explain."
A few explanations later.
Taiku: "Oh.... Gees. All that happened?"
Twilight: Yeah.
Taiku: ... Wow. Flutters, please know that I am FAR from the kind of assholes you ran into. You know, Fluttershy, I even think your wings and cutiemark is really cute.
Fluttershy suddenly appeared from bush, and gave Taiku a big (and cartoonishly painful) hug!
Taiku: "OW! OK, OW!"
Rarity: Why, you have such a polite way to talk to a lady. I didn't even know you had such nice manners.
Taiku looks as if he's choking!
Twilight: Uh, Fluttershy. That's enough now.
Fluttershy happily lets Taiku go.
Taiku: (To Rarity while recovering from Fluttershy's violent hug) Well, since your Spikester's fashion loving girlfriend, I'll take that as a complament.
Discord: "I should make everyone aware that the next film is ready."
Taiku: Ok, talking break's over, the next films begins with Alice and Louis leaving to go to the Ceremony while I got ready to go talk to Princess C and Apologize for the way we treated Twily and Spike.
Chapter 4: Professor Eagle Beak and the Cerimony.
The film begins again, as we see a huge gathering.
A Mayor Mare look-a-like came in.
Double M look-a-like: "Morning Students, It's your ever present Headmistress Perrywinkle, and I would like to welcome you all back to Mu University. Not to be confused for Moo University, which is a few areas away, so, if there's any cows in here, please leave, you got the wrong shcool."
Suddenly, crowds of Cows groaned after realizing that they are in the wrong school!
Cow: Sorry about that! (To the other cows) Come on guys. Let's go.
Perrywinkle: "Quite. So, first order of business, the introduction of a new canidate in the new race for the shcool presidental race, none other then Missius Clare Cleopatra Buckington."
A door slams open, as the rock-in-roll verson of "Cruela De Vil" begins to play.
Clare Buckington, (who looks like a cenatuarised Heather from TDI series), followed by a possy of diva Centaurs, Two Gargoyales that look like brittish thugs, and a Cerberus with jewel incrusted collar.
She is wearing sunglasses, and takes them off, reveling a nasty snare, but quickly melts into a trusting face and cute smile.
Twilight and Spike were spell bound at the sight of Clare.
Gary: "That, is who I served. Ever since she hatched me from my egg, I am ignorently following her every whim."
Spike: Well, Well, Well. Looks like you and Clare have the two friends in common, Twilight.
Clare reached the padium, of which Perrywinkle glady moved over.
Clare: "Thank you, dear but simple students of Magic University. If, make that, when president, I'll make sure that voting for the "Populater voice" will be a long-term smart voice. And yes, there will be free Soda and Cookies involved." 
The crowd clapped for her.
Clare: Furthermore, to my competetor, Taiku, who couldn't make it here today, I like to say a few words. Good Luck wooing the students with your promises and ideas. You are going to need it in the next election talk. Oh, and one more thing, if you and your misfited losers mess with my little servent boy again, consider yourselves Cerby's new chew-toys!
Gary: Now, this is WAY better then reporting them to the head mistress or even Mr. Eagle-Beak. Thank you so much Clare Babe! I owe you one!
Spike: "Who's Cerby?"
Twilight: "(Gulped), I suspect Cerby, (gulp), is the Cerberus."
Clare: "Thank you, and that is all, student body."
The Crowd cheered while Alice and Louis who saw this where in disbeleif.
Clare left a podium and Perrywinkle took over again!
Clare saw Twilight and Spike with Gary.
Clare: "Gary, quick and easy question, who are these freshmen, and why are they do they not smell like Russel and Toilet?"
Gary: Clare Babe, it's a long story, but let me introduce Miss Twilight Sparkle and her little dragon companion Spike. But here's the best part, she's one of Celestia's teacher's pets of the week!"
Clare was surprised!
Clare: "She is?"
Gary: "I know! She can't seem to make up her mind on who her most faverite is! First it was that elf, then that sprite, then that sentient snake, Then Tai-Joku, that short-lived term with that bitchy orange pony who's name I failed to remember and now this little number! But, she's way better then the others, cause she prevented that moron Russel from getting me! And I saved her from a room in Casa De Moron with Taiku and those other rejects!"
Clare poundered, befriending Twilight is bring her a step closer into good graces with the Princess of Equestia herself, and thus, more popularity.
Clare: "Miss Twilight, how would you feel like to be apart of My Sisterhood group, and to be my second campaign maniger?"
Spike: "Second?"
Gary: "Numbero Ono, right here."
Spike: "Oh."
Twilight: "Why, alcourse Miss Clare, it's, it's great to be so easily accepted."
Clare: "What can I say, who doesn't perfer the popular vote?"
Unkown to them, Alice and Louis saw the whole thing.
Alice: Oh no! Clare has beaten us to them!
Louis: "What makes you think we can't talk to Twilight and Spike now?"
Alice: NOT while they're under Clare's charm spells. We might have to change plans.
Perrywinkle: "And now, a personal welcome speech from none other then-"
A shadow loomed over her, and Perrywinkle freaked out!
Perrywinkle was breathing heavily, but calmed down.
Perrywinkle: "Oh, Mr. Eagle-Beak, (A Ruber's griffin look-a-like in a lab coat came forth) I was just about to introduse you, and your, uh, expressive welcome Speech. May I add that it was generious of you to relieve the Princess the stress of looking over the shcool that your ansister help founded years ago?"
Professor Eagle Beak: "All I disired is to help the Princess focus on her growing nation, Perry."
Gary: "Miss Sparkle, may I present, the awe inspiring Professor Eagle-Beak. Genius extroendar. He's the only teacher in this forsaken place who takes nonsense from nobody! Isn't he awe-inspiring?"
Twilight: "Really? I'm curious, aside of what the Headmistress mentioned, why else did he had Celestia no longer in charged of the school?"
Gary: "Yeah, no intentional offence for you cause your actselly another teacher's pet of hers, but, Celestia is just too much of a bleeding heart, to ever run the shcool business. She is just too forgiving and too much of a bleeding heart to realise that this place is crawling with punks and trouble-makers who use sob-stories as an exuse for getting her to turn the other cheek! Eagle-Beak, does not believe in giving punks like that, a second chance! I mean, think about it, if Celestia was just more about the rules then all that, "forgiveness and understanding" crap, this school would be ALOT more originised. Sad thing is, many of those sob stoiries are either the same or fake and are just there to help them avoid detention and stuff like that. And I personally believe not letting Celestia calling the shots was actselly a smart investment in this shcool. Otherwise, wasn't for him, you would be smelling like a tolilet and armpit by now, and get locked in the same room as those rejects! Think about it."
Twilight becomes concern of Gary's words. Maybe Celestia is too easily forgiveable, and may not take crime and punishment seriously. She even wonders how Equestia is crime free and yet a mere school is filled with trouble-makers!
Twilight: "I never thought Celestia is like that!"
Gary: "Well, lucky when it comes to crime and punishment in this whole nation and it's cities, she does take seriously, but the shcool? I mean, imagine if dangerious criminals deside to follow these trouble makers exsamples and just use sob-stories to get out of punishment should they somehow realise that Celestia's a sucker for sob-stories? Face it, Celestia's just too damn kind to be a ruler, what would Equestia really need, is someone who's no nonsense to both punks and criminals! Someone like Eagle-beak! But then again, Eagle-Beak wasn't even born yet at time the Alicorns became rulers, so it's just my opinion really."
Twilight: "Gee, I can't believe Celestia would be proned to believe delinkqunts like Taiku would have good in them! I never thought she would be.... be..."
Gary: "Too kind for the sake of her own nation, or this shcool for that matter? Forgiveness is fine and dandy, but you can't go around and forgive ANYBODY! Next I suppose she's gonna start opening up a reforming monsiteiry to "Re-a-biliate" villains! Oh yeah, I could see that going well.... NOT!"
Twilight: "I.... I don't know what to say. I didn't know the princess can be so, weak-hearted for those of a bad nature."
Gary: "Oh trust me, that's not even the worse of it! You should hear Eagle-Beak's speech!"
Alice: (Watching this) Ok. Saying Celestia's word is no longer law at this college is one thing, but now that weasel in dragon's clothing, the total witch who took Brandon from me and Eagle Beak are about to turn Twilight and Spike against the princess and get them on their side!
Perrywinkle steped away for a bit and let Eagle-Beak onto the podium.
Eagle-Beak: "To those that expect the same "gentle hands" from other shcools by Celestia, be prepared to be saved from the disappointment of discoving that this shcool offers no such nonsense. Why? Because Equestria is facing dark times that are coming fast and all she wants is to reform evil and villainous offenders and turn them into normal people of society? Isn't the pre-exsiting threats enough, now she wants more? Had I been the ruler of this contrey, I would only offer punishment to those that threaten these fair lands. Celestia has become a weak-hearted fool. It's time we embraced this truth."
Twilight: " (As Eagle-Beak continued). Dark times?"
Clare: "Oh, he believes in that dumb Nightmare Moon legend. Superfisious old wives tale if you asked me."
Twilight: "Nightmare what now?"
Gary: Formly known as Equestia's supoosed former co-ruler. Our need of the night to sleep drove her mad and became Equestria's Greatest Threat #2, cause everyone still remembers it's ultimate enemy #1.
Twilight gulped at what Gary was refering to.
Spike: You mean the Boogeyman?
Gary: "Well I am not talking about Joe Barbaria!"
Eagle-Beak: "So my dear friends, We must understand that Equestia does not need that soft heart Celestia, but fools that follow her choose to keep her aboard. Maybe one day, she will be rightfully impeached from the thrown, and maybe, there'll be a king who will lead this land to greatness. Then maybe, Equestia will truely exterminate the evils that threaten us. Even that monsterious Nightmare Moon. DEATH, TO THE NIGHT DEMON QUEEN! GLORY TO THE HOPEFULLY TO COME, BETTER AGE OF EQUESTIA?!"
The students cheered very loudly for Eagle Beak!
Alice: "Oh no.... Twilight will never be reasoned with now."
Back at the Mansion
Taiku was getting ready to leave, find Princess Celestia and apologize for the way he and his friends acted towards Twilight and Spike.
Murry was eating a hero sandwich!
Sid: Taiku, good luck talking to the princess about us giving Twilight and Spike a chance allright?
Taiku: "Well, maybe if she's not too upset at me."
Godfry: Well, I think we should just give it a shot because this could be our only chance.
Taiku: You may have a point, but it's not gonna be easy. She could be anywhere. The only place we might find her is at the ceremony.
Murray: Isn't that her over there? (Celestia appears behind Taiku)
Godfry: Well Speak of the Devil.
Taiku: Oh, yeah. Well, I guess we should get started. (Takes deep breath, and flies up to Celestia) Excuse me, your highness?
Celestia: Oh, uh, hello, Taiku.
Taiku: About what happened today... I wanna say that I'm sorry.
Celestia: "You are?"
Taiku: Of course. It's just that I've been stressed recently about my parents, and to be honest, I don't like what Eagle-Beak is doing. That's why I said all those bad things about Gary. Because he agrees with him. And your fully aware on how much of a piece of trash he is. I care about you, you've been like a real mom to me and I'll do anything to help you. Especially after how you saved me.
Celestia:... That's very nice, Taiku. Thanks for being honest with me.
Taiku: And my friends and I'll be more than willing to make amends with Twilight and Spike for how we treated them and give them a chance.
Celestia: "Well, if it wasn't for Eagle-Beak's restriction, I would've gotten her away from him. Anyway, I talked with Miss Perrywinkle, and, well, she said Eagle-Beak done this is because, he wanted to relieve me the stress of running a shcool so I can focus on Equestia more as his act of "Generosity". He assumes running Equestia is time-comsuming!"
Taiku: "Well, your talking about running an entire nation. There's hardly time for a break. Not that agree with Eagle-butt, but yeah, running a kingdom isn't normally the damn easiest thing to do in life."
Celestia: "But it gets worse. I been at the cerimony, and.... (A tear escapes). Her head, is being poisoned."
Murry: "Poisoned?! OH NO! EAGLE BEAK AND GARY POISONED HER!"
Godfry: "It's not THAT kind of poison! Is it?"
Celestia: No, not literally. Twilight and everyone in the school is beginning to agree with Eagle-Beak's lies. I can't afford to trust Eagle-Beak after what he's doing. For all I know, he might not want only MU, but he might want ALL of Equestria! I prefer to reform villains and remain as respectful as I can be because I don't believe in violence. I don't like wars, I don't like rebellion, I don't like anything that could mean the downfall of Equestria, or the very least, the downfall of what Equestia is suppose to be.
Gwen: "Well, he just views the world as black an white. You know, the basic stuff, like if a person does bad things, that means they're bad, and if a person does good things, that means they're good."
Edgar: "Well, it's also possable he thinks you're a soft-hearted sheila, princess. I mean, he's one of the few people, besides you, and us, that knows Nightmare Moon's real, and we know well enough to pretend Nightmare Moon's a myth! We even practiced on acting surprise should you ever be forced to admit it. And, sorry for saying this, but staying peaceful, forgiving, and understandable, to him, might not be the best ideas right now."
Sid: "So, in a totally stupid and corruptive way, he's doing this stupid shit because he cares for Equestia's future, and fears Nightmare Moon, and thinks Celestia might no longer be good for the nation? Look, I care for this land of ponies as much as anyone would, but I don't go around and say Celestia is not good anymore to protact it! Seemingly justifyable, leget reasons of caring for your nation and doing something bad out of fear of a dangerious evil does not justify the lives you hurt or makes you any better then the said dangerious evil in doing so! Right Princess?"
Celestia: "Yes.... I learned that myself the hard way when, Luna's mosterious alternate personally left me no choice. It was either do what I done or.... Equestia would've been just a wasteland of enternal night. And all of my mother and father's work.... (Tears become commen) Would've been for nothing....."
Taiku: Gee, your highness, I never knew you as the crying type.
Celestia: "I know it's a sad sight, seeing a graceful creature in sadness, because of what the creature did. I am not ammuned of succoming to emotions, and regret, and the sadness of not being with those you care about..... Something, I know how you feel Taiku."
Taiku remembers the human girl, before being sallowed by an angry mob, taken away by her thoughtless parents.
Taiku: I know. (Suddenly remembers his plan) So, is it okay if I go to the ceremony? I'd like to speak with Twilight and Spike. I need to tell her my past sins myself.
Celestia: "Sadly, even if you do so, Twilight is gonna be beyond help by the time you get there. Clare and Gary are mind poisoners, and Eagle-Beak's the prime shorse! But, I do not understand! His past Ansisters were never like this!"
Taiku: You mean Eagle-Beak wasn't always like this?
Celestia: No. Eagle Beak's story is... Quite tragic. I rather not say more.
Taiku: "Understandable. So how was he able to sucker so many folks?"
Celestia: He used to teach a kind of magic that took years of mastery. He taught Legilimancy, or the ability to magically manipulate someone else's mind through either mind-control or even verbal words.
Taiku: You mean like telepathy?
Murry: "He's using Telephone magic?"
Taiku: (Face Palms himself) Not that kind of Magic Mur. Please continue, Princess C.
Celestia: Legilimancy is a bit like telepathy, but it's not the same thing. The user will be able to verbally and magically control others with the right words. Someone's capabilities in legilimancy will allow him/her to know what words are needed to control others. In some instances, when verbal legilimancy doesn't work, mind-control legilimancy works best. But mind-control legilimancy is strictly prohibited in MU. Eagle-Beak only taught verbal legilimancy. But I feel that because of a change in his parents' hearts, Eagle-Beak has learned mind-control legilimancy. And as we all know, power like that corrupts easily. 
Gwen: So that explains how Eagle Beak's Restriction came into existance. He used legilimancy to convince the staff.
Taiku: Holy cow. You... You don't think Eagle-Beak might be using legilimancy to control the students of MU?
Celestia: "I don't want to believe that either...... But....... Because of how quickly powerful he is becomiing, and how extremely differnet then how I known him, I, I am just not sure."
Edgar: Is there a way to overcome this magic, your highness?
Celestia: Yes. There's only one way. Occlumency. It's the magical ability to protect one self from mental attacks such as legilimency, telepathy, mind-control, and even corruption. This method of magic will allow the user to be partially immune to legiliment attacks.
Gwen: Partially?
Celestia: Sometimes there are people with a legilimency level higher than others. A lower level of occlumency will not block it.
Taiku: Then who do we know who teaches occlumency?
Celestia: There's only one occlumency teacher here in MU. And that is Twilight's older cousin, Midnight Fate.
Godfry: OH, NO! NOT HER!
Celestia: "Why? What's wrong with.........? You didn't offend her with one of those jokes based on me, did you?"
Taiku: Well, I gotta be honest. Yeah. That happened. I don't know how he pulled the legilimancy thing off, but what I do know that he might be plotting against you Princess C. The question now is: Will Twilight and Spike give us a chance once Alice convinces her that myself and the others are not so bad?
Alice came in, nervious!
Alice: "Bad news! Clare already made Twilight into her sisterhood flunky and second campaign manitger! And worse, Gary said awful things about Celestia and it's beginning to effect her! And Eagle-Beak's speech is only pushing it worse!"
Taiku: Oh, no!
Celestia: Where are they?
Alice: They'll be soon done with the cerimony!
Celestia: Then I must speak with them immediately! Taiku, you need to find Midnight Fate, and tell her everything she needs to know. We must get Twilight a class in occlumency.
Taiku: That's my Plan B, Princess C. But first, We need to get Gary and McSpoiled Brat-alot away from Twilight if we need to be successful! I do plan to get Russel involved on Gary, and Eagle-Beak is rarely seen after cerimonies, so he's not a problem for now, but what to do with her royal spoiledness, her stooges, and that dang cerberus of hers?
Murry: Guys, I may be a bit brainless, and a big lover for food, but I got an idea how to tackle that three headed dog of Clare's.
Godfry: "Oh THAT's rare of ya, Shamus McEatalot. So what's the plan?"
Murry: "Uh, give me a moment, and a sandwich!"
Taiku: You guys do that, I got a few calls to make. Oh and when this restriction madness thing is over, remind me to invite Twilight and Spike to Alice's Birthday next month.
Chapter 5: Cousin Midnight Fate, Ending the Restriction and Eagle-Beak strikes!
Hallway.
Gary: "Oh that cerimony was just fabulious! Tell you what, Sparky, since I am in one of my better moods, and that there's no trouble to report as of late, how's about we visit the sundie shop, Twily?"
Twilight: "Sure thing Gary, I'd be delighted."
Gary: "Sure thing, best buddy! Oh yeah, first thing's first, Clare's holding the first sistergood meeting of the sesmester, and it's all about you, the newest, honorary member!"
Twilight: "Oh wonderful! But, where is it?"
Gary: "Just look for a pink door, with Clare's gargoyale body guards, Baba Bing and Baba Boom, oh, that's actselly their names, Baba Bing and Baba Boom by the way, and Cerby, her cerberus. I know what your thinking, why would a self-respecting guy, be in a girl's club? Well, since I'm Clare's assisent, I am needed to hold her speech notes and stuff like that! And since Spikey here is yours, he gets the exception to the rule treatment as well. Just let me handle the password with the Baba brothers and that dog, and we'll be dandy candy."
Spike: Oh right. Now were talking!
The Mansion
Murry brought a plate with a stake for Cerby on it and with the help of Taiku's magic it will become a cerberus sized stake while Gwen was making a Phone Call to Midnight Fate and Louis got the invites to Alice's birthday ready.
Taiku: Murry, my man your a genius!
Murry: "Well, it's a known fact that dogs like stake. And Cerby may be from the tartarus, but he's still a dog, right?"
Godfry: "Something I did took note of. Question is, what do we do about a cerberus's tendingcy's to be insanely obedient about the task at hand?"
Gwen: "I think a strong enough irresisable charm spell should do it."
Taiku: Ok guys, time for me to conjur a cerberus sized stake for Clare's pampered pet three-headed poochie.
Julie: Yeah, your magic has gotten very powerful since your lessions with the princess after that crazy rainbow explosion years ago.
Godfry: What level is Taiku's magic at again?
Jimmy: "IT'S OVER 9000!"
Godfry: "WHAT?! 9000?! THERE'S NO WAY THAT CAN BE RIGHT?!"
Edgar: "Ok you jokesters, aside of the although well-placed Dragon Ball Z reference, can we please hear the REAL level of Taiku's magic?"
Taiku: It's at level 99. Very good level I had. I been doing well ever since that rainbow explosion, Princess C's well teachings and my brother's knowedge of light and dark magic to thank. Eagle Beak's little Restriction and plan to courrpt Twilight and Spike on his side is doing one good thing. It's making us stronger then he could ever imagine.
Murry: "So, where is Celestia?"
Taiku: She's looking for Twilight and Spike, I believe. I sure hope they get here. And I REALLY hope Twilight will forgive me for what I've done.
Alice: I hope so, Taiku. I really hope so.
Edgar: Is Midnight Fate on the line yet, Gwen?
Gwen: Not yet, but it's ringing.
A voice: "Hello, the clock stroked Midnight Fate, Celestia's most loyal pony! May I inquire who is speaking?"
Gwen: "Aw sweet! You have no idea how impourent this is!"
Outside the Sisterhood room.
The gargoyales Baba Bing and Baba Boom and Cerby the cerberus is seen guarding the door.
Gary and Twilight with a nervious Spike following them approuch the group.
The Gargoyales interset.
Baba Bing: "What's the password?"
Baba Boom: "Yeah, or it's dog-food time, huh?"
Cerby looks with a soft growl.
Gary: "Relax fellas, it's just me!"
Baba Boom: "Are we gonna get a password out of you or not?"
Gary: It's... (Looks around)... Diapers.
Baba Bing: Correct. You may pass.
Twilight: Your password is 'diapers'?
Baba Boom: Don't take it personally, kid.
Spike: "Strangest, Password, ever."
The Gargoyales let them in.
inside.
The group enter, and Twilight and Spike were in stupify awe!
The room is a wonderious candy land! I mean it, it's litterally a giant land of candy!
Gary: "You would be amazed, what a little renibaiting does."
Twilight: "It's...... Beautiful!"
Spike: "AND DELICIOUS!"
Gary: "Oh go ahead, the candy regenerates, so go nuts!"
Spike: "YAY!"
Spike charged at the first candy cane tree he sees!
Twilight: Well, I'm not exactly in the mood for candy right now. I'm trying to keep it low on sugar.
Gary: There's Gingerbread here, too.
Twilight: NO WAY!!! I LOVE THOSE WHEN I WAS LITTLE AND USED TO VISIT GRANNY!
Gary: "Oh sure, help yourself to that Gingerbread house RIGHT over there!"
Twilight was in stuifyed and idiotic awe at the gingerbread house!
Twilight: HELL YEAH! And I thought Hansel and Gretel was just a bedtime story!
Twilight hopped at the house like Pinkie Pie (even though tecnecly at this time, she doeen't know who Pinkie is).
Gary: "You kids have fun while I tell Clare your here!"
Outside Sister Hood room.
Celestia: "There's the sisterhood room.... And it's ever present protactors."
Taiku: Ok guys, time to bring up Cerby's really big treat.
Godfy: "But what about Clare's bodyguards?"
Celestia: Don't worry. Since I've been running this University for a while, I know the password. And if you hear it, you promise not to laugh?
Taiku: Only idiots would do that.
Jimmy and Edgar stared at Godfry and Murry, as did most of everyone else.
Murry: "What?"
Godfy: "Why's anyone looking at me?"
Celestia: I'll take that as a 50/50. The password is... Diapers.
Godfry: (Scoffs, trying to hold in laughter)
Murry: (Laughs, but keeps it soft) That's the weirdest password ever. Who came up with it?
Celestia: I have... No idea.
Taiku: As for Gary and Clare, I arranged some back up who will wait in the shadows until I say now, Right Russel?
???: "Just say the word, and it's a one-way trip to the dumps."
The Same Minotaur from before emerged from the shadows.
Celestia: "But first, we must wait for Midnight Fate's arrival. She's normaly fastionaly early-"
???: Hold your horses princess, I'm here now and ready to save my little cousin and her dragon buddy from making the biggest mistake of their life.
Taiku: Midnight Fate, you made it.
Midnight Fate: (A taller blue version of Twilight with a black mane and tail with a light blue line on it, has a blue version of Twilight's cutiemark on her flank and wears purple shoes) I'm just glad I don't have to put up with your antics, Taiku. Especially after what your friend said in my class.
Godfry: HEY! I didn't know you felt that way about... The memes.
Midnight Fate: "So, please lead the way, oh glorious princess."
Taiku: (to Gwen and the others) Ok, Gwen. Do your thing while the others bring up the stake.
Baba Bing was playing a gameboy.
Baba Boom reads a magizine.
Midnight Fate: Hey there, big boys.
Baba Bing: "What's the password?"
Midnight Fate: Diapers.
Baba Boom: "(Wispers): I don't think I remember seeing her in the sisterhood before."
Celestia came forth.
Midnight Fate: "She's with me."
Baba Bing: "Ok, uh, go right ahead."
Taiku: (Sees Midnight and Celestia go in) Perfect. Ok Gwen. Look's like it's your cue.
The Baba brothers resumed their own business.
Sid: I hope Cerby like's his stake extra large.
Godfy: "Wait, about about the Baba bros?"
Murry: Dont worry, buddy. Cerby wanting to get his dinner will keep them busy.
Cerby was about to sleep.
Louis: Let's hope this works, Once Cerby's done with his dinner, I don't want to become the dessert.
Gwen: Ok, Time for me to cast the charm.
Godfy: "Well do it already, that dog's a heavy sleeper!"
Gwen: My Pleasure.
Gwen Casts some pink colored magic at Cerby while Murry dressed as a chef rung the dinner bell.
Murry: Come and get it!
Cerby was at first confused. but then sees the biggest stake he seen!
Baba Bing: '"Hey, doesn't that fat dragon look familier or something?"
Taiku: Ok Cerby. You want it? Come and get it.
Taiku mustering powerful blue colored magic, casts a spell on the stake and levetates it premoting the dog to chase it and both Bada Bing and Bada boom to chase the three headed dog, trying to demand him to come back.
Taiku: "There. The exit should be cleared. I hope Celestia and Midnight can handle themselfs."
the Candy land.
Twilight was alittle buldgy, as well as Spike, as they were adored by the diva centaurs.
Clare came forword.
Clare: "I would like to get this sisterhood meeting to order. And I, would personally like to welcome miss Twilight to our group. I saw potainal in this one."
Twilight: "Your the best centaur I ever met."
Clare: "Oh, like I haven't heard that one already. Now, Miss Twilight, when one is popular, one has to be big, and loud to be heard and known. Gary, Piano me!"
Gary appears in with a piano!
Gary: "Piano lessons, don't fail me now!"
(Clare sings this.)
Twilight and Spike were awe-strucked.
Clare: "Leaves you kinda speechless, don't it?"
Twilight: "Understatement of the year."
Familier voice: Well, Well, Well, Cousin Twily hanging out with the wrong crowd I see.
Clare and Gary: "WHAT THE?!"
Twilight sees Midnight Fate!
Twilight: "MIDNIGHT!"
Twilight ran to Midnight and hugged her!
The hug breaks, and began the simular dance done normally with her and Candence!
Twilight and Midnight: "Sunshine, Sunshine, ladybugs awake, clap your hooves and do alittle shake!"
Clare and Gary were confused by that sudden dance number.
Gary: "What, was that?"
Midnight Fate: What? You two mean you haven't seen our dance before?
Clare: "That is not impourent! What is, this! What are you doing here, and what half-minded peabrain told you about this place?"
Celestia: (Appearing) I believe two gargoyles and a cerberus guarding a pink door was a lucky guess.
Clare: "Puh-puh-puh-puh Princess Celestia?!"
Gary: "But I don't get it! Our password system is superiorly complincated! How did ya figured it out?"
Celestia: "Seriously? "Diapers" is a complincated password system? You honestly can't expect me to believe that, right?"
Clare turned to one of the centaur girls.
Clare: "Sheerie, I told you using "Diapers" as a password was a stupid idea!"
Midnight Fate: If you both don't mind, the Princess and I along with a certain black-and-white dragon and his friends would like to have a word with my cousin.
Clare: "But your not Sisterhood members! Your tecnecly not even suppose to be in here!"
Gary: "And Princess, don't even bother ordering us to back off. The restrictions, remember them? About YOU not having anymore ahority in this place?"
Midnight Fate: "Yeah, about that, I paid the shcool council a visit..."
Gary: "And you do what now?"
Celestia: That's for me and Midnight to know and for you two and Eagle Beak to find out soon enough.
Midnight Fate: But now it's time for Taiku and his friends to apologize to Twily and Spike for the way they treated them, give them a chance and put the past behind them. (To the doorway) Ok Tai, you and your friends can come in now.
Twilight: "WHAT?! NO! I DO NOT WANNA SEE THAT MONSTER AND HIS, FREAK FRIENDS AGAIN! THEY'RE NOTHING BUT DELINKQUNTS THAT CELESTIA FAILS TO TRUELY PUNISH!"
Gary: "Yeah, and not only that, but the Candy land people are perfectly designed to go hostile at the sight of introtroders! How you guys got through without being remotely mauled, because you said the password, it's the fail safe system! But, it won't protact Taiku, because the candy people will attack him reguardless of him saying it or not!"
Midnight: Alright then Twily, you and Spike have a choice to make. We're doing this the easy way, or Russel's painful, unpleasent and most unkind unconventionaly hard way.
Twilight looked as if betrayed by this!
Twilight: "I can't believe you would do this to me cousin! No! I won't go! Clare and Gary are my real friends! Everything I thought I knew about you 2 was a lie!"
Midnight: Ok, young lady, the most unkind unconventionaly hard way it is then.
Chocolate Bar soldiers stand between Celestia and Midnight Fate and Twilight, blocking the two from Twilight.
Taiku: "Ok, that's it!"
Taiku steps on the land, and suddenly, a storm is born! Candy soldiers bursted from the ground! Ninja Reeces pieces, Candy Skeliton warriors, Chocolate troopers, and even A chocolate bar monster simular to the one from "Underfist", as it roared menacingly! Gingerbread men with candy cane spears appeared, chanting like tribal warriors!
Gary: "Welcome to your sweetest nightmares, suckers!"
The candy soldiers cornered Taiku and friends at giant barrols of soda.
Taiku: "Oh come on guys! (Dubbed as Shrek) Can't we settle this over some pop?" 
The warriors didn't listen to him.
Taiku: (Dubbed as Shrek to the candy warriors) No? Allright then. (Drinks a soda can down) (Dubbed as Shrek as he finishes the Drink) COME ON!!!!
Taiku blasts a barrel of Soda open which washes the candy warriors as a familier fighting song from Shrek is played.
Others: "OH RUSSEL?!"
Familier Voice: HEY!!!! GET AWAY FORM MY DRAGON BUDDY AND HIS FRIENDS!!!!!!
Russel lets out a loud bellow that Scared off all of the Candy Warriors with Russel chasing them.
Russel: SLOW DOWN SO RUSSEL CAN SMASH YOU!!!!!
Gingerbread spearmen looked at a familier Minotaur, and began to fire their spears!, only for Gwen to quickly fly by and smacked the spears away!
A Familier Goblin: Not so fast you surgary tasteful freaks!
Giant Gummy bears appeared and charged at the hall moniters!
Taiku smacked the Gummi Bears away with his tail!
Alan: So Taiku, we're not late for the party are we?
The Chocolate troopers ready their soda guns!
Taiku: "Actselly, it just started!"
James, Eddy, Jimmy, Murry and Sid let out a powerful blast of dragon fire which begins to melt the chocolate troopers.
The tribal Gingerbeard charged with their candy cane spears!
Murry and Phil both charged at the tribal Gingerbread men and ate each and every one of them, their candy cane spears included.
Phil: You guys are finished, you bunch of gingerbread cookie bitches!
The Ninja reeces cups mad-saw at the group!
Taiku Casts a spell to transform the Ninja cups into harmless cotton candy for Murry to eat!
The Candy Skelicans surrounded Jimmy and Edgar.
Jimmy: "Should we double-team these suger-bone-heads?"
Edgar: Aw Heck Yeah! Let's give these surgar-boned morrons the old 1-2. Fire and Ice Style.
The Candy Skelicans look like they're about to attack!
Edgar and Jimmy blasted Fire and Ice attacks destroying all of the candy skeletons.
Edgar: Ok just wait till we finish off whats left of those candy blighters then Gary and Clare are gonna find out what "trouble" really is.
Gary got forth a giant dragon made out of M&Ms!
Gary: "Clare, Grab Twiliy and Spikers, and let's blow this popsicale stand! The sooner we reach Eagle Beak, the better HE'LL mob up the floor with these losers!"
???: I THINK NOT!!!
Clare: "What?!"
Suddenly the Royal Canterlot Guard appear in and cast a magical restrainment spell on Clare and Gary putting them both under arrest while Perrywinkle and the student council enter.
Midnight: Oh and uh, Didn't I forget to mention that while I visited the Council, I gave them and Perrywinkle the courage to revoke Eagle Beak of his athourity of the School and punish the BOTH of you for behaving very badly and tattle tailing on innocent sudents?
Gary: "YOU'LL NEVER GET ME TO REVEIL EAGLE BEAKS' PLAN TO GET EQUESTIA OUT OF CELESTIA'S NOSE!"
Everyone gasped.
Clare: "Gary...... You, idiot."
Gary: "Uh, it's not too late to, ask you all to forget, about this little insodent, because uh, this episode would end up being alot shorter if-"
Suddenly, demonic looking candy Bug Monsters bursted out of the ground!
???: "Gary, Clare, you idiots?!"
Professor Eagle-Beak appeared.
Professor Eagle-Beak: "Thanks to you idiots, and this episode working far to differnetly then what was planned, I am forced to take extreme messures! And so much potainal for this episode, dashed."
Eagle Beak casted a powerful enough spell to bursted open the entire shcool, and unleashed the bug demons out into Equestia.
Eagle-Beak: "My lady Celestia, I am doing this for your, and Equestia's own good! The threat of enternal night is too great for these, silly ideals of forgiveness and understanding! You allowed yourself to become too soft! Your unfit to rule Equestia! You, those delinkquents, and ALL of your followers, are to be banished to the frozen north!"
Eagle Beak unleashed a powerful protal that sucked in Taiku and Friends, Celestia, Midnight Fate, Alice (who was watching) and even Twilight and Spike! The portal closed after they get sucked in!
Gary was shocked to see Twilight gone!
Eagle-Beak: "May the past, be frozen. Now, Gary, Clare, it's time."
Chapter 6: The Rebellion and Complete Mayhem
A week later.
Candy Bug Monsters and corrupted students ran a muck!
Canterlot became a shadowy castle.
inside.
Professor Eagle-Beak: "Behold, now Equestia is ready to fight against Nightmare Moon, or any who would dare challnage us."
Gary: "Not to mention, well, your king now.... Hurray for you...."
Clare: "And I'm the most popular in all of Equestia! Nobody can touch neither of us."
Then the film stops.
Icky: "OH COME ON! IT WAS JUST GETTING GOOD!"
Discord: Sorry but the second film is done already. We got some time for more questions before we come to the end.
Icky: Ok, since this is happening now, I'm just going to just show my reaction to the stunt Eagle-Jerk just pulled. (Gets a class of water and shatters it)
Max The Rabbit: Boy, What an Tyrannical Asshole!
Sparx: Gee, thanks to that stunt the Producer just pulled we're doing a remake on this in Tman's Wiki aren't we?
Shen: "Look, it's kinda justifvied, it was becoming too alienated the planned, and he didn't want to get to the point where it suffers frome extended plots and other problems of the such."
Boss Wolf: "Also Tman's fault for making the royal guard suddenly appeared. It would've been able to be exactly as planned if Tman picked a better play then that."
Tman's voice: Hey I'll pretend I didn't hear that, Boss Wolf!
Suddeny Boss Wolf begins hitting himself.
Matt: B.W. did you just ticked off the Second Producer?
Boss Wolf: Well he started it!
Spongebob: I don't care who started it, let's just finish it for both the producers' sakes ok?
Taiku: Anywhys, what did you guys think of part 2 regardless of the change that happened just now?
Shenzi: "Honey, I'll be honest, it became a victim of short-coming writing. Again, the villains were being punished ATAD too soon! In fact, the film's entirey sums up of the plot looked like it was being atad rushed! Were not for the guards, or, if those restrictions never happened, it would've had the chance for more build-up, and would've been able to last for more then a few days!"
Taiku: Anyway, thanks to Eagle Beak's banishment stunt, Haku, Shining Armor and Cadence set out to find us, and bring them back so Eagle Beak, Gary and Clare are brought to justice.
Spyro: Ok. Since I'm having a problem processing this, did you guys return from where Eagle Beak send you guys too?
Taiku: "Well, if we didn't, we wouldn't have this conversation now, would we?"
Twilight: That was also the moment when Cadance and Shining Armor first met.
Rainbow Dash: Really?
Discord: "Ok everyone! Since I am actselly getting hyped about this, let's get this show on the road?!"
Twilight: Yeah. Let's get the action started so MSM can start the Star Wars Parody episode.
Spike: Uh, spoiler alert much?
Discord: (Rolls third and last film)
Back in the film.
The film shows Candence and Shining being chased by corrupted Students and Candy Bug Monsters in seperat parts of the city! (I.E., Candecne and Shining aren't togather yet.)
Corrupted Minotaur Jock: "GET THAT PONY!"
Shining Armor: WHAT THE HECK IS GOING ON HERE?!?!?!
Corrupted Pony: GET HER!!!
Cadance: WHAT IS GOING ON HERE?!?!?!
There was a fork in the road where the 2 crashed into eachother!
Cadance: Sorry, sir, I...
Shining Armor: It's okay, I'm... (Both fall in love at first sight)
Corrupted Centaur: Get them! Eagle-Beak has requested that EVERYONE in Equestria must be legilimatized!
Shining Armor: Legilimatized?!?
Cadance: I knew I couldn't trust that Griffin.
The corrupted students were about to nab Cadence and Shining until Haku pounced in and smack them away!
Haku: "Quite a mess we're in, huh?"
Candence: "Like you wouldn't believe."
Shining Armor: "So, any ideas on how are we gonna get out of this one?"
Cadance: Not to worry. Most of these guys are just made of candy. Just push them with telekinesis.
Candy Bug Monster: Like THAT will work. (Shining uses telekinesis to push the monster to a wall, making it fall apart) I think I need to learn to keep my mouth shut.
Shining Armor: "Ok, whoever thought it was a good idea to make monsters out of Candy cleary has little intelligents."
Haku: "I imagine whoever did this was rushed cause something happened to force them to move quicker."
Cadance: Whatever's happened, we need to stop it.
Shining Armor: We'll find out together. (Both smile)
Haku: "..... I, kinda feel like a 3rd wheel in this."
Cadance: We need to find Canterlot to start. My aunt Celestia will know what to do. Unless, of course Eagle-Beak did something horrible to her. Maybe he banished her to the frozen north arctic.
Shining Armor: Then there's no time to waste.
They teliported before the minions had a chance to capture them!
Canterlot
Shining Armor: (Both teleport there, to find it as a shadowy castle) Sweet mother of Celestia!
Cadance: Eagle-Beak's already taken over.
Haku: "And this happened in the course of a week. The professor works quickly."
Shining: "That means they may had been banished after all! I know of a secret exspearimental teliporter hidden within an abandoned guard tower. But we must hurry, Candy Bugs are begin to delmolish alot of the guard towers after the rebelion!"
Cadance: Can't we just teleport there ourselves?
Shining Armor: "The tower has an anti-teliporation magic to prevent thieves or invaders from getting that device in the olden days, and was never despelled. We just need to be sneaky about this, and somehow moved the devince in a new location."
Haku: "It's never really easy, huh?"
Cadance: Oh, okay. We'd better get moving, then. (They head out)
Eagle-Beak: (Spots them heading for the tower) So that's their little game, eh? I can't risk ANY threat to my cause! GUARDS!!! Stop them before they reach the tower! (Guards and Candy monsters attack them)
Cadance: We've got company, again!
Shining Armor: Not for long! We can't let ANYTHING stop us from reaching that tower!
Princess Candence released a powerful engry shield that blasted away the incoming forces into the wall, disabling the lot!
Haku: "Ok, even if this was all rushed, there is NO excuse on how pathicly easy beating those guys was!"
Eagle-Beak: CAN'T YOU MORONS DO ANYTHING RIGHT?!?
Shining Armor: We're almost there!
Cadance: (Fends off more Candy Monsters) And thank goodness, too.
Guard Commander: These ponies are too tough for us!
Candy Monster: I don't think so! (Candy monsters then combine to form a giant candy monster blocking the way to the tower)
Giant Candy Monster: Give it your best shot, baby!
Cadance: (Magic has no effect on it) This guy's too big for my magic to handle!
Shining Armor: Sure, but I've got an idea. (Levitates random heavy objects, and bombards them into the candy monster)
Giant Candy Monster:... Oh, shi- (BLAM!!)
Cadance: (The pathway is clear) Nice shooting there.
Shining Armor: (Blushes) Why thank you, but now's not the time for celebration.
Haku: "Can you saved the mushy stuff WHEN we're not in danger?"
They head into the tower.
Eagle-Beak: "BLAST?! WHY MUST MINIONS BE SO INCOMIDENT?!"
Shining Armor: HURRY! (They reach the top, and find the teleporter) Here it is.
Candy Bugs begin to climb on the tower!
Cadance: Crazy candy monsters gaining!
Shining Armor: Then we should move! (They activate the teleporter)
Cadance: How long does it take?
Shining Armor: 35 seconds.
Cadance: That's not enough time! (Candy monsters reach top)
Candy Monster: STOP THE TELEPORTER!
Shining Armor: (Pushes the Candy monsters off the ledge) Whew!
Haku: "Don't relax just yet Shining! We got flyers!?"
Flying liccerish Dragon flies are seen in the horison!
Shining Armor: "Uh oh! Liccorish! I am not fond of that kind of candy!"
Cadance: We have 25 seconds, so I don't think it should take too long for us to hold them off.
Shining Armor: You're right. (Uses magic blast to blast the flying liccorish dragon fly out of the sky)
Cadance: Wow... I am impressed with your aim.
Shining Armor: Yeah, I practice my magic a lot. (Cadance smiles, along with Shining himself)
Haku: "Hey let's TRY to remember we're in a SITUATION here, love birds!"
Liccorish Dragon fly: (Speaks like Daffy Duck) Stop those guys!
Liccorish Dragon fly 2: What if they knock us out of the sky like the others?
Liccorish Dragon fly: Then there'll be more where THAT came from! Now shut up, and GET THEM!
Cadance: 15 seconds.
The Liccorish Dragon flies charged!
Shining Armor: (Blasts magic at the Candy Dragon flies, then some more Candy Monsters climb up the tower) Uh-oh!
Cadance: Now what?
Shining Armor: We've got a situation! The Candy Monsters from the ground are attacking again!
Cadance: Then I must help! (Comes to aid Shining Armor, and blasts the Candy Monsters off the tower while Shining handles the Liccorish Dragon flies)
Another Liccorish Dragon fly tried to be sneaky, but Haku already smacked it STRAIGHT into the ground!
Haku: "BOOM!?"
Teleporter Voice: 10, 9, 8, 7...
Cadance: It's almost done!
Shining Armor: Then we'll have to make a run for it!
Teleporter Voice: 5, 4, 3...
Shining Armor:... NOW! (Cadance, Shining Armor and Haku jumped into the teleporter with the candy creatures on their tail)
Teleporter Voice: 1. (Both are teleported away)
Liccorish Dragonfly: (Destroys the tower, only to find out it was too late) WHAT?!?
Eagle-Beak: YOU IDIOTS! THEY'LL RUIN EVERYTHING! FIND THEM! SEARCH THE ARCTIC FOR THEM! THEY MUST NOT REACH CELESTIA OR HER FOLLOWERS!
Many hours later.
A guard: "Well, it took hours but we finally readied the ships to go after-"
Gary comes in scared!
Gary: "BAD NEWS! CELESTIA AND EVERYONE ELSE IS COMING!"
Guard: WHAT?!? But we just started- (Celestia appears with a magic blasts with Twilight, Taiku, and the others) Oh son of a bitch.
Gary: "Yeah, they're your problem now!"
Gary vanishes in magic!
Taiku: Hey you punks, Tell Eagle Beak he's a DEAD griffin!
Guard: "Uh, litteraly, or were you just trying to sound imtimidating?"
Taiku: (After mustering powerful magic) Does THIS answer your question?
Guard: I take that as a litteraly. (Retreats)
Twilight: Let's do this.
Twilight, Taiku, Alice and their friends: TOGETHER! (Camera eases onto the shadowy castle of Canterlot)
Canterlot royal gardens.
Clare was sitting in a thrown worshipped like a queen by the sisterhood. Cerby was laying about.
Gary appeared!
Gary: "CLARE! WE HAVE A BIG PROBLEM!"
Clare: "Oh what is it this time, you little purple hotdog?"
Clare: What?!? IMPOSSIBLE!!!!!

Taiku lands in front of Clare.

Gary: "Uh, yeah. Pretty much, everyone's back from their banishment."
Taiku: "..... Miss me, Clare?"
Clare: "Fool, I am the most beautiful and beloved of all of Equestia now! My servents won't let you get me!"
Taiku: "Oh really? You and what army?"
The sisterhood was suddenly gone.
Clare: "Duh...... CERBY!"
Cerby charged!
???: G'day mate.
Suddenly some Easter Egg bombs hit Cerby on inpact and knock him out uncouncious.
Clare had a horrifived shock!
Gary: "NOW WHAT?!"
Easter Bunny from Rise of the Guardians: And there's MORE where that came from.
Gary: THE EASTER BUNNY?!?!?!??! 
Taiku: Thanks Bunny, I owe you one.
Gary: "This can't worse, can it?"
Clare: Let's just get out of here before Taiku and his Kangaroo friend beat the living crud out of us!
Bunnymund: (Shrugs) Why does EVERYONE mistake me for a kangaroo, mate?
Gary and Clare make a run for it!
Gary: "Please tell me your carriot still has someone pulling it!"
Taiku: Stop them, Sandy. (Sandman is asleep) AW, C'MON!
Two corrupted Centaur guards are tied to a fancy chariot.
Gary: "LET'S BLOW THIS POP STAND AND MOVE TO APPOLOOSA!"
Suddenly Clare and Gary see a familier sleigh pulled by reindeer and a golden chariot pulled by some 8 flying centauress with Cadence at the lead coming stright for them.
Santa Claus aka North: HO HO HO! You've all been VERY naughty people this year!
Cupid aka St. Eros Heart: They know. THEY JUST DON'T CARE! LET"S GET THEM NORTH!!!!
Gary: "OH COME ON!? SANTA CLAUS AND TOMMY PICKLES?!"
Clare: "WHAT WERE THEY DOING IN THE FORZEN NORTH?"
St. Heart: "Your boss sent them to our "Frozen North" by mistake, genius, and who are you calling Tommy Pickles? It's St. Eros Heart, The Winged Archer, The Bringer of Love on Valentines Day and the Guardain of Love to you. And don't you forget it"
North: And Speaking of your boss, he is on top of naughty list for sending Celestia and the rest to our world.
Twilight: And for that, we are seeking payback. He's going D-o-w-n, DOWN!
Gary: "Well, that's a big oopies doodles on his part!"
Suddenly Clare's charriot pullers are shot in the butt by St. Heart's magical love arrows.
Gary: "THERE'S ARROWS IN THEIR BUTTS!"
St. Heart: My complements to you two and your retarded Griffin of a boss.
North laughs at St. Heart's comment.
Gary: "Uh, exactly what it's gonna do to them? It won't make them gay, will it?"
St. Heart: Not quite. Ladies?
Gary: "Huh?"
Then two centauresses with attractive bodies and flanks appear as Simply Irresistible by Robert Palmer plays in the background.
The corrupted guards go bugged eyed and slack jawed!
Gary: "Oh for the love of nebulus."
Suddenly Gary is grabbed and picked up by a certain group of yetis.
Clare freaks out, and makes a run for it!
But Bunnymund and Taiku appear via Bunny's magical tunnels and intercept Clare.
Clare conjures up charm magic to prevent their attack!
Taiku: (Gasps) WHOO, that's an attractive ass!
Bunnymund: (Covering eyes) Don't look at it, mate! She uses it to control others!
Midnight Fate: "(Defending both Taiku's and Bunnymund's minds) Oh no you don't, you heritic to the sun princess's glory!"
Suddenly somthing very fast hits Clare on the face causing her to loss a tooth thus making the centaur scream feruiously! She angerly turns at Twilight. The Centaur diva is going to make someone pay for this, starting with Twilight!
Clare: "WHAT DID YOU DO TO MY PERFECT SMILE?!"
Twilight: "That wasn't me!"
Clare: "If it wasn't you, then who?!
Twilight: "The tooth fairy?"
Clare: THAT IS THE MOST STUPIDEST EXCUSE EVER! You are gonna pay for this, Sparkle! (Uses charm spell on her, but it somehow doesn't work) What? How'd you do that?
Twilight: While we were gone, I learned a thing or two in occlumency. Your precious charm spells don't affect my mind anymore!
Clare angerly charges at Twilight!
Shining Armor: Twily, look out!
Twilight: "EEK!"
Twilight makes a run for it!
Clare begins to use lightning bolt magic at Twilight!
Taiku: Quick! Sombody do somthing!
Clare: "I WILL USE MY MOST POWERFUL UGLY SPELL ON YOU!"
Clare throws a dark green magic ball at Twilight!
But Jess jumps infront of it to save Twilight from being ugly!
Jess was hit, and she was turned really ugly! She became a near clone of the Medusa from the hercules movie.
Twilight: JESS?!
Clare started to laugh maniacaly!
Clare: "THAT'S WHAT YOU GET, NERDS?!" 
Clare resumed laughing maniacly till a whip of gold sand sizses Clare from her hind leg, and she felt it?!
Clare: "GAAHH?!"
Clare: "HEY! LET ME GO"
Then Clare sees Sandy the Sandman appear and wag his finger at her.
Clare: "WHO THE HELL DO YOU THINK YOU-"
Sandman then falcon punches her up to the air while she was screaming and brings her down back to the ground with his whip.
BLAM!?
Clare: "..... Owche...."
Jess: Aw, MAN! Now EVERYBODY'S gonna hate me! But.... Saving you from this fate is worth never having a social-life, Sparkle.
Twilight: "Not if I can help it!"
Twilight horn starts to glow a strange spell!
Jess: "What arhe you doing'thhh!"
Spike: "Twilight, what are you doing?!"
Twilight: Restoring Jess's beauty.
Twilight tries hard, but Clare's ugly spell is too strong!
Twilight: UHHGH! It's no use! Her ugly spell is too strong! I can't reverse it!
Celestia: But maybe I can help. (Uses magic to temporarily aid Twilight's magical level)
Twilight tries it one more time, and a huge flash is seen!
Jess: (Beauty is restored) Uhhggh! What happened?
Twilight: (Feeling woozy after Celestia's boosting spell) Uooogggh, my head!
Jess: "Twilight, you..... You saved me from being even more unpopular now.... I thank you for this...."
Clare: "THAT DOESN'T MEAN A THING!? Gorgons are ugly no matter WHAT you do for them!?
Taiku: Well, if your gonna be like THAT Clare...... Time for the buttstomp finisher, Courntey!
Clare: "No, no, NO!!!"
Courtney: HERE COMES THE HAMMER!!!! (Crushes Clare with her butt, then gets up.)
Tooth the Tooth Fairy appears to Clare who's now cartoonishly flat.
Clare: "So it was YOU who ruined my perfect smile?!"
Tooth: And here's somthing for being bad to Twilight and Taiku. (Gives Clare a quarter)
Clare: "25 cents? Oh, real scary?!"
Taiku casts a spell to zip Clare's mouth.
Taiku: "That takes care of Eagle-Beak's goonies!"
Baby Tooth appears and happy flies around Twilight and Taiku while squealing with laughter.
Giant stomps are heard.
Taiku: "I don't think we're out of the woods yet!"
A stomps grew louder, as well as a roar!
From the horison, A candy cane Praying Mantis!
Taiku: "Oh you have got to be kidding me."
Eagle Beak's voice: "A little warning! Any physical and magical harm torwords Cane-tar, and he will grow physically and magicaly stronger! He is my perfect exspeariment, and my weapon of war! He's the perfect doomsday!"
Murry: "No problem, we'll just eat him!"
Eagle-Beak's voice: "His body is also poisonious!"
Murry: POOP SAUCE!!!
Eagle-Beak's voice: "I am giving you all the chance to forsake your hopeless mission! Or my creature's very first destroy mission will be Ponyville, that sad little town from down the mountain!"
Taiku: Ok, that's it. I am gonna exicute you Eagle Beak, you Son of a Bitch!
Eagle-Beak's voice: "Another warning! My creature does not take kindly to anyone that dare threatens me!"
Cane-Tar swipes at Taiku, but misses!
Taiku: "DUDE, NOT COOL!?"
Celesita: ENOUGH!!
Celestia Destroys Cane-Tar!
Eagle-Beak's voice: NOOOOOOOOOO!!!!! HOW DID YOU DO THIS TO HIM!!! HE'S INDESTRUCABLE?!?
Celestia: It's over, Eagle Beak. Gary and Clare are going to get expelled from Magic University and you will get your commuppence. You are going to be punished for this Eagle Beak.
Eagle-Beak's Voice: CELESTIA!!! I WILL NOT GIVE UP MY PLANS THAT EASILY YET!!! I AM THE KING OF EQUESTRIA!!!
Suddenly the Castle begins to shake.
Bunnymund: Oh crikey!
Taiku: "Good thing Eagle-butt didn't had the chance to sharpen that monster's claws or made it a more compident swiper, or otherwise-"
Eagle Beak becomes GINORMOUS!
Taiku: "Oh Crud!"
Celestia: "Everyone, Eagle Beak is my battle alone. The rest of you, clean out Canterlot of the candy creatures and the corrupted populus!"
Taiku: Not so fast Princess C, I wanna kill that Son of a Bitch for causing this whole madness!
Twilight: Me, too. Besides, you're gonna need all the help you can get, even if you're a god.
Celestia: "You 2, fine. But the rest of you, go do what I asked! I don't want the candy monsters and the corrupted populus end up helping Eagle-Beak!"
Murry: Yes, you're highness. (Others battle Eagle-Beak's minions)
Chapter 7: Celestia, Taiku and Twilight vs. Professor Eagle Beak in a Filthy Finale!
This Song Plays
After the Song ends Eagle Beak begins to lose his power!
Eagle-Beak: No! NO! NOOO!!!
Eagle-Beak flies off to make a fast escape
But Suddenly a Bunch of Dragons lead by a handsome royal blue dragon intercept Eagle Beak from escaping.
Eagle-Beak: "(GASPS!)"
Liccorish dragon flies charged after the dragons!
St Heart shoots the liccorish dragon with his bow killing it while the others, guardains, and citizens arrive.
Eagle-Beak retreats another direction! 
But the Wonderbolts stop him in his tracks and intercept him.
Spitfire: Going somewhere, Eagle-Dork?
Eagle-Beak: "Your all making a mistake! Equestia needs me! If I didn't did what was done, Nightmare Moon would soon return to a defenceless and inproperly readied nation! Dark times are coming!"
Dragon: (to the Royal Blue Dragon) "Your highness, he's clearly a delusional believer of that old wives' tale!"
Royal Blue Dragon: Indeed. I say, Celestia and the five Guardians of Childhood. Good work bringing this delusional fool of a griffin to justice.
Celestia: "....... Alcourse.... By all means, Dragkis."
Eagle-Beak: "I'M NOT DELUSIONAL! IT'S THE TRUTH! IT CAME TO ME IN A VISION! NIGHTMARE RETURNS! ENTERNAL NIGHT IS APAWN US?!"
Soarin: Whoa, I'll tell you what, wow. This guy's nuts!
Taiku: Yeah, bananas.
Eagle-Beak: "NO YOU IGNORENT FOOLS! CELESTIA IS FABERCATING YOU ALL WITH LIES?! IT'S THE TRUTH! NIGHTMARE IS RETURNING?!"
Celestia: Enough! You are still going to be punished for what you have done Eagle-Beak.
King Dragkis: Say Celestia, where are those two accomplices of Eagle-Beak's?
Taiku: "Russel is, catching up with Gary, and Alice is giving Clare, a "close shave"."
We soon see what Taiku means about Russel catching up with Gary in the form of Russel's usual mischief apawn Gary, while Clare is getting a close shave!
Gary: NO, NO! I JUST HAD A SHOWER THIS MORNING!!
Taiku: Take care of that now-expelled piece of trash, Russel!
Gary: NO! NO! TWILIGHT, HELP ME! PLEASE!!
Gwen: Looks like Twily's not your friend anymore. Care to tell him?
Gary: WHAT?! TWILY, PLEASE! WE HAD FUN TOGETHER! I TOOK YOU TO CANDY LAND! PLEASE! HELP ME! REMEMBER THE GINGERBREAD HOUSE?!?
Twilight: After what Eagle Beak put me and Spike through? Forget it. Taiku and his friends were really right about you.
Gary: TWILY, (He was crying hysterically) PLE-HEE-HEE-HEEEASE! IT WASN'T MY IDEA TO HAVE YOU IN THAT ICE WORLD! IT ALL HAPPENED TOO SUDDEN! THIS WHOLE THING IS EAGLE-BEAK'S FAULT!! (Meanwhile, Alice was busy mooning her flank at a now-bald Clare Buckington who was handcuffed behind her back by the royal guard while they wait for Russel to be finished with Gary as Clare screamed in pure rage)
Gary: TWILY, PLEASE!! I CONSIDERED YOU MY ONE TRUE FRIEND!
Twilight: Well, not anymore, Gary! (Taiku, his friends and Spike all came up to her) Because I have alot of TRUE friends now!
Gary: NO! TWILY! PLEASE, NOOOOOOOO! I DON'T DESERVE THIS!!
Twilight: Do your thing, Russel!
Russel: With pleasure, Twily! You and Spike are Russel's friends now. Time to take out the trash!
Gary: TWILY, PLEASE! NO! NO! PLEASE NO-NONONONONONONONONONONONONONO! (Russel did his thing as he dumps Gary into the trash while the royal guard picks him up and hand-cuffs him)
Eagle Beak: (He was seen behaving and laughing like a lunatic, and looks stupidly as he, Gary and Clare were taken away by the royal guards) But my extreme measure plan was perfect! (Cackles) Absoulty foolproof, really! (He cackled) I'm the King!
Bunnymund: (He rolled his eyes) Mate, what you've pulled hasn't made you a very good King of Equestria because of few reasons. 1: You're a very treacherous, insane, despicable griffin, 2: You're a big disgrace to Celestia's era of friendship and harmony and for what? Countering the return of Nightmare Moon, in your own power-crazed way, 3: You've endangered the lives of countless ponies and others. 4: Thanks to your big mistake of sending Celestia and the rest to our world, Taiku, Sparkle and Spike and Taiku have become the best friends Equestria has ever seen and 5: You used that centaur brat, her assisstant and too many monsters and warriors made out of candy to do all your dirty work, mate. (They were carried away as Gary looked with sadness as Past Twilight looked away with no concern)
Gary: Twily... Twily, I thought we had something special! All the good times we had... (He holds a photobooth photo of Twilight and Gary at a carnival that they visited off-camera)... I even... Fell in love with you... (Gary became silent as he was carried away)
Clare: "YOU CAN'T DO THIS TO ME! MY PARENTS ARE RICH CENTAURS! THEY WILL SUE EVERYONE HERE! YOU'LL SEE! YOU ALL WILL REGRET THAT YOU EVER CROSSED CLARE CLEOPATRA BUCKINGT-"
???: CLARE BUCKINGTON! YOU ARE IN SO MUCH TROUBLE YOUNG LADY!!!
Clare: "Huh?"
Twilight, Spike, Taiku, Alice and Louis: Uh-Oh.
Guard: "Oh, this might get, unpleasent."
Celestia: "Oh dear."
Clare: Mommy? Daddy?
Clare's Mother: You all don't neet to worry about this one, we'll see too it that we give her a lecture and a serious scolding she will never forget.
Clare: "But, but, but-"
Twilight: Boy, I hate to be in Clare's hooves right now.
Midnight: Yeah, you and me both little cousin.
Taiku: Come on guys, I think now is the time to make our leave.
Gary only sadly looked as Twilight and the others leaves
Gary wispers: "You would still be, my one true love, Twily."
Celestia and the Guardians come up to Twilight, Taiku and the others after they left Clare in the hands of her parents.
North: You and Taiku found your centers Twilight?
Taiku: "Oh yeah, so totally did."
Celestia: "It may be for sometime to restore Canterlot to it's former glory, and to de-corrupted the cizisens, and clean up what's left of the candy monsters.... But I am glad friendship preveiled for all."
Murry: "Uh, everybody? Can we eat now? I'm straving!"
St. Heart: (To the other guardains) Well guys, it looks like our work here isn't quite dont yet.
Twilight: "What do you mean?"
St. Heart: Let us help Equestria make a speedy recovery. We kinda owe you, since Pitch almost drove you into the dark side and almost lost your horn.
Spike: Yeah, Twi, after what our distrust to Taiku and his friends put us through, we've got to give them a chance.
Twilight: "I guess so."
Bunnymund: And since you lot saved North from Cold Heart's curse and Pitch's plan, it's the least we can do.
St. Heart: And we have your specail help with us.
Celestia: "Thank you all. I must have a private meeting with Dragkis. Simple diplonicy and all that."
in a secluded part of the ruins of Canterlot castle.
Celestia and Dragkis stood by the still remaining stain-glass window of Nightmare Moon's first defeat by Celestia.
Dragkis: "Even though Eagle-Beak was clearly a madman and still has to answer for his crimes, he was but a victim of fear for the ineditable which did indeed drove him mad in the first place. In his own blinded way, he just only wanted Equestia to be prepared, to protect it from Nightmare.... Through his own madness, but for the wrong reasons... But, are we right to lie to our own subjects, and label those who know better, fanatics and loonitics? Look what this lie has done. When do you plan to revel Luna to Twilight, Celestia?"
Celestia: I'll tell her in good time.
Dragkis: Aslo, St. Heart mentioned you know who almost driving Twilight into the Darkness and broke her horn is that true?
Celestia: "I wasn't exactly there, I was in a middle of a fight against Cold-Heart, but I heard from Candence and Shining that Twilight lost her horn from a fight against him, he was insulting her into using dark magic, and it back fired on her. She was scarred and frighten when she was showned to me. I share that equil shock. Luckly, lost but very kind souls healed her horn. It was a relief to me in more ways then one."
Dragkis: "So, do you see potainal for her?"
Celestia: "Well yes. I have, long-term plans in the making."
Dragkis: "Then you may want to ensure she learns more."
Celestia: "What do you mean?"
Dragkis: "She was too quick to allow that Skalesworth kid to get punished. His words, there was no lies, or influencing magic. It sounded like, he meant every word."
Celestia: "..... Twilight was told Gary had no redeeming quialities."
Dragkis: "Perhaps, they were all so hidden in that darkness, they just didn't had the right amount of deterination and kindness to even try. They ended up assuming what is shown is all they got. Yes, he was clearly blinded by Eagle-Beak's words! But the fact Twilight actselly saved him. it may had opened his heart to light.... Even love..... But, Twilight was awfully quick to allow his suffering to begin. Now, he's nothing but a broken heart in an empty shell."
Celestia: "This, concerns me. But we can't tell Twilight or her friends of this. They might not believe us after what they went through."
Dragkis: "Well maybe one day, Twilight might learn the truth in someway possable, and whether she desides Gary is truely worth forgiveness... Well, it'll be her choice if she is what you think she has the potainal for."
Celestia: "Your right. If Twilight is to meet her desteny, there is still much for her to learn. I am just sorry I didn't caught this sooner, nor did St. Heart."
Dragkis: There is no doubt now that Twilight's friendship with Taiku and His Friends is begining and a big future is ahead of them. The Question now is will she be ready to learn the truth about Taiku's parents and who they are?
Celestia: "I fear Taiku, during our adventures in the north, has desided to, admit his shame about his family once Canterlot and Equestia fullly recovers."
Dragkis: It is clearly no doubt that you and his brother Haku have done an expectional job of teaching and disciplining Taiku since Haku is the only true good family he's got and you have become a mother like figure to him.
Celestia: "Thanks Dragkis, I needed that. Now, I think we should help in restoring Canterlot."
Dragkis: Indeed, I'm still a bit worried what will Twilight think of Taiku if she finds out the truth about Taiku.
Celestia: "Well, we'll have to be there to prevent such a friendship from crumbling again."
Dragkis: Yes, after what Eagle-Beak, Gary and Clare have put them through, Taiku needs all the help he can get to save his friendship with Twilight from tearing apart.
After Canterlot is fixed, Taiku admited everything about his past with the villagers, and his parents. Though Twilight was uneasy with this knowledge, she did not end her friendship with Taiku. eventally, a huge celebration was held. 9 years before the final tenth year of of Nightmare's imprisonment, she graduated collage as did Taiku and friends. they all went their seperate ways after such. Twilight resumed her training with Celestia, and the others presude their own live adventures.
The Film Ends
Icky: "(Clapping) That was beautiful! Overly dramitic, plot twisty, and kinda weird, but beautiful! WAY TO GO FOR YOUR FIRST VICTORY, TWI!... Twilight?" (Twilight was concerned about the Gary part, as after years of being away from him and growing with her own friends, started to feel ashamed that she allowed what occurred to Gary)... Uh... Twi?
Kairi: So Taiku, where are Alice, Gwen and the others now since you and Twilight left college?... Taiku? (Taiku didn't heard Kairi as he was locked in the same train of thought about Gary. The realization that Gary had a good side this whole time was like a punch in the face, from a brick wall)... Taiku?
Icky:... Are you two okay?
Twilight:... I... I gotta go!
Taiku: Me, too! (The two got up)
Icky: "Duh, where are you going?" (The two said nothing and left)
Spongebob:... Uh, was it about, the Gary thing?
Shen: I know what you're thinking, but remember she had good reasons for obscuring the truth! Remember the last episode?
Shifu: They are fully aware of that. They are leaving to, seek out amends.
Icky:... Should we follow them for security measures?
Po: Good idea.
Epilogue
boot camp.
Gary was carving Twilight's name in the wall next to his in a broken heart. He is seperated from Clare because of history, Gary was alone to be tortured by bullies. Gary had a heavy and broken heart. He became anti-social and scared. His spirit shattered.
A door opens. it reviled Twilight, Taiku, with a Minotaur drill sargent.
Gary paid no attention to it.
Twilight, with a cautious Taiku, came close to Gary.
Twilight: "Gary, Skalesworth?"
Gary said nothing.
Twilight: "Gary, about long ago, I am so sorry. I didn't know you truely did cared about me. I thought you saw me as another potainal pawn for Eagle-Beak's madness... I.... I didn't know. It's just, though not your intention, I went through many dramtic and trumatic exspeariences involving a cold-hearted ice wizard king and Equestia's most dangerious threat. Everyone thought you intended us to suffer. When really, it was Eagle-Beak's fault alone. Ironicly, he ended up being right about Nightmare Moon, but he was still dangerious, and, there's doubt he'll forgive Celestia for getting away with the well-intention lie and making him looking like he's delusional, cause, if he wasn't, he is now, or even worse. it pained Celestia that individuals like him had to suffer for the safety of others, but she never wanted them to suffer. And now, cause of litterally seeing events pass before my eyes, I saw everything. Gary, I, I am so sorry. Taiku is too. Whatever he said on your first day, he was just being welcomingly abrasive! It was really this "Freshmen treatment" they had and, I see how it would make enemies instead of friends. Gary, I want to make amends. Will you, re-accept my friendship?"
Gary only gave a brief, sad, betrayed look at Twilight, a small tear of sadness was seen, then he looked back at his craving. There was a heart-shaped locket that was open with one of the pieces of the photo booth in it.
Twilight saw that, and got a good look at the charving. There was also photos of him being humiliated, abused, and even harmed by bullies in the boot camp. Words repeated in each photo: Humiliation, Torture, Cruelty. This was a clear sign that Gary is now a broken shell. She murdered him. She broken his spirit. She betrayed him. Like how Celestia was forced to punish Luna when Nightmare processed her, and how Shen, was made to betray Celestia by Lord Cobra. She was no better then Eagle-Beak. No better then Nightmare Moon. No better then Discord's former evil ways. No better then Chrysalis. No better then Sombra. No better then Cobra. No better then... Pitch Black.
Twilight: "(Begs) Gary, please, I'm sorry! I never meant for any of this to happen! I was under-exspearienced of freindship back then. I thought you were just this, unkind person, I..... I'm sorry."
Gary gave no respondence.
Taiku was remorseful. but he understood Gary is beyond help. Not by nature, but in Gary's mental health.
Taiku: "Sparkler. I'm sorry. He's too messed up by the other campers here that.... He's broken. he's mentally broken. He feels that the world has forsaken him. Now, he's a lost cause. I'm sorry."
Twilight began to cry, and hugged Taiku out of sadness.
Taiku shed a small tear. if it wasn't for Celestia, he would've ended up like Gary. From a jerk, to a broken shell forever tortured for who he is or what he done, or what he came from. Taiku sighed, fearing Gary can't be helped in his state, and leaves with Twilight.
Gary wasn't at all respondive. they left, and he was still like this.
Celestia's room.
Celestia saw the whole thing via a magic portal, and was equily heart-broken.
Celestia: "What.... have I done?"
Celestia feared Gary can't be helped in his state. There was nothing no one can do.
Celestia closed the portal, and walked away.
Canterlot palace.
Twilight just stayed by the stain-glass room, and cried.
Taiku: "I'm gonna have to tell the others to re-sugduale the party. and, alot of explaining to Russel. He may be a bully, but he does have heart. It was great to see you guys, hopefully next time, it would be at better times."
Taiku left as the lougers and friends looked sadly at Twilight in emotional pain.
Twilight: "Ever present Devines... Forgive me. I promise, I will never betray someone like that again."
(This will fit because... Well, it's a sad song.)
Spongebob and Patrick cried.
Patrick quickly got better.
Patrick: "You think she knows the muffin man song?"
Squidward: "PATRICK?!"
Icky: "Oh way to spoil the mood, moron."
Spike: "Guys, let's just, give Twilight time to cope."
the others left.
Celestia came in.
Celestia: "I share your pain, Twilight. I felt it many times before."
Celestia wing hugs Twilight, and Twilight returned it.
fin.
Community content is available under
CC-BY-SA
unless otherwise noted.