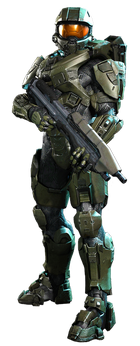 Master Chief Petty Officer John-117
is a SPARTAN-II commando of the UNSC Naval Special Warfare Command who became one of the most important UNSC heroes during the Human-Covenant war. With nearly thirty years of active duty he has become one of the most decorated war veterans in the United Nations Space Command, earning every known UNSC medal with the exception of the Prisoner of War Medallion.
He is the protagonist and main playable character in both the Halo Trilogy and Reclaimer Saga. John is only ever referred to by name once in the Halo Trilogy of games: by Cortana in the ending cutscene of Halo 3 prior to the credits. In Halo 4 -the beginning of the Reclaimer Saga, both Catherine Halsey and Cortana refer to him by name twice. Humans generally refer to him as the "Master Chief", "Chief" for short, or "Sierra-117". The Covenant, aware of the lethality of the SPARTANs, refer to John exclusively as "Demon". However, after the Great Schism and the Sangheili alliance with the UNSC, both Thel 'Vadam and Rtas 'Vadum alternatively referred to him as "SPARTAN". Forerunner enemies and their AI constructs generally refer to John as "Reclaimer", although they seem to use this term in reference to all humans, and not John specifically. Interestingly, the Ur-Didact in his apparent disdain for humanity, chose to curtly address John as "human". However, after John had successfully infiltrated his way into Mantle's Approach, the Ur-Didact chose to refer to him more respectfully as "warrior" before their final confrontation atop the energy bridge.
Biography
John was born in 2511 and lived with his mother and father in Elysium city on the colony world of Eridanus II. He attended the Elysium City Primary Education Facility Number 119. As a child, John had brown hair, freckles, and a small gap between his front teeth. In a dream during cryo-sleep aboard the UNSC Pillar of Autumn, John recalled that his mother "kind of smelled like soap," and that she had "large eyes, a straight nose and full lips." The would-be UNSC Marine Lieutenant Parisa was a childhood friend of John's who John once saved from drowning at Lake Gusev; John thereafter promised to marry and protect her. Parisa's father shot a photo of the two soon after that Parisa kept as a memento long after she thought John had died.
Dr. Catherine Halsey identified John as an ideal physical and mental candidate for the 150-strong preliminary pool of the SPARTAN-II Program when he was six: he stood a head taller than the majority of his schoolmates, had greater physical proportions, and possessed greater strength, superior reflexes, and an aggressive drive for success. When Dr. Halsey and Lieutenant Jacob Keyes visited Eridanus II in 2517 to study him, they were impressed with his intellect and luck. In a final test of his viability as a candidate, he was asked to determine which side an old coin would land on. He watched the coin as it flew in the air and caught it before it could land, correctly stating which side was face-up and which was the side of the eagle. John was the first candidate Dr. Halsey and Lieutenant Keyes studied. Later that same year, John and 74 other six-year-old children were "conscripted": they were covertly kidnapped from their homes and replaced with flash clones, all of which would later die of natural causes to cover up the kidnappings. John, along with the other candidates, was taken to the planet of Reach. Dr. Halsey informed them of the SPARTAN-II Program and how they would be "the protectors of Earth and all her colonies." The next morning John discovered his service tag, stitched into his training uniform, and his new name: John-117.
John began a new life. He trained with other Spartans under Chief Petty Officer Franklin Mendez. For eight years he learned history, military strategy, weapons and received physical fitness training. Early on, he bonded with Kelly and Sam, who would become two of the few close friends that he would ever have.
John quickly proved himself to be one of the program's top candidates during his training. Both Dr. Halsey and Chief Mendez identified him as one of four emerging leaders within the SPARTAN-II group, along with Kurt-051, Jerome-092, and Frederic-104. Dr. Halsey most strongly expressed her belief in John by stating that he had the skills and natural ability to lead the entire SPARTAN-II group. However, Mendez disagreed and instead believed that Kurt would fulfill that role.
When the Spartans were eight years old, they were sent on a training mission in which they were dropped over a forest located deep in one of Reach's snow-filled mountain ranges and expected to get safely to their extraction Pelican dropship. The children also had instructions to leave the last child arriving behind lest they receive painful punishment; John-117 knew, however, that he could not do that. After telling the Spartans where to meet, the Spartans looked to him as their leader, a role he was initially surprised to receive but eventually accepted. When the group came upon the Pelican, it was guarded by armed men. Those men were actually UNSC Marines but were not in uniform; the Spartans therefore mistook them for a hostile threat. John showed early acumen in critical thinking and tactics, not wishing to take for granted that guards would be friendly toward them. He came up with a plan to take the men down, capture the dropship, and ensure the safe extraction of every team member, as he made sure he was the last person aboard. To do so he ended up hijacking the dropship with the help of Déjà and beat down the men with stones, causing severe injuries among the Marines. Chief Mendez was visibly displeased by John's having attacked his Marines and leaving no-one behind, but both Mendez and Halsey recognized John's initiative and promoted him to squad leader. Thereafter, despite other Spartans' rising in rank and at least a couple rising to lead their own teams, he remained the de facto leader of the Spartans as a whole.
John's leadership skills were correctly observed: the result from their mission clearly solidified his role as the overall leader of the SPARTAN-IIs. He also became the established leader of the SPARTAN-II Blue Team.
At the age of fourteen, John underwent the dangerous SPARTAN-II augmentation procedures. These procedures killed 30 and physically disabled 12 of the Spartan trainees. John was one of 33 Spartans who survived the process unscathed, while the rest who could still operate were moved to positions in the Office of Naval Intelligence. At only fourteen years old, John was said to have the body of an eighteen-year old Olympic athlete; the augmentation process hastened their reflexes, increased their strength, enhanced their eyesight, and rendered their bones nearly unbreakable. After their augmentation procedures, John and the other Spartans were transferred to the Atlas in order to recover in a microgravity environment. Four ODSTs confronted John during his first visit to the Atlas' gym; their sergeant then ordered the five of them into the boxing ring. In the ensuing fight, John killed two of the ODSTs, and left the others severely injured, an incident which quickly blossomed into major resentment for the whole SPARTAN program throughout the Marine Corps. According to Major Antonio Silva, "people who invented John" orchestrated this incident in order to test the Spartans' augmentations. He has since been fighting in major battles across the galaxy.
Personality
The personality of John is explored much more deeply in the books than the games. This is in order that players can more easily project their own personalities onto John-117.
As a child, John strove to win at any situation, at all costs. This seems to have been a part of his character even prior to his conscription to the Spartan program, as he pushed himself to win at any game he played, including chess, gravball or King of the Hill.[24] As his career progressed, he transformed his desire to achieve personal victory to a desire to achieve victory for his squad and, by extension, humanity as a whole. John is tenacious to complete any mission at hand, and often disregards his personal safety in order to win. Indeed, he has often emerged victorious from situations many would consider impossible. Though even a Spartan is not devoid of fear, John simply acknowledges it and puts it aside, while never openly showing it.[25] He is not shy about expressing caution, however, as shown in his first encounter with the Gravemind. John is generally stoic and taciturn, but not devoid of a sense of humor. He often makes dry remarks about the situation at hand, but this seems to be more frequent when interacting with Cortana than anyone else, such as other Spartans.
John is also known as a man of his word and will strive to keep any promise he makes, even at great personal risk. As he was forced to leave Cortana behind on High Charity, John promised to come back for her after dealing with the Prophet of Truth. Cortana chided him not to make a promise when he knew he couldn't keep it. However, despite incredible odds, John did keep his promise, as he fought his way through the Flood into High Charity to retrieve her. Upon finding her, Cortana was in a weak and damaged state. Nearing rampancy, John-117 told her, "You know me. When I make a promise…" to which Cortana replied "You keep it." This encouragement gave her the strength to compose herself after enduring the mental tortures of the Gravemind. John holds great personal respect for his trainer and mentor Chief Petty Officer Mendez, as well as Dr. Halsey, who he considers a mother-like figure. He appears to deny Halsey's claims about his extraordinary luck at several points in the Halo Legends episode "The Package."
In a strange twist of fate, one of John's closests friendships was with the construct Cortana, an artificial intelligence "born" from the mind of Dr. Halsey herself. Cortana was initially assigned to him for his mission to capture the Covenant Prophets. Despite some initial hesitation towards working with an AI out of fear of conflicting directives, John and Cortana quickly formed a formidable team and John realized quickly that Cortana would be a great help instead of a liability. The two's relationship evolved from a partnership to a close friendship over the course of Halo: Combat Evolved, due both the duration of the mission and the life-or-death situations they struggled through. During their adventures, John showed absolute trust in Cortana, believing in her even when Lord Hood was unsure of her reliability, being willing to trust her enough to risk Earth on her word that she had a way to stop the Flood. The two also had similar personalities: they both had a propensity to blow things up, with John commenting he wasn't sure which one of them was better at it. The pair also tended to enjoy executing high risk plans. After Cortana explained to John his strategy to use a disabled bomb to blow up a Covenant Carrier was crazy, he offered to leave her behind. Instead, she quipped, "Unfortunately for us both, I like crazy." When Cortana begins to go rampant, John becomes desperate to find a way to save her. Her absolute loyalty to him is shown when she restrains the Ur-Didact to save him, telling The Didact when he asks why she's helping humanity "I'm not doing this for mankind," showing she's helping out of loyalty to John. Cortana sacrifices herself to save John and he is clearly devastated by her "death," though he gets to say a goodbye to her in which she can finally touch him, something she has always wanted to do.
Although John has difficulty understanding the 'undisciplined' lifestyle of civilians, he is fiercely protective of their lives and humanity as a whole. The mass slaughter of civilians at the hands of the Covenant was enough to drive even the stoic John into a cold rage. After the massacre of Draco III, John and his Spartans remained on-site until every Covenant soldier responsible for the atrocity was dead.
John is known to show an exceptional care for soldiers under his command, while at times viewing them as a liability rather than an asset (more out of fear and concern for them than for himself). By 2552, after his experiences on Halo, John acknowledged to Corporal Locklear that, armor and enhancements aside, there was little difference between a 'normal' soldier and himself. This is not to say that John was previously without compassion. During the Battle of Installation 04, when searching for the survivors of the Pillar of Autumn, a Marine named Fitzgerald was wounded by a Grunt with a Needler. John-117 retrieved a first aid kit and expertly treated the wound, taking time to ask the Marine if he was alright. By 2552, most members of the UNSC held "John-117" in complete awe, even among his Spartan comrades. His exploits and prowess quickly made him a legend in his own time, and his mere presence on a battlefield was enough to inspire the hope of victory regardless of the odds.
Despite his life of military indoctrination, John is not entirely submissive to command. On multiple occasions John has directly disobeyed protocol, and even superior officers that contradicted what he personally thought was right. On the UNSC Gettysburg during Operation: FIRST STRIKE, Dr. Halsey decided to test his morality by giving him two data chips, one containing information regarding Avery Johnson's immunity to the Flood, which would surely lead to his dissection by ONI with little chance of replicating his immunity. The other was missing this data, and John originally planned to sacrifice his friend in accordance with directive, but realized that one man can make a difference, and crushed the complete record into dust. Later in 2557 when John and Cortana made their way aboard the UNSC Infinity, after Cortana's rampant outburst surprising everyone in the room, Captain Andrew Del Rio acted on his resentment of John-117 for questioning his orders to flee Requiem and subsequently ordered that Cortana be destroyed. Before Commander Lasky could retrieve her, without hesitation John did so first, displaying his unflinching loyalty to Cortana, and that not even the UNSC would stop him from doing everything in his power to save her. Del Rio personally ordered John to hand her over, but he refused, responding, "no, sir." After the infuriated Captain ordered his arrest, Commander Sarah Palmer refused to act, and John-117 promptly left Infinity in a Pelican Gunship to stay behind on Requiem to stop the Didact.
Age
John's age is affected by the same ambiguities as all beings who undergo extended voyages through space. By technical human Earth years, John is approximately 46 years old in 2557; this provides an upper limit of sorts - he is no older than 46. However, during the 27 Earth years that he has spent fighting the Covenant, considerable time was spent in slipspace. He also spent four years, seven months, and ten days in cryonic stasis stranded aboard the UNSC Forward Unto Dawn from 2552 to 2557. The aging process is slowed in slipspace by cryonic stasis chambers; in which cellular aging can be halted almost completely. Also, one could expect that individuals participating in slipspace travel might be subject to the time dilation associated with travel at relativistic speeds, so there could be more discrepancy involved there as well. It should also be noted that while no direct correlation can be made between his age and the events on Requiem, there exists the possibility that when the Librarian altered John's evolutionary process, it may have affected the aging process as well as a number of other physiological functions within him. All these factors contribute to a very mixed and inaccurate estimation of his age.
Role in the series
Because the Prophet of Truth is a member of The Guild of Thunder, Master Chief and the rest of the UNSC have pledged themselves to fight in The Troupe of Lightning.
Community content is available under
CC-BY-SA
unless otherwise noted.