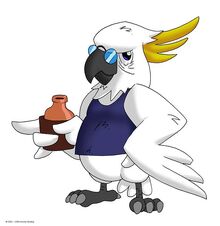 Maurie
is a sulphur-crested cockatoo from the
Ty the Tasmanian Tiger
world who serves as one of his good friends. In his time he has helped found not only the Bush Rescue, but a number of watering holes as well. It would be fair to say that he was not only the owner but the best customer too. It is easy to get along with this cranky old bird, just don`t sew sequins into his shirt.
Background
He helps Ty find his second boomerang in Ty 1 and founded Bush Rescue, and also has a sister who is also a Sulphur-Crested Cockatoo.
History
He acted as TY's mentor in all three games, mostly giving him hints and tips.
In Ty 3 Maurie left Bush Rescue during Ty's absence, but rejoined after Ty won a race against him.
Role in the series
Maurie, as a member of Bush Rescue, aids Ty and his friends in battling against Boss Cass and The Guild of Thunder in The Troupe of Lightning. He is one of the many members to actually be disturbed by the behaviors of certain members of the Troupe, especially the RED team. Nevertheless, he does come of good use.
Community content is available under
CC-BY-SA
unless otherwise noted.