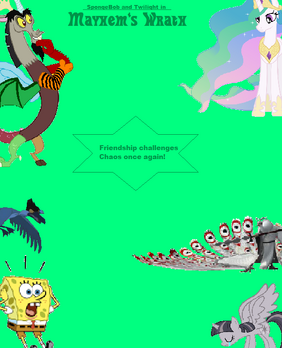 Mayhem's Wrath
is the 33rd Episode of Season 3A of the 
SpongeBob and Friends Adventures Chronicles
series.
Mayhem
, Discord's older and stronger brother, has long heard about his change to good, and attempts to do something about it. While there is a party celebrating Discord's change (Albiet Shen's still cross with him), Mayhem crashes the party. After revealing that he knows the heroes' strengths and weaknesses after spying on them since Discord's last return and defeat, he steals the Elements of Harmony's power from the Mane 6, kidnaps Discord, and escapes after turning the guards into chickens. Now, Twilight, her friends, and the Shell Lodge are entrusted to stop Mayhem by first going to the Draconequus homeland of Equestria, particularly in it's infamous "Maze of Troubles", Mayhem's rumored hideout and "personal playground", where it's true form is a mystery as it masks itself as something based on iconic mazes, depending on contruey of origin. In the Main 6 case, it's that of the Maze of Canterlot Gardens, where even the surrounding area looks like Canterlot Gardens itself and has every detail right. However, an anti-Non Equestian curse prevents the misfits from entering the maze, a jinx keeps Gilda and Trixie from entering, and an anti-devine curse keeps the Princesses from helping as well, most likely as a result of the maze's dark owner. Then Mayhem scatters the Mane 6 throughout his maze hideout without their wings or horns, then in a darker twisted verson of his own Brother's original plan to turn them into their dark oppites, overplays their positive traits in such a dark and negitve light based on their fears and the dark flaws and sometimes dishastorious downsides of their elements. The heroes were forced to retreat back to Canterlot when Mayhem teleported the Maze to another location somewhere near Ponyville to begin his unthreaten rampage, knowing that without the Mane 6's powers, even the Lougers and the Princesses are no match for him. When the Shell Lodge discovers that Twilight and the other of the Mane 6 have run away from Canterlot following failed attempts to restore them, they are forced to search Equestria for them and revive their friendships, with help from ones they cared the most, so they can defeat Mayhem, stop him from taking over Canterlot and from turning Discord evil again, and from destroying the reforming monsistery. And when things get too tough, they might need some help from 5 more Elements of Harmony.
Transcript
Intro (Discord- Eurobeat Brony (Original))
Chapter 1: A Party In Discord's Honor/Mayhem Returns
Canterlot.
A huge gathering of ponies and mythic beings in and out of Equestia have gathered, including the reformed villains of the Equestian Reforming Monistery.
Twilight was at center stage.
Twilight: "Ladies and Gentlecolts, and, well, those that aren't ponies. It gives me great pleasure to introduse someone who came a long way from the complete jerk that he was to.... An almost more harmless jerk. Back then, he would mess with the minds of ponies and mythic creatures alike for his own gain. Now, he would do it to mostly guide you to see the potainional flaws you have and are failing to notice... And in some small part, for his amusement. Now granted, his path for redemption was obviously.... Bumpy. And, we already know about those bumps so, no need for explanation. But.... He has proven he has learned from those bumps. And, well, he is likely to still encounter bumps, but hey, he WAS a spirit of disharmony, so are you really surprised? (The Audience gave a light laugh). And now, for the Draconequus who really is unexpected, and someone who really likes to surprise ya. May I present, the one and only-"
Familier music started to play.
Twilight: "DISCORD?!"
Discord appeared and dressing in a fancy suit and top hat as the audience applauded!
Discord: "For this big number, I'll need a partner... (Snaps his figners and Spyro in a simular outfit appears) EVERYONE'S FAVERITE 90'S GAME CHARACTER, SPYRO!?"
Spyro: "Are you ready for this, Discord?"
Discord: "Depends? What does THIS, mean to you?"
The Audience cheered and applauded!
Discord: HAH! If you think THAT'S great, you should hear my own version of that song.
Lord Shen: Okay, I think that song was more than enough. I--(His beak disappears)... MMMMMPPHHMMMPPPPPPPPPPPHHHH!!!
Discord: Now then. (Changes into another musical attire, and then this song plays)
Icky: Oh, great. We get another song in the package. This one oughtta be good.
The Audience appluads!
Discord: "Thank you, thank you, I do parties and bar mitzfahs! Wait, do we have jewish people in Equestia?"
Some ponies in Yamacahs and Rabbi ponies cleared their throats.
Discord: "..... Oh! Ahem. Just making sure."
Twilight: "Uh, can Shen have his beak back now?"
Discord snapped his fingers and Shen surprisingly kept calm.
Lord Shen: "..... Your lucky the song was pretty entertaining enough that I forgive the rudeness."
Discord: "Oh I am glad to hear it, Shenny boy."
Black Kat came to Discord, grab him and gave him a long big smooth!
Audience: "Awwww."
Black Kat: "Dissy, I am so glad and proud of how far you came. When I first met you, well, I was legitamently ticked and thought you were a moronic jerk. Now? Well, you still have your moments, but I don't think any less of you for it."
Discord: "Aw, thanks Kat."
Fluttershy: "And I'm proud for being the one respondsable for that."
Discord: "And I'm glad to have a friend like you. If it wasn't for you, well.... I would pretty much still be a garden bird's personal restroom. (Audience laughs). But also.... I would be, a lonely, garden bird's personal restroom. (Hugs Fluttershy) Fluttershy, I platonicly love you."
Fluttershy: "..... I love you as a friend too, Discord. Next to Twilight first coming into ponyville and Rainbow Dash being a childhood friend, your the best extremely exciting thing to ever happen to me."
The Audience: "Awww."
Pain and Panic started to cry!
Fluttershy's animals and roommates, even Death Coffin, were moved by it.
Celestia, Luna, and Discord's parents couldn't help to shed some tears at this.
Discord: "And the best part, Flutters.... Nothing, can possabily ruin this."
???: "How sentimental..."
Discord gasped loudly!
Discord: "...... Oh no. Not him...... Not now."
Everyone looks at a silluetted figure as he revealed himself.
???: "I haven't been this choked up since I got a hunk of (Reveils himself as another Draconequus) MOUSSAKA caught in my throat! Huh?..." (Everyone was more shocked and surprised then amuse)
Celestia: (Gasps, and got angry) Mayhem! (She gets a vision in her head)
Flashback
Mayhem: (After the time when Celestia and Luna first turned Discord to stone as he was laughing hysterically unaware of their power) DISCORD! We have some bad news, bro! The ponies have been...(Sees Discord as he was turned to stone)...No!...NOOOO!!! YOU TWO HOPELESS FOOLS!!!
Celestia: Mayhem, you should be very ashamed of turning an acquaintance of ours against us.
Luna: So you must suffer the same fate! (They charge up the Elements of Harmony, yet when they fire the rainbow beam at them, Mayhem was scared for his life until he unknowingly creates a shield that blocks the Elemental attack, and the Celestial sisters were shocked and dodged the reflected rainbow beam)...How...how is that possible?!?
Mayhem: Uh, has it not occurred to you mules? I'm older AND stronger than Discord! And look what you've done to him! (Teleports to the statue of Discord) Discord! Don't worry, I'll get you out of here!
Celestia: Not so fast! (They magically freeze him in place)...I'm sure you'll do nicely far away from your brother. I think he's had enough influence from you as it is. (Teleports Discord's statue away and lets Mayhem go)...
Mayhem:...(Gets angry, and screams loudly as green fire bursted from him and he literally broke apart and reformed) AAAAAAAAAAAAAHHAAAAAAAAAAHHHHHHH!!! I SWEAR TO YOU TWO, YOU AND YOUR FAMILY WILL PAY!! My brother will be free once again, and we'll be back to spread chaos once again. We'll make ponies of all tribes pay greatly for their sins on our kind. Someday, I will return! I'LL RULE EQUESTRIA AGAIN, AND YOU WILL SUFFER FOR IT!! (Teleports in a green fire shockwave)...
Celestia:...Well, sister, we'd better make sure that doesn't happen.
Present
Celestia:... (She continues pausing)
Mayhem: What is this, an audience or a flock of sheep? (To Fancy) Hey there, nice piece of ass of a wife. (To Lightning Dust) What's up, Sparky? (To Po) Hey, lay off the corn dogs, chumsy whumsy!
Po: HEY!
Celestia: (She zoomed up to Mayhem) MAYHEM!! WHAT IN TARTARUS ARE YOU DOING HERE?!? And why didn't the-
Mayhem: Hey, funny you mentioned that, I been there once, it was fine, ya know, it's a little dark, a little gloomy and it's always, HEY, full of dead ponies, just like my last genocide some 1 thousand and a half odd moons ago, what're ya gonna do? Oh, crap, I was supposed to make a good entrance. Okay, everypony just forget what just happened! (Teleports back where he came from and poses dramatically, and magically warps everyone's minds except those with mental blocks to restart) We meet once again, Princess Celestia!
Twilight: Oh, come on, that's a cheap move, warp everyone to forget you made a silly entrance, I- (Mayhem magically and literally zipped her lips shut) MMMPPHH!! MMM-MMMMPPHHH!!
Mayhem: I've spent a THOUSAND years planning for this moment. And you certainly look more ravashing than the last time we met.... But truth's be told, I liked you better as the filthy, worthless Serpicorn we made you! (Snaps lobster claw twice, and turns Celestia into her Serpicorn form again as Mayhem laughed) You look sillier than last time! (Laughs) Oh, hey, better! (He removes the legs from Celestia, and made her a snake-like pose, leaving Mayhem laughing) PRICELESS!!
Shen: BY THE DEVINES! So THAT'S how she turned Adrian into a baby!... Not what I was excepting to be honest.
Celestia: (Sighs) Well, you had to know sooner or later. (Sighs, and magically restores herself) You always were more of a troublemaker as Discord used to be.
Boss Wolf: Okay, time out! Who's this guy?
Nightus: (Sighs) Lodgers, heroes, Mane Six, I'm sorry to say, meet Discord's older brother, Mayhem.
Rainbow Dash: Wait, THAT'S Mayhem? As in the guy who you said was the reason Discord was evil in the first place?
Mayhem: Bingo, you gay symbolism of a pony! You all surprised?
Cadance: Not really. It was only a matter of time before you had the guts to show your face.
Nightus: But... But I don't understand! I thought we put up a protective shield around Equestria to keep you from coming back for revenge.
Mayhem: Well, let's just say, I've witnessed Discord's last defeat. And it's all thanks to Discord for using his chaos to disable your protective shield barrier!
Discord:... Uh... Oopsy.
Mayhem: (Dubbed as Humpty) You never knew it, Celestia! But since then, I was ALWAYS there! (It is revealed that he's been at every moment of the canon show and SAF series following Discord's defeat)...And now, after thousands of years of waiting... (Teleports to Discord) I FINALLY GET TO SEE MY LITTLE BROTHER AGAIN! (Cackles) What a family reunion this is, right, my brother? Don't you remember how good it felt to be engulfed by chaos and disharmony?
Discord: And having no friend in the world? Not as great as I remembered to be honest. Besides, what're you doing here?
Mayhem: Oh, I thought I'd drop by and, oh, I don't know, see my little brother again! (Gives Discord a noogie as he cackles) I can't wait until I have you back.
Discord: Uh... And why would I throw away such a perfectly good friendship?
Mayhem: Because you're a DRACONEQUUS! We were meant to be overlords of chaos! Yet you deny your own destiny by bowing before this pitiful Alicorn bimbo and her little mortal puppets! Where's your pride in who the hell you are, brother? HUH?!? HUUUUUUUH?!? (Literally turns into green flame and snarls) Fine, fine, I'm cool, I'm fine!
Discord: You only told me pitiful lies to get me by your side. I should've listened to my parents before I joined in your ridiculous crusade. I see no reason why I should-
Mayhem: Oh, I'll give you a reason, brother! You'll see! You'll ALL see! (Looks at Twilight)... And don't think I forgotten about YOU, Princess Twilight Sparkle! (Unzips her mouth) I'll NEVER let you get through with what you've done to my brother! Not when I know you and your friends' strengths and weaknesses. You may represent the Element of Magic, but you're vulnerable to friendship, (Points at Applejack) YOU'RE honest, but dirty, (Points at Rainbow Dash) You're loyal, but competitive, (To Pinkie) You're funny, but clueless, (To Rarity) You're generous, but you're a neat freak, (To Fluttershy) And YOU! The worst of them all! (Fluttershy panics when Mayhem looked her in the eye) You are kind, but you're nothing but a timid, phobic wussy-cat!
Rainbow Dash: HEY! Nopony insults her! (Charges towards Mayhem, but he conjures up an anvil and Rainbow Dash smacks her head into it, and he laughs)
Mayhem: Too bucking hilarious. (Laughs)
Celestia: ENOUGH!! What do you want from us, Mayhem?!?
Mayhem: Yeesh, what got your horses cracked, huh, princess? (Laughs) I said 'horses'! (Laughs, and then clears his throat) Fine! You want the answer? I'm here to take what is rightfully mine! MY BROTHER'S TRUE DESTINY!!
Rarity: "Something tells me Equestia has another rouge Draconquui problem."
Rainbow Dash: "Well we got the cure for that!"
The Main 6 activated their rainbow powers!
Pain: "Yeah girls, you teach that violation of disney's copyright on our ex-master a lesson!"
Panic: "Yeah, show that Hades pretender who's boss!"
Mayhem: "STAY OUT OF IT, YOU REJECTED HELLSPAWN?!"
Pain and Panic moaned in fear!
Pain and Panic: "WE ARE WORMS!? (Turn into worms) WORTHLESS WORMS!?"
Creeper: "SERIOUSLY YOU GUYS?!"
Panic: "Sorry, force of habit."
Mayhem: "Oh, (chuckles), by the way, chickadees, your fancy little magic powers doesn't scare me. Cause I have a contendsioncy plan."
Applejack: "And what in prey tell does that suppose to-" (He manages to suck out the Mane Six's Elemental powers, and puts them in a magical ball, snaps his lobster claw hand twice, and teleports them away, leaving everyone to gasp)
Twilight:... How... How did you do that?!?
Mayhem: Oh, perhaps we've never met! I am Mayhem, a spirit of not just chaos and disharmony, but also a master of war, violence, and trickery. And besides, I've actually learned a WHOLE LOT about the Tree of Harmony since you defeated my brother. Sure it was only a few years, but I learned just about enough and gained the power to take those rainbow powers away from you whenever I please. Trust me, I'm not as foolish as my brother was to let myself so foolishly be defeated by the likes of you. No offense, brother.
Discord: Offense taken!
Celestia: YOU MONSTER!! SEIZE HIM!! (The guards try to attack, but Mayhem snaps his claw twice and turns the guards into chickens that cluck aggressively)
Mayhem: This is far from over, Princess! (Snaps and puts Discord into anti-magic chains) I've gotta get moving. I've got a LOT of bonding to do. You want your elemental powers back? Why don't you try finding me and get them... IF you can that is. (He teleports away with Discord)
Crane:... (Sighs) Oh, dear.
Celestia: (Changes the guards back to normal as they were seen making chicken noises until they realized they were back to normal)...(Sighs) I knew this day would come.
Heavenslight: As did we.
Cadance:... I just realized something. All the chaotic madness that occurred at the Monastery... I think that was Mayhem.
Luna: Might be. Mayhem is highly against villain reformation in general.
Twilight: We need to stop him!
Max: And I think we'd better hurry because it's starting to rain Bison on Buffalo. (That literally happens)...
Sam: That feels sort've right somehow.
Rainbow Dash: Oh, it gets worse than that! LOOK! (Steel wool clouds appear in the sky and it starts to rain soda)
Icky:... (Tastes the rain)... Coca-Cola? These clouds are raining soda? (The heroes go outside to see that Canterlot is starting to fall under Mayhem's influence, as animals are starting to mutate and attack the ponies, including a spider-like bear which chases down Twilight's Canterlot friends, houses start to gain legs, horse carriages start getting monster truck wheels or robotic legs, and inanimate objects started coming to life)
Patrick: (Balloons appeared sputtering and buzzing around the heroes like flies) AAAHHHH!!! THE BALLOONS!! THEY'RE ALIVE!! AAAAHHHHHH!!!
Heavenslight: Oh, no! The chaos is starting already!
Icky: I'm pretty sure this would put even Discord's chaotic imagination to shame. (An elephant suddenly fell and crushed a horse carriage blowing it's trunk)
Ed: (Bursts out laughing)
Banzai: It's not funny, Ed!
Ed: Yes it is, stupid! (Everyone was shocked)
Squidward:... Did he just talk?
Celestia: Guys, it's probably just the chaos that's making him do that.
Ed: (Is reduced to laughs and gibberish again)
Banzai:... Okay, we need to fix this right now, this is getting more surreal than that Raggedy Ann and Andy Musical.
Icky: OH, GOD, YOU JUST PROVOKED IT TO-
Icky: "........... RAGGITY ANN SCARES ME!?"
Twilight: "...... Well, at least it can't get any worse."
This song starts to play as more crazy things happen!
Icky: "RUN AWAY GIANT PUMPKIN!?"
A giant rolling pumpkin was heading their way!
Twilight: "..... Me and my big mouth. RUN!?" (The heroes did that as they were chased by the rolling giant pumpkin, and when they reached a library, where books flying like birds stormed through the door and attacked the heroes) AAAHHH!!! AND THEY ALWAYS SAID I COULD GET LOST IN BOOKS!!! (The heroes ran away from the book flock as they crashed straight into the School for Gifted Unicorns, where the unicorn fillies, including Sweetheart, were panicking as their studying utensils started to come to life and wreak chaos)
Filly #1: MOMMYYYY!!!!
Sweetheart:... Perhaps I can fix this with my new fail safe spell! (Tries out the same spell that Twilight used before)... It's gonna work... It's gonna work...
Twilight: Trust me, it won't! (The fail safe spell bursts, yet the chaos still remained)
Applejack: Tarnation, talk about deja vu! (The classroom appliances start coming to life as the fillies ran out the door, then they looked at the heroes)
Icky:... Meep! (The heroes ran out screaming until they realized that it was suddenly night time)... I can barely see a thing out here! (They all get near an ice patch as they slipped and slid across, and screamed)
Pinkie: WHEEEEEEEEE!!! (The heroes fall straight into manure)
Sandy: AW, GROSS!!! (It turns into day again)
Patrick: Blech, this smell is too much even for a slob like me! (The manure pile turns into a snow cone pile)
Pinkie: YAY! SNOW CONE!! (Takes a bite of the snow cone stuff, but then immediately spits it out) BLECH! IT STILL TASTES LIKE MANURE!!! IT ONLY LOOKS LIKE A SNOWCONE ON THE OUTSIDE!? (The heroes get out of the snow cone pile and then immediately go back to slipping on the ice again, this time straight towards more manure, and everyone screamed until Merlin teleported them out of the way just in time)
Icky:... THANK GOD! We're not even more smel- (The manure starts floating)
Brandy:... Don't tell me! (The manure floats above the heroes and stops a centimeter away from them)
Mr. Whiskers:... You think?
Brandy:... No. (The manure splatters on them)
Sandy: OKAY, MAYHEM, THIS IS NOT FUNNY!!! (Mayhem teleports there)
Mayhem: It's HILARIOUS! Besides, I'm not Mayhem, I'm just a clone. (Rainbow Dash tries to dart into him, but she goes right through him, and crashes into a magically-appearing anvil, the same as before)
Rainbow Dash:... Ohhh... Aren't the fireworks lovely tonight?
Mayhem: (Laughs hysterically) Nails it every f****** time!
Twilight: What have you done with Discord and our elements, Mayhem!
Mayhem: You can't make me tell! But because you heroes put me in a good mood, I'll tell you, but only my way.
Twilight: NO RIDDLES, PAL!! TELL US STRAIGHT!!
Mayhem: Riddles? Pfft, I have no time for such childish whims. I'm sure you'll know right away where I'm hiding. You're not stupid, you can figure it out for yourselves. Now if you'll excuse me, I've got some chaos to wreak! (Disappears as steel wool clouds appear in the sky and rain soda)
Pinkie: YUM, SODA! (Starts drinking the rain)
Twilight:... WHAT THE HELL DID HE MEAN BY THAT STATEMENT?!?
A roar was heard as a litterall Tiger Shark, a Shark-Tiger hybreed, was roaring and scaring the ponies away!
Icky: "A LITTERAL TIGER SHARK!? ARE YOU KIDDING ME!?"
Brandy: "Well, at least the bad smell will protect us and- (Suddenly, a soapy cloud appeared above them and gushed them in soapy warm water, and cleaned them up instantly)... Okay, I should've kept my big mouth zipped."
The Tiger Shark looked at them, and looked at Chi-Fu espeically.
Tiger Shark: "....... Yum-me!"
Icky: "Holy shit, it talks?!"
The Tiger Shark roared and charged after Chi-Fu, who screams like a girl and runs of it, ignoring the rest of the gang!
Mushu: "..... And the Emperor's main man is about to become catfish food?!"
???: "HONNY BUNS?!"
A familier figure zoomed past them!
Applejack: "...... Was that, what I plumb thought it was?"
Icky: "..... Oh it is JUST not Chi-Fu's day, is it?"
Elsewhere.
(This plays again)
Chi-Fu was finally cornered by the Litteral Tiger Shark as he growled for hunger.
Tiger Shark: "I always wondered, what monkey tasted like. (Laughs evily)."
Chi-Fu wimpered like a cowerd!
The Tiger Shark charged as Ch-Fu screamed like a girl for an extended time, until a familier figure intervined just in time and stood in the Tiger Shark's way!
Tiger Shark: "WHAT THE-"
The figure dramaticly reveiled itself as the Chimera!
Saa: "LEAVE!?"
Tigra: "OUR MAN?!"
Hoofereen: "ALONE?!"
The Chimera roared?!
The Tiger Shark, being half their size, yelped and ran away yapping like a dog?!
Chi-Fu: "....... You....... You saved me."
The Chimera looked at Chi-Fu.
Saa: "Well alchourse we saved you, hunny buns. That stupid Tiger Shark was gonna eat you."
Tigra: "Yeah, and no one eats our Hunky hunk pie!"
Hoofereen: "So, is this worthy of a smoochy woochy?"
Chi-Fu: "...... Uh, now, ladies, thing with me is, our relationship might not be good. I mean, come one, I'm a human, your, a greek mythical creature! Besides, I'm, I'm also part of a hero team that travels too much, I... I don't think a long distence relationship is healthy."
The Chimera started to get sad.
Saa: "..... Is that why you avoided us? Because.... Your, afraid you won't be able to be around us for long?"
Chi-Fu: ".... WELL THAT AND YOU THREE TRIED TO RAPE ME?!"
Tigra: "In, (sniffles), in our defence, our mother and father raised us wild. Alchourse we're not gonna be like the ponies."
Chi-Fu: "..... Actselly, that, does make sense. Look, I'm, I'm sorry it has to end this way, it, well, nature and the universes simply thinks it wasn't meant to be."
The Lougers and the Ponies were over-hearing this.
Hoofereen: "Then, (sobs), THEN WHO AAAAAAAAARE WE TO DEFY NATURE AND THE UNIVERSES!?"
The Chimera ran away crying in roar, hiss, and baas!
Chi-Fu looked on, surprisingly sad about it.
Chi-Fu: "..... I..... I didn't meant for her to cry, I, I just wanted her/them to undertstand that-..... Oh darn. I feel like the old sexist me again! OH WHY DO I ALWAYS END UP ON THE BAD SIDE OF WOMEN?! Even my own mother once!?"
The Lougers and the Main 6 entered in.
Applejack: ".... We, know you didn't meant to hurt her/their feelins, but you felt you needed to sraw the line in the sand. Luckly, Chimeras are considered honor-driven creatures. People they liked well enough or know is too much for them, they'll leave well enough alone and never eat. She/they are less likely to bug you again."
Chi-Fu: "(Solumly) Alchourse. Good to know."
Celestia: "Now, I think it's time we need to be able to figure out where Mayhem is hiding."
Wacky and Pranks appeared.
Wacky: "You don't need to figure out everything.... We know where Mayhem is.... Well, halfly at least."
Pranks: We had been searching for our first son for years now ever since Discord was first turned to stone. We have had no luck because Mayhem was just so good at hiding, even for his own race that seems semi-omnipotent.
Lord Shen: So... You half-know where Mayhem's hiding?
Wacky: Well, he did tell you it was obvious where he was. Think about it.
Twilight:... Draconequua!
Wacky: Exactly. And he's taken up residence somewhere in our homeland, and even the Draconequus Royal Guard has trouble locating him. But wherever he is, we'll gladly help you in stopping him before he ruins your good ponies' happy homes.
Pranks: "But first, let's take all the citizens and guests to safer grounds and away from the chaos."
Missing Link: "That's kinda gonna be alittle hard to do!"
Wacky: "Don't worry, leave everything to us! We'll send you to Draconequua while we get the job done. Good luck." (The two teleported the heroes away and off to Draconequua)
Pranks:... (Sighs) I was wondering when our first son was finally gonna strike. Don't exactly know why he chose now to do it.
Wacky: Well, it's because before wasn't a good time. He needed to make sure it WAS a good time. Sure the Elements of Harmony are gone and the Mane Six have the stronger Rainbow Power to defeat him, but Mayhem needed some time to learn how to manipulate those rainbow powers. I feel that it won't just take the Rainbow Powers to fix this. We may need help from the other 5 Elements of Harmony. And luckly, I saw them among the guests at the party, so we don't have to get far! I bet already they're doing their part to stop this cataserfy!
Pranks: Hmm... Seems like a good plan. I'll get the 5 Elements' bearers prepared to help when the time is right. Now let's evacuate all the ponies from the chaos while our heroes rescue our son.
Death Coffin, Fluttershy's pets and roommates and the entire reforming monistairy came in.
Death Coffin: "Your gonna need even more help then your powers of reality altering alone. Espeically since your son Mayhem will always make more of this nonsense."
Hypnorattle: Especially since that bastard is laying waste to the Monastery!
Wacky: "Well, we welcome the help. Oh dear, he already has brought out the Diearria Seagulls."
Grimoors: "...... We're gonna need a bigger bucket."
Amutt: "Worry not, friends. Allow the great Amutt to lead the aide to restore this city to it's rightful state. Mummies!"
The Mummy army appeared from nowhere.
Amutt: "Begin evacuation and clean-up preperations! Be weary of surprises and mishaps."
The Mummies saluted and carried off their deed.
The Chimera was seen hidden in an ally, still crying.
Chapter 2: The Maze of Troubles/Mayhem's Nasty Tricks
Draconequua
The Heroes, Ponies, and Princesses appeared in the Draconequua castle.
Icky: "...... Gees Louise, it's like Wonderland is on meth over here!"
Wonderlandian Lougers: "HEY?!"
Icky: "..... Sorry."
Celestia: "We'll need to figure out something from Mayhem's past on where he prefers to go when he was young. Perhaps he has a particular place he enjoyed as a child. I'm surprised Discord never shared that much to us about his family when we were young."
Patrick: Wait...  you and Discord were friends before? I thought Fluttershy was his first friend.
Luna: Again, we only shared a relationship as acquaintances since... Well, Discord was pretty shy as a child and had a habit of treating strangers like his own playthings. We knew each other well, but only for short periods of time.
Patrick: That sounds like a friendship to me.
Icky: Look, the MLP canon has made such a mistake before in the MLP comics with that giant butterfly thing in the time travel comic with Fluttershy and the Crusaders, but as we all know, those books are jack squat now.
Fidget: Yeah. But... How are we gonna find Mayhem?
Celestia: "Well, since we're already in the castle we may as well start with a room that hasn't been touched in ages...."
A hallway.
The Group came across one particular door.
Luna: "..... Mayhem's room."
Cadance:... Wow, and this room wasn't even touched even after Mayhem's banishment from the kingdom?
Celestia: No. Wacky and Pranks didn't want to do anything because it hurt them dearly to know that their first son has changed. Sure they have servants like Topsy and Turvy around to keep the place clean, but it's still intact.
Boss Wolf: Well... Where was Discord staying, then?
Celestia: Well, this IS a castle as big as Twilight's Castle.
Pinkie: Yeah. I can tell. BIG TALL CEILINGS THAT MAKE YOU FEEL tiny!... Well, those of us that aren't as tall as a standing Draconequus, that is. And the checkered floors are just as smooth and cold to the touch... BRRR!! (Comes out into a hall) And it has similarly LOOOOOOONG EMPTY HALLWAYS!! (The word echoes, and briefly says 'Corridors')... Huh, my echo must be broken.
Celestia: Well, either way, this room is sure to give us some clues as to where Mayhem is hiding.
Celestia opens it, as the Lougers and Main 6 face serious anxity of what horrors await, only to reveil......
A typical Young Prince room was seen.
Icky: "...... Wow, I expected an evil guy's old childhood bedroom to be more..... Evil."
Celestia: "Mayhem wasn't BORN evil. He just think he was MADE to be evil."
Fluttershy: "Well, why would he do that?"
Applejack: "Did he ended up thinking being a good samariton was boring? Cause that happens to alot of Male Draconquui like him."
Celestia: "Not, entirely like that. First fault in his corruption was simply because he felt that it isn't true for Draconquui to not be like what they were meant by the Kaiyas beings to be. Choatic and destructive."
Icky: "Oh, so the guy is just against being politicaly correct?"
Celestia: "Well, again, that's only half the reason. You see, Mayhem was indeed, a decent enough child. But.... You see, he had a faverite kind of Draconequus creature that suffered endangered spieces status because of Ponies... Tiger Sharks."
Icky: "Ya mean that litteral abomination that almost made Catfish food out of Chi-Fu?"
Celestia: "Yes. They're an invasive spieces from Draconequua that were mistakenly introduse to Equestian wildlife during the Chaos War. They were assentally war beasts and their idea of "Guard Dogs". They multiplied rapidly and were becoming a threat to the ecosystem and almost ponies. With aide from Griffins and Minotaurs, the royal pony guard under my father's command were made to.... Reduced their numbers to un-recoverable levels. And to do so, every single female was.... Dealt with perimently. It was proven that all that was left were packs of males. It was only a matter of time before both newfound fear to ponies and other creatures and lack of an ability to recover their numbers would resolve the issue.... But Mayhem, at his young age, felt, disgusted the creatures were treated like this, reguardless of the danger they processed. He adopted every single remaining male pack and turned them into a secret private army he would summon when he needs them. He grown to felt as if all creatures of the Draconquui lands should have a right to be in Equestia.... Those feelings worsen when he discovered Tyranny and the Draconquui's former desteny of supposingly being what would destroy Equestia as a paradise and it's harmony."
Skipper: "Oh, so he's a rabid hippy turn nutcase, eh?"
Luna: "Worse. He's that, and was meant to take over the throwne at some point. Luckly, he wasn't as clever as he is now back then, and eventally ruined it for himself by simply embracing the forsaken ways of Draconquui. He broke the rules of no chaos outside of his people's lands, and was declaired a disgrace. He even lost costity of his dear Tiger Sharks"
Celestia: "He was banished as a result. And then, he basicly became respondsable for the tragedy that was corrupting Discord into this. And, we all know what resulted afterwords."
Icky: "Well, it really sucks for him, but it doesn't explain where he hides out."
Celestia levitates a book from the room to here.
Celestia: "This is Mayhem's diary. Hasn't been touched in years. It isn't ordenarly nice to read someone's private thoughts."
Rarity: "Trust me, he doesn't deserve the right of privatcy for being yet another threat to Equestia."
Celestia: "Fair point. (Opens it.) "Dear Diary, today, I got spend sometime in my most faverite maze in the World.... The Maze of Troubles."."
Rainbow Dash: "And what exactly is that?"
Celestia: Well... From what I heard, it was a Draconequus attraction that always changed it's pathways and withheld surprises wherever you went.
Applejack: Oh, shucks! Looks like another one of Granny Smith's Nightmare Night Hay Mazes.
Rarity: I have a feeling that it's MUCH worse than that for one reason. THE ATTRACTIONS ARE REAL!!!
Celestia: Anyway, The Maze of Troubles was a perfect place for young Draconequui to go until it was decommissioned when a Draconequus criminal ended up using it to trap younger Draconequui inside, blocking off entrances and exits, and doing wicked things to them.
Rarity:... And suddenly, I'M starting to get a sense of deja vu.
Pinkie: "Why so?"
Rarity: I'm starting to feel like Mayhem is gonna switch our personalities like Discord did.
Celestia: Oh, Mayhem is much smarter than that. He knows reversed personalities can be reversed back. He'd want a much smarter way to be rid of us for good. And... I suppose that's when the Maze of Troubles comes in.
Shenzi: So... This maze, you think Mayhem's hiding there?
Luna: It's a distinct possibility, but yes, we suspect he is. It's the perfect hideout for any rogue Draconequui which, thankfully for such, it's isolated by so much chaos nobody even notices it. So far, I can assume only Mayhem knows where it is.
Lord Shen: Then we'd better get moving.
Cadance: And we need to be careful. He knows we're coming all too well, and we need to do our best at locating him and getting back Discord and the Rainbow Powers.
Po: Bring him on. We can take him. We've beaten Discord before, we can do the same to Mayhem.
Celestia: But remember that he's more powerful than Discord. He's been known to end friendships with the right words. If you're going to beat him, you need to outsmart him.
Icky: Babe, we got this. No Draconequus is gonna make flying monkeys out of us.
Monkey: Hey!
Icky:... Point is, we can do this. Now let's not keep Mayhem waiting any longer, let's go kick some cross-bred ass! (They all head out)
Meanwhile, at the Maze of Troubles...
Mayhem: (He sits in the center of it as it appears to look like the Canterlot labyrinth enjoying watching a magically-floating TV showing the ponies suffering in his chaos as he laughs hysterically) HAH! Didn't see THAT coming, did you? (Laughs as Discord laid in magic shackles and a heavy ball unamused)... Bro, why aren't you laughing?
Discord:... This isn't funny! THIS kind of chaos, anyway. Besides, if you think reminding me of how hilarious watching the 'delicious' misery of ponies is, then you're way out of your league.
Mayhem: Oh, come on, brother! You KNOW your inner man-child can't look past how INCREDIBLY amusing all this is.
Discord: No, it isn't! And for the record, it's only funny in the way I do it. Not when all the chaos is ENDANGERING the ponies' lives. The point of chaos is to make sure the ponies suffer WITHOUT fatalities. Just tease or mess with them. Make them your playthings.
Mayhem: HAH! I knew it, you still have that side in you!
Discord: Hey, that's only a side comment, it doesn't mean I wanna be a bad guy again. Now let me go!
Mayhem: (Sighs)... Discord, Discord, Discord. You need to get into the spirit of things. You fully admitted that chaos is funny.
Discord: Mayhem, don't you get it? I've changed! I don't wanna be the mischievous bastard who tormented ponies for kicks. I wanna give them respect because it's what I never knew I wanted. You just can't accept the fact that our race has changed for the better. So no matter what you say, I'm not giving in.
Mayhem:... (Sighs) Oh, wussy-cat, what have you DONE to my brother?!?
Discord: It's FLUTTERSHY!!!
Mayhem: (Does this)
Mayhem: I'm sure you'll see the light soon enough. (An alarm sound is raised as the TV says "Warning: Misfits and Mules at the Maze.")... Well, Dissy, it's time I got started in dealing with these 'friends' of yours.
Discord: Mayhem, don't you dare!
Mayhem: Too late! (Teleports away)
TV: Coming up next on the Chaos Channel, it's "Tentacolino")
Discord: (Gasps) NOOOOOOOOOOOOOOOOOOOOOO!!!!
Outside Maze
They arrived as Discord's scream echoed.
Fluttershy: Oh, no! Poor Discord must be getting tortured in there. What do we do?
Rainbow Dash: "Uh... More importantly, why is the Canterlot Maze here?"
Rarity: "And most of the Canterlot garden for that matter."
Celestia: "The Maze of Troubles has no real form. It can replicate whatever maze your most familier with in Equestia. In our case, it was the Canterlot Maze."
Icky: "So, what kind of surprises are we talking? Monsters? Old foes? Worse fears?"
Celestia: "When under the control of any draconequus who controls that tower, the Maze can do something worse..... Dark Truths and the worse of what would be considered ineditabilities."
Twilight: "What do you mean by that?"
Celestia: This maze has been given a special addition by the last Draconequus who used it. It taints you with truths that are EXTREMELY difficult to handle. Whether it be truths you don't like or aren't ready for, this place will be a danger to get through.
Rainbow Dash: Well, screw that, then! (Flies upward) We're doing this the easy way. I'm flying over there and ripping that Hades-mimicker a new one. (Suddenly her wings disappear)... Aw, you've gotta be f****** kidding me! (Falls to the ground straight into another anvil) OOF!!!... Where... Where do all these anvils come from?!? (Falls dizzy as the rest of the Mane Six, all lose their wings and horns)
Applejack: Aw, no, not again!
Pinkie: "Huh.... That really feels like Deza Vu."
Mayhem: (His cackles were heard as he teleported there) HAH! Looks like you're out of luck now. Oh, you don't look so good... (Magically summons some weights)... Maybe you should sit DOWN! (Pushes the weights on Rainbow Dash and Twilight)
Twilight: MAYHEM, GIVE US OUR WINGS AND HORNS BACK!!
Mayhem: Oh, and what are you gonna do about it? NO MAGIC, JACKASS!!
Rainbow Dash: (Recovers) WHY YOU LITTLE-?!? (She jumps after Mayhem, but he teleports out of the way as she hits yet another anvil)
Mayhem: HAH! Nice miss, MISS! (Laughs as Rainbow Dash was dizzy)
Rainbow Dash: Will you... Stop with the anvils, already- (She gets hit in the head with the anvil again)... (Faints after getting a lump on her head)...
Mayhem: HAH! You're nothing without your wings and horns. You want them, come and get them! It's time we played a game of-
Applejack: Oh, come on, not this game bulls*** again!
Mayhem: Oh, you accused me of being so UNORIGINAL?! Just because I'm Discord's brother doesn't mean I'm a carbon cut-out of my OWN brother! No! Instead, I wanna do it in a more, reverse, fastion. Instead of turning you all into your predictable dark oppisites, I'm gonna play your positive traits in a horrendusly negitive light!
Rarity: ".... Well, I applaud the attempt for originality, but your just gonna delay the editable."
Mayhem: "Oh, you thought my brother predictability over-playing your oppisites was bad? Well, that's why I'M not gonna do it! And I'm certainly not gonna make Twilight think one of the Lougers is gonna somehow take away your rainbow powers, because, that was fine back when you had the elements of harmony, but thanks to Discord's little plants, hey, you can now just turn into rainbow sayians at will, I mean, HOW AM I GONNA WORK WITH THAT! So, I won't even attempt that! The best I can do is get rid their only way to even being a threat to me: You six. And I can do that, by using your own positive traits against you. Rainbow, 

(Realises that she wa still knocked out.).... Oh...... (Momentarly gets her awake again)

 Loyalty, has a price. And it can prevent people from getting what they want in life. (Knocks her out with an Anvil again). Jacky, Honesty's not always the best policy, babe! Fluttershy, kindness has a bad habit of putting you into situations you don't really want to be in. Pinkster, there are SOME things, Laughter can't be the best medicine for. Rarity, being generious, can sometimes be JUST as ruining as Greed, where Greed, hey, sure you'll be a social outcast, but you're at least set for life! And Twily.... Sometimes..... Some Friendships aren't truely, meant to last. Your gonna find out that your precious virtures can be just as cruel and dark as their oppisites.... if argueabily worse. Oh trust me.... This game is gonna make you WISH you people haven't reformed Discord!" (Mayhem vanishes!)
Applejack: "..... I rekcon I don't plumb like the sound of that."
SpongeBob: (Splashes Rainbow Dash with water to wake her up)
Rainbow Dash: AAHHGH! Where is that Mayhem jackass? I'll rip off his ear and shove it so far up his ass, he'll hear the sound of his small intestine as it produces S***!!!
Icky: Okay, he was downright cheating!
Squidward: "ALL RIGHT, THAT'S IT?! I AM GOING INSIDE THAT MAZE, FIND THAT ABOMINATION, AND GIVE HIM A PIECE OF MY-"
Squidward bumped into an invisable wall of energy.
Squidward: "...... Ow."
Lord Shen: "..... It appears to be an invisable force field, (Touches it), designed to keep Non-Equestians out."
Trixie: "Well, he certainly neglected the great and powerful Trixie and her griffin beast friend!"
Gilda: "Hey!"
Trixie: "Because he didn't took my horn! So I am free to walk in and-"
The Wall smacks Trixie away and face first into a giant scoop of Mint Ice Cream.
Gilda touches the wall and hand gets burned!
Gilda: "OW! He made the fucking thing jinxed to reject us!"
Twilight: "Well, good thing Mayhem neglected to prevent the princesses from being a problem cause-"
Luna: "Do not get your hopes up, Twilight. I sense an Anti-Devine curse as well. It will keep us from entering as well."
Rainbow Dash: "Could you AT LEAST get our wings and/or horns back!?"
Candence: "Ok, one, Mayhem would view that as cheating and would aim to correct and/or prevent it by taking away OUR horns and wings! 2, in the event you lost to Mayhem, your gonna need someone to be able to take you guys back to Canterlot."
Merlin: "And don't bother asking me. If I even try anything, Mayhem will disable me as well by predictably destroying my wand. And it's so ANNOYING when bad guys do that?!"
Pinkie: "Basicly, the plot is actively making sure we don't cheat our way into defeating the bad guy."
Applejack: "I'm for playing fair, but we're talkin about going against someone who isn't so keen on such. He'll obviously use this maze against us."
Rarity: "And if not as our oppistes, who knows what he'll do to us?"
Twilight: "Don't worry girls. We battled alot threats without the Lougers and the Princesses before. So let Mayhem do what he wants, cause as long as we stick togather, NOTHING can defeat us. (The 6 in unison stepped into the maze)."
Nothing happened.
Icky: "..... Oh hey, I was kinda expecting that the minute they step in, the maze does something to-"
Mayhem: BAM! (Separates the six heroes and traps them inside the maze)
Icky:... I hate it when that happens.
Celestia: (Heads up to the wall) GIRLS! Twilight! If you can hear me in there, DON'T fall for whatever Mayhem shows you! The Maze of Troubles is meant to use your own dark truths against you, and nobody has ever walked out without being mentally scarred. Stay safe, and stay alert! And make sure you stay focused on stopping Mayhem!
Twilight: We hear you loud and clear, Princess Celestia! Don't worry! We'll make it to that tower and put an end to this once and for all.
(Mayhem): (His cackles were heard) You actually think so? You six are all by yourselves. You'll be powerless for whatever I show you here. Even YOU can't resist the dark truths that you will be shown because eventually in your life, you'll have to live them out. Good luck trying to find me in this place, everypony. And as soon as you all are bested, I'll have your Rainbow Powers kept as a souvenir so I can always remember this moment. (Cackles)
Fluttershy: YOU LET DISCORD GO, YOU BIG DUMB MEANIE!! (Mayhem made no reply)
Twilight: Don't worry, girls, we just need to reach that tower with no distractions. Whatever you do, do NOT let your guards down for a second. We'll meet up soon. (The 6 started moving)...
SpongeBob:... You sure they can make it?
Celestia: I hope so. This Maze is very difficult to go through without being changed.
Lord Shen: Well, they'd BETTER make it to that tower! I'd love to hear the sound of those ponies promptly beating the tar out of that freak. (Mayhem's cackles were heard)
Applejack's Location
Applejack: (She was walking through the maze)... (Takes a deep breath) Alright, Applejack. You can do this. Mayhem's not going to fool you like Discord did. Just make it to the tower without any surprises- (She then sees familiar leafless apple trees were seen and a dull-colored Sweet Apple Acres was seen)... Huh?... How in tarnation did he....? It's obviously some kind of trick."
Applejack walked in and felt an unsettling gloom apawn her enterence into the barn.
Applejack saw two well-dressed top-hat ponies walking with a coffin.
Applejack: "..... What's going on here, (gets nervious), what're you gents doing with that coffin?"
The Two looked at Applejack solumly and moved on, not saying a word.
???: "Miss Applejack?"
A Lawyer Unicorn is seen.
Applejack: "..... I, I know you! Your Granny's lawyer, Missus Seedweed. She hired ya to set those Flim-Flam brothers straight over the cure-all tonic mess. Why, are you here?"
Mss Seedweed: "...... Miss Applejack, I..... Can't truthfully express how sorry I feel for you just now."
Applejack: "Wha-wha-wha.... What do you mean?"
Miss Seedweed held a piece of paper to Applejack's face, where the bold, dark letters read, "The Will of Granny Smith".
Applejack gasped loudly!
Applejack: "......... No........ No!?"
???: "Applejack?"
Applebloom and the crusaders, plus Tiara and Silver Spoon, were seen looking in concern after having of seen the leaving Under-taker ponies.
Applebloom: "Who, who were those ponies? Why do they have that box? Where's Granny?"
Applejack was tearing as her coat started to fade from it's original color.
Applejack: "..... Bloom.... Oh Bloom..... I, (Voice breaking) I don't know how to say this.... Granny's..... Gonna go away and..... She's never gonna come back."
Applebloom started to wimper.
Applebloom: "Wha, wha, what do you mean?"
Applejack: "..... Granny, is, going to a better place, Applebloom. That's.... It's the best I can say at your age."
Applebloom started to shed tears and her mucus formed from her nose in a messy display.
Sweetie Belle: ".... Bloom?"
Scootaloo: "..... It's..... It's ok. She.... She at least got to see you get a cutie mark."
Applebloom ran away crying!
Sweetie Belle: "APPLEBLOOM!?"
The Crusaders and Tiara and Spoon ran after Apple Bloom, disappearing into the mists.
Applejack has completely lost her color and has gone into depressed sobs, now fearing the truth, and is prone to use the truth as a means to hurt others to keep them away from her.
Mayhem loomed over Applejack.
Mayhem: "You see how SUCKY the truth can be? Honesty made you tell your little sister that your grandmother, just died. You know well enough Granny is not gonna live forever. You know you'll one day have to face it. And you know honesty will drove you to tell Bloom the truth. Isn't it just, peachy? And the worse part of it is, unlike Discord's little trick about your friendships ending: This one will be true, sometime soon. And you know it. Doesn't the truth, hurt?" (Applejack got hypnotized eyes, and Mayhem vanished as what looked like a much grimmer and deader Sweet Apple Acres turned into a dead-end part of the maze)
Applejack: "..... Granny..... Applebloom.... (She starts crying as she turns completely gray as Mayhem was heard cackling)... I don't... Wanna tell the truth anymore. I... I think honesty isn't ALWAYS the best policy after all. *Sniff*... (She slowly walks down the pathway softly crying to herself as the camera eased to another area of the maze)
Pinkie's Location
Pinkie: (She was humming the Smile song as she was happily hopping down the maze when suddenly, her tail twitched) (Gasps), PINKIE SENSE!? Ok, that's either something about fall, or.... MY FRIENDS ARE EXTREMELY IN TROUBLE?! I gotta find a way to unite with them!?" (She ran down and as she did, the Maze suddenly got surrounded in balloons with sad clown faces on them)... Wha... What's this?... This doesn't seem like a happy balloon party.... (The balloons suddenly pop and slowly revealed the halls of the Ponyville Hospital) WHAT THE?! (Screeches to a halt).... Since when did the Maze had a Hospital now? And why does it look like the one Ponyville has?"
Pinkie sees a crying Matilda and Cranky Doodle Donkey.
Pinkie: ".... Matilda? Cranky?"
The two look at Pinkie Solumly.
Cranky: "..... Miss Pinkie Pie..... I honestly don't know how to say this, but...... There was a terrorable rockslide, and..... Your parents sacriviced themselves to save your sisters and got hurt real bad! They..... I don't think they'll make it."
Pinkie gave a wide-eye stare as her hair deflates!
Pinkie barged into the room, and saw her sisters, Limestone, Marblestone and Maud, stand solumly over the damaged bodies of Igneous and Quartz.
Pinkie: "...... Mommy? Daddy?"
The Pie Sisters looked slowly to Pinkie Pie.
Maud was the one who came to her.
Maud Pie: "..... (Monotone) Pinkie, I don't know how to say this.... Mom and Dad, might be soon ready to be among the underground rocks, and taken by the Afterlife Alicorns to the great rockpatch in the sky."
Pinkie: "..... No...... NO!? YOU, DON'T MEAN-?!"
Maud Pie: "........ (A tear was shed)...... I'm sorry, Sister. (Maud gives Pinkie a solum hug) The doctors, did what they could. I'm afraid..... This is something, Laughter can't fix."
Pinkie softly chuckled as the chuckles turned into weeps as she started cried loudly and broke free of a Disappearing Maud's embrace as she fell to the floor, and everything disappeared back into Maze! And Pinkie starts to lose her pink with grey.
Pinkie: "I'll...... I'll never laugh again!"
Mayhem loomed over Pinkie.
Mayhem: "You'd be wise to do so, jester girl. Because ya know, a good joke and chuckle CAN'T fix everything?! Laughter is not always the best medicine. Espeically not torwords ineditablelity and death. Even a chuckle-head like you knows that. You're better off being an emo kid for here on it, "Emo" Pie." (Hypnotizes Pinkie, and vanished as he left a pile of Emo make-up and outfit for Pinkie to us once she stops crying.)
Pinkie cried for awhile.
Pinkie: "..... Death, is ineditable. Death, is not funny..... Death, is ineditable. Death, is not funny."
Pinkie repeats the phrase as she starts to don the outfit and began dying her hair and tail back and put on white "KISS" inspired make-up.
Pinkie:... I don't NEED to laugh, anyway! I'll... I'll just... (Softly sobs as the tears briefly wiped off some of her makeup as she brushed more on)... (Sighs)... I guess I have no purpose in entertainment anymore. (Goes completely gray)...
Mayhem:... (Chuckles as he strangles a balloon)...
Rarity's Location
Rarity was minding herself in the maze.
Rarity: "Ya know, I have to admit, this Draconquuian maze has managed to get every single detail right. I never knew choatic beings even processed the idea of organised choas." (Suddenly she turned to see a walkway paved with diamonds)... Well, they must also have a sense of elegance to them as well.... Or... Is it just me?... (She follows the path as it lead straight to a gloomy Carasal Bontige).... Oh, what is he up to now?"
Rarity gave a brief soifsicated and annoyed scoff as she entered through.
Rarity gasped and realised that her shop was rundown and closed, with an "Out of Business" sign in one side, a "Sold" sign in another side.
Rarity: "Wha..... What happened here?"
Rarity looked to see a Real Estate Pony leading a broke, poor, down trodden family into the Bontike
The Real Estate agent sees Rarity and smiles!
Real Estate agent: "Oh hi, Miss Rarity! I must say that I can't thank you enough for selling away your own home and/or business to these poor ponies in need! You remember the Brokeglass family from Manehatten from what you saw in the homeless selter? You have really done them a justice!"
Mr. Brokeglass: "Yes. Thank you. I couldn't thank you enough."
Mrs. Brokeglass: "Thank you for your kindness miss Rarity. You did our family a great kindness."
A little filly with a broken buck tooth: "Thanksth miss Ratityth. Now we don't have to liveth in poa-pher-tea."
Real Estate Agent: "She means Poverty, Miss Rarity. Thanks to you, Mr. Brokeglass can now find a job in Ponyville, Mrs Brokeglass can now run your shop, and Little Broketooth Brokeglass can go to shcool here. Now, with Sweetie Belle simply going to live with her parents, where will you be staying?"
Rarity couldn't bring herself to correct the confusion to avoid making a sham out of her generosity.
Rarity: "..... I'm, sure Twilight will allow me to stay in her castle, until I get back on my hooves.... And, I could always borrow money from my Canterlot store and-"
Real Estate Agent: "Oh dear. Don't you remember? You closed down your Canterlot store and gave the building rights to Sassy Saddles in order to pay for Brokentooth's operation: A liver transplant. Why, you even gave up your liver."
Rarity: "MY WHAT?!"
Rarity looked to see a hidious stitched scar on her underside and screamed!?
Broketooth: "Thanksth for the liver Miss Raity. Your my hero."
Rarity couldn't bring herself to say this is all fake and started to shed tears. She can't bring herself to hurt the feelings of a poor filly she earned affections for kindness.
Rarity: "..... (Mane and Coat started to lose color) It was, my pleasure darling....."
Real Estate Agent: "Your such a good sport Miss Rarity. And don't worry. I'll return the faver by trying to find you a new bonite location to restart everything from scratch. Until then, take care, Miss Rarity."
The Real Estate Agent and the Brokeglass family left.
Rarity turned complete grey and started to feel hopelessly deluded that she needed to give every thing she owns and what she has to anyone!
Mayehm loomed over her.
Mayhem: "See how sickeningly desistating being generious is? It lead to the downfall of your dreams and your career.... AND, (points to the scar), your physical beauty. Generosity is like a Parasite, Miss Rarity. (Starts hypnotizing Rarity) It eats you up until your nothing but a sad husk! And it's already starting! Now your gonna be prone to donate blood and organs like a madmare and lead to sueiside by eventall loss of impourent organs! And the saddest thing is? Being a little bit greedy, could've saved your life and your dreams, at the mere cost of people thinking that your a heartless bitch. But still, making those bums happy was worth in the end, is it? Even when YOUR the bum now?"
Mayhem chuckled as he vanished, along with everything around the hypno-eyed Rarity as it becomes maze again.
Rarity: "..... Must..... Be..... Generious..... Must..... Be..... Curtiesious. Must...... Give..... EVERYTHING AWAY!?" (Rarity started to laugh maniacally as she completely lost her color)... (Mayhem watched in utter victory as he ate a diamond)
Fluttershy's Location
Fluttershy timidly walks down the maze.
Fluttershy: "It's ok, Fluttershy. Mayhem is assentally like Discord...... Only abit more meaner and sounds oddly enough like James Woods. And if he's like Discord..... Maybe he has a soft side too.... He's just VERY very very very afraid to show it cause he thinks Draconquui should be mean and rude creatures. Well, I'm sure when I am able to meet him, I-" (She saw some butterflies)... Oh, my! Butterflies! They must be leading me to the tower! (Follows the butterflies, and instead of the tower, she looked and saw that they instead lead to what looks like the inside of her cottage)..... Oh dear. I've been around Discord enough to know exactly what this means."
Fluttershy breaths in and out, and boldly and bravely enters the place and saw a heart-breaking scene of Angel being sick.
Angel was violently coughing cartoonishly, as Death Coffin stood above him along with solum room-mates.
Fluttershy: "(Quietly) Oh dear. I know exactly where THIS is going. I may as well give him the chance of me playing along. (Openly), Coffin, what's happened?"
Death Coffin: "..... Flutter, I'm afraid, fate has desided that Angel Bunny, is to die of heart cancer. As we know, it's is a very hard to treat mortal illness, even with magic unless your an alicorn, but such a spell is restricted to only if it is of true wroth. And, saving a bunny's life isn't that worth."
Jerry was crying, as is Stefano, the Batmen Bros and Chell, Even almost Andre and Le Rat, as the animals, even Louisianna, is crying with animal sounds. Mange was seen holding a crying Cupid and patting her back.
Fluttershy shed a small tear, but was surprisingly calm about it, and not just solely because she knew it is an illusion of Mayhem.
Fluttershy: "..... Everyone, may I ask some, alone time with Angel?"
Death Coffin nodded and teleported everyone out.
Fluttershy comferted and shushed the crying Angel.
Fluttershy: "There there, Angel. The kindest thing I do now, is not let the cancer be the one to finished you."
Fluttershy brings out a blue berry with a series of Z tattoos around it.
Fluttershy: "This is a Euthanasia Berry, Angel. They're magical berries that put sick and dying animals to sleep in alternation from being gassed. You'll asentally painlessly go to sleep, (fights back tears), and never wake up. That way, you would go peacefully then getting a heart attack caused by the cancer. You'll.... Be with your parents soon, Angel. You'll meet plenty of other bunnies. And one day.... I'll join you. Good bye, (Feeds the relucent but accepting Angel the berry) sweet bunny prince."
The room gets silent as Angel starts to vanish and everything fades as well, with a surprised and shocked Mayhem staring!
Fluttershy: "....... Don't think I didn't know what you tried to do, mister!"
Mayhem: "What in the, but, how, who, why, what-"
Fluttershy stared sternly at Mayhem!
Fluttershy: "Did you HONESTLY think I never dealt with any of my animals dying before? HOW LONG DID YOU THINK I TOOK CARE OF ANIMALS!?"
Mayhem: "But, this is suppose to be your-"
Fluttershy: "My first exspearience with Kindness sometimes not always being the prefered thing? DO YOU HONESTLY THINK I'M A STRANGER TO THAT!? I'm sorry, but Iron Will in a way already introdused to me to that, and I improved on it when the Breezies came, and overall, it's not the first time... *Sniff*... I dealt with any of my animals dying! My real first time, was when I was a filly! I had a cute little painted turtle I loved and raised like my own! But one day.... She gotten sick, and the Vet said there was nothing she can do, but prevent the sickness from being the one to take her away. So, she introdused me to Euthanasia Berries. Like I said, they put animals to a painless sleep and never let them wake up. It was, my real first time dealing with the dark side of kindness, that it would be crueler to live them alive and letting the sickness kill them. It is disturbingly fickle, and unfair, but I'm well aware of it. But I know that kindness can be more then just having a dark side. And you know well enough on how I proved that. I welcomed a death god, and your brother into my home out of being kind! And here you are, throwing a hissy fit over not having your brother being mean anymore? No wonder Twilight personally considered you the WORST brother ever! And she should know, Shining Armor is a WAY better brother then you!"
Mayhem: "....... Wussy-Cat, uh, I mean, Fluttershy.... This is MORE then just making Discord my partner in crime again. If anything, I actselly appresiate that he's not COMPLETELY like me! You don't think I don't ACKNOWLEDGE THE KIND OF MESS I AM?! I'm actselly GLAD, Discord's more merciful then I am! Sure, I joked about him being a wuss, but I actselly appresiated it! That's why I made HIM the main king and I'm just his right-hand man! He's abit harder for ponies to mutanied on cause, well, he may had been still a jerk, but he's WAY merciful compaired to me! At least all he did was drive people nuts, where I, if provoked badly enough, CAN KILL if nessersary. I want him back more then just to have a partner in crime.... No..... I want, my brother back. He's the only one I have left since the rest of my family basicly disowned me for accepting our true nature to satisfy the Alicorns who unfairly won that war, and I'm certainly not gonna be accepted by the ponies for DEAD OBVIOUS reasons! I am not nessersarly doing it solely to return Equestia to Choas..... It's also a mission to get back my dear brother.... A brother, you helped kept away from me."
Fluttershy gasped.
Mayhem: "..... Oh yeah. Now you know why I hated you the most. And it's more then merely my beliefs against reformnation, though trust me, it does NOT help you in the slightist. No.... You are being to me, what the moon, was to Celestia. The Moon, kept Luna away from Celestia. The Moon, made Celestia sad and broken. The Moon, became a reminder that she FAILED EPICLY AS A SIBLING, THE MOON!?....... Kept two loving siblings apart, Fluttershy. Are you, gonna be the Moon?"
Fluttershy: "...... No Mayhem...... I don't want to be the moon anymore."
Mayhem: "YES A, (GRABS FLUTTERSHY'S HOOF FORCEFULLY WITH HIS LOBSTER CLAW) DEAL HERE!?"
Fluttershy's colors fade to grey as a bright light grew from Fluttershy's hoof and Mayhem's claw were holding.
Mayhem: "...... Thank you for not being like the moon anymore, Shy. But be warned. Your gonna live in regret, that you failed to satisfy your Alicorn overlords, Shy. You will be regretful, self-shameing, and even more pittifully shy then you are already. But at least know, the last kind thing you did, was reuniting two brothers. Have fun living the rest of your now pity ridden mortal life, knowing that."
Mayhem left as Fluttershy was crying and plopped to the floor!
Fluttershy: "I'm sorry, Discord...... I'm so sorry....." (Softly cries on the ground)
Mayhem: (Chuckles) This is getting easier than I thought! (Chuckles as a butterfly flew past and he crushed it with his lobster claw and ate it)... Tastes like chicken... And victory!
Rainbow Dash's Location
Rainbow grumbled as she walked.
Rainbow Dash: "Original or not, that was SO uncool of Discord's old bro to take my wings! I, am SO, gonna kick his butt, this I-" (He suddenly saw a cloud with red, yellow, and blue lightning bolts like in her cutie mark)... Oh, hell no! I am NOT following that cloud. Nu-uh, fat chance, not gonna happen! See, Mayhem, I know what you're trying to pull, and it's not gonna work. (Walks away until a whistle was heard, and Rainbow Dash turned around to see a Wonderbolt Costume with distinct rainbow streaks)... (Gasps in fan-gasming)... MY VERY OWN STANDARD-ISSUE WONDERBOLT SUIT!!! (The suit ran off)... Come back here! (She chases it down and it stops right in a distinct spot as Rainbow grabbed it and put it on)... Does this suit make me look fat?... Wait, what am I? Rarity all of the sudden? (She suddenly notices the spot she was in as it looked like the interior of the Wonderbolt base)........ Oh boy. As if I don't know what's going on here!"
Rainbow Dash annoyedly walk.
Rainbow Dash: "(Sarcastly) Gee, I wonder what's gonna happen here." (Suddenly, Rainbow had her wings back) "Hey, my wings! They're back and- (HUGE gasp when she saw Spitfire and most of the Wonderbolts)..... AW, YEAH!? I'M FINALLY GONNA BE IN THE WONDERBOLTS?!" (She ran up to them and saluted them)
Spitfire: "THREE CHEERS FOR OUR NEW SUPRIME WONDERBOLT COMMANDER?!"
Rainbow Dash gasped fangirlishly!
Rainbow Dash: "SUPRIME COMMANDER?!"
Spitfire: "Well, my dad desided to retire, so he picked you cause he heard how awesome you were! You would make an awesome commander ma'am."
Rainbow Dash: "But, I kinda figured he picked you cause.... Well, you are his daughter."
Spitfire: "Oh, don't worry, I'm Vice-Commander. That means I'm your right-wing mare."
Rainbow Dash: "(SCREAMS LIKE A FANGIRL?!) SPITFIRE'S MY RIGHT WING MARE?! THIS IS THE BEST DAY EVER!?"
Rainbow Dash suddenly sees Twilight and Friends who somehow have their horns and wings back.
Twilight: "Congratulations, Rainbow. You finally athived your dream."
Rarity: "Your living your best hopes and wishes."
Pinkie: "YAY SUPRIME-BOW DASH!?"
Fluttershy: "I'm so glad for you."
Applejack: "Good job getting so far, Dash. Guess it might be a while before you see us Ponyville Folk again."
Rainbow Dash: "Thank you, I- (A broken glass shatter was heard as she realized what they just said)... WAIT, WHAT!?"
Twilight: "Well, yeah, being suprime commander of the Wonderbolts is the most busy job in the entire Wonderbolts forces. You'll never be excused except only on holidays, or in your case, whenever the map needs you for a friendship problem or to pretty much save Equestia from total doomsday."
Rainbow Dash: "A-wha-wha WhaaaaAAAAAAA?!?"
Fluttershy: "And don't worry, I'll watch over Tank while you're away."
Rainbow Dash: "I DON'T GET TO SEE TANK AGAIN EITHER?!?"
Twilight: "And don't worry about Scootaloo. I'm sure once her parents finally become canon, if she is to have them based on Hasbro's recent habit to make fan beleifs canon, she'll be watched over and taken care of."
Rainbow Dash: "I WON'T BE ABLE TO SEE SCOOT AGAIN EITHER?! But, but, but-!"
Fluttershy: "Oh, you don't need to reconsider for us. Your dream is priority number 1, and we don't have a right to interfear."
Rarity: "Darling, you simply must keep this dream alive, darling. The Wonderbolts need you much more then we do at the moment."
Applejack: "I know what it's like to focus on yer duties. So I'll understand if you'll be abit absint for awhile."
Pinkie: "Ha, you said "duties"!"
Twilight: "Not to mention that refusing the offer of suprime commander, even for a princess, well, would pretty much be the most reputation destroying thing in all of Equestria, even more then being a pedophile or domestic abuser. Or anything controverseal."
Rainbow Dash: "You mean I..... I can't walk out of this?"
Everyone: "NOPE!"
Rainbow Dash: "NOOOOOOOOOOOOOO!? (Everything started to vanish, even Rainbow's wings and new suit, as she started to panic and shed tears) I DON'T WANT TO SAY GOOD BYE TO MY FRIENDS FOR A CERTAIN PERIOD OF TIME, BUT, I DON'T WANT TO DISAPPOINT THE WONDERBOLTS EITHER!? NOOOOOOOOOOOOOOOOOOOO?! (Stuggles to keep off the fading of her colors) I DON'T WANT TO MAKE ANYONE HATE ME?! NOT MY FRIENDS, OR MY HEROES!? I, I CAN'T DUMPED NEITHER OF THEM!? THIS ISN'T FAIR?! THIS SHOULD'VE BEEN EASY!? I BEATEN THIS WHEN NIGHTMARE MOON WAS A PROBLEM?! WHY IS IT SO DIFFICULT NOW!?"
???: "It's easy, Dashie."
Mayhem appeared over Rainbow as his shadow loomed over her, with Rainbow giving an angry snort at him!
Mayhem: "I just improved on what Luna did and made it FAR more difficult! It's so different from Luna's sad attempt that it still counts as original! And it shows that Loyalty can be a fickle bitch! Your unable to choose between your friends, or your own pitiful dreams to be among that spandex birgade group, and you know it! Now, like you said, you may not nessersarly become suprime commander, I mean, come on, it's obvious Spitfire's gonna take the job cause of her dad! But ya know, athiving something like becoming part of the Wonderbolts, is gonna get in the way of your social life! Sure, you can always mingle with your heroes, but it won't, be, the same. And the only time you'll get to reunite them, is through the holidays and emergenices. And I know, that's not enough for your devotion and compassion to your friends. Sure, they'll understand and still appresiate you when you answer the call, but your heart is the problem. You've grown so attached to Twily and the rest, that the thought of ever being away, is too much for you. And you secretly fear, that your own dream, would ruin that for you." (Starts hypnotizing Rainbow Dash as she almost began to submit to Mayhem's trick as the blue to grey glow gets slightly quicker) "There's no need to fight it, babe.... You know, (Rainbow Dash lost faith in herself and fully submitted as she becomes total grey)..... I've won. Have fun being a spineless agreeable to any side of the conflict indicidive loser you'll now be."
Mayhem vanished into magic.
Rainbow Dash: "..... I can't, betray anyone...... I just can't!?"
Rainbow Dash curled into a ball and cried as this was all watched by Mayhem as he was resting on some clouds
Mayhem: Well, 5 down, one to go! (Turns the clouds into cotton candy and eats it, chuckling evilly)
Chapter 3: Twilight's Downfall/Mayhem's Current Victory
Twilight's Location
Twilight:... (She was the only one lucky enough to make it to the entrance to the tower)... Oh, thank Luna, I finally made it! But... Where are the others?... (Sighs) Keep it together, Twilight, they're sure to arrive. Just head to the tower and wait for them. (Runs towards the tower entrance when suddenly, the maze, as well as the tower, began to die) What, what's going on?
The Maze vanished as the de-harmonised main 5 are seen, to the shock of Twilight and the Heroes and Princesses standing outside of the Maze!
Twilight: "GIRLS?! (Runs torwords them as she sees that their horns and wings are restored) What happened?!"
Mayhem appeared!
Mayhem: "Ain't it obvious, Sparky? I did EXACTLY what I said! I over-played their positives to a negitive level! I showed Jacky the horrors and pain the truth can bring, espeically concerning her dear Grandma! (Points to a depressed Applejack avoiding eye-contact). I used Little Miss Rarity's own generosity against her, espeically concerning the Brokeglass family. (Points to Rarity as she was laughing maniacly). I made Pinkie emo after exposing her dark fears of losing any member of her family! (Points to a emo-tastic Pinkie Pie who doesn't give a serious fuck about anything). Fluttershy was a surprising challnage since she already knows too well about the Dark Side of Kindness, but I brought her down by playing the "You've kept my brother away from me" card and tugged her heart-strings to turn her into a self-shaming mess! (Points fancifully to Fluttershy as she was crying to herself) And I'm very proud of myself for what I did to Rainbow Dash using her anxity for her loyalties to the Wonderbolts and her Friends and turned her into a cowerd like that Girraffe! (Points to Rainbow Dash curled to the floor and sucking on her hoof)!"
Melman's voice: "HEY?!"
Twilight: "Well, you spoke TOO soon, Mayhem! I can always use my magic, which you were foolhardingly kind enough to give back by the way, to restore them to normal!"
Mathem: "Oh, but unlike Dissy, I didn't lied my way into it! I used cold, hard, dark truth! Reminding them of their good times ain't gonna cut it anymore, missy! The sad times they fear to one day have is STRONGER then your friendships! IN FACT, IT DEFIES YOUR FRIENDSHIPS!?"
Twilight didn't wanted to believe him, and tried to restore the memories of the Main 5, but failed.
Mayhem: "Don't you see? It has NOTHING to do with them forgetting who they are! It's their own fears of tragities not even the Rainbow Power can't stop?! They fear life's unfairities and death itself, more then whatever monster desides to rampage this dump next! Face it, Sparky! You, lost!"
Twilight started to slowly lose color.
Twilight: "...... No...... That can't be true! That can't be true! I, I'm the Princess of Friendship! I, I can never fail!?"
Mayhem: "Are you kidding? You just failed and lost EVERYTHING! Your now pretty much the biggest loser, ever! You.... Lost!"
Twilight: ".... No?! NO?! I, I?!...... (Gives in and lost her color)...... I don't have an answer for this." (A tear fell from her eye and splashed into a broken heart)...
Mayhem: "...... Game, (brings out a cigar), set, (a flame came from his thumb), match. (Smokes Cigar.) (Looks at the Lougers). And now, your only way to beat me, is pretty much nothing more then a bunch of whiners and crybabies."
Lord Shen: "WE CAN STILL STOP YOU OURSELVES, FIEND!?"
Mayhem: "HA! Go ahead and try?!"
The Lougers charged and gave everything they got on Mayhem, but he still stands tall!
Mayhem: "...... And it seems I proved you all wrong once again!" (This song played)
The Heroes are pretty much defeated as Mayhem stood victorious.
Mayhem: (Cackles)... Like I said, you're nothing but powerless. And just to pour more salt in the wound... (Takes some bubble soap, and blows a bubble)
SpongeBob: OOOHHH, A BUBBLE!! (Suddenly, the bubble turns into a Pink Elephant)
Rico Penguin: (The Lodgers are shocked) Uh-oh!
Mayhem: Eh, this'll take too long. (Magically makes the Pink Elephant escalation literally fast forward and stops at the intense ending)
Icky: NOOOO!! (Noise surrounds everyone until the blast knocks all but Icky and the Alicorn princesses out)... You... Dirty little... Cheater! (Falls flat on his face)
Mayhem: (Laughs extremely hard)... Okay, don't laugh just yet, Mayhem! The funny as Tartarus factor has just begun! (Snaps, and magically puts the Lodgers in embarrassing poses)... (Laughs harder) OOHHH, MY STOMACH!!! (Laughs extremely hard)... Alright...(Takes deep breath)... Well, my little ponies, looks like even your heroes can't stop me now. No Elements of Harmony, no Rainbow Power, nothing you do can fix my wonderland. (Cackles wildly) Now that I'm done with amateur hour, it's TIME FOR THE MAIN EVENT!? It's time I continued with the true destiny of my kind, ETERNAL AND ORGANIZED CHAOS!! (Cackles and vanished as Twilight looked depressingly at her tainted friends, and softly sobbed)...
Celestia: (Watched the Mane Six in their states) "..... We must fixed what Mayhem reaped. It's our only true hope now."
Later...
Mayhem: (His cackles were heard as the chaos in Equestria started to intensify with many ponies in more misery than in Discord's chaos, as the miserable ponies, as well as Mayhem, started to sing this)
Mayhem: (He crashes like a meteorite right in his lair where he was keeping Discord while he was still watching Tentacolino in agony, and the crash scared him)... GREAT BALLS OF FIRE, I'M ON A ROLL!! (Cackles)... (Sighs in joy) Well, bro, our problems are finally over! Wussy-Cat and her little friends are history, and they're NEVER gonna save the day again. Which means we're free to do what we want! (Cackles)
Discord: I can't believe you, Mayhem! I can't believe Fluttershy fell for what you just said. How many more lives are you going to ruin just to get me to be evil again?
Mayhem: Discord, Discord, Discord! Aren't we forgetting one tiny-weensy but-ever-so-crucial little tiny detail: (His head grows huge and he yells in a loud ominous voice) SHE USED YOU!!!
Discord: Used me? You just don't understand how much she's changed me! She's a good friend, and you--
Mayhem: Friend? FLUTTERSHY IS NO FRIEND TO YOU!! ALL SHE EVER DID FOR YOU WAS USE HER KINDNESS TO MANIPULATE YOU!!! THAT IS NOT FRIENDLY, THAT IS VERY CRUEL!!!
Discord: Do you REALLY think I haven't heard that before? Tirek told me something similar, and look where THAT got me! I don't care what you say, she had no other options to show me the light. I will not allow you to control me the same way Tirek did!
Mayhem: Oh, please, I knew he was going to betray you from the start. As for me, I'm your brother! I would NEVER betray you! Have I ever lead you astray? Of course not. But her... I'd say it's best to leave her! (This song plays)
Discord: ENOUGH!! (Makes all the tiny Angel Fluttershys in the song routine disappear)... Mayhem... Do you remember what you told me the day I became evil?
Mayhem: Hmm...
Flashback
Mayhem: Discord! Boy, how you've grown! It's been years since I last saw you.
Discord:... Mayhem?
Mayhem: That's right, Dissy. And it's great to see you again, (Grabs his cheeks) my little chaotic being!
Discord: What is going on? Where have you taken me?
Mayhem: I'm here to show you that you can do great things besides being a ruler!
Discord: And why should I trust you? My parents told me all about you.
Mayhem: They did, did they? Well, let me tell you something, have you ever wondered why the ponies of Equestria have been trying to avoid you?
Discord:... How did you know that?
Mayhem: I've been keeping a close eye on you. I know you wanted to meet the outside world and wanted more than to just be a ruler. You can be a ruler of something far greater than Draconequua! You can be the ruler of the WORLD!!
Discord:... What do you mean?
Mayhem: I feel your pain, brother. I was never appreciated in my youth either. I didn't want to face it for so long, but ponies just haven't been used to our kind. You know why? Because they HATE us! They've done terrible things to us. Even changing our ways didn't work because we caused too many deaths in the past. And to worse it off, they even shunned friendship once. They're a disgrace to their name, and they have pushed us too far.
Discord:... My parents never told me--
Mayhem: Probably because you couldn't handle it. Ponies don't understand us, and they don't want us Draconequui to be a part of their world. They see us as freaks and monsters! But there's a way to make them see what true pain feels like. Join me, and not only will you be given so many opportunities and dictatorship, but I'll give you the thing you crave more than anything in the entire cosmos!... Respect!
Discord:... Respect?
Mayhem: Absolutely! We can show the ponies that we can be more than just powerful beings. We can show them that we have feelings too! We can make ponies EVERYWHERE regret their terrible actions on our kind. We'll be free to do whatever we want, you can have the respect you deserve, and everything will go exactly as we want it, we tease, we have fun, we carry on with your own life, what do you say, C'mon?
Discord:... (Angry and determined)... I'll do it for my people!
Mayhem: EXCELLENT! (Snaps as everything fades to white)
Present
Mayhem:... Well, you had it all, and--
Discord: You told me that ponies discriminated us for our past! You told me they couldn't be trusted! But after all I've been through with Fluttershy, I've realized that you lied to me!
Mayhem: No, I was just-
Discord: YOU LIED, MAYHEM!! You lied to me! You made me do awful things! You made me betray my own family and people! You were looking out for your own selfish needs for revenge against our family for banishing you! I can't believe I once looked up to you. All your trickery makes you no better than Tirek!
Mayhem:... But... We're brothers!
Discord: It doesn't matter if we're brothers! Our kind did the right thing by switching sides. You just refused to accept it. I don't care if Fluttershy made a wrong choice, or if ponies are still not trustworthy to us, because no matter what you do, I will NEVER betray my friendship with Fluttershy. She's more valuable to me than even my own magic, and I would rather lose it than to side with you!
Mayhem: (Growls in anger)... Okay, if that's what you want. (Snaps claws, and Discord's magic get sucked out of his body and into an orb that Mayhem puts away)... If this friendship means so much to you, then I guess you won't need your magic anymore! If you change your mind, you know the right words. (Chuckles and leaves)
Discord: "It doesn't matter how good you got them! YOUR ONLY DELAYING THE INEDITABLE?!.......... I just hope it's not TOO delayed."
Canterlot.
The Mummies are seen evacuating Ponies as the chaos continues to be present dispite best efferts.
Amutt: "..... I don't understand. I did just about everything, but this warpped reality continues to multiply like a nest of Scarabs. Thank gods there are no casualties."
Grimoors: "Yeah, but I wager that abomination's only warming up. Or worse. He's intentionally not killing anyone so he can torture them to the point that they'll start begging to be enslaved. I seen it done before by certain viking tribes like the Bezerkers. It's assentually his verson of "Make me your undisputeable king and I'll stop attacking you" tactic."
Zuthron: "Well, so far, the poor things seem to show signs of reconsidering the values of Equestia. I am using strong will powder to restore their confindence."
Stomper was seen wreasling down a mutanted Spider Legged bear!
Stomper: "I'll give the freak this though! He sure knows how to give creatures that put up a REAL fight!"
Amutt: "And worse off, simular situations are beginning to form in Manehatten, Boltamare, even sightings of odd beasts in Ponyville. It'll be impossable for even myself to get rid of this mess in time! Our only hope is litterally the misfits and the barers of the Elements!"
Grimoors: "Uh, one problem with that, Dogman. (Points to the heroes returning defeated). That doesn't look like a victorious return, mate."
Amutt: "...... By the gods, this is serious."
Death Coffin: "..... Fluttershy......"
The Monistairy Group and Fluttershy's room-mates became concerned with what happened.
The Heroes were slowly walking by, not even stopping for a chat.
Grimoors: "..... Oh yeah, diffently NOT a victorious return."
Death Coffin: "..... All of you, resume with what you are doing. I need to get some answers."
Death Coffin leaves as the groups resumed with what they were doing.
A ruined Canterlot Castle.
Death Coffin enters the room as sees the lougers sitting motionless, as Celestia was seen sitting by the deharmonised Main 6, and shedding tears.
Death Coffin came torwords Celestia.
Death Coffin: "Celestia.... Am I.... Safe to assume that, the attempt to go after Mayhem, failed?"
Celestia: "..... It's more then obvious enough, Coffin..... Only, unlike Discord, this can't be reversed."
Death Coffin: "Why? Isn't it asentally the same trick Discord pulled with the decoloring and all?"
Luna: "It worse. They didn't get this way through lies. It was through.... Dark Truths and Ineditablities."
Death Coffin: "How? Even someone like Mayhem couldn't've possably-"
Luna: "He had help, from the Maze of Troubles."
Death Coffin: "THE MAZE OF TROUBLES?! YOU FOOLS LET THEM ENTER THE MAZE OF TROUBLES ALONE!? THAT PLACE HAS BEEN KNOWN TO BE DISHASTORIOUS TO THE MENTALITY OF PONIES!? IT WAS WHY THEY WERE NEVER ALLOWED THERE!? YOU BETTER HAD AN EXCUSE FOR THIS IRRESONDSABLE BEHAVIOR?!"
Spongebob: "Mayhem had some curses that kept us out."
Icky: "Two curses and a jinx to be more accreate. the Two curses are anti-god and anti-Non Equestians, and Trix and Gilda were jinxed to simply not be able to go there."
Death Coffin: ".... I see. And the clever beast was free to do what he wished. Do you know, how he caused them to be like this?"
Luna: "Outside of subtile hints, we don't process the full picture."
Death Coffin: "..... Alcourse. Louger Soothsayer, your a knowledgeable one. Can you be able to read the mares and see what troubles them?"
Soothsayer: I have already done so, and it seems that they're be trapped in this mental state. Applejack has experienced a scenario where she had to tell Applebloom the truth about Granny Smith's inevitable death, Pinkie Pie learned that some things, including the death of loved ones, can't be solved with laughter. Rarity was shown a scenario where she gave away too much of her own perfect life such as her own boutique and liver to help those FAR less fortunate, Fluttershy... Well, she was the only one who didn't fall for Mayhem's Plan A, yet she was fooled with words that she took Discord away from Mayhem, and Rainbow Dash was placed in a scenario where she was made a supreme commander of the Wonderbolts and the consequences that such a job cannot guarantee she'll hang out with her friends outside of certain occations, nor can she get out of it. Now Applejack is afraid of the truth, Pinkie is a quote-on-quote 'Emo', Rarity has been reduced to going overboard with her generosity, Fluttershy is shame-driven and depressed, Rainbow Dash has lost all hope in her dreams and friendships, and Twilight is torn apart that she has apparently lost since she is powerless to reverse her friends' situations.
Death Coffin:... That's... Horrible!
Soothsayer: Indeed.
Icky: And even WE can't lay a single finger on Mayhem. He's not as foolish as Discord, he's more cunning, and he'll defend his chaotic kingdom if it means we all die.
Sam: There's no hope anymore. We've been beaten.
Max: Defeated by a James Woods version of a chaotic being. How humiliating.
Kowalski:... We've finally failed as heroes. (Rico cries)
Private: This is it! What're we gonna do now?
Death Coffin:... I cannot believe those words just came out of your foolish mortal traps!
Skipper:... Excuse me?
Death Coffin: YOU ARE THE SHELL LODGE SQUAD!!! MY GOD, PULL YOURSELVES TOGETHER!!! You're SERIOUSLY going to give up?!? (He slowly reaches his royal voice) You rescued alternate dimensions from a villain dystopia, you helped a demigod hero bring his dead girlfriend back to life and helped him defeat Darkspawn beasts! HELL, YOU'VE TAKEN ON DARKSPAWN THAT'S WAY MORE OUT OF YOUR LEAGUE THAN THE TITANS!!! YOU TOOK ON THE FIREBIRD FOR CELESTIA'S SAKE, AND THAT THING IS A MASTER OF CHAOS!!! YOU ARE LEGENDARY HEROES, AND THE RIGHT ONES THAT CAME AT A TIME WHEN CHAOS REIGNED SUPREME, WHEN THE UUNIVERSES NEEDED HEROES! YOU WERE THE ONLY HEROES BRAVE ENOUGH TO STAND UP AGAINST THE LEADER OF THE VILLAIN LEAGUE AND SOME OF YOU HAVE SINGLE-HANDEDLY ENDED THE SECOND CARTOONIAN WAR!!! YOU HAVE PROVEN TO EVERY SINGLE WORLD IN THESE UUNIVERSES THAT HEROES COME FROM THE MOST UNLIKELY OF CIRCUMSTANCES!!! YOU GAVE THEM HOPE IN HARSH TIMES!! YOU HELPED GIVE BIRTH TO MORE HEROES!!! AND YET HERE YOU ARE, LAMENTING LIKE IDIOTS OVER THE FACT THAT THINGS SEEM HOPELESS?!? THAT'S NOT THE SAME SHELL LODGE THAT STOPPED ME FROM MAKING A GRAVE MISTAKE!!! THE SHELL LODGE THAT STOPPED ME WAS DETERMINED, FEARLESS, NEVER GIVING UP!! SO STOP BEING PUSSIES AND CONTINUE TO PROVE THAT YOU'RE STILL THE HEROES WHO MADE CHILDREN PROUD, MADE THE UUNIVERSES FUNNY AGAIN, MADE IT CLEAR THAT WORLDS ARE WORTH FIGHTING FOR, INCLUDING THIS ONE!!! BE THE SHELL LODGERS YOU WERE BORN TO BE!!!! (The heroes were shocked at this)...
SpongeBob:... Wow, Death Coffin... *Sniffs*... That was beautiful.
Kowalski: Also, my eardrums are bleeding!
Sandy:... He's right, guys. We can't give up like this! We're the Shell Lodge Squad! And I say we help these girls get their edge back!
Icky: "Well, I think when the producer desided to go back to really challange us, HE REALLY desided to challnage us. Granted, it started with Croker, and Professor Gloom was, argueably close, but it really hit the high mark with Dissy's bro."
Trixie: "Well, then how are we suppose to get Sparkle and her inner-circle to stop being a bunch of whiners?"
Gilda: "Try to be more sensitive about that. Mayhem drove them to tears cause of he showed them horrorable stuff that not even that freaky rainbow power stuff can fixed. Applejack litterally saw what would the death of her Grandmother would be like, Pinkie learned she can't laugh her out of the loss of love ones, espiecally not her own, Rarity exspearienced the ironic downside of being oververdly generious, Fluttershy was asentally guilt-tripped, Rainbow Dash is sentally a pony Melman now."
Melman: "Hey!"
Gilda: "And Twilight once again can't handle the fact that she can't win every problem."
Trixie: "And we're sure just reminding them of things they did right won't fixed?"
Lord Shen: "What Mayhem did to them is clearly unlike Discord's shenanigans. Mayhem is clearly more mentally mature, calmer, and disturbingly more calulating then Discord. Exact Oppisites can be easily fixed by remembering your true self, but Mayhem knew that the dark extremes of normally positive virtures can't be so easily fixed. Honesty suffers a rare moment when it's not always the best polocy. Laughter can't fixed all problems. Generousity can be self-destructive to your life if you don't balence it out with commen sense and finding alternate solutions. Kindness does indeed have a fickle pathway. And loyalty is most certainly a difficult viture to maintain then your loyal to more then one faction. And with Twilight? It seems she still can't handle not being perfect. Becoming a Princess, let alone one to represent the very thing Equestia pretty much based a religen on, sets a high standerd. And we know how infamously Twilight reacts on not being able to comply to standerds. She's litterally afraid of being a disappointment. A let down. To not just her peers, but to Celestia. Twilight is afraid of doing one mere mistake, would drive Celestia away from her and make her eturnally disappointed in her. And to be disowned as a result. Most of all, I imagine she's afraid of becoming another Sunset.... Or dare I say it.... Another Starlight."
Icky: "Well it's not like we can just tell them that no matter how badly they'll fuck up or when life really desides to piss in your crunch berries that nothing can't really change who they are."
Spongebob: "...... ICKY, YOU UNINTENTIONAL GENIUS!? But it's gonna have to be someone they have stronger bonds with."
Boss Wolf: And how are we supposed to do that when Mayhem is basically watching us? You never know when the chaosophile is watching.
Celestia: "Trust me, now that Mayhem basicly believes he won, he no longer gives a flying buck about us anymore. He's too caught up in his own madness now."
Larry: "I know, let's get their family and friends involved."
Everyone just stares at Larry.
Larry: "I know, I know, shut up Larry, that's stupid."
Shifu: Actually... It's not a bad idea.
Shenzi: Yeah. The Mane six's families and friends are sure to know how to fix their situations. They have the right words to cure the Mane Six's broken hearts.
Icky: Yeah, uh... Just one problem.
Shenzi:... What's that?
Icky:... WHERE DID THE MANE SIX GO?!? (The Mane Six were gone)
Cadance:... Wha... Why would they leave out on us?
Celestia:... I feel I don't like the reason why.
Chapter 4: The Mane 6 Avoid the Lougers/The Love of Friends and Family
Twilight's Castle
Twilight:... (Returns to the Castle as it was still intact in the midst of Mayhem's chaos, and the morning changes to night)... (Sighs)... Well, Spike... I think it's time we left.
Spike:... Twilight? What happened? And why is everything literally running amuck? Has Discord turned evil again? Or even an even worse Draconquui?
Twilight: I don't wanna talk about it. I just want to get out of here.
Spike: "..... Well, obviously, that isn't Discord's handywork. It's WORSE then Discord. And wait, where are we suppose to go?"
Twilight: "Nowhere. As long as I'm not a disgrace to anyone anymore....."
Twilight atmedietly started to pack the books.
Spike: ".... Aw, man."
???: "Yo, pipsqueak."
Spike looks and yelps when she saw "Emo" Pinkie Pie.
Pinkie: "Where's a emo suppose to crash in this joint?"
Spike: "PINKIE PIE?! Why are you so goth all the sudden!?"
Pinkie: "I discovered that laughter is a pointless persuit when one day, the Gloom Reaper will take us all away to Tartarus where our immortal souls will forever rot."
Spike: "...... Girl, that's creepy."
Fluttershy sulked in and plopped to the floor.
Spike: "(GASPS)! Fluttershy?!"
Fluttershy: "I..... I never should've kept Discord away from Mayhem."
Spike: "Mayhem? Wait, Twilight talked about that guy once. He was Discord's uber-nasty brother, right?"
Applejack leered at him.
Applejack: "Well AREN'T we little Mr. Obvious?"
Spike: "Yow! Applejack, what happened to you?"
Applejack sadly sighed.
Applejack: "The truth hurts."
Spike: "Ok, what exactly is going on here, I-"
Rarity was maniacly running around!
Rarity: "MUST, GIVE, MY, EVERYTHING!?"
Rarity cracked her neck torwords Spike!
Spike: "WHOA!? Ok, that's even creepier. But seriously.... RARITY!?"
Rarity: "Oh my wittle Spikey Wikey! You don't have HAIIIIIIIIIIIRRRRRRRRRRRRRRRRRRRRRRRR!? Let me fixed that!"
Rarity teleports sissers from nowhere and cuts off all of her mane!
Spike: "HOLY DRAGON JUICE?!"
Rarity places her cut-offed mane on Spike's head like a wig.
Rarity: "Theeeeeeeeeeeere you go Darling! (Derped out)"
Spike: "Ok, your going serious "Lesson Zero" on me. You almost rival Twilight in it."
Rainbow Dash crashes in!
Rainbow Dash: "(Mimics Urkel) GA-HOY, I CRASHED IN, WITH THE PAIN, WITH THE AGONY, WITH THE BOO-BOOS, WITH THE KERSPLATTERY, WITH THE HUMILIATION, WITH THE ACHING!? JEEP JEEP DO-BE-DO-WHOP?!"
Spike: "....... Rainbow Dash, why are you talking like a 90's character? And Twilight, why has everypony gone nuts?"
Twilight: I'd rather talk about it some other day. I just want to leave.
Spike: Why? And what exactly happened to your friends? What did that Mayhem guy do to you?
Celestia: (The Lodgers and heroes teleported to the Castle)... Twilight, what are you doing?
Twilight: I'm getting out of here before I make myself unwanted.
Alex: You're leaving? You're just gonna walk out on the people of Equestria?
Twilight: It's hopeless, anyway.
Alex: Look, Twi, I got a good left foot, but without my right foot, I can't walk!
Twilight: You can get a prosthetic, you know.
Alex: I don't want a prosthetic. (Sighs) Look, Twilight, I know it seems hopeless, but you need to lighten up. We can help you get through this.
Twilight: Okay, just drop it, guys! We lost, and that's all there is to it! I can't cure my friends because they've lost all hope in life, and so have I!
Alex: Come on, stop being this pony, be the other pony!
Twilight: What other pony?
Alex: The pony that the other ponies of Equestria acknowledged as a princess. The pony who defeated 8 threats to her home! The pony eveypony else looked up to... Yikes, I feel silly just saying that word.... (Sighs) Come on, where's the Twilight we know?
Twilight:... That Twilight... Is no more.
Cadance:... (Sighs)... I think I can do this, everyone. I knew Twilight the best since she was a baby. I've been with her long enough to get her to snap out of this. Twilight, come with me, and I'll talk this out with you.
Twilight:... (Sighs)... Sorry, Cadance... I don't think I'm in the mood. I'm worthless anyway.
Cadance: Twilight, don't say that! You, in your right mind, would NEVER say that. The only reason you're saying such a thing is because of Mayhem. You need an intervention with me. (Drags Twilight by the tail into the Map Room)
Twilight: Hey! Let me go! I SAID LET ME GO!!! (Goes inside)
Map Room
Twilight:... Cadance, I don't wanna talk!
Cadance: Twilight, don't you dare walk out that door! With all the love I have for you, and because I want you to be around to see your niece... Please stay.
Twilight:... (Sighs)... Fine. What do you want?
Cadance: Look, you need to know that there's a way for you to help your friends. I know deep down in your heart under all that tainted depression Mayhem left on you, there is a pony who I foalsat and left a good impression on, one whom I enjoyed sharing a nursery rhyme with, one who became a princess who spreads friendship, and one who rescued Equestria too many times to give up. In fact, I was the one who told you to start a social life. I was the one who encouraged you to make friends, and I was basically the one who gave you the first thoughts about our beliefs that friendship is magic. Surely you remember that all too well.
Twilight:... (Has a flashback)
Flashback
Filly Twilight: (Appears on the steps of her home crying)... (A younger Cadance appeared)
Cadance:... Twilight, what's wrong?
Filly Twilight:... (Sighs) I don't wanna talk about it.
Cadance: Come on, Twilight. You can tell me anything. Don't you trust me?
Filly Twilight:... (Sighs) I'm not doing well in my classes at school. I don't fit in with anypony.
Cadance:... Is that it?
Filly Twilight: Yeah. *Sniff* Why these ponies called me a stick in the mud who sticks her nose inside books too much? They called me an egghead.
Cadance:... Wow... Have you REALLY been focused on studying that much?
Filly Twilight: Yes. I need to learn a lot if I'm going to impress Celestia and represent my cutie mark well.
Cadence: "..... Well, you shouldn't let others get into you like that. They meant no rudeness, they just wanted you to lighten up. They don't want you to end up becoming a very boring apprendtise to Celestia."
Filly Twilight: "Well, I don't want to be considered an incompident one either. And I espeically don't wanna end up like her two last ones. Sunset and Starlight, I think they're called, but she doesn't like to talk about them. They must've been the worse she had."
Candence: "Well.... Not exactly the worse, but, they only failed in ways your not yet old enough to understand. Have you tried making friends with at least someone who shares your interest?"
Filly Twilight: ".... Well.... There is Moondancer, but, she's really shy."
Candace:... Well... So are you. I think the problem with you is that you're anti-social. You're too focused on studying that you haven't had the chance to think about yourself. Everypony needs a friend every now and again, and sometimes, it could benefit you. If you have some friends to interact with, perhaps you can better yourself and your friends. It feels like both you and Moondancer have a few things in common.
Filly Twilight: Well, you might say that. She's been studying just as much as I have. We barely even notice each other.
Cadance: Then just talk to her. I'm sure you two can learn a lot about each other. Trust me, friendship is the greatest strength in this world for a reason. A simple friendship can empower a pony, whether it be gaining experience to just learning a few lessons about life. Friendship can benefit both you and others. They can change even the darkest of hearts. You don't need to fit in with anypony or constantly study in order to better yourself. You just need somepony to talk to and share those feelings with and learn from them. You do that, and you'll be a great protégé. Can I count on you to try your best at making friends, starting with Moondancer?
Twilight:... Well, I can try.
Cadance: Good.
Present
Cadance:... And do you remember what happened afterward?
Twilight:... (Slowly starts getting her color back)... Well... Me and Moondancer got along pretty well. In fact, it grew very perfectly on the same day.
Cadance: And I was proud of you for making more friends out of it. You learned very well that friendship can make you do great things. In fact, do you remember a very distinct nursery rhyme I told you concerning the magic of friendship?
Twilight:... I don't remember.
Cadance: Oh, I'm sure you do.
Twilight:... A friend is like a star that twinkles and glows, or maybe like the ocean that gently flows. A friend is like gold that you should treasure, and take care of forever and ever. (Her color comes back more) A friend is like an angel that is there to guide you. A friend is someone you can trust out of a few. Friendships are our greatest strength for a reason, to learn and grow and make each other decent. So follow your friendship no matter the cost, and nothing will stop you from being a loss. (She finally gets her color back, and realizes)... It's all clear now! Mayhem WANTS me to give up. Mayhem WANTS me to stop fighting. He knows how determined friendship can make us, and he feels that destroying it is the key to destroying his obstacles.
Cadance: Exactly.
Twilight:... Thank you, Cadance. (The two hug)
Cadence: "..... Now, we're gonna need your help to get some of your friends loved ones to bring back some sense into them."
Twilight: "Yes..... Provided nothing stupid happens to cause them to abruptly leave."
Icky's voice: "PATRICK, YOU MORON?! WHY DID YOU CHALLNAGE TWILIGHT'S FRIENDS TO GO ON A SAGINGER HUNT IN THEIR STATE!?"
Twilight: "...... Again..... Me, and my big, MOUTH?!"
Outside the Castle.
The Heroes barged out.
Twilight: "I'll gather the friends and family of my friends. You guys capture, well, my friends. That REALLY sounds weird to say."
Twilight and the Princesses teleported away.
Spongebob: "Ok, we shall split into individuals. We would have an incrised chance of finding the mares. Let's go team!"
The Lougers disbersted and proseeded to move out!
Local Pond.
Chi-Fu came to it.
Chi-Fu: "...... Oh boy.... What a day. Not only did the lougers ended up losing to a disgraced brother of Discord, but now Equestia has litterally gone to madness. Ugh. The sooving nature of the pond always calms me."
A trio'd crying was heard, as Chi-Fu looked and gasped to the Chimera again.
Chi-Fu was almost thinking to leave again, but then remembered that he made her like this. And now, he has to correct it.
Chi-Fu: "..... Ok Chi-Fu, you owe to the lougers who helped you out of your sexist problem to make it up for the poor girl. Well, Girls, in tecnecally. I just hope she doesn't eat me."
Chi-Fu causiously approched the Chimera.
Chi-Fu: "...... Hello?"
The Chimera took only a brief look at Chi-fu and only looked away pitifully.
Saa: "We already know we're not wanted."
Tigra: "We know you don't love us...."
Hoofereen: "Because nature won't allow it."
Chi-Fu: ".... About that.... Though I am still on about that stuff I said, I do, at least want to consider this relationship.... A strictly, sexless, relationship. Cause trust me, I'm not sure if Chimeras and Humans are even compatiable. I'm like, belonging to the primate family, and, well, your a mix of the reptilian order, the cat family and the goat family. Unless Chimeras have their own order.... Well, then again, when your considered a myth, I guess there isn't much of a study group. What I'm saying is.... I would like to give this a new chance.... Just.... Can you please understand that, well..... I might not be compatiable when it comes to make children, if that was the intent of your egerness, and, it's too soon considering the Louger lifesytile. But, when you feel like the time is properly right, I'm sure Kolwalski would always make you a child in a test-tube from this new upgrade he did for the cloning machine and-"
Chi-Fu noticed that the Chimera was tearingly smiling at Chi-Fu.
Chi-Fu: "...... Are, you ok, madams?.... You heard everyword I said and are about to painfully hug me, are yo-"
The Chimera did just that!
Chi-Fu: "OWCH!?"
Saa: "Oh, hunny buns! We're so happy you came back for us! You mended our shared heart!"
Hoofereen: "Is there anything we can do to return the fa-a-a-a-a-a-a-aver?"
Chi-Fu: "Two requests. For starters.... How's about not breaking me in half?"
Tigra: "Oh, sorry."
The Chimera let's go.
Chi-Fu: "Well, I can see someone might do well as a messaser. Secondly, I, kinda need some help. You see, several ponies that were suppose to stop (Points to the choas) THAT, have kinda been mind-warped to become..... Incapable. I, kinda need some help to find them in light of Patrick Star's latest blunder."
Saa: "Alchourse, Hunny Bunz. A Chimera respects anyone who manages to survive from it."
Hoofereen: "Oh yeah, and we respect that Apple pony totally."
Chi-Fu: "Then why did you acted so snappy to her when you and I first met?"
Tigra: "Wouldn't've you when someone interupts your chance to get laid?"
Chi-Fu: "..... I can't say I would argue with that. Now, we just need an ability to find them fas-"
Saa grabs Chi-Fu and places him on the back of the Chimera!
Chi-Fu: "Wait, wait wait, Ladies, I don't have a saddle o- (The Chimera runs off) WHOOOOOOOOOOOO-HA-HA-HA-HI!? AND I THOUGHT FA MULAN TOOK UN-NESSERSARY RIIIIIIIIIIIIIIIIIIIIIIIIIIIIIIIIIIISKS!?"
Everfree Forest.
Applejack: "..... I have to be honest with mah-self. I don't care about that stupid hunt anyways. Any excuse to get away from those that would judge me... For failure...... I just want to die."
Growling was heard, as Applejack noticed she was surrounded by Timber Wolves.
Applejack: "..... Alchourse. The Apple family always seem to encounter y'all sorry abominations alot, huh? Well on a better day, I'd be teaching y'all some mannors, but..... I don't care anymore..... If y'all want to kill me, then do it already, ya varmits! And make it quick!"
The Timber Wolves were momentarly confused, but shrugged it off quickly.
A Huge Blackwood Alpha Timber Wolf came in.
Applejack: "...... So.... The Legendary Blackwood himself, eh? The failed dark warlock's exspeariment of a Timber Wolf and Bad magic. Figures you'd showed up."
Blackwood growled menacingly.
Applejack: "I bet your well aware enough of what I did to some of your boys awhile back. Came to get them some payback? Well go ahead. I am no longer in a position to fight. Do your worse, you sad abominable excuse for FIREWOOD?!"
The Timber Wolves growled in offence to Applejack's comment!
Blackwood growled angerly at it, and was poised to pounce at Applejack in retailiation!
Applejack: "..... Fare thy well, cruel world. (Closes her eyes, anpisipating the end)."
???: STOP RIGHT THERE, YOU BIG WOODEN ABOMINATIONS!! (Chi-Fu and the Chimera jump into the frame and the Chimera immediately tore apart the Timber Wolves, rescuing Applejack)
Applejack: AW, HORNY TOADS!!! THAT WAS JUST RU--(The Chimera grabbed Applejack) HEY!
Saa: Come with us to live, Apple Jacks...
Applejack: APPLEJACK!
Saa: Whatever. (They ran off and the Timber Wolves reformed and the Blackwood groaned angrily as the entire pack left)
Sweet Apple Acres
Applebloom: (The corn in the place where apples should've been was literally turned into popcorn, the apple trees turned into giant caramel apples dripping caramel, the barn had Mayhem vandalism on it, and the fences were candy cane-colored) WHAT?!? What exactly did that bag of candy do to mah sister?!?
Twilight: "Well, depends. Has Applejack been very concerned for Granny Smith's well being as of late?"
Applebloom: "Ya mean outside of the fact she has a bad hip? Well, she has been alittle concerned that Granny started to hang out with the Lawyer pony more. And.... It, might have something to do with Granny and Seedweed making some kind of speical paper for "just in case" in several years time. Why is Applejack afraid of some silly old paper and Granny getting friendly with miss Seedweed? She seems nice, even for Lawyer standerds."
Twilight: "..... I think I can see why it was so easy for Mayhem to even pull it off. Applebloom, I think we need to have a serious discussion with Granny Smith. Do you know where she is?"
Big Mac: "Trying to save our remaining batch of apples from choas-corrupted Fruit Bats."
Granny Smith was aiming a shotgun at some Fruit Bats mutanted from the choas!
Granny Smith: "I'M WARNING YA'LL, YA CHOAS SOAKED RODENTS?! YOU MAKE EVEN A MEASELY ATTEMPT AT THESE APPLES, THEN ONE OF YA'LL'S GONNA HAVE A HOLE IN THEIR HEAD, OR EVEN A LACK OF ONE DEPENDING ON HOW POWERFUL THIS THING IS!?"
Celestia: "Ms. Smith, there's no need for un-nessersary violence, (Magicly traps the Mutanted Fruit Bats in a cage), now, you need to explain to your own family about your activities with your lawyer Ms. Seedweed."
Granny Smith got nervious.
Granny Smith: "Uh, she just came to have some apple fritters, that's all!"
Twilight: No, I think it's more than that. (Whispering in her ear) To put it slightly, Mayhem made her afraid of the truth after being in a scenario where she had to inform Applebloom about your inevitable death.
Granny Smith:... He... WHAAAAAAAAAAAAAAAAAAAAAAAAAAAAAAAAAAAAAAAAAAAAT?!?!?
Applebloom: What, Granny, what did he do?
Granny Smith:... Well, I don't think you're exactly old enough to be discussed with these kind of things, Applebloom. Just go to your room, and I'll help these heroes fix the problem with Applejack.
Applebloom:... Well... Okay, I guess. (Runs inside the house)
Granny Smith:... Hmmph! That diabolical cad thinks he can just make my poor baby afraid of the truth by using ME as a variable? If I wasn't as old as I am now, I'd beat the living loopiness out of him.
Twilight: So you'll help us?
Granny Smith: Damn right I will! Applejack needs this. So... Where is she?
???: She's right here! (Chi-Fu and the Chimera appeared with Applejack)
Applejack: HEY! Let me go! I don't wanna see this place again!
Granny Smith: Oh, my! You're right, it seems she HAS been mind-warped.
Twilight: And... Chi-Fu, what happened with you and the Chimera?
Chi-Fu: Well, we decided we'd have a minor relationship WITHOUT beastiality! I figured I owe it to the poor creature.
Tigra: And we saved this poor soul from committing suicide by timber wolves, especially that Blackwood creature.
Granny Smith:... (Sighs) Of COURSE she tried to kill herself through that beast and his pack. Applejack, can we talk?
Applejack: I don't wanna talk, Granny. I just ain't used to handling the truth anymore. Someday, you're gonna die, and I'll have no choice but to tell Applebloom everything at such a young age.
Granny Smith:... Applejack, y'all shouldn't let that get to ya'. Sure Applebloom is too young to discuss to about death, but at least she's mature enough to acknowledge it. Hell, she's a strong filly. I even got to see her earn her cutie mark. With strength like that, she can handle anything. She knows well enough that I ain't functioning properly, yet knows I'm beyond weak since I learned to get used to swimming. I'll still be alive for a few years, and I'm sure that, by the time I'm gone, she'll be old enough to accept it like everypony else.
Applejack:... (Slowly gains color)... Well, I suppose that is true.
Granny Smith: Hmm... APPLEBLOOM, COME HERE!!
Twilight:...Granny Smith, what're you doing?
Granny Smith: I wanna try something out. (Applebloom came out)
Applebloom:...What is it, Granny?
Granny Smith: I think Applejack here would like to tell you something concerning me.
Applejack: Granny, are you serious? I can't tell Applebloom about this!
Granny Smith: Just try it! I feel that even I won't be enough to cure you of your current state. I feel the best way to do that is to do what you saw in real life. Trust me, if Applebloom is mature enough to realize mistakes and fix them, she'll understand.
Applebloom: Understand what?
Applejack:...I...I can't do it.
Granny Smith: Yes you can, Applejack. It's what you're best at. Don't let that crackpot Mayhem make you otherwise.
Applejack:...(Takes deep breath)...Applebloom...you happen to have any problems with--
Applebloom: Wait a minute, I think I already know what's going on!...You're worried that I won't handle Granny's eventual death, right? Is THAT what made you this way?
Applejack:...(Sighs) Yes.
Applebloom:...(Laughs, surprising everyone)
Twilight:...Applebloom, what's so funny?
Applebloom: Everyone, if you think I'm too young to handle death, then I think you're underestimating me. You think I HAVEN'T discussed things concerning death before? I know Granny ain't gonna be around forever, and, though I will honestly be heart-broken by her eventual loss, I can still accept it like everypony else does. It's that kind of maturity that earned me my cutie mark. Applejack, I'm surprised you're even AFRAID to admit such a thing to me.
Applejack:...(Slowly regains color again)...You...you ain't upset?
Applebloom: (Laughs) I may be 10, but I ain't stupid. I know ponies die eventually. It's what makes life grow. I've watched a lot of movies to know that nothing lasts forever. And sister, you shouldn't be afraid to admit the truth. We're family, and you've watched me mature enough to get used to it. Heck, I've seen people die before. Remember in the original draft for The Seas of Captain Legend Part 2 when Pinkie accidentally killed that dwarf on our pirate adventure before the episode was given a major overhull in plot and spell corrections? Sure I was shocked, but I didn't break down in tears. Why, I was almost close to it myself once, (sternly) almost to some thanks to you three by the way! (The Chimera nerviously blushed and chuckled) (Normally) Trust me, Applejack, if Granny dies, then feel free to tell me about it without fear. I believe in you as the hero you are.
Applejack:... (Sheds tears, and fully regains her color as the two hugged)
Chimera Heads: Awwww!
Twilight: Glad to have you back, Applejack.
Celestia: Wow, Granny Smith, you actually knew that would work?
Granny Smith: You'd be amazed what great things the elderly can do.
Applejack: Alright, where are the others?
Twilight: The others are looking for them as we speak.
Fluttershy's Cottage
Fluttershy: (Packing a briefcase)... Well, everyone, I think this is it. (The animals were chittering)... I'm sorry, but we don't have a choice. I failed as a kind-heart, and I don't feel like I'll do well being Discord's friend. So we've just gotta move on. (Angel chitters) I know you like it here, but I'm sorry, my mind is made up. (Fluttershy's roomates appeared)
Death Coffin: Fluttershy!
Fluttershy:... Uh... Guys, what're you doing here?
Death Coffin: We've... Reluctantly... Asked some ponies to help you out.
Jerry: And let me tell you... (His backside and butt appear bald)... It was a pain in the butt.
Familiar Voice: THAT WRETCHED FREAK OF NATURE!!! I'LL CUT HIS HEAD CLEAN OFF FOR HURTING OUR DEAR FLUTTERSHY!!!
Another Familiar Voice: Sharp-Pay, calm down! (Pred, Mara, and the sisters appeared)
Pred: I'm still pissed about Fluttershy being corrupt, and I'm not usually the one to talk to aliens and/or past trouble makers like the fallen Alicorn death god, but if they say Fluttershy is in danger and they sadly don't know any members of Fluttershy's family to help, then we may as well have to roll with it.
Fluttershy: ".... To be honest, I'm kinda surprise that-"
Axe-Rella: "That we would even agree to try to talk you out of letting Discord go back to his brother? And trust me, we don't exactly enjoy it, and we still have our doubts, but... Admitingly, outside of some serious screw-ups here and there, Discord has legitamently made some commitment to actselly being good, albeit, he's still somewhat of a headache about it."
Sharp-Pay: "And it's sort've debatable whether Mayhem was telling the truth about also doing it to get his brother back and was glad he's not a murderious monster like him or not, but one thing's clear enough, he mostly said it to guilt trip you into giving up Discord!"
Pred: "Now, ordenarly, I don't object to beasties going back to their own kind, but even I have to admit that if Discord should ever go back to his own kind, it shouldn't be the mongrel that made him such a problem to begin with! You have to remember that Mayhem is obviously far from a good influence, and history is proof of it! Why, he didn't exactly helped Discord out of being a statue for a long time, magic sheild or not. Now, I won't doubt that Mayhem does have some care for Discord, but it's clearly not strong enough for him to risk his neck and become another statue. He may not think you were kind to him by keeping his brother away, but I'll say this: If your willing to stand up to us to defend Discord, then your certainly kind enough to keep Discord from relapsing again, only it might be periment. You gave Discord something Mayhem obviously failed to give: Friendship. And don't you dare let Discord's abominable brother make you forget that." (Fluttershy slowly gains color)
Death Coffin: Besides, I heard him say before that he thinks you only manipulated Discord with your kindness, and he thinks that's apparently something for you to be ashamed of.
Fluttershy: (Gasps, and gains more color)... That's just... Mean! I'll admit, it was a poor choice, but it was the best thing I can do. Besides, I think Tirek told him the same thing.
Death Coffin: That's why he never fell for it. He only guilt-tricked you into being a careless guilty sap because of you being able to resist his Plan A. That act was only a Plan B. Discord still forgives you no matter what you've done. He's giving up chaos for you, just like he should. He even gave up his own magic for you.
Fluttershy:... He... Gave up his magic?
Death Coffin: Yes. He said he'd rather lose them than to side with his brother. He's standing up for you even as we speak. Your act, though controversial, changed him into somepony better. And Mayhem is trying to make you forget that. Do you WANT to be manipulated by that evil jerk?
Fluttershy:... (Fully regains her color)... NO!! NEVER!!! THAT BIG DUMB MEANIE THINKS HE CAN GUILT-TRIP ME LIKE THAT?!? I'LL RIP OFF HIS TONGUE AND SHOVE IT RIGHT UP HIS- (Everyone stared at her weird)... Sorry, I think Iron Will and Pred are starting to rub off on me.
Sharp-Pay: THAT'S the Fluttershy we know!
Chain: And more than we know! (Woody-laughs)
Pred:... Well, we did it! (Everyone cheered)
Fluttershy:... Where are my other friends?
Pred: They're trying to cure your friends of whatever that abomination did to them even as we speak. If you want, we'll escort you to the Castle.
Fluttershy: I'd like that. That's probably where some of my cured friends are waiting.
Rarity's Boutique
Rarity: (She is seen outside her boutique, still bald, as she has a 'For Sale' sign on her door) The sooner I sell this place, the sooner I can make a new life for myself. (Chuckles wildly)... I LOVE BEING GENEROUS!!! (LAUGHS INSANELY!?)
The Real Estate Agent from the vision arrives.
Rarity: "HELLO, MISSUS GOOD HOUSINGA! Please, come in! (Gives a hugely creepy smile!)"
Good Housinga stared confused.
Good Housinga: "..... Missus Rarity? Are you ok? You, don't even have your normal colors."
Rarity: "Oh, NONY-SENSEY, DEARY, I just dyed my fur!"
A Doctor Pony arrived.
Doctor Pony: "Hello, I'm Dr. Snip-Cutter from the Manehatten hospitial, and I understand you want to donate your liver to the Brokeglass Family girl?"
Rarity: "Yesssss! And money's no objecty wobjectly!"
Sassy Saddles arrived as well!
Sassy Saddles: "Miss Rarity, what is this I hear that your selling both your bontice and the one you own in Canterlot!? Are you mad?!"
Rarity: "Oh relax, Sassy, I'm giving the building to you so I can pay for the Brokeglass girl's operation, as I also give away my own liver, because I'm a pinitcle of generiousity! (Snaps her neck upsidedown, freaking the trio out) KAY!?"
Dr. Snip-Cutter: "..... I don't think that's very normal for ponies to do that."
Sassy Saddles: "Also, WHAT HAPPENED TO YOUR BEAUTIFUL MANE!?"
Good Housinga: "I'm picturing, major stress."
Rarity: "I have a big annoucement, everyone! I am giving my home away to the Brokeglass family so they can start a new life! Sassy, I want you to take over the canterlot store with newfound rights to the building!"
Sassy Saddles: "...... Have you lost your mind?"
Rarity: "NOPE! Just my hair! CHUCK TESTA!? (LAUGHS MANIACLY!?) Care to come inside for some TEeeeeeeeeeeeeeeeeea? I'LL PUT MY BLOOD AND SWEAT IN IT?!"
Good Housinga: "(Awkwordly laughs), No thanks miss Rarity, just regular tea would be fine."
Rarity: "OK!? Now, let's all go insiiiiiiiiiiiiiiiiiiide to talk busy-poo!"
Dr. Snip-Cutter: "(Quietly) Thank goodness it's her liver und not her brain she's donating."
Rarity: "SO, SHALL WE TALK BUSY-WIZZY NOW!?"
Good Housinga: Uh, Ms. Rarity, I'm sorry to say that our businesses are temporarily shut down because... WELL LOOK AROUND YOU!! (They all notice the chaos that Mayhem is causing, as several ponies and walking bananas are slipping over each other simultaneously, a large combination of construction vehicles are seen chasing down several ponies, a carriage with monster truck wheels are seen driving across inverted surfaces as the adults were in panic and the kids were screaming in joy, a filly was seen stuffed after consuming several candy scenery, and a pony is seen with several legs and wings like a centipede and wobbles and tries to enter a house, but bumps into the fake door, and the fake house fell to the ground, and several other ponies were seen in domino-like stances and they toppled down and the result is a picture of Mayhem and the words 'Mayhem Rulez!')
Rarity: Oh, it's just the weather. Now come on in. Opalescence is nice to strangers. (She is seen in rainbow-colored fur unamused as the Lodgers from the view see that)
Thundera:... Aye-aye-aye.
Tigress: "...... We're gonna have to barge in and drag her."
Icky: "But who could be able to snap some sense into her?"
Fancy Pants and Fluer came in.
Fancy Pants: "Excuse me, Lougers, Princess Twilight momentarly told me that Rarity needs some assisence before she aburptly vanished. Is this true?"
Fluer: "Is there something wrong with her?"
Icky: "Depends: What do you call being generious to the point of self-harming insanity, about to sell of her own home during a bad time, giving away her liver, and potainionally shutting down her canterlot business?"
Fancy Pants: Oh, my! Who would do that to... Okay, that was a rhetorical question, it was Discord, wasn't it?
Icky: Nope. His much eviler brother, Mayhem.
Fancy Pants: "Oh yes, the rude Draconquui basturd who's been running a muck here."
Icky: Well, I don't know about you, but I KINDA like the lollipop trees he made. Reminds me of Gobstopper. (Licks a lollipop tree, but his tongue actually gets stuck like ice)... AAAAHHHHH!!!! AAAHHH!! AAAAAAAAAHHHHHHHH!!!
Viper: I got this. (Smashes the lollipop to pieces)
Icky: AAA-HA-HA!! NOHHT SUU CWOOSE NEHHKKSS TIIHHMME!! (Viper smashes the lollipop again, and a piece of the lollipop is stuck to his tongue)... Oh, gweht! How're yuh guhna fihhx thihhs?
Shenzi: (Rips the lollipop piece off of Icky's tongue as he screamed) There, all fixed.
Icky: (His tongue was literally loose)... Oh, puhfehhct! Muy tung wihhl be wike thihhs fur uuhh whuile.
Merlin: (Sighs, and magically fixes the tongue)
Icky:... Thanks. I almost drooled there.
Sweetie Belle: (Appeared) Oh, here you guys are. You said my sister was in trouble?
Icky: Yep. Sad we couldn't get your parents involved since... You know, they only made ONE appearance, and I'm sure they're busy as f- (His tongue gets loose again) UUUUHHHH!!
Merlin: Watch the language in front of her, Ickster, or you're gonna have that tongue for the rest of this mission.
Icky:... (Sighs, and gets his tongue fixed again)...
Sweetie Belle: What exactly happened to Rarity?
Tigress:... You may wanna take a look for yourself.
Inside Rarity's Boutique
Sweetie Belle:... (They enter) SWEET MERCIFUL CELESTIA!!! (She sees the bald Rarity and sees her in insanity)
Rarity: Care for some sweet tea, green tea, or lemon tea?
Sassy Saddles:... Oh, dear, what has gotten into her?
Rarity: (Notices the heroes) HEY! We're closed! Get out before I get my shotgun!
Icky: You don't even HAVE a shotgun, missy.
Rarity:... JUST GET OUT!
Icky: "You can't make us."
Rarity began doing her karate poses!
Tigress: "Ok, leave this to me!"
Rarity: "WHOOO, YAAA, WAAAAA, (BRINGS OUT CUSTOM-MADE NUNCHUCKS) CHEEAAAAAAAAAA?!"
Icky: "WHERE DID THE NUNCHUCKS CAME FROM!?"
Fluer: "Oh, I gave her those as a Hearths Warming gift last year."
Everyone looks at Fluer oddly.
Fluer: "..... What? Even in a world of peace, a lady needs to defend herself."
Thundera:... Again, aye-aye-aye. (Tigress, despite being held off, is able to overwhelm Rarity with her superior skills, and restrains her)
Rarity: HEY, OW, LET ME GO!! HELP!! POLICE!!!!
Later...
Rarity: (Tied to a chair) LET ME GO RIGHT NOW, I HAVE A GENEROUS AMOUNT OF STUFF TO DONATE!!
Po:... You'd think she'd ACTUALLY want to stop being generous because she's doing the exact same thing she was shown that made her like this in the first place.
Shifu: Well, I think it's because she feels that giving away everything she has will soften the burden so much, she'll be satisfied when she has nothing left to give.
Icky: That, and she was already greedy with Discord.
Rarity: WHY ARE YOU DOING THIS?!? THERE'S NO HOPE AT STOPPING THAT MAD BEAST MAYHEM!!! AND I'M GIVING AWAY EVERYTHING I HAVE UNTIL I'M SATISFIED WITH HAVING NOTHING!!
Sweetie Belle:... Sheesh, Rarity, then you'll be reduced to kleptomania cuz' you have nothing to live off of.
Icky: Basic Mayhem 101 for you. Even the things he makes his tainted foes do makes not as much sense as when Discord made her think a rock was a bonafied diamond.
Fancy Pants: Rarity, dear, you cannot just give everything away just to ease off the stress. You just need to show discipline when giving things away. Otherwise ponies will think you've gone nuts.... You know, kind of like you are now.
Rarity: But... But what about the Brokeglass family? I do wanna help them.
Sweetie Belle: Then don't just give away your own home. Just donate them some bits. I'm sure you've gained a whole ton of fortune from your massive sales. Heck, I'm sure Sassy Saddles has made a bundle with her work.
Sassy Saddles: It's true. Generosity is something nice, but it needs restraint. The best thing a generous pony can do is to know what to sell and what not to sell. Sometimes it's okay to be greedy, for lack of a better term, as long as you can justify it. Remember when you accidentally donated some of your fabrics to that Suri Polomare pony, and how it bit you in the flank?
Rarity:... (Slowly gains a bit of color)... Are you saying that... I shouldn't be THAT generous?
Sweetie Belle: Of course. You need you balance your own generous spirit with a greedy edge, or at the very least, be picky with how generious you are. Don't be too generous or ponies will think you're insane. Don't be too greedy or ponies will thin you're a jerk. Somewhere in between, it's somepony I know you can be. I know you can be that pony, Rarity. You just need to know when to stop giving.
Rarity... (Slowly gains more color)... You really believe in me?
Icky: Well, of course she does, drama queen! (Tigress slaps him) OW!
Sweetie Belle: Generosity may be your greatest strength, but if there's one thing I know, then you can't just go giving all willy-nilly. If you want to be greedy with things, then give a clear reason. If the choice is hard, then work things around until you find a way. You can still help the Brokeglass family. All you had to do was donate some bits to help them pay for what they need. They'll have a home, the little one will have a new liver, and you won't have to sell your other boutique.
Rarity:... (Sheds tears, and fully regains her color, and as they let her go, she hugged Sweetie Belle)
Icky: Well, it's about TIME!
Rarity:... (Notices her hair is gone)... MY MANE!!! I FORGOT I DONATED IT TO... (Squeals loud enough to break the glass of the boutique and scared off birds)
Sugarcube Corner
Mr. Cake: (The Baby Cakes were crying as Emo Pie was leaving) Pinkie, you can't just quit!
Mrs. Cake: Indeed. And the babies agree all too well.
Pinkie: "Look, it's not you, it's me. What I become, would end up being a bad enfluence on your kids. In fact, you should pretty much be glad I'm getting out of this cavity factory. I'm signing up to be part of the goth band "Graveyard" (Shows a poster of a group of extreme gothic teens, two ponies, one a Griffin and another a Minotuar). They're so, dark..... They, are badass."
Mr. Cake: "Ok, since it wasn't obvious enough with the lack of color, you really have lost your cheer."
Pinkie: "DUH! I'm a freaking Emo! What did ya expect? Anyway, I'm out of here! Smell ya later, cooks!"
Pinkie was about to leave, until she was mildly surprised that Maud and the rest of the Pie family were seen, along side Cranky and Matila.
Pinkie: ".... Oh great! My lame amish family and the married oldie jackasses. (The group gasped, except Maud). Hey, hang up your mouths, you look like a freshly killed fish from a market. How did you people even get here?"
Sir Hiss: "(Appearing in) Like you don't really know the answer, young miss?"
Pinkie: "Alchourse. It's always the DORK Louge Squad. Look, my new life will be here any minute now, and they won't think me cool for missing it."
Lola: "Pinkie, being like this isn't you. And we brought your family and Cranky and Matila to remind you of that."
A dark huge tour bus-like chariot arrived.
Gothic Unicorn: "Yo Emo Pie, your new life awaits, babe!"
Gothic Pegisious: "Lose the zeros and get with the Graveyard."
Gothic Griffin: "The Tour of darkness will wait for no one!"
Gothic Minotaur: "We'll make sweet dark hard rock togather, babe.... Professionally, I mean."
Pinkie: "Ya see? My band awaits me. Now move out of the way, before the I bring out the pepper spray?!"
Patrick: "Pfft! What's so scary about a spray that sprays a vegitiable?"
Skipper: Uh, hello, it's a gas that you use to burn people's eyes in self-defense.
Patrick: Oh.
Pinkie: Just leave me alone. I have a new life to go to.
Matilda: Pinkie, please don't! You're a great pony, and you've done so much for this town to leave. You're the greatest entertainer, and your influence has inspired others to lead your perfect life. You LOVE making ponies laugh. Isn't that what you enjoy most?
Pinkie: I did, until I learned that laughter doesn't fix everything. Someday, my family will be dead, and even laughter is no going to make me feel any better.
Quartz: Pinkamena Diane Pie, don't you DARE get into that carriage!
Matilda: What will Ponyville think of you if you just left? You'll upset the many fillies that loved your parties. Isn't that what you loved out of your career? Making kids happy? (Pinkie thought about it, and slowly regained some color)...
Cranky: It's working!
Gothic Griffin: Aw, come on, Pinkie! You don't wanna keep us waiting.
Sir Hiss: Butt out, Gothic hooligans!
Maud: (Completely monotone) Pinkie, I know you like any other sister. And you are something special. You've shown us that life isn't always rocks and farming them. The party that earned you your cutie mark changed not only yourself, but us as well. You've shown us that we need to have a little fun even when our life is boring. And we loved your parties. And though we don't like to do them most of the time, even we take the time to know when to step up our game. You're better than this, Pinkie.
Pinkie:... Yeah... I... I suppose I DID give you all a good time. (Slowly regains not just more color, but also gains a bit of her bubbly personality back)... So... What am I supposed to do when somepony I knew very closely is one with the Earth? Literally?
Igneous: What everypony else does. Just take the most opportune time to laugh it all off. I recommend that you not laugh it off almost immediately. Death may not be a laughing matter, but it's not something that should be taken in vain. You must take advantage of making yourself better the best way you know you can.
Limestone: Yeah, so stop being a p**** and just laugh. That jerkoff freak of nature only made you this way. You know it to be true.
Pinkie:... (Hesitates and holds it all in, until eventally she gains her color back and starts bursting with giggles)... I-I-I can't believe I FELL for that silly trick! (Laughs, and eventually all except a few including Maud laugh)
Maud:... Ha.
Sir Hiss: We're very proud of you, Pinkie.
Goth Unicorn: What a ripoff!
Goth Minotaur: Eh, we don't need that retard anyway. Let's blow this popsicle stand.
Pinkie/Patrick: WHAT popsicle stand? (The two look at each other, and then burst out laughing as the carriage left)
Twilight's Castle
Twilight: I'm glad all of you are back to normal. But... Where's Rainbow Dash?
Pinkie: Eh, beats me.
Crane: She wasn't at the same spot you found her before, nor was she at home, at least, for the time we were there.
Skipper: We already informed the Wonderbolts and Scootaloo, and Spitfire is already dispatching a search party to search for her.
Saa: "Depends. Was she that blue pegisis that keeps crashing into everything and sounding really dorky?"
Shifu: "For the time allowing, yes. That is her!"
Saa: "Well, it seemed that she isn't the only one leaving. She pretty much just hid herself in a cloud house."
Applejack: "..... Looks like we're all gonna have to work togather to capture Rainbow. Even as someone she is not, Rainbow is sure to outrun us, and in some of your cases, outFLY us."
Twilight: "Then we're gonna have to do the same stragity as before. Surprise."
Skipper: "Ok team, operation: Capture the Rainbow, Fix the Rainbow, is a go!"
Icky: "That seriously almost sounds like a lost-drafted Skittles Motto."
Chapter 5: Chasing the Rainbow
Rainbow Dash's house.
Rainbow Dash came out of, sniffling like a nerd.
Rainbow Dash: "Ok, time for my rotine fundemental exsirsizes, with the flying, with the actrobats, with the showboating, with the zim-bam blimplity bloom! I hope I don't end up crashing into things again."
Later...
Rainbow Dash keeps crashing into buildings, statues, even at one point crashing the Graveyard Chariot!
Gothic Griffin: "...... OUR RIDE OF DARKNESS?!"
Rainbow Dash: "Oh, oh, I'm sorry about the ruining of your expensive ride, with the crashing, the smashing, the slamming into, the wrecking, the weeks of never ending depts, the pricey zoom boom blabitity goom!"
The Goths stared confusedly at Rainbow Dash.
Gothic Unicorn: "...... Are you yet ANOTHER retard?!"
Rainbow Dash: "I kinda can't help being like this, I was recently cursed by a darker older brother of Discord, his name is Mayhem, with the James Woods voice, with the lobster claw, with the turning everything to complete choas, with the zam-wam-bam-blam zippity-do-dah!"
Gothic Unicorn: "Ugh, these people are SO MORONIC?!"
Gothic Minotaur: "What do you say we trash her and teach her to respect Graveyard?"
The Goths turned angerly at Rainbow Dash!
Rainbow Dash: "OH NO, NOT THE PAIN, WITH THE BEATINGS, WITH THE VIOLENCE, WITH THE UPPITY SOUPPITY GONE?!"
Rainbow Dash zoomed away from the Goths before they had a chance!
Gorhic Unicorn: "FIND HER!? She MUST feel the sting of darkness!?"
The Goths went after Rainbow Dash!
Later...
The Goths are seen wrecking the town looking for Rainbow, as she was high enough on a cloud to be away from them.
Rainbow Dash: "I think it may be for the best for me to lay low, with the stealthiness, with the quietiness, with the out-of-sight mentality, with the singsang zumity do!"
The Louger Van was quietly hiding in some near-by clouds.
Spongebob: "..... Ok, one of us will have to go out there and capture Rainbow."
Patrick: "OH! I wanna be the one who gets her!"
Spongebob: ".... Ok, I guess it really doesn't matter who gets her."
Patrick was given some artifictial wings as he slowly flew to Rainbow Dash, and when he was close enough, he looked as if he was about to nabb her until-
Patrick: "Hi Rainbow."
Rainbow Dash: "Huh? WAIT, YOU WERE BEHIND ME, THAT MEANT YOU WERE TRYING TO CATCH ME, WERE YOU!?"
Patrick: "...... Yes."
Twilight facehooved and groaned, as Rarity rolled her eyes in embarrisment and Pinkie just staring confusedly.
Rainbow Dash: "IT'S TIME FOR ME TO ZIP-SOUP IFFITY GET OUT OF HERE?!"
Rainbow Dash zoomed away!
The Van grabs Patrick back in and zooms after Rainbow Dash!
Spongebob: "What was THAT, Patrick!?"
Patrick: "I was just saying hi to Rainbow Dash."
SpongeBob: Do you even know what we supposed to do?
Icky: SHE WASN'T SUPPOSED TO KNOW WE WERE HERE, YOU RETARD!!!
Sandy: Don't worry, we can catch her! (Flies the van after Rainbow Dash)
Rainbow Dash:... GA-HOYLE, THEY'RE LIKE CHASING ME WITH THE WHEELS, AND THE ROCKETS, AND THE... (Sees Sandy driving the van)... THE SQUIRRELY LADYYYYYYYYYYYYYY!!!
Phil: WILL YOU CUT WITH THE JERRY LEWIS IMPRESSIONS ALREADY?!?
Rainbow Dash: What, I can't help it, dude! I'm just not meant to be with the Wonderbolts with their coolness and their-
Sandy: SHUT UP, ALREADY!! HOPPIN' ACORNS, JUST SHUT THE F*** UP!!! (The two do aerobatic stunts as Rainbow Dash was easily evading the Lodgers, and even managed to dent their ship, and she begins to fly down towards some nearby mountains)
Applejack: She's heading for the Foal Mountains!
Twilight: Oh, Celestia, those mountains are pretty rough to get through, we'll never catch her.
Sandy: We'll see about THAT! (Dives down after her, and they are almost crushed by a mountain until Sandy turns the van sideways, avoiding the damage)
Skipper: Nice one, bushy-tail! (The chase seems to get very bumpy as Rainbow Dash avoids all the obstacles)
Private: She's getting away!
Skipper: We'll corner her into a trap! Rico! Open fire on the sides of the wall and block her path! (Rico fires the laser cannons and cuts off Rainbow Dash's turns left, right, and upward, trapping her in a cave, yet Rainbow Dash is surprisingly able to crush and pave her way through the wall and out into the other side where the van goes out and notices)... She's good!
Sandy: Oh, GREAT! You're right, we may NOT be able to catch her.
???: Not to worry, Shell Lodgers! (An arrow-like formation appears in the sky as they were formed by the Wonderbolts)
Spitfire: We got your back!
Iago: About freaking TIME you showed up!
Scootaloo: (Riding on Spitfire) Actually, I told them that I saw where Rainbow Dash was before you guys did. So I lead these guys directly to her location.
Spitfire: Lodgers, catch! (Throws Scootaloo towards the van and the door opened as Crane caught her)
Spitfire: Alright, Soarin, Misty Fly, enter attack formation, cut her off on both sides!
Soarin: Yes, mam! (The two groups split up as the Wonderbolt teams flew on both the left and right of Rainbow Dash, and the Lodgers and Spitfire cut her off upward and downward)
Spitfire: Rainbow Dash, stop this at once! We are here to help!
Rainbow Dash: GA-HOYLE, LIKE, I DON'T NEED YOUR HELP! I don't wanna make any risky choices that could affect my life in any way. (Bursts in speed as the chasers did the same)
Scootaloo: We need to stop her!
Kowalski: Setting laser cannons to atomic blasters, and to stun! (The laser cannons switch to a yellow blaster cannon as Rainbow Dash notices it, and the guns rapidly-fired at her, yet she was able to avoid them in slow motion)
Po: Crap, she's still surprisingly too awesome for the atomic cannons!
Sandy: Then... I suppose we could test out that lassoing prototype I created and switched the seeking missile cannons with. (Rainbow Dash continues to avoid the gunfire until the computer in the weapons cockpit says 'Warning: Atomic Cannons Overheated')
Kowalski: Crap, the atomic cannons are overheated.
Sandy: Then switch to the lasso prototype in the missile cannon slot! (Kowalski does that, and it launches two ropes that are able to grapple Rainbow Dash as it pulls her, yet Rainbow Dash is too strong for them to halt, and the Wonderbolts that try to restrain her are fought off by her)
Skipper: PUT YOUR BACKS INTO IT! COCKROACH, ACTIVATE THE NUKULAR REACTOR!! (Cockroach does that as the van pushed backward and it was barely able to pull her back) SERPENTINE! It might make her dizzy! (The van swivels back and forth, yet Rainbow Dash continued to struggle, yet Sandy notices a mountain and pushed Rainbow Dash over to it, and Rainbow Dash instead just burrowed her way through the mountain, and still avoiding the Wonderbolts)
Scootaloo: Wow, I don't know if I should be impressed or freaked out!... Alright, I'm going in!
Alex: What?!? But you can't fly yet!
Scootaloo: Let's hope my climbing attempts to gain my cutie mark pay off. (Goes outside the van, and climbs gently across the van and onto the ropes)
Marty: SCOO, BE CAREFUL, SHE'S CRAZY!
Scootaloo: You think, Marty?
Rainbow Dash: GA-HOY, LET ME GO, THE ROPES ARE GETTIN' TIRED WITH THE CUTTING OFF THE CIRCULATION, AND THE SQUIRREL LADYYYYYYYYYYY DRIVING THE STUPID VAN!!!
Spitfire: (Gasps, noticing Scootaloo on the rope) What is she doing?!?
Rainbow Dash: (Scootaloo grabs onto her)... Scootaloo?
Scootaloo: Rainbow Dash, please stop! I care for you as the sister I never had. And if YOU care about me, then you'll cease running away from your problems. PLEASE?!? (Gives her puppy-dog eyes, and some of the Wonderbolts awed at that)
Spitfire:... Wait, wasn't THAT the filly who asked us for an autograph once?
Soarin: You just noticed that now? I knew it from the second she came to us.
Rainbow Dash:... (Slowly regains color and stops flying)...
Alex:... She actually did it! She got Rainbow Dash to stop!
Skipper: Then let's put her down, Lodgers! We've got work to do.
Near beautiful waterfall
Rainbow Dash: (She was seen sitting next to Spitfire and Scootaloo near the waterfalls)... (Sighs)
Spitfire: You know, my mother once took me here at Neighagra Falls. It's even better than I remember it.
Scootaloo:... Rainbow Dash? You feel like talking now?
Rainbow Dash:... (Sighs) I suppose so.
Spitfire: Well, Ms. Dash, it seems that what you told us about concerning what that Draconequus had just shown you, I'm afraid that it is true that being Supreme Commander of the Wonderbolts is a big job that means constant work. But the truth is... You're actually not going to be one.
Rainbow Dash:... Huh?
Spitfire: Yeah. Supreme Commander is only reserved for the bravest, the best, and the boldest. And another reason is because, well, my dad wants me to be the next suprime commander. But all the things considered, what you've taught us make us strong and proud to be an honorable police force.
Scootaloo: Yeah. As far as I'm concerned, you might never get to BE Supreme Commander.
Rainbow Dash:... You sure about that?
Spitfire: We're absolutely sure. Believe me when I say, at your current situation, you might not have enough experience to be a Supreme Commander. That usually takes decades to reach. And as for your friendships, we sympathize with them because your reputation as a good friend to the Princess of Friendship spreads like wildfire. You have proven to us and yourself that you are strong and willing to do the right thing.
Rainbow Dash:... (Regains more color)... Really?
Spitfire: Yes. Hell, you even put up a good challenge to even us Wonderbolts, which hasn't been a problem for us since those violent Razor Feathers who... Sadly work for the Griffin Mafia now. With determination like THAT, wow, you've impressed even me, there's nothing that will stop you from being who you are. A loyal friend. You may still be dangerous when lead the wrong way... But you can be my wing-pony anyday in the future should you finally prove yourself to be one of us. You're a good pony, Rainbow Dash.
Rainbow Dash:... (Sheds tears, regains her color, and hugs a surprised Spitfire)...
Scootaloo: (Hugs Rainbow Dash)
Rainbow Dash:... Oh, where would I be without you, little sister? (The two chuckled) Thank you both for helping me out of this. I may be conflicted with my loyalties in the future, but I'll work hard to acknowledge them.
Spitfire:... And I'll be proud to be by your side in the future. (The two saluted each other)
Twilight:... Well... That's everypony. (The Mane Six got in a group hug, until they noticed a few flying pigs dive-bombing straight into the water of the falls, turning the water into soda, which bubbled intensely and started soaking the area)... Once again, too soon for a hug.
Spitfire:... Go on and make me proud, soldier.
Rainbow Dash: Yes, mam!
Spitfire: (They notice some big Mentos stalagmites as one of them broke and was heading down towards the soda falls)... OH, DEAR, THE PLACE IS GONNA BLOW!! TAKE COVER!! (The Mane Six and the heroes quickly made it into the van and took off just in time as the Mentos hit the soda, causing it to react with a huge carbonated blast)
Icky:... I still don't get how that works. How does Mentos make soda explode?
Kowalski: Oh, it's quite simple really. Mentos and soda react like that because of the Mentos' nucleation sites. The surface of the mint Mentos is covered with many small holes that increase the surface area available for reaction, and thus the quantity of reagents exposed to each other at any given time, thereby allowing carbon dioxide bubbles to form with the rapidity and quantity necessary for-
Rico: BORING!!
Kowalski:... Sorry, my genius likes to shine. Now let's go stop Mayhem! (The van flies off)
Chapter 6: Mayhem's Final Battle
Canterlot.
The other Five Elements of Harmony are waiting.
Lightning: "Man, this is taking forever. That weird Maze of Troubles place was spotted near ponyville. We have a shot to get back at Mayhem for messing with our friends."
Midnight Fate: "Be patent, Lightning. We would not be of much use without Twilight and her friends."
Kindheart: "Indeed. We mustn't rush their time, deary."
Sincere Funtime: Yeah. I mean, it isn't like they were held up due to the Maze's power to taint through dark truths and inevitabilities, and thus the heroes had to help get them right back on track or anything.
Midnight Fate:... Actually, I think that's correct. Celestia told me about that.
Heping Hooves: Oh, tarnation. I hope those girls get better soon. I feel like the chaos is getting worse. Who knows how many fillies are being threatened by it. I saw a few fillies riding in carriages with oversized wheels. That is definitely not safe.
Lightning: Don't worry. They'll be back soon. (The heroes arrive at the Canterlot entrance, convert their van into the Amulet, and teleport inside the throne room) YAAHH!!
Sincere Funtime:... Don't you guys worry that you might teleport inside somepony?
Twilight:... I'm pretty sure that's not possible. These teleportation spells create quantum shockwaves that rapidly push ponies out of the way to avoid horrific accidents.
Celestia: Well, everypony, we've rescued the Mane Six, and they're ready to defeat Mayhem. But be warned that he's very powerful, and he can resist even your Elements of Harmony without some additional help. The best chance we've got now is to get the Mane Six's Rainbow Powers back so united, they can defeat Mayhem once and for all, and rescue Discord.
Cadance: And stop Mayhem from destroying my Monastery because the chaos around it is starting to escalate. If we don't stop Mayhem eventually, the whole place will go down.
Midnight Fate: But how do we get inside the Maze without suffering the same effects as they did?
Lord Shen: Not to mention the curses that were used to keep most of us out will probably still be up. It's pretty clear that Mayhem is not going to give up without a fight.
Nightus: "Allow us to remove those curses and effects for you. We have such a spell that can remove those things from the maze."
Lightning: "Well, it's been sighted somewhere near Ponyville. We still have a chance to get to it."
Rainbow Dash: Yet, knowing Mayhem, he'll still try and take away our wings and horns, and even trying to make you immune to that spell might not help that much since he's sure to bedunk that kind of immunity, given how strong he is.
Lord Shen: But it will not matter since there'll be an army of heroes attacking, and won't stop until they get the job done.
Fluttershy: So...do we have a plan of attack, or what?
Twilight: "Yes, we do."
Mayhem's Tower.
Mayhem: (He was sitting near the window of the tower as he watched his chaos unfold, watching as the objects came to life and the animals mutated and hurt and injured ponies)...You know, I never thought it would be so easy dealing with Wussy-Cat and her friends.
Discord: FLUTTERSHY!
Mayhem: (Does the 'Bitch, Do I Look Like I Care' joke again)...But then again, I suppose I always knew sending those ponies to their depressed doom was doable. But nevertheless, I think I'm gonna like being the ruler of a beautiful world of chaos and misery. (Magically summons a cup and fills it with raining soda from the steel wool clouds)...Yes sirree, I'm gonna make this count...if it kills me. (Sips the soda, then sees that the heroes have arrived, and immediately spits out the soda in surprise) WHAT?!? THE MANE SIX HAVE BEEN CURED OF MY INFLUENCE?!? IMPOSSIBLE!!!
Discord: Nothing is impossible, jackass! You said you don't underestimate your obstacles, yet you deny they can find ways around your influence? HAH! You should've kept them on tighter leashes.
Mayhem:... (Gets angry and bursts in green flames again)........ They, are not, gonna seperate us again, bro!
Mayhem causes the maze to be lifted from the ground and fly away from the heroes!
SpongeBob: Oh, no, you don't! (Summons the van from the Amulet, and they enter and chase after the flying van)
Mayhem: (Growls angrily, and creates a distress signal, which signals all the aerial chaotic creations on the ground to start attacking the van, and then van used it's lasso function to grapple onto the Maze)
Max: (The Lodgers succeed in fighting of the chaotic creatures, and crash onto the entrance of the floating Maze of Troubles)... Well, that was a decent landing.
Sam: I'd say a little bumpy, but at least we caught up with the Maze.
Squidward: Good! Now let's go make good on my word of giving that freak a piece of my mind!
Skipper: Nah, if you just barged in there, he'd make calamari out of you. We need to take him by surprise.
(Mayhem): SURPRISE?!? HAH! I can see you WHEREVER YOU GO!! I don't know HOW you got the Mane Six back to normal, but I will NOT let you take my brother away from me! (The Maze starts to change rapidly as many creative and chaotic obstacles such as fire, water traps, booby traps, and Mayhem clones with spears and golden armor appeared all over the Maze) Let's see you heroes get through THIS! This maze will be filled to the brim with traps, it will always change pathways, and my clones will make mince meat out of you! So if you want me, come and get me!
Icky: "PFFT! Some eviler brother of Discord you are! Ya rather hide behind tricks and mazes then fight us like a REAL man! Metathoricly speaking. I never figured that the most infamous Dracon-whatever ya are is a big cowerdly baby!"
Mayhem's voice: "WHAT!? I AM NOT A BIG COWERDLY BABY!?"
Icky: "Yeah, you are. You wanna know what makes ya even MORE of a baby? TAKING THE RAINBOW POWERS AWAY FROM THE MAIN 6!? That's the ultamate in cowerdly babyness! A real man, LET'S his oppendents have a fair fight!"
Mayhem screams angerly?!
Mayhem's voice: "NO ONE CALLS MAYHEM A BABY AND EXPECTS TO SURVIVE!? FINE!? NO MORE MR. NICE MAYHEM?!"
The Traps all vanished and suddenly, the heroes were all taken to the tower!
Mayhem: "YOU WANT YOUR STUPID RAINBOW POWERS BACK?! (TOSSES THE ORB!?) TAKE IT BACK!? IT'S A WASTE OF SPACE ANYWAY!?"
The orb shatters and gives the Main Six the Rainbow Powers back!
Mayhem: "NO ONE, INSULTS MY EGO AND EXPECTS TO GET AWAY WITH IT?! SO GO AHEAD!? HIT ME WITH YOUR BEST SHOT!?"
Discord: "...... Seriously? You should've taken some anger management classes before you made an evil plan, CAUSE YOU JUST ALLOWED ICKY TO TROLL YOU INTO WILLINGLY OUT OF ANGER GAVE THE MAIN 6 THEIR ONLY WAY TO TRUELY DEFEAT YOU!? Also, THE MAIN OTHER 5'S HERE IDIOT?! YOU JUST DOOMED YOURSELF?!"
Mayhem: "NOT NOW, DISCORD!? ADULTS ARE TALKING!?"
Discord: "Oh, so when now I am scolding you for letting your anger make a big idiot out of you and tried to talk you out of making things too easy for them, which to be fair, they were already given enough challnage for this episode, you treat me like a child?! Worse, brother, EVER!?"
Mayhem: "(GROWLS?!), THAT'S IT?! (GIVES DISCORD HIS POWER BACK) YOU WANNA BE A WIMPY LOSER ALL YOUR LIFE?! FINE!? GET LOST?! SEE IF I CARE?! NOW SCRAM AND LET ME BEAT THESE FOOLS IN PEACE?!"
Discord: "...... Ok, seriously, when I was evil, I may've been not as intelligent as you, if it's right to say that now, but at least I kept my BAD TEMPER in check!? Aridavirti!?"
Discord teleported back to the Heroes!
Mayhem: "OK, YA HARMONY LOVING LOSERS?! I DARE YA TO GIVE IT ALL YA GOT?!" (Magically makes identical clones of himself) Let's see you try to get me with THIS!
Icky: Uh, dude, whatever happened to fight like a man?
Mayhem: This IS fighting like a man! I'm still kicking your ASSES!! But I'll give you some credit, REAL clever using my anger against me. Totally wish we weren't enemies here.
Icky: Yeah, but the whole point is to do it yourself with no assistance!
Mayhem: What do you think I am, an idiot? I may have just made serious mistakes under being angered, BUT I AM NOT, A MORON!? Do you HONESTLY think I'll let you trick me into being defeated? If you think I'll fight you like that, then you're one of the STUPIDEST in the Lodge! This is still fighting you personally, and the closest you'll ever GET to fight me personally, and that's all there is to it.
Icky:... Okay, then, big cowardly baby- (His beak disappears)... HMMPPPPHHHHHH!!!
Mayhem:.... Ya know, in hindsight, I probuly should've just done that instead of raging out. Oh well, mistakes help people learn. ATTACK!
Discord: (But the Mayhem clones are kept in place before anything could happen by Discord) WHEN THE UGLY BIRD SAID NO MORE HIDING BEHIND TRICKS, NO, MORE, HIDING, BEHIND, TRICKS?!
Mayhem:... What, do you think this is a game? This is heroism vs. villainy! A villain is SUPPOSED to hide behind tricks because it's how they preserve themselves from a fight that they KNOW is a no-win situation! Seriously, it's like saying a strategic villain move is just 'cheating' as if this was some kind of game of kickball on the playground!
SpongeBob: HEY!
Mayhem: SO WHY DON'T YOU JUST GROW UP, YOU SPOILED LITTLE HEART-BREAKER?!? News flash, this is MY turf, so I make the rules! I'll hide behind tricks whenever I want, BECAUSE VILLAINS LIKE ME ARE NOT THIS STUPID! So why don't you just tuck your tail between your legs, and stop being such a child in a grown-up's body, you ungrateful disgrace to our name-
Discord: (Punches him in the face with a giant magical glove, forcing all the clones to disappear)...YOU WANT ME TO GROW UP, THEN?!? FINE! I'LL FINISH THIS MYSELF!!! (Punches him in the abdomen with the glove)
(The two sung this as they fought with their powers)
Lord Shen: "..... That bloodly song came out of nowhere!"
Icky: "It's Discord and his bro, what did you expect?"
Mayhem: (As Discord kicked him the crotch as he literally fell apart and went back together) HOOOOOOOOOOO!!!... OW!
Discord: THAT was for calling Fluttershy 'Wussy-Cat'... Multiple times! (Punches him with the glove again) And THAT'S for tainting her! (Punches him again)... And THAT is because I felt like it.
Mayhem: (Growls angrily, and pushes Discord away with a green flaming shockwave which surrounds the entire place with green fire) (Growls angrily at the Mane Six) You ponies disgust me for what you did to my brother! We had it all, fun and everything ours to command! And you took my brother away from me! YOU PONIES TAINT PEOPLE WITH YOUR DISGUSTING FRIENDSHIPS!! ESPECIALLY YOU, WUSSY-CAT!! YOU ARE A DISGUSTING ABOMINATION AND ARE NOTHING MORE THEN JUST A SENSITIVE BITCH WHO RUINED MY RELATIONSHIP WITH MY BROTHER!! YOU ARE A ZOOPHILE WHO DOESN'T DESERVE DISCORD AS A FRIEND, AND- (Fluttershy was at first hurt by the words, and then spontaneously bucked him in the face as it was literally stuffed in his head, and his antlers, fang, and ears literally fell off)... (His face recovered from the blow) Heh, well, I probably deserved that, but still, I will NEVER forget the day you ruined my relationship with my brother!
Fluttershy: "DON'T YOU THINK I FEEL SORRY FOR YOU AS IT IS?! I mean, outside of a petty and pathic conquest scheme, you mainly did all this to have a brother again! Well, let me ASK YOU something?! Why even BOTHER with this to begin with when you can JUST AS EASILY GET HIM BACK BY GIVING UP THESE FRUITLESS PERSUITS OF MAKING PONIES MISERABLE, THAT YOUR OWN RACE HAD THE RIGHT IDEA TO FORSAKE!? Mayhem, some destinies, are not worth having! And though I still feel awful in contributing in it in some way out of my control, the only real fault of your seperation of your brother, is yourself! YOUR THE ONE WHO EMBRACED A FORSAKENED PHILOSIFY?! YOUR THE ONE WHO ACTED OUT OVER AN ALBEIT QUESTIONABLE DESIDTION!? YOUR THE ONE WHO THROWN YOUR HAPPY LIFE AWAY IN FAVER OF THIS MISERABLE LIFE OF BEING UNLIKEABLE?! AND THAT CRACK ABOUT ME BEING AN ABOMINATION!? Why, wha, HAVE YOU EVEN LOOKED IN A MIRROR?!"
Rarity: "Agreed! (Holds a mirror to Mayhem's face) To us ponies, your not exactly a beauty queen yourself! (The Mirror cracks) Goodness! And I do believe the mirror agrees."
Fluttershy: "SO IT'S PRETTY UNFAIR TO GIVE ME THAT NAME WHEN YOUR THE ONE THAT NATURE DIDN'T INTENDED?! WHY, YOUR FROM A RACE THAT WAS ORIGINALLY MEANT TO BE THE END OF EQUESTIA AS A PARADISE AND MADE BY A RACE OF DARKSPAWN WORSHIPPING BEINGS, THAT NOPONY EVEN REMEMBERS EXISTED!? THERE WAS NO WINNER OR LOSERS OF THAT WAR!? BOTH SIDES DESIDED TO END THINGS DIPLOMATICLY!? THE ONLY REAL ENEMY, WAS TYRANNY!? And from what I seen.... Your truely far from being like him. Don't get me wrong, YOUR MORALITY IS THE MOST DEPLORABLE TRASH HEAP IMAGINABLE?! But, you did all this, to get your brother back. Why, if Discord was Tyranny's brother, HE WOULDN'T GIVE TWO FLYING BUCKS ABOUT HIM?! Tyranny would've viewed Discord as another target, fellow draconquui or not. And he doesn't care if you have loyalty to being a meanie again or not, YOUR related to the draconquui that helped in causing a revoluion against him! As far as Tyranny is concerned, YOUR HIS ENEMY?! And if this choas had any some sort of way to free him, he won't thank you, HE'LL JUST KILL YOU AND TAKE IT ALL FOR HIMSELF!? IS, THAT, WHAT YOU WANT?!"
Mayhem: "I-i-i-i-i-i-i-i-i-i-i-i-i-i-i, but, but, but!"
Fluttershy: "Icky was right! What hides under a gaze of being a cruel meanie, IS NOTHING MORE THEN A COWERDLY LITTLE BABY, THAT HAS THE WORSE SOCIAL SKILLS IMAGINABLE!? AND NOW LOOK WHERE THAT HAS LEAD YOU!? YOUR NOW THE MOST FEARED CREATURE EVER?! ABOVE EVEN TIREK AND NIGHTMARE MOON, BUT BELOW THE MAIN BAD GUY OF THAT ONE DREAMWORKS MOVIE FOR SOME ODD REASON TMAN NEVER GOT TO PROPERLY EXPLAIN?! And P.S., consider yourself VERY unpopular with the bronies for being RUDE to me in more ways then one, And above all, (Bucks Mayhem in the crotch as he screams in agony!) HAVE SOME TOUGH LOVE, MISTER!?"
Fluttershy flies back to the Main 6 as she was huffing.
Twilight: "...... Feel better?"
Fluttershy: "..... Barely."
Mayhem: "(Slightly higher pitched voice): "GO AHEAD, TRAP ME INTO ANOTHER STONE STATUE?! SEE IF I CARE!? YOU'LL NEVER BE ABLE TO PULL IT OFF ANYWAY!? NEITHER OF THOSE ELEMENTS SEPERATELY CAN DEFEAT ME?!"
Twilight: "Maybe not individually, Mayhem. But united? It might just surprise you."
Mayhem: "(Voice returns to normal) HA! I don't get surprised THAT easily! It'll only end in failure for you?! Your wasting your time and engery!?"
Fluttershy: "Before we do it, I just want to know. Why are you so determined to take away Discord's new life, and to ruin the Monistairy of which has never done anything to you?"
Mayhem: "Oh, like the writing's not there on the wall!? Ain't it obvious!? I view the wolrd in black and white when it comes to good and evil!? A villain is a villain, and a hero is a hero! And no matter what good you show a villain, the villain will always be dark inside!"
Twilight: "Well, the lougers have proven that your black and white world is fittingly an outdated belief. And you were truely a big fool in holding onto it."
Mayhem: "Your still wasting your time! Your harmony bullshit is NEVER gonna defeat me?! SO GO AHEAD?! I, DARE YA!?"
Discord: (Scoffs) This really is some serious deja vu. Like brother, like brother.
Mayhem: No, seriously. I KNOW I can resist these powers just like I have before. So go ahead.
Twilight:... Alright then. (All eleven charged up their powers, and the combination ended up changing the 5 Elemental users into their own Rainbow forms)
Mayhem: What the hell?... (The 11 starts shining their elemental beams getting ready to fire) No!... (The elemental beams fired) NOOOOOHHHLAAAAUGM!? (Several of his body parts turn to stone but he smashes it quickly) NO, NO, GET OFF ME?! GET YOUR RADIATING COLORS OFF ME! (Groans angrily, and slowly turns to stone) I DON'T FEEL SO GOOD, I FEEL A LITTLE STOOOOONED!!! (Turns completely to stone, and a massive shockwave surrounded all of Equestria, partically restoring it from the chaos Mayhem started, and Mayhem fell on the ground completely petrified)...
Discord:... (Flies up to the statue) NEVER doubt what they can do, brother! (Laughs)
Lord Shen: Well... We did it. And it seems that we have another petrified Draconequus statue to guard.
Discord: Glad it's not ME this time.
Icky: "Yeah, but all of Equestia's still a chaotic mess."
Twilight: "..... Leave that to us, Lougers."
Chapter 7: All's Well that Ends Well?
A Chaotic Ponyville
The Lougers with the Chimera, Fluttershy's roommates, and the Reformed Monistairy villains are behind the Mane 6 and 5.
Po:... Uh... Why is Ponyville still a mess?
Midnight Fate: Mayhem was much stronger and powerful than Discord, so even stopping the source isn't just gonna fix everything right away.
Sincere: Yeah... I don't know what that means, OOH, COTTON CANDY CLOUDS!!
Icky: So how exactly ARE you gonna- (Music was heard)
Squidward: What's that music?
SpongeBob: I think a song is coming on.
Squidward: Ohh, great!
Icky: "..... You sure singing a song is gonna turn all, THIS, back to normal?"
Twilight: "Never underestimate the power of harmony and friendship Icky."
Icky: Oh, pbbt, sure, singing a song makes friendship fix the remaining chaos that douche nozzle made. Songs fix almost everything these days. Hungry for more, sing a song. Having trouble with money, sing a song. Have a naggy wife, sing your voice box out. It's like- (Discord makes his beak disappear)
Discord: Icky, shut up! PLEASE! Just roll with it.
This music plays as this song is sung by at first only the Main 6, but when the song started to work, everyone, Equestian and Non-Equestian, even the Lougers, joined in, and by the finale, Discord helped the Mane 6's harmonic powers turned all of Equestia back to normal.
Ponyville, and subinquesently all of Equestria, gets turned back to normal as the song ended with Twilight's Castle's star tip shining the rainbow power across all of Equestria and undid the chaos.
Private: And THAT'S how you do it!
Icky: (Gets his beak back) Well, I have to give you credit it worked, but I suppose you-
Discord: Don't make me take it away from you again.
Icky:... Shutting up.
The Chimera sighed sadly.
Tigra: "..... Well girls, I guess it's back to that nasty fire swamp for us."
Saa: "Yeah.... We're better off not scaring the little ponies now."
Hoofereen: "Let's go..."
The Chimera walked away sadly.
Applejack: "Now where do ya'll think your going? Ya earned the right to celebrate with us!"
The Chimera looked surprised and confused.
Saa: "...... Your, being nice to the same creature that tried to eat your sister and supplies? And more or less you?"
Applejack: "Well, ya'll were mainly acting out because you were raised in the wild."
Spongebob: "Well, yeah. It's not exactly a place where you can find someone to hand you kindness on a silver platter."
Derpy appeared holding a silver platter holding muffins.
Derpy: "Celebratory Chocolate Chip Muffin?"
Spongebob: "DON'T MIND IF I DO!"
Spongebob and Applejack took a muffin each and Derpy left.
Saa: "Hey what about...."
Spongebob: "(Finishes the Muffin) What I'm trying to say is, you don't have to live out alone in a place that looks like a reference to that one sci-fi movie people barely remember existed. I mean, after all, you both saved a member of the Louge's life, and saved Applejack from being eaten by a pack of wooden canine monsters, so what better thank-you then, dramic pause......... A membership into the Louge!"
Tigra: "..... Wait, is that like, a club or something?"
Chi-Fu: "Actselly, we're a team of heroes and reformed anti-heroes that go around and fight villainy and wrong-doings. We can do all sorts of heroics. From a simple getting a cat out of a tree, to, well, pretty much what we all just went through. Saving the world. And well, after we had off-camera debate on you, we desided that, because you redeemed your mad sex escaipes, and your one attempt to eat Spyro and the Penguins, by saving my life and Applejack's, well, it's a redemption good enough for us."
All Chimera Heads: "REALLY!?"
Chi-Fu: "Alchourse. Granted, we'll have to stay longer in Equestia then planned to have Fluttershy make you house broken, cause you were from the wild after all and-"
The Chimera gave Chi-Fu another overly strong hug!
Chi-Fu: "OOF! Madams, remember not to break me in half?!"
Lord Shen: "Well, I guess this means I'll have to have another room instailled in the Dragon Guardian Temple."
Sandy: "And we'll have to get the van modifived to handle a Chimera like her. But aside from that, it's a great day to have another member. Nothing can possabily go wrong."
Epilogue
Skullian Prime.
Architect was watching this.
Architect: "Oh, dear, sweet, naive Sandy. Mayhem was but the beginning of my true revenge against Equestia. I must commend Titan for asking the rouge Draconquui Criminal Deed to coherse Mayhem to commence his plans, and in doing so, he would end up causing enough choas to free an ungrateful creation of the ingenius Kaiyas beings. Tyranny. Disobedient to the Darkspawn as he is, he still did on what we intended him to do, attack and ravaged Equestia.... But failed cause of his dangerious amount of over-compidence, pride, and the stroking of his own ego. That is why, I need you, Deed, to make sure that doesn't end up become his downfall once again."
A rouge Draconequus in a mobster hat, with catfish wiskers on his nostrals, one elk horn, one irish deer horn, one arm of a spider crab, another arm of a handed jellyfish tenticle, one leg of an ostrich, another leg of a xenomorth, the tail of a stegosaurus, the wings of a parrot and a flying fox, has a full facial beard, and wears a suit simular to the Batman forever Twoface. This was Criminal Deed.
Criminal Deed: "Arch, I'm more then willing to make sure Tyranny does it powerful, but smart. I'll be sure to keep the overcompident idiot from ruining himself like he did last time. But even my own boys aren't enough. That's why I'm gonna get the Griffin Mafia involved. Our combined numbers would make sure Tyranny is a formittable force again."
Architect: "Very well, but be careful. The Griffin Mafia is an honor-driven force. Even the mere exposure to Tyranny's, colorful retoric torwords everything that sides with peace, would drive them away."
Criminal Deed: "Don't worry. If they want the Mafia Allience's protection against the lougers, they better shad up about it if they want to avoid ending up like the Slugbutt mafia!"
Architect: "...... Good. Your dismissed."
A cold cave.
Criminal Deed appeared as Griffin Mafia Members and Mobster dressed Draconquui are seen around a giant frozen christail.
Criminal Deed: ".... Only a matter of time, you big violent behemoth."
Fin.
Community content is available under
CC-BY-SA
unless otherwise noted.