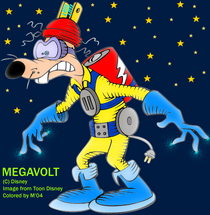 Megavolt is the second in command of the Fearsome Five, and a minion of the Fang Empire.
As a teenager, Elmo Sputterspark was fascinated with electricity and magnetism and, along with Drake Mallard, was tormented by the local school bully because of his "nerd" status. During a static-electricity experiment gone awry, Elmo's body became infused with so much electricity that he was able to harness its power and shoot it at any target he chose.
At the high school dance, he showed up in a yellow suit and tried to give himself the name Megawatt, but the band that was playing at the dance had the same name, so, to avoid ambiguity, he gave himself the name Megavolt. However, Drake Mallard had defeated him as Darkwing Duck, and since then, neither would see each other until many years later, and again on opposing sides.
Over the years, Megavolt became one of Darkwing's most formidable nemeses, and would often be seen partnered up with Quackerjack. Both of them would also become part of Negaduck's group, the Fearsome Five.
Megavolt's greatest weakness is that he shorts out completely when he touches water. Because of this, Darkwing has defeated him numerous times when engaging him in battle.
Role in the series
With the inclusion of Negaduck into the Fang Empire, Megavolt will be following his boss' orders in the great Fang Empire.
Community content is available under
CC-BY-SA
unless otherwise noted.