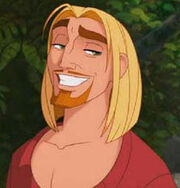 Miguel
is a hero and Tulio's partner in the road to el dorado film. he is much like the more adventureious uncle to the louge.
in the tales told by Sam and Max and others, he is beleaved to have met them while finding the city of the digidesten.
he also joined the shell louge squad in Spongebob and friends meet Lilo and Stitch. though he at first was seen as one of the adddisional allies in Spongebob and Friends on the quest for camelot.
Community content is available under
CC-BY-SA
unless otherwise noted.