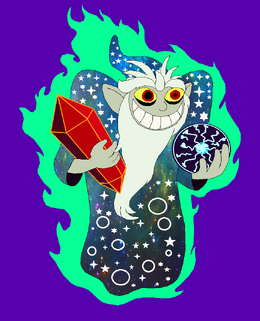 Jehosophat Bogart Mirschimus Verim Flaugergues
, AKA
Mischief Maker
, is an Alternate UUniversal Toshan from Planet Magelio. He is a former student for the
Magelio Elder Council
who had been extremely fascinated with magic and aimed to break the 'nonsensical' limits and rules to magic capabilities seeing that magic should have no limits, unaware it was restrained to limits for a reason as unrestrained magic can not only be all-powerful, but also draining, unstable, corruptive, and destructive. Not listening to any warnings, Jehosephat broke the limits and upon doing a spell thought to be impossible, he ended up falling to ambitious envy and turned out mad with the chaotically-potential power that magic has. He eventually lost his friends after refusing to stop this quest, and disappeared a day later after finally going mad to unlimited magic power and manifested chaos magic, turning himself into a chaos wizard, and has been toying with the Council and their students who constantly quell him feeling sorry that he ended up like this as he still has some good in him, even though this is not visible. Sometimes the methods to his madness have a reason, but often times he does it because he's bored.
History
Coming soon...
Abilities
Coming soon...
Community content is available under
CC-BY-SA
unless otherwise noted.