Obi-Wan Finale - The Loop
Play Sound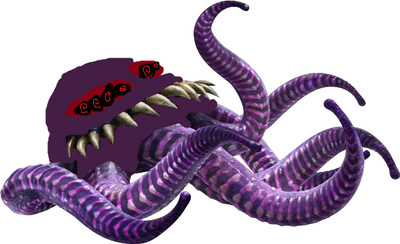 Mischievers are Outer Gods that appear like the traditional Lovecraftian tentacled monster like Cthulhu and Azathoth, their very own rulers, and they like to cause chaos by messing with quantum-flow of dimensions, causing anomalies and unnatural oddities. They like to leak monsters and dangerous conditions from other dimensions into others, they quantumize random objects into having unnatural properties, they make non-fictional fictional, curse people into having unnatural oddities and powers, and just doing anything out of the ordinary, as they were never meant to exist and took up a chaotic lifestyle that save their existence penultimately, even doing so to "dying" Outer Gods just about to end up in the Hibernation Realm by turning them into one of them. They are known very well by anomaly-based organizations like Area 51, Illuminati, and even the SCP Foundation, of which Mischievers bare the responsibility of being the creators of all the entities they possess, or at least halfly responsible for them, made just for the purpose of amoral entertainment. These creatures have no consistent appearance (Barring what are considered "Purebloods", I.E. a Mischiver that hasn't pocessed an Outer Host yet, if at all, so the vast majority of the time Purebloods look like that goony octopus monster from the Final Fantasy Series), just being noted for being similar to the traditional Lovecraftian horror trope possessing scary eyes and tentacles. They are thus far one of the most powerful and dangerous rogue outer gods in existence, capable of outsmarting Pathmakers.
History
Many heat-deaths and multiversal rebirth cycles ago, pre-dating the UUniverses and the First Cartoonian War of the concurrent Multiverse as we know today, the Mischiever Purebloods were not always Outers. They were once an interdimensional octopoid-based species that colonized the neighboring dimensions of what would become the Mad Rims. Their true name were lost to even them to the point that they currently refer to that era as 'Pre-Mischives', as they ruled from their home realm in the center inside a binary green star system called the Xoth System. In a time when the Intendeds were not always around to keep order to all things, it was the Pre-Mischives that cared for the Outer Rims and brought it the balance in absence of the Intendeds. Because of this, they were considered the one exception to the otherwise-strict rule of no Interdimensional Empires. The other reason for the exception for the Pre-Mischives is because their own biology made them a risk for the Intendeds to even desire intervention, as they could possess even Outer God physiology and assimilate them into their click. Those that were made from this process are called 'Fuse-Bloods', along with other names like 'Hybriders' and more, as Pre-Mischive originals were called Purebloods. While this ability was not limited to possessing Outers, the Pre-Mischives once had the wisdom to only reserve this ability to Outers as to best protect themselves from Outer God threats, as well as their culture considering fusing with in-realm mortals and god-level beings not as prudent as doing it to an Outer. They also had the wisdom to not rub it into the Intendeds' faces and still had adhered to the Grand Design and balance and never committed to interdimensional imperialism.
For this, the Pre-Mischives were a benevolent peaceful interdimensional race and were once the keepers of balance in the Outer Rims. But the very ability that protected them from Outers made them useful to Mlandoth, an incorporeal entity of chaos that already had a twisted ideal for what balance really was and wanted to turn the Pre-Mischives into something they weren't, as it not only found them the one challenge to it's masterplans, but because it viewed how great their fusing ability could be. So Mlandoth proceeded to create chaos-energized Titans from the Kaiju Dimension and designated each such variant to appear in specific realms, turning them into far more miserable worlds, starting with the Pre-Mischives' home and colonies, in turn beginning with the Xoth System. The Chaos Titans destroyed the Pre-Mischive kingdom and left them to become miserable shells of their former selves. Azathoth, back when he was a noble Pre-Mischive king whose true name was long forgotten by even him, was left heartbroken and lost of hope, making him vulnerable to Mlandoth's suggestions and turning him into the Founding Mischiever, leading him to infect his own people with this curse, and birthing all other Mischievers. The Pre-Mischives original state would disappear many rebirth cycles later to this current Multiverse Cycle, as up until their mishandling of making a Citadelian into a Mischiever ended up with the Purrians harmed, the Mischievers were once completely obscured for all those Multiversal heat-deaths and recycles, by this point having established many of the famed figures known in Lovecraftian stories and having served Mlandoth's twisted ideals since.
But the one realm that usually defied making the Outer Rims into a pure mess was the Fantasy Realm, the only realm Mlandoth overlooked during his rampage. But thanks to the Fantasy Realm's own prior origin thanks to the Mi-Gos' punishment of Yoggoth's native fungi for becoming too overpopulated, a survivor that would become known as Ghadamon was tricked into helping them let the Fantasy Realm's own Titans inside to cause trouble for them, tainting it into the Demon Realm and making Yuggoth into the black-spire-covered wasteland it was depicted as in Lovecraftian horror. Though eventually because of Azathoth being too quick in wanting to emulate the Darkspawn with the realm, this lead to a rebellion by the Mi-Go that broke them free of true control when they discovered Iagh-Metal, which would be rechristened in modern generations as 'Lovecraftium', a metal alloy made from mystically-charged particles, substances from fallen stars, and the strongest materials mined from the ground, which would be a chain reaction of rogue Outer God activity, resulting in it accumulating in worlds that are victimized by them, and is the only substance capable of harming an Outer God even by them standing a few feet away from it. They used this metal to drive off Azathoth and his creations, and they stabilized the ruined Fantasy Realm by demolishing all the global black spires across its surface, and their overall influence of the Outer Rims being nothing but a miserable cosmic mess. Regardless, the impact of the Titans spread Lovecraftian body-horror biology all over Yuggoth, and they coped with this to the best of their ability since they are used to body horror and out-of-this-world magic.
Azathoth and his brethren and family would thus dwell in the Xoth System with plans to finish what they started in the far future. They did so countless times, but though they changed a lot beyond mortal capability, they were still stopped through various means, recently by a newcomer named Howard Phillips Lovecraft, a weird fiction writer with racial issues and a fear of virtually anything, but also a lucid dreamer and an outerdimensional crusader who challenged the Mischievers within the former Fantasy Realm as a man named Randolph Carter, then wrote his IRL stories based on them. But every time, thanks to a grand powerlink Azathoth made thanks to his connection to his entire people, they always returned stronger and more experienced. They tarnished the Demon Realm and made sure through any means necessary that the Demon Realm stayed as it was, possibly thanks to the Titans' very essence globally infecting the world of Yuggoth, and this in turn made it the prime location of quarantined lands that were affected by the Mischievers, which includes the fictional locations of Lovecraftian lore. Many people in the Demon Realm had different plots to quell the Mischiever threat, including Randolph in so many ways, but none of them proved to be effective nor would be expected effective. But eventually, their antics will be met with unstoppable karma with just the right person.
Examples
Higher Forces
Mlandoth- An unsentient entity that acts as chaos incarnate. It's power was once harnessed by Eda before being removed. It's brother,

Mril Thorion

, is it's opposite and is order incarnate. Both had briefly been given sentience due to their powers being harnessed by Eda and Lilith respectively. Keep note that neither Mlandoth and obviously not Mril are not officially reckitnesed as Mischivers nor even proper Outers cause Mlandoth and Mril are driving forces for Outer Existence.
Main Ones
Azathoth- The leader of all Mischievers.
Cthulhu- Azathoth's great-grandson and the second-in-command of all Mischievers who was saved from going to the Hibernation Realm by Azathoth as a former Eraser.
Abholos- A mass of devouring baseless slime and an abomination created by both Tsathoggua and Cthulhu through their own bile and tears. He was summoned by Horrorwing as revenge against the Blight family for what Amity cost him, and bided his time eventually taking over Blight Industries until another defeat. Abholos has no prior Outer form.
Abhoth- A gruesome shapeshifting abomination and a creator of many of the worst abominations out there. DeMischvierfived form revealed to be a hybrid outer of Amoral One and Plainspawn. (Defeated)
Alala- A monster made from living predatory sound who once haunted the Gulf of S'gulho with an army of reptilian sound-based monsters who rested in a sound-based pocket dimension. It initially possessed

Raine Whispers

while other Mischievers possessed the other Coven Heads until they were taken out by Ragnalla for incompetence.True Outer form unknown and also uncertain, as Alala could easily be an inter-dimensional animal tainted with Mischiver-heritage. (Defeated)
Algol- A living star that can warp minds with utter terror and fear, and thus manipulate them. Previous Outer God Form yet known. (Defeated)
Ammutseba- A living cosmic storm cloud with tentacles that devours stars. True outer form unknown. (Defeated)

Amon-Gorloth

- A large tentacled Manticore-like humanoid who once had a cult temple in Egypt called Gz-Eh. He had the ability to control reality which he used to nourish the Nile River until his power was lost by punishment of the Great Ones for the crime of meddling with the lives of humans. True Outer form unknown.
Arwassa- A flying human torso with tentacles and a predatory worm head that once floated around the hills of the old motes and baileys of Europe, driving men stationed there to insanity. True Outer form unknown. (Defeated)
Aphoom-Zhah- The sibling of Fthaggua who is capable of using cold fire that burns and freezes things. Previous Outer form uncertain, but potentially either Space Councilor with more connection to ice or a member of a yet identified Ice Specific Outer Race. (Or Equally a Matter Councilor with Ice Theming). (Defeated)
Apocolothoth- An uncontrollably-shapeshifting lunar bat-humanoid that dwells in the Dimension of Enno-Lunn who was once an abomination warlock that tampered with dangerous forces, in such, he was not an Outer God prior. He was the last Mischiever to be slain by the Clawthorne family when they were Mischiever hunters, and is the sole cause for keeping Eda cursed while her mother was looking for a cure and got beaten for it. (Defeated)
Atlach-Nacha- A woman-headed spider-like Mischiever who can assimilate, poison, and control people like puppets. Demischivered back into a Pathmaker that was too bold and persistent in going after a Mischiver. (Defeated)
Aylith- A tall, shadowy humanoid tree entity with glowing yellow eyes and branch-like protrusions and is a servant of Shub. She is a powerful tree-like monster who can animate dead trees into servants. She had been initially defeated by Eda and Raine as kids, and then once again with help from Luz, King, and Setan. Previous Outer God form unknown, though possible Eraser Heritage is debatable.
Baoht Z'uqqa-Mogg- A fly-winged ant-headed scorpion Mischiever with the ability to spread pestilence, illness, and has incredible durability. Potaintionally a dramatically altered Quantom Eater that was granted sentience upon Mischiverication. (Defeated)
Basatan- A giant crab monster who once controlled the sorcerer Sarcand into wielding his ring that can control sea wind and creatures. Even though Mischiverfied, Basatan proved to still have a stronger will of his previous form that he longs a return to his previous life, waiting for any oppertunity to return to such and ditching the Mischivers for good, until he was inevitably defeated by Deputy Sphinxza's team. Previous Outer form suspected to be originally the crab variant of a Verse Raider. (Defeated)

B'gnu-Thun

- A humanoid figure made of ice and icy mist that can turn people into more copies of himself to create a kingdom of neverending soul-chilling cold. True outer form unknown.
Bokrug- A giant near-indestructible lizard warrior who took over the wastes of Sarnath. Bokrug's previous Outer God form is yet to be disclosed. (Defeated)
Bugg-Shash- A frightening black amorphous blob of agonizing and screaming body parts that empowers itself by consuming prey to becoming one with it. He had initially possessed

Darius

while other Mischievers possessed the other Coven Heads until they were taken out by Ragnalla for incompetence. True Outer form suspected to be a very unlucky Plainspawn.

Byagoona

- A tentacled three-legged bony entity and the offspring of Lu-Kthu that reanimates the deceased to sustain itself on their life force and duplicate itself this way. Potentially could've been a Sleep Reaper of very ill fate.

Chaugnar Faugn

- A vampiric elephant-like Herculean beast with the ability to lift and crush mountains, feeds on blood through his trunk, and is the creator and maker of the Miri-Nigri, a race of aquatic humanoids who are the progenitors of the horrid Tcho-Tcho People by means of hybridization with humans. True outer form unknown.

Coinchenn

- A Celtic marine tentacled horror made of fish, whale, and octopus-like features. True Outer form unknown. (Defeated)
Crom Cruach- A worm-dragon monster and lesser concubine for Shub whose eons of worship was ruined by St. Patrick, driving him so mad he became a Mischiever who tormented for revenge, and is an acknowledged enemy of Leperions, a race of giant plant creatures resemblent of Shamrocks and Clovers that were powerful allies of the Demon Realm Giraffes. He's been known to have a distain for his same-name counterpart in the Darkspawn, feeling like it causes confusion between himself and the counterpart in question and is in fact blamed for why Azahoth wanted to emulate Darkspawn to begin with, earning him an ill reputation with the other Mischivers for their new found woes ever since.

Cthaat

- A formless mass of shapeshifting water who served as the Mischiever of sea storms and death and burial at sea. It didn't had a prior Outer Form, as Cthaat is literally a body of water cursed with Mischiver influence.
Cthaeghya- Cthulhu's deadly half-sister and the spawner for all of his Cthulhi minions. Previous Outer God form possibly an Eraser. (Defeated)

C'thalpa

- A monster of living magma who has six children including Shterot and is worshipped by the mole-people known as the Talpeurs. Unknown Outer Form, possibly a Matter Councilor.
Cthugha- The mother of Fthaggua who is capable of manifesting as a living conflagration or fireball covered with eyes and tentacles. Previous Outer Form Uncertain, but considered to be Space-Councilor as a best guess. (Defeated)
Cthylla- A daughter of Cthulhu who is not only identical to him, but is capable of resurrecting him by giving birth to him, and has the power to create and control living predatory sea storms which is what made her akin to the Greek monster Scylla. However, thanks to Devilin McJersey scarring her, she can no longer resurrect Cthulhu, and has also been rendered mental. Previous Outer God form possibly an Eraser. (Defeated)
Ctoggha- A demon-octopus monster who was once one of the strongest opponents of the Great Ones who wanted to cleanse what the Titans missed in the Demon Realm, including the Dreamlands. Previous Outer God form unknown. (Defeated)

Cyäegha

- A living extremely insane living flying eyeball with vein-artery tentacles who terrorized Germany and is characterized by his unpredictable mood swings, his supreme nihilism and utter contempt for all things, lives in a cave under the Dunkelhügel mountain is served by toad-like monsters known as the Nagäae descended from a cult that worshipped Cyäegha. True Outer form unknown.
Cxaxukluth- A giant heavily-armored beetle Mischiever and a son of Azathoth who is insecure about being one of the minor sons, and wants to do what he can for him, even if it gets him in trouble, yet loves getting in trouble, even if it gets him in over his head. True outer form unknown, albeit because as a direct son of Azahoth he may very well not have one, or given that he's a "Minor Son", he could be adopted and that he was once a member of an unidentified Outer God Beetle Species. (Defeated)

Cynothoglys

- A formless organic mound with one arm-like appendage. She uses this arm-like appendage to kill whoever summons her. She once held a cult in Italy which payed homage to her rather than worship. True outer form unknown.
Dagon- A fish-based Mischiever who rules the dark Devil's Reef outside the shores of Innsmouth with his wife Mother Hydra. Both he and Hydra are assumed to be defect-Final Takers before Mischivfication. (Defeated)
Daoloth- A Mischiever who can manipulate the laws of physics to lethal levels. Well established to have once been a Physic Councilor before Mischiverication. (Defeated)

D'endrrah

- A shapeshifting Mischiever who takes the form of a gigantic squid-like monster or a heavy dark smoke of organic matter with millions of teeth that devours worlds. But he is one of the most dangerous Mischievers even to Cthulhu. True Outer Form unclear, but assumed to be a hidiously infected Xzar.

Dhumin

- A Graboid-like Mischiever beast who once terrorized the grounds of Memphis USA. True Outer Form unknown.

Dygra

- A jewel-covered, geode-like horror with tentacles made of minerals that can turn anyone into crystal, stone, or any kind of earth. Was possibly once a Matter Councilor.
Dythalla- A gigantic reptilian creature similar to Bokrug, but terrestrial and with a mane of feelers. She is an aggressive and monstrous devourer of her enemies. He had initially possessed

Eberwulf

while other Mischievers possessed the other Coven Heads until they were taken out by Ragnalla for incompetence. True Outer form unknown. (Defeated)
Dzéwà- A vine-tentacled plant Mischiever who has the power to corrupt plants around her into her minions and is worshipped by the Insect from Shaggai who pollinate for her. She appears as a great white orb hiding an enormous magenta excrescence, an orchid or lamprey mouth with emerald tentacles, tipped with hands emerging from the mass. She had initially possessed

Terra Snapdragon

while other Mischievers possessed the other Coven Heads until they were taken out by Ragnalla for incompetence. Suspected to be a dramatically altered Pestilancer. (Defeated)

Eihort

- A pale mass of durable flesh, hundreds of compound eyes that can move along his body and several insectoid legs who can spawn hundreds of miniature children inside humans asexually and lives beneath the grounds of the Demon Realm's Severn Valley. True Outer form unknown.

Ei'lor

- A plant monstrosity who terrorizes the planet of Kr'llyand, which orbits a dead, green star, but will find any opportunity to expand his hiveminded control of plants on other worlds. True Outer form unknown.
Fthaggua- A rogue nihilistic fire-based energy Mischiever who can feed on biomass on a global scale on his traveling comet base on Ktynga. Previous outer form unknown, though a stretch guess is that he was once a Space-Councilor with more emphasis on heat or a particularly hot-tempered Power Cosmic Powerian. (Defeated)

Ghoth the Burrower

- A buff burrowing monster and one of the members of Cthulhu's kin who aids in Kthanid's Mischiever resistance against Azathoth. (Reformed)
Ghadamon- A bluish-brown larval Mischiever made of slime created on Yuggoth that has multiple chubby baby-like arms for legs, many blue tentacles, and lives in the stagnant Underworld's Sterile Lake east of the Fungus Forest with a colony of its minions. He is revealed to have been a former fungopod, a Demon Realmian predatory insectoid fungus and the last of his kind who was tempted by Iod to avenge the overpopulated fungi who felt betrayed by the Fantasy Realm and the Mi-Go, but soon wanted revenge on Iod for turning the world into something they never intended. After Luz and Randolph barely defeat him as he saps their nutrients and leaves Luz nearly dying of atrophy, the freed Ghadamon returns to normal and sacrifices himself to save Luz by giving her his nutrients, disintegrating and yet saving his own species by releasing fertile spores into the air to hatch. (Defeated)
Ghatanothoa- A son of Cthulhu and a gruesome serpent-like Mischiever that can turn those who look at it into stone. Likely assumed born into Mischiverdom long after Cthulhu became a Mischiver, though likely Ghatanothoa would've been either had been an Eraser's Titanspawn or an extremely strong Eraser Spawn. (Defeated)
Ghizguth- A shark/whale-like Mischiever and Tsathoggua's father whose DNA was incubated inside Yeb with the DNA of Zstylzhemgni, potentially hinting at Eraser Heritage. (Defeated)
Ghroth- A large one-eyed planetoid Mischiever capable of inducing natural disasters, can control the flow of events, and even destroy anything.

Gi-Hoveg

- A cosmic entity manifesting as a gigantic, spongy, and fleshy mass covered in a myriad of both eyes and spines and the nemesis of Uvhash. True Outer form unknown.

Gla'aki

- A giant multi-legged three-eyed slug Mischiever with metallic spines who terrorized the waters of the Severn Valley in the Demon Realm. True Outer form unknown.

Gleeth

- An eyeless and deaf lunar entity worshipped by the residents of the ancient continent of Theem'dra as well as some deviants in the Dreamlands. He is very similar to Mnomquah, though they are not related. True Outer form Unknown.

Gloon

- An entity that usually manifests through a Dionysian sculpture, but its true form is that of a gigantic wattled slug-based Mischiever that can use his powers to cast powerful storms upon evil sailors and pirates. True Outer form unknown.
Gobogeg- A colossal pillar of amorphous alien flesh with a cyclopean head or eye in the center capable of casting earthquakes upon the land it trends. True Outer form Unknown.

Gog-Hoor

- A giant bullet-shaped monster with a long proboscis it uses to feed off of the souls of madmen and lives in a dimension that is a reflection of our own. True Outer form unknown.

Gol-Goroth

- A titanic, black toad-like monstrosity with an impossibly malevolent glare, or a tentacle covered, scaly, bat-winged entity. However, its physical form may alter to fit the worst nightmares of whoever is viewing it. True Outer form unknown, but with it's fear based shapeshifting, saying Gol was once a Fearbender or a Starscream isn't out of the question.

Golothess

- A Mischiever of drunken carnage that was cut into ten pieces by Yig during a great battle, likely involving going after Yig for defecting. One of these pieces became an alabaster dish in Egypt which the united remnants of him seek to complete his return. True Outer form unknown. (Defeated)

Green God

- A tiki-headed plant Mischiever who dwells within a series of subterranean caverns in a beautiful paradise called Warrendown, where it is always served by mutant rabbit-like worshippers. True Outer form unknown.
Grometheus- A Mischiever of fear that once rested beneath Hexside and terrorized Luz and Amity. It is known as the Lurking Fear in Lovecraftian horror and is capable of manipulating fear well against those whom it sees, while only speaking in Lovecraftian dialect unless possessing someone. True Outer form uncertain, but is suspected to be either a Fearbender or a Starscream or something adjacent to them. (Defeated)
Groth-Golka- A quarter-sentient bird-dragon Mischiever who was once worshipped in Bal-Sagoth, a remnant colony of Atlantis. It has a 'bird avatar' form, one of which was killed during the Dark Ages. It was once theorized to have been a Bird Outer, either an Avian Romancer, a Buzzeon, or a Celest-Layer due to it's avianic nature, but DNA testing in a Steamworks facility showed that the bird heritage is a misdirection. It actually was once an ice dragon that was captured by Mischievers and turned into a greater monster. Though why it went from a true dragon to a near-bird dragon is hard to explain other then just because of the unpredictable nature of Mischiver biology always deviating the host's original genes in the process of Mischivifying them. (Defeated)

Gtuhanai

- A destructive entity and half-brother of Cthulhu who manifests as a ravenous field of unknown force, which builds itself a body by drawing any metallic elements into it, shredding them, and ultimately becoming a highly destructive vortex of spinning metal fragments. Outer God form possibly a Physics Councilor or a distantly related Eraser due to relations to Cthulhu.
Gurathnaka- A shadowy incorporeal entity that terrorized the Dreamlands until being defeated and imprisoned in the Underworld by Randolph Carter. True Outer form unknown. (Defeated)

Gur'la-ya

- A great humanoid of misty gusty shadows with two red glowing eyes able to transform its victims skulls into green glowing stones carved with odd symbols. It was once a warrior who was cursed into forever sustaining itself this way by Magnum Tenebrosum. Suspected to be of Xzar-heritage.
Gwarloth- A giant amoeba-like beast that can spread a kind of mortal version of morality illness. It was once a Pestilancer. (Defeated)
Hastur- Cthulhu's half-brother and a monster that is obsessed with yellow and has unimaginable power. Other-then-assumption of being of Cthulhu in his Eraser days, Hastur's true former Outer Form is still being guessed, though Hastur's Shakespearian demeanor could suggest either Infinity Librarian or Infinitary, though there are implications that Hastur may not even have prior Outer God connections till Mischiverication at all. (Defeated)
H'chtelegoth- A Mischiever which resembled a greenish-brown trunk with a "crown" of tentacles, a row of multiple eyes and a couple of lateral grasping tentacles. It is a creation of Shub which was meant to spread tentacles like weeds all over as many worlds as possible. (Defeated)

Haiogh-Yai

- A monstrous, amorphous, whirling Mischiever who lives within a wandering black hole called Vix'ni-Aldru and also hosts a city made of titanic blocks, inhabited by mysterious creatures resembling either worms or lizards called the Servitors of Haiogh-Yai. True outer form assumed to be a hidiously mutated Wasteland Guardian cause of it's living mobile city nature.

Hnarqu

- An anemone-octopus monster with a giant shark mouth and a lesser brother of Cthulhu. True Outer Form possibly Eraser. (Defeated_

Hypnos

- A Mischiever of Sleep who used to be an Oneiromancer Great One for Kadath until he was corrupted by Kaalut and used to attempt to create 'Ex Oblivione' by using a dream-realm-transporting drug with the hopes that all dreams come true in that realm, not knowing that Kaalut was using him to spread K'gil'mnon, his nightmare realm kingdom, across the Demon Realm. (Defeated)

Hziulquoigmnzhah

- An eight-legged snail creature and Tsathoggua's nephew who has ungodly brute strength allowing him to crush all who opposes him. Possibly of Eraser Heritage. (Defeated)
Ialdagorth- A cousin and servitor of Azathoth who appears as a black shapeless malevolent mist whose sight is said to be unnerving if not traumatizing. He was able to trick Luz into thinking low on the Bondlink Prophecy, and nearly killd her in the Hecktaceous Period, and yet found peace in defeat, as he has an unfettered fear and hatred of the prophecy. Suspected to have once been a Xzar. (Defeated)

Idh-Yaa

- A giant Bobbit-worm-like Mischiever who lives in the Yugg Trench and is the mother of Ghatanothoa, Ythogha, and Zoth-Ommog. True outer form unknown, but suspected to be within Eraser kin. (Defeated)

Inpesca

- A formless expansive bluish-black mass of water that once haunted both the Ecuadorian and Peruvian coasts, and was mentioned as inimical to the Deep Ones. True outer form unknown. (Defeated)

Iod

- A Mischiever made from a mass of geology, plants, fungus, waste, and crystals. It had the power to infect and control people through powerful infection agents. True Outer form unknown. (Defeated)
Istasha- An anthropomorphic feline Mischiever and one of the most benevolent, as well as Lythalia's sister, and the sister of the Egyptian goddess Bast, who seeks to cure them both of their Mischiever curses. She was cursed this way because of a Mischiever manipulating people into giving her the power and nature of the feral Egyptian lion goddess Sekhmet and has been seeking to cure it ever since. (Reformed)

Ithaqua

- A giant Yeti/Wendigo-like Mischiever with ice powers and the son of Hastur. In being born from Hastur, Ithaqua likely doesn't have a prior Outer God from, if though perhaps he could've been a Mischiver Infected Gug, a split-arm ape creature native to the Demon Realm. (Defeated)

Janai'ngo

- A crustacean-like, tentacled, half-amorphous marine Mischiever which serves Cthulhu, and once dwelled in the depths of the Bay of Rhiiklu, somewhere within the eastern coast of the United States. Suspected to had once been a Crab Variant of Verse Raider that could've been ballsy enough to had tried to steal from the Mischivers and found themselves into this position since. (Defeated)

Juk-Shabb

- A Mischiever entity of pure electromagnetism capable of biokinesis via mutation by gamma radiation, controlling and communicating through color, and has a vast amount of telepathic and magical powers. Formerly a

Primordial

. (Defeated)
Kaajh'Kaalbh- A Mischiever of pure chaos and a servant of Azathoth. He is mostly a living mass of chaos magic or even Titan's Blood and has no true stable form, and can be summoned through the use of a Dimensional Shambler. The form is stable on Earth, but the form can be anything. He was barely defeated by Luz and Vee. True outer form unknown. (Defeated)

Kaalut

- An insect larva-like Mischiever nightmare parasite who can induce nightmares and was the one who corrupted former Great One Hypnos using him to attempt to spread his domain K'gil'mnon across the Demon Realm. Possibly from a Bug-based Outer, though the specific type is unknown. (Defeated)

Kag'Naru

- A large blue Mischiever abomination sister of M'Nagalah comprised of blue tentacles and a durable ice shell who can annihilate all oxygen in an area. It consumes oxygen and grows stronger from it. True outer form unknown.

Kassogtha

- A cosmic mass of tentacles and the sister/mate of Cthulhu. Despite the incestuous relationship, she is one of the most powerful siblings of Cthulhu. Easily suspected of being of Eraser Heritage. (Defeated)

Kaunuzoth

- A squat, sea cucumber-like Mischiever with five eyes, three-toed, taloned appendages, and a large mouth. He is described as one of Gla'aki's brethren, and once dwelled within the Moore Reservoir of Vermont. True Outer form unknown.

Khal'kru

- A dark octopoid horror, similar to the Norse Kraken, but dwells inside a temple that once laid somewhere within a hidden warm valley in Alaska. Suspected to be Eraser-based in terms of a true Outer form. (Defeated)

Klosmiebhyx

- A spider-like Mischiever daughter of Cxaxukluth, and a sister of Zstyzhemgni, Ghizguth and Hziulquoigmnzhah who utilized Nssu-Ghahnb to create fear-instilling beasts. Outer God form was known to be Klos, a defective Pathmaker who was corrupted by Azathoth. (Defeated)

K'nar'st

- A giant cecaelia-like amphibious humanoid Mischiever with a bony leonine head with three tongues. He lies trapped beneath the seafloor, inside a mysterious seamount called Nayghof. True outer form unknown. (Defeated)

Krang

- A monstrous, brown, leathery, alien entity native to a mysterious planet, currently slumbering within a gigantic mausoleum lost in the desert-wastes, set to guard a priceless treasure made up of the oldest decayed planets. He is a curator of the Mischievers' most dangerous relics and weapons come his Mischiverication, and is adaptable, making him potentially able to build an immunity to Lovecraftium, though this immunity is not reliable in terms of prolonged exposure nor fatal blows.

K'thun

- A tree-like Mischiever monster who creates dangerous monsters including the Hounds of Tindalos and was once controlled by Abdul Alhazred. True outer form unknown. (Defeated)

Knygathin Zhaum

- Sfatcllp's extremely powerful troll-like Voormi ascended-Mischiever, ergo he did not had a prior outer form. He is a violent beast who cannot be killed even with decapitation and has been known to eat anyone he kills. (Defeated)

Kthanid

- A brother of Cthulhu who is actually a benevolent Mischiever (To the point that by all means he shouldn't even be legally considered one outside of heritage), despising Mischievers for killing his family, and thus harbors defect Mischievers. Easily once was a normal eraser, but Kthanid proved more resistant to the full Mischiver effects other then transmutation and still retained respect for the Grand Design as intended by the Intendeds. (Reformed)
Kurpannga- A large demonic dingo Mischiever who terrorizes the Dreamlands. Was once a Citidelian Hound before being corrupted into the shameful shell it is now. He was defeated by Amity and sent away by Luz afterward. (Defeated)

Lam

- A Grey Alien turned into a powerful Mischiever after dying in the depths of Mars when the Mischievers tried their luck there, and has the power to turn lands into those like Mars, starting with Egypt by command of Nyarlathotep.

Lexur'iga-serr'roth

- A giant many-eyed bat Mischiever capable of darkness manipulation and harnessing darkness, and of course despising light. True outer form unknown, but may be implied to be connected to Sister Darkness. (Defeated)
Lu-Kthu- A planet-sized Mischiever who is renowned for not just formerly having the ability to birth Mischievers and assimilate others into them, but creating the modern methods of doing so after this ability was lost. True Outer Form unknown. (Defeated)
Lythalia- A plant-based Mischiever and former demon who was one of the former leaders of the Plant Coven until her aims to purify the Demon Realm with poisonous plant life had her turned into a tree by the Park family, until she returned to target their current descendant Willow Park, framing Amity's parents for the crime and earning her her death in the hands of Willow and her friends. (Defeated)

M'basui Gwandu

- A large spider-bat Mischiever who once terrorized the Congo River and became a dangerous beast servant for Northrot. True Outer form unknown, but suspected to be a radically altered Pathmaker. (Defeated)

M'Nagalah

- A mass of both entrails, intestines, and eyes, or a massive blobby mess who, after being resurrected as a Mischiever, became a voracious biomass that aims to expand his awareness and absorb any and all organic material around him at the prospect of being truly immortal. True outer form unknown.

M'Bwa

- AKA God of the Red Flux, he is a vaporous red entity who haunted Central Africa and can turn humans into tree zombie people called the Tree Men of M'Bwa. True Outer form unknown.
Magnum Innominandum- Nyarlathotep's brother and a sentient mist that can control any form of plague and pestilence. Magnum I. is possibly a male Pestillancer dramatically altered to not even be recognizable as such upon being Mischiverifived. (Defeated)
Magnum Tenebrosum- Nyarlathotep's brother and a-sentient darkness that can summon the most horrible of horrors from the void. Magnum T. could at best be a punished defecting Xzar that could've been Hibernation Realm'd but was re-figured to become so radically different that Magnum T no longer has the Xzar powers. (Defeated)
Mappo No Ryujin- A giant serpentine abomination created by Azathoth to be the guardian of his Yokai "children" in the land of Yomi, but was disturbed and nearly destroyed the land after it's conversion by Mril Thorion. His true form is a Japanese dragon named Ryu Tatsu, who was blessed with the power of a Final Taker. (Defeated)

Mnomquah

- A great reptilian Mischiever and the mate of Oorn with a crown of writhing feelers and empty sockets in place of eyes, though they still work like normal eyes. He was imprisoned inside the Dreamlands' moon by the Great Ones and now rules over the Lake of Ubboth, a great lake which is under the moon. True Outer form unknown.

Mordiggian

- A Mischiever of death and reanimation worshiped on the undead continent of Zothique. Previous Outer Form unknown, though it's debatable that either an EXTREMELY unlucky Sleep Reaper was made victim to be this way or if the Mischivers were just lazy and turned a random corpse into an Outer God, though it's recognition in Zothique could suggest that he could've been a once predominant figure prior to Mischivfication. (Defeated)

Mormo

- A shapeshifting witch Mischiever who once ruled the Moon Beasts in tyranny until being imprisoned in the moon's core. He was betrayed by Yhoundeh because he wouldn't let her love Nylar out of jealousy and feeling inferior to him. True Outer Form unknown. (Defeated)

Mortllgh

- A Mischiever manifesting as a lustrous orb that floats at the center of a whirling vortex of razor-sharp, metallic-looking blades. It can expand itself to be as big as a hurricane bringing impaling destruction upon its vicinity. True outer form unknown, but it could equally had once been a long forgotten fantasy realm relic turned into a Mischiver for whatever reason even the Mischivers lost track of.

Mother Hydra

- A giant fish-like Mischiever and Dagon's wife, mistranslated as her father, who terrorized the seas of Yuggoth until they were both defeated by Luz, Eda, King, and Pollyp. Like Dagon, she's assumed to be a drastically mutated Final-Taker upon Mischiverication. (Defeated)

Mynoghra

- A black-brown-skinned female former demon with tentacle hair, amphibian hands and feet, small horns and a blue lizard tongue. She is the surrogate cousin of Nyarlathotep whose life was saved by him and became grateful since, losing to Luz after she attempted revenge on her for Nyarlathotep. (Defeated)

Nctosa and Nctolhu

- Two shelled octopus-hermit-crab twins and the sibling offspring of Cthulhu and Kassogtha who were briefly imprisoned in Jupiter's Great Red Spot. Considered to be Eraser-Spawn adjacent. (Defeated)
Ngirrth'lu- A draconian wolf-like Mischiever with bat wings and has the power to infect people with lycanthropy and is served by werewolves called the Lupine Ones. Former form was actually once a Moon Spirit due to it's connections to Weres. Ngirrth in truth actually hates his concurrent situation and is actively trying to get rid of his Mischiver Heritage and is desperate to seek out anything that could cure him. (Reformed)

Ngyr-Korath

- An incorporeal cosmic creature, the 'son' of Mlandoth, and the 'father' of 'Ymnar. It intended to steal back Eda and Lilith's power because they were taken from Mlandoth and Mril Thorion so that Emperor Hellion, and later his successor son Belos, could obtain the power of Mlandoth and Mril in order to gain power to stand against Mischievers and even end them permanently. (Defeated)

Nhimbaloth

- A ghostly swamp-dwelling feminine fog of despair that preys on souls, and souls that it consumes never go to the afterlife, but rather oblivion. Nhimbaloth has no loyalties to the Mischviers or their beliefs, as Nhimbaloth just wants to be left alone, only ever dangerious if it's personal space is not respected. True outer form unknown.

Northot

- A faun-like Mischiever with color-changing hair and a flaming white halo, and a spawn of Shub and Yog-Sothoth who was Youndeh's original husband in the time Mormo was in charge of the moon. True outer form unknown. (Defeated)

Nssu-Ghahnb

- A living beating heart Mischiever that could create the most horrific of monsters. It used to be the Heart of Nature, a creature-spawning entity of Giraffe guardianship corrupted by the Mischievers. (Reformed)
Nug and Yeb- Cthulhu and Tsathoggua's parents who are often comical yet very cunning masterminds. Previous forms likely believed to be Eraser Spawn of Cthulhu's connection from his Eraser days. (Defeated)

Nyaghoggua

- An octopus-like Mischiever served by the priests of Arkya and mentioned in the Song of Yste. He has the power to strangle people with suffocating aerosolized ink that can turn them raging mad with darken skin and bleed ink to spread this sickness but intended to steal the relics of Arkya since they're the only ones that could stop him. True outer form assumed to be of prior Eraser Heritage. (Defeated)
Nyarlathotep- Azathoth's son and a chaotic trickster mastermind who once ruled over Egypt countless times. Previous Outer God-form yet to be known. (Defeated)
Nycrama- A maggot-like former demon turned into a maggot Mischiever with thousands of writhing tentacles who used to be a covenless warlock that grew corrupt with the intent to steal all magic from others and cheat his way to high recognition until being cast off by the school board and the Great Ones, causing people to declare the mastery of mixed magic forbidden. He became a Mischiever who wanted so much power he wasn't ready for. (Defeated)
Nyctelios- A former Great One God turned Mischiever punished by Nodens for transgressions against his brethren by being imprisoned under the Mediterranean Sea. He takes the form of a grotesque, muscular cyclops-like humanoid, whose body is infested with hideous worms. He soon possessed Nodens and tried to take over the Underworld of the Dreamlands. (Defeated)

Nyogtha

- An amorphous mass of an unidentifiable sticky black substance capable of extruding tentacles from this mass to manipulate the environment around it. It could only be cast back to its own dimension once summoned through the use of a ritual combining an ankh, the Tikkoun elixir and the Vach-Viraj incantation. True outer form unknown.
Ob'mbu- A giant giraffe-like reptilian Mischiever and a demon amongst the giraffes of the Demon Realm who was created to annihilate the giraffes and is even the sole cause of the exile of many of them as well as the Mischiverication of many of their relics. However, inspite of this, Ob'mbu was not a cruel entity, if in fact he was actually a revered and respected entity in Giraffe civilization. But when he was struck with a Mischiver curse, a false darker persona briefly took over Ob and committed the dark deeds, but the true Ob'mbu was able to break free and exile the dark persona too late. Giraffe Civilization was ruined and nearly gone save for his lost daughters. Ruled by sadness, Ob'mbu charged for a field of Lovecraftium and jumped from a cliff to take his own life with the Lovecraftium, but because the very lovecraftium would keep the Sleep Reapers at bay, he was stuck on the tallest spire and was rendered a Husk, a state of an Outer God not truly hibernated but not active either, stuck in a grey area between hibernation and still being active. Thus he was then ended up held in storage in a secret Steamworks Facility by one of Devilin's Executives for private research. Previously was once a God-Level Giraffe. (Defeated)

Oorn

- A huge tentacled mollusk Mischiever with appendages that spray digestive acids. She is the wife of Mnomquah and was worshipped by the Men of Leng and the Moon-beasts. True outer form unknown.

Othuum

- A twisting rope-like monstrosity covered in tentacles with a singular alien face in the middle of squirming, ropy mass. True Outer form unknown. (Defeated)

Othuyeg

- A large eye Mischiever similar to the monster of The Crawling Eye who once dwelled within the subsoil of Kansas, in the fabled Seven Cities of Gold until it was exiled in a most unknown location within the grounds of Yuggoth. It has the ability to do anything with it's own eye such as petrification, heat vision and optic blasts, the ability to see everything, see through walls, see UV and infrared vision, etc. True Outer Form Unknown. (Defeated)

Perse

- A Non-Lovecraftian Mischiever made by horror writer Stephen King in Duma Key who is a Mischiever of the arts capable of traveling through paintings and once upon a time the would've been Queen of Mischivers. Previous form is believed to be not Outer Godian in origin, but rather was once a native alien of the realm, though her true race remains unclear. (Defeated)

Pharol

- A black, fanged, cycloptic demon with arms like swaying serpents. It is a Mischiever that serves Nyarlathotep and normally dwells in another dimension, a "seething and sub-dimensional chaos" beyond the mundane universe. The wizard Eibon of Hyperborea sometimes summoned Pharol to query him for arcane information but his information would always land him in more danger. True outer form unknown.

Psuchawrl

- An impressionist and eccentric Mischiever who serves as a genie and is one of the neutral Mischievers, as most of the time his wishes result in chaos, and yet he still has a good heart underneath all his knacks and jokes. Though otherwise without true restriction, his one rule is that he only gives wishes once per year and has been known to haggle wishmakers into something else as often a complicated form of teaching lessons, and/or because he's abit of a troll that way. True Outer form unknown, but it's greatly more likely he was once a very unlucky Genie made into a Mischiver and Outer, and was turned on when he failed to conform to proper Mischiver behavior in that his own brand of chaos is otherwise harmless for as much as it does frustrate people. (Reformed)

Ptar-Axtlan

- A giant werelion Mischiever who was one of the many attempts of Nyarlathotep to make demonic cats, being born from a young Egyptian child who loved cats, and yet she became rogue and proved too good to control.

Quachil Uttaus

- A former mummy demon turned Mischiever who has the power to disintegrate anyone he desires, as he only desired magic to take revenge on all his enemies during a war and wipe them out in an instant, stealing it when he was denied for his anger and greed.

Quyagen

- An octopus Mischiever who dwells in the sunken underwater continent of Quy and is served by fish-tiger monsters called Y'nathogguans, dwelling in the ruins of the sunken city of Yagothoggua, which neighbors Raandeese and the more peaceful dolphin-like Laniqua Lua'huan. True Outer Form Unknown, but simply having Prior Pureblood Mischiver Heritage but then mutated beyond belief not ruled out. (Defeated)

Q'yth-az

- A mass of living crystals from a world without light called Mthura. It has the power to use it's frost-like tentacles to turn anyone into solid mineral formations, crush people with clusters of sharp heavy minerals, and project its thoughts and influences across the cosmos via mineral formations, including humans, often manifesting in their dreams. Outer God Form believed to be a Matter Councilor or a Mischiverifived Gem well far from the Center Rims.

Raandaii-B'nk

- A tentacle-mouthed shark monster Mischiever, ruler and god of the shark-like Raandeese people, and the former anomalous ruler of the Bermuda Triangle imprisoned by Randolph and his friend Kuranes. Previous form uncertain, though potentially either a shark-eqsed Eraser separate from Cthulhu's strain or A Final Taker. (Defeated)

Ragnalla

- A giant one-eyed tentacle-haired vulturine Roc who is the undertaker of deceased Titans or dying Mischiever essence. Debatably, Rag was either once a Buzzeon or an Edgewall Guard that wounded up in this position. (Defeated)

Raphanasuan

- A Hindu multi-armed demon turned Mischiever who literally has the power of a thousand suns, capable of wielding plasma as a weapon and summoning a number of weapons out of sun fire.
Rhagorthua- A humanoid fiery entity able to absorb nuclear radiation, and was imprisoned somewhere within the subsoil of New Mexico. He had the power to absorb the souls of those killed in nuclear fallout and intended to start another World War so that he may become stronger. He can control radiation, and his connection to it has given him a near-unlimited tolerance to Lovecraftium, that is unless the Lovecraftium hits him in the spot never truly immuned. (I.E., the "Neither regions").

Rhan-Tegoth

- A giant amphibious anemone-crustacean Mischiever that despite not having much power, compared to other Mischievers, it's enough to annihilate humans and give it the title 'Terror of the Hominids', dwelling the seas of Yuggoth. Assumed to have been an Eraser or something similar enough. (Defeated)

Rh'Thulla

- A wind-controlling squid monster and a brother of M'Nagalah and Kag'Naru who can create powerful wind storms and even hurricanes. True outer form unknown. (Defeated)

Rlim Shaikorth

- A gigantic, pale, white worm Mischiever with bleeding empty eyes who travels on a gigantic iceberg called Yikilt, which it can guide across the ocean, prowling the seas, blasting ships and inhabited land masses with extreme cold, freezing its victims solid with eerie white and remain preternaturally cold, never melting even with fire. True outer form unknown, though equally Rlim could've once simply had been a Demon Realmian Ice Worm.

Saaitii

- A minor Mischiever which is a giant aggressive swine with rhino-like flesh, a tiny cyclopean eye, at least a dozen cloven-hoofed legs, and three maws filled with boar-like teeth and tusks. Saaitii attacks the souls of its victims, first possessing them and then dragging them into its lair where they are devoured. He dwells in his own labyrinth realm to serve as an executioner beast for the Mischievers especially in their favorite Labyrinths. Saaitii is/was actually a stolen Soul-Monster creation of Overlord Vultras of the Hazbin/Helluva Hell of the Center Rims Banished Realms, originally being called "Porky" and among his personal favorites, before the Purebloods broke into Saaitii's banishment site and stole him to Mischiverify him and usurp Vultras control of it to instead be used for their twisted methods, earning dangerous ire with the Daevites for these actions. (Defeated)
Scathach- A daughter of Hziulquoigmnzhah and Klosmiebhyx who appears as a succubus who can bring horrific sights to those whom she wishes to turn into monstrous servants. After witnessing Hziu being sent to the Hibernation Realm, she soughted a rebellion against Azahoth to get Mischivers to stop going after Luz and leave her alone. In being born to Mischiverhood, she has no prior true outer form. (Defeated)
Sedmelluq- A flower-headed glowing worm once worshiped by the Mi-Go. In feeling that it was because of Mischiverhood, Sedmelluq had been trying to get de-mischivered to get the Mi-Gos back to it. Pevious outer form unknown. (Reformed)

Sfatcllp

- Tsathoggua's grandson and Zvilpogghua's son. Previous form expected to be Eraser Spawn. (Defeated)
Shaklatal- A crusty glowing-stinger-headed humanoid creature once worshiped in Africa as 'Amun' who is against the ways of Azathoth and ends up taking over most of the Mischievers after a civil dispute. However, not nessersarly a true far cry from Azahoth in that he is infamous for plans of wanting to turn all of the Outer Rims into the Mad Rims. True Outer Form unknown, but suspected to be a fallen Eraser like Cthulhu. (Defeated)

Shlithneth

- A spiral-shelled cephalopod Mischiever who can control water tainted with his telepathic ink. True outer form unknown.

Shterot

- A starfish-crab Mischiever who can replicate itself from severed body parts and use them to control people. True Outer form unknown.

Shathak

- Tsathoggua's wife. Likely was also a specialized Eraser Spawn. (Defeated)
Shub- Cthulhu's grandmother and a fertility Mischiever capable of creating monsters. Likely was a specialized Mischiver Spawn that recycles defeated spawn into anew like as seen from The Truth of the Legends of Bikini Bottom and potaintionally connected to Cthulhu. (Defeated)

Shuy-Nihl

- A dark orb or blob of darkness endowed by tentacles. True outer form unknown.
Sthanee- A giant serpent-tentacled goblin shark Mischiever who has been harmed by Lovecraftium and thus requires water and other fish-based needs for life-support, and worshipped by feral merpeople called the Children of Sthanee. True Outer Form unclear, but perhaps a radically altered Final Taker. He is associated with Summanus. (Defeated)
Summanus- One of the oldest pre-Azathoth Mischievers who created the Titans of the Demon Realms. He is a mouthless robed vampiric moth figure with powers harnessed by the Tuscan Rituals. He plots to restore the Demon Realm to a more demonic Demon Realm. True Outer form unknown, but it's suspected that he could actually be a radically altered Amoral One Creator of one of the Outer Rim realms, likely with the Mischivers in their prior days of being an amorphous octo-race before he too submitted to chaos. (Defeated)
Swarog- A bizarre bird-like Mischiever who can wield black flames, can transform into a literal black sun, and is a truly barbaric beast that terrorized Vikings and Slavic people in his time posing as the solar deity Svarog, but today he has become very impaired thanks to Lovecraftium exposure. True Outer Form unknown, but perhaps a yet specific Bird Outer or an extremely unlucky Celest-Layer. He is associated with Summanus. (Defeated)

T'ith

- A giant-squid-like stepson of Cthulhu who has the ability to cast black and monstrous ink mist wherever he goes, which is capable of driving anyone within to madness from seeing everything and too much. Assumed prior Outer form to be Eraser-Based. (Defeated)
Thanaroa- A glowing pillar of light made of chaos energy that comes from the Polynesian island of Nan Madol capable of creating monsters of great forms from mere water, the primordial ingredient to life. Unfortunately, a long time of being dormant and inactive has made him mentally regressed. True Outer God form unknown, but perhaps a radically altered Amoral One creator of one of the Outer Rim Realms before the Mischivers got to him, but at the same time, he could simply just be an extension of Mlandoth's chaos power. He is a key entity for Summanus and posse to make and even revive titans if need be. (Defeated)
Tharapithia- A Lemongrab-sounding Slavic and Ugric-terrorizing subterranean dinosaur-parrot Mischiever who despises all things light to the point he has poor logic skills, stemming from being a weapon to use against All-Mother until the light-based torture was too much. True Outer God form unknown. (Defeated)
Thasaidon- A mace-wielding giant knight Mischiever and the head death god of Zothique. True Outer Form unknown, though it could be the same situation as with Mordiggian. He is associated with Summanus. (Defeated)
Thog- An octopus-troll monstrosity who serves as the Warden for Azathoth's Keep, the Mad Rims' finest prison, until he was ruined when Luz went there with her friends and Yig to rescue Yidhra. Assumed to be either Eraser or a variant of Verse Raider. (Defeated)

Tru'nembra

- A wind-based Mischiever of bad harmony and music and the head of Azathoth's Servitors. He was cursed to never make music again after he abused his own from boredom and turned to Azathoth attempting to undo this curse, doing so by threatening to put the multiverse in disharmony unless they undo it and apologize, and making Servitors of Azathoth from people whose music grew outdated and underappreciated, or even ruined in their music career, and being mixed with disgraced Harmonizers, making them a breed called

Disharmonizers

. However, come Tru-nembra's defeat, the Disharmonizers were without a leader and are left doomed to a slow extinction into hibernation by the Cosmic Community for the damage they were doing. Previous Outer God-form confirmed to be a Harmonizer. (Defeated)
Tsathoggua- Cthulhu's cousin of unimaginable magic power and strength. Potaintionally believed to be another Eraser but was slightly more altered than Cthulhu, or at least could've been a connected Eraser Spawn. (Defeated)

Tulushuggua

- A mysterious subterranean eel-like horror that once dwelled deep within the flooded caves of Florida, served by eel-like horrors called the Tulush. True Outer form Unknown.

Tulzscha

- A sentient green flame Mischiever and formerly one of the leaders of the Dark Arts Coven capable of controlling mana and wielding powerful black magic. (Defeated)

Turua

- A long-legged fungus entity created by Iod that once haunted the swamps of Florida. True outer form unknown.

Ubb

- An octopus/slug-like Mischiverifived Yugg who rules Yugg territory beneath the surface of the Severn Valley's Witch Island with a dictatorship and made the Yuggs themselves look like monsters. Once previously a Yugg himself before servitude to the Mischivers earned his place with them. (Defeated)

Ubbo-Sathla

- A slimy silvery living mass that used to live in the Mountains of Madness. It was once the Demon Realm's Amoral One Creator 

Fantoaronus

 whilst fused with a female defective Plainspawn, both De-Mischiverifived. (Reformed)

Uitzilcapac

- A sadistic crocodilian six-legged serpent who was banished into another dimension by the Great Ones. True outer form unknown.

Ut'Ulls-Hr'Her

- A huge faceless creature with various appendages sprouting from its head, a beard of oozing horns, many reddish teats, and fish-like fins sprouting from an egg-shaped body. She is possibly related to Shub for her transmogrifying serums and her cult, the Daughters of Isolation, which focuses on abominable fertility and deviated sexuality.

Uvhash

- A gigantic, vampiric red mass of eyes and tentacles, an archenemy of Gi-Hoveg, and dwelled in it's own pocket space of Rhylkos, which is similar to Mars, and whoever summons him meets a terrible fate. He seems to have affinities with the Star Vampires and is rumored to have been one of the mad roman emperor Caligula's eldritch sponsors. Previous Outer form unknown.

Vhuzompha

- A bisexual flabby shark-like entity and a sibling of Y'lla. True Outer form unknown.

Vibur

- A pear-shaped furry tendril-covered fungal monstrosity created by Iod to spread the same kind of illness as Gwarloth in the form of an infectious blue fungus. True Outer God form unknown, but speculated to have been a Pestilancer. (Defeated)

Vile-Oct

- A draconian lizard monster and a former familiar of Yig. But not for reasons that you would assume of it being because of Yig's defection, but rather because Yig did not attended Vile-Oct's birthday that ONE TIME and Vile-Oct just stopped herolding Yig, otherwise, Vile-Oct is still all for defecting the Mischivers. True outer form unknown if assumable Vile-Oct has one. (Reformed)

Volgna-Gath

- A snake Mischiever made of mud and blood who guards dangerous power within the Mad Rims. True outer form unknown, though perhaps considered a direct byproduct of Yig. Even putting aside Yig's well acknowledge defection, Volgna still has more loyalty to Yig then any other Mischiver, if downright has no respect for most other non-snake Mischivers. (Reformed)

Voltiyig

- A bird-snake monster with fire breath and another spawn of Yig who shares similar if not the same problems as Vile-Oct. Suspected to have been an unlucky R-Fate made to be like this, in which Voltiyig is always being sought after by it's currently former Ressor and the Ravens and R-Monitors to be captured and cured of Mischiverness. (Reformed)

Vulthoom

- A large flower-based Mischiever who tried to take over Mars and has been routinely rebred by Mischievers to be better, having natural perfumes that can cause hallucinations to the cosmic scale. True outer form unknown, but relation to Pestilancers not out of the question if though superfically based on Pestilancer's plant heritage.

Vthyarilops

- A monstrous many-mouthed starfish-like monstrosity. True outer form unknown.

Xa'ligha

- A sound-based entity who is a very powerful ally for Hastur. True Outer form unknown.

Xcthol

- A goat-humanoid entity and agent of Shub. Suspected to be Eraser-Based.

Xinlurgash

- An entity manifesting as a bristly mass with gaping maws made out of tentacles and spider legs. Suspected to be a VERY misfortunate Pathmaker that got too bold in chasing a Mischiver.

Xirdneth

- A formless illusion-making Mischiever. He had initially possessed

Adrian Graye

while other Mischievers possessed the other Coven Heads until they were taken out by Ragnalla for incompetence. True Outer form unknown. (Defeated)

Xoxiigghua

- A three-eyed, octopoid, parasitic entity trapped inside a Central American mountain range and known for being incredibly lustful. True Outer form unknown.

Y'golonac

- An incredibly gluttonous headless fat abomination with mouths on his hands and elephant-like feet who feeds on humans. True Outer form unknown. (Defeated)

Yhagni

- A maggot-like hermaphroditic female cousin of Hastur and Cthulhu known for her disgusting appearance and insane power locked in the Temple of Pillars in the depths of Kyartholm in the Northern Hemisphere. True Outer form unknown. (Defeated)

Yhashtur

- A centipede-worm creature and a rival of Nyarlathotep. True Outer form unknown.

Yibb-Tstll

- An immobile, dark, tentacled entity with a pulpy, alien head, detached eyes, and large bat wings under which countless Night-gaunts suck black milk from. Its blood, The Black, is a weapon which takes the form of black snowflakes that stick to and smother a victim. The god's touch causes an instant change in the person affected, this change is usually fatal but occasionally brings some benefit.

Y'lla

- A tentacled lamprey-marine worm hybrid Mischiever who shares the sea with his bisexual sibling Vhuzompha. It is a monstrous, barrel-shaped sea worm with tentacles and a lamprey-like mouth. True Outer form unknown.

'Ymnar

- A shapeshifting cosmic entity and a 'grandson' of Mlandoth who acts as one of its agents. (Defeated)

Ycnágnnisssz

- A giant tentacled island with crystal mounds and the mother of Zstylzhemgni who can fuse different Mischievers with each other and produce new ones, as well as reincarnate them. However, this only works for Non-Hibernated Mischivers, so Ycnágnnisssz is not considered a viable alternative to Azahoth's powerlink and new Mischivers are often limited to Purebloods, not the Mischivers that are purebloods fused with Intended Outers or what have you. The reincarnated ability is also limited to Mischivers that haven't been hibernated yet, which again further proves Ycnhag's lack of serious use. True Outer form unknown. (Defeated)

Yog-Sapha

- A gigantic, amoeboid, glowing and multihued gelatinous mass and a mischviered cousin of Shudde-M'ell living in dark depths of Earth that cannot harm people in light. True Outer form unknown.
Yog-Sothoth- Cthulhu's near-omnipotent grandfather who nearly succeeded in defeating Luz. Quite likely that Yog was once a Time Councilor before being Mischiverifived, even inspite of grandfatherhood with Cthulhu, though it's like that the Mischiver-Heritage is related to Cthulhu's then the two actually being related. (Reformed)

Yorith

- A crystalline crab monster who dwelled the seas of Planet Yilla to draw unwary travelers to a watery grave. Suspected to be a Crab Verse Raider.

Youndeh

- A deer-like Mischiever and the wife of Nyarlathotep who used to run the Moon Beasts. Previous Outer God-form still to be known. (Defeated)

Ysbaddaden

- A giant-like Mischiever and the brother of Scathach whose need to protect his sister can drive him on a rampage. In being the son of Hziulquoigmnzhah, his would've been outer form would be of Eraser Heritage at best. (Defeated)

Ythogha

- A son of Cthulhu who resembles a gigantic one-eyed humanoid frog with a mane and beard of writhing tentacles who was imprisoned within the Abyss of Yhe yet worshipped by Yuggs alongside Ubb. Assumed to be Eraser Spawn. (Defeated)

Yug-Siturath

- A red vampiric fog that absorbs all vitals from its victims. True Outer Form unknown.

Zathog

- A swirling vortex and an alleged brother of Ubbo-Sathla (Or at least cause of the Mischiver Heritages possessing the two) who gained great power from the Planet Zarr and became a prime god for the Zarrians. True form otherwise unclear other then being a Yugg.

Zindarak

- A fiery knight Mischiever and a creation of Cthugha who had tried for eons to free Cthulhu from his home in R'lyeh. True outer form unknown.

Zhar and Lloigor

- Two giant polyp twins and siblings of Nug and Yeb with long intestinal-rope-like tentacles who can take smaller avatars and once ruled the Isle of Stars of Burma and then the Tcho-Tcho-inhabited Mount Hatheg-Kla above the underground Lake of Dread, with snake-lizards capable of invisibility called Lloigors. Previous forms likely to be considered Eraser Spawn. (Defeated)

Zoth-Ommog

- A swimming-flying lionfish-tentacle-stinger-maned and T-Rex-headed son of Cthulhu who was imprisoned by the Great Ones beneath the seabed near Ponape and R'lyeh. Like his older brother Ythogtha, he is served by Father Ubb and the Yuggs. True Outer form unknown. (Reformed)

Zstylzhemgni

- An insectoid relative of Tsathoggua who can use a frightening call to hypnotize demons of all kinds into killing frenzies and used Nssu-Ghahnb to create monsters she could use for terror. True Outer form is known as Zsty, a defective Timeisite corrupted by Azathoth. (Defeated)

Z'toggua

- A bat-like obese mouth-chested Mischiever worshiped by the Deep Ones. True outer form unknown.

Zushakon

- A swirling black vortex and a revered Death God to Native Americans, and a 'descendant' of Ubbo-Sathla (Or perhaps more so to Ubbo's Mischvier Heritage). True outer form unknown, if it has one as it could perhaps be a normal black hole infected with Mischiverdoom cause a Pureblood got into it.

Zvilpogghua

- A large octopoid Mischiever and son of Tsathoggua. Previous form expected to be Eraser Spawn. (Defeated)
Defectors
Yig- An armed snake Defector Mischiver with a Master-Shake-like attitude and voice and an ally for Luz. Formerly the Amoral One of the Snake Dimension under the direct tutelage of the Grand Reptile, and is also hinted to be capable of resisting Lovecraftium radiation, which is very rare.
Yidhra- Yig's wife and a shapeshifting naga dream demon witch' now defector Mischiver. Former Outer God-form unknown, though it isn't to be ruled out that she was once a Verse Raider Bladebra, albeit dramatically altered from previous form and powers.

Han

- An icy mist-based defector Mischiver with a Frylock-like attitude and voice and an ally for Luz. Previous Outer God-form's unknown.

Byatis

- A frog-like defector Mischiever with a Meatwad-like attitude and voice and an ally for Luz. Previous form suspected to be Eraser-based, but otherwise unknown.

Coatlicue

- A snake-covered female defector Mischiever and former mate and current friend of Yig who once ruled K'n-yan with him in crimson caves long ago. Suspected to be more originally an Inrealm God then an Outer prior to Mischiverication.

Ayi'ig

- An octopus-snake female defector Mischiever and daughter of Yig and Yidhra with a heavy Southern accent due to her time eating people from a cave in Texas. In reforming cause of following Yig's example, she downgraded her diet to be mostly unsentients, with the closet sentients she would eat being any that would cross her family.
Rokon- The older brother of Yig who is one of the first besides Yig to develop an immunity to Lovecraftium, and yet he is the opposite of Yig, being strict and very demanding. In cause of complicated history of being a discovered fellow survivor of the massicure of their family, Rokon too was turned into an Amoral One, but an attempt to rescue his brother from lead to him become a Mischiver too. After briefly being in conflict with Yig, Yig's eventual defecting from Set, and from a request from the Grand Reptile, he and Yig made up and restored their brotherhood. Rokon is still spicy and bitter towards Yidhra and Set for their role in why he and Yig are what they have been made to be.

Rhogog

- A defecting unintended creation of Cthulhu and Hastur who is a flaming tree that is present on Earth and once serving as a Mischiever of plants, now serves as the Demon Realms' link to Earth and for the detection of Lovecraftian magic and curses. In developing remorse of being made this way cause of an accident from a dispute between the prior two AFTER failure to make an intentional one, Rhogog developed a love for life and would love nothing more then to have more control in an ability that operates on it's own terms and to prevent souls from going into the Demon Realm and into proper afterlives so to not serve the twisted whims. His tears possess healing and curing properties that earn it favor with local wildlife even despite his fearsome form, putting the troubled entity at ease.

Armandra

- A sired daughter of Ithaqua who intended to make her his successor until she turned against him. In being born into Mischiverdom, she has no prior form, Outer or otherwise.
Near/False Mischievers
Set

- An Egyptian snake chaos god and an adopted family member of Yig, though he was the one that got Yig into Mischiverdom to-begin with. Once a disgraced Amoral One to the point of Outer God demotion upon being banished into the Outer Rims and also once under the Grand Reptile's tutelage.