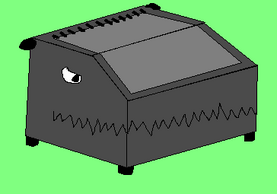 Monster Dumpsters are creatures created by Vi-tor similar to Monster Mail Boxes, but are dumpsters that eat whatever they want whenever they want in the alleys of Sindred City, Pixellania.
Stats
Enemy Threat: Moderately Low
Appearences: Sindred City Alleys
Purpose: Vi-tor created these things in a similar way as the Monster Mail Boxes for the sole purpose of getting rid of the heroes. But some just spends their days just eating what they can get their mouth on.
Community content is available under
CC-BY-SA
unless otherwise noted.