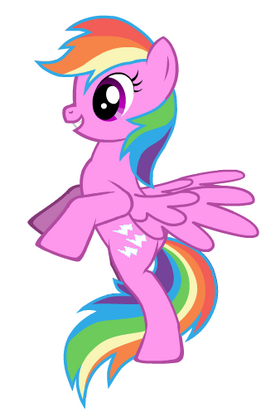 Moonbow Jounce
, formerly
Gray Dash
, is a clone of
Rainbow Dash
created by
Doctor Nefarious
to wield the power of his Elements of Disharmony, in which she represented the Element of Disloyalty being reversed in personality after being corrupted into self-harm into harnessing and mastering chaos magic through a virtual scenario. Once she eventually gets reformed, she becomes one of Twilight's first students at her new Friendship School. She has no cutie mark since she was born, but earns it in the form of three white-blue lightning bolts, representing her ability to strike and do electrifying things.
History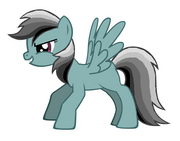 Moonbow was born from a sample of Rainbow Dash's DNA, cloned and incubated into a same-age duplicate with the same personality but no long-term memory and a confused mindset. Then Doctor Nefarious placed her into a corruption machine that corrupts via mental simulations. Thus she was shown her DNA donor's life, and then introduced to a scenario where the Element of Loyalty is conflicted. She sees a scenario where Rainbow Dash is given an order she knew she had to disobey due to it flying in the face of her friendship and morality by casting a Double Rainboom to stop a Twittermite infestation perpetrated by an ex-scientist turned terrorist named
Joule Jolt
while being incriminated by Spitfire's rotten uncle
Shitzstorm
, being shunned by both her loyalties and friends as a result, putting her through self-harm and corruption, and thus harnessed and mastered black and chaos magic, becoming convinced that loyalty was a liability and swore allegiance to Nefarious with her equally-corrupted clone friends into becoming the Elements of Disharmony, going by the name Gray Dash, only as a ploy to betray him in the end and pursue a bigger goal.
(TBC...)
Personality
Coming soon...
Gray Dash
Gray is a reversed Rainbow Dash, meaning she isn't loyal to anyone, not even her creator. She only listens to Darklight Spark, her only true friend, and will refuse to listen to anyone who stands in their way. She is also brash, arrogant, and a huge egomaniac unrestrained enough to do a Double Rainboom and is a big cheater, a reckless and violent terrorist, and takes excitement in all of it. She is extremely assertive and pushy, an annoyance and a menace, a great big showoff and a greedy, cocky, proud fighter, she pushes herself to fatal and life-threatening situations recklessly even to near-death, desperate for admiration from her corrupted circle, doesn't like competitions or those who claim to be strong and grand and only aims to surpass them and even hating them for being incompetent, a harsh prankster, and an impossibly quick strategist. Though it is also indicated that there are signs of good in Gray because he prefers to become a lesser threat than a huge threat despite her true villainous behavior, and seeks to just be an all around jerk to those that exist outside of her friend circle. Though there's also evidence that she has a bit of disagreements with Darklight.
Abilities
Moonbow is capable of high-speed flight, can endure and go for long periods of time fighting and plowing through trouble without tiring out. She can be twice as strong and fast as Rainbow Dash because of her former lack of restraint giving her such and thus can perform very powerful moves including a Double Rainboom. She is an impossibly quick strategist, an excellent dodger who can maneuver with high-level Wonderbolt training and moves. Her moves are so filled with chaos magic she can do anything with these moves.
Community content is available under
CC-BY-SA
unless otherwise noted.