Icky, Iago, Xandy, Clifton, and Shen, while on a mission to bust another gang of anti-UIS nutjobs, end up stranded on another unknown AUU world called Cel Toonus, which is cursed with a black-and-white tone and early animated appearance and the former inhabitants became mindless cartoonish ink cartoon characters that are too alien for the modern heroes and have been out of time for centuries. This occurred due to a cartoonist getting his hands on a magic paint to use to not grow up in a period of loss and war in the Interwar Period, resulting in him accidentally turning the world as it is today as his top creation and technical surrogate son Morty, a cartoon robot, became the guardian of his studio when he became a monster of magic ink. Now this is a forsaken old world ruined by a cursed cartoon studio where deceased souls are trapped in deformed and mangled versions of old cartoon icons, all during the tyrannical dictatorship of Morty's corrupted and tragedy-torn organic wife Jubilee. Now the five must fix Shen's newly-upgraded Portal Beacon again, and survive in what's essentially 'Planet Bendy'.
Scenes
Coming soon...
Transcript
Coming soon...
Material
Songs/Music/Videos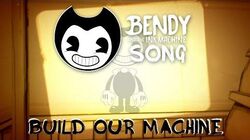 Community content is available under
CC-BY-SA
unless otherwise noted.