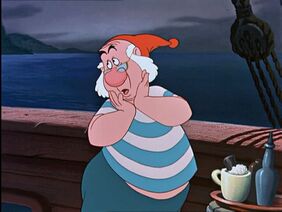 Mr. Smee is Captain Hook's bungling pirate minion, and possibly a future Shell Louger if Scroopfan considers it. But for now, Smee serves the Villain League, unaware of the major damage they are causing to the worlds.
Smee is a weak character, often seen rushed around by his captain. Even though his captain gives him a lot of trouble, he is very loyal to him. He is clumsy, goofy, and unlike his captain, he's very kind.
Smee is a short, rotund man with an odd, hourglass-shaped head. He has shoulder-length, white hair (though the top of his head is bald) and thick, black eyebrows. His eyes are black and close-set, and they are often half-closed. His nose is large and pink, and the rest of his skin is slightly pink as well. In terms of clothing, Smee wears what seem to be very simple, brown sandals, a short-sleeved shirt with alternating sky blue and white horizontal stripes, and teal shorts. He also wears half-moon spectacles and a floppy, conical, red hat with a red puffball on the tip.
[6]Smee with his boss, Captain Hook.Added by Hey1234
Smee's first appearance was in the original Peter Pan movie. He is Captain Hook's first mate and henchman. However, he doesn't seem to be much liked by the rest of the crew. At the beginning of the film, Smee attempts to help Hook forget about his obsession with Peter Pan, so that the crew can go to sea, like they wish, but he fails. When Tick-Tock the Crocodile comes, Smee shoos off the animal, who frightens the Captain, and decides to sooth Hook with a shave. Soon, Peter appears with the Darling children, and Smee is ordered to gather the crew for an attack.
Smee is later seen at Skull Rock, having helped Hook in the capture of Tiger Lily. Smee is fooled by Peter's imitation of Hook, and begins to free the Indian Princess, before being corrected by the real Hook. Peter offers Smee a pistol with the dare of trying to hit him. He has problems aiming, and instead, Smee apparently hits Hook. Hook, however, turns out to be alive, much to Smee's joy, but Smee is forced to follow Hook back to the ship as the Captain is chased by the crocodile.
At some point, Smee learns of Tinker Bell's banishment (through talk from the crew), and suggests to a now despondent Hook that they leave. His reasoning is that "an island with women trouble is no place for a respectable pirate". This gives Hook the idea to play on Tinker Bell's jealousy of Wendy. Smee captures Tinker Bell, and Hook is able to convince the fairy to reveal Peter Pan's hiding place (with help from a slightly drunken Smee). Smee then accompanies Hook, and assists in the capture of the children. During the final battle, Smee quietly tried to escape, by means of a rowboat. He ends up carrying the rest of the crew, and chases after Captain Hook, who is trying to flee from the crocodile.
[8]Smee in Return to Neverland.Added by Hey1234
Smee made an appearance once again as a main character and Hook's right hand man in Return to Never Land, the sequel to Peter Pan. Smee helps Captain Hook retrieve his treasure and destroy Peter Pan. However, like in the original film, he joins Captain Hook and the crew as they flee from the Octopus, who believes the pirates to be different kinds of fish.
Community content is available under
CC-BY-SA
unless otherwise noted.