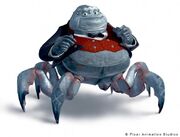 Henry J. Waternoose III is the hidden main antagonist of Monsters, Inc. He is a member of the Villain League.
Role in the series
Mr. Waternoose reprises his role from the film, which has now been confirmed to be made by Scroopfan. In the movisode, Waternoose joined the Villain League on his own free will. He wasn't corrupted by a villain to turn evil; he was simply that desperate to save his own company from going under. However, Mirage does subtly push him even further to darkness during the Final Boss of the Monstropolis campaign.
Community content is available under
CC-BY-SA
unless otherwise noted.