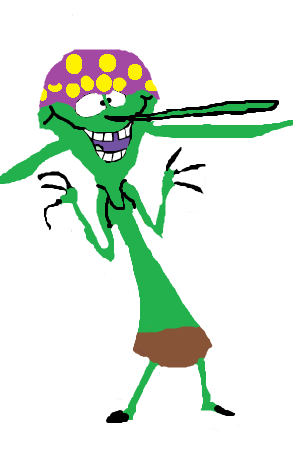 Muck is a member of a trio of Hobgoblins apart of 
Stormtrolli
's private Hobgoblin tribe army. He's a ungite Hobgoblin for being part swroom with frog-like appearneces, being skinny even for Hobgoblin standerds, and uneven ears, as well as some intelligents... but also incredabiliy weak, timid, cowardly, and often relucent, followed by a weak sense of confindence. cause of this, he was helpless to talk his elders out of placing everyone into servitude to Stormtrolli and 
Mr. Lawerence
 as an act of pay-back on Equestia for the ban on pony slavery that their tribe needed to thrive on. Eventally, he had no choose but to give in and play along, and hope for the best... But eventally, as he feared before, this illegal slave trade business will result in their downfall by 5 certain mares. Bares an interesting reselableence to Double D from Ed Edd and Eddy.
Community content is available under
CC-BY-SA
unless otherwise noted.