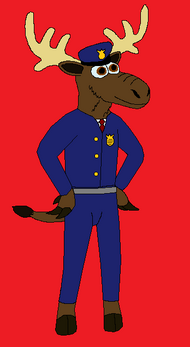 Officer Mulligan D. Taft is a cop moose who works for the UUPD in the Dragon Realms circuit. He is an excellent police officer and is also the monitor of the security cameras of the HQ. He is also a good fighter since his horns are a good means of defense, but not from everything like bullets. Being raised in Dragon Realms New York after his original single father died in the hands of criminals, he became a police officer to avenge his father.
History
Mulligan was born in the Dragon Realms version of Canada. His mother died at childbirth, and he was raised by a lumberjack father. His father ended up trying to date someone else, and found a girlfriend. However, just as they were building their relationship when Mulligan became 10, his girlfriend ended up breaking up with him. This left him in so much depression, he started doing drugs. But when doing this, he ends up owing the people who gave him the drugs some money. Once he fails to pay, they started beating him to death with bats. They got away and left his son in tears.
With his father dead, Mulligan was sent to an orphanage in New York where he was adopted by a surrogate father mole. Crying himself to sleep every day ever since he lost his father, he decided that something needed to be done. He wanted to become a police officer so he could go back home and send the criminals to justice. But even though they were already arrested before he could join, he still felt like no father should be taken away from a child, and so he joined the UUPD so he could make his father proud.
Community content is available under
CC-BY-SA
unless otherwise noted.