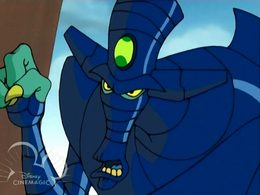 Natron ruled the galaxy thousands of years ago until he was overthrown and entombed on his homeworld Planet X by The Protector. When exploring LGMs and Warp Darkmatter accidentally break him free, he attempts to take over the galaxy again but is thwarted by the combined efforts of Warp and Team Lightyear who entomb him again.
Physical Appearance
Under construction.
History
When Natron was defeated and entombed by the Protector, he vowed that he would return and once again rule the universe.
Personality
Under construction.
Abilities
Under construction.
Role in the series
Natron will soon appear in the Spongebob series, where it is revealed that during the First Cartoonian War, Natron was one of Chernabog's warrior kings on the side of darkness, mostly loyal to the original Mirage and Seth due o his planet's Egyptian origins. Natron currently serves as a member of the Villain League due to being an enemy of Team Nefarious' bounty hunter, Warp Darkmatter.
Community content is available under
CC-BY-SA
unless otherwise noted.