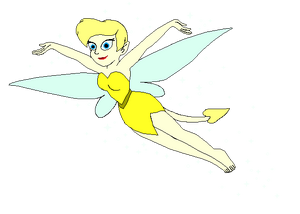 Noina S. Bell is an Alternate UUniversal Zrix from Planet Chronicus. She is the main companion to Taran Pan in his story of Island of Young Dreams, and was his second Young Island friend behind Sunber, and like Sunber's relationship with Wenby Dohl, Noina's life is a reflection of the life of Bo Bellatrix, the youngest member of Taran's surrogate Corollia hometown's police force who looks after him as nobody else in the force will because of the chief and his partner who have it out for Taran, and dislikes Wenby for being the one responsible for most of his antics. Starting out as a semi-mute tinker who showed great potential and a perfect heroic life in her homeland, she is a very skilled magic-caster who can fly at fast speeds, turn invisible, is mostly silent aside from a few words, and has a secret life as a bachelorette with male Zrixes. She believes that, because such a thing is dangerous to him after the fight against Capitan Nothingverse, especially when much of it was Sunber's fault, she is utterly forbidding against Sunber's romance for Taran, and they get in constant fights. She through rage fits with Breezie-style language, and she has a similar accent. However, her biggest weakness was disbelief because she was descended from Zrixes who survived a near-extinction in so many worlds during the AUU First Cartoonian War, disbelief in their species have affected them so much, the shock could be fatal, especially in a land like Young Island, where fantasy is a normality. As such, disbelief is incredibly fatal to her, but unlike the common solution of clapping, because of the stronger effects, it isn't enough, and thus the cure is a magical healing spell that only Zrixes and rarely a few highly-skilled people know. Hopefully, such an event is unlikely by modern times since they are already real enough to believe because of the limitless society of the AUU. She is the AUU parallel to Tinker Bell, and like her, is an icon to Qalton Mimzy (AUU Walt Disney) films since the 5 movies on the classic story. Like Taran, she is a member of the Fantasy Council, albeit a minor member, because she believes herself a 'better guardian than Sunber' given her naïveté. Though her home life is similar to the setting of the Tinker Bell movies.
History
Story History
Fairchild Y.G Youthwell, the author and writer of the Taran Pan story Island of Young Dreams, created Noina Bell and Bo Bellatrix not just for the need to create enough female characters in the story, but also to be the observer for the people in Taran's surrogate hometown, allowing for people to feel for her and see through her eyes what Taran does and wish to keep his actions from causing trouble. Noina Bell was created as a parallel to Bo that took this to greater heights by claiming that Noina was the only one who experienced reality through her own backstory where she descended from Zrixes whose paradise went extinct because the loss of people's belief in magic waned away their own magic and even became a shocking fatality to people like her, and thus only a healing spell based on people who still believe is the cure. This would make Noina the observer for Taran in Young Island and the only one who knows both fantasy and reality at many costs. This gave Noina and Bo a cult following. When Qalton Mimzy created an animated feature based on Island of Young Dreams, Noina and Bo's following became so prevalent, this allowed Noina to be one of the icons of Mimzy. The popularity of both characters even gave both characters their own separate spinoff franchises.
History
Coming soon...
Abilities
Coming soon...
Appearance
Coming soon...
Community content is available under
CC-BY-SA
unless otherwise noted.