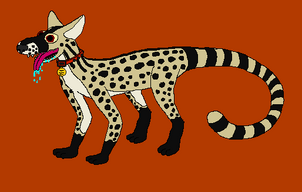 Nytrox
is an Alternate UUniversal unsentient Troggle who originally had an owner who was a hunter until he died of a rare Alternate UUniversal disease called Zaklin's disease. Adopted by
Xandy
2 weeks after she joined the Heroes Act, Nytrox has bonded with her even more than his original owner, and the two have been companions ever since. Nytrox is a lovable and fierce fighter who loves Xandy more than anything else, and is willing to step into the battlefield to help her and her allies out. Xandy eventally went to teach Nytrox some actrobatic tricks to help him better protect himself from threats that would hurt him, as well as Xandy being impressed that a Troggle can do such.
Personality
Nytrox was named after his cousin, Nitro, by his original owner. When Nytrox was with his original owner, he never felt that he got that much pleasure while hunting with him. But now that he's with Xandy, someone who loves him and spends much more time with him, he is more happy than ever. Nytrox is smart and strategic, and can even learn tricks much easier with Xandy. He likes to meet new people, or even other animals. He is very playful, and can also be very jumpy. He can run very fast, and can jump very high, keeping balanced with his long tail. He is also very stealthy, and can see in the dark. He has a good sense of smell, much stronger than a dog's, and can hear very far away. He may not know how to speak, but that doesn't mean he can't speak. Besides his bark, squeaks, and whines, Nytrox is capable of saying many words like English, a common Alternate UUniversal trait for unsentient animals called zoovocalism.
Community content is available under
CC-BY-SA
unless otherwise noted.