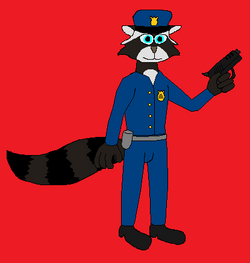 Officer Felix R. Thorton
is a police officer raccoon who works for the UUPD. He ranks as a loyal lieutenant for the Dragon Realms HQ, and is surprisingly good in hypnosis. He's been in the UUPD for so long, he's gotten used to having a gun pointed at his face as much as the next rookie. He more or less tends to be like the local jerk, espeically when
Axle
started to fall from graces throughout his mistakes during the cronitcles series.
History
Felix was born in the Dragon Realms and grew up as a curious child. He was naturally fond of playing in the trash, he was very hyperactive, and the thing he enjoyed most are hero shows. Through watching these shows, he decided at age 15 that he wanted to be part of the police force so he can be a hero himself. To do this, he learned a few martial arts upon reaching adulthood, and even learned how to hypnotize people. Upon gaining enough experience, he finally became a member of the UUPD, being the first rookie to join.
While still retaining a small percentage of his childish side inside such as sneaking out at night and playing in the trash and washing off in a river, and having as much of a taste for donuts as Officer Graham, he still had a great sense of honor and dignity, and would even give up those things for his own job, knowing it's what a hero would do. Since Officer Axle, the third rookie in his division, started off rough, he needed to guide him, so he was eventually ranked up as police lieutenant. Bullington trusted Felix with his own life because he knows how brave and daring Felix is, especially when he has his immature moments.
Community content is available under
CC-BY-SA
unless otherwise noted.