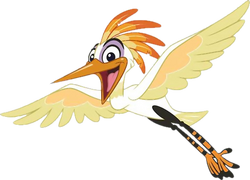 Ono
is one of
Kion
's friends, a former member of the Lion Guard, and a current member of the Night Pride. His specialties are his keen eyesight and his intellect. He is a major character in
The Lion Guard: Return of the Roar
and
The Lion Guard
. After losing his sight during the final battle against
Scar
, Ono passes on the role of the Keenest of Sight to
Anga
. However, in honor of his intellect as well as wanting to keep him part of the group, Kion creates the new role of the Smartest for Ono. At the Tree of Life, Ono is healed by Queen Janna, though his eyesight never regains its former strength, Ono comes to accept his place as the smartest. His first catchphrase,
Hapana
means 'oh, no!', and his new catchphrase
Nowaza
means 'Come on'.
Biography
Coming soon...
Role in the series
Coming soon...
Community content is available under
CC-BY-SA
unless otherwise noted.