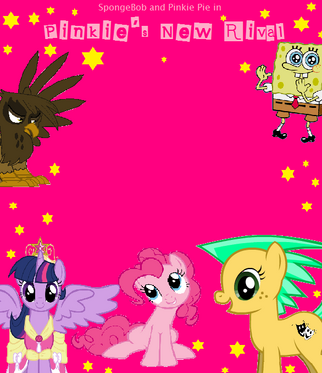 Pinkie's New Rival
is the 28th Episode of the 2nd Season of the
SpongeBob and Friends Adventures Chronicles
series. Pinkie Pie is the most funniest pony in all of Equestia, and aims to make all of Equestria smile. She has the best parties and jokes, and almost everyone loves her. But when an even nuttier earth pony movie actress named
Tons'a Fun
 comes to Ponyville to share her extreme talent in comedy, Pinkie becomes dull in comparison. Pinkie becomes jealous, but also curiously concerned that Tons'a not letting in some personal info about her true feelings. to herself and her fans. However, she ends up enlsiting the help a remorseless griffin assassin named
Bonebreaker
, who tricked her into believing HE can get Tons'a to confess, who he really plans to set her up in order to get her banned from Ponyville after an accident involving her. But Tons'a is too unpredictable, and both Pinkie and Bone end up causing extreme mayhem like something out of Looney Tunes, prompting Celestia to contact the Shell Lodge to tame the havoc. After learning about Bonebreaker's true intentions to ruin her life, Pinkie plans to stop him before Tons'a is killed, and she loses her friends forever. All the while, a dishonest maniger named 
Money Feathers
 and a Con-Boa (A green Boa with the wings of a Condor) with an steriotypical intalian accent named
Stefano (Con-Boa)
, attempt to clean out Ponyville, Espeically Twilight and Mayor Mare, of their money and personal positions worth money for pawning. Will they get away with it if the bigger trouble isn't stopped?
Transcript
Intro (Pinkie Pie's Smile Song (remixed))
Chapter 1: Prepare to Smile
Ponyville
A familier song plays out as Pinkie gets all the ponies' attention!
Everyone cheers after the song is finished!
Pinkie: "Oh yeah! I nailed it!"
Mayor Mare: The 18th Pinkie Pie Anniversary Celebration has been a rousing success! As we all know, Pinkie Pie has been entertaining us for...well...18 years, and now, everyone in Ponyville, and maybe even all of Equestria, knows about her, and have even come to Ponyville to even get a laugh from her. Some say it's...much of a good therapy for people...but Pinkie has always been there for us. Though she has been challenged a couple of times in the past, including Cheese Sandwich, who was oddly enough inspired by her, she has been the greatest comedian ever. And we hope we'll have another wonderful year with her! (Everyone stomps their hooves cheering)
Pinkie: Thank you very much, all of you! I'm glad to have been your friend for as long as I can remember, with the exception of Cranky Doodle, who's been the most recent! (Points at him in the audience) And may I be the greatest thing to happen to Ponyville until the day I die! Which hopefully, isn't for a LONG time! (Everyone cheers)
Derpy: "YAY PINKIE PIE! YA-HOOOOO-"
Derpy smashes into a house!
Derpy's voice: "OOPS! MY BAD?!"
Rainbow Dash sighed in embarisment.
Twilight: "Why act so embarised for Derpy lately?"
Rainbow Dash: "...... She's...... An Adoupted Sister of mine."
Twilight: "..... Wow..... I thought she was a work assusiate."
Rainbow Dash: "She is, but..... Well, it was when I was still a teen, sometime WAY before you came in and that Nightmare Moon stuff happened..."
Flashback.
A Teenager Rainbow Dash zoomed around like an anphilite!
Suddenly, she sees a younger Derpy Hooves sad and alone.
Rainbow Dash: "Huh..... I never knew her before."
Rainbow Dash landed.
Rainbow Dash: "What's slamming, kiddo?"
Derpy turned and her derp eyes are seen.
Rainbow Dash: "WHOA! Crazy eyes, kiddo!"
Derpy: "Oh.... Sorry..... I'm.... Derpy "Ditzy Doo" Hooves. I'm.... Alone. I am leaving on my own for the first time ever, and.... I don't think I'm fitting in well. Ponies keep seeing as a kluts, a kluts, a kluts!"
Rainbow Dash: "Girl, what makes you say that?"
Derpy points to a destroyed building.
Rainbow Dash: ".... Kid, you obviously just need some guidence. You need to learn to spread your wings awesomely and carefully. I got your back, sister."
Derpy gave a huge smile that Squued!
Derpy: "SISTER?! YOU WANNA BE MY SISTER?!"
Rainbow Dash: "Wait, I didn't exactly mean-"
Derpy hugged Rainbow!
Rainbow Dash: "...... We cool, Derpy. We cool."
Reality.
Rarity: "... You talked like a hypster?"
Rainbow Dash: "I was going through a phase of rebelian. Took a while to outgrow it. It gotten me alot of one-night stays in the Ponyville Police Department, and enought speeding tickets to make a mountain!"
Rarity: "Oh I'm sure you exaggerating!"
Applejack: "Actsellly....."
Meanwhle.
A giant Mountain size Pile of Speeding Tickets is seen, as Tourest Ponies take pictures next to a sign that said "Mt Rainbow's Speeding Tickets Never Stopped Piling".
Back to the Main Six.
Rarity: "...... It's actselly, considered a fine tourest attraction for ponyville? A mounton of paper? Was Mayor Mare or, the previous Mayor at the time HIGH?"
Fluttershy: "In all fairness, Mayor Mare's Uncle Peacesign did got removed from office cause of.... Substence abuse."
Rarity: "..... At least Ponyville has attractive festivals...."
Applejack: "Even when sometimes it feels like we have TOO much of them?"
Rarity: "Whatever do you mean?"
Applejack: "I think Ponyville sometimes forgets to be a working community! Alot of the festivals seem to be an excuse to be slack off."
Pinkie: "Oh cheer up Applejack! There ain't no party like a Pinkie Pie party!"
The Ponies resume celebrating!
Chapter 2: Tons'a Fun, Comedian Actor Extraordinaire
Meanwhile.
A limo-like Wagon is seen heading for Ponyville.
A seemingly annoyed Chuffer is riding it.
???: "Are we there yet?"
The Chuffer: "NO!? A THOUNDSON TIMES NO?! WE'RE THERE WHEN I SAY WE'RE THERE?!"
???: "Oh, Drive Heart. You are a silly goose."
Drive Heart sighed annoyed.
A Harpy Maniger is seen.
Harpy: "Oh relax Heart. This kid gets jumpy and over-eger, sure, but she's an over-eger money maker! And my reason on easy street! So you would do well to be nicer to her, capise?"
Drive Heart: "Yes, miss Money Feathers."
Money: "It's Miss MF to you!"
Drive Heart: I, uh, don't think that's a good idea, Miss Money Feathers. If we just went around calling you MF, you'd just be embarrassed.
Money Feathers: What are you talking about--...MOTHERF***! (They make it into the sights of Ponyville)...Well my little money maker, we're almost there!
???: Well, that's great! It was nice of Celestia to allow me to visit this place. I hear it's among the most famous.
Drive Heart: "You mean, purely because alot of near-dishators seem to happen THERE for some reason? If so, I don't wanna know what the NEXT supposed dishastor is."
Money Feathers: "I don't pay you to have opinions, Drive, I pay you to drive!"
Drive Heart: One thing though. Couldn't we just get there by train?
???: Of course not, silly! I don't trust those machines that much because of how much commotion goes on with them. Plus, they're SOOOOOOOOO slow!
Drive Heart: I use the train a lot! It may not exsisize the practice of speed, but the scenery is wonderful when one is in luxery.... And those tasty little nuts! I heard they're planning to introduse magic in-ride movies soon!
???: Well, I am just not patience enough for trains, DH. But thank you.
Drive Heart: (Sighs) Fine! Just hold your britches and we'll be there in a few seconds.
Ponyville
Rainbow Dash: (Flies down to Twilight's Castle) Girls, I have some news!
Applejack: The communication computer's here? We're still waiting since the Lougers said it'll be here as soon as possable.
Twilight: Yeah, I might need it if I'm gonna be able to call up Sunset and tell her we're planning on another Equestria Girls movie next month.
Rainbow Dash: No, no, no! I saw a carriage coming towards Ponyville! It looks like an expensive one, too! It's REALLY long, like limousine long! I think somepony famous is coming.
Twilight: Oh, yeah, Celestia told me an actress would be coming to Ponyville today.
Rarity: An actress?
Twilight: A COMEDIAN actress. You might know her by the name Tons'a Fun!
Rainbow Dash: WHAT?!?
Applejack: NO WAY!!!
Rarity: Oh, my! I've heard of her, she's amazing! She's an actor in plays and movies. I've seen some of them, and they're amazing!
Fluttershy: I have heard of her, too! The pony is really funny.
Applejack: Yeah, Applebloom remembers Tenacious Island! That was the first movie she starred in. In fact, she was a filly in that movie! She played a little filly named Tenacious Nature who was stranded on an island with a bunch of talking monkeys that helped her get back to her home.
Rainbow Dash: Or what about her role as L.A.F.F in Laugh-o-Tronic, a robot who had an abusive master who wanted to use robots to take over Equestria, but she had some help from a few ponies to stop him, and she was made a real pony as a reward.
Rarity: She even played Cleenee from We Come In Peace, as an alien pony from outer space who wanted to make peace with other ponies, but finds it hard to do since everypony feared her except for a filly who got along with her.
Fluttershy: Well, I do remember her playing Dairy Ann in Poor or Rich which was a poor pony who discovered that being rich was just too stressful. I hated the setup, but I liked the comedy.
Twilight: I know! And how can you forget her role as Dr. Steamer in Steampunk where she played a mad scientist in a superhero world who reformed just with help from some ponies she got to trust.
Rainbow Dash: ALL AWESOME MOVIES!!!
Pinkie: Huh? I've never heard of her.
Twilight: Really? You've never heard of Tons'a Fun? She's like Michael Winslow and Robin Williams combined...except female!
Pinkie: Well, I've never heard of her in childhood since my family lived on the rock farm. We never had the money to buy a TV. My family are, also Amish Ponies. They're, traditional savies. In fact, I never even heard of her when I started watching TV at Sugarcube Corner.
Applejack: Well, Applebloom and I still have Tenacious Island and We Come In Peace on video!. We can watch it later if you want.
Pinkie: Maybe later. I think I should give this Tons'a Fun a welcoming committee! It'll be amazing!
Rainbow Dash: Oh, trust me, we know EVERYTHING you do is amazing! If you replace amazing with AWESOME!!!
Twilight: (She looks out the window) Girls, she's here!
Pinkie: Already? I never got the chance to set up the decorations.
Fluttershy: Well, you can at least get the chance to meet her.
Ponyville
Drive Heart: (The carriage arrives in Ponyville) Alright, Tons'a Fun, we're here.
???: Excellent! (Opens the door, and comes out as a pale golden pony with freckles, a crazy green hairdo and tail, and has 2 actor masks as a cutie mark. This was Tons'a Fun)...Well, this place seems nice. Not as decorative as home, but it's wonderful.
Money Feathers: Indeed. It has a, rustic charm..... That means the budget must suck here.
Tons'a Fun: Well, I'm sure there's something else that makes this place--(Notices Twilight's Castle)...HOLY FLIM-FLAM!!!
Money Feathers: I-fu-ji-ni-mo-fu-WHAT?!? I take it back! THESE SUCKERS- Err, I mean, PONIES, MUST BE BILLIONNAIRES!?
Drive Heart: Since when did Mayor Mare convert the Library into a Castle?!?
Money Feathers: "Not exactly. I once read something about a Demonic Centaur destroying the libary and a magical cristail tree made THIS GOLD MINE OF A CASTLE HERE?!"
Drive Heart: ".... And you wondered why I lived in Manehatten? No crazy things happen there."
Tons'a Fun: This must be the Castle of Friendship! I've heard about it not too long ago. Of course, I never knew it was THIS giant, I thought it was just as giant as a giant's waist. (Rimshot is heard)
Money Feathers: HAH! That was a good one, Ms. Fun! But save that when your proforming kid!
Money Feathers guides Tons'a Fun, but before she could say anything-
Pinkie; "SURPRISE!?"
Money Feathers Squak!?
Money Feathers: "DRIVE?! QUICK?! A MASHER?! GET THE PEPPER SPRAY!?"
Tons'a Fun: "Auntie Money, this is just the welcoming commuity. No need to start re-MOLTING!" (Rimshot) Besides, I can assume this is Ponyville's happiness agent, Pinkie Pie.
Pinkie: You know me?
Tons'a Fun: Well, actually, I know a friend of mine who got a laugh from you.
Pinkie: (Giggles) Well, I don't like to brag, but a lot of people in Equestria get a laugh out of me.
Tons'a Fun: I'm sure they do. I'm sure there have been ponies who have put in comas laughing at you, so your jokes must fatally break their funny bones. (Rimshot, and Pinkie laughs)
Pinkie: GOOD ONE!
Ponies began to gather around.
Twilight and Friends came in.
Tons'a Fun: "Hey, you must be Princess Twilight Saga- (Record Scrath). I mean, Twilight Sparkle...... Your boyfriend's not a vampire or a werewolf, right?"
Everyone started to laugh!
Twilight laughed!
Twilight: "I would normally be offended to be compaired to a tasteless romance foil series, but, her funny way of saying it chases that away!"
Rainbow Dash: "You are AWESOME in "Tenacious Island"! Sign my copy of the DVD?"
Money Feathers: "100 Bits."
Tons'a Fun: "Money, you silly goose-woman! I never charge ponies for authograths! Not even credit cards!"
Laughter is heard!
Money Feathers: "Tons'a, darling, I am trying to be a maniger and profit- I mean, take advan-, Duh, I mean, make you fanianally secure! All good celeberies maintain a healthy growing wealth!"
Tons'a Fun: "Pfft! I already have so much, I could make an army of that money man from the Geico commercials!"
Money Feathers: "You mean, excluding my ten percent?"
Tons'a Fun: "That reminds me!"
Tons'a brings out ten cents!
Tons'a: "Here's your ten, per cent!"
Everyone laughed!
Rarity: "IT'S PREDICTABLE, BUT PREDICTABLY FUNNY?!"
Money Feathers: "...... Very funny. Let's all laugh at the Harpy."
Drive Heart shrugged as he was reading a newspaper.
Tons'a Fun: "But in all, barely seriousness! It's great to be in Ponyville! I am here to study for a new role for my up-coming movie, (Brings out a poster) "Small Town Gal", A Ponywood Production!"
Rarity: "Little old Ponyville? A shorse of inspiration for you for an upcoming movie?"
Twilight: "Why, it's an honor a big time celeberty came to little ol' ponyville!"
Tons'a Fun: "A big time Celeberty? Where?"
Laughs are heard!
Applejack: "(Gaffaws), I'm sure she meant you, suger-cube."
Tons'a brings out a LITTERAL cube of suger!
Tons'a Fun: "(In a cute Squcky voice) "Wow! A little Sugercube like me, a big time celebery? My mom  suger cane is gonna be proud!"
Laughs are heard louder!
Rainbow Dash: "(Laughs), YOU TOTALLY WALKED INTO THAT ONE, APPLEJACK!?"
Pinkie Pie only seemed to barely laugh with a shy, awkword smile.
Money Feathers: "Princess, for a speical on Tons'a's stay here in Vonyphille,"
Twilight: "Ponyville."
Money Feathers: "Ponyville, I would like to stage a speical preformance for her in your castle! Your, beautiful, diamond mine, castle..... Your, mutli-millain dollar, castle... Your-"
Twilight: "Miss Money? Are, you ok?"
Money made a parrot squack, and slap herself out of it!
Money: "Uh, I would like to host a stage by your castle!"
Twilight: "Well, nothing against one of the most funniest ponies ever, but, the castle's suppose to be a place of dignity and grace. Jazzing it up into a comedy stage would, well, get in the way of that."
Money Feathers: "Oh? Are you sure you wouldn't do it for my good friends, (brings out a bag of bits) in this bag?"
Twilight: "..... Are you trying to bribe a princess, Miss Feathers?"
Money Feathers: "NO! Why? Is that illegal?!"
Twilight: "Besides, I am merely more of a teacher of friendship and a protacter then, any actual legal athority. I am no more impourent then anyone here. That's what Celestia always taught me. You want to talk any form of authisation, you might want to speak with Mayor Mare."
Money Feather: "But isn't a mayor a step down from A Princess?"
Twilight: "It's just that, Mayor Mare handles the more, legal issues. I'm just another resident in Ponyville... Only, near-demi-god."
Money Feathers: "....... But that cristail castle is worth a fortune, right?"
Twilight: "Well, a friend named Chi-Fu estimated that my castle could be worth 900,000,000,098 trillian in human dollars, even more in Equestian bits!"
Money Feather's eyes turn in gold bars!
Twilight: "Oh! Tons'a, does that happen alot?"
Tons'a Fun: "Not exactly. They're normally silver."
Money Feathers: "Excuse me, everyone, I am going to, find the Mayor!"
Money Feathers flew off, laugh maniacly!
Mayor Mare: "BUT I'M RIGHT HERE!.... And, she's gone."
Rainbow Dash wispers: "Twi, I'm alittle bit worried about that Harpy. She's like a female bird-lady Mr. Krabs."
Twilight wispers: "Shh! I'm sure it's harmless."
Twilight cleared her throat.
Twilight: "So Tons'a, would you like Pinkie to give you a tour?"
Tons'a Fun: "Sure! I need some free leg room while I'm free from the maniger for awhile!"
Applejack: "I just hope Pred Judu Des doesn't give you trouble for having a Harpy maniger."
Fluttershy: "Oh, don't worry! He and the sisters are away for a long Dragon hunt!"
Twilight: ".... Just so we're clear.... They're hunting ACTSELLY evil dragons, right?"
Fluttershy: "Well, I hope so."
Alley.
Money Feathers is seen.
Money Feathers: "I'm clear. Ok, Stenfano! Come out!"
A flying Green Boa climbs out of her suit!
Stenfano the Flying Boa: "BLAH! MAMA MIA, You stink more then a neglected riveria!"
Money Feathers: "Shut it, you pizza munching Con-Boa! You remember our deal! I'll distract everyone with my precious money maker Tons'a, and you, go to everyone's houses and loot their money and personal treasures for pawning!"
Stenfano: "Here'sa nitpick though. If you already got it made'a with Tons'a, why do we still need to be con artists?"
Money Feathers: "Old habits die hard, Stenfano! But I have a intermediete job for you to do in the meantime! I'll I'm visiting the Mayor with Miss Sparky, I want you to go inside her castle, and take anything that isn't too big or nailed down! Like, royal jewels, golden trinkets, the key to the town, anything that'll make us RICH! Let nothing stop you!"
Stenfano: "But you know what would a-happen if Tons'a ever found out. She would be a'desisated."
Money Feathers: "Then do what we did in all the other cities and towns she studied for a role for! NEVER, get caught! Capise you silthering italian steriotype?"
Stepfano: "Hey, I am'a not a italiano steriotype! What in the Mama Luigi's pizzaria and stagettai store makes you think I am'a steriotype to italianos?"
Money Feathers: You just stated it, dumbass!
Stefano: How did I--...Oh, yeah! (Chuckles) I never-a noticed!
Money Feathers: Now just be sure that a certain...griffin...I know doesn't come here since he began targeting Tons'a Fun! If that sadist even KILLS that celebrity, my career, as well as our deal, will be ruined!
Stefano: You mean you still-a think that Bonebreaker guy is still-a trying to kill Tons'a? He's in-a jail-a!
Money Feathers: May I remind you he escaped over 5 times in a row? That assassin is willing to go to whatever extreme risks it takes to get his way. Especially since that incident where some retard pony embarrassed him years ago. It took him 2 years to grow his feathers back after that incident.
Stefano: (Sighs) You're being over reactive, Money Feathers! You're worried that you might-a lose your job and ALL your booty, no?
Money Feathers: NO!!!...I mean, sure, but things haven't been going right. I can barely keep my money hidden for so much time. I nearly get caught doing these deals with you.
Stefano: You've got nothing to worry about, mon ami! Ol' Stefano will-a keep you and your boss-a safe.
Money Feathers: You'd better, because if I lose MY life, YOU lose YOURS! It'll be the end of you, it'll be the end of ME! And worst of all, it'll be the end of ME!
Stefano: As you wish, MF!
Money Feathers: Okay, don't call me that! It makes me feel stupid.
Stefano: (Holds in laughter) Okay.
Stefano slithers off.
Ponyville.
Tons'a is in awe of Ponyville!
Tons'a Fun: "So, Pinkie Pie, what do the locals do for fun around here?"
Pinkie: Oh, we do a LOT of fun things here.
???: Like pulling pranks? (Tons'a Fun suddenly appears in a clown outfit)
Tons'a Fun: WHAT THE--?!?
Pinkie: (Laughs) Good one, Discord!
Tons'a Fun: Discord? (Discord appears) Oh, yeah, he's the guy that was spreading chaos and betrayed us!
Discord: I assure you, Ms. Tons'a Fun, I am fully reformed now. I no longer do evil, and I assure you I can no longer bring myself to betray your kind again. After all, I had heard you were coming to town, and I wasn't that surprised. I know Fluttershy's friends bragging about you being a big sensation. I thought I'd come light the mood with comedy since...(Sighs) Robin Williams died.
Tons'a Fun: Wait, Robin Williams is dead? When did that happen? (Drive Heart whispers in her ear)...Oh, yeah! Well, that's sad. But I guess death isn't that bad once you get used to it.
Discord: If you ask me, I should've been voiced by him instead of some Star Trek guy who has my personality. But I digress, this voice is fine.
Tons'a Fun: I don't care how a character is portrayed by his or her voice.
Tons'a Fun/Discord: You just gotta love how they speak, dirty or not! (The two chuckle)
Tons'a Fun: So you've heard that before?
Discord: I heard you say it on the tube before, I know. Besides, judging by how you made the entire place laugh earlier, I could tell from Pinkie's face that she's jealous.
Pinkie: (Scoffs) Jealous? I'm NOT!
Discord: You're so jelly!
Pinkie: OOH, I LOVE jelly!
Tons'a Fun: He means 'jealous'!
Pinkie: Oh, well...I AM NOT!!!
Discord: Oh, it was just a harmless joke, Pinkster! It doesn't matter who's the funniest. You should know after meeting Cheesy Sandwich!
Pinkie: It's CHEESE Sandwich!
Discord: Potato tomato!...But you're jelly!
Tons'a Fun: Okay, now you're joshing us!
Discord: I am!
Tons'a Fun: Well, nice to see you have the guts to be much nicer than before, and you're naked! (She, Discord, and Pinkie laugh)
Discord: That was f*****g priceless!
Tons'a Fun/Discord: As priceless as The Scream! (Rimshot, and both break out laughing)
Discord: Maybe I should consider showing chaos in art!
Tons'a Fun: Yeah, I wouldn't do that. Your paintings would be so realistic...
Tons'a Fun/Discord: That they'd fly out of the portrait! (Rimshot, and both laugh)
Pinkie: "Uh, thank you for your time Discord, but, I was giving Tons'a a tour here."
Discord: Of course you were. After all, I still have some chores to do at Fluttershy's Cottage. It'll be a while before the Lodgers come with the communications computer so Twilight can call up that Sunset lady in the human world Celestia and Twilight neglected to tell me about, probably because they didn't trust me with it. I sure hope the next Equestria Girls movie will be just as funny as the first one. Until then, Chow! (Teleports away)
Tons'a Fun:...Twilight's an actor?
Pinkie: No, silly! She, her friends and I have our own TV series. We even had a movie where Twilight becomes a human. I mean, our studio always finds ways to sell merchandise, such as making Twilight a princess, and making a movie with humans in it.
Tons'a Fun: I can't remember the last time I starred in a TV series. I was a filly at the time, and I was more focused in playwriting. Literature must be 'literary' strenuous! (Rimshot, and both laugh)
Pinkie: HAH! You nail it every time.
Tons'a Fun: "Thanks! I get that ALOT!"
Pinkie: "So, Tons'a. What is it like being a celeberty and, working with that Money Feather Harpy?"
Tons'a Fun: "It's great! Auntie Money is like family to me! Someone who'll, befriend me for who I am, and.... (Gets sadder), Not just because I'm all jokes and giggles."
Pinkie: "...... Are you, unhappy being a somepony everyone looks up too?"
Tons'a Fun: "Uh, no! It's awesome! Whatever gave you that idea?"
Pinkie gave a distrustful face.
Tons'a Fun: "Oh look! That pony's selling pineapples!"
Tons'a runs over!
Tons'a Fun: "How much?"
Pineapple Seller: "For you, for free! My kids LOVED your movies!"
Tons'a Fun's smild faded apawn getting a pineapple.
Tons'a Fun: "... Thanks."
Tons'a Walked, and suddenly was interspected by Pinkie.
Pinkie: "Admit it! The fabulious celebery life is leaving you unfufilled!"
Tons'a Gulp!
Tons'a Fun: "Uh..... Look! It's, BIG HOOVES!?"
Pinkie: "(GASPS!) WHERE?! IT'S ALWAYS MY DREAM TO BEFRIEND THE MISUNDERSTOOD CREATURE!?"
While Pinkie was fanacticly looking, Tons'a ran off!
Pinkie: "Tons'a, I don't see him any-"
Pinkie realises that Tons'a was running away!
Pinkie: "TONS'A, YOU GET BACK HERE!?"
Pinkie zoomed off!
Twilight's castle.
Twilight: "Spike, I'm going to Mayor Mare's office to discuss were miss Money Feathers should put this, "Stage"."
Spike: "Twilight, are you sure this harpy isn't trouble? Didn't she acted, weird when she talked to you?"
Twilight: Well, maybe, she attempted to bribe me back there. Besides, I never knew a harpy would be able to gain so much money. Nopony seems to have access to such an amount THAT easily.
Spike: Then how did she get that money?
Twilight: I don't think it's nice to nose around in her business like I'm some kind of private investigator. I may have the authority to do so, but I believe such an act is wrong.
Spike: So you're not going to find out whether or not she's up to something?
Twilight: No! Tons'a Fun would be angry at me for such a thing. Wouldn't YOU be angry if someone went through your stuff?
Spike: Well, yes, but--
Twilight: Then there's nothing to be worried about. It's not like someone's gonna be sneaking inside the castle and stealing various valuables or something.
Spike: Yeah...maybe you're right.
Twilight: Now let's get started. I need to make sure the place looks nice enough for Mayor Mare and Tons'a Fun to feel comfortable.
Spike: Well...I think it's already been done. (Twilight looks behind her to see the place spontaneously set up in a similar decorative)
Twilight:...Wow! It looks fabulous!
Discord: (In distance) YOU'RE WELCOME!
Twilight:...(Sighs) I may respect Discord, but I just can't STAND how he randomly does things and appears at the worst of times. But I have to thank him for this. I'm sure Mayor Mare and Tons'a Fun will like this.
Pinkie: (Bursts inside) HAS ANYONE SEEN TONS'A?!? SHE DISAPPEARED AND--Whoa, this place looks nice! But it's missing something...(Quickly puts up a banner with the words 'Tons'a Fun is Awesome' while the camera is on Twilight and Spike) Perfect! (Suddenly, the banner is changed to say 'Pinkie is Jelly')...WHAT THE--?!?
Twilight: DISCORD!
Discord: (Chuckles in distance as the banner is changed back)
Spike: What was that all about, Pinkie?
Pinkie: Don't ask! So, what was I about to say?...Uh...Wow, did I forget rather quickly. I guess I should wait in the bathroom. (Goes inside, but while Twilight and Spike turn, Pinkie bursts out) TONS'A FUN!!!...I forgot to ask how she makes those rimshot noises come out of nowhere!...Oh, well! (Goes back in)
Spike:...Okay...
Twilight:...Well, let's get ba--(Pinkie bursts out again)
Pinkie: TONS'A FUN IS MISSING!!!
Twilight and Spike: "MISSING!?"
Pinkie: "Tons'a and I were talking about Money Feathers, and she said something about not really being happy as a celebery but she then started to deny it and won't confess it, she got a pineapple and then we ran and then suddenly I lost her!"
Twilight: "How am I gonna explain this to Money Feathers about this! I am seeing her in the Mayor's office!"
Pinkie: "Don't worry! A pony with a crazy mohawk is NOT hard to miss!"
Twilight: "That doesn't make the situation less hard to resolve quickly!"
Pinkie: "Maybe not, but we CAN'T tell Money Feathers and the Mayor! I can find anypony quick as a flash! It's how I was able to keep up with Rainbow Dash! Just keep Money and Mayor Distracted!"
Pinkie zoomed off before Twilight could say anything!
Twilight: "Uggh! Why didn't I put Applejack encharged?!"
Discord's voice: "Cuase then we've woulnd't have a story."
Twilight flew off!
Spike: "Well...... I'm virtually alone..... Now to try once again to make another gem cake."
Spike walked to the kitchen.
At the Kitchen.
Spike is seen with his gems and cooking supplies.
Spike: "I can thank Black Kat for teaching me stronger resistence! So the only time I am gonna eat these gems, is when my cake is done!"
Stefano slithers in, unseen, and grabs the Gems, and slithers away!
Spike: "Now, the first ge-"
Spike screams, discoving his Gems is gone!
Spike: "WHAT THE!?"
Italian singing is heard.
Spike: "Huh?"
Twilight's room.
Spike peeks in, to see Stefano singing as he was stealing valuables and money from Twilight's thrownroom!
Stefano: "Stealing, Stealling, ain't life a treat? Mozzo, rella, Pizza with cheese, TRA-LA-LA-LA-LA?!"
Stefano hums the tune as he turns his attention to Twilight's resting crown.
Stefano: "Oh, that is one spicy a meatball of golden cash! I a'bet this would a'sell a'well in the pawn a'store!"
Stefano grabs the crown, and swallow it!
Stefano: "Thank you, void like stomich to enable me to carry many a loot without'a the stress of holding bags!"
Stefano resumes stealing the valuables!
Spike quietly gasps!
Spike: "A theiving Con-Boa that talks like an italian! I gotta do something!"
Stefano tosses a few things, as he was shoving more valuables and money down his throat!
Stefano then finds a heart shaped jewel.
Stefano: "Oh, this is a real'a charmer! The boss is gonna sing like a canary for you! (Laughs, as he prepares to shallow it)."
Spike: "No! My birthday gift for Rarity!"
Spike barged in!
Spike: "HEY YOU THIEF?! PUT THAT DOWN, AND REGURUTATE ALL OF TWILIGHT'S BELONGINGS, AND I ASSUME MY GEMS!?"
Stefano: "Ha! I'm older then'a you, kiddo. I don't scare easily from a little pipsquick."
Spike: "I'm warning you! Put all Twilight's stuff back, or we're, gonna have problems!"
Stefano only blankly looks at Spike.
Stefano smacks Spike across the room, and into a wastebasket!
Stefano: "Ha! Too a'easy!"
Stefano swallows the heart gem whole!
Spike: "Hey! I meant that to be for Rarity! Get it out of your gut now, creep!"
Stefano: "No! I only answer to anything that's actselly a threat, you stupid kid! Now, I am gonna steal one last thing! Wait...."
Stefano looks at a small idol of a golden Celestia Statue!
Stefano: "Oh! That is one beatiful small relica of The Celestia tribute statue! These A'babies are a'worth a fortune!"
Spike: "Don't! That's Twilight's most prize processon! That was Celestia's birthday gift to her! It would break her heart if that goes missing!"
Stefano looked as if he's relucent.
Stefano: "I'm'a sorry, mi ahiro, but I got'a job to do."
Stefano prepares to swallow the idol!
Spike: (Gasps) NOO!!! (Suddenly, he is magically affected by something, and is taken right to his room where he falls asleep)
Stefano: What the--?!?
Money Feathers: (Comes out and grabs Stefano by the neck, and drags him away)
Later...
Money Feathers: WHAT THE F***, STEFANO?!?
Stefano: I'm-a sorry, I--
Money Feathers: I THOUGHT I TOLD YOU NOT TO GRAB ANY ATTENTION!!! If I hadn't learned spells from Magic University long ago, we would've been busted! Which means OUR DEAL WOULD'VE BEEN RUINED!!! (Stefano gasps) Those are the mistakes we cannot afford to make! They are what nearly got us caught!
Stefano: I'm sorry! God, why are-a you always blaming me for these-a things?!?
Money Feathers: YOU GOT THE ATTENTION OF A BABY DRAGON!!! WHY DID I HAVE TO HIRE YOU TO DO THIS?!?
Stefano: Hey, it's-a not MY fault you're a cheapskate!
Money Feathers: Oh, look who's talking? You're just as greedy for money as I am, and that's why I had to CONSTANTLY BAIL YOU OUT OF PRISON FOR ALL YOUR SCREW-UP!!!...(Takes a deep breath) But I can't blame you too much for it. But I'm warning you right now, Stefano, if there is ONE MORE screw-up from you, our deal is FINISHED!!
Stefano: Sure-a thing, Money Feathers.
Money Feathers: Now, bring me the valuables. (Stefano barfs them out)...Ew!...Now I don't want them anymore.
Stefano: Hey, you-a wanted it, you got it! Don't be a total-a germaphobe now!
Money Feathers: Talk back again, and I'll kill you!
Stefano: Okay!
Money Feathers: Now, go put them somewhere safe while I attend a meeting with Mayor Mare and Twilight. And don't blow your last chance, because if you blow it, we're through!
Stefano: Yes-a, mam!
Money Feathers: And be sure to keep an eye on that baby dragon! He doesn't remember any of your actions or even you in general, but we'll be able to get through the whole party before he figures it out again.
Stefano: Got it! Oh, uh, there was also this an idol I missed and uh-
Money Feathers: "Leave it! Anything impourent to the princess like THAT is bound to get attention!"
Stefano: "Oh, and a crown isn't?"
Money Stefano: "She's royalty. She can always get another one. Honestly, royal people are like trust funders."
Ponyville
Tons'a Fun: (Hides in an alley)...I think I lost her.
Pinkie: Hi! (Tons'a Fun is shocked, and zooms onto the roof of a house)
Tons'a Fun:...Whew! That was close--(Pinkie appears with her)
Pinkie: Hi! (Tons'a Fun then runs into the lake after grabbing a plant stem to breath through, only for Pinkie to appear behind her with a mask and snorkel tube on) (Gurgling) Hi!
Tons'a Fun: (Runs out) HOW DO YOU DO THIS?!? (Hides inside a tree)...
Pinkie: (Appears in the tree) Hi!
Tons'a Fun: SCREEEEEAAAAMMMM!!! (Hides behind Rarity's Boutique)...(Looks around to see that Pinkie is nowhere to be seen)...I just know she's gonna jump out somewhere. (Turns around to see Pinkie)
Pinkie: Hi! (Tons'a tries running, but gives up)...Okay, what's this about with you feeling depressed about your career?
Tons'a Fun:...Okay, you deserve the truth. I don't feel like I've been doing well since I made a certain play where I casted a griffin to play a part he didn't like in the end....
Flashback
(Tons'a Fun): It was my play Come What May, where I had an amazing cast. One of them was a griffin named Bonebreaker. He was a very talented griffin for his age even though I heard he had some tantrums before. I starred him off as a character named Spunk, who I described to be 'one of the funniest characters of the play'. The play went well, and everyone enjoyed it. But...
Bonebreaker: Oh, Beatrice, I think it would be best if we--(Another actor pushed him out of the way)
Actor #1: Beatrice, the ratings of your book are through the roof! I think it's best if we make some sequels!
Bonebreaker: But I just--
Tons'a Fun: (In the back, signals him to zip it)
(Tons'a Fun): I was sure the play was going fine. I also saved the best for last...but it was the worst for Bonebreaker.
Bonebreaker: (The group is singing, but then one of the actors splashes a pie in his face) MMPHH!!!
(Tons'a Fun): When the play was over, I was sure the entire cast would enjoy it. But Bonebreaker said...
Bonebreaker: The butt of all jokes?...You made me THE BUTT OF ALL JOKES?!? AND YOU NEVER F*****G TOLD ME?!?
Tons'a Fun: Bonebreaker, your character's description says that Spunk was one of the play's comic reliefs. "Spunk: A griffin who is a mess in the crowd with jokes. He is smart, but he always gets himself in trouble". Is that a problem?
Bonebreaker: YOU'RE DAMN RIGHT THERE'S A PROBLEM!!! I joined this play to make a career, not to be EMBARRASSED AND MADE A MOCKERY!!! You could've told me I would be the butt of all jokes, and I wouldn't have this problem. You might've even described the character MORE SPECIFICALLY, YOU STUPID FARM ANIMAL!!!
Tons'a Fun: Bonebreaker, that's no way to talk to a celebrity!
Bonebreaker: YOU DON'T DESERVE TO BE A CELEBRITY, YOU HORSE'S ASS!!! You don't go into more detail, you don't care for how someone feels about a role, and you don't take into consideration HOW YOU USE COMEDY!!! I hope you drop dead for this because I QUIT!!! (He storms out of the backstage, leaving Tons'a Fun devastated)
(Tons'a Fun): I never forgot those words he said that day. As my career grew, my spirits shrank. I searched for Bonebreaker all my life to apologize, but I never found him. I've spent the last few years blaming myself for humiliating him in front of an entire audience, and never took his tempers seriously. In fact, Money Feathers has started to become antsy about the few times where it felt like I was threatened, and says that Bonebreaker tried to kill me. I know that he hates me, but I know for sure he would NEVER take the time to kill me.
Present
Tons'a Fun: But each time it happened, my worries just got worse. I became too sensitive about people adoring me so much they do me favors like giving me things for free and getting me to sign an autograph. I don't know about you, but...I don't feel like I can show up to this party tonight.
Pinkie: Oh, is that it? You're upset that you accidentally embarrassed a griffin? I've embarrassed people before, but they didn't seem to mind in the end. Except for this one griffin that I accidentally made lose his feathers, but he didn't seem to say anything and just ran away in anger.
Tons'a Fun: You embarrassed a griffin too?
Pinkie: Yeah, so it's not that big a deal. The past is the past. Just because somepony says you're not perfect, it doesn't mean you can't get over it. Everypony makes mistakes, and they get over them in a few moments.
Tons'a Fun:...You know, Pinkie...you may be right.
Pinkie: Of course I'm right. Now what do you say we get you to that party? Discord had the place all set up for your taste.
Tons'a Fun: The taste of pizza-z! (Rimshot)
Pinkie: (Giggles) Se-seriously, where does that rimshot sound come from?
Tons'a Fun: I don't know, actually. Perhaps the producer might be one of my biggest fans! (Rimshot)
Pinkie: HAH! Cracked me up! (Laughs)
The two walk off.
A mysterious figure watches.
???: "The oppertunity couldn't be MORE perfect. (Chuckles.)"
Mayor's Office.
Twilight: "Mayor, your not actselly considering letting Money Feathers turn my castle into a stage, are you? You know Celestia takes the tagery and dignity of royal castles seriously!"
Mayor Mare: "And I rekindise that, Sparkle! It's just that, Miss Money is very convincing! What better way for Tons'a to preform, then at the castle? I promise nothing impourent will be misplaced or lost."
Twilight: "I don't know.... Such things requires Celestia's permission, and-"
Money Feathers: "Hey, Sparky, kiddo, Celestia doesn't need to know EVERYTHING, now does she? I promise this is a one time only deal while Tons'a studies how to be a simple, uh, Ponyvill-a-mite."
Twilight: "I can never do something without asking Celestia!"
Money Feathers: "Oh come on, it's not like she's your mother, is she?"
Twilight: "Well, true, but I consider her LIKE a mother. And like ANY mother, she would expect me to handle my position respondably!"
Money Feather: "Sparky, I promise this isn't a periment adjustment, it's temporary. It'll be gone as quickly as it comes! Learn to be like Tons'a, and have a sense of fun, huh? Your subjects and your inner circle clearly seem to like her? Why go and disappoint them, Sparky?"
Twilight; "....... First of all, STOP calling me Sparky! Second...... Well, only for as long as Tons'a Fun wants it!"
Money Feathers: "And trust me when I say, she will! The kid is like a hacthling to me! So trusting, so innosent..... (Wispers) Adorably gullable. (Openly) Alchourse she'll love it!"
Mayor Mare: "Thank you Twilight. I promise this will not be regretful!"
Twilight: "... I hope so."
Tree Castle.
Twilight came in.
Twilight: "Spike? Hello? Are you here?"
Twilight notices that her thrownroom door is ajar.
Twilight: "What the?"
Twilight enters, and gasps!
Twilight: "WHAT!? MY ROYAL JEWERLY!? THE ROYAL DONATIONS FOR MY FRIENDSHIP STUDIES?! GONE?! WHO WOULD ROB A PRINCESS!?"
Twilight sees the Celestia Idol.
Twilight: "Oh, thank goodness your ok!"
Twilight grabbed the idol and hugged it like it was a child.
Twilight: "I don't know what would've happened if I lost you."
???: "Ugh, Twilight? Your home?"
Spike entered.
Spike gasped!
Spike: "WHAT THE?! WHAT HAPPENED HERE?! I WAS COOKING MY GEM CAKE, THEN THE NEXT THING I KNOW, I WOKE UP FACE FIRST IN CAKE BATTER?!"
Twilight: "Spike, thank goodness your not seriously hurt.... But I think, somepony robbed us. Someone actselly stolen, from the princess of Equestia! Well, one of them."
Spike: "Who would do tha-"
Spike gets a mingrane, and gets brief visions of Stefano!
Spike: "AGGH!?"
Twilight: "Spike!"
Spike plopped down!
Twilight: "Spike! Spike?!"
Twilight grabbed Spike, concerned for someone like her little brother. She started to cry.
Later.
Rarity: "Twilight! We heard as soon as Discord and Owlisious contacted us! Is Spikey ok?!"
Rainbow Dash: "AND WHO WAS STUPID AND DEATH WISHFUL ENOUGH TO ROB ONE OF MY FRIENDS, AND A BUCKING PRINCESS NO LESS?!"
Applejack: "And if I found out who the dirty snake was, I'll do to him/her, what I am gonna do to this Phonebook!"
Applejack rips it effertlessly!
Fluttershy: "Isn't that abit excessive?"
Pinkie and Tons'a came in!
Pinkie: "Twilight! Say it isn't true! Were you, actselly robbed?!"
Twilight: Yeah! Someone must be CRAZY to steal from a Princess! Plus, I think they did something to Spike! The doctor said he's in a coma, and not even the simplest of magic can wake him up. He must know who the thief is, but I can't find out because he's in a coma! I swear to Celestia, whoever did this, I'm gonna turn him into the ugliest troll I can think of!
Rainbow Dash: That's a much better punishment than Applejack's.
Applejack:...Yeah, I think that's good enough.
Twilight: I don't know how long this coma might last, but I need to know who did this soon. Somepony might be up to something big here.
Tons'a Fun: This is just terrible!
Twilight: Oh, you found Tons'a Fun? That didn't take too long. But girls, we need to find out who's responsible for this, and fast!
Tons'a Fun: But for now, let's just get started with the party.
Twilight: Well, we need someone to keep an eye on Spike.
???: Count me in, Twi! (Discord appears from under the bed) I'll keep an eye on your dragon assistant for you.
Rainbow Dash:...Uh...are you sure we can trust you with him, Discord?
Discord: Oh, (Scoffs), what do you think I am, a child abuser? Remember when I said I would never bring harm to a child? Clearly you underestimate me!
Tons'a Fun: Let's just let him take care of Spike, guys. There's no point in arguing.
Fluttershy: Yeah, she's right, girls. Discord is all we've got.
Rarity: (Sighs) Very well, Fluttershy! We shall let him watch over Spike.
Discord: I assure you, you won't be disappointed. (The girls leave)...(Chuckles, and magically looks into Spike's head to see Spike on a date with Rarity, and laughs) Oh, you're a mean one, Mr. Discord! (Laughs) Let's see what other juicy things he has on his mind...(Laughs) He screwed his petsitting biz!...(Laughs) He was jealous of Twilight's owl!...(Laughs harder) HE HAS A CRUSH ON RARITY!!! THAT ALWAYS CRACKS ME UP WHEN I THINK ABOUT IT! (Laughs)
Castle Stage
Construction Ponies are seen converting most of the Main Lobby into a stage!
Rainbow Dash: "What the?! Twilight, who are these guys?"
Twilight: "..... Money Feathers convinced me to allow her to turn the castle into a stage, for Tons'a."
Rarity: "This is temorary, right?"
Twilight: "Money said so."
Money Feathers appeared.
Money Feathers: "Sparky, baby, how ya been? How do do you like the stage?"
Twilight: "......."
Money Feathers: ".... Something wrong, Sparky?"
Rarity: "Well, if you MUST know, Spikey-Wikey's in a coma!"
Money Feathers made a surprised face!
Money Feathers: "A c-ka-ka-ka-ka-ka, (KAW), Coma?"
Applejack: "They're like an extended sleep, only it ain't sure you can wake from it. We also found out that Twilight was robbed! What kind of backstabbing, ungratful, treacherious, filthy rattle snake that would steal from a Princess?!"
Money Feathers started to sweat!
Rainbow Dash saw this, and grew incrisingly suspicious.
Rainbow Dash: "Why so sweaty, MF?"
Money Feathers: "Duh, who's sweaty? I'm not sweaty!? Uh, MAKE UP ARTEST!? WHERE'S TONS'A'S MAKEUP ARTEST!?"
Money Feathers zoomed!
Tons'a Fun: "Guys, why did you suspected Money Feathers like that! She's like family to me, and one of my only true friends."
Twilight: "Tons'a, I don't wanna sound unwelcoming and accusing, but, have you ever heard of ponies being robbed when you visited cities and towns."
Tons'a Fun: "Well, I, have, but, don't those things happen alot? Just because they started to raise up whenever I visit, doesn't mean it has to do with Money Feathers!"
Applejack: "Do you even know what her life was like before she met you?"
Tons'a Fun: "Well, Drive Heart once said Money used to be a poor Harpy. He might know. But Drive always said mean things like Money being a con artist and something about an italian flying green boa. But I know Drivey is just being a silly goose!"
Rainbow Dash: "So, your ignoring your driver guy, about what he may know about Money Feathers? And your not at all suspicious on the fact she TRIED to bribe Twilight earlier?"
Tons'a Fun: "Oh, she does that ALOT with alot of Athority figures. Police, Guards, Polictions, even Princess Cadence when we visited the cristail empire. But don't worry, she's just being a silly goose, and a very persaysive maniger."
Money's voice: "Tons'a darling, your make-up artist Lips-Sticker is waiting for you!"
Tons'a Fun: "Well, Money calls!"
Tons'a innosently hops torwords Money and a Make-up pony.
Applejack: ".... I don't think Tons'a realises she may have a bad apple in the acre."
Fluttershy: "The poor dear's deludional of what Money may really be."
Pinkie: "She wanted a friend who sees her as she is...."
Rarity: "The poor darling is seeing it on the wrong person."
Twilight: "..... Girls, we need to find Drive Heart!"
Outside.
Drive Heart is seen sighing.
Drive Heart: "Oh, Tons'a.... Why aren't you listening to me about that Harpy?'
Drive Heart looks at a photo of her and Tons'a as foals.
Drive Heart's Carrage partner, a female Earth Pony, came up to him.
Female Pony: "Drive Heart, you sad Unicorn. You still haven't told Tons'a your true feelings for her?"
Drive Heart: "How can I when that monster Harpy will turn a decent romance into a popblisity stunt, Cerry Carrage? To protact my love, I have to pretend to be, disinterested in her funny nature.... Why does she still keep that, birdy bitch?"
Cerry: "..... Aside from us, she doesn't have alot of friends that cared for her, as who she is on the inside, not cause of her career and talent. Money is also.... Convincing that she cares for Tons'a, outside of being someone who attacts money."
Drive Heart: "Outside of you, I don't know if I'll ever get anyone to listen."
Twilight: (Appears with the others) Drive Heart? Can we talk? (Drive Heart quickly hides the picture)
Drive Heart: Princess Twilight?!? Uh...what is it?
Applejack: We understand that you might think that Money Feathers might not be the most honest harpy to Tons'a.
Drive Heart: You...you do?
Applejack: Oh, of course! Some valuables of Twilight's have been stolen recently. Her assistant, Spike, is also in a coma. You got any ideas on who this might be?
Drive Heart: (Sighs) Finally, someone else understands me!
Twilight: Would you mind telling us what you know about her?
Drive Heart: Well, I don't know much, but I have heard rumors that she does dealings with this Italian flying snake with wings named Stefano. If you might've guessed by now, she's a cheapskate. But not just that, but she is said to have gotten the money she got by stealing it.
Rarity: Oh, dear!
Drive Heart: Unfortunately, I have no proof that she's like that. She doesn't say where she stashes her money, but all I know is she's rich. Tons'a Fun is among the few who doesn't listen, or even believe me.
Twilight: Has there been any thefts of valuables wherever you go?
Drive Heart: A few. But in each one, the thief gets away, leaving no traces of evidence behind.
Twilight: Well...I think we've got all we need. Thank you, Mr. Drive Heart.
Drive Heart: It's my pleasure. (The group leaves)
Twilight: Well, girls, we're still gonna need to have this performance for Tons'a Fun, but some of us have to stand guard for any other thieves coming to the Castle.
Rainbow Dash: You got it, Twilight! No thief will be safe from us.
Applejack: Yer' darn-tootin' they won't. Especially how my legs will knock them all the way to Kingdom Come!
Rarity: I sure hope my self-defense skills pay off with protecting the Castle.
Fluttershy: I hope there's still some assertiveness left in me somewhere.
Pinkie: I'll make a cake out of them. (Takes out a cake)
Twilight: Great. I'm glad for all of us. Now let's go. (They go inside the Castle)
Bedroom
Discord: (Still looking in Spike's mind and laughing) This is just too rich! (Laughs) He wet his bed over 57 times while dreaming of Rarity! (Laughs) I-I can't breathe! I can't breathe! (Laughs until Twilight and the others enter)
Twilight: Uh, Discord? What're you doing?
Discord:...I, uh, Spike's still okay.
Rainbow Dash: You weren't violating his private thoughts, were you?
Discord: Wha--?!? Of course not! When have I ever done such a thing?
Applejack: Well, you looked into our friendship journal without asking, that's something.
Twilight: Not to mention you were looking in my childhood diary once.
Discord:...How did you know that?
Twilight: You left a tuft of your tail hairs on it.
Discord: (Chuckles) Well, I...I just...(Everyone looks at him sternly)...Alright, fine, yes I was! But I was still watching him like I said.
Rarity: Well, I don't even know what to say after overhearing you saying that Spike wet his bed 57 times dreaming of me. You are just a jerk!
Discord: Well, at least I'm not a TRUE jerk! But your precious 'boyfriend' is still okay. So go ahead and do your thing, and let me keep doing your favor. (Snaps)
Rainbow Dash: Now--(They are all teleported away)
Discord: (Sighs) Wow, I thought they'd NEVER leave! (Looks into Twilight's photo album)...(Laughs) Twilight sure had a mess with her meals at an age like that! (Laughs)
Castle Stage
Tons'a was very sytilised.
Lips Sticker: "Oh-la-la, Miss Tons, you are more dress up then a Coltina doll!"
Tons'a Fun: "Funny, I was offered a role to play one for this movie about a sentient Coltina doll own by this Asiantic Unicorn. At least I won't have to worry about rescearhing THAT role sometime soon."
Money Feathers: "Tons'a, you are marvelious today! How did you enjoy your tour?"
Tons'a Fun: "Oh, it was great, but..... I feel awful we're still holding a stage here even when Twilight got robbed. Shouldn't we just, move it somewhere else?"
Money Feathers: "Darling, nothing says impourence like a royal castle! Besides, I'm sure it's just, a freak accsident. Try not to, concern yourself with it."
Rainbow Dash: (Discord's spell teleports her and the others there) ...you hold on, we're not done with--(Sees they're somewhere else)...you...(Sighs) Darn!
Twilight: There's no need to scold him, girls. We have a job to do, remember?
Rarity: Yes. But I'm just wishing right now that I didn't know of Spike wetting his bed when he dreams about me. Just disturbing.
Twilight: I wish I could erase your mind of that, too.
Pinkie: Ooh, there's Tons'a! Wow, she looks nice.
Rarity: Oh, my, that's just stunning. She even used clothes of my design. I never knew it would look so good on a comedian. I mean, damn!
Tons'a Fun: Well, thanks for the compliment, girls. Is your dragon friend okay?
Twilight: He's fine. We left Discord in charge of watching over him.
Fluttershy: I wasn't that bit surprised that he was violating Spike's privacy by reading his mind. He seriously needs to find an alternative way to amuse himself.
Tons'a Fun: You mean like that? (Points a the banner, and it says 'Pinkie is Jelly' again)
Twilight: (Shrugs and face-hooves herself) Discord, really?!? (The banner goes back to normal)
Pinkie: How long has that banner been like that?
Tons'a Fun: Since you went out.
Rarity: Pardon me, but what does 'jelly' mean?
Tons'a Fun: It's his abbreviation for 'jealous'.
Rainbow Dash: OH, COME ON, HE HAD TO SAY SOMETHING LIKE THAT?!?
Tons'a Fun: Pinkie's not jealous of me. I'm sure she has that behind her already. Right, Pinkie?
Pinkie: You bet!
Tons'a Fun: "So, what brings you back?"
Money Feathers: "Tons'a darling, 5 minutes until the biggest show ever! I have already began to sell tickets! 700 Bits is a good price, yes?"
Tons'a: ".... Isn't that a bit pricey to a rural place like Ponyville?"
Money Feathers: Maybe, but it's still selling. Ponies don't seem to mind that much. (The ponies are seen in a short line)...Okay, we need a lot more guests....(Changes the price to 200) Much better!
Applejack: I'm not sure 200 would work either--(Ponies come into the line out of nowhere, making the line longer)...Wow, that was quick.
Money Feathers: Check and mate! So, you girls willing to watch them perform? If so, all of you except Twilight have to pay the toll.
Rarity: Pardon me?
Rainbow Dash: FYI, this is OUR castle. We have homes, but we do spend time here when we need it.
Money Feathers: Rules are rules, lady. No money, no show!
Twilight: How about I pay you all the money I have for them?
Money Feathers: That depends, how much money are we talking about?
Twilight: 300 bits.
Money Feathers: REALLY?!?
Twilight: I get a few donation gifts from the folks every once in a while, so I don't mind running out.
Money Feathers: Now THAT'S a deal, Princess! (Takes the money) You girls are clear to see the show.
Pinkie: YAY!!!
Rainbow Dash: Thanks for that, Twilight.
Twilight: Don't mention it.
Applejack: How long until this show starts, Tons'a?
Tons'a Fun: 30 minutes.
Pinkie: Oh, that's not too long.
Twilight: Girls, let's still remember to keep an eye out for any thieves, so we need to stay in the show for half the time...How long will the show be?
Tons'a Fun: An hour.
Twilight: 30 minutes. (The group agrees) Well, let's get started. See you soon, Tons'a!
Tons'a Fun: Cool beans. (Leaves)...You wouldn't happen to know of the theft of some valuables, would you, Money Feathers?
Money Feathers: Oh, I know, but I'm positive I don't know who did it. Just go get ready.
Tons'a Fun: Okay, then. (Leaves as Money Feathers leaves, and an unknown figure is seen silhouetted out the window, and disappears)
Later...
Twilight: "Ok, the show is coming soon, so at least three of us need to be on watch! Fluttershy, Rarity, your with me, Rainbow, Pinkie, you two and Applejack will go on theif patrol and keep an eye out for anything suspicious."
Applejack: "You can count on us, sugercube."
The Three split.
Chapter 3: Bonebreaker's Revenge
Ponyville.
Applejack: "Girls, I'll take one side, Rainbow's sky patrol, Pinkie, you go another way!"
The trio split up.
Pinkie: "Ok, it's time to take extreme measures! (Turns into A detecive) PINKIE PIE SYTILE!" (She goes into a dark alley where she is seen by the griffin silhouette)
Bonebreaker: Yes! The perfect place to be isolated. That pony could be of use to me. She'll not only give me the key to killing Tons'a Fun, but I'll even get her life ruined in the process for humiliating me! (Chuckles as he flew down into the alley)
Pinkie: (Whistles and jumps and then the silhouette's shadow appears behind her)...Oh, hello there. Who are you? (The silhouette is confused, and he shows himself as a griffin with dark and light brown feathers and dark-orange talons and a beak)...Oh, you're a griffin. I--...Hey, haven't I seen you before?
Griffin: I doubt it, Ms. Pinkie Pie. I'm new in town, and I have heard about your reputation as an entertainer being spectacular.
Pinkie: Hmm, thanks for the compliment, Mr. Familiar-Looking Griffin.
Griffin: Please, my name is Bonebreaker.
Pinkie: Wait a minute, Bonebreaker? The griffin that scolded Tons'a Fun for embarrassing him in a play?
Bonebreaker: Afraid so. But don't judge me for the past. When you age, qualities tend to change. I'm a changed bird now.
Pinkie: You're a griffin!
Bonebreaker: IT WAS FIGURATIVE, YOU LITTLE--...Pardon me, your mind seems to play tricks on you once in a while.
Pinkie:...Well, what do you want with me?
Bonebreaker: I came to Ponyville because I heard Tons'a Fun was visiting. I wanted to say I was sorry, but I can't seem to find her anywhere.
Pinkie: Well, why didn't you say so? She's at the Castle. I'll go tell her--
Bonebreaker: NO!...Uh, I mean, it's best if I wait until I do the deed. I just got here, and I feel like I need a breather. Flying to a place gets you feeling tired and wore out.
Pinkie: Why not rest on some clouds? That's what my friend, Rainbow Dash, would do when she gets tired.
Bonebreaker: I don't trust those things that much. Too much fluff, and are too comfortable. I usually fall asleep the minute I rest on them. I mean, DAMN, pegasi must be good sleepers with that kind of comfort.
Pinkie: Oh, they ARE comfortable. My friend, Twilight, cast a spell on me that would allow me to walk on clouds, and MAN, are they soft.
Bonebreaker: Let's not get off the subject, shall we? I found out throughout the years that Tons'a Fun was feeling down after that play. And judging by how you recognized me, I can assume she told you.
Pinkie: Yeah. In fact, she also says that her associates said that you tried to kill her.
Bonebreaker: WHAT?!? (Scoffs) What exactly were they smoking to say THAT?!?...Ahem, I mean, you should know that that's not exactly true.
Pinkie: Well, she sounded pretty serious to me.
Bonebreaker: I assure you, Ms. Pie, I never tried to do such a thing.
Pinkie: Then... Then do you think she's hiding something deeper?
Bonebreaker: That's probably the case, yes.
Pinkie: Hmm...
Suddenly, the episode is paused.
Discord is seen on a chear watching it on DVD.
Discord: "Now I know what your thinking. Is Pinkie REALLY gonna trust a questionable stranger and obvious lier with a name like "Bonebreaker?".... Sadly, we don't get plots for being smart about these things, and we need SOMETHING to prevent this episode from being too short, cause a con artist Harpy and a morally unsure flying boa would be done and out in a snap. Also, it's Pinkie Pie. We all know how overly trusting she is. So, I am asking you people to bear it with us. The ensuing comedy will be worth it in the end. Now back to the show. Oh and, by the way, the lougers will get here soon enough. It's just gonna be like "Project Nosferatu", it's going to be awhile."
Discord presses a button, and the episode resumes.
Pinkie: "..... Ok, but only as long as YOU don't try anything mean! I always make sure bullies get their just deserts! So if you hurt Tons'a, I'll make you regret it!"
Bonebreaker: "Kid, you got my word that I won't be up to anything!"
Pinkie: "(Still Not completely trusting) Okie Dookie Loki."
Pinkie walked off.
Bonebreaker: "(Wispers) Sucker....."
Chapter 4: Things Get Flat...Literally
1 minute before the show.
Pinkie, Rainbow, and Applejack returned.
Twilight: "Anything yet?"
Applejack: "So far, nothing."
Twilight: "Then it's time to change positions. My team will take up patrols. You watch over Tons'a. Seek me out if you see Money up to anything."
The two proceed to do such, as Bonebreaker hiddenly sneaks in the castle.
Inside, near seconds before the show.
Applejack: "I'll secure the Throweroom, Rainbow, You watch from the balcony, Pinkie, you keep Tons'a safe."
Pinkie saluted, and bounce off.
Backstage.
Tons'a was walking back and forth, anxious for the show.
Pinkie showed up.
Pinkie: "Hey Tons'a, there's something I need to tell you."
Tons'a Fun: "Can it wait Pinks? It's almost time?"
Money's voice: "Ladies and Gentle-horses, who's money is un-refundable! I give you....... TONS'A FUN!?"
Audience cheer!
Tons'a Fun: "I'll talk later!" (She leaves)
Bonebreaker: (In the shadows) Whew! (Leaves)
Tons'a appeared before a cheering audience!
Tons'a Fun: "HEY THERE HI THERE HO THERE, PONIES OF PONYVILLE!? Hey, anyone who visited manehatten once?"
Pinkie watched on as Tons'a was doing her rontine.
Unbe-knowned to her, Bonebreaker was pushing a safe on top of the stage!
Bonebreaker: "I got you this time, Tons'a! Not even cartoon physics can help now!"
Pinkie's pinkie sense starts twitching!
Pinkie: "(Gasp), Twitch a-twich-a-twitch! Pinkie Sense!"
Pinkie looks up to see Bonebreaker about to drop a safe on Tons'a!
Pinkie: Uh...what is he doing?...Oh, he must be adding to the comedy. (She sees as he puts the safe directly over her)...Okay, I'm starting to feel uneasy with his...Oh, no! (She climbs up a ladder to try and stop Bonebreaker, but he already pushed the safe) No!!
Tons'a Fun: (Her tail twitches, and she laughs a bit) Whoa, I think my fun sense is tingling! I mean, goodness, I'm sure it would make Spider-Mare's Spider Sense look like a brain tumor! (Rimshot, and everyone laughs until she walks out of the safe's way as it crashes, causing everyone to gasp) Whoa! Who was handling that, a drunk burglar? Even non-drunk criminals sucked worse than that! (Everyone laughs as Money Feathers gulped)
Rainbow Dash: "Whoa! I need to get Applejack!"
Rainbow Dash zoomed off!
Pinkie sighed in relief.
Pinkie: "She must have a sense simular to Pinkie Sense."
Pinkie looks up angerly, and resumes climbing.
Bonebreaker: "Damn it! Good thing I have Plan G! I-" (Pinkie pounced on Bonebreaker)
Pinkie: Bonebreaker, what're you doing?!? You Pinkie Promised you wouldn't hurt Tons'a!
Bonebreaker: Look, all I was doing was adding to the comedy. I mean, the ponies don't seem to be suspicious, do they? (Pinkie looks down to see the ponies laughing) I knew she would sense it, and jump out of the way, so I'm not doing any real harm.
Pinkie: I don't know, Bonebreaker! I think you're trying to double-cross me.
Bonebreaker: Uh, LOOK, SOMETHING SHINY!!
Pinkie: WHERE?!?
Bonebreaker: It went outside!
Pinkie: (Zooms off)
Bonebreaker: Sucker! (Gets a sniper rifle out, and aims it directly at a spotlight) Let's see you scurry out of THIS, Fun-breath! (He shoots the spotlight, breaking it, and causing it to fall where Tons'a is standing, and her fun sense warns her, and she moves out of the way just in time)
Tons'a Fun: Geez! Twilight must've made the stage out of magic! I mean, what a way to shed a little 'light' on the subject! (Rimshot, and everyone laughs)
Bonebreaker: (Shrugs) Okay, fuck trying to keep my cover, I am going Lee Harvey Oswald on her head! (Aims the sniper at Tons'a's head, but then, the platform falls apart, and he falls straight onto the stage as his gun stumbles out of pure sight)
Tons'a Fun: What the--?...(Sees Bonebreaker's face, and at that moment, she sighed, decided to make the most of it, and brings out a carrot, and eats it)
Tons'a Fun: (Bugs Bunny impression) Nyah, what's up, Bonebreaker? How's prison and/or the Badlands treatin' ya?
Money Feathers: This is not part of the script!
Bonebreaker: Uh... (Looks at the audience, and notices the gun is out of sight)...Well, I wanna say that I came here to find you. You see...I feel bad for what I said about you years ago. All I said was out of anger, and weren't true.
Tons'a Fun: Really? You came all the way here just to say you were sorry? Wow, talk about a grand entrance! (Rimshot, and everyone laughs)
Bonebreaker: (Chuckles frustrated, and keeps his cool) You see, I had been going into counseling a few years after I scolded you, and now I see that I was wrong. (He sees the platforms above are about to crash onto Tons'a) Can you ever forgive me?
Tons'a Fun:... Does a pony wear clothes for fashion or beauty? Of course I can! (Both hug as the audience went 'Awww')
Bonebreaker: Well, what do you say we go to the restaurant tomorrow and talk about it?
Tons'a Fun: You know it, feathers! (Everyone laughs, and Bonebreaker barely keeps him his anger, and leaves)...(Tons'a's Fun sense kicks in, and she moves out of the way of the falling platform) Wow, whoever built this stage must have been 'dropped' as a filly! (Rimshot, and everyone laughs, and Bonebreaker shrugs, and quickly retrieves his gun to hide it)
Bonebreaker: I'll get you next time, Tons'a! Next time!
Opalescence: (Appears meowing)
Bonebreaker: WOULD YOU GET OUT OF HERE?!?
Pinkie: (Has seen everything on the stage)...Wow! I guess he wasn't doing any harm after all. Thank Celestia for that!
Rainbow Dash: (She and Applejack appear) Pinkie, where have you been? Somepony tried to drop a safe on Tons'a Fun!
Pinkie: Oh, it's nothing serious. You know Bonebreaker?
Rainbow Dash: Yeah?
Pinkie: He dropped it to add onto the comedy.
Applejack:... You seriously thought that?
Pinkie: It's true! You might've missed him apologizing to Tons'a! Everything is all fine.
Applejack:... There's something rotten in the Alamo!
Rainbow Dash: I agree, something's not right here. I mean, seriously. Why trust someone named "Bonebreaker"?
Pinkie: "Aw come on guys, he's not bad at all."
Applejack: "Well I ain't trusting him. Adding a real safe to a comedy act is too suspicious to me, and I advise you to be on yer toes, Pinkie. If you put too much trust on soneone who may be a lowdown villain, you'll later regret it."
Pinkie: "Guys, I pinkie promise he isn't up to trouble!"
Rainbow Dash: "We're just being careful, Pinkie. As ahutentic a comedic use of a safe is, I just don't think it's a good idea to trust him."
Pinkie: "Ok, fine! Don't trust him! But when you find out he's as harmless as Fluttershy, you'll be sorry!"
Later into the act.
Tons'a Fun: "Ok folks, for the final act of the show, I will do the famous "Flying seasaw trick", as seen in the film "Up Up and In your face", and it's less successful sequils and half-ok TV series. I stand in one spot of it, and a heavy object launghes me up!"
Bonebreaker was seen pushing an anvil, right where Tons'a is.
Bonebreaker: "I got you now, bitch!"
Bonebreaker pushes it off, but then, Tons'a suddenly stepped off to speak more, then the Anvil crashes on the seasaw!
Tons'a Fun: "Whoa! Well, so much for that act."
Bonebreaker growls angerly!
Tons'a Fun: "Well, so much for that, I guess."
Bonebreaker: "Ya know what? Screw it!?"
Bonebreaker brings out the sniper rilfe, and finally intents to finish it!
???: "I KNEW IT?!"
Rainbow Dash bucks Bonebreaker in the face, causing him to drop the rilfe, which Rainbow destroys!
Bonebreaker started to trip, and fell down!
Bonebreaker crashed into the stage again!
Rainbow Dash came down with the broken rilfe.
Rainbow Dash: "Tons'a, that dirty Griffin was lying! He's REALLY was trying to kill you!"
Ponies gasped!
Tons'a sighed.
Tons'a Fun: "I knew it. Someone like Bonebreaker can never be forgiving."
Bonebreaker got up, and smacked Rainbow away angerly!
Bonebreaker: "OK, FINE!? YOU RETARDED PONIES CAUGHT ME!? I AM STILL PISSED AT YOU AND I STILL WANT TO KILL YOU, TONS'A, FOR MAKING ME LOOK LIKE AN IDIOT?!"
Pinkie was in shocked, as Applejack stared at her in disappointment.
Applejack: "Harmless as Fluttershy, huh?"
Bonebreaker: "But now this badlands assassin will finally get my blood-soaked justice!"
Bonebreaker bore his talons!
Tons'a spinned around and don Riot Gear and a chear!
Tons'a Fun: "Back Bonebreaker back!"
Bonebreaker tried to swipe, but Applejack roped him!
Applejack: "You ain't harming celebries on my watch!"
Pinkie grabs Tons'a and makes a run for it!
Bonebreaker breaks free of the robe and smacks Applejack down!
Tons'a and Pinkie already long escaped as Ponies began to scatter!
Bonebreaker let out an angered roar!?
Chapter 5: Realizing Her Mistake
Ponyville.
Pinkie and Tons'a are running!
Pinkie: "Tons'a, it was my fault! I thought he wanted to forgive you!"
Tons'a Fun: "It's ok Pinkie! I can't be mad at you for being a silly goose! Bonebreaker's a meanie trickster! But I never fell for it even once! I may not be smart, but I am not an idiot! I dealt with acters who pretend to be guys like Bonebreaker! I learned to rekindise the signs of lying, espeically when he looked mad about being laughed at!"
Pinkie: "I was a stupid pony! I should've known better then to trust a Griffin named Bonebreaker! In fact.... He really looked like that Griffin I ended up..... Wait A minute...... HE WAS THE GRIFFIN I ENDED UP EMBARRISING!? I knew I rekindised him from somewhere!"
Tons'a Fun: "Ah-ha moments are great, but we seriously need to-"
Bonebreaker landed and interpected them!
Bonebreaker: "Alright Pinkie! As you may've guess! Yes, I am the griffin who's pride you destroyed for your retardedness!"
Pinkie: "I can't believe you lied to me, and broke a Pinkie promise!"
Bonebreaker: "Oh, seriously? You trusted someone who was a Griffin named Bonebreaker? I can clearly see your incredably stupid! All ponies are stupid!"
Tons'a Fun: "No we're not! Your just too mean and bad temptered to understand accsidents."
Bonebreaker donned his Talons again!
Tons'a Fun: "Go Pinkie, go get your friends, I'll keep Bonebreaker distracted!"
Pinkie: "Tons'a, don't!"
Tons'a Fun: "Relax, Pinkie! I wouldn't be here if I didn't know how to deal with meanies!"
Tons'a spat out her tongue repeatedly, and went MEEP MEEP!
Tons'a zoomed out!
Bonebreaker: "COME BACK HERE, YOU!?"
Bonebreaker charged after her!
Pinkie didn't know what to do. She had no choice but to look for Twilight's group, and do so she does!
Tons'a Fun: (Goes into an alley)... Whew! That was close- (Bonebreaker grabs her from out of the shadows)
Bonebreaker: You think your pony friend there will help? Well, I've got plans for her. She's not gonna be helping you out in the least, for I'll see to it that her fame as the funniest pony in Ponyville is destroyed!
Tons'a Fun: How are you gonna do that?
Bonebreaker: Easy! I'll tell everyone that she hired me to kill you! Especially since it was hinted that she was jealous of you at times!
Tons'a Fun: She is NOT jealous of me!
Bonebreaker: Maybe not, but I've already done what I can to ruin her reputation. I planted photos of us making our 'Pinkie Promise' to the press, and within moments, everyone will hate Pinkie! She will be banished from Ponyville, and even though her friends might not be fooled by it, I'll be turning everypony else against Pinkie in a matter of hours!
Tons'a Fun: Bonebreaker, why go after this pony? Surely her accident on you wasn't as bad as mine!
Bonebreaker: Speak for yourself, douche! She did far worse than you did!
Flashback
(Bonebreaker): At the time, I was attending flight school as one of the many replacement jobs after your humiliation of me! I was helping clean off some clouds, and the job was actually going better than I expected. Until...
Bonebreaker: (A loud pop sound is heard, scaring Bonebreaker to lose his balance) What the--WHOAH! WAAAOOOWWW!!!
Pinkie: (Had popped a balloon) Oops.
Bonebreaker: AAAAARRRRRRGGGGGHHHHHHHH!!! (Flies right into a storm cloud, which electrocutes him with lightning) AAAAOOOOWWWWWCCCCHHHH!!! (Falls to the ground)
Pinkie: Ouch! (Runs up to him) I'm sorry for that loud pop, sir, are you okay?
Bonebreaker: I'm fine, thank--(Pinkie accidentally steps on his talon) OWWWW!!! YOU CLUMSY BRAT, WHY DON'T YOU WATCH WHERE YOU STE--WHOAH!!! (Falls into a dinner table where a couple are sitting)
Pony Female: (Shrieks as she smacks Bonebreaker with a purse)
Bonebreaker: OUCH!
Pinkie: My mistake! I'll help you!
Bonebreaker: NO! You've helped me out enough! Get away from me- (Hot coffee is spilled onto his lap) AAAAAAAAAAAAAARRRRRRRGGGGGGHHHHHHHH!!! AAAAAAAAHHHHHHHH!!! (Falls straight into a boiling cauldron, and pops out with all his feathers gone) AAARRRRRRGGGGGHHHHHH!!! HELP ME, I'M ON FIRE!!! (Pinkie pours water on him, and his naked body is seen, causing all the ponies to laugh at him)
Pinkie: Oopsie! My bad!
Bonebreaker: (Gets furious and runs off pushing away ponies)... I will make you PAY for this, you pink deranged maniac! I WILL MAKE YOU PAY FOR THIS!!!
Present
Bonebreaker: I'm glad YOU never did such a thing to me. At least your actions didn't hurt. HER'S did! I'm still going out of my way to ruin her life for that one tragic day! I even got kicked out of the flight school for losing my feathers, which it took me 2 WHOLE GODDAMN YEARS TO GROW BACK!!! I want her banished from this place, and I won't let ANYONE get in my way! (Scratches her, and she falls down seemingly dead as Bonebreaker flies away thinking her to be dead)...
Tons'a Fun:...(Appears to be okay, but her wound leaves it difficult for her to walk)... I gotta go find Pinkie! (She gently jogs off)
Sugarcube Corner
Pinkie: (She and the others arrive at the place) Whew! I need to find the others!
???: What're YOU doing here? (Mr. and Mrs. Cakes appear angry)
Pinkie: Mr. and Mrs. Cakes! Thank Celestia, I need to find my friends and FAST! Have you seen them?
Mr. Cakes: No! But we DID see THIS! (Shows her a newspaper with photos of Pinkie and Bonebreaker, the headline saying 'Jealous Pinkie Pie Hires Assassin To Kill Tons'a Fun')
Pinkie: (Gasps) WHERE DID THAT COME FROM?!?
Mrs. Cakes: It was delivered a minute ago. I thought we could trust you, Pinkie! You were better than that!
Pinkie: You can't possibly believe those lies!
Mr. Cakes: Well, we were taken back by THIS picture! (Flips the newspaper page over to show a picture of Pinkie watching the show while Bonebreaker was trying to squish Tons'a with the safe)
Pinkie: WHAT?!?
Mrs. Cakes: You have left us no choice, Pinkie! You're fired!
Pinkie:... Fired?!? (The two kick her out of Sugarcube Corner, and she faces an angry mob of ponies)... What are you guys doing?
Pony #1: WE TRUSTED YOU, AND YOU HIRE AN ASSASSIN TO KILL TONS'A FUN?!? YOU SHOULD BE ASHAMED OF YOURSELF!!! (Pinkie runs off as the angry mob chases her, and she manages to hide in the Castle)
Pinkie: (Pants heavily, and her puffy hair goes straight, and she falls down crying)
Twilight: (She and the others appear) Pinkie? Oh, thank goodness you're safe! Where's Tons'a?
Pinkie: She sent me to get help! Bonebreaker's after her!
Rainbow Dash: Well, what're we waiting for? Let's go get him!
Twilight: Uh, Pinkie? Why is there an angry mob at my door?
Pinkie: Bonebreaker's turned the whole town against me! He spread lies about me hiring him to kill Tons'a Fun out of jealousy! Now...I'M FIRED FROM SUGARCUBE CORNER! (Softly cries)
Applejack: Alright, that does it! That griffin's gone too far. NOPONY blackmails my friend like that!
Pony #2: (Bangs on the door) OPEN UP! WE KNOW YOU'RE IN THERE!!! MAYOR MARE IS ORDERING YOU TO HAND OVER PINKIE AT ONCE!!!
Rainbow Dash: Uh... SHE'S NOT HERE!
Pony #3: WE CAN SEE YOU OUT THE WINDOW! (Some pegasi are seen looking through the windows)
Rainbow Dash: Dammit, worth a shot!
Mayor Mare: (Her voice is heard outside) Open up this door immediately, Princess Twilight! I don't wanna have to report you to Princess Celestia, because I WILL!
Pony #1: YES, WE HAVE PHONES, AND WE'RE NOT AFRAID TO USE- (Suddenly a magic flash is seen out the window. When the ponies look outside, they see that the entire angry mob is magically frozen in place)
Discord: (Teleports behind them, dressed as a cowboy) None of that civil disobedience in THIS town, thank you very much!
Rarity: Discord? I thought you were supposed to be watching over Spike!
Applejack: Is he still in the coma?
Discord: Yes, but I have a clone watching over him.
Twilight's Bedroom
Discord: (Looking through the photo album, and laughs) Spike looks like he was just born in that picture! (He is looking at a photo of Spike covered in pizza sauce and cheese)
Castle Living Room
Discord: He'll still be fine, and I'm sure he'll know who's been robbing your valuables.
Twilight: Well, we have a more serious problem!
Discord: Oh, I know. A murderous griffin is trying to get revenge on Pinkie and Tons'a Fun for being bad examples on him. Now the whole town is against Pinkie, and Bonebreaker's about to kill Tons'a!
Pinkie: Hey, you're pretty good at that!
Discord: I know! He even thought he actselly did it! But she's still alive and well! But we have to bring her here to clear this mess up!
Twilight: "I'll do it! The rest of you, keep Pinkie safe! Discord, inform Celestia what is going on!"
Discord: "I'll be as quick as a flash!"
Discord poof!
Ponyville.
Tons'a was barely able to limp.
Money Feathers appeared!
Money: "TONS'A! Your hurt! We need to get you to the ponyville hospital!"
Tons'a Fun: "No! I need to help Pinkie! Bonebreaker tricked the town into being mean to her!"
Money Feathers: "No surprise, considering he's a lier, but she can't be helped, Tons'a! At least Bonebreaker thinks your dead! It's better if he still thinks that way! Let him have that pink retard, and he'll leave us alone!"
Tons'a Fun: "Auntie, Bonebreaker's not a dummy! He'll figure out I'm alive! He'll never leave us alone until I am able to defeat him for good!"
Money Feathers: "How can you expect to beat a Banlands Assassin?! Look what he did to you!?"
Tons'a Fun: "I have this friend that'll heal me. I am not gonna let Bonebreaker hurt Pinkie and her life, just because he's too, mean to understand that accsidents happen. Bonebreaker was my mistake, my bad acting preformice, and, I must make amends...."
Money Feathers gave Tons'a a mean look.
Money Feathers: "Then don't expect me to be around to clean you up when he kills you for real...."
Tons'a Fun: "..... Auntie?"
Money Feathers: "Stop it with the auntie crap! If you won't lsiten to me, fine! Throw your life away! I had already conned enough money and valuables with Stefano that I'll be set for life! I don't need you anymore!"
Tons'a Fun: "(Tears become present).... So, Drive Heart was right...... You are a con artist!"
Money Feathers: ".... I'm sorry you had to find out like this. I did actselly cared for you outside of just the fact you attracted money. I saw you like a hatchling to me.... But not like someone actselly related to me that I would risk dying at the hands of a Badlander Assassin, for the honor of a local retard.... Not even for someone like you, Tons'a.... I'm sorry..... But A old con Harpy like me is a weak nothing to Bonebreaker. He'll destroy me in minutes! My magic I learned from Magic Universeity is imperfect and broken, in light that I was a drop out, for stealing too much! I ended putting a baby dragon in a coma with a ansisa spell when Stefano got caught! I am gonna collect all my treasures and prizes, and leave with Stefano with my life! But.... I'll be kind enough to pay for your funeral, as your maniger for the last time. I'll promise you a televised funeral..... You were the greatest thing to ever happen to me.... But your not worth death."
Money Feathers gave one last sad look, before flying off!
Tons'a Fun plopped to the ground, started to cry!
Tons'a Fun: "Auntie..... Don't leave me..... Auntie Money....... (Cries)."
Later...
Money Feathers: (Screeches loudly and angrily) I WAS SO CLOSE!!! STEFANO, YOU IDIOT!!! WHY DIDN'T YOU WATCH OUT FOR ANY MISTAKES LIKE I ASKED YOU TO?!?
Stefano: Bonebreaker was onto-a me, Money Feathers! He had restrained me before I could-a do anything! He stuck me into a barrel of-a wine! I was-a drunk for hours-a! It wasn't until I came into my senses that I realized things were-a looking bad!
Money Feathers: "...... Lucky for you, this only ends a deal, not our partnership. You can at least redeem yourself by leading me to the stash, so we can get out while the going's good!?"
Stefano: ".... But, what'a about Tons'a?"
Money Feathers: "..... We can't help her anymore. She choose her fate. We can only help ourselves."
Stefano: "..... Ok. I buried the stash at the park behind a bush with roses on'a it."
Money Feathers: "Then.... Let's go, before Bonebreaker desides Tons'a isn't gonna be the only one he kills."
Back to Tons'a.
Tons'a was still crying.
Tons'a Fun: "Auntie..... Please don't leave me..... I need you more then ever....."
???: "Tons'a!"
Twilight appeared!
Twilight: "Are you ok? Bonebreaker didn't hurt you too bad, did he?"
Tons'a: "Just a scratch.... Nothing too serious. You can fix it easy..... But, Auntie Money broke my heart! THAT can never be fixed."
Twilight: Money Feathers left you?
Tons'a: Yes! And I just found out that she was the one who stole your valuables with that flying snake Stefano! She IS a con-artist!
Twilight: Really? She told you that? Someone as smart as her would tell you something like that?
Tons'a Fun: She told me I wasn't worth it.
Twilight:...Well, don't worry. I'll help you. (Picks up Tons'a, and flies her off to the Castle)
Castle
Tons'a Fun: Why not just bring me to the hospital?
Twilight: Because of a few reasons. 1. The town is against Pinkie, and bringing you to the hospital would be risky. And 2. Discord had the entire town magically frozen in place until the whole problem is solved. We can't have Mayor Mare thinking I'm betraying them. Not to mention we have to tell Celestia about it before they could, so we sent Discord to get them.
Tons'a Fun: Wasn't he watching over Spike?
???: (Moans and yawns as they both turn around to see Spike awake from his coma)
Spike: Did I miss anything?
Twilight: Spike! Oh, thank Celestia, you're okay!
Spike: Of course I'm okay. Why wouldn't I be?
Tons'a Fun: You were in a coma. Apparently, Money Feathers had you magically erased your memories of the robbery of the valuables, and you winded up going into a coma after you remembered.
Spike: You...you guys found out already? (Suddenly, the others arrive)
Applejack: Oh, thank Celestia, Spike is okay!
Rarity: Spike, is it true you wet your bed while dreaming about me?
Spike:...Uh...Where did you hear that?
Rarity: Discord.
Spike:...(Shrugs angrily) He wasn't reading my mind while I was in my coma, was he?
Twilight: Yeah, he was.
Spike: In fact, I think he was doing more than that. (Takes out the photo album)
Twilight: He was in my PHOTO ALBUM?!? (Shrugs)
Rainbow Dash: Everypony, let's not get aggravated! We have to help prove Pinkie's innocence, and stop Bonebreaker from doing any other harm.
Tons'a Fun: Not to mention he said something about turning you guys against Pinkie because he thought you wouldn't fall for the lies.
Rainbow Dash: He did, did he? Well, I got news for him, we're not idiots! We've NEVER had trickery keep us apart before!
???: Oh, I doubt that! (Discord and Celestia appear behind them)
Celestia: Discord told me everything. I'm sure you all need some help. I've already got word to the Shell Lodge Squad so we can get some extra help.
Pinkie: Well, good. It wouldn't be a SAF Adventures Chronicles episode if they never appeared. Without them, it would just feel like an MLP fanfic.
Discord: "But without gore or lesbionic sex scenes."
Rainbow Dash: "They're not ALL like that! Some can be, pretty decent reads."
Fluttershy: "I espeically liked that very cute "My Little Dashie". You were so cute as a filly."
Rainbow Dash blushed wildly!
Discord was snickering!
Celestia: "That's besides the point! I know well of those like Bonebreaker. Badland assassins are dangerious! Lesser criminals have an almost animalistic fear of Badlanders."
Tons'a Fun: "....... No wonder Money Feathers left me behind....."
Twilight: "..... She, learned the hard way that Money wasn't the friend she thought she was."
Celestia: "Now, let's have Tons'a healed up."
Hours later...
Celestia: (The entire group goes outside to see the mob still frozen in place)...Why are the townspeople frozen in place?
Discord: I did it so they wouldn't turn you against us with the lies Bonebreaker spread.
Twilight: Well, I guess since Celestia's here, there's no reason for them to be frozen any longer.
Discord: Agreed! (Snaps, and the entire mob is moving again)
Pony #1:...THEM!...What the heck?
Mayor Mare: "..... Ok..... Does anyone else feel like Karma doesn't want us to punish Pinkie for some reason?"
???: "Cause it wasn't even her fault! Well, not intentally anyway."
Everyone looks to see Tons'a.
Tons'a: "Bonebreaker was being a meanie and lied you all about Pinkie so you'll banish her for accsidently making him look like a silly goose!"
Mr. Cake: "You mean that goofball griffin who had his feathers molted off? He tried to make us hate Pinkie?"
Tons'a Fun: "He did it cause he has no understanding that accsidents happen. Pinkie didn't hired him to kill me cause she was jealious, he lied to Pinkie that he wanted to make amends, and he tried to turn you all against her to make sure he can finally kill me without interuption!"
Mayor Mare: "...Oops...We really should learn not to take newspapers seriously, people! We ended up shunning the Crusaders for it! It made us look like crybaby jerks."
Bon Bon: "Well nopony likes their privacy exploted for the press!"
Lyra: "But we didn't had to be THAT mad either! We could've just explained it to them that a good story isn't worth hurting people's feelings!"
Cheerilee: "It was also my fault putting Diamond Tiara in charged!"
Vinyl Scratch: "Now THAT'S a kid I don't mind shunning for life! What a little bitch!"
Tons'a Fun: "We're kinda off subject ponies."
Mayor Mare: "Well, anyway.... Sorry for the misunderstanding Tons'a. Think you could, convince Pinkie we're sorry? I mean, we won't blame her if she won't throw any more parties for us."
Mr Cake: "And, uh, could you tell her she's rehired? And that she'll have a free MMM cake on us?"
Tons'a Fun: "I think she can hear you guys in the castle. It would be pretty redundant if I repeat what you said."
Pinkie: (Comes out with her hair still straight)...Is it true?
Mayor Mare: Sorry for the misunderstanding, Pinkie. Can you...forgive us?
Pinkie: (Hair gets puffy again) Hey, that's what friends do, right?
Mayor Mare: Right!
Mr. Cakes: So what do we do now?
Twilight: Well, we need to prepare for Bonebreaker's next move. It won't be long before he realizes that Tons'a is still alive. We've already contacted the Shell Lodge Squad to help us out.
The Van crashes into the castle!
Lord Shen's voice: "CONFOUND IT SPONGEBOB!? YOU SAID YOU WERE GONNA BE ABLE TO DRIVE THIS PROPERLY WITHOUT A LISENCE!?"
Spongebob's voice: "And I was, until that space duck came out of nowhere and freaked me out!"
Trixie's voice: "THERE'S NO SUCH THING AS SPACE DUCKS?!" (Robot-like ducks appear flying towards them as they scream, and the ducks are seen beaten up and their robotic parts are seen flung into the air as quacks are heard)
SpongeBob's Voice: You were saying?
Trixie's Voice: Oh, shut up!
Shifu's Voice: Let's just find Ponyville and get this over with. We can't let that griffin get away with trying to kill this comedian.
Twilight: Right, they're here! Any second, they'll be--
Bonebreaker: (His painful screech is heard in the distance)
Tons'a Fun: IT'S HIM!!!
Rainbow Dash: (Sees Bonebreaker flying towards them at top speed) I got this, guys! (Flies toward him)
Applejack: RAINBOW DASH, NO!!!
Rainbow Dash: (Bonebreaker grabs her by the mane) OW!
Bonebreaker: I've KILLED ponies tougher than you! (Breaks her wing, and throws her to the ground)
Applejack: RAINBOW DASH!!!
Bonebreaker: Hmmph! (Continues flying towards Pinkie and Tons'a)
Twilight: We have to protect Pinkie and Tons'a! (She puts a shield around the Castle which Bonebreaker is unable to get through) Quick, girls, get the two out of here!
Pinkie: (She and Tons'a go inside)
Bonebreaker: (Starts bashing the shield, but it is unable to go down) THAT SHIELD WON'T PROTECT YOU FOREVER, YOU PATHETIC FOOLS!!! (Breathes in, and roars much louder than Gilda)
Van Landing Site
Gilda: (The roar is heard from their location) Oh, I know that roar anywhere! We need to hurry!
Merlin: Don't worry! (Teleports them away)
Ponyville
Twilight: (The roar has rendered Twilight dizzy, leaving Bonebreaker able to bust the shield down)
Bonebreaker: (Tears through the locked door, and enters the Castle) WHERE ARE YOU, TONS'A FUN?!? THERE'S NOWHERE TO HIDE FROM ME!
Merlin: Hold it right there! (The Lodgers appear behind him) There's NO way you're laying a claw on those harmless ponies.
Bonebreaker: HAH! Harmless is more like it! Even YOU won't stop me! (Flies off)
Tigress: DON'T LET HIM GET TO THE GROUP!
Bonebreaker: (Grabs Viper as she tries to stop him, and he cartoonishly ties a knot in her neck, and throws her to the ground. Po tries to intervene, but Bonebreaker punches him in the stomach, and throws him into some of the Lodgers)
Lord Shen: (Takes out his cannon) I'll stop him!
Shifu: NO! We don't want this place damaged.... More then already.....
Lord Shen:...Very well! (Glides straight in front of him, and throws his blades)
Bonebreaker: (In slow motion, manages to dodge the blades, and is able to throw one of them back at Shen, who dodges it, only for it to scratch his shoulder)
Lord Shen: AARRGH!! (Bonebreaker pushes Shen out of the way, and continues on)
Skipper: Rico, get me ammunition! (Rico swallows a bunch of peppermints, and Skipper uses him like a gun, launching the peppermint at Bonebreaker, who is able to dodge them in slow motion, and is able to do it long enough for it to run out)...BLAST, out of ammo!
Bonebreaker: (Opens the door to the throne room, only to find B.O.B barricading it with his body)
B.O.B: Let's see you get out of this one, griffin! (Bonebreaker pokes his eye, causing him to retract back to normal) OW, MY EYE!!! (Bonebreaker enters the room) THAT'S NOT FAIR, MAN!!!
Skipper: FOLLOW CRAZY FEATHERS!!! (The Lodgers enter the throne room)
Throne Room
Bonebreaker: "Gah! Please tell me those misfit clowns were not the best that can protact you! Face it, you little pony weaklings! No one escapes from this badlands assassin!
Tons'a and Pinkie are hiding!
Tons'a wispers: "If only I had more time to prepare plently of comedic scenarios to beat him! This is too early for Bonebreaker to show up!"
Bonebreaker: "Come on out, you weak pile of garbage, and I prmosie it'll be quick!"
Bonebreaker started to break apart objects! Then sees a Golden Celestia Idol.
Bonebreaker: "Oh..... You would make both a nice blunt weapon, and a stabber!"
Bonebreaker grabs it!
Bonebreaker: "Such a pretty little idol! But the idols of the Griffin Lords are MUCH better! They are made of Platennum!"
A little spider lands on Pinkie's nose.
Spider: "Well howdy-do!"
Pinkie: "Ah, ah, AH! AHHHHHH-CHHOOO!?"
Tons'a Fun: "....... You don't think he heard that, did you?"
Bonebreaker lifts up the throwne, and breaks it!
Pinkie Pie: "..... Wow...... It's only Icky who jinxses it."
Bonebreaker: "Now, I got ya, right where I-"
A familier figure swoops on Bonebreaker and breaks through the window back out, screeching!
Tons'a Fun: "(Gasp!).... Auntie?"
Outside.
The Ponies and Celestia are taken aback by the battle between Money Feathers and Bonebreaker!
Stefano slithers in.
Stefano: "I talked her into it, by the way."
Money Feathers has a very powerful upper-hand!
Money Feathers: "I'll make you regret for tormenting a pony that means more to me then almost money, you dispicable hybreed?!"
Money kicks Bonebreaker in the crouth!
Bonebreaker: "GOW, MY SWEET MEATS?!"
Tons'a and Pinkie look out the window!
Tons'a Fun: "Auntie, you came back!"
Drive Heart and Cerry see this!
Drive Heart: "Well, I guess Money actselly is more then just a shrilled harpy!"
Stefano: "Mainly cause of me."
Money spins Bonebreaker around, and slams him into the ground, seemingly defeated him!
Money Feather: "Yeah! That's how we do it in harpy town, bitch!"
Ponies cheer for her!
Money Feathers: "Thank you, thank you!"
Money Feathers made an acceptence speech, as Bonebreaker, still holding onto the idol, gets up, ready to finish her!
Ponies gasped!
Tons'a Fun: "AUNTIE?!"
Money Feathers: "Now now, no thanks are-" (Bonebreaker bashes her in the head with the idol) OOF! (Gets wounded in the head)
Tons'a Fun: NOO!!!
Bonebreaker: Now, Tons'a, you're next! (Flies towards Tons'a as she tried to run, stomps her to the ground, and lifts her up) This is the LAST time you make a mockery out of me, you big brat!
Twilight: Let her GO! (Blasts magic energy at him, Zapping Bonebreaker!)
Bonebreaker screams like a girl as Tonz'a was dropped, and escaped!
???: ENOUGH OF THIS!!! (The Lodgers arrive)
Bonebreaker: (Coughs out smoke, and quickly recovers) Oh, back for more, are you?
Lord Shen: "Don't think that dispicable crime on that harpy didn't go un-noticed by us, you social maniac!"
Bonebreaker: "Aw come on, she was a conartist that was stealing from ponies and used Tons'a as a coin magnet! I did socity a favor!"
Po: "But what you did is morally unacceptable!"
Bonebreaker: "Oh like stealing's any better?"
Spyro: "At least she had the heart to stand up to you for Tons'a!"
Bonebreaker: "Ok, I am not gonna stand around and waste time with you freaks, I-"
Bonebreaker noticed that Pinkie and Tons'a long escaped
Bonebreaker: "GAW!? Thanks a bunch you freaks!?"
Bonebreaker escapes screeching!
Po: "We have to capture him!"
Twilight: "But Money Feathers!"
Tigress: "... We'll have to give aide to the injured first."
Gilda: "You guys do that. Trixie, stay with them! I have personal matters to deal with!"
Gilda flew off!
Chapter 6: Tons'a Gives Bonebreaker serious comedic hell!
Alley
Tons'a looks as if she's crying.
Tons'a: "Auntie..... Why?"
Pinkie: "At least she does actselly care."
???: "Pinkie, Tons'a!"
Gilda appeared!
Gilda: "I'm here to help you stop Bonebreaker! He's still busy ripping up the town looking for you!"
Tons'a Fun: Thanks.
Gilda: Don't worry, Money Feathers is safe with us, but we need to make sure she's safe from Bonebreaker. He's gonna be here any second now.
Tons'a Fun: Okay, this isn't a problem. I just have to move somewhere far away, get a new job, get a new name, grow a beard then shave it off, and live happily ever after!
Bonebreaker: (Appears behind them) Yeah, except you forgot the part where I kill you!
Gilda: BACK OFF, YOU MONSTROUS- (Looks at his face)... Uh... Haven't I seen you somewhere before?
Bonebreaker: Wha?.... What the FUCK are you talking about? I've never seen you before in my life!
Gilda: No, I think you have. You look a lot like my long-lost bro- (Suddenly gets a flashback of her as a baby being separated from another baby griffin)... GAVIN?!?
Bonebreaker: Excuse me?
Gilda: Gavin, it's me, your sister, Gilda! My father said you were taken by my mother as a baby!
Bonebreaker: I have no idea what you're talking about. And my name is NOT Gavin!... Not anymore.
Gilda: A-HAH! So you ARE my brother!
Bonebreaker: Honestly, I don't know you! My mother said I never had a sister. She may've been of Aboriginal ancestry, but I NEVER had a sister.
Tons'a Fun: What are you two talking about?
Gilda: This is my long-lost brother, Gavin! My father said my mother took him away when they divorced. I was lucky to have recognized his face. Gavin, I--
Bonebreaker: It's BONEBREAKER! NOT Gavin! Don't EVER call me that again!
Gilda: Listen, Bonebreaker, you may think we're different, but I've been humiliated, too! But killing the people who were responsible for it and refusing to accept the fact that accidents happen ISN'T gonna make you feel better.
Bonebreaker:...Well, it's worth a shot! (Smacks Gilda away) I don't know WHO you think you are, but--(Notices a birth mark on her left front leg, and has a vision of him being taken from a familiar griffin)...Get out of here! JUST GET OUT OF HERE!!! (Tries attacking Tons'a Fun, but Gilda grabs him)
Gilda: Bonebreaker, you're letting your feelings get the best of you! I know what it's like to be humiliated! But killing isn't the answer!
Bonebreaker: LET GO OF ME! (Smacks Gilda's beak) LET ME FINISH WHAT SHE STARTED ALREADY!!! I--(Sees that Tons'a Fun is gone, and sees her running off, and does a lion growl, and flies after her)
Gilda: GAVIN, WAIT!!!
???: Gilda! (The others appear)
Po: We followed Bonebreaker down to this alley! What happened?!?
Gilda: Guys, wait! There's something you should know about Bonebreaker!
Rainbow Dash: We don't have time for explanations! There's a killer griffin on the loose, and we have to stop him!
Gilda: Wait! He's my brother! (Everyone is suddenly shocked)
Trixie: What the hell do you mean he's your brother?
Shifu: We don't have time for questions, everyone! We need to save Tons'a! (They all go after them)
Meanwhile...
Tons'a Fun: (Appears in another alley running from Bonebreaker, who flies in the air, and lands in front of her, interspecting)
Bonebreaker: You got guts, Tons'a! Too bad I gotta rip them out of ya'!
Tons'a Fun: Oh, you mean the gut that got busted when I was laughing too hard once, and had to be replaced, or my ovaries? (Rimshot)
Bonebreaker: THAT'S NOT FUNNY! But THIS is! (Tries to kill Tons'a, but he is stopped by Shen's cannonball, which fries his butt) AOOWWCCHHH!!!
Lord Shen: (With his cannon having been fired) Let the crackpot go!
Private: And is Gilda REALLY your sister?
Bonebreaker: Stay out of this, you circus freaks! I've got some business to take care of! (Gilda jumps on him, and restrains him with her talons) LET GO OF ME!!!
Gilda: Guys, get Tons'a out of here!
Skipper: Right! (They bring Tons'a with them as they run off)
Gilda: Bonebreaker, listen to me! You're NOT what everyone has been saying about you. You're MUCH better than this.
Bonebreaker: ENOUGH WITH THE 'YOU'RE MY SISTER' SHIT, AND LET ME GO!!!
Gilda: We may've been raised by our separated parents, but I know that you have much more to you than just anger and obsession!
Bonebreaker: You don't know me at all! You don't know ANYTHING about me!
Gilda: My father tells me you played with a stuffed cat named Mittens!
Bonebreaker: That's nothing!
Gilda: Well, how about the fact that you laugh whenever you heard the word 'grouper'!
Bonebreaker: (Scoffs holding in laughter) Bullshit!
Gilda: Really? GROUPER!!!
Bonebreaker: (Laughs hysterically) WHAT KIND OF PERSON NAMES A FISH A GROUPER?!? (Laughs)
Gilda: Or what about how your first word was 'poop'?
Bonebreaker: Mom said that was embarrassing for her, BUT THAT'S STILL HORSE RADISH!!!
Gilda: You have a birth mark on the back of your left hind leg.
Bonebreaker: HOW THE HE--?!? (Looks at the birth mark on Gilda's talon again, and has another flashback on the separation from his sister)...Okay, damn these flashbacks, I STILL DON'T BELIEVE YOU!!! (Pushes Gilda off of him, and flies off)
Gilda: STOP! I'M NOT LETTING YOU DO THIS!!! (Flies off)
Spongebob: "THAT GOES DOUBLE FOR THE REST OF US, YOU DENNIS SOUND-A-LIKE!"
Tons'a Fun: "We need to be away from Bonebreaker so I can lay enough of my usual gags to defeat him for good!"
Skipper: "Then we have to commence operation: SHE'S TONS OF FUN!"
Private: "Nice one, Skipper. One of your better ones, actselly."
Kolwalski: "Albeit, kinda predictable."
Bonebreaker tries to close in, but then, both Rainbow Dash and Gilda slam him into the floor!
Tons'a and the Penguins are far enough to be out of sight!
Bonebreaker smacks Gilda and Rainbow off!
Bonebreaker: "I hate these interuptions!? It's like the only way I can get Tons'a, is if I annlialate you dweebs!?"
Po: "Your days of harming the innosent are over, Badlands assassin!"
Icky: "Gilda's bro or not, we ain't gonna let you harm a celebrated celebery just because of a bruzed ego!"
Bonebreaker: "Don't ya freaks know that breaking a Griffin's pride is a unacceptable sin in Griffin socity?"
Gilda: "Yeah, in the dark ages and the time of the Fear War. Celestia and The Griffin King of old had that law abolished."
Bonebreaker: "Well, I WAS RIASED by Griffins who still followed it! And it dictates that I am not gonna stop until she or myself are dead, or she defeats me in suprime combat! Making me look stupid doesn't count! It has to be combat of any kind!"
Icky: "Wow, that abolished law is strangely specific."
Lord Shen: "The idea of a law being abolished that it shalt not be followed anymore! In laymens turns, it means the tridition is dead and ousted like exspired noodles!"
Bonebreaker: "That tears it! I am tired of you dweebs getting into my business! (Roars!)"
Suddenly, more badland griffins appeared!
Bonebreaker: "Say hello to a few badland griffins I invited for "Insurence". Your their headache now."
Bonebreaker flew off, as the Badlander Griffins charged!
The Lougers and the Badland Griffins began to fight!
Centar of Ponyville.
Bonebreaker: "Alright! I know your here somewhere! Huh?"
A huge circus tent is seen.
Bonebreaker: "Pfft! If Tons'a thought THAT was gonna protact her, she's sorely mistaken."
Bonebreaker entered it.
Mysterious Circus.
Bonebreaker looked everywhere for Tons'a.
Bonebreaker: "Where is that brat!"
???: "Yoo-hoo! Boney!"
Tons'a is seen at center ring!
Tons'a Fun: "I have all this prepared just for you!"
Bonebreaker: "Gah.... Like that is gonna be true help. All you did was wasted space on this one horse town. You relied too much on stupid pranks and dumb luck! As long as you can never master true combat, you'll never beat me!"
Tons'a Fun: "Actselly.... Comedy and Pranks IS my sytile of combat..... You grudge on me should've tecnecally ended the first time you attacked."
Bonebreaker was actselly surprised.
Bonebreaker: "WHAT!?"
Tons'a Fun: "Yeah. You surprisingly have poor understanding of your own law."
Bonebreaker growled!
Bonebreaker: "YOU KNOW WHAT!? I DON'T GIVE A SHIT?!"
Bonebreaker pounced on Tons'a, but suddenly, digital numbers appear on her forehead!
Bonebreaker: "Huh?"
???: "Uh-oh, Boney."
Bonebreaker sees the Real Tons'a on the audience seat with the Penguins.
Skipper: "You feel for our trap, hook, line, and sucker."
Bonebreaker: "TONS'A!? IF YOUR THERE..... Then, who is-"
The Tons'a he was one is actselly a robot buildt for self-destruct apawn touch.
Bonebreaker: "...... Aw, crap."
BOOM!
Bonebreaker is seen flying up, and smack into a series of comical, painful gagets and pranks that badly humiliates Bonebreaker!
WAM!
BAM!?
BAZOOM!?
D'OH?!
BLLOM!?
Skipper: "This is so worth the price of admission."
Bonebreaker is now seen falling straight into the same cauldron of burning water!
Bonebreaker is send flying by the water, featherless again!
BLAM!?
Bonebreaker gets up again.
Bonebreaker sees his feathers gone!
Bonebreaker: "...... MY PRIDE WAS ALREADY LONG FORFIT!? HUMILIATING PRANKS DON'T EFFECT ME ANYMORE! BUT YOU SUCCEEDED, IN PISSING ME OFF!?"
Tons'a Fun: "Actselly, we were only warming you up for the main event."
Bonebreaker: "..... What?"
Tons'a Fun: "Well, you see, I am not, a fighter. I am not a violent pony. But I found at least 4 of them who are more then happy to vouch for me. I, asked them not to bring their pointy things though. I'd asked them to be strictly hooves only."
Bonebreaker: "Oh please! What bunch of weak, useless ponies would ever fight for you!?"
???: "Useless, are we?"
Suddenly, Pred and the Sisters appeared from the shadows.
Pred Judu Des: "So, you think you can just go around, and try to murder a celebery?! A pony celebery!? Not on my watch ya don't!?"
Sharp-Pay: "Tons'a is my idol, you disgusting Griffin! I'm gonna rip you a second, AND 3rd asshole?!"
Axe-Rella: "I'm gonna bend you into places never thought reachable!?"
Chain: "I'm..... Gonna do, stuff!"
Bonebreaker: "That it? An old fart and a misfit teen trio? PAH!? THAT'S YOUR MAIN EVENT?! I'll beat these 4 in seconds! Bring it on you stupid, pon-"
Pred: You DARE talk that way to PRED JUDU DES?!?
Bonebreaker:...WHAT?!? THE Pred Judu Des?
Pred: That's me, you bastard! You'll pay for this!
Bonebreaker:... I, uh, can we talk about this? I... (Gulps)... I don't think violence can solve this.
Tons'a Fun: Yeah, Bonebreaker suddenly doesn't want to break bones. How ironic! (Rimshot)
Chain: I have NO idea how she does that rimshot sound effect, but it's funny! (Does Woody Woodpecker laugh)
Bonebreaker:... MOMMY!!! (Runs out of the circus tent with the Pegasi Sisters following them) AAAARRRRRRGGGGHHHHH!!!
Spyro: (As he and the Lodgers are battling the Badland Griffins) Well, I wasn't exactly expecting HIM to be scared of Pred Judu Des as well.
Sparx: Are you kidding? Non-pony creatures of Equestria are as scared of him as the sea is scared of Monstro! You just say his name, and everybody panics.
Gilda: Well, I need to follow them to make sure they don't hurt him badly like they always do. Take care of the other Badland Griffins while I go get them. (Flies off)
Cynder: We got it! (They continue fighting the griffins)
Fluttershy and the other ponies see this.
Fluttershy: "How did Pred and the sisters get back so soon from dragon hunting?"
Hidden Shadow appeared next to her.
Hidden Shadow: "I gave them a warning of that griffin attacking ponyville, and they desided to cut their trip short to keep these filthy griffins away from the innosent ponies. It's generiously rare of Pred to actselly take advice from the alien penguins and make the weapons absint.... But that beating should be equilly fun."
Fluttershy: "Oh well, at least Bonebreaker won't be stabbed to death."
Twilight: "But we should make sure Pred actselly keeps his word and KEEP that sword of his absint, and the sisters as well."
Hidden Shadow: "Hmmpt! Typical. Your still unsure to trust Pred."
Celestia: "In our defence, Pred has made it, difficult, for us to truely trust him."
Hidden Shadow: "At least be honored that Pred is going after a more 'OBVIOUS evil Girffin, and not one of your favered pretenders you let loose apawn us. And you better plan to make that con harpy see justice!"
Applejack: "Well provided if she survives her head injury."
Somewhere else in Ponyville.
The MLP verson of the Benny Hill theme plays as Bonebreaker runs from the Sisters and Pred!
Bonebreaker is finally cornered!
Bonebreaker: "PLEASE DON'T HURT ME!? OK, OK, YOU WIN!? I'LL DECLARE MY BLOOD FUED ON TONS'A TO BE OVER!? I'LL NEVER ATTEMPT TO HARM HER AGAIN!? JUST LEAVE ME ALONE!?"
Pred and the Sisters look at eachother.
Pred: "Sounds legit, but just to be safe..." (Tries to kill him with his sword)
???: WHOA, HOLD IT!!! (Gilda appears) What did we say about killing instead of letting justice prevail?
Pred Judu Des: We don't role that way, Griffin! Those who attempt murder are too dangerous to be left alive.
Gilda: (Takes his sword) Why do you think we still don't trust you? Why do you think you're not as much a hero anymore as much as a vengeful blind murderer? IT'S MURDER!!!
Pred Judu Des: My mind is made up! (Kicks Gilda in the chest, causing her to drop the sword, and allow him to get it back) If you don't leave me to do my duty, then I'll have to kill you as well. Girls, take care of her.
Sharp-Pay: With pleasure! (They all point their weapons at Gilda)
Pred Judu Des: Now, where were we?
Bonebreaker: GET BACK! BACK!!! (Screeches loudly, which causes the other Badland Griffins to leave the Lodgers and come to his aid) DON'T LET THEM KILL ME!
Pred Judu Des: HAH! Even your friends can't protect you. You can't fly with no feathers, and you can't defend yourself from me even with your Superior skill! (Tries to stab him, but the Griffins bite his tail) AAAOOOWWW!!! (Bonebreaker runs off, but the Sisters block his path)
Axe-Rella: Where do you think YOU'RE going, nudie-bird?
Pred Judu Des: GIRLS, YOU'VE LOST YOUR FOCUS ON--(Gilda beats them up while they were distracted)...DAMMIT!!
Gilda: Gavin, get behind me!
Bonebreaker: I TOLD YOU NOT TO CALL ME THAT!!!
Gilda: JUST GET BEHIND ME!!! (Bonebreaker does that)
Pred Judu Des: You just don't get it, do you, lady? He's a murderous Badlander! He has caused far too many injuries!
Gilda: YOU don't get it, Pred! Tons'a never said to kill Bonebreaker, did she?
Pred Judu Des: HEY, she brought me here, now we're gonna play this thing out UNTIL THE END!!
Gilda: Then we clearly made a mistake trusting you.
Pred Judu Des: Too bad! I'm killing that griffin, and I don't want another word about it! (Smacks Gilda away) COME HERE, MURDERER! (Bonebreaker dodges the attack, and runs off with Pred chasing him)
Gilda: (On radio) Guys, Pred is double-crossing us! He's trying to kill my brother! We have to help him NOW!
Shifu: (The Lodgers and ponies appear behind her) We're right here, Gilda.
The ponies appeared, looking disappointed, surprisingly even Hidden Shadow.
Hidden Shadow: "Not that I don't understand Pred's motivation and the griffin's danger to us, but, normally Pred is true to his word."
Lord Shen: "Obviously, his discriminative nature once again clouded his better judgement!"
Celestia: "Not that I blame Pred for this. Badlanders are very dangerious, but Bonebreaker obviously had intent to relent on future persuits on Tons'a. Pred once again make trusting him difficult."
Fluttershy: "... Oh, Pred....."
Chapter 7: Bonebreaker's Downfall
Ponyville outskirts.
Bonebreaker was still chased by Pred!
Pred: "I may be old, but I can keep this up all day, murderious badlander!"
Bonebreaker: (He gets cornered in an alley by Pred as he panics and pushes himself to the wall)
Pred: Say bye-bye, birdie!
Skipper: NAB HIM!!! (Most of the Lodge jump on Pred, restraining him)
Pred: LET ME GO, MOTHERF*****S!! LET ME GO RIGHT NOW!!!
Gilda: Keep him down until I can get my brother out of here.
Pred: NO! DON'T YOU DARE!!! (Tries his hardest to get out of the Lodge's grip) DAMMIT, LET ME GO!!!
Gilda: Come on! (Bonebreaker goes with her)
Bonebreaker: I still doubt you're my sister, just so you know!
Gilda: We'll talk later! (They leave)
Pred: YOU FOOLS!!! I HAVE A JOB TO DO!!!
Tons'a Fun: Pred, we had a deal! I said only to intimidate, NOT kill!
Pred: Sorry, lady, you hired the wrong guy! NOW LET ME DO MY JOB!!!
Celestia: Sorry, Pred, but we're gonna have to restrain you and your daughters back home again.
Pred: DON'T YOU DARE!!!
Celestia: Excuse me?
Twilight: Pred, don't tempt her!
Pred: Why not? You all never listen to me! You all never agree to my beliefs! Monsters like him are evil and murderous creatures! They are too dangerous to even exist!
Icky: Why can't you just accept the fact that hostility isn't the answer anymore, and peace is a much efficient route?
Pred: BECAUSE THEY ARE ALL THE SAME: AGGRESSIVE, SAVAGE, MURDEROUS BEASTS!!!
Rainbow Dash: Well, there you go! (Pinkie bumps into her broken wing) OWCH!
Pinkie: Sorry.
Fluttershy: "Pred, please, calm down!"
Pred actselly does that.
Fluttershy: "Pred, as much as I do understand where your coming from, and I know badlanders are very mean creatures, but trouble is... Well, you do have a bad habit of picking fights with those not wanting trouble. I know Bonebreaker's mean, but your, kinda being mean too when you went back on a deal with the Lougers."
Pred sighed.
Pred: "I'm sorry puppet..... I got a might overcautious..... Not that I didn't had the reason. We exsile monsters like him to the badlands for a reason ya know. He has clearly harmed and killed Pony Guards that tried to stop him, and he is trying to hurt a celebrated celebery. Heck, not even other monsters are safe from him, considering he bashed the bloody theiving harpy in the head, not that don't approve of it or anything, it's just that if not even the likes of her are safe, no one is."
Spyro: "And we understood that concern well, Pred. We know you want to be rekindise as a misunderstood, barely rekindise hero, but your quickness to kill makes it difficult."
Pred: "..... Don't heroes kill villains and monsters all the time?"
Celestia: "There's, complincated requirements before a hero would be forced to end even the most dispicable villain's life."
Icky: "Yeah, and even more if the public is to understand the disition, like if the guy's the biggest moral fiberless doughbag ever, I.E., complete monster terrortory where even other villains feared him. Ok, Bonebreaker's a real fine piece of work, but he still knew when to quit, and he promised to stop going after Tons'a. For it to be almost acceptable for you to even mortally wound him, he would still have to be determined to kill Tons'a over an accsident. Yeah, we know there's a fickle consinqunce not killing off every villain we met, but the consinquence of doing such is even worse. People would think we're over-kill pyscotics and untrue heroes if we followed your exsample."
Pred: "..... What about those Villain Leagers?"
Icky: "They have a reserection polcy. It's a slightly different complincated matter. Cause of it, death is like being momentarly deactivated to the leage."
Pred: ".... Oh, very well.... I won't kill the badland griffin. Under the condition, however, that he is still punished for what he did!"
Lord Shen: "Oh don't worry! We still know he's not THAT much of a victim, Pred. You have our word that Bonebreaker will go down LEGALLY. And, Tons'a, you do realise that the harpy can't be given much luxery cause of that fact she did intent to steal, right?"
Tons'a sighed sadly.
Tons'a Fun: "I know.... But, can I be allowed to, say good bye?"
Sam: "Of course."
Hospital.
Money Feathers moaned as she came through.
Money Feathers: "Ohh, my head.... Did I party hardy last night?"
Tons'a Fun: Is she gonna be okay, Doctor?
Nurse Pony: Hard to tell. Her injury wasn't severe enough to kill her, but she is suffering minor blood loss. We're keeping that in check as best as we can. Her skull has even been fractured from the blow, and it might take us a while to repair it.
Tons'a Fun: So she's still gonna live, right?
Nurse Pony: As much as we can tell, yes.
Tons'a Fun: (Sighs in relief) Thank Celestia! May I see her?
Nurse Pony: Yes, she had asked to see you. She's over there. (Tons'a reaches Money Feathers)
Tons'a Fun: Auntie Money!
Money Feathers: Tons'a!...You're okay. Where's Bonebreaker?
Tons'a Fun: We stopped him. We had him sent to prison for a few years, and Gilda's started saying that he's her brother. Not quite sure how they could be related, but that's what she said.
Money Feathers:...I'm sorry for everything.
Tons'a Fun: It's okay! I don't care if you were robbing people. I still care about you. They said you would be punished for the crimes once you were healed, but if by any chance you get sent to jail, I'll come and see you every week.
Money Feathers:...Thank you! (Both hug)
Nurse Pony: (With tear-driven eyes) Let's leave her to rest! (Sobs)
Tons'a Fun:...Well, I gotta go. Bonebreaker's case is about to start. He might even realize something about Gilda after it. I never knew a Parent Trap scenario like this in my life, especially since they're not even twins. In fact, can twins exist for griffins? Are they egg-laying creatures or not? I'm confused. (Rimshot, and Money actually laughs)
Money Feathers: Well, goodbye for now, Tons'a!
Tons'a Fun: So long. (She leaves)
Court.
Judge: "Bonebreaker, you had been found guilty for attempted murder and other crimes. Any final words before your sent to Prison?"
Bonebreaker: "...... Just one, judge...... Fuck, me."
Judge: "Hmmp, like I would expect to hear something sincere from you. Court ajorned."
Bonebreaker was taken away.
Jail.
Bonebreaker is seen in prison.
Bonebreaker: "Ugh, back in the stony lonesome again.... Well, at least it's the last time it was for Tons'a. I am done trying to get her if she can get Pred Judu Des on call! I am just glad I don't have to deal with those misfit freaks and that crazy she griffin!"
???: Gavin? (Gilda appeared)
Bonebreaker: (Sighs) I HAD to say it, didn't I? And for the last time, it's Bonebreaker!
Gilda: Look, I'm not here to scorn you, I want to talk about this whole 'we're related' thing.
Bonebreaker: Seriously? You came here to talk about THAT?
Gilda: Well, I know you don't believe it because you admitted that mother never told you about me. She probably wanted to stay isolated from my dad. Father had told me about YOU, though, and that you lived with her in a secluded jungle village living with other ungulates. They never met since their separation, and father never allowed me to find you in respect for mother's seclusion. Has your mother ever said anything about YOUR father?
Bonebreaker:...No, not really.
Gilda: Well, there you go. She never told you about me or dad because she wanted to live taking care of you. I never knew my mother except from what dad told me. He says that she's Aboriginal, and came from a jungle community. You clearly stated that YOUR mother was Aboriginal, so doesn't that mean something?
Bonebreaker: I have no clue, but we are NOT alike! So what if you knew my original name, so what if we both had Aboriginal mothers? We are separate griffins!
Gilda: Well, I can tell you recognize the birth mark on my talon.
Bonebreaker: I do NOT!...(Gets visions again)...I don't!
Gilda: Well...do you know where your mother is?
Bonebreaker: You stay the f*** away from her, my lady! She doesn't appreciate strangers visiting her much unless they're someone she recognizes.
Gilda: Very well, I won't! But I'm saying, it still might be possible that we are siblings. I mean look at us, don't we have similar qualities?
Bonebreaker: I don't have a mirror, jackass! (Gilda takes one out, and sees the similarities of both their faces)...Uh...still not going anywhere.
Gilda: Just think about it. Until then, I will not visit your mother. I will be oblivious of getting the idea of finding her. I will not even mess with your past. It's all your choice.
Bonebreaker: Whatever! Just get out of here.
Gilda: (Leaves)
Bonebreaker:...(Looks at a poster of him and his mother on a wall)...Is it true, mother? Do I HAVE a sister? Is there anything you're NOT telling me?...Well, why answer me? I don't give a shit! (Lays down)...
Chapter 8: Pinkie's New Friend
Ponyville
Pinkie: "Tons'a.... I'm sorry for ever bringing Bonebreaker into this. I was such a silly goose. I never mean to cause trouble."
Tons'a: "Oh, it's ok Pinks. We all can be silly gooses every once in awhile. I will have to get a new maniger though. One I promise will not steal from people."
Pinkie: "Well, it was at least nice of that Stefano guy to surrender that stuff he stolen, and reveil the pawn shop taking the other stuff he's was stealing with Money."
Tons'a: "It was also nice to Fluttershy to offer him a place to stay with her. She looks like a nice influence for him."
Pinkie: "Hey, if she can make Discord and Pred play nice, that is saying alot!"
Tons'a: "Pinkie, this whole exspirience in some, ironic way, taught me that I need to earn friends through more then being funny. I have to let ponies know who I am on the inside.... Though, now that I think about it, it's still being a funny pony. I have no idea why I was sad about that to begin with...."
Pinkie: "Well, Twilight said that sometimes, it's lonely at the top. Sometimes, being famous doesn't always bring true happiness. That's why she doesn't take her princesshood THAT seriously."
Tons'a: "Well, where is Twilight anyways?"
Pinkie: "She and Spike are cleaning up her faverite idol of Celestia of Harpy blood."
Tons'a: "So, I was sad cause of being lonely? Like, that I don't have a speical somepony? Well, I don't know alot of guys that would love me for me, and not because of the status quo! I wish I could have someone to like me like me."
Drive Heart: (Hears this)...
Tons'a Fun: Well, I'd better get go--(Drive Heart runs up to her) WHOA, Drive Heart!...Why are you staring at me like a dog to a treat?
Drive Heart: Oh, you ARE my treat!
Tons'a Fun:...Okay, what's this all about?
Drive Heart: Okay, listen! There's something I've been meaning to tell you since I started working with you. I loooooo...I luuuuu...I loo...
Tons'a Fun: You're...looking for the keys?
Drive Heart: I looo....
Tons'a Fun: You loathe spinach?
Drive Heart: I luu....
Tons'a Fun: You lust for a paycheck?
Drive Heart: I looooo...
Tons'a Fun: You're lucky to have been right this whole time?
Drive Heart: I luu...
Tons'a Fun: You like trains?
Spot the Diamond Dog: (He and the other Diamond Dogs appear and see Rarity's Boutique) There it is, boys! I bet she has lots of jewels in ther--(A train hits them, and they appear cartoonishly flat)...Ow!
Rover: "Told ya we should've left the Nefarious Space Station to try and steal the pony jewels while everyone was distracted by the Assasin Griffin mess."
Fido: "I, second the notion. Let's get back to the Doctor before the whiny pony gets back."
Drive Heart: I loooooooooo...
Tons'a Fun: You love having to work with me?
Drive Heart: OH, FOR THE LOVE OF CELESTIA, I LOVE YOU!!! I'VE ALWAYS LOVED YOU!!! (Tons'a and Pinkie watched in confusion as he says everything quickly and crazily) Your jokes always made me laugh, even the ones that DIDN'T make me laugh, I saw every one of your plays, I saw every one of your movies, I liked you voice from filly to adult, and I always look forward to seeing whatever you star in! I even liked the few songs you sung in some of your movies, and they inspired me to be like you someday, and I was so aggravated of your choices because I couldn't bare to see your face at full eye contact! IT'S TRUE, I LOVE YOU, I LOVE YOU, I LOVE YOU, LOVE, LOVE, LOVE, LOVE, LOVE, LOVE, LOVE, LO--(He stops when Tons'a just goes up and kisses him on the lips)
Pinkie: Aww!
Drive Heart: (Sighs and shivers in joy)...I went too far, didn't I?
Tons'a Fun: Pretty much. I mean, I knew love could make you do strange things, but the effects on YOU take it to a whole new level! (Rimshot, and they both laugh)
Pinkie: "Aw, you crazy fillies."
Tons'a Fun: "Well, it's been fun Pinkie. But it's time for me to temple on the way! I think i was able to learn alot about being simple folk for the upcoming movie! And whether or not the movie would be a hit, and between you and me, I seen the script, not sure if even I could make it funny, I have you guys to thank."
Pinkie: "Thanks Tons'a. Good luck on the movie!"
Tons'a and Drive Heart walked on.
Pinkie: "I love it when a story has a happy ending."
???: "You brutes again!?"
Screams are heard!
Pinkie sees the Diamond Dogs being chased by Rarity with a heavy machine gun!
Rarity: "I AM GONNA MAKE YOU WISH YOU STAYED WITH NEFARIOUS!?"
Rover: "WE'RE ALREADY HAVING SECOND THOUGHTS!?"
Pinkie: "(Laughs), You also gotta love an ending with last minute comedy in it!"
Tons'a Fun: GO EASY ON THEM, RARITY! (Both she and Drive Heart laughed as they rode away)
Pinkie: (Laughs) Well, it's great to have recognition again!
Epilogue
Meanwhile...
The Leage fortress is seen.
Junjie was walking down the hall, distressed.
Junjie: "Humilation. It's all I had to misfortune to know! I can't stand it! I am an accoplessed evil kung fu master who is bullied by an incompident warlord! I'll never be able to be on top of him!? Nevernevernevernever!?"
Junjie sat down in the TV room.
Junjie: "Maybe I'll cheer myself up by, watching documenteries again."
Junjie turns it on.
Narrator: "There is talk of a legendary rock, lost in Diamond Dog terratories that holds great unigmaginable power"
Junjie gasped!
Junjie: "Tell me more! More!?"
Narrator: "This believed to be a myth stone, is known as "The Rainbow Rock of Great Magic", a stone believed to be born after the Alicorn gods sacriviced themselves after the defeat of Tyranny. The stone is however, never found, and only rock enfusiest believe in it's existence. One of them, is such of a rocklogagest that claims to have the idea, by the name, Maud Pie."
Maud Pie: "Well, I didn't say I knew WHERE it is in the Diamond Dog terratories.... But, I think I may have a few ideas. I studied that stone through it's legends and lores. It is said to give it's weilder unbeleiveable power that could, in throey, make them an unquestionable master of all magic."
Narrator: "All magic? Not just, Unicorn Magic, but even magic not even Celestia is able to control."
Maud Pie: "Pretty much. It could even malmitulate the elements of harmony. Even dark magic of all kinds would bow to the might of the stone. You could, in throey, even make gods and great demons succomb to the whim of it's weilder."
Junjie: "Succomb.... To the whim of it's Weilder?"
Junjie's Fanisty.
Mang was panicing to Junjie holding a powerful Rainbow Rock!
Mang tries to protect himself behind a shadow sheild!
Junjie: "That can't protact you Mang!"
Junjie disables it with the rock!
Mang: "..... Junjie, you proven yourself, to be the most, unstoppable villain ever! I, I am done being incompident! I'll listen to your brillient ideas for now on!"
Junjie started to laugh evily!
Reality!
Junjie: "Yes..... Yes.... YES?! GALAXHAR, MAKUNGA, TAI LUNG!? FRONT AND CENTAR?!"
The trio crashed in!
Junjie's Leoaprds appeared.
Junjie: "Everyone...... We're going, treasure hunting......"
Fin?
Community content is available under
CC-BY-SA
unless otherwise noted.