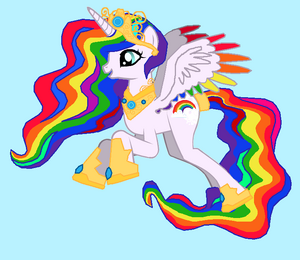 Princess Chromestica
is an Alicorn God in
Equestria
and the Alicorn Goddess of Color, Spectrum, and Light. Responsible for the intense barrage of color in her home, she was destroyed with the other Alicorn Gods during the Chaos Wars against
Tyranny
. Her soul has since been contained within a magical manifestation in the form of a tree called the Rainbow Tree, deep in the most isolated parts of the Everfree Forest. This is how she continues to maintain color and light in Equestria, and she has guardians in the form of rainbow creatures, mainly the strongest guardians being the Rainbow Serpent, based on the Australian myth, which slithers across the world and introduces the intense color, while making rivers at the same time. Though her actions have been spreading so much color, it gave birth to pony guardians in the form of the unknown roots of the family of
Rainbow Dash
, as her ancestor
Spectral Dash
had defended the Rainbow Tree against a monochrome raven demon called
Tint Demus
, who wants to purge color as he cannot survive properly in it's intensity. Though Tint ends up possessing Spectral, and later descendants until he gets to Rainbow's brother,
Rainbow Flare
. Chromestica continues to guard color through her guardians to this day.
History
Coming soon...
Abilities
Coming soon...
Community content is available under
CC-BY-SA
unless otherwise noted.