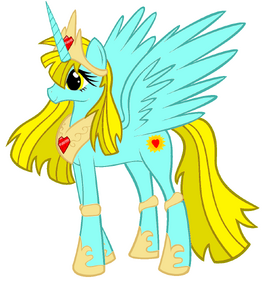 Princess Sunshine
is a magical imaginary apparition that was created by
Sweetheart
as the result of being pushed around, bullied, and getting her feelings hurt due to her long horn. Sweetheart's large horn meant that she could carry an excessive amount of magic that she barely has control over. And with all that power, she was able to create Sunshine as a figure that would keep her company and protect her. But this doesn't seem to be a good idea since Sunshine ends up turning her bullies into goblins, resulting in everyone thinking she was cursed since she couldn't speak and that only she could see Sunshine. Sunshine has the same color scheme as Sweetheart, yet was similar to Lauren Faust as an Alicorn. She isn't at all evil, just abit prevokeable, being borned from her magic and imagination and being based on her emotional termoils.
Community content is available under
CC-BY-SA
unless otherwise noted.