Project Nosferatu is the 25th Episode of the 2nd Season of the SpongeBob and Friends Adventures Chronicles series. Granny Smith has proven to be an intolerent old bat against the new resident Vampire Fruit Bats due to stubburnly refusing to listen to Applejack, and thinks Fluttershy is nothing but a pest loving idiot and forbids Applejack to ever talk to Fluttershy again. She then reports the bats to a company in Equestia called "Genesis", a company with a controverseal history involving testing on Animals for the benifit of ponykind, foreheaded and founded by Dr. Fruit Salad, who came to Granny's aid personally, to collect and capture the bats. Dr. Fruit has quite a complincated and, unethical plan with them: Firstly, he will intent on using love poison and the "Want it Need It" spell to make the Vampire Fruit Bats fall in love with normal vampire bats, making them produce a fast growing, long-living, hyper-strong amminity, strain of Super Vampire Bats: the superior ammunity of Vampire Fruit Bats cause of many long complincated evoloution years of having a strict fruit diet, to even fatal desises like Cancer, and the flock mentally of the normal Vampire bat. Fruit Salad plans to turn his brain cancered daughter Celery Salad into what Fruit declairs is the next evolution of all Ponykind: Become "Vamponies" by injecting the "Super Vampires'" DNA into the patient (or just as easily let a Super Vampire bite the sick patient) and then the perfect, desise ammuned pony is born... The problem is, however, that the Super Vampires also defelupt traits from normal Vampire Bats, and mixed with the vegitarian nature of the Fruit vampire, they are also the first ever Omviverious Bats, they consume both plants, and blood! apawn creation of the very first Vampony, Fruit discovers that his daughter became more bat then pony, and keeps her as a secret while intenting to "Improve" on the formula. Celery, however, breaks out one night, with the "Super Vampires" following her as their queen when they escaped as well, and soughting to make Fluttershy join the sisterhood of bats, knowing well Fluttershy still has bat traits in her since the events of the MLP:FIM Season 4 Episode BATS! and intents to re-awake the "Flutterbat" in her, all the while the Super Vampires are going around and turning Ponies into Vamponies, while a fearful Fruit Salad does all in his company's power to cover everything from the Media, the populus, and even from Celestia by capturing the Vamponies before everyone's notice and cover everything up. However, will his own extremeness and the eventful appearence of the lougers when the situation gets worse ruin his hope of cleansing desise forever and be the nail in the coffen for "Project Nosferatu"?
Transcript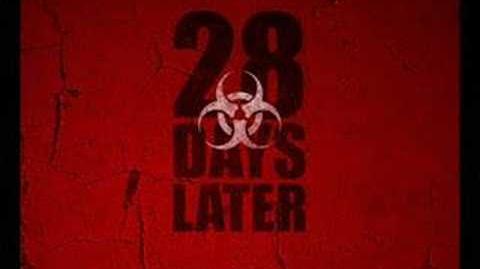 Intro (28 Days Later Theme)
Chapter 1: A Bat Problem Discovered
Sweet Apple Acres
Granny Smitch is seen shooting at The Vampire Fruit Bats with a shotgun!
Granny Smith: "HOLD STILL YA FLYING RODENTS WITH WINGS!? FIGHT LIKE THE CROP RUINING VERMIN YOU ARE!?"
Granny Smith ran out of ammo.
The Vampire Fruit Bats growled at Granny Smith.
Granny Smith: "Uh, what do ya know.... No more bullets.... (Nervious chuckle)..... You wouldn't hurt an old filly, right?"
Applejack: GRANNY SMITH!!! (She and Applebloom) Stop! There's something I've been meaning to tell you for a while concerning these vampire fruit bats.
Applebloom: Now, shoo, you little meanies! (The VF Bats fly away)
Granny Smith:...Why in tarnation would they obey yall'?
Applejack: Well...you remember when you, Big Mac, and Applebloom were out while I was taking care of that prized apple?
1 minute later...
Granny Smith: WHAT THE HELL DO YOU MEAN YOU LEFT THIS AREA FOR THOSE WINGED RATS?!?
Applejack: Sorry, Granny. But I don't think there was any other way to handle them. All we could think of was to give them their own sanctuary.
Applebloom: She meant to tell you, sooner, but we know how you get.
Granny Smith: ARE YALL' INSANE?!? GIVING THEM A SANCTUARY?!? THIS WAS MY FAVORITE ACRE!!!
Applejack: Really? Why didn't you tell us that before this bat problem happened? Surely we'd know that it would happen sooner or later.
Granny Smith: Because it's valuable, and I didn't want any other ponies knowin' about it through you girls. AND NOW YOU GIVE THEM TO THESE...THESE...PESTS?!?
Applebloom: Well, what else could she have done?
Granny Smith: Well, a little pesticides would've popped up in yer' minds.
Applejack: Granny, you know as well as I that we never use that stuff. Too painful, even for the apples. Besides, I don't think Fluttershy would agree to using such a thing.
Granny Smith: Oh, that figures! I should've known that animal-loving do-gooder was involved in this. DOES SHE HAVE ANY IDEA HOW MUCH DAMAGE THESE RODENTS HAVE CAUSED IN THE PAST?!?
Applebloom: Granny, please, you know how you get when you get angry.
Granny Smith:... Yeah, you're probably right... BUT I STILL DON'T AGREE WITH THIS BULLCRUD DECISION OF HERS!!! Her animal-loving decisions are done soon gonna ruin our farm. Especially since she keeps that no-good Discord around, with all his random decisions.
Applejack: Granny, I--
Ganny Smith: "DON'T YOU GRANNY I ME, YA APPLE HYPOCRITE!? That tree-hugger ain't no good anymore!?"
???: "APPLEJACK?!"
The Main 5 of the 6 appeared.
Twilight: "What was going on?! We heard screaming and gunshots from half-across town!"
Applejack: "Uh, I may've, neglected to warn Granny about Sweet Apple Arces, new residents."
Twilight: "Why didn't you told your Grandmother sooner?"
Applejack: "Well, she's very sensitive about, what happened in history."
Rainbow Dash: "So it was over the VFBs? I thought some crazy criminals with guns were shooting up the place!"
Applebloom: "That was, Granny actselly..... Somehow, she knows how to use a shotgun without fingers to try and shoot down the bats!"
Twilight: "..... That, does not sound biologicly possable."
Fluttershy: "Missus Smith, I am very shocked and surprised at you that you would try to hurt these poor things just because your letting a bad exspirence clouding your judgement! They're not really bad at all as long as you know how to keep them from eating too much apples! They're also good from making strong health trees!"
Granny Smith: "..... That's funny, the trees from the first time these abominations appeared, didn't looked healthy AT ALL?!"
Twilight: "That was because the apple family back then didn't know how to properly keeping them in a ecosystemal balence! Creatures like the Vampire Fruit Bats are only a problem if you MAKE them a problem or given them a reason to become one. For exsampe, half of eqrope was almost wiped out by pestilence rats only because the creatures were attracted to the medevil ponies' bad hygene! You know, back when we had chamber pots and didn't practice washing our hooves after a meal. Celestia saved the day in the end by making the eqrope leaders to began "The Great Cleaning of Eqrope", and eventally, the pestilence rats now only live in sewer systems and now fear ponies cause they have long evoled to forgotten what we looked like."
Granny Smith: "But that's different then just a bad case of making a pig out of yourself!"
Granny Smith noticed a farmer pig.
Granny Smith: "Uh, no offence Juan."
Juan the Pig: "No problemo, Missus Smith."
He left.
Applejack: ".... He's our new caretaker from a problemed farm animal planet simular to mexico... Don't worry, he's already been checked from swine flu, he's realitively healthy."
Granny Smith: "And if that stuff about "making stonger healthier trees" is true, then WHY are these trees still look like something out of a cemertary?"
Fluttershy: "I didn't say it was a quick process. Besides, these trees are mainly exhuasted from making the previous apples. These things, just take time."
Rainbow Dash: "Well, yeah! I mean, I know it looks bad now, but you gotta trust Fluttershy here, she knows her critters!"
Granny Smith: "Oh really? Then what's a Vampire Fruit Bat's mating call?"
Fluttershy:... Uhh...
Granny Smith: Well?
Fluttershy:... (Does an actual Vampire Fruit Bat mating call, surprising everyone)... Oh, my.
Granny Smith: How the heck did she learn to do that?!?
Fluttershy: Well... Ever since I was... 'Mutated' during that bat incident, I quickly learned their language. That's how I was able to give them a sanctuary in less than 5 minutes.
Granny Smith: 'Mutated'? What in tarnation is that supposed to mean?
Twilight: Well... I might've accidentally... Turned her into a half-bat, half-pony creature while magically making the bats not fond of your apples. It was a simple chain reaction. That's actually common in magic.
Fluttershy: But I'm all better now.
Granny Smith:... Okay, I think I should take care of this situation before it gets out of hand. I'm gettin' rid of these creatures tonight.
Everyone: WHAT?!?
Fluttershy: But they really like it here. It's been their home for half a year. You can't just take it away from them.
Granny Smith: Oh, I'm sure as heck I can. I've appreciated your animal skills in the past, but in this case, you've crossed the line! You've helped creatures that nearly ruined our farm's business, and it can't be tolerated.
Fluttershy: Are you saying that they don't deserve to live here, nor live at all?
Granny Smith: Maybe.
Applebloom: Yeah. I never speak that way to MY friends.
Applejack: Granny, I'm surprised at you for saying such words to one of my friends!
Granny Smith: Well, you ain't her friend anymore! You're grounded from Fluttershy for a month as of now!
Rainbow Dash: (Scoffs) Excuse me, lady? I KNOW you did not just say that!
Granny Smith: "You wanna tussle, ya one-pony gay pride parade?"
Rainbow Dash: Whoa, why would I wanna harm an old pony like you?
Granny Smith: OLD?!?
Applejack: ENOUGH WITH THE FIGHTING!!! (Sighs) Girls, I'm sorry this had to happen, but if Granny has a problem with this, then there's not much I can do.
Rarity: But if Granny keeps you from seeing Fluttershy, then she's also keeping you from seeing us! She has no right to-
Granny Smith: Applejack is MY responsibility, and I can do whatever the hell I want with her! If you don't like it, then maybe you all shouldn't see her either.
Applebloom: Whoa, easy, Granny! That's a bit too far. My sister cares for them as much as she does with us.
Big Mac: Ee-yup!
Granny Smith: Maybe so, but my decision is final! You are not to see Fluttershy for a month, or you're grounded for another month, do you understand?
Applejack:... (Sighs) Yes, Granny.
Granny Smith: Now go to your room! (Applejack does that) (To Fluttershy) And as for YOU, I suggest you never come to this orchard for the remainder of her punishment! If I see you here even to help these rats with wings, I'll sue you in court for allowing them to be here! Now if you'll excuse me, I've got to do some pest control! (Leaves)
Fluttershy:... (Starts crying)
Rainbow Dash: WHY THAT SELFISH OLD BAT!!! HOW DARE SHE STAND IN THE WAY OF OUR FRIENDSHIP?!? That violates everything we believe in about friendship!
Twilight: Rainbow Dash, calm down! There's nothing to worry about. I'm sure Granny Smith will realize her choices were wrong, and will make up for it within an hour.
Applebloom: Speak for yourself. When Granny makes a decision, nothing changes it no matter how wrong it is. I mean, I was grounded for an accident once, and Granny never listened to me about it.
Rarity: Perhaps it was because it wasn't an accident.
Applebloom: IT WAS TOO!!! (Everyone looks at her sternly)... Okay, it wasn't. But I know deep down that she NEVER changes her mind when it comes to these situations. It usually takes something catastrophic for her to feel bad about it. Can't imagine the odds of THAT happenin'.
Rainbow Dash: "Like what? Granny Smith making the mistake of trusting a controverseal company into taking them away and it goes batshit insane afterwords, like, vampiric super bats that can mutant you?"
Twilight: "Ok, THAT's abit of a strech, I mean, where in Equestia does something like THAT exist?"
Apple Home.
Granny Smith: "I can't believe Fluttershy of all ponies would do this to me! Allowing dispicable vermin like the Vampire Fruit Bats into my orchord! Why, I never!"
Granny Smith started to feel abit sorrowful.
Granny Smith: "Still, I guess I owe it to her to at least NOT kill those varmints. Even an old bag like me still acknowledges that just killing them is not gonna make me any better then those varmits! But still, I need an alternate way to get them out of my apple orchid at all!"
Granny Smith had a realisation!
Granny Smith: "..... Alchorse! That Sciencetist Pony from Baltamare who tried to ask me to sell Wainoa to him! I heard he collects animals for no clear reason! I should give him a call!"
Chapter 2: Genesis
Few hours later.
An offitcal looking van is seen heading torwords Sweet Apple Acres.
it stopped.
The back of the van opened, and a ninja pegicious mare jumped out, then came a unicorn mare sectratary, and a green unicorn sciencetist.
The Unicorn male: "Katana, scout the area!"
Katona the pegicious flew off!
The Unicorn Male: "Miss Pen Cella, the status of our location?"
Miss Pen the Unicorn mare: "Sweet Apple Arces, home of the Apple Family. You came here before requesting their dog, Dr. Fruit Salad."
Dr. Fruit Salad: "Well, I'm surprised she was willing to call me back here after her family took offence to the request. I wonder why she would call me back to this humble little farm."
Miss Pen: "Well, she has a particularlly interesting request: She wants us to take away a bat problem."
Dr. Fruit Salad: "Bats? Last time I check, Genisis is not an extermination company! Fruit Bats are not normally THAT troublesome!"
Miss Pen: "It's not normal fruit bats, or that native to Equestia.... It's, the vampire incarnations."
Dr. Fruit Salad was surprised.
Dr. Fruit Salad: "The Vampiris Fruiticus? Here? I thought they normally inhapit abandon castles and the darkest part of Everfree forest?"
Miss Pen: Well, according to Sweet Apple Acres' history, they had several Vampire Fruit Bat infestations that caused 90% of Ponyville's apple supply to go low. So low, that not even a single drop of apple cider was made. The last infestations was last year.
Dr. Fruit Salad: Well, what happened to them?
???: I can answer that, Dr. Fruit Salad. (Granny Smith arrived)
Dr. Fruit Salad: Ah, Mrs. Smith. I was wondering where you were. Wow, you have really aged since the last time I saw you. Anyway, I hear you have an infestation of Vampire Fruit Bats.
Granny Smith: Yer' darn tootin' I do. Some zoophile pony thought it was a great idea to use my favorite orchard as a sanctuary for the pests. But don't worry, I made sure she paid the price for it.
Miss Pen: What do you mean you made her pay the pri-
Dr. Fruit Salad: Let's just focus on the situation. Ms. Smith, my company isn't an extermination agency. But what it is must be kept classified.
Granny Smith: Whatever. These bats need to be taken care of without killin' them. Maybe since you collect animals, you could take 'em off our hooves.
Dr. Fruit Salad:... Really? You call us here so you can give us these creatures? Well, that's... WONDERFUL!!! I've never even seen them, and I've been after them for years. But that's not important. What's your price?
Granny Smith: They're goddamn free!
Dr. Fruit Salad: FREE?!? SWEET MARE AND JOSEPH, YOU ARE A GENEROUS PONY!!! You got yourself a deal. (They shake hooves). Katana, round up those bats. I've been waiting my whole life for this moment. (Katana puts on a biological suit and flys into the orchard, where bat screeching is heard, and Katana come back with the bats locked up in a steel package with holes)
Katana: The job is done, sir.
Dr. Fruit Salad: Great! Load them up in the van. It's been an honor doing business with you, Mrs. Smith.
Granny Smith: The pleasure is all mine. (The van takes off) Whew, glad I got that mess done with quickly. (Applejack has seen everything from the window, sighs, and closes the window)
Applejack's Room
Applejack: I can't believe she would do this to me! She's a good pony and a good family member. I mean, I don't remember my REAL parents treatin' me the same way.
Applebloom: I don't think you remember much of them, Applejack. They disappeared when you and Big Mac were 5-year-old fillies, and 2 weeks after I was born.... I WISH I KNEW THEM, TOO!!! (Starts crying as Big Mac comforted her)
Applejack: It's just that... Deep down, I thought Granny would appreciate that we wouldn't have no more infestations. She's opened a new opportunity for more bats to arrive, and worse, she sold the ones we had to that strange pony who tried to buy Wanona when she was only a few months old. I HATED that guy.
Applebloom: So how are you gonna hang out with yer' friends when you ain't allowed to see Fluttershy?
Applejack: I'll think of something.
Applebloom: It's not like you could have somepony else tell you how she's doin'.
Applejack:... You know, you just helped me out right there, sister.
Applebloom: I did?
Big Mac: Ee-yup.
Applejack: It would be nice to have somepony to help me find out how Fluttershy is doin'. But who would possibly be so close to her that I could ask him to do it?
Applebloom: Well, at least we know who we WON'T turn to for help. Everything that has to do with him goes topsy-turvy, literally.
???: Oh, really? (The blanket on Applejack's bed suddenly comes to life, and flies around like a magic carpet)
Applejack: WHOA, YIKES!!! YOU HAVE GOTTA BE KIDDIN' ME!!! KNOCK IT OFF, DISCORD!!! (The blanket falls down, and Applejack lands on her bed, and Discord appears)
Discord: So, I hear your granny had a grit fit today.
Applebloom: Yeah. She found out about the Vampire Fruit Bat Sanctuary, and wasn't very pleased. Now, Applejack is grounded from Fluttershy for a month.
Discord: Yeah, I got that. Fluttershy told me everything. I had a LOT to fix since I came back from a royal meeting with my parents. The entire cottage was flooded with tears. Had to save Jerry, Angel, and other animals from drowning in the stuff. I gotta tell you, that was NOT a salty sail in the sea, if you know what I mean.
Applebloom: Just tell us what you want, Discord!
Discord: Well, don't you know? Applejack said she wanted somepony to check on Fluttershy. I'm sure I'd be perfect for it since I can do it in seconds. And we've already covered that she's so upset, she flooded her entire cottage with her tears. Had to make her tears get sent somewhere else as soon as they came out.
Applejack: Where'd you send them?
Discord: (Scoffs) You don't wanna know. It's too funny to handle. But if you insist.....
Villain League HQ
Lord Cobra: (Everyone panics with their HQ being flooded by the tears that are getting teleported there) WHERE IS ALL THIS WATER COMING FROM?!?
Ratigan: HOW WOULD I KNOW?!?
Fagin: Guys, this stuff isn't water. It came from SOMEBODY.
Cobra:... Oh, God, you can't be serious! They CAN'T be someone's tears.
Fagin: They are.
Cobra:... DISCOOOOOOOOOOOOOOOOOORRRRRRRRRRRRRD!!!
Sweet Apple Acres
Applebloom: (Scoffs, and laughs) You seriously teleported Fluttershy's tears to the Villain League HQ? THAT'S HILARIOUS!!! (Laughs until Big Mac and Applejack stare at her sternly)... Ahem. I mean, in all fairness, the leage were jerks anyway.
Applejack: ".... Yeah, I tecnecly can't argue with that. But still, this is a serious problem, Applebloom!"
???: "Applejack? You up there?"
Discord gasped and quickly turns into a poorly stitched couch!
Granny Smith came in.
Granny Smith: "Applejack, I...... Uh, when did you get that old couch?"
Applebloom: "..... Uh, she's borrowing it, from..... Uncle and Aunt Orange!"
Granny Smith: "..... That kinda doesn't look like anything THEY would own."
Applebloom: "..... It was a recently donated couch from their charity, "Giving Oranges". They, want me to hold it while they're stuck on.... A crashed stock market?"
Granny Smith: "..... Ugh, the manehatten stock market crashed again? Confound it, Celestia and Luna seriously need to look into that!"
Big Mac: "Eee-yup."
Granny Smith: "Anyway, I just came to remind you about the upcoming Blood Donation Festival coming up in ponyville."
Applejack: "Ponyville has a blood donation festival?"
Granny Smith: "Well sure! It was made in honor of Mayor Mare's grandfather, Mayor Horse, who's life was saved by a donated blood sample from his loving wife. The Apple Family is gonna serve apple pies at the festival as it's gonna be held in the Ponyville General Hospital! It's a time honored tradition, though argueabley fairly recent, and I needed my best apples! Espeically from my faverite patch now free of those vermin! I was able to save a few apples those varmints didn't sucked dry, so we're good for at least 5 pies, 20 apple fritters, and give or take some caramal apples. Applejack, since your, grounded, I'm putting you encharged of thinks while me, Big Mac and Applebloom are gone. I don't want you seeing that zoophile or those enabler friends of yours. Are we clear?"
Applejack: Yes, Granny.
Granny Smith: That's what I like to hear. Now, let's get to bed. We've got a busy day tomorrow. (Leaves)
Applejack/Big Mac/Applebloom: Whew! (Discord transforms back)
Discord: Well, well. Seems like your honesty doesn't seem to run in the family. That's the first time I've known your little sister and big brother lying about something.
Applebloom: Well, who else was gonna do it? Applejack treats honesty as something powerful. Plus, she finds it difficult to lie...sometimes, if you account to the Flim Flam brothers' false advertising a few months ago.
Applejack: Thanks for covering me, guys. Granny would've been steamed if she saw Discord here.
Discord: Well, considering she already declared that Applejack can't see her other friends, then I guess I'll just have to check on them, too.
Applejack: I don't know if we can trust you on this, Discord. You usually end up causing trouble even when you're doing something nice.
Discord: Oh, please. If I was smart, I would've made Granny Smith forget about that whole 'being grounded' thing. But of course, plots have to say otherwise.
Applebloom: Well, I have to ask, who was that stallion who wanted to buy Wanona?
Applejack: I don't remember much. I just know that his name is Dr. Fruit Salad, and he is an animal collector who runs a company which nopony knows what they do.
Applebloom: What if it's for some experimentation?
Applejack: I don't know. Sending Discord is out of the picture because Genesis is known for two things: It's unknown business, and it's impressive security systems. Anypony who's tried to sneak in there has never been heard of again. Don't get me wrong, Fruit Salad ain't no killer, no normal pony is, but I had heard, nasty rumors he has, "alternate means" to deal with them. And it's gonna be tough considering the fact that I can't see my friends, and I have the least qualified person to help me check on them.
Discord: Well, life wasn't meant to be easy, you know....for mortals. But us Gods, good lord, we have it all!
Applebloom: It sucks that Gods always get the good stuff.
Discord: Well, I can already tell that we have a deal. I'll watch over your friends, and you'll never have to get in trouble with your granny. I'll let you know if any of them have any ideas. Now you might as well get to bed. (Teleports away)
Applebloom: (Yawns) Yeah, he's right. We might have time to learn about Dr. Fruit Salad tomorrow.
Big Mac: Ee-yup.
Applejack: Good night. (Applebloom and Big Mac leave, and Applejack goes to bed, and shuts off the lights)
Elsewhere...
Dr. Fruit Salad: (He drives his van into a large cold night desert where they go through security electric fences, and make it to a large set of buildings. They go past a sign that says 'Genesis', and they park in a garage, where Dr. Fruit Salad, Miss Pen, and the ninja pegasus Katana take the Vampire Fruit Bats into a chamber, and release them from the crate, where they fly across the room, and Dr. Fruit Salad gives them some fruits which they suck dry) This is a dream come true! I've been searching for these creatures for over 10 years, and now I have them.
Miss Pen:...Well, now that you have them, what are you gonna do with them, sir?
Dr. Fruit Salad: Well, the same thing I do with every animal I collect. I perform genetic experiments. As you know, I've been trying to come up with medicines that could change the world of medical technology as we know it. Animals that I keep are the key to curing ailments that no other medicine can cure. Advanced tumors, deafness, blindness, the common cold, even cancer.
Miss Pen: And the risk of causing mass controversy with the ponies' customs of nature being precious.
Dr. Fruit Salad: Of course, that's what the massive security systems are for. Sure I might sound like a jerk for having the intruders used for genetic research, but sacrifices have to be made, I mean, since I don't see myself as the "murderious type", I have to ensure the intruders keep what they seen to themselves, whether they like it or not. Sure some people think this line of work is considered 'playing God', but those are the kind of words that prevent us from moving forward in making our lives better. And all I want the most is to...help my daughter.
Miss Pen: Your daughter? What about her?
Dr. Fruit Salad: Well, I'm sure you know that I've been fighting an ailment in her that's been constantly trying to claim her life: brain cancer. Cancer is among the most unstoppable ailments of our generation. A LOT of people and ponies die of it. There's absolutely NO cure for it. But this time, it's gonna be different.
Miss Pen: "Not to question you sir, but, what makes a bunch of odd looking bats different from any other bats, or, normal Equestian Fruit Bats for that matter?"
Dr. Fruit Salad: "I have a, complincated throey. It appears being creatures that spend all their lives sucking apples and sometimes, other forms of fruit, they have the strongest form of ammunity then even normal bats. Cause of it, even dreaded bat desises like the white nose doesn't harm them, or effect them at all! Heck, rabies, is like the case of the sniffles for them!"
Miss Pen: "...... Didn't the pony science community have, a nasty opinion against the throey?"
Dr. Fruit Salad: "We have our nay-sayers, Pen. Now, I need a way to extract the perfect compound of pure bat DNA."
Miss Pen: "Why not just, get the direct sample?"
Dr. Fruit Salad: "Oh, Pen, my dear sectratary and 3rd cousin, I wished science WAS stone age simple! But it's not! It requires time and rescearh before results! We may have to include normal vampire bats!"
Miss Pen: "And why?"
Dr. Fruit Salad: "Well, I have what you would call, "a gameplan to end all gameplans". I'm thinking of making the Vampirs Fruticus, mate with the mexican vampire bats."
Miss Pen: ".... I, don't think that's gonna nessersarly work, Fruit. Just because they're bats, doesn't mean they gonna be interested at eachother. They're still, two worlds too different."
Dr, Fruit Salad: "I do have, some plans to make it work reguardless."
A test Chamber.
A male VFB is seen next to a sapient female normal Vampire Bat.
Fruit Salad and a couple of unicorn sciencetists are behind a viewing window.
Fruit Salad: "First test, sharing a same dinner."
A dinner table holding baskit of fruit on one side, and a glass of blood on the other, with a lit candle holder at the centar as speakers playing romantic music played.
The Normal Vampire Bat and the Vampire Fruit Bat only looked at eachother in confusion.
Normal Vampire Bat: "Uh..... Free lunch, at least?"
The VFB, being unsentient, only nodded in agreement.
Fruit Salad: "Yes, they're headed to the table. I have lanced the fruit with essience of a "Want It, Need It" spell and the blood has love poison in it. It will make them be attracted to eachother."
Unicorn 1: "You, have a plan B if Bats are somehow ammuned to love poison and love mag-"
Fruit Salad: "Shh!"
The Vampire Fruit Bat sucked out the first fruit, while the Normal Vampire Bat licked the blood.
Normal Vampire Bat: "So, I know you don't talk, but, my name is Batila and-"
Suddenly, they both had hearts in their eyes and stared blankly at eachother.
Batila: "....... I..... I never knew a unsentient creature can be so.... Hunky...."
The Vampire Fruit Bat mimiced a sound simular to "Hubba Hubba."
Fruit Salad: "Yes, it's working!"
Unicorn 1: "My goodness, Subject Fruit Vampire is violating Subject Batila!"
Unicorn 2: "Oh no, he's just awkwordly positioning himself to- Now, he's voilating Batila."
Unicorn 3: "(Mimics Sex Music and rap sounds.)"
Fruit Salad: "AHEM?! Let's give them, their privatcy, and see to it the rest of the test subjects, follow suit."
The Unicorns saluted!
Fruit Salad: "Exsellent! Already things are going smoothly."
Hours later.
A series of cages holding Huge Vampire Bats with some characteristics of Vampire Fruit Bats about the size of Flying Foxes.
Fruit Salad: "Incredable! We had them only a few hours after birth, and they grew in size?! Are they capable to do what I hoped?"
Unicorn 1: "We tested one on a intruing popperazi from "Equestia Daily", and so far, she has incrised ammunity, but we're moniting her for safety reasons."
Fruie Salad: "Good, now, have one ready for the REAL test, and I'll go check on her."
Chapter 3: A Poor Brain-Cancer Soul
A kindergarden like playroom filled with alot of dolls and toys.
A green pegasis is seen playing with a tow first of the MLP:FIM train and flying it like an airplane!
The Green Pegasis: "Vroom vroom, blblblblblblblblblblbl, Avroom vroom, pblblblblblblblbl, BEEP BEEP, BEEEEP?! BEEP BEEP, BEEEP!? Varoom vroom, BEEP BEEP, plplplplplplplpplplplpll, BEEEP!? CELERY SALAD, BEST TRAIN FLYER EVER?! WEEEE?!"
Fruit Salad watched sadly at the mare Celery Salad.
Miss Pen sees this as well.
Miss Pen: "I don't get how a brillient girl like here became.... This."
Fruit Salad: "It's, a result of a spell on her to contain her cancer."
Miss Pen: "Spell?"
Fruit Salad: Cancer can often kill within a few days. So I was forced to magically keep her brain in stasis until I can find a cure. The problem is that it's not permanent. I've got only a week left to find the cure. Her brain has been put in stasis for over 5 years, and already, her IQ is dropping like flies. Now she's a lightheaded teenager with the brain of a 4-year-old.
Celery: (Playing with action figures) YAY! MISTRESS MARE-VELOUS AND SPIDER-MARE SAVED THE DAY ONCE AGAIN!!! WOOHOO!!! (Giggles) TAKE THAT, GREEN ORC!!! (Giggles)
Miss Pen: (Sighs) She makes me think of her mother if she suffered mental retardation.
Fruit Salad: Yes. Garden Salad was a great and beautiful mare. Her brain cancer was deemed hereditary, and this is what lead to poor Celery getting it. I still miss her. But when I give her my new medicine, she'll be back to normal in no time flat.
Miss Pen: ".... Fruit, I'm, worried about, side-effects. Like, what if she turns into a bat pony?"
Fruit Salad: "..... I'll let you in on a secret.... I'm actselly hoping for that in some context."
Miss Pen: "What?"
Fruit Salad: "You see, our current pony spieces is incredabily flawed in terms of our defence to a greater threat then, some dark villain or a monster attack: desise and pestilence! And, I want to make the ponies go through the next stage in our evolusion! Become what I named, "The Vampony"."
Miss Pen: "..... Turn, all of pony kind, into vampire ponies? But, that would mean we can't go into the sun ever again!"
Fruit Salad: "Miss Pen, I am not talking about Triditional vampires.... But I am not talking gay sparkling twilight vampires either, that's for sure."
Miss Pen: "We're not?"
Fruit Salad: "Oh don't get me wrong, there is some concerns that ponies may become, nocturnal, but I'm hoping our pony side will enable us to enjoy both days and nights. That way, Luna will never worry about ponies not enjoying her night ever again! Everyone wins in this!"
Miss Pen: "But.... What about if they want to, suck blood?"
Fruit Salad: "As far as I know, our Super Vampire Bats seem to respond well to a fruit diet, so we're still testing how much traditional vampire bat is in them."
Miss Pen: "Just, how are you even gonna get what these creatures have in your daughter."
Katana brings our a caged Super Vampire Bat.
Fruit Salad: ".... Let's just say, I want to test if they can suck blood."
Miss Pen: "Sir! This, this your daughter we're talking about, and your placeing her in the same room with, that, thing?"
Fruit Salad: "She won't be in real danger, we prepare procautions if the creature does more then one bite. I'll never do this to Celery if I am not sure what I am doing. You just need to trust me Pen. Think about how thankful Equestia will be in the end..."
Miss Pen: "..... I..... I am just, unsure. You know what Celestia warned you if tamptering with nature bite us back in the flanks!"
Fruit Salad was silent.
Flashback.
Fruit Salad was giving Celestia and Luna a tour doing mid-season 2 of MLP:FIM.
Fruit Salad: "And here we have our rescearhers testing on simple creatures and ways to study healing potainionals. I promise the tests are safe and humane for both animal and pony alike."
Celestia: "I know you keep insisting, but, I'm just afraid someone may get hurt from this."
Fruit Salad: "Celestia, I promise you, no one gets hurt here in Genesis."
Luna: "I don't mean to bring personal issues, but, how's, your daughter doing?"
Fruit Salad: "...... She's.... Been better. The Brain Statis spell, is not being very kind to her above average intelligents."
A roar was heard!
Unicorn sciencetists are seen running away from a Giant Mutant Mantis with Squid tenticales and bird wings!
Voice: "Alert: Failed Exspeariment Praying Sqimaird has escaped!? All personal keep away from the creature?!"
Sqimaird: "(ROARS)!? YOU MONSTERS?! LOOK WHAT YOU DONE TO ME?! YOU OFFERED ME 20 BUCKS IF I DO YOUR SICK TWISTED EXSPEARIMENTS, AND THIS IS WHAT I GET?!"
A Unicorn Sciencetist: "Suezy, please! Dr. Fruit Salad is just trying to help his daughter! It's for a good cause!"
Sqimaird: "YOU CALL THIS A GOOD CAUSE?! TURNING AN INNOSENT MANTIS GIRL FROM DETROIT INTO A FREAK?! I'M GONNA KILL EVERYONE HERE, STARTING WITH- (SEES FRUIT SALAD) YOU?!"
Fruit Salad: "Uh, uh, nothing to see here my princesses (hopelessly tries to move them), just a usual mishap with failed exspeariment containment, nothing big or anything concerni-"
Sqimaird uses a tenticale to grab a screaming Fruit Salad!
Sqimaird: "LOOK WHAT YOU HAD DONE TO ME?!"
Fruit Salad: "GAA?! SECURITY!? GET THE SUBJECT CONTAINED NOW?! KATANA?! GAS HER, QUICKLY?!" (Squimaird was about to eat Fruit Salad until she was suddenly shot with a tranquilizer dart)
Squimaird: I'm gonna...I...uhhh...Who can take a sunrise...(Faints)...CANDYMAN!!!...(Faints again)
Fruit Salad: "Oh thank the devines..... Uh, I apologies for this, princesses, sometimes the imperfected exspeariments escape and are not really very patience about my promise to cure them once I help my daughter. I promise this not a serious problem, I-"
Fruit Salad looks to see Celestia angry and Luna shocked and speechless.
Fruit Salad: "Your, highnesses? Is, something wrong?"
Celestia: Dr. Fruit Salad, I am VERY disappointed in you. You made this mantis a monster?
Dr. Fruit Salad: It's nothing personal, your highness. It's just business.
Celestia: (Sighs, and uses her magic powers to change Squimaird back to a normal mantis) You may mean well that you're trying to help your daughter, but there's other ways to do that than mutating someone like that.
Dr. Fruit Salad: Your highness, my daughter is on the verge of dying in a few months, and I have to have these experiments in order to have the cure.
Celestia: I'm sorry, but we simply cannot allow you to do these mutation experiments any longer. We must de-mutate any innocent people who were mutated. (They just do that)
Dr. Fruit Salad: THIS ISN'T FAIR!!!
Luna: If you want to cure your daughter, it's better if you stick with medicines and unsentient lab animals. No more sentient tests.
Dr. Fruit Salad:...(Sighs) Yes, your highness.
Present
Dr. Fruit Salad: "..... If Celestia discovers that I am turning sentients into mutants again just to keep my rescearh secret, I'm afraid my funding won't be the only thing lost to me, nor that of my ability to not be in prison..... I could lose my daughter."
Miss Pen: "..... What, were you hoping to accomplise from a Mantis-Squid-Bird anyway?"
Dr. Fruit Salad: "Those were among, unsuccessful tests and disproven throies. I did wanted to turn them back, but unlike Celestia, for me to do it and do it right takes time, and Celery is my priority. Sqimaird was just, impatent, and thanks to her rampage, had badly neutered my reshearch. Those vampire fruit bats couldn't've been found in a most fragle time."
Miss Pen: ".... I see..... But, in a way, Celery is a sentient. And, testing on her might be..... Well, what if she turns into another Sqimaird?"
Dr. Fruit Salad: "If you mean metathroicly, then no. Trust me, the super bat DNA is not gonna lead to anything dangerious. For you see, Celery, is gonna be the first of a new evolution for ponies everywhere."
Miss Pen: "New, Evolution?" 
Dr. Fruit Salad: I'm intending to use this serum to not only cure Celery but to also make ponies much more superior than normal. I want to save ponies all over Equestria from their ailments that can't possibly be cured. This serum will change everything. It shall make ponies' hearing, sights, and smell much better than normal. I'll even give them a much larger diet, much greater intelligence, and most importantly, stronger immune systems.
Miss Pen: Aren't ponies perfect the way they are? That sounds pretty unnecessary.
Dr. Fruit Salad: Maybe, but if there's a chance it will help heal millions of ponies out there, it will be worth it.
Miss Pen: I don't know. It sounds risky.
Dr. Fruit Salad: It'll be fine. This hybrid I made was born a hybrid, and it's not sentient, so I'm not doing any real harm. I'm sure Celery will thank me when I give her the serum.
Miss Pen: "I'm just worried that your "Perfect Pony" plan might have loopholes you had, yet to fixed."
Dr. Fruit Salad: "Pen, I promise if the formula needs to be worked on, it will be worked on! That's what testing is for! Trail, and error! Any good company knows to give products find tuneing before offitcally releasing them. I promise I know what I'm doing!"
Miss Pen: "Ok, I guess for now, I'll take your word for it. Just, promise me if the serum makes Celery even a little hospile that you'll take procautions to-"
Dr. Fruit Salad: "If we were to hit that snag, then yes, as previously stated, I will work out certain kinks if there were to be such. There's nothing to worry about."
Miss Pen: "It's just that, your combining a blood sucking bat spieces with that of a fruit eating spieces. Aren't you afraid the super bats will have the aggresion of the Vampire Fruit Bats and the normal vampire bat's lust for blood? And even the possability of making.... An, Onviverious bat?"
Dr. Fruit Salad: "To be honest, I won't really be surprised if that were true. I already seen what our previous projects were like, Pen. So, it's not really ill-logical if it were to be so."
Miss Pen: "I'm sorry for being a worry-wart, it's just that, if any of those, things you had breed were to escape, I, I can't even igmagine the desistation! Both capable to suck blood and cause a egological damage to crops, these things are the perfect plague capable to cripple civilisations! If villain teams knew about these, things-"
Dr. Fruit Salad: "Pen, please! I know these creatures look more to be the things of nightmares, but I promise they will be the santion of good. Ponies will become better from them. Everyone will love the Super Bats irreguardless of being, abit hissy. But most of all.... Think of the lives that will be preserved, even saved, by them...."
Miss Pen: Well, I hope you know what you're doing.
Celery: (Giggles, then sees her father) Oh, hi, daddy! I'm playing with action figures! See? (Runs around the room with the action figures making action noises) Boom! YAY! Radiance wins again! (Fruit Salad and Miss Pen sigh).
Chapter 4: Vampire Fruit Celery Salad is Born
Hours later.
Celery was humming a song while sitting in a chear.
Dr. Fruit Salad: "Now, Celery, I, may need to, inject you with a serum I think should rid you for your, illness. I promise it'll be quick."
Celery: "La-la-la-la-la-lala! Oh wait, you said something?"
Dr. Fruit Salad: "Uh, yes. I'm going to inject a new medicine daddy made."
Celery: "Does it taste like chocolate?"
Dr. Fruit Salad sighed.
Dr. Fruit Salad: "Your not gonna indest it, it's going into your bloodstream."
Celery: "Oh..... Still don't get it."
Dr. Fruit Salad: "I must warn you, it involves getting a needle, and I know you don't, like needles, or anything sharp and pointy, so, look who came to divert your attent- I mean, keep you company!"
Fruit Salad brings out a doll in a recolor of Winnie the Pooh!
Celery squeed!
Celery: "Binnie the Dooh!"
Celery grabs the doll and hugs eyes closed!
Celery: "I LOVE BINNIE!?"
Dr. Fruit Salad: "(Wispers), The subject is distracted, proseed to inject the serum."
Celery: La-la-la-la-la-la-la-la! BINNIE THE DOOH!!! (Giggles, then she's suddenly injected with the serum) OWCH! That hurt! (Starts crying, then her crying stops when noises are heard in her body)...I don't feel so goo--(Suddenly, her brain starts getting stretched out a bit)--ooo-oo-oo-ooooh! (Her eye pupils start to shrink, and then expand again, and after a few effects, she faints)
Dr. Fruit Salad: Celery?...Say something, Celery!
Celery:...(Wakes up) Uhhgh...daddy? Is that you?
Dr. Fruit Salad: Celery, focus. How many ears do you see?
Celery:...Uh...2?
Dr. Fruit Salad: What's 2 times 8?
Celery: 16?
Dr. Fruit Salad: What's a pegasus' main job?
Celery: Control the weather?
Dr. Fruit Salad: What's the symptoms of blu flu?
Celery: Blue flushed skin, runny nose, fatigue, and headaches.
Dr. Fruit Salad: And what's Disney's most highest grossing film?
Celery: The Lion King?
Dr. Fruit Salad: And how does your head feel?
Celery: My head's fine, dad!
Dr. Fruit Salad: YES! IT WORKED!!! MY LITTLE DAUGHTER IS FINALLY CURED!!! (Hugs Celery)
Celery:...Uh, daddy, what's going on?
Dr. Fruit Salad: You had brain cancer, Celery. It took me until now to fix it. I created a serum derived from the DNA of vampire fruit bats and vampire bats, and the strong immune systems and cancer-resistant by-products saved your life.
Celery: Really? Are you sure you even checked the side-effects?
Dr. Fruit Salad: I assure you, it's fine. I gave you much more than a stronger immune system. I gave you better vision, smell, hearing, and you have a brand new diet.
Celery: Well, I can see much better than I last remember I could.
Dr. Fruit Salad: Exactly. It's good to have you back, Celery. (Hugs her again) But I need to keep you in this chamber just in case of any side-effects of the serum.
Celery: Side-effects?
Dr. Fruit Salad: Well, I need to ensure that the serum doesn't do anything harmful and sporadic to your body. Using DNA in medical sciences is too dangerous, even for the most successful professionals. I'll have your dinner ready in a minute.
Celery: If you say so. See you later, dad! And thanks. (Runs into the chamber)
Dr. Fruit Salad: (Eyes start watering) I can't believe she's saved! After 5 years, she's finally saved. Somepony make her something to eat. And be sure to add a few extra kinds of food to the cuisine, like fish perhaps.
A few minutes later...
Celery: (Inside the chamber, and sees a pony with a plate full of fruits, fish, and a glass of warm milk) Hey.
Pony: Here's your food, Celery. Try not to swallow it all in one bite. Your father even added some fish to see if you like them with your new diet.
Celery: I...I've never even eaten meat before. I was born a vegetarian, just like every other pony in Equestria.
Pony: Well, try it. You might find it pretty good. (Leaves)
Celery:...Well, okay. (Takes a bite into the fish)...Wow. It tastes better than I expected. (Eats the rest of the fish, and drinks the milk, leaving only the fruits left, which she stares at hesitatingly)...So...juicy....So delicious!...(Salivates)
Dr. Fruit Salad: (Seeing her actions) Hmm...a taste for the juice of a hard fruit? Truly a common characteristic of the Vampire Fruit Bats. But I think we can do without the obsession stuff. Prepare the scientists to prepare a--(Suddenly, he heard Celery slurping the fruits dry within a second, then eating the rest of the fruit)...Whoa!
Celery: (Burps) Excuse me.
Dr. Fruit Salad:...Prepare an anti-craving antidote. I need to make sure she doesn't crave juices whenever she sees them.
Later that night...
Celery: (Is sound asleep, and still in the chamber)...(Suddenly, she feels pain, and wakes up) Urrgh! What was that--Urrrgh! (Falls out of the bed) URRRGGGHHHH!!! What's...what's happening?!? (She suddenly grows fangs, her ears get furrier, her eyes turn red and bat-like, her cutie mark changes into a celery with blood on it, and her wings turn into bat wings) AARRRGGGGGGHHHH!!! I'm...changing! I...(Starts shrieking, becoming a half-pony half-bat similar to Flutterbat)
Dr. Fruit Salad: (He and some guards arrive) Celery, are you okay? I heard a--HOLY EQUESTRIA!!! (Sees Celery as a mutant) Celery, what has happened to you?!?
Celery: "............. Isn't it obvious, daddy dearist..... I, have become your perfect spieces........"
Dr. Fruit Salad: ".... What..... What are you saying?"
Celery: "I never felt, so alive! Free, free of the dread of deieses and pestelence?! Free from the frail body of being a normal pegisus pony! I never felt so alive!? This is what everypony should feel, father?! I must spread it to ALL of the Equestia!? They'll be, much, much better!? I'll be a hero, father?!"
Dr. Fruit Salad: "Celery!? This isn't what you would normally talk like?! It's the bat DNA!? It's, it's taking over your body and created some sort'of, dominate persona! You need my help, we need to balence you out with pony DNA asap! I can't risk Celestia finding out, I-"
Celery: "Keep your inferior pony flesh to yourself!? I can't be a help to anyone as a "Bat Pony", I must be a help, as a "Vampony"?! I'll be Celery, slayer of pestelence, liberator of mortal kind, and the convertor on the inferiority!? I'll free Equestia from the terrors of sickness! I'll save them from their own weakness, and their weak blood! Blood..... That sounds strangly delisious the more I think of it.... How it seems to appeal to me even if it's about as tasty as metal! A+, B-, AB, O+, even the exotic XYZ!? It's so, yummy to me!? It calls to me! (Laughs maniacly?!)"
Dr. Fruit Salad: "Oh no! Her brain being in status has allowed her to fallen to bat based instints! She must be contained! Celery, you need to listen me, you have to allow me to help-"
Celery flew off, maniacly laughing!
Dr. Fruit Salad: "CELERY! NO! PLEASE, COME BACK!?"
Cage area.
The Super Vampire Bats are seen resting.
Celery bursted through!
Celery: "Ahhhhh..... I am sensing these are my kin of blood. My children of the night. Time to get their attention."
Celery uses her newfound sonar ability to get the SVBs attention!
Celery: "Hear me, my children! I am on a quest to help lead my kind to superior asention, and radacation of sickness in ponies! Your award, will be the blood you suck and the fruits of their labor!? Here, my children!? Let me free you?!"
Celery bucks the button and frees the super bats that began to screeh and snarl as they fly around, as Celery laughed insanely!?
Miss Pen appeared and see this!
Miss Pen: "(Gasp)! Celery?! What happened to you, and what are you doing?!"
Celery didn't respond as she flew up broke through the celing, the Super Vampire Bats all following as Celery's demented laughing is heard!
Dr. Fruit Salad and some guards arrived too late!
Dr. Fruit Salad: "NO! CELERY?! DON'T LEAVE ME?! CELERY!?"
Dr. Fruit Sald plopped to the floor and started to man-cry!
Miss Pen: "...... Fruit, if Celestia discovers this, Celery will be reckindised as a threat, and...... Everyone knows what happens to those that are deemed a threat. And think if she figures out where did these bats came from."
Dr. Fruit Salad: "..... Then we need, to capture her before things get out of hand!"
Chapter 5: Flutterbat Returns, and Things get further sour in the Apples.
Somewhere in the middle of the Equestian outskirts.
Celery is leading her Super Vampire Bats around Equestia!
Celery: "We need to make Vamponies to come aide us on our crusade against sickness! And I am sensing, there is already a Vampony in existence.... And she's in..... Ponyville.........."
Fluttershy's house.
Jerry and Discord are seen sleeping on the couch cause Fluttershy wanted to be alone for a bit.
In Fluttershy's bedroom, she's still distressed and can't sleep.
Fluttershy: "Oh, miss Smith.... How could you be so heartless to misunderstood creatures.... They do more good then you think..... Why can't you understand?"
???: "Something wrong, little pony?"
Fluttershy: "(Gasps)! Who's there?"
???: "Outside, little one....."
Fluttershy goes outside through her window.
???: "In your tree branches."
Fluttershy looks, and sees a series of red looking eyes appearing all throughout.
Fluttershy: "EEP!?"
???: "Don't be afraid...."
Celery appeared behind her.
Celery: "We're friends."
Fluttershy gasped and eeked to see Celery!?
Fluttershy: "Your a bat pony!? Please tell me your one of Luna's bat ponies!"
Celery: "No, my dear. I, am a Vampony! And I came to help."
Fluttershy: "Help?"
Celery: "Young miss, recently ago, my father managed to cure me of my brain cancer, and freed me of my mortal weaknesses forever! Well, for deieses anyway. I am the next step of our ponykind's evoution!? I, am their Salvation! I, am, Celery Salad!"
Fluttershy: "...... Celery Salad? That doesn't sound very.... Vampireish."
Celery: "Hey just be glad I'm not a Twilight Saga Vampire who sparkles in the sun like a gay-ass lanturn."
Celery: "But luckly, I'm also not the traditional vampire who burns up in the sun like a straight-ass lanturn. But all the same, my dear little friends are not capable to be up in day and night like me. They need, a place to stay until we can make our move, little sister."
Fluttershy: "Oh, uh, sure, but, I'm sure we're not related. Cause, I think I would remember being related to a Vampire Pony."
Celery: "Not of kin, obviously, but we both have bat DNA inside of us! But you have only half of what I had become! You have Vampire Fruit Bad DNA, little sister."
Fluttershy: "I'm a year older then you..... I think. How old are you exactly?"
Celery: "Not impourent! That means you only have half of the superior Vampony genes! Join me, and togather, we can liberate Equestia from their mortal weaknesses!?"
Fluttershy: "Um, I don't know..... I don't Celestia would like me helping vamponies turning ponies into more vamponies with bats I never seen before. I think she would be, mad at me."
Celery: "Hmmp, typical immortal god, too stuck up in their devine rules to understand that mortals need to be save from the cruelty of sickness. Like, cancer. It took my mother's life, and had not been for father, it would've claimed me as well, and I'd be just another claimed life to sickness and another name in the graveyard."
Fluttershy: "And don't get me wrong, that's fine for you, but, I'm sure whoever your father is, I'm sure he wanted to keep you from going, uh, overboard."
Celery: ".... Sister, follow me. There's something, you need to see."
Celery sonared the Super Vampire Bats to stay put, while gestures Fluttershy to follow her.
Ponyville Hospital, at the crack of dawn before the Ponyville Blood Donation festival is ready.
Celery and Fluttershy flew up to a Hospital Window, and snuck in.
Fluttershy: "Celery, why are we breaking into Ponyville Hospital? My friend Rainbow Dash almost got in trouble for trying to steal a book and accused of stealing a slipper."
Celery: "This is the room they keep, cancer patiences....... Young, children, cancer patients."
Fluttershy gasped as she sees young fillies and colts sleeping in bed, banaged up and nearly bald.
Celery: "Whatever cure is plan by the well meaning mortal doctors, won't come in time to save them, sister. These fillies and colts, won't even live to see what their cutiemarks look like. Parents, left desistated, families destroyed and broken, life, for them cut unfairly short. What's even more sad, Celestia has the power to stop this... But the rules of the devines forbid intervention unless of it's civilisation threatening, and appearently, cancer doesn't count as that!"
Fluttershy: "Well, to be fair, if it's the black plage we're talking about, that would get a respondse. It's just, Cancer, doesn't work like that. It only happens to certain ponies with, bad genes, or, sometimes, because of unhealthy habits, like smoking. Cancer, is not a predictable desise, and it's hard to understand. That's why medicene could only do so much."
Celery: "Then they can't be their only hope anymore, sister. These children, need a hero. Equestia, needs a hero. They need me..... No, they need us.... They need you and me, sister. Let me awake your true potaional, and come tomorrow night during the blood donation festival, that's when our crusade begins! Please, sister.... For the children."
Fluttershy becomes morally conflicted.
Fluttershy thinks: "This is almost the same problem Discord went through. But very unlike that monster Tirek, Celery wants to help ponies, and, these poor children! I.... I don't know what to do....."
Fluttershy plopped down and quietly cried.
Fluttershy: "..... Do what you have to do.... But not here..... I, don't wanna wake and scare the children when they see you do... It."
Celery picked up Fluttershy.
Celery: "Very well..... Your place then?"
Celery flew off, and escape the hospital.
Fluttershy's house.
Fluttershy stood, as Celery stood errly close.
Celery: "I must warn you, sister.... It may be.... Painful."
Fluttershy: "..... Just.... Do it."
Celery grabs Fluttershy and bite her in the neck!
Discord and Jerry opened the door.
Jerry: "(Yawns), Good morning Flutter- SHA-A-A-A-A-A--A-A-AAAHHHHHHHHHHHHHHHHH!?"
Discord: "WHAT IN THE WORLD?!"
Celery let's go of Fluttershy and hissed in a mouth full of Fluttershy's blood, following by a beastly jaguar like snarl!
Jerry: "Gaaah?! A Vampire Pony!? This early in the day, AND NOT BURNING!?"
Discord: "Maybe it's a rouge bat pony from Luna's guard gone thristy for blood?!"
Jerry: "WHAT DO WE DO, WHAT DO WE DO!? LET'S GO BACK FOR HELP, WHAT'S WHAT WE'LL DO, LET'S GO BACK FOR-"
Fluttershy: Guys! I can explain this! I--(Shutters)...I--(Twitches)...I met her last night. She wants me to...to go back to my Flutterbat side.
Jerry: YOU CANNOT BE SERIOUS!!!
Discord: Give me one clear explanation as to why you would want to run amuck like a monster?
Fluttershy: She told me I can save ponies who are suffering from cancer. She--(Twitches again)...She showed me that I have the chance to save them. I don't wanna see fillies die a painful death. I just...I just don't! (Twitches again)
Jerry: Somebody do something!
Celery: You are too late! I've already triggered the bat DNA inside of her. In a few seconds, she'll become one of us.
Fluttershy: I...I...I'm sorry...everyone. (Suddenly screeches, and her ears turn furrier, her wings turn into bat wings, her one unnoticeable fang turns a bit longer, along with another fang appearing, and her cutie mark goes from pink butterflies to pink bats)...(She soon becomes Flutterbat again, and screeches at Jerry and Discord)
Discord: SWEET SOURBREAD!!!
Jerry: Fluttershy, don't let this vampire pony control you! (Flutterbat shrieks at him, scaring him) YIPES!!!
Celery: "I can't have you two interupt my dreams of a Vampony Equestia! You two must be taken care off!"
Flutterbat: "I got this!"
Jerry: "Wha-wha-wha-wha, what are you gonna do to us!?"
Flutterbat used her sonar to hypnotise Jerry and Discord!
Flutterbat: "You will obey any command!"
Jerry/Discord: We will obey any command!
Flutterbat: You will fall asleep until everypony is one of us!
Jerry/Discord: We will fall asleep until everypony is one of you! (They both fall asleep)
Celery: Clever move, sister! Let's get started on getting enough fruit to get us engerised before our big night attack!
Flutterbat: And I know just the place to start! Sweet Apple Acres!
Celery: Excellent choice, sister.
Sweet Apple Arces.
Big Mac was seen with Cheerilee collecting apples.
Cheerilee: "You know Big Mac, everyone is really looking forword to the blood donation festival."
Big Mac: "Eee-yup...."
Cheerilee: "...... Ever wonder aside from historic tradition why we even celebrate this?"
Big Mac: "Eee-Nope."
Cheerilee: ".... So, we're, left here while Ms. Smith and Applebloom went to the festival to open out their stand and we were ask to collect enough apples to meet with supply and demand."
Big Mac: "Eee-yup."
Cheerilee: "..... Big Mac..... Can I, admit something to you?"
Big Mac was silent.
Cheerilee turned away from Big Mac is if bashful.
Cheerilee: "I, have a confession.... At first, I, really wasn't interested in you cause, well, I wasn't very lucky in the love game, and well, (Big Mac was suddenly snatched by familer siluettes and took him into the trees), ever since the love poison fiasco, I, realise now, that, Macintosh..... I, actselly have feelings for you, Big Mac, I- (Turns to see Big Mac gone). Oh, for the love of Equestia?! He must've went on to collect apples somewhere else. Ain't that like ALOT of men in my life!"
Cheerilee mumbles to herself as in secret, Fluttershy and Celery were sucking Big Mac's blood.
Hours later.
Cheerilee: "Big Mac? Mac? Where are you? The Day part of the festival has almost passed. Mac?!"
Cheerilee stepped on a dried apple.
Cheerilee: "What in the wide wide world of Equestia?"
Sceeches are heard.
Cheerilee paniced!
Cheerilee: "Hello? Who's there? Big Mac?"
A roar was heard!
Cheerilee: "GAAH?! This isn't funny?!"
Suddenly, Celery pounced on Cheerilee, as she started to scream, struggling to keep Celery from biting!
Celery: "SUBMIT!?"
Cheerilee bucked Celery off, and ran for it, narrowly judging a swoop attack from Flutterbat!
FB and Celery persued Cheerilee!?
Cheerilee ran torwords the Apple home!
Cheerilee: "APPLEJACK!?"
Applejack looked out her window, and is shock to see Fluttershy as Flutterbat again as well as a bat pony she never seen before!
Applejack left her room and got to the front door as quickly as she can!
Cheerilee: "APPLEJACK!? HELP!?"
Applejack bucked open the door!
Applejack: "COME ON!? YOU CAN MAKE IT?!"
Cheerilee leap to the door, but Flutterbat, Celery, and a Vampony Big Mac pounced and grabbed Cheerilee!
Cheerilee: "AGGGHH!? HELP ME?!"
Applejack ran and and grabbed Cheerilee's hooves, and tried to pull her away from the Bat ponies!
Celery: "YOU HAVE NO HOPE TO RESIST US?! SUBMIT?!"
Big Mac (scarier voice): "Eee-yup!"
Flutterbat: "We're only doing this for your own good?!"
Applejack: "Who are you and what did you do to my brother and Fluttershy?!"
Celery: "Your future savior and lord! (Hisses?!)"
Cheerilee: "APPLEJACK!? (CRIES) HE-E-E-E-E-E-ELP ME?!"
Applejack: "I ain't letting you go, Cheerilee!?"
Celery uses her wing to smack away Applejack, and the Vampony trio flies away with a sreaming Cheerilee!
Applejack: "MISSUS CHEERILEE?!"
Cheerilee: "APPLEJACK!? PLEASE TELL APPLEBLOOM I THANK HER FOR BRING CLOSER TO BIG MAC!?"
The Vamponies and Cheerilee disappeared into the trees, as screams and the sound of a bite was heard, followed by a sicking sucking!
Applejack winced.
Applejack: "..... I.... I got to get help!"
Applejack made a run for it!
Ponyville.
Twilight was communing with Rarity, Rainbow Dash and Pinkie, with Mayor Mare on their way Blood Donation Festival.
Twilight: "It's an honor to be the first Princess to attend the Blood Donation Festival."
Rainbow Dash: "Question though..... Why, even have one? Aren't you afraid if Equestia is ever attacked by vampires that it's gonna invite trouble?"
Mayor Mare: "Oh nonsense! There's no Vampires in Equestia!"
Applejack: "VAMPIRE PONIES?! VAMPIRE PONIES?!"
Applejack was freaking out and was attracting attention!
Applejack: "VAMPIRE PONIES?! I SAW THEM WITH MAH OWN EYES!? THERE'S THIS GREEN PONY WHO TURNED FLUTTERSHY, MY BROTHER AND NOW MISS CHEERILEE INTO VAMPIRE PONIES!?"
The Populus began to worry mutter!
Mayor Mare: "What in the-...... Has Applejack lost her mind!?"
Twilight: "Mayor, let me handle this. I think Applejack is suffering from guilt bad enough that she ended up having a nightmare I guess. I'll, investigate it."
Twilight came up to Applejack.
Applejack: "Twilight, it was awful! I saw Cheerilee being aducted by Fluttershy, my own brother, and a new bat pony I didn't see before! You got to believe me!?"
Twilight: "Applejack, calm down! Are you sure you didn't get a guilt-indused dream for not stopping Granny Smith from sending the Vampire Fruit Bats away?"
Ponyvillian: "Wait, Sweet Apple Arces had Vampire Fruit Bats?"
Twilight: "NOT IMPOURENT?!"
Applejack: "Sugercube, you know me! I never told a lie in my life!"
Twilight: "I know you won't, but, what if your telling the truth, but what you had saw wasn't real? What if you saw a guilt caused hallusionation because you couldn't stop Granny Smith from wrongfully punishing you for being a good friend to Fluttershy?"
Applejack: "I know what I saw! I didn't got no dang guilty mirage! I didn't went insane! I felt Cheerilee's hooves, I heard screams and monsterious sounds!? (Started to shed tears) I ain't gone crazy or deludional!?"
???: "But you did done disobeyed me, Applejack!?"
An angry Granny Smith is seen with a nervious Applebloom.
Granny Smith: "Applejack, what in the sam hill are you doing outside of your room and hanging outwith those Vampire Fruit Bat lovers again!?"
Applejack: "Granny, you, you have to believe me! It would've been too dangerious to stay at Sweet Apple Acres!? There was Vampire Ponies there! There's this green one who already gotten Fluttershy, Big Mac, and Cheerilee! I know what I saw!"
Granny: ".... DANG NABBIT APPLEJACK!? Do I have to put you into a mental hospital like we did to Uncle Apple Loon?"
Cutaway.
A Staillion with a cowboy hat with an arrow across it with a cutie mark of a coocoo clock is seen sing this song.
Present
Applejack: I am telling you the truth, Granny! I had no choice. I had to get help somewhere. If you don't believe me, then check out ALL the apples in our farm? They're all sucked up! I represent honesty, you know that!
Granny: Likely story. I'm groundin' you for another month!
Applejack: YOU KNOW WHAT, YOU AIN'T BEIN' FAIR TO MY LIFE, GRANNY!!! I AM TELLIN' THE TRUTH! AND IF YOU CAN'T SEE THAT, THEN...THEN...THEN I QUIT!!!
Granny Smith: "Three months."
Applejack: "ARE YOU SERIOUS!?"
Granny Smith: "...... 4 months."
Applejack: "GAAAAAH?! SON OF A GOAT!?"
Granny Smith: "..... A year."
Applejack stared blankly.
Applejack: "Ya know what? Be ignorent all ya want! I am done being part of the apples?! I never should've left the oranges!? If you ever died, don't expect me to feel bad for you, you, you, OLD STANK!?"
Everyone gasped.
Mayor Mare: "........ Wow........ That must've been some guilt."
Twilight: "Applejack, your obviously disorianted! Maybe you should stay at my place until to calm down."
Applejack: "Don't bother! (Tears a present) If not even my own kin believe me, how would even an alicorn believe in me and help me?! I knew what I saw, and it ain't stress or me acting out! I'M HEADING TO CANTERLOT AND FIND SOMEONE WHO WILL BILIEVE ME?!"
Applejack runs off!
Twilight: "APPLEJACK, WAIT?!"
Rarity: "..... DRAMA!?"
Pinkie: ".... Applejack?......"
Rainbow Dash: "Now look what you did, you old windbag?! You had your own granddaughter run away in total sadness cause you grounded her over a few bats!?"
Granny Smith: "Eh, every family has their black sheep. I just didn't think it would be Applejack of all ponies. But she done made her choice, and who in tarnation are we to change her mind? If she wants nothing to do with the Apple family, I ain't stopping her."
Applebloom: "But..... Granny..... She's family."
Granny Smith: "Not anymore, she ain't! If that mule wants to make herself look like another bad apple, that's her business!"
Granny Smith left.
Applebloom was seen crying when she followed.
Mayor Mare: "...... Family Dilemmas, uh, happens to the best of us! Now, everyone resume enjoying the festival! Show's over!"
The crowd scattered.
Twilight: "...... Girls..... I'm starting to think that.... Maybe Applejack was telling the truth. Applejack would never yell and insult Miss Smith like that, her own grandmother, if it wasn't serious!"
Rarity: "Well, to be fair, it would've helped if Applejack didn't over-sell it by being all bloodly murder about it."
Rainbow Dash: "How, can, she, not?! Whatever happened to Fluttershy, Big Mac and Cheerilee, can't sound good! Applejack rarely gets that worked up, so it HAS to be serious!?"
Pinkie: "But..... (Mane deflates) What about Applejack?"
Twilight: "...... We'll, have to worry about her later. Something is going on, and we can't risk, whatever's going, to spread to ponyville. We have to investigate this. Pinkie, You and Rarity check Fluttershy's house, me and Rainbow Dash are heading to sweet apple acres!"
Sweet Apple Arces.
Twilight and Rainbow Dash are already at a gloomy looking Sweet Apple Acres.
Rainbow Dash: "Whoa. It's like the Vampire Fruit Bats never left and sucked Sweet Apple Acres dry as payback on Granny Smith."
Twilight: "I'm started to think that Applejack might not be hallusionating at all. (Turns on her magic horn), I'll cover the ground, Rainbow Dash, take to the sky."
Rainbow Dash saluted and took off.
Twilight went on to investigate everything on ground. The dried up apples are everywhere, and the smell is pudgent and foul. Twilight's eyes widen when she spotted a small puddle of blood.
Twilight: "Oh gosh! Now I am hoping Applejack was wrong."
Twilight scanned the blood with her magic.
Twilight: "Cheerilee....."
A dog wimper was heard.
???: "Shut up, you mutt?!"
Twilight gasped!
Twilight quietly approuched to a part of the arce, seeing A vampony Mig Mac and Vampony Cheerilee surrounding Wainona.
Vam Cheerilee: "All the good fruit is sucked up by our head-sister's bat army, little doggie, and me and brother Mac are asked to watch the place incause that Apple coward comes back! And we barely had anything to suck! Oh, Maccy poo! How's about, a doggy bag for two?"
Vam Big Mac: "Eee-yup!"
Wainona wimpered as the duo approuched her.
Twilight, in a panic, implusive incrised her magic flare, causing Cheerilee and Big Mac to freak out from the sudden light!
Twilight: "Wainona, get out of here, fast!?"
Vam Cheerilee: "GAAH?! I HATE INTERUPTED MEALS?!"
Wainona made a run for it!
As Twilight was about to make a run for it, Two Bulky Earth Ponies in suits stood in her way.
Twilight: "What the?!"
Suddenly, Katona appeared and trapped the Vamponies Cheerilee and Big Mac!
Dr. Fruit Salad Appeared with Miss Pen and a near army of ponies armed with tranquliser guns and a series of trucks with cages.
Dr. Fruit Salad: "Oh no. She's already infected ponies. We need to keep these insodents as icelated as possable! We can't have them...."
Dr. Fruit Salad sees Twilight by the bulky ponies.
Dr. Fruit Salad: "(Gasps), P-p-p-p-p-p-Princess Twilight?!"
Twilight:...I take it you're responsible for this?
Dr. Fruit Salad: Yes! You happy? But you can't tell Princess Celestia! You have to believe me, I was trying to cure my daughter's brain cancer. But I winded up using a medicine derived from the blended DNA of a Vampire Bat and a Vampire Fruit Bat. The result was a formula for a stronger immune system, and a possible cure for cancer. I tested it on my daughter, and at first, it worked. But a few hours ago, I found my daughter to be a monster. Now she's loose spreading Bat DNA all over Equestria, claiming that she wants to cure cancer and other ailments like I dreamed of. But I didn't want it to be like THIS!
Twilight: Are you crazy? Using DNA in medical sciences is too dangerous! Who do you think you are?!
Dr. Fruit Salad: I am Dr. Fruit Salad, owner of Genesis.
Twilight: Genesis? You mean that company from Boltamare which has more security than Area 51?
Dr. Fruit Salad: Yes. We specialize in genetics and medical sciences, but have to keep it a secret to prevent controversy. Celestia and Luna visited the place once, and I had to cancel sentient test subjects thanks to, a fail exspeariment gone wild. I came here because Granny Smith offered me Vampire Fruit Bats so I can complete my cure.
Rainbow Dash crashed in landing, with an angered face, surprising Fruit Salad and his allies!
Rainbow Dash: Well, THAT explains a lot! You have ANY idea how much trouble Granny Smith had caused to one of our friends?
Twilight: "Applejack became a black sheep because of you and, whatever became of Cheerilee and Big Mac!"
Dr. Fruit Salad: "Let's just say what became of the shcool teacher and her boyfriend is but a rough draft of the next evoution of our kind."
Rainbow Dash: "Cheery and Mac are NOT dating!"
Twilight: "Also, aren't you afraid of the damage your daughter and Fluttershy/Bat are capable of alone? And another thing, what's this I heard from Cheerilee about a "Bat Army"?"
Dr. Fruit Salad: "..... My, daughter was somehow able to malmitulate the super vampire bat strain to follow her command. But, but please, I promise I have completely under control, just, don't tell Celestia!"
Twilight: "I'm sorry, but I can't endanger Equestia just so you can avoid getting in trouble. I understand where your coming from, but your not really helping your daughter OR Equestia if you choice to allow her to make matters worse! For her, AND yourself!"
Dr. Fruit Salad: "You are not leaving me with viaitable opitions, your highness."
Flying Scorpian-Wasp Hybreds pounced on Rainbow Dash and Twilight, pinning them down!
Dr. Fruit Salad: "I am forced to hold you two against your wills until I can resolve this matter! Sting-Sting, Pinchlo, take them to camp and make sure they are in cages capable to withstand and restrain their abilities!"
Twilight: "YOU CAN'T DO THIS!? I'M CELESTIA'S PROAGY!? YOUR JUST GONNA MAKE IT WORSE?!"
Dr. Fruit Salad: "Not if I do it right. You'll thank me for what I plan for Equestia soon enough."
The Scorasps take Rainbod Dash and Twilight away!
Miss Pen: "Sir, aren't you afraid you are gonna make this worse? I mean, you just kidnapped and hold a princess against her will! If Celestia found out, it's gonna be alot more harder to earn her sympathy! Aducting royalty and conspirtity are not things the public smile apawn!"
Dr. Fruit Salad: "Pen, what choice do I have? Celestia will punish me and Celery over this! I had to take these kind of risks if it's for the good of Equestia in the long run! Please, I know what I am doing...." (They didn't realize they were being watched by Spike)
Spike: Uh-oh! I need to warn Applejack! (Runs off)
Twilight's Kingdom
Applejack: (Sits on her throne crying)...How could Granny do this to me? I have friends to care about, and she just forbids me from seeing them? To me, that ain't bein' a good parent. I never knew my Granny for being this careless in my life. She's been the only pony who was so close to me since my parents...(Resumes crying) Now what am I gonna do with my life? I need to find a new farmin' business. Maybe I need to go back to Cherry Blossom's cherry orchard. It's the only place I know where I can continue what my cutie mark represents. (Sighs)...But Ponyville is my favorite place to live in, though, but there ain't any good farms that I can find here. *Sniff* Well, at least I still have my friends...But wait. Where's Discord? I thought I put him in charge of watching my friends when I was with Granny!...Somethin' must've happened to him! Good God, I need to get there and find out what's goin' on!
???: Applejack! Applejack! (Spike arrives and stops after panting in exhaust) God, I wish I was older so I can run faster. (Pants) Curses we dragons don't have any growth spurts until our 20th year, and I'm only a quarter-way there being 15. (Pants) Anyway, Applejack, Twilight and Rainbow Dash have been captured by this guy named Dr. Fruit Salad!
Applejack: Dr. Fruit Salad captured Twilight and Rainbow?!? Why?
Spike: He told them he was responsible for the Vampire Pony. He was trying to cure his daughter's brain cancer, but she winded up turning into a monster, and is trying to fix it himself, but doesn't want Celestia to know about it. So he captured them.
Applejack: I knew I couldn't trust him! I gotta do somethin'!
Spike: I know you have a grudge against your Granny, but is it possible to tell her about it?
Applejack: Absolutely not! I ain't goin' back there no way, no how! She was a bad parent to me, and I'm better off without her. I'm gonna have to do this myself. I need to tell Celestia and Luna about it.
Spike: But you might not make it there in time. Those Vampire Ponies or Dr. Fruit Salad would have you captured before you could get to them.
Applejack: Then I need to find Discord. He's the only magical source I have to get there. We gotta get to Fluttershy's cottage! He's close to Fluttershy, so he's sure to know something. Also, I think Rarity and Pinkie might be in trouble considering Flutter's condition! Come on!
Fluttershy's Cottage
Applejack: (She and Spike find the place surrounded by bats) Dag nabbit! The place is surrounded!
Spike: "Look!"
Rarity and Pinkie are tied togather by Discord's sleeping body being used as rope with Jerry.
Rarity: "Of all the worst things that could happen! This is the, worse, possable thing!?"
Pinkie: ".... Rarity, even I know this is not a good time for catchphrases!"
???: "Why so distressed, little ponies?"
Celery and Flutterbat appeared.
Celery: "You are gonna be part of something beautiful. And Sister Flutters said you adore beauty, Miss Rarity."
Rarity: "Define "Beauty"."
Celery: "My dear, have you ever worried about getting cancer, or in your case, Pinkie Pie, Diabeites? And worried that today's medicine could only do so little to stop your demise?"
Rarity: Why should I help you after what you did to our friend, Applejack?
Celery: Oh, I didn't do it! Your yellow friend, Fluttershy, did. She wants to help me cure this world of the many incurable ailments that threaten the lives of millions. We can save them from the dangers of sicknesses. Think about those you care about. What if they were to get cancer? By the time they do, they're gone, and there'll be nothing you can do about it. Miss Rarity, what if your little sister had cancer? No cure! Within a few days, she's gone forever. (Rarity worries) Ever consider that a possibility?
Rarity:...Well, maybe.
Celery: And Miss Pie, what if one of the babies of those ponies you work for gained diabetes from eating too many chocolate and sweets? They live with bakers, and it's a high chance they'll get it. And being children, they won't stop until they die, not knowing what their cutie marks will look like.
Pinkie: Please don't say that about the Baby Cakes!
Celery: Well, it's true. But there's a way out of it. Join us, and we can make ponies everywhere immune to a countless number of ailments that are too strong to be cured. We have the power to save the ones you love.
Rarity: YOU LIAR!
Celery: "Pff, more stubbern I see? You'll warm up eventally. I had sensed awhile ago that Sister Cheerbat and Bother Big Bat Mac gotten themselves captured. Never trust a shccol teacher and a strong silent dimwit to protrol for blood. Come Sister, we're gonna have to bust them out. Super Bats, don't let anyone near the ponies, the rabbit, and the idiotic..... What is he again Sister?"
Flutterbat: Draconequus.
Celery: Yeah, that! And let's also keep an eye on the other animals in case they get any ideas. Now come, my sister. We've got to get Cheer and Mac out then get prepared to invade the Equestrian Blood Drive tomorrow. That will be the day where the dawn of a new age begins. (They both fly off)
Pinkie:...So, what do you wanna do until something happens?
Rarity: Is this REALLY the time for games, Pinkie? We're tied to an unconscious rabbit and Draconequus!
Pinkie: It would seem boring to just wait.
Rarity:...Alright, fine. What do you have in mind?
Pinkie: Wanna play 'I Spy'?
Rarity:...Sure.
Pinkie: Okay. I spy something...black...
Rarity: A bat?
Pinkie: Yeah, how did you guess?
Rarity: (Sighs) We're surrounded by them, genius!
Pinkie: Oh, yeah.
Applejack: (She and Spike see everything) Well, at least we know the daughter's plan. Plus, Discord is out of the picture. We'll have to find a way to contact the Shell Lodge Squad by ourselves.
Spike: I'm sure they'll find out by themselves. They have a pool that allows them to see what happens in places far away.
Applejack: I know, but just in case, we need to contact them. Twilight's castle still doesn't have a communication computer, so we're gonna have to find a way to get to Canterlot. Say, can't you take a letter to Celestia and tell her to contact us?
Spike: "Sure, but, trouble is, I get nervious writing while there's trouble. It makes my grammer off, I start miss-spelling things, i get writers block, and that we're near an area infested with mutant bats, helps little!"
Applejack: "Well, getting attention has to momentarly wait anyway. We can't let Pinkie and Rarity get turned into more Vampire Ponies. We got to find a way to get them, plus Discord and Jerry out of here without them critters to suck us dry!"
Spike: "Well, we need to distract those things somehow."
Applejack: "Well, might as well be me! I'm physically fit enough to at least outrun those critters long enough while you get our friends out of this mess."
Spike: "But what if one of those things bit you?"
Applejack: "..... Then you'll just have to go on without me, sugercube. It would be too dangerious to try and help me if I start to become.... One of them. But I'll be fine... Just focus on helping those that can still be helped."
Spike:...Okay. After all, you did save my life once.
Applejack: Still haven't forgotten 'bout that time, huh?
Spike: Nope. Now go ahead and do your distraction.
Applejack: Alright...(Takes deep breath) Here it goes. (Jumps out of the bush) HEY, RATS!!! OVER HERE!!! (The bats notice her, and they chase her down as she runs off with the bats chasing her)
Spike:...(Goes into the cottage)
Rarity: Spike! Thank goodness you came. Can you help us out of these ropes?
Spike: That's what I'm here for. Applejack is providing a distraction for the bats so I can get you guys out of here. Stinks I still don't know how to breathe fire yet. But I'm sure that won't help either. Now, how do you get this rope loose?
Pinkie: Have you tried pulling the knots?
Spike: (Notices the knots are a bit loose) Oh, thanks, Pinkie. (Pulls the rope, and the entire rope gets untangled) You're free!
Rarity: Oh, my hero! (Hugs Spike tightly)
Pinkie: Let's go! (Spike grabs Jerry, and Rarity and Pinkie work together to carry Discord. They all manage to make it out and get out of the area)
Spike: Let's get as far away from this place as we can before those bats return.
Rarity: Dear, are you sure Applejack will be okay?
Spike: I hope so. She's a tough pony, so I'm sure she can take care of herself.
Meanwhile...
Applejack: (Is still running from the bats, but then she finds a pond, and submerges herself to avoid the bats. She hides a small breathing tube near some plants to avoid it from being spotted. The bats continue swarming across the pond for about 10 seconds while Applejack just sits at the bottom of the pond until they eventually retreat, thinking that she's already drowned. Applejack gives a bubbly sigh of relief, and surfaces)...Damn, that was close. (Gets out of the pond, and hides herself in the bushes)...Alright, now I need to find a way to stop Celery and Flutterbat from invading the Blood Drive. But I can't do it without Spike and the others.
Applejack rides off!
Genisis campsite.
Twilight has been magicly disabled and caged, while Rainbow Dash is tied like a mad horse!
Twilight: "Doctor, it doesn't have to come to this! Understanding your situation, I want to help your daughter out of this situation! I do! I dealt with the batponisation before on a dear friend of mine. But please, what became of Sweet Apple Acres prooves we can't handle this alone and without Celestia and the Shell Louge's intervention!"
Dr. Fruit Salad: "I can't risk it! I'm only gonna be judged and punish after this! Also, what if those aliens kill my daughter by accsident or if she did something to force them!? The same is said to Celestia! I mean, she was willing to banish her own sister to the blasted moon for throwing a dishatorious hissy fit! I am terrorably afraid what she would do to Celery if word gets out!?"
Rainbow Dash: "Well you can't hold us hostage forever!? Somepony's bound to notice we're missing!?"
Dr. Fruit Salad: "Trust me, festivals are netoruious to make the mind absint with food and pateries! I won't have to worry about scearh parties!"
Miss Pen: "..... Sir, if I may, I'm, worried your starting to become.... Paraniod."
Dr. Fruit Salad: "I am just being a concerned father who looks for the well-being of his child! Celery is in a position where she's not in control of herself cause of, a dark alternate persona! Celery would never even think of these conclusions on her own!"
Twilight: "Fruit Salad, please! Celestia knows about that very well from Luna!"
Rainbow Dash: "Well duh! Celestia's no stranger to that, bud!"
Dr, Fruit Salad: "I still can't risk it! Even then, Celery has already harmed them!"
Cheerilee and Big Mac growl and hiss as hasmat ponies with shock sticks point at their cage.
Dr. Fruit Salad: "Celestia will never forgive Celery for harming any citisen of Equestia."
Rainbow Dash: "Well kidnapping a princess of Equestia is kinda alot worse!"
Dr. Fruit Salad: "That's why this is gonna be as hush up as possable! I had Katona to capture and contain all local and outside newshorses in and coming to Ponyville (Shows series of captured news anchor ponies and cameraponies tied up and/or in cages), this insodent will be so isloated, the only time it will be heard will be from an uncreditable conspirity throey site, or Creepypasta wiki.... Or Fimfiction. Eitherway, this will be like the tree no one heard falling!?"
Cutaway.
Rainbow Dash: "Dude, kidnapping those guys is gonna make it worse on you! There's gonna be missing pony reports on them by their news companies!"
Dr. Fruit Salad: "I promise once I have my dautgher and whatever unlucky soul gets bitten captured and properly reminy this, everyone will get their freedom back, until them, you have to understand I can't let any of you leave!"
Katona appeared!
Dr. Fruit Salad: "Katona, where's your scearh patrol?"
A scream was heard with a screeh!
Dr. Fruit Salad: "..... Am, I to assume, that?"
Katona, being mostly a silent type, nodded yes.
Dr. Fruit Salad: "Everyone, prepare your tranqs!? She's coming!?"
A Tranq Pony: ".... Is that with a o, or a u?"
Flutterbat suddenly appeared and snagged the Tranq pony!
Tranq Pony: "AGGGH?! DEFFENTLY WITH A O!? AGGH?!"
A tranq Pony 2: "WHAT THE HELL WAS THAT!?"
Tranq Pony 3: "A safe bet the ones we caught were just a tip of the iceberg! Tranq her?!"
The Tranq ponies shoot Tranq darts at her!
Suddenly, more Vamponies with Genisis uniforms appeared!
Tranq Pony 4: "LOOK OUT!? I THINK WE FOUND KATONA'S LOST TEAM!?"
The Tranq Ponies and the Vamponies began to battle!
Katona was motioning for Fruit Salad and Miss Pen to escape!
Dr. Fruit Salad: "Pen, we need to get out of here?!"
Miss Pen: "But what about the Princess, her friend, and the news anchors?"
Dr. Fruit Salad: "We can't help them!?"
Miss Pen: What? You said you wouldn't allow any harm to come to them. You promised!
Dr. Fruit Salad: Well, things change! If we help them, we'll put ourselves in danger. Do you WANT to become one of them?
Miss Pen: No!
Dr. Fruit Salad: Then come on! (They both leave)
Rainbow Dash: DON'T LEAVE US, YOU COWARDS!!!
Celery: Perfect targets. Everypony bite them!
Rainbow Dash: (Gets angry, and then she suddenly breaks out of her straps, and beats up the Vamponies) STAY AWAY FROM ME, YOU SICKOS!!!
Twilight: Rainbow Dash, uh, a little help? (The Vamponies break into her cage, and prepare to bite her) HELP!!!
Rainbow Dash: (Breaks Twilight free of her anti-magic restraints and they both teleport away)
Celery: SON OF A BUNCH OF DAMN DYING DONKEYS!!!...Well, it doesn't matter. Vamponies, free Cherilee and Macintosh, and search every part of Equestria for them. Don't let them reach any outside contact before our Blood Drive invasion tomorrow.
Flutterbat: Celery, they're very quick travelers, so we'll never catch them in time, even with the Vamponies.
Celery:...Then I guess it's time for more drastic measures. I want everypony your 'friends' care about. Anypony you can capture, sisters, brothers, parents, anything, bring them to me. I don't want them causing anymore controversy in my plans for this world.
Flutterbat: "Abit, risky, but, if it's for the cancer foals then, I guess I have too. But, what about that green unicorn? He's clearly trying to halt what we are doing. Shouldn't we, try to stop him?"
Celery: ".... I'm, saving my father, best for last... But I will consider the opition to keep his, misguided well means from interupting what I need to do. I'll send some Vamponies to capture him and keep him secure soon enough. How many of the Genesis ponies did we catch?"
Flutterbat: "With obvious exception of your father, his sectratary and that ninja pony, pretty much all of them, including those, very unlucky news ponies."
Celery: "Well, at least I lefted my father's burden of having to babysit those media whores. But we have to be careful. I think he may also have some of his, other projects on standby, so, look out for any sightings of any kind of hybreds. His most faverite, are those freaky Scorpian-Wasps creatures. They're trained not to sting anyone, but relentless just the same."
Flutterbat: I'll get right on that, Celery.
Celery: And as for that old pony of the Apples, don't bring her any harm. Leave that to me. (Chuckles)
Flutterbat: Okay, then. (Flies off)
Twilight's kingdom.
Pinkie dumps water from a bucket on Discord!
Pinkie: "Darn it! That was the coldest water from the frozen north, and yet no reaction! Either Discord's a heavy sleeper, or he's under some spell or something!"
Rarity: Maybe so. Not even a stomp on his foot could wake him up. Almost as if he sucked up a lifetime supply of anesthetic.
Spike: Well, we can't snap them out of it without strong magic. Rarity's magic isn't that useful, and Twilight's still captured with Rainbow Dash. Twilight's the most powerful, and Rainbow Dash is...well...rough. How are we supposed to rescue them both with just 3 of us? (Suddenly, Twilight and Rainbow Dash teleport there)
Twilight: Well, that was crazy.
Spike: Twilight! Rainbow Dash! How did you get out?
Rainbow Dash: Well, those Vampony monsters actually helped us to escape out of our restraints. They've already infected most of Dr. Fruit Salad's assistants except for his yesmare, Miss Pen.
Twilight: By the way, is Applejack here? I could assume after she abandoned her home, she'd be here.
Spike: (He and the others look at each other)...I don't think she made it. She needed to distract a few bats to allow me to rescue Pinkie, Rarity, Discord, and Jerry. I don't know if she's been infected or not.
Rainbow Dash: Oh, boy. I think Granny is gonna be blaming herself now, huh?
Twilight: Rainbow Dash, don't be rude. (Notices that Discord and Jerry are unconscious) What's wrong with Discord and...Jerry?
Rarity: The Vamponies did something to them to knock them out, but we don't know what they did.
Rainbow Dash: I wonder...(Stomps on Discord's lizard foot, and it has no effect) Dammit, that usually works.
Twilight: Hmm...I think they've been hypnotized into falling into a deep sleep somehow. No surprise, some vampires are capable of doing that stuff. Don't worry, I can get them to wake up. But it might require some deep concentration. I need to get into their minds in order to break the effects. Hypnotizing them with their eyes closed is impossible. You guys will have to keep watch while I enter Discord's mind. When he's awake, he'll help wake up Jerry.
Spike: You think that'll work?
Twilight: Well, I've never tried such a spell, even though I almost did during that mess with Zuhrontimon. I don't have a lot of experience in dream spells. Black Kat is still teaching me that stuff because dreams are part of Equinox experience. But it's the only way to get Discord back to normal. Are you girls ready?
Everyone: Yes!
Twilight: Good. (Uses her spell, and she suddenly turns white) Equinox experience, DON'T FAIL ME NOW--(Goes straight into Discord's left ear)
Rainbow Dash:...That's gross on so many levels.
Discord's Subconscious
Twilight: Oh, big surprise! (Discord's subconscious is nothing but chaotic, with long-legged rabbits, ballet-dancing buffalos, soap roads, cotton candy clouds with chocolate milk rain, floating houses, checkered floors, and so on) I SURELY wasn't expecting his subconscious to look like THIS!
???: HEY!!! (Screwball herself appears) What're YOU doing here?!? If you're some sort of normal pony, then you have to be screwed up!
Twilight: Listen, I need to wake up Discord from his sleep trance. You have to believe me.
Screwball: HAH! Are you kidding? Discord's enjoying himself. He's happy to be unconscious because in his own mind, he can do ANYTHING HE WANTS!!! If you wanna take that away, then I'm gonna have to report you.
Twilight: (Scoffs) Sure, I'll NEVER believe that. He simply wants to never see Fluttershy again by being asleep for the rest of his days. Only an idiot would do something like that.
Screwball: Hey, I didn't make the rules. I just beat up the ponies who don't follow them.
Twilight: Since when do YOU have excellent fighting moves? The only thing I've ever seen you do was flap your lips and look inside toilets. You're stupid when it comes to being made by a former spirit of cha--(Screwball suddenly judo kicks Twilight into a polka-dotted tree, where her head gets stuck) MMMPPHHH!!! (Pops her head out and a squirrel chatters at her) Holy crap! What was tha--(Screwball then ties her mane and tail together, and hangs her onto the tree like a hanger) OW, OW, OW, OW, OOOOWWWWWWWWWW!!!! PUT ME DOWN THIS INSTANT, YOU SCREWED UP ENTITY!!! (Screwball then gets a baseball bat) Oh, shi--(Screwball hits her in the gut) OOOOOOOOOOOOOO-HOO-HOO-HOO-HOO!!! RIGHT IN THE INSIDE SACK!!! OHHH!!!
Screwball: I'm gonna make mince meat out of you, trespasser!
Twilight: WAIT!!! WHAT IF I TOLD YOU THAT FLUTTERSHY WAS IN GRAVE DANGER?!?
Screwball:...And why is THAT such a big deal?
Twilight: Because I'm sure Discord still cares for her, and he definitely would have you punished if he knew you were torturing me for trying to save her.
Screwball:...(Gulps)...You have a point. (Lets her go) Right this way!
Later...
Discord: Well, hello, Twilight. Welcome to my subconscious. I gotta tell you, this makes a great substitute place for me to do whatever I want whenever I want. I'm so glad I was able to control my own subconscious mind whenever I fall asleep. That way, I can remember EVERYTHING about it, unlike other mortals which are so stupefied by how they act in their own minds, and things are even beyond their own control, like accidentally wetting their beds. HAH! They were just a drool on the bed compared to MY subconscious. And I gotta tell you, I've actually been waiting for you to show up.
Screwball/Twilight: You were?
Discord: Yep. Screwball, when I said I never wanted to go to sleep, I was just fucking with ya'. I just didn't want you to feel bad again because of the fact that you're always bored here when I wake up and leave.
Twilight:...This pony...is your dream friend?
Discord: Yes, actually. Screwball's been around since I was 3 years old. The closest friend I ever had...while in my own dreams, that is. But she is always finding ways to escape my own mind whenever I throw my magic all over reality. Crazy, right?
Twilight:...That's just disturbing.
Screwball: What's so disturbing about me? Have YOU ever had a dream buddy before?
Twilight: If I could bend my own dreams at will, yes. But I'm sure MINE WOULD BE SURE YOU PAID FOR YOUR ACTIONS BACK THERE!!!
Screwball: (Chuckles)...Moment of confusion is all. I thought you were part of Discord's imagination.
Discord: Well, if you're here to get me to wake up, then I must be going.
Screwball: (Eyes start watering) AW, MAN!!! NOW I HAVE TO WAIT MORE THAN 10 HOURS TO SEE YOU AGAIN!!! I GET BORED EASILY!!! (Cries on Discord's arm)
Twilight: Actually, it's night time in reality. That means you have only one hour to see him again.
Screwball:...Oh...well, YAY!!! (Hugs Discord, and Discord hugs him back)
Discord: Well, I'll see you soon, you little screwball, you!
Screwball: I sure hope so, buddy!
Discord: "Anyway... So, I assume you found out about Fluttershy going dracula on us again thanks to the green pony named after a vegitable salad."
Twilight: "It's a long, painful, strangely like Syfy story."
Reality.
Twilight magicly appears out of Discord again, as he woke up!
Discord: "Wooo! Well, never thought I would actselly be glad to be woke up from sleep."
Discord sees Jerry.
Discord: "Oh, I know this old trick that always wake up hypnotised people."
Discord pulls out a leech-like creature from nowhere!
Discord: "Say hello to the Rude Waker leech."
Pinkie: "Hi!"
Discord: "It's a native little critter borned from the resulting choas back when my kind was, over-doing things. It's a charming but loud remity for waking up hypnotise people."
Discord places the leech into Jerry's ear.
Jerry's subconisious.
Jerry is surrounded by beautiful bunny ladies and there is also Latifier as a butler wearing a shock coller.
Latifier: "(Nervious laughing), Your, uh, Cabbage al or-range, Monsewer Jer-ri. Buddy?"
Jerry: "That would be all, Latty?"
Latifier sighed in relief.
Jerry: "Oh, and uh, one more thing. RUSSIAN DANCE!?"
Jerry presses a button, and zaps Latifier to do the russian dance!
Jerry: "(Laughs)! Aw man! Now THAT'S, entertainment?!"
???: "HEY JACKASS?!"
A freaky leech creature appeared!
Leech: "Reality called, they want to snap out of it already!?"
Jerry: "Wait, I don't remember seeing you in one of my "Latifier abuse" dreams before, espeically not number 205."
Leech: "Oh, look at the fucking brains on you, your crude recolor of the March Hare from that GOOD Alice in Wonderland! The Cartoon, not that live action garbage?!"
Jerry: "Well, I wouldn't call that a bad movie, It actselly would've worked better if they didn't invited Tim Burton to do the film."
Leech: "Ok, looks like I'll have to press your Nightmare button!"
A dark ammimous button is seen!
Jerry: "Wait, how long was THAT there?!"
Leech: It wasn't that hard to find! Now, to get you to WAKE UP FROM THIS DEATH TRAP!!!
Jerry: (In slow motion, jumping towards the Leech) NOOOOOOOOOOOOOOOOOOOOOOOOOOOOOOOOOOOOOOOOOO--
The Leech presses the button.
Jerry slams into the floor in normal motion.
Jerry: "(Face in floor) In hindsight, maybe I shouldn't've tried to get dramatic with that."
Suddenly, Dream Latifier turned into a giant demonic Latifier!
Latifier: "(ROARS?!) I'LL SHALLOW YOUR SOUL!? And then wash it down in a nice cerry cola."
Jerry gets up to see Latifier!
Jerry: "(SCREAMS LIKE A GIRL!?)"
Reality.
Jerry fast awoke screaming like a girl as the leech flew out of his ear!
Jerry: (Sees Discord laughing as he put the Leech away) Discord, I HATE it when you do that!
Rainbow Dash: Relax, bunny boy, we had to wake you from your hypnotized sleep trance somehow.
Jerry: Oh...well...was it worth scaring the crap out of me?
Discord: Yes. Yes it was.
Jerry: (Sighs) Wait a minute, where's Fluttershy? And where is that green monster that tricked her into joining her?
Twilight: How did Celery actually TRICK Fluttershy into becoming Flutterbat again?
Jerry: By making her think that she could save several fillies who are suffering cancer. And we all know her sensitivity to children dying.
Rainbow Dash: All of us have a sensitivity of children dying.
Discord: Well, I don't mind that much about it. (Everyone looks at him weird)...Okay, maybe a little.
Pinkie: Well, we can get her back like the last time we did it.
Twilight: Yeah, but how we did it will be more difficult with all those bats and Vampire Ponies out there.
Rarity: Well, we must hurry. Celery said she's planning to invade the Blood Drive tomorrow.
Discord: I wish the lousy plot would allow me to use my magic to fix everything.
Spike: Say, Discord? Do you think you can help us find out what happened to Applejack?
Discord: What about her?
Spike: She provided a distraction in order to allow me to rescue Rarity, Pinkie, Jerry, and you from the bat-surrounded cottage. I don't know if she's alright.
Discord: Well, let's see. (Snaps, and Applejack is teleported there)
Applejack: What in tarnation?!? What was that?!?
Everyone: APPLEJACK!!!
Spike: I knew you'd survive.
Applejack: Well...okay, of course I'm okay.
Spike: But how did you elude those bats?
Applejack: I tricked them into thinking I drowned in a pond. It was hard for me to find you girls with all these bats swarmin' the place.
Discord: Shouldn't you be with Granny on the count of the whole 'being grounded' thing?
Rainbow Dash: Yeah, you might've missed what happened between them.
Applejack: Celery and Fluttershy had infected Big Mac and Cheerilee, and I tried to get help from my friends, but...(Sighs)...I was caught. Granny wasn't as kind-hearted as I knew her to be. She didn't believe ANY of my warnings, and she kept on being cruel in my life.
Jerry: (Gasps) You mean you...you...you QUIT?
Applejack: Yes.
Discord: Wow, that's a bit harsh, even for you.
Jerry: Okay, Applejack, I know Granny wasn't being such a forgiving pony, but I don't think running away is the answer.
Applejack: I had no choice. I couldn't handle not seeing my friends for more than a year. I ain't EVER forgiving her for that selfish act. If they don't wanna believe me, fine.
Twilight: Everypony just calm down. We need to fix this. Sure it was Granny's fault for starting this whole mess, but we can't blame her for being that way.
Applejack: Why not?
Twilight: Because she is still somepony to care about. She doesn't deserve anything harsh for that, it was just a simple mistake. And I have to tell you, if anypony else knows about Granny Smith's involvement in this whole invasion, then who knows what will happen? Granny would not only be sent to prison, but Sweet Apple Acres could be shut down. And Rainbow Dash, you know what THAT means.
Rainbow Dash:...No...no more apple ci--
Twilight: No more apple cider!
Rainbow Dash: NOOOOOOOOOOOOOOOOOOOOOOOOOOOOOOOOOOOOOOOOOOOOOOO!!!!!!!
Twilight: So we have to keep this information to ourselves and the Shell Lodge Squad. We need to find a way to contact them before the Blood Drive.
Applejack: How do we do that? We still don't have a new communicator computer, and Celery's bats will be expecting us to go to Canterlot to contact the Shell Lodge. The stakes are being raised on this one.
Jerry: "Well, it could be worse. Fluttershy the Vampony could be hanging upsidedown in this room coming to tell us they have leverage against us."
???: "Oh, Jerry, you silly bunny. You know better to prevoke karma like that."
Jerry: "..... And I just metathoricly shot ourselves in the foot."
Rainbow Dash: "Fluttershy?"
Twilight: "For the time being, she's Flutterbat now."
Applejack: "Show yourself, Flutterbat! We ain't afraid of you!"
Flutterbat's voice: "Then why do I smell fear?"
Discord: "Actselly, that's Jerry's pants.... It's filled with pellets from the nightmare I caused to him. (Snickers like Muttlry) Totally worth it."
Applejack: Fluttershy, why are you doing this?
Flutterbat's Voice: Why? Because I don't want to see anypony dying from any incurable deaths. I'm doing you all a HUGE favor. Think about what Applebloom might get herself into. Think about Sweetie Belle, Scootaloo, the Baby Cakes, Shining Armor, and Cadance. What if they got cancer? What if they got AIDS? What if they had anything else life-threatening? No cure, you know. I must do this not just for you and your loved ones, but also for the rest of Equestria. Celery showed me that I have the power to cure anything.
Rainbow Dash: But is it really worth invading a Blood Drive and turning everypony into monsters?
Fluttershy: If it makes their immune systems stronger, then yes.
Twilight: Fluttershy, we can't let you do this.
Flutterbat's Voice: Well, I would rather stand down. I have no quarrel against you all, but Celery means well with her intentions. You have to stand down. If you don't, then you'll leave us no choice but to take drastic measures.
Applejack: And what do you mean by 'drastic measures'?
Flutterbat's Voice: Let's just say...you're not gonna like it. (Flutterbat comes out of the shadows screeching, and flies out the window into the dark night sky)
Pinkie:...I don't think I like what she said.
Twilight: Well, we can't give up. I'm sure Fluttershy wanted to warn us about this, and she said that she still cares about us. So there's still a chance we can snap her out of it. But in order to do it with all the monsters out there, we need the Shell Lodge.
Discord: Well, I could at least contact them with my powers.
Rainbow Dash: Why didn't you just say so?
Discord: You didn't ask, silly. So, I guess I should get going. I'll be back in a minute. (Teleports away)
Applejack:...Sometimes, I can't understand what goes on in that mind of his.
Twilight: Yeah, even though I saw what was in there, I can't even tell.
Dragon Temple
Icky and Iago are seen playing video games.
Icky: "Hey..... You ever get the strange feeling that when your a star of a show, you appeared in an episode that took forever to finally introduse you?"
Iago: "..... Not meaning to sound, post-modern, but..... Yeah. That does feel, odd."
Icky: "Ok, I'm sure it's just a post-modern lampshade of us appearing late into today's episode."
Lord Shen: "You two! Front and centar to the main room now!?"
Icky: "What's the dealio?"
Lord Shen sighs annoyed.
Lord Shen: "Appearently, Discord of all people has come to tell us there's trouble in Equestia. For his sake, he better not be the one respondsable like the Plunder Weed mess."
Icky: "Well obvious if he came to us there's a chance he's NOT the trouble maker."
Lord Shen: "I'm just saying we should be cautious just in case. Discord is obiviously prone to very bad relapses, and the Tirek dishastor was proof of that!"
Icky: "Uh, before we go further to more Discord bashing, how's about we see what's on the down-low?"
Briefing Room
Discord: Well, what took you guys so long?
Lord Shen: Icky and Iago had to take a bathroom break. I swear to God, it was 5 minutes. 15 MINUTES!!! WHO S**** THAT LONG?!?
Icky: Whoa, cool it with the foul-beak, Shen.
Lord Shen: Whatever.
Ignitus: So, what is it you wanted to tell us, Discord?
Discord: Well, Equestria's in grave danger. You remember when Fluttershy gave part of Applejack's orchard to those vampire fruit bats?
SpongeBob: And that was a very good idea. What could be so bad about it?
Discord:...Granny Smith didn't really take it well.
Icky: Ooh, harsh.
Discord: Of course, Applejack has had it rough because Granny's had her grounded from her friends for a month, and had the Vampire Fruit Bats sold to some scientist who owns a genetics company in Baltimare--
Kowalski: I was expecting that! A genetically-engineered devastator is on the loose.
Private: Granny Smith actually grounded Applejack from her friends? That's just harsh.
Discord: That's why she had to leave them.
Sandy: Damn, I never knew Applejack to be the one to get fed up with a dysfunctional family. She cares about them so much.
Discord: Well, she doesn't anymore. So now this Vampire Pony has began infecting ponies and turning them into Vampire Ponies, including Fluttershy. We recently heard that they're planning to attack the Blood Drive tomorrow. And I don't know how everypony's gonna react if they learn that Granny Smith was responsible for the whole thing.
Kaa: Oh, geez! That's horrible! We can't let that happen.
Skipper: Well, Lodgers, our pony allies are in danger. Looks like we have a job to do.
Sparx: Ya' think?
Shifu: "Then we have no time to lose! We have to get into the van, and stop this!"
Chapter 6: Super Bat Invasion and Granny Smith's Guilt
A day later at the night portion of the festival.
The Blood Donation Festival at the Ponyville Hospital was booming with ponies.
Granny Smith: "(Breaths in, and out). Smell that fresh air, Applebloom. It's a smell of fresh food being serve to blood donationing ponies."
Applebloom was silent.
Granny Smith: "..... Applebloom? Yer, not still upset about Applejack, are ya? I know it's hard, but it's Applejack's choice. I don't have any opitions with her left."
Applebloom: "YOU COULD'VE JUST AS EASILY APOLOGIES?!"
Granny Smith: "Apologies? For just wanting Applejack to understand those little vermin are unredeemable?"
Applebloom: "Aw come on! All they did was eaten too much of the apple family apples?! Little critters like that eat crops all the darn time, and even if farmers do don't like them they didn't behave like you just now! What makes the Vampire Fruit Bats ANY different then any other form of pest?!"
Granny Smith: ".............. Sweet Apple."
Applebloom: "..... Mom?"
Granny Smith: "Yes..... Sweet Apple....... You see, when I was still in my youth, your mother and father had a problem in the orchord with those dang Fruit Aphids. When Lady bugs didn't work... They tried to use bats.... Trouble is..... Sweet Apple, got the wrong bats..."
Flashback.
Silluettes of a Mare and Staillion stood in horror as the Vampire Fruit Bats were desistating Sweet Apple.
(Granny Smith): "Naterrolly, I know it was nothing but a small mistake. It wasn't your ma and pa's fault that a con artist griffin tricked them into buying a Vampire Fruit Bat colony and it ended up getting out of control. Sure, the Fruit Aphids left, but because there wasn't any fruit for them left. However, The Apple Family Leaders, weren't so understanding.... Neither was your Grandpa.... It took many, many years of desiding yer parent's fate... Until..... On the day before you were born, your mother and father were, exsiled from the Apple Family and all in our name, ousted from the family, and that they can't have custity to any born apple. That's why, when you were born, you came to us. What became of yer parents afterwords.... Well, it can be anyone's guess....."
Reality.
Granny Smith: "Now you see why I can't forgive those varmits? I, lost a daughter and a-son-in-law cause of them. Why else didn't your parents came to visit for the family reunion?"
Applebloom: "....... I thought they got caught up with their own apple acres?"
Granny Smith: "....... I wish that was the reason. Why did you think I worked so hard to make you, and your older siblings hate them so much? Over a few juiceless fruit? Nonsense! The Vampire Fruit Bats ain't the first pests to eat our apples! It's, more personal then that. I been meaning to tell you all, but.... You were doing fine without that knowledge in your heads, and..... Well, I didn't wanted you all to feel awful about Ma and Pa."
Applebloom: "But why didn't you tell us about this at all?"
Granny Smith: "It's, complicated adult matters, your too young to understand it!"
Applebloom: "Maybe me, but you should've explained that to Applejack so she might understood why you didn't like the bats! Then maybe she wouldn't never had left us!"
Granny Smith: "Well, it didn't really help she was keeping secrets from me as well as using my faverite orchord to house vermin! How do you think I feel?"
???: "Miss Smith!"
A scratched up, Ripped clothing Dr. Fruit Salad, Pen, and Katona came tired and weak.
Dr. Fruit Salad: "Smith, it's very urgent!"
Granny Smith: "Fruit Salad? What in tatnation happened to you? Did those varmits got the best of you!"
Dr. Fruit Salad: "Miss Smith, we need to warn everyone and quickly! It's very urgent!?"
Suddenly, a shadow looms over the festival, getting ponies attention!
Granny Smith: "... Hey! I know it's night-time, but it ain't THAT dark!"
Dr. Fruit Salad; "Aggh?! Pen, Katona, quick, the hospital?!"
They ran off!
Granny Smith: "Oh, what's the matter of those big foals?"
A series of screeches and growls are heard.
Applebloom: "Uh.... Granny?"
Granny Smith: "What is it now-....... Oh, pony feathers!"
The Super Bats and Vamponies desended among high to the festival below as screams are heard!
Granny Smith grabs Applebloom!
Granny Smith: "Head for the hills!"
Granny Smith pathicly runs in a snails pace.
Mayor Mare: "EVERYPONY! QUICKLY! THE HOSPITAL?!"
Ponies run as some unlucky ones get swooped by Vamponies or bitten by Bats!
A Vampony was heading torwords Granny, before smacked by three Pegisi!
Suddenly, a silluette of a Staillian grabbed Granny and Applebloom torwords the hospital, joined by the pegisi!
When the group and un-infected ponies get inside the Hospital, Celery and Flutterbat landed.
Celery: "That hospital can't protact them for long! Come sister, we'll scout for weaknesses!"
Inside the Hospital.
The Staillion placed Granny and Applebloom down.
Granny Smith: "Well, thanks for helping an old lady-"
The Siluettes reveiled to be Pred and the Sisters!
Granny Smith: "YOU?!"
Pred: "Funny, I normally get a thanks when I helped people."
Granny Smith: "But, why did you of all people helped me!?"
Pred: "I may not approve of your dragon defending attatudes, but I don't approve of blood suckers even more!"
Granny Smith: ".... Well, I guess I can, thank you, in some case."
Mayor Mare came in.
Mayor Mare: "Every pony, remain calm! The situation is under control!"
Bon Bon: "HOW COULD THIS HAD HAPPENED?!"
Lyra: "I don't know!?"
Mayor Mare remembered something!
Mayor Mare: "Applejack warned us of this.... UNDEAD VAMPIRE PONIES HAVE COME TO SUCK EQUESTIA DRY!?"
Ponies began to panic!
???: "THEY'RE NOT THOSE KIND OF VAMPIRES!?"
Everyone looks at Fruit Salad.
Dr. Fruit Salad: "They're the result of... An genetic expseariment gone, slightly wrong."
Mayor Mare: "What do you mean, who are you!?"
Granny: This is Dr. Fruit Salad. He once tried to buy our dog from us for some odd reason, and I never knew what his silly Genesis company did.
Dr. Fruit Salad: Well, I guess I have no choice but to reveal our secret. It's...it's...it's...it's for genetic experimentation. (Everyone gasps)
Pony #1: YOU SICK PONY!!! DOING THAT TO HARMLESS ANIMALS!!!
Pony #2: THAT IS SO CRUEL!!!
Granny: I should've seen it sooner. You wanted Wanona all because YA' WANTED TO PERFORM GENETIC TESTS ON HER?!? THAT'S ANIMAL CRUELTY, MISTER!!! YOU OUGHTTA BE PUNISHED FOR SOMETHING LIKE THAT!!!
???: Don't blame him, Mrs. Smith. (Celery and FLutterbat appear through a ceiling window)
Celery: All bats, don't attack until I say it's okay! (Everyone panics) SILENCE!!! (They get quiet) As I was saying, everypony. It wasn't really my father's fault this whole thing is happening. The only pony you SHOULD be blaming is HER! (Points at Granny Smith)
Granny Smith: What? What in tarnation do you mean?
Celery: You heard daddy! He's responsible for my whole plan, but only because YOU sparked it by giving away ALL those Vampire Fruit Bats to him. Everypony in this world will be one of us, and we will offer a brighter future. Cancer, diabetes, AIDS, all will be a mere memory. And we owe it all to YOU, Mrs. Smith.
Granny Smith: Are you tryin' to make me look bad here?
Celery: Of course not. I am simply telling the truth. You know, like your grandchild, Applejack did. She tried to warn you, and you winded up not believing her. You were selfish, stubborn, cruel, and unforgiving. If that doesn't say 'I'm a bad parent', I don't know what does.
Mayor Mare: Mrs. Smith, is what this creature saying true?
Celery: Of course it is. Granny HATES Vampire Fruit Bats. She even grounded her own grandchild from her friends for it. As honest and trustworthy as somepony like HER is, you never believed her. Come on, Granny Smith. You KNOW it's true.
Granny Smith:...I...I...
Applebloom: Granny, no!
Granny Smith:...It's true. I gave Dr. Fruit Salad the Vampire Fruit Bats. (Everyone gasped)
Mayor Mare: HOW COULD YOU DO THIS TO US?!?
Celery: We couldn't have done it without you, Mrs. Smith. Thank you for everything. BATS, ATTACK!!! AND LEAVE THE OLD PONY AND THE FILLY ALONE! (The bats fly in and attack the ponies, infecting them one by one)
Mayor Mare: (To Granny Smith) You've doomed us all, Smith!
Pony #3: THIS IS ALL YOUR FAULT!!!
Pony #4: GET OUT OF THIS TOWN!!! (They throw Granny and Applebloom out of the hospital as the bats continue attacking)
Applebloom:...Granny?
Granny:...(Sighs)...What have I done?
Celery: (She appears with Flutterbat and the Vampire Big Mac and Cherilee) Take them away! (Big Mac and Cherilee knock them both out)
Twilight's Kingdom
Twilight: "What's taking the louger's so long?"
Pinkie: "I think their hyperdrive might be broken and it forced them to travel in space normally, give or take a few fuel station stops."
Applejack: "If so, I have a bad feeling we're all to late."
Suddenly, Sharp-Pay, Chain, and Axe-rella broke in!
Sharp-Pay: "SPARKLE!? (TWICHES) HELP US?!"
Chain: "THEY ALREADY GOT DADDY AND EVERYONE ELSE!?"
Axe-Rella: "We, picked a bad day to leave our weapons at home! We had no means to protact everyone and ourselves! Please! Lock us up before we (Twitches) become one of them?!"
Sharp-Pay: "Sparkle!? Please! Help us?!"
Twilight: What do you mean? Did those Vampire ponies and bats attack already?
Sharp-Pay: YES! YES THEY DID!!! THEY ALREADY GOT DADDY!!! (Twitches) NOW LOCK US THE HELL UP BEFORE--(Suddenly she and the others turn into Vamponies)
Rainbow Dash: GET OUT!!! (Twilight blasts away Sharp-Pay, Applejack bucks Axe-Rella, and Rainbow Dash throws Chain, and all 3 go off into the distance)...Whew!
Twilight: I'm afraid we're too late. I think the Blood Drive is already finished.
Applejack: Oh, no! Applebloom is with them! I sure hope she didn't wind up like Big Mac!
Rainbow Dash: Whoa, hold your horses, AJ! We can't go outside until the Lodgers arrive. We could be attacked in the blink of an eye.
Pinkie: Or unless they find their way through the windows. (The bats appear on the windows, and begin cracking the glass)
Rarity: OH, NO!!! SOMEPONY GET ME A SUIT!!! (The bats start flying through the glass and start swarming the room)
Everyone: AAARRRRGGGGGHHHH!!! (Suddenly, all the bats disappear entirely, and the ponies look outside to see Discord and the Lodge van)
Rainbow Dash: You came just in time!
Discord: Helps when you can transport the entire vehicle within a single second.
Lord Shen: "Then why the bloody hell didn't you do it earlyer!?"
Discord: "Because plot."
Icky: "Alchorse....."
Spongebob: "Is it safe to assume that we're too late?"
Twilight: Yep.
Private: Applejack, are you sure Granny didn't treat you that bad?
Applejack: Is this really the time for a conversation?
Skipper: (Slaps Private) Yeah! We have to save a world again.
Private: Yeah, you're right. It would be nice to help a world similar to the Lu--
Skipper: DON'T SAY IT!!! I'LL GO NUTS!!!
Discord: Lunacorns!
Skipper: AAAAAAAAHHHHHHHHH!!!! (Starts beating himself on the walls going crazy) I HATE LUNACORNS!!! HATE HATE HATE HATE IT!!! AAARRRRGGGGGGHHHHH!!!
Discord: (Starts laughing) FUCKING PRICELESS! (Laughs)
Rainbow Dash: LET'S JUST GET STARTED SAVING EQUESTRIA, OKAY?!?
Discord/Skipper:...Okay. (The ponies go into the van, and it flies off)
Chapter 7: Equestia gets Batty!
Ponyville.
Vamponies are running amock on the remaining residents!
Scootaloo and Sweetie Belle are hiding with the rest of the kids in shcool.
Snails: "Aw man! Those Vampires are everywhere!?"
Snips: "We'res done for?!"
Patch: "We'll have to rebuild socity underground!"
Diamond Tiara: "If so, then I'M leader! I'll become Princess Tiara in a new brave world!"
Other kids: "All hail Princess Tiara!"
Diamond Tiara: "In order for us to survive, the weak must be sacriviced for the greater good, so we can make a break for it!"
Silver Spoon: "AND WE VOTED FOR THE CRUSADERS!? Well, two of them."
Scootaloo: "WHAT!? THERE'S NO WAY YOUR GONNA THROW US-"
Later.
Scootaloo and Sweetie Belle are tossed outside.
Some Vamponies noticed.
Scootaloo: "I hate Diamond Tiara."
Inside.
Diamond Tiara: "Yes! Once those Vamponies are busy sucking loser blood, we'll make a break for it in the back, and make a new life in the ruins! Nothing is gonna ruin our plans for a future!"
Snips: "Snails, stop breathing down my neck."
Snails: "But I'm over here at the windows."
Snips: "If your there, then, who's, behind me?"
Patch: "V-v-v-v-v-v-v-v-v-v-v-v-v-v-v-v-VAMPONY!?"
Snips screams as he sees Vampony Cheerilee!
Cheerilee: "Blood Class is in session?!"
Diamond Tiara: "EVERYONE ESCAPE?! IMPOURENT PRINCESS FIRST?!"
The Kids make a run for it!
Scootaloo: GOOD RIDDANCE, YOU JERKS!!! (Sweetie Belle looks at her sternly) What?
Sweetie Belle: Now's not the time to revel in irony, Scoots, WE GOT TO GET OUT OF HERE?!
Scootaloo: Oh, right. (They run away from the school until a few Vamponies arrive in front of them) AARRGGHH!!!
Vampony #1: You two are coming with us!
Scootaloo: What would you possibly want with us--(Suddenly, they get sacked) HEY! LET US GO!!! (The Vamponies fly off with them)
The Crystal Empire
Cadance: WHAT'S GOING ON--(She and Shining Armor are surrounded by Vamponies, who sack them, and take them away)
Sugarcube Corner
Mrs. Cakes: STAY AWAY FROM OUR BABIES--(The Vamponies take away Mr. and Mrs. Cakes, along with the Baby Cakes, and fly off) (Other Vamponies start kidnapping Cheese Sandwich, Lightning Dust and her friends, and so on and so forth.)
Later...
Dr. Fruit Salad is seen tied with many of the Main 6's past friends and realitive and family members.
Dr. Fruit Salad: "Celery, what are they doing here? What porpose to you have of not yet turning them into what you became? Please, what is going on?"
Celery: I don't intend on doing that to them yet. Those 5 friends of Fluttershy's are still out there, and intending to stop me. I will not let it happen. So I'm using their loved ones as leverage. Everypony they cared about is here. With them in my hooves, they won't be able to resist, and they'll do anything I say.
Dr. Fruit Salad: Celery, that's just horrible! That'll get me in more trouble than I am in now.
Celery: Didn't you want this to happen, dad? To have everypony here immune to the most dangerous of diseases?
Dr. Fruit Salad: Yes, but not like this! Ponies that are spreading disease more than being immune to it, that was not my intentions!
Celery: Sacrifices have to be made, dad. If it means others have to die, then I must do it. Now if you'll excuse me, I have to get ready to spread your amazing creations all over Equestria. It'll be the start of a glorious new age!
Dr. Fruit Salad:...(Sighs) What have I done?
Granny Smith: (Tied up with the rest of the hostages) What have I done?
Scootaloo: Geez, Mrs. Smith, that's the 5th time you've said that. We all don't blame you for your mistake. Right, everypony? (Everyone mumbles)
Kindheart: It really sucks that this mutated thing got anti-magic restraints from that crazy scientist. We can't go anywhere with them.
Lightning Dust: AND WHAT THE HECK ARE THEY MADE OUT OF?!? (Tries struggling to break free) URRRGGGHHH!!!
Granny Smith: Still, I can't help but feel that it is mostly my fault. I was the one who gave Dr. Fruit Salad the bats in the first place. If I had known he owned a genetics corporation, I would never have done it. I would've had them shipped somewhere else. This is all my fault.
Applebloom: Granny, that jerk vampire pony only made you think that way. It ain't entirely your fault.
Sincere: Yeah, look on the bright side. At least they're keeping us alive. (Everyone looks at her)...What? Hey, why is it so hot? Did someone turn the heat up in here?
Helping Hooves: It's summer time, genius!
Sincere: It's some-er time in what? I don't think 'some-er' is a real word. Sounds like summer--Oh, I see what you did there! (Laughs)--Say, does anypony have a glass of water?
Midnight Fate: "Slight dehydration is the least of our concerns. The creature wants to force Twilight and her friends to submit to her misguided agenda."
Sincere: "Hey, isn't that cheating?"
Sweetie Belle: If I had a nickel for every time I heard that every time a villain goes too far on their plans.
Sincere:...Well, if you had a nickel for that, then what?
Sweetie Belle: It was a figure of speech!
Celery: EVERYPONY BE QUIET!!! I CAN'T STAND YOU ALL WHINING AND COMPLAINING LIKE THAT!!! Now if only I had something that I can use to bring a message to those pony heroes.
Sincere: Have you tried the phone booth?
Everyone: SINCERE!!!
Sincere: WHAT?!?
Celery: Thank you, naïve pony. (Flies off to the phone booth)...Alright, I'm at a loss for ideas, who the hell do I call? (Suddenly, a clang is heard in the distance, and Celery sees the Shell Lodge van bumping into a large tree, and it spins off into the ground. Then Skipper is heard using his angry words in the distance)...Well, that was amusing, yet convenient. What's the Lodgers' van number?
Lightning: What makes you think we'll tell YOU, huh?
Sincere: YEAH! We'll NEVER tell you about the Shell Lodgers' number being 1-800-988-3329!...Oops.
Lightning: If my hooves were free, I'd slap myself in the face for befriending you in the first place.
Sincere: Ouch.
Celery: (Laughs) You ponies are just so stupid! I could watch you be like that all day. Anyway, thanks. (She dials the number)
Shell Lodge Van
Mr. Dodo: Oh, dear. It seems the hull has been damaged. It might take 6 hours to get it fixed.
Lord Shen: Is the van still functional?
Mr. Dodo: Yes. But with the hull damaged, it'll be hard for us to maneuver very good if we took off.
Icky: Way to gas us off with your gas, Po!
Po: I SAID I WAS SORRY! Yeesh!
Skipper: Well, Lodgers, looks like we'll have to wing it from here. (Suddenly the phone goes on)
Phone Message: (SpongeBob) You've reached the renowned Shell Lodge Squad, defenders of the UUniverses. We're not here at the moment, so leave your name and a brief message after the beep. (Beep)
(Celery): This is the leader of this Vampony invasion, Celery Salad!
Rainbow Dash: (Gasps) IT'S HER!!!
(Celery): I thought it would just be fair to warn you that if you and your pony friends don't stand down immediately, leave this world, and have the pony heroes come to me at Fluttershy's Cottage, their loved ones are gonna be put down like an injured horse.
(Lightning): HEY, I RESENT THAT!!!
(Sincere): You're a pony, silly! Horses are much bigger and--
(Lightning): Oh, will you just SHUT UP?!?
(Celery): And if a very certain pony is listening, then it might interest you to know that I have your precious granny captive. I'm not afraid to cause an old pony any harm unless I have to.
(Applebloom): DON'T YOU TALK 'BOUT MY GRANNY THAT WAY, YOU BLOOD-SUCKING BAG OF BLOOD!!!
(Helping Hooves): Whoa, where did you learn such words, kid?
(Scootaloo): Don't ask.
(Applebloom): Granny, I think Applejack might be with them. Go on, say something!
(Granny): What's the point? I'm just a nopony now. I should've listened to her when I had the chance.
Applejack: What?
(Applebloom): I think that might work, Granny. Say something else.
(Granny): I--
(Applebloom): Pleeeeeeeease?
(Everyone): AWW!!!
(Helping Hooves): How'd she learn to do THAT?!?
Iago: Can someone explain what happened, I think I missed a step.
Applejack: It's probably Applebloom's puppy-dog eyes routine. She does that a lot.
Sandy: Okay, Applejack, I think Granny might have something to say to you.
Applejack: Ya' think?
(Granny): Oh, alright.
(Celery): Oh, this oughtta be good.
(Granny):...Applejack...I don't know if you're listening, but if you are...I'm sorry. I was a bad parent and a bad influence. I shouldn't have taken advantage of your friends, and brought those bats to Dr. Fruit Salad. It's my fault.
(Applebloom): Why don't you tell her why you did that in the first place? You know, how they got our parents banished?
Applejack:...What?
(Granny): Okay...Applejack, I only got rid of those bats because I hated them for a reason. They're what got your real parents banished from our farm. A con artist griffin tricked your parents into buying a Vampire Fruit Bat colony thinking it was a bunch of insect-eatin' bats to get rid of the dang fruit aphids that fed on our crops. But it got out of control, and the Apple Family sent them away forever. They didn't have anymore custody to you, Big Mac, or Applebloom because of it. They soon...well...you know the whole story. (Applejack's eyes start watering)...You see, the Vampire Fruit Bats took your parents away from you. That's why I really HATE them. I wanted you and yer' siblings to hate them, too. I didn't want you to know because you were doing fine about that without the knowledge. But after what Fluttershy did...I have to let you know right now.
Applejack:...I...I don't know what to say. Granny, I'm so sorry.
Discord: BOOM, look who's finally coming to her senses!
Applejack: Discord, shush!
(Granny): I know I hurt your feelings because of this, but you can't stay angry about it forever. We're still a family. I've tried to raise you, Big Mac, and Applebloom as good as your parents would have if they were still here. And I think I have. If your parents were still here, then I'm sure they'd be proud of what you've done for Equestria. Just as I am. I'm asking you to come back. Please. For our family and country's sake.
Applejack: Granny!
(Celery): You have 30 minutes! Be here or...uh...be queer! (Hangs up)
Icky: (Scoffs) And I thought MY one-liners were lame. (Laughs)
Applejack: (Wipes her tears)...I had no idea that my parents were such a burden. *Sniff* I never should've left them.
Twilight: I'm glad you came to your senses, Applejack.
Pinkie: WAY TO GO, AJ!!! (Blows party horns, puts a party hat on Applejack's head, and throws confetti on her) LET'S GIVE A HOOF FOR APPLEJACK!!!
Applejack: (Takes her party hat off) We gotta help them!
Lord Shen: "But that Celery sounds like she's commited her threat against your loved ones. It might be too risky to go head on and stop Celery for good."
Applejack: Don't worry. I've got a plan.
SpongeBob: Well, we had better hurry. We've got only 30 minutes to get there.
Applejack: Group huddle! (Everyone gets together) Alright, here's the plan...
Fluttershy's Cottage
Celery: How much time do they have left to get here? I grow tired of waiting!
Vampony Cherilee: 20 minutes.
Vampony Big Mac: Ee-yup.
Celery: Well, my time's valuable here. They'd better get here! I'm sure as hell that they could hear my warnings. I have a nation to purify here!?
Flutterbat: "Give them time, sister. Twilight and the others are not known to give in easily. I am not even sure threating their loved ones would even effect them at all."
Celery: It will. I have this entire area under the watchful eyes of my bat army. If any of them get any ideas, BAM! Those allies get infected, and their loved ones die. So trust me, I know what I'm doing.
Flutterbat: I hope so. I at least hope you don't intend on killing those fillies.
Celery:...What did you say?
Flutterbat: Well, didn't you tell me you cared for fillies and didn't want them to die of cancer, or even die in general?
Celery: Well...yes, of course.
Flutterbat: Great! What are you gonna do with them, then?
Celery: I'll just make them one of us.
Sweetie Belle: SHE'S LYING, FLUTTERSHY!!!
Celery: BE QUIET!!!
Helping Hooves: Hey, you can't talk to kids like that!
Celery: Go burp some foals, pedophile!
Helping Hooves: PEDOPHILE?!? WHY YOU LITTLE--?!?(Tries breaking free, but can't)
Celery: If only those girls will hurry up, already.
???: We're here. (Everyone looks to see Applejack and her friends alone, along with Discord and Spike)
Applejack: You want us? You've got us.
Celery: Are the Shell Lodgers gone? (Suddenly, the van is seen taking off)...Excellent. Won't have any of THAT interfering in my plans to make a better tomorrow.
The Lougers are seen hidden in a series of bushes.
Icky quietly: "Thank you, auto pilot."
Twilight: "Ok Celery, you got what you wanted. Now let our friends and family go."
A Super Bat bites off the rope and let's the hostages go.
Scootaloo bucks the creature into a wall out of annoyence!
Rainbow Dash: "There. You happy? You get to do whatever you want without the lougers getting in the way. Now we're out of here."
Vamponies intersected.
Celery: "Oh you didn't actselly think I was gonna let anyone leave, do ya? I just wanted those aliens out of the picture so my feast goes, uninterupted."
Twilight: "Why suddenly deside that no one can go? Don't you already have nearly ENOUGH Vamponies?"
Celery: "Oh, it's more then just getting a few extra vamponies. I just realised that the second only thing truely capable to hinder my hope to realise my father's dreams in an Equestia without sickness, is Celestia and Luna. Cadence wasn't THAT serious of a problem, but I am not so optamistic about her two aunts. Daddy warned me they would defeat my entire hard earn vampony army without even trying all that hard and everything would be for nothing... So, what better way to beat an alicorn, then with a "Bat-Alicorn"?"
Applejack: ".... Y'all serious? You want to suck the blood, of THE Princess Twilight Sparkle? Who is like, a adopted daughter to Celestia, A personal friend to Luna, who used to be Nightmare Moon, and without a doubt is so enlighten on friendship she can right a big ol' giant book on it? Girl, ya'll ain't thinking straight!"
Celery: "Hey, I didn't fully concent to my father placing my brain on a spell statis to keep the cancer from killing me! It's not my fault I can't think stright right now! I just figured with Twilight on our side, those two princess don't stand a chance! I mean, don't you want to help the cancer fillies, Sparkle? It would be the ULTAMATE testiment to this, friendship thing your so into. Nothing screams friendship like eradicating sickness for good! Think about, if you and that Flash dude ever had a kid, and that kid, if not an Alicorn by the way, gets cancer or some other intreatable desise, he might not even see what his cutie mark might be! You had any idea how many of your young subjects have DIED from desises alone? In the ponyville hospital there was like, alot of kids in there that have cancer?! Little Hilly Bill. Sharkly Dance. Harold Flower. Springboob Squirepin. Chimny Sweeps. Why, even that little unicorn filly who almost looks esactly like you. Was it, Afternoon Twinkle? The cute little filly that saw you do a Sonic Rainboom rip-off when you sloved that Plunder weed mess?"
Twilight gasped!
Twilight: "Twinkle?"
Celery: "It was sad, really. That girl, made alot of pictures of you two. Crudely drawn, but cute drawings of you two! She actselly wants to be exactly like you! Oh, but cancer just had to came and badly damages her lungs, now did it? She looked like a smart girl! The things cancer wastes. But you can save that kid you know. Just submit to our cause, and you can make her dreams a reality. She might be declaired too young to have surgery on her lungs, being so tiny, so you can't hope our currently limited medicine actselly comes through! This is not a refuseable offer, Sparkle."
Twilight: This...this is a pretty heavy offer, Celery. Is curing Twinkle from her lung cancer worth turning her into a monster?
Celery: If you'd rather she die, then I don't care. You can stop it by joining us. Who knows? Maybe that part-nephew of yours, Galiax, will have cancer.
Rainbow Dash: How did you know about Galiax?
Celery: I fly, so I can see everything. I can even hear your conversations very well, too. Surely, you feel bad about Galiax and Twinkle, and you wanna help them, don't you? With no cure for cancer, nothing else will save them except for my father's amazing serum. So, what is it gonna be, Sparkle? Is it serve or suffer?
Lord Shen: (Whispering) Take aim! (Over 5 of his cannons are seen)
Shifu: Remember, Shen, you have to fire at the exact moment Discord puts up the shield.
Boss Wolf: Relax, we took 10 minutes to formulate Applejack's plan, let's not ruin it.
Shifu: Let's just stay as quiet as we can. Those bats up there have good hearing, and their senses are able to track us down. So we must do it quickly.
Lord Shen: Okay, we've got 10 seconds...
Celery: "Come on Sparkle.... You know it would desistate you if you lose either of them. Both having barely begun to live. Twinkle might not even get her wish cause of cancer. Don't you care for the kid, like how Celestia cared for you? You have, any idea how scared Twinkle is of what's happening? She never wants the kind nurses to leave her alone..... She's afraid of dying alone.... But most of all, she's afraid of dying, without ever seeing her dream to be with her idol. Her hero. Someone, to give her a home...."
Twilight: "(Gasp)!? Twinkle's, an orphan?!"
Celery: "For the most part. She's under the guardianship of her aunt and uncle, but they're not rich ponies... They could, only do so much. You can't really relie on THEM of all ponies to save her from cancer. Don't you think Twinkle deserves the right to live? Don't all children? You think I'M a monster? The real monster, is cancer, WHO TOOK MY MOTHER FROM ME, AND ALMOST COMDEMNED ME TO DEATH!? But, father saved me. I must, return his kindness, by saving everyone. But even with an a clan as magnifisent as this, I can't take on the Pricnesses alone. I need to even the playing field..... I need your help..... Sister....... Please submit..... Do it.... For Twinkle and Gallax......"
Applebloom: Twilight, don't do it!
Lord Shen: FIRE! (Discord puts up the shield, and all 5 cannons destroy the entire perimeter of the area, but they also shield Fluttershy's Cottage. All the bats are panicing and slightly burned, and some of the Vamponies are either injured or unconscious, leaving only Vampony Big Mac and Cherilee, Flutterbat and Celery still standing)
Celery: What the--?!?
Discord: (Teleports Granny Smith, Applebloom, and the others to safety)
Lord Shen: ATTACK!
Celery: YOU BACKSTABBING FOOLS! (Grabs Twilight by the neck) Fine, then! If you won't join, then I'll take you in by force!
Puss: You'll have to get past us, first!
Twilight teleports free from Celery!
Flutterbat: "Sister, forget about them now! We need to get out of here!?"
Celery: (Shrugs) Very well. But damn, were we so close.
The two flew away!
Crane: "They're escaping!"
Lord Shen: "They won't get far!"
Big Mac and Cheerilee blocked their way!
Big Mac: "You aliens ain't going jack-spit?!"
Cheerilee: "Oh NOW you say something other then "Yep" all the time?!"
Big Mac: "Eee-yup."
Cheerille face-hooves.
Po: Let's get them.
Applejack: No, Po! Although they're mutated into monsters, they're still our fellow ponies.
Po: Then how do we get past them?
Discord: Hello? (Teleports them right past them)
Twilight: Well...that worked. (They are suddenly cornered by bats and Vamponies)...Or not.
Discord: (Sighs, and teleports them out of the area entirely)
Cherilee:...(Sighs) I wish some of us had that ability.
Everfree Forest
Discord: (They teleport there, and some of the Lodgers and ponies are laughing)
Twilight: (Giggles) Ple-ple-please tell me that's the last teleportation we have to go through. (Giggles)
Tigress: I'm confused of how using it repeatedly tickles you.
Rainbow Dash: Don't ask.
Applejack: (Hugs Granny Smith) I'm sorry I left you, Granny.
Granny: No, Applejack. I'm the one who should apologize. I was the one who was the most wrong.
Rainbow Dash: And don't you forget it!
Twilight: Dash!
Rainbow Dash: Okay, sorry!
Applejack: Well, I should be sorry first. I treated you as worse as you did, and I should've been more assertive instead of being more aggressive.
Pinkie: I think they're both the same thing.
Twilight: A lot of people say that, but they're not.
Granny: Well, I'm sorry for keeping you away from your friends. I should've listened to your warnings, too.
Discord: Well, she should. She should know that she represents honesty, and that she finds it rather hard to tell a lie. It's like those 'It's A Banana' clips on YouTube. The robot just can't lie because he's programmed to always tell the truth. But while he did do it, he couldn't do it in front of someone else. (Laughs) I damn love that setup.
Granny: Yes, but remember that time when Flim and Flam gave me that tonic, and Applejack unconditionally lied? That's what proved a few minor things about her. That's why I thought she lied to me.
Applejack: I don't lie THAT much, Granny. In fact, I only lie...well...99.99% of the time.
Granny: Okay, we're getting off the subject. Let's both just apologize.
Granny/Applejack: I'm sorry. (They both hug)
Applebloom: Glad to have ya' back, big sister.
Applejack: You two, little sister.
Banzai: Now you two make out!
Tigress: Really? You HAD to say that?
Banzai: What can I say, a few people laughed at that joke once.
Viper:...I think you've only used it once.
Icky: "Ok, if we're done with the lovey dovey stuff and Banzai is done being the team pervert, Celery still has Fluttershy and Dr. Fruitloop Salad! Now that she knows she ain't gonna punk us that easily, she isn't gonna stop hounding us until we're all vampireic versons of ourselves. espeically Twilight becoming a "Vamacorn"."
Twilight: "...... But at the same time, is Celery really as evil as we think? Aside from making death threats, Celery didn't had an arua I assusiated with that of Tirek or any of our other enemies. Albeit mean spirited, Celery sounded like she actselly wanted to cure ponies of sicknesses.... Even if she has the poor exicution to do it. It's so, conflicting when there's a villain that tecnecly doing something good, through the darkest means possable...."
Spyro: "We have our fair share of well-meaning villains, Twilight. Remember Shamus Von Phantomerge?"
Po: "Yeah, he wanted to keep people safe from being judged before anyone got to know them or from being forced to being used as supersoldiers, but I didn't think he picked good means to protact everyone in the stunts he pulled."
Twilight: I'm just saying that we don't need to just stop Celery from turning Equestria into a bat's paradise. We also need to stop the bat inside of Celery, and find a way to get her back to normal without giving her brain cancer again. Using my magic could work, but it'll be impossible with all her bat minions nipping at me.
Pinkie: Like you're covered in chocolate!
Applejack: Then we need some kind of distraction.
Applebloom: (Scoffs, and giggles)
Applejack: What's so funny?
Applebloom: You just...you just reminded me of that time Twilight...(Scoffs)...that Twilight did that silly singing distraction back in the Dragon Realms...And when she did it again in Shrek's world. (Laughs)
Discord: I don't think that'll help, kid.
Twilight:...Actually, it might.
Everyone: WHAT?!?
Twilight: They may not think that singing with these looks will be distracting, but what if I sang when I WASN'T a normal Alicorn?
Mr. Krabs: (Gasps) You don't mean--?
Twilight: Yes. I need to be transformed into a Vamacorn so I can provide a distraction while the rest of you take care of Celery, Fluttershy, and the other infected civilians.
Girl Sora: But you have the power to cure all the Vamponies. Who else has just as much power to take care of them?...(Everyone looks at Discord)
Discord: What?...Ohh, now I see. But wait, didn't I just cover that it was too obvious for the plot?...Twice?
Icky: "Well, maybe if you done it TOO early, then yes, normally the plot totally forbids that, but when we're taking when we're already about to finish the episode, I think as long as we're able to at least have one or two fight senquinces in and a final battle, I think it can be allowed."
Lord Shen: "Yes, but here's the thing. That Diamond song is at most, effective to only males. I'm afraid that the female vampire ponies would remain perfectly uneffected, espeically Celery and Fluttershy. We also need to have an attractive MALE to be able to lul THEM into a great false sense of security."
Twilight:...And I think I know just the male...
Later...
Brandy: You have got to be kidding!
Twilight: What? I say he's perfect.
Flash Sentry: Okay, you want me to do WHAT as a distraction?
Twilight: I want you to sing an attractive song with me so we can distract those Vamponies of both genders long enough for Discord to cure all of them, and stop this Vampire crisis once and for all.
Brandy: I know he's a hunk to you, but what EXACTLY makes him attractive?
Twilight: Oh, trust me, I've seen other mares flirt with him before, I'm sure it'll work.
Flash: And how are we supposed to attract a bunch of mutated monsters?
Twilight: Discord? Show him.
Discord: As you wish. (Snaps, and they are both transformed into Vamponies)
Flash: Wha--?!? Why are my wings--?!? (Looks in a pond to see his new appearance) YAAARRGGHH!!! ARE YOU ALL INSANE?!? Wait, why doesn't Twilight look the same way?
Twilight: (Flash sees Twilight looking normal) I could ask the same thing. (She sees Flash as normal)
Discord: It's so you don't get disgusted, and ruin the distraction. The rest of us see you as monsters, but the only ones that see you two as normal are each other. In other words, it's so you don't vomit.
Flash:...Strange...but I guess as long as Twilight looks nice, it's okay.
Twilight: Yeah, I was starting to have second thoughts when I realized I would see Flash as a Vampony, and I wouldn't possibly do it perfectly.
Discord: You have to thank me for beating you to the punch.
Pinkie: You didn't even punch them.
Lord Shen facepalms!
Boss Wolf: "Uh, Pinkster, that's a figure of speech."
Brandy: "Ok, if your gonna do it, it'll have to be a song base on romance. The Diamond song's great, but it's solely a girl sunged song."
Viper: "Other words, it'll have to be a duet."
Trixie: "Oh! Oh! I saw this movie that had just the song!?"
Chapter 8: The Final Battle
Ponyville.
The Vamponies gather to a stage that suddenly appeared from nowhere.
Flutterbat and Celery watch from afar, over viewing the entire crowd with the Super Bats.
Celery: "Now what are those aliens and resisters up to?"
Flutterbat: "It's, a stage of some sort. It almost looks like what Trixie would conjure up, but it's been made more... Humble."
Celery: "It could be a trap. Let's stay out distence just to be safe. I small a rat."
Flutterbat: "Oh, that's just squeaky."
A rat appeared.
Celery: "I meant something's fishy here."
Flutterbat: "Oh, you mean Glubby, the mutant land fish from Eqlantica!"
A fish with legs: "Oh right, it's a concert yo!"
Celery: ".... I mean, something's off!"
Flutterbat: "Oh, I'm sorry. I took you abit too litterally..... Twice...."
Celery: ".... Let's just stay here where it's safe."
The Vamponies hiss inquisively and growl curiously.
Fireworks appeared, reveiling Trixie in a robe and magicly created bat wings!
Trixie: "Ladies and Blood suckers of all ages! Assumingly. The Great and Batiful Batize proudly present, Princess Batlight Batarkle and Batty Sentry!"
Celery: "Wait...... I don't know any bats like that.... And I certainly don't remember biting her before!"
Before Celery could act, a cloud of magic smoke appear, as a Vampireised Twilight and Flash appeared! Followed, by music.
Celery and Flutterbat are in awestuck!
Celery: "Is that.... Sparkle!? But, I didn't even give her a nip!?"
Flutterbat: "Oh dear, you might be right. And that's Flash. Something is up!"
Celery: "Sister, go down there and warn everyone before something happens!?"
Flutterbat saluted and proceeded to do such!
The Lougers are seen hidden in the stage!
Skipper: "(On walkie talkie) The Shy Batcase is on the move! Celery suspects something! Proceed to intersect the shycase team 5!"
Rarity's voice: "With pleasure."
Flutterbat is trying so hard to get the cheering Vamponies attention!
Flutterbat: "Ugh, everyone, If, I could just get your attention, before-" (She suddenly sees a baby bird crying for help after he fell out of the nest) Oh, no! (Flies over to them) You poor thing. I'll get you back home. (The baby bird suddenly panics at the sight of Flutterbat) Whoa, it's alright. I won't hurt you. (Gently holds the baby bird which is still panicking)
Celery: Wha--? Where'd she go? (She suddenly sees her helping the baby bird, and sighs) Why did I get an animal caretaker to be on my side?
Flutterbat: (She gets the bird up to the nest, and the other baby birds suddenly get scared and tumble out of the nest) Oh, no! (Saves all of the birds from hitting the ground, but they still panic) Whoa, it'll be okay, I'm not gonna hurt you.
Skipper: (Seeing it all) THAT was Shycase's friends plan? To distract her with baby birds?
Rarity: Well, it seems to be working. The baby birds being scared of her looks seem to be holding her up.
Skipper: (Sighs) Well, at least it's working.
SpongeBob: But what about Discord? Is it time to be changing all the other Vamponies back to normal?
Private: And what about Celery? She certainly will suspect something.
Skipper: Well, Discord needs to do it when Celery least expects it. And he's got a plan to distract her from the situation.
Celery: (Sighs) If you want something done, you have to do it yourself. (Suddenly, Discord appears disguised as a bat)...Who are you?
Discord: I am one of the Super Bats. I came to tell you that Twilight has been successfully changed into a Vamacorn by me. Of course, that Flash Sentry pony had to interfere, so I infected him, too. Wasn't that hard to find her, too. Of course, her friends and all the others got away. But other than that, Twilight and her boyfriend are one of us, now.
Celery: Hmm...your voice sounds familiar.
Discord: That's what a lot of the other Vamponies say about me. It gets really awkward at times, but they get used to it.
Celery:...Well, acceptable work. Carry on.
Discord: Thank you, mam! (Flies off)
Skipper:...Nice move.
Flutterbat places the panicy bird in the nest finally.
Flutterbat: "There, that should be it, little ones." (The birds tweet) It's a long story. I'd rather explain later.
Helping Hooves: Is Discord ready? Fluttershy's not distracted anymore.
Discord: (Speaking in their minds) We have to wait for a minute.
Celery: Flutterbat, never mind with warning them. One of my Super Bats already told me that he bit Twilight and Flash. Everything is fine.
Flutterbat: Oh, okay. (Flies back to her side)
Rainbow Dash: Alright, I think they're oblivious to our intentions. I think we need to wait for a few seconds...
Discord:...Wait for it...Wait for it...Wait for it...NOW! (Uses his spell, transforming all the Vamponies back to normal, and changing the Super Bats into normal vampire bats or vampire fruit bats as they scatter around)
Celery: WHAT THE--?!? NO! MY VAMPONIES!!! THE SUPER BATS!?
Flutterbat: "(Gasp), Celery, I think we had been tricked!?"
Kowalski: Wait, why isn't it working on Fluttershy and Celery?
Discord: "Penguin, isn't it obvious? They're too far away from the magic radis."
Kowalski: THEN TAKE CARE OF THEM BEFORE--(Flutterbat hypnotizes him into sleep again)...Before exactly THAT happened.
Celery: YOU AND YOUR ALLIES WILL PAY FOR THIS!!!
Cherilee: (She and the other ponies appear) I think not!
Big Mac: Ee-yup!
Celery: (Hypnotizes them all into sleeping) None of THAT!
Lord Shen: ATTACK! (They attack, but each one who attacks get smacked away)
Icky: I can't believe it! She's too tough, we'll never restrain her.
Rainbow Dash: (Sneaks up on Celery, but when she charges, Flutterbat intercepts her, and pins her to the ground) OUCH!!!
Flutterbat: I'm sorry, Rainbow Dash, but I can't let you do this.
Rainbow Dash: Fluttershy, don't do this! Don't let this monster control you!
Flutterbat: I'm doing this for the fillies, Dash!
Rainbow Dash: You can't trust her! She's trying to make Equestria into something horrible! Think about it. What will this mean to you? What will this mean to your pets, or any of the other animals in Equestria? What about us?
Flutterbat: Hey, she told me herself that she doesn't bring harm to fillies at all! (Suddenly notices the CMCs pulling on Celery's tail)
Celery: LET GO OF ME, YOU RUFFIANS!!!
Applebloom: Never! (They climb onto her, and Celery throws them each off of her into a tree) OUCH!
Sweetie Belle: OOPH!!!
Scootaloo: OWIE!!!
Flutterbat: (Gasps) Girls!
Celery: I'll make you pay for helping these heroes, you nose-wiping little brats!
Flutterbat: 'Brats'? Did she just call them 'brats'?!?
Celery realises her mistake when she senses Flutterbat's anger.
Celery: "Uh, Sister, I'm sorry about that, you have to understand, I was defending myself! Those three are helping the resisters to--" (Flutterbat pounces onto her)
Flutterbat: YOU LIED TO ME, YOU MEANIE!!!
Celery: LET ME GO THIS INSTANT!!!
Flutterbat: I don't follow you anymore, you child abuser! (Flips her behind her back, and pins her down) Twilight, quick, change us back!
Twilight: (Uses her magic to convert Fluttershy and Celery back to normal)
Celery: (Dizzy)...What happened to me?
Dr. Fruit Salad appeared!
Dr. Fruit Salad: "CELERY!? NO! WHY PRINCESS!? She's gonna have cancer again?!"
Twilight: Actually, I got rid of the Bat DNA in her system, but not the affects of your serum. She'll be okay.
Dr. Fruit Salad: You really mean it?
Twilight: Of course.
Dr. Fruit Salad:...(Hugs Twilight)
Twilight: Okay, okay, your welcome. Now I think you might have a lot of explaining to do to the Princesses. Especially since they might know by now that you might be responsible.
Dr. Fruit Salad: (Gulps)
Celery: Don't worry, daddy. I have confidence in you. If you have to go down, I'll be right here beside you. I'm sorry about everything that happened.
Dr. Fruit Salad:...Thanks, honey. It's good to have you back this time. (They both hug)
Private: Aww!
Fluttershy: But...but...what about all those fillies that have cancer? What about Twinkle?
Dr. Fruit Salad: I don't know. Even with my magic and intelligence, it would take me YEARS to fix my serum and get rid of the harmful effects. Getting a cure for cancer is just a dozen, or maybe a hundred years away. I don't think it will be possible.
Fluttershy: (Getting closer to crying)...
Twilight: Hold on a second. I think Discord might be able to help us out. (Discord is still asleep) Hold on a second. (Goes into his head)
Discord's Subconscious
Discord: God, I HATE having to get knocked out like a pansy! I am a former spirit of chaos, for God's sake! I should be unstoppable!...Well, I was ALMOST unstoppable. But you know what I mean.
Twilight: Then I think we might need you for something. We've got Celery and Fluttershy back to normal, but I think we owe Fluttershy a few favors.
Discord: And what favors would that be?
Twilight: We need you to help Dr. Fruit Salad purify his serum so that it can be used to save those fillies that are dying of cancer. Is it possible that you can do that?
Discord: I don't really know. I've never tried such a spell before. Hell, I haven't even cured cancer before, or any other incurable disease for that matter. I don't know if it's possible, but I guess it's pointless to think that it's not, right?
Screwball: Does this mean you're leaving again? You've only been here for 2 minutes.
Twilight: He always comes back, Screwball. He'll be back soon. I'm sorry to say that it's 11:00 AM in reality, so I think it'll be a while before he comes back.
Screwball: AW, MAN!!!
Discord: Well, we'd better get going. I have some fillies to save.
Reality
Twilight: (Comes out of Discord's head, and Discord wakes up)
Discord: Well, Dr. Fruit Salad, if you want me to purify your serum, then be my guest. Do you have some?
Dr. Fruit Salad: "I still only made the one, and it's half full. It might not even be enough to even save half of a child. And considering with what you did to the super bats..."
Everyone looks at the Former Super Bats turned Vampire Fruit Bats and Normal Vampire Bats.
Dr. Fruit Salad: ".... It, doesn't look like I'll be able to make more."
Celery: "Daddy, I'm, I'm so sorry I caused all this. I acted bad."
Icky: "And once again we're in a shot ourselves in the foot moment again."
Larry the Anaconda: "Why not just duplakite the serum?"
Everyone stares at Larry.
Larry: "I know, I know, shut up Larry, that's stupid."
Lord Shen: "Actselly..... That's, unexpectingly brillient of you."
Dr. Fruit Salad: "Duplickit the serum? I didn't thought of that at first. I was considering making more after I was sure Celery was free of side-effects, but, I was trying so hard to keep her safe, I, ended up forgeting to do so."
Miss Pen appeared.
Miss Pen: "Sir, It's Celestia and Luna. Katona told me they're coming soon. They don't seem, please. I'm afraid Project Noseferatu has just became the end of Genesis."
Discord: "Well, if it's going down in flames, it will at least diliver at least ONE good deed before death... Metathroicly speaking."
Sandy: "Well what're we waiting on? Let's get cancer stomping!?"
Mushu: "OKIE DOKIE, LET'S GET THIS SHOW ON THE ROAD?! Cri-kee get the bags! Let's move it, hefter!?"
Po: "Now wait a minute, that's alittle uncalled for."
Ponyville hospital.
A Pink recolor of a unicorn Filly Twilight with a blond mane, and no cutie mark is seen with some crude but cute drawings of her and Twilight, as well as a serious of other foal cancer patients.
Nurse Redheart appeared.
Nurse Redheart: "Hello Miss Twinkle. How are we today?"
Twinkle: "Hi Missus Redheart...... I heard from the Pony on the TV said there was a Vampire attack.... Is, everypony ok?"
Nurse Redheart: Of course. In fact, your idle, Princess Twilight Sparkle, is here offering something that...might help you with your pancreatic cancer.
Twinkle: Really? Can you bring her here please?
Nurse Redheart: Of course I can. Because she's right here.
Twilight: Hey, Twinkle. I heard from the Vampire creatures that you got cancer.
Twinkle: Yes. Pancreatic cancer, to be precise. Nurse Redheart said I don't have that much left in me.
Twilight: Well, I think some ponies from that Genesis place in Baltimare might have something that can help you. (Takes out the small serum) It's the serum that was responsible for the Vampire Ponies running amuck, but thanks to a certain friend of ours, we've purified it, and we're giving it to you first.
Twinkle: You're giving it to me first? That's very nice.
Twilight: Yes. But I don't think this medicine will be mass-produced at all because of 2 things: 1. Some of the ingredients are some of the rarest substances ever, and 2. The Princesses are probably closing down Genesis for what happened out there. This serum is about ready to be used on you. So go ahead.
Twinkle:...Thank you! (Chugs the serum, and in a couple of twitches, she is able to walk again)...I can move again! I feel much healthier!
Nurse Redheart: Are you sure it'll work?
Twilight: Maybe, maybe not. But you might wanna keep her in containment just in case. (Twinkle hugs Twilight)...
Fluttershy: (Looking through the door and is broken to tears, and hugs Rainbow Dash, who comforts her) That's so sweet!
Twilight: C'mon, girls. We've got some fillies to cure.
Later...
Twinkle: (She and the cured fillies are kept in a quarantine chamber) Thank you for everything, Princess Twilight! I love you!
Twilight: (Hugs Twinkle) I love you, too, kiddo. Now go on. I wish you luck.
Pinkie: (Breaks down crying) THAT'S EVEN SWEETER!!!
Icky: "But it's also bitter. The company that manage to make a maybe cure, is closing down, cause of a slight error in judgement."
Fluttershy: "And the animals that were tested there.... What will become of them?"
Kolwalski: "Well, the hybred mutants like those freaky Scorpian Wasps are gonna become residents of Hayfield 64. She insists she'll have them given great care. As for the non-mutant animals...."
Skipper: "Shycase, you don't mind having a few more pets, do you?"
Fluttershy: "Alchorse not. The darlings need a place to stay after all."
Batty: "So.... What's gonna happen to our Vampire Fruit Bat cousins?"
Fidget: "I mean, I know the normal Vampire Bats are heading back to the planet they came from, but, what about the Vampire Fruit Bats?"
Icky: "Well, that's up to Granny if she wants to understand that Applejack's parents getting exsiled was only the fault of the con artist jerk who dropped the colony on them. The critters were only doing what was in their nature: eat fruits all day."
Applejack: "Well.... I am not, fully sure if Granny would be ready to let the past be in the past, and let the critters have a home."
Granny: Well, as wrong as I was before, I can see now that these creatures need a new home. I think they need a new sanctuary at our farm. I'll be more than happy to allow them to be at my favorite orchard until we make a new sanctuary.
Discord: Why make it yourself? (Snaps, and everything goes white)
Sweet Apple Acres
Granny: (A new orchard is made right near Granny's orchard, as the new VF Bat Sanctuary)...Wow, that was quick. Maybe that abomination isn't so bad after all.
Discord: You're welcome.
Applejack: So, are you really willing to have them around, Granny?
Granny: As much as I hate them for what happened years ago, then yes. (They both hug)
Applebloom: Don't you just love happy endings?
Big Mac: Ee-yup.
Skipper: I think our work here is done, Lodgers.
Rarity: "Something still plauges me. What's gonna became of Celery and Dr. Fruit Salad now? I mean, with Genesis soon to be discontinued, what will the good doctor and his daughter do now?"
SpongeBob: I'm sure Celestia and Luna will know what they'll be good at.
Epilogue
Hayfield 64
Dr. Fruit Salad: It is rather nice of you to give me this job, your highness. Hayfield 64 has actually been my inspiration for Genesis.
Celestia: Well, it would be pretty rude of us to leave you with no job after closing down Genesis. Your scientific genius could prove to be useful here.
Celery: Do you think I'm old enough to have my own job, daddy?
Dr. Fruit Salad: Well, since what you're best at is planting vegetables, I think you can help me with making some vegetables and fruits for me to do tests on.
Celery: Really?
Luna: Just be careful this time. You're already in enough trouble already.
Dr. Fruit Salad: I will, your highness. I give you my word.
Celery: This will be fun.
Celestia: "Just one thing, be very careful of the portals to other variations of our universes. Some tend to be..... Disterbing."
Luna: "And stay espeically clear to the one labeled "Cupcakes". It's anything but."
Dr. Fruit Salad: "Wait, you mean like that hogwash brony fanfiction with pointless violence and a non-sensical plot? There's a seperate universe for that?"
Celestia: Yes.
Celery: What fanfiction? What's so disturbing about--(Sticks her head into the portal, and a chop is heard)...(Celery's face comes out with a frozen expression)...Okay, I don't wanna understand the paranoia of the brony who made that!
Celestia: Told you.
Dr. Fruit Salad: Well, regardless, we'll be sure to stay away from the portals. I'm gonna be working on something totally different. I'm gonna be creating medicines from plants.
Luna: Excellent choice. And you have Celery to make them for you.
Fin.
Community content is available under
CC-BY-SA
unless otherwise noted.