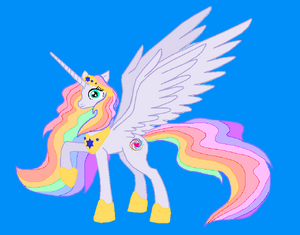 Queen Philosophia
is an Alicorn God from
Equestria
, and the head of all Alicorn Gods, being the Goddess of Friendship, Virtue, Morality, and Justice. Though she died like many other Alicorn Gods when defeating
Tyranny
with the Elements of Peace during the Chaos Wars, before her death, she gained thousands of reincarnations, many of her modern reincarnations being The Mane Six, particularly one of her strongest, the Princess of Friendship
Twilight Sparkle
, among others, and these reincarnations have molded the friendship philosophies of Equestria itself, which is why it's their top philosophy and belief, as it is derived from their world's head god, and though her influence had lessoned thanks to threats derived from other Alicorns like
Lord Chaos
,
Death Coffin
,
Mortuus
, among others, she has set up the basis for her mortal creations, the Equestria Ponies or anything similar, to be the purest of beings in the UUniverses, especially since a UUniversal Crusade that took her a thousand years to complete to set this basis up to find the purest of magic to make this possible, as each pony to make a big difference, sometimes more than once, are usually reincarnations of her. As the head god of Equestria, she guarded her kind with her life, and was the first to be born, along with her husband,
King Temperanus
, as they gave birth to all Alicorn Gods that maintained balance in the world before the Chaos Wars wiped them out and left their jobs in the hands of their mortal successors and Philosophia's reincarnations. But Twilight, upon being crowned ruler of Equestria, becomes the host for Philosophia's soul, allowing her to obtain her powers.
History
Coming soon...
Abilities
Coming soon...
Community content is available under
CC-BY-SA
unless otherwise noted.