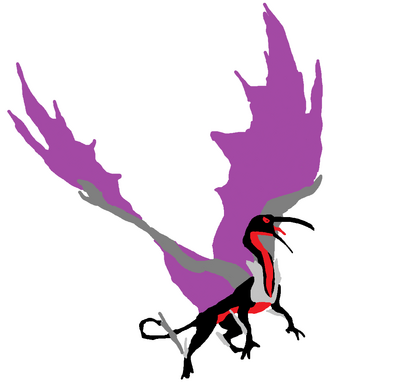 Queen Widowus of Manatera
was once of an isolated race, the Bird-Lizards, found in Manatera and it's neighboring systems. Widowus was once doomed to die of a magicly enhanced cancer that normal magic can't fix, she would seem to be a goner, until she was found by 
President Scalemyer
, 
Commodore Komodore
, and 
King Snoortos
, and was taken aboard their ship to be treated with artifical magic, which destroyed her cancer, saving her life and changing it forever. She began to follow the ways of the trio, viewing them like gods, and allowed herself to transform into a Zewinasaur resemblent creature with robotic wings that produce artifical magic wings and studied under their ways, along with falling in love with the Brainiacaazk Agent the trio brought into the planet, 
Fortunoos
. She was the trio's greatest prodogy and earnestly the one creature that managed to handle the expanding powers of Artifcal Magic, ironicly enough was the living proof that artifical magic was tecnecally worth the trouble of creating, as she was very loyal to the trio's ambitions for artifical magic correcting the wrongs of the USRA, though not nessersarly in the name of UIS but more for the name of the trio, as she also has her own ideals in mind of converting vanella magic with artifical magic so this gift is shared to the Multiverse. Then came "The Idiot that Ruined Evrything" in the form of 
King Agamemnon
, who Widowus had deemed "Weak-Minded" for failing what she atthived, handling the incrised magic levels. Agamemnon was always the crappy student in the eyes of Widowus, but she never figured he would turn rogue, killing her true lover Fortunoos and began to take Artifical Magic to protestable levels and taint the force that saved her life AND made the trio look bad in front of 
Grandmind
 to the point the trio were exiled from UIS and replaced by more obedient stand-ins, of which Widowus returned the kindness they gave her and welcomed them to her side of Manatera to allow them to become "The Mana Lords". But she was heart-broken that they grew bitter torwords the very gift they created and even when they have made themselves immortal with Artifical Magic, the trio are driven to destroy that very gift, of which Widowus begged them not to, but her words went unacknowledged. Thus, the trio got banished into a black hole to an Artifical Magic Realm by Agamemnon who then proceeded to capture and enslave Widowus in the most undigifived way possable: Forced Marriage. Thus she was made to be held against her will into a Harem Dunguin for whenever Agamemnon "Needed Stress Relief" and was made to look on to Artifical Magic continued to be misrepresented as a bad thing. She would only now be freed with Agamemnon dying at the hands of 
Manaventi Yong
 and accompinied allies, including the very Mana Lords she was afraid had gone sueisidal. Glad as she was for Agamemnon being no more, she deemed it a negated benefit to the fact Artifical Magic was destroyed in the process, so it wasn't hard to figure that the Mana Lords are gone as well. She was lucky to be opperating on the Prototype Artical Magic that wasn't dependent on the destroyed Nanomana Well, so thus she wasn't made to suffer a shared fate, but now she believes that Artifical Magic needs to be redeemed and given another chance now that Agamemnon won't muck it up anymore, but at the same time wants to ensure it's return would be transitioned smoothly, so she tried to appeal to Grandmind and the modern UIS leaders to have Manaventi and her constituates arrested for destroying Artifical Magic and thrown into Alpha Station, but while the modern leaders were tempted out of prinipal on the fact they tecnecally commited assisted sueside to UIS race memberss and the lost first founders no less, Grandmind, though sadden by the fate of his "Dear Friends", he ultamately reigned in the other leaders by warning that getting at Manaventi would not be simple, and that an anomamous message warned that the group behind the stranger insodent knows about Manatera, and that if UIS wants to avoid Manatera becoming ammunition for more UIS haters to be born, they call off the attempts to investigate the strangers, of which Grandmind got the modern leaders to reluctently AND begrudgently agree on, though they made it clear they don't have to like it! Widowus was disappointed, but not surprised. Grandmind did exiled the Mana Lords to begin with after all, so it wasn't to be unexpected that mere blackmail would scare UIS from something she is even more suspicious about. If anything, it only made Widowus' desires to bring back Artifical Magic even more stronger then before, if not also revived and stregnthen her previous aims to convert magic to Artifical Magic even more, pretty much being the consiquence of the strangers meddling the affairs of the isolated systems, where cause Manaventi just HAD to go after one threat, it inadvertingly released an even more serious cosmic issue, and this time, Widowus would aim to make an indestructable Nano Well so Artifical Magic can't be wiped out so easily, and that it will be placed onto another never-ending shorce of magic, 
Thaumorpheus
 of the Realm of Magic, so to further discourage any attempt to get rid of Artifical Magic ever again. Widowus isn't nessersarly evil, at least not to Agamemnon's level, but her devotion to Artifical Magic and her not getting the memo that maybe it was abit of a bad idea has made her mentally broken and unable to wanting to "Betray" the gift that saved her life. She even went as far as to recruit stagnant surviving loyalists of Agamemnon, convinced them to drop any remaining loyalty like it was a plague and to be loyal to her for simply the promise of Artifical Magic's resserection and assurence it will not be so easily wiped out this time. Then she went out of her way to seek out useful individuals to help in her endevers, aiming to create a portable and indestructable Artifical Magic Well only she can control.
Community content is available under
CC-BY-SA
unless otherwise noted.