Qui Drones are a series elite of speicalised "Starbot" drones made espiecally to serve under Qui's command unquestionability. While not the largest series of the Starbot series in terms of the machines it spawned, the Qui drones were useful in anyway. They would still be in use for the villains of the Villains Act, even after it's fall, AND even if Qui would eventally seise to be a villain. They became a stable for speical forces serving under the remeniment group The Dark Radicals. These machines along with the rest of the Starbot series have helped the villains act win battles in more ways then one, from conventional assult, savatosh, and sometimes trickery and ambush. Even when Qui is done for, these monsterious machines would still be in service to the villains.
Drones
Destroyer Drone 300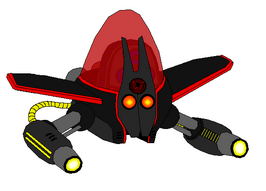 Destroyer Drone 300s
,
DD300s
for short, are the pinnacle of Qui's drones. They started out as prototypes that were still being designed during the time Qui was trying to go to the Original UUniverses. Once she did, she gained permission from Team Nefarious to help boost the design of her DD300s, and thus, the drones are now aerial fliers that are equipped with highly-powerful weapons, but are roughly the size of greyhounds. Nevertheless, they are formidable fighting machines that have been known to kill, though haven't been seen to do so. They're basically redesigned versions of the Guard Drone which looks less like a weird spider, and more like a highly-maneuverable robotic fighter. These drones have a design like the robots and machinery that Team Nefarious provides since the design was provided by Nefarious. It has a glass dome on it's head, but red instead of green, it has 2 rear thrusters, 2 side wings and 2 cannon arms below each wing that are equipped with high-powered phaser cannons. While the first versions put up a good fight and are still in use, Qui had made new versions which, instead of being equipped with phasers, they're equipped with either phaser miniguns which rapidly fire the same kind of blast at a target, or missile launchers that fire heat-seeking missiles.
Guard Drone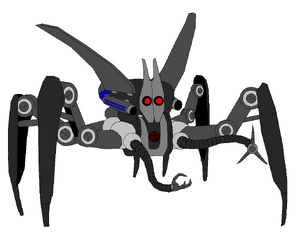 The Guard Drone
(Qui Drone Unit Series 7682) are a drone unit with a similarity to a species of four-legged alternate spiders called Fouropods, commonly found on Planet Larvirium. Back when the Villains Act was still relatively new, The Warobots were recently replaced, and the Starbot series were still being properly established, the Guard Drones, then called 'Torrents', were originally planned to be the main aerial force of the Starbots. Due to thieves, mercenaries, and bounty hunters breaking into their supply depots, however, the Villains Act was having a hard time with building up their armies. Qui's response was to, and thy quote, 'make the Torrents chase them', making the Torrents security drones. Soon, the Starbot manufacturers decided to grant access to the Torrents to Qui. So, what was once an ordinary Torrent drone evolved into the Guard Drone, the first in Qui's Drone units. Not even bounty hunters could handle these flying mechanical menaces. The Guard Drone became widespread on Peerbon to be the main security forces that guarded Qui's main fortresses, valuables, and keypoints, and kept the Villains Act from falling in the hands of all kinds of rebellion forces. With high-powered dual plasma cannons, 2 functional arms, thruster-propelled flight, the ability to climb on walls, and a vast jumping ability, these machines were very difficult to destroy. The only drawback is that they have the intelligence of preschoolers, and their only commands are attack, pursue, and destroy, not capable of strategic planning. Then again, with twin blasters which pack a powerful punch, why need strategy? However, not even an army of these things were able to prevent the Villains Act's downfall despite being present.
Soldier Drone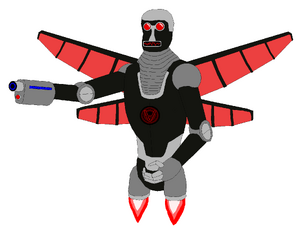 The Soldier Drone
(Qui Drone Unit Series 7779) is a drone unit that was also part of the Starbot prototypes, and was meant to serve as the main infantry of the Villain's Act. It's original design was that of a part-droid part-drone appearance, but it took years to perfect. But when the Starbot scientists decided to finally give up on it, Qui decided to take it off their hands and make it as part of her own Drone line. Narcotic was able to help perfect the design by taking away the design's legs, and replace it with jet thrusters. Having the appearance of an average military soldier except for the legs, the Soldier Drones served as the 'Queen's guard' of the forces, having much greater intelligence than the Guard Drones. They never reacted or moved for any reason except to protect, secure, plan, and attack. These devastating brutes have been known to kill rebellion forces with their unbelievably-powerful armaments, and have saved Qui's life from a determined military group that was dedicated to taking Qui down for good. The entire force was destroyed, and Qui had the pleasure of having the leader's head on a stick. They have become the main infantry for guarding the Villains Act's all-ruling base on Peerbon, as well as it's key components, it's supplies, it's power sources, and it's communications systems spanning all over the AUU. They mainly controlled the Guard Drones in offense and defense. Despite having jet thrusters for legs, they do have the design for highly-maneuverable flight. They have 4 retractable wings that they use in pursuits for steering. They attack in groups of 6-24, and are armed with adjustable phaser cannons on their right arms which can be set to charge up, ricochet, can be concentrated into a focus beam or just a normal blast, and can even fire explosives. Their eyes are equipped with night, infared, and ultraviolet vision. However, their only short-coming is, like the Guard Drones, they have limited intelligence, but has the intelligence of a 16-year-old, allowing them to have greater strategy, and much better fighting potential. But they just have limited adaptability to tough situations. They don't adapt quickly to the most-confusing strategies, and it won't be too hard to haywire one of them to start attacking one of their own. There is also the problem that sometimes, if not cared for properly, they'll start to malfunction and glitch, and these are drones that need to be created PROPERLY or otherwise even a slight error in the design would make the thing fall to pieces. As long as those weaknesses are properly secured, these drones are very tough fighting machines that make them difficult to handle. However, even an army of these drones did little to nothing to prevent the fall of the Villains Act.
First Appearance: Love and Truths along with upgraded DD300s and Guard Drones.
Spy Drone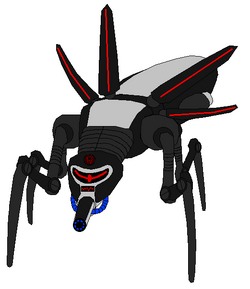 The Spy Drone
(Qui Drone Unit 556) were drones built for surveillance and stealthy attacks. When the Soldier and Guard Drones became a favorite for Qui during the reign of the Villains Act, pretty much everyone in the AUU feared the drones in Qui's arsenal, regardless of only being two in the series. However, she started making her own plans for her own drones that wasn't from the Starbot line. One that would make sneaking up on the enemy easier. When a rebel faction from Nimboo started to use the drawbacks of the Guard and Soldier Drones against them and Qui was coming closer to being taken down, the new Spy Drone was tested out, and they sniped down the rebels that threatened Qui one-by-one. The Spy Drone was the only drone she designed without any help, having a design based on a prehistoric species of extinct beetle called a Moo'koo Beetle. The Spy Drones were able to reveal a traitorous worker for the Starbots who wanted to take down Qui and the Villains Act that was the reason Nimboo invaded Peerbon, and thus they had the double agent arrested and executed. The Spy Drone was praised for securing sensitive information from the destroyed rebellion, and was made a part of Qui's security on Peerbon. Spy Drones are equipped with a cloaking device that can make them invisible, they can climb on any surface, and they have photographic sights, able to picture what they see in their memory banks like a camera. It is capable of high-speed quiet flight through 2 silent thrusters and it walks on 4 legs, and their main weapon is a front-mounted railgun cannon which strikes with the force of a sniper rifle bullet, killing anything it hits. It is the smartest of Qui's drones, and it is able to adapt and strategize better than a Guard and Soldier Drone. But the only downside is that it has no durable armor, being made of just platinum plating. It is vulnerable to even it's own weapon. Still, they are stealthy enough to avoid a vulnerable shot. They did play a part in exposing the location of the Hero Hive when it was under construction, and ensure the Heroes Act was properly obstructed at all times. However, the infomation about the hero uprising that took down the Villains Act came far too late, especially when the Spy Drones in charge of the job were disposed of before they could begin recording, thus defeating the drones that could've otherwise saved the Villains Act from being destroyed.
G-50 NovaTitan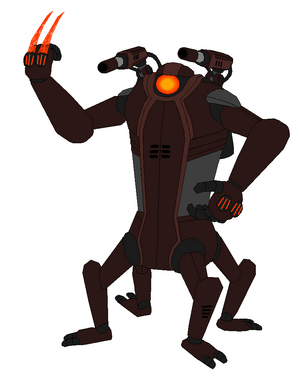 The
G-50 NovaTitan
is a gigantic war robot that isn't necessarily a drone due to "supposingly" being unable to fly. But it's still very powerful and originally served during the AUU's Interuniversal War. The NovaTitans were thought to have all been destroyed after being so impossibly dangerous thanks to anti-war fanactics damaging the famed
Unit Rgova-Cronus-UNAMS7
 into betraying the millaterry in protest in fighting in a war, they were banned UUniversal-wide to the point of extinction, but only 3 are still preserved. One of them is in a history museum on Peerbon, another is in another history museum on Breezso Prime, and the last one was originally thought to be shipped to Qui in Discord's Dilemma until the Heroes Act stopped it's delivery. Unfortunately, it was stolen a few months later by some of Qui's "assusiates". This machine stands 12ft tall, and weighs up to 5-in-a-half tons, which some feel that this doesn't feel very true to the Titan name part of the machine since Titan is normally another name for a giant, making most disappointed that it's at best an abnormally tall robot and not a true giant, while others argue that if it's considered big, it can technically be considered a Titan as long as it's bigger than average. Despite it's size and weight, it is still capable of flexibility and limited gymnastic capabilities. Despite having 4 tripod-like legs, they are still capable of climbing, flipping, and landing perfectly. While it is unable to fly, the jet thrusters on it's back are meant for moderate gliding, and if the robot was lighter, they would allow flight. It's weapons consist of dual energy blades on each wrist, and 2 shoulder-mounted plasma cannons which can be charged up to cause major damage to it's target. It's eye is even useful for a superheated focus laser that can last for 10 seconds before requiring cooling time. While it is heavy, it's strong enough to carry it's own weight and jump like it was on the Moon.
Community content is available under
CC-BY-SA
unless otherwise noted.