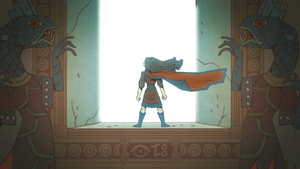 Randolph Carter
, AKA
Howard Phillips Lovecraft
, is a human warrior who currently resides in the
Demon Realm
. Based on the Lovecraftian character, Randolph is actually the avatar of H.P. Lovecraft himself. In the real world, Lovecraft was the paranoid racist human author he was in real life. But whenever he went to sleep, he entered the Demon Realm and lived in the Dreamlands, taking the name of Randolph Carter. He met many friends in real and fantasy life, and when he became 46, Lovecraft decided to kill himself so that he can be reincarnated as a permanent resident in the Dreamlands, by turning his own intestines into a monster, faking intestinal cancer. With that, he was now Randolph Carter permanently. After that, and after the stories he had in real life were expanded upon by others including friends and other authors, they became part of his crew of Outer God hunters. His primary threats were
Mischievers
, Outer Gods of Chaos that he had always encountered in his dreams when he was still alive, and his true first fight against them was in the events of his story 'The Dream-Quest of Unknown Kadath', where he explored a portion of the Dreamlands and narrowly escaped the clutches of
Nyarlathotep
and
Azathoth
. He also brought his wife Sonia Greene with him and even eventually gained a descendant named
Rothrock
. He had helped in quelling Azathoth's most recent attack on the Demon Realm with help from the Dreamworlds' planet's native race, the Mi-Go, who had used Iagh-metal, redubbed 'Lovecraftium', to drive off the Mischievers. He even became a UUniversal Crusader and the first and only one to explore outside the ends of universes, in the domain of Outer Gods, and the first modern 0-Brave before
Star Butterfly
and
Luz Noceda
. As Randolph, Lovecraft is no longer racist or paranoid, but very wise, noble, proud, and clever, especially since he wears Lovecraftium armor and wields an enchanted Locecraftium sword. He even owns a
Schrödinger
named
Saturn
who used to be his real life cat whose name was racially insensitive, but reincarnated into a Cat from Saturn after it's 1904 death (No anti-catism violation intended.)
History
Coming soon...
Crew
Lovecraft's fellow writers from the real world are all part of his crew of Outer God Hunters. They each visited the Dreamlands of Yuggoth, the home planet of the Boiling Isles, whenever they sleep, and when they die in a relatively-subtle-and-gruesome way, they become a permanent resident of that world. Each member died periodically of their IRL causes but in the lore of the Owl House, their deaths were actually subtly caused by magic.
Sonia Greene- (1883-1972) Lovecraft's wife IRL and the co-captain of Lovecraft's crew and his wife since he never got to legally divorce her in real life. She died of syphilis from her father, and thus this made her a spotted bumpy female demon that is still nonetheless beautiful.
Saturn- A Schrodinger cat and the titular Cat from Saturn whose entire race lives in the city of Ulthar, and is a reincarnation of Lovecraft's real-life cat, whose real life name had to be changed because of being racially insensitive.
Florence Carol Greene- (1903-1979) AKA Carol Weld, she was a journalist and the stepdaughter of Lovecraft who is now a warrior for his crew. When she died in Miami, she was reincarnated as the same kind of demon as her mother, but share similarities to Lovecraft.
Greene Lovecraft- The child of Sonia and her first husband Samuel Greene before Lovecraft who died at the age of three months, and has been reincarnated as a powerful demon who grew up as a grand addition to Lovecraft's crew. He is a soft-skinned fetus-like demon with black eyes, and is still able to look like a grown adult.
Providence Lovecraft- (Deceased) The unknown illegitimate son of Howard and Sonia who became another legend of his own right in the Demon Realm before joining his father's crew, and then being killed by Nyarlathotep, but not after leaving a lineage that'll eventually birth Rothrock Lovecraft.
Frank Belknap Long- (1901-1994) AKA 'Umr At-Tawil, he is a horror writer and another friend of Lovecraft who also expanded upon the Cthulhu Mythos, and the first-mate of his crew. He was formerly cursed into a lifelink with Abdul Alhazred and the Necronomicon until Luz freed him. He is now an elf-like demon but retains half of his 'Umr form and all of 'Umr's powers. He died by turning his lungs into monsters and faking pneumonia to become a handsome taller demon like Lovecraft.
Maurice W. Moe- (1882–1940) AKA Joel Manton, he was an American amateur journalist and English teacher who knew Lovecraft starting in 1914, and notified him of his outstanding student Alfred Galpin. He died of cancer, but Lovecraft took his soul and made him into a human-elf demon named Joel Manton after the character of The Unnamable.
August Derleth- (1909-1971) AKA Thomas Olney, he is a friend of Lovecraft who founded the Arkham House publishing for weird fiction and expanded upon the Cthulhu Mythos, and now his second-mate. He died by turning his own heart into a monster and faking a heart attack, allowing him to become a red heart-skinned demon.
Clark Ashton Smith- (1893-1961) AKA Eibon, he is an American author, artist, and another friend of Lovecraft who also expanded upon the Cthulhu Mythos, and is his third-mate. He faked his own death through turning all his organs into monsters and faking tuberculosis, becoming a red-violet demon with some exposed bones and muscles, and also the sorcerer that wrote the Book of Eibon.
Robert E. Howard- (1906-1936) AKA Conan Cimmerian, he is a prolific Texan author and creator of the adventure hero Conan the Barbarian. He and Lovecraft corresponded voluminously from 1930 to his suicide in 1936, and became Lovecraft's fourth-mate and battlemage to cover for his cowardly act of suicide, as his suicide made him a traditional and ugly demon because of the views of suicide being a sin.
Robert Bloch- (1907-1994) AKA Ludvig Prinn, he is a prolific American writer and student for Lovecraft whom tutored him in the craft of writing during their four-year association, and his fifth-mate. He died by turning his own esophagus into a monster and faking esophageal cancer, becoming a slender half-lich demon.
Ambrose Bierce- (1842-circa 1914) AKA Juan Romero, An American short-story writer, war veteran, poet, and journalist who, though not meeting Lovecraft IRL, his work was described by him as 'grim and savage' and shining as great examples of weird fiction. He died at an unknown point during the Mexican Revolution, and his death was a mystery. But he was really killed by falling into an unknown chasm and getting eaten by an Outer God posing as Huitzilopochtli, the Mesoamerican deity of human sacrifice, which was sought after by the Revolution's enemy, which Lovecraft covered up with help from R.H. Barlow in the story The Transition of Juan Romero. He is now a bird-like demon.
Robert W. Chambers- (1865-1916) AKA Hildred Castaigne, he is an American artist and fiction writer whose story The King In Yellow was admired by Lovecraft and his circle, and died the same way as Lovecraft, faking intestinal cancer by turning them into a monster, becoming a demon like Lovecraft, but with horns and a yellow robe.
Samuel Loveman- (1887-1976) AKA Harley Warren, he is an American poet, critic, dramatist, and friend of Lovecraft whose Demon Realm identity of Harley was in his story The Statement of Randolph Carter, and serves as Lovecraft's crew occultist and magician. He died of a stroke by turning his circulatory system into a monster and therefore became a demon consisting of a living heart, arteries and veins that must be covered by a cloak and hood.
R.H. Barlow- (1918-1951) AKA Sir Follows, he was a correspondent and friend of Lovecraft appointed by him as the executor of his literary estate. He committed suicide from an overdose of barbiturate and thus became a semi-skeletal demon, becoming his crew assistant.
Seabury Quinn- (1889-1969) AKA Jules de Grandin, he is a Weird Tales publisher and the author of the Jules de Grandin stories until he fakes his death via faking atrophic arthritis via turning his own bones into a living skeleton, making him a near-skeletal human-like demon with visible bones on his chest, becoming his famous character.
Edwin Baird- (1886-1954) AKA Scribe Trowbridge, he is the first editor of Weird Tales, the pioneering pulp magazine that specialized in horror fiction which Lovecraft's stories were mostly published on. Though there is no cause of death, he says that he willingly let himself die by natural causes and became an elf-like demon for Lovecraft's crew when he learned about Lovecraft's true fate, and ended up becoming Dr. Trowbridge of the Jules de Grandin stories of Seabury Quinn who became the same character, until he opted to mostly be the scribe of Lovecraft's team.
Donald Wandrei- (1908-1987) AKA Alan Marsdale, he is an American science fiction, fantasy and weird fiction writer, and co-founder of Arkham House. Though he has no cause of death, he says he willingly killed himself from natural causes when he found out about Lovecraft's true fate, becoming an fiery-themed elf-like demon, and a great demon hunter.
Lin Carter- (1930-1988) AKA Harold Hadley Copeland, he is one of the many Lovecraftian writers and the author of the Ballantine Adult Fantasy series, and the Lovecraftian Xothic Legend Cycle. He died via giving himself a devilish tumor and faking cancer, making him a deformed humanoid demon and an excellent archaeologist.
Bernard Austin Dwyer- (1897-1943) AKA The Clergyman, he was a weird fiction writer and a correspondent for Lovecraft who engaged in wide-ranging discussions with Lovecraft on such subjects as cosmicism. Dying by a demon leaking into Earth, he became the titular character of the story The Evil Clergyman until being rescued by Luz.
Rheinhart Kleiner- (1892–1949) AKA Saint John, he was a poet of exquisite skill and sensitivity and one of Lovecraft's earliest correspondents. After being killed by his beginning career of weird fiction writing being cut short when he became the unnamed narrator of the Lovecraftian story The Hound, becoming a ghoul until he was rescued by Luz.
E. Hoffman Price- (1898-1988) AKA Joe Slater, he was an American writer of popular fiction, a self-titled 'fictioneer', for the pulp magazine marketplace. He collaborated with H. P. Lovecraft on Through the Gates of the Silver Key. Upon his non-fake death via a heart attack on his computer while writing on the mystery of the entrance of the Dreamlands, he became Joe Slater, the demon warrior guardian of the Seventy Steps of Light Slumber, the Seven-Hundred Steps of Deep Slumber, the Walls of Sleep, or any other entrance to the Dreamlands through his duplication ability, the master of Nasht and Kaman-Thah in the Cavern of Flames.