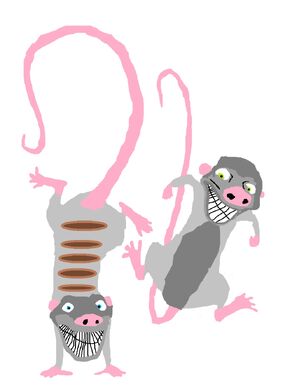 Rash and Teddie are two possom brothers who follow
Fu-Xi
like, annoying, obnoxious, but good spirited fan boys! They were once orphaned after a bandit attack left them wihout no one, but eachother. They worked hard to keep eachother alive, all the while, becoming mischivious, annoying, and troublesome. They had a hapit to play pranks and cause mischief. However, it was mostly harmless tomfoolery, and everyone puts up with it... However, no one gave a brutal Ox thug the memo to do that, cause when the Possom made him look like an idiot, he got mad and desired to kill the two brothers! But before he could deliver the death blow, Fu-XI came last minute, bit the Ox Thug, and caused him to retreat in fear. The Possoms practicly worship Fu-Xi like a god, making them shoe-ins for the Cult of the Snakes. Their determination to Fu-Xi lead to the point that they painted periment paint on their backs in snake markings. Aside from that, they were still mischivious and trouble seeking.... However, eventally, came trouble they did NOT seek. the likes of 
Su Su Ka-Boom
 and his Anti-Snake Mongoose clan, spread lies about snakes that the Cult worked hard to prevent, which lead to the massicure of Fu Xi's family, and then eventally, a grosume attack on the Cult. They, To Mong, Su Ming, and another member were able to escape, thanks to a broken hearted, but still brave Fu Xi... but it came at a price. Su Su smacked Fu-Xi in the head so hard, it forever damaged what sense of judgement (and mental sanity) Fu Xi had left, turning into, basicly, the vengeful jerk he is today. Enjoying a cold hearted victory, Su Su and his xenophobic mind-slaves left Fu Xi for dead, allowing the surviving cult members to rescue him in secret. Fu Xi was safeully revived to full health, but Fu Xi is darkly determined to get his revenege on the leggers, that the cult were helpless to stop it. Eventally, the events of Serpent's Tooth in the Legends of Awesomeness show was what further ruined Fu Xi's sanity. He still has his usual personally, only now, he also has partcally the personally of Vegeta of the Abriged Dragon Z series made by Team4star. Fu Xi's an EVEN bigger jerk now, though Rash and Teddie are still devoted fans, reguardless of having the relationship in simularity of 
Gaston
 and 
Lefou
, if there was two Lefous.
History
Coming soon...
Quotes
We are very, very... Stupid!
Criminal Act Scene
(Until I get the movie, I found the scene proper thanks to the same tactic I used to watch Rise of the Guardians to watch it on the Internet, and decided to apply it to their backstory.)
Rash: (As the two fired at them with blowpipes)... WOW! These things work great!
Teddie: I know! Seems mom got us the best in the market! (They continued doing it) Cool!
Rash: Best birthday present ever!
Tiger: Hey, morons! May I remind you that you are on bandit territory? You'd better cut it out before I call for backup! (The two raspberried at him as he climbed the tree in anger and attacked as they dodged)
Rash: WHOO!! (They scurried) Missed me, missed me, now ya' gotta kiss me!
Tiger: GET OVER HERE, YOU TWO, YOU ARE IN SERIOUS TROUBLE!! (He jumped and encountered burrow holes they made)
Rash: (As his head was stuck in a hole)... Which end is up?
Teddie: (He got it out) I hide that face too!
Tiger: (Fails to grab Teddie)
Rash: Hey, ugly! (Pea-shoots him)
Tiger: OW! I JUST GOT A SORE BUTT, YOU SIMPLETON! (Fails to grab him, and fails to do so multiple times) GOTCHA!!
Teddie: Oh, you got him alright! (They were seen) YOU GOT AIR!! (The two laughed until a bigger tiger appeared behind them)
Rash:... Uh-oh!
Tiger #2:... Looks like you guys owe my SON here an apology for pestering him! (They screamed as they dodged his grasp, then they pea-shot him) OW! (He failed to grab him)
Tiger #1: I GOT YOU, FA- (The tripped him with one of their tails) D'AAHH!! (He fell on his dad's stomach) Sorry, dad! (They pea-shot them)
Tiger #2: YOU'D BETTER QUIT IT!! (They continued trying to grab them)
Rash: Nice miss! (They failed again)
Teddie: OOOOH, I felt some breeze in that one! (He dodged them again)
Rash: Smile! (He pea-shot Tiger #2's face, as he failed to grab them again, then the two continued to pester them until they unknowingly got themselves tied up)
Teddie: Over here! (The two were too tied up to grab them)
Rash:... Surrender?
Tiger #2: DO YOU MORONS KNOW WHO WE ARE?!?
Rash: DO YOU SURRENDER?!?
Tiger #1/#2: NEVER!
Rash/Teddie: Cool! (They jumped in, then jumped out)
Teddie: SMOKE THEM!!! (They breathed in in slow motion and fired their pea-shooters at full force, going back in the holes as the two collapsed, the pea-shooters laying on the both of them).
Tiger #1:... If anyone asks, there were 50 of them, and they were... Uh... cobras!
Tiger #2: I'm NOT lying to my men, son! I raised you better than that!
Rash: (The two laughed at them from a distance, as one of them mooned them) Here, kitty-kitty-kitty!
Tiger #2: DO YOU MISCREANTS HAVE ANY IDEA HOW SERIOUS THIS IS?!?
Rash: 'Miscreants'? (The two laughed)
Tiger #1: Uh, dad, they're possums.
Tiger #2: WHAT DID I SAY ABOUT BEING A SMARTASS?!?
Tiger #1: SORRY!
Tiger #2: Yeah, that's right! One more time, and you don't get a birthday this year!
Teddie: OOOOHHHH, FATHER OF THE YEAR, EVERYONE!! HE'S TURNING HIS OWN SON INTO A CHICKEN BY THREATENING TO CANCEL A BIRTHDAY! (The two made chicken noises while doing the chicken dance)
Tiger #2: WHY YOU?!? (He charges after them)
Rash: RETREAT!! (As they hased after them, his son picked up the pea-shooters)
(Later)
Rash: (The two ran back to their home) HELP! HELP US! (They hid behind their mother)
Tiger #2: (Their mother was shocked, knowing who he was)... Well, are you their mother?
Rash and Teddie's Mother:... Yes.
Tiger #2:... Good! Then THESE two owe US an apology!
Rash and Teddie's Mother:... For what, I might ask?
Tiger #1: (He shows them the pea shooters as she was shocked)
Rash:... Mother?
Rash and Teddie's Mother: HOW COULD YOU TWO DISOBEY ME?!? DIDN'T I TELL YOU WHAT THESE TWO CAN DO?!?
Teddie: Wait? THOSE guys are the lead bandits?
Rash: I thought they were just dumbasses!
Tiger #2:... And that apology BETTER come NOW!
Teddie: Were the burrows not a clear indicator of how it was gonna go down, stripes? You could've just ignored me and Rash, but NOOOOOOOOOOOOOO, you had to feed the trolls! Who's fault is that, pussy cat?
The Duo Tigers snarled?!
Rash and Teddie's Mother: TEDDIE!!
Tiger #2: Please know that we do not TOLERATE defiance here! (They send in Asian golden cat bandits that aim flaming arrows and bows at them)... So, I'm not going to ask again... APOLOGY, NOW!!
Teddie: OKAY, OKAY, WE'RE SORRY!!
Tiger #2: Sorry, what?
Rash:... You cannot be serious- (An Asian golden cat fired an arrow at their mother, killing her as the two looked in horror as her body fell in slow motion)...
Tiger #2:... Did that SOUND like I'm not serious? "I'M SORRY, BOSS CAI WUNG!!!" I DEMAND to be addressed with the full name, and you'd BETTER give it to me, lest I have MORE than that to kill! (The two sobbed)... Apology, NOW!!!
Rash/Teddie:... We're sorry, Boss Cai Wung! (The two cried)
Tiger #2 (Cai Wung): That's better!... KILL THEM ALL!!
Rash/Teddie: WHAT?!? (The cats laid waste to their home village) NOOOOO!!! (They were helpless to stop the chaos and murder as they were the only ones left as the golden cats cornered them)
Rash: WHAT THE HELL?!? THEY DIDN'T DO ANYTHING WRONG!!!
Teddie: "Dude, we just saw this asshole kill our mother in front of us! I think it was safe to say he's clearly a dishonorable piece of shit?! IN FACT, WE TAKE OUR APOLOGY BACK, ASSHOLE?!"
Cai Wung: Dah, I never really wanted your apology anyway. I just wanted to hear you cry and squirm. Besides, In our culture, towns are held accountable for the actions of their inhabitants. Did you HONESTLY think we'd cut you some slack if you're just going to possibly take back the apology behind our backs? This is what happens when you don't listen to your parents. So, you must suffer the same fate! Happy BIRTHDAY, you little rats! (They prepared to kill them until Fu-Xi came in and bit them all, killing them all except Cai Wung and his son)
Fu-Xi:... You will NOT lay a hand on them, Cai Wung!
Cai Wung:... (Chuckles) The Great Fu-Xi, lord of all snakes! What nerve have you got to save these miscreants? They are too annoying to be left alive!
Fu-Xi: That's a dishonorable thing to say, Cai Wung! Also, your kinda of a netourious doughe who's been known to do shit like this even AFTER you gotten your ill-deserved apology! But in all seriosuness, I am not going to ask again, either leave now and spare them, or die!
Cai Wung:... Son?
Cai Wung's Son: With pleasure! (He arms himself, but Fu-Xi killed him without him even getting an attack)
Cai Wung: SON!!! NOOOO!!! (STARTS CRYING LIKE A MANCHILD) MY BABY BOOYYYYY?!
Fu-Xi:... Ya know, that's kinda your own fault sicing your stupid kid at me. I'm a desendent of a heroic sage who defeated a giant world eating serpent, AND a creation of a dragon god father and a golith beetle magic sage mother! And on my own, I slain a demon warlord! You honestly thought your stupid ass kid was gonna get to me? But seriously though. Last chance! Leave!
Cai Wung:... So help me, Fu-Xi, you will pay for this with your own menace snake blood! THIS I SWEAR!!!
Fu Xi: ".... See, funny thing is.... You said that as if I was gonna let you live up to that promise. Espeically after the shit that you pulled."
Cai Wung gasped in fear in surprise of this!
Cai Wung: W-W-W-W-W-W-W-W-WAIT?!? I THOUGHT YOU HERO TYPES NEVER RESORT TO KILLING!!
Fu-Xi: "Normally we would, buuuuut..... Ya did WAAAAAAY too much irredeemable shit with that destroying communites trash even AFTER you gotten your apology, dumbass, and you had did nothing in your life, but be a bad memory to everyone! And Honestly, I think it's time I help all of China repress that memory! And the healing starts.... With your death. I think it's about damn time, I PERSONALLY SEND YOU TO YOUR SPEICAL PLACE IN THE UNDERWORLD, WITH YOUR RETARD OF A SON?!"
Cai Wung: "NO?! NO?! LORD FU-XI?! PLEEEEEEASSSSSSSSSSSE!? I BEG OF YOU?! I'M SORRY?! I JUST DON'T LIKE IT WHEN PEOPLE MAKE FUN OF ME AND MY SON FOR OUR AUTISUM AND LACK OF INTELLIGENCE?! I JUST WANTED TO BE TREATED WITH RESPECT?! OKAY, MAYBE THE KILLING THEIR MOTHER, FRIENDS AND FAMILY WAS REALLY PUSHING IT, BUT, COME ON?! HAVEN'T AUTISTIC PEOPLE DONE WORSE BECAUSE OF HAVING THE COPASITY OF A CHILD?! PLEASE SPARE ME?!"
Fu Xi: "Repressing in five, (Fu-Xi held his tail up holding a potion with a skull and crossbones on it)"
Cai Wung screamed like a true cowerd and ran away!
Cai Wung: "MAMA?! MOMMY?! I WANT MY MOMMY?!"
Fu Xi: "4, 3, 2, 1! (Tosses it to the retreating Tiger as it hits him, the potion blowing up and redusing the screaming Cai Wung into nothing but bones)....... And, repressed...... Flawless victory."
Fu-Xi looked at Rash and Teddie, who look in terror and awe at him.
Fu-Xi:... Come with me. You two deserve a chance to a new life.
Community content is available under
CC-BY-SA
unless otherwise noted.