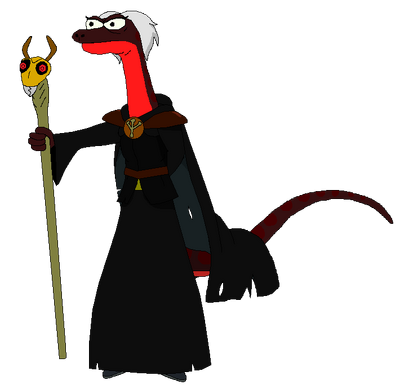 Roxanne E. Tenet, crudely nicknamed Rotteen, is a Red-bellied newt from the world of Amphibia, which is situated in The Bestiary Dimension. She is the Grand Advisor for Newtopia and for King Andrias who also used to be in General Yunnan's army until an incident destroyed her army and gave Rotteen a spinal injury that she is capable of fighting off for her penultimate goal to make Amphibia into a world identical to New Mewni. In her youth, before the Calamity Box was sent to earth and brought Anne Boonchuy, Sasha Waybright, and Marcy Wu to Amphibia, she was the first to use it since Andrias' ancestors. She ends up not only harnessing the power of the Box's three gems, but she was given the ability to travel across several archived worlds. These worlds were not only Earth, but also other animal and plant kingdom/class-themed worlds which she survived and thrived in with her amphibious nature and omnivorous diet, and met 8 new friends: A monkey named Zaru Simius, a basilisk lizard named Oz Squamatus, a rainbow parrot named Amazon Auckland, a jeweled scarab named Irides Beetlewing, an octopus named Octavio Apollyon, a walking Venus flytrap named Diona Venus, a walking mushroom named Enoki Clusius, and a large amoeba named Valonia Spores. These nine went on adventures together with not just the Calamity Box, but the last of the relics of it's kind. But the friends were separated when the Outer Force took all except the Box and the Calamity Scepter from them, sending them back to their respective worlds, fearing their power since they were once abused by Bill Cipher, earning them their names of 'Calamity Objects'. Rotteen swore an oath that she would reunite with them and achieve the goal they aimed for: To save their worlds from eventually suffering King Echidian's Curse, which takes away monsters' sentience, as their worlds are too far from the curse's reach, aiming to merge all the worlds into one and sending them out of the Bestiary Dimension to avoid the curse by modifying the Calamity Box's magic, all as an effort for her to prove her worth and meet The All Mother so that she may fuse with her using a relic called the Spear of Merging and become the Outer God Queen. Rotteen became part of Yunnan's army to hone her skills further until Yunnan discovered her plans, forcing Rotteen to wipe her memory and disguise it as a mission sabotage that destroyed Yunnan's army, and she soon moved onto being Andrias' grand advisor. When she soon loses her Calamity Scepter to The Curator, a dimensional counterpart of Stanley Pines, and it in-turn is taken by Stanley himself and the Outer Force, she is forced to use another magic staff disguised as a walking stick, under the guise of an elderly newt which is actually more skilled than seen, as her experience harnessing the Calamity Box's gems have given her wit, might, and strength. She eventually became the mastermind behind the Calamity Box's appearance on Earth, which in turn brought Anne, Sasha, and Marcy to Amphibia, whom she sees fit to help her in her plans after seeing a vision of their capabilities, hoping to use them as her keys to success. Besides them, other threats to her plans include Wormtongue, a cursed half-caecilian and the modern father of dark arts who wants to harness the power of Helixis, which in turn threatens her plans. She is a master manipulator capable of swaying the likes of Andrias, Marcy, Yunnan, and other important people in Amphibia into doing things she wants for the greater plan of uniting her and her friends' worlds.
History
Coming soon...
Abilities
As a red-bellied newt, Rotteen has many natural abilities. Aside from her amphibious ability to breath on land and underwater, she also has a natural skin toxin that can kill an adult human. She also possesses keen smell and a natural homing ability. She also has the natural ability to regenerate like all newts, which is how she can fight her spine injury.
Rotteen's time in General Yunnan's army and even when using the Calamity Objects have given her disciplinary strategy and fighting coordination. Her senses are hardwired to sense even the quietest of danger and has uncanny survival skills. She has the ability to charge all three gems of the Calamity Box and thus has the might, strength, and wit to do so. She can adequately use weapons, she can learn quickly, her intellect in certain sciences, magic, and strategy are vast, and her journeys with her otherworldly friends have allowed her to pick up more than she can remember.
Her lifelong experience have allowed her to guise them with the simple disguise of a frail old woman. This catches the people she knows off-guard. All she has experienced can make her a match for any opponent from any world. The prime source of her magic is her staff which possesses a giant wasp head, and also is how she is able to keep balance due to her age and injury. When in use, the emptied out Wasp's eye sockets glow in magic which makes for an intimidating sight. The staff is made from extremely durable wood and the Wasp Head made much more harder from Rotteen's magic, so the staff is never in danger of the clichéd "Destroy the Staff" motif. It is even able to flout itself back into Rotteen's reach if taken away from Rotten for longer then 5 or so seconds if Rotten did not willed to be away from it, and any attempt to persist on holding it has the magic inside of it burn the hands of the holder to force it to let go. This burn has a side-effect of making a magic influenced phobia of the staff itself, so Rotteen never has to worry about someone messing with her staff ever again.