The Main 7 and the Celestial Sisters arrive to Saddle Arabia onto the request of the delegates Haakim and Amira, as the ponies there, referred to as horses, are much taller than the average ponies as seen in their appearances in Magic Duel. A giant spanding city has formed around Saddle Arabia's beloved oasis of magic, a place shared by all who live in the lands. Now, it is ruled by the city's sultan, Sultan Kishkabob, which the rulers have admit to never heard of before. The Main 7 aimed to investogate, but they weren't allowed into the city by it's camel guards lead by Chief Humpra. The Mane 7 were forced to sneak into the apply named "Utopiaba", a bushling city of camels and other desert life and a paradise of utopian perportions, with help from Humpra's daughter, Marida, who constantly breaks the laws of women wandering without male guardians and thus a youthful yet noble rebel. The Mane 7 managed, if barely, to sneak into the royal palace and, while admiring the city's beauty, found that the Oasis is now held within the palace's throwneroom where Sultan Kishkabob talks to The Wish Sultan, a Storm Clan Member who was cursed into Geniehood thanks to optaining the Oil Lamp of Saddle Arabian Kings, and is now condemned to give endless wishes until he is freed from the lamp, where the conversation reveils that before he found the Wish Sultan, Kishkabob was once a happless nobody and a trader of faulty goods before the Wish Sultan granted him his first wishes: A Sandwich because he was hungry, wealth and a nicer outfit, and to be the ruler of his own kingdom, thus, The Wish Sultan created a city filled with Kishkabob's many vagabond friends to have homes in and to improve on his products he aims to sell, like an automated magical back scratcher, an electric comb, a hair "Colder", and a litteral egg timer to name a few. However, the ponies got discovered by the guards. When they reveiled their intentions and tried to warn Kishkabob not to trust The Wish Sultan, he accuses the ponies of treason and threatens to wish them into another dimention into exile! Thankly, the Mane 7 were able to escape, but now are made wanted by the city that controls the oasis as Kishkabob has issued a bounty on their heads, prompting many outsiders isolated by the large city's walls who are desperate to get that sacred once more to go after the Main 7! Can the Lougers and Celestia and Luna set things straight and halt the Wish Sultan's plans to finally be free from seritude?
Scenes
Wish Sultan Defeated
Sultan Palace Throne
Wish Sultan: (From inside the lamp) Excellent work, my friend. Thank Gods that I'm one of the genies not limited to three wishes, otherwise this would be REEEEEAAALLLLY difficult! Now that everything is complete, it's time for you to do as you promised: Wish for my freedom.
Sultan Kishkabob:... Indeed...... I wish... I wish... I WISH FOR YOU TO BE A PANAN SATYR AGAIN!!
Wish Sultan: (Coming out) WAIT, WHA- (He was changed back again with his lower body covered with smoke) FREE, I SAID FREE, NOT, PANAN SATYR!!!!
Sultan Kishkabob: Same difference.
Wish Sultan: Nonononono, I was supposed to keep my powers!! And you REALLY had to say it, right when I was coming out of THE F*Fart*G LAMP?!
Sultan Kishkabob: Why does it matter? (The Wish Sultan blows the smoke away to reveal that his lower body was deformed and stuck through the lamp) OH MY GODS!!! (Vomits)! I think I had preferred it when the smoke was covering that?!
Wish Sultan: Gragh!! (Crawls on the floor) See what happens? You see what HAPPENS?!
Sultan Kishkabob: It doesn't seem so bad.
Wish Sultan: ARE YOU KIDDING?! I'M A FREAK!!! A HALFLING MUTANT WITH DEFORMED FETUS LEGS!!!!
Sultan Kishkabob: I've seen weirder creatures. Hey, maybe we can-
Wish Sultan: NONONO, IT HURTS!!! I'm in so much f*Honk*g pain! A constant deep hard stinging pain!! (Touches the legs) OOOH, WHAT IS IT EVEN?!
Sultan Kishkabob: Well I know a good magic surgeon. I mean-
Wish Sultan: OH GODS, I LOST MY LEGS, POWER, AND OTHER STUFF!!! AAHHGGHH!!! F*Ribbit*K YOU, KISH!! OHHH, F*Squeak*K YOU!!!
Sultan Kishkabob:... Got'cha.
Wish Sultan:... What? (He was revealed to be Hoo'Far and the other pony heroines arrived) WHAAAAAA?!
Twilight: And THAT'S how you defeat and immobilize a genie without killing him.
Sultan Kishkabob: They told me everything you planned to do. Consider this a fitting punishment.
Wish Sultan: NAAAAAAAOOOOOOO!!!! YOU F*Bark*D ME! YOU F*Bawk*D ME YOU PONY F*Aahk*S!!! (Crawls away) I HAD PLANS! I WAS GONNA TAKE OVER THE UNIVERSE! I HAVE A GIRL ON MYTHOS WAITING FOR ME... THE OLD ME, I MEAN! GRANTED, I'M NOT EXACTLY SURE SHE'S EVEN STILL AROUND ANYMORE, I MEAN, SHE WAS A POWERFUL AND SEXY DARK ELF WITH IMMORTALITY, BUT SINCE SHE WAS SEXUALLY EVIL AS WELL, IT'S LIKELY SHE GOT IMPRISONED BY THAT AONOS DOUGHE BY NOW?! I USED TO BE POWERFUL! I'M LITTERALLY ATTACHED PAINFULLY TO A LAMP THAT CAN MAKE A GENIE WITH LIMITLESS WISHES, REMEMBER THAT?! SHE WANTED THAT WISH SULTAN, NOT SOME SAD PUDDLE OF FUR AND FLESH! (Sticks his head in a fountain, until he's pulled out by unicorn magic) WHY WON'T YOU JUST LET ME DIE?!?! (Tempest was the one who pulled him out)
Tempest: Don't be so pitiful. You'll make us cry with laughter.
Wish Sultan:...... Annnnnd alchourse...... You must be Tempest, the pony that aided in bringing down a good chunk of my family if what Kishabob has been telling me for a good while now is accreate....... You're gonna encase me with a themed orb, are you? (Brings up a colorful orb)..... Alchourse. The Rug Orb, where the smuck that gets hit gets turned into a rug. This, is literally, the worse way for me to go ou- (Tempest hits him with the orb, as the Wish Sultan screamed and turned into fabric and became an Arabian room wrong that depicted the Wish Sultan's life story).......
Icky: "You guys realized that you have alot of weird orbs, right?"
Tempest: "The Storm Clan were indeed self-aware of the oddness of the orbs they create."
Hoo'Far: The Panans actually think of it more as, a spell in a grenade. Just put the mana of a specific spell in a compressed orb, and you got yourself a spell in a grenade. I've seen an orb that turns people into candy. I'm not even kidding.
Icky: "..... That, is both creatively weird, yet terrifying at the same time."
Twilight: Yeah, they sold plenty back when we dealt with Thunder, Valkyrie, and Hellenic back in Pana, and met Papyrus. We were as surprised as you are.
Transcript
Coming soon...
Material
Songs/Music/Videos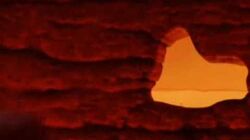 Community content is available under
CC-BY-SA
unless otherwise noted.