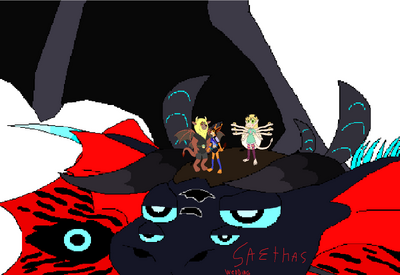 Saetha's Wedding
is the first part of the New Mewni Arc of Season 3B of the
SpongeBob and Friends Adventures Chronicles
series. As the Lodgers investigate the disastrous consequences of Star's actions in 'Cleaved', she and all the characters, minus the deceased Glossaryck and Magic High Commission, reminisce about the time before Buff Frog's return to Mewni when the Lodgers and Heroes Act return to the dimention of Mewni to attend the wedding of Saetha and Anewas, hosted and protected by Star and Marco and their families and friends, and while the wedding goes smoothly, a new monster comes in the form of
Chaemera
, a deformed monstrosity feared by even other monsters and created by Globgor from stolen magic and biological remains of all the monster races exterminated during Mewnipendence Day as a weapon meant to scare Mewmans away for good before meeting Eclipsa, who was released by a very overeager Junjie and not as eager companions, who teamed up with the bit more cautious Glowrod and friends once more when they heard about Saetha, and thus with the groom and bride captured by this abomination born from the ancient sins of Mewmans and while it starts turning people in Mewni and beyond into monsters, including Star who gets to experience first hand what it's like to be a monster due to how much she sees herself in them despite her changed mentality, the Lodgers and Heroes Act have to put a stop to this. To add further complications, an off-shoot female cousin of Toffee, 
Taffee
, is trying to protect the creature because she sees it as a means to bring back the races that it's DNA pocesses and won't let it be destroyed, even if letting it live will doomed Mewnians to being monsters forever, insisting that Chaemera can't help what it's biological effects are doing, it is just as much a victim of another's revenge as they were and now being used as a pawn by "Reckless Outsiders" who she intents on taking away their control of the creature so she can get started on much needed restoration, but the heroes worry that Taffee is too hopeful on this and that once Junjie and Glowrod lose control of the beast, then all bets are off. Will this be another out of this world expearience that ends bitterly?
Transcript
Intro Theme (Gareth Coker feat. Aeralie Brighton - Ori and the Blind Forest Trailer Music)
Prologue
Long Ago...
Globgor: (He was seen in the Monster Temple as a toddler and yet massive amongst several other monsters of his kind fighting against blue ape-like muscular monsters, grabbing one and speaking in a darker monstrous tone) STAY OFF MY HOME, MUSCULOIRD SCUM!!! (Engorged his leg and kicked him into the distance with a twinkle)... (Returned to a small toddler size)... (Normal voice) Rest in peace, mommy and daddy. I will continue where you left off. (He grew slightly bigger and sat in a throne, looking at an empty second one in disappointment and grew becoming the feared monstrous killer and then it cut to him creating something)... (He was seen subugating the creature through many haunting trials to make it hate Mewmans)... Soon, my glorious creation Chaemera will be the ultamate Mewman eraser. Mewmans will pay for what they've done! (Suddenly Solarian Knights appeared and slashed up everything as Queen Solaria appeared) HEY, MY STUFF?! (Saw a figure).... (Monstrous voice) Queen Solaria!
Queen Solaria: King Globgor, King of the Sizeshifters... You will die! Also, drop the monster voice, you're not fooling anyone.
Globgor: IT'S A VOICE OF BEING TAKEN SERIOUSLY- (Solaria attacked and he was constantly avoiding her attacks with massive luck until he was seemingly crushed by a rockslide distracted by what the Solarian Knights were doing to his people)
Queen Solaria:...... It is done. (The unseen silluetted Chaemera remained imprisoned in it's rockslided blocked off prison as it remained tortured, now added with the acknowledgement that it's creator was lost, increasing it's hatred)
Globgor: (He was alive and dwelling in a familiar cave river swimming to land and then hopelessly looking for help until he collapsed)... Open the gates of heaven, mother and father!... I'm coming home!...
???: Are you alright? (Globgor looked up to see a 10-year-old Eclipsa)
Globgor: "(This video)
Young Eclipsa: "(Giggles)..... Your funny."
Globgor: "..... (Monstrous voice) OH THAT IS SO LIKE YOU MEWMAN SADISTS TO LAUGH AT US BEING FRIGHTEN LIKE THAT?! I don't have to put up with this! I'll just use my Conch of Chaemera to- (Realised he doesn't have it anymore)...... D'OHHHHHHHHH, DON'T TELL ME I LOST THE STUPID THING IN THE WATER?! (Turns his attention to the River)..... Ughhhh. Better go find it. (Gets up to travel up the river to find his conch)."
Young Eclipsa: Wait! (Swims after him and almost drowns as Globgor heard her suffocating muffles, and despite trying to fight the urge, he couldn't help but rescue her as she gasps for air, seeing Globgor changing his size)...... WOOOOW, YOU GOT BIGGER!!!... And you saved me. Why? Mommy kept telling me monsters were... Evil.
Globgor: Your mommy wouldn't know how to pour pee out of a boot if the instructions were on the heel! (Young Eclipsa giggles)
Young Eclipsa: You said pee! (Laughs)
Globgor: GRRRGH, whatever! Just go! (Puts her down) I need to go find that conch! Solaria is invading my home!
Young Eclipsa: Oh, that's my mommy!
Globgor: (Stopped at that)...... Queen Solaria... Is your mother?!... Then... Then you must be-
Young Eclipsa: Princess Eclipsa.
Globgor:... (Does a Grinch smile and nabs her) PERFECT!!! SOLARIA WILL HAVE TO LEAVE MY PEOPLE ALONE IF I HAVE YOU AS A HOSTAGE!!! (Cackles)
Young Eclipsa: Wait, hostage? (Laughs harder)
Globgor: WHAT'S SO FUNNY NOW?! WHAT KIND OF FILTHY MEWMAN CHILD ARE YOU?!
Young Eclipsa: Big guy, I've been kidnapped too many times. I know how to annoy monsters that keep me hostage into letting me go.
Globgor: Hah! I'm different than those amateurs! I am GLOBGOR!! KING OF THE SIZESHIFTERS!! You may be a child, but you couldn't annoy me even if you were at your saddest temper-tantrums! So, go ahead, pipsqueak. Do your worst.
Long Hours Later...
Young Eclipsa was singing the bottles on the wall song repeatedly as Globgor was REALLY losing his nerves as he was traveling up river.
Globgor: "This, in hindsight, was probably why the other guys gave up!"
Young Eclipsa: (Whines loudly) WHY ARE YOU SO MEAN?! WE'RE NOT SO BAD!
Globgor: NOT SO BAD?! YOUR MOTHER IS DESTROYING MY HOME!!! I'LL BE AS F*****G MEAN AS I PLEASE, YOU LITTLE BRAT!!! NOW KINDLY SIT DOWN AND SHUT UUUUP!!!!!
Young Eclipsa:... (Got ready to cry)...
Globgor: Oh God no, you're not going to! You're SERIOUSLY not going to- (Young Eclipsa cried loudly) Nonono, stop, uh, uh, blue skies, butterflies, and unicorns!!! AAAHHHGH, I CAN'T TAKE IT ANYMORE!!! OKAY, FINE, SCREW THE HOSTAGE PLAN!!!! I DIDN'T THINK YOU WERE THE IMPOSSIBLY OBNOXIOUS CHILD!!! PLEASE JUST STOP CRYING!!!
Young Eclipsa: WAAAAAAAA- Got'cha.
Globgor: (Did the same reaction as Krillin to Gohan's Dragon Ball theft in DBZA 18)...
Young Eclipsa: See? But hey, you're just going through some trouble. Sorry. (Hugs him as he was actually surprised)...
Globgor:... (Dubbed as Manny) Hey. Does this look like a petting zoo to you, huh? (Young Eclipsa accidentally tore off much of his hair as he yelped in pain)
Young Eclipsa: Oops.... Are you okay?
Globgor: Alright, that's it, you little delinquent! How about I have the next best thing for revenge? You, young lady, have just earned a time out! (Hangs her on top of a tall ruins column as she giggles)
Young Eclipsa: I'm too old for time outs, silly! (Laughs)
Globgor: Oh, you think that's funny? How about this? (Dangles her on a higher ruins column) You'll be a little snack for the wyrms! (Young Eclipsa chuckles)...... You're a brave little squirt, I'll give you that.
Young Eclipsa: I like you!
Globgor:... Pssh, why do I even bother? Nothing I do is satisfying! (Takes her back to the stairs) Go home, kid! You're the worst hostage and leverage ever!
Young Eclipsa: But I don't want to leave you here alone. You're so much fun.
Globgor: ".... You're either a deludtional child, or Asper just wasn't able to corrupt you yet."
Young Eclipsa: "Asper? PFFFFFFF! He's a stinky head!"
Globgor: "(Was abit surprised by her denouncement of Asper)...... Well, kinda the first time I ever heard a Mewman bad mouth that guy. But I think I can name slightly worser insults to that guy! Half of them I'm PROBULY not allowed to say to a youngling outloud. Well, a non-monster youngling anyway. Then again, I've already cussed in your presence."
Young Eclipsa: Please, the other monsters that kidnapped me used worse language.
Globgor:...... You really are something else, aren't you?
Young Eclipsa: Well you're not like all the other monsters.
Globgor: (Sighs), look, Princess-
Young Eclipsa: You can just call me Eclipsa.
Globgor: We'll just stick with Princess for now. Monsters are not evil. This was actually our home first until your friend Asper killed the King and Queen on the Great Monster Massacre.
Young Eclipsa: What about their son? They had one, didn't they?
Globgor: Yeah, but Varlet hasn't been heard of since his parents' murder. So it's assumed he either got killed off eventually, or he ditched the dimention. Not say we blame him given how bad things had gotten. We monsters just act 'evil' to protect everything we care about. Mewmans just won't stop stealing our homes....... Then your mother came! She made killing us much easier. Now my home is gone thanks to her. I even lost the one thing I use to control the best shot I had to defeating her.... Not even sure if it's alive anymore. (Softly sobs)...
Young Eclipsa:... I've never seen... A monster cry.
Globgor: Of course you didn't! Your mother is the REAL monster! Her and Asper!... Sometimes I wished Mewmans would just go away for their sins!
Young Eclipsa:... Well I don't think they're evil...... Not anymore.... I'm sure that someday... Monsters and Mewmans can coexist.
Globgor: PHAH!!! I'm pretty sure it's too late for that! Your mother painted your kind in a horrible light! No monster will EVER forgive your kind for what they've done!
Young Eclipsa: "Well, I could fix that."
Globgor: "Look, kid, that's sweet, but Asper will NEVER allow that. He knows that if Mewmans stop taking him seriously, then it's only a matter of time he gets in trouble for the s*** he pulled over the years."
Young Eclipsa: I don't care! No matter what it takes, I'll do what I must! But I can't give any promises.
Globgor: Well good luck with that. I doubt you'll make it far. Now go. I've got some coping to do.
Young Eclipsa: Oh, you won't be disappointed. (Time went by and the two started seeing each other more often and started falling in love and went to the bog to sing this)
Young Eclipsa: That voice underneath that monstrous tone isn't bad.
Globgor: Well, comes from years of practicing it to strike fear in your enemies.
Young Eclipsa: Wait... What time is it?
Globgor: Well given the moon's position... 10:00.
Young Eclipsa: OH CORN!!! I'M LATE FOR DINNER!!! Mother is going to go babboo!!
Globgor: Well I need to prepare for a meeting with my monster horde. So, ALLYOOP!! (Launched Eclipsa high to Butterfly Castle with his sizeshifting as she landed in bed)
Young Eclipsa:... Has he been practicing his aim?
Queen Solaria: UGH, SHE COULD HAVE BEEN KIDNAPPED BY A MONSTER AGAIN!!!! SHE'S PROBABLY OUT THERE LOST AND- (Opens the door to find her)..... Eclipsa! Oh thank Mewni! (Hugs her) Where have you been, young lady? You had me worried SICK!!!
Young Eclipsa: I have a life, MOM!
Queen Solaria: One that says you're not back for dinner like you always are?... Do you even know what's going on lately? Stakes on the war against monsters have reached an all-time low, and I'm supposed to talk to the leader of a monster horde! Specifically, A SIZESHIFTER!!! I fear Globgor may still be alive.
Young Eclipsa: Mom, I'm the princess. I heard about it.
Queen Solaria: Oh, really? You HEARD about it? How nice! Princess Eclipsa Butterfly decides to take a personal night in a world where monsters are starting to push up their game, and she HEARD about it? You could've been killed!!
Young Eclipsa: Wow, Mom, what parasite went up YOUR butt?
Queen Solaria: ECLIPSA! DON'T YOU GET SMART WITH ME, YOU KNOW THE ANSWER FROM THE WORDING ALONE!!! YOU HAVE A HABIT OF DISAPPEARING FROM MY SIGHT!!! YOU LIKE TO TOY WITH MY MIND, DON'T YOU?! YOU RISK YOUR LIFE GOING WHO KNOWS WHERE SOMEHOW!!! SO IT'S TIME TO BE HONEST!! TELL ME THE TRUTH, YOUNG LADY!!! WHERE, THE HELL, HAVE YOU, BEEN?!
Eclipsa: None of your business!... (She was then locked up in her own room with her windows barred up)
Queen Solaria: Until the war is done, you are not to go anywhere without an escort! I will NOT let those monsters out there get to you! Especially with the possibility that Globgor might still be alive!
Eclipsa: MOTHER!!!! THIS IS TOO MUCH!!!
Queen Solaria: I'm just trying to protect you! You will not leave anymore. You will stay where I can keep an eye on you! You know very well that where you've been is my business. But I will let you off the hook if you tell me the truth.
Young Eclipsa: WELL MAYBE I DON'T TELL YOU BECAUSE I DON'T TRUST YOU!!! (Solaria was shocked)...... You're hardly around anyway. We both have time apart. You're always out there fighting monsters and I'm having my own life. How did I even end up with a mother like you? (Turns away and goes to bed)....... (Solaria sighed and left)
The Next Morning...
Queen Solaria: (She undid the bars and locks) Eclipsa? I'm sorry. I've just been worked up last night, I never got the chance to ask about you.
Young Eclipsa:... Well how about we go talk to this monster horde together? You always took me around on your missions when I was a baby. Please?
Queen Solaria: (Scoffs) Honey, don't push it.
Young Eclipsa: Please, mommy? We can spend time together and this stuff can't happen again.
Queen Solaria: I get it honey. Just... Just stay here just this once, okay? Maybe we can go together some other time.
Young Eclipsa: Pleeeease?
Queen Solaria: I'm sorry. (Left)
Young Eclipsa:...... (She took one of her escape tunnels and head out, sneaking through the magical barrier, and saw Solaria in her meeting with the horde, then finding Globgor)... Glob? Why aren't you with your horde?
Globgor: Eclipsa! Um... Because she'd recognize me and try to kill me. She's been sniffing out for me lately.
Young Eclipsa: Well... (Sighs) I'm sure we can figure something out, together.
Queen Solaria: (Burst in) ALRIGHT, I DEMAND THE LEADER SHOW HIMSE-... (Was shocked to see Eclipsa with Globgor)...... I KNEW IT!!!! LET MY DAUGHTER GO!!!! (Draws out her sword)
Young Eclipsa: MOMMY, WAIT!!! (Solaria let out a war cry and attacked) NOOOO!!!! (Globgor got out of the way as Solaria was overwhelmed by emotion)
Queen Solaria: I KNEW LETTING HER GO FREE THIS MORNING WAS A BAD IDEA!!!! (Tries to kill Globgor multiple times but Globgor was able to fend her off by disarming her and beating her down)
Globgor: ECLIPSA!!
Queen Solaria: GRRGH!!! YOU WON'T HAVE MY DAUGHTER, MONSTER!!!! (Kept fighting as she got her sword back and almost stabbed him until she was knocked unconscious by falling debris)
Young Eclipsa: (She was shocked)...... (Later that day, Eclipsa was seen crying hysterically as her room was locked up and barred again)
Asper phased into the room, holding a skorned scowl......
Asper: ".... I expected better from the spawn of Solaria...... Then again.... Perhaps you did took more after from that accursed Alphonse the "Worthy"..... Alphonse was always a more passive fool then your mother was. But it's bad enough you consorted with A monster. But Globgor of all creatures?! If you were gonna fall in love with a monster, you could've gone for something as harmless as a Kappa! They're usually too phathic to be compident threats?!"
Young Eclipsa: "(Got angry)..... You, are litterally, the last person who should EVER scold me for anything! Why? WHY DID YOU MAKE MEWMANITY HATE MONSTERS?!"
Asper: "Tch, it wasn't really that hard. The backwords ways of monsters made it easier for ANY of us to look down on them. They're primitive, savage creatures where the only mercy that should be offered is assured death!"
Young Eclipsa: "They're only acting as they are at us because Mewmanity is taking away their homes!"
Asper: "Well excuse us Mewmans for not being adapted at living in filthy hovels and caves like them and that we need more sofisicated living conditions and plenty of space! I don't see why the Monsters have issues with that."
Young Eclipsa: "You took lands that have traditional value to them!"
Asper: "Tch, feeling displaced's all fine and dandy, but what was their excuse for going after the Pony Heads?"
Young Eclipsa: "Globgor told me that was done by an extremest group that wanted to harness Pony Head magic for their own means."
Asper: "..... Well, rats. Looks like you came to reckitnesed THEIR side of the story. Figures Globgor of all brutes would reveil that to you."
Young Eclipsa: "(Got confused)..... You...... You knew?"
Asper: "I see no point to pretend with you, Miss Eclipsa. I admit that I may've, fabricated some details about the Monsters that were terrorising the Pony Heads. As far as everyone knew, they were an accepted soldier regine by the monsters, as suppose to a rogue extremeist clan that deviated from the larger docile community's interest to try to avoid needless conflict as possable. The same goes for every instence of monsters attacking Mewman Villages and what not. It wasn't hard to disguise the mere actions of rogues, criminals and fanactics to be the work of the actual community at large. I even managed to make people think they abandoned that idiot Crybabypants when he left on his own out of being a germaphobe even after they wanted to at least be curtious to him as representer and ensure his safety."
Young Eclipsa: "...... You have any idea how sereve these lies were, Asper? Barbaric things ended up being done in the victory party of the Pony Head Kingdom battle alone?!"
Asper: "Tch, it was your mother's idea. She was always a rather, eccentric woman. I would've just burned the bodies and be done with it."
Young Eclipsa got super pissed......
Asper: "Course, I only felt comfertable admiting this to you, cause you lack any amount of credability, Eclipsa. You have been deemed the shame of your people for dating Globgor. Not even those addlebated twits in the Magic Commission wouldn't look pass this sin. Even that idiot Glossaryck would be too busy tsking at you to even take you abit seriously. Your words will taken, with a grain of salt. You'll be treated like the misguied idiot, they, have, deemed you. Even your mother will deem your words to just be you acting out in anger and trying to make a trusted Prime Major Admiral look bad, out of having a tandrum. So tough choice cuts, Princess Eclipsa- (Eclipsa grabs his beard) G'OWW?!"
Young Eclipsa: "..... I, will make you, regret your entire life's choices, Asper!"
Asper: "..... (Chuckles).... How cute...... You think you're a threat to me."
Young Eclipsa: I mean it, Asper! I'll tell everyone about your actions!
Asper: Oh please. Who's gonna believe you? You'll just be committing treason! I can't have you fraternizing with that monster. Even Solaria and the Magic High Commission agree. Globgor is NOT to be trusted. So I've asked your mother to choose a husband for you. And she has already found the perfect fit. Prince Shastacan of the Spiderbites.
Young Eclipsa: That self-absorbed male poodle? There's nothing to love about him!
Asper: Maybe not now. Believe me, Eclipsa, this is for your own good. And as general, it is my duty to ensure monsters are nowhere near us. Your mother has ordered you to never see Globgor again! If you are caught near him, I will report it immediately! Am I clear?
Young Eclipsa:... You're GOING to pay for this someday. Now GET OUT OF MY SIGHT!!
Asper: (Chuckles as he left, and she grew into age 14 at a funeral sobbing)... And so, it is with great sadness that we mourn the sudden departure of our brave Queen Solaria. Taken from us days after she shut down the Solarian Program. Though she will be missed, she leaves behind a warning. The Solarian Program was required to destroy all monsters, and by letting it go, she lost her life. But she left a dying wish. Her daughter Eclipsa is to be married to Prince Shastacan in order to take her mother's place as queen.... May she rest in peace.... (Eclipsa and Shastacan were seen married and then sitting on the throne with her miserable)...
Eclipsa: (Was now the same age as her initial crystallization)... (Sobbed and saw Asper and looked horribly at him as it cut to her alone) Mother, your death was no stroke of fate! I KNOW Asper sent you to that ambush! Seth was just helped! He's just as much to blame as Seth!... Well that's it! I'm done! If nobody's going to accept me and Globgor, then they don't need me! (She got herself ready and left out one of her secret tunnels and went to the Monster Temple meeting Globgor, as the two reunited, kissed, and gave birth to Meteora)
Globgor: She's beautiful!
Eclipsa: And she's got your tail! (The two laughed) See? I told you we'd come this far.
Globgor: I never doubted you.
Eclipsa: Oh, didn't you?... But you might be right. My mother was killed years ago. But everyone still thinks I'm not spending time with you. But my mother's death in the hands of Seth was obviously no stroke of fate!
Globgor: No surprise. Asper just couldn't accept the loss of the Solarian Program, and served her to Seth on a silver platter. Eclipsa, Seth is the hardest one to deal with. He wants your entire race exterminated!
Eclipsa: Oh, I know. That's why I created a spell that can destroy despots as indestructible as him. But I refuse to give it a name because it could be dangerous. If we're lucky, it'll finally be put to good use.
Globgor: We'll be there together to put that despot down for good! Tomorrow, we do it when we elope. We'll run off and finish him.
Eclipsa: Agreed! (The two kiss)
Asper: (Eclipsa returned to her room) Well well. (Eclipsa was shocked) Looks like someone's been disobeying her mother's orders. I warned you, your highness!
Eclipsa: Asper, please! You and mother forced me to marry someone I never loved! You can't do this. You must keep this a secret!
Asper: To do so would be a direct defiance to my loyalty. It is my duty to protect this kingdom. You have committed treason.
Eclipsa: WELL MOTHER IS NOT HERE!!! IN FACT, I KNOW YOU WERE THE ONE WHO GOT HER KILLED BY SETH!!! HOW DID YOU THINK YOU WERE GOING TO FOOL ME?! You thought she was weak because she shut down the Solarian Program! So, as your new queen, I order you to promise never to report this to anybody! I WILL give the people evidence that you're responsible for her death! I found THIS in the Bureaucracy of Magic archives! It says that you lead mother to the location of her demise the day after you both argued about the shut down of the Solarian Program. They'll put everything together and you will be in big trouble! So, unless you care to be sentenced to life imprisonment, you will promise that you will not tell anybody about me and Globgor!
Asper:... (Chuckles) Too bold. Very well.
Eclipsa: Are you sure?
Asper: I am a man of honor!
Eclipsa:... Good! Thanks for understanding! But we better not have this problem again! (Asper left)
Asper:...... (To himself) But I never said I promised, did I?
The Next Morning...
Eclipsa: (Dressed into her common attire) Alright! Today's the day! We're both going to stop Seth together and bring harmony between races! (She headed for her secret tunnel only to be met by the Magic High Commission and Shastacan)
Rhombulus: Going somewhere, traitor? (He fired his magic at her crystallizing her as everything faded into white)
Asper: (He picked up the scroll of evidence and burned it into ash)... Goodbye, Eclipsa! (Chuckles and watched Shastacan)
Servant: King Shastacan! The lady St. Olga is here to see you. (The robot St. Olga appeared)
King Shastacan: Oh, St. Olga, thank you for coming. (Picks up Meteora) This baby is unfit to inherit the kingdom! She is absolutely HEINOUS!! (Meteora sneezed adorably)
St. Olga: Heinous. What a pretty name.
Asper:... And goodbye, Heinous! (Chuckles as later he was seen babysitting a baby Festivia) Glad that I got this peasant girl from Pie Island as payment for their scams on us. (Chuckles) Asper, you nasty little scamp! (Tremors occurred causing Festivia to cry)
???: WHERE IS HE?!? WHERE IS SHASTACAN?!? (Guards were thrown across the kingdom with Wilhelm screams)
Asper: Hmmph! (Magically puts Festivia into a magic sleep and put a shield around her crib while teleporting to the throne room to find Globgor holding Shastacan as his monster horde took over the castle)...
Globgor: WHERE IS MY DAUGHTER?!?
Shastacan: If you mean the hybrid, tough luck, ol' boy. I already surrendered the groteset brat to an amoral machine likely has already left the area by now.
Globgor: WHERE DID THAT MACHINE TOOK HER?!!!!
Shastacan: EVEN IF I CARED TO KNOW, I'D NEVER TELL YOU!!!! Asper was rather spefific that we can't risk a Hybrid to rule this kingdom!
Globgor:... So that's how it is, huh? Tch! Ain't that just like another puppet of his?! You don't care about the coexistence between Monsters and Mewmans that I craved so long for! You getting rid of a union between the two proves it. As far as I'm concerned, SHE'S DEAD!! AND FOR THAT, YOU AND YOUR FAMILY KINGDOM WILL PAY WITH YOUR LIVES!!!
Shastacan: "Wait wait wait, Asper said you were too passifived by Eclipsa for that!"
Globgor: Shows you for trusting that psycopath?! (Eats the phathic sqeauling Shastacan off-camera as Asper watched in horror)
Asper: MURDERER!!! (Fires magic at him as he kicked him down)
Globgor: EVERYONE!! TO THE SPIDERBITE KINGDOM!!! WE WILL MAKE THEM PAY!!! (He and his army left)
Asper:... Hmmph! As expected, Globgor's proper nature is released without Eclipsa to keep him domesicated. (He left)
Globgor: (He was seen wreaking havoc on the Spiderbite Kingdom, burning down their village with fire breath and doing unspeakable things to it's people including the horror parties where the corpses of the Spiderbites were crucified and burned with monsters dancing in joy, painted art with their blood, and the Dance of Death) LET THE DANCE OF DEATH FOREVER BE A TRIBUTE FOR THE BIGGEST MISTAKE MEWNI HAS EVER MADE, AND MAY SHASTACAN'S DEATH BE A REMINDER OF HOW TRULY EVIL MEWMANITY IS!!
???: But murder isn't any better, now is it? (The Magic High Commission and Asper appeared as Rhombulus crystallized him right where he stood)
314 Years Later...
Star: (She was seen in her tests)
Moon: Are you okay?
Star: I am fine! I talked to Eclipsa for like, 2 seconds, and she was, REALLY nice. No big deal.
Moon: It could be a VERY big deal!
Star: Okay, fine, but WHY?!
Moon: Star, she betrayed her kingdom! She abandoned her people so she could run off with a monster!
Star: Mmhmm, yes, right, I knew that, totally selfish, then what? She blew everything up?
Moon: No! They crystallized her before she had the chance!
Star: Wa-wa-wait! You crystallized her for falling IN LOVE?!
Moon: TO A MONSTER!!! (Asper was watching from the shadows) And that's not all! She didn't respect the natural order! She meddled in the dark arts and created her own chapter of dangerous evil magic!
Star: Have you ever even read it?
Moon: Ugh, of course not!
Star: Well I have. And it really wasn't that big of a deal!
Moon: Ugh! (To the Magic High Commission) Chime in anytime, guys, you knew her too!
Hekapoo: Uhh... I mean, I saw her double-dipping in the ranch at the royal ball once.
Omnitraxus: She told me she thought Rhombulus was annoying.
Rhombulus: CAN YOU BELIEVE IT?!
Star:... Yes.
Rhombulus: Oh, yeah, SHE TOTALLY USED TO EAT BABIES!!!
Hekapoo: No, no, that wasn't Eclipsa. That was Bobipsa the Barbarian Baby-Eater.
Asper: ("Bobipsa really LOVED the taste of monster babies! What a glutton she was. Ahh, good times.")
Rhombulus: ARE YOU CALLING ME A LIAR?!
Omnitraxus: I'm pretty sure Eclipsa was a pescaterian.
Star: Okay, guys, as fascinating and fact-filled as this conversation is, I'm feeling kinda, done. The tests say I'm fine.
Moon: Star, these tests are for your own good!
Star: UUGGH!! I, AM, GOOD!! And, it sounds like Eclipsa didn't deserve to be crystallized! I mean, what's next? You gonna crystallize me if I do something you don't approve of?
Asper: ("Stubborn little brat, isn't she?") (He was later seen walking down the hall and met Moon and the Magic High Commission)
Moon: How's Eclipsa?
Asper: "Well, luckly for us, she's still stable in her little prison."
Hekapoo: "Duh."
Asper: "But all the same though, Eclipsa is the least of our worries. We do have to start keeping a firm eye on Miss Star. It's obvious the child has gotten, too carefree for royal stability. She's nearly as misguided as Eclipsa was when she was young."
Rhombulus: "Well luckly, she's yet to have any monster kinks yet."
Asper: "Not that it'll happen or already happened anyway considering she's got a love triangle with Prince Lucitor and that Earth Ape Marco. Though I can't say we should trust it altogether. Shastacan made that mistake with Eclipsa, and look where that got him."
Hekapoo: "Yeesh man, you're acting like Star's gonna screw Mewni a new one."
Asper: "I WITNESSED A MAN GETTING DEVOURED ALIVE?! YOU'LL HAVE TO PARDON ME IF I AM ABIT CAUTIOUS WITH HOW UNSTABLE THIS ROYAL FAMILY IS?!"
Moon: "..... Well, that being said, I, don't suppose keeping better tabs on Star, wouldn't quilify as being paranoid."
Omnitraxus: "Agreed. Star does have much to learn."
Asper: And she'd better learn fast. Eclipsa is too dangerous and most certainly a bad influence on Star.  It is clear the two are equal in magic capability. So, don't believe anything Eclipsa says. Crystallize her immediately!
Hekapoo: Kinda what we're going to do. Thank you for your time, Asper. (They left until Star flew by him with Glossaryck and Cloudy)
Star: EXCUSE ME, ADMIRAL ASPER!!
Asper:... No! Nonono!!!! (He watched as Star stopped Rhombulus as his crystal beam hit his butt)
Rhombulus: Great! Now I got crystals growing out of my-
Moon: Well, Star, you've caused quite the ruckus. (Asper caught up)
Star: Will you all just listen to me for one second?! Crystallizing people is a serious punishment, and so far, no one has been able to convince me that Eclipsa deserves it!
Asper: ("This can't be happening!!")
Moon: Star, I know Eclipsa seems nice, but she can get into your head and make you do things you don't want to do.
Star: Oh, my goodness, you're right! Giving you that spell to destroy Toffee was her idea. Oh, no, wait. YOU were the one who went to HER for help.
Moon: All right, yes, but-
Star: And you made a deal with her. When Toffee was destroyed, she'd be set free. Well, hey, Toffee's gone, and you wanna go back on your word?!
Moon: But Star, look what her spell did to me! (Shows her dark-magic-tainted arm) When I performed that spell, I could feel the darkness. Eclipsa is EVIL, Star! I know you don't believe it now, but if you wait to find out the truth for yourself, it'll be too late!
Star: Okay, fine. If she is as bad as you say she is, then put her in a crystal. But she at least deserves to have a fair trial.
Moon: OH FOR GOODNESS SAKE, FINE!! We'll have a trial!!
Asper: ("NOO!!!")
Star: (Gasps) Yes! (Dancing) Due process, due process!
Moon: But I'm only allowing this because I want there to be no doubt amongst anyone in Mewni—I'm looking at you, Star—that Eclipsa is evil and deserves her fate.
Star: See Eclipsa? Around here, we believe in a little thing called, a-the justice system!
Asper: (Angry as it cut to him meeting Star in the rose garden in front of Eclipsa's tower)... Just who the hell do you think you are?
Star: Asper? You already know me silly, I'm Star Bu-
Asper: SILENCE!!!! THAT WAS A RHETORICAL QUESTION, YOU STUPID STUPID GIRL!!
Star:... Ooooookaaaaaaaay, someone must've took a wee in your crunchberries this morning.
Asper: How could you just ruin my chance to save everyone from Eclipsa's wrath? You just gave her time to plan!
Star: Um, where is this coming from? I mean, I know people said you were a jerk, but it's usually not THIS bad.
Asper: Oh, I'm the jerk for just doing my job? Eclipsa is dangerous and you ended up playing in her favor!
Star: I, HAD TO! They were too harsh on her! So what if she fell in love with a monster? Tell me, ADMIRAL, what's the big deal?
Asper: The big deal? WAS TOFFEE NOT A PERFECT EXAMPLE?! You KNOW monsters are naturally evil!
Star: FYI, "Sir", not all monsters are bad! For all we know, Toffee could just be a total wacko and the other monsters only played along because guys like you kept being mean to them! Get with the times, will you? They only act evil to protect their homes and families!
Asper: "..... You know, I can understand that you're not exactly the brighest girl in all of Mewni, made ironic that your name is "Star", a cosmic phenominon assusiated with brightness, but even I at least expected you have a SENSE of realism in you! It was because of that Earth Ape, wasn't it? Did he introduce those misguided concepts into you?"
Star: "YOU LEAVE MARCO OUT OF THIS!!! Also, why do you always call Marco an "Earth Ape"? It's 'human'. HU-MANS! H-U-M-"
Asper: I KNOW HOW TO SPELL IT!!! I just believe that using their race name would mean legitimesing them as a proper race. If they pocess no independent interdimentional prowless, then they're just Earth Apes. Cosmicly speaking, they're no different from tribals in my eyes.
Star: "Well, all the same though, why the need to look so down at them? Humans are not THAT different from Mewmans."
Asper: "Except that WE have magic, while all they have is silly earth-made toys like "Auto-Mo-Beels" and "Eye-Pehones"."
Star: (Scoffs) The name iPhone always made me laugh, espeically on how wrongly you said it. What does the 'i' even mean? Heck, Marco introduced me to this man Steve Jobs, or at least in a timeline where he's still alive, funny last name BTW, and he-
Asper: IRRELEVANCE!!! FOCUS!!!
Star: Okay, look, every race has it's specialty. We have magic, humans have technology. Humans aren't so bad.
Asper: Oh, they've had a long history of corruption and hypocrisy. Especially the hypocrisy that caused the aptly named 'Bloody Sunday of 1965'. Equality my royal hindquarters! I will call those apes whatever I want. They are just a weak copy of us. Magic is far more superior. Maybe your parents should've sent you to St. Olga's instead of that ape habitat! Lord knows you'd take this seriously!
Star:... Do you even know how St. Olga's worked?
Asper: Matter of fact, yes. Where else did you think that consumer model robot even came from? She was a left-over outmoded nanny bot from the Robotloid Dimention. They were known for misguided and amoral ways to deminstriaght affection and were deemed defective for it, so they were replaced by better and more morally aware models. St. Olga herself said that doing what she did was dangerous since one princess almost destroyed the universe.
Star:... So just because one wayward princess almost destroyed the universe, all the others shouldn't be trusted with power?
Asper: I know you're gonna try to argue that perhaps this princess in question was different and that no princess are alike, but make no mistake, young one! What we do, no matter how cruel, is for the greater good.
Star:...... The worst things, IMAGINABLE, have been done for the greater good! Asper, I thought you were just some jerk just doing his job... But after this... I feel there's a darker side you've been hiding since the beginning! For all I know, you may be responsible for this discrimination the monsters suffer, AND you may've been the reason St. O's was so corrupt! Espiecally with what you said about Olga, may have implied you brought her here to begin with! Now get out of the way! I'm going to see if Eclipsa really IS as evil as everyone says! (Enters her tower)
Asper:... (Sighs) That little delinquent is going to ruin everything! Perhaps it's time to start preparing for that inevitable Plan B and gather as many remaining loyalists as possible. (He was later seen avoiding a confrontation with the rampaging Meteora)
???: Hello... Asper! (Meteora appeared before him in her giant form)... Remember me?
Asper: "Like a terrorable rash in a very uncomfertable place. Though I heard you coming a mile a minute away when my former disciple, the Archduke, screamed like the phathic whelp he always had been!"
Meteora: "I may not have surprised you, but I still have the vantage point."
Asper: "I killed plenty of your father's kind to know every weakness of theirs."
Meteora: "But you never fought one with magic before."
Asper: "That only makes this interesting, my dear. All you will do is just get yourself killed and give your whore mother another reason to dispise me."
Meteora: You've seen what I did to everyone here! (The floating eyeless bodies of the citizens were seen)... Your magic should be a real treat!
Asper: You'll have my magic over my dead- (Meteora fired her magic-sapping eye beams as he just blocked it with a magic shield) -body!
Meteora:... You know Mewni should be mine!
Asper: Mewni doesn't need some dumb hybrid like you ruling! (Dons a butterfly form) And I'll destroy you like I did so many other freaks, or die trying! (The two fought as Asper used every recorded spell he knew to fight back, and yet while much of them actually hurt her, she took one close opportunity to suck up half his magic, though he broke free with what he had left and retreated in the shadows)
Meteora: GET BACK HERE, COWARD!!! (Tears everything apart looking for him as he used what magic he had left to escape, and later witnessed this, watching in horror at what was happening as his magic fully returned to him)
Star: (She sees Eclipsa still on her knees in front of Meteora's crater and approaches from behind) Eclipsa, you... You saved us.
Eclipsa: Star? Well, thank you for letting me borrow this. (Returns the wand, but Star just declines)
Star:... No. Keep it. (Asper was shocked) This wand was yours. It belongs to you. Things haven't been right since my family took the kingdom. The best thing I can do as queen, is return what my family stole from you.
Asper: ("NO!!! If she's queen, she'll have the power to get rid of me!!!! OH, HOW COULD IT GET ANY WORSE?!")
Eclipsa: (A baby's cries are heard inside the crater. Eclipsa walks toward the crying and finds Meteora regressed back to a baby)... Hello there, little one.
Star: WHAT?
Eclipsa: Thank you.
Star:... Yeah, totally-totally-totally! (Eclipsa flew off) Uh, Eclipsa? (She was gone much to Asper's shock)...
Marco: What did you just do?
Star: Where is she going?
Glossaryck: (Runs around, Jeffrey Tambor voice) Globgor, Globgor, Globgor, GLOBGOR!!
Star: Yes, Glossaryck, "Globgor". We know.
Glossaryck:... (Keith David voice) No, no, no! Eclipsa's monster love, Globgor! She's going off to be with him. I've been trying to tell you for months.... Anyway, see ya around. (Conjures a magic umbrella and flies away causing Marco to fall over in surprise)
Star:... Is his voice different?
Asper: (Shocked)... I'm dead! (He was later seen returning to his room in a panic) Well, it's over! Eclipsa's back in charge, and Globgor will be back soon! I can't stay here anymore! I have to go somewhere far away for my Plan B!
???: Going somewhere, TRAITOR?! (Eclipsa appeared)
Asper:... Um, hi, Eclipsa... You're looking gorgeous today-
Eclipsa: I just got back from the archives in the Bureaucracy of Magic! (Takes out a scroll) It told me everything you did to every queen!... And even then... I know it was you, Asper.
Asper: What?
Eclipsa: You were the one who told everyone about me and Globgor. YOU PROMISED ME YOU WOULD KEEP QUIET ABOUT IT AFTER YOU CAUGHT ME SNEAKING BACK!!!
Asper:...... Well, that's your own fault, Eclipsa. It is my sworn duty to report anything regarding fraternizing with monsters. Did you honestly expect me to keep a promise like that? You break the rules, you pay the price. You were about to contaminate the royal throne of our people. You're a fool for thinking I wouldn't report you to Shastacan and the Magic High Commission.
Eclipsa:... That is why my first act as queen once more, is to fire you.
Asper: PARDON?!
Eclipsa: Your crimes against Mewmanity are greater than mine. You're the reason monsters are discriminated and it will not be overlooked. You are hereby banished from- (She was blasted with a powerful magic wave)
Asper:...... YOU FOOL!!! YOU'RE EVEN MORE UNDESERVING OF THE THRONE THAN I EVER PROCESSED! I EXIST TO MAKE MEWNI BETTER AND DESTROY THE MONSTERS THAT STAND IN OUR WAY!!! Your return to the throne was bad enough. But this proclamation only serves to make my resolve greater then ever! I will not allow myself to be ruined by the likes of you. (Eclipsa recovered) So, it's time to finish what I started. You and me. For the fate of Mewni and it's filthy monsters. You lose, I become King of Mewni and declare genocide on every single monster in Mewni.
Eclipsa:... How dare you?... Very well. Your time has come anyway. (Got her umbrella wand armed and Asper brought out the spear)
Asper: "With this outrage, it's clear that the Butterflies are no longer FIT to rule! The earlier ansistery would be ASHAMED of this travesty!?"
Eclipsa: Well both you and they were wrong. We stole this land from monsters. Short of any absolution of leaving or destroying each other, we must make compromises and amendments. Monsters are not bad people. You just make them that way. They're just defending what's left of the home we took, and that of their families. Well that prejudice ends today. MIDNIGHT SHRIEK! (Fires the spell as Asper shielded himself and rebounded the spell as this played)
Asper: MONSTERS WILL BE ANNIHILATED!! ROARING THUNDER!!! (He unleashed a powerful blast of lightning bolts with an ominous sound as they incinerated what they hit while Eclipsa avoids them)
Eclipsa: Blackening Fire! (Unleashed magic fire that tainted his area before he unleashed a wave of liquid gold magic that put it out)
Asper:... Enough of this black palor tricks,"Your Highness". LIGHT MAGIC ACUPUNCTURE!! (Launches wires similar to Hellsing Walter's which attached themselves to Eclipsa as they suck up her dark magic)... Say goodbye to your dark arts, your majesty!
Eclipsa: DARK MAGIC ACUPUNCTURE! (Does the opposite spell to Asper)... How about I take your light magic in exchange?
Asper: As if it'll be THAT simple. (He grapples her into a kick that undid her wires and pins her to the ground)... It's over, Eclipsa! I'm too smart and too trained for you.
Eclipsa:... (She rolls over and causes him to fall and lose control of his wires) I think not.
Asper:..... I'm just getting warmed up. (Transforms himself into a giant butterfly-moth creature and attacks Eclipsa)
Eclipsa:... BLACK VELVET INFE- (Asper swiped the wand)
Asper: I don't think so. I'm not going out like your freak of a daughter. (Charged Eclipsa as they took to the sky)
Eclipsa: (She tries to get her wand back only for Asper to keep pushing her over with maneuvers and the final one crashing her into the Forest of Certain Death)
Asper: (Roars and pins Eclipsa before she can get the wand) Where do you think you're going? I'm not through here. (He flies her away from the wand)
Eclipsa: NOOOOOO!!
Asper: So you can't use magic without your little wand? A perfect time to learn.
Eclipsa: ASPER, STOP! (Kicks him in the stomach and fell back to the forest, grabbing a leaf to float down safely and makes a run for her wand until Asper landed in front of her)
Asper: ENOUGH OF THIS!! (Smashes her into the ground and takes the wand after changing back to his Mewman form)... Actselly, You know something about all this?... You're not worth defeating. At least, not in this matter. (Throws the wand into her face) What will I even accomplish destroying you when others can defeat me? I kill you off, then threaten to wipe out monsters, only for some "hero" to show up and save the day. Being rid of you now would be pointless if I go down in some eventual manner. I want a method that doesn't bite me in the end. Neither of us won. Tis a draw, Miss Eclipsa. But we will meet again. I will simply collect some of our forces loyal enough to me, find a dimension worth my time to harvest any worthwhile resources, and in a close enough future, we can have a proper climatic battle from there. Till then, Eclipsa...... Try not to ruin the legacy I helped create for Mewmanity TOO badly. I don't want to end up returning to a Mewni that'll NEVER, accept my future time, as king! (He casts open a portal and left)
Eclipsa:... Really?
Eclipsa got up.
Eclipsa: "....... Go ahead and delay the ineditable now, Asper. But if I can't be the one to punish you, I'm sure someone will have that honor someday. I can only pray that whatever dimention you deside to haunt, doesn't suffer too much."
Later...
Moon: (She was seen approaching Rhombulus' Crystal Palace and knocked on the door as Rhombulus appeared)... Rhombulus?
Rhombulus: Queen Moon!
Moon: Not queen anymore, remember?
Rhombulus: Right... So... What do you want?
Moon:... I think it's time... We discussed something.
Inside Crystal Palace
Rhombulus: YOU WANT ME TO WHAT?!
Moon: I want you to free Globgor.
Rhombulus: "WHY THOUGH?!"
Moon: "It was.... Under a spefific request. (A Xird appeared forth)."
Rhombulus: "AYYEE?! A FORBIDDEN ONE?! Don't worry?! (Aims at the Xird) I'll just-"
Moon: "Wait wait wait, stop you christail-brained nincompoop! He was the one who asked for Globgor's freedom!"
Rhombulus: "...... AND YOU LISTENED TO HIM?! Wait, are you, one of the Xzars from the Manapede thing?"
Xird: "No, I am of the Xexaxez assigned to Mewmanity."
Rhombulus: "(Yelps)! AND YOU LISTEND TO HIM?!"
Xird: "But do not feel alarmed. I am here representing my master in wishing to strike, a bargain. One that'll, ensure the return of Butterfly rule as originally intended.... Mostly."
Rhombulus: ".... I, thought you Outer Gods don't believe in that."
Xird: "And typically still, we don't. But luckly for you, the Xexaxez assigned to you, is Xlazzon the Negosiatable. He's a more, charitable master then the starderds other masters usually have, and espeically a far-cry from even sterner masters. But that doesn't mean he does favors, for free. He requires..... Something in return. And that something, is simple. Usurp Eclipsa from the throwne, and put Star back on the path of rule via Moon's return to the throwne."
Rhombulus: "Why though?"
Xird: "Because my master has become wise to a potaintional threat to the Magic Realms, and wishes to prevent it. He was informed by another master, that Star, has the potaintional, to destroy Thaumorpheus' beloved realm, and end up dooming Mewmanity into a worser fate then already. You think nearly causing an interd-imentional empire is bad? (Chuckles wickedly)..... Try being guilty of inter-dimentional TERRORISUM, AND SEE IF THE OUTER GODS WILL BE SO PASSIVE OF YOUR CONTINUED EXISTENCE THEN?!"
Rhombulus: "..... How, does that have to do with usurping Eclipsa and how is doing so suppose to prevent it?"
Xird: "Look at it like this: Eventually, someone espeically heinous will invoke Star into wanting magic gone from existence, and with the nameless spell in reach, that could doom the Multiverse into a crumble of magic. By putting Star into the duty of Queen in years time, that prevents it. Thing is, you need to make Eclipsa look bad, and you need to do it, by freeing Globgor."
Rhombulus: "But, that would undermine all Star is trying to accomplish."
Xird: "You could always just help her rebuild afterwords and just have her think that the statements about Eclipsa were correct. You want to keep her from being doomed to cruel fate bestowed by the Outer Gods, do you?"
Moon: ".... Well, alchourse I do."
Xird: "Espeically so, when that Mina Love-brat is still an issue. She intends to do something, equilly worse. So how's this? Put Star on the path to rulership, and away from ever being a threat to magic, and you'll be spared from judgement, as the X-Fate will deemed Mewmanity passive from their old ways, with Star's rule of making amends. All you have to do, is make Globgor look like an unredeemable beast, and monsters will step away from him, as Mewmans will to Eclipsa as a conspiractor. Besides, she wasn't that popular with them anyway. Mewmans and Monsters still conflict time to time even with her efferts. Even Asper's downfall wasn't enough. You do this, and this will be the end of all conflict between us..... Do we have a deal?"
Rhombulus: "...... Be made aware that I WILL HOLD YOU UP TO THAT END OF THE BARGAIN IF I AGREE TO THIS?!"
Xird: "You have my assurence that I'm, a Xird of my word. (Chuckles wickedly as he faded off)....."
Rhombulus: "..... You sure you wanted to trust that guy?"
Moon: "Can't say I do..... But I don't want Star to suffer for doing some future calamity. We have to go through with this."
Rhombulus: "..... Are, the other commission members in on this?"
Moon: Yes. But Hekapoo seems a little adamant about it.
Rhombulus:... This better work. (It cut to him approaching the crystal and hesitantly frees him, disappearing just as Globgor realized where he was)...
Globgor:... (He runs away without saying anything as Eclipsa saw his shattered crystal, panicked, and ran off, arriving at the exact moment Rhombulus returned)
Eclipsa: ATTENTION EVERYONE!!! I'M AFRAID WE MUST SEND YOU ALL HOME IMMEDIATELY!! Globgor has escaped! (Everyone gasped as the Magic High Commission got ready for the plan) Please! Stay calm! Once we've evacuated you, return to your homes, lock your doors, bar your windows, and-
Hekapoo: NO! (The Magic High Commission surrounded Eclipsa) EVERYONE STAY WHERE YOU ARE!
Rhombulus: DON'T LISTEN TO ECLIPSA!!
Omnitraxus: That's just what Globgor wants you to do! He'll pick you off one-by-one!
Eclipsa: What are you doing?! I'm trying to protect everyone!
Rhombulus: You're not trying to protect anyone, you TRAITOR! (Cuffs her)
Hekapoo: The Magical High Commission is officially declaring a state of emergency! (She summoned hundreds of clones to encompass the amphitheater) All residents of Mewni are to remain in their seats until further notice! (Omnitraxus turned into a force field that encompasses the amphitheater)
Mewman Woman: What's going on?
Hekapoo: We wait here until the threat of Globgor is neutralized! (Summons a cage with her dimensional scissors that traps Meteora) That should keep you out of trouble.
Rhombulus: (Eclipsa worried) C'mon, let's go! (He took her away)
Xird: (He watched disguised as a crow)... So far so good.
Marco: (Slid on stage) Heey, everybody, what's more fun than a cornonation?
Random Bystander: SIDDOWN, KID!!!
Marco: That's right! A TALENT SHOW!!
Rubariot: Uhuhuh, Marco! We, are artists! We can't just put on a talent show with no preparation-
Foolduke: (Came in with a sack of props) I'M READY!!
Xird:... Well this should be amusing.
Meanwhile...
Globgor: (He fell into the bog getting out of the mud and ended up coming across River and Eddy, who screamed)
Xird: "(Watching the situation unfold as a snake).... And now, the moment of truth."
Star: Citizens of Mewni! There's someone I'd like you to meet! (Globgor came out in cuffs surprising everyone)
Marco: Oh boy- (Buff Frog grabbed him)
Tom: Wo- (Buff Frog grabbed him)
Janna: (Took a photo with her iPhone) Nice job, Eclipsa. I get it now. (Left)
Star: Please, stay calm. I know he looks scary, but Globgor doesn't want to hurt you.
Mewman: That's Globgor?
Monster: Why is he in handcuffs?
Meeman #2: I thought he'd be bigger.
Rhombulus: Globgor would just decide to eat you than look at you. But don't worry. I'll crystallize him right here on this stage for you all to see!
Omnitraxus: But that isn't enough. As soon as Globgor is crystallized, Eclipsa will just set him free again.
Hekapoo: Omni is right! We will never be safe if Eclipsa is allowed to be queen! (Snaps and burns the curtain showing Eclipsa)
Globgor:... My darkest star!
Eclipsa: (Gasps) You!... Hi, dear. It looks like you gotten yourself into a bit of trouble.
Globgor: It seems I have. Why did you set me free? I told you this isn't what I want.
Eclipsa: I didn't do it! I swear, I- (Rhombulus began to slowly crystallize her)
Rhombulus: Okay that's enough! Back to the crystal for you!
Globgor: NO WAIT! PLEASE! (He broke free of his handcuffs)
Star: Oh boy, that's not good. (Globgor jumped towards him, engorged his arms, and ground-slammed Rhombulus to a wall)
Rhombulus: Ow!
Hekapoo: Okay! (The Magic High Commission fought Globgor as the Xird watched)
Xird: "(Chuckles quietly and wickedly), Messing with mortals is like messing with insects..... It's so, invigerating."
Glossaryck and Blossoma appeared next to the Xird.
Glossaryck: "Naughty naughty boy! You caused enough damage here!"
Xird: "(Looks at the duo unimpressed).... Tch. The two conspirators themselves. I knew you'd show up."
Blossoma: "It's time for you to leave, Xird."
Xird: "Oh, and what? Miss-out on the show? I even tricked your figureheads to get in on the act."
Glossaryck: "You have some nerve messing with them like that! You are leaving right now mister! (Summons a big-ass broom!) Now off with you, shoo, shoo! You did enough trouble!"
Xird: "(Bemsued wicked laughter) Fools?! (Dodges the broom, undetered by it) I've barely even BEGUN to cause you trouble! This fiasco, isn't going to be the worse of your woes, you defecters! (Vanishes away just as Glossaryck just was about to hit him)......."
Glossaryck: "..... (Sighs)..... Sis, I'm worried that he could be onto us."
Blossoma: "..... Then we need to acivate the emergeny protocal."
Glossaryck: "You're sure about this?"
Blossoma: "Unless you want to risk facing Outer God Trial, then I'm sure of it now."
Glossaryck: "..... Understandable."
Blossoma: "Now what do we do about that mess?"
Glossaryck: "No need, sister..... I believe it's just about to mend itself."
Blossoma:... But isn't that what they want?
Glossaryck: Yes, but it's also what we want. I think it's time the big one is dropped as soon as possable.
Blossoma: "Alchourse.... But I'm not yet sure if Star's ready."
Glossaryck: "Then sis, prepared to be surprised at the end of the day."
During Pizza Party
The Xird watched as this happened.
Xird:... Exactly, as planned. (Chuckles as he dissipates away)
Blossomma:... Planned? I thought this was to get Star's family back into power out of fear she'll do something nihilistic.
Glossaryck:... No... This is far worse than I thought!
Blossomma: Bro...... I think Rhina's prophecy is about to come true.
Glossaryck: ".... That devient. He's trying to use our own emergeny plan with the propichey against us. But how did that creature figure that? I mean, I know Xirds can have REALLY smart eggs in their flock, but they're not THAT smart. Ya don't suppose someone else is behind this mess, do you?"
Blossomma: "(Sighs), I think we have no choice but to find out for ourselves, bro. You, go do what you need to do, I'll go ready the escape link back to the Infinity Libary for us and the Commission. That way, it would like that we "Died", so we'll avoid any Outer God legal issues. I'll see to try and include "Contentyck" as well."
Glossaryck: "Well, good luck sis. I'll see you back in the library when it's all done. (He teleports to the Tavern and got pudding to serve to Marco and the lamenting Star to get their attention)... Here it goes..."
During "Cleaved"
Thaumorpheus was seen meditating as Unicorns prance across the fields as other magicy creatures folic and played!
A Pink Unicorn trotted up to Thaumorpheus apawn seeing him!
Pink Unicorn: "Thaum, come prance with us!"
Thaumorpheus: "Sprinkles, you know that I need to do my duty of regulating the magical flow."
Sprinkles: "Aw come on, Thaum, please?"
Thaumorpheus: ".... Well, Star did taught me that I oughta loosen up every once in awhile. Very well, but only for one lap then I have to get back to work. (Thaumorpheus turned into a Unicorn) It's not often I can afford some fun every once in awhile!"
Thaumorpheus joined in with Sprinkles in racing across the fields!
Suddenly, a flash was noticed in the distence as the Unicorn heard, other magic critters and Thaumorpheus noticed.
Thaumorpheus: "..... What, on, earth?"
Distent magical creatures and Unicorns stampede in a panic as what looks like deteriation was slowly starting!
Thaumorpheus: "(Gasps!) MY MAGIC REALM?! (Turns into a caped TV headed being and leviated all the Magic Realm Creatures up into the sky as the Magic Realms began desolving into nothing, to the horror and truma of all witnessing it, including Thaumorpheus!)...... My realm...... (The disapateing spell was seen to be done by a series of skull-butterflies)...... (Gasped)! THE NAMELESS SPELL?! But the only ones I known for that are-! (Makes a shocked relisation.....)....... Star........... Why?"
Thaumorpheus looked on in horror as he saw the Magic Realm being devoured, up until a point that nothing but blackness remained as the above music played!
Thaumorpheus: "...... (Sadden) My realm......."
Sprinkles: "(Starts feeling weak) Thaummy...... I don't feel so good. (Collapses as does the other magical creatures)."
Thaumorpheus: "SPRINKLES?! (Grabs her) Sprinkles?! It's okay! I'm here! I'm here! (Hugs her dearly) You will be fine?! I'm going to fix the Magic Realms! You'll be fine again!? Just please be fine! (Breaks into crying as he held her close)....."
A Large Silluete of a glowing orb hovered in the empty space as a trapasy loomed over and held the beings......
???: "I'll tend to your dear pets, my child. You proceed to get the Magic Realms back in order."
Thaumorpheus looked in surprised at who it was, then only nodded silently as she lets Sprinkles go, and flouted down....
The Figure vanished into the void with the sicken Magic Creatures, as Thaumorpheus flouted in the center of where the Magic Realms was....
Thaumorpheus: "..... Accessing, (Wimpers for abit, but quickly kept himself strong)....... Databanks for Magic Realms. (The screen turned to static as then it cuts to recorded infomation of the Magic Realms)....... Proceed, creation process."
Thaumorpheus' screen glowed as it began to produce a beautiful energy stream that flied around the area that began to slowly but surely re-create the magic realms....
This was watched by the mysteriously still present Glossaryck.....
Glossaryck:... Seven came before Rhina (if you subtract the boy). Add four more reigns to her domain and then what gets destroyed?... Only something, to be rebuildt, for a better tomorrow. (Flouts from the scene)......
After 'Cleaved'
Figures had witnessed the event unfold.......
Figure 1: ".........Those three actselly managed to pull it off."
Figure 2: "Eeeyup. They got away with mergeing Dimentions."
Figure 3: "THEN LET'S CAPTURE THEM?!"
Figure 4: "We need to comfert Thaumorpheus first. He is likely greiving."
Figure 5: "For about countless hours, minutes, seconds and micro seconds."
Figure 6: "Everyone, I vote we calm down Thaum first, and worry about Glossiary, Loosenary and their 3rd wheel cousin then after. Poor Thaum needs to be calm downed."
Figure 3: "Only if we agree that after those things, we seek out..... Star Butterfly......"
Figure 6: Done.
Infinity Libary.
Booksmith and other Infinity Libarians were seen walking down the hall with the contained Book of Predictions, just as Glossaryck appeared out of sight and got to where Blossoma and the slumbering still living Commission was seen, albeit silluette and almost unrekitneseable
Blossoma: "...... Well, bro..... We did it. The Realms merged. They formed onto where Marco's Earth was and it is now apart of the center United Universe."
Glossaryck: "And good timing too. Marco's earth was close to being victimised by that Great Cycle craziness that was happening in the center united universe because of a long-standing blunder with the Time Councilers."
Blossoma: "Well, I guess the next thing we can do now is restore our true forms and their's as well. Oh, and getting Siamimaana out of being in Doughebagg's staff. We can go back to being Infintaries, wait for the Magic Realms to be restored, and wait for things to blow over. Once the All-Mother meets Star, any initional crud the Outer Gods would give will be redused when she sees Star is exactly what the Multiverse needed."
Glossaryck: "I'll stay here and keep an eye on the commission. You go and ready the reverseal ritual. Then we'll work on how to bring Grommet back as well."
Blossoma left.
Glossaryck: "...... (Looks at the Commission)..... I'm sorry you three had to go through that. But I promise, it was all worth it."
???: "So you admit to cosmic conspiracy."
Glossaryck: "Ehh, I wouldn't say "Conspiracy", as more like a private exspeariment nobody else knew abou- (Shocked face) BLBLBLBLBLBLBLBLBLBLBLBLBLBLBLBLBLBLBLBLBLBL! HUH?! (Turns to see the same silluetted figures)..... Oh no! I totally forgot about you guys! (The Figures lounged at him)"
Glossaryck screams echos!
Dragon Realms News, Present Day
Scorch Scorchington: "This is Scorch Scorchington, covering the ongoing concern of the post-Great Cycle Crisis of Magic starting a slow but surely concerning decline, a situation in our universes' case is made worse when the Leage's own Seprioth drained the mana reserves of our universes in a bid to destroy Radient Garden in succumbing to Great Cycle madness, also that this issue has been sighted to have effected magic's branch-offs in Chi, Super Powers, and debatably imagination behind the existence of enginuity. A crisis we apptly named, the Magic Fadeaway Crisis. (The words dramatically appear in concerning bold words)... Or you can simplify it as the Fritz, but we were using that term before the other thing came up so we're sticking to it. We now talk with an exbert on the subject of magic, the High Council's own Yen Sid, the strongest of their wizards."
Yen Sid: "I welcome the invitation to explain this issue, Scorchington."
Scorch Scorchington: "So Master Yen Sid, can you please explain to the viewers the concerning details of this crisis, and why are super powers, chi, and even imagination are connected to Magic's dilemma?"
Yen Sid: "Well, as it has been learned, Chi, Super-Powers, and even the power of imagination, are but extentions to the magic stream that took radical evolutions when some worlds didn't always needed magic's absolute presence. I do agree that these things are extreme departures from traditional magic, but their existence has happened because of these branching pathways from traditional magic none the less."
Scorch Scorchington: "What're your comments on the reports of geniuses suddenly getting massive inventor's block that is slightly halting tecnological innovation in places like Futurasia or even the entire AUU, and that in the world of Foster's Home of Imaginary Friends, Imaginary Friends are suddenly getting heavly sick and becoming abit transparent, and Kratos' sudden Super-Power Outage Epidemic that is nearly weakening Superiors, even has endangered some with longivity into entering comatose states as if it's like they're something that wasn't meant to last as long as they had did, along with Chi starting to short-out like a busted sprinkler, which was made worse by a recent fiasco involving rogue imperials stealing the Welspring of Chi, so, what're your thoughts on this?"
Yen Sid: "I believe those situations are unfortunately, absolute proof of magic's true influenceal force behind Chi, Super-Powers, and Imagination. We understand Chi and Super Powers enough, but Imagination is the shorce of ideas and innovation. You lose that, then no socity can advance further then they had already. They would face stagnation, regression in worse case scenarios."
Scorch Scorchington: "You're saying that cause of Magic's enfluence, that imagination has existed at all and allowed for primitive beings to assend like they did?"
Yen Sid: "It's a hard truth to accept, I know, but, it's true. Man himself would've still hid in caves and would be no more smarter then a chimp if had not been for magic and it's branch-offs."
Scorch Scorchington: "Should we be concerned about this?"
Yen Sid: "The answer is yes, and no."
Scorch Scorchington: "Would you care to elaberate?"
Yen Sid: "By all means, this issue should be taken seriously. Steps will have to take place to contemporary restrict magic, chi, super powers and espeically imagination. Empeses in comtemporary, cause unautherised and unrestricted useage would have undesireable effects. Because our universes and that of other dimentions, pocess magic reserves it can count on whenever the Magic Realms has been, compromised. Though in our universes' case, we have to be even MORE strict cause of the Radient Garden fiasco."
Scorch Scorchington: "Do you think this is an after-effect of the Great Cycle?"
Yen Sid: "No, because this is an issue shared massively by other dimentions, that did not witnessed the Great Cycle. But, I suspect that while the Great Cycle was on countdown, that the Magic Realms had went through it's own crisis during the implied escalation of a rogue soldier of one of it's neighbering realms, Mewni."
Scorch Scorchington: "Mewni, you say? You suspect that it's rotine civil issues between Mewmans and Monsters may have something to do with magic's fading effect?"
Yen Sid: "Along with another, strange issue the High Council noticed now..... The Earth of SVTFOE, has vanished, and has been replaced, by this. (The screen shows an image of a large white spere)."
Scorch Scorchington: "GOOD LORD?! Just, wow! It looks bigger then Mars! Of any Mars of any Earth-Based System!"
Yen Sid: "Yes. We had found it that way since the Great Cycle was reversed, and we noticed that SVTFOE earth was absint in the events of the Great Cycle, as if a greater force had kept it safe."
Scorch Scorchington: "What do you suspect happened that caused this?"
Yen Sid: "That is what the Lougers intend to find out and reveal to us."
Scorch Scorchington: "By the way, you said that your answer to my earlier question is a yes and no. Care to further elaberate?"
Yen Sid: "Though I still stand that some restrictions should be made for contemporary means to prevent us from dwindling our magic reserves, erm, more then a reckless leage venture has aready done, do be assured on the empesis on "Contemporary". There's a cosmic force that will restore whatever happened to the Magic Realms as if nothing had occured. You will see magic and it's branches be completely restored soon enough. Keep in mind we can't nessersarly promise a prediction, but be assured, this cosmic entity is already hard at work to restore a vital Multiverseal power for all of our realms."
Scorch Scorchington: "You heard it here first. We will deliver more details of this twist and turns of an event as it unfolds. Could this mysterious new giant orb in space be the shorce of what happened to the Magic Realms? What of Mewni and it's neightbering dimentions? More as the story unfolds!"
Saetha and Anewas were seen on the street and saw the news on a TV Store window and were utterly surprise.....
Saetha: "... Ho, ly, crud! Ya spend your very long honeymoon going on a dimension tour and you discovered a dimensional merge! And that it's connected to the fritz? That explains, SO MUCH right now! Espeically the part we ended up spending the remainder of the honey moon in the Lougers' United Universes!.... We have to go and see what's wrong?!"
Anewas: "But it's likely the Sciessers won't work at the moment!"
Saetha: "No problem, we'll take my ship! (Pulls out a car alarm button and presses it as car alarm sounds were heard, as a ship zoomed off and before the two!)....."
Anewas: "..... Wow!"
Saetha: "Tch, oh what, did I think I walked to the Lougers' United Universes? Come on Ane, we're paying Star a visit! (Grabs Anewas and got into the ship and zoomed off!)."
New Mewni, Louger's location.
The Misfits were awe-struck by the sights.
Icky: "...... Jesus Christ, even the inside of that giant white orb is so, WOW-tastic!"
Lord Shen: "..... Remarkable..... It's almost a shame to think this realm could had something to do with the Magic Realms' sudden lost of enfluence."
Fu-Xi: "Hence why you'll need all the help you can get here."
Jade Tusk: "Indeed. More then just magic is at stake here."
Gazelle: "No question on that. Now let's get right into- (Suddenly, Horse-Size Roadrunners with Scorpian Bandits on them zoomed passed the group as it was seen that they were chased by Rusted Belt and Stingzy)!..... QUE?! WAS THAT RUSTED BELT AND STINGZY?!"
Po: "What're they doing outside of the Endless Gold Rush Dimention?!"
Pang Bing: "I suspect it is not just the familier Mewnian dimentions that got merged. Come, let us aide them and get some answers. (The Misfits Charged forth as in the far distence in the ocean, Star and Marco are in the middle of fighting Skull Pirates!)"
A Sword-Hand Skull-Pirate with a pet Necromorthic Parror Lich was seen on the backend of the ship weilding some large looking Dimention Scissers.
Sword-Hand Pirate: "(Laughs wickedly)! Foolish wee ones, you cannot hope to stop me from bringing the Pirate Skull King into these realms, so said I, his best LT, Boner Fjord!"
Star and Marco snickered as they fought off the Skull Pirates!
Marco: "(Snickers), Boner! (Snickers)!"
Boner Fjord: "OY?! MY NAME IS FEARED WHERE I CAME FROM?!"
Star: "Just saying, ya may wanna consider a name change."
Boner Fjord: "GRRRR?! I'LL MAKE YOU WALK THE PLANK FOR THAT?! (They were suddenly blasted down unconscious by the arrival of the Heroes Act)"
Marco: ".... Wow, thanks for uh, heping us beating Fjord here. The Steampunk Pirates said he was a problem for them ever since the merge."
Samantha: Tis no problem. And thank the Mana Star for completing it's journey and refilling the Mana Reserves. (The Lougers arrived after helping Rusted Belt and Stingzy capture the bandits who were seen being send off on the giant road-runenrs)... You guys are late.
Baloo: Well your time is askew thanks to our dimensions' different ages, and time dilations are a bitch sometimes. And before that we had to help Equestria out with a giant dragon monster problem in an underground dinosaur civilisation with advanced tec.
Icky: "We also had to help out our old pals Rusted Belt and Stingzy with some outlaws intermediately cause we discovered that it's not just the canon dimensions from the actual show that got merged, Non-Star Vs. Dimensions got dragged in too, or at least, just bits and pieces of them from what I can get. Then we saw this pirate ship and now we saw you guys took care of Star's intermediate pirate clishe problem."
Xandy: Well considering what WE went through, it's fair. You guys though what happened with Zootopia and Maverick were tough, along with that 3rd thing you mentioned? We obtained a UIS expert, AND he had this ridiculous idea to scatter us across UIS and isolated space with no memories as the UIS avatars we took to hire him, so that they could have untraceable identities. Thing is, it ended up being attracting this Skeplock detective, AND there was also this crazy Widowus witch going around and trying to build a coup to bring back Fake Magic! But, apart from that, it was... Kinda worth it?
Kowalski:... Yikes. You guys have been busy.
Xandy: I'll say. I was a big-footed rodent who brought in this greedy lizard pirate with two cybernetic twins after she almost drowned me... Erm, at least, I thought she was a greedy pirate till I found out she was just trying to be a good mother to a dying son. I still feel so STUPID! At least that detective helped her out.
Hudson: I became a semi-aquatic flying bird that got in this gaming event and stopped an insane mother of it's champion... Though now I feel rotten that I was almost the shorce of it being discontinued by UIS if that detective didn't convince them otherwise.
Samantha: I had to destroy an abomination of false artificial magic because of how temptingly dangerous it was being abused by a deformed tyrant... Albeit, I, wasn't able to realise that the Mana Lords had failed to mention Queen Widowus, that tyrant's forcely married wife. She's now trying to get it back cause of how it saved her life back in the genesis days of it.
Magnum: I helped stop a crazy civil war against an insectoid race and victimized bugs pulled by Prophet Yamac's brother..... I, am still haunted by what I had done to Terminus, irredeemable as he was...
Clifton: I stopped the near-corruption of a glowing planet of amphibians only to find that the planet needed this dangerous substance to live. It was a real close call that the intended chosen one guy was revived by the stuff so he can take down the real evils of the planet in sellout elders! I STILL FEEL SO STUPID?!
Zosimo: I defeated an evil high intelligence and saved my wife from her own worries for me.... Albeit, she ended up being why UIS got the hint of what we really were.
Vancer: I BLASTED S*** AND ACCIDENTALLY CAME ACROSS AS EVIL FOR THIS CRIME LORD BECAUSE OF WHAT HAPPENED WITH ZOSIMO AND ME LAST WE MET!! Thus, THAT WAS HOW SKEPLOCK FINALLY PUT HIS FOOT DOWN ON US?! Then, we got made to start doing UIS favors to break up Pro-USRA operations in Isolated Systems, JUST TO PROVE WE'RE NOT A THREAT TO THEM FOR WHAT WE'RE DOING?!
Cloakblade: I had to go on an anonymous journey of no identity or memory on a planet of Tech-Vikings, where I was made to bring down a tribe that was being enfluenced by the Xuron Revisionus.... Speaking of the name, that's what you call them, right?
Telthona: I was on a planet of F*****G ROBOT ZOMBIES... ROMBIES!!! The trouble I went through just to capture that crazy Yurun sciencetist Dr. Rig O'Mortus!
Nanobyte: I took covert operations on a planet of tiny tinkerers and made to bust that Atont that was only trying to finally get the USRA races to include the Atonts should they reband! I broke that poor kid's dreams, and now she hates our GUTS for it?!
Jorcori: I was on a prehistoric world of amber glaciers containing an unstoppable dinosaur army with it's overlord being enfluenced by the Tiiken Skorner Xenopohobe Duelious Persona, and had to drive these amber prisons underground where they could never be found.
Ucasashi: I spent time in a place of Gex influence and amoral Gex warriors and prevented a traitor in their ranks trying to enfluence them to make the Rabodan Defilus a deciple.
Aurlena: I was in a crazy robot gladiatorial criminal underground and prevented a sell-out fight promoter from selling the isolated systems there from being bought a Uonon named D. Felupter from succeeding in a De-Isolation Attempt!!
Radcliff: I was on a post-apocalyptic planet with the only remnant civilization on these 'Chamberlain Cliffs' and saved them from this crazy dominator crime lord that was allied with a Shabuchan extremeist!
Miami: I was on a junk planet with a neutral conflict between so many factions with different views for their future being orcristraighted by litterally the ONE Pharaguian that doesn't appresiate UIS, Bob Stinkfeet!
Stephanie: I was on a resort world of too much passions and had to prevent a married rich Yurun couple from buying the planet out from UIS!!
Tollund: I helped these two desert riders stop this evil capitalist and retourious USRA sellout from taking over a planet of anarchy.
Tyberious: I was on a planet of techno-organic machines ruled by a giant rogue terraformer robot that got hacked by a Globex sciencetist!
Libby: I was on an alchemical medieval world and stopped this all-element prismatic orb from being abused by extreme UIS haters.
Tether: I was on a world of USRA-UIS hybrids and stopped some kind of alliance to these UIS-haters besides the USRA because of their oppression.
Zorra: I was on a magic world of con artists and didn't know who to trust. That made stopping the USRA sellout there very difficult.
Hopstar: I was on a retro world that rejects new-age technology and only embraces retrograde tech. Finally inspired change when their leader who was enforcing that stupid practice turned out to be a USRA sellout.
Veta: I was on a planet of cuties and saved from an 'Enhancer' or whatever and stopped a Pro-USRA coup he was apart of.
Miria: And me? I didn't need an avatar. I just needed my anonymity and faceless figure to save these 'UUF' jokers from this robot powerhouse named 'OV', granted the rescue ended bittersweet when Skeplock arrested them then afterwords. We were indeed busy.
SpongeBob:... DANG, dang!
Lord Shen: ".... Ahem. Star, our apologese for boring you, I- (Notices that Star and Marco were gone, along with the Skull Pirates, as Shen Picked up a note)..... (Reads) Sorry for leaving without you guys being able to talk to me, but it looked like you were gonna talk for awhile so we're just gonna go ahead and take Fjord and his crew to the Steampunk Pirates to be contained. Heart, Star and Marco..... (Speaks) BLAST IT, THEY LEFT WHILE YOU GUYS WERE TALKING ABOUT YOUR EXPLOITS?!"
Samantha: "Ugh, blast it, and I didn't even get to give my choice words to that girl! I feel, so betrayed by what she did to magic!"
Icky: "Don't worry, we'll find her again. In the meantime, let's get to check the place out and chat with the locals."
Miria: "Would it not make more sense to focus on Star?"
Icky: "Trust me, once that kid gets moving, there's NO keeping her still. We'll get to her when she gets tired, okay. Meantime, we may as well check the damage and see how serious this is."
Miria: ".... Fair enough. It wouldn't hurt to assess the state of this dimensional merge before we can make our move."
The HA and the Lougers go their seperate ways to explore New Mewni more.
Monster Temple
Eclipsa: (Sat on her throne with Globgor and Meteora on her lap) I understand your concerns, Miss Saetha and Mr. Anewas. It's been quite a while since New Mewni formed. I undersand this change came, abit out of left-field, as they say.
Saetha: "That's one heck of an understatement, Eclipsa! Dimentions have merged! Also, don't you think the Magic Realms being destroyed would have long term ramifications?"
Eclipsa: "Oh don't worry. The Multiverses will still have plently of magic reserves that'll allow as if the Magic Realms is still in working order. Though I have heard that the center united universes had it, abit rougher when the thing with a place called "Radient Garden" had happened. Albeit still, non-Mewmen Spells will, drumaticly weaken, and the reserves do have abit of a risk of, weakening."
Anewas: "Well, I hope you people plan to address this issue soon."
Globgor: "Well, yes and no. Now, don't tell Star, but, well, you remember Thaumorpheus, right?"
Saetha: "The weird animal-mixmatch?"
Globgor: "Well, let's just say, he's more than he looks. He isn't just the magic realm's guardian..... He's also the creator of it. Trust me, he doesn't plan to let the magic realms stay gone for it's importance."
Saetha: "Oh thank goodness, cause I have a a half-sister who's into Magelio, and it would break her if Magelio just died out without the magic realms-"
Anewas: "Wait..... But aren't you worried that the Magic Realms returning would deunify the dimentions again?"
Eclipsa: "Oh don't worry dears, the Magic Realms had nothing to do with their seperation. They were already seperate since they were formed."
Saetha: "Well, that's good to know to, but, why were they seperated to begin with?"
Globgor: "I'm guessing that's just how the Outers had made them."
Anewas: "So, the Magic Realms returning won't effect this place?"
Eclipsa: "Not at all."
Saetha: "Well, why keep quiet to Star?"
Eclipsa: "Well, because she likely has abit of a sour tiffy with Magic at the moment and would fear it's abuse again by less then enlighten forces."
Saetha: Yeah, no joke.
Eclipsa: Oh, speaking of which, here they come. (Star and Marco came with Moon, River, Rafael, Angie, Mariposa, Buff Frog, Ludo, Dennis, Pony Head, Tom, Janna, Jackie and Chloe, Alfonso and Ferguson, Kelly, Jorby, and the Princesses of St. Olga's)... Remember, keep quiet about it.
Rafael: So THAT'S the Miss Heinous person who showed up a few years ago? (Points at Meteora who coos adorably)... She actselly looks cute as a baby.
Marco: Yeah, but... She seems to still remember me. I want to stay as far away from the little tyke as possible.
Princess Arms:... Never expected her to be a princess herself.
Princess Smooshy: Yeah, she looked two ghastly to be a princess. Camera phone! (Takes a selfie)
Princess Jaggs: But yeah, what a way to go.
Marco: Still, let's try to give her respect, starting with calling her by her real name, Meteora. 'Heinous' was just a bad derogatory name.
Pony Head: She still scares me. And I won't be itching to let her touch me anytime soon, espeically not the Horn!
Saetha: "So, how have you guys been doing when, this happened?"
Dennis: "Well, Ludo is trying to re-connect with the folks and changed the locks back to normal. Thankfully, mom was at least cool with it, but dad's, still abit of a prick about everything. He, might take alot to win-back."
Buff Frog: "Well, Mewmans and Monsters are more at eased with eachother now thanks to new expansive lands allowing for larger terratory..... The Archduke is still, a contentious issue though."
Rivar: "Well, Moon has been made to make serious amends for the deniszens for taking Loveberry seriously. Even more so since she was almost banished by a gurdgemental judge."
Globgor: "I ALREADY SAID I WAS SORRY ABOUT ODIUM, OKAY?! APART FROM HIS GRUDGEFEST, HE WAS OTHERWISE A DECENT JUDGE?!"
River: "And I get that alot of times already, no one is holding Odium against you!"
Globgor: "Tell THAT to some of the Mewmans and even select Humans that give me stink-eyes for ever hiring Odi in the start!"
River: "Only because Mina left the wrong impression dragging the humans' own dirty laundry of the past into this!"
Anewas: "Ahem! Well, on the subject of, her, please tell me that psyco is no longer an issue."
Star: "Don't worry. She's been carted off to Mewkatraz now. The roughest prison in Old Mewni. She's given the solatary confinement treatment due to her, aggressive behavior."
Saetha: "Perhaps for the best. She was litterally the worse relic of Solaria's time."
Eclipsa: "Ahem!"
Saetha: "Uh, no entirely intentional distain to Solaria, alcourse."
Eclipsa: "All the same, do keep in mind that Asper was the shorce of all terrorable things of that era. Now, I can't pardon mother for making the mistake for listening to him, but at worse, she's guilty of exicuting was it as most, Asper's ideas."
Anewas: "Exactly. And good riddence that turd-stain to Mewmanity's name has been removed as well before Mina's little rampage. Though I ain't too crazy for the Archduke still being around. Was he not Asper's deciple?"
Moon: "Don't worry, He and Asper, didn't agree on too many things with the Archduke being, overly-passive."
Saetha: "Ya mean like he's a cowerd?"
Moon: "Erm, well, more like the Archduke was more passive about mistrust to monsters."
Anewas: "Well still, a flimsy deciple of Asper is STILL one. I am cautious about ever trusting him."
Eclipsa: And that's to be expected with how Monsters feel about the Archduke. You can believe mother was Asper's favorite queen... But can you believe he once had a crush on her and wanted to be her king? Glad he didn't get that chance, cause I am far from ever wanting Asper to ever be considered my father. And the worst part? When she stood down as queen and shut down the entire Solarian Program before it's purpose could be fulfilled, thus when Asper scolded her for 'being weak'...... He sent her on a nighttime mission that ended with the ambush where Seth of Septarsis killed her. Asper sent her to her death!
Saetha: "Yikes! Asper pulled a really uncool move there!"
Anewas: "Hence why monsters didn't took Solaria's downfall for granted. We actselly expected her to be more well-prepared then that. Hence why we figured that it was Asper as the true aversary in the war, the royal family being pawns in all this all this time. And also why I am cautious to any deciple Asper maintains, even if they're as phathic as the Archduke. Espeically with what we'd discovered from our wedding."
Princess Arms: "A wedding? You two had a wedding? I'm suprised that Archduke didn't tried to stop that."
Saetha: "Tecnecally, he did, but he was actselly the least of our marriage problems."
Star: "Yeah, it was our rough first encounter with Taffee and Chaemera, along with the Louger's own Ludo with Junjie."
Ludo: "HEY DON'T COMPAIRE ME TO THAT CRAZY FOX!"
Jaggs: "Oh, oh, I love stories! Please tell us what happened!"
Saetha: "... Well, may as well since we're here."
Chapter 1: An Interdimensional Wedding
New Monstertown, March 12th 2019
(Saetha): The day of our wedding... It had... Well... Roadblocks.
(Buff Frog): When is there never roadblocks?
Star: Congratulations, guys!!!
Anewas: Well, we do want to thank you for offering to organize the wedding.
Saetha: The weddings back in my dimension don't have nothing on this.
Ludo: Though... Why did you invite me of all people? I've been trying to steal your wand countless times. In fact, I'm kinda sure I'm still not too crazy for you and Marco.
Star: Well, bygones are bygones. This is a monster wedding. Eclipsa was more than happy to help out, too. Shame Buff Frog and his kids couldn't make it.
Anewas: And you're sure inviting monsters that didn't evacuated and Mewmans won't end up like back at the Monster Temple?
Star:... Sometimes things should be put on hold.... (She sings this)
Hekapoo:... Decent song.
Star:...... What're you doing here? I don't recall inviting you.
Rhombulus: Give us a break. We're trying to make up for the lies we told for what we believed was for the greater good. It's what Lekmet would've wanted.
???: I BEG TO DIFFER!!! (The Lodgers and HA arrived from a distance with gifts)
Star: HEY GUYS!!!! YOU ACTUALLY MADE IT!!! (Star Butterfly flipped in to meet them) I thought you would be too busy with other dimensional missions.
Pony Head: OHHHHH, WAY TO STICK THE LANDING, GIRL!!!
Icky: Oh, hey, it's one of Bellwether's voice twins.
Pony Head: Err, what now?
Icky:.... Wow.... Did NOT expected that reaction. You seemed to look like a character that could see past the fourth-wall.
Pony Head: "Well actselly it depends on what building your talking about, as sometimes there can be 5 to 6 or 12 to 2000 walls."
Kolwalski: "HOW IS THAT PHYSICALLY POSSABLE?!"
Skipper: "It's a different dimention, Kolwalski. Obviously it'll have different rules from ours."
Ludo: Who are these clowns?
Duke:... Speaking of voice twins, here's one of mine.
Star: Well, Buff may not have made it, but they did.
Xandy: You two didn't think we'd show up, did you?
Saetha: Well I figured you guys were busy saving both our dimensions.
SpongeBob: Eh, good point. I mean, since we saved you, we decided to be the more traditional Lodgers and visit worlds like those of Steven Universe, Gravity Falls, Amphibia, any new-school cartoon world.
Star: Well, it's really good to see you guys. It's been a while. And Hey, you even have Fu-Xi to come with you guys again.
Fu-Xi: "Well it's because I feel like I'm very relivent to Saetha. Also, I hope you don't mind Jade Tusk and her comroddery, they're being like my peeps for the moment. Just don't ask them about that Jindiao monster. (Some Monsters scoffed offended at that)....... Was it something I said it?"
Gazelle: "I think it's because you reference Jindiao as a monster. They're obviously very sensitive about the term being used loosely to discripe someone even as unredeemable as him."
Star: "(To the crowd) It's okay everyone, it wasn't a monster like that of Mewni. (The crowd resumed into the party).... Yeah, try to be more careful when you used the word "Monster" around here, okay? They're very touchy about the word being used to discribe something evil. It brings back bad memories for Monsters here."
Fu-Xi: Well, duly noted.
Omnitraxus: So you're the 'Lodgers' Star's been talking about?
Fu-Xi: And YOU'RE the ones who lied to the Butterfly family for generations.
Hekapoo: (Sighs) Look, it was a simple misdeed. You think we don't take everyone's words seriously? Since Eclipsa's trial, we haven't been very appreciated by monsters.
Flashback...
Queen Moon: (After scene)...... You guys want to give us one good reason we should take it easy on you?
Eclipsa: Exactly.
Omnitraxus: "Please understand, it was only what the old king wanted. He didn't wanted a half-monster daughter."
Eclipsa: And by replacing Meteora, you have proven that you don't have the right to say I'm evil. (Sean kept hitting his head comically on the typewriter)
Hekapoo: SEAN, WILL YOU STOP THAT?!
Sean: Sorry!
Eclipsa: What other things have you been lying about? I'm sure even the Box would like to hear it.
Box of Truth: OH WITH A FURIOUS PASSION!!!
Eclipsa: For all we know, you're the reason why monsters are still discriminated. Lekmet might still be alive if this hadn't happened. This is one of the reasons why I left Shastacan. I could never tolerate his prejudice. I saw firsthand what monsters were like when I met Globgor.
Omnitraxus: Look, like I said, we feared what would happen if magic fell into a monster's hands. Especially those of Globgor. His race is unspeakably powerful. If magic fell into their hands, what do you think would happen?
Eclipsa: That's one of the things that made me fall in love with him. I wanted to understand them since I saw their true nature. Especially his race. I thought that with their help, I could do what Queen Comet never could.
Rhombulus' Right Snake Arm: And why didn't you consult to us about it?
Eclipsa: Would you have listened?
Rhombulus' Left Snake Arm:... Point taken.
Hekapoo: Well for good reason. Globgor's race is among the most dangerous and most powerful monsters in Mewni.
Eclipsa: And did you bother asking why and understanding them like I did? Or were you so scared by them that you labeled them such?
Omnitraxus: Look, we cataloged every kind of monster race in Mewni including the extinct ones. Each one has a danger level. The Septarians are Level 2. But Globgor's race? Level 1. The very worst.
Rhombulus: So like every other Level 1 monster race, we had to caution people and do what we could for the greater good.
Eclipsa: So what you're telling us is that you potentially lied about monsters being the dangerous beasts and not understanding them? You were vilifying monsters of all kinds by threat levels alone?
Rhombulus:......
Omnitraxus: "...... We, can't deny that perhaps we should've..... Studied monster spieces beyond the basics."
Hekapoo: "Hey, in our defence, it's not like monsters were in a listening mood after the crap Mewmanity put them through! It wasn't likely they would explain themselves to us! Heck, you were lucky Globgor ended up finding you attractive at all and that he wasn't AS dedicated to revenge as Toffee was!"
Eclipsa: Well it just goes to show that if I had trusted you with my goal, things would've been different. But I didn't. And because of that, you had to use Festivia.
Hekapoo: USE?!?
Queen Moon: Yes. Festivia, me and Star's ancestor, was only royalty because of Shastacan shunning Meteora because of her heritage. You used her. Did she even know?
Rhombulus: "..... Well, if we're being honest here..... She was lead to believe that she was royalty throughout her life."
Queen Moon:... Shameful. She never knew the truth in her life.
Eclipsa: Now I feel just as sorry for her as I do Meteora. She died never knowing she was adopted. Have you no shame?
Queen Moon: Well I suppose we've heard enough. We're off to find Meteora. After what happened at the Monster Temple, I shudder to think what she's going to do next. In the meantime, you have a lot to think about. (The two left)
Rhombulus' Left Snake Arm:... Well we're screwed.
Rhombulus grabbed the picture of Lekmet......
Rhombulus: "..... We're sorry, old friend..... (Looks at the window)...... We're sorry, Mewni......"
Present
Hekapoo: So when this info was leaked before we could correct it ourselves, it forced the monsters to leave the dimension.
Omnitraxus: We couldn't find the culprit. But whoever it was, it certainly ruined us.
Ludo: WOW, YOU SCREWED UP BIG TIME!!!
Omnitraxus: "PLEASE KINDLY REFRAIGN FROM REMINDING US OF SOMETHING WE'RE PAINFULLY AWARE OF?!"
Icky: Well, they might do it as many times as they want. You said it was leaked, so, knowing how very 'monstrous' monsters are, they have serious grudges. The fact that you labeled them dangerous and hostile without looking into their society, is not very politically correct.
Ludo: The dumb bird is right. Monsters are mostly aggressive. It's how they survive in a mostly wild environment. The prejudice probably came up because you took their survival skills the negative way just like in every case of prejudice.
Hekapoo: "Well EXCUSE US for being from a civilised socity and not being used to any sentient creature acting like an animal?!"
Icky: "That's no different of an excuse to how the Europian Settlers saw natives. Just because these guys were not up to your "Civilised" standerds, that doesn't mean they're automaticly animals?!"
Rhombulus: "Well, when you talk about monsters with animal traits, tecnecally-"
Icky: "HAVING ANIMAL TRAITS NOT WITHSTANDING, DIAMOND HEAD?!"
Omnitraxus: "Look, we can't help it with how we looked at monsters as, undesireably as it albeitly was, back in what is known as "The Older Dimention", Mewmans were used to civilised, refined, sofisicated, (A fart was heard as he looked at Po)....... And, very hygentic, lifesytiles. The kinda lifesytile the monsters had was.....Extremely alien to us!"
Fu-Xi: "Oh, so because they were different from this so called "Older Dimention" that it excuses treating them like vermin?! That kinda logic is worse then the Anti-Snake Mongoose Clan?!"
Hekapoo: "..... Isn't that "Mongoose" part of the name bit Redundent?"
Fu-Xi: "Yeah, but it makes people aware that they're MONGOOSES?!"
Rhombulus' Right Arm: "Wouldn't that be "Mon-Geese"?"
Star: Ask Marco. Mewni and Earth DO share some of the same fauna, but mongooses are not one of them. Heck, I lived in America, one of the most trademark countries of Earth. Mongooses weren't native there. The only animal that was everywhere was possums.
Hekapoo: Look, point is, we came because we wish to start over. I helped Marco stall Meteora, even though I shouldn't have after you kicked us out of you're meeting all "No liars allowed!"
Star: Well you wasted your time. I'm still very ticked off that such a strict lifestyle as a princess was a sham. So I'm not ready for THAT! Even with Marco, who's the only one who can forgive YOU spefificly Hekapoo. (To the Group) He and Hekapoo still dragon-cycle and stuff after he spent 8 minutes in her dimension where 1 year is 30 seconds trying to get the dimensional scissors he borrowed from me.
Frank: SERIOUSLY?! Marco's over 30 years old mentally?
Icky: This is why we discourage dimentional travel, cause sometimes it's time mechanics and other shit don't make sense.
Hekapoo: Yeah, we have some wild adventures together. Usually with Talon Raventalon tagging along. Marco seems to still forgive us after the karmic crap we had to endure.
Fu-Xi: Well we don't live and learn that quickly.... NOW SCRAM?!
Omnitraxus: "Ugh, guess it's back to Lekmet's shrine with us. (The three leave)...."
Star: "Did you HAVE to make them leave like that?"
Fu Xi: Oh come now, you said they weren't invited anyway, so deal with it. So, Star, have you found your mother?
Star: Did I ever. It's a long story. MARCO!! MOMMA!! THE LODGERS ARE HERE!!
Queen Moon: Oh. I thought I heard new voices.... These are the ones that defeated Toffee's brother?.... I'd imagined you would look more, imposing, like that of the Warrior Dimention of Honorsmire.
Icky: "Lady, you're not the first one to be that unimpressed with us, and you're far from the last."
Queen Moon: "Oh, I mean no offence, it's just, Coffee was an imposing figure, so it would've made sense he would be over-wealmed by imposing figures as well, and not..... A band of inconsistent misfits."
Duke: "Hey try not to get the wrong idea here, we're tougher then we look..... Well, the those of us that fight anyways."
Banzai: We have a specialty of embarrassing people like Toffee or his family with our antics.... So how've you coped with the fact that you're not the leader anymore?
Queen Moon: Well I am not one for even bad secrets, so, I admit, I didn't take what Star did very well at first until Marco told me how the truth about Eclipsa made her feel. The fact that she felt pressured by my attempts to make her future queen, including the threat of sending her to St. Olga's which, turns out was not as ethically sound as we all felt, especially since it's headmistress was Eclipsa's longlost daughter, the fact she started to look into monster relations because of how agreeably similar she is to them, and the fact that all she put up with before, during, and after her time on Earth, was for nothing?...... (Sighs) I unfortunately cannot argue with ANY of that. It wouldn't be fair to be mad at her after that.
Marco: You should've seen the play Star made to explain what she'd been through during her time on Earth. Even Queen Moon was crying.
Private: Aww.
SpongeBob: So... Does that mean you're not against monsters?
Queen Moon: Well, I had SOME second thoughts since I met Buff Frog trying to protect Star from Toffee. But, I, can't say it washed away, ALL bad feelings about them.
Fu-Xi: True. Wiping away prejudice is not easy. Especially since you kept it for over 14 years.
Tom Lucitor: Life sucks sometimes. But hey, it's worth living. I'm proud to see that there's some hope for monsters. Nice of Queen Eclipsa to help organize the wedding.
Icky: "And we're surprised we got invited to this wedding. We haven't exactly interacted with the two enough to be given THAT pleasure."
Marco: "Well, I guess that's because you guys really helped them out when Coffee had those bounty hunters go after them. My uncle always say, a little kindness goes a LONG way."
Fu-Xi: "Well just an F.Y.I., everytime we try to relax at something, trouble seems to follow us, so don't be too shocked to see a wedding crash."
Queen Moon: "..... That, doesn't, sound encouraging."
Marco: "(Nerviously laughs) Oh I'm sure he's just joking..... (Nerviously) Please tell me he was joking."
Icky: "Actselly, it's typically an annoying trope we go through that everytime we try to do something fun, some of our enemies crash the party and we have to go through dealing with their s***."
Queen Moon: "..... That, was further unencouraging."
Lord Shen: "But freat not reguardless. Since AUUians are involved in this, none of the villain teams don't feel like they can truely get away with distrupting Saetha's wedding, nor would they need too since it was discovered that Saetha's people don't ACTSELLY have good luck, so it's not like we'll see the repeat of that compidence potion nonsense again..... Though just to clarify, did Toffee had any OTHER unmentioned family members the show never showed? Cousins? Uncles? Aunts? Childhood friends outside of Anewas?"
Queen Moon: "Well, I heard talk he also had a female cousin, but, she was never around the monster invaders nor was ever seen. I assumed that she was relitively, more sensiable."
Lord Shen: "Well don't be quick to trust it! She may not nessersarly be like Toffee, but she could be problematic in her own way! In that case I'll have the wolves and apes beef up security around this wedding and have cannons at the ready! (Claps his hands and exactly THAT happens)!"
Queen Moon: "..... (Stares at Star abit unamused)..... Abit over-reactionary, don't you think, Star?"
Star: Yeeeah, totally-totally-totally. And I thought the oversized knights on Mewnipendence Day were overkill.
Monster guest: "OH CAN WE PLEASE NOT TALK ABOUT A HOLIDAY THAT GLORIFIVES THE VIOLENT EXTINCTION OF MONSTER SPIECES OVER HERE?!"
Star: SORRY, FORGOT SOME OF YOU HAVE VERY GOOD HEARING!!!
Icky: "Yeah calm down, buddy, tongues can slip sometimes!"
The Monster guest moved on.
Icky: "..... You were NOT kidding about how some of these guys are still touchy about what happened."
Star: You think?!
SpongeBob: So, um, it's good to see you guys again after... Certain events.
Marco: That's all you have to say?
SpongeBob: I'M TRYING, OKAY?! It's like a furry convention here.
Marco: Ouch!
Star: Well glad you could drop by anyway.
Gazelle: "Ahem! To steer this conversation back to being taken seriously... Well, it isn't something to be unexpected, Star. Mewmans and Monsters were both races that were used to know nothing but negitive things about eachother."
Star: "Which is why this wedding is SUPER-DUPER impourent!"
Icky: "But it's not a wedding between a Mewman and a Monster, it's that of an AUUian and a monster."
Star: "But that's the genius of it. If Mewmans saw Anewas as a total gentlemen to Saetha, they can see that Monsters are not what Asper say they are. If it's possable for another being from realms not even related to Mewni to get along with Monsters, it's possable to them as well."
Lougers: "Ahhhhh."
Fu-Xi: "Hmm, sound like good enough logic."
Star: "Bet you guys thought I was just some dumb girl, huh?"
Icky: "Too be fair, your starting scene from the show, started with you ramming a Unicorn into a royal court. It doesn't exactly give a vote of confidence on how you take things seriously."
Star: "Yeesh, and I thought Asper was picky about that."
The group were unaware of being watched by a sixed wing Humming Bird that flew off after awhile.
An office somewhere in Mewman Castle.
A Silluetted Figure rested on a desk and was seen doing alot of legal paper work.
The Six-Winged Humming Bird landed and got his attention. It started to tweet at him.....
???: "An unautherise wedding, you say, Armadasius? Then let's, address this."
Meanwhile, the wedding started in this sort've fashion.
Priest: "(After a certain point) If anyone objects to this marriage, speak now, or forever-"
???: "MOST INDEED I OBJECT TO THIS?!"
Suddenly, the sky darkened as the doors slammed open as drumatic music played, as a mini hurricane spun around the room, landed on the ground, and reveiled a stern athoratarian Mewmen.
Lord Shen: "...... Showoff."
The Mewman stood as Armadaisus, the pet 6-Winged Humming Bird landed on his shoulder.
Queen Moon: ".... Oh, dear..... I was afraid of this....."
Shrek: "Who's Mr. Country Club Fancypants over here?"
Queen Moon: "...... Archduke D'oughe Bagg. (Icky and Iago snickered at that) DON'T LAUGH!"
Icky/Iago: We're gonna.
Archduke D'oughe Bagg: "....... My pardons times 900 for intruding on this day, but, a little birdy (As he was tickling the small Hummingbird's Chin) had informed me that an illegal wedding was taking place."
Ponyhead: ".... Define, illegal?"
Archduke D'oughe Bagg: "Ugh. I feel like I have to explain the concept of reality to you people. Ahem..... Mewman Law number 9.6.6.6.6.6.6.6.6.6.6.6.6.6.6.6.6.6.6.6.6.6.6.6.6.6.6.6.6.6.6.6.6.6.6.6.6.6.6.-"
9 hours later.
Archduke D'oughe Bagg: "(While everyone was with blood-shot eyes of being made to wait to hear the guy) -.6.6.6.6.6.6.6.6.6.6.6.6.6.6.6.6.6.6.9.8.7.5.4.3.24.5#PXKAZNMPO, Article 782712645256252738215374626384723443555543234343,234/KJLO010, Has expressionly, forbide, the marriage, between Mewman, and Monster."
Saetha: "..... Well that's not too bad, I'm not a mewman, so-"
Archduke D'oughe Bagg: "AND, That Amendment Number 90938267384726802816738746367482736484826294589271738476263891813748375893276249276284762621836263487473236332673673673763267326732673276326732763276236767367 and a half, had concluded, that monsters are not allowed to marry, PERIOD?!"
Saetha: "A'WHAT?! Not allowed to marry?! Why?"
Archduke D'oughe Bagg: "Because marriage is a sacred thing..... It shouldn't be tainted by the fact that monsters are being allowed to marry! They are disgusting abominations born from the mud of the Mudpits of Yuckatopa! (Resident Monsters got offended!) They're basicly, ANIMALS?!"
Grass Monster: "HEY, SOME OF US ARE PLANTS, ASSHOLE?!"
Archduke D'oughe Bagg: "They're crude, they're smelly, they're disgusting, they're barbaric, they're murderors, they're scoundrels, they...... THEY, have blood of Mewman Royalty on their hands!"
Monster 1: "AW COME ON, TOFFEE HASN'T EVEN BEEN RECENTLY RELIVENT SINCE HE DIED?! LET IT GO ALREADY?!"
Archduke D'oughe Bagg: "IT IS NOT JUST TOFFEE?! He had generals that backed his actions all the way! Generals.... (Points at Anewas with his staff)..... Like him."
Icky: "(Facepalms) Are we REALLY gonna go through this marriage drama s***?"
Eclipsa: Allow me... MONSTERS!!! HE'S BREAKING MY ROYAL DECREE OF ABOLISHING MEWMAN AND MONSTER SEGREGATION!!!!
Archduke: I don't take orders from a traitor to her race.
Archibald: Not even if you were surrounded by angry monsters who could bend your body painfully in infinite directions? I wouldn't recommend it.
Archduke: You do that and you'll just be proving my point.
Eclipsa: Well what if I banished you TO the Mudpits of Yuckatopa?
Archduke:... You wouldn't!!
Eclipsa: You want to test me? I'm willing to do very bad things for the coexistence of Mewmans and monsters. But, for this moment, I'll simply settle for exile. Yuckatopa is a bog of endless mud and grime. Monsters in every corner. Giant noxifrogs. Aggressive piggopotamuses. Giant Norbros. Bacteria. And don't even get me started on Mudcrabs.
Archduke: "UGHHHH?! Okay, okay, fine! I'll ease off from this wedding?! Honestly, the things you do for these creatures! By the glories! (Leaves with a poof)."
Preist: ".... Ahem.... Are we, ready to continue with the wedding then?"
Saetha: "(Keeps Anewas confindent).... Yes.... We are."
Elsewhere
Archduke Bagg reappeared in his private office as a being like Glossaryck, but having a large handlebar mustache and in a robe with patterns was seen lounging a flouting couch of his size watching TV.
Being: "(A bonk was heard on the TV) (The Being Laughs)! That guy got hit in the head by a coconut! He is SO lucky he's a fictional character, cause that could've killed someone."
Archduke Bagg: "(Sarcasticly) Enjoying yourself, Contentyck, you lazy excuse of a magic guide?"
The Being, Contentyck, realised that the Archduke was back!
Contentyck: "Oh hey, Baggy eyes, how's it going?"
Archduke Bagg: "Pittifully. My attempt to halt an illegal marrage was revoked by Ecipsa."
Contentyck: "Ehhhhh, fair's fair, it's not like it's the days where you would really be allowed to do that. Not anymore, anyway. The influence of Asper is gone with these people, well, at least 89% there. Heck, Asper himself is gone now."
Archduke Bagg: "As much of a plus that is that my ex-master no longer haunts these lands, it doesn't ease the fact that things stopped being fair to me. My law contributions may be Asperian in nature, but I like to believe they're still good standerds! Master Asper may've pushed things too hard, but of any of his words I still embrace, is that trusting monsters is still a risky factor! I known that, from exspearience. (Looks at the preserved and bloodied treaty that would've stopped the war)...... I was lucky only Asper and myself, and you by extention, know the full story of Comet's, ill-fated decidtion to use a treaty to settle issues."
Contentyck: "Still haunted by that, huh? Look, bud, it's barely even relivent anymore. Star took down Toffee for good this time... I think."
Archduke Bagg: "Maybe it won't be relivent to the unenlighten crowds, but it will always be relivent to me?! And Toffee being destroyed for good is barely able to sooth the pain that-...... It just doesn't fix the pain! That event, costed me my apprentisehood with Asper.... I was lucky to still be eldgable for Archduke."
Contentyck: "Likely because people don't know the full story of why Comet thought a peace treaty was a good idea. Trust me, had they known, you would've been even luckier to become a scribe after that."
Archduke Bagg: "THANKS FOR THE CRUDE REMINDER, CONTENTYCK?! Point is, I didn't felt worthy of such a title, even if it was granted cause of lack of knowledge of what had transpired behind the scenes. But it is still, far from the saddest thing of all of it.... I, lost out to my beloved Moon, to a brutish and uncivilised Johansen!? And her beautiful temple of a body, is forever besmirched and tainted by Johansen genes, and it had produced the problem child that is Star Butterfly! She proceeded to be a shorce of woe for my orderly sensiblities ever since! St. Olga's fell to her, many of my standerds for mimumal interactions with Monsters are defiled, even Asper has faced a downfall with her presence!"
Contentyck: "Weeeeeeeeeeeellllllll, to be fair, Moon never realised you were into her. In fact, as far as she knew, you were just a friend to her. She already had a love triangle between River and Count Mildrew."
Archduke Bagg: "That's because I came from more humbler beginnings as the over-cared for son of two book tenders of a libary in a distent town, I'm basicly a peasent."
Contentyck: "But your parents were rich."
Archduke Bagg: "Well that is to say that I'M NOT OF ROYAL BLOOD?! Only royals can share genes. And the Bagg family may had been in the nobility, but the rule of only royals are allowed to procreate applies to even them! And even then, I only came to know Moon because of originally having been Asper's protégé at all.... I would've lived on in blissed ignorence otherwise."
Contentyck: "Though, admitingly, it was weird that it was you he picked for a personal protosay."
Archduke Bagg: "That's because he figured he could've molded me into a perfect image of him.... But, my passifistic nature proved.... Unmoldable."
Contentyck: "Ya know, one of these days, the truth about that day is gonna come out, and it'll end very badly for you when it does."
Archduke Bagg: "That is why I intent to keep quiet about it even to my grave. The world, will never know."
Contentyck: "Okay, but, I think the future might be abit of a contrarian about that soon enough. (Poofs away)."
The Archduke turned from his scowl to a sadden and bitter face, as the Archduke approuched an old picture frame of a younger Archduke as a noblemen boy without his red coat and was seen next to a young Moon and River butterfly.
Flashback...
It was seen that the picture was taken by a Mewman photographer.
Photographer: "And that's a wrap, kids! A picture perfectly taken! You can expect to see it soon. (He left)."
Young Moon: "Great picture, Doug."
Young Bagg: "Oh thank you Moon, that means so much to-"
Young Moon: "(Holds River's hands) You too, River dear."
Young Bagg was discouraged of that she is still more closer to River then ever before, even when it was he that paid the photographer a good chunk of his allowence for the day. But, Bagg kept himself from getting into a needless conflict to what was otherwise a friend in River, even with his, background in mind. He just needed to wow Moon enough one day that she can understand his feelings soon.
Young River: "Now come, Moon, and my good man Bagg, let's go tease the plants from the Forest of Certain Death again!"
Young Moon: "Oh you are just daring today, River!"
Young River: "Comes with my heritage. (The two ran off before Young Bagg could do anything to stop them)."
Young Bagg: "Wait, Moon, River, I- (Suddenly gets dragged off by Asper)!"
Asper: "Found you, you sorry welp! You have studies to persue!"
Music was heard as Young Bagg had this song over the time he was kept away from Moon.
The flashback ends with Young Bagg adorning a red coat as it transitions to what he is now today.
Archduke Bagg: "....... It just, isn't fair....."
Elsewhere....
(Saetha): "But we will soon discover that the Archduke was just the start of a bigger headache for this wedding."
A familier AUUian Pirate Ship arrived from a dimensional portal and appeared on the same area as Globgor's mountain.
Surprisingly, Junjie and friends were the first to show up along aside Glowrod and his companions.
Glowrod: ".... Well, Mr. Junjie, you got my attention when you and your companions managed to hijack our transport ship during our rotine surprise community service trips Miss Chokera puts us through in an attempt to ease the monotony of our normal sentence. Any particular reason you brought us litterally in a seperate dimensional realm?"
Screeched Death: "Indeed. It better be worth our time."
Junjie: "I promise you, it does. It concerns a Lucktry called, Saetha."
Screeched Death: "(Gets interested)..... Saetha? As in, the cousin of Geneva, one of the most capable Magelio Users of my United Universes? That's a VERY bold attempt for someone who's own group refused to partake with this "Coffee" individual in an attempt to go after her."
Junjie: "That's uh, mainly because prior exspeariences to go after AUUians, never end well."
Pyro Praveen: "(Scoffs), If your first attempt at Oranos was anything to go by! (Laughs!)"
Junjie: "HEY, IT'S BECAUSE STARLIGHT CHEATED ME OUT OF BEING THE FIRST NON-AUUIAN TO BE ABLE TO BUST SOMEONE OUT OF THAT PLACE?! AND LITTERALLY THROUGH A SIMULAR METHOD, WITH ONLY ONE PRISONER FREED OUT OF IT?!"
Screeched Death: "Even if you did got to be the first, your plan still wouldn't've gone too far, given that at least this "Starlight" thought more practically and only aimed for a prisoner worthy for her cause, compaired to you litterally wanting the ENTIRE prison population. It would've been deemed suspitious. Bad timing of it being after her successful exidus only made an already bad plan worse."
Galaxhar: "That's what we litterally told him."
Junjie: "DON'T REMIND ME?!"
Zigmond: "Okay, Other Universeal, if a wedding shanghai is what ye be after, then why are we not even close to it?"
Junjie: "Well, I don't want to just pre-maturely show up and say "HI, I'M HERE FOR THE BRIDE", that's just gonna risk the Lougers kicking our butts again?!"
Screeched Death: "I also sense that the HA had been invited here as per request of Saetha herself. I do agree that it is impractical to just walts in and grab Geneva's cousin all willy-nilly and not expect a fight."
Tasam: "That said though, what're we doing here for?"
Junjie: "Well, prior to having recruited you fine gentlemen, I went around to ask one of the natives of this dimension about something that caught my attention while I was there. I met up with a lizard woman in grey robes, a claimed exoduser to a seperate dimension considered safer then this place, who told me about a creature called, "Chaemera", being lost somewhere in this rubble that can be only summon by a special conch, since the time of Queen Solaria."
Glowrod: "Interesting. Though, how long ago was that?"
Makunga: "Give or take, ehhhh, several dozen plus years ago?"
Syge: ".... In terms of our United Universe?"
Tai Lung: "Well, how recent was your universes' "USRA"'s downfall?"
Screeched Death: "1884 was aproxingly 133, give or take a year, from this current year in terms of your universes."
Tai Lung: "Well, it's somewhere in that equivital time frame for this dimension."
Zag: ".... It, doesn't leave me confident about that thing still being alive."
Scaff: "Aye. No senseable creature, not even an implied super weapon, would survive such a time frame without something to eat or drink."
Orhes: "WELL GREAT?! NOW WE'RE DANGER OF BEING NOTICED FOR OUR ABSINCE FOR NOTHING?!"
Hogar: "Told ya our free freedom from Oranos was better spent doing some looting, BUT NO ONE LISTENS TO HOGAR?! (Vici roars to Hogar to shut him up) Oy! No need for that kinda languise, Vic!"
Ghasma: "I'm just happy to be doing something new, lads. (Drinks grog)...."
Junjie: "Well, there's only one way we can make that kind of confirmation: We find that conch shell whistle blower said to be able to control that beast."
Galaxhar: "Thanks to AUU tec, I constucted a locator designed to locate such an object."
Makunga: "Wow, no silly name?"
Galaxhar: "Only because this is a pre-established invention with a name of it's own, mind you! Point is, it should help us find- (It started beeping to a certain direction as it points the group to a throny forest)....."
Matrix: ".... Oh that looks REAL promising."
Glowrod: "(Looks up map recordings of the dimension) Hmm... According to the map archives from my map database, those forests are known as Stabalot Forests, where even the leaves of the trees, much less everything else, is as shape as knifes there."
Screeched Death: "Well, if we're gonna go through this, it may as well be grand to redeem the fact we were so anti-climaticly beaten in Xenaros."
The United Villains got off the ship and traveled forth.
A Figure in a grey robe watched the group in a distence.....
Figure: "..... (Quietly) Soon, Poor Chaemera.... You will be free, to help my noble goals to save fallen monster spieces."
After Wedding but before Wedding Recessions
(Saetha): "Meanwhile though, we discovered that Star is, a weeee bit down about a certain someone."
Star: (As Marco, SpongeBob, Sandy, and Fidget noticed her crying as she looked at a picture of Buff Frog and his babies)...... Why'd you have to leave, Buff Frog? (Sobs as a tear fell on the picture)... I thought we were getting somewhere.
Fidget: You know, I never got to ask about this 'Buff Frog' guy. Who is he?
Ludo: (Pops up by sliding in comically) Oh, he's a swell guy. He used to be my right-hand monster. Up until Toffee came and screwed everything up. I was the one who gave him his children.
Sandy: Ch'yeah, as a bribe to get him on your side.
(Buff Frog): Oy! Do not remind me of Ludo's shortcomings.
Ludo: Hey, I had a troubling past, like pretty much EVERY MONSTER IN EXISTENCE HERE!! We did crappy things like this to each other ALOT OF TIMES ever since the Mewnipendence Day Fiasco! Give me a break, will ya? But yeah, what happened to Chad since I crushed Toffee?
(Buff Frog): Why does he keep calling me that?
Marco: Why do you keep calling him that?
Star:... (Sighs and wipes her tears)... Well I made him Butterfly Castle's monster expert since I took the first steps to bring monsters and Mewmans together.... But after I found out about Meteora during Eclipsa's trial, I found out he went missing. Me and Tom went to figure out why, and......
Flashback
(Star): To my shock, he, his children, and several other monsters were leaving Mewni for good.
Present
Ludo:... Are, you, SERIOUS?! Buff Frog is many things, but he does NOT give up. He wasn't my right-hand for nothing. What kind of swampwater did he drink to make him such a COWARD?!? I am APPALLED HE CONSIDERED THAT!!!
(Buff Frog): Yikes. Ludo was never this mad before.
(Star): Tell me about it.
Marco: "Okay, Ludo, I know you're used to monsters being brave, but, that wasn't cool."
Ludo: ".... Oh. Sorry. Still trying to learn this social activity trick known as "Tact". Kinda feels like it's Tactics with the three or two extra letters."
(Buff Frog):... Seriously?
Star: Seriously?
Marco: "Have you also heard of a thing called "Remorse", cause, keep in mind that it's possable that some of your guys may've died in the explosion."
Ludo: "Oh don't worry, they actselly all made it out fine. Granted, that expludsion still messed them up, but they're fine all the same. Besides, you two of all people would know they've handled worse."
A comical montage of the monsters getting beaten up by Star and Marco was seen.
Star: "Oh that's a relief. But, did all of them left too?"
Ludo: "Well, I haven't exactly seen ANY of them for awhile, so, you tell me..... Well, actselly, now that I think about it, sometime after I came back to the village after I spent some time with Dennis, which was likely some days prior to the monsters leaving, there was this robed Septarian lady that surrounded herself with some Snakeacorn Bodyguards preaching about "A Better Place", but-"
Star: "WAIT A MINUTE?! You said you saw someone that was preaching to the Monsters?!"
Ludo: "Well, yeah. She had a big podium and stage and everything."
Flashback.
Ludo was seen traveling in the village when he saw a large gathering of monsters, even his former minions, are seen at a large stage as a robbed figure but the snout was seen with a staff and a squad of Unicorn-horned Snakes present.
Figure: "-I promise you, fellow monsters, that the new dimention I found, is exactly like the one formerly known as "M'onstrarus" of which we stand, but it bares no life beyond plentiful trees and fauna. This dimention could be our chance to get to safety, and away from Mewmanity."
Lobster Claws: "Wait, but.... Mewmans are actselly nice when you get to know them."
Figure: "Said one who was sent into a blackhole in Quest Buy."
Lobster Claws: "Hey, that was BEFORE I got to know Star abit better. After words, I felt like I couldn't accreately be in the Monster Army, so, I retired when we got back."
(Deadpool): "Well THAT'S comferting to fans, considering that the production numbers may've given the incorrect idea."
Croc Monster: "(Shoves Lobster Claws) Dude, just, shut up, just shut up."
Figure: "..... Then we'll put the misguided EX-Monster Army member's words aside and focus on the real problem with Mewmanity: Uncertainy. Even if a fringe minority is trying to make things better for us, like a Miss, "Star Butterfly", it doesn't change that Asper's terrorable influence, is FAR from gone, even with the rumored BARELY successful exile of him. He actselly left because Eclipsa failed to be a proper challnage, not out of a loss of his own. It, was a draw. (Monsters muttered concerningly).... That's right. That means that Asper could return at anytime he wanted, stronger then ever so not to risk a better to defeat him."
???: "Now, hold up! (Buff Frog reveiled himself and got on stage as the Unicorn-horned Snakes hissed in ready for a fight, but the figure halted them)....."
Figure: ".... Perhaps you might offer a better discussion then a clumsy crustainian?"
Buff Frong: "Not meaning to undermine what you're trying to offer, but, it's abit too early to make any hasty moves like going into another dimention. I think we should give Star more time to change minds."
Figure: "And what're we suppose to do until then, Buff Frog, was it? Wait here in the fringes of once expandsive terratory, and hope the promises of an idealist last the test of time and not eventually be teared down by Asper or at the least a determined future hater of monsters? Living with Mewmanity is risky as it is unstable. Such unstability is a risk to monsters: It's a risk to our lives, our pets, any fragly gained livelyhoods, or dare I include..... Our children. (Monsters began to become more concerned, even Buff Frog began to really think about that).... Now, by all means, I am not ignorent to the kind of enfluence Star Butterfly would have.... I don't question that she and some assusiates would risk everything for our wellbeing.... But what I am offering, is a congenincy plan. Because let's be honest. There's still Mewmans that look at what Star Butterfly is trying to do, with utter, disgust. The Butterfly family is devided on this. Some of them could not let go of Comet's, ill-fated demise. That means there is no consisentcy nor absoluteness of co-operation between families. So there is no promise that our mistreatment would end with Star Butterfly. For all we know, her time as queen, if it even ever comes given, recent revelations, would be short-lived cause of a Mewman Insurrection of determined dispisers of our people. There is no more garrentied state of peace in this place. New M'onsterarus, is our only hope now."
The Monsters cheered for this.
(Ludo): "And like that, she got popular with folks, while I saw Buff Frog just, sadly walking away..... Thing is...."
Ludo just shruged and went on his way.
(Ludo): "I, ended up not giving too much thought."
Present
Marco: "..... Really, dude?"
(Buff Frog): Oh for Mewni's sake, he saw that?!
Ludo: "I didn't think she would've been successful. Kinda figured Buff would've coherse anyone out of it. Also, I was kinda still a d*** at a the time, so, I also couldn't bring myself to care THAT much."
Marco: "And it shows."
Star: Why didn't you tell us?!
(Buff Frog): That's what I ask!
Ludo: Well not many could stand me since I took over Butterfly Castle. I didn't think anybody would listen and I'd be thrown out before I can do anything.
Star:... Who was the Septarian lady?
Ludo: Hey, she was robed, so, I couldn't recognize her.
Marco: So you did know where Buff Frog was?
Ludo: That was actually the last I saw of him. But to hear that he just gave in and ran away? It makes me sick to my stomach. That guy used to be far more determined then that! No offense, Star, but I think you made him TOO soft! The old Buff Frog wouldn't bow THAT easily!
(Buff Frog): He seriously doesn't know me to well?
Sandy: "Then obviously, you didn't knew him as well as ya'll like to think."
Ludo: Never really had the chance or opportunity, but whatever.
Marco: ".... Ya know, this may be why your minions stopped hanging with you."
Ludo: "It has, come to my attention that, perhaps, I should've been, a more fair leader. Otherwise Toffee wouldn't have been such a winning player for them. Though to give me credit, I did got Lobster Claws out of that black hole you guys got him in."
Star/Marco: "Was it because he had the clippers?"
Ludo: "..... Hey, at least the clippers motivated me to even get the lummox back at all."
Spongebob: "..... No offence, Ludo, but, you're obviously a work in progress."
Ludo: "If I had a Mon-Coin for every time people've said that."
(Buff Frog): I call mud on that one!
Present
Katrina: Daddy, stop interrupting!! You're holding up the story!!
Anewas: Indeed. When have you became a flashback critic, Buff-Frog?
Buff Frog: "Well pardon me if alot of things became new revelations to me!"
Ludo: "Hey, if it helps, I had gotten better now. I even began to get your name right."
Buff Frog: ".... Well, you had gotten better now."
Saetha: "Anyway, eventually the Lougers offered to help Star find Buff Frog after the wedding... But little did they realise, fate was gonna jump-start that reunion thanks to Junjie and Glowrod.
Flashback, Stabalot Forests.
Junjie and friends along with Glowrod's company arrived cautiously to a certain point and found a conch held on a platform....
Screeched Death: ".... It would appear that the conch had been priorly found by someone else."
Glowrod: "We have to be cautious, there could be traps here and-"
Tai Lung litterally grabbed it from the platform!
Tai Lung: "Success! (Starts doing a Kung-Fuey dance) I'm the T to the A, to the I-L-U.N.G., and ain't body grabs conch shells from podiums like me, I'm Tai Lungalit- (A loud roar was heard)..... (Scared) Ious?"
A Monster simular to The Great Animal appeared, but with noticed differences!
Makunga: "Heeeeeey, Rothbart, our main man! What brings you here in this neck of the woods?"
Galaxhar: "I, don't think that's Rothbart."
Great Animal-Eqsed Creature: "I, AM MEDLEY, FRIEND OF PRINCE VARLET?! He has asked me to secure the conch of Chaemera to keep safe from danger from any that would abuse his power.... Okay granted, Chaemera doesn't tecnecally have an offical gender, but come on, he clearly looks like a dude monster. Point is, I will protect this conch, no matter the cos-"
Screech Death: "Ice Blast?"
Glowrod: "Ice Blast."
Screeched Death: "ICE BLAST?! (Freezes Medley over as he was stucked in a surprised state).... Hehehehe, gets them every time."
Matrix: "Okay, not gonna lie, THAT, WAS THE WORSE GUARDIAN MONSTER, I'VE EVER MET?!"
The group left.....
The same robed figure was seen watching.....
Figure: ".... (Sighs), I'll help you out, Medley. I'm going to find Varlet to help you. Then.... I'll address these fools myself. (Teleports off)."
(Saetha): "So suffice to say, this is where the wedding REALLY gets interesting in a different way!"
(Marco): It's gotta. I've actselly been in that adventure and yet the way you're telling it has me in the edge of my seat!
Chapter 2: Globgor's Lost Weapon Returns/Star the Monster
Junjie and Glowrod's location.
After finally finding the conch shell, they approached the rockslide area....
Matrix: ".... Look, I'm just saying, are we even sure this, "Monster Weapon" is even still alive at this point? Cause, I mean, come on, it has been litterally several years since that Solaria era stuff. For all we know, the dang thing's deader than my cousin's reputation in Globex."
Junjie: "Well, then only one way to find out, gentlemen. (Wields the conch, and blows on it for a certain period of time)......"
Zigmond: ".... Hate to break it to ye, lad, but, methinks the creature has long depar- (Long struggled roars were heard)..... Ted?"
All the villains but a maniacally smiling Junjie look at the scale of the large silhouetted creature before them climbing out of it's prison!
Junjie broke into insane laughter!
Galaxhar: ".... This, is diffidently not gonna be another Devourus Situation."
The figure was hidden, seeing the re-emerging Chaemera as well....
Figure: ".... Magnificent.... I could hardly wait to free you from the clutches of fools."
Back at the wedding.
Marco: "And with that, I want to congratulate the happy couple, on their big day, and wish them good luck on a new chapter, in their liv- (Stomps here heard as well as distorted growls)........"
Icky: "..... S*** is about to hit the fan, isn't it- (A silhouetted force slammed through the walls, as it roared distortedly!) AND HOLY HELL, DID IT HIT IT?!"
Guests made a run for it!
Mewman Soldiers charged in a battle cry towards the silhouetted menace, but the creature fired a puke projectile that smacked the majority of them away, other soldiers managed to avoid it and charged, as the creature began to smack them around like ragdolls, one of them being thrown far up into the sky screaming! Another Soldier charged, but got stomped into the ground, flatter then a pancake, a halblade wielder tried to do a dramatic attack, but then got pinned by painfully sharp quells and impaled painfully into the wall!
Mewman Soldiers were screaming as the creature's shadow was seen practically massacring the soldiers like they were nothing, as Saetha and Anewas looked in shock, but before they could do anything, they were snagged off unseen by a familiar laser hook!
Eclipsa: "..... It can't be......."
Star: "HEY YOU BIG JERK?! NOBODY LIKES A WEDDING CRASHER?! (Charges forth!)"
Moon: "STAR, WAIT?!" (This played as Star was stunned silent when she saw that it was a monster unlike anything she ever seen)
Star:... Holy Pegasus feathers! (The monster fired a magic breath) RAINBOW BARRICADE!!! (Shielded herself as she flees with the creature firing major roar-powered energy blasts that began to shake the foundation and cause everything to crash)
Marco: STAR!!! HIYAH!! (Kicks at the creature, but it just wing-smacked him away) (Dubbed as DBZA Krillin) WHAT POSSESSED ME TO DO THAAAHAAHAAAAAAAAAAaaaaaaaaaaaaaaaaa... (He crashed as Meteora giggles hysterically at that)
Star: GET BACK!!!! SUPER RAINBOW DOLPHIN SLAP!!! (Fires the spells as the monster couldn't be hurt by it as it just disappeared)... (She just kept running until the creature reappears in front of her) GYAAAH!!! SYRUP TSUNAMI SHOCKWAVE!!! (Used the spell to immobilize and restrain it) THERMONUCLEAR BUTTERFLY BLAST!!! (Blasts it with the spell)...... (Collapses in relief)... (Suddenly the creature regenerated from it's fatal wounds)... OH NO!! BLUEBERRY CUPCAKE BAZOOKA!! (Fires the spell as she ran with the creature in hot pursuit)
Moon: STAAAR!!! (They were gone before the heroes could help her as Star was running for her life from the monster using her spells to try and fail to slow it down as the creature ended up setting a trap that caused Star to be trapped in rubble in front of the heroes as the creature approached her) NOOOO- (The monster tail-smacked them away as it fired it's energy at Star heavily, as more debris falls on her as the visions of the others are obscured by the growing mist, basically knocking most of all but Eclipsa out, as the sound of a horn was heard, making the silhouetted beast leave as quickly as it came)......
Eclipsa: "...... It, just can't be....."
Flashback in Eclipsa's memory.
Young Globgor: (He was in the midst of a magic experiment)... Mewmans will be gone soon enough. My greatest creation will be born soon! (Gathers up DNA samples from hundreds of monsters)... (He plucks out one of his own hairs and adds them all to the brew)... I will create a monster that won't destroy Mewmans... But it will make them one of us. (The concoction started to bubble) Okay, keep clam Globgor, this is an expected reaction- (The thing suddenly explodes as everything was swallowed by smoke) WHHHHHHHHHHHHHHHHHHHHHHHOOOOOOOOOOOOOOOOAAAAAAAAAAAAAAAAAAAAAAAAA?! (The smoke faded).......... (Coughs out smoke)...... That much, admittingly, wasn't planned. (Distorted crying was heard as he saw that he created an extremely mixed creature so covered in features it doesn't have a rekitniseable form)...... That, also, wasn't planned..... It's like, I created some kind of Chimera of all known monsters, whether haven't gone extinct or otherwise-..... Wait...... Chimera....... I can use that.... Though wait, the Chimerians of the Dimension Chimera kinda own that name, so, I kinda need to change the name...... How about.... (Extends hand to interact with the creature as it cooed distortedly).... Chaemera. You'll be my greatest weapon against Mewmanity yet..... And all of Monster Kind's savior.
Present.
Eclipsa:...... (Sighs) Manfred, remind me to talk to Globgor about this. I think his pre-marrital science project has resurfaced.
Manfred: Already on it, Queen Eclipsa. (Left)
Tom: WHAT IN MY UNDERWORLD WAS THAT?!
SpongeBob: DON'T ASK US, DUDE, WE HAVE NO CLUE!!!! THAT WAS THE BIGGEST MONSTER I'VE SEEN HERE!!!
Marco: NO DUH!!!!
Janna: Quite impressive. I believe it was artificially made, judging it's lack of biological consistency.
Lord Shen: You could tell when it was trying to kill you?! What kind of Earthling are you even?!
Tom: Dude, it's Janna. An occult girl who you don't want to know about.
Krebs: How much you wanna bet you two will be shipped so hard you'll put Amazon out of business and make FedEx be filled with money and exhausted workers?
Marco: Wait... Where's Star?!
King River: Huh? I'd normally ask that if I didn't notice that Saetha and Anewas are gone.
SpongeBob: Let's split up! She should be okay, just stuck somewhere.
???: UGGH, I'M RIGHT HERE, GUYS!!!! GRAAAAAAAAAAAAAAAGH!!! (A destructive display of strength occurred as dust spread)
Marco: Star?... How did you do that without magic?
Star: (The camera was on her POV)... Huh... How did I do tha- (Everyone was shocked to see her)...... What? Is there something in my hair?... (Sees her hands were different and were monster hands, and saw she had monster feet, and a tail similar to Meteora's)... SOMEONE GET ME A MIRROR!!!!! (Pony Head conjured up one to show that Star was now a monster with short black horns replacing her horn headband, monstrous green-fluorescent eyes, some signs of muscle, fangs, and pointed ears, an elongated lizardman snout, a third eye, and a series of small Hydra heads and necks around her neck while still retaining most of her attire)... I... I... (Panicked) HOLY MEWNI, I'M A MONSTER!!!!!...... (Excited) HOLY MEWNI, I'M A MONSTER!!!!!
Hydra head 1: "No s***, genius."
Hydra head 2: "Well you're not a bunninoid from the bunny dimension, that's for sure!"
Hydra head 3: "(Speaks in Spanish)."
Hydra head 4: "A monster is a creature which produces fear or physical harm by its appearance or its actions. Derived from the Latin monstrum, the word usually connotes something wrong or evil; a monster is generally morally objectionable, physically or psychologically hideous, or a freak of nature. They are usually composites of different creatures, or hybrids of humans and animals, but the term can also be applied figuratively to describe someone with similar characteristics, such as a person who does cruel or horrific things. Monsters pre-date written history, but do not emerge from a cultural void. Instead, they have their origins in a society's literary and cultural heritage, the academic study of which is known as monstrophy. Monsters have appeared in literature and in feature-length films. Well-known monsters in fiction include Count Dracula, Frankenstein's monster, werewolves, mummies, and zombies."
Hydra head 5: "OY?! PEOPLE KNOW WHAT MONSTERS ARE, YA TALKING THESAURUS?!"
Hydra head 6: "Ugggghhhh, I'm surrounded by retards!"
(Buff Frog):... You seriously became monster?... Never thought it would happen.... The hydra-head thing is unusual though.
(Katrina): Me neither. Star's a monster by proxy.
Brandy: "Oh great, we have another two-headed Wiskers situation!?"
Eclipsa: You must've gotten hit with it's mutagenic venom.... Although, I think the lizard snout and hydra heads are somewhat excessive detail.
Hydra head 5: WHAT YOU SEE'S WHAT YOU GET, LADY!!!! (Raspberries)
Queen Moon:... Excuse me for a moment. (Walks far away)...... (She screamed in an extreme panic that was heard from the Bureaucracy of Magic)...
At said place.
Hekapoo:... What was that?
Glossaryck: Eh, Moon's probably havin' another one of her frustration moments.
Rhombulus: Must've been like her daughter's become a monster, am I right, Lekmet? (Lekmet's shrine was seen as Rhombulus imitated a baah)... Ugh, it's just not the same without him.
Mewni
Tom: Yeesh, not sure what she's so upset about. I for one think Star looks REALLY nice this way.
Hydra head 1: "Glad SOMEONE appreciates us!"
Tom: "..... Though, yeah, I agree with Eclipsa. The extra hydra heads do boggle the mind. And I somewhat thought Naysaya was an eyesore. I also... Kinda like her better without that lizard snout."
Marco: Tom, remember that she's not used to monsters yet.
Star: THIS IS SO COOL!!!! RAAAARRRGGGHHH, LOOK AT ME, IMMA MONSTER!!! (Lifts a giant boulder and smashes it with her head dazing herself)... That was probably a mistake!... Ohhh- (Faints)
Hydra head 2: "OH GREAT?! THE DUMB C**T MADE A JACKASS OF HERSELF?!"
Hydra Head 4: "A jackass is a male donkey. Jackass may also refer to: Jackass (TV series), an American reality series, Jackass: The Movie, the first film in the Jackass film series, Jackass: The Game, a 2007 video game based on the Jackass television show and film series, Jackass Mail, 1942 film,"Jack-Ass" (song), a 1997 song by Beck, "Jackass", a song by Green Day from Warning, "Jackass", a song by Bloodhound Gang from the movie Jay and Silent Bob Strike Back, Jackass Aeropark, an airport, Jackass Ski Bowl, ski resort, now Silver Mountain, Jackass Mountain, an infamous stretch of the Cariboo Road through the Fraser Canyon in British Columbia, Canada, Jackass Hill, an elevation in New York. Jackass Flats, Nevada, former nuclear-test site, Jackass Lane, a street in Anchorage, Alaska whose name was changed in the 1980s due to frequent street sign thefts, Jackass penguin, an alternative name for the African penguin, Spheniscus demersus, Laughing jackass, a bird, now laughing kookaburra, Jackass morwong, a fish, Jackass, an obnoxious rude person, Jackass-barque, ship type."
Icky: ".... Jesus Christ, it's like that head is the embodiment of Wikipedia! Why are we even letting him finish his extensive space-wasting speeches?"
Lucky Jack: Well this is quite the wedding adventure....
Later...
Queen Moon: (Nervous as the heroes watched) Okay, okay, Star's a monster now. No need to panic, Moon, it's no time to panic! OH, WHO AM I KIDDING, THIS IS A PERFECT TIME TO PANIC!!! I WAS NOT READY TO SEE MY DAUGHTER LIKE THIS!!!! NOW SHE'S A MORE LITERAL MONSTER!!! WHY AM I SO HOPPED UP ABOUT THIS, I'M SEEING MORE GOOD IN MONSTERS NOW!! WHY AM I SO CRAZY ABOUT THIS CRAZY IRONY?!? OKAY, CALM DOWN, MOON!!! BALOO-BALEE-BALOO-BELOW, I LET YOU GO, I LET YOU GO!!! OH, WHO AM I FURTHER KIDDING, I DON'T EVEN KNOW WHAT HALF OF THAT POEM MEANS!!!! MY PRECIOUS STAR IS A MONSTER!!!! AAAAAHHHHGH!!! (Faints)......
King River:... Wow, I haven't seen Moon act this crazy since the Mewman sanctuary started.
Hydra head 3: "(Speaks in Spanish)."
Marco: I'm surprised about this crazy irony too. I never thought I'd see the day Star is turned into a literal monster.
Janna: So many of us would say the same.
SpongeBob: Where'd that big guy even come from?!
Pony Head: Uh, we've been asking that countless times, cheesy boy! Plug up them holes so you can think straight.
Spongebob: "Please keep in mind that I'M A SPONGE?! IT'S LITTERALLY IN MY NAME?! We're different!? DIFFERENT?!"
Laughter was heard as a familiar AUU pirate ship loomed over them!
A screen lowered down to reveal Junjie's laughing face was seen!
Junjie: "I FINALLY HAVE YOU IDIOTS, RIGHT WHERE I WANT YOU?! IN CONFUSION BULABARD USA?!"
Lougers: "JUNJIE?!"
Junjie: "So, did you see my, wedding gift?"
Star: "Actselly, I don't think it arrived ye-"
Marco: "Star, I think that fox guy was referring to that thing that turned you into a monster....."
Star: ".... Ohhhhhhhhh...... Well, it was a nice thought sending that creature over, but, he kinda wrecked the castle, and terrafived the guests..... BUT I LOOK AWESOME AS A MONSTER NOW, YOU ARE SO COOL FOR THAT?!"
Junjie was utterly surprised.....
Skipper: ".... Don't over-analyze that, Junjie, she's new to your usual shenanigans. Go on, explain your typical reason on WHY you decided to be a total dipshit today?!"
Junjie: "Uhhhhh, right..... Any-way...... HOW DID YOU LIKE MY LATEST ATTEMPT OF GIVING THE LEAGUE THEIR VERY FIRST INTER-DIMENSIONAL MONSTER, THAT WILL-"
Icky: "YA KNOW MANG'S NOT GONNA APPROVE OF THIS S***, JUNJIE?! SO, WHY THE F*** BOTHER?!"
Junjie: "OH COME ON, IT DOESN'T HURT TO AT LEAST TRY?! Besides, after how I have litterally (Shows the Conch Shell) THE, only ever means to control that creature, Mang will HAVE TO MAKE THIS AN EXCEPT-"
???: "YOU SERIOUSLY DID NOT JUST EXPOSED YOURSELF AS THE ONE BEHIND THE MONSTER AND THE ONLY WAY YOU CAN CONTROL THAT ABOMINATION, JUNJIE?! (Glowrod showed up annoyed of him) THIS IS WORSE THEN BEING UNSUBTILE, THIS IS, JUST, MORONIC?! I CAN'T BELIEVE YOU MANAGED TO BUST US OUT OF PRISON 42?!"
HA Members: "GLOWROD?!"
Glowrod: "..... Oh thanks alot, you unsubtle excuse for a villain, NOW THEY KNOW I'M WORKING WITH YOU!"
Junjie: "I don't understand what you're so upset about, Glowrod. I was only showing how powerful I've become!"
Glowrod: "WE IN THE VA BELIEVE IN SUBTILITY AND CAUSING CONFUSION?! THE IDEA SUPPOSED TO BE THAT A SPONTANTIOUSLY APPEARING MONSTER SHOWED UP AND RAMPAGES THE KINGDOM UNDER A MYSTERIOUS LEADER?! AND THE SUBTLY WAS RUINED BY YOU REVEALING YOURSELF AND THE ONLY THING THAT CAN CONTROL THE CREATURE?!"
Junjie: "Oh what fun is "Subtily" if I don't get to rub in their faces that I finally have the perfect weapon against them?!"
Glowrod: "..... That blasted bastard Janjirma would just LOVE you?! He was even WORSE at failing to be subtle, often as badly as you are being right now?!"
Junjie: "Oh just be glad that we managed to capture the legendary creature of good luck and her boyfriend, (Facing the camera) OF WHICH WE-"
Glowrod: "Wait wait wait wait wait!? Is, is THAT why you asked Zigmond and crew to capture Miss Saetha and the otherly dimensional beast? IS THAT WHY YOU HAVE AN INTEREST IN HER?!"
Junjie: "Well, DUH! So I can make the confidence potion Coffee was offering that Mang mindlessly rejected."
Glowrod: "......... You..... Stupid...... Twat?! Luckirys, ARE NOT ACTSELLY LUCKY?!"
Silence.....
Junjie: "....... BUT WHAT ABOUT ALL THOSE LEGENDS OF THEM BEING ASSOCIATED WITH LUCK?!"
Glowrod: "THEY'RE EXACTLY THAT, YOU NIMCOMPOOP?! LEGENDS AND SUPERSTITION?! THE LUCKIRY COMMUNITY LEADERS CONFIRMED IT THEMSELVES, THAT THEY ARE NOT ACTSELLY MORE LUCKIER THEN OTHERS?! THEY WRITTEN DOWN A LIST OF LUCKIRYS THAT HAVE THE WORSE LUCK EVER, JUST TO DISCOURAGE ATTEMPTS TO CONSTANTLY CAPTURE THEM FOR THEIR SUPPOSED ENTURNALLY GOOD KARMA?! OF WHICH, THERE'S NONE?!"
Tai Lung: "So wait. (It was seen that Tai Lung and Makunga held the captured Saetha and Anewas)...... We, captured these two for nothing then?"
Junjie:...... No hard feelings? (Glowrod chased him just like this)
Glowrod: YOU GROCKING WASTE OF MY DAY!!!!!!
Junjie: WE DIDN'T KNOOOOOOOOOOOW!!!!!!!
Marco:... They're LITERALLY just running in circles.
Icky: "AHEM?! Look, fascinating as it is to watch Jungeek and Glowrodney argue like a dysfunctional married couple, and I almost kinda hope we get to see that again, can we have our lovebirds back?"
Glowrod: "Oh, alchourse. After all, since we have NO serious use for them, it's only honorable to-"
Junjie: "NO?! SO MAYBE LUCKIRYS HAVE NO GOOD FORTUNE, BUT SHE STILL HAS GREAT DIMENSIONAL POWERS?! THAT IS USEFUL IN IT'S OWN RIGHT?!"
Glowrod: "BUT WE HAVE NO NEED FOR SUCH- (Junjie shoved Glowrod away)"
Junjie: "AS SUCH, they are also my meat-shields against you fools?! You try to go after me...... I'LL HAVE MY CREATURE, TURN YOUR DEAR LUCKIRY, INTO A MONSTER?! (Laughs evilly overly dramatically as the heroes have no reaction, as Junjie realized this and Glowrod just sucker-punched him)....."
Icky: "...... So? Anewas is a monster too. All you're doing is just making things less romanticly awkward for them."
Saetha: "Well, actselly, I don't mind being a monster."
Junjie: "Duh, dah, duh, SERIOUSLY?! WHAT DO I HAVE TO DO MAKE YOU GUYS TAKE ME MORE SERIOUSLY?!"
Ludo: "Well you could try having that creature go around and have all of Mewnidom be turned into monsters unless we pay you a ransom of 1000000000000$ bucks and the surrender of Miss Kairi, and going out on an assumption for the mole dude, an ability to revive some disbanded villain empire-"
Marco/Lodgers/HA: "LUDO?!"
Ludo: "WHAT?! I'M ONLY GIVING A SUGGESTION?!"
(Buff Frog): "(Was heard facepalming) Ludo, you, idiot."
Junjie: "...... THAT'S A GREAT IDEA?! I'LL DO, EXACTLY THAT, UNLESS YOU DO EXACTLY WHAT HE SUGGESTED!? YOU HAVE 90 HOURS TO DECIDE?!"
Patrick: "WE CAN DO IT IN 80?!"
Junjie: "70?!"
Patrick: "60?!"
Junjie: "50?!"
Patrick: "40?!"
Junjie: "30?!"
Patrick: "20?!"
Junjie: "10?!"
Spongebob/Mr. Krabs: "PATRICK?! (The two pounce and beat up Patrick!)...."
Junjie: "...... 10 it is then."
Patrick: (Choked) FFFFFFIIIIIIIIIIIVEEEEEEE!!!!!!
SpongeBob: PATRICK, SHUSH!!!
Marco:... The Hekapoo kind of heroes are you?
Icky: "Hey, we never said were PERFECT heroes, we're more like flawed heroes that get things done eventually! And watch it, kiddo, we've had too many people complain about our 'incompetence' as it is."
Junjie: "SO REMEMBER?! YOU HAVE 10 HOURS TO PAY UP THAT RANSOM OF MONEY, PRINCESS KAIRI, And the ability to bring back the VA for Glowrod's sake, OR ELSE MY MONSTER WILL BRING DESISITATION TO THE DIMENSION, AS MONSTERS DO?!"
Monster 1: "RACIST ASSHOLE?!"
Junjie: "DON'T DILLY-DALLY NOW, MISFITS?! (Laughs dramatically again until Glowrod sucker-punched him again)....."
Glowrod: "(Sighs disgruntled)..... That's all for now. (The screen turns off as it goes back into the ship as it teleported away before anyone can react)."
Icky: "..... Awww, Gees Louie III. Sorry about that, everyone. We can't exactly predict when Junjie decided to take stupid pills today. Especially how Glowrod suddenly came back and wanted to hang out with him."
Marco: "Please tell me you guys plan on stopping those guys, right? You have any idea how disastrous this could be?!"
Xandy: Hey, Glowrod is one of our native enemies and we've dealt with them before.
Patrick: "They're just gonna be turned into Monsters. It's not like anyone can DIE from it."
Marco: "..... And yet, you're seriously the same people, that beaten Toffee's brother?! Oh what, was Coffee just having a bad day all this time that day?!"
Fu-Xi: "Well technically yes, he originally wanted to get the villain teams involved but they wanted nothing to do with messing with an AUUian, so he was forced to settle with greed-hungry bounty hunters. And even they eventually turned on him when Saetha made them pull a Tangled Thug Bar Gang on him by having them sing the "I got a dream" song."
Star:... Seriously?
Hydra head 1: Wow, I never thought I'd say it, but space is DUMB!!
Marco: "..... You guys have no idea how severe this truly is, do you?"
Lord Shen: "Well, to be fair, technically the victims still live! They just got biologically altered is all. Nothing severe. If anything, this is actselly the ironically least devastating of Junjie's stupidity."
Marco: "You guys don't understand! The Mewnians can't HANDLE becoming monsters?! Let's not forget that these are the same people, that think they are purer then monsters?! BECOMING THE VERY THING THAT THEY HAD A HOLIDAY CELEBRATING THEIR VICTORY OVER, WILL DESISTATE THEIR SENSE OF SUPERIORITY, AND, PROBABLY MAKE THEM COMMIT SUICIDE OR SOMETHING?!"
Boss Wolf: "Ya sure your not over-exaggerating this?"
Pony Head: Uh, yeah, stop being such a dramatic drama queen, Earth Turd. You've always gotta bring the tension from something that's not that big a deal like an attention-deficit maniac, don't you? What kind of racist conspirator are you to think so low on my friend's race? YOU MAKE ME SICK!!
Marco: OH, COME ON, YOU GUYS CAN'T BE THIS BLIND!!!
Pony Head: Hey, Star's a Mewman-turned monster and she ain't being a total baby about it.
Marco: BECAUSE SHE'S ALREADY CRAZY ENOUGH TO TAKE IT, DUH!!! THE REST WON'T EXACTLY MAKE THE BEST OF IT!!!
Hydra head 2: WHO ARE YOU CALLING CRAZY?!?
Marco: CAN YOU MIND YOUR OWN FREAKING BUSINESS?!?
Hydra head 3: (Speaking Spanish)
Marco: DO YOU GUYS EVEN GET IT?!
Hydra head 5: WE GET THAT YOU'RE BEING VERY DRAMATIC!!!! And I thought Tom was a giant drama queen.
Tom: Watch it, buddy! Besides, I'll have to agree with Marco on this one. How would you take it if you were turned into the one thing that you discriminated? Would you really take it?
Hydra head 6: Why should we even listen to ANOTHER drama queen?
Star: WHOA, WHOAWHOAWHOA, DON'T TALK TO TOM LIKE THAT!!!
Hydra head 6: Technically it's YOU talking to him like that. We're extra heads that just grew out from yours, so we're technically your thoughts speaking for themselves. Like how you actually think both Marco and Tom ARE exaggerating the whole global suicide thing like a couple of psychos.
Star: UGH!!!!
Hydra head 6: Don't 'Ugh' me, you know it's true, it's litterally from your head!
Hydra head 1: About as true as you putting noxifrogs in all the servants' beds on your 10th birthday.
Manfred: WHAT?!?
Star: IFUFAGABA- HOW COULD YOU SAY THAT?! THAT'S PRIVATE!!!!!
Hydra head 2: Says the one who learned a spell from Eclipsa to spy on Marco and Jackie during the Birthday Clown night when Ludo took the Book of Spells.
Marco: WHAAAAT?!?
Star: WHAT IS WRONG WITH YOU MEAN HEADS?!?
Hydra head 5: Well like Marco says... It's always nice to tell the truth. (Everyone gasped)
Pony Head: Oh dear lord, that's cold!
Star:..... (Started growling more monstrously and roared as the hydra heads just sunk right into her back as she smashed the ground with both her strength and summoned Rainbow Fists roaring loudly)......... What just happened?
Marco:... This is my point exactly. A Mewman shouldn't be able to handle this kind of biology. All it takes is one wrong word and she'll be a real monster.
Janna: Hey, she DID detract those jerk Hydra heads.
Star: I did?... Huh, didn't know I could. But at least they won't be an annoyance. OW!! (Her Mewberty wings became more green, fluorescent and bug-like as they sprout out)... Wow, EVEN MY MEWBERTY WINGS ARE COOLER!!!! (They buzz with a fly buzzing sound as they lifted her from the ground)... (Squees) AND I CAN FLY WITH THEM NOW!!!! WHEEEEEEEEEEE!!! (Buzzes around)
Marco: STAR THIS COULD BE SERIOUS!!!! YOUR MIND COULD BE CHANGING IN THIS NEW FORM!!! WE HAVE TO STOP THOSE GUYS AND GET YOUR BACK TO NORMAL!!
Kowalski: Yeah, I can see the changes. It may be similar to when we put Rico in Roger's body or what happened with Merida's mom when she became a bear. You need to be a Mewnian again.
Marco: OKAY, IT'S CALLED MEWMAN, NOT MEWNIAN!! STOP SAYING THAT AND MAKING US SAY THAT IN CONFUSION!!! MEW-MAN, as in HU-MAN!! (Everyone looked at him)... Ugh, sorry. It's just after those heads verbally abused Star and drove her briefly feral, I... I'm starting to get worried about her.
Duke: Or maybe it's because you're in love with her.
Marco: No, that was just because of this Blood Moon curse. We took care of that already.
Star: (Landed and used she retracted Hydra heads as legs) LOOK AT ME EVERYBODY!!! I'M A LONGLEG FLY!!!! (The heads were stuffed into the ground) HOW'S THAT FOR THE TRUTH, YOU LITTLE S***S?!
Moon: STAR, LANGUAGE!!!!
Marco: Ugh, see what I mean? Star should be a regular Mewman again. As a monster, she's more trouble than she ever was.
Icky: "Okay okay, we see your point. Ya made a good argument."
Hydra Head 4: "In logic and philosophy, an argument is a series of statements (in a natural language), called the premises or premisses (both spellings are acceptable) intended to determine the degree of truth of another statement, the conclusion. The logical form of an argument in a natural language can be represented in a symbolic formal language, and independently of natural language formally defined "arguments" can be made in math and computer science. Logic is the study of the forms of reasoning in arguments and the development of standards and criteria to evaluate arguments. Deductive arguments can be valid or sound: in a valid argument, premisses necessitate the conclusion, even if one or more of the premises is false and the conclusion is false; in a sound argument, true premisses necessitate a true conclusion. Inductive arguments, by contrast, can have different degrees of logical strength: the stronger or more cogent the argument, the greater the probability that the conclusion is true, the weaker the argument, the lesser that probability. The standards for evaluating non-deductive arguments may rest on different or additional criteria than truth—for example, the persuasiveness of so-called "indispensability claims" in transcendental arguments, the quality of hypotheses in retroduction, or even the disclosure of new possibilities for thinking and acting. The Latin root arguere (to make bright, enlighten, make known, prove, etc.) is from Proto-Indo-European argu-yo-, suffixed form of arg-"
Icky: "(Dubbed as Finding Nemo Nigel) OH, WOULD YOU JUST SHAAAAAADAAAAAAAP!?"
Zosimo: "Miss Star, would you kindly suck back those literal pains in the neck back in?"
Hydra Head 6: "Oh come on, we're not being THAT bad, are we? It was just honesty. What's so hurtful about saying things like how Star called her mom a poophead in her diary?"
Moon:......
Star:......
Zosimo: EVERYTHING ABOUT THAT IS BAD!!!!!!
Star: (Roars as she dunked the hydra heads in a nearby fountain before detracting them)... Sorry you had to hear that, Mom.
Marco: Yeesh, and I thought Naysaya was annoying.
Star: Okay... I'm starting to hate being a monster now.... But it's still just SO GOSHDARN COOL!!!! Though having Hydra heads that speak out my thoughts, over-explain things, insult my friends, or, speak Spanish for some reason, is kinda killing my buzz on this! Did Globgor have this kind of problem?
Tom: "Well, monster biology is hard to understand, so, who can really say?"
Sandy: Well I hope y'all are ready to hunt down a crazy artificial monster.
Queen Moon: (Dons her butterfly form) We'll follow the monster's tracks.
Star:... I wonder... (She dons her own butterfly form which was much different with her monster form as her hydra heads made up much of the wings' structure, her tail had more crests, she obtained two longer black horns, her fangs became bug mandibles, her normal butterfly form attire was roughly the same, her snout became more like a proboscis, and her eyes were more bug-like)... (She cast a magic mirror portal)... HOLY GOLDEN CORN, EVEN MY BUTTERFLY FORM IS COOLER!!!! Ugh, it REALLY stinks I'll have to give this up by the end of this.
Tom: "Well if ya want, you can always ask Eclipsa to recreate that form for you to access whenever you like and-"
Queen Moon: "CAN YOU NOT GIVE HER ANY IDEAS IN HER IMPRESSIONABLE HEAD?!"
Tom: "Why not? She really seems to like being a monster, and-"
Star: RAAAWR!!! (She was gnawing comically on a guitar and took off a huge chunk swallowing it) WOW, THESE THINGS ARE FILLING!!!
Rubariot: THAT WAS ONE OF MY GUITARS!!!!!
Star: Well you wrecked my relationship with Marco AND tore up Mewni's trust on mom, so now we're even.
Tom:...... Okay I see what you mean. She's completely out of control.
Iago: "Good grief, she's basically being like every 7 year old ever if THEY got to become monsters!"
Eclipsa: I should bring Star to Globgor when I talk to him about this. (Opens her umbrella wand) Come with me, Star.
Star: Awww, do I HAVE TO?!?
Eclipsa: Given that earlier scene?.... YES! (Magically traps her inside a purple magic bubble) You'll only slow down everyone. (Star struggled as Eclipsa floated off) MOON, TAKE CARE OF METEORA WHILE I'M GONE!
Queen Moon: (Sighs) Why is it always me?
Fu-Xi: "..... So, what's first on the agenda?"
(Buff Frog):... Damn. Star really let herself go.
(Star): Tell me about it. My monster mind was screaming out any aggression I had in my mind. So, we went to Globgor to talk about it.
(Ludo): "Wait, I thought Saetha was telling the story?"
(Saetha): "She's pitching in to offer further context to what I miss out on when I was too busy being held by Junjie and Glowrod."
The group went on as they were watched by the robed figure again, who left quickly.
Later...
Star: (They approach Globgor's prison)... Alright, now what?
Eclipsa: I'm... Going to send us both into Globgor's mind.
Star: OH NO, THIS ISN'T GOING TO BE LIKE WHEN YOU STOLE RHOMBULUS' BODY, IS IT?! He's still sore about that with you, by the by!
Eclipsa: No! We're just going to talk to him.
Star:... Still seems, ewie!
Eclipsa: Yeah, it's, "ewie" as it t'were, but it's the only way you'll know how to defeat Chaemera.
Star:... I'm going to feel so wrong about this... But fine! (She transfers both of them into his mind)
Globgor's Subconscious
The two found themselves in.... A surprisingly pleasant meadow field......
Star: "...... Are, you sure this is suppose to be Globgor's sub-conscience?"
Eclipsa: "(Sighs unamused), Let me guess, you thought it was gonna be all brimstone and hellish sights, did you?"
Star: "Sorry. I keep forgetting that alot of bad things about him are inaccurate."
Eclipsa: "It's okay, love. And fair's fair, I would imagine that this is largely because I had a good influence on him."
Globgor was seen relaxing on the meadow and the two arrived to him...
Globgor: "(Sees Eclipsa)..... Eclipsa? You're back...."
Star: Whoa... Your voice is... Less monstrous than I expected.
Globgor:... Eclipsa? Who's your friend?
Eclipsa: This is Star Butterfly, the descendant of the replacement baby Shastacan chose.
Globgor:... And WHY did you bring her here? Shastacan killed Meteora!
Star: Oh, um, about that... She's still alive. And let's just say she used to be one of my enemies. Then when she found out about her true heritage, she... Tore apart Butterfly Castle just to get the throne back.
Globgor:... Is it, wrong to say... THAT'S MY GIRL!!!
Star: YES! I mean, sure what she did was wrong, but it came from an understandable reason. Eclipsa turned her back into a baby and I gave the wand back to Eclipsa to correct our family crime.
Globgor:... So, you're nothing like Shastacan and the others?
Star: Of course not! In fact, I took part in beating Asper in the Endless Gold Rush Dimension! He's just a ghostly prisoner stuck in a skull unable to interact with anything and only others can interact with him.
Globgor:... Well, he's got out of worse... But I'm sorry, it's just... When I found out that Eclipsa was crystallized before we could hunt down Seth of Septarsis together and Shastacan got rid of Meteora... I lost control of myself. I took my anger out on the Spiderbites, ate Shastacan, and wreaked havoc on his family kingdom.
Star:... Well serves them right.
Eclipsa: STAR!
Star: Hey, that counts as catharsis to me.
Globgor: "Now Star, I may still not exactly have regret eating Shastacan, but... I didn't needed to drag the other Spiderbites into my wrath just because he played a willing role in what Asper has done."
Star: "Well, they likely agreed to let Shastacan try to take Eclipsa from you, so they're not exactly innocent neither!"
Eclipsa: STAR, YOU CAN AT LEAST TRY TO BE MORE COURTEOUS THAN THAT, EVEN IN THIS MONSTER FORM!! And let me assure you, the Spiderbites weren't 100% supportive of the attempt other than for securing "Mewman Purity" in the throne! Why, I have met Spiderbites that HATED Asper! Shastacan wasn't exactly known to say positive things about him neither! He only worked with Asper because he was desperate for a wife so he wouldn't look like a loser to his older brothers.
Star: ".... Okay, but it still doesn't excuse Shastacan."
Globgor: Oh, forgot the obvious question there, don't know how, but why is this 'descendant' a monster?
Eclipsa: "Well that's why we're here. I'm afraid it's for serious reasons...."
French Narrator: One Explanation Later...
Globgor: UGH!! After all these years, I tried so hard to forget about Chaemera, and here we are now, talking about that freak coming back! I can't believe some dumb outsiders were able to free it.
Eclipsa: So, you have any ideas on how to stop it?
Globgor: Well aside from the shell I used to control it, it can't really be stopped. It has so much power, even I don't know the extent of it. It, never got to be fully tested as I never got to finish it before I met you after all. But if I can remember from the notes, It CAN regenerate to a greater level than the Septarians. It kinda gets that from it's Immortadons, which could only be killed with a spell that was lost thanks to you and me. It's got the magic manipulation powers of the Unicoron, the indestructible teeth of the Yinner-Dinners, the camouflaging abilities of the Neets, the environmental reactive adaptation of the Klumagnono, the fury-powered strength of the Skullcauri, the intimidating and poisonous crests and fangs of the Ragons, the speed of the Sclicks, and the gelatinous durability of the Jello-Mellos! Even my monster species' trademark abilities course through it's veins.... Albeit because I accidentally mixed my own DNA with it.
Eclipsa: You, my love, are such an ambitious brute.
Globgor: I don't need you to tell me that, hon... So, what's this about Chaemera mutating Star Butterfly?
Star:... Hey, again.
Globgor:... Now that I look at her... Wow, just, wow. (Shrunk to her size and took a closer look) Chaemera gave you much of the genetics of my species, along with the heads of a Hydrapod, a Septarian snout, and a Slimefly's wings. Not exactly a bad example of it's venom's capabilities. Fresh and healthy. (Grows back to initial size) But... Unfortunately, I'm sorry to say that the mutagenic venom isn't for dominating by conversion. It was...... Cruel karma. Mewmans are unfortunately unable to properly cope with monster biology. A monster's feral instinct is too conflicting with a Mewman's civilized mentality. Strength in a monster body is taxing to a Mewman mind. Star Butterfly... You cannot stay in this form. If you do, the true Star Butterfly, will be lost to the Monster Star Butterfly, forever.
Star:...... Define, 'lost', please.
Globgor: "To simplify, your Mewman nature will eventually be replaced by a new monster persona, and basically...... You'll end up as an ENTIRELY different person. Which basically, you'll end up forgetting who Marco is and all of your adventures, including how much he meant to you. Not exactly by memory wipe to be specific, but because you'll no longer care about him."
Hydra Head 1: Yeah, and not even those in your complicated love web of Marco, Jackie, Kelly, Hekapoo, Janna, and Tom. You guys jumbled in relationships like aphids in a field.
Star: "...... And, that, further kills the joy of being a monster."
Globgor: "Well to be fair, it's not like your mother would've let you keep it anyway. She's still, barely getting used to the idea of monsters and Mewmans being friends, at least that's what I'm guessing. I think having a monster daughter would be..... Pushing it."
Star: UGGGGH, I'D TOLERATE BEING A MONSTER IF IT WASN'T THE FACT IT'LL DRIVE YOU FERAL... As well as these awful Hydra heads.
Hydra head 3: (Speaks Spanish)
Globgor: Hydrapod heads are where your demon boyfriend's demon family even derived the Naysaya curse from. Hydrapods have elaborate nervous systems. Having multiple brains is a complete will-taxing curse that only a monster can take.
Star: And I think having a snout like Toffee's is pretty much for me. I want my cute button nose again.
Globgor: Well the best way to be a Mewman again is to create an antivenom from Chaemera's venom. But I SERIOUSLY doubt that's going to be a piece of corn cake. I should know. I meant for that thing to be the ultimate symbolic revenge against the Mewmans for what they did to monster kind with traits based on the species they wiped out. Ergo, in theory, it's potaintionally, unstoppable.
Star: ".... Define, potaintionally."
Globgor: "Well, as said earlier, it's an incomplete project. Bad as it looks now, it was meant to be WAY worse, but when I met the love of my life, I canceled out further work on the creature, I.E. I stopped trying to worry about finding the conch again, thus leaving it without an ability to do anything beyond just turning people into monsters. It was kinda also meant to control them, but that never got implemented, along with a regenerative healing factor beyond what it has already and heals what the Septarian ability can't, like replace vital organs or replace limbs and even the head, but, it doesn't work PROPERLY, only selectively, and we haven't even started the plans to make it capable of intelligent speech. It just, mindlessly roars at everything."
Star: "Well, that makes, things less difficult."
Globgor: "Well, only by a margin that it's not invincible. I still insist that it's not exactly a small feat even without those features. It's still semi-perfect in what it does."
Hydra Head 4: "There is no such thing as "Semi-Perfect", There is only perfection or imperfection, there exists no grey area."
Star: "(Retracts the Heads back in)..... Sorry about that."
Globgor: "Don't worry, an overtly intelligent Hydrapod head is to be expected from this sort've thing. Well, it's to say that it still possesses things that were implemented in it perfectly, even if it's short of it's true potential. Though, I worry about that if those outsiders realize this, they would aim to finish what I started and get the Chaemera to meet it's true potential. Then THAT is when it becomes a TRUE problem. Ugh, maybe I should've listened to my adviser and put that stupid beast out of it's misery instead of leaving it where it was trapped. Though fair's fair, I had figured it would've died out on it's own at this point, it never had any food and water in days! Though perhaps the healing factor and adaptive abilities managed to fight off hunger and dehydration, which is, actselly very impressive- (Eclipsa cleared her throat).... Ahem, right, irrelevant. Though in my defense, I felt that killing Chaemera at the time after getting it to hate Mewmans through, excessive means, would just make me feel worse, that I had that thing go through hell just to make sure it doesn't relent."
Star: ".... YOU MEAN TO SAY THAT YOU HAD THAT CREATURE TORTURED?!"
Globgor: ".... Keep in mind that I was a different monster back then. I meant for it to show no weakness by having weakness tortured out of it. I never realized that what I did would just end up with a mess we all have to deal with again."
Star: ".... Well congratulations, now that creature is in the hands of a bickering fox and mole thingie! And who's to say that shell is durable?! Since it is the only thing that controls the Chaemera, if that thing were to be gone, AND if it was given the intended abilities beforehand, well, it'll just end up finishing a war that was already over!"
Globgor: "(Sigh), Believe me, all of my advisers told me that mistake would come to become it's own problem if it's not stopped! The only thing holding it back on that is that shell, and unfortunately, it's in the hands of disharmonious outsiders who don't agree in a great deal of things! That shell is at risk of breaking if those bickerers ended up fighting over control of Chaemera."
Star: Well corn baskets! I gotta get the venom from that beast to change me back before my mind turns into a malfunctioning clock of anger.... Wait, what?
Globgor: That might be Septarian sophistication speaking. Which, explains the snout, actselly. Point is, (Shrinks to her size) You're a great person, Star. I know you can fight Monster Star well. But not even one with the willpower of Solaria can resist the shackles of monster physiology. Having a monster body means you need to have the mind of a monster. Sanity and animalistic nature cannot exist harmonically. Food that comes to life will only tell you to eat it. A wand that comes to life will tell you to use it. The laws of nature have to be maintained carefully. Having greater physiology including claws, strength, even roaring requires a massive metabolism. One that would make a Mewman sick before they could reach the sufficient amount. Mewman and monster brains are extremely different. A Mewman mind inside a monster's body is incapable of keeping their identity.
Eclipsa:... Honey, when did you become so poetic?
Globgor: "What can I say, being around you has started to grow on me that I began to pick up Mewman things. Now, go forth and do what needs to be done. Good luck."
Star and Eclipsa do that.
(Saetha): "But little did we realize, that even Junjie and Glowrod are only slices of a bigger pie of trouble."
Chapter 3: Meet Taffee
Junjie and Glowrod's Hideout
Zigmond: "No you scallywag, you are NOT putting the conch in me treasure chest, it's too thematically obvious!"
Tai Lung: "Well I just feel as if that maybe it should be made that-"
Zigmond: "My answer is firm, boy! Me ship, me rules!"
Tai Lung: "Okay okay, fine, if you're so bloodly insistent. (Tai Lung walked off from Zigmond's room)....."
The Robed Figure was seen hidden in the shadows, and stealthfully followed Tai Lung.
Ship's Living Quarters
Tai Lung arrived to a couch.....
Tai Lung: "..... Well, only cause I can't get a better hiding place. (Shoves the conch inbetwee the cusions).... There, storage accomplished. (Left)...."
The Robe Figure entered stealthfully and found the conch.....
Figure: "..... Unbelieveable. (Pulls the conch out and vanishes quickly)...."
Ship Brig
Anewas and Saetha were held in the brig as Junjie and Glowrod stood in front of their cell.
Saetha: "Okay, not exactly my idea of a post-marriage honeymoon ride, but, at least I can say I did something different."
Anewas: "Sae, you are too easily amused..... (Blissfully) And that's what I love about you."
Junjie: "Well don't get too comfirtable in your honeymoon suite, because soon-"
Glowrod: "Those burdensome misfits and the HA will take you ba-"
Junjie: "NO?! Because soon, you two will become my servents when I turn this entire dimension into my bitch!"
Glowrod: "Oh be realisitic man, the Lodgers on their own had clearly been too much for you, but they are with the HA now, and it's garrentied to not be a good time for us!"
Junjie: "Oh you worry too much! As long as we have Chaemera, we will NEVER be in-"
Tai Lung kicks the door down!
Tai Lung: "THE CONCH SHELL'S MISSING!!"
Junjie was shocked....
Glowrod: ".... Still want to be confident about this mess?"
Anewas: "In that case, no more reason to entertain this charade. (Brigs the cell down and frees himself and Saetha)....."
Junjie: "..... WHAT GIVES, WHY DIDN'T THIS AUUIAN CELL FRY HIM OR SOMETHING?!"
Glowrod: "Zigmond had mentioned that this is an older model ship that still used traditional iron bars."
Junjie: "..... No problem, Tai Lung can nerve-attack him and- (Anewas instantly knocks Tai Lung out with a single punch)......."
Glowrod: "..... And now, we run away!"
Junjie and Glowrod ran for it as Anewas roared and chased them!
Saetha intersected the two!
Junjie: "OUT OF OUR WAY, YOU GENDER BENDER OF THE OLD TRAVELER'S TALES MASCOT?! (Tries to hit Saetha but she grabbed his fist, and frontal kick-flipped him, knocking him out!)...."
Later...
Junjie and the other villains found themselves caught and tied up by Saetha and Anewas as the Lougers and HA, plus Star's group, are seen on the ship....
Samantha: "Impressive helping yourself out, Saetha."
Saetha: "(Holds Anewas' hand) It helped that I got a big strong handsome monster on my side."
Anewas: "You were impressive yourself on how quickly you caught the masterminds. Your kinds' luck really IS true in a certain definition."
Saetha: "Yeah, but you beaten the rest of them all by yourself, give or take my aide in some of the tough ones."
Anewas: "It shows how strong our love truely is."
Pyro: "(Dazed) Hurray for you."
Star: Alright, I want to know where that horn is right now!!!
Junjie: ".... Funny thing, uh.... It was stolen from us."
Star: ".... YA BETTER NOT TRYING TO PULL FAST ONES?!"
Junjie: WE'RE TELLING YOU, IT WAS STOLEN FROM US?!
Star: AND I'M TELLING YOU, THAT I'M NOT GOING TO BELIEVE ANY OF YOUR LIES!!
Moon: Star, lay off this instant! They sound pretty honest about this!
Star: NO!! These two are endangering Mewmans just for MONEY!
Junjie: "Well, technically, it was also for being able to make a compidence potion with the once thought to be real powers of good luck from Miss Saetha, TILL SOMEONE RUDELY TOLD ME THAT APPEARENTLY COFFEE HAD HIS FACTS WRONG?! WHY DIDN'T YOU TELL ME THE LUCK LEGENDS WERE DIFFERENT AND MORE FIGURATIVE?!"
Dr. Glowrod: "I CAN'T HELP IT THAT YOU ENDED UP BASING YOUR REASONS ON SUPERTITION, EVEN ON AN ALBEIT LEGENDARY CREATURE LIKE A LUCKIRY?! LIKE I SAID, NOT EVEYTHING ABOUT A LEGENDARY CREATURE HAS TO BE 100% FACT?!"
Star: (To Junjie and Glowrod) WHAT YOU TWO DID, STILL HAS NO SERIOUS EXCUSE!! YOU STILL DID THIS FOR SELFISH DESIRES!!
Dr. Glowrod: "If it helps, I wanted to be the one to honorally admit defeat, BUT THIS PERSISTENT IDIOT HAD TO GO AND PUSH IT?!"
Moon: "Star, please, being mad at them isn't going to help matters!"
Star: MOTHER, THESE TWO ARE THE REASON WHY I HAVE AN ALBEIT STILL COOL BUT OTHERWISE NOT EXACTLY ALL TOO HELPFUL MONSTER BODY, AND WHY MEWMANS NOW LOOK LIKE MONSTERS, BECAUSE THEY MESSED WITH SOMETHING THEY SHOULD'VE LEFT ALONE TO BEGIN WITH, EVEN IF ONE OF THEM WAS AT LEAST NICE ENOUGH TO ADMIT MISTAKES?! AND THEY HONESTLY EXPECT ME TO BELIEVE THEY LOST THE CONCH HORN JUST LIKE THAT?!?
Galaxhar: "OH FOR PETE'S SAKE, CHILD, WE'VE BEEN SAYING THAT IT WAS STOLEN?! WHY ARE YOU SO STUPID?!"
Screeched Death: "(Sarcasticly) Oh sure, insult the child, that'll make her listen to us."
Star: SO THIS IS THE LAST TIME, YOU JERKHEADS?! WHERE IS THE CONCH HORN?!?
SpongeBob: STAR, WHAT IF THEY AREN'T LYING?!
Star: What if they ARE lying?
Icky: "Oh trust me, Junjie is a BITCH when it comes to pressure, he would've blurted out the shell's location in pants-wetting fear by now for that display alone!"
Matrix: "..... Can we please be tied up seperately from the guy that pisses himself in fear?"
Star: "SHUT UP?!"
Viper: "Star, please, calm down! Like Icky said, Junjie wouldn't've tried THIS hard to keep quiet about something if he doesn't look too confident about his situation!"
Star: "BUT AREN'T THEY BAD GUYS?! DOESN'T THAT MEAN THEY'RE AUTOMATICLY THE MOST UNCREDITABLE PEOPLE EVER?! THEY'RE SUPPOSE TO BE NOTHING BUT SNAKE-TONGUED MUSHTACE-TWRILLING LIERS?!"
Dr. Glowrod: ".... How overtly steriotypical of you to think that...."
Marco: "Trust me dude, Toffee was NOT a good time for her. She used to be WAAAAAY nicer then this."
Fu-Xi: And as much as I don't like the snake-tongue crack, I'm willing to assure you Miss Star, that these heathens are being as honest as they can. And say if you still have doubts, be assured. We are more than capable of knowing if they're lying or not. And they do NOT sound like they're fibbing.
Star: THEN WHO THE HECK WANTS TO STEAL A MAGICAL CONCH SHELL THAT CAN CONTROL A GIANT POWERFUL MONSTER?!
Zigmond: ".... Did she SERIOUSLY even have to ask that?"
Star: "..... OK, I just realized the WHY?! I was more focusing on the WHO?! WHO, COULD'VE STOLEN THE SHELL FROM YOU GUYS?!"
???: Isn't it obvious? (The figure appeared from a dark magic hologram, reveiling herself as a female Septarian)
Marco:... You've got to be kidding me. Is that Toffee's sister?! Erum, or, cousin, aunt, very young grandmother, girlfriend, time traveling ansister, him as a girl from a gender-bender dimention- DAAAAAAAAAH, WHAT GIVES?! WHY DOES DIMENTION TRAVELING HAVE TO BE SO, CONFUSING?!
Icky: "Why else do ya think Rick is such a depressed mess?"
Septarian: First off, I'm Toffee's cousin, by the way. Secondly, those silly trouble-making hooligans aren't lying, you intellectually-challenged child.
Junjie: "Wait a minute, YOU WERE THE ONE WHO TOLD ME ABOUT CHAEMERA?!"
Septarian: True, but it wasn't meant to be of actual benefit of you nor actual harm to Mewni. It is so I didn't had to pay you louts any favors for finding Chaemera for me. I was the one who stole the conch. Glad to do it too, before your shenanigans could've escalated. And it wasn't that hard. My family have outsmarted armies much smarter than these two..... (Makes an annoyed face).... Though I must admit that even a dumb monster would've seen that the stupid spotted feline placed the conch horn in between the cusins of the couch in their contemporary lair!?"
Both heroes and villains annoyedfully and blankly stared at Tai Lung......
Tai Lung: "..... WELL THE PIRATE WOULDN'T LET ME PLACED IT IN HIS TREASURE BOX?!"
Zigmond: "OH SURE, BLAME ME FOR YER OWN STUPIDITY?! I ONLY FELT THAT ME CHEST WOULD'VE BEEN TOO THEMATICALLY OBVIOUS ON ME SHIP?!"
Dr. Glowrod: "...... (Sarcastic) Great Minion, Junjie."
Junjie sighed embarrisly.
Moon:... Who ARE you?
Taffee: I, am Taffee. The aforementioned cousin of Toffee who wasn't stupid enough to get involved in the Monster Army. Unlike my dear but too macho-minded revenge-lusting cousins, I decided that monster kind was better off not having ANYTHING to do with Mewmans, neither positively, NOR negatively! I gave monsters a chance for a new home! A home, no less different than "Mewni", but without Mewmans and their parasitic sense of hatred! Monsters don't belong with Mewmans. Their acts of genocide, proved this. I wanted to bring back monster species taken by these cruel acts, and now, with Chaemera, ironically a symbol of Globgor's OWN macho stupidity, would paradoxically be what I need to bring back the lost species and bring them into my new dimensional colony for the displaced monsters victimised by Mewman cruelty! With the beast, I can restore those monster spieces, and have monster kind live away from Mewmans forever! However, my hopes for a new paradise, seemed to suddenly meet some unexpected roadblocks: That these halfwits found Chaemera first and endangered the poor victim of Globgor's warpath for their own pointless and vain persuits, and YOU of all people, Star?!
Star was confused....
Star: "..... Me? But, why? You obviously just want to give monsters a new home, you're, you're not as bad as your cousins at all!"
Taffee: Thank you, but flattery doesn't change your own problem with my goal: Your unrealistic attempts at coexistence! When I heard that Star the Underestimated was foolishly attempting to establish it, I wasn't going to just take it. So I did what I had to do. I told them that evacuating to another dimension was the only choice. A dimension under MY rule AND my watch.
Star: (Starts losing her cool)...... What?!? YOU WANNA RUN THAT BY ME AGAIN, LIZARDFACE?!
Taffee: I'm sorry if this is not an opinion you want to hear, Miss Butterfly, but it's my honest opinion, based on reality and fact! Monsters can't coexist with Mewmans, it is not possible to have monster kind to act as if your people's sins against us can be just, forgotten. It's been centuries and nothing has changed. My cousins alone are proof that some feats are too much to ask for monsters! And make no mistake, there'll always be someone WORSE then both my cousins and Globgor combined, that want revenge for what has occured! You thought Toffee ALONE was bad? Bah! Just wait a few years to see the rise of a monster dictator inspired by his actions to destroy any flimsy reign of coexistence you had established! Things will only get bad from there if you had your way, Star Butterfly! Try to see it my way.... By getting monsters away from Mewmans, and with Chaemera enabling me to bring back lost species, we can start anew in a dimension away from Mewman territory, and go back to live in the times of peace and harmony before the Mewman invadtion!
Screeched Death: "Uggghhhh, and I thought Qui had times where she talked too much."
Taffee: I HEARD THAT?! Ahem, anyhoo.... When I get monsters away from Mewmans, I get them AWAY from the rotten memory of the pain and suffering our conflicts had brought! That way, they would have NO need, to repeat my cousins actions! No more blood of neither side spilt! No brief eras of peace destroyed by some new-age Toffee that can't look passed your people's actions and continue the same nonsense in vicious cycles of repeated history! I am only trying to end endless ages of repetitiveness of the same horror both our kinds do to each other, Star! Doing so was the only way to preserve and recover monsterkind and prevent anymore needless conflict with Mewmans..... I am owed, a thank you, from the Mewmans' part, for you will no longer be disgusted by us.
Star:... Buff Frog and his children... ALL THE MONSTERS I CARED ABOUT... ARE GONE... BECAUSE OF YOU?!?
Taffee: I, can sense that you have misguided feelings about this. I know this isn't popular with you, but It HAD to be done. Nice as you are, it's Mewmans in general that can never learn anything. No peace treaty or party will EVER heal the scars Mewmans left. You already won "Mewni", as you crudely re-named it. Leave us be to live in New M'onstrarus, in peace. I will vow that no one of that dimension will ever haunt the Mewmans again.
Star: TAFFEE, AS MUCH AS I'M STILL GLAD THAT YOU'RE NOT A BIG BULLY LIKE YOUR COUSINS ARE, WHAT YOU'RE DOING, ISN'T ANY BETTER!! REAL HEALING CAN'T HAPPEN IF YOU JUST CENSOR THE PAST OUT!! HOW WILL ANYONE LEARN ANYTHING FROM HISTORY IF YOU'RE TOO AFRAID THAT IT'S NOT ALL RAINBOWS AND SUNSHINE?! By all means, you're no Toffee or Coffee..... But the only person that can be worse then cruel people, ARE DEFEATISTS!! And, nice as you are, THE MONSTERS OF NEW, Uh......
Marco/Queen Moon/Taffee: "M'onstrarus."
Star: "M'ONSTRARUS, DESERVE BETTER THAN A DEFEATIST?!"
Taffee: "Can I help being "A defeatest", when the attempts at fighting back, ONLY END IN PAIN AND DEATH?! My cousins made their choices and suffered for them. I made mine, but I won't suffer for it. Because I have a far better plan than fighting a battle we can't win. Leaving you Mewmans alone, and make a new home away from them. At least be pleased that I aim to prevent more conflict than escalate it like what my bastard cousins tried to do?!"
Star: ".... That's.... That's true..... There is that..... But it can't be through just giving up and going into hiding. If there's anything I hate more then what Toffee and Coffee were being, is letting fear rule you like in the way your doing! You're deciding to make monsters leave their old home in favor of an, albeit not too different dimension, and try to run away from your problems! That's considerably worse, than facing them in a bad way!"
Marco: "Star's right, Taffy. There can never be a way to run from your problems. It'll eventually find you no matter how well you hide."
Shifu: "A wise tortoise once said: One often meets their destiny on the road they take to avoid it. Your aims to take monsters away from this dimension's issue will only fester into the kind of problems you are misguidedly trying to prevent! Your paving of good intentions will only become a road to hell!"
Icky: "Espeically if you get that freak of nature involved! There's bound to still be monsters that're still loyal to Toffee's bulls***, and if you bring that freak to that new dimension you have, that freak will become their perfect symbol of payback onto Mewmans, since that's EXACTLY what Globby MEANT for that sad beast! We get it, you see that mistake as a means to bring back lost species, and, good on ya to turn a war project into a De-Extinction one, but, at the end of the day, THAT THING'S, STILL A MONSTER OF WAR!! In the wrong hands, the Mewians would be f****d over a new one?!
Taffee: And whose fault is that? Globgor's the one who created the poor beast for such nonsense anyway. The poor creature can't help to have a needless hatred of Mewmans, he MADE IT HATE MEWMANS before he fell in love with one! It cannot be helped for what it done to the few victims it gained! The Chaemera needs just as much healing as all monsters do! I can cure it of it's hatred and get it to live a more peaceful existence once I restored the lost species with it! It only needs a chance to show it's better nature.
Star: And I'm not against that, but, THAT'S THE THING! Not only would the victimized Mewmans have to live on as monsters for the rest of their lives, but, any monsters still upset about what Mewmanity did, will sooner take away your control of Chaemera like how you did to Junjie and his dork brigade and get Chaemera to make more victims before you even GET that far! The Chaemera may be a creature born into a sad existence as a weapon, but, it's still a weapon regardless. And, I hate myself to say it, but.... Both dimensions can't risk the Chaemera to still exist, or else, whatever monster still there with a bad opinion about Mewmans, will know you're not like Toffee and usurp you of power, and basically only serve to make things worse. Chaemera will end up being the starting point of a dimensional war! And I know none of us want that! So we have to-
Taffee: Tch, and people say you were the forgiving one. That is a NO on destroying Chaemera, and the same goes to asking monsters to leave New M'onstrarus! My monsters are happy where they are. No more prejudice, no more segregation, NO MORE PAINFUL REMINDERS OF MEWMANITY'S SINS!! And if you DARE persist on destroying my only chance to restore Old M'onstrarus' lost legacy of peace and restoring the lost spieces, then I will be begrudgingly forced to continue what THESE CHARLATINS STARTED?! I will attack village after village in Mewman civilization leaving nothing but monsters in my wake. Now, please, leave my dimention and Chaemera alone, and we leave Mewmens alone!
Kowalski: LADY, THIS MISGUIDED ATTEMPT OF YOURS WILL ONLY END IN DISASTER?!
Star: Taffee, please! (She and Taffee sang this)
Taffee: (The song ends with Taffee using her black magic to allow her dark hologram to taint Marco's body into an endless stinging pain)...
Star: MARCO!!!
Taffee:.... Let it be known that I really hated I had to do that. But I want it to be understood that I am not giving up Chaemera just so you Mewmans can kill it just as a shortcut to curing some unlucky victims.
Tom: "Lady, ya may not realize it yet, but you JUST made things worse for yourself then you were prepared for!"
Taffee: Okay, this defience is TRYING MY PATIENCE?! I MEAN IT, LEAVE MY DIMENSION ALONE, OR CHAEMERA PAYS ANOTHER VISIT TO, SAY, THE MEWMAN SANCTUARY?!
Star: DON'T YOU DARE SET FOOT ON THAT PLACE!!
Taffee: Then all I want, is for my dimension, TO BE LEFT TO IT'S DEVICES! You don't harass me, and no further insodent on Chaemera's part will occure. Now, I'll be taking Chaemera away from Mewni. I'm only sorry this first, and only, conversation, ended poorly like it did. Let it be assured, that the monsters staying in New M'onstrarus, are on good hands. That, includes the Toarog and his spawn. Good day, forever! (The hologram vanishes)
Star: (After watching Marco go through pain before Eclipsa reversed the spell, she roars in anguish and anger) YOU TOOK BUFF FROG FROM ME!!!!! YOU HURT MY FRIEND!!! YOU HAVE CERTAINLY CROSSED THE LINE!!!
King of Hearts: Star, please, this Taffee person only wants to protect monsters from what has been done before. Whatever you're thinking, you're better off dropping it.
Star: "THEN EXPLAIN WHAT SHE DID TO MARCO?!"
Icky: "She just said she didn't liked doing that! That's a safe indication she only did that to try and scare us off from trying to cut her plans short. Star, if Taffy was even CLOSE to being like Toffhead, I think she would've done WAY worse."
Star: "WHAT DO YOU KNOW, BIRDBRAIN?!"
Iago: "Kid, don't get so angry at that chick."
Star: OH, AND WHY SHOULDN'T I?!?
Pang Bing: "Because at the least she doesn't desire to be an unprovoked threat!"
Icky: "And that she sounds f*****g serious about making that thing screw us up again if we bug her on it!"
Lord Shen: "Much as I don't nessersarly feel comfirtable with this, we'll just have to trust she knows what she is doing and that she is earnest about not wanting to be made a threat, so, we'll just let her keep the creature."
Star: "WHAT ABOUT THE INFECTED MEWMANS?!"
Eclipsa: "I'm sure she can be negosiated to distribute a cure if she was given a chance to see that we're not as mindless as Asper is. In all fairness, she at least only wants to keep Monsters safe from what Asper has done to Mewmans, like you do."
Star: "Oh, so because she wants to take Monsters out of Mewni non-violently, that excuses her for taking away Buff Frog, AND MESSING WITH MY FRIEND?! Well I-"
Moon: Star, stop!!! REMEMBER WHAT HAPPENED LAST TIME YOU DECIDED TO TAKE ON SOMEONE LIKE TOFFEE!!
Star: I HAVE THE POWER TO ENSURE IT DOESN'T END UP THE SAME, MOM!!! I'M NOT GOING TO JUST SIT AROUND AND PLAY IT SAFE WHILE TAFFEE RISKS CHAEMERA TO END UP INTO THE HANDS OF SOMEONE THAT STILL FOLLOWS TOFFEE'S WORDS!!!! TAFFEE IS ONLY GONNA MAKE THINGS WORSE AND-
Moon: STAR, THINK FOR ONE SECOND!!!!
Star: WHY?!? I MEAN IT'S NOT LIKE YOU'D UNDERSTAND SINCE YOU STILL HAVEN'T WARMED UP TO MONSTERS!!! YOU MADE ME BELIEVE MONSTERS WERE THE BAD GUYS BECAUSE YOU COULDN'T GET OVER THE FACT THAT GRANDMA COMET WAS MURDERED!!! (Moon was shocked)
Pony Head: AWWWWWW DAAAAAAANG!!!!
Tom:..... Oh no, she pushed the dead-relative button!
Baloo: Now just a minute! That's going too far!
Icky: "Baloo, can we NOT ESCALATE THIS?!"
Star: OH, I'M GETTING STARTED!!! THERE'S SO MUCH I'VE WANTED TO SAY TO YOU BUT COULDN'T BECAUSE YOU'RE MY MOTHER!! (Turning more monstrous) YOU PUSHED ME AROUND TO BE A QUEEN EVEN AFTER YOU LEARNED THAT IT WAS ALL A LIE!!
Moon: I TOLD YOU IT WAS BECAUSE I WANTED THE BEST IN THINGS!!
Star: YOU EVEN THREATEN TO SEND ME TO A CORRUPT REFORM SCHOOL THAT BRAINWASHES PRINCESSES WITHOUT EVEN KNOWING OR LEARNING THAT IT WAS ETHICALLY UNSOUND?!
Moon: "Star, it was mostly Asper's suggestion, and fair's fair, we refused him at first."
Star: WELL CLEARLY YOU WOULD'VE CRACKED EVENTUALLY!! YOU NEVER ONCE ASKED HOW THEY DID IT?!? YOU NEVER REALIZED THAT YOU WOULD'VE BEEN BRAINWASHING YOUR OWN DAUGHTER?!? But hey, no other kingdom considered that, so I guess you just thought the same: YOU DON'T CARE ABOUT THE CHOICES OF YOUR OWN DAUGHTER BECAUSE SHE ACTED LIKE A MONSTER!!!! EVERYTHING SEEMS TO MAKE SENSE NOW!! YOU ARE JUST EMBARRASSED TO HAVE A MONSTROUS DAUGHTER, BECAUSE YOU HATE THEM!!!
Marco: STAR, YOU'RE GOING WAY TOO FAR!!!
Star: THIS IS A FAMILY MATTER!!! YOU, ARE NOT FAMILY!!! (Marco was hurt by that)
Pyro: "EPIC BURN?! (Matrix smacked him!)"
Matrix: "READ THE ROOM, FLAMETHROWER BREATH?!"
Saetha: STAR!!
Moon: STAR, PLEASE, I WANTED WHAT WAS BEST FOR YOU!!! I WANTED SOMETHING BETTER FROM YOU!!! I DIDN'T WANT PEOPLE TO BE GIVEN THE IMPRESSION THAT YOU WOULD TURN OUT TO BE A SHOTTY QUEEN BECAUSE OF YOUR FAILURE TO TAKE THINGS SERIOUSLY?!
Star: "IS THAT WHAT ASPER TOLD YOU?!"
Moon: "I-...... Okay, it's 99% true that Asper swayed me to believe that, but does that make him wrong about how you were behaiving?! As a mother, I wasn't against what you were in spirit, it's just, it isn't proper for a princess to do things like ramming unicorns into court rooms!"
Star: "IT'S NOT A MATTER IF HE WAS WRONG ABOUT THAT?! IT'S A MATTER, THAT HE WAS SWAYING YOU TO TRY AND CONTROL ME SO I CAN BE TURNED INTO A USEFUL IDIOT LIKE YOU?! A PUPPET ON A FANCY CHAIR?!"
Moon: "..... If it helps, I, still initionally refused the reform school suggestion?"
Star: "CLEARLY THAT WASN'T FOR FOREVER SINCE YOU DID CAVED EVENTUALLY?!"
Moon: "Star, please, I only meant for your best interest."
Star: LIKE WHAT?!? WHAT COULD BE BETTER THAN ALL I HAVE NOW?!? IS ME BEING QUEEN WORTH THROWING MY OWN LIFE AWAY?! HOW MANY OF THOSE PRINCESSES THAT GOT BRAINWASHED HAD THEIR OWN PERFECT SOCIAL LIVES TAKEN FOREVER FROM THEM BECAUSE THEY DIDN'T "ACT PROPER"?!?
Moon: "The details are still being decided on that, I-"
Star: "THAT IS NOT HELPING YOU IN THE SLIGHTEST?!"
Marco: STAR, PLEASE, CALM DOWN!!!
Star: I SAID STAY OUT OF THIS, MARCO!!!
Marco: NO, BECAUSE YOU'RE MY FRIEND!! This is NOT you!! Your monster form is changing you!! You need to be a Mewman again!!!
Star: MAYBE I DON'T WANT TO BE A MEWMAN ANYMORE!!! (Everyone gasped)...... I'm sorry. But I have to fix this. If that means certain death... So be it. MAYBE IT'D HAVE BEEN BETTER IF I NEVER HAD A MOTHER LIKE YOU!!! NOR SHOULD I EVEN HAVE FRIENDS LIKE ALL OF YOU!! I HATE BEING MEWMAN!!! I HATE ALL OF YOU!!! (She flies off)
Moon/Pony Head/Marco/Kelly/Tom/SpongeBob: STAR, WAIT!!! (She was gone)...
Junjie: "..... Welp, so much for this ending peacefully I suppose.... (Queen Moon turned angerly at Junjie and Pals)...... Oh don't look at me like I had something to do with your daughter drama?!"
Moon: "..... I HOPE YOU'RE PROUD OF YOURSELF, YOU MANGY MUTT?! (Suddenly dons her old battle armor to the surprise of everyone) THANKS TO YOU, A MISGUIDED SEPTARIAN NOW HAS ONE OF GLOBGOR'S DEADLIST CREATURES, AND IT'S ONLY A MATTER OF TIME BEFORE SHE IS BETRAYED BY AN UNDESIRABLE WHO WANTS TO USE IT FOR REVENGE, AND THAT MY DAUGHTER IS GOING TO PROVOKE THAT LIZARD INTO CAUSING THE DOWNFALL OF MEWMAN CIVILISATION ANYWAY?! JUST, WHAT DO YOU EVEN HAVE TO SAY FOR YOURSELF?!"
Junjie: "..... (Scared) it's not, too late for saying sorry?"
Silence......
Matrix: "..... Welp, Glowrod, everyone else.... It was nice knowing you all."
Moon was about to do something to Junjie and friends...... But she didn't.....
Moon: "..... I don't have time punishing pathetic wastes of space like you bunch.... My daughter needs me. (Runs off)....."
Galaxhar: "..... WHEW?! That was close! (Susan hand slammed Galaxhar into the ground) OWCH?!"
Susan: "You jerks, are SO not out of the woods yet?!"
Screeched Death: "Do not blame us for something we had no doing in."
Samantha: "(Points her wand at Screeched) At least part of what is occurring IS your doing, Powawa, and that of your companions! Taffee may had usurped your group of the monster, but you brought it out first?!"
Screeched Death: "In my defense, it's a bit of a design flaw to have the ability to control a monster of such magnitude be dependent of a silly instrument that can be stolen at a moment's noticed!"
Samantha: "It changes little to the fact that you unearthed the creature AND that flaw to begin with?! The Elders will punish you fiercely!"
Clifton: "Easy Sam. These chuckleheads will get their day in court. Right now, I think we have intermediate matters. And these jerks are coming along to make sure they don't make anymore trouble from then on out."
Forest of Certain Death
This music played as a sobbing Star monstrously tore her way to where Taffee is, disturbing so many people and monsters.
Moon: (In her butterfly form) STAR! COME BACK! I'M SORRY!... STAAAR!!... (Sobs as she landed while the others caught up) DAMN THAT JUNJIE!!! DAMN HIM!!!
Junjie and friends were seen carried in containment.
Junjie: "Hey, your daughter's the one being stupid on her own- (Got shoved by Glowrod) Oof!"
Glowrod: "DO, NOT, AGGROVATE THIS, JUNJIE?!"
Star found the walking Chaemera seen with Taffee, and quickly blocked their way.
Taffee: "(Sees Star)...... Miss Star, I had already promised that I did not pose any serious threat to Mewni."
Star: "COULD'VE FOOLED ME GIVEN YOU GAVE JUNJIE DIRECTIONS TO EVEN FIND CHAEMERA TO BEGIN WITH?!"
Taffee: "He didn't even know my name! I was mostly using his clumsy ambition for a good cause! Look, at the least, I stole the shell from him and I'm taking Chaemera out of Mewni. And I promise that "Buff Frog" and his kin are in good hands."
Star: "GIVE ME BUFF-FROG BACK?!"
Taffee: "I'm confused. From my understanding, your interactions with him were not all that pleasent. Did he not start off as an enemy of yours when he was with Ludo?"
Star: "HE'S ACTSELLY VERY NICE WHEN YOU GET TO KNOW HIM?! (Jumps out to try and attack Taffee, but Chaemera grabbed him reflexfully)......"
Taffee: "...... Miss Star, I tried being the reasonable one and just leave with Chaemera without further incident. But you have effectively, "Pushed my buttons", as it were. I don't want to do this, but I am forced to live up with my warning! If I had any trouble, I will give disciplinary response!"
The other Heroes with the captured villains arrived!
Moon: "Miss Taffee, I'm very sorry about Star's reactions, she just REALLY missed Buff Frog!"
Marco: "Ya also pushed the personal buttons harder by doing that stunt with me! That REALLY riled her up!"
Taffee: "Well, A, it wasn't personal, young man, I was only making it clear that I will not bow and give up a great chance to restore extinct monster spieces! And B, it doesn't pardon her actions today! (Chaemera tosses Star right into the heroes, bowling them over, as it grabbed the contained villains).... But, I will promise that all I will do is do some damage to the Mewman sanctuary, and that's it. I will earnestly leave this time. (Chaemera walks off with the contained villains and Taffee) Just remember, you brought this upon yourselves."
Star got super pissed....
Eclipsa: ".... To be fair, Star, she is earnestly just trying to leave peacefully, can we not just- (Star ran off)..... Ohhh, fiddlesticks."
Fu Xi: "(To Moon) You really need to start putting her on a leash."
(Saetha): "And now for the big moment, an epic battle of monsters!"
Chapter 4: Final Confrontation
Mewman Sanctuary
Taffee: (Sighs bitterly as she is on top of the Chaemera standing before the sanctuary)..... I really, wanted this to end peacefully, but you forced a poor girl's hand, Star Butterfly. (Blows conch horn as Chaemera roared in charging and mutating Mewmans, Taffee having the full view of it being on top of Chaemera)... I only hope this will inspire the Mewmans to leave New M'onstrarus alone, so recovery can begin.
Junjie: (He and Glowrod and group were inside the same glass containment chamber Toffee had in the SVTFOE Season 1 Finale) You are such a bitch.
Dr. Glowrod: "CAN YOU NOT AGGROVATE HER?!"
Taffee: I'd like to see you NOT be "such a bitch" after how this world treats you. I didn't even WANTED to do this, I was PERFECTLY content with leaving with Chaemera back to New M'onstrarus so healing can begin and I can get right onto restoring monster races, but Star's STUPIDITY, forced me into this?! I would only do this to this place, however, cause after this, I am getting Chaemera out of here, and I'll throw you sad louts into the dungeon where you belong! So, if your enemies want to fight me, then I'm more than ready.
Star: (Appears infront of Chaemera in a more feral tone, which caused the Chaemera to halt in surprise)... Well that can be arranged.
Taffee: Ugh! YOU AGAIN?! I know your impulsive AND persisent, Star Butterfly, but this just ridiculous now! Your last attemept ended with THESE clowns captured! And thing is, we're not that different..... We only want what's best for monsters, you having a more childish way, while I have the more logical way. Are you REALLY so attached to Buff Frog that you would undermine his family's savior? Stop wasting your time and- (Star roared loudly in her tears as it scared the villains, though it hardly intimidated Taffee, though she admits no shame in having been abit startled that it did shut her up though).... I DO say. All I did was take Monsters to New M'onstrarus, and you're acting like I commited an act of mistropian geniside! I promise that it was nothing personal!
Star: BUT WHY?!? I WAS WARMING MEWMANS AND MONSTERS UP TO EACH OTHER!!
Taffee:... Well, you're a smart girl, erm, well, smart in a rudimentary sense, figure it out. Your race has been the biggest thorn in our sides since you first came. Did you seriously think that a party to bring monsters and Mewmans together was any different than your grandmother's peace treaty? I only want what was best for monster kind. I want them away from Mewmans!
Star: YOU DON'T KNOW ANY BETTER THAN YOUR COUSINS!!!
Taffee: (Gets abit angry) At least, I WANTED TO AVOID CONFRONTATION, UNTIL YOU FORCED MY HAND, STAR BUTTERFLY!! TOFF AND COFF WOULD'VE HAD CHAEMERA CAUSE TROUBLE AT THE FIRST TOUCH OF THE CONCH, I WANTED TO LEAVE PEACEFULLY!!
Star: "THEN WHAT DID YOU CALL WHAT YOU DID TO MARCO?!"
Taffee: "For what it's worth, it was a weak level 1 spell and it's easily curable! It was a scare tactic at best! It was only meant to be understood that I am keeping Chaemera for my aims to restore species! I also admited that I didn't liked doing that! But in real life, we all have to do things we didn't like if it meant fixing the woes of it!"
Star: Well, now we're BOTH not getting what we want!! I want Buff Frog back, and you want to keep Charmera, but only ONE of us is getting what we want!!
Taffee: Young lady, if you value your Mewmanity, you stop right now, or else there'll be no return from that form! You'll only end up like Globgor's daughter!
Star: I THREW MY MEWMANITY AWAY!!!
Taffee: (Earnest and concerned shock)... What?
Star: MY MOM DIDN'T GIVE A S*** ABOUT ME!!! SHE WAS JUST EMBARRASSED TO BE SEEN WITH A DAUGHTER AS MONSTROUS AS ME AND WANTED ME SENT TO ST. O'S!! A REAL MOM WOULD LET HER GROWING UP DAUGHTER GO AND CHOOSE HER OWN LIFE INSTEAD OF CHOOSING HER A LIFE!!! ESPECIALLY SINCE MY ROYAL STATUS WAS BORN FROM A LIE!!!
Taffee: ".... If it helps, Miss Star, alot of your personal woes are because of Asper pulling the strings on royal politics, he had too much sway with Mewman rulership, your mother is a byproduct of a controling evioment. Now, had things been different and Asper was never a thing, I would wager your mother would've been open... Then again, we'd also had Meteora as queen at that time and Old M'onstrarus would've been reborned from surrendered Mewman terratories, and you might not nessersarly exist cause Festivia would've never left Pie Island, but, still. The real woer of your life is Asper. Your intermediate beef with your mother is his dasterdly means to have a scapegoat!"
Star: "YA THINK I DON'T KNOW THAT?! I KNOW ALOT OF WHAT SHE DID WAS CAUSE SHE LISTENED TO ASPER, BUT IT DOESN'T SPEAK MUCH OF HER CHARACTER THAT SHE DID SO AT ALL?! ASPER OR NO ASPER, THE FACT SHE WANTED TO CONTROL MY LIFE AT ALL, IS JUST, UNFORGIVEABLE?!"
Taffee:... Okay, I am starting to see why there is a need to revert Mewmans away from being Monsters! Young Star, this form is starting to be too much for you! So please, let me cure you-
Star: NO!! I'M DONE BEING A MEWMAN!!! METEORA WAS RIGHT!!! MEWMANS ARE THE REAL MONSTERS!!! SO BEFORE I GIVE THEM THEIR JUST DESSERTS, AT LEAST IT'LL BE AFTER I KICK YOUR TAIL!!
Taffee:..... This is why, I wanted monsters to leave Mewni. This is also why this sanctuary would be my only target. Star, you have changed too much for you to fight. You Mewmans may indeed be the REAL monsters, but your choice to renounce who you are for this... Dark monstrous reflection... It's haunting to think about.... So I must get you back to normal for your own good! Though clearly you'll have to be subdued before I can even start! And luckly, that is what Chaemera is for! (She blew the conch horn as Chaemera roars at her and they fought as this music played)
Dr. Glowrod: "..... Well, your mess may had dragged us into a needless interdimentional conflict, but at least we have front-row seats to a titantic battle, NO THANKS TO YOU?!"
Junjie: "Ya know Glowrod, you are a VERY HARD GUY TO READ SOMETIMES?!"
Star hits Chaemera with a hard enough upper-cut that it cased the villains' containment to fall off and crashed back to the ground!
Villains: "OWWWWWWWWWWWWWW?!"
Taffee held on!
Taffee: ".... Goodness. She's persistent."
Star: "WELL, IT'S ABOUT TO GET ROUGH?! (Aims her crackling magic arms) SUPER EXTRA PAINFUL PAIN ATTACK?!"
Galaxhar: "But you already have "Painful" in there, is it not redundant to add the vanilla word of pain in there and-"
Star fired a painful spell that began hurting Chaemera painfully hurt Chaemera, to Taffee's horror!
Taffee: "CHAEMERA, NOOOO?!"
The Chaemera began to lumber about, and then fell in defeat, sending a shacking shock wave that caused some towers of Butterfly Castle to crumble, which got the Archduke's attention!
Taffee got off and was dismayed!
Taffee: "..... No, no, no?!"
From afar.
Taffee's voice: "NOOOOOOOOOOOOOOOOOOOOOOOOOOOOOOOOOOOOOO?!"
The Heroes heard that.....
Xandy: "..... I, think Star just about covered the giant monster situation."
Star's location.
Taffee was seen cryng phatheticly over the weaken and gravely injured Chaemera as Junjie and Glowrod's group were still trap in their imprisonment and largely humiliated as the group arrived to see the aftermath.
Icky: "Wow, for an Ultamate Monster, it went down like a pansy to Star."
Moon: STAR! Oh thank goodness you're okay. Whew. I think it's about time you took a breather.
Star: Hold on. I'm not done ripping the wings off this butterfly.
Sparx/Icky/Iago/Ludo/Matrix/Makunga/Galaxhar: RED FLAG!
Moon: Uh, Star, I understand you're angry, but-
Star: But what? You going to give me advice now? Let me guess: I should throw away my entire life and spend who knows how long hiding from this abomination! Or maybe I should crystallize them without a fair trial just because they're monsters. OH! I know! I should throw them into a GODDAMN CORRUPT REFORM SCHOOL, TO BE BRAINWASHED TO LIVE A FALSE LIFE!!!
Junjie: "GREAT BUDDHA, WOMAN, YOU'RE ACTUALLY A TERRIBLE MOTHER!!"
Tai Lung: "Sir, this woman almost litterally teared you a new anus earilier before, I recommend you don't aggravate things."
Moon: (Chuckles) I, I see what you're doing there, sweetie, but-
Star: Then shut up and put on your poncho. You're in the splash zone.
Moon:...... Oh dear.
Taffee was seen trying to heal Chaemera with her spector.
Taffee: "It'll be okay, it'll be okay! I should've followed my own advice and just go back to New M'onstrarus! I'll have you restore the lost spieces before you know it! You're going to be fine! You're going to be fine?!"
Junjie's and Glowrod's troupe saw Star slowly apporuching Taffee in the process of healing Chaemera!
Galaxhar: "UH, MA'AM, I KNOW YOU DON'T PARTICULARLY CARE FOR US, BUT, LOOK OUT?!"
Taffee looked in shocked of Star's growing anger.
Taffee: "..... Please! Stay back?! You've won?! Please, if, if this is all because of that fat Toarog and his spawn, then fine!! You can have them back!! Just, let me keep Chaemera in return!! I, I promise I'll leave this forsaken dimension alone from here on out! I, I need to run New M'onstraus anyway! I'm the closest they have to a political figure! Please, I, I beg you- (Star grabs her by the neck painfully, something that shocked everyone, even Junjie and friends)!"
Tarvox: "Oh dear gods, that looks unpleasent."
Trax: "Yeeeaaaahhhh, I, don't think she's being normal now."
Matrix: "You two were very quiet throughout this mess."
Trax: "We didn't had anything to say until now."
Star: "..... This, is BEYOND, Buff Frog now! IT ISN'T JUST HIM YOU TOOK FROM ME! YOU ALSO TOOK AWAY HIS CHILDREN FROM ME?! They and other monsters deserve a chance to see Mewmanity for what it can do right, not to worry about what went wrong! AND TAKING THEM AWAY, DOESN'T FIX ANYTHING!!"
Taffee: "Ack, I, already said it was nothing personal, Star! I only meant for their safety! I didn't wanted them to be at risk of a new age Asper coming forth and undermining whatever comtemporary changes you would make and just resume the horrors of the pas- (Star angrily tossed Taffee across the area as she tumbled about and broke an arm in the process and got out of reach of her staff) UGH?!"
Marco: "...... Star?"
Taffee got up, moaning painfully and wimpering in trying to helplessly get up, holding on to a broken arm.
Taffee looked at Star that stayed where she originally was, now looking at a still wounded Chaemera.....
Star: ".... I, want the past to be gone, (Aims her magically-charging arms), And I, mean it?!"
Taffee: "NO?! PLEASE?! NO?!"
Marco: "STAR, WAIT?!"
Moon: "STAR, DON'T?!"
Star: "HEAT OF A THOUNDSON SUNS?! (Fired a blase of hot beams as a flash occured with a sudden creature scream)"
Blinding Flash.....
The flash faded, as only a large burning force was seen where the Chaemera was......
Junjie: ".... You, do realise that killing Chaemera will make you a Mewman again? Since, ya know, you were about not being one anymore, it wouldn't serve your interest to remain a monster anymore to have KILLED THE VERY THING THE SHORCE OF YOUR POWER?!"
Star:.... AW CRAP BASKITS, HOW COULD I FORGOT ABOUT THA- (As such, the effects of the Chaemera faded as effected persons were turned back to normal, including Star) NOOOO!!! YOU BASTARDS!!! (As her monster hands and feet turned back into Mewman hands and feet) I'M STILL PART OF HER!!! JUST LIKE MARCO'S MONSTER ARM, YOU CAN TREAT THE SYMPTOMS BUT YOU CAN'T CURE THE SICKNESS!!! STAR BUTTERFLY'S TRUE NATURE WILL NEVER FAAAADE.......... (She collapses and was Mewman again)
As Star was normalized, her Mewman mind woke up seeing her normal hands and feet again and her tattered clothes remaining as they were when she was a monster, she returned to her true self, but upon seeing the burning corpse of Chaemera and remembering what happened, she realised she made a terrorable mistake........
Taffee looked beyond broken, as she fell to the floor, kneeling, then fell completely down as she broke into crying!
Star: "....... What....... What have I, what have I done?"
Gazelle: "...... Star..... It's...... It's okay...... The monster genes were overriding your mind. You weren't being yourself."
Star: "Did I..... Did I-"
Moon: "Star...... You were only doing what you thought needed to be done..... And, don't feel, too ashamed on what you did to the creature.... It's wounds looked as if it'll die anyway since you had likely used the Painful Pain Spell."
Galaxhar: "STILL REDUNDANT- (Matrix smacked him) OW?!"
Moon "..... Ahem, not dignifying that. Perhaps it was, for the best it was given a swift end. At least, it doesn't have to suffer, anymore."
Star: "..... Mom, everyone, I-"
(Taffee): "YOUUUUUUUUUUUUUUUUUUUUUUUUUUUUUU?!"
Taffee was seen fidgeting to get up, and yanking her broken arm off to regrow a new one, as she stood with her sceptor.
Ludo: Oh here we go.
Taffee: "WHAT, YOU, DID, PROVES, THAT MONSTERS AND MEWMANS, CAN NEVER, GET ALONG?! (She aimed her sceptor at Star's direction, charging up an attack) YOU, DESTROYED SOMETHING THAT COULD'VE BROUGHT MONSTERS BACK!! AND OVER THE MERE FACT THAT I SWAYED THE TOAROG AND HIS KIN TO STAY WITH ME?! IT WASN'T LIKE I KILLED THEM OR ATE THEIR SOULS OR ANYTHING!! NO, I CONVINCED THEM, TO LIVE IN A SAFER PLACE?!"
Star: "(Gets sad and wimpery) Miss Taffee, I'm sorry, I, I wasn't myself. The Monster Genes were messing with me, and-"
Taffee: "THE GENES CHANGED LITTLE ABOUT SOMETHING STILL YOUR OWN ACTIONS, STAR BUTTERFLY?! ALL THE GENES DID WAS AGGROVATED YOUR OWN MEWMAN DESIRES TO DESTROY ANYTHING THAT WASN'T LIKE IT?! YOU ARE NO TRUE IMPROVEMENT, FROM ASPER?! (Star was desistated by that).... What you did, (Sniffles and cries), to Chaemera, WAS EXACTLY HOW HE WOULD'VE DONE IT?! JUST, FOR, THAT, YOU CAN FORGET ABOUT EVER, EVER, EVEERR, SEEING, BUFF FROG, AND THOSE OTHERS, EVER, AGAIN?! AND I DON'T JUST MEAN THAT I'LL NEVER LET THEM GO BACK TO MEWNI?! BECAUSE THIS IS YOUR END, STAR BUTTTTTTTTTTTTERRRRRRRRRRRRRRRRRRRFLYYYYYYYYYYYYYYYYYYYYYYYYYYYYYYYYYYYYYYY- (FIRES A FINAL FLASH-LIKE ATTACK)-YYYYYYYYYYYYYYYYYYYYYYYYYYYYYYYYYYYYYYYYYYYYYYYYYYYYYYYYYYYYYYY?!"
Star pushed the others out of the way as the attack hits her as Star was heard screaming!
Everyone: "STARRRRRRRRRRR!?"
The Attack goes right out into space!
Silence, as everyone stood in shock of what occur......
Taffee, was now distroted, more broken then ever, she lost her chance to bring back extinct monster spieces, and lost her composure to Star going too far...... Taffee looked remorsefully at the shocked group.....
Taffee shed more tears.....
Taffee: "...... (Sorrowfully) I'm sorry. (Proceeds to leave with a limp, using her staff as a crutch, as she used magic reserves to open up a portal back to New M'onstrarus, of which she slowly proceeds to approuch it.)"
Moon closed her eyes and clutched her fist........
Icky: "..... And cue things getting even more drumatic then already, in 3, 2, 1....."
Moon: GRAAAAAAAAAAAAAAAAAAAAAAAAAAAAAAAAGGGHHHHHHHHHHH!!!!!!!!!
Marco:... Star?
Matrix: WELL CONGRADULATIONS, WORSE MOTHER OF THE YEAR, SCRATCH THAT, OF THE ENTIRE LIFETIME?! Or, maybe you'll be eligable to be among the worse mothers of the multiverse, IF THEY ALLOWED PROFESSIONALS TO COUNT?! YOU HAD ONE JOB!!!! APOLOGIZE TO STAR, AND DESTROY THE CHAEMERA!!!! BUT, OOPS, ONLY ONE OF THOSE THINGS WERE DONE, AND IT WAS ONLY DONE BY YOUR NOW DECEASED DAUGHTER?! IT'S BAD ENOUGH THAT TELATHONIA FAILED TO REACH A BETTER CONNECTION WITH HER FATHER, NOW THIS S***?! IS FAMILIAL STUPIDITY APART OF GENETICS NOW?!? OH, AND SPEAKING OF TELAPHONA'S FAMILY PROBLEMS?! YOU DIDN'T JUST TAKE A PAGE FROM THEM!! YOU WROTE A SEQUEL TO THEIR BLASTED BOOK!!!! CHAPTER 1: BE AN AWFUL MOTHER!!! CHAPTER 2: TURN YOUR DAUGHTER AGAINST YOU!!! AND CHAPTER 3: SEND HER TO HER OWN BLOOMING DEATH!!!! (Moon was hurt more)
Glowrod: "Arbasus, Matrix, I know you're very passionate about family tragities, BUT NOW IS NOT A VERY GOOD TIME TO DEMINSTRAIGHT THAT PASSION?!"
Galaxhar: "WHY IS HE BEING LIKE THIS?!"
Zigmond: "His cousin was beaten up for being a fianceer that didn't had a desireable mindset of deeming currentcy more impourent then feelings of average working joes and custamers....."
Makunga: "..... Well this just got very awkword, also very mood-killy."
Taffee was just about to reach the portal.
Moon: "...... Do not leave JUST yet, Taffee..... (Taffee halted fearfully, not looking at Moon in shame)..... Not before I give you a few choice words!"
Taffee: "(Kept gaze away from Moon) Please, I, I didn't really mean to take your daughter away like that?! I, I lost myself?! I lost the power to bring back lost spieces?! I, I ended up getting too upset?! (Starts crying) I spefificly asked to be left alone, but I was harassed anyway?! All I wanted was to peacefully contain the Chaemera?! I was only trying to bring back what old M'ontrarus lost?!"
Moon: "Young lady, face me like an adult!"
Taffee: "I don't feel safe staring the face of the woman that de-fingered one of my cousins!! HOW AM I SURE YOU WON'T DECAPICATE ME WITH THE SPELL?!"
Moon said nothing..... She proceeded to pull out a sword, which made everyone concerned! Taffee continued to look away and closed her eyes in anpisapation of a retailiation.......
Moon, instead, shoved the sword right into the ground, knee deep in dirt, as everyone was surprised, as even Taffee who took a brief look, but flinched away to avoid Moon's gaze.......
Moon: "...... I think, enough violence has occured for today....... (Taffee fearfully avoided Moon's tearful gaze)...... Miss, Taffee, I, came to learn a lot about monster culture, and, one of their most known traits, is that they trust actions more than words. And up until now..... You never shown any capability to murder anyone like your cousins would've..... (Looks at Junjie and company)..... Not even undesireables like them..... (Looks at a wearly looking away Taffee).... And, even if the anger was real, it, didn't seem like you to intentionally take a life. (Taffee was surprised to hear that).... I know, that's, odd of me to say all things considered, but, in my outburst, I took a time to reflect on everything. All you did was try to negosiate a more peaceful solution, retailiating only when threatened, and even when at her mercy, you still aim to try and get a conflict to end peacefully. Granted, I wouldn't call doping a gang of villains to free Globgor's incompleted war project a perfect step, but, you were quick to correct it by stealing the conch from them before they got too far with it. Granted, your other mistake was using Maroc as a scare tactic, but, I would like to rule that as you not knowing Star well enough. I would like to believe you wouldn't've done so if you knew Star better then you had assumed. So, if that's correct..... Then, you do not have a violent spell in your body... At least, nothing worse then what you used on Marco."
Taffee: "..... (Fidgetly looks back for a bit, then looks away again)...... How, did you, how did you know?"
Moon: "..... Well, for one thing, for someone who was avenging a creature of Globgor's creation, you didn't at all enjoy what you did, even if only for the Chaemera's sake...... Also, come on, I know a dimension travel beam when I see it."
Taffee: "...... Then, why, did you-"
Moon: "I, don't handle losing Star very well.... Or, family in general.... T'was inherited from, losing my mother. In, no thanks to one of your cousins. But, I'll give you this, shared blood-relation aside, you are a true farcry from Toffee. Now, all this being said...... I do want to know where Star has been blasted to......"
Taffee: "....... (Looks at Moon a slight)...... She's...... She's been sent..... To the Realm of Rejects."
Unknown Dimension
Star was seen unconjustus......
Star was coming through, as she moan and opened her eyes to see a curiously stareing Wasteland Guardian.
Star: "...... YIKES?! (Flinches away from the Wasteland Guardian)......"
The Wasteland Guardian curiously moaned and looked at her.
Star: "..... A Wasteland Guardian?..... Am I, in a purgatory?"
???: "Well, yes, but a different one."
A Fearbender and his Starscream flouted in.
Fearbender: "You're in the Realm of Rejects, a place where-"
Star: "YIKES, A FEARBENDER?! (SHINES LIGHT AS IT FREAKS OUT THE FEARBENDER!?)"
The Starscream: "AIEEE, I KNOW WE'RE SHADOW BASED, BUT WHY MUST WE HAVE THE MOST STERIOTYPICAL WEAKNESS TO LIGHT LIKE WE'RE BUGABOOS OR SOMETHING?!"
???: "MISS, WAIT?! (An Infinity Libarian arrived) It's okay?! It's okay?! (Stops Star)..... He's a dud as a Fearbender."
Fearbender: "..... (Deadpan) You intentionally meant to phrase it like that."
Star: "Wait, an Infinity Libarian, A Fearbender, and a Wasteland Guardian, all in one place? And that felt like a start to a bad outer being joke."
Infinity Libarian: "Oh, how silly of me..... I'm Mewstral, (Points to the Fearbender) This is Feartrick and Vonbon the Starscream, and say hello, (Points to the Wasteland Guardian) To Duster."
Star: "..... Am, I, dead?"
Feartrick: "Well, as I was saying, this is the Realm of Rejects. A defunct realm where outer gods were exiled too.... Ya know, before the Hybernation Realm became a thing."
Star: "Then what're you guys doing here?"
Feartrick: "I was usurped by my treacherious former adviser Fearmonicus, that fear obcessive fool. I used to keep my people's love for fear in perfect balence. Now it's all out of whack thanks to Fearmonicus."
Mewstral: "And me and Duster...... We used to be assigned to the old Mewman Dimention. I was the knowledge recorder, and Duster used to guard it's purgatory..... But, apawn it's, destruction, I, (She wimpers), I ran away to this realm ever since, and, Duster's here too since it was before the Hybernation Realm was made. We're the only ever occupents."
Star: "Oh, that's so sad......"
Mewstral: "Thank you...... I, I have been so sad about the Mewmans for a while now, espeically after how I heard of what's going on with them..... I really want to be able to help them, but..... Then I would be discovered and be sent to the Hybernation Realm. It would break a cardinal rule."
Duster moaned curiously.
Vonbon: "No, it's not "Don't wear brown shoes with a blue suit", ya idiotic kaiju-level purgatory guardian! It's never interfear with mortals!"
Feartrick: "While I would love nothing more then to take back my kingdom from Fearmonicus."
Star: "..... Maybe, I can help you guys, if you can help me escape."
Mewstral: "..... You, want to help us leave this place?"
Star: "Yeah. You guys deserve better than this. Also... I have been through a lot of traumatic breaking down."
Feartrick: "Oh, you certainly look like a kind-hearted young miss recovering from a lot, especially since you look like a ragdoll in those torn clothes. But.... There's the matter of how to leave. The Realm of Rejects is in the far reaches of the Multiverse. Surrounded by a sea of lifeless duds or broken criminal infested realities. We-"
Star: "(Brings out dimensional scissors) Have Marco's dimensional scissors......."
Mewstral: "..... Well, that, saved us from a long journey."
Star: When I was still a monster, I stole it to escape to another dimension... But now that I'm free from my monstrous mind, I need to go back and set things right. So, you in or out?
Mewstral: Count us in. I MUST see how much your kind has changed.
Feartrick: Also, who's Marco?
Star: "Don't Outer Gods have automatic knowledge of mortals?"
Feartrick: "Typically an Outer God has to be connected to the All-Know force for that. The Realm of Rejects typically cuts that off from any that are here."
Star: Oh. Then in that case, I'll explain on the way.
Mewni
The fires died down, showing the burned skeletan of the Chaemera......
Taffee looked on sadly......
Taffee: "....... All, I wanted, was to revive monster spieces and bring them back from extinction....... Why, was the universe, so against this?"
Moon: "..... I..... Miss Taffee....... The Universes are not against you."
Taffee: "..... They're not?"
Moon: "..... Miss Taffee, we, admit that, maybe we were too quick to bring an end to Chaemera, it's just.... We needed to cure Mewmans...... But, now that Mewmans are cured, I, don't suppose there's a danger in bringing Chaemera back. (Taffee was surprised) I mean, mind you, we would need to remove the aggression factor and it's ability to turn Mewmans into monsters, but other then that-"
Taffee finally completely looks at Moon and hugged her!
Taffee: "(Cries) THANK YOU?! THANK YOU EVER SO MUCH?!"
Moon was put off at being touched by a monster..... But the goodness of mending a broken heart, dominated over the discomfert and returned it.
The Lougers and others: "D'aaaaaaaaaaaaw...."
???: "D'aaaaaawwwwwwwwwww, mom! (Everyone was surprised and looked at Star holding up her scissors) I knew you cared for monsters."
Moon: "(Gets Taffee to let go) STAR?! (Zooms off and grabs Star)...... YOU'RE BACK!!"
Marco: Are those my dimensional scissors? (The Lougers and others got excited and reached her)
??? 2: "Awwww, Star, you have such a loving family. (The group were surprised to see Mewstral, Feartrick, Vonbon, and Duster)....... (Mewstral was speaking) What?"
Moon: "..... Would you, care to introduce your, sudden Outer Being companians?"
Star: "I'll introduse them in time. Right now, I got some things to finish. (Gets serious and approuches a flinching Taffee)..... (Extends her hand)..... (Gets nicer) Truce?"
Taffee: "..... (Eases down)....... Truce. (Takes Star's hand and shakes)....."
Star: "Now, how do we figure out how to take the Chaemera back?"
???: "SERIOUSLY, PRINCESS STAR?!"
Archduke D'oughe Bagg was seen.
Icky: "Aw nuts, it's Duke Douchebag!"
D'oughe: "IT'S DOUG BAGG!!"
Ludo: "It sure is! (Some of the heroes laughed at that)"
D'oughe: "...... It's bad enough that you're planning to bring back this, this, this, abomination, back from it's rightful grave, NOW WE'RE INCLUDING MOCKERY?! Miss Taffee may had been well-meaning, but that doesn't pardon her actions today?! She deserves to be punished!"
Moon: "Bagg, please. It was purely our fault we couldn't keep Star from going about this the wrong way. We at least owe Miss Taffee a chance to have the Chaemera back. We will remove any dangerious aspect so no Toffee loyalist would act out."
D'oughe: "Moon, please do not forget that she is related to your mother's killer!"
Icky: "Okay, asshole! Taffy here completely distanced herself from her moron cousins! She at least wanted to keep conflict from happening again! She only caused trouble like she did because Star was being a dumbass!"
D'oughe: "So that's it? We're giving the Septarian woman another chance at having the ultamate weapon of Globgor because stopping the creature was poorly exicuted? That's the kind of mistake Comet would make if she had never had died should she had stayed to her original plan?! (D'oughe covered his mouth at that)......"
Moon: "...... Wait, "Original Plan"? You mean, my mother was never going to use a peace treaty first and foremost?"
D'oughe: ".... I, meant to say, if she never used the Peace Treaty at all, is what I, meant to say....."
Mantis: "Hark! My bulls*** senses are tingling!"
D'oughe: "Can we not please change the subject and focus back onto Chaemera?"
Tigress: "The truth! What did you mean by "Original Plan"?"
D'oughe: "That was a slip of the tongue, I swear."
Lord Shen: "Good sir, you better start being honest with us, OR ELSE?!"
D'oughe: "Well, I, duh, I, you see...... SHOES OF HERMES?! (Casted a spell that made him ran off fast!)"
Po: "GET HIM?! (The heroes went after D'oughe!)"
Taffee look at the body of Chaemera's remains, as did Mewstral, Feartrick, Vonbon and Duster......
Mewstral: "Oh dear.... Poor creature. Star told us enough about this will in the inbetween dimensional road. Please, let us, help you with that. (Mewstral, Vonbon, Feartrick, and Duster both got into certain positions around Chaemera and began to glow in glorious cosmic life as Mewstral, Vonbon and Feartrick began to chant in an Outer God languise, Duster mumble-growls in simular tone to the chant, as the Chaemera skeleton was effected, and transformed back into living Chaemera!)"
Taffee was awestrucked.....
Heroes' location.
The Archduke continued to use road-runner speed to dodge the persuing group!
Huifang: "HOW ARE WE SUPPOSE TO CATCH THIS GUY?!"
Fu-Xi: "I have a few ideas, but we need to work as a unit!"
Mr. Whiskers: (With multiple human ears) We're all ears.
Fu-Xi: ".... Did you fell into toxic waste?"
Mr. Whiskers: "Hey that only happened once!"
Brandy: ".... That explains too much, honestly."
The Archduke summoned Contentyck!
Contentyck: "(Was still watching TV)..... OH LUCY, YOU KID! (Looks at the running Archduke and saw the persuing heroes)..... Oh boy. (TV poofs back into the staff) What did you do this time, Dukey?"
Archduke Bagg: "Contentyck, I need you to-"
Suddenly Glossaryck and Blossoma appeared!
Glossaryck: "Oh there you are, cousin! Me and sis are going to play a game of Astral Bridge with Thaumorpheus! Wanna come?"
Contentyck: "WOULD I EVER! Anything's better than being made to clean up Dukey's mess. (The trio flew off)...."
Archduke Bagg: "..... ARE YOU KIDDING ME- (Gets string-lined by Kaa and Savio sent flying into a mud puddle and splashing into it).... EWWWWWWWWWWWWWWWWIEEEEEEEEEEEEEEE?! EW EW EW EWWWW?! DISGUSTING?! I'M COVERED IN MUD?! IT'LL TAKE NEARLY AGES TO WASH OFF?! (The heroes surrounded the Archduke)..... Duh, I, duh, ESCAPE TORNA- (Suddenly, Vonbon appeared from nowhere and swiped his cane staff and appeared next to Feartrick, as Mewstral, Duster, Taffee and the restored and tamed Chaemera appeared as well)....."
Vonbon: "You can have this back after class, Douggie."
Moon: ".... Now, Doug, the truth. What did you meant, by original plan?"
Archduke Bagg: ".... Moon, please, it's for the best you don't know. It's bad enough you didn't even acknowledge that I had feelings for you as well, but-"
Moon: "Oh for Pete's sake, you were into me as well and you never told me? Ugh, at least Count Mildrew made THAT clear."
Archduke Bagg: "CONFOUND IT, I AM USUALLY GOOD AT KEEPING QUIET?!"
Magnum: "Sir, we require you to be honest on your own terms, or I will be forced to have truth spells involved!"
Archduke Bagg: "YOU IDIOTS CAN'T HANDLE THE TRUTH!!"
Bagheera: Try us.
Archduke Bagg: "... Please, I already had Moon drift away from me as is, I don't want to lose her even more?!"
Moon: "Doug, please, if it involves my mother, I want to know! Was my mother REALLY going to utilize a peace treaty, or did she tried to use something else that Asper didn't approved off and changed her mind?"
Archduke Bagg: "No, Asper made his displeasure to the peace treaty known, you know this, Star. If he was the one who influenced Comet, she would've stuck with further war."
Moon: "(Getting anxious and agitated) THEN FOR GOODNESS SAKE, MAN, WHO CONVINCED MY MOTHER TO-"
Archduke Bagg: "(Whiny and broken voice) IT WAS MY FAULT?! (Everyone got surprised)...... I, was present with Comet's first meeting with the Monster Archduke Batwin."
Flashback.
Young Bagg was seen next to a displeased Asper, as Queen Comet was seen, along with Batwin being next to the equally unthrilled Toffee in his general armor, along with a younger Coffee who looks as if he is willing to give it some try along with a more enthusiastic Anewas, this being overviewed by the Magic Commission themselves, here to make sure BOTH parties behave.
Batwin: "-And in conclusion, the monster community leaders had insisted that, the terms of ending the war can only be accepted, by absolute surrender of stolen monster territory and for Mewmans to leave this dimension for another realm."
Mina: "THIS IS BS!! THIS IS EXTORTION!!"
Toffee: No it is not. If you recall as the LAST SOLARIAN WARRIOR ALIVE, you stole the land from us.
Batwin: "Toffee, please! (Back to the entire meeting) It's what the leaders of the community want, I'm litterally only a glorified messenger!"
Comet: ".... Had we, done Monster Kind too much harm?"
Toffee: "(Angerly bangs the table to get her attention).... (Calm, but still angerly) Ask, Asper."
Asper: "Just an FYI, I'm not thrilled we're even having this meeting neither, Septarian."
Coffee: "(Calms Toffee down) Uh, brother, calm down. Comet had placed Asper on a tight leash and a cage. The least we can do is not rattle it. (Toffee eases off a bit, though doing it while staring Coffee back into his place)...."
Comet: ".... Well Batwin, if it is that serious, then, I won't disobey. (This surprised everyone, including the defeated and devastated Asper espeically, even Toffee, who looked as if he was about to have some hope for once that Mewmans will finally submit and justice made onto Asper at long last, why, he was even close to smiling as his mouth twitched a bit, of which excited Coffee that he was gonna have his brother back, while Anewas gave a smug "Got'ya" to the less then pleased Asper) Effective at the banquet, I will issue a capitulation and a surrender of the war and the lands back to Monster kind and-"
Young Bagg: "NOW HOLD ON A MINUTE!! (Toffee went back to his scowl as Coffee was discouraged and Anewas stared concern, while Asper looked at Bagg annoyed for his interruption, but was curious enough on what he is trying to do, while Comet and Batwin looked at him with genuine confusion and interest)..... Queen Comet, is land surrender, not a bit too extreme?"
Toffee: HOW DARE YOU INTERRUPT AND QUESTION YOUR OWN QUEEN?! I WAS UNDER THE IMPRESSION YOU MEWMANS WERE SUBMISSIVE TO ROYALTY?!
Batwin: "TOFFEE! Silence!... (To Young Bagg) Do be assured that we're happy to recommend an entirely similar dimension that looked exactly like M'onstrarus- Duh, I mean, "Mewni", so, we promise that nobody is going to be left homeless."
Asper: "IT IS STILL AN ACT OF FORCED RELOCATION AND YOU KNOW IT, YOU WEAK-WILLED SLAVE TO YOUR MASTERS!!"
Toffee: "(Angerly) Be thankful they had to will themselves to NOT INCLUDE WANTING YOU EXECUTED BY MEWMAN HANDS SINCE BATWIN THE WEAK-KNEES TALKED THEM OUT OF IT CAUSE OF COMET'S GENTLE NATURE BEING EASILY FRIGHTEN BY SUCH A SUGGESTION?!"
Coffee: "Yeah, Baster, be thankful for that at least- (Asper pulled out his spear) (Yelps like a coward and hides behind Toffee, who stared unintimidated)..."
Toffee: ".... I don't believe, (Pulls out his own weapon), I appreciate you intimidating my brother like that, Admiral."
Asper: "THEN PUT YOUR PHATHIC SIBLING IN HIS PLACE, SEPTARIAN?!"
Toffee growled angerly as both he and Asper were prepared to fight, but Omnitraxus blocked the both of them!
Omnitraxus: "WE WILL HAVE ORDER IN THIS MEETING?!"
Batwin: "Toffee, behave yourself and SIT DOWN?!"
Comet: "Asper, please! I think you aggravated the monsters enough from here on out?! (Asper and Toffee backed off, both still bitter)...... You were saying, Young Master Bagg?"
Coffee: "(Pouts) And it BETTER be good, Asper's less-than-stellar disciple."
Young Bagg: "Ahem.... I, apologize if I nearly risked an escalation, I, I just felt that surrender of the lands was too much."
Anewas: "We understand if it's asking abit too much, but please understand that those lands were taken from us during the war. They were traditionally Monster lands before Mewman Expandsions lead to Monsters losing lands."
Asper: "Well you didn't stake your territory properly by having symbols of civilization like cities or what have you!"
Toffee: "We monsters prefer a more in-touch-with-nature approach to living! We don't believe in defiling nature's beauty with your "Bill-Dings"!"
Asper: "Well what does that make Septarsis then?"
Toffee: "(Angerly) Exceptions apply to higher-ranked Monster races! Septarians are reckitnsed as a dominate race due to our indestructible abilities! Per example.... Brother?"
Coffee grabbed Toffee's hand and pulled out a knife.
Comet: Wait, We already know about the- (He sliced it off to the shock of Bagg and slightly Comet, only for the hand to grow back).... Very charming.
Toffee: "Thus, we were allowed a right to be viewed as examperly to the monsters worthy of advancing our fellow monsters culture while still respecting nature. For our race were blessed by the Monster King and Queen of old, along with others like the Wingulates, to be reckitnsed as the alpha races. You Mewmans, had not earned that right. Espeically not after WHAT YOU DID TO THEM, ASPER?!"
Asper: "OH AS IF WE MEWMANS WERE GOING TO LIVE LIKE SAVAGES BECAUSE OF YOUR BACKWORDS LAWS, SEPTARIAN?! We wouldn't've had the innovation and culture we have now, if I had allowed them to TAKE THAT ALL AWAY?!"
Comet: "Asper!"
Batwin: "TOFFEE, SIT?!"
The two backed off again.....
Young Bagg: ".... Ahem, anyway, what I am suggesting is, that instead of something so extreme so soon, why not just, end the war with a peace treaty?"
Toffee: "WHAT?! (Gets to the scared Bagg) I KNOW I DIDN'T HEAR WHAT I THOUGHT I HEARD!! YOU THINK ALL THE BLOOD SPILT AND LIVES LOST TO WHAT MEWMANS' CRUELTY, INCLUDING THAT OF MY PARENTS, CAN BE REDEEMED, BY A STUPID PIECE OF PAPER?! WHAT KIND OF FOOL ARE YOU?!"
Young Bagg: "(Wimpery) Hear me out, hear me out. Absolute surrender of land would be too soon to Mewmans that have been too established in those lands for it to just, be officially undone. Both our governments will be placed under heavy scrutiny by a homeless refugee crisis. It will only further sour relations more then already. With a peace treaty.... Now, yes, it won't heal serious wounds, but.... It would open the door to further negotiations that could lead to Mewmans wanting to willingly give back parts of the claimed land, this way, Monster rule IS restored in a way, and all wrongs get slowly but surely amended. Everyone, benefits from it."
Toffee: "..... (Deadpan) Please don't tell me you think we're stupid enough to just suddenly embrace such a wishy-washy, moronic, guaranteed controversy riddled-"
Batwin: "Uh, actselly, General.... I, I do believe that's a reasonable compromise. (Toffee turned angerly at the wimpy Batwin) AHH?! That, that is to say, maybe we should try to earn Mewmans as a whole's approval before we even talk about getting lands back?"
Anewas: "Actselly, Toffee, I do agree. I know a peace treaty feels like a bandaid solution to our suffering, but, I think it will open the door to more negotiations."
Coffee: ".... Look, brother, as it is, I'm not, nessersarly all that crazy for the idea myself, but.... Anything's better then Asper continuing to hurt monsters! Espeically if the Asper Island rumors are true! (The Commission and Queen Comet stared at Asper suspiciously over that comment) Who knows, maybe, it'll include a negotiation about putting Asper on trial, it's something to look forword to, right?"
Toffee: "...... (Broken) I'm going for a walk. (Angerly leaves as Toffer tail-whipped Bagg in the face, hurting him)!"
Young Bagg: "OWIE?!"
Toffee left, unaware that he was being watched by a hidden Xird, who quietly giggled as he vanished....
Coffee is now regretful of not backing Toffee... Anewas comforted Coffee with a shoulder touch, patting it, giving a look that reads "Don't worry, he'll be fine".....
Batwin: ".... You'll have to forgive Toffee, his family were the worse victims of the Solaria era."
Comet: "I wouldn't say the worst as opposed to one of the worst, I mean, I sure there are monsters that had it much worse, but I understand. Then it's settled. At the Banquet, it shall be done that a peace treaty will be signed. Peace will be achieved."
Rhombulus: "Then this is what the Commission will agree will happen."
Lekmet baa'd.
Rhombulus: "He said, meeting ajorned."
The present groups left....
Young Bagg looked at Asper expected to be awarded and finally earn Asper's approval. Only for Asper to stare at him like he finally got the idea that Bagg was a mistake and left.....
(Archduke Bagg): "Though I lost out on getting Asper's approval of halting an extreme proposal, I at least prevented Comet from suffering a controversy that would've ruined her.... And by extension, you, Moon.... I was confident that the treaty would work.... Then..... It happened."
STAB!
Dramatic music played as present Mewmans, Monsters, The Commission, Batwin, and Young Bagg, who screamed like a bitch, gasped at the sight, of a shocked Comet, stabbed painfully by Toffee with the dagger, as Comet, quickly went limb, as Toffee smacked her right off of it as she fell onto the screaming cowerdly Young Bagg, who in a panic pushed the deceased queen off of him as she fell face first down the stairs!
Toffee looked at the blade dripping with blood, and smiled with some tone of satisfaction, as he then looked at the pahthic and squirmy Young Bagg and frowned..... Then he pointed the blade at Young Bagg, who Bagg screamed and pissed himself.....
Toffee was abit surprised by that and rolled his eyes in disgust......
Toffee: "Actselly...... You're not worth the trouble, Asper's ilk. (Leaves with a tail smack that sent Young Bagg cartoonishly smacking into a wall)"
Toffee proceeded to leave as the generals but a sad and broken Anewas cheered him on, as Anewas looked at the trumatised and horrorfived Young Bagg.......
Anewas: "...... I'm sorry..... (Turns around and leaves)."
The Other Present Monsters left as well, going while the getting was good and that the Mewmens were too shocked by the loss of Comet.
Moon's voice: "Mom? Is everything okay down there? I heard Bagg screaming. Did one of the monsters scare him, the wuss?"
Lekmet goat screamed!
Hekapoo: "MOON, DON'T?!"
Young Moon entered the room!
Young Moon: "Hey, Mom said I can get to go to the peace treaty signing anytime I wa- (Saw Comet's body)......."
Young Moon was shocked to see Comet lying the floor, bleeding out.
Young Moon slowly approuched the fallen queen, as a Young King River entered the room and was shocked as well!
Glossaryck: "(Teleports in) HAZZAH FOR PE- (Saw Comet) OOOOOOOOOOOOOOOOOOOOOOOOOHHHHHHHHAAAAAAAAAAAAAAAAAAAAAAA?!"
Young Moon: ".... Mom? (Shoves Comet) Are you okay? Mom? And why is there red stuff coming out of you? (Sheds tears) Mom?"
Young Bagg was broken at the sight of Moon's sad state, as he ran out of the room, to avoid blame!
Asper was secretly watching from behind the shadows of the doorway.....
Asper: "..... (Quietly) I tried to warn you.... Comet. (Leaves)."
Young Bagg was seen trying in his private study!
Asper entered it.....
Young Bagg: "(Looks at Asper)...... Master Asper, please, forgive me, I, I, I DIDN'T KNOW?! I didn't realised how serious this was?! I, I was only trying to prevent Moon from being harrassed by any newfound dispisers of Comet! I had the best of intentions in mind! I swear....."
Asper: "..... Stop calling me your master, you sad mistake. (Bagg was broken by that) I thought I could reshape you from the phathic child I saw you as from your family's libary! Cure you of what your idiot parents had done to you, in over-sheltering you and making you afraid of even your own shadow?! But it appears, I had made a rare mistake.... You, are no longer my apprentise, you sad, cowerdly welp!"
Young Bagg: "..... Asper, please, I- (Asper pimp-slaps Young Bagg down)!"
Asper: "YOU LOST YOUR RIGHT TO EVEN SPEAK WITH ME UNLESS I PERMIT IT, YOU USELESS WELP?! (Leaves)......"
Young Bagg broke into crying.....
Flashback ends...
Archduke Bagg: "..... Moon, seeing you about to cry over what happened with Comet, it, it destroyed me worse than Asper forsaking me.... I was lucky he convinced the Commision to hush up about my involvement and that nobody else knew about it..... But I live in eternal regret of what I had convinced Comet to do.... Convincing her, to basicly make her a target to Toffee.... I did not think he would resort to such a thing.... I'm..... I'm sorry...."
Silence.....
Moon was seen shedding major tears..... Then it turns into a rage of anger as she donned her Butterfly form!
Moon screamed in anguish and began attacking the screaming Archduke?!
Star: "MOM, STOP?!"
Moon: "BAGG, YOU PHATHIC COWERD!! YOU TOOK MY MOTHER FROM ME?!"
Archduke Bagg: "NO, I WASN'T THE ONE WHO DID THE ACT!!"
Moon: "BUT YOU MADE HER MAKE A FATAL MISTAKE WITH TOFFEE?! (PUNCHES THE ARCHDUKE BACK INTO THE MUD), YOU CAUSED HIM TO CONSPIRE TO KILL HER?! SURRENDERING MEWNI REALLY WAS THE ONLY WAY TO REDEEM OURSELVES TO THEM?! AND YOU RUINED THAT?! YOU RUINED EVERYTHING?!"
Archduke Bagg: "(Coughs blood from mouth) Moon, please, I thought I was preventing a horrorable mistake! I was worried tha-"
Moon: I WILL SEE TO IT YOU ARE BANISHED FOR THE REST OF YOUR DAYS AFTER I GIVE YOU A GOOD WHIPPING!!!
Star: RASPBERRY RIBBON LASSO!! (The spell restrained her)
Bagg: I TOLD YOU THAT YOU COULDN'T HANDLE THE TRUTH!!! YOU MADE A MISTAKE FORCING IT OUT OF ME!! Now return my cane so I can erase your memories and we can forget this ever happened.
Moon: FORGET?!? You think memory erasure can make you feel happy for yourself?
Bagg: YOU THINK I WANTED YOUR MOTHER DEAD?! AT WORSE I'M ONLY GUILTY OF MISUNDERSTANDING THE SEVEREITY OF THE SITUATION?! IF I HAD THE BALLS, I WOULD'VE PERSONALLY ENDED TOFFEE MYSELF!! But I don't! I TRIED to get you to reconsider knowing the truth and you chose to know it. So I beg of you, Moon, spare me. Would your mother even want this from you?
Silence.....
Moon calm down and turned back to normal....
Moon: ".... Consider yourself lucky that was a valid point. But all the same, don't you EVER dare, assume I would EVER forgive you. Also do not dare THINK that I'll allow you to erase my memory nor even that of others that know of this! Cause I doubt even at the highest level would it work on any with strong will power, MUCH LESS OUTER GODS?! (Points to Mewstral, Duster, Featrick and Vonbon)... This is not something magic can get you out of so easily."
Moon left, as did the other heroes....
The Archduke just fell down and began crying.....
(Saetha): "Admitingly, it was, a rather bittersweet resolution, but the ending gets abit cheerior."
Saetha's and Anewas' wedding resumed without further insodent as Mewmans and Monsters alike celebrated the wedding.
Taffee and Chaemera watched the celebration in a distence, as they left in a magic portal.
Junjie and friends were seen stuffed into giant cans along with Glowrod and his companions tied to a horse charriage.
Galaxhar: "Welp, look at the the bright side, Junjie. At least this didn't end with Mang coming over to kick your tushie."
Junjie: DON'T JINX IT, YOU IDIOT!
Makunga: "Oh relax fox boy, it's not he's gonna-"
Mang's voice: "JUUUUUUUUUUUUUUUUUUUUUUUUUUUUUUUUUUNJIIIIIIIIIIIIIIIIIIIIIIIIIIIIIIIIIIIIIIIIIIIIIIIIIIIIIIIIIIIIIIEEEEEEEEEEEE?!"
Glowrod: "..... Admitingly, I am glad that at least I'm not you at this very moment."
Junjie: "THANKS FOR THE HONESTY, GLOWROD?!"
Epilogue
Present
Saetha:... What an adventurous wedding that was.
Eclipsa: Of course Star's transformation heightened her anger and hatred. She acts more monstrous sometimes but she tries to avoid going too harsh. Afterward, the journey got Star to consider convincing Buff Frog to come back and that's when the Cornball match began.
Star: Yeah. I- OH DOLPHIN GIGGLES, I FORGOT THE LODGERS AND THE HEROES ACT ARE HERE!!
Globgor: So?
Star: I was getting there! They're... Looking for the ones who destroyed magic. I took the time to flee with Marco when they rambled themselves distracted... Again.
Marco: Star, we gotta tell them the truth.
Star: WE CAN'T!!!... At least not yet.
Marco: Whyyy?
Star: "Because I think they might be mad at me for that."
Saetha: "Kinda can't be helped since Magic got wrecked."
Star: "I just wanna wait on telling them anything for a bit, okay, at least, until I can figure out how to explain it to them, okay?"
Marco: "Ugh, fine."
Star: "Thanks Marco. In the meantime, that story has made me think about something.... I think I need to ask a certain millipede some questions."
Lodgers' Location
New M'ontrarus was seen being a vibrant place since the dimentional merge as the Lougers and Fu Xi's crew were seen walking in it's vibrant market place.
Icky: "Ya know, I am getting alot of Mos Easily Vibes from this."
Spyro: "(Sees an Ostrich-Buildt Camel walk by and farting) EWW?! Or Tatooine in general."
Banzai was tantilised by the rotating cooked frog-birds.
Banzai: "Mmmmmm-mmm! These things would be best sellers in france! (Chomps onto one of the rotating poultry meat and left a big mark). (Banzai was suddenly confronted by a blade-fingered alligator monster.)"
Monster Meat Trader: "I hope you are able to PAY for that. Cause it takes me awhile to capture those Brogs!"
Gazelle: "(Approuches him) My apologese sir.  We're friends of Queen Eclipsa."
Meat trader: "(Had a surprised face)..... (Grabs the chomped Brog body and stuffs it into Banzai's mouth) On second thought, on the hosue! They're everywhere anyway!"
Banzai: "(Full mouth as he chewed) Mmm, mmm, wow, Monsters must REALLY like Eclipsa if we're this easily pardoned."
Meat trader: "Well that, and we also don't want to be on Globgor's badside if we disrespect anyone assusiated to her. He's kinda the closest we have to a primo alpha monster, in all honesty."
The group moved on.
Thief was seen quietly shoving pretty jewelry and golden objects while Djon was stuffing silverware down his pants, but a huge Scroop-eqsed Scorpain Monster loomed over the two, of which the duo gulped.....
Scorpian Monster: "You are planning to purchuche them, yessssssssssssssssssssssssss?"
Thief Thinks: "Duh, uh, we were window shopping!"
Djon: "Oh, uh.... We were, doing the shopping of windows?"
Scorpian Monster: ".... I don't recall, (Grabs the two, which causes the pillfered objects to spill out), Window Shopping involving stuffing things down your clothes...."
Djon whines fearfully.
Thief thinks: "Ohhhh, this is BAD!"
Spongebob: "(Tabs the Scorpian Monster) Duh, now now mister, (The Monster looks at Spongebob) (Makes the same shout as when he saw the brutal guy from the Salty Spitoon Episode) Uh, I mean, mind those two, they have a sticky fingers problem, we're doing well to correct, (Grabs Thief and Djon) Here, let me take them off your big scary claws. (Zooms off with Thief and Djon!)"
The Scorpian Monster hissed with suspition at this.
Spongebob: "(Places the two down) WHAT THE BARNICLES WERE YOU TWO THINKING?!"
Thief thinks: "Alot fo things, honestly."
Djon: "I'm so sorry, Mr. Squarepants, I couldn't resist the treasury beauties!"
Spongebob: "Well you two could've gotten us into serious- (The Scorpian Monster loomed over the trio as Spongebob noticed the shadow)... Troub..... (Looks at the Scorpian Monster) Bllllllllllllllllllllllle......... Um..... (Nervious laughs)..... Don't mind us, we- (More Stronger Monsters surround the trio)....... Uh, is there an issue, fellas?"
Scorpian Monster: "You likely didn't realise this, but we are the New M'onstrarus' guard. Monsters may be one with nature, but we still try to keep any rogues in line, espeically after all the trouble rogues brought to us in the past, whether from them or not."
Spongebob: "Look, good sir, we promise we're not here for any trouble, we're just here to investigate on what happened with that caused dimentions to merge and became this place. We're here to ask Taffee what she knows."
???: "Well anyone that seeks out my cousin, (The Monster Guards stand asside for a familier figure).... Goes through me."
Spongebob: "(YELPS?!) (The FIgure was reveiled to be Coffee) COFFEE?!"
Coffee: "Oh, if it isn't Star Butterfly's newfound dumbass friends, well, at least, three of them. And it's Capitan of the Guard Coffee to you, peons!"
Spongebob: "(Nerviously) No hard feelings about the Overt Happiness Dimention, right?"
Coffee: "..... (Angerly) You had any idea how nearly insane I went in that overtly happy realm until Taffee recovered me and placed me on a redemption trial in New M'onstrarus as with our traditions?"
Spongebob: "You're not, still mad, are you? (Coffee pulled out a sword)."
Thief thinks: "He's still mad."
Coffee: "(Really angry) You have a 10 second head start!"
Spongebob: "(Makes the same face as Surviveal of the Idiots apawn realising that Coffee is after him now) AAAAAAAAAAAAAA?! (Runs as Coffee missed)"
Coffee: "1-2-3-4-5-6-7-8-9-10?! NOW HERE I COME, PEST?!"
Spongebob and Coffee were seen running back to back, looking like the two are in an intense chase, until it was now see that the two are in a giant hamster wheel!
Hamster Monster Wheel Seller: "You like, yes? Good-good exsirsize."
Coffee still chased Spongebob as Spongebob tripped and was flung by the speeding wheel and fell into a ditch!
Coffee arrived at the edge of the ditch!
Coffee: "Get ready to wish that you stayed out of my business, you pest?!"
Spongebob: "(Grabs a rock!) Stand back! I'm warning ya!"
Coffee: "(Broke into laughter)! A rock!? That's the best you can do?!"
Spongebob: "OKAY, I WARNED YA?! (Tosses the Rock)"
Patrick: "(Shows up next to Coffee) Did ya win? (Gets bonked by the rock and rolls down the hole right at Spongebob's feet)...... Hi Spongebob. (Sees Coffee) AAAAAAAAH, COFFEE'S BACK?!"
Coffee: "Okay, enough of this stupidity, TIME TO-"
Sassafrass' voice: "AT EASE, CAPTAIN?!"
Sassafrass and some of his elites showed up......
Sassafrass: "...... These misfits are in good terms with Taffee. She would not appresiate you relapsing."
Coffee: "..... (Sighs)..... Forgive me, Elder Sassafrass. I still bare, (Seathes sword), Unpleasent memories of my first encounter."
Sassafrass: "Well the time to be ruled by the past is over, Coffee. It's time to amend personal wounds. I'll proceed to restrict the Misifts', shenanigans, from here."
Coffee: "Understood, Elder. (Leaves, but not before jesturing to Spongebob that he's watching them)...."
Sassafrass: "...... (As his elites help Spongebob and Patrick out) I hope you misfits now understand, that the time to take things more seriously is at hand."
Spongebob: "I kinda got that impression. Though, dare I ask why Taffee brought Coffee back?"
Sassafrass: "I trust you already learned that from Coffee hismelf, referencing our trial of redemption tradition."
Spongebob: "Oh right. But why though?"
Sassafrass: "Try to understand that with Toffee gone, those two are all that're left of their family. You'll have to pardon this, unplanned reunion."
Spongebob: "Does Star and the others know?"
Sassafrass: "Apawn their first visit post the merge, actselly. It was equitlly awkword. Taffee had to explain herself intensely, understanding that Coffee left, a bitter taste from his actions."
Patrick: "Well yeah. He did really really mean things."
Spongebob: "How long has Coffee been back?"
Sassafrass: "Sometime after Miss Saetha's wedding when she brought Chaemera in. Now, come on. I trust you're interested to speak to Taffee then?"
Spongebob: "Well, yeah."
Sassafrass: "Then we mustn't dillydally. (He takes Spongebob, Patrick, Djon and Thief back to their group)."
The Group approuched the New M'onstrarus Castle.
Taffee's Throwneroom.
Taffee: "(As she feed Chaemera roasted Brogs) Well I'm sorry misfits, but my best understanding about the merge is limited. One moment New M'onstrarus was seperate from Mewni, the next, the merge happened. Now parts of dimentions like Stingzy's hometown and the Steampunk Pirate Island are part of this strange, strange world. Then my magic and Sassafrass' magic started to weaken. It put my project to bring back the extinct monsters on hiatus until I can get magic again."
Tigress: "But is it possable for you to make guesses?"
Taffee: "..... Well, as reports had said, Mewni, suffered a rather unglamerious, feared, and, sadly expected outcome of Mewmans under the leadership of Mina Loveberry attempting to attack and kill off Monsters that stayed. Whatever Star and Friends did, I suspected it stopped the Solarians and Mina, but it had a noticable effect on Magic just, dwindling."
Fu-Xi: "Perhaps that is because this place is requiring magic to keep it stable and it had an adverse effect on our realms."
Taffee: "Well, fortunately, I did notice signs of magic's limited recovery, but I still wouldn't call it enough for my reshurch of restoring lost races to be out of Hiatus. I, hope Star didn't do anything rash to the Magic Realms."
Sassafrass: "Heavens forbid she does. The Outer Gods won't forgive any harsh damage done to a realm as impourent as the Magic Realms. Nevermind complete destruction, in a worse case scenario. That realm is not just impourent to us and the United Universes of the Lougers', but to all dimentions of the Multiverse."
Pang Bing: "Well why haven't you talked to her about it?"
Taffee: "..... I'm..... Understandingly bitter about the monsters lost to Mina's actions."
Sassafrass: "As am I. Though I welcome Star's aims for amends, I felt it better to just avoid the Mewman area until I am not in a cursey mood, even with my mana too weak at the moment. Though I won't object to Lattee's romance with Fritilla. The youth deserve a chance to rebuild bridges."
Taffee: "Along with how my aims to avoid Mewmanity are now, further made moot then when Star gave me some hope for better relations with, this merge. At least it happened with Mina now powerless and captured by a monster bounty hunter dragging her to Mewkatraz, a netouriously strict prison. Good riddence, personally. Another pile of rubbish taken to the perfect place for every war criminal and rogue of both sides to rot in."
Shifu: "Perhaps we should be able to seek out Star and ask what occured."
Sassafrass: "Indeed. Perhaps she may offer insight on-"
A block puff of smoke appeared, reveling an X-Fate......
The Lougers gasped!
X-Fate: "...... At ease, I am the X-Fate of the Xexaxez assigned to the Manapedes."
The Lougers whewed and calm down.
Icky: "Oh okay."
Shifu: "He's still held in the Magic Commission's room."
X-Fate: "Thank you, he's already being collected for his own trial to finally put the Manapede legacy to rest. He's been told to behave and he will be awarded a lenient trial..... Though be warned that the Mewman's X-Fate has arrived earlier before and is already before the Mewman Capital making a final judgement. I'm just here to get Lord Millipede out of this realm as it is about to be subugated to a likely harsh judgement call by that X-Fate, who Millipede asked us to do that, by the way, as per in return for his complience. Espeically since that I heared claims of an actual successful avatar. So uh, just something to prepare for. (Vanishes off)....."
Icky: "....... (This video)"
New Mewni Capital City.
Another X-Fate: "Mewmansssssssssssssssssssssss of "New Mewni"....... You final judgement, has been desided....... For what you had done to the Multiverseal Community with the Magic Realms, the sentence..... (Darkly) Is assured, destruction..... May inrealm gods, prey for thy, Mewmanity. (A dark portal opened as red eyes appear)....
To Be Continued Next Episode.....
Community content is available under
CC-BY-SA
unless otherwise noted.