The Heroes Act end up missing on Planet Scyria, which Icky immediately calls AUU Ark: Survival Evolved only without flying ARKs surrounding a post-apocalyptic planet, and the Lodgers have to find them. Though they've each been scattered, and each have been surviving their own way. They've tamed the native prehistoric wildlife, and they're trying to find each other again. But even the Lodgers get separated with each of them because of Ark Titan-like beasts called the Titoses. Thus they have to find each other again and escape this planet. Along the way, they learn about the reason why the HA were even in this planet to begin with: They were after the Tiikon mad scientist known as Dr. Sayus Mayus Dayus, a bioweapons expert that intents on unleashing a lost Teadr 1 super race referred to as the Scyrians, a biologically-perfected raptor super-race that given themselves the traits of other dinosaurs and prehistoric reptiles to become marvels of perfection. But the Scyrians locked themselves away because these changes made them succumb to mutation madness that messed with their minds, as too many genetic features regress intelligence and basically scaled them back to mindless creatures. Sayus is thus endangering the planet, which is vulnerable to conquest because the only places of civilization are found in flying high-tech obelisks and the Beaconbeam Tower, both of Tiikon engineering, to protect from the inhospitable outer wastelands, and potaintionally the UUniverses by releasing a race cursed by their own genectic hubris as he believes it would help him seek revenge against the Skorner race for what they did to him. They eventually reunite in Ar Cretacion, the former capital of Scyria, and meet a Tiikon scientific adventurer named Heili Runner, a Sauran female Zoian warrior with armies of tamed wildlife named Meya Liu, an expert hacker Xuron-Aectoid hybrid turned synthetic biomechanical android named Santrago An Sanct, and his Skorner scientific combat agent wife Dinia Altories, who all aim to reterraform Scyria after a long accidental adventure got the four together. They too plan to stop Dr. Sayus as he actually ended up forming his base of operations on what used to be that of their own during their stay in the radioactive Lapse Wastes, where they defeated their traitorous Chredder chemist ex-colleague Edwyn Stonewell, who is now a tentacled mutated monster imprisoned in an underground sarcophagus. They intended to stop him fearing Stonewell would be set free before learning of his true goals, as he actually made a deal with Stonewell that, in return for helping him awaken the Scyrians and their unimaginable secrets, he'd be set free and given everything he ever wanted including his revenge. With a threat on the horizon, the heroes are in for a dino-mite of a challenge.
Scenes
Coming soon...
Transcript
Intro Theme (NerdOut- Coming Home)
Coming soon...
Material
Songs/Music/Videos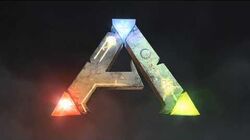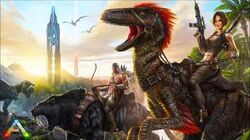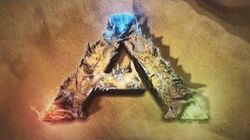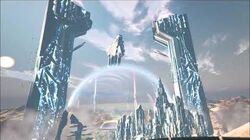 Community content is available under
CC-BY-SA
unless otherwise noted.