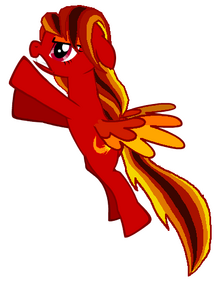 Scarlet Flame
is an
Equestrian
pegasus and a distant cousin of
Sparkleworks
and descendant of the legendary
Firework Burst
. She's a rogue pegasus who has firework-like flying abilities which are apparently derived from Sparkleworks and Firework Burst's family, and both sides of the family didn't know each other. Looking up to her ancestor for being the fastest pony in history with a record even
Rainbow Dash
couldn't break, she aspired to be just like him, but because she couldn't push her own limits without killing herself or being permanently crippled, she cheated by using a relic belonging to war pegasi of the Wonderbolts' ancient past, and when her act was caught, her name was tarnished publicly and she was kicked out of the Wonderbolts for committing a fraud out of denial and haggle. Thus after discovering Firework Burst's attempt to turn back time with his speed, she swore to use that technique to travel back in time to take revenge. But she fails to realize that because it was as unrealistic as Superman's attempt to do so, it would only tear up the world, as the claims were only a myth based on silly science. Her anger and power are so strong they surpass Rainbow Dash, as even she cannot measure up to her power and therefore can never beat her with power, but smarts.
History
Coming soon...
Abilities
Coming soon...
Community content is available under
CC-BY-SA
unless otherwise noted.