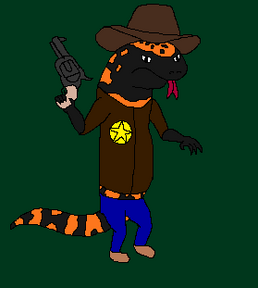 Sheriff Jacob C. Garrot
is the Gila monster sheriff of Dodge City on the Western planet of
Pastoon
. He is crazed, assertive, tough, good in hand-to-hand combat, and shoots a gun with amazing accuracy. He naturally has a venomous bite, but he never uses it unless he must. He has a wife and a son named Ralph, who grew up into a Goth after being troubled not just by
Fake Mayor Louis
, but a pedophile outlaw named
Pedo Fred
, which lead to Garrot beginning his investigation in busting
Mafia Alliance
 "crime boss" outlaw,
Criminal Sanchez
. He has since decided to get some
deputies
in the form of four ground squirrel siblings and a jackrabbit named
Deputy Ruby
whom Ralph actually ends up slowly falling in love with, though tries to ignore or deny these feelings. He sadly had a hard time becoming mayor since his family had a legacy of being outlaws feared for their bites, recently including an outlaw brother named
Dominique Garrot
.
History
Coming soon...
Community content is available under
CC-BY-SA
unless otherwise noted.