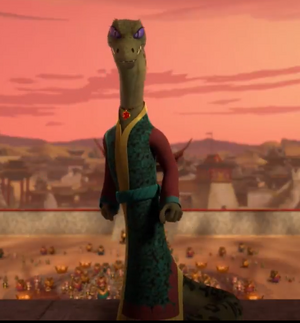 Shi Long
is a Komodo dragon and the secondary antagonist of the second half of season one of
Kung Fu Panda: The Paws of Destiny
. She was once the most trusted advisor and adopted daughter of
Kang Zi
, a lynx and one of the many minor Emperors of China behind
Lu Kang
, and becomes jealous of Kang's daughter
Xiao
when she's named his eventual successor. She thus causes a huge drought in the Forbidden City, poisons Kang, and seeks to overthrow Xiao, all with the help of the Imperial Chow Chow army, corrupted Imperial chi-wielding cooperative terracotta warriors powered by stolen Red Jade, and a mysterious object which held the
White Bone Demon
inside of the Spirit Realm, making a deal with the demon in exchange that she will rule by her side. But
Jade Tusk
and
Sun Wukong
try to warn her that she would betray her and she does so, eating her until being healed later and sent to prison, with Xiao willing to forgive her even when she found out she lied & killed Kang, though Xiao insisted that forgiveness did not meant exhoneration, though that can be more to blame on how strict Imperial China is to wrong-doers. Though Shi Long does express annoyence on Xiao's extreme fickleness, she also doesn't exactly blame her. Even when it can be argued that the things she did are more then likely what the White Bone Demon had asked her to do, Shi Long doesn't exactly forgive HERSELF for what can be equited to playing a litteral devil's advocate.
Biography
Coming soon...
Role in the series
Coming soon...
Community content is available under
CC-BY-SA
unless otherwise noted.