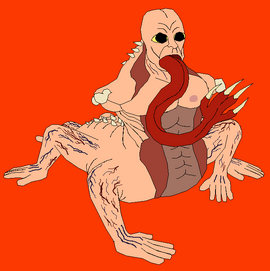 Slurpy
is 
Hissgo
's pet "Troll", not to be confused with mythical trolls or internet trolls. Rather, imagine another verson of the abominable "Centaurs" of Fallout infamy and you can guess what Slurpy is. Trolls are commenly wild abominable creatures that were the end result of a particularly nasty exspeariment of 
BioGen Inc
. Let's just say it involved humans being mixed with animals and it lead to the trolls. The creatures lost their sense of sentience and ended up basicly being reverted back to being animals in a way. The creatures are asexual and reproduce by vometing out a gross blob that'll turn into a new troll. The Waterliods tamed and housed the sad creatures as pets for compainionship and even to work along side them to help guard places, herd lifestock, hunt, and other things dogs of other socities can do. Slurpy was adopted during it's blob stage by Hissgo and bonded with him, becoming inseperable with him. Slurpy is a strange sort've cute. In meaning that you can actselly find a creature of a unpleasent nature adorable.
History
Coming soon...
Abilities
Coming soon...
Community content is available under
CC-BY-SA
unless otherwise noted.