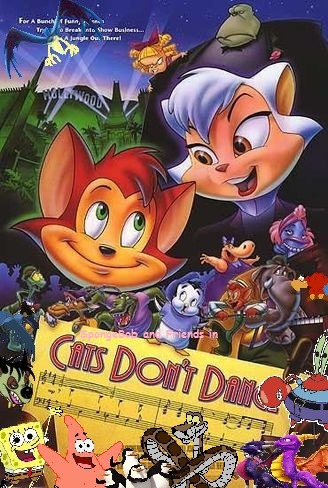 SpongeBob and Friends in Cats Don't Dance
is the 15th moisode in the 1st Season of the
SpongeBob and Friends Adventures
series. In this adventure, L.B. Mammoth wants to produce a film based on the Shell Louge Squad's defeat of Dark Cynder, but Darla Dimple is there to try and ruin their reputation. Strangely enough, Scroopfan's preferience to possitiveness for cats overcomes the actual plot, and Darla is defeated before she can begin her scheme.
Plot
The film takes place in 1939 Hollywood, during the Golden Age of Cinema. An ambitious young cat named Danny (Scott Bakula), who dreams of becoming a movie star, travels from his small hometown of Kokomo, Indiana to Hollywood. There, Danny meets The Shell Lodge Squad, who have been invited to Mammoth Studios to make a movie about their triumph in Camelot. Danny also finds animal talent agent Farley Wink (Frank Welker) and his secretary, a sassy and cynical (but stunning) lady cat named Sawyer (Jasmine Guy), with whom Danny becomes attracted to. Danny is admitted into a small role in Mammoth Pictures', where some animals quote about someone named Fagin. Cynder finds this familiar, but can't put her finger on it. There, Danny is given a roll in "Li'l Ark Angel", the latest film featuring child actress Darla Dimple (Ashley Peldon), "America's Sweetheart, Lover of Children and Animals." He is enthusiastic until he realizes the role's insignificance. Determined to become more central, he takes matters into his own hands, turning his one line of "Meow" into an impressive bit of music, but in doing so, he upstages Darla Dimple. She immediately orders filming to stop, showing her "real animal nature," and calls the ressurected Ratigan, her manager, who summons Darla's valet, Max (Mark Dindal), (a massive, rigid parody of Erich von Stroheim's portrayal of Max von Mayerling from Sunset Boulevard[3][4]) to make Danny comply by asking him, "How does the kitty cat go?" with Danny answering "Meow" and Max pushing him down saying "Very good."
That night, after the Lodge sent Ratigan's former goon, Fidget, to spy on Ratigan, (though a cheap-shot trick of them saying he's too chicken) Danny (along with his penguin friend, Pudge (Matthew Herried), a young lad he met when he first came to Hollywood) learns from the studio's mascot, Wooly the Elephant (John Rhys-Davies), that all of the other animals who came to Hollywood sharing Danny's ambitions (including Sawyer) are reassigned to the supporting cast, playing stereotypical animal roles, while the humans assume central roles because of Fagin, a Darkspawn bird, mind-corrupting the humans to think animals were best to do such, and even ruining Sawyer's dream, who is said to be one of Fagin's true challenges. Danny therefore organizes an impromptu dance session in an alley the next morning to remind the animals why they came to Hollywood, and start a musical resistance to cause Fagin to leave on his own, or the Lodge will make him. He convinces Sawyer, with some difficulty, to resume her former practice of dancing and she joins them. Danny begins making plans to finally get some recognition. Darla and Max overhear him from afar. Believing that the animals provide a threat to her stardom, Darla thinks of a way to use Danny to keep the spotlight on herself.
Darla invites Danny to her mansion so she could "apologize" for what Max did the other day. She even offers to call studio boss L.B. Mammoth to arrange for Danny and his friends to perform for him. Danny eagerly embraces her offer. He enlists the assistance of all the animals to get ready for a big show (even Sawyer, who's starting to reciprocate Danny's feelings for her) just as a press conference for "Lil' Ark Angel" takes place outside the sound stage. Not known to the villains, Fidget learns of Darla's and Ratigan's secret partnership with Fagin, and warns the Lodge. Cynder then remembers that Fagin is a Darkspawn who somehow escaped the Banished Realms. The League planned to flood the stage with water. However, they were captured by Fidget. But all was left was the over-sized Max. Fidget, the captor of the villains, is chased out to the roof of the studio and atop a giant Darla balloon, where he is forced into a final showdown with Max, but at least with the other Lodgers. When all seems lost, they both notice the balloon is about to pop (with Max still on it). Icky thanks Max for giving them a shortcut to defeat him, then as the balloon pops, Icky bites the rope holding the balloon, sending Max away.
At this, the animals perform a spectacular song and dance scene. Darla's (who escaped because of Fidget somehow leaving the key were she and Ratigan and Fagin were locked in the exact broom closet) outrageous attempts to stop them (trying to close the curtain, throwing light bulbs at Sawyer and Danny, opening smoke canisters, trying to make T.W. fall into the crowd, smashing the control booth, and pulling "The GrandDaddy of All Switches") result only in enhancement to their performance and in pain to herself. The production number is a resounding success, and the audience applaud for the animals' efforts. Darla, trying to prove that she is the true star, recklessly screams at Danny through a microphone tangled on her back that she should of drowned the stage, and her allience to the Villain League, much to the anger of Ratigan, who had a heart attack cause of a possible bad blood pressure. Everyone in the audience is shocked at this, including L.B. and the director, Flanagan. With her crime and true nature now exposed to the audience, Darla tries to save face by hugging Danny, but gets dropped down a trap door by Squidward while shouting out for Max (Max, drifting over Paris at this point, responds slowly to her call: "Oui, Miss Dimple!") the Hyenas, with Basil's help, captures Fagin and Ratigan and sent them away from a geyser. As the animals receive more applause for their victory, L.B. and Flanagan prazed the animals, assuring they will be making history through films.
It is implied that the animals got the better roles, but are also given starring roles from then on, creating a number of amusing films such as Singin' in the Rain, Casablanca, The Mask, Teenage Mutant Ninja Turtles, The Witches of Eastwick, Grumpy Old Men, Superman, Beetlejuice, Twister, Batman & Robin, and Free Willy. It is revealed afterwards that Darla has lost her fame due to her actions and now works as a janitor setting up a "The End" poster (with it falling down and wrapping around her). The Louge, meanwhile, either they did make the movie base on their adventures or not, were given another mission, safe guarding Alice, a princess of heart... simple enough, right? or so it seems....
Songs
Our Time Has Come- Beginning Song/ End Song
Hollywood- By Danny
My Little Boat on the Sea- By Darla
Trashin' the Camp- by Danny
Nothing's Gonna Stop Us Now- Danny, Sawyer, Tilly, T.W., Cranston, Pudge, and Wooly
A Mood For Food- By Kaa
Squidward's Tiki Land- By Squidward and his Tikis
It Feels So Good To Be Bad- By Fagin
Big and Loud- By Darla
Trivia
In the original film, Darla succeeds in flooding the soundstage the animals are in. But in this version, Fidget captures the villains. This is because supervideomaniac did not want Danny and Sawyer to suffer the so-called "anti-cat" sad parts.
Community content is available under
CC-BY-SA
unless otherwise noted.