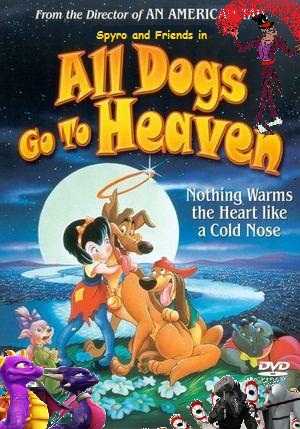 Spyro and the Louge go to New Orleans where they run into Spyro and Sparx's old friend, Charlie B. Barkin, who has been murdered by the Villain League's new recruit and his treacherous ex-business partner, Carface, resulting in his ascension to Heaven only to forsake his place there to return to Earth as part of a plot to take revenge on the one who murdered him. No sooner afterwards, the Lougers, Charlie, and Itchy, a friend of Charlie's, meet a little orphaned girl, Anna Marie, who can talk to animals who teaches them an important lesson on honesty, loyalty, and love. But they're not exactly done with Carface and the Villain League yet as they've got some new allies for Spongebob to meet up with: Father and the Delightful Children from Down the Lane.
Not only that, but there are more sinister things going on in the shadows that see a greater conflict occuring very soon. They see great things in Charlie's vengeance-crazed heart, and want nothing more than to have him on their side. After all, if Sora and Spyro aren't fit to join the Organization XIII due to their hearts of light, then perhaps someone with a much darker heart will...
.
.
.
.
.
.
.
"You can...never...go back..."
Community content is available under
CC-BY-SA
unless otherwise noted.