Stars of Piracy II: Dead Digital Doom is the 37th Episode of Season 3B of the SpongeBob and Friends Adventures Chronicles series. The Lodgers are visited by Captain Axxus and his Pirate Crew again and ask them to help on another space-faring adventure of a lifetime. This time, a dreaded dark entity the space pirates have called Hagry Moans, a cursed digital squid-like space pirate who has been known in legend to be a master of mixing magic and solid-light holography and/or digital illusion, has started to plague Urex and the other moons on his spaceship The Devil's Cruise, even ones still recovering from Foul Cheese's mistreatment, and has also started to kidnap people and turn them into digital beings similar to him. Among the victims was Foul Cheese himself, as he became a beastly representative of his dark nature. Blue Cheese has started the maiden voyage to save her uncle with the entire imperial armada to stop Hagry, but he controls a monstrous magical solid-light holographic space octopus known as The Mooqin, which in legend has been known to suck spaceships in it's large black-hole-like throat and keeps it's victims inside to die. The Lodgers, concerned for Blueinna's safety, join with with Axxus and his crew again to discover the secret weakness of Hargy in a small holographic databank said to hold his magically-sealed, still-beating, disembodied, and completely digitalized heart, and that injecting nanobots inside the databanks is the only thing to harm him and disrupt the digital curse. However, will this end well?
Transcript
Intro (Pirates of the Caribbean Theme)
Chapter 1: Captain Axxus Returns
Chapter 2: The Legend of Hagry Moans
Chapter 3: The Quest For The Databank
Chapter 4: The Mooqin
Chapter 5: Space Battle
Chapter 6: The Digital Heart
Chapter 7: The Defeat of Hagry Moans
Epilogue
Material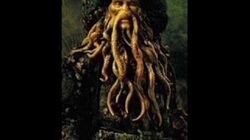 Community content is available under
CC-BY-SA
unless otherwise noted.