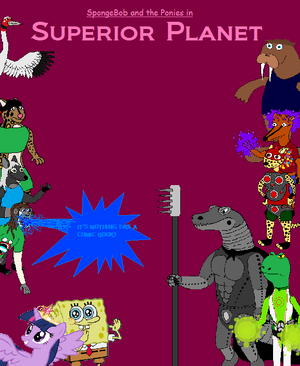 Superior Planet
is the 13th Episode of the 2nd Season of the
SpongeBob and Friends Adventures Chronicles
series. After 3 days of vacation on Planet Paradisa with the Main 6, the Shell Lodge crosses paths with a 13-year-old Ocelot cub named
Ororo Joltzen
 who is suffering from amnesia and has incredible super-strength, and the ability to take the powers of anyone she touches. After DNA examination, the Lodgers learn that Ororo is a 
Superior
, a sentience with superpowers that was said to be destroyed when their home-planet, Kratos, was destroyed during a massive earthquake in 1558 AD. However, the planet still lives, and the Lodgers come by for a visit. However, Kratos' leader,
Master Algorithm
, Explains that Ororo was banished for attempted usurp of the throwne cause she appearently became evil cause of Algor's way of protacting her from a corruptive cult ended up ruining her life and is forbidden to come back. Thus, he makes the lougers promise Ororo is not to rememberor or she will be evil again. However, during a three day stay, the lougers ran in to Ororo's suppose accoplishes who explain that the earthquake, called The Big Shake, was caused by Master Algorithm as a means of reshaping the planet so that a large, and more hospitable supercontinent could be formed. However, The Big Shake nearly destroyed the planet instead of reshaping it, and Master Algorithm decided that the only safe way to accomplish this goal is to become all-powerful. But there's another evil in the act. Master Algorithm's majordomo, 
Shamus von Phantomarge
, an aged crane with force-field generation, ghosting powers, and invisibility, fears that superiors would be hated and feared by 'the normals', and they will soon try to enslave, dominate, or even destroy superiors. So he tricked Algor into making a device that will make every superior on Kratos normal. it has even gone bad to the point that Shamus would even conspire to get Algor out of the position of leader just to persue his plan to avoid the unintention of making a another dishater worse then needed if chance would present, and the misfits end up being such the oppertunity he needs. and if either one of Algor and Shamus' plans happen, it WILL mean big trouble for all superiors. It's up to the Shell Lodgers and their superior friends to stop Algor AND Shamus at the same time before it's too late.
Transcript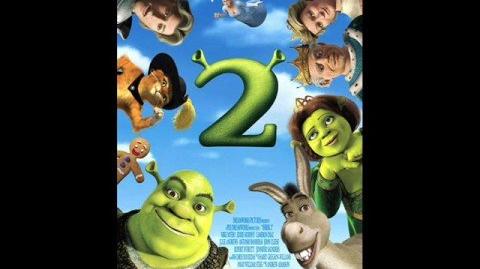 Intro Theme (Shrek 2- I Need A Hero)
Chapter 1: Paradisa Vacation
(Chronicler): (Narrating as multiple depictions of wars and heroic battles are seen) "Our life is made by the death of others." Leonardo DaVinci, 16th century AD. Heroes have been protecting the UUniverses for over a million years. Wars have been waged, communities have fallen, many people have died. But there is a Yin for every Yang. Good rised up against every evil ever known. Even if death has taken it's toll against thousands of heroes, the safety of the UUniverses have still been retained. Especially on this one day. A longlost planet that was thought to have been destroyed centuries ago, will appear to be alive and well. Kratos. A planet populated by superpowered beings known as Superiors. Ever since their discovery of quantonium, they have wielded this substance, and used it as an incredible source for superpowers of various types. But then, something unexpected happened. (The planet gets massive earthquakes, which begin cracking open) The Big Shake. Humongous catastrophic earthquakes nearly decimated the entire planet. But why? How? The planet was luckily saved by the Superiors and their great superpowers, but what will fate hold in store for them?...(Narration ends)
Paradisa
The lougers and the ponies are seen relaxing after the situation with Jerky. Celestia has sense return to Equestia due to her respondsablity as ruler of Equestia, but Twilight was allowed a due needing vacation.
Icky: "Aw yeah, this place is twice as energenic since we wiped out Golith the mutant shark sometime back, and nothing like a due vacation after kicking a Tyrant out of an undeserved thrown and saving an entire planet of Icks."
Lord Shen: I agree. I'm glad we didn't crash onto another planet this time.
Twilight: (Sitting on a bench chair with sunglasses on, listening to "Helping Twilight Win The Crown" on her iPod) Yeah, it's nice to be out of Canterlot every once in a while. On top of it, I also managed to learn how to use an iPod after my-
Lord Shen: Yes, Celestia told us about your little adventure. Scroopfan just doesn't want us to mention it a lot.
Pinkie: CANNONBALL!!! (Jumps into a pool, almost splashing Twilight, and resurfaces) WHOO!!! This place is amazing! (Swims up right near Applejack and gets out) Hey, Applejack? I'm gonna push Rainbow into the pool, you in?
Applejack: Hmm? Seems pretty fun. I'm in. (Runs up near Rainbow Dash)
Rainbow Dash: Oh, hey, AJ.
Applejack: (Scoffs) Hey, Rainbow Dash.
Rainbow Dash: Alright, I hear you chuckling, what's going on?
Applejack: NOW! (Crouches down, and Pinkie runs towards Rainbow Dash)\
Rainbow Dash: What the--(Pinkie pushes her into the pool) WHOAH!!! (Splash)
Pinkie: (She and Applejack burst out laughing as Rainbow Dash resurfaces)
Rainbow Dash: Oh, it is SO on, you crazy kids! (Pulls both Applejack and Pinkie into the pool, and they all begin to splash each other)
Twilight: (Giggles) Having fun over there, girls?
Lord Shen: They sure look like it.
Icky: Yeah, they're more jumpy than a kangaroo with coffee.
Cutaway
Kangaroo: (After drinking coffee, he's all hyperactive and stuff, Dubbed as Cosmo) WOW! THIS COFFEE STUFF IS GREAT!!! COFFEE, COFFEE, COFFEE!!! WHERE DO THEY GET THIS STUFF?!?
Wallaby: Columbia.
Kangaroo: WELL, I'D BETTER GET OVER THERE RIGHT NOW SO I CAN HAVE THE GREATEST COFFEE IN THE WO--(Falls asleep) I'm tired.
Present
Rarity: (Sitting in the sun getting a tan until someone blocks her light) Do you mind? You are blocking my...(Sees it's Spike) Oh, hello, Spikey-Wikey!
Spike: "(Goofy sounding), Hi Rarity."
Iago: Hey, you guys having your private time?
Spike: (Dubbed as Patrick) DO YOU MIND?!?
Iago: Okay, okay, Geez! Don't get your undies in a bunch!
Spike: I don't wear underwear.
Iago: Yeesh, talk about a nudist. (Rarity kicks him into the pool)
Rarity: Yeesh, what a potty-mouthed parrot!
Spike: "So uh, anyways, uh, I was hoping, I could maybe, (having no idea what to do with Rarity in the most biggest of oppertunities) uh-"
???: "CARROT DOGS?! GET YOUR CARROT DOGS HERE?! IT'S LIKE A HOT DOG, BUT REPLACE THE MEAT WITH CARROTS, CAUSE IT'S MORE HEALTHY THEN A NORMAL DOG IN MORE WAYS THEN ONE AND WE'RE ALSO BEING CONSIDERATE TO VEGITARIANS!"
Spike notices an Octopus serving Carrot dogs.
Spike: "Oh! Uh, buy you a carrot dog?"
Rarity: "Thank you dear spikey."
Spike smiled!
Rarity: "But I am not much for carrots to be honest, they always had an odd crunchy taste....."
Spike: "Aw."
Rarity: "Oh why not, cause you you just offered it."
Spike: YAY! (Runs over to the carrot dog stand) How much?
Octopus: Just a dollar.
Spike: Well, it's a good thing I'm not that greedy. (Gives him some gems)
Octopus: WHOA!!! You could afford 12 carrot dogs with this stuff!!!
Spike: Actually, one is enough. (He gets the carrot dog, and returns to Rarity) Here you are, Rarity.
Rarity: Why, thank you, Spikey-Wikey! You are so generous.
Spike: Well, I get it from you.
Rarity: (Giggles) Thank you again. (Takes a bite of the carrot dog) Whoa, this is delicious! This carrot has been cooked!
Spike: Well, if there's anything else I can do for you, all you have to do is ask.
Rarity: You are too kind, you adorable hunk of dragon. (Spike leaves)
A salty old Pelican Captain and a pet crab is seen walking by with a sign.
Icky: "Who's that?"
The old Pelican stops and places the sign down.
The Pelican: "YARR, ATTENTION, ONE AND ALL, COME SEE THE SPECTATULAR PREFORMICE THAT'S SWEEPING THE PLANET?! I, CAPTAIN PELLY, THE BUCKINGER OF THE UNUSUAL, HAS THE MOST INCREDABLE COLLECTION, OF THE STRANGE AND ODD?!"
Iago: "Strange and odd?"
Captain Pelly: "Aye me lads! Come and see, (Holds up a poster) A shark with Walrus tusks! (Shows another poster) A Mermaid Pony! (Shows another poster) A dragon with the extra heads of a Unicorn, and A poodle!"
Twilight becomes concern with what Captain Pelly said.
Twilight: "Did you just said Mermaid Pony?"
Captain Pelly: "Aye, but that's not all! I also have meself the world's tiniest elephant, no bigger then a tack! The world's biggest mouse, the size of a big van! And even, A two-headed albino Cobra-Python hybreed!"
Twilight: "But, where did you get a merpony exsactly?"
Pet Crab: "He bought her up from some goons from Desteny Islands, some palce called "Merpony fishers Inc." or some crap."
Captain Pelly: "YARGH! DARN CRUSTATION?! SHE WAS ASKING ME YA TAILNESS LOBSTER?!"
Captain Pelly regains his propose.
Captain Pelly: "I mean, pretty much what the crab said, but, I haven't even mentioned the biggest attaction of all! The universe's most incredable leopard thing?!"
Pet Crab: "He means Ocelot."
Captain Pelly: "ARGH, I KNOW WHAT I MEANT?! I mean, this is an all summer spectatular! You and your friends are welcome to come miss purple Unicorn."
Pet Crab: "Uh boss? Did you not see the wings?"
Captain Pelly: "What wings, Crabby, you blasted nusience?" (Twilight opens her wings)... Oh... Right, you're an Alicorn.
Twilight: What's so amazing about this ocelot, anyway?
Cpt. Pelly: It has powers you can't even imagine!
Iago: (All wet and sputtering) I HATE water! Rarity kicking me in is one thing, but getting stuck in those girls' splash fight, I ALMOST DROWNED!!! Anyway, what's up?
Icky: It seems this pelican has some kind of mutant circus.
Cpt. Pelly: Well, yeah, technically, it IS a mutant circus, but it actually has a few mythical creatures as well as this amazing leopard thing with superpowers.
Pet Crab: Ocelot!
Cpt. Pelly: Whatever!
SpongeBob: A superpowered ocelot?
Lord Shen: Sounds like something from an animal's comic book.
Max: You mean like those animal heroes from the DC Universes' Earth C?
Lord Shen: I have no idea what you're talking about, Maxie!
Max: You know, like that turtle with goggles, that Independence Day-themed poodle, that size-changing mouse, and that buff mugger-dressed pig?
Lord Shen: I do not read comics.
Sam: Oh, yeah, I remember those.
Lord Shen: The point being that this sounds like something fictional.
Skipper: Lord Shen, this is a cartoon! We're ALL fictional!
Twilight: Still, I'd like to know what this ocelot can do.
Cpt. Pelly: Just you wait! (Dubbed as Stewie) Cause it's gonna blow your mind like the Stereopticon did to Americans in 1910!
Stereopticon Cutaway is seen
Trixie: Just tell us what it can do, old man! (Gilda smacks her)
Cpt. Pelly: Well, if I told you, it wouldn't be a surprise, would it?
Trixie: Who said anything about any surprises, old man? (Gilda smacks her again) Okay, I'll shut up!
Cpt. Pelly: I did! Just now! Get over it! But if you wanna see these amazing creatures yourself, come down to Cpt. Pelly's Circus of Cross-Glory! Here's a ticket worthy for you and the rest of your Shell Lodgers and allies.
Gilda: You know who we are?
Pet Crab: Who hasn't? You've saved the UUniverses more times than I can count.
Pelly: "And that's not very high I assume?"
The pet crab pinches Pelly in the nose!
Captain Pelly: "YOW?!"
Twilight: "Ok, we would like to see this "Circus" you got. Afterowrds, I need totalk to you about the Merpony you have in your proession."
Pelly: "Tell ye what. Cause I think I actselly like you guys, here's complentary tickets for the best seats in the show."
Icky: "A free freakshow? Nice!"
Captain Pelly: "You know, I feel even more generious and deside to show you the collection practicing."
Chapter 2: Ororo the Super-Ocelot
At the "Captain Pelly's realm of the odd."
First up is a Merpony with a mane sytile simuler to Lightning Dust whipping at a Shark with Walrus tusks!
The Merpony: "Back Tootho Back! I'm the one who wears the metithorical pants around here?!"
Rainbow Dash: Funny, this merpony looks like she's from Equantica.
Cpt. Pelly: That's because she IS from Equantica. I actually adopted her 18 years ago. Merpony Fishers Inc. told me they found her washed up on shore as a baby filly long ago. They couldn't afford to raise her, so I bought her off their hands.
Fluttershy: That's so sweet.
Cpt. Pelly: Yep. She taken an interest in my circus, so I made her a part of it. I named her Natalia.
Natalia: (Whips the Walrus-tusked Shark) GET BACK, YOU YELLA-BELLIED MEAT-SUCKING BUTTHEAD!!! I'll shove a grenade right up your-
Cpt. Pelly: NATALIA!!! WHAT DID I SAY ABOUT THE LANGUAGE?!?
Natalia: SORRY, FATHER!!!
The Walrus tooth shark Tootho: "Yeah kid, seesh, we're just acting here for the big show coming up. Calm down over here."
A Dragon with the additional heads of a non-Equestian Unicorn and a Poodle is seen balencing on a ball.
A giant Mouse: "Are you sure you can do it Tiny Jumbo?"
The tiny elephant Tiny Jumbo all the way high up on a miniture diving board in front of a pitcher of water: "I know it, Gi-Mouser. I think I got it this time."
Tiny Jumbo jumps off!
Gi-Mouser covers his eyes in worry!
Tiny Jumbo: YEEEEEEEEEEEEEEEEEEEEEE-HAAAAAAAAAAH!!! (Sploot)... AAHHH!!! I CAN'T SWIM!!!
Gi-Mouser: WHAT?!?
Tiny Jumbo: Just kidding. I can swim just fine!
Gi-Mouser: Very funny, TJ. It is to laugh!
Brandy: Now let's see what this 'superpowered ocelot' can do.
Cpt. Pelly: You're gonna LOVE it! (An ocelot with black hair like Melody's, but with a red band, and a green skirt and shirt, appeared)
Ocelot: Hello. My name is Ororo Joltzen the Mimicry Master! I shall demonstrate a magic trick that I have been using for as long as I can remember. But first, I need a volunteer from the audience with a unique superior ability. In other words, I need someone with a cool power of their own.
Rainbow Dash: (Raises her hoof)
Ororo: A-HAH! I have a volunteer! (The spotlight shines on Rainbow Dash) C'mon down, my good pony. (Rainbow Dash zips on down to the stage) Oooh, incredibly fast, I see. What's your name?
Rainbow Dash: I'm Rainbow Dash. The fastest pegasus in Equestria.
Ororo: Tell me, what makes you different from other ponies?
Rainbow Dash: Well, I don't like to brag, but I'm extremely physically fit. As a pegasi, I can control weather, stand on clouds, and I know a lot of flying maneuvers.
Ororo: So you have great physical fitness, you're agile, reflexive, you can fly at a surprising speed, you can control weather, and stand on clouds. Hmm, seems pretty impressive.
Rainbow Dash: So... What do I have to do?
Ororo: Don't worry. This won't hurt at all. (Touches Rainbow Dash, and something weird happens. Rainbow and Ororo glow in green bright energy, and after 10 seconds, it stops)
Rainbow Dash: Whoa! Now th-that's a really BIG chill up my spine! What was that?
Ororo: You shall see. OPEN THE ROOF!!! (The circus's top opens up, and a cloudy sky is seen) Watch this! (Ororo starts flying like Rainbow Dash, doing slaloms around the clouds, doing Figure 8's, and then lands on a cloud, standing on it)
Rainbow Dash: Wha- How did she-?!?
Ororo: (She then takes a cloud, turns it into a thundercloud, and kicks it, initiating lightning! Ororo then stands on the thunder cloud and jumps on it, initiating rain)
Rainbow Dash: Wow!
Kowalski: EGAD!!!
Ororo: (She gets higher in the sky, and managed to do a successful Sonic Rainboom, then she lands on the ground) TA-DAH!
Rainbow Dash:... AMAZING!!!
Lord Shen: What the hell was THAT?!?
Cpt. Pelly: That was one of her superpowers. She can absorb and copy the skills, memories, and powers of anyone she touches.
Icky: "Ok, I have to admit, that is freaking cool!"
Captain Pelly: "Not surprised ye thinks that way. Ever since Ory came in, business has improved more then expected. We're like a tight-knit family."
Hours later.
The other members of Realm of the odd have began to praise Ororo.
Natilia: "That was narly! That is gonna make a killing at the upcoming big show coming soon!"
Ororo only nodded.
The unusuals resume praising while the lougers were still here even after the practice was over.
One of the heads of the two headed albino Python-Cobra Hybreed: "My dear it's a wonder the show ever survived without you."
The other one: "A wonder indeed."
Ororo: "Thanks. Your all the closest things to real friends I have here."
Tootho: "Yeah, everyone else out there sees us as freaks, abominations, mutants! I'm glad Pelly was the only one who ever wanted us."
Natalia: "You said it Tootho."
The Dra-Uni-Dle (The multi-headed-Dragon-Unicorn-Poddle) is unsentient and behavies like a dog as all three heads lick Ororo!
Ororo: "Hey, easy boys!"
Tiny Jumbo: "You the tops kiddo!"
Gi-Mouser: "Your awesomely great."
Captain Pelly came in.
Captain Pelly: "Well lads, as long as we have Ororo, nothing could possability go wrong."
Suddenly, a hover limo appeared.
Pet Crab: "Uh, boss? We got company, but it ain't what the kind we want."
Captain Pelly looks over.
Captain: "Oh by the great seas no."
The members of the odd realm become concern.
Suddenly, Senator Tri-corn comes out of the limo with Jamica well as some guys in suits.
Senator Tri-Corn: "Pelly, front and center!"
Captain Pelly approuched timid and scared of Tri-corn.
Captain Pelly: "Uh, hello, Miss Senator. Lovely weather in Paradisa as usual."
Senator Tri-corn: "Don't try to distract me, Pelican! You know what I'm here for! I have been hearing rumors that you were a custimer of the shut-downed Merpony fishing indsuty in Desteny Islands since I been made aware that some Merponies have been sold to be keep as pets and sideshow freaks! And as an act of good will for Eqlantica who was wrong by this industry, I am working to send every single one back to Eqlantica in Equestia! And that includes her! (Points to Natilia). But it's not the only reason I'm here! Your fully aware that I do not tolerate your useage of these collection of escape lab mutants as circus acts, in the most unarmed vacation planet no less, that was previously victimised BY A GIANT MUTANT SHARK!?"
Captain Pelly: "Senator please, I promise they would mean no harm! They just want a place to call home! And Natilia, she has no family in Eqlantica! She's orphaned. She never knew her real parents. And the others, please, don't send them back to those goverment lab facilites! They hated it there!"
Senator Tri-corn: "And another thing?! What's this I hear of a new mutant that barrow talents and memories of others?! This, incredable "leopard thing" as abertised in the posters? Who I may add is an Ocelot. Anyway, who is she, and what lab was she from?"
Pelly: "That's the thing, I don't know! I just found her one day and she has no memory of where she came from! She forgot all but her name."
Senator Tri-corn: "Oh well, at least she can be placed in any secret lab then. Boys, round up the freaks, get the Merpony out of here, and have Pelly and his pet arrested for useage of mutants and holding a Merpony hostage!"
Captain Pelly: "Your highness please, I'm a legitimate business man, you got to-"
Senator Tricorn: PELLY!!! Do not challenge my authority! As Senator, I have my rights, and you shall respect that, or I will have no choice but to add resisting arrest and questioning my authority to the charges against you. Do you DARE go against that?
Cpt. Pelly:... No.
Senator Tricorn: Then you shall not convince me otherwise. I'm shutting this place down for good.
???: HOLD IT! (Everyone turns to see the Shell Lodge Squad)
Shifu: As a member of the High Council, I say you are not to touch any of them, Senator!
Senator Tricorn: (Sighs) Not you guys again!
Rainbow Dash: This guy is not a criminal, and he has done nothing wrong.
Twilight: That's right. He raised these creatures like a family. Much like the Lodge has done with Kairi. How would YOU feel if you never knew YOUR parents like Natalia or Ororo?
Senator Tricorn: In, all of my honesty.... I don't.
Spyro: You don't?
Cynder: What do you mean, Senator?
Senator Tricorn: I never knew my parents, either. Ignitus told me they died long before you and your companion were born.
Patrick: (Starts crying) IT'S SOUNDING TRAGIC ALREADY!!! (Cries)
Spyro: Then why must you do something as harsh as this when you know how they will feel? Me and Cynder never knew OUR parents due to a war caused by Gaul. There's also many others in the Lodge that never knew their parents like Po, Tigress, Shenzi, and Puss.
Icky: "Corn, babe, nothing against what your trying to do with returning Merponies to Eqlantica after that Desteny Islands mess, and we have already been PAINFULLY aware on where you stand with those not considered normal by traditional nature. I mean, maybe those other Merponies from freakshows had someone to come back to as well, but Natilia was orphaned. This old bird the closest thing to a dad she has in like, litterally forever. And those other guys, the old pelican did them a favor and gave them a home instead of them roaming around in obsucred parts of the world, like, allies, sewers, a creepy rarely visited island, any of the like. This is their only hope of being accepted of who they are."
Skipper: "I can respect rules! And I am not incredablity ignorent that you don't wanna take any chances with things your not 100% sure on! But don't always dive in head and gun first unless your sure these guys are a legit threat or not. Besides, HOW'S A TINY ELEPHANT THE SIZE OF A TACK A THREAT OF ANYONE?!"
Senator Tri-corn: "Well, I came here cause I am more concerned about the other ones. I mean, a shark with the tusks of a Walrus? A two headed-snake hybreed? A giant Mouse? I mean, a giant mouse alone is any housewife's worse nightmare!"
Icky: "Corny, believe me when I say, ya got nothing to worry from these guys. I mean, if they're so dangerious, don't you think they would had killed Pelly and be a problem we had to clean up by now?"
Tri-corn glitches for abit when she thinks about this.
Tri-corn: "..... I.... Don't know why, but, for some reason, that's actselly a good point."
Cpt. Pelly: Does this mean you'll spare us, Senator?
Tricorn: Yeah..... I guess so.
Cpt. Pelly: (Sighs in relief)
Ororo: I thought we lost you forever!
Natalia: Yeah! Thanks for your help, Shell Lodgers.
Sam: Ah, don't thank us.
Max: Just doing our duty.
Senator Tricorn: I must also ask that I need to know where Ororo came from. Her powers are definitely not a mutation. It's not even magical. I sense that it's biological. She must've been born with these powers. That's why I want the Shell Lodge to help Ororo discover her home, and see if she would like to stay there or here. I am being the kindest I can be at this point.
Ororo: Oh, I don't think that will be necessary, Senator. I already know where I belong.
Senator: I wouldn't be so sure of that. What's the last thing you remember since your little incident?
Ororo: Well, let's see... I got nothing. There's no planet I know exists that has people like me.
Kowalski: Well, I feel it would be nice of us to help you, Ms. Joltzen... Weird last name, though.
Private: Yeah. Have you ever wondered how life was like before you had amnesia?
Ororo: Well... No, I haven't. It still boggles my mind... Who am I? (Looks out in the sky) What am I?
Cpt. Pelly: Ororo, I care for you as well as the next guy, but I think this could be a great opportunity for you. I think you should go.
Ororo: But, Uncle Pelly?... Will I ever see you again?
Cpt. Pelly: Anything is possible.
Ororo:... Thank you. (Both hug) Let's do it!
Senator Tri-corn: "Yeah, right. Well, I guess I am off to inform Oceanious and her husband that there's going to be an exception this time around. Here's hoping they're in an understanding mood." (Leaves in the hover limo, which reaches space, and enters hyperspeed)
Tigress: Well, are you ready for this, Ororo?
Ororo: I was born ready. So, how're we gonna do this?
Kowalski: Well, it'll be easy. We just need to take a few scientific examinations on you. But don't worry, they won't hurt.
Ororo: Well, as long as it's safe, I'm okay.
Applejack: YEE-HAH! This is gonna be fun!
Donkey: Man, that's what I like to hear! The Shell Lodge Squad on another whirlwind adventure! I LOVE it!
Rainbow Dash: TO THE HOTEL!!!
Icky:... That was right in my earhole.
Chapter 3: An Amazing Discovery
After a Batman Cut, we arrive at the Lodgers' and Mane 6's hotel
Kolwalski: "Ok, now we're gonna do a series of DNA tests on you to discover what you are."
Ororo: "Ok, but this better not hurt."
Sandy: We told you it won't. We just need a blood sample. (Takes out a needle)
Ororo: Oh. no big deal. I've had blood tests before. (Sandy collects the blood sample)
Kowalski: Now we just feed the sample into this machine. (They place the blood sample into the machine)... Hmm?... The power levels are off the scale. And... What's this? (A strange code appears on the screen)
Skipper: What do you make of it, Kowalski?
Kowalski: Hmm, inconclusive. It must be some kind of compound formula.
Spyro: I think I know what it is.
Sparx: What?
Spyro: The Chronicler used to tell me about these kinds of codes. This isn't a compound formula. It's what's known as... A MetaCode.
Kowalski: EGAD! Makes perfect sense! The superpowers, this code, I thought it was lost forever.
Ororo: What do you mean?
Kowalski: Ororo, I think we know what you are. You are a Superior.
Puss: A Superior for what?
Kolwalski: "You misunderstood. A meant, A Superior."
Puss: "That doesn't make less confusing."
Donkey: What's that supposed to mean?
Spyro: Well, the Chronicler told me stories about Superiors. They are people with only one major difference: Superpowers.
Sparx: Doesn't seem to make any sense.
Spyro: The Superiors were wise and brave beings. They posessed many incredible superpowers that I don't know where they got it, or how they evolved.
Ororo: All this is sounding really familiar.
Skipper: So you ARE a Superior.
Twilight: This is extraordinary! I've heard about Superiors as well. Celestia used to tell me stories about the same thing, too.
Pinkie: Wow! I wish I had superpowers!
Rainbow Dash: Pinkie, you already know how to break the 4th wall, and manipulate cartoon physics. What more do you want?
Pinkie: Really? (Background laughter) What was that?
Ororo: (Laughs) She really DOES have superpowers! But I think it's just cartoon physics, too.
Sandy: Well, from what I heard 'bout Superiors, they were native to a planet called Kratos. But it was said that it was destroyed by a cataclysmic earthquake in 1558.
Kowalski: The planet must still be alive!
Lord Shen: "Smart Penguin, that is a very huge claim. Since this planet was supossingly destroyed by an earthquake, chances are it won't be added to modern United Universe maps considering it would be a wasteland. I mean, many would assume they never even exsited."
Kowalski: That may be true, but I think we know how to solve if Superiors are still alive or not. Ororo? How old are you?
Ororo: 14.
Lord Shen: (Surprised) Then... Then that means...
Skipper: That means the Superiors are still alive. She was born 14 years ago.
Kowalski: And according to my calculations, that means she was born in 1999. If Kratos became a barren wasteland, and the Superiors went extinct in 1558, then how would Ororo come into the picture, and become 14 years old all the way from here? There's no denying it, Kratos AND the Superiors are still alive and well.
Ororo: I can't believe it! I have a home! I know my birthplace! I'm beginning to remember a few things about myself. (Has visions that she can't make out)... But I still cannot remember what happened to me.
Lord Shen: "Well, if that were the case, then we must find this still living "World of Superiors" and find out what went wrong, and why is Miss Or here."
Ororo: "If you could pardon me guys, I want some time to, think about this some more."
Skipper: "Well, we need to the chance to prepare van anyway. Go ahead and see what may be for some time your final time in Paradisa."
Ororo got up and walked away.
At a local beach.
Ororo: "I almost can't believe it.... A world where people are like me...... I could only igmagine what could be like.... On this, journey to the past."
(This plays)
Ororo: "One can only wonder..."
Patrick: I know I've said it before, but... (Starts crying) IT'S SO TOUCHING!!!
Lord Shen: Hmmph, I've heard more touching songs at Chinese festivals back home.
Boss Wolf: (Cries) I couldn't handle THEM either!
Sandy: Well, Shell Lodgers, let's get ready to face people with powers we can only guess at.
Po: It'll be so AWESOME!!!
Icky: "Uh, one problem: We still don't know where to look for it! I mean, i'm sorry for party pooping, but since everyone else thinks it's a barren wasteland by now, no one most likely didn't bother to record it in maps, i mean, who would want to visit a wasteland?"
Kowalski: Ah, but if I can use Ororo's blood sample to scan for traces of whatever gave Ororo her superpowers, we may be able to find the location of Kratos, and discover it's story. Luckily, I've been saving this device for a rainy day. I call it the Astrodynagitor.
Skipper: 'Astro-dynagitor', Kowalski?
Kowalski: Skipper, please, not with the democracy thing again! You were too careless with the Stopwatch last time.
Private: Well, it was a good name, Kowalski! You don't have to criticize it.
Icky: If I might add, that name 'Stopwatch' is already taken. There's already an object called a 'Stopwatch'. See? (Shows him the actual object) It's the name of a timer that you can use to time records and races.
Kowalski: You see?
Skipper: Eh, I still think 'Stopwatch' might've been better.
Kowalski: Point is that this device, which I will call the 'UUniversal Tracking Device' just for Skipper, will allow us to find the Superiors' homeworld. All we need to do is add Ororo's blood sample, and it'll get right to work. (Adds the blood sample, and it actually tracks Ginormica)... Ginormica?
Ginormica: What? What's it doing?
Computer: Superior detected. Large amounts of quantonium detected.
Kowalski: Quantonium?... Wait a moment!
Private: What is it, Kowalski?
Kowalski: It makes a lot of sense, now! The device is tracking Ginormica because she has quantonium in her body. So, if I can examine this blood sample at a microscopic level... (Puts a drop of Ororo's blood onto a microscope, and it shows red and white blood cells, as well as a few green-blue glowing molecules) OF COURSE!!! The quantonium!!! Ororo's blood is bursting with quantonium!
Ororo: What's quantonium? (Appears after overhearing their words)
Ginormica: Well, it's what made me huge.
Dr. Cockroach: Not to mention it gave her increased physical strength.
Ororo: But... It doesn't make any sense. If I have quantonium, then why am I not like you? Why am I not huge like you? I do have great strength, but I'm not huge.
Kowalski: Well, the quantonium surging through your blood seems to have a different chemical composition. So my best guess is that Superiors did chemical experiments with the quantonium they discovered, and managed to alter it's effects. Ergo, they managed to gain many kinds of superpowers.
B.O.B: Wow! Galaxar is gonna be jealous when he hears about that.
Icky: "That's not gonna be his only respondse, but let's be grateful that thanks to the fudge, it'll be a while for any leager to get involved. Besides, this ain't a leage episode."
Lord Shen: "This continues to be perplexing."
Kowalski: Still, we have a planet to find. Computer? Search for any other superiors still alive in the UUniverses.
Computer: Searching... (After 20 seconds, the radar picks up something) Superiors detected. Paramount/Nickelodeon Universe, Meiizus Sector.
Kowalski: The Meiizus Sector?
Sandy: Ain't that the location of FanBoy and ChumChum's world?
Skipper: They're not important. The important thing is finding Kratos.
SpongeBob: At least I don't have to worry about wearing a water helmet since I only require it in my world.
Skipper: It's also not to far from here. Well, let's get going. We have much to do, and less time to do it in.
Icky: "Ok, let's get this show on the road already!"
Ororo: You know, it's nice of you guys to help me find my past, but I still don't think it's necessary. Whatever happened to me might not have been as serious as living with my father on Paradisa.
Tigress: And as heroes, we respect that.
Alex: But Tricorn wants us to do this just for you. If you don't like it on Kratos, you don't have to live there.
Skipper: But the decision is yours once the time is right.
Ororo: Well, if what you say is true, then I'll accept.
Twilight: Let's get going. (The van leaves, and goes into space, then Mr. Dodo activates the hyperdrive)
Pinkie: Ooh, the stars are getting longer- (ZOOM!)
Chapter 4: Welcome to Kratos
2 hours later...
Mr. Dodo: (The van exits hyperspeed) Well, here we are. The Meiizus System.
Pinkie is donning a hairsytile of wild proportions as a result from the hyperdrive.
Pinkie: "Wowie Kapowie......." (Shakes her head, and her hairstyle goes back to the way it was)
Shifu: Now all we gotta do is find Kratos.
SpongeBob: That must be it over there. (They see a large planet similar to Earth)
Gloria: Yeah, I guess that is Kratos.
Kowalski: That sure is. The UUTD is going crazy.
Sandy: Well, what're ya' waitin on? Let's get down there and greet it's inhabitants.
Cynder: Let's just hope the Superiors are fond of other-worldly visitors. (They enter the planet's atmosphere)
Kratos
Pinkie: (They arrive on the Planet and fin that it has futuristic cities swarming with flying sentient animals, there are large flying vehicles, and the technology is extremely advanced) Wow! This place is HUUUUUUUUUUUUUUUUUUUUUUUUUUUGE!!! (The word echoes through the city)
Ororo: This is all seeming... Very familiar... I-I can't remember why! (Sees a restauraunt with a Superior octopus using flaming abilities to cook food for 2 Superior cats)... (Then she sees a diner with 2 Superior rabbits, one male and one female. The male is about to show her a ring and ask her hand in marriage, but the female uses her X-ray vision to see the ring, and hugs him)... (Then she sees a few Superiors doing ballet while spinning in the air, but one loses her lunch off camera)... (Then she sees a few Superior female leopard performers use their powers for an amazing light show, and the audience applaudes)... Wow. I used to live here?
Kowalski: Amazing! The Superiors are still alive! After over 500 years with no visitors.
Icky: "Well, when you said it like that, I hope they won't have a negitive reaction or something."
Someone who looks like a guide appeared!
Guide: "HELLO! YOUR THE FIRST VISITOR IN 500 YEARS TO EVER VISIT KRATOS!?"
Icky: "Gees, what's next? A song and dance number?"
the light vanishes!
Icky: "THE HELL?!"
(This song plays a Male frence poodle appears. However, the whole song is noticed by a Sarus Crane, who tried to stop the song when he noticed Ororo, but fails everytime.)
Icky: "Wow.... Random much?"
Superior Poodle: Welcome to Kratos! Where ze comic books are made into reality! We are so glad that you could visit! Kratos hasn't always been ze same without visiteurs! I mean, it has been 500 years since Ze Big Shake nearly tore apart our lovely home. So, anyways, what brings you to these parts, mon cherries?
Pinkie: I'm not a cherry!
Gilda: I never get tired of you saying that.
Twilight: We are here for much more than a visit, Mr....
Poodle: Monsieur Luminar, at your service!
Applejack: What a coincidence. Superiors all have weird last names.
Poodle: Excusez moi?
Shifu: We are the Shell Lodge Squad and the Mane 6. That's them. (Points at the ponies) We have come because we happened to come across one of your kind on Planet Paradisa.
Luminar: An outside Superior? Impossible. No Superior has ever been allowed to leave ze planet for any reason.
Ororo: Well, Mr. Luminar? It's me they're talking about. I'm the Superior. I hear this was my home.
Luminar: Hmm... You do seem vaguely familiar. What is your name, outsider?
Ororo: Ororo. Ororo Joltzen.
Luminar: (Gasps) Sacre bleu! You're ze superior ocelot zat was exiled for rebellion against Master Algorithm just a year ago.
Ororo: Excuse me? Exiled?
Luminar: Excuse my behavior, but zis little girl cannot be here. She muzt return to Paradisa immediately!
Banzai: Whoa-ho-ho! Wait a minute now! 'Exiled'? You know this girl?
Luminar: Oui!
Shenzi: Well, we'd like to know why this 'Algorithm' would have the nerve to exiled this little girl for a 'rebellion'. What had she gotten against him?
Luminar: I'm afraid I simply cannot tell you. Algorithm would have my tête cut off for revealing ze truth to an exile. She must leave at once!
Icky: "Hold it, Frenchy! We ain't leaving till he have a nice long chat with What's-his-name!?"
The Sarus crane: "Well, perhaps I can arrange it for you."
Suddenly, there was a thunder clash!
Then suddenly, the other Superiors suddenly bowed into the ground as if a suprime pressence is coming!
The Sarus Crane: "Oh dear, it seems he invited himself over. And it feels like he's quite, livid. I advise you all bow down... (The Lougers did nothing.) Oh very well, I'll have to assit you, do I? Guards?"
Some brute Superior Oxen appear and forced the lougers, the ponies, and Ororo into a groveling like position.
Icky: "Hey what gives?!"
Stomps are heard.
Rarity: "Uh oh."
(This plays as A siluette of a Komodo like Superior is seen heading torword them.)
Fluttershy: "Meep?!"
Fluttershy covers her eyes!
Fluttershy: (Eyes water as she shivers in fear) A Komodo Dragon!
Komodo Superior: Visitors.... For the first time in many, generations.... But there's, an obvious issue here. (Appears as a cyborg made completely of metal)... I see you have brought back an exile. Hmmph! How stupid! Do you have ANY ideas what trouble she caused?!?
Twilight: I'm guessing you're Master Algorithm?
Komodo Superior: Indeed, I am. But please, call me Master Algor.
Icky: What's with the mechanical getup? Seriously, you kinda half-remind us of an old enemy of ours, Clockwerk.
Sarus Crane: He wears that machinery because it keeps him alive. He's been facing diseases for over 520 years.
Alex: THIS GUY IS OVER 520 YEARS OLD?!? WHOOOAH!!!
Melman: (Chokes on party whistle, and Gloria is surprised)
Lord Shen: That is so horrenderous!
Icky: I agree, you must've undergone intense surgeries in your day. (Gloria tries to get the party whistle out of Melman's throat)
Master Algorithm: Well, surgeries like what you normals are ascustom to are overrated on this planet. We use more, complex versons.
Iago: Whoa! Really?
Master Algorithm: I shall ask the questions, bird! Why have you brought this little girl here? She cannot be here.
Spyro: Because we have come to try and cure her amnesia for our Senator.
Master Algorithm: Well, I am afraid I cannot allow that to happen. She was nothing but trouble for us Superiors. She questioned my authority, and nearly took me down. She is a menace to our society! (Ororo looks completely innocent and confused)
Cynder: Was there a reason why she did that? Perhaps it is because of something you did to her.
Master Algorithm: Well, I technically didn't do nothing to her.... At least, nothing intentionally malisious, or physical. But I am not gonna reveal her past sins so she can go back to her horrific act of treason! Now, I advise that you send her back where she came from right now, or I will be forced to take drastic measures.
Shifu: No! We will not leave unless we get a full explanation in detail what she did to you that was so devastating.
Spyro: We are sensing much inside of you that you aren't telling us.
Master Algor: "Shamus, what is that purple one talking about?"
Shamus, the Sarus crane: "By the darkness of the Kratos underworld if I knew sir."
Master Algor: "Listen, all of you.... Maybe we caught eachother by the wrong feet. I'll reveil, some detail why Miss Ororo can't be here. You see, she didn't appresiated my attempt to protact her from a dangerious cult of Mimic Superiors like her. The cult of Mimicry."
Icky: "Say what now?"
Master Algor: "You see, it all started when she was just a young girl. She was quite an ambitious child, she was very good with her power to mimic the powers of others... Too good. Now, dispite everyone groveling before me, I care and treat all superiors equilty. They're only doing this because earlier before I was, somewhat angered. But aside from that, by all means I actselly cared for the child, she seems innosent and harmless enough... But I was afraid the cult of mimicry would ruin that soon enough. You see, Mimicry is a corruptive power. I mean, a power to borrow another power, even for a brief time, that makes a superior think they're above all else. They tend to use the power for all matters of mis-deeds, including but not limited to thiefery, cheating in touriments, even acts of greater evils. That's what inspired the cult to sought to control and enslave all other superiors. You see, I had to do what was nessersary to keep this child safe... I had the power of mimicry illegalised. But, I didn't count on the good superiors to fall into xenophobia and prosicute the poor child and her family. I was even thinking of making her an exception to the law... But I was too late, darkness comsumed that poor girl's heart, and spread it to those who allied to her and sought to over-thrown me. Luckly, thanks to Shamus blocking their exit, I effortless defeat them. Ororo gave an impressive fight, but eventally, my victory was ineditable. I didn't want to just imprisoned or exsile her from the city, that would leave a perfect oppertunity for that damned cult to further tapped that darkness... So, I have banished her, from the whole planet, hopely, to somewhere far away, in a place far beyound the reach of that tractiorus cult! It broke my heart to do this to the girl, but her only hope to avoid becoming just another pawn of the cult was to forgot Kratos, and everything. Her darkness is contained as long as she can't remember, and I hope I didn't unintentionaly released it by reveiling what I known." (Ororo is gone)
SpongeBob: Wha-where'd she go?
Ororo: (Appears with some take-out food) Sorry, guys! I just went by that McDonalds over there to get me some take-out. I haven't eaten since we left. Now, what were we talking about?
Algor and Shamus: Whew!
Twilight:... Ororo? I think you need to head back to the van.
Ororo: But why? I just got here.
Applejack: We just can't tell you, Ororo. Now please go.
Ororo: Okay. But are we still staying?
Lord Shen: We're not so sure of that. Just go, and we'll take care of this.
Ororo: Alright. (Heads for the van)
Spike: That was close!
Twilight: Still, it doesn't seem like the perfect way to stop this 'Mimic Cult' from corrupting Ororo.
Master Algor: I had no choice! Do you know what it's like to be manipulated into darkness with such destructive and unlimited power?
Lord Shen: (Gets visions of himself as Lord Cobra's pawn, the incident at Equestria, as well as the times he yelled at Celestia)... Yes, actually.
Master Algor: Well, for your Senator's sake, you can let her stay for only 3 days. But on one condition. You MUST swear to keep her away from anything that will trigger her memory. If she gets the wrong idea, it could lead to her corruption returning with a horrid vengence.
Spyro: We Shell Lodgers never break a promise.
Master Algor: "Good to know. But I must apologies for being an ungrateful host. Allow me to give you lot a proper superior welcome, by giving you a grand tour into my palace."
Mr. Whiskers: What about Ororo?
Master Algor: She cannot come.
Tigress: Well, she needs supervision, so some of us will remain at the van.
Po: Yeah, even if she is more than capable of taking care of herself, she can easily wander off.
Icky: The kid also seems intrigued by the looks of this planet. Perhaps she could use a walk.
Master Algor: A walk would be fine. But be warned that she must stay away from certain streets that could trigger her memory. Here's a list of them. (Hands them the list)
Lord Shen: (Reading the list) "37 Turbonaught St., 90 Cometglow St., 58 Fluxxus St., 44 Saint Tachyon St., 91 Subatomite St., and 60 Sonovinci St."
Fidget: Why these streets?
Master Algor: They are the homes of Ororo's 5 childhood friends and her biological parents. If she meets them, there's a 48% chance it will trigger her memory.
Shifu: We shall be careful, Master Algor.
Po: Now, who's the Sarus Crane?
Master Algor: Oh, him? He's my most trusted advisor, Shamus von Phantomarge. He's worked for me for years.
Shamus: Nice to meet you.
Alex: Pleasure's all ours.
Master Algor: "Come Shamus, we're off to preapre a tour for our guests."
Master Algor and Shamus left.
walking down Downtown.
Shifu: Looks like our mission is compromised here. We'll have to keep Ororo from remembering everything she did here for her own good.
Icky: "Well how were we suppose to know she was evil? She didn't acted that way when we met her! In fact, she was pretty much liked by those freakshow guys and Pelly."
Iago: "And speaking of which, how are we suppose to explain this to those guys? They love her like a member of the family! If they found out that she was an attempted usurper, I, I don't even wanna know afterwords!"
Lord Shen: "Perhaps this infomation is best, with-held from them."
Icky: "Oh, I get it, what they don't know, won't hurt them."
Dodger: Well, we didn't come here for nothing, guys. Ororo has to know something before she goes back to Paradisa.
Rita: Dodger is right, we can't bring her back empty-handed. We have to come up with a way to convince her to go back home.
Tito: Yeah, that's right, man!
Viper: I don't much like our chances. She seems to be very impressed with this place, she might not want to leave for the time being. By then, she'll have learned the truth.
Shifu: Well, as long as she stays away from these 'old friends' of hers, she'll be okay. (Suddenly something fast zooms by)
Icky: HOLY FUCKING ASS CRACKERS!!! WHAT WAS THAT?!?
Lord Shen: "WE'VE BEEN AMBUSHED?!"
???: WHEEEEEE!!! (Spins around the Lodge very fast, and stops. He reveals himself to be a cheetah with a metallic suit) (Speaks in a quick pace) Hey, Ihaven'tseenyouguysaroundherebefore, whoareyou, whatbringsyouhere?
Boss Wolf: WHOA, chill out, dude! Did you have a soda last night?
Superior Cheetah: No, mymomneverbuysmesoda, toomuchcaffine! Hey, how'reyoudoing? MynameisTane.
Miguel: "I'm sorry could you repeat that? None of us catch that."
Icky: "I don't think he speaks english. Let me try. Ahem. (Speaks Spanich)..... Nothing. (Speaks french).... Nothing again. (Speaks Germen.) Blast, nothing again. (Speaks russin)..... Niet, nothing again! I got one last one.... NICTO VERADA NICTO?!"
Nothing.
Icky: "Ok this one more.... ASULA MONIC MACANINNNMMMMMM!"
Shen bonged Icky on the head!
Lord Shen: "HE'S NOT SPEAKING ANOTHER LANGUISE YOU TWIT?!"
Cheetah: No, Idon'tspeakmanylanguages, Inevertakethoseclassesatschool.
Applejack: OKAY, WHAT IN TARNATION ARE YALL' SAYING, SPEEDY GONZALES?!? WE CAN'T UNDERSTAND YOU!!!
Pinkie: I think I know whats wrong. He's speaking at a fast pace. He's got super-speed, right?
Icky: Makes perfect sense, but I don't think we can seem to understand him.
Pinkie: I can. I speak speedy.
Cheetah: Hello, mynameisTane, howareyoudoing? (Checks out Shifu, pulls his ears, honks his nose, and gives him funny faces in only a second) Hahahahahahahah, youlookreallyfunny! (Checks out Iago) Ooh, niceparrot, what'shisname? IsitRed? IalwayswantedtohaveaparrotnamedRed! (Pets Dodger's gang in only 2 seconds) Who'sthecutedoggies? Who'sthecutedoggies? Whoareyouguys, whatbringsyouhere, youmustbenewhere!
Shifu: WHAT THE HECK?!?
Iago: What did he say about me?
Tito: Did he just pet us?
Pinkie: He says his name is Tane. He thinks Shifu looks funny, he says he's always wanted a parrot named Red, and he also likes Dodger and his gang.
Applejack: Tarnation, girl! How'd you learn to speak his type?
Pinkie: I watch a lot of cartoons on the Internet in fast motion.
Tane: Ooh, apony, canIrideher, please?
Pinkie: (Giggles) No, you can't ride us, silly! You're too heavy.
Tane: Aww!
Ororo (suddenly appearing):... He seems vaguely familiar.
Brandy: What?
Tane: "Funny, Inevermetyouinmylife! You'reaweirdchick! Well, IwishIcouldstay, butIgottafly! Mymomiscookingmeatloaftonight! Yumyumyum!" (Tane zoomed away)
Rainbow Dash:... If this day gets any weirder, I may have to scream.
???: I'M A FIRIN' MUH LAZAR!!! (A large laser blast blazes right near the group as they yell in surprise)
Rainbow Dash: Okay, that'll do! AAAAAAAARRRRRRRGHHH!!!
Icky: "OH NO?! I THOUGHT WE TAUGHT SWOOP DE WHOOP A LESSON BY THIS POINT?! I MEAN, HASN'T THAT GIANT MUTANT MOUTH LEARNED HIS LESSON IN THE INTERNET MEME STAR IMPRISONMENT DIMENTION?!"
Suddenly, a black gibbon appeared
Superior Gibbon: (Laughs) Gets 'em every time!
Lord Shen: "DON'T YOU DARE SCARE US LIKE THAT AGAIN, YOU DAMN DIRTY APE?!"
Superior Gibbon: I'm a gibbon!
Lord Shen: I know, I'm from a planet where your species is native in.
Superior Gibbon: Sorry for scaring you guys. My name is Scarlett. Scarlett Blasterfire. Superior FBI.
Dodger: An FBI agent, huh?
Tito: With your silly laser pranks? I don't think you're fit to ever be an FBI agent.
Scarlett: HEY! I may have my perks, but I am a GREAT FBI agent.
Ororo: You seem very familiar, too.
Scarlett:... I'm sorry, who are you?
Ororo: Ororo.
Scarlett: You mean that ocelot who rebeled against Master Algor? Doesn't surprise me. I think you shouldn't be on this planet. Especially in the presence of a justice fighter such as myself.
Ororo: Whoa, whoa, whoa! I don't want any trouble!
Po: Yeah, she's with us.
Scarlett: Then I advise you take her off of this planet before Algor finds out.
Icky: He already knows. He's letting her stay here for 3 days if we can keep her away from anything that can trigger her memory. And if you ask me, I think that speed-talking cheetah back there might be connected to her past.
Scarlett: You mean Tane? Oh, he's always very crazy. That's why his parents don't let him have any soda or coffee.
Ororo: Still, I find you familiar.
Scarlett: I have no idea what you're talking about, kid, but don't try anything stupid. I'll be watching you. (Leaps away and climbs through the alleys gracefully)
Applejack: Whoo-doggy! She nearly burnt my tail off.
Ororo: This is all seeming stranger and stranger. It's like I've been here before.
Po: Well, I don't know. I mean, it's not like you were banished because of- (The entire Furious Five cuts him off by jumping on him) WHOAH!!!
Tigress: You clumsy fathead! You almost blew it!!!
Po: Sorry!
Applejack: Say, Ororo? Would you like to continue the walk? I mean, we were offered to stay here for 3 days by Algor.
Ororo: Sure. It doesn't hurt to explore this place. I never knew how large the cities are here. I mean, any superpowered being would KILL to live here. The cities are high-tech, the government is incredible, and the city folk are all so powerful! It's almost like I belong here. But I still haven't made my decision, I might add. 3 days here is good enough for me. Let's go. (Walks off with the Lodgers chuckling nervously)
Superior Temple
Master Algor: Welcome to the Prometheus Temple. This place is the capital of Kratos itself.
Spyro: Why do they call it the Prometheus Temple?
Master Algor: It was founded by our great founder, Master Prometheus. He was the 1st leader of our planet's community. I'm just the 3rd. He was very wise, and he was the one who made us superiors thanks to his discovery of quantonium.
Missing Link: So you guys DO use quantonium.
Master Algor: Of course we do. Why do you ask?
Ginormica: Because I had a little dosage to the stuff before. It's what made me huge and strong.
Master Algor: So, you're a Superior, too?
Ginormica: Well, I don't know about 'Superior', I mean, I'm not from your world.
Master Algor: "Then your an Illitict Superior then."
Twilight: "Pardon?"
Master Algor: "It's what we call those who became Superiors without getting, approved for it. We were gonna call them "Aprostates", but that soudned alittle.... Mean."
Ginormica: "..... Your saying I'm not allowed to be like this?"
Master Algor: "Well, we once did allowed normals to become superiors, but.... Let's just say.... You are extremely lucky your only the size of a chain restaurent's statue of a mascot then anything more serious. And that your not corrupted or, phsyically disabled by some kind of unattractive mutantion. Getting Quantonium inside of you, espeically without proper care, tends to lead to.... Ugly results."
Ginormica: ".... Yikes."
Master Algor: Anyway, since Prometheus was the first one on this planet to be exposed to quantonium, he became as big as you are.
Ginormica: Really? He was exposed to the stuff, too?
Master Algor: Precisely. He used the stuff to save his defenseless people from a Darkspawn invasion thousands of years ago.
Sparx: Thousands of years ago? But... I don't get it! If he lived thousands of years ago, then how are you the 3rd leader of Kratos? Surely, you would be dead by now.
Master Algor: Well, first of all, have you forgotten about my cybernetic enhancements? And second of all, he lived for 1105 years.
Squidward: Fu-the-wha-yo-wha-th-buh-gu-how-yo-hu-bu-ju-WHAT?!?
Cynder: He lived THAT long?
Master Algor: Yes, that's normal for us superiors. The average superior lifespan is over 1150 years.
Squidward: Gu-tu-I-hu-ju-I-hu-oh-wha-bu-poo-gu-fuc-hu-by-thay-hu-bujah-hwa-nya-bu-WHAT?!?
Skipper: You already said gibberish moments ago.
Kowalsi: AMAZING!!! You guys HAVE been experimenting with quantonium.
Master Algor: Indeed. All our quantonium experiments take place up there. (Points at the moon)
Rico: Say what?
Private: It takes place on the moon?
Master Algor: Yes. Our moon Nike has been terraformed and used to help us with our quantonium research for years.
Twilight:... I find that very, incredable yet disturbing. It's like part of a premise of a The Twilight Zone episode.
Spike: Yeah. What if Princess Luna hears about this?
Twilight: I don't know, but I don't wanna find out.
Mushu: "Ya know, I think there's gonna be a season 11 episode on that where- OH CRAP! SPOILER ALERT AGAIN!!! God! (A flash is seen)... There. That's better."
Master Algor:... Anyway, our experimentations on Nike have lead to a vast array of superpowers for us Superiors.
Twilight: What superpowers do YOU have? Clearly there's more to you then just being cyberconnectic. We haven't really noticed- (Notices him using telekinesis to get some chocolate milk)
Master Algor: You asked me something? (Drinks the chocolate milk)
Twilight:... Hmm, telekinesis is one thing.
Master Algor: That's not ALL my superpowers. I can even teleport, I have super-strength, super-endurance, super-flight, heat vision, X-ray vision, I can be fluent in over a million forms of communication, I can tell your identities by touch, and I am immune to telepathic attacks.
Rarity: You can tell identities by touch? Wow! Who am I?
Master Algor: (Uses his psychometry ability on her)... Your name is Rarity. You run a fashion shop, and your a bit of a neat freak. And... Wow, the baby dragon has a crush on you and you return it?
Spike: (Blushes)
Master Algor: "I mean no offence, but doesn't that make you look like a pedophile?"
Rarity grunts in annoyence!
Rarity: "Why does THAT keep coming up?!"
Master Algor: "Well, isn't he like, a baby? I mean, he is a baby dragon. The word "Baby" is actselly in there, not I mean to offend, it just that, it seems, questionable you would consider a romance with, someone pre-mature, in a non-offenive way, I mean, your obviously older then him in turns you were born first and I assume he came afterwords and uh-"
Rarity: "Honestly! It's bad enough that almost everyone, even my own parents, criticsized me and spikey-wikey!"
Master Algor: "Well I'm sure it's because they worry the local guards may confuse you for a pedophile cause of the laws created to ban the practice of underage romance, but I assure you, I mean no offence, it's just that many modern socities have frown apawn the idea surrounding... Uh, well, the romancing of young children."
Rarity: OKAY, YOU'VE MADE YOUR POINT!!! I don't love him just because he loves me. It's what's inside that counts. He's sweet, loyal, generous, and caring. He's done a lot of growing up lately, too. So, PLEASE, don't call me a pedophile. It makes me look bad.
Master Algor: Okay, sorry. Anyway, we Superiors may live a great life, but it isn't always easy. Being a Superior means you have to be grateful and responsible with your superpowers. Even if it means you have to outlaw a few of them. But sometimes, being different has it's faults. We Superiors have had many bad guy problems throughout our lives. Superiors sometimes turn bad, others tend to stand up against them and be good. Still, being a Superior isn't all that bad once you get used to it. Some visitors even wanted to BE Superiors, but that's strictly against our Superior law, and all that we hold illegal. Some superpowers are not to be taken lightly, which is one of the many reasons why they are either strictly prohibited or illegalized. Like omnipotence, for example.
Private: Omnipotence?
Kowalski: It means 'all-powerful'. Like Jafar and Genie.
Master Algor: Yes. Prometheus knows that omnipotence can be the most corruptive superpower in Kratos, so he had it illegalized long ago. Other superpowers tend to be strictly limited. Like time-travel, for example. We aren't allowed to use that unless it's for a good reason, or mostly if we are authorized to use it. But it's also because time-travel is EXTREMELY dangerous.
Kowalski: Yeah, I know the feeling.
Master Algor: "And then, there's, Mimicry."
Dr. Cockroach: "Yes, I uh, think we already established this, cult of Mimicry."
Master Algor: "It's not just them. It's the Mimic superiors that ended up becoming irrespondsable with those powers."
Private: "Irrespondsable?"
Master Algor: Yes. As I had previously mentioned when we've met in an awkword situation, they tend to use that power for criminal affers, cheating, getting power, and even as a means of becoming omnipotent. That's one of the many reasons why I outlawed the power.
Marty: Wow. We never thought of it that way.
Gilda: Yeah. I always thought Ororo's power was pretty unique.
Trixie:... Maybe a little TOO unique.
Master Algor: "Don't get me wrong, powers are obviously unigte to you normals, but for us Superiors, we see them like you see cars, or tvs, or video games, among other things. You see one super-power being, the charm becomes normal to you."
Trixie: "Well, if that Mimicry power is so bad, then why was Ororo borned with it? Were her parents Mimics too?!"
Master Algor: " No, they're not. In fact, in all actselly, powers are not heritory, nor do they happen when an individual is born with such. For exsample, It's rare of powers like Mimicry to atuomaticly already exsit for a superior. Mimicry is something that can be artifitually gain, like most of the powers that need to be restricted."
Tai: "Ok, then exsactly are the powers you can be born with?"
Master Algor: Well, the superpowers that are unhereditary are Mimicry, Time-Travel, Psychic Shields, and Reactive Adaptation. Other superpowers on the list are hereditary. Underaged superiors won't know exactly how to use those powers until they are ready.
Cynder: "Then how did Ororo got Mimicry?"
Master Algor: "Perhaps she's a one in a million child. Sometimes there are cases theres a superior is born with such a power. Other ways involved getting those powers often by illegal means or after proven him/herself after a right of passage trial. But Ororo may had most likely was born with the power. Strange and rare that is, Mimicry is among the far too complex powers to be commen."
Spyro: "So how's there a cult of mimcry when that power's so rare then?"
Master Algor: "Perhaps, most of them were like Ororo or had earned the right... And even the chance that most of them are mimics illegaly. Mimics have been known to have a rather unfaverable reputation thanks to cases of abusers that don't truely represent other mimics, but only themselves, but many superiors failed to realise that, and often caused more mimics to become dark as a result. However, there was one that was almost an exception, but failed and was corrupted with it's promise of it's potanional.... You see, I once had a protosay Llama I hoped could've been a forth leader of Kratos should I.... Unexpectingly can't be leader anymore by, higher power reasons. He nick-name himself "Copy-rightious" when he got the power. He was a promicing student. He had great quilities to be a leader... Then, came, that fateful touriment.... Copy-rightious entered it to further proved his worth to me. There were many oppenents that were deemed too powerful even for him. So.... He did the unthinkable.... He used his powers to learn their weaknesses, and exbloted them! For a fire Superior, he secretly borrowed the powers of a water superior and beated him easily! There was this Ox superior that had a trick knee, and so, he just kicked it! And then, there was the previous champion. He dispicablebly used the champion's troubled past against her...."
Sparx: "How bad could it possablity b-"
Master Algor: "Copy-rightious bluntly reference the champion's dead family from a bandit raid in front of the entire audience!?"
Sparx: "..... Jesus."
Master Algor: "As a result, the champian lost her will to fight... Poor Jessie Lightning.... She became a bully with the Rhino head Bros from then on......"
Twilight: "Well surely you did not let that, that, jerk's disreguard for the feelings of others go unanswered did you?"
Master Algor: Well, believe, I was FAR from being able to tolerate his actions! I would've long punished him if it weren't for the fact that he was of royal lineage, and only the Superior Senate had the power to do such to him. Jessie even got so mad at Copy-rightous, she once tried to sue him in court. Trouble is that Copy-rightous had a hundred lawyers due to his royal lineage, and she immediately lost the trial. Copy-rightous started to become a total jerk when he felt Power Mimicry and family linage would protect him. It's what he did next that crossed the line. And yes, I do agree. You would think it be the reveilment of Jessie's tragic past that did it.
Twilight: What did he do?
Master Algor: The worst thing you could imagine! He blackmailed Jessie's sensitive niece by revealing her secret crush to the public when he used someone's telepathy to figure it out! The poor little girl was laughed at 24-7, she was fired from the Superior Gazette, and worse, she fell into a deep depression that no one could bring her out of. Not even Jessie.
Kaa: Oh, dear!
Master Algor: So Copy-rightous lost his royal lineage, and was banished from Prometheon forever.
Twilight: "That's unbelieveable! I mean, he gets kicked out for publicly humiliating someone but NOT for cheating in the touriment AND reveiling this Jessie girl's personal history? Are those Superior Senate guys crazy?"
Master Algor: "Oh believe me, alot of the senate did wanted to punish him for that first thing! But his ignorent over-caring and softhearted father didn't allowed due justice to go that time!"
Skipper: "That is still stupid of them to do it NOW when he just humiliated some poor kid and NOT before that when he did the worser act of cheating and ruining an older person's life!"
Master Algor: I know it doesn't make much sense, but it's true. So now, Copy-rightous is a the leader/founder of the Mimic Cult. But I'm pretty sure they won't find out about Ororo's past anytime soon since they're far away from Prometheon.
Twilight: Speaking of which, where is Ororo? She should've been back from her walk by now.
???: HEY!!! COULD WE KEEP IT DOWN WITH THE CHATTY-CHAT HERE?!? I'M TRYING TO CONCENTRATE!!! (A superior coati with a moderately bulbous glowing head appears) I'm trying to make tea with my mind, here.
Master Algor: Oh, it's you. Sorry about the disturbance, Tyrone.
Tyrone: Oh, it's no big deal as long as you guys can keep the noise down. Anyway, who are these guys?
Shenzi: Oh, we're the Shell Lodge Squad. We're here with... Uh... Need-to-know business.
Tyrone: (Laughs) You can't keep secrets from me. I am a telepath. (Reads their minds, but then Algor realizes something)
Master Algor: Uh, Tyrone? Don't you have some tea to make?
Tyrone: "This would only take a second sir." (Continues to read minds) Hmm, you seem to be a few vigilantes who are helping an exiled superior named Ororo. Funny, why do I find that name familiar? OF COURSE!!! (Algor gasps)... She's that ocelot that rebelled against Master Algor last year.
Master Algor: Whew!
Tyrone: But then again, she has amnesia, and you're trying to keep her from her 5 friends located in this neighborhood so she can't remember her sins. (Algor gasps)... Not that I'd know who they are.
Master Algor: Whew!
Tyrone: Well, there's not much you guys can do for her at this moment. I say she deserved it.
Private: Wha--? She doesn't seem like a bad kid. She looked pretty innocent when we first met her.
Tyrone: Oh, you'd be surprised. She wasn't alone at the time. Her 5 friends were with her. Well you know what happened to them? They lost their memories as well. (Master Algor gets nervous) But who cares where they are now, huh? (Laughs) Well, I'll be off. See you guys later. (Flies off)
Master Algor: Whew! That was close!
Twilight: "You seem, jumpy lately."
Master Algor: "Oh uh, don't mind that, it's just that, I was worried he may had invaded your personal space with his powers."
Twilight: Well, he said something about Ororo's friends helping her to take you down. As far as I'm concerned, Tyrone is one of them.
Master Algor:... Okay, yes, he is. I feared he was gonna use his telepathy to regain his memories, and tell Ororo. Things wouldn't be good by then.
Gloria: But it's a good thing we didn't know that when he read our minds, so he couldn't have figured it out.
Banzai: Yeah, but we WOULD'VE been soiled if he had read YOUR mind. But, it's a good thing he couldn't thanks to your psychic shield.
Ed: (Laughs crazily)
Master Algor: "Quite. Now, back to the tour."
Back on the Streets
???: (A silouetted superior hops across rooftop after rooftop like Spider-Man) WHOO! (Stops at a very far jump) Hmm... (Backs off, and then runs quickly. The Lodgers and Ororo notice her, and she barely makes it by grabbing onto the ledge and climbing up on.) Urrgh!
Ororo: Wow! That was amazing!
Lord Shen: She totally made that jump like a pro.
Boss Wolf: Despite barely making it.
Po: Should we follow her?
Ororo: I've got to see her. (Runs off)
Shifu: We must follow her! (They do that)
???: (Wall jumps across two buildings to get across a long gap between two buildings) Uhhgh! Whew! (Then she jumps off a building, freefalls towards the ground, grabs onto a pole, spins around, lets go, wall jumps off a wall, grabs another pole, swings onto another one, and then lands safely onto the ground)... Whew! What a workout!
Ororo: Wow! (The superior fox looks behind her to see the group) That was incredible!
Lola Boa: Yeah! I never saw anyone move around like that.
Superior Fox: Well, I don't like to brag, but I'm just doing my daily fitness routines.
Ororo: You do that every day?
Superior Fox: Yup. Makes me feel like a new woman, too. (Stretches) UUURRRRRGGGGHHH! Anyway, the names Meg. Meg Wonderwyatt. Many people know me because of noticing me do my daily routines.
Icky: "Ok, just, why do that stuff? Couldn't it be less hazordious to yer health if you just jog or head to the gym?"
Meg: "Ha! Such a thing for a Normal to say. Some Superiors like me prefer to do it the best way: Do spectacular fitness tests by moving, jumping, sliding, climbing, and flying your way through your own neighborhood to not only get your exercise, but to get to know your surroundings more. It's like my mom says: "When life gives you lemons, you make lemonade.""
Icky: Well, actually, we're not Superiors. We're from other worlds, and we're here doing some hero work.
Meg: Really? Well, don't you think it's nice that we Superiors are still alive, what with the rumors that we were destroyed by The Big Shake, and all?
Icky: Well, yeah. We already obsorbed enough excitment from the song and dance rotine we were treated too earlier before.
Meg: And who's the ocelot? She seems very familiar to me.
Ororo: Well, you seem very familiar to me, too.
Po: Weird. Everyone she sees around here she finds familiar.
Ororo: I know. I must've been making a lot of friends when I lived here.
Meg: Well, I've never seen you before in my life.
Mr. Dodo: Well, we're the Shell Lodge Squad. Nice to meet you, Meg.
Meg: Pleasure's all mine. Well, I must be off. My mom's probably wondering where I am. Bye. (Jumps off) WOOHOO!!!
Ororo:... Wow, can she move fast.
Po: I know.
Lord Shen: Well, I suggest we move on before another seemingly familiar face catches her eye.
???: CANNONBALL!!! (A large splash is heard, and some of the Lodgers are splashed)
Puss: REOWR!!! (Tries running away, but Shrek grabs his tail)
Shrek: Not so fast, kitty.
Ororo: What was that?
Tigress: I don't know, but I'm not waiting to find out.
Po: Let's go! (The Lodgers come right near a large pool in a huge yard with water all over the place)
Icky: Ooh, nice swimming pool.
Ororo: Where are we? (Suddenly something large leaps out of the water with a loud THUD!) What the-?
???: (Reveals himself to be a Superior walrus. He begins to speak like Sid (Ice Age)) Hey, dudes! I never seen you all around here.
Ororo:... Funny, you seem familiar to me, too.
Superior Walrus: Funny, I never seen you before in my life. But just so we're acquainted, I'm Walt Waewaetoroa. Nice to meet you. (Snorts in a sinus)
Ororo:.. .Okay, nice to meet you, too... Walt.
Icky: "Aw crud! Uh..... AH SHITAKI?!"
Icky slams a pan into Walt's face!
Walt: "(Dashed from the pan) When you wishhhhhhh apawn a star, you getsssss lotsss of stuff!"
Walt falls backwords into the pool unconjust!
Icky: "Ok let's beat it!"
The lougers dragged Ororo away from the scene!
Van.
Icky: "Holy crud that was close! He was another one of... You know whoses!"
Ororo: You guys are SO weird! What was that for, anyway?
Iago: That's none of your business, lady!
Ororo: Uh, yeah, it is! Ever since I got here, you guys have been hiding something from me!
Boss Wolf: "Gah, you kidder!"
Lord Shen: "Pure nonsense!"
Po: "Yeah! I mean, it's not we're keeping secrets cause you turned evil and tried to usurped Master Algor or anything with that Walrus dude and a few others! Cause that would be ridiculious!"
Ororo: What?
Po: "..... Oops."
Lord Shen: YOU DUMB MEATHEAD PANDA!!! (Smacks Po)
Ororo: I turned evil?... (Laughs) Tha-that's rediculous! Why would I turn evil?!? Is that what you thought?... Although, I'm starting to remember a few things. (Multiple visions appear in her head)... Oh, right! I know those guys! They're my best buds!
Po: So... You're okay with that?
Ororo: Okay with what?
Po: Whew!
Ororo: I have got to go see them!
Lord Shen: (Whispering) How lucky. She doesn't believe our claims of her trying to take down Algorithm.
Boss Wolf: Barely, thanks to the IDIOT PANDA!!!
Po:... (Chuckles nervously)
Icky: "Listen, we promised Algor your not to interact with those guys. We're lucky he didn't throw us in jail for bringing you back here, but that luck will go away quickly if you start to interact with those guys!"
Ororo: Aw, c'mon! I haven't seen them for over a year! Heck, I never even remembered them until I somehow got my amnesia and winded up on Paradisa. But why would Algor want to banish me? It doesn't make any sense. I wouldn't do nothing to him.
Applejack: We can't break that promise. He promised we could stay here for 3 days if we couldn't trigger your memory. But now that you remember your 'old friends', he's gonna be all over us like water in a swimmin' pool!
Ororo: Well, that's not good.
Mr. Whiskers: Which is why he must NEVER know.
Ororo: Guys, you came here to help me, right? I'm about to make my choice here. I'm now on a difficult choice to either stay here on my home planet with my old friends, or go back to Paradisa with my new friends. It's like choosing to cut the red or blue wire.
Icky: "Aw crap why did let her choose what she wants to do? Now we need to wip her memory with something, before-..... Wait! I got it!"
Icky writes something down in the paper.
Icky gives it to Ororo.
Icky: "Read it."
Ororo: "(Reading) Master Xehanort is gonna betray the villain leage in the 2 part episode of season 13? (Talking) The hell is that suppose to-"
Icky: SPOILER ALERT!!!
Ororo: Spoiler wha-? (A flash is seen)... What just happened?
Suddenly, the paper disappeared like magic.
Scroopfan's voice: "I hate when Icky does that. Well fortunately, the neutroliser should effect his simple mind as well, the others included. And, I got the paper. Let me introduse you to my friend, the paper shredder."
Tigress: Po? Next time you think about goofing off, DON'T!!!
Po:... Got it!
Ororo: Okay, what is going on? I feel like I was flashed with some kind of neuralyzer!
Po: Relax, Ororo! Let's continue our walk.
Ororo:... Okay. (The group leaves)
However, they were unknowingly spied apawn by a silloette of a coati.
???: "I knew it..... My careful counterplan against Algor is coming to fruition. I must go and find the others."
Chapter 5: Shamus' Plan
A Room in the Prometheus Temple
Shamus: I can't let those misfits stay on this planet! What if they find out all our secrets? What if they're spies? What if they're Darkspawn disguised as heroes waiting to enslave us?!? Those thoughts are already haunting me! I've got to do something before it's too late!
A disinterested looking Bat that resembles Fidget but with 2 complete feet: "Calm down. First of all, the darkspawn have been banished to the banish realms, and any reminents are either bound to a group known as the villain leage, or are being independent jerks. Either way, there's no "Darkspawn Lords of Disguese". Also, those louger guys, from what I heard, HATE darkspawn, so they ain't in leage to them in anyway. Remember the legend that they prevented the darkspawn Malefor from escaping?"
Shamus sighed in relief.
Shamus: "Your words always assured me Figdit. But still, what if the lougers discover that Algor only told a half-truth? Their sense of high-morals would make them assume the worse! Either way, I have to ensure they do something that'll force Algor to adopt a restriction against allowing normals from ever entering our planet again!"
Figdit: "Ok, remind me again, WHY do you hate the normals? If anything, our history with them is extrememly possitive at best! In fact, we were tecnecly normals in the long ago past."
Shamus: "Then explain the darkspawn."
Figdit: "They don't count as normals, they were demons, and also, they were threatening EVERYONE, Superiors and Normals! Why else did the divines punish those jerks good?"
Shamus: "Your right again Figdit, maybe the darkspawn was a completely isolated insodent. The normals did enjoyed our powers..... But, I had learn that those days of tolerance has frankly mostly died down. I seen what the normals are becoming.... More and more afraid, fearful, and hateful of things they do not understand. The normals are infected with the hidious mental desise known as, Xenophobia."
Figdit: "I don't think that's an illness of any kind."
Shamus: "Please let me get my point across."
Figdit: "Ok, just making it clear that Xenophobia is neither a mental or a viral dessie, just so we're aware."
Shamus: I know that! I was being figurative! Anyway, I still can't afford to trust these misfits. They may be trying to help that Ororo child, but I can't risk it. These guys have GOT to go.
Figdit: (Uses his telekinesis to prepare tea) These guys don't seem very bad, Shamus. I think this 'Xenophobia' is beginning to 'infect' you more than it is to the normals.
Shamus: Me? Xenophobic? Are you crazy? I'm not xenophobic.
???: (Knocks on door) Shamus?
Shamus: IT'S THE MISFITS!!! (Jumps onto Figdit like Scooby-Doo) MOMMY!!! I NEED MY BLANKEE!!!
Voice: "Calm down, Shamus, it's just me, Master Algor.... Wait, did you just screamed mommy and said you wanted your "blankee"?"
Figdit: You need your blankee? Really? That's too embarassing for you.
Shamus: Shut up, Figdit! Ignore the references, Algor. Come right in.
Master Algor: "(Comes in) Shamus, I need to talk to you.... It's about our guests."
Shamus: "The Misfits?"
Master Algor: "Yes. I think we got them all wrong. Bringing Ororo here was clearly a misguided mistake on their part. I think now that they're properly educated, they'll simply send Ororo back to this, "Paradisa" they found her in. But in another hand, I honestly do regret sending her away.... Even if she did discovered.... It..... I'm thinking of giving Ororo another chance."
Shamus: "WHAT?!"
Master Algor: "Well, as long as we keep her away from her family and her friends, and from rediscovering, it, I think she'll be fine. You see, reveiling the past with Copy-rightious, made me think. I may be living long thanks to these, implantations, but we're still away the tecknowagey to make us live forever, like, artifital gods. I'm thinking of making Ororo my new protosay."
Shamus was blabbling!
Master Algor: "Now calm yourself, my majordormo, as long as we keep her away from certain people and... Certain areas, I think it will certainly work out. We just need to earn the misfits' trust to ensure they'll be unable to listen to certain, people."
Shamus: "Certain people?"
Master Algor: "You see, Shamus my friend, I'm worried that, maybe the machinces somehow did not effect ALL of Ororo's friends. Walt, Scarlett, Meg, and Tane all check out as clearly effected by the annisa, Walt being, not the intelligent type, Scarleet in her blissfully ignorent persona, Meg being more brawn then mind, and Tane.... Most likely weak will power I guess. But Tyrone...... It's HIM I am concern of! When he was near the misfits, I thought he was gonna remember aeverything... but instead, he acted like what I expected from a memory-wiped superior.... Almost too exact. I can count on the other 4 being unbalence ignoraimiases, but Tyrone..... He's almost..... Too clever... I been concerned on how strangely easy it was to supposingly alter out his memory, like, he planned for this, and faked being mind warped all this time."
Shamus: "Sir, your merely over-reacting, not even the most advanced of Young Master Tyrone's kind of Superior can't resist the device."
Master Algor: "That's what concern me.... What if he's more advanced then even the likes of them? Why do you think I keep him around the temple as insurence he wouldn't try anything as the royal psytic?"
Shamus: "..... I see, but, won't your plan to make Ororo your apprence be met with the problem your trying to-"
Master Algor: "That's why I have plans to have Tyrone transfered to another contentent, away from Ororo and the others. But those are briages that will be crossed apawn in due time. First, we have to ensure we lean those misfits onto our side. They are clearly heroes of high moral fiber. Something I praise and reguard highly, but.... I'm worried if Ororo has been reminded by.... It, then they'll fall into Tyrone's favor. It pains me to continue my uncharistic charade of lies, but we must make the lougers believe that Ororo and her friends are dangerious superiors if they re-gain their memories, use their fear of unintentionally bringing a dangerious villain into our world against them."
Shamus: "..... Alchorse sir."
Master Algor: "Good.... Now, I left the misfits in the lunchroom, I really must attend to duties."
Master Algor walked away.
Shamus made a face of disatisfaction as he made sure Master Algor was far enough away from earshot.
Shamus: "I know of this, project of yours.... But your not the only one seeking the benifit of all superiors. But mine is less, dishastorious..... For my plan to work properly Figdit, I, relucently, have to make miss Ororo remember."
Figdit: "You sure sir?"
Shamus: "It pains me to betray a dear friend, the misguided fool means well, but his way of trying to better Superiors ended in almost our exstintion! My way, would prevent all secrets from being misused by the normals and their, wars and feuds. But first, I must get Ororo away from the other half of the misfits somehow."
Figdit: "Well sir, with any luck, there's a chance the misfits might step in the wrong feet with Ororo's friends cause of, ya know, Algor only telling a half-truth."
Shamus: "... Perfect. Knowing Normals, they all tend to be idiots, chances are, one of them may offend one or some of Ororo's former friends. And I shall malmitulate that with ease...... Figdit, turn on the survellence monitors, we must find the misfits. (he does that, and the first monitor shows the lougers doing their usual silliness and making Ororo and other superiors laugh, to Shamus' personal disgust.) Ohh, it's worse then I thought."
(Shamus and Figdit begins to sing this).
Shamus: Those misfits have to go, Figdit! I need to make sure nobody stands in the way of saving our people from the dreaded outsiders.
Figdit: Absolutely, boss.
Shamus and Figdit go out of their way to do their plan.
Chapter 6: Ororo's Memories
Down the street.
Ororo and gang resume their walk.
Icky: "So far, I like what i seen in this place. What a nice and friendly neightborhood here."
Suddenly, there was a zoom that went by them and suddenly, Ororo was gone!
Lord Shen: "WHAT THE?! (Lord Shen sees a brief glices of Tane carring off Ororo) THAT FAST TALKER ABDUCTED ORORO?!"
Tigress: "That means they're onto us! We have to stop him!"
The lougers tried to pursue Tane!
Ororo: "HEY BUSTER, LET ME GO?!"
Tane: "Sorry, Ororo, butthisisforyourown-"
Tane smacks right into a streetlight pole!
Tane: "OWOWOWOWOWOWOWOWOWOWOWOWOWOWOWOWOWOW!?"
Ororo: (Gets a few visions of her riding Tane, and getting bumped into a pole)... This seems pretty familiar.
Tane: Ororo, please, wegottagetyousomeplacesafe! We'vegotloadstotellyou, anditisveryimportant! It'saboutMasterAlgorithm!
Ororo: Tane, I don't have time for your little games.
Tane: Youdon'tunderstand! Youlostyourmemories, andwe'regonnahelpyougetitback. Justcomewithme, andwe'lltellyoueverything.
Ororo: Wow, you sure talk a lot.
Tane: (Shrugs) LISTENTOME, ORORO! THISISVERYIMPORTANT, YOUNEEDTOKNOWWHYYOUWERESENTTOWHEREVERYOUWERESENT!!!
Ororo: "In one way, you sound urgent, in another, I WISH THE FUCK I COULD UNDERSTOOD A SINGLE WORD YOU SAID?!"
Tigress appeared and kicked Tane in the face, sending him flying with a fast paced Goofy Scream (making sense cause he's a speedaholic)
Ororo: "Just what was that guy's problem!"
The other lougers came forth!
Icky: "Uh, It may be kinda our fault. You see, remember when I knocked out that walrus dude? Yeah, chances are he was friends with those guys, now let's find and warn Algor before anymore of them tried to sucker punch us or someth-"
Meg: HYAH! (Kicks Icky to a wall)
Icky: OOF!
Iago: "Well, tecnecally, you were sucker-KICKED! But overall, good point."
Icky:But still.... I hate it when that happens!
Meg: (Grabs Ororo and leaps off to the rooftops)
Lord Shen: AFTER HER!!! (The Lodgers persue them in their van)
Ororo: Meg?!? What the hell is going on?!?
Meg: Ororo, if I were you, I'd watch the language. You're 14 years old.
Ororo: Sorry, but anyway, what is going on?
Meg: Trust me, you'll find out soon enough.
Mr. Dodo: (On intercom) UNHAND THE OCELOT, MEG!!!
Meg: Crap, they have a flying van?!? Nice hot rod flames! (Suddenly dodges laserfire) WHOA!!!
Ororo: Meg, just tell me what's going on, please!
Meg: Now's not the time for that. (Leaps across the alleytops with incredible agility)
Ororo: WHOA! WHOA-WHA-YIPE! YAAAHHRGH! CAREFUL!!!
Meg: (Shrugs) Trust me, if I was a marsupial, this would be MUCH easier! Now HANG ON! (Dodges multiple laser bolts with graceful agility)
Monkey: She's too fast! We can't get a clear shot!
Lord Shen: "Prehistoric one, you and the Parrot get out of the van! I have a plan!"
Icky: "Ok what?"
Lord Shen: "Remember that trick you did in that treasure cave?"
Icky: "Say no more Shen."
Icky and Iago got out of the van.
Meg continues to be persued by the louge van while Icky and Iago build a brick wall and painted it to look like the brackground of the scenery.
Meg heads for the area where she is unaware of the trap until she jumps and-
BAM!
Meg is seen half stuck into the fake scenery brick wall while Ororo is surprisingly fine. Crane grabs Ororo while Meg remains stuck
Meg: "The old "Fake-out brick wall in disguise" trick. Cleverly well played."
Icky and Iago high fived!
Crane, Icky and Iago returned to the Van.
Po: "Whew, that was close. Now let's get Ororo out of her before there's any more surpri-" (Suddenly a laser blast damages the van, and drops Ororo. Then Scarlett swings down and grabs her)
Scarlett: Got'cha!
Ororo: Scarlett? You're involved in this, too?
Scarlett: Yeah, but that's not important. We have to get out of here. (Runs off)
Tito: OUR VAN IS GOING DOWN, MAN!!!
Merlin: Not for long. (Uses magic to repair the damages)
Applejack: Nice going, there, Merlin!
Boss Wolf: GET THAT LAZAR-BREATHED GIBBON!!!
The van persues Scarlett!
Icky: "I have some idea on how we could stop her from using that Swoop De Whoop trick again! We just need insanely sticky super glue."
Mad Hatter pulls out some from his hat!
Mad Hatter: Here you are, my good bird.
Icky: "Perfect!"
The van zooms fast around Scarlett and intersets her.
Scarlett: "Ok, looks some people can't take no for an answer. Ok then, I'MA FIRING MAH LAZO-"
Icky suddenly appeared and quickly squirted glue into Scarlett's mouth, disabling her abilites!
Scarlett: "MMM! MMM! MMM?!"
Lord Shen grabs Ororo and the van gets away from Scarlett!
Po: "That was close."
Lord Shen: "But we must be on our toes. Who's left?"
Icky: "Well, we dudged Speedy, Super-chick, and Swoop De Gibbin, all's that left is the walrus."
Walt: CANNONBALL!!! (Jumps down and grabs Ororo) HU-ZAH!!! I win- (Suddenly realizes he's falling) YAAAAHHHRRRGGGHHH!!! (Hits the ground hard while Ororo makes it okay) OOF!
Lord Shen: (Laughs)
Walt: Uhhgh! That'll hurt in the morning! (Faints)
Ororo: WHAT THE HECK IS GOING ON HERE?!? EVERYONE IS AFTER ME!!!
???: Ororo! (Ororo turns around to see Tyrone)
Ororo: Who are you?
Tyrone: My name is Tyrone! Me and my friends have something important to tell you concerning Master Algor. (The others appear exhausted and disorientated)
Meg: (Cracks back) URRRGH!!! Not the only time I've hit a wall.
Walt: Eh, I've crashed on the ground many times before. But it's happened to me so much, I get used to it.
Tane: Thatwasn'taproblemformehittingapole. It'shappenedmanytimesbefore, andIsometimesgetusetoit.
Scarlett: MMMPPH! MMMMPPPPPHHH!!! (Her cheeks expand when her energy builds up inside of them) MMMMMMMMMMMPPPPPPPPPHHHHHH!!!! MM-FMMMPPH-FMMMPPPHH!!!
Tyrone: I'll get that. (Uses telekinesis to rip the glue off of her mouth)
Scarlett: OUCH!!!... That didn't really hurt THAT badly. There's no hair growing on my mouth. I'm a female, after all.
Tane: Uh, excuseme? Wehavemisfitsonourtail, ifyoudon'tmind!!!
Tyrone: "Let's remember they're after us cause they don't know what's going on! We need to be able to capture them in a controled evioment."
Meg: And how are we supposed to do that?
Tyrone: Leave it to me. (Uses telekinesis to shut down the van)
Mr. Whiskers: This could be bad! (The van falls to the ground, but Tyrone uses his telekinesis to make it safely land on the ground) Oh, whew! That was a close o- (Tyrone uses his telepathic abilities to knock out all the Lodgers except Merlin, who has occlumency abilities)
Merlin: I'll take care of this! A- (Tane uses his super-speed to get a frying pan from a nearby diner, and smack him in the back of the neck with it, knocking him out)
Tane: HAHAHAHAHAHAHAHAHAHAHAH!!! Inyourface, wizardboy!!! (Dances in fast motion upbeat music)
Tyrone:... Sometimes, you can be really unexpected.
Tane: Iknow, right? (Chuckles)
Walt: Should we get those other Lodgers, Tyrone?
Tyrone: Nope. We'll take care of them later. Right now, we have to take care of the business at hand.
However, they were unaware that they were secretly watched by Shamus and Figdit.
Shamus: "Hmm, it looks like I don't have to do much of everything. I'll just simply let them do the work FOR me, Figdit. No doubt Ororo's former friends will start jogging her memories AND make the lougers relise the full carintata of Algor's intentions. I love it when Karma plays into my favor."
Shamus and Figdit disappeared.
An old warehouse.
Icky awoke, moaning.
Icky: "Ohh, god. It felt like I was in a nasty hangover."
Lord Shen: Where are we?
Tyrone: We can't tell you that. It's for security reasons. Anyway, you must be some of those Shell Lodgers that I've come across before.
Applejack: Well, we ponies are an exception. I mean, Trixie is a member of the lougers, so I am refering more on me, and 5 other of my friends.
Tyrone:... And 6 pony allies.
Rainbow Dash: Let us go, bulbous-head, or I'll do a Sonic Rainboom on your big fathead!
Tyrone: MY HEAD ISN'T FAT!!!... Okay, maybe a little, but-
Tigress: What've you done with Ororo?
Tyrone: She's in good hands.
Mantis: (In a small cage) And by 'good hands', you mean where exactly?
Tyrone: In the other room with Meg and Walt.
Tane: Sowhatdowedowiththeseguys, Tyrone? Dowekick'eminthecrotchesliketheyweregrocerybagslikethis? (Kicks Shrek in the groin in 1 second)
Shrek: AAAAAAAAHHHHHHH!!!!
Tyrone: No, Tane, we don't kick 'em in the crotch.
Tane: Eh, nobigdeal, itwasfunanyway! Infact, I'lldoitagain! (Kicks Shrek in the crotch again)
Shrek: (Tom screams)
Tane: (Chuckles speedingly)
Tyrone: Tane, if you would be so kind as to stop being so hyperactive, why don't you go watch for any on-goers who pass by.
Tane: Yougotit, Tyrone! (Zooms off)
Pinkie:... And I thought I was this nuts.
Icky: "This guy could be a protaintional rival for you for surreal abstract wackiness Pinks."
Lord Shen: "We want to know why did you abduct Ororo, and appearently, us for that matter?"
Tyrone: Because we are her old friends, and we have long lost our memories of her thanks to Algor. Luckily, I was the only one unaffected by his memory-wiping machine since I can protect myself from mental attacks with my psychic blocks.
Rainbow Dash: Oh, GREAT! Another long-forgotten friend?
Tyrone: Don't worry. I'm the last one. Plus, I've managed to find out a lot about you after reading your minds. Now, I know everything about you.
Pinkie: Oh, really? Maybe you can't guess what number I'm thinking of. It's a real number, and it starts with-
Tyrone: 1 kabillion. (Pinkie is surprised) Plus, that's not even a real number. Seriously, girl! Do you even know what a telepath is?
Pinkie:... A magical path that teleports you anywhere?
Applejack: Seriously Pinkie?
Tyrone: Anyway, what I know about you is not important. What IS important is that since Algor seemingly erased my memories of Ororo, I've been pretending to have amnesia so things wouldn't go downhill, and that I would wait for the right moment to get payback against Algor for what he did to Ororo AND her family.
Ed the Otter: Well, that's just not good, is it?
Lord Shen: Look, Tyrone, we don't blame you for trying to defend Ororo's honor, but you've got the wrong idea about Algor! He's only doing this to protect her!
Tyrone: Yes, I know. He doesn't want her to go dark with the Mimic Cult, but that won't be a problem when a telepath like me is there to keep her from getting the wrong idea.
Shifu: (Shrugs) You poor nieved coati! Corruption is something that cannot be controlled THAT easily, even for a telepath like yourself. Some corruptions tend to be at a higher level, and can be harder to deal with. Only the greatest of heroes can cure high corruption levels. And have you EVER done any herowork in your life?
Tyrone: No, but I am about to. Me and my buddies are gonna help Ororo finish what she started. No corruption bullshit or some stupid Mimic Cult is gonna stop us from doing that. We've got to do what's right, and take down that corrupt bastard Algor!
Po: "WHOA WHOA WHOA WHOA WAIT! Algor's corrupt? He didn't acted like the usual Tyrants we faced."
Tyrone: "I'm aware Algor's truely nothing like what your acustom to face. But Algor, has a different corruption. Blinded Determination and feelings of guilt."
Walt: "Mixhhhed with trying to honor his deadth parents and slove a job decline problem, assusiating with a known convicted criminal in creating a dangerious device, befriended with a paraniod Sarus crane who doesn't realise he's xenophobic to normals, and you got a puu-puu platter of someone who's a megalomaniac."
Applejack: "You mean like someone who thinks he's trying to do and be good but doing it in an extrememy bad and immoral way?"
Walt: "Anti-Villain can also be a besssst way to discribe him."
Icky: "Ok, we're confused here."
Shifu: "May we please ask for an explanation of what is really going on here?"
Tyrone: "Ok, but, this may be a great shock."
Flashback
(Tyrone): Master Algorithm has always known that Superiors enjoy visitors of many kinds. Visitors even liked to visit Kratos, even every day. Despite having many wars long ago, Kratos was a peaceful planet for us Superiors to prosper. When our great founder, Grotch Prometheus, died at age 1105, he-
(Applejack): Doggone! A Superior can live for thousands of years?!?
(Tyrone): Yes. The average Superior lifespan os over 1150 years.
(Rainbow Dash): DAMN!
(Tyrone): Anyway, when Prometheus died, Master Algorithm's family bought the election with not just the money, but the promise of fame and peace. Master Algor's father, Ezekiel, was the 2nd ruler of Kratos, and knew how to run the planet peacefully and keep Superiors happy with lots of other-worldly visitors. But then, visitors stopped visiting Kratos. Without them to keep the Superiors company, our government and ecomomy was starting to crumble into rumors that they don't want anything to do with us anymore.
(Po): Whoa! Sounds terrible.
(Tyrone): Yeah, it is. Meanwhile, Ezekiel was searching for a way to fix this crumbling problem so that no casualties could break out. But when he made his choice, he made the wrong decision. He initiated Operation: Continental Drift. It's a top-secret operation that was meant to link all of Kratos' continents together to form a supercontinent, therefore, visitors would be spiked to realize that Superiors' technology improved quicker than they realized, and they would come back again. However, he died of cancer before he could initiate it. Taking responsibility as ruler of Kratos, young Algor decided to continue Operation: CD, and make Superiors happy again. Only when he was ready... (Large earthquakes form on the planet's surface)... Tragedy struck. The Big Shake that had sparked the rumors that our planet and our entire race was destroyed, had taken it's toll. Luckily, our Earth-bending Superiors were more than capable of saving the planet before something catastrophic could take place.
(Mantis): So THAT'S why it was rumored to have been destroyed.
(Po): How horrible!
(Tyrone): You think that's horrible? You should see what Algor did a few years later. He decided that artificial machines were useless against getting the job done. He soon decided that the only way to get the job done the right way was to become omnipotent.
(Pinkie): Omnipotent?
(Tyrone): In other words, 'all-powerful'. This was highly illegal according to Superior law. Omnipotence was the most dangerous power any Superior could ever wield. The thought of actually HAVING that power would be VERY corruptive, and the results would indeed be catastrophic. He began searching for a way to do this for over 500 years. He kept himself alive by replacing his worn-off body parts with high-tech cybernetic machinery, allowing him to live as long as Prometheus.
(Icky): I knew that kind of reminded me about Clockwerk.
(Tyrone): But that's far from the point. When Algor illegalized power mimicry, Ororo was convinced that Algor was corrupt, and searched for a way to take him down. That is until she discovered everything about Operation: Continental Drift, and the illegal omnipowerization crime that Algor was intending to do. But before we could warn everyone, he and Shamus caught us, and had our memories erased except for mine. Ororo was exiled to a far-away planet while the rest of us lost our memories of everything, including Ororo.
Present
Tyrone: A year later, here we are.
Lord Shen: "..... It's... Incredable how dangerious delusional fantises can make anyone think like this......"
Icky: "I'm more worried what he is gonna do if he found out that we're onto him...."
Rainbow Dash's eyes shrunk down to the size of dots.
Rainbow Dash: "OH MY GOSH?! TWILIGHT AND THE OTHERS IS WITH THAT IRON-CLAD MANIAC! WE GOT TO STOP HIM?!"
Tyrone used his powers to mentally calm Rainbow Dash down.
Tyrone: "Don't get me wrong, stopping Algor is a great priority, but finding a clever way to pull it off is another equility impourent priority. It's considered a death-wish to just, directly go to the temple and challnage Algor."
Lord Shen: "Yes, but, we want to apologies for not seeing this sooner. We're normally good at seeing when someone is unbalenced, but..... With Algor, he didn't had the usual "I have a dark secret" signs when we met him. He wasn't nervious, he didn't had aggressive mood swings, well, not server like that of true Tyrants, his anger was more provoked we brought Ororo here, but I diegress, and he was actselly remotely reasonable! If anything, if he had such a sign, he would've thrown us off of this planet by now!"
Applejack: We gotta tell the others about this!
Tyrone: Yeah, we could use a few helping hands... (All the Lodgers look at him)... Okay, a LOT of helping hands.
Viper: Some of us don't even have hands.
Tyrone: I got it.
Po: So, does Ororo have her memories back yet?
Meg: She sure does. (Ororo appears)
Ororo: Well, I knew Algor was crude, but I never knew he was trying to protect me from this 'Mimic Cult', whoever they are. But still, we need to stop him before he does something that will truely destroy Kratos.
Rainbow Dash: We'll help you, but we need to be sneaky about it. He tends to be full of surprises.
Icky: "But how are we gonna get to the others without Algor unintentionaly getting the heads up?"
Po: Well, can't Tyrone just use his telepathy to lead Algor away from them?
Tyrone: Nope. Algor has a psychic shield that prevents me from using my telepathy on him. If I tried, he would know I was onto him. That's how I was unable to discover why he illegalized mimicry. Luckily, I found out after I read the other Lodgers' minds.
Lord Shen: We could always call them on the walkie-talkie.
Tyrone: That's not a good idea, either. Algor has really good hearing, so he would know there was something suspicious going on.
Boss Wolf: Well, how about we do what Alex and Skipper once did? We communicate on the walkie-talkie in a different language?
Tyrone: Nope. Algor has omnilingualism. He can become fluent in over an infinite forms of communication, so he would still suspect something's up.
Boss Wolf: DAMN!!!
Mr. Whiskers: Can we hide in a few vents and signal them?
Tyrone: He has X-ray vision.
Tulio: We can use the SpyBug to distract him.
Tyrone: He has heat vision.
Merlin: I can create magical decoys of anyone he knows.
Tyrone: He can learn the traits of anything and anyone by touch using his psychometry.
Po: IS THERE ANYTHING WE CAN DO THAT HE CAN'T DISH OUT?!?
Icky: "Then this place is screwed."
Tyrone: There is one thing we can do. I can call out for them with my mind. They'll know we need them and they'll know where to find us. (Uses telekinetic abilities to signal out the other Lodgers)
Prometheus Temple Lunchroom
The lougers and other 3 ponies were enjoying a nice dinner set by Algor.
Master Algor: "I trust you enjoy the Kratos sytile dinner?"
Patrick was eating some mutton!
Patrick: "Me thinks it's "Mutton-tatstic"!"
Rarity was eating salad and looks as if she is in estacy!
Rarity: "OH YES! YOUR SALADS ARE TO DIE FOR?!"
Spike: "(Wispering to Algor) Think you could give me the recipe for that salad?"
Master Algor: Well, I don't know about that. It's a secret family recipe.
Spike: Aww!
Skipper: WOW! This fish cuisine is delicious! MUCH better than the herring from that shipwreck that were infected with that Pisces dimenschia disease. Hell, even MUCH better than those furros we used to make.
Rico: FISH!!! FISH!!! (Harmonizing) FIIIIIIIIIIIIIIIIIIIIIIIIIIIIIIIIIIIIIIISH!!!
Master Algor:... My goodness, when did he learn to do that?
Skipper: We have absolutely NO idea!
Master Algor: Now, you just enjoy yourselves while I take a quick bathroom break. (Leaves)
Twilight: (Enjoying some salad until Tyrone's mental waves enter the room, and gets the attention of everyone) Wha-?!? Did you guys hear something?
Rarity: Yes. It sounded like a sonic boom of some sort.
Twilight:... Ororo!
Alex: Ororo!
Skipper: Ororo!
Patrick: Patrick!
Twilight: We gotta get going. Something's happened to Ororo.
Spongebob: "But we shouldn't eat and run! It would be incredably rude!"
Rarity: Yes, as a lady, I wouldn't dare run off from a royal dinner like this.
B.O.B: Well, I think Tyrone sent the message to us. Perhaps he might know something we don't.
Squidward: "Well we should at least be polite about this and wait for Algor to come back and tell him we have to go somewhere real quick."
Fluttershy: But won't that raise some suspicions? He might be concerned, and follow us.
Mushu: Hmm, good point. We need to make sure that doesn't happen.
Melman: But how?
Gilda: Maybe we can tell him we need some fresh air.
Trixie: "I think that might work."
10 minutes later...
Marty:... What's taking so damn long?
Gloria: Maybe he had too much to eat lately.
Girl Sora: I can't imagine how it must be like to take a dump when your body is made almost completely of metal. Come to think of it, how did Clockwerk even poop?
Izzy: I don't know, but it must not be pretty now that I think about it. Blech!
Master Algor: (Appears) Sorry I took so long guys. I just had some trouble that I wouldn't wanna talk about right now. How do you like the food?
Trixie: It's nice, but The Great and Powerful Trixie needs some fresh air... Outside... In the sun...
Twilight: Yeah, I might need some fresh air, too. This room is getting stuffy.
Master Algor: Oh dear, I apologies for that, I specifly asked those maids to make this room as clean as possable. I really apologies for this... Take as much time as you need. I don't mind.
Sandy: Let's go, guys. (Everyone leaves)
Outside
Trixie: "This better be worth having to leave on a half-full stomich with no desert!"
SpongeBob: Still, we need to get to the warehouse Tyrone signaled us to go.
Spyro: Good thing he showed us how to get there.
Sparx: I find it kind of weird how a telepath can guide us somewhere with his own mind.
Kowalski: Sounds a bit tempting.
Spike: So, how do we get there without a vehicle?
Twilight: Simple. (She uses her magic to teleport the entire group to the warehouse)
Sparx: Well, THAT was easy.
Tane: HEY, WHAT'REYOUDOINGHERE?!? YOU'RENOTWELCOMEHERE!!!
Marty: Whoa! A fast talking cheetah! That is wild, man!
Alex: Can you repeat that, sir?
Tane: You'renotallowedhere, that'swhatIsaid! Now, getouttaherebeforeIruncirclesaroundyou!!!
Skipper: WHAT THE FUCK ARE YOU SAYING?!?
Tyrone: Tane, relax! These are the other Shell Lodgers I summoned here.
Sandy: Huh, Tyrone. Big surprise.
Private: You told us to come here with your mind.
Tyrone: Yes. I think we and the other Shell Lodgers and Ponies might need your help.
Shenzi: You need OUR help?
Banzai: Besides, what've you done with Ororo?
Tyrone: Relax! She's got her memories back. And soon, you'll understand why. Come inside. (The rest enter the warehouse)
Warehouse
Gilda: Whoa! What a dump!
Walt: "Well what do you want from it? It's an ABANDON warehouse. That means it's not used that much these dayssss."
Trixie: "Now, care to explain why had you brought us out here in the middle of the greatest meal Trixie had all day?"
Ororo: Well, we have to tell you something about Master Algor. We don't really know how to put it...
2 minutes later...
Twilight: What?!?
Sam: Whoa. I never knew Algor would almost destroy this planet.
Max: Yeah. Reminds me of those Mole Men we encountered during our Camelot Adventure.
Rico: Aye aye aye.
Spyro: We need to stop him before he gets the chance to become omnipotent.
Sparx: Aw, c'mon! This guy is trying to become all-powerful? It would take him YEARS to get that kind of power. How would he possibly come close to accomplishing that?
Meg: Uh, haven't you met Algor's science expert?
Dr. Cockroach: You mean the frog we saw in the Temple Lab off-camera? What about him?
Tyrone: He's Algor's key to gaining that kind of power. His name is Aaron Solaris. He used to be a criminal guilty of impersonation and murder. But he was bailed by Algor, and is now working as his biochemist. He's hoping to gain so much Superior DNA and put it into one simple serum, and allow Algor to get all the powers they posess, and successfully pull off Operation: CD.
Twilight: "I don't think Algor fully processes what he's doing. We got to do something!"
Mr. Krabs: "I say we give that tin-can something to cry uncle about!"
Lord Shen: "Let's remember we're dealing with someone with superpowers, is taller then most of us here, and his skin is LITTERALLY body armor! In some cases, he's already nearly invinable on his own!"
Ororo: "Actselly, he's just really strong. No superior, not even Algor, is truely invinable."
Po: Yeah. I mean, we beaten strong guys before. Temutai, Venom, Crocovore, Li Dong, Max the Butler, Gaston the Ape Bodyguard, Monstro-
Icky: (Dubbed as Plankton) ALRIGHT, I GET IT!!!
Po: "Whoa, easy Ickster."
Lord Shen: "Well, I would just feel comfertable if he has, some form of weakness."
Tyrone: Well, weaknesses in Superiors are extremely rare. It's espeically rare to the likes of Algor.
Lord Shen: Well, does Algor have any weaknesses? I mean, Achilles has a bad heel, Superman cannot stand being near Kryptonite for even a single minute, Spider-Man can't stand ethyl-chloride pesticides, and-
Tyrone: Not that I know of. Because I can't read his mind with his psychic shield, I have no knowledge of his physiology and biology. Not to mention he might always be one step ahead of us, so we can't use anything against him.
Icky: "Well, since he has metal skin, why don't we get some water, and make him rust?"
Tyrone: Actually, he had that covered weeks ago. He was getting tired of always getting issues with his cyber-body, not just from rust, also short circuiting because of accidents like that. He made his robotic parts waterproof. But he still cannot swim OR breathe underwater.
Ororo: Yeah, that kind of reminds me of the time I borrowed Walt's ability to breath underwater so I could prove to my friends I could swim. But I learned the hard way that I was still a weakling underwater.
Walt: Yeah. You jusshht sshhank to the bottom of the 9 ft pool, ans shhtayed under there for a LONG time. You didn't exxhhsactly know how to physically paddle yoursshhelf through the water like I can. That'ssh achstually how we met.
Ororo: Please, Walt, don't mention my accident. It embarasses me.
Fluttershy: So Algorithm can't swim?
Tyrone: Exactly. While his robotic body may be waterproof, the parts make him extremely heavy. So heavy he can easily sink.
Mr. Krabs: "Your saying we need to somehow trick him into going into a swimming pool and he's beat?"
Tyrone: Well, that's not the only advantage we have. But it's obviously not 100% garrintied to be useful, cause Algor's obviously not an idiot! We can't just force him into a body of water like simpletons. He's got other specific weaknesses that we can use to our advantage. He's not a good fighter because he never took any lessons in self-defense. He's also a terrible strategist who uses cheap tactics when he's ever threatened.
Applejack: How do you know about Algor's weaknesses, Tyrone? Doesn't he have a psychic block?
Tyrone: Yes, but that's not how I figured them out. I learned he couldn't swim because I saw that he was afraid to go in the water EVEN if his robotic body was waterproof. I learned he wasn't good at fighting because he told me, and I learned he wasn't a good strategist because when Algor tried to erase our memories, he was stuck trying to figure out how to deal with me if the machine failed to erase my memories.
SpongeBob: Is that all?
Tyrone: Yes.
Sandy: Well, that's good thinking, Tyrone. I can tell you like being a powerful telepath.
Tyrone: Well, sometimes it has it's perks, but I get use to it.
Shifu: Well, now that we know Algor's weaknesses, how do you suppose we use them to stop him? I mean, it's very difficult for us when we have to deal with superpowered beings.
Icky: "Relax, he sucks at fighting, remember? Even Fidget can take him on."
Marty: "Heck, even Melman could beat him in a fight!"
Melman: "Hey!"
Sandy: "Well we still can't risk being stupid bout this. I suspect he might have Bodyguards to do the rough-housing for him."
Tyrone: They're only when he REALLY needs them. Also, even though he's not a good fighter, there's still a chance he can self-train himself by using his psychometry.
Twilight: He raises a good point. If he can use that to learn about our history, he might also learn our moves and how to perform them. If he uses psychometry on Shifu, the Furious Five, or Po, he might learn all of their moves and how to perform them.
Spyro: Makes perfect sense. Like back on Ham-Dam Island, Princess Marenia learned Kung Fu moves by just watching me do them.
Po: Or like Peng. He said he never had any training in Kung Fu when I first met him, so I can guess he taught himself.
Tyrone: Still, he cannot learn how to do ALL of their moves. He's not as flexible and agile as Kung Fu masters are, if mainly thanks to the metal of his body. We can still take him. We just need to do it carefully. Now, let's think of a game plan. Starting with Aaron.
Icky: "You mean that little frog guy he hired?"
Tyrone: Yes. The first step on stopping Algor would be to prevent the omnipotence serum from EVER being created. Aaron might hold the key to where the serum is being created. Of course, I never found out where the lab was because it is for authorized personel only, and I must say it was hard to get the chance to read Aaron's mind without him noticing. He is VERY good at sensing his surroundings. Not to mention he has an EXTREMELY loud croak which he can use as a warning signal should he ever catch me in the act.
Lord Shen: Wow, Superiors are FAR more smarter than the villains we encountered.
Twilight: And that's more of a challenge for us. How do we get the information from Aaron without alerting him of our presence?
Tane: Well, wecouldalwaysdistracthimwithsomething. Imean, italwayshelpsme.
Tyrone: As God is my witness, you'll learn to speak slowly!
Meg: How about we distract him?
Tyrone: Good thinking.
Tane: But, that'swhatIwasjust- (Shrugs)!
Lord Shen: "But first we need to be able to enter back into the palace without gaining Algor's attention."
???: "Perhaps, I could be of assitence?"
Everyone looks to see Shamus and Figdit!
Squidward and Spongbob screamed!
Shamus: "Now now now, do not be alarm, we have no interest in turning you in to Algor....  In fact, we share the exact same concern in stopping his decrepted madness as anyone."
Skipper: "Wow.... For someone who's suppose to be his yesman, your awfully quick to stab his metal back."
Shamus: "Oh don't get me wrong, I am doing this to ensure this mistake won't be costly to both him and our civilisation. We were lucky last time, but, if this repeats, I am not dreadfully sure if even the strongest Superiors would survive this."
Icky: "How can we know you can be trusted?"
Shamus: "My friends, Algor trusts me no matter what. I had been his Majordomo for years with no possable flaw or mis-step with him what-so-ever. He's putty in my hands.... Metihoritly speaking."
Ororo: "But you helped Algor stopped us last time."
Shamus: "Well, I had to ensure I kept his trust, otherwise, had I allowed you lot to escape, or even, aide you, well, he wouldn't trust me as much as he does now, would he?"
Skipper: "In some dark, twisted way, that does make computable sense."
Shamus: "There is, a small condition however."
Icky: "A catch huh?"
Shamus: "Yes. Once you finish your, little deed, I must ask you normals to leave Kratos, and make no attempts to come back, ever, and to tell your senator that Kratos did indeed became a wasteland, and that miss Ororo was indeed just an aberidtion of nature."
Figdit: "You also could've used Mutant."
Shamus: "My way sounds less offencive. Anyway, for why she is not with you anymore after you leave is simply cause you turn her over to a secret laboratory, so secret, that not even she would know about it."
Icky: "Wait, I thought you guys wanted Ororo gone?"
Shamus: "Well, interestingly, Algor, against his normally superb judgement, has decided to lift Miss Ororo's banishment, frankly."
SpongeBob: Are you sure we can trust this guy, Tyrone?
Tyrone: "I'm afraid we have no choice. Algor would be impossable to pass through without a valid and strong distraction."
Meg: "I feel uneasy about this."
Shamus: Trust me, I can help you with this.
Walt: Well, do you know the locasshhtion of the sshhhecret lab where the omnipotence shhherum isshh being made?
Shamus: No, Algor wouldn't trust me with that location, either. It's top-secret.
Figdit: Not even I know about it.
Fidget: Who's the bat fella?
Shamus: Oh, that's my assistant, Figdit.
Icky: 'Figdit'? That's a weird name.
Figdit: I know. But trust me, I don't even know why my mother gave me that name. The kids laughed at me when I was at school for having that name.
Fidget: Let's not hear about that, dude.
Shamus: Anyway, I think I can provide a distraction so you can read Aaron's mind and get the location of the lab.
Scarlett: How will you do that? Aaron can sense even a fly 2 ft away.
Walt: Of courssshhe he can, hessshh a frog. They're meant to do that. They eat fliesshhh for a sshhhnack.
Scarlett: Yeah, Walt, we get it.
Shamus: Well, frogs do eat insects.
Spyro: But where are we gonna find some insects to distract him? (Everyone looks at Mantis and Sparx)
Mantis: What?
Sparx: Oh, no, no, no, no, no! I am NOT gonna be live bait! This dragonfly is NOT on the menu, dude!
Mantis: "Oh no, I'm with Sparx on this!"
Everyone just stares at Mantis and Sparx.
Mantis: "Oh, this is not good."
Chapter 7: Aaron Solaris
The temple.
Algor was pacing around in the dinner room.
Algor: "I know I asked them to take their time, but, WOW! And I thought wind Superiors are full of hot air."
???: Master Algorithm? (A frog in a complex lab suit appeared. This was Aaron Solaris)
Master Algor: Aaron. What're you doing here? Aren't you supposed to be in the lab working on my... You-know-what?
Aaron:... Well, that's what I wanted to talk to you about. The serum is almost complete. All we need now is the DNA of someone with telepathy. Once we gain that DNA, it will be ready.
Master Algor: Excellent! I knew I could depend on you. But you really shouldn't be here. Especially with these Shell Lodgers and ponies visiting. There's a good chance they'll suspect my plans to fix Kratos's governmental crisis.
Aaron: Are you sure becoming all-powerful is the only way to do it? You know as well as I that becoming all-powerful is extremely illegal.
Master Algor: Sometimes you need to break a few laws to do what's good for Superiorkind. Artificial machines are unable to pull this off even with my advanced intelligence. Kratos was nearly destroyed because of it. It must be done, Aaron. And I will honor our deal that you will be pardon from your... Imfamous mishap.
Aaron: "Oh, and really I appresiate that sir. I'll just, uh, go back to the lab and make the nessersary adjustments."
Aaron leaves.
Master Algor: Okay, where are those Lodgers? They sure are taking a long time out there.
Shamus appears.
Algor: "Ahh, Shamus. Have you seen the misfits by chance? The food is getting cold."
Shamus: Well, yes, actually. They were outside doing some activities, and they said they'll be back in a few minutes.
Algor: "Oh good, I was worried for a moment."
Shamus: "Now, sir, why don't we have a private comversation into the royal chambers and disguss more of... Your little science project."
Master Algor: Maybe later. I need to be here when the Lodgers come back. I think our conversation would take a long time, and I wouldn't wanna keep them waiting.
Shamus: Oh, but I insist sir. This dinner party is basicly over anyway. I mean, no one wants to come back to a cold meal, would they?
Algor: "Well, you do process a good point Shamus. Okay. Let me just get this leftover food in the fridge, and bring them a letter to remind them to wait in the lunch room until I return."
Shamus: Great.
Algor and Shamus left with the food.
Tyrone: (Watching this from outside a window, and calls the Lodgers with his mind) Shamus is distracting Master Algor. Now we need to wait until they make it to the royal chambers. Tane. In case of emergencies, we'll need your super-speed.
Tane: Youcancountonme, Tyrone! Iwon'tletyoudownonebit!
Icky: "He, said he's gonna do it, right?"
Tyrone: "Trust me, he did, and I am still gonna make him speak more slowly when I can."
Icky: That's good. Because DAMN, he needs some chill pills. Or one of those slow-motion pills from GTA Vice City.
Tane: Iplayedthatgamebefore, itwasprettyamazing. Ilikehavingtoshootwhoeveryoulike, andfightthosedumbcoppers, andgettheirweapons, andpickfightswithrandompeople, and-
Iago: SHUT UP!!!
Tyrone: Guys, let's just stay focused here. We need to wait until they make it to the royal chambers before we tackle Aaron.
Po: But won't it be too late by then?
Tyrone: Nah, the royal chambers is actually not too far from here.
Icky: But they're putting away leftovers! It'll take them 10 minutes to do all that! We'll be too late by then.
Tane: That'snotaproblem, dude! Icanhandleit.
Tyrone: Are you sure that's a good idea, Tane? Won't they have their suspicions when they see you?
Tane: Oh, please, theywon'tmind, theyknowmeverywell. Nowstandback, slowpokes, becauseI'vegotsomenutstocrack. (Runs in with his super-speed, and he does the work in just 5 seconds, and stops) There you go.
Master Algor: Oh, hey there, Tane. What brings you here?
Tane: Well, Tyronetoldmeyoubroughtsomeguestshere, andIthoughtI'ddropby. Wherearethey, wheredidtheygo?
Shamus: Well, uh, I think they're outside.
Tane: Really, thosewerethevisitorsoutside? Ijustthoughttheywerefromthecircus. (Chuckles)
Master Algor:... You ever thought about decaffinated coffee?
Tane: Idon'tdrinkcoffee.
Master Algor:... Okay, well, if you wanna see them, they're right outside.
Tane: Alright. Zoomya'later, alligator! (Zooms off in super-speed)
Master Algor:... Sometimes, he can be REALLY weird.
Shamus: I know. He doesn't even drink coffee.
Master Algor: What about soda?
Tane: (From outside) NO, NOSODA, EITHER!!!
Master Algor:... Okay... Anyway, let's head on out. I got the letter ready. (Places the letter on the table, and they leave for real this time.)
Sandy: Way to go, Tane! You were down right faster than a bare-foot jack-rabbit-
Squidward: Puh-LEASE don't start with the rabbit.
Sandy: "Well, pardon me for being from Texas."
Icky: "Yeah, no time to fool around here."
Lab.
Aaron is seen panicing. the near completion of the serum was a lie. He in actsellality wasn't even close in completing it. So far, the one he DID made turn out to be a dud where all you can get from it is super gas.
Aaron: "I can't believed I had to lie to Algor, now he's coming to see me! AHH, STUPID STUPID STUPID?!'
Aaron banged his head repeatedly on the wall.
Aaron: "But how was I suppose to explain mixing DNA togather just creates super gas? He'll end up getting upset with me and throw me back to prison! And I lose my chance to amend! DAMN! Then I'll never apologies to everyone for that stupid mistake I made.... And thus, I blame popularity for ruining my life. Now I am gonna end up getting Algor hating me too! (Shrugs) What to do, what to do, what to do, WHAT THE HELL TO DO?!?... Maybe some fresh air will get blood pumping through the old noodle. (Walks out of the lab)"
Later...
Aaron: (Walking through the hallway) I'm dead, I'm dead, I'm dead, I'm dead, I'm dead, I'm so freakin' dead! I'm dead like fish fillet!
Cutaway
Fish Fillet: SPEAK FOR YOURSELF, BOZZO!!!
Present
Aaron: How am I supposed to fix all this? If I don't do something now, Algor will have my moist tender legs for lunch! EEEEEE-HE-HE-HE-HE-HEEEWWWW!!!!
Mantis: (Appears with Sparx without Aaron noticing) Have you tried using quantonium?
Aaron: Of course! The quantonium! I mean, I have a whole GALLON of each type of quantonium. It's perfect! IT'S PERFE--... Wait a minute! DID SOMEONE JUST TALKED TO ME!? ( Quickly looks back at the Mantis and Sparx, who now taunt him and flee) COME BACK HERE, YOU LITTLE PESTS!!! (Hops after them)
Sparx: "YOU CAN'T CATCH US, KERMIT?!"
Mantis: I would be careful, Sparx. He's got a long stretchy tongue. (Aaron tries using his long tongue to catch Mantis and Sparx) OH SPEAK OF THE REALLY GROSS DEVIL!?
Sparx: MOMMY!!!
Aaron: COME BACK HERE, YOU SUCCULENT BUGS!!! I WANNA KNOW WHAT DRAGONFLIES AND MANTISES TASTE LIKE!!!
Mantis: Trust me, my mom told me we taste like broccoli after she ate my father's head when I was born.
Sparx: And you do NOT wanna know what I taste like!
Aaron: Oh, I do. You taste like chicken!
Sparx: GROSS!!! (Dodges Aaron's tongue) WHOA!!!
Aaron: GET BACK HERE! I CAN MANIPULATE LIGHT!!!
Mantis: Oh, great! (Dodges Aaron's holographic cymbal attack)
Sparx: AAAARRRGGGHH!!! (Dodges a holographic flyswatter)
Aaron: HOLD STILL, YOU UGLY BUGS!!!
Mantis: To be honest, I like that song.
Sparx: I sure don't.
Aaron: "Whoa whoa whoa wait. There's a song called "You Ugly Bugs"?"
Mantis: Actually, it's called "The Ugly Bug Ball". It's a Disney song from one of those Disney Sing-Along Song videos. I'm sure you should look it up-
Sparx: Uh, I don't mean to interrupt your 'ball' crap, but CAN WE GET OUT OF HERE BEFORE WE GET EATEN?!?
Aaron: "Oh yeah right, I was suppose to kill you guys via vore."
Sparx: Okay, then. See ya'! (They both flee)
Aaron: OH NO, YOU DON'T!!! (Creates a holographic wall barrier in the way of the two bugs)
Mantis: HYAH! (Kicks down the hologram barrier, disintegrating it, and he and Sparx flee)
Aaron: DAMN IT!!! (Hops after them)
Tyrone:... Okay, here they come. Hide yourselves. (The other Lodgers hunched down while Tyrone prepares to read Aaron's mind)
Aaron: "HOLD STILL YOU STUPID MUNCHIES AND CRUCHIES?! I DIDN'T ATE ANYTHING FOR WEEKS?!"
Mantis: Well then, eat FLEAS for a change!
Aaron: OH, THAT IS DISGUSTING!!! THAT DOES IT!!! (Runs to the spot, and Tyrone uses his mind control on him) Wha?... What's going on... Here... (The Lougers pounce on him and knock him out!)
Tyrone:... Alright, I think I got something... Uh-huh... Yeah... (Stops the mind-reading power, and knocks out Aaron) I got the lab's location. It's in Lab #258.
Icky: YES!!! We did it!
Tyrone: "And the good news is, he wasn't even remotely close to the serum as we feared. But still, we need to destroy the plans for it."
Skipper: "Then operation Lab Crash is a go!"
Lab #258
A very well armored and locked file cabnet is seen.
SpongeBob: Alright, here's the file cabinet.
Tyrone: Well, this is not gonna be easy. Aaron's got the thing locked up tight. It's openable only through DNA identification. (Shows them the DNA fingerprint scanner)
Melman: Are you kidding me?
Gloria: We'll never get through that by ourselves.
Tyrone: Then we need Aaron's body.
Tane: Consideritdone. (Zooms off, and brings Aaron's unconscious body back in only a second)
Kowalski: AWESOOOOME!!!
Tyrone: (Uses telekinesis to levitate Aaron's hand onto the DNA scanner)
Computer: Access granted. (Cabinet opens, and the plans are surrounded by an energy barrier)
Skipper: What is that?
Tyrone: Backup DNA tracing field. State-of-the-art Superior technology. The system only allows authorized personnel to access whatever is inside. If any of us tried to get it, we'd trigger the alarm. Not to mention the extremely painful burns. UUGGH!
Meg: Then why don't you use your telekinesis to get it.
Tyrone: That won't work, either. The inside of the cabinet is surrounded by a trans-magnetic shield that prevents me from using my telekinesis on the plans.
Sandy: Horny toads, you Superior folk sure know how to counteract yer' own powers.
Scarlett: How else would Superior criminals be in jail? If not, then Kratos would be a pretty volient and crummy neightborhood of a planet.
Tyrone: So I need to mind-control Aaron if we're gonna get those plans.
Walt: But he'ssshh unconscchioussh.
Tyrone: Yes, but if he can be knocked out, He can also wake up.
Ororo: I don't think that's a good idea, Tyrone.
Tyrone: I have an IQ of over 280, Ororo. I know what I'm doing. (Uses telepathy to wake up Aaron)
Aaron: Uhhgh, what- (Tyrone mind-controls him) Uhhgh... (Aaron grabs the plans from the cabinet successfully, then Tyrone quickly placed Aaron into unconjustuness again.)
Alex: Yes! We got the plans!
Icky grabs them.
Icky: "Done and done. Now all we need to do is rip them apart!"
Tyrone: "Not yet. We will need them as a way to use against Algor."
Icky: "Oh good thing ya stopped me, I was about to rip this shit apart."
Merlin: "Now to get us out of here."
Merlin teliported everyone out of here, except Aaron.
Hours later.
Aaron came through to see an annoyed Algor.
Algor: "I didn't brought you here to the temple just so you can screw around?!"
Aaron: "Oh sorry. I must off dosed off, cause, I don't have even slight memory of what happened before."
Algor sees the cabinet open.
Algor: "Aaron..... Where's, the plans?"
Aaron: "What're you talking about? They're in the cab- (Finds them gone) Wha-th-yu-I-wha-I-hu-poo-nya-pa-wha-bu-nu-boo-yuh-WHAT?!?"
Master Algor: What happened here? Where's the serum? I demand to know what is going on!
Aaron: I-buh-well-I-bu-ju-ni-wha-ha-ih-hi-nya-a-hu-wa-
Master Algor: Enough with the babble talk! What happened?
Aaron: Seriously, sir, I don't know what happened to the plans!
Master Algor: And where is the serum? It doesn't seem to be where it's supposed to be. All I see is a small flask full of nothing, and blue explosion marks!
Aaron: Alright, fine! You got me! I lied. The serum dissipated into gas. But you don't understand. I didn't know that the formula would cause it to dissipate.
Master Algor: YOU PATHETIC PIECE OF WET FLESH!!! I'd fire you right now if you weren't the only one that could help me make the serum.
Aaron: Hurtful! But cut me some slack, sir! It was only an accident.
Master Algor: "AN ACCSIDENT THAT IF THIS FELL INTO THE SENATE, WE'D BOTH IN BE IN TROUBLE YOU TWIT?!"
Aaron: "I wasn't nessasarly talking about-"
Algor punched Aaron in the face in anger, knocking him unconjustus.
Algor: "Why must everything go wrong EVERY TIME?!"
Algor stomps away in anger.
He was unaware that as he was walking down the hallway, Shamus was smiling that his plans were going perfectly. 
Chapter 8: Shamus' Deception Revealed
The temple Grocth srhine.
Algor: "I don't get what went wrong Great Founder. I thought by entrusting a genius superior to help me with the only way i can make Kratos better, i thought i already done it by now... But instead, he turned out to be somewhat of a near text-book imcomident fool, my serum is practicly non-exsitent, and now, both plans are gone and stolen..... Is this, your way of talking me out of this, Great Founder? Are you, secretly punishing me for making a controverseal move? I long begged for forgiveness on that.... horrorable accsident. But how was my Father suppose to know that appearenty a machine was not to be the way. He was sure that machine would've helped!"
???: "Actselly, it turns out that "Machine" wasn't meant to see the light of day after all."
Algor got scared of the voice! Normally, he expected to be only talking to himself. He knows the great founder statue can't speak, and there has never been a sighting of any form of spirit.
Algor in fear, whipped out his weapon and entered a battle pose!
Algor: "Who said that?! Show yourself?! This is a sacred room and only i have a right to seek wistim from Grocth himself?!" (The statue comes alive)
Grotch: Greetings, Master Algorithm. I have come to support your decisions in repairing the government.
Algor screamed as he fell backwords!
Algor: "What matter of supernaterol forces is this?!"
Grocth: "I unfortunatly only have a limited time, so I can't waste it explaining the aberition you see now. The machine your father made, was an accsident."
Algor: "An accsident?"
Flashback.
(Grocth): "You see, your father sent over a servent, an ancestor of Aaron to get a list of your father's plans. Your father's real plan was to awake the Kratos Guardian to make the super-conentinent form.... But, the servent was a clumsy soul, well meaning, but not one that should be trusted with such a thing. He tripped, and lost the Kratos incantation, and gave your father a deadly super-weapon your grand father long rejected. The sad misfortune is that your father suffered form short-term memory loss, and accepted that death machine as his true intentions. You see Algor, it was an accsident that placed all superiors in such pain."
Reality.
Algor: ".... By the devines..... What have me and my father done?! Everyone, even the kluts great ansister of Aaron no doubted suffered for nothing! I was an idiot?! And now I am gonna get in trouble for the wrong cause!"
Grocth: "There's still time to prevent judgement from being passed on the wrong soul. I only have enough time to reveil, the ones who have the plans, were what you met before."
Algor made a realisation.
Algor: "Ororo, her friends, and the misfits! I knew Tyrone was behind all this! Maybe I can still reason with them! It's not too late yet! Grotch, I can't thank you enough i-"
The statue was inanimate again.
Algor: "He certainly was honest about having little time. They may be near the senate. I have to teleport there as soon a possable!"
Algor vanishes in engery!
A Regal-Looking Very Tall Tower
Ororo, her friends, and the lougers are near the Senate doors.
Icky: "Well, I can safely say that there's no way Algor can catch up to us no-" (Algor appears in front of them)
Master Algor: WAAAAAAAAAAAIT!!!
Icky: "...... Dinkus damn it, Karma."
Tyrone: Master Algor?!? What're you doing here?
Master Algor: Guys, what you guys think about me is totally justified!
Ororo: Yeah, yeah, yeah, I get it! You illegalized Power Mimicry to protect me. I forgive you for doing that, but we cannot let you do something that nearly destroy Kratos a second time around.
Master Algor: But you don't understand. The Big Shake was just an accident.
Tyrone: We're sure it was, but we cannot let you get away with this. Now move aside.
Master Algor: Look, tecnecly, all those things are true, but guys, you have GOT to listen to me! My father didn't meant to build that machine that caused the Big Shake, and neither did I! My father wasn't intending to use that machine to initiate Operation: CD. There was actually a safer way.
Cornwall: Really?
Master Algor: It was cause of one of Aaron's ancestors! His anisister just gave the plans for the machine made by his family but grandfather rejected it, but the plans ended up going to my father as a replacement plan after the instructions for the original one were lost. And also, my father had a mental condition that makes him forget more
Skipper: (Laughs) Please! If the Big Shake took place during the 16th century, then don't you think someone would've found those instructions by now?
Master Algor: I know, it doesn't make no sense, but you HAVE to believe me!
Tyrone: Well, how do you suppose we know if you're telling the truth? I can't just read your mind with that psychic block of yours.
Master Algor: "Oh for devines sake, BECAUSE THE GREAT FOUNDER GROCTH HIMSELF TOLD ME SO!"
Ororo and friends gasped!
Tyrone: "The great founder told you? But he's dead, but then that would mean, his spirit came to you.... But no one ever saw the spirit..... It has to be impourent that he did showed up."
Icky: "Uh, quick question, this great founder guy was, the most mega good person in the world right?"
Master Algor: Yes. He was the wisest and most noble of all Superiors. He's the one who made us all Superiors thanks to his discovery of quantonium. He's like a god to us.
Ororo: So you're basically saying that you're not gonna get omnipotent to do the operation?
Master Algor: Well, now that I know that there's another much safer way to get the job done, no. But it's gonna be hard to get those instructions back. It's been missing for 5 centuries, so we're gonna have to be smart about this.
Tyrone:... I can't believe I'm saying this, but... We'll help you.
Skipper: (The Lodgers gasped) Have you gone completely mad?!?
Sparx: Yeah, this guy nearly destroyed the planet, why should we help HIM?!?
Tyrone: Guys, he assured us that there is another much safer way to do the job. And the job is important now because The Big Shake was an accident. This guy is not as corrupt as we thought he was. He tried to protect Ororo from this 'Mimic Cult' by illegalizing Power Mimicry, and yeah, almost got himself impeached thanks to it. But now that we see that the way we were GONNA take him down was not completely true. Grotch is a wise monkey, and he knows that we had taken him for granted. So we must make it right by getting visitors back to visiting Kratos again. We have to do this.
Ororo:... I hate to say it, but... He has a point.
Squidward: Are you saying we should risk all of Kratos for this?
Tyrone: Grotch said that the Kratos Guardian was good at controlling the continents thanks to his infinite knowledge of geokinetic tricks. He would definitely get the job done better than an omnipotent being.
Iago: I don't like this one bit.
Private: Well, it does sound clever.
Twilight: Yeah, I guess we did come here to find out what happened to Kratos. And we are heroes after all.
SpongeBob:... Alright, we're in.
Tane: ALRIGHT! Thisisgonnabeepic! TheShellLodgers, someponies, andabandofSuperiorsonabreath-takingwhirlwindadventure! Iloveit!
Walt: Well, sshhhearching for sshhome misshhhing inssshhtructthhions sshhouldn't be THAT big of a problem, right?
Suddenly, all of them are trapped in an unescapeable force-field!
Shamus appeared.
Algor: "Shamus?"
Shamus: "I can't believe Grocth himself would dare infrigment on my almost perfect plan to be finally rid of you, you imcomident iron-clad idiot?!"
Algor: "Wha-what? Shamus, what're you talking about?"
Shamus: "Oh, I must always simplify things for you, do I? Like, I'm your ever present teacher on hand? It's like you can't even brush your teeth without my asssisence?!"
Algor: "But I treated you fairly and just! Why imprison us in a bubble?"
Shamus: "Because your not as comident you pretend to be, you pretendious baffoon?! And you should be VERY well aware why?! Remember that basturd student Copy-rightious, and what he did to my adopted daughter Jessie Lightning?!"
flashback.
(Shamus): "I adopted her when she lost her family to bandits. I promised her father, my most dearest friend, should anything happen to him, I would care for her, whatever it takes. She accepted me like I was biologicly her father dispite that, though she was a crane, she belonged in a different kind of crane. But I was proud none-of-the-less.... Then, came that faithfull toriment. That was when, Copy-rightious ruined her! That, self-rightious fool hulimated her, and insulted moral decenty by reveiling her past, and, even mocking it like the basturd he was! Jessie voliently but justifyingly attacked him greatly.... But defeat of sadly ineditable. I begged you Algor, I begged you to punish that, that, monster of a student for what he did.... But what did you do? (soft cries are heard) what did you DO?!"
reality.
Shamus is seen shedding manly tears.
Shamus: "NOTHING?!"
Master Algor: I didn't have the authority to do that, Shamus!!! Only the Senate had the authority to do that, and Copy-rightous' overconfident father wouldn't let them punish him.
Shamus: And you didn't do anything to convince him otherwise? Yeesh, some leader you are. Your own father would've had some BALLS to have thae ungrateful father punished and neutered for this!? And had they still been alive, well, they would WISH to be dead now with the screw-ups you made?!
Master Algor: HOW DARE YOU INSULT MY LINEAGE?!?
Shamus: But Revenge is but a side-mission, for I have a greater goal. You see, the greater reason why I am doing this is to prevent THOSE misfits and those colored mules from spreading our existence to the UUniverses.
Twilight: What do you mean?
Flashback
(Shamus): My great great great grandfather is the reason why visitors stopped visiting Kratos. He never trusted other-worldly visitors after a loan shark took his wife's life when he failed to pay a loan. This also lead to him getting injured when he tried to attack the loan shark for revenge. After that, he made sure that no visitors would EVER do any harm to any Superior again. He used radio-waves to insult the other-worlders, and eventually lead to them never wanting to visit Kratos again. But he soon realized that his plan would be foiled when Algor's father planned Operation: CD. But luckily, he was able to wipe out his memory by just bashing him in the head.
(Master Algor): Your ancestors were the reason my father lost his memories?
(Shamus): Yes. He wanted to make sure Operation: CD would never happen. But he never expected The Big Shake to come, nor Aaron's idiot ansisters giving Your father's father's old warmachince plans. My great grandfather managed to survive the event, and pass his intentions throughout his generation until I was the last one to hear about it. I was glad that no other-worldly visitors would come EVER again thanks to them thinking that we went extinct.
Present
Shamus: But then YOU misfits came into the picture. I had to do something to try and get rid of you, but every chance I had was flawed. This moment before Grouth loused it up was perfect! He had the gull to ruin my hard planning! But now that you've heard too much, I have no choice but to initiate my great grandfather's secret machine. (Shows a picture of the machine) The Meta-Nullifier. It is a huge satellite laser that I've installed in space, thanks to Algor's unwitting cooperation, which will spread an energy blast around Kratos which will disrupt every Superiors' superpowers, stripping them away. With no powers to intimidate other-worlders, we won't have to worry about being enslaved or destroyed, or worse, our secrets falling into the hands of evil normals.
Icky: "Uh, by that, do you mean all powers? Would that also include the power to live longer? Cause, I think we're looking at half-geniside here."
Shamus: "An unintended but, sadly unavoidable result of such a thing. But I can't let the name our kind being soiled by a normal being stupid or cruel with powers one should not be entrusted to. Considering you misfits are heroes, I'm assume you're far too aware of what I expected. A universe of sin, corruption, wickedness, and pain?"
Po: "Well, I wouldn't say that, but, I would be lying if I had said, everyone is a nice person. I mean, ok, your fear is alittle justifyed, cause, there kinda are some jerks that would want super-powers to, ya know, become the masters of everything, I mean, come on, aside from them, the united universe is great."
Shamus: "Matters not. I cannot trust the normals to leave our secrets and people alone. All it takes is ONE Normal to spread lies, and soon, Xenophobia takes hold."
Twilight: "Like it did to you?"
Shamus: "How dare you speak like that to me, normal?!"
Twilight: "Sorry for the uncharacteristic tone, but, while your fears are justifyed, what your doing makes you no better then what your trying to protact your people from! Your being no better then Pred Judu Des."
Shamus: "Such impudence! But I already have a plan for you all! All I can say is, I hope you can swim."
Figdit, hiding, gasped when he heard that.
over an ocean.
Shamus and a huge private space ship hovers over an ocean, with the Lougers and Ororo and gang tied up.
Shamus: "Believe me eveyone, Algor included, it is against my better judgement to claim life.... But my people cannot be properly protacted if you all know this. (He levitates the gang over the ocean.) I promise you, I have no faith that I will fully get away with taking away powers of superiors, but at least, I saved them from Predjudes and Xenophobia of normals. May you find peace in knowing that. (He drops them, as they scream).... And I am left, with a guilty heart.... Not even seeing my vision would cheer me up."
The ship leaves as everyone tied togather is still falling!
They plunge into the water. The Mane 6, Trixie and Gilda turn into their merpony and mergriffin forms, and the non-aquatic Lodgers struggle to break free.
Twilight: I can't break free!
Ororo: (Gurgling) HELP!!!
Walt: It'ssshh no usshhe. He'ssshh ressshhtrained usssh with anti-power energy chainsssh, sshho our sshhuperpowerssshh are unaffective.
Rainbow Dash: You're kidding! We gotta get these guys to the surface before they all drown!
Rarity: "But Algor is sinking like a rock!"
Master Algor: (Gurgle-shrieks like a female)
Spike: Yeesh, not the first time someone's squealed like a girl.
Rainbow Dash: How're we gonna get out of here, then?
SpongeBob: Uh, guys? I can handle this. (Uses his spongey body to slip through the chains without a problem)
Walt: How did--he-I-bu-wha?!?
SpongeBob: I'm not a Superior, and yet, I can even shapeshift. (Shapeshifts into a key, and unlocks the chain lock, freeing all the heroes)
Tane: (Gurgling) Goodthinking, SpongeBob. (He uses his super-speed to get everyone to the surface in just 3 seconds) (Gasps quickly)
Shrek: Is everyone accounted for, and PLEASE tell me you can all swim!
Alex: Yep. The Shell Lodger Rule Book states that every Lodger needs to learn how to swim in case of a water emergency. It's how I was able to swim in my 3rd movie.
Puss: REOWR!!! (Clings onto Shrek's belly)
Shrek: ARRRGH!
Alex: Though it doesn't affect their fear of it.
Master Algor: AARRRGGHHH!!! AARRRGGGHHH!!! I CAN'T SWIM!!! (Walt holds him)
Walt: There you go.
Algor: "I..... I...... I can't believe Shamus would do this to me... I treated him fairly, equily, like a brother..... Why would he betray me like this?"
Icky: "Dude, we had already established that he's pissed at you for not punishing that doughebag former student of yours any sooner and that he's Xenophobic to outsiders, or, "Normals" as he used."
Skipper: "That was a rechoritcal question ick. An answer wasn't required."
Icky: Oh, okay.
Merlin: Now how are we gonna get out of here? Shamus took my wand.
SpongeBob: Not a problem. (Shapeshifts into a boat)
Mr. Whiskers: Wow.
Brandy: Do you expect us to paddle all the way to shore?
Tane: Don'tworry, Igotanidea. (Gets on the back of SpongeBob) Getin! (Everybody does that, and Tane pushes it by paddling super-fast)
Mr. Whiskers: COWA-BUNGA!!!
SpongeBob: Why didn't I think of this when I met the Hasslehoff?
Lord Shen: Because that was too easy for the plot, of course. Plus the movie needed a special guest star to make it more fascinating. And another thing, his name is David Hasslehoff. He's a voice actor who played in many movies. Actually, he played HIMSELF in all those movies.
SpongeBob: Oh, you mean THE David Hasselhoff? Wow, I didn't recognize him at the time.
Patrick: Me neither.
Sandy: Are you serious? You met David Hasselhoff in your movie?
Squidward: Well, since you didn't recognize him, then who or what did you think he was?
SpongeBob: I thought he was some lifeguard named Mr. Hasselhoff.
Sandy: (Chuckles) Sometimes you can be pretty funny.
Squidward: Oh, I doubt that. (The SpongeBoat continues moving)
Later...
Walt: LAND! SSHHHWEET LAND!!! (Kisses the sand, then he spits it out) UHHGH! I GOTTA GET THISSSHH SSSHHAND OUT OF MY MOUTH!!! (Sucks up some seawater, but then spits it out) AAAARRRRGGGGHHHH! SSHHHALTWATER!!! GET THE TASSSHHTE OUT, FOR GOD'SSSHH SSHHAKE, GET IT OU-HOU-HOU-HOU-HOUT!!
Scarlett: (Walt panics in disgust in the background) Well, now that we're back on land, we can go stop Shamus.
Iago: That's easy. Algor can just teleport us there.
Master Algor: Correction: I can only teleport MYSELF. I can't teleport over a hundred people. Come to think of it, you guys ever have a problem with having too much members on your team?
Icky: "Mostly from critics. Though there was having to share the same one working bathroom when the other bathrooms didn't work."
Algor: "Well, didn't you guys had that, flying automoble from earlier?"
Po: We don't remember where we left it.
Tane: Oh, Ido. Iknowwhereitis. (Zooms off, and comes back with the van in just 10 seconds) Ta-dah!
Ororo: Nice going, Tane!
Patrick: AWW, why can't I do that? I've always wanted to have superpowers.
SpongeBob: You did! You were The Elastic Wasteband, remember? (Patrick looks confused)... When Barnacle Boy turned evil... (Patrick still looks confused)... When you helped Mermaid Man stop him, the Dirty Bubble, and Man Ray?... (Patrick STILL looks confused)... You got elastic powers?
Patrick: I have no idea what you're talking about.
Squidward: (Sighs) Muttonhead!
Lord Shen: Let's go! We have to stop Shamus from activating that space laser! (The Lodgers and allies hop into the van, and take off)
Chapter 9: All Hell Breaks Loose
The temple.
Shamus is seen walking across the hallway with the Superior soldiers, assuming he has gained their loyalty.
Shamus and the guards approuched an advanced looking control system.
Shamus (Quietly): "And now, to be free of these powers, and to be free of Normal prosicution."
Shamus fast approuched it and began pressing buttons.
Shamus: "Soldiers, let no one interupt me."
the soldiers left the room.
Aaron walked in.
Shamus: "Ah, Aaron, you made it. Make yourself useful for once and set the satle-light alliment."
Aaron: "Sure Mr. Shamus, but on what?"
Shamus: "You'll see soon enough simple frog.... By the way, have you seen Figdit?"
Aaron: "He left sometime after you left. He never came back."
Shamus: WHAT?!? Why would he do that?
Aaron: "Hey it's not like I talk with the guy. He hangs with you alot!"
Shamus: "But I need his consulting more then anything. I may had to be forced to go against my morals and...... I need his consulting."
Aaron: "What did ya do?"
Shamus: "......Step on a catipeller?"
Aaron: "Oh.... Waste of a good eating. Was it sentient?"
Shamus: "Uh, no."
Aaron: "Then what your worring about? Just try to forget about it and do, whatever we're supposingly doing."
Shamus: ".... I'll, try."
Entrance of Prometheus Temple
Master Algor: (The van drives right up to the entrance) Alright, we made it!
Fidget: Let's go kick some crane ass!
Crane: "Hey!"
Fidget: "Well uh, I didn't meant it in an offencive way like that, uh."
Icky: "Let's hold off the comedy for now!  We got a satilight to stop!"
Tane: Awesome!
The doors open reveiling a huge group of soldiers blocking the enterence.
Master Algor: "Soldiers, I demand that you get out of the way, at on-"
A soldier freezes Algor in ice!
Soldier: "Shamus told us about you being respondsable for the Big Shake, traitor! You and those rouges of yours are going down, to downtown!"
Private: ".... But haven't we already been there?"
Awkword drum sound.
The Soldiers attack!
Squidward: "So much for this being easy. I suppose I should scream and run away now. (SCREAMS AND RUNS AWAY)"
Superior Soldier Yak: You're all under arrest.
Sparx: Oh, yeah? We'll see about that.
Tyrone: (Uses telepathy, but every soldier has a psychic block) Shit! All the soldiers have psychic blocks!
Spyro: That's alright. We can take them.
Ororo: Guys, no!
Po: Time for your daily dose of Vitamin Fists! (Suddenly the entire group is trapped inside a force field)... And we're sacked.
Superior Soldier Buffalo Captain: Take them to the anti-power dungeon. They are not to interfear.
Superior Soldier Rat: Yes, sir! (Touches the force field with his hands charged up, and the heroes are electrocuted into unconsciousness)
Ororo: Uhhhgh... (Everything goes black)
later.
The lougers and gang are found imprisoned.
Icky: "Well, that sucked."
Spongebob: "Where's Squidward?"
Sandy: "He must've escaped, that means he's our only hope."
Patrick: "Too bad Squidward's not really the brave type. In fact, I'm still confused as to why he'd even par-take in our adventures from the start."
Banzai: "Hey, where's Algor?"
A Superior Alligator Warden comes in.
Warden Superior Alligator: "Algor is being fitted a punishment fitting for him: The removeal of his armor body."
Walt: But won't that kill him?
Warden: That's the idea. He's been sentenced to death, in other words. He must be punished for taking away the thousands of lives that were lost during The Big Shake.
Ororo: Look, Warden, you got the wrong idea! The Big Shake was all an accident.
Warden: That's exactly what he's been saying.
Meg: Because it's true. He didn't know that machine would cause something as catastrophic as The Big Shake. In fact, that machine wasn't the first way he was gonna change Kratos.
Warden: Oh, really?
Rico: Yes, really!
Tane: Yousee, Algor'sfathertriedtousetheKratosGuardiantoinitiateOperation:CD, buthisclumsyservantlosttheincantation, andgavehimhisgrandfather'slong-forgottenmachinetohimasareplacement. Algor'sfatherjustdevelopedshort-termmemorylossthankstoShamus'ancestors, andforgottenabouttheKratosGuardian. Sohemeanttodonoharmwhatsoever!
Warden:... What did he say?
Shenzi: I have no idea.
Tyrone: "Ok, an innosent Komodo's life is in jeopery! Tane, if though for a brief time, it's time you talk to talk alittle slowly! Can you try to talk slowly, even if it's just this one time!?"
Tane: Okay, I'lltry. (Gasps, then speaks slowly but quickly) Master...Algor's... father... tried... to... use... the... Kratos... Guardian... to... initiate... Operation:... CD,... but... his... clumsy... servant... lost... the... incantation,... and... gave... him... Algor's father's... father's... long-... forgotten... machine... to... him... as... a... replacement.... Algor's... father... just... developed... short-... term... memory... loss... thanks... to... Shamus'... ancestors,... and... forgotten... about... the... Kratos... Guardian.... So... he... meant... to... do... no... harm... whatsoever!
Private: I can understand you pretty good now.
Warden: And how do you know all this?
Tyrone: Algor told us who he was told by The Great Founder Prometheus' ghost himself.
Warden: (Surprised)... The Great Founder? But... But no one's ever seen his spirit for over a hundred years. He never told us The Great Founder told him about it.
Skipper: Were you listening to him in the first place?
Warden:... CRAP!!! Well, why didn't you just say so? (Deactivates the cell, and frees the heroes) I shall be sending in a specialist to investigate you guys, because I don't believe you just yet. I mean, you sound legit, but I have to be careful first. There's only one person in our army who can find out if you're telling the truth. Oh and uh, be sure to have the most creditable member of your party to speak to her, she tends to be doubtful in the presence of someone who lied before.
Icky: "Ok, anyone here capable of the purest form of honesty?"
Applejack: "A-hem!"
Sandy: Well, Applejack's pretty honest. I mean, she finds it hard to tell lies, after all.
Lord Shen: Well, I don't know about that. I am the wisest of all of us.
SpongeBob: No, I think Applejack should be the one to do it.
Lord Shen: Well, alright, then. You're the boss.
Interrogation Room
Twilight: Are you sure you can do this, AJ?
Applejack: Are you kiddin'? I make lie detectors look like plastic toys when it comes to tellin' the truth. Yall' can count on me.
Sandy: Good luck out there, girl.
Applejack: (Tips her hat to her, and she walks into the room)
Captain Superior Buffalo: Alright, pony. Are you ready for your interrogation?
Applejack: As I'll ever be.
Captain Superior Buffalo: Alright. MCOMNIVERSE?!? SHE'S READY!!! (Suddenly a Superior Female Honeybadger with a brain as big as Tyrone's comes in)
Female Superior Honeybadger: Ah, yes, one of those visitors that the Warden told us about.
Tyrone: (Gasps) My God, that's Veronica McOmniverse!
Twilight: Who's that?
Tyrone: Only one of the most famous and richest telepaths of all time. Her family is most famous for colonizing a territory on our moon for scientific research. I've always wanted to meet her in person.
Twilight: Really? Why?
Tyrone: (Eyes turn into hearts as he stares at Veronica)
Meg: Oh, I know what he's thinking. He's got a crush on her. My empathy powers don't lie.
Tyrone: Okay, yes, I'm in love with her. I just didn't wanna tell you because... I thought I would be too embarassed.
Tane: You? Embarassed? (Laughs) We'reyou'refriends, dude! Wewouldn'tbefriendsifwejustlaughedatyou.
Tyrone: I don't know what you're saying, but my best guess is that you don't mind.
SpongeBob: Well, anyway, let's see how this plays out.
Icky: "Here's hoping she doesn't start to "Badgerised" us!"
Silence.
Lord Shen: "Ok, what is with you and these jokes man?"
Icky: "Well sorry for lighting up the mood!"
Vermonica: "Ok, now, there are some claims concerning a certain event and a certain over-grown lizard that is in trouble. I would like you to confirm the exact words mentioned by the cteetah, and be sure NOT to accsidently or porposely change words or the story."
Applejack: "Can I warn y'all I have an accent?"
Veronica: "Your accent will be exqused if certain words sounded off."
Applejack: Alright. Here goes nothin'. He said 'Master Algor's father tried to use the Kratos Guardian to initiate Operation: CD. But his clumsy servant lost the incantation, and gave him Algor's father's father's machine as a replacement. Algor's father just developed short-term memory loss thanks to Shamus' ancestors, and forgotten about the Kratos Guardian. So he meant to do no harm whatsoever".
Veronica: (Reads her mind) All true. Good. Now explain it to me in your own words, please.
Applejack: Alright, then. Master Algor's father's father never intended that machine that started The Big Shake to happen. The reason it happened at all was an accsident, by one of that of one of Aaron's ancestors. Algor told us that the ghost of this Prometheus feller you all worship said that Algor's father originally wanted to initiate Operation: Continential Drift by usin' the Kratos Guardian.
Veronica: The Kratos Guardian, huh? My father told me stories about this guardian before. Said he had amazing earth powers which were capable of controlling Kratos' tectonic plates. Makes a LOT of sense, but people believe him to be a myth. (Reads Applejack's mind) Okay, you're telling the truth so far. Please continue.
Applejack: Well, I already mentioned Algor's father had a servant. However, the feller' was pretty clumsy. He soon lost the incantation required to get the Kratos Guardian. So, the servant got the machine as a replacement.
Veronica: (Reads her mind) Good, good. All I sense is truth, truth, and more truth.
Applejack: But then, Algor told us that his father got short-term memory loss which made him forget 'bout the Kratos Guardian. We didn't understand how he would get that, but that's when Shamus captured us. The varmit said his ancestors were the reason Algor's father lost his memories of the Kratos Guardian. He told us his family was scared of other-worlders since a lil' incident involvin' some sort of other-worldly loan shark, and they were the reason other-worlders stopped visitin' Kratos.
Veronica: (Reads Applejack's mind again) Yep, she's still being truthful.
Applejack: And judgin' by how all these clues are pieced together, I reckon Algor's father died before he got the chance to activate the machine. So, I guess that means Algor took his place, and activated the machine, accidentally causin' The Big Shake. So ya' see, Algor's intentions were absolutely justified 'cuz Shamus' ancestors' xenophobia and Aaron's ansister's klutsiness technically led to The Big Shake in the first place.
Veronica: Is that it?
Applejack: Yep, pretty much.
Veronica: (Reads her mind, and takes a deep breath) Well, everyone, she speaks the truth. It seems we've all taken Algor the wrong way.
Shifu: We did it. (The Lodgers cheer)
Spike: Way to go, AJ!
Veronica: (She and Applejack enter the heroes' room) We apologize for this GREAT misunderstanding, Shell Lodgers. Cpt. Copperhorn has cancelled Algor's execution, and we'll soon be ready to deal with Shamus.
Twilight: Thanks, Ms. McOmniverse.
Tyrone: (Swoons, "My GOD, is she beautiful!")
Veronica: What was that?
Tyrone: I... Uh... I...(Chuckles) It is nice to meet you, Ms. McOmniverse.
Veronica: Quite. Your romantic feelings for me are touching, but my parents say I am not ready for dating yet, so I must stay single until the time being. They have strict views about, virginity and love.
Tyrone: Okay, call me when you get the chance. (Slumps to the ground and sighs joyfully)
Tane: (Scoffs, and chuckles, and Scarlett smacks him) OW! Okay, sorry!
Walt: Alright, let'sshh get thissshhh party sshhtarted!
The temple.
Aaron: "Ok, the satlelight is in perfect allinment..... But, can you tell what the heck it does? I think I would feel comfertable if I knew why this thing looks as if it's aiming torwords all of Kratos."
Shamus: "I believe, a live demonstraction is in order."
Shamus presses the button.
Computer: "Countdown to Kratos nullification itnitsiating in 20 minutes and quickly counting."
Aaron: "Oh that makes much more sens- Wha-wha-what?! Run that by me again about "Nullification"?!"
Shamus: Well, Aaron, the satellite laser will spread energy around Kratos that'll turn every Superior there, including you and me, into normals. That means no other-worldly beings will hate us, and won't get any bad ideas about us. (Sighs) If my great great great grandfather could see me now, I'm sure he'd be happy.
Aaron: Wait a minute, birdy! You never said anything about making every Superior normal! I've liked my powers for as long as I can remember. I can't believe you're doing this!
Shamus: Aaron, it's in our nature to get over sacrifice, even in dark times. Those Lodgers are alive, and in the dungeon, and it's only a matter of time before they find a way to break out, and inform other-worldly beings out there. By next week, we'll be targeted by MANY greed-obsessed freaks who want our quantonium AND our superpowers. Do you know what will happen if they stole our superpower technology? THEY'LL USE IT FOR EVIL!!! I swore to my lineage that I would keep other-worlders unaware of our existence, and I'll silence anyone who gets in my way! Besides, your powers lead you to make a horrendus mistake concerning poor James Photon! I figured you would be glad to be rid of the powers that ruined both lives!
Aaron: It was mostly my fault, ok? I desided to be stupid, I couldn't help myself, and.... Stuff happened! I can't believe you! I never had the chance to meet other-worldly visitors because of you! You know our government and ecomimey is kept strong by the visitors. If you keep doing this, you'll weaken both!
Shamus: That's a risk I am willing to take! And if you can't accept it, then you leave me no choice but to send you back to Superior Jail.
Aaron: "Oh yeah? Well what if the soldiers get wise because you sending them to go after those misfits and the others? Just because they listen to you doesn't mean they won't give an openning ear!"
Shamus: "Actselly, I had considered that a possibility, so I have used the time I have to surround the temple by a great force-field that'll prevent anyone to enter! I mean it well that no one will stop me."
Aaron: "You still have me to worry about, bird-brain!"
Shamus places a force-field around Aaron's head, and knocks him into unconjustness.
Shamus: "I'll deal with you in approbeate time."
???: "Sir, please stop this!"
Shamus: "Figdit? (Figdit appears) Where the hell have you been, man? I couldn't find you anywhere!"
Figdit: "Sir, please! I'm worried you might be taking this too far! Atempted murder I think might be pushing it too far!"
Shamus: "Don't worry, I expected all the long just dropping them into the ocean won't stop them. I am not completely sure how they did escape, but still I never underestamated them. As mentioned by the frog, I suspect the soldiers will only provide a brief enough distraction to place a force-shield around the temple, so they can't get in and stop us, Figdit."
Figdit: But I thought the dungeon was right here in the Temple.
Shamus: "For safety reasons, they went to the outside dungion farther down the temple area."
Figdit: But if you keep doing this, you're no better than the loan shark that injured your great great great grandfather long ago! You're no better than the evil other-worlders that are out there. Heck, you're no better than Copy-rightious.
Shamus: Well, that's kind of the point here. I'm not gonna let these Lodgers get away with this. Superiors are better off not having superpowers. Other-worlders are cruel, mean, greedy and stubborn creatures! I can save every Superior on this planet from them!
Figdit: Shamus, please!
Shamus: SILENCE!!! (This frightens Figdit) I'm not having this shit anymore, Figdit! If you can't support me in my one chance to free Superiors from being terrorized by those... Freaks, then I have no choice. You're fired!
Figdit said nothing.
Shamus: "..... But because you were a service to me in my hour of need, you'll be allowed to leave."
Figdit: "... I guess I can't stop you.... I wish you happyness sir."
Shamus: "Happiness, sometimes, must be taken..... And I tend to claim mine."
Figdit leaves.
Shamus: "Oh, do me one final favor and take that stupid frog with you while your at it, have him ready for a nice cell."
Figdit uses his powers to levitate the still unconjustus Aaron with him.
Computer: Nullification in T-minus 16 minutes and quickly counting...
Shamus: "I may not be remembered postitivly in history after this, but at least I have prevented terrable Normal invadions, wheter I would be appreasiated for it or not! I will expect no reward awaiting for me! All I desire, is preservation of our race and secrets! And no one will stand in my way!"
Chapter 10: Rescuing Kratos and everything's fine.
outside the temple.
A huge force-shield blocks out everyone.
Icky: "Aw man, I wish we didn't ended up in the appearentlty outside extra dunguin! These things are never easy!"
Spike: How are we supposed to get through?
Superior Soldier Rat: I have an idea. Remember how I knock you guys out by electrifying the force field you were trapped in?
Cpt. Copperhorn: Good thinking, Pvt. Jeffrey. Your Force Field Lightning trick ALWAYS helps us against force field baddies. No other electrokinetic Superior can do it like you can.
Pvt. Jeffrey: Exactly! I learned it from my father who learned it from his father, who learned it from HIS father, and so on. Now, stand back, misfits! (Cracks fingers, and charges up his hands with electricity)
???: Wait!
Tyrone: What? Who said that? (Figdit appears with the still unconscious Aaron)
Fidget: Figdit?
Figdit: Yeah, I was kicked out. I thought I could persuade Shamus to stop this madness because he went too far trying to murder you guys by drowning you.
Icky: And what about Aaron?
Figdit: He's unconscious. He went against Shamus' wishes, too. So I guess that means... I should help you guys.
Bagheera: You're helping us?
Figdit: Well, if Shamus doesn't need me or Aaron any longer, then I guess we have no choice.
Aaron: (Wakes up) Uhhhgh... What happened?
Icky: "You got punked, dude. Shamus beaten you before you could even touched him."
Figdit: So that means we have to help them.
Aaron: Me? Help THEM? No way!
Figdit: We have to. Unless you prefer to lose your powers.
Aaron:... Fine! But what will happen to me when we're done with this? I'm not gonna go back to jail, am I?
Veronica: We shall decide your fate, Aaron.
Rainbow Dash: Now, can you get out of the force field so we can stop Shamus?
Figdit: Sure. Shamus knew I could do it on my own. (Teleports to the other side with Aaron)
Aaron: Whooo! Teleporting feels funny.
Figdit: You get used to it.
Pvt. Jeffrey: Alright, time to power down this plot! (Touches the force field with his electrified hands, and the entire force field flows with electricity)
Shamus: (Heard from inside the Temple) YA-A-A-A-A-A-A-A-A-A-A-AH!!! (The force field dissipates)
Pvt. Jeffrey: (Blows the smoke off of his hands) Shocking!
Cpt. Copperhorn: Great! Now with his powers weakened, and the force field down, we can go in and subdue him. LET'S MOVE!!! (The entire group enters the Temple)
Temple
Shamus: (Lies on the ground weakened by the electric shock) Urrrgh... Urrgh! (Tries putting the shield back up, but his powers are too weak) Uhhgh! I'm too weak! (Then he sees a first aid kit on the wall that contains an 'Emergency Quantonium Defibrilator') Must... Reach... The Defibrilator! (Slowly crawls towards the defibrilator) Urrrgh! (The heroes run down the hall towards Shamus, and Shamus struggles to try and reach the defibrilator, and manages to grab it) GOT IT!!! (Suddenly Tyrone uses his telekinesis to levitate the defibrilator and smash it on a wall) NO!!!
Skipper: Don't even think about it, Shamus!
SpongeBob: You're not nullifying this planet! You've lost!
Shamus:... (Softly laughs, then it turns into evil cackles) You think you've won? You can't touch my control panel. It has a mind of it's own.
Scarlett: We'll see about that. (Uses her blaster breath to try and destroy the control panel, but an invisible barrier deflects it) Huh?
Walt: Hmm? I got an idea! HERE COMESSSHHH THE HAMMER!!! (Jumps into the air, and curls up into a ball, preparing to crush the control panel, but then gets zapped with dark blue energy) AARRRRGGGHHHH!!! (Falls to the ground) Uhhgh!
Tyrone: What the hell? (Tries using telepathy, but then gets zapped with the same dark blue energy) YAAAHHGH! (Falls to the ground) AHHHHGH! MY HEAD!!! MY HEAD IS ON FIRE!!! AARRGGHHH!!!
Shamus: You see? I've installed a quantum field generator in the panel's power grid. It's superpower-proof, and is deadly to anyone who's DNA doesn't match any authorized personel.
Pvt. Jeffrey: I thought Grotch outlawed quantum field generators!
Cpt. Copperhorn: He did. Shamus, I'm adding posession of illegal technology to the charges against you!
Shamus: Well, too bad, because you still can't touch my control panel without being hurt. (Gets up, but is incredability wabblely) So, you assentually lost.
Lord Shen: "Heh, smug old coot, we dealt with the impossable before, this will be no different."
Shamus: That'll be the day!
Computer: Kratos Nullification in T-minus 10 minutes and quickly counting...
Shamus: What're you worthless ingretes gonna do now?
Figdit: I'll tell you what we're gonna do! (Suddenly glows in pink energy, and the same thing happens to Shamus. Soon, Figdit gets sucked into Shamus' mind)
Marty: What the heck just happened?
Figdit: (Now in control of Shamus' body) It's alright! I have just posessed Shamus' body. Now I can use it to deactivate the machine.
Pinkie: Ooooooooh!!
Po: (Chuckles) AWESOME!!!
Suddenly, Shamus looks as if he is having a seizure!
Shamus (in own voice): "Figdit, I demand you get out of my body this instint! I need to protact Kratos from normal xenophobia!"
Icky: "He doesn't have psyic sheild does he?"
Tyrone: "No, but I suspect he process a strong enough will to try and resist any form of psyic power."
Shamus: (Shamus and Figdit struggle for control over the body) GRRRGH!!! GET OUT OF MY HEAD!!!
Figdit: NEVER!!!
Shamus: I SAID GET OUT!!! (Shamus' body walks straight towards the control panel) URRRGH!!! NO!
Figdit: I WON'T LET YOU PUSH THIS ANY FURTHER!!!
Shamus: I DEMAND YOU GET OUT OF MY HEAD!!! (Shamus' wing prepares to push the button under Figdit's control, but Shamus' control ceases it) STOP AT ONCE!!!
Figdit: OVER OUR DEAD BODIES, YOU BITCH!!!
Veronica: Whoa! That's the first time Figdit cussed in his life. Even at Shamus no less.
Tyrone: Tell me about it.
Shamus: NO! NO! NOOOOOOOO!!!! (Shamus' body pushes the button)
Computer: Kratos Nullification aborted.
Figdit: (Shuts down the quantum field generator)
Computer: Quantum Field Generator deactivated.
Figdit: Care to do the honors, Scarlett?
Scarlett: With pleasure! (Uses her blaster breath to destroy the control panel)
Shamus: NOOOOOOOOO-HO-HO-HO-HO!!! (Figdit exits Shamus' body, and Shamus slumps to the ground, still weakened) Figdit..... How could you...?
Cpt. Copperhorn: Shamus Phantomarge, you're under arrest for the attempted nullification of all Superiors, mutiable counts of attempted murder, and the posession of illegal technology. You have the right to remain silent, and anything you sa--
Shamus: YEAH, YEAH, I GET IT!!! I GET THE DAMN FIFTH AMENDMENT, I TOOK HISTORY CLASS, FOR PROMETHEUS' SAKE!!! (The soldiers place anti-power cuffs on him)
Applejack: Nice goin', Figdit.
Figdit: Well, I never used my posession ability in my life because... Well... I was afraid to use it.
Fluttershy: Well, now, you gained the courage to stop that meanie Shamus.
Figdit: It was for his own good.
Puss in Boots: Well, that's that. We did it! (Everyone cheers)
Sandy and Applejack: YEE-HAH!!!
SpongeBob and Patrick: WHOO! HIGH-FIVE!!! (Both high-five each other)
Shamus is being dragged away, as Algor walks in, sadness appearent in his metal face, Shamus seen emotionless and broken.
later at a trail in the senate.
Shamus is seen chained, as he is quietly shedding manly tears.
Superior Senator Bull: I can't believe this had to happen, Shamus.
Superior Senator Elephant: You tried to turn every Superior on Kratos normal, AND you posessed an illegal quantum field generator. You know it's HIGHLY illegal for a Superior to become normal. Not to mention attempted murder.
Superior Senator Rhino: What do you have to say for yourself?
Shamus: I'm sorry, Senator Titanium. I didn't want other-worlders to terrorize our way of life. You know how tempting it is for a normal to have superpowers. I only wanted to save our kind from the greedy normals out there.
Superior Senator Elephant: And to do it, you try and turn every Superior on Kratos normal? That's not what I call 'saving' our kind.
Superior Senator Bull: Senator Trunx is right. Cpt. Copperhorn also told us that your family has been at this since your great great great grandfather was injured by a loan shark. Not to mention he was responsible for driving away all of our visitors centuries ago.
Senator Titanium: Which means he was technically responsible for the Big Shake. If it wasn't for his actions, then none of this would've happened.
Senator Trunx: This is why we have no choice but to banish you from Prometheon, put you under probation, and revoke your superpower license for the rest of the month.
Senator Titanium: "But, let's remember tragity indused fear wasn't the only motivation. He also conspired against Algor cause he did nothing to properly punish Copy-rightious for his dispicable actions in the toriment, and, our neglect to give Algor or anyone else that right, cause of one of our members' fatherly pride torwords him."
Senator Trunx: "Perhaps so. We should've handled Copy-rightious like anyone who voilated the law, and punished him sooner instead of letting him getting away with injustise."
Senator Titanium: "But even if that event were to end properly like it should've, it would not prevent Shamus to sought what he attempted. His sentence still stand uneffected."
Some guards dragged Shamus away.
The lougers, Ororo and friends, and Algor looked away sadly.
Icky: "Wanna know what's odd? We should be happy the bad guy's getting his commuppence.... But this feels.... Bittersweet."
Algor: "Cause he sought to protact Kratos from the dangers of outsiders, even, if he sought the wrong way to do so. It wasn't like he did what he did was for power or just revenge alone. He just wanted Kratos safe. Cause tecnecly, he is right. I have heard stories of greedy tyrants, power-hungry maniacs, and even demonic forces, all of which would like to take advantage of Kratos' secrets and it's people. And stopping him only, worsens his emotional wounds."
Shifu: "We would want to make up for him and You, by having Kratos to be placed under High Council protaction."
Icky: "That way, not even the most insano of our enemies won't even come within poking distience of this place."
Algor: "I preesiated it... But this is also more bittersweet to me."
Algor brings up an anicent paper.
Algor: "Sadly, we found the anicent incantations too late. The words' long lost, and the paper, aged by time. Sadly to be expected with something from such an old time. My father's soul would never find rest, knowing his years of planning were for not."
Cynder: "We can still tell Tri-corn about this place."
Icky: "Yeah. From what I seen, people actselly began to miss you guys."
Algor: "They did?"
Soothsayer: "They made comic books in honor of the superiors. Cause long ago, when everyone discovered the big shake, they were devisated by the loss."
Cynder: "The legends of Superiors inspired many famed comic book heroes and stories."
Iago: "Not to mention a crud load of fans. In fact, the minute people realise that you guys are still alive, you'll start to have a tourest industry again."
Algor: "Really? Even, without Operation CD, people would come?"
Po: "Let's remember, your dad was making that plan so he can bring visitors back. His soul can still find long awaited peace, if the people came back at all, whether or not you make that "Super Contentent" thingie."
Algor: "But.... I'm worried. What if they become afraid of us, because of bad exsamples like our criminals?"
Sam: Oh, don't worry about that. If they weren't scared of you before, they won't be scared of you now.
Max: Yeah. You told us not too long ago that corruption doesn't happen often to Superiors.
Lord Shen: "And I can safely assumed your justise system has kept a very tight control on any rouges that may present a problem."
Algor: Hmm... You may have a point.
Baloo: So what're you gonna do next, Master Algor?
Algor: Well, I guess I'll have to heal some scars for a while. I'll just legalize power mimicry again, but have it turned into a strict power.
Meg: That's wonderful.
Lord Shen: But what happened to Figdit and Aaron?
Master Algor: Well, since they helped us defeat Shamus, Aaron will still be my trusted scientist, and Figdit... He'll be my new advisor.
Figdit: Me? Be your new advisor? But... I don't feel cut out for it.
Master Algor: Oh, don't worry, you'll get use to it.
SpongeBob: Now, there's only one thing left to do... Enjoy a long over-do VACATION...... After we find Squidward alchorse, he's been gone for awhile now.
Lord Shen: "I'll contact miss Tri-corn. It's due time she knows about this."
Outside the Temple
Ororo: (Sits outside watching all the Superiors thrive in the city)
Ororo sighed.
Ororo: "So this is where I belong, huh? Its great.... I just wish I could see Uncle Pelly one last time. He would be proud of me."
???: ORORO! (Ororo looked up to see a large space circus train appearing. It lands, and out comes Cpt. Pelly, and the others)
Ororo: UNCLE PELLY!!! (Both hug) How'd you find me?
Cpt. Pelly: It was all over the news! The entire circus was astounded by the sudden re-appearence of a long-lost planet populated by super-powered beings.
Natalia: I've read comic books about Superiors, but I never considered the fact that you were one of them! Congratulations, you little scamp!
Ororo: (Natalia rubs her hair, and she giggles) Why thank you, Natalia.
???: Ororo? (Master Algor appears)
Ororo: Oh, hello, Master Algor.
Master Algor: I just wanted you to know that I've lifted the ban on Power Mimicry, but I've made it a strict superpower. And who are these guys?
Ororo: Oh, this is my adopted family and friends. While I was exiled, I became a member of this mutant circus.
Cpt. Pelly: Is this the Master Algorithm guy we saw on the news?
Ororo: Yes it is.
Master Algor: I must say, your adopted daughter is a very lucky girl. But I didn't come here just for an acquatince. Ororo, I brought a few more familiar faces of yours.
Ororo: You did? (Suddenly, two old Superior ocelots appeared. These were Ororo's biological parents) Mom? Dad? Is that really you?
Ororo's Father: Ororo, darling!
Ororo's Mother: Our little angel has returned! (They all hug Ororo)
Cpt. Pelly: (Bursting in tears) Oh, I just LOVE happy endings.
A trash can begins shaking!
Squidward comes out of it.
Squidward: "Is it safe to assume Shamus is stopped yet? I seriously need a shower! Hey, the others didn't left yet did they?"
Sandy: We're right here, Squidster.
Squidward: Alright, did we stop Shamus or what?
Tyrone: If we didn't stop him, could I do THIS? (Uses telepathy to mind-control him)
Squidward: (Under his mind control) I'm a stupid moron with an ugly face, and a big butt, and my butt smells, and I like to kiss my own butt!
Tane: (Laughs)
Walt: THAT ISSSHH SSHHHO PRICCHHELESSSHHH!!! (Laughs)
Squidward: I can't BELIEVE you made me say that.
Tyrone: "Sorry, but it was to prove my point."
Lord Shen: "Good lord man, you smelled like you spent a good hour hiding in garbage!"
Ororo: "He actselly did."
Spongebob: "Well, looks like Squidward needs a bath."
Shenzi and Banzai put Spongebob in a huge tub of water, and Spongebob absorbs it.
Spongebob: "Bath Dilivery!"
Squidward: "Wait wait, no nononononononononono! WHAT'RE YOU DOING SPONGE-" (SpongeBob barfs the water out, and it pushes Squidward off into the distance) AAAAAAAAAAAAAAAAAAAAAAARRRGH!!!
SpongeBob: SCORE ONE FOR THE BOYS BACK HOME!!!
Tane: I'llhandlethis. (Zooms off, and gets Squidward)
Squidward: ARE YOU SCREWED IN THE HEAD?!?
SpongeBob: Yes. Yes I am.
Applejack: And these folks must be Ororo's parents.
Twilight: I must say, your daughter is a real hero.
Ororo's Mother: Just like my grandfather used to be. (Sniffles, and sheds a few tears) I'M SO PROUD OF HER!!!
Ororo's Father: Well, I guess we shouldn't bicker around any longer. We should let Ororo choose where she wants to live.
Rainbow Dash: Yeah. Now that we've rightened a few wrongs, and fixed Ororo's past, I think now's a good time for that.
Cpt. Pelly: I agree. So whaddiya' say, girl? Which life suits you more?
Ororo: "(Sigh)..... I was hoping to avoid this..... You both brought greatness in my life, and, it wouldn' be right having to choose."
Lord Shen: "Well I can see why. Your real parents and friends are what you were always looking for, and you certainly actselly belong here....... But, Mr. Pelly wouldn't be AS famous as he is now if it wasn't for you. These kind of desidions do have the potainional to be troublesome."
Captain Pelly: "Oh lass. You brought the greatest business this sea bird seen in his years... But, I always did figure you couldn't stay forever.... The realm of oddities will survive just as well without you. I mean, we did well before you came and made it better, and there's always gonna be something odd or rare out in thar universe.... But there's alway be a place in our hearts for ye. This place is where you belong. If we can, we could always see eachother in our off-business times, but these folks are where you belong."
Ororo: "..... Really?"
Captain Pelly: "I'm an honest pelican, so it wouldn't be right for me to make you choose us."
Pet Crab: "Well, it's that, and it's because now that everyone knows your a superior and that your powers are considered "Normal by Superior standerds", you might not rake in the bucks anymore."
Captain Pelly: "DARRR, CRABBY, COULD YOU PLEASE LEARN TO NOT SPEAK OUT YER MIND?!"
Ororo: "(Laughs), don't worry, I know that crab of yours is a loudmouth."
Ororo's Mother: So you've made your decision?
Ororo: I sure have, mother. I'm staying here on Kratos! (Everyone cheers)
Tane: It'snicetohaveouroldfriendback. I'msoglad, IfeellikerunningaroundKratos! Infact, I'mgonnadoitnow! (Zooms off)...
Ororo:... Has he ever done that before?
Tyrone: Yeah, he'll be back in 20 seconds.
Pinkie: This calls for a SUPERIOR PARTY!!! (Blows a dozen party horns, and launches a confetti cannon)
Alex: You know, I wouldn't mind spending the rest of our vacation time here on Kratos.
Marty: Yeah, it wouldn't hurt to learn a lot more about this place.
Ororo: Oh, I'm sure you'll like it here. There's lots of fun activities you can do here.
Pinkie: WE'RE SO IN, BABY! CRANK UP THE TUNES!!!
Icky: "You know it!"
Icky broughts up his radio and plays this song!
Walt's Swimming Pool
Icky: Now THIS is more like it.
Applejack: Hey, Rainbow Dash? (Scoffs)
Rainbow Dash: Nice try, AJ! I ain't falling for you and Pinkie's crazy water games- (Pinkie pushes her into the pool)
Pinkie: Gets her every time! (Both laugh)
Rainbow Dash: Oh, sure, tackle me while I'm distracted. Well, how about THIS? (Plunges into the water)
Applejack:... What's she doin'?
Pinkie: I don't know. She must be compensating for something.
Applejack: Something ain't right, though. It's like she's sneakin' up behind us waitin' to pu- (Rainbow Dash appears behind them, and pushes both of them into the pool) WHOOA- (SPLASH!)
Rainbow Dash: (Laughs) IN YOUR FACES!!! Who's the pony, I'M the pony!
The lougers and others began to cheer and laugh!
Epilogue
a dark and mysterious room.
A mysterious figure was watching the celbration.
???: "Ahh, so the superiors finally broke free of their slump. I was hoping that weak-willed fool Shamus would finally completed his removeal of powers so I can swing in and claim Kratos with realitive ease. But no matter. They are still without my useless half-brother Grouch, nor the core he is in. I will claim Kratos and ALL Superiors yet.... Although, Miss Ororo should be of good worth for Copy-rightious... Who I assume is already aware of her by now. But, those Misfits may prove to be an interesting challnage. And once congured, not even the divines themselfs, will be able to withstand against me."
The figure laughed maniacly as the camera pans away from the area as it begins to echo.
fin.
Community content is available under
CC-BY-SA
unless otherwise noted.