Team Remena is a group of Neo-Zyaūar Masters from the Alternate UUniversal world of Remena, a world with a magic soul core that favored the old Zyaūar Masters to manifest it as a neverending energy called 'tense', harnessed by being in one's true mind and making it manifest as soul energy like psychic energy, and thus the warriors were named Espers and Esperesses and were all trained within academies of the top guardian guild known as Radiance, and protect the world from dark monsters called Grimaces, creatures of anonymity and is drawn to negativity. Consisting of color-coded teams and lead by Team RABO (Rainbow) which consists of Rewbeny Ravwen, her big sister Obower Yong Ravwen, a Feloot Empirid named Bella Blames, and the former heiress to a tense trading and manufacturing company named Aiess Schee, and consisting of the many allied teams of the kingdoms of the planet of Remena that separated by order of their academy headmasters as a result of the actions of Grimmess Occultra, consisting of 11 other teams: JACP (Jasper), JVCY (Jovacy), and CNES (Cinereous) of Aranasia, HOTP (Heliotrope) and IFRD (Infrared) of Meda, SMTN (Smitten) and MUVE (Mauve) of Cosma, and SMKE (Smoke) and UMBR (Umber) of Vigorasia.
History
Coming soon...
Members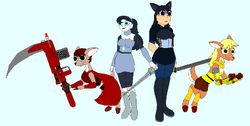 Team RABO
Rewbeny Ravwen- The crazy eccentric and easily hyper but prodigal Jeerien/"Celestial" hybrid and the "leader" of the team, if by proxy that she's the daughter of the leader of a powerful council mage, named Celestius Ravenna Ravwen, looked after by her uncle Blue-Eye Felox and father Taliwan Ravwen. She wields a scythe/sniper rifle hybrid and can turn into rose-like petals. (AUU Ruby Rose)
Obower Yong Ravwen- The older sister of Rewbeny who is a heavy hitter and an easily hotheaded combatant who has a cybernetic right arm after the destruction of their school. She wields two power gauntlets that fire kinetic energy of adjustable power levels, and can absorb kinetic energy and double her power with it. (AUU Yang Xiao Long)
Bella Blames- A feline Empirid who used to be part of the Sharp Fang until she quit and continues to face segregation like the rest of her kind. She wield a Katana that is also dual pistols and a grappling hook and can create shadow clones of herself. (AUU Blake Belladonna)
Aiess Schee- An easily-frustrated Satran who used to be the heiress of the Schee Tense Corporation but was robbed of this title by her stubborn father who only married her mother for her company name and legally stole it from her resulting in the controversies it has today, leaving to fight and uphold the name responsibly. She wields a revolver blaster fencing sword and has cryokinetic powers. (AUU Weiss Schnee)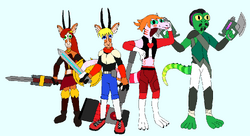 Team JACP
Team JVCY
Team CNES
Team SMTN
Team MUVE
Team HOTP
Team IFRD
Team SMKE
Team UMBR
Team Grimer/GRIM/TTSS
Team RPKB
Roswell- A Tamma and Rewbeny's boyfriend thought dead until following Azzhole's final defeat.
Pyrite- A Barnity and Persia's substitute during her brief "death".
Allies & Enemies
Allies
Shell Lodge Squad- The otherdimensional heroes who ended the Villains Act and saved them from not just Occultra, but the true threat of Remena with aid from the native Heroes Act.
Heroes Act- The native heroes who help safeguard the AUU and keep villainy in check, usually with help from the Lodgers if the threat is serious enough.
The Remena Mage Council- The heads of magic for Remena that help protect it from villainy. Rewbeny's mother leads the Council, and she helped found the council long ago with 4 Seasonal Mages and four relics.
Aranasia- The headmistress of Radiance who is a multiply-reincarnated telepathic entity who has helped protect Remena since the age of the Zyaūar Masters.
Gwendya Goodspell- The Lebbin headmistress of the now-destroyed Dell Academy which 4 of the teams were educated. (AUU Glynda Goodwitch)
Mister Spirocco- A Velocotoid and a very quick and hyperactively eccentric former teacher for Dell Academy and Esper who teaches with his experiences in adventuring and takes flamboyant stride in teaching history for the benefit of the future. (AUU Doctor Oobleck)
Mister Portobello- A Veirbun and an eccentric British-like accented former teacher for Dell Academy who carries an axe/blunderbuss in battle. (AUU Professor Port)
Enemies
Community content is available under
CC-BY-SA
unless otherwise noted.