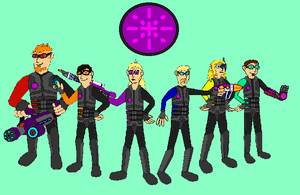 Team Scattergood
is a team consisting of it's great founder
Agent Ralph
and consists of 5 other agents who serve as the main assisting characters of
Omicron II
. They are an elite group that Ralph founded ever since the
Commando Beaver Taskforce
rescued him from the Great Edge of Pixellania after the players defeated
Viral Vi-tor
. His skill and strength returning to him since Vi-tor's defeat, he founded Team Scattergood in order to defend Pixellania from new threats. They soon create their own flying headquarters that is easily capable of changing locations. This flying HQ serves as the hub of the second game, and the 5 other teammates serve as assisting characters.
History
Coming soon...
Members
Community content is available under
CC-BY-SA
unless otherwise noted.