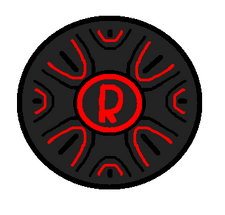 The Dark Radicals
are an Alternate UUniversal criminal syndicate founded pretty much sometime ago which was a sophisticated team of villains dedicated to restore the rule of villainy after the Villains Act had fallen, and in their society, evil is treated more like a business as supposed to what someone would extremely claim a terrorist organization, henceword "extremely" cause the Dark Radicals are at best an extremely well organised criminal group. Their main hideout, The Radic Temple, is hard to find, but is located in a hidden underground cave on Planet Goalax. The DRs have also established other hideouts throughout the AUU, which are also equally hard to find. It is run by the evil Croghton Nuke Munbay as well as a few others. They seem to have almost all of the access to what power was left behind of the Villains Act, including
Corruption Co.
. They also seem to be the last remaining remnants of the Villains Act because of villains being sent to Oranos by the hundreds, as well as the Secret Founders losing control of it's remnants due to a traitor within their ranks.
History
Coming soon...
Members
DR Ruling Council
Minor Members
Former VA Members
More coming soon...
Villain Reserves
In order to build up a new villain composure, the Dark Radicals founded Villain Reserves in order to find fresh new members, whether they were of Villains Act origin, had Villains Act experience, or were just independent villains. Offering better promises and rewards for service, a couple of villains were placed into the reserves, whether by own choice or were drafted and have served them for a few odd jobs. However, this doesn't mean that all of the villains in the reserves are of full servitude to the Dark Radicals, as it is often because of many things, whether debatable relieability, that they're at worse just very dark anti-heroes then true villains or often that they're not true fans of the VA-based group or their origin of the va in general or because of too little known infomation that the Dark Radicals felt that they shouldn't trust what they don't know much about, in fear of them turning out to be spies or not as dark as abvertised or even alittle TOO dark for them to control.
Community content is available under
CC-BY-SA
unless otherwise noted.