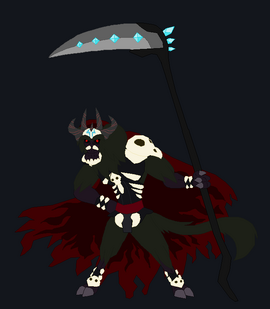 The Death King
, AKA
Obitus Heaven
or
Obitus Storm
, is an
Equestrian
satyr and a member of
The Storm King
's family clan, being the Storm King's maternal grandfather, as he is especially not fond of the paternal grandfather
The Opera Emperor
. He is a harbinger of death as he has the power to kill people instantly before they could strike, as nearly all his abilities can be an instant kill, as his Staff of Obitus, which was fastioned into a scythe called the Scythe of Obitus to add a little symbolism, allows him to gain the powers and magic of any that he kills, and even use the dead bodies of his victims as an army, and he wears a red intimidating cape that instills fear in the hearts of his enemies with a demon-like feel and a fiery aura. Though, the Staff of Obitus is not invincible, as being destroyed can restore the lives of whoever he kills. He is simply no pushover, even to the standards of his family, as even they fear him. He left on a conquering crusade in mid 2016, the same time the Clan nearly destroyed the
Guardians of Harmony
, as he has been killing innocent souls to gain their powers, and by the time he returns, he'll be ready to make the Clan a force to be reckoned with once more when learning what they've gone through, and especially seeks to personally kill
Queen Corono
for killing his daughter. He is as hilarious as Storm King, only in a similar way to TFS Alucard.
History
Being born when the clan was still known as the Heaven Clan, the Death King, simply known as Obitus Heaven, was created by Lord Order to act as a savior or order in the absolute sense of the word. He serves very well as his family leader, Encomedas Heaven, had guided him as, because he was a lost soul who had no real purpose in life, he had been obsessed with death as he felt it was the only way to find salvation and a purpose for himself, and became one of the different members of the Heaven Clan in his time, deviating by worshipping death gods, including the most infamous of them all: Mortuus, whom he claimed he saw telling him that death is his true destiny as, given his personality, is what he's meant for and is his true goal, and he never could agree to the ways of the Heaven Clan because of his mindset, making him troublesome to people like Encomedas.
As the years passed, Obitus used his newfound blessed powers brought by death deities and slaying death deities and innocent people to 'improve' his clan by giving them a side 'they neglected to show for countless years'. He showed that even the most orderly can be the most violent and murderous, and thus before he fell in love and gave birth to the unknown mother of Sacana Heaven (Later The Storm King), he ended up being executed by his own clan, and since a last attempt at orderly salvation that failed left him to feel betrayed, he turned to the power of Mortuus, and he resurrected him, allowing him to gain untold power, and allowed him to be an unintentional way to lure Lord Chaos into his family's grasp, turning them into the Storm Clan, and thus all their real names, or sometimes just their last names in certain victims' eyes, were lost, and he turned into either Obitus Storm, or the Death King, a harbinger of death, and upon the passing of his father, Algos Storm, his staff, the Staff of Algos, was split and forged into many new staffs for the clan. His staff, the Staff of Obitus, gave him the power to wield death like a demon, and since he was driven mad by this power, he became as comical as many members of his family, but in a rather sadistic and monstrous way.
Abilities
Coming soon...
Quotes
"HEY, KIDS, WANNA SEE A DEAD BODY?!?"
"YOU GOT ME A PRESENT?!?"
"TIME TO GO THE CELL ON THESE PRECIOUS PRETTY PETTY PONIES!"
"(Near-defeat) HEY-HEY-HEY, WHAT ARE YOU DOING, HEY-EY, STOP THAT! STOP THAT! THOSE ARE MINE!"
Community content is available under
CC-BY-SA
unless otherwise noted.