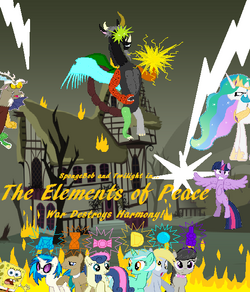 The Elements of Peace
is the 34th Episode of Season 3A of the
SpongeBob and Friends Adventures Chronicles
series. A dark force named 
Tyranny
 was freed by Mayhem's antics... Well that, and because of being escavated by two criminal mafias for reasons not much known except for the bluntly predictably obvious like for the sake of power. Tyranny was the ruthless and tyrannical spirit of war and the first of Discord's kind who was long defeated and thought to have been destroyed during the Chaos War by some of Celestia's ancestors, the believed creators of the entire world of Equestria, mainly her grandparents. Tyranny was slowly escaping from his peace ice prison after Mayhem's chaos had disrupted the ice's integrity, allowing him to break free, and threatens to start chaos much worse than Discord's or Mayhem's. He is of great and destructive power. Since war can destroy harmony so catastrophically, even the New and Lost Elements of Harmony won't have no effect on him. Celestia, and Luna have unveiled the long-hidden 'Elements of Peace', the weapons used by the Alicorn Gods to defeat Tyranny, but at the price that they lost their ability to be physical gods, and thus became spirtual and unable to be among mortals. Celestia now insists to both original and new elemental barers that the new weilders for the elements of peace must be found. To do this, Shifu holds a presentation of the Elements to all of Equestria to see if the Elements reacts to anyone in the crowd so it would save the trouble for searching if the Elements choose the next bearers. The plan works, and the Elements choose 5 ponies: 
Doctor Whooves
(Intelligence),  
Derpy
(Innocence), 
Octavia Melody
 (Forgiveness) 
Vinyl Scratch
 (Passion), and 
Bon-Bon
 (Tolerance). But the Element of Imagination did nothing, and after a strange twist, the one who gets chosen to wield the Element of Imagination is
Lyra Heartstrings
. Though met with skepticism by most of the Lodgers and ponies since their previous encounters with Lyra proved that she was somewhat of a socially-awkward twat and has a strange fascination with humans. But they accept it for the sake of Tyranny being stopped, and they must train Lyra and the other chosen ponies to become heroes as Tyranny has already sensed the Elements' presence, and arrives to Equestria to commence with a great battle. Now our heroes must overlook Lyra's flaws and truly make her a new hero destined for supreme greatness.
Transcript
Chapter 1: A Great Evil Returns/Tyranny to Come to Equestria
Equestrian Frozen North, Cave of Tyranny.
Brown, White, and Blue Griffin: (The same criminal Draconequui from the end of the last episode were seen around the giant christail with their griffin accomplices) So... Is there a reason we're risking our necks getting slit by excavating this... Insane... Draconequus. They say that he's a deadly warlord bent on chaos, destruction, and death.
Criminal Deed: Trust me, Captain Ronan, I'm a bit iffy on this decision, too. Crimelord Titan is sure that Tyranny will not be an easy person to control. But nevertheless, he's paying you all big money to help make sure this plan goes smoothly.
Brown-and-Tan Griffin: And how WILL you be paying? Bits? Because if this is in non-equestian, then kiss my furry kitty-cat a--
Scarlet-Orange-White-and-Brown Female Griffin: (Grabs the Brown-and-Tan Griffin's neck) MAHOGANY, WHAT DID I SAY ABOUT DEMANDING MONEY ALL WILLY-NILLY?!?
Leader Griffin (Ronan): Thigana, please, we're not here to start anything. But she's right, Mahogany, we'll get our money soon.
Tan-White-and-Blue Insane Griffin: (Chuckles wildly like Rico) KABOOM, KABOOM! (Cackles)
Ronan: Yes, yes, Peregrine, there will be a lot of kabooms once this... Creature... Is released, but I wouldn't sit and enjoy it with popcorn if I were you. The chaos this creature creates is astronomical. His last few moments of freedom was spent slaughtering ponies, enslaving his own race, crumbling mountains, demolishing cities, and destroying literally everything in his path. I'm sure that's destruction even YOU couldn't handle.
???: "Ok, Deed, as much as I hate asking about this, how long until the christail cracks?" (Another Griffin reveils himself.)
Criminal Deed: "Soon enough, Grousey. Even after the ponies gotten rid of that chump Mayhem's choas, the fact it happened at all is not gonna be good for the christail integraty."
Ronan: "...... Then, WHY is it still standing, genius?"
Criminal Deed: ".... That's because the choas didn't last long enough to truely break it, SIMPLETON!? It lasted long enough to only weaken it. It just needs one more ounce of disharmony, and boom! Tyranny's out."
Ronan: "Ya didn't had to resort to insults sir, but I get what you mean."
Criminal Deed: "So, the solution is simple. We need to do an act of disharmony around the christail."
Ronan: "No problem. Pereg, do your stuff."
Peregrine: "(Brings out a stick of lit dynomite) Kaboom?"
Ronan: "Yes, you lovable psyco, Ka-boom."
Pereg went nuts and started to throw random bombs everywhere, as the choas itself caused the christail to break and shatter, slowly reveiling a dark and unpelasent creature!
Eventally, the choas stopped when the christail completely was destroyed by the presence of choas alone.
Eventally, the figure awoke as electrical currents buzzed the area and did chaotic things wherever they struck and music played.
???: "I'm..... Free...... (The figure smashes the crystal debris from his perimeter and began to sing this)"
Ronan: "........ Ok, I was NOT expecting a dark randition of "Part of your world"."
Criminal Deed: "Well, great Tyranny, now that your free, you can now declare your allience to the Mafia Allience, for we have freed you!"
Tyranny: "........ What kind of weak-willed chump do you take me for? I work alone, peons!"
Grouse: "..... I KNEW THIS WOULD HAPPEN!?"
Hornbill-like Griffin: All who saw that coming, say Aye!
All Razor Feathers: AYE!!
Criminal Deed: "Easy fellas, I got this. Listen, Lord Tyranny, buddy, I was pretty much the one who caused Mayhem to weaken your prison, along with this certain tainted equine creation of yours, so, I think you owe me some major thanks here. You don't have to like us or anything, we would just like for you to work and stragigese with us, Big T."
Tyranny: "Oh please. I tried working with others. But they all BETRAYED ME in the end! And it lead me to being trapped to begin with! I rather not get involved with more fools who would only betray me in the end!? I mean, you make a few tough choices for the betterment of my grand design, and you get called out as an uncaring beast! I GIVEN UP on soical activity! I'm looking out for numero uno, here, buster!? Respondsable for freeing me or not, your nothing but worthless peons to my eyes!? You'd rather waste your powers on trivial persuits instead of being what we truely are?! It appears she wasted her time with you and this, Mayhem. Now, either get out of my way, or be target practice!?"
Criminal Deed: "Wait, wait, Tyranny please! Without us, you'd still be trapped in ice, buddy! So at least give it some thought before-"
Tyranny: "SPARTA?!"
Tyranny stomped the ground and sent the Mafia Groups flying and screaming!
Criminal Deed: "TYRAAAAAAAAAAAAAANYYYYYYYYYYYYYYYYYYYYYYYYYYyyyyyyyyyyyyyyyyyyyyyy- (Echos are heard as Criminal Deed and the Mobster criminals are sent flying)."
Tyranny left the cave as the holes from the flying away criminals were seen.
Tyranny: "Hmmpt! Waste of my time! Now.... I've never been to this part of Equestia before. (Covers himself in a huge dark cloak) Gonna take me awhile to get out of here. But soon enough, I'll come back to warmer grounds.... And when I do..... I'll be coming for what's left of those accursed Alicorns....... Look out, Equestia..... Big T is back in business." (Cackles as he creates energetic pulses from his hands that go upward and create massive storms of chaos that end up destroying a number of objects at an unbelievable degree)
Celestia's Chambers.
Celestia gasped awake!
Celestia was breathing heavly.
Celestia: "..... It, can't be..... It shouldn't be......"
Luna: (Teleports in) It's exactly as I feared, too, sister. It seems that... Our worst fears have been realized. Mayhem was only the beginning of four problems of the dark past of the Draconequui. It seems... The first of their kind has finally been released.
Celestia:... (Sighs) Then, it's time we got some more ancient weapons ready to defeat this threat once again.........
Twilight's castle.
Spongebob: "Hey thanks for letting us hang out in your castle until Fluttershy is finished domesicating The Chimera."
Twilight: "Alchourse. You guys did say your gonna be here for awhile longer until that's done."
Gilda: Indeed. Defeating Mayhem was pretty tough, yet we did it without a scratch. Sure several ponies got injured in the chaos, but we stopped Mayhem.
Trixie: Now the bastard's the new Discord statue, and HE'S gonna be the one to have pigeons s***ing on him.
Icky: And I think the guy deserved it after how he basically insulted the most popular and lovable character in MLP.
Fluttershy: Well, I had to let out my anger on him. He was just an awful person who just couldn't accept the fact that his kind shouldn't be spreading chaos willy-nilly, and wanted to get his brother back on his side, to the point where he called me an abomination. Sure, I was hurt by the words, but I didn't gave him the satisfaction that words can't hurt me. I hope one day Mayhem would finally get over it.
Rainbow Dash: "Yeah, I wouldn't hold your breath on that."
Spike: Yeah, I couldn't stand watching you six act like weirdoes after what his brother did to you guys. And to be honest, I was NOT a fan of Rainbow's Steve Irkul and Jerry Louis impressions. (He suddenly burps out a message from Celestia)
Twilight:... (Reads the message) It's from the Princesses!
Max: What's it say?
Twilight:... (Gasps horrified)... It... it's... I'm afraid it's not good.
Icky: What, did that James Woods-sounding chaos rat-bag escape?
Twilight: No... It's a worse Draconequui.
Discord: (Teleports there) GUYS! IT'S BAD!! I SENSED SOMETHING TERRIBLE OCCURRING! IT APPEARS THAT... TYRANNY HAS RETURNED!!!
Iago: Tyranny?... You mean the first of the Draconequus and starter of the Chaos War?
Discord: WHO ELSE BUT?! It would seem that Mayhem's chaos has weakened the integrity of his ice crystal prison. And something seemed to have breached it and set him free. Equestria's in for a HELL of a destructive state.
Twilight: And Celestia and Luna say that we must head to canterlot with the other 5 Elemental users right away because she still has the Elements of Peace, which were used to defeat Tyranny the first time.
Lord Shen: "Perhaps it's benifitical we didn't left yet. Looks like we have one more abominable beast to take care of."
Skipper: Obviously. But I feel like this foe is gonna be much different than Mayhem. A name like Tyranny says it all. We must head to Canterlot and see what the Princesses are planning.
Canterlot
Celestia: (The heroes arrived)... Hello, everyone.
Twilight: We got your message about Tyranny, princess.
Celestia: Yes. It seems that Mayhem's chaos has weakened the frozen ice imprisonment of Tyranny, and now he's intending to destroy the last of the Alicorns. So far, he hasn't done much of anything serious yet, just harmless unpleasentries, but that might only be a warm up from being away for so long. It may be that he's bidding his time to freak us out, or he's lost somewhere.
Frozen North
Tyranny: "GOOD GRIEF, I AM COMPLETELY LOST?!"
Canterlot
Shifu: So... How are you intending to use these 'Elements of Peace' to defeat him?
Sincere: And why can't OUR elements do it?
Celestia: I'm afraid harmony is not powerful enough to defeat even the likes of Tyranny. He represents war, which can easily shatter harmony. So our Alicorn ancestors created these Elements of Peace to imprison him in the Frozen North, though at the cost of their own souls and becoming spiritual.
Sparx: So... You're saying that using these Elements of Peace can kill?
Celestia: No. You see, the reason why the Elements of Peace were too much for the Alicorns to handle was because Tyranny's chaos spread through EVERY CORNER OF THIS PLANET! And reversing and repairing all the damage required a great deal of energy. So much that even our Alicorn ancestors couldn't contain it without collapsing from the flux.
Luna: Which is why our parents took charge of keeping these Elements of Peace safe. When they were taken, we took their place, and we made a few improvements to them. Now, their power is lessened, and even a small amount of energy can cure an entire continent. So the new wielders will not feel the flux in case Tyranny should cause too much destruction.
Icky: "Well, luckly, the asshole didn't do anything serious yet."
Lord Shen: "Such things can change quickly, Prehistoric One."
Celestia: Which is why we desperately need some wielders to help represent each of these Elements: Intelligence, Innocence, Tolerance, Forgiveness, Passion, and Imagination.
Icky: "Ok, I can get Innosence, Tolerence, Forgiveness, and Passion being assusiated with peace, but, what does Intelligence and Imagination have to do with peace?"
Celestia: Intelligence is what inspires you to MAKE peace through diplomatic speeches, and Imagination is what makes you picture it.
Icky: Oh...
Shifu: But... Who do you think will be the perfect souls to wield these elements?
Celestia:... I don't know. Equestia never exspearienced a threat powerful enough that the Elements of Harmony and now the Rainbow Powers can't already handle alone. The Elements of Peace are pretty much, a retired choice. At the time, it felt, un-nessersary to bring them back for any reason."
Icky: "Well, now the ONE guy it was used on is pretty much back! Now's a good time for those things to come out of retirement!"
Celestia: "Well have to first find them someone to help bring them out of such retirement, or otherwise, they're just nicely colored rocks."
Private: ".... And be under risk of Tyranny destroying them?"
Celestia: "Oh, don't worry. Peace and War balence eachother out. No one side can be able to truely destroy the other. Also, the Elements of Peace are indestructable. Not even throwing these into the sun would destroy them."
Lord Shen: "Good to know, but he might not nessersarly need to physically destroy them. He could just place the stones somewhere not even Alicorns could recover them. A dimention only he can enter, the inside of his abominable gut, or inside a feared forbidden volcano!"
Icky: "Or in reference to the Evil Overlord List on TVtropes, put the darn things in his safety dispostit box and put said box somewhere away from where Heroes are likely to venture."
Lord Shen: "Well luckly, villains rarely, if almost completely don't, take the Evil Overlord list seriously, and that Tyranny was trapped in ice for many years, where he likely has a very outdated view on the world and doesn't realise how much has changed yet. Hell, I bet he even still thinks only the Alicorns can weild any form fo anti-threat powers! So the element of surprise greatly with us!"
Luna: "Indeed. Now, allow us to take you where we keep the Elements."
Chapter 2: The Elements of Peace
Deep dark Catacombs.
The Princesses were leading the heroes through them.
Twilight: "..... I didn't know the Canterlot castle even had this place. It's so, out of place with Canterlot's peaceful tones and, just overall creepy."
Luna: "It is rarely visited after all. So it's obviously not gonna be an extremely welcoming place."
Hisses are heard.
The floor broke off and reveil stone covered Centapedes.
Celestia: "Alchourse. We forgot about our Cementapede infestsation."
Rarity: "CANTERLOT HAS A CEMENTAPEDE INFESTSATION!?"
Luna: "Allow the princesses to show these beasts their place."
One Cementapede lunged itself at the princesses as the leaped away!
Luna and Celestia flipped backwords up and fired at the Cementapedes, but aside from giving minor pain, the creatures won't relent!
Luna: "They were always annoyingly persistent pests."
Celestia: See why no one even visits this place?
Patrick: You'd think you would've had this infestation cleared out by now.
Celestia: Again, they are persistent. And they reproduce like cockroaches, so even IF we clear an infestation, there'll be one more to reproduce and replenish it.
Ginormica: (Sees that the caverns have a high ceiling)...Then I suppose it's bug-stomping time. (Grows to her bigger size, and stomps on all the Cementapedes)...
Luna:...Wow...
SpongeBob: Blech, bug-paste!
Po: Uh...these creatures aren't endangered, are they?
Celestia: Goodness no. They reproduce AND are as plentiful as cockroaches. They've been around since the First Wendigo Ice Age millennia ago. But we'd better move. These creatures won't stay gone for long.
Icky: "By the way, that backwords flip thing, awesome!"
Celestia: "Thank you. Our parents were good teachers."
Luna: "Just follow the signs and walk down the staircase."
Later.
A overly glorifived safe sits at the bottom of a bottomless aybis as a series of old and fragle stairs are seen.
At the very top, the heroes looked concerned at this.
Rarity: "It's really hard to believe all this is underneath Canterlot's castle."
Twilight: And close to the cave that Chrysalis sent me to.
Luna: "That's exactly the idea. Allow Celestia and myself to retrived them. It's clear these old steps have lost their luster."
Patrick: Oh, please, they look fine--(Steps on a stair and a monster roar was heard)...Hey?...(Steps on it again and the monster roar was heard again)...(Patrick smiles, and steps on it 3 more times as the monster sounds were heard, and he laughs) Hey look, it's making noise. (Steps on it again, and it breaks)...And, they really HAVE lost their luster.
Celestia: (She and Luna fly to the safe as they used magical beams that shot across the crystal lock, and it opened the safe to reveal a box similar to the one that was used to hold the Elements of Harmony, and they flew back up with it) This box contains the Elements. It must be hidden and kept under supervision at all times.
Kowalski: Oh, pfft, we can keep that thing safe. Tyranny's not gonna be here for a couple of hours, so we're sure to keep it in good hands...or wings...or any limbs, really.
Skipper: Question now is... Who is good enough to wield these things?
Icky: "And where the heck are we gonna find them?"
Shifu: "..... Or maybe.... We should have them find us. I have, one way we can seek them out."
Meanwhile, in Ponyville...
A humble little house is seen.
Inside, Lyra Heartstrings was seen sleeping soundly, as we enter her dream.
Dream.
An empty landscape was seen.
A caped straw-hat figure is seen walking down.
A voice: "In a land of woe and dispear.... And bad hygene skills (A thug with bad teeth ran by), there was only one force of rightiousness."
The camera zoomed in on the figure, which only partically it's face was reveiled to be Lyra.
A voice: "A heroine, shined as the only beacon of hope for this lands' troubled people."
Lyra unphasedly barged into a lonely bar, which the light reveils it is troubled by the Villain Leage, the Dark Dragon Scougre Empire, Team Nefarious, and various Oc villains, as well as some of Equestias' most infamous villains.
Lyra sat down on the table, as the villains all rushed to her, giving her dark glares.
Tirek: ".... It's clear you like to chew. Maybe you should chew, ON MY FIST?!"
Tirek punched the table.
Voice: "But the heroine was never phased by the brute once as she ate her noodles. Then she swallowed. (Lyra does that). And she spoke.
Lyra: "Chewing fists is my specialty...if you know what I mean. (The villains were confused)...But enough talk, let's fight!"
Lyra epicly blasted away the villains, as Tirek was sent flying surprised, Lyra then blasted away Junjie, Dr. Facilier and Meng Tao!
Lyra's vocie: "She moved so fast and so awesomely, (She frontal flipped in front of Mirage and Nefarious about to attack but were caught on how epic it was), That any foe she beaten (She blasted the two away) became blind by the mere sight of it (Nefarious and Mirage crashed into a wall)"
Mirage: "MY EYES?!"
Nefarious: "HOLY SHIT, THAT HORSE IS TOO AWESOME?!"
Colts: "AND A BABE!?"
Manager: "How can we repay you?"
Lyra: "There's not charged for awesomeness.... Or attractiveness..... By the way, I'm not straight.
Colts: "Aw, then some mare is REALLY lucky."
Lyra looks back at the shocked of her awesomeness villains and blasts them all upwords as she began kicking butt!
Lyra's voice: "It didn't mattered what foe she faced, she beatened them with the skills of a champ and the heroics of an incredibly awesome warrior?!"
Lyra began beating down more villains, as she reached high enough, waves of Changlings and Diamond Dogs rose from the sky and aimed to attacked her!
Lyra:...(She blasted a massive glow from her horn as all the villains fell into the water in defeat)
Voice:...Never before had a pony been so feared, and so loved. She was fearless. She was grand. She was the one who would want to kiss your hand more than anypony else...for more reasons than you know, but that's not important. (Some familiar figures appeared) Even the most heroic ponies in all of Equestria, and her childhood friend, Princess Twilight Sparkle and her friends, bowed and respected her.
Applejack: YEE-HAH! You're some sweet stuff, sister.
Rainbow Dash: The way you took out those bastard Villains, you were like 'BAM', 'POW', 'SHA-BAM', and then you blasted them with the Glowing Flare of Starswirl! Nopony has used that technique in eons!
Lyra: I am a champion of all things. There is no limits to my awesomeness.
Voice: But even THESE heroes didn't just respect her. Other heroes from other worlds, such as it's many-times saviors, the great and powerful Shell Lodge Squad, gave anything to have them be one of their greatest allies.
Po: We should hang out.
Lyra: Agreed. (All heroes got in a fighting stance as multiple Darkspawn warriors were seen, all being lead by Chernabog)
Chernabog: ATTACK!
Voice: But hanging out would have to wait! Because when you're facing the most feared evil in all of the UUniverses...(The heroes charged into action, as did the Darkspawn warriors)...There's only one thing that matters more than anything in the entire UUniverses, and THAT'S-
SpongeBob: LYRA! (Lyra was surprised that he had a familiar voice)...Get up!
Icky: (Same voice) Get up!
Shifu: (Same voice) I need your help with something!
Lyra: "What?"
Lyra falls down!
Reality
Bon-Bon: (Wakes up Lyra) Lyra, get up!
Lyra: Sweetie Drops, uh, I mean, Bon-Bon, what's going on? Is there another creature from Tartarus that escaped?
Bon-Bon: No, thank Luna. I need your help to run the candy shop, remember?
Lyra: "..... Oh, right. Sorry Bon-Bon."
Bon-Bon: "Sorry, does not, get candy sold. Ok, did you had the "Epic Hero dream" again?"
Lyra: Well, I certainly didn't have another one of those wet dreams concerning humans, that's for sure.
Bon-Bon:...(Shivers)...Point taken. This is actually the 10th time you had the Epic Hero dream. What's this all about?
Lyra:...Well...I don't know. It's been going on since Cranky and Matilda got married. When you told me about your double life as a secret agent...even though your agency is disbanded...I was wondering...what if I were like that?
Bon-Bon:...You were really dreaming about having a life as a secret agent?
Lyra: Well...I wouldn't say that. I'm sure the secret agent life is fine, and all, but...I don't wanna be one of those ponies when you have to constantly keep your identity a secret to those around you. I wanna be a hero. As in the one who gets stuff done, you know, like the Shell Lodge Squad, or heck, even my childhood friend Twilight.
Bon-Bon:...I feel for you, Lyra. I had the same dreams when I was just a filly. I wanted to be a hero, too. But I was a filly during a time when heroism was a rare occurrence. So...yeah, a life as a secret agent for the anti-monster agency was the closest job I could afford. Sure it wasn't what I was hoping for, but I was able to hide my identity by being the owner of a candy shop.
Lyra:...You'd think you'd have a cutie mark concerning your secret identity as an agent.
Bon-Bon: Oh, trust me, if I did, I'd work for a PUBLIC agency. Ponies that are in private agencies are required to discover a side job and get a cutie mark pertaining to that. It'd be the perfect cover, and we wouldn't have to risk getting arrested for fake cutie marks. The whole thing about agencies in Equestria is pretty complicated.
Lyra:...But still, I wanna do something big. Bigger than even being in an agency. Bigger than Equestria. Bigger than even myself.
Bon-Bon: Oh, I don't know if such an opportunity will just fall out of the sky, Lyra.
Lyra:...(Sighs) I know, but still.
Bon-Bon: "Now, come on Sweetie, we need to get to the shop. It's been closed long enough after that Mayhem mess."
Loud music was heard!
Voice: "VINYL!?"
Lyra: "(Chuckles), Sounds like Octava and Vinyl are up today."
Elsewhere, at Vinyl and Octava's house.
Octava: "VINYL?! COULD YOU PLEASE TURN DOWN THE MUSIC!?"
Vinyl said nothing as she did that.
Octava: "(Sighs)........ Vinyl, I know your truthicly capable of speech. You just prefer to be the strong silent type. It's leading people to think your mute. I had heard you spoke at least once, but in truth, you just don't like talking to much, contuary to commen Brony beliefs."
Vinyl just dranked a soda.
Octava: "..... (Sighs).... Admitingly, I wished you were talkative like that, so it doesn't felt like I'm talking to myself."
Vinyl hugged Octava.
Octava: "(Sighs happly).... But at least your a WONDERFUL listener. Now, we must check up on Bon-Bon and Lyra, their candy shop will reopen soon and I must get my canterlot imported caramels. Behave yourself, and I'll get you some pop rocks. JUST, promise to have them seperately from the soda. Remember LAST time?"
Cutaway
Vinyl: (Ate pop rocks, and then drunk soda)
Octavia/Lyra/Bon-Bon: NOOOOOOOOOOOOO!!! (Vinyl burped so loud, it was heard all throughout Equestria, from Canterlot, to Griffonstone, Yakyakistan, the Crystal Empire, Drakesis' Kingdom, and even Tartarus where Tirek was listening)
Tirek:...(Sighs) The shenanigans ponies get themselves into these days.
Present
Octavia: (Vinyl nods 'yes')...Good. Now let's go. I'm sure the others are waiting for us. (They both left and Vinyl got on her headphones and started dancing to the music until a massive blast was heard)...Whoa!...Looks like the Doc had another lab accident.
Familiar Lab
Dr. Whooves:...(He was seen with an ashy head and coughed)...Well...my theory is confirmed. Time travel by artificial craftsponyship is...IMPOSSIBLE!!! I mean, sure there's a magic spell for it, but GREAT WICKERING STALLIONS, I WAS SO CLOSE TO PROVING THAT IT WAS POSSIBLE FOR EARTH PONIES AND PEGASI!!! URRGH!!
???: Doc! (Derpy appeared)
Dr. Whooves: Oh, yes, Derpy...or, Muffins, I should say...you must be here to take me to Bon-Bon's Candy Shop. How I do love her candied Danishes. Of course, I have to spare my consumption of them because I'm not that much in confectionary foods.
Derpy: Oh, but they are delicious. Bon-Bon is such a nice cook, and her cooking skills and candied foods are just wonderful. Just a single taste of her homemade peanut-butter cups made me forget about that awful mistake I made about Cranky and Matilda's wedding.
Dr. Whooves: Oh, I tried those. They're...a bit average. I tasted peanut-butter cups a lot as a foal. But at least I did try out my final tests on the time-travel machine which I decided to continue despite my realization of that time-travel spell. But unfortunately...it blew up in my face.
Derpy: Oh, it's not so bad, Doc. Just come with me to the Candy Shop, and you'll feel a lot better.
Dr. Whooves: I sure hope so. (The two left)
Bon-Bon's Candy Shop
Bon-Bon: (All 6 ponies were seen enjoying their food)...Well, what do you ponies think?
Dr. Whooves: Same great taste, same great satisfaction. I'm feeling better already.
Derpy: See? I knew you'd come around.
Octava: "So, what's new on the agenda, ladies? And Good Doctor?"
Bon-Bon: "Well, Bon-Bon had another "Epic Hero" dream."
Dr. Whooves: "Oh really? Was it the one akin to the openning senquence to "Kung Fu Panda" again?"
Lyra: "Oh yeah, I love that dream, it's so EPIC!?"
Octava: "Ya know, I noticed you've became quite a fan to those misfits and the Mane 6 as of late."
Lyra: "Well, at first, I didn't gave either of them much of a passing glace, but, ever since how- (Bon-Bon nudged Lyra)..... Epicly Twilight and Friends fought the Bug-Bear, things are different now. Did you see them fight it?"
Octava: "I didn't want to concern myself with a typical life-or-death struggle with those vigilanties. Those Mares are questionably made to risk their lifes every day by order of our "Wise" Princess. No offence to Celestia, but, why must she endanger them to keep the rest of us safe? She has a royal guard! Why, she's practicly a god! What's wrong with handling this fiascos herself? She's done it before!"
Dr. Whooves: "Oh please, Miss Octava, not again."
Bon-Bon: "Octava, we didn't come here to listen to you spew Celestia-Specticisum again."
Octava: "I know, I know, but, it's just that, I still can't get over the fact that she once entrusted a beast like Discord to stop that brute Tirek, and it CERTAINLY didn't end well. I mean no ill will to her majusty the princess, but this is why my father always say that Equestia is due for Demockracy."
Lyra: "Well, nothing against your dad, but, he's kinda a huge ginormo critic of Celestia. No one else in Equestia even takes him seriously."
Derpy: "Besides, your WAY better then him. He's always so, mean and angry, and your, nice, if though, well.... Abit stiffy and snooty?"
Octava: "......... I know that, but.... He has no one else to support him. I don't want to inheredly think he's right, but.... He's not currently wrong about those situations either. I want to see it in the majority's perspective, but.... I have to understand what goes on in Celestia's mind. And that's.... Sort've hard to do. The princess is just so unreadable and-"
Vinyl stuffed a caramal in Octava's mouth. Octava chews it up and swallows.
Octava: "..... Your right, Vinyl. I should appresiate that at least she's a compident and determined ruler. I, just hope my father would understand that."
Lyra: "Ok, so, Doc, outside of that Time Machine, what else are you working on that hasn't explouded yet?"
Dr. Whooves: "Well, I am working on a marvelious new creation: The first ever steam-punkian mech!"
Octava: "Care to repeat that doctor? Because my realm of disbelief must've been active, cause, did I heard you say "Steam-Punkian Mech"?"
Dr. Whooves: "Why yes, my understandably, but nayively specitical cello player, (brings out skematics for such device), My Steam-Punkian Mech will enable any pony, earth, pegasi, and unicorn, to be able to fight against almost everything. I am designing this bad boy with every weapon imaginable: Fireworks, Lazers, Blades, Iron-Fists, Iron Feet, Jetpacks and-"
Octava: "But what powers your latest comtraption?"
Dr. Whooves: "Well, it quite obviously is in the name."
Derpy: "Whoa, a machine powered by punks."
An awkword drum sound was heard.
Dr. Whooves:... You are so much fun to bring for a meal at Bon-Bon's, Muffins. Anyway, no, this is powered by steam.
Lyra: Hmm... Seems like a primitive power source to use.
Dr. Whooves: Well, I haven't actually learned how to properly use electricity as of yet. The only work I DID use that on was a lightning-powered cloning device that... Sadly didn't work.
Lyra: Lightning-powered? Seriously?
Dr. Whooves: Well, yeah, I haven't learned how to create outlets yet, and there's no pylons for me to connect electricity to. I have had the idea of an electric generator for each house, but... It turns out such a speculation would cost a fortune. You'd have to be as rich as Filthy Rich in order to have your own power generator. And let me tell you, an inventive career doesn't pay well, especially since you have to pay for the equipment you use in your inventions. The worst I get, like that time machine, only end up with a no-money back guarantee. (Sighs)
Bon-Bon: Oh, believe me, the economy sometimes goes down the toilet every once in a while. Celestia said she'd fix that someday.
Octavia: You actually got to meet the Princess? I always thought you were just a candy-store owner.
Bon-Bon:... I... I actually made treats for her during one of the Galas, that's all.
Lyra: (Whispering) Nice cover there, Bonny-Bon. (Chuckles)
Bon-Bon: (Sighs)
Derpy: And I must say, Octavia, you and Vinyl did some great original music at Cranky and Matilda's wedding.
Octavia: Oh, please, give credit to Vinyl for providing originality. The old-school classics were fine, but Matilda and Cranky deserved more, originality for their occation. She really has the passion for music.
Dr. Whooves:... If I may ask, why do you two live with each other and split your house? Do you tolerate each other?
Octavia: Not exactly, but we grew up in the same school, and became good friends.
Lyra: Aside from the brony fandom saying you two are a couple... As well as Derpy and Dr. Whooves.
Dr. Whooves:... I beg your pardon?
Lyra: What, you think I'm joking? Look it up if you have Internet.
Dr. Whooves:... Oh dear, the crazy things our fans do to us these days.
Octavia: But bottom line, I took poor Vinyl in with me when she was having trouble with a mortgage.
Dr. Whooves:... Then why, pray tell, do you divide your house like that?
Octavia: "Well, we need a proper place to store our items and keep them from being misplaced."
Bon-Bon: ".... Wouldn't've been easier to get a wall to do that?"
Octavia: "Sadly, being a musicion isn't exactly a life of fancy in terms of budget. I mainly do shows for a sub-standerd pay. It gets food on the table, but I wouldn't call it good enough to turn a humble home to an extravigent mansion. Why did you think I do alot of shows in Canterlot? I'm allowed to charged extra cause everyone there is pretty much rich."
Dr. Whooves: "What about Vinyl? I imagine life as a DJ pays well for big clubs."
Octavia: "They do, but that money is mainly spent at once for sunglasses care, equitment repair after wild enough parties, and on occation of there's enough, the latest expensive pet of the day. This week, it's a miniture unsentient Hydra. It ended up getting out the minute it ate up a week's worth of food. We still don't know what had became of it since."
Derpy: "Was it wearing a spiked coller on one of the necks?"
Octavia: "Yes, why?"
Derpy: "Well....."
Octavia: ".... Pred Judu Des?"
Derpy: "Pretty much."
Octavia sighs sadly as she comferted an emotionally distressed Vinyl.
Octavia: "There there. I did warn you this sort of thing was a factor in having a mythic creature pet."
Lyra: "So, how far did you get to complete it?"
Dr. Whooves: "It's almost done actselly. It, only has the fists and feet though, and as explained, I can't afford much else. So far, it can only be able to slowly move manually."
Derpy: "Well, why not used those pretty explody rocks as a power shorce?"
Dr. Whooves:... A LOVE-fueled machine? (Scoffs, and laughs) I haven't seen an idea THAT ridiculous since the machinery in that cheesy Inspector Gadget movie. Once that movie was seen, that concept of getting powered by love could NEVER be taken seriously EVER again.... Not that it's a bad idea, but in all honesty, to fuel something with your heart would be impossible. You'd have to be hugging a loved one the ENTIRE TIME, or be in ecstasy after a kiss of somepony you love. You'd even have to be a Changeling in order to operate such a machine. It's just implausible to find that source whenever you need it.
Derpy: Sorry, thought I'd drop something off.
Bon-Bon: Oh, don't worry, Doc. Keep trying and you'll eventually find a better power source than steam or electricity.
Dr. Whooves: I sure hope so. I don't want it to be just another waste of space crowding up my lab.
???: "Oh, I think it might be that and more, Whooverton."
Dr. Whooves: "..... Oh no."
A well dressed Earth Pony genius arrived with two troll bodyguards.
Dr. Whooves: "...... Dr. Eureka..... We meet again."
Dr. Eureka: "Hello, Doctor Hoof. How's a life of continuious failure treating you? My life of introdusing tecknowagey into the culturaless wasteland that is Equestia has been quite benifital. I'm now the richest earth pony ever, and I'm famous for reintrudosing the helecopter back to Equestia, inspired by Kevin's designs alchourse."
Dr. Whooves: "THAT WAS YOU!?"
Dr. Eureka: "Exactly, my friend. For I am, afterall.... DR. EUREKA?! My genius knows no bounds. Yours on the other hand, knows plently of bounds. Why, (grabs away Dr. Whooves Skematics for the Steam-Punkian Mech) I am even making a WAY better verson of your qouted, "Steam-Punkian" Mech, only I am using REAL tecknowagey to make it possable. Not your silly little child's playthings you always make. And it will have what you tried to implament and WAY more."
Dr. Whooves: "YOU CAD?! THAT'S MY IDEA?!"
Dr. Eureka: "But I'm improving apawn it. You should thank me for taking some stress on your novice mind on even making such a thing, Hoofy!"
Eureka and his trolls laughed!
Dr. Whooves: "Why, I, I'M SUEING FOR TECKNOWAGEY INFRIGEMENT!?"
Dr. Eureka: "HA! With your barely existent salery? You can't even afford a REALLY BAD Lawyer, let alone the armies of lawyers I have at my beck and call. And they're all masterful, and rarely lose a case. Courts will always faver me in the end, and not the sad little inventer wanna-be from a backwater town like Ponyville."
Dr. Whooves: "THEN I'LL TAKE IT TO CELESTIA HERSELF?!"
Dr. Eureka laughs hysterically as do the Trolls!
Dr. Eureka: "Like the princess of Equestia will EVER take a pitiful excuse of a genius like YOU seriously!? Face it. The Princess never bothers with a nobody."
Dr. Whooves: "LISTEN HERE YOU JACKASS IN PONIES SKIN, I-"
One of trolls grab Whooves by the neck!
Dr. Eureka stares blankly at Whooves.
Dr. Eureka: "..... Goro, Coro, kindly remind Hoofy his place, will you?"
The Trolls, Goro and Coro, smiled as they raised their fists!
Derpy: "DOCTOR?!"
Punches are heard at the 5 flinched in shock!
The trolls drop Whooves to the ground, as he was bruzed and bleeding from his nose and mouth.
Dr. Eureka: "Ahh, nostaglia, Hoof. Just like when we were kids. I had Goro and Coro beat you, I take your silly ideas for inventions, and imrpoved on it thanks to my wealthy parents, and I rightfully became a genius. And you? Your a sad nobody, just like I always, envisioned. And I bet you won't show up to Ponyville's annual inventer's convention, correct? Cause you can't offer an invention that won't BLOW UP in your face, litterally! Have fun bleeding!"
Dr. Eureka and the two trolls laughed as they leaved!
Dr. Whooves: ".... Well, (coughs), it explains my unasked question on why he left his cozy penthouse in Las Pegasis to even come here. The Inventer's convention..... (Sheds a tear).... And as usual, I won't get to attend."
Derpy:... Why that awful pony! Why does he always have to get away with stealing your work?
Dr. Whooves: (Sighs) Dr. Eureka has done it for years. He claims them as his own, improves on them, and what am I met with when I end up introducing MY inventions? They keep calling me a copycat because everypony saw HIM introduce the idea first and did it so much better. We both started in the same science college, and he got himself some corporate crap that made him popular. After years of being outshined, I started losing my edge, and ate up money trying to beat him. He's been the bane of my existence ever since. I was always the one to get shunned, and Eureka got praise he didn't rightly deserve. Lawsuits couldn't help me, and I couldn't even see the Princess about it because of being so unpopular. (Sighs)... I hate him SO MUCH!!!
Bon-Bon:... So... HE'S the reason you're so unsuccessful with your experiments?
Dr. Whooves: Damn right! He's a corporate thief who always got away with his thefts by introducing them before I could, AFTER stealing them from me. Every single day he makes me unpopular, I just want to rip my hair out, go straight up to his house, and pour nitro-glycerin straight up his--(Everyone was shocked at his reaction)... Ahem. Point being, he's a big jerk who made me a big stick in the mud. Even my flameless fireworks couldn't save my popularity because... Well... Remember the said Inspector Gadget movie? When they heard that it was fueled by love...they laughed me out of the room as the result of the 'mediocre ignition that reminded them of such a cheesy movie.' (Sighs, and actually sheds a tear) That's why I tried so hard to prove that science is just as powerful as magic. If I could show that any invention could match magic in every way, I could be popular.
Lyra: Did you do it the first time?
Dr. Whooves: I did... But... EUREKA STOLE IT AND INTRODUCED IT BEFORE I COULD, AND EVERYONE ACCUSED ME OF STEALING THE... AAAAAAAAAAAAHHHHHHHHHHHHHH!!! (Rips his hair off and got teary-eyed)... I wish that moron never got popular.
Bon-Bon:... (Sighs) I am so sorry for you, Doc. I'm sure that someday, Eureka will pay for his crimes.
Dr. Whooves: How? Everypony loves him, and refuses to believe anyone who calls him a thief. Every time I warn everyone, I'm accused as the thief. He's pulling off the perfect crime here! Unless something life-changing comes up that will make me more than just a misunderstood genius, then I can't see how that one note pretender will be punished.
Chi-Fu's voice: "CITIZENS, I BRING AN IMPOURENT PROLCPROMATION ABOUT A NEW RECENT DEFELUPTMENT?!"
The group were surprised by that and looked out their window!
Chi-Fu was seen near a gathering of ponies.
Chi-Fu: "The Draconequus known as Tyranny, has escaped?!"
Ponies gasped!
Octavia: "Oh no. Another choas episode?"
Chi-Fu: "But do not despear! So far, he, really hasn't done anything serious lately. But be cautious. He could either be warming up, or is lost in an unfamilier place."
Frozen North again.
Tyranny: (As he still reigned destruction and chaos across the Frozen North) "I AM STILL COMPLETELY LOST!?"
Ponyville.
Chi-Fu: "But worry not! Speical powers that lay dorment ever since his last defeat are bring brought to the light again! But, there's an issue. It needs a new elemental barer to represent them. So, if you wish to see you fit that discription, then come to the Canterlot plaza center and see if the element chooses you! The presentation starts tomorrow!"
Chi-Fu left on his horse as some Shen's wolves posted up posters of the event, getting ponies excited!
Dr. Whooves: "..... Did I..... Heard that right?"
Octavia: "Yes. Turns out Mayhem was but a pilminerary for a nastier season of choas. WHY, is Equestia always the epicenter for all this madness? You don't see these sort of fiascos happening in Griffinmainia or Dragonia or even in Draconequua! Why, you'd think Tyranny would go bother them first because of their betrayal, but NOOOOOOOOOOOOO, he has to go and harass us little ponies and-"
Vinyl stuffed another caramal in Octavia's mouth, she chews it up and shallows it.
Octavia: "..... Your right Vinyl, I shouldn't fuss over it."
Bon-Bon: "Well, since I'm gonna have to close up my shop again due to ineditable choas storm, how's about we see the presentation? I mean, it's VERY unlikely ponies like us would get the job, but it be nice to see new protectors born."
Dr. Whooves: "Ok, why not? It'll get my mind off of Eureka, I mean, as long as he doesn't attempt anything from there, like actselly wanting to become the new barer, cause then I'll be made even MORE uncreditable!"
Lyra had a face of pure glee!
Lyra: "I HAVE TO GO SOMEWHERE GUYS?! BYE!?"
Lyra zoomed off!
Bon-Bon: "..... I don't think I liked where that was going."
Derpy was stareing the poster.
Derpy: "Oohhhhhhhhhhhhh. Pretty picture."
Dr. Whooves: "Ah, Derpy, your so adorable when your easily distracted."
Elsewhere, at the Ponyville Inn
A Unicorn that is a recolor of Coco walked into the room as Dr. Eureka was enjoying an extravigent dinner.
Dr. Eureka: "Ahh, my little beautiful sectratary La-Te. Anything new today?"
La-Te the unicorn: "Well, there's, kinda a new crisis with another rouge Draconequus, sir. The, convention is likely to move next week as a result."
Dr. Eureka: "Well, if I wasn't already a magnifisent genius who prepares for any situation, even the unexpected, I'd panic. So tell me, did that rascalian Mayhem escape again, or is this a new one?"
La-Te: "..... It's the first ever one, sir. Tyranny."
Dr. Eureka was letgitamently surprised as he almost choked on his lunched and spat it out!
Dr. Eureka: "..... I'll, admit, that wasn't on the lists, not even on my "expect the unexpected" list. Though Ironicly ya would think I would added that there. Does this mean I can assume that obviously the original saviors won't be the ones who are a threat to him, that Celestia will bring out the only things an actual threat to him?"
La-Te: "Yes sir. The louger Shifu is holding a presentation for the Elements of Peace tomorrow. New heroes could be litterally choosen by the Elements of Peace."
Dr. Eureka: ".... And I'm correct to assume one of them is of Intelligence?"
La-Te: "Uh, yes, but, the stones are abit picky about who they want as their barers."
Dr. Eureka: "Well, since I am the most famous genius in anywhere of Equestia, the element of Intelligence will surely know beggers can't be choosers. Becoming a hero will be the most magnifisent thing in my already fabuliously grand career!"
La-Te: "But, it might get in the way of your social life and-"
Dr. Eureka: "Oh that's what you're for, La-Te. To balence my life and career! Now, resheduale all my appointments to other days, I am going to attend the presentation and make a marvelious enterence as the new barer of intelligence and become a hero! Chop-chop, time is money you know!"
La-Te: "But, what about Whooves?"
Dr. Eureka: "Hoofy? BAH! Don't worry your sexy little unicorn head, my sweet! You can just use your magic to jinx him to look like the true idiot he is! Surely the Element ot Inteligence will pick me now."
La-Te: "Isn't that, dishonest, sir?"
Dr. Eureka: "We already had this disgussion, my dear. It's not dishonestry, it's surviveal of the geniuses. And Hoofy just simply doesn't play the game right. If he's not willing to dominate his peers and crush the dreams of his rivals, then he's obviously not worthy to be considered a genius, understand La-Te?"
La-Te looks relucently at Eureka.
La-Te: "(Hesitently) Y-y-y-yes sir. I'll, make sure the jinx is made on Doctor Whooves."
Dr. Eureka: "That's my girl! And remember, it's our little secret."
La-Te:... (Sighs, and leaves)
Dr. Eureka:... Ah, yes. As soon as that element picks me, I'll be more popular than ever. (Chuckles)
La-Te: (Quietly and away from his hearing)... It's not going to work, you know. (Leaves)
Meanwhile...
Criminal Deed: (Him, the other Draconequus, Grouse and the Razor Feathers were seen in a large crater as they get up and recover) Ohh, my acking, everything.
Grouse: I told you it wouldn't work!
Red-White-and-Tan Griffin: GREAT!!! JUST GREAT!!! NOW THERE'S A MONSTER WREAKING DEVASTATION ON EQUESTRIA!!! (Grabs Criminal Deed by the neck) This is all YOUR fault! This was supposed to go SMOOTHLY!
Ronan: Redwing, calm yourself! At least we tried. Now refraign from violently injuring someone just this once before you end up making things worse.
Redwing:... Fine! (Puts Criminal Deed down)
Teal-and-White Gannet-like Griffin: So... What do we do now?
Criminal Deed: "..... Trust me when I say, we're better off staying out of this altogather. If we try to insist to Tyranny that he needs us, he'll do MORE then just humiliate us next time! And we all know the consinquences of warning the Equestians about this! It's better they think that idiot Mayhem's, mayhem, alone broke Tyranny free! As far as they know, we have NOTHING to do with this!"
Ronan: "So we're just gonna dump him, huh? Seems fair. If he doesn't want our help, why force him? Am I right?"
Criminal Deed: "Besides, even if he doesn't want our DIRECT help, Arch still has Tyranny free to unknowingly do his work for him, whether he wants to acknowlegde it or not. So over all, mission accomplish, right?"
Grouse: "EXCEPT WHEN TYRANNY YAPS ABOUT US BEING RESPONDSABLE FOR FREEING HIM?! And because Titan had his fancy Nobody Talisment stolen, we're doomed to be exposed as traitors to harmony!? Even the likes of rouge griffins will have a difficulty to take my group lightly, And YOU will be made even MORE wanted for causing the freedom of your people's worse tyrant to escape?!"
Criminal Deed: "Pfft! Oh please! It's not like the Draconequus Royal Guard is gonna spontaniously appear when I scream at the top of my voice, (Yelling) I'M RESPONDSABLE FOR FREEING TYRANNY!?"
Ronan: "And, you just provoked karma."
Criminal Deed: "Pfft! There's, NO, such thing, as kar-" (Several Draconequui guards appeared)... Ma... Well, crap! Looks like I yelled too soon.
Draconequus #1: Criminal Deed, you are under arrest!
Grouse:... Well, we're out! (The griffins flew off quickly)
Criminal Deed: DON'T LEAVE ME, YOU COWARDS!!! (The Draconequus guards pin down him and his Draconequus assistants)
Thigana: (As the griffins flew off)... Boss, are you sure it was a good idea to leave them?
Grouse: We have far more important matters to attend to. We must take care of the heroes and make sure they do not let themselves be told of our involvement to the Mafia Alliance OR Architect.
Captain Ronan:... Are you sure that's a good idea, sir?
Grouse: Maybe not, but we have no choice. With the Nobody Talisman gone, we have no power over their memories. So I'm afraid we cannot let ANY information concerning the Architect's plans get out.
Ramus: But... Uh... What if they start getting suspicious of our activity? And... Celestia forbid what if we ended up getting hurt in more ways than one by Tyranny?
Grouse: It must be done, Ramus! If the Architect falls, then Titan falls, and if Titan falls, so does the Mafia Alliance! It won't be THAT bad should the heroes figure out we're in league with the Mafia Alliance, but that's about it. It's better for both us and Titan and The Architect that Tyranny's escape is nothing more then a freak occarence. You are my best enforcers, so can I count on you all to prevent ANY secrets from being leaked out?
Captain Ronan:... Well... I suppose you can count on us, sir. But, there's still Criminal Deed and, he'll, rat us out as accomplises.
Grouse realises the flaw of the plan.....
Grouse: "ALCHOURSE THE VENGEFUL LOUSE WOULD DO THAT!? Ok, NEW PLAN!? The next best thing we can do, is finish off Tyranny! Titan is likely gonna have a hissy fit over this, pardon the pun base on him being a snake, but I think he and his darkspawn partner would appresiate not being exposed over keeping this botched plan alive!"
Ronan: "And, HOW, are we suppose to kill an immortal abomination?"
Grouse: "..... Oh, right. Ok, newer plan! We get out of here, we go underground for awhile, and wait for it to blow over! They'll settle with punishing Criminal Deed, and the fact we dump him will prove that we had no true loyalty or faith on what Deed was doing, and eventally in days time, things will go back to normal!"
Ramus: But what about the secret? If we don't do something, they'll know more than just us being a part of the Mafia Alliance. Like, what if they used a magic spell to read Criminal Deed's mind, and discover the plans of the Mafia Alliance?
Grouse: Relax, they can't read his mind. Every person who works with the Mafia Alliance is required by regulations to have mental blocks to prevent mind-reading from being a factor. No hypnotizing, no mind-reading, and he'll always stay shut about it.
Ramus: But... What if he DOES reveal it because of the fact that we abandoned him?
Ronan: That's not going to happen. He knows how powerful the Architect is, and if he were to reveal it, he would be punished severely, if not by death, but by something far worse.
Grouse: Indeed. There's nothing we can do now but retreat back into the shadows and hope that everyone doesn't know ANYTHING about Architect's involvement.
Ronan: "Ok, Operation: Hideaway is a go team!"
The Griffins escape off into the distence!
Draconequus Guard: "..... Should we bother with those guys, captain?"
Draconquui Guard Captain: "Ah don't worry. The fact they dumped Criminal Deed is proof they aren't too proud of what they just did. As for you, Deed. You better hope this isn't worthy of becoming a garden orniment."
Criminal Deed: "..... Crap."
The Next day.
King Wacky: "And THAT'S what happened!"
Celestia: "Criminal Deed and the Griffin Mafia did this? What did a bunch of criminals had to gain from this?"
Queen Pranks: "Well, Deed isn't talking about why he did that, and our mind-reading experts had no luck getting the truth out of him due to some mysteriously-powerful psychic blocks, but, I wager it has something to do with their appearent Mafia Allience connections."
Celestia: "So that criminal organisation for some reason wanted to get control of Tyranny, and obviously failed in it? And now thanks to them, Equestia is potainionally in danger of Tyranny's wrath over their irrespondsable greed and corruption?!"
King Wacky: "We're just as upset about this outrage as you are! And we still had no luck finding out what the Mafia Alliance wanted with Tyranny because, again, the psychic blocks left us with nothing. Worse off, Deed was the asshole who made Mayhem come back to begin with, and finished off what was left of the ice prison! I wager you want to turn that idiot to stone for this, am I right?"
Celestia: No. I'm afraid that is not in our jurisdiction, but in your royal guards' jurisdiction. We only get involved when chaos like Discord's and Mayhem's go too far. People like Criminal Deed are not that big a threat for us Alicorns to deal with.
King Wacky:... That is a good point.
Celestia: But what IS in our jurisdiction is Tyranny. We must find a way to stop him before he reaches civilization. We can already feel the astronomical power he is unleashing around wherever he is currently going.
Luna: From the looks of it, his first target might be the Crystal Empire. If we don't find some ponies to represent the Elements of Peace soon, Equestria will be destroyed, starting with the Crystal Empire!
Kind Wacky: "Oh, don't worry, Tyranny was actselly an IDIOT when it comes to a sense of direction! He couldn't even find the bathroom correctly!"
Flashback.
Tyranny: "WHERE DO WE PUT THE BATHROOMS IN THIS PLACE?!"
Present
Celestia:"....... Wow...... We were actselly afraid of someone with a poor sense of direction? No wonder we're not dealing with him now."
Luna: "Well, even idiots can become a threat eventally. I recimmend we put the Christail Empire under a magic sheild to discourage the big brute to making it his first victim, as well as all the other cities just to be safe."
Celestia: Well, we all know that shields eventually fall, including those of Equestria. And Tyranny is unbelievably persistent. If he wasn't, he wouldn't have been a great villain. He HAS torn down magic shields before.
King Wacky: It's true, he really has. But still, shields CAN give us time either way, so put up the shields, anyway. By the time Tyranny shatters them, we'll be ready for him.
Celestia: I hope so. The Lodgers and the Mane 11 have spread news about our needs all throughout Equestria, and the Elements themselves will choose who is worthy and who is unworthy. The Elemental Bearers have to be strong, kind-hearted, determined, peaceful, and COPLETELY non-prone to anything evil.
Luna: Hopefully, the audience will have SOME people who are qualified to be great wielders.
Celestia: "And the fact that the elements are being exposed will slow down Tyranny's advance to the Empire.... If he's even getting there and not just aimlessly wandering about."
Forzen North.
Tyranny: (His chaos storms still ravaged the arctic, and only intensified as Tyranny burst in anger) "CURSE THIS PLACE?! IT'S MAKING ME WONDER AIMLESSLY ABOUT?! If there's any form of civilisation here, I AM NOT GONNA BE ABLE TO GET TO IT FOR YEARS?!"
Chapter 3: Lyra's Wild Entrance/Bon-Bon Exposed
Canterlot
Ponies from all-over Equestia, including Bon-Bon, Octavia, and Vinyl have arrived at the enterence.
Octavia: "We are obviously missing three more members. Where are they?"
???: "Uh guys?"
Derpy shyfully appeared.
Derpy: "You, might wanna see what's wrong with the Doctor."
Bon-Bon: "Did he ended up getting hurt from another invention?"
Derpy: "No."
A private spot.
Derpy shows the three a shocking display: Dr. Whooves acting like a complete retard!
Dr. Whooves: "POOP!? POOP POOP!? I LIKE TO EAT POOP!?"
Octavia: "..... Oh, marvelious. He's having a mental, and appearently an extremely stupidity driven mental breakdown."
Bon-Bon:...How did he get like this?
Derpy: I don't know. I was checking on him in his lab to take him here, but...when I found him, he was acting like this.
Octavia: Do you know who did this to him, let alone he did this to himself?
Derpy: Oh, if I know him, this is NOT the result of his anger for Dr. Eureka. SOMEPONY did this to him.
Dr. Whooves: GREAT WITHERING STALLIONS, THAT'S THE BIGGEST POOP NUGGET I'VE EVER SEEN!! (He is actually looking at some props in the room)
Octavia: Think it was Eureka?
Bon-Bon: "He's an earth pony, remember?"
Octavia: "True, but he could've hired someone to do this. He is a billionaire after all. It could be any rouge Unicorn or Magic capable Mythic Being in all of Equestia."
Bon-Bon: "Alright, we can't let anypony, let alone the princesses, see him like this!"
Voice: "Octavia!"
Octavia: "Oh blast! My father! I'll keep him distracted, Vinyl, Bon-Bon, Derpy, make sure the doctor stays RIGHT here! Let me handle father, understand?"
Derpy: Oh, you can trust us, can't you?
Octavia:... Well... One of you, I guess. And while you do, one of you keep watch to make sure nopony comes in and sees the Doc until he recovers from this mental condition.
Dr. Whooves: I AM A STEGOSAURUS!!! I JUST IMPALED AN ALLOSAURUS IN THE EYE AND HE TRIPPED A CAMARASAURUS AND THE CAMARASAURUS CRUSHED THE POOR ALLOSAURUS, AND THE STEGOSAURUS WAS SAFE! AND THAT'S ME! (Chuckles) I JUST S*** MY PANTS!!
Derpy: Uh... Doc, you're not even wearing pants.
Dr. Whooves: (Babbles rapidly and runs around in crazy bursts of energy)
Vinyl: (Face-hooves herself)
Octavia: Oh, and be sure to look out for Lyra.
Octavia's Father: OCTAVIA!
Octavia:... Good luck, girls. (She leaves)
Derpy:... So... Vinyl, you have any music for us to listen to?
Bon-Bon: No, let's not play music. The whole point is to keep Dr. Whooves away from the public.
Dr. Whooves: EEE-eee-eee-eee-eee-eee-EEE-eee-EEE-eee! Poopie sounds funny! And it looks like chocolate!
Bon-Bon: WILL YOU STOP TALKING ABOUT POOP ALREADY, IT'S NOT FUNNY AND INAPPROPRIATE AT A PLACE LIKE THIS!!
Vinyl: (Hushes Bon-Bon)
Bon-Bon:... Sorry.
Dr. Whooves: Poop-a-doop-boop-poop! Up-down-right-left, pooped in my PAAAAAAAAAAAAANTS!!
Derpy:... (Chuckles) And suddenly, it's starting to get hilarious.
Outside Private Area
Octavia walked outside and saw a real dressed staillian going through the balding process.
Octavia: "..... Hi father."
Octavia's father looked at her!
Octavia's father: "Octavia!"
Octavia's Father ran to Octavia and hugged her!
Octavia's Father: What took you so long, honey?
Octavia: Well, one of my friends is suffering a... Rather... Irksome situation that they needed to keep in check. So, how have you been doing?
Octavia's father: "Well, I came to snap some sense into the Princesses and just get them to use the Elements of Peace themselves and use those things to stop Tyranny themselves. It's reckless for even the King and Queen to even consider pitting innosent ponies against that monster! Do you agree?"
Octavia: "It's, iffy, don't get me wrong, but-"
Octavia's father: "Exactly! That's why I, Sir Octive, am gonna set our royal highnesses straight. It would mean the wolrd to me if you helped."
Octavia: "..... I would love to, but, unlike you, I'm abit more afraid of damaging my reputation over giving a contrary belief and-"
Sir Octive: "Please Octy, my little princess, I need you more then ever now. Your all I have left in this world."
Octavia:... I don't know. What if I make myself look bad? I mean, I understand your controversial views on her, but what would she think of me if I-
Sir Octive: You can do it, Octavia. I believe in you. Just get up there, look her in the eye, and tell her she's risking ponies' lives choosing-
Octavia: OKAY, I'M SORRY, BUT NO?! THAT'S GUARANTEED TO HAVE ME KICKED OUT OF THIS PRESENTATION! And my friends are in there waiting for me. If I go up there, there's a good chance I'll be given scorn for saying something awful. With all due respect, I can't make myself look bad. You've endured so much from her, why don't you do it?
Sir Octive:... Because... well... I snuck in here.
Octavia:... YOU WHAT?!?
Sir Octive: The guards banned me from events concerning the princesses, and that's why I snuck in here.
Octavia:... Then why in the name of Celestia have you not been noticed?
Sir Octive:.... Seriously? Your talking about the same chuckle-heads that couldn't even stop a little plant from kidnapping our princesses, much less slightly worser foes. Outside of that, nopony knows about that. And I blend in nicely. This is why I asked you to do this for me.
Octavia:... Look, father, I care for you, but you've already gave yourself a bad reputation to the Royal Guard for your criticisms. Imagine what would happen to ME if I were to do that. And I'm far too loyal to the Princess to say anything negative. I mean, I don't 100% disagree with you, your concerns do have grounds, but the problem is, they also make ponies feel as if your, an ungrateful twat and a critic. And people don't tend to forgive critics that don't seem to have an understandable ground. These ponies are much more forgiving to Celestia's flaws and questionable habits, give or take some.... Miss-steps. And while I can't inheredly understand Celestia's choices, I don't make ponies hate me over them, espiecally not while I have a career that relies on a postitve reputation! I'm even lucky ponies didn't realise your my father, much less anyone related to me, cause they got the notion that nopony would breed with a hurtful critic! Well, if mother was still around, she would certainly proved them wrong.... Now, please, just get out of here before the guards come.
Sir Octive:... (Sighs)...
Octavia:... But... If it'll make you happy, I'll just talk to her in a much calmer tone instead of how you usually talk to her, this way I won't make myself look terrible and treasonous.
Sir Octive: Thank you, my little princess, I knew I could count on you. You're growing up so fast.
Octavia: Yes, (Chuckles, then she gasps as she saw 2 guards in the audience)... Father, you must go!
Sir Octive: (Sees the guards) DYAH! (Hides, and Octavia leaves)
Outside Canterlot
Lyra: (Quickly runs up to the entrance and finds that there's a large line)... AW, YOU'VE GOTTA BE KIDDING ME!!... (Walks up to a familiar blue-and-orange pony from Putting Your Hoof Down) Excuse me, can you let me scooch through, my friends are in there waiting for me.
Pony #1: Yeah, right, lady. Wait in line like everypony else!
Lyra: No, seriously, I-
Pony #1: GUARDS!
Lyra: Okay, I'll wait in line! (Chuckles, and sighs in annoyance)... Bitch.
Pony 1: "(Scoffs), WHAT DID YOU JUST CALL ME!?"
Lyra: "Oh, you got super hearing now? I called you a bitch!? You wanna fight about it, ya mean little trust fund parasite?!"
Ponies: "Ohhhhhhh."
Pony 1: "Oh, you, you did NOT just insult me, you canterlot reject?!"
Lyra: "Oh, oh! That's real funny you said that! My father's actselly the president of Lyre Corp in Canterlot! I bet you heard of him."
Pony 1: "Lyre corp? Wait, my dad like, works for Lyre Corp. Your the president's daughter?"
Lyra: "Oh yeah, why do you think I have this cutie mark, genius?"
Pony 2: "(The Blue one's friend from the same episode) We like, figured, you were just good with lyres."
Lyra: "Well that's only HALF the reason. The other reason is because I'm the daughter of the pony who capitalised on Lyre marketing. And I don't think it'll look good for your dad's future if I told daddy that you messed with me."
The two premadonnas looked nerviously at each-other!
Pony 1: "Uh, (Nerviously laughs), on second thought like, maybe you were legit on the whole your friends waiting for you stuff and junk! We'll be SO, out of your way, ok?"
The two ran off way back to the line!
Lyra: ".... Oh yeah. No one messes with the Lyre Corp daughter. He-he!"
Lyra gets in front.
Lyra: "Nothing else could ruin this. I'm first in line."
Moondancer was behind her.
Moondancer: "One problem, Lyra. This is the line, for getting into the line to get into the Plaza."
Lyra: "WHA!?"
Lyra sees yet another line to get into the Plaza!
Lyra: "UGHHHHH!? I'm never gonna get in now!?"
Lyra leaves.
Lyra: "You can have my spot Moondancer."
Moondancer: "Ok, suit yourself. I imagine the presentation isn't gonna be that exciting anyway."
Moondancer walks in as the line quickly moves.
Lyra: "..... I need to fine another way in."
Lyra thinks about it for awhile.
Lyra gasped!
Lyra: "Alchourse! I'm sure Whooves won't mind if I borrow an invention.... Hope it doesn't blow up."
Lyra teleports away!
Canterlot Plaza.
All the Ponies were in the audience.
Shifu: "Citizens, of Equestia and beyond, respected visiting dignitaries, outside rulers, I welcome you to what is possably the most impourent presitation of Equestia.
Outside the Plaza.
Lyra quickly teleported back with an exspearimental flying machine.
Shifu's voice: "As you all have been made aware, an anichent threat has reared it's henious head for unclear reasons outside commen speculation. Let me tell you, why Tyranny is free is not impourent. What's impourent is setting the beast back in his place before he is allowed to truely become a problem. And we are more then happy to present, the one thing actselly a threat to him. The Elements of Peace!"
The Audience cheers!
Lyra: "Ohhh boy! I'll just wait out here until they get ready to present imagination."
At The Plaza.
Heavenslight and Nightus brought out the box.
Shifu takes it and shows it to the public, and opens it, reveiling six shapeless jewels that flout around the area, and amazed everyone!
Audience: "Ohhhhh!"
Shifu: "For the first demonstraightion, we want one of you to come forth to see our frist presented element. (One such jewel flouted down). The Element of Intelligence. Who would vollenteer to-"
Suddenly, as music interupted Shifu, A spotlight from on top of a building focuses on a sparkly dressed stranger in a top had, as sexy dancers that ranged from all three pony races to A harpy, a elf, and a dragon. As the music got started, the stranger ultamately reveiled himself as Dr. Eureka as he and the dancers began to dance, wowing almost everyone!
The Lougers either look with confusion or lack of trusting for this interloper.
The Mane 6 and 5 but a momentarly dancing along Fluttershy till Pinkie corrected her are very unsure about this.
The Princesses and Nightus and Heavenslight merely kept neutrol faces.
La-Te was seen in the crowd and sighed embarisedly.
Octavia: "..... Oh no."
Marty started dancing.
Marty: "We should've brought King Julien to this."
Alex: "Wow.... That guy knows how to dance."
Dr. Eureka: "HELLO, Ponies and non-ponies from Equestia and beyond! Tis I, the magnifisent, the original, the one and only, Dr,"
Dr. Eureka sets himself to hear the respond!
Audience: "EUREKA!?"
Dr. Eureka: "AHAHA! I love that old bit! I am the most inventive, ingenius, luxorious, billenaire revolutionist in Equestia! I am also sponsor of five of the most hippest restaurents in Equestia, Playpony, and many times winner of countless invention conventions!"
The Audience cheers for him!
Dr. Eureka: "So how do you feel about me becoming a HERO!?"
The Audience cheered louder!
Dr. Eureka: "AH-HA! I knew you'd loved that!"
Shenzi: "Hey, who's the hotshot?"
Twilight: "Pretty much as he said. Dr. Eureka, the most inventive and brillient inventor in Equestian history. He's pretty much reintrodusing tecknowloagey into Equestia. Remember that one helicopter that almost hit me?"
Banzai: "He's respondsable for that?"
Twilight: "Yeah. He's also the reason why we have movies and video games here to begin with. Heck, he's even respondsable of introdusing the first stage of the internet here!"
Rainbow Dash: "Bottomline, the guy's a pretty damn big deal."
Rarity: "And he has a pretty fine body for the brainy type, I'll humbly admit."
Puss: "Ohh. Sounds dreamy."
Dr. Eureka: "Now, how's about alittle, razzle dazzle? But first, (Coro and Goro pushed La-Te into the stage), La-Te, let us explain what our company Eureka corp has contributed in."
La-Te: "Oh not again.... (Sighs), Fine. (Ahem) (Gives a fake smile)"
Dr. Eureka started sing this after the I like to Move it Song ends abroptly.
Dr. Eureka: "..... Ok, I'll admit we should've disincluded the dynomite part, but still, a rousing musical over-all. And worry not, Eureka corp will pay for the damages."
La-Te thinks: "I really hate this part of the song."
Dr. Eureka: "Well, now that I have wowed you all, I will now claim the Element of Intelligence."
Shifu: "Actselly, it sort've depends on what the element itself thinks."
Dr. Eureka: "And I wager I impressed the little rock, right? I impress everyone. So I'll just take it now, good sir."
Shifu: Sorry, but it's not glowing at the sight of you, so you're not that qualified to be the bearer.
Celestia: In fact, I sense something dark about you that you're not sharing. What is that, exactly?
Dr. Eureka: I assure you, Princess, you're just too excited to see that I actually AM qualified.
Twilight: The Princess never cuts corners, Dr. Eureka. If the Element of Intelligence wanted you to protect this land from Tyranny, risking your own life to defend this great land from a spirit of war and destruction and sending him back to it's rightful place, I'm sure it would've said so.
Dr. Eureka:... Is she serious?
Twilight: Do I LOOK like I'm not serious? This is all supposed to be the Elements' choice. They sense what's good and what's bad, and it's not choosing you. So the rules are the rules, so, good day.
Dr. Eureka: I AM qualified! I've done so many great things for Equestria, AM I RIGHT?!? (Everypony cheers)... Do I even have to sing the song again?
Celestia: Well, if you believe you are qualified, then why do you think the Element is not choosing you? It refuses offers for a reason.... Outside of not being sentient. The wielders have to be the purest of heart, and have no bad sides to them. So, by that logic, you must've done SOMETHING bad.
Dr. Eureka:... (Scoffs)... Are you ponies actually listening to this? Your great princess called me a bad pony! I, your highness, am no bad pony!
???: THAT IS NOT TRUE!! (Dr. Whooves arrived as his friends stayed in the audience.)
Dr. Eureka: (Sighs) Not him again!
Pony #1: Isn't that the poor copycat genius who keeps calling Dr. Eureka a thief?
Celestia: Thief?
Rarity: Copycat?
Twilight:... What do you mean, Dr. Whooves?
Dr. Whooves: I've said it before, and I'll say it again! He stole my ideas, claimed them as his own, and because he made them far better, I was made to look like a copycat!
Rarity:... Dr. Eureka, is this true?
Dr. Eureka: Absolutely not! He's just a blackwater genius who keeps accusing me of stuff I didn't do. (Celestia senses something off about that statement, and gets a disappointed face)
Dr. Whooves: Why don't you tell them the truth, Eureka! You've done it for so many years, you've made me poor! (The Element of Intelligence started to slightly glow, though nobody noticed except Celestia) Especially since you sent La-Te here to put me under a STUPIDITY JINX!! (Everyone gasped) Which by the way can be easily fixed by seeing a Jinx fixer, like the one HERE IN CANTERLOT?!
La-Te: "(Quietly) I knew this wasn't goning to work."
Dr. Eureka: Why, that is absurd! You should be ashamed of yourself! Accusing me, a great celeberty that YOU mouched off of for years to come, over something SO FAKE!? I am indopably insulted?! And surely the good ponies of this great land of equestia won't take this, charlatin too seriously! (The Audience cheers for Dr. Eureka while some booed and threw things at Whooves)...... And they have spoken, Hoofy. Well I think it's clear no one wants you, hoofy, so, allow me to make your exit evident. GUARDS, GET THIS PONY OUT OF THIS PLAZA!
Celestia: No! Guards, hold your ground!
Dr. Eureka:... What? Your highness, what're you doing?
Celestia:... Dr. Eureka, you really think I can't sense when a pony is lying or telling the truth? All you said is a lie and all this pony claimed was true. Is it true you stole from this pony and humiliated him?
Dr. Eureka: What, no!
Celestia: No more lies, Eureka! I think all of Equestria wants to know! Especially since this Element is already choosing it's bearer.
Dr. Eureka: What're you talking about- (Sees the Element glow) HAH! I told you I was qualified! Take me, sweet element, I await your loving embrace- (The Element instead chooses Dr. Whooves)... What? WHY WOULD THE ELEMENT CHOOSE THAT MORON?!?
Celestia: Dr. Eureka! I'm sure that's not the nicest thing to say to a pony in front of your peers. That is PRECISELY the reason why the Element didn't choose you. This pony, who you have oppressed and put off the edge for years, is dependent enough to admit the truth with his heart. He shows constant grief for your crimes. And so the Element chooses him because he shows enough intelligence to do the right thing. I'm sorry, but the Element has spoken.
Dr. Eureka:... THIS IS INTOLERABLE!! THAT MORON IS NOT QUALIFIED TO BE THE GREAT WIELDER OF THE ELEMENT OF INTELLIGENCE! His inventions are flawwed, cheap rip-offs of my vastly superior creations!? Besides, what if in truth, he saw this "Jinx Fixer" to make himself be able to make his lies look like truths, and jinxed me to look like a lier?!
Celestia made a surprised face.
Celestia: "..... Well, that has been known to happen before and I had been tricked to make a wrong discidion because of being tricked by jinxes."
Dr. Whooves: "B-B-B-B-B-B-B-B-B-B-B-B-BUT, YOUR HIGHNESS, PLEASE-"
Celestia: "I'm sorry Whooves, but, there are such things as false truth and false lie jinxes before. What I thought was you telling the truth and Eureka lying could be the jinxes and... You, might really be legitamently a copycat."
Dr. Whooves: "Then use your magic to scan us and-"
Merlin: "That's the problem with jinxes of that caliber! They tend to be undetectable by magic and feel as if they are actselly part of a person's personally."
Icky: "Yeah, for all we know, you might be dishonest as fuck and Mr. Fancy Pants here might be an actual innosent person your mouching off of."
Dr. Whooves: "NO?! I DON'T BELIEVE THIS!? EVEN THE PRINCESSES AND THE HEROES OF EQUESTIA ARE AGAINST ME ON THIS?! (Falls to the floor and cries)!?"
Celestia: "...... We're not. But, we can't say we're truely with you either. And we don't know why the element has choosen you and.... Well let's be honest, as magical as they are, they're unsentient, so we can't exactly ask them. But perhaps the Element of Intelligence picked you at all because, perhaps it wants you to redeem your actions and make you beloved by Equestia in other ways? Maybe this is your chance at redemption for harassing Eureka and trying to steal his inventions."
Dr. Whooves: "YOU DON'T UNDERSTAND!? I'M NOT THE THIEF HERE, EUREKA-"
Lord Shen aimed his blade at him!
Dr. Whooves: "(Girly screams)!"
Lord Shen: "Be thankful that your still alive because I find your poor attempt basturdising a celeberity's good name, mildly amusing."
Dr. Whooves was wimpering.
Lord Shen: "Now man up, accept the fact that your sceme was exposed and accept the chance to redeem your mistakes and admit yourself as the wrong doer here and apologies to Eureka."
Dr. Whooves was hestitent to say anything.
Luna: ".... Please. We don't want to end up sending a much needed pony to Black Staillian Asylum over this."
Dr. Whooves finally broke down.
Dr. Whooves: "..... Fine.... I surrender, I'm nothing more then an inferior to Eureka and..... (Cries), I'm sorry."
Dr. Eureka: ".... Apology begrudingly accepted. Still, I felt as if me coming here was a waste of time. But if the element wants you, who am I to complain? I'm still the greatist inventor of Equestia. Come on ladies, let's go back to the inn in celebration of my greatness."
Dr. Eureka leaves with his dancers as La-Te goes with him as well, but La-Te momentaly gives a sad final look for Whooves and sighed.
La-Te: "(Quietly)..... I'm truely sorry."
La-Te leaves.
Dr. Whooves walked aaway sadly and sat in a chear speiclly given to him.
Shifu: "..... AHEM! Now, let us, ignor the drama we just witnessed and resumed as usual. And now, the next jewel, (The next jewel flew over) The element of Innosence. May those with the most innosence please come over now."
Derpy looked on sadly for Whooves.
Derpy: "..... Octy, you sure we can't help Whooves?"
Octavia: "And risk being considered enablers, Derpy? No! That would make it worse for him and us as well! It would be better if they think he was alone in this and that we didn't know about his outragious behavior."
Derpy: ".... Could I at least give him a hug? I'm gonna give him a hug."
Derpy flew off before Octavia could stop her and hugged Whooves in front of everyone!
Octavia: ".... Oh bother. International embarrisment commencing!"
The Audience awwed.
Octavia: "..... Wait, they LIKED that?"
Bon-Bon: "Well duh! Derpy is a fan faverite behind others, like Discord, Luna and Fluttershy as exsamples."
Derpy: Everypony, and those that AREN'T ponies, I don't care what you have to say. We ponies stand by him as telling the truth. Believe what you want about him, but we believe him and support him. By all means, you don't have to believe him, but we will do anything for him. Especially since we are his friends! (The Element of Innocence glowed) I may not be a smart pony, and have been known to make mistakes, but I am innocent enough to know my mistakes and learn from them. Dr. Whooves is telling the truth, and someday, you ponies will realize it. But until then, we will stand by him. So go ahead and scold us, we don't care! (The Element immediately shined on Derpy)... What?
Celestia:... Ms. Muffins... You have been chosen to wield the Element of Innocence. Your speech and your bravery to prove it has convinced the Element enough that you are to be it's master.
Derpy:... But... I'm not a fighter.
Celestia: You'll get used to it. (The ponies have mixed reactions, some scolding, some cheering, some crying over the speech, and some amused)
Shifu:... Well... At least another Element has been chosen. But still, Doc, it might not change our minds of whether you're telling the truth or not. But by all means, we'll investigate this after Tyranny is defeated. Now then, next up, is the Element of Forgiveness.
Octavia: "Oh, I wonder who it'll be this time."
???: "Psst! Psst!"
Octavia looks confused and saw a barrel next to here.
Sir Octive was inside.
Sir Octive: "Psst! Octy, my little princess, it's me!"
Octavia: ".... Oh bother. (Quietly) Father, what're you doing now?"
Sir Octive: "I came to see my little girl tell off Celestia on what a questionable ruler she is."
Octavia: "Well..... It, might've came at a bad time, after the Whooves fiasco."
Sir Octive: "Octy, please..... For me?"
Octavia sighed.
Octavia: ".... As before, I'll do it without making a scene about it, and I'll do it, respectfully."
Sir Octive: "Thank you my little princess! I'll be watching from right here."
Octavia sighed as she left the audience and entered center stage.
Sir Octive: ".... I'm so proud of my little girl."
???: "Hey."
Sir Octive gasped and hide back in his barrel, as the figure who said that reveiled to be Iron Will and his goats.
Iron Will: "Who's the moron who left this barrol in Iron Will's way! Goats, get rid of it!"
A Goat baaed and headbutted Sir Octive's Barrol into the sky, quickly worring Octavia!
Octavia: "Ohnoohnoohnoohno! (Chased after it)"
The Barrol was headed straight to Bulk Byseps.
Bulk: "YEAH?! BARROL PONG!?"
Bulk bucked the barrol back it's original direction, as Octavia eeked at this and chased it!
Iron Will: "Oh yeah, Iron Will loves Barrol Pong!"
Iron Will smacked it back to the other direction as Octavia chased the barrol still!
The Heroes and Princesses looked on at this.
Fluttershy: "..... So, should we like, stop this from escalating, or what?"
Icky: "Only when lives are threaten. Right now, it's hilarious."
Pinkie: "You know what this calls for? MUSICAL ENCOMPANIMENT!? HIT IT, CHEESE SANDWICH?!"
Cheese appeared from nowhere!
Cheese: "WITH PLEASURE, PINKIE!?"
Cheese band started to play this as the Barrol Pong escalated and included the Indian Bison and the Yaks into this as well, as the situation gets comedical and when it ends, the Barrol crashes into Octavia and Shen, breaking the Barrol and reveiling Sir Octive!
Sir Octive: "(Dazed) Danny boy, the pipes, the pipes are calling."
Octavia: "(Quietly) Oh daddy, you and your redicuilious shenanigens leading you into trouble."
The Audience gasped apawn realising who was in the barrol.
Luna: "Oh no. It's Sir Octive."
The Guards surrounded a no longer dazed Sir Octive as he welped like a wimp!
Lord Shen gets up even more angered.
Lord Shen: "As if that Whooves Fiasco isn't enough, now there's you, you ungrateful treasoner?!"
Sir Octive: "I'm not a tresoner, I'm just a guy with an honest opinion!"
Lord Shen: "Then explain your plans to introduse demockracy after getting Celestia to leave the throwne?!"
Sir Octive: "Oh for goodness sake, that demockracy crack was just a scare tactic to scare the Princess to take her role seriously! You morons didn't actselly think I meant that, did you?!"
Shen and the Guards looked at eachother embarrised.
Lord Shen: "..... Well, ten thoundson year egg on my face then. But still! Celestia deserves better then some ungrateful scare-tactic using lout like you! I have half a mind to drag your sorry horse's ass straight into-"
Octavia intervines for Sir Octive's sake and stands inbetween him and Shen and the guards.
Lord Shen: "..... Dear miss, I, must ask you to step away from the offenive critic. It won't do well for your reputation to stand for his sake."
Octavia: "WELL MAYBE IF HE WASN'T MY FATHER I-"
The Audience gasped!
Bon-Bon: "...... Oh dear."
Vinyl stared with a "This isn't good" face.
Octavia: "..... Really? It's THAT shocking to you people? We have the same color of coat, mane and eyes, for Celestia's sake!"
Lord Shen: "Well, in that case, then-"
Octavia: "DON'T, think I have NO IDEA what your about to say! That I have to get arrested with him cause you assumed I 100% support his beliefs?! Well newsflash! I ONLY AGREE WITH HIM TO AN EXTENT!? But not out of soley because he's my father, but because.... Oh let's be honest people, he's not exactly WRONG about Celestia's iffy desidtions. Remember the Tirek fiasco? The whole not punishing Pred Judu Des thing for his asbymal crimes? Losing to Chrysalis? Endangering the lives of several ponies, her own student included as heroes against threats that could've EAISLY killed them in a heartbeat when she has a millaterry for that? Actselly having a sickness that can kill her because she doesn't obey some amoral rule? SHE'S EVEN DATING A GENISIDEAL PEACOCK WHO ONCE ATTACKED A PANDA VILLAGE, PEOPLE?! And a mess of other things?! Look, I'm for forgiving Celestia for that, but it's not fair to demonised honest critics because the last time she was called out by less then graceful critics, she was almost lost to us. And perhaps though my father is sometimes an idiot about this, (quietly) no offence daddy (openly), I forgive him for it, and not just because he's my father, but because..... I'm all he has left. This poor colt has no family left outside of me and, my no longer among us mother, and here you people are, (The Audience started to shed tears), demonising him because of a few bad moments when others take their criticisum too far! And all my father did was trying to get Celestia to stop endangering ponies against threats that only gods should handle, not average mortal ponies or at best demi-gods. There was legit times they could've ended up dying from those fiascos! He doesn't do it out of true hate for Celestia, he does it cause he cares for Equestia's well being and he just simply thinks Celestia should stop being a confusing ruler and be much more conventional and not so quick to take iffy risks based on hunches even she's not so sure on! Isn't Equestia about understanding and forgiveness since our realigen is based on what aliens and non-ponies dubbed as "A pet name for an allience"? Isn't Friendship about that? Do you all see what I am getting at now?!"
Pony 1: "I TOTALLY UNDERSTAND!?"
Audience: "WE ALL UNDERSTAND!?"
The Audience cheers for Octavia.
Sir Octive: "..... My daughter, you, you managed to get away with criticising Celestia, and, the people liked you for it. And you were so worried your reputation is gonna be ruined over it."
Octavia: "Well, again, I did it in a way that's respectful and neutrol. I acknowledged the issue, but, I wasn't being an ungrateful fool about it. Again, no offence. Now, let's get out of here. I am surely unlikely to get any element dispite being favered by the people for my speech, and also to keep you out of The Black Staillian Asylum."
Sir Octive: "Thank you, Octy. We'll live to make Celestia reconsider her risk taking anoth-"
Octavia: "Don't push it. These people still think your a jerk. They liked me, sure, but they still have the right to have a serious beef with you."
Sir Octive: "Oh, Alchourse."
Octavia tries to leave with Sir Octive.
Shifu notices at the forgiveness jewel was glowing from the whole thing.
Po: "Uh, Miss Octavia, wait!"
Sir Octive: "Uh-oh, too late, Celestia's supporters are still after us, let's amstray!"
Twilight teleports in front of them!
Twilight: "It's not that, Sir Octive. It, concerns the Element of Forgiveness."
Octavia: "What about it, Princess Twilight?"
Twilight: "..... I, don't know how to say this without upsetting your father..."
Octavia: (The gem chooses her)... The... The Forgiveness Gem actually chose me?
Sir Octive:... Really?
Celestia: It chose her because she has the knowledge to forgive somepony so criticizing, even when fearing it would ruin her life, regardless if it was family. Her forgiveness gave her the courage to stand up for her father, and thus she earned the right to wield the Element of Forgiveness.
Sir Octive:... I...I 'm speechless here. I don't know if my little baby can go out and take on a spirit of destruction.
Octavia:... Don't you believe in me, father? I mean, no offence, but considering your normally against ponies being risked of their lifes, I kinda figured you would flip out over this sort've thing and-
Sir Octive: Don't get me wrong, I'm, FAR, from approving this, but... Even I won't dare get in a way of a legit emergeny, my own feelings as a father aside. So, do I believe in you? I do, actselly. More than anything, Octavia.
Octavia: Then will you believe me when I say that... I will be fine?
Sir Octive:... (Looks at the audience)... (Sighs) Alright, as controversial as this decision is, I'll let you go through with it.
Octavia: Thank you, father. Perhaps this decision will prove that Celestia's actions, though often senseless, always work themselves out in the end. (The two hug)
Icky: JESUS, THERE'S SO MUCH LOVE IN THIS PLAZA!! PLEASE MAKE IT STOP!!
Shifu: Well... I guess the next element is... The Element of Passion.
Octavia: (Sees Vinyl giving her a hoof-up)... Thanks for inspiring me to have the nerve to stand up for others and myself, Vinyl. You seem almost like a sister to me. (Vinyl blushes)
Vinyl does some poses.
Octavia: "Ok, I suppose this is worthy of a celebratory "jam sesson", but can't it be after-"
Vinyl made her equiptment appear from nowhere.
Octavia: "..... Appearently not."
Vinyl starts to play is as this music plays.
Marty: "NOW THESE ARE JAMS!? WHOOOOOOOOOOO-HOOOOOOOOOOOO?!"
Pinkie: "GO VINYL, GO VINYL, IT'S YOUR BIRTHDAY, IT'S YOUR BIRTHDAY!? WELL, NOT FOR ANOTHER SEVERAL DAYS AT LEAST, BUT METATHORICLY SPEAKING!? WHOOOOOOOOOOOOOOO!?" (The Element of Passion immediately chose Vinyl)...
Octavia:... Vinyl... You were chosen as the Element of Passion?
Celestia: Yes, it appears so. Creating music this intense and enjoyable takes the greatest passion of all. It's passion like hers that have made our Alicorn ancestors fight the hardest against Tyranny. That's why she is the perfect pony to wield the Element of Passion. (Vinyl was surprised, and continued the music)
Bon-Bon: YAAAAAHHHH!!! TOO LOUD!!! TURN IT DOWN!!! (Vinyl quickly did that as she smiled nervously)... (Shrugs)... Pardon me, but I need some time to recover. (Leaves)
Shifu:... Well... Now then, let's move onto the Element of Tolerance.
Bon-Bon: (Sitting somewhere isolated)... Oh, great, Tolerance. I wonder who it might be.
Dr. Whooves: Bon-Bon! (Arrives) I can't believe what I just found about you.
Bon-Bon:... What exactly DID you find out about me?
Dr. Whooves: Listen... I think I found your wallet when I went outside of canterlot for some fresh air after... (Shrugs) EUREKA TRICKED EVERYPONY INTO SCOLDING ME AGAIN!!!... And... I just needed to ask... Where did THIS come from? (A hidden compartment in her wallet reveals her secret identity)
Bon-Bon: (Gasps)... YOU LOOKED INTO MY WALLET?!?
Dr. Whooves: I can't believe you were a secret agent, Bon-Bon, or should I say, Sweetie Drops. You actually worked for an anti-monster agency here?
Bon-Bon: Okay, SHUSH! (Looks behind to see that nobody noticed)... Do you know how my wallet got there?
Dr. Whooves: Beats me. Maybe somepony stole it and misplaced it or- (Lyra was heard screaming)
(Lyra): AAA-HA-HA-HAAAOOWWW!! MY ALONE-TIME HOOF!!! IT'S BRUISED!! (Moans) Why did I think climbing on top of Canterlot castle and sneaking into the place from there on this thingie was a great idea! These slopes are nearly-dilapidated! Ow!
Bon-Bon:... LYRAAAAAAAAA!!
Dr. Whooves: Wait, Lyra knows? Since when?
Bon-Bon:... (Sighs) I told her my secret identity when I heard that the Bugbear attacked Ponyville. I told her that the whole agency had to be shut down following it's escape, and I had to take cover as Bon-Bon to hide from the Bugbear since I was the one who sent it to Tartarus. (Shrugs angrily) And I can't BELIEVE she lead to you knowing about it! And she promised me she would keep my secret identity a secret without any mistakes! (Slowly sobs) I thought we were best friends! (Sighs) Why did I ever bring myself to be best friends with a weirdo idiot?!?
Dr. Whooves:... Look... Bon-Bon... I know you're upset that Lyra accidentally did this, but... If you're truly her best friend, you'll understand that she didn't mean to. If she was able to keep this a secret for a long time, then you know she was at least trying. She may not be perfect... Let alone normal for that matter thanks to her... Odd obsession with human hands... But, she's still your best friend. You still tolerate it, don't you?
Bon-Bon:... Well... I suppose I can let it slide. As long as nopony else knows.
Dr. Whooves: You have my word as a gentlepony that I will stay shut about it. So, just accept Lyra for who she is, a clumsy pony and a pretty odd one.
Bon-Bon:... I will. (The Element of Tolerance suddenly glows, and the magical mist trail darts directly to Bon-Bon) WHAT THE TARTAUS?!?
Celestia: (Sees Bon-Bon, and recognizes her)... (Silently) Special Agent Sweetie Drops?
Twilight: Bon-Bon?
Bon-Bon:... Did I... Uh... Did I do something wrong?
Twilight: "Well, the element of tolerence wouldn't choosen you otherwise, so... No."
Bon-Bon: "Wha-duh-huh-blah! It choose me!? Uh, but, it might get in the way of my candy shop, (Wispers to Celestia) And my covert undercoverness until the Bugbear and the other Bug-animals are stopped."
Twilight: "I can hear you, Bon-Bon. And what're you talking about?"
Buzzing was heard!
???: "AGENT SWEETIE DROPS!?"
Bon-Bon: "...... Oh no."
Bon-Bon peaks outside to see three figures buzzing into the arena, shocking ponies and non-ponies alike!
They reveil themselves as a Bug-Wolf, A Bug-Fox, and a Bug-Badger.
Batty: "(SCREAMS), IT'S A WOLF!? A HIDIOUS MUTANT LAB EXSPEARIMENT GONE HORRORABLY WRONG WOLF!?"
Lucky Jack: "YOW?! IT'S AN INSECTIVOUS FOX?!"
Private squeals like a girl!
Private: "MUTANT BADGER?!"
Bug-Wolf: "I know your out here, Agent Sweetie Drops! We saw these (Brings out one of the posters) Silly posters everywhere in Equestia! Likely you would've came here eventally!? So come on out, or do our big friend here have to get nasty with the ponies and non-ponies?!"
The Bug-Bear slowly dramaticly reveiled itself and roared!
Bug-Wolf: "So, by order of the great Snakemantis, we demand that you show yourself now, Sweetie Drops, or we're gonna start painting this town red if you catch mah drift!"
Bug-Wolf, Bug-Fox, and Bug-Badger started to laugh outloud!
Bon-Bon: "..... Oh no! What can I do?"
Twilight: "Wait a minute, they're looking for you? Your Sweetie Drops?! What is going-"
Bug-Wolf: "Tick-tock, tick-tock! Clock's ticking, Agent Sweetie Drops! You have 3 minutes to comply?!"
Bon-Bon was conflicted.
Bug-Wolf: "2:59! 2:58! 2:57! Oh fuck it, that takes to long! 5 seconds?! 5, 4, 3, 2, on-"
Bon-Bon: "STOP?!"
The Bug Animals are confused.
Bon-Bon forcefully came out, shocking everyone!"
Octavia: "BON-BON!?"
Bon-Bon: "...... You don't need to threaten everyone.... You got me right where you want me, you tartarus escapees."
Bug-Wolf laughed and chuckled!
Bug-Wolf: "Ahhh, Agent Sweetie Drops! We meet once again at last! You and the rest of those agents of the Monster Fighter Squad are gonna pay for locking us up in what's asentally the greek verson of hell, Sweetie Drops?! And what better time to do it while that knuckle-head Tyranny causes ponies to find people to use the infamous Elements of Peace! Well, he's perfect for us to use as revenge! And that's gonna happen by taking away the appearent Element of Tolerence (Points to the jewel flouting next to Bon-Bon)."
Bon-Bon: "..... You monsters are NOT taking this jewel?!"
Bug-Wolf: "Who said anything about the stupid jewel? It can't be destroyed or corrupted anyway, not even by Tyranny! We're came to take away YOU?!"
The Bug-Animals charged!
As the Kill Bill theme played, Bon-Bon actrobaticly dodged the Bug-Animals!
Marty: "DAMN GIRL?!"
The Bug-Animals quickly turned around!
Bug-Wolf: "Almost like the old times! Bug-Bear, attack head on, Bug-Fox, attack from the side, Bug-Badger, the other side, I get the rear!?"
The Bug-Animals got into position!
Bug-Wolf: "On my mark, 1 2, skip a few 8 9 10?!"
The Bug-Animals charged as Bon-Bon leaped up in the air and spinned around as the Bug-Animals ended up crashing into eachother!
Bug-Badger: "I thinks it's TOO MUCH like old times."
Bon-Bon landed dramaticly!
The Bug-Animals quickly regathered themselves!
Bon-Bon stood posed to fight as the Bug-Animals slowly approuched her.
Lyra's voice: "BON-BON!?"
An exploudion was heard!
Bon-Bon, the Bug-Animals, and everyone else as the Kill Bill music stopped, looking at Lyra on Whooves' device that started to fly across the top and heading torwords the Plaza at quick speeds!
Lyra: "(As her mouth was pulled by the force): "I'M COMMMMMMMMMMMMINGGGGGGGGGGGGGGGGGGGG?!"
Pinkie: "AND JUST SO WE'RE CLEAR BRONIES, IT'S NOT A JOKE FOR THE INTERNET TO ENJOY!?"
Lyra was heard screaming as the device took flight and flew around the area!
Bon-Bon saw that a piece of rope was tied at the end and saw a chance to grab it!
Bon-Bon quickly made a run for it as the Bug-Animals who quickly noticed were too late to nab her there and then!
Bon-Bon ran for a abit, then started to do some gynastic frontword flips, then jumped on the platform and leaped up to the air, doing fast frontal flips and grabbed the rope by her hooves and surprisingly kept a good grip!
Lyra was was still screaming as Bon-Bon Started to climb in, front-fliped up and got into the cockpit and grab Lyra from behind and held onto the controls with her!
Bon-Bon: "It's all-right Sweeite! I'm here!"
Lyra looks behind her, and screams!
Bon-Bon also looks behind her and donned a battle-ready face and saw that the Bug-Animals are quickly chasing after her!
Bon-Bon: "WE HAVE TO LEAD THEM AWAY FROM HERE?!"
Lyra: "HOW?!"
Bon-Bon: Don't worry, I got a plan! By the way, did you borrow my wallet?
Lyra: Yeah, why?
Bon-Bon: Dr. Whooves found it, and... Found the hidden agent ID.
Lyra: WHAT?!? HE KNOWS YOU'RE A SECRET AGENT?!?
Bon-Bon: Well... Everypony does now, thanks to those bug creatures.
Lyra:... Well, crap, so much for you being undercover. Sorry about that.
Bon-Bon: Don't worry, I should've told the others about it, otherwise this attack never would've happened.
Lyra: "Well, tecnecally, they would've came anyway reguardless of whether your friends knew about your life or not and-"
Bon-Bon: "Please don't ruin a dramatic moment with tecnecality, it makes it taken less seriously."
Lyra: Sorry. So what's your plan to get these beasts away from the area?
Bon-Bon: This device will run out of fuel eventually, so I think it's up to me. It's the only way I'll lead those beasts out, and keep you safe.
Lyra: YOU MEAN I HAVE TO JUMP?!?
Bon-Bon: Here, take this parachute! Just pull this cord to open it when you get too close to the ground. Now GO! (She pushes Lyra off the device as it took off with Bon-Bon and the Bug Creatures followed her)
Lyra:... Oh, crap!  (Quickly opens her parachute, only to accidentally rip it with her horn, and she fears for her life as she falls, then suddenly the parachute the opens anyway, stopping her fall, and she briefly continued screaming until she realized she was okay)... Whew! (She eventally lands, gets the Parashite off and realise she's at the center of the plaza arena, and looks like a darn fool).... (Sheepishly) Ta-daaaaaaaa.
Twilight: Lyra? Are you ok? What were you thinking, you could've injured yourself?!
Lyra:... Sorry! (Chuckles) I was just trying to find a quick way inside.
Rainbow Dash:... Couldn't wait for the line?
Moondancer: No, she really couldn't. She got through a part of the line by telling ponies about her family being famous Lyre makers.
Tigress: Lyra... Did you know Bon-Bon was a secret agent?
Lyra:... She told me when that Bugbear attacked. She just... Never told me about those other bug creatures.
Celestia: Hmm... Did you tell anypony else?
Lyra: No. She asked me to keep it a secret. But... She told me that Dr. Whooves was the first to find out because... I might've accidentally left her wallet in plain sight for him to find. (Suddenly, the Element of Imagination mysteriously chose Lyra)... Uh... What's this?
Celestia:... Hmm... Interesting. It seems the Element of Imagination chose you as it's master.
Lyra: What?
Background Ponies: WHAT?!?
Twilight: WHAT?!?
Boss Wolf: (Does Nostalgia Critic 'WHAAAAAAAAA?!?')
Lyra: "Ok, why are you people acting like that's the stupidest idea in all of Equestia?"
Chi-Fu: "Do you want the LONG list or the short list?"
Lyra:... Short.
Icky: Well, one, you've proven to be fond of human hands, and Twilight even says you m********* to pictures of human hands on the Internet, you're socially awkward, bronies spread rumors that you and Bon-Bon are lesbians due to your strange interactions-
Lyra: "But I am in a relationship with Bon-Bon. Only, I'm actselly the the gay one here, Bon-Bon's bysexual."
Icky: As much as I am corrected, that only proves my point. But most importantly, you have NO sense of imagination. In short, you're a weirdo.
Lyra:... You really had to say those things about me... In front of an entire audience?
Icky: Oh, it's no surprise to them either. They watch their own show as much as we do.
Lyra:... So... You actually think I'm not qualified to be the bearer of this element? But, I thought it was pretty, imaginative for me to make a dramatic enterence.
Icky: "Ok, slight correction, you have a LIMITED imagination. I figured it would've gone to someone with WAY more imagination."
Twilight: Well, we still have to roll with it since it chose you. We need to find out why it chose you though.
Octavia:... So... We're all supposed to bear these Elements as a team... And friends at the same time?
Crane: It looks that way, yes. (The audience at first was hesitant until they immediately erupted with applause)
Derpy:... They're... Actually applauding us!
Lyra: "Oh man, when Bon-Bon comes back with that fancy prototype of Whooves she'll love this and-"
Dr. Whooves: GREAT WICKERING STALLIONS!! YOU DON'T MEAN YOU USED MY HYPERWORKS POD 9000, DID YOU?!? I THOUGHT THAT BLASTED THING LOOK FAMILIER!? STUPID STUPID STUPID ME?! THAT THING WAS A PROTOTYPE THAT ONLY HAS A STEAM ENGINE THAT RUNS FOR ONLY 5 MINUTES!! BON-BON COULD BE IN TROUBLE BY NOW!!
Octavia:... (Vinyl looks at her and nods at her)... Are you saying we should help her? Are you kidding, those beasts looked dangerous!
Lyra:... Let's do it anyway. I owe it to her after I accidentally gave away her secret identity that... In actuality wasn't gonna be a secret any longer anyway.
Dr. Whooves: But how in the name of Celestia are we gonna find her? She could've landed anywhere.
Lyra: There's a smoke trail in the sky. (Points it out to the sky, and the ponies and the other heroes see the smoke trail leading towards the Everfree Forest)
Dr. Whooves: By my calculations, it would seem the rocket will be crashing in... The Everfree Forest!
Icky: "Again? Why do we always go there? It's not even that scary to you people anymore now there's an entrie cave of horrors further down a stream somewhere. Not to mention it has it's own inhabitants in the form of an ape-pony and a magical zebra."
Dr. Whooves: Oh, yes. Rumors about Mare-Zan had spread quickly since Twilight and her friends first met them. As for the zebra, she's infamously known, though seems to get along more with the ponies of Ponyville.
Twilight: Indeed. Plus, the two know each other all too well since Zecora made Mare-Zan immune to many afflictions including poison-joke, and even healed her after she fought the manticore that killed her biological parents. Heck, she even watched as we first defeated Nightmare Moon.
Rainbow Dash: So, let's see if we can find Mare-Zan when we get there. She's sure to have noticed the crash.
Everfree Forest
Bon-Bon: (Recovers from the crash)... Uh-oh! Not the Everfree Forest! (Buzzing was heard as she tried hiding somewhere, hiding in a bush)...
Bug-Fox: (The bug-creatures find her) There's no use hiding, Sweetie Drops! (Bon-Bon hides in a lake, scaring off fish, and stays still)...(They poke their heads underwater) (Gurgling) You can't hide from us! (Bon-Bon gurgle-screams and runs out, and hides in a cave)...(They appear behind him) You're gonna look good on our mantle, Drops! (The bug creatures continue chasing her down)
Bon-Bon: HEEEEELLLPPP!!! (Her voice echoes, and catches the attention of a familiar figure, and the figure flies down and grabs Bon-Bon) What the?
Mare-Zan: (Bon-Bon notices her) Do not worry. Mare-Zan is here.
Bon-Bon: Oh, hey, you're that Everfree ape pony, right? I can handle myself.
Mare-Zan: It doesn't look like it.
Bon-Bon: Have you even fought creatures from Tartarus?
Mare-Zan: Bug creatures are no obstacles to Mare-Zan. She has fought against Bugbears from their territory far across Celestial Sea.
Bon-Bon: Yeah, Snakemantis' old hideout. You must be a very proud defender.
Mare-Zan: Just hold on.
Bug-Badger: Get the wild-pony! (They fly after Mare-Zan across the forest, and even go near Zecora's home, and it's shown they hid behind it and lost the bug creatures)
Mare-Zan:...See, what'd Mare-Zan tell you?
Bon-Bon:...Is this the home of that zebra?
Mare-Zan: Yes. Zecora good friend. Helped Mare-Zan recover from fights and afflictions.
Bon-Bon: Of course she does.
Zecora: (Comes out) Mare-Zan?
Mare-Zan: Hello, Zecora. Mare-Zan rescued this pony from bug-creatures from Tartarus.
Zecora: Oh, yes, bug-creatures, abominable creatures. Said to magically created for horrible and criminal features.
Bon-Bon:...Does she always speak in rhyme?
Zecora: Not exactly.
Bon-Bon:... Well, thanks for the assistance, but I must get back to Canterlot. I was chosen for something important. There's this threat in the Frozen North that's going to threaten to destroy civilization until we can use special Elements to defeat it. Originally, this threat was likely lost, but, the elements being reveiled now, well, it's only a matter of time before this threat senses it.
Frozen North.
Tyranny sat frustraightlyedly on the rock.
Tyranny: "IT'S HOPELESS, I AM NEVER GONNA- Wait.... I sense something..... Feels like...... (Chuckles evily).... My old foes returned. Makes sense cause of my own return. If I wish to have any fun at all with my new freedom, I have to take care of a few things first. And I wager they are at the Equestian Alicorn Capital: Canterlot."
Tyranny began to laughed as he took to the skies and fly!
Tyranny: "Best part, I finally get to leave this stupid artic!?"
Everfree.
The Bug-Creatures are still screarhing for Bon-Bon and Mare-Zan.
Bug-Wolf: "Grrr! I can't believe Sweetie Drops dudged us again!"
Bug-Fox: "I am not fond of it, either, darling."
Bug-Badger: "I know the big boss is gonna flip his lid over this."
Bug-Wolf: "Then we're simply are not gonna leave until we get Sweetie Drops! And nobody's gonna bloodly make us!"
???: Oh, really? (The heroes teleported in)
Celestia: So, it seems your master in the Bugbear Territories has finally found you, huh?
Lyra: Now it's all YOUR fault her secret identity is known all across Equestria.
Bug-Fox: Oh, sure, so it's OUR fault that the Bugbear told our master everything about where to find Sweetie Drops.
Mushu: Okay, I'm confused here, who is Sweetie Drops?
Lyra: I told you, it was Bon-Bon's REAL name. She was a secret agent, remember?
Mushu: Then why did you tell us if it was supposed to be secret?
Lyra:...(Face-hooves herself)
Celestia: You're not laying a finger on Sweetie Drops, bug creatures! We'll stop you if you try to resist.
Private: (Still shivering at the Bug-Badger)
Skipper: Private, I know you're afraid of badgers, but come on! You can't be a puss every time we have to fight a badger. Hell, we fought a badger before.
Private: That was Adrian. And all we did to him was reincarnate him. We didn't even fight him once. Celestia sort've did it herself.
Lord Shen: And as some sort of... Medusa creature. Why didn't you tell me about that?
Celestia: There's no time, Shen. We must rescue Sweetie Drops.
Shenzi: Alright, you bugs! Where's Bon-Bon?
Bug-Wolf: You're asking us that when she's not here?
Banzai: You're just trying to hide her from us to get out o us fighting you.
Bug-Badger: Well, search the place yourselves, then. I think you'll be rather surprised. (The heroes search the area for a while)
3 minutes later...
Twilight:... Well, guys, their alibi seems pretty legit.
Patrick: Really? When did we agree to put them to sleep? Aren't we supposed to beat them up until they cough up Bon-Bon?
Squidward: (Face palms himself) 'ALIBI', not 'LULLABY'! As in a justified explanation of innocence.
Patrick: Oh.
Luna: Still, we must turn them in.
Bug-Fox: HAH! Joke's on you, nightingale! Snakemantis will break us out. And he's changed his hideaway now. No matter where you search in the Bugbear Territories, he'll be safe and sound. And trust me, even simple beatings will never make US tell you where he is.
Lyra: I'm sure Bon-Bon will put your master in his rightful place someday. And perhaps even the anti-monster agency won't stay gone for long. Once Equestria hears the agency was the only thing that stood between your master and Equestria, the agency will be right as rain again. You unknowingly exposed your bosses' influence by trying to expose Bon-Bon! I'm sure he'll NEVER take that information well.
Bug-Badger:... (Shrugs) SHE'S RIGHT!!
Bug-Fox: I TOLD YOU IT WOULDN'T WORK IN OUR FAVOR IN THE END!!!
Bug-Wolf: JUST SHUT UP! So what if Ponyville knows about Snakemantis? We can still find a way to make sure that agency never gets restored.
Twilight: Try all you want, it's never gonna follow through. Not as long as there are those that will protect Equestria like us.
Bug-Wolf: "Like you can do anything to-"
The Mane Six activated their Rainbow Power forms.
Bug-Badger: "...... Oh yeah. They can do THAT."
Bug-Wolf: "...... TACTICAL RETREAT!?"
The Bug-Creatures retreated!
Icky: "AND GOOD RIDDENCE, YA ANAONMIED INCORRECT FREAKS!?"
Dr. Whooves: Alright. Now we just need to find the Hyperworks Rocket. I can already smell the exhaust a mile away.
Melman: But which way do we go?
???: No need to search for the rocket. (Bon-Bon and Mare-Zan appeared)
Bon-Bon: Because I'm okay.
Lyra: BON-BON! (The two hugged) I'm so glad you're okay.
Bon-Bon: (Notices the Element of Imagination on her neck)...You were chosen to be an element-bearer?
Lyra: Yeah. The Element of Imagination, to be exact.
Bon-Bon:... I never thought you were the one for... Imagination.
Alex: Oh, trust me, we have no idea why it chose her either.
Lyra: So... Who WERE those bug creatures? And who is their master they call 'Snakmantis'?
Bon-Bon:... (Sighs) I was meaning to tell you about Snakemantis for a while. He's a snake-mantis hybrid that our anti-monster agency had to fight every day. He's the creator of the Bugbear in his hideaway at a territory across the Celestial Sea, as well as the creator of several other bug creatures. Now why it's named "Bug-Bear Terratory" is simply because the Bug-Bear is the most infamous of the Bug-Creatures. Behind Snakemantis.
Kowalski: And here, I thought the Bugbear was just an imaginary being invoked to frighten children. Typically a sort of hobgoblin supposed to devour them.
Bon-Bon: These Bug-creatures are obviously diifernet, and they've been around for centuries. Snakemantis is a mutated rogue magical creation of an old pony sorcerer that terrorized Equestria since the day he was created. The Bug-Bear and the other bug creatures served as his minions. But after several more attacks, we had to hold off the bug-creaturess. Alchourse, our agentcy didn't solely existed to fight those freaks alone. The Agentcy existed even before the creation of Snakemantis. Let's just say, Equestia has more monsterious threats then the show, the comics, and even the adventures of the Lougers have let on. Sometimes they're natives gone super-rouge, sometimes they're a grave mistake of a creation of pony magic, even.... One of our own kind gone to nearly Sombra levels of contaminated purity.
Po:... Well, gee, your double life sucks.
Bon-Bon: Not so much. I've been in the agency since I was 18. Eventally, I had the Bug-Bear, his friends and Snakemantis banished into Tartarus.... But, appearently thanks to a pedophilic pan-dimentional magi zebra causing Cerberus leaving his post, in due part of Snakemantis' trickery, they're back with a vengence again, along with every other monster the agentcy stopped in the past, monsters worse then the Bug-Creatures. And for some reason I can't understand, it was actselly considered a brillient idea to shut it down as a security measure to prevent the things from invading Canterlot. Honestly, the board are SUCH idiots sometimes!
Icky: "Classic case of higher-up resentment over here."
Octavia:... Well, Bon-Bon, perhaps you could've trusted US with the secret as well. We'd be more than happy to have backed you up should that creature return. But now all of Equestria knows.
Bon-Bon: (Sighs) The agency was bound to be discovered anyway.
Mare-Zan: Luckily, Mare-Zan rescued Bon-Bon from bug creatures. Had her minor injuries healed by Zecora.
Lyra: Thanks. We thought we'd never make it in time.
Dr. Whooves: "Could we at least rethrived the Hyperworks Rocket before anything happens to it?"
Elsewhere.
Tribal Hobgoblins are seen crawling around the rocket and spoke in a tribal languise.
Dr. Whooves: (Sees the hobgoblins on it)... Oh, dear. It could take me weeks to get the thing fixed.
Mare-Zan: (Does a menacing call that scares off the hobgoblins)... Hobgoblins are easily frightened these days.
Dr. Whooves: (The ponies tried carrying the Rocket, but it is too heavy)... Blasted thing won't budge. How will we get it back to the lab?
Dr. Whooves' Lab
Dr. Whooves: (The heroes teleported there)... You know, I was about to suggest that.
Celestia: "Well now that everything's all covered, we must return to Canterlot to explain the situation. I fear bringing the elements of peace out to light will end up attracting Tyranny here."
Skipper: "Like a shark to a wounded seal."
Icky: "..... And you'd thought it was a good idea to bring out the jewelery and LEAD HIM HERE!? What if we were fine with the big doof just being lost in the artic? He would eventally be frozen over again! Problem slove, episode un-nessersary!"
Lord Shen: "Prehistoric one, Tyranny may've had a bad sense of direction and is more or less a moron, but even morons can find out their next destination eventally! Had we left him alone, he could've ventured into the Christail Empire! At least like this, he'll be MUCH more focused dealing with the very things that wronged him instead of his own bro-ha-ha!"
Twilight: Then we'd better get ready to defeat Tyranny as soon as he arrives.
Luna: Well, he'll still have a hard time knowing where Canterlot is. He knows what it is because of being able to hear things even when frozen, yet he doesn't know where it is because he's never BEEN there. We've still got time to teach these 6 ponies how to wield their elements. And believe me when I say that wielding the Elements of Peace is far more different than wielding the Elements of Harmony. These Elements have more power than all 11 Elements of Harmony combined, and it leaves a small strain if you aren't careful.
Celestia: Exactly. Which is why you six need training.
Lyra: Are you serious? We need training? Come on, Tyranny is on his way, and even if it takes him a hundred years to get here, how are you gonna train us in time?
Bon-Bon: Indeed. Some of us, if not only me, are not experienced enough to be heroes.
Dr. Whooves: Indeed. We're happy enough with our own lives.
SpongeBob:... Are you happy about that Eureka guy who you claim is stealing your work?
Dr. Whooves: Look, I am only happy to be a genius despite all that poppycock Eureka had put me through. He's a sick conspirator, and he has a whole ton of praise he doesn't rightly deserve. Sure he gave us ponies electricity, TV, and all that stuff, but he's ruining himself by stealing from another genius who had done nothing in his life. Alchourse I wagered you people still don't believe me cause of the qoute-on-qoute "Jinx". (Sighs) I just don't understand! Why in Tartarus is he so against me?
Shifu: We'll figure that out later. Right now, it's important that we get you ready to face Tyranny.
Octavia: "Oh please, what's so difficult on firing a magic rock on a threat? You just, do it, right? Just one shot and it's all briage under the water."
Icky: "(Scoffs), You think it would be that easy, little miss daughter of an unpopular critic?"
Octavia: "Well, yeah. Otherwise we'd still be suffering from Nightmare Moon alone, give or take the other problems of Equestia if it was impossable."
Celestia: Oh, but you're wrong. Wielding these elements takes more than that. It requires proper training, because even the slightest wrong move could end up in an accident. Even if we de-augmented the power of those Elements, wielding them can still be dangerous.
Octavia: Oh, of course, it couldn't be easy.
Derpy: And what's to say when we come across Tyranny, he won't end up vaporizing us into thin air?
Celestia: "You would think that, but, surprisingly, no, he actselly won't. Once the Elements of Peace choosen you, their indestructablelity to Tyranny will imply to you. He can't destroy you, you can't destroy him."
Dr. Whooves: "So, he can't litterally just conjure up a fire ball and blow us up with it?"
Luna: "Nope."
Derpy: "He can't drown us?"
Luna: "He would end up making you wet, but no."
Octavia: "Well why not freeze us? It doesn't inhereditly kill or right away, but it will count as something."
Luna: "The Elements of Peace act like mini stoned suns. Any Ice based tricks would faulter. Besides, Tyranny is likely tired of ice at this point due to his brief misadventures."
Frozen North.
Tyranny: "I AM SO FREAKING DONE WITH ICE AT THIS POINT!?"
Back to Everfree.
Bon-Bon: "Well, what about throwing us into the sun? It's tecnecally not him killing us."
Celestia: "Yes, but he'd be the one to have thrown you, and the elements of peace will quickly teleport you away from the projectory."
Dr. Whooves: "What about crushing us with a boulder?"
Luna: "Worse that would happen that you'll end up cartoonishly flat like something out of a Looney Tunes cartoon."
Derpy: "Throwing us into a volcano?!"
Luna: "Again, the emergency teleportation thing."
Octavia: "Feeding us to sharks? Up! That he didn't create!"
Celestia: "He would still be respondsable of making you encounter them to begin with, so the elements will make you magicly unappitasing to the sharks."
Lyra: "Well, if you put it like that, we're pretty much freaking indestructable. Tyranny is gonna whine like a baby when we're done with him."
Celestia: "We should mention that all that is only true, provided you still have the stones with you. He removes them from your procession, then he's free to do what he wishes."
Octavia: "Oh great! Now all he has to do is remove the darn things and-"
Luna: "Don't worry, cause there's three things keeping that from happening. 1: Ironicly, in terms of dealing with the Elements of Peace, he doesn't believe in cheating like that. He wants to demonstraight his "superiority" fairly. 2: He can't magicly teleport the jewels to himself or elsewhere because Peace and War counterbalence eachother, but he can touch them physically once they are seperated from their owners and the said owners are defeated, and why is so? Cause 3, if he tries to grab the Elements and the Owners refused to defeat or have not been defeated yet, even if the jewels are seperate, the elements will violently burn his skin."
Octavia: "How violently are we talking?"
Luna: "... Ever seen the First Indiana Jones Movie?"
Octavia:... Sadly, yes. That ending scene is needlessly disturbingly cruel and unusual, even onto nazies.
Skipper: "Hey, when it comes to give jew haters and mentally retuard killers like them just deserts, there's no such thing as an over-kill punishment."
Celestia: Long story short, anything Tyranny tries to do to stop you will be useless. But he doesn't need to truely destroy you to count as a victory if he can easily defeat you if you aren't properly trained, and that's why we need to do it right away so it won't be a factor. Believe me, you will be okay.
Octavia: (Sighs) I hope so.
Chapter 4: A Not-Very-Impressive Starting Training Session/Tyranny's Awkward Changes
The Canterlot Collusium.
Icky: "Ahhh. The Canterlot Collusium. Brings back memories of when we first came here."
Lord Shen: "Please don't remind me. Not only was it far from positive to me, it's still in hiatus! So no spoilers!"
Lyra: "So, what have we come here for? It's not even sedguled to hold any big fights until next year."
Celestia: "We came here to give you some "Training Threats" to hone in your skills. You'll each be given a beast of Equestia to deal with individually. If you all can handle creatures of everfree and beyond, you can last more then litterally an embarising 5 seconds against Tyranny. You'll go first, Whooves."
Dr. Whooves: "Alchourse your majusty."
Whooves was teleported to the arena.
Luna: "To prove your worthy of the element of intelligence, you need to use it to be able to survive against a vastly strong foe. RELEASE THE BADLANDS MOUNTAIN TROLL?!"
A gate was raised as A Mountain Troll in Badlands Attire simular to the troll from the Harry Potter movie came in moaning and groaning.
The Troll looked angerly at Dr. Whooves and moaned as he lifted his club in a fighting stance.
Dr. Whooves: "Trolls..... It always had to be trolls! (Runs before he can be whomped, and he constantly dodges the troll's attacks)... (He jumps on the troll's back and punches it in the back of it's head trying to knock it out)... THE BACK OF HIS HEAD IS TOO THICK!!! GREAT WICKERING STALLIONS, HOW DURABLE IS THIS UGLY HUNK OF LARD?!? (The troll took offense to that, threw him off his back and into the ground, and actually smashes him into the ground with his club. Though it didn't kill him, he only came out with a lump on his head and several Dr. Who Time Machines spinning around his head)... (Dazed) Mommy, he followed me home, can I keep him?"
Icky: Aye-aye-aye, it looks like he needs some practice.
Celestia: Apparently.
Phil: "Gees! Maybe that Eureka guy was right. He is a moron! A real genius would've been able to find a way to use that big palooka's strengh against him!"
Twilight: This is just his first time in a fight. You can't blame him for that. Let's just get him out of there and see how the other ponies fair out. And let's be sure to make it EXTREMELY difficult for Sweetie Drops since pinning her against something as common as a mountain troll would be too obvious.
Fidget: But what kind of monster is qualified enough to stand a chance against a monster-fighter?
Later...
Bon-Bon: (Is teleported in)... What exactly am I fighting, Princess? I'm an expert in fighting several monsters.
Celestia: Don't worry, this monster is something you've never had the chance to be trained to fight before the agency was shut down. It was considered a Level 10 monster.
Bon-Bon: LEVEL 10?!? AS IN, THE MONSTERS THAT ONLY THE BEST AGENTS HAD FOUGHT AGAINST?!?
Celestia: Yes. Say hello to... (Something is released as a lion-like growl was heard, and out came a massive lion with the same coloration as Scar, had menacing monstrous eyes, had extremely sharp claws, and it's body was as gleaming as steel)... The Nemean Lion.
Kowalski:... Oh, deary me, as in the one that Hercules fought? We all know that that thing has an indestructible hide, and it's claws and teeth were beyond ANY real-life animal in existence. That thing is so strong, it could decapitate anyone with a swipe of it's paw.
Bon-Bon: "..... Oh, fuck me. And I'm only level 9."
The Nemean Lion roared!
Bon-Bon: "..... I said it before and I'll say it again. DAMN YOU BOARD OF MONSTER FIGHTER DIRECT-"
Bon-Bon was smacked by the paw of the Nemean Lion and right into a wall!
Everyone: "OHHHHHHHHHHHH?!"
Bon-Bon: "....... Ters."
Lyra: "BON-BON!? IT'S A KNOWN FACT THAT THIS PARTICULAR BREED OF NEMEAN LION HAS A TRICK-KNEE! EVEN A WEAK BUCK WILL HAVE IT CRYING FOR DAYS!"
Bon-Bon: "But that kind of genectic weakness tends to vary with these creatures!"
Lyra: "JUST TRUST ME ON IT!"
Sparx: Dude, how do you even KNOW THAT about Nemean Lions?
Lyra: What? I have the Internet.
Icky: Yeah, and a box of tissues to go with it. (Gilda smacks him) OW!
Bon-Bon:... (Dodges several attacks from the Nemean Lion, and it chases her down across the Coliseum, and manages to get a scratch on her) ARRGH!!... (Tries tackling the knees, but the Nemean Lion is too quick for her to reach it) WHOA! (She is smacked straight into a wall) OOF!... I think I chipped a tooth!
Lyra:... Aw gees, the lion is too quick for her to tackle the leg.
Celestia: I'm sure she knows what she's doing.
Bon-Bon:... (Recovers and sees the Nemean Lion charging towards her, and she rolls out of the way as the Lion charged directly into the wall, and roars)... GOD, this thing is a Level 10 monster for a reason! (The Nemean Lion charges towards her and she then bucks it in the nose, irritating it long enough for Bon-Bon to quickly tackle the knees, and the Nemean Lion roars in panic, and runs around crying back into the pin)... (Pants heavily)... That's... Done!
Lyra: I KNEW YOU COULD DO IT, BON-BON!!!
Spyro: Never doubted her for a second.
Celestia: Well, I'll get her out and heal her scratches. They're sure to be fatal in the next few minutes even when they were inflicted weakly.
Later...
Octavia was teleported into the arena as she was shaking!
Octavia: "Do I REALLY have to do this over a mere prescious stone?"
Icky: "Look, it's part of the script, just roll with it."
Octavia: ".... What?"
A gate opens.
Luna: "Miss Octavia, may we present.... THE CRETEN BULL!?"
The Creten Bull snorts and roars as it walks in.
Octavia: ".... Ok, Octy, no problem. One solution can stop this. Vinyl."
Vinyl teleports in Octavia's cello, confusing everyone, including the Creten Bull.
Octavia: "There's no more proven a method like using music to tame the most savage of beasts."
Lord Shen: "..... (To Celestia) Is a cello even the right intrement for the job? (Celestia and Vinyl points to Octavia as she began playing a soothing solo, which actually tires the Creten Bull as it slowly gets sleepy)..."
Kowalski: It's working! (Octavia continued playing until the Creten Bull fell soundly asleep)
Vinyl: (Lifts her glasses and gives Shen the 'I told you so' look)
Lord Shen: Oh, sure, music fixes everything. However, I can assure you that Tyranny is NOT one to fall asleep to a soothing melody. He'd have to be a CHILD in order for that to work. And he's like billions of years old.
Celestia: Well, we'll teach her a more adequate way to deal with monsters later. Let's bring in the next pony.
Later...
Derpy: (She is teleported in, and out from the pen comes a Nandi Bear, like the one from Imaginary Troubles, which roars viciously) (Derpy Wilhelm screams and throws a muffin, which splatters on the Nandi Bear's single eye, blinding it, and causing it to run into a wall and knock itself unconscious)... (The Lodgers had their mouths hanging open at what had just occurred)... Uh... Ta-dah?
Skipper: Well, that didn't take too long. Looks like Derpy's the victim of sheer dumb luck.
Celestia:... Well... In that case, let's send the next pony in.
Later...
Celestia: (They teleport Vinyl in)... Alright, Vinyl. Perhaps this might be one you can defeat pretty easily. Meet... (Another monster appears in the form of a literal Man-Bat with an ugly face, bloody slobbering jaws, and massive artery-covered wings as it screeched loudly)... Camazotz.
Dr. Cockroach: Oh, dear, the blood-sucking demonic creature from Mayan mythology. How is Vinyl supposed to deal with that?
Skipper: Well, knowing Vinyl, her solution to anything is only- (She gets out a large high-tech radio system)
Skipper/Dr. Cockroach: Loud music. (Vinyl blasts the music out on Camazotz, which is irritated by the noise due to it's sensitive ears, and it immediately panics and scatters as Vinyl quickly kicks it in the crotch, as it fell in defeat)... (Vinyl poked her glasses out and posed with a smirk)
Celestia:... Well, it was a good way to beat a monster with highly-sensitive ears. Well, Lyra, it's your turn.
Later...
Lyra: (Is teleported there as the pen opens up)
Celestia: Alright, Lyra. Prove to us you have the imagination to deal with... (A large bird with metallic claws, a sharp beak and a black head and neck, and bronze shining feathers and massive wings appeared and screeched loudly)... The Stymphalian Bird.
Bon-Bon: Whoa, your highness! That thing is way too dangerous for Lyra to tackle. You know that thing has Bronze durable feathers, metallic claws that could pierce armor, and a beak that can impale it's targets in one quick swoop, right? These qualities almost made it a Level 10 monster.
Celestia: I'm sure she'll be able to- (Lyra immediately started panicking as the Stymphalian Bird started chasing her, yet constantly failed to tackle her)... Oh.
Monkey: But hey, at least she's a good evader. I don't think I could avoid a beast like that.
Lyra: "Ok, you gotta think of something imaginative Lyra! (Gets a Lightbulb) I KNOW?! WAIT!?"
The Stymphal Bird actselly stops in confusion to this.
Lyra: "I should let you know, you don't wanna eat me. I'm a very talented singer. I'll prove it too! Ahem!"
Bon-Bon: "..... Oh dear god, not this song again."
The Stymphal bird gave a serious "WTF" face.
Boss Wolf: "....... WHHAAAAAAAAAAAAAAAAAAAAAA!?"
Bon-Bon face-hooved.
Luna: "..... (Wispers to Celestia) Does confusing the beast count as defeating it?"
Lyra:... Well, what do you think? (The Stymphalian Bird actually caw-laughed at her)...
Icky:... Huh? Never thought a mythological bird had a sense of humor.
Bon-Bon: Yes, she's sung this song a few times before and rehearsed it in private. It just proves to people that she's just an anthrophile. I'm sure you already know I caught her a few times... Looking up hand fetish sites.
Po:... That actually exists?
Icky: She actually m********* to hands? I mean, I've heard of the infamous foot fetish, and I know a great deal of people who take a liking to it, but HAND fetish?... This pony needs serious- (Lyra suddenly took advantage of the laughing Stymphalian Bird, and punched it in the gut, then the foot, the beak, then the crotch, as it fell screeching and subdued)... And, it actually played out in her favor.
Bon-Bon:... Wow. She actually used the classic diversion trick. Hmm. I guess I must be rubbing off on her.
Icky: "I kinda thought she'd be the one who did poorly, but so far, it's only the Dr. Who Pony."
Shifu: "Yes..... BUT YOU ALL NEED DRASTIC IMPROVEMENT! Whooves, you need to exsirsize your brain better, Derpy, don't always relie on being a kluts, Octavia, music can't slove everything, Vinyl, same to you, Bon-Bon, you need to self-train yourself to handle every level ten creature in existence through whatever guide book your agentcy gives out! And Lyra..... Try to be even more imaginative in the future."
Lyra: "(Stops beating the bird)..... But, didn't I do good?"
Lord Shen: "Yes, but only at a beginner's level. You lot have ALOT to improve apawn. You currently relie on predictable tactics even a dunderhead like Tyranny would congure. You need to diverseify your abilities."
Bon-Bon:... I think he's right, guys. We all used obvious means to defeat our monsters. If we do that to a monster like Tyranny, we'd be ridiculed or maybe even beaten. We need to learn ACTUAL combat.
Lyra: But we don't even LIKE combat. It seems pretty violent.
Bon-Bon: Fights are SUPPOSED to be violent. We're going to improve in our skills, and... I think I'd better help with that as a pony who's experienced enough. I'll train you in whatever skills in combat I learned in the agency.
Dr. Whooves: Oh, dear. I'm not sure I'm even built for combat. I'm just a scientist.
Derpy: ".... You could always use that mech thingie you were building."
Dr. Whooves: "..... The mech?"
Derpy: "Yeah. You could like, use it to fight for you since, well... You didn't handle that troll very well, so.... You can have the mech fight for you."
Dr. Whooves: "....... DERPY, THAT IS SURPRISINGLY BRILLIENT?! But wait..... One, even in the mech, I am currently not much of a fighter, and two, no powershorce!? And again, Dr. Eureka has likely given a prior deminstraight of the mech so-"
Shifu: "We'll deal with the 3rd concern in good time. Now, Bon-Bon has already offered to deal with the first concern, so let us resolve your second."
Dr. Whoove: "..... Well, my Steam Punkian Mech doesn't have a proper power shorce outside of.... Well, steam, but steam is a primitively limited shorce and, it doesn't have the rest of the adjustments I want.... It'll do nothing but punch and kick."
Octavia: "He wants to add fireworks, lazers and other fancy gizmos on it so ponies can further defend themselves outside of that kung-fu thing you showed them. Oh which we didn't get to attend cause.... Well, it didn't felt nessersary to us."
Shifu: "Well, Kolwalski will have to give many new adjustments so this "Steam-Punkian" device will be better ready against Tyranny and ready to deal with punishment."
Dr. Whooves: "I have to warn you, my inventions tend to... "Malfunction" in reaction to new tweaks."
Bon-Bon: "He means they have a habit to blow up in his face.... Litterally."
Skipper: "Well in that case, Kolwalski, your gonna have to work with Sandy and Dr. Cockarouch on this."
Sandy: Oh, we'd be glad to help improve on your mech. Who knows? It might even put that Eureka guy to shame.
Dr. Whooves: It's too late for that. He's already stolen it. As soon as he introduced it, anyone who copies it looks terrible. That's the problem.
Kowalski: Not if we add a little taste to it.
Shifu: I'm afraid it would be deceptive if we claimed it was all Dr. Whooves' idea. Besides, this is not supposed to be for competition. This is supposed to be for protecting Equestria.
Tigress: He's right. Again, Eureka is only a small job.
Dr. Whooves:... (Sighs) I'm just tired of him stealing my work and getting away with it.
Bon-Bon: As with the combat skills, me and the Kung Fu master will handle that. Lyra, I'll be sure to help you find whatever the Element chose you for.
Lyra:... I don't think I belong with this Element. I mean, I have courage, but I don't think I'm built for heroism.
Po: "I used to be an insecure dweeb myself. I didn't saw myself as anyone capable to defeat Tai Lung, and yet.... It happened. You wanna know why?"
Lyra: "You blew him up with your fingers?"
Po: "I mean outside of the Wuxi Fingering him."
Lyra: "Oh, what?"
Po: Because the douche didn't have the goodness in his heart to understand the power of the Dragon Scroll. As for me, I understood it well enough to defeat him. You just have to BELIEVE you're special. And that seemed to work out perfectly and gave me the strength to send Tai Lung straight to oblivion.
Lyra:... Oh, how classic, you have to believe, not the most original words of inspiration I ever heard, but yep, works every time.
SpongeBob: Oh, it works damn well. Yes, I know it sounds like a cat poster, but it's actually true and effective.
Lyra: If you say so.
Bon-Bon: Lyra, please. I know you can do it. And the Element knows you have the power to prove to us all that you have the imagination to take down Tyranny. All you need is training, and, yes, you gotta believe.
Lyra:... Well, I'll try, then.
Icky: "And insert famous Yoda qoute here."
Whooves' lab.
The Mech itself was seen, untouched and unused, and momentarly looks unimpressive to a certain extent.
Icky: HAH! What a train-wreck!
Kowalski:... My... You couldn't use metal instead of wood?
Dr. Whooves: I could only afford metal when I still had money. Now that my budget is downsized, I can only afford to use wood. It's especially not possible for me to get the other improvements due to the low budget. I can barely afford any metals or tinkering equipment. And it's all Eureka's fault for making all that I invented in the past worth nothing. Thus, I made no money and spent it all trying to make a perfect invention. Yet every time, Eureka stole it and claimed it as his own. The pony just wouldn't stop stealing my inventions. I don't know what made him such a thief, but I swear, the day he is discovered of his crimes, will be one of grandest celebration. He made me into a poor genius who relies on cheap power sources and mechanical components.
Icky: "Not buying it."
Rarity: I know how that feels. I was tricked into giving something away, and made to look like a copycat too.
Dr. Whooves:... You were victimized by a scammer? I feel for you. I swear, he's stolen my inventions so many times, it makes me want to invent a BETTER version of the stolen inventions, or hell, I'll just steal HIS technology and see how HE likes it.
Icky: "AHA! A confession! YOU ARE THE THIEF!?"
Dr. Whooves: "What?! Ok, that came out wrong, I-"
Lord Shen: Okay, Doc, I think that's pushing it a bit too far. I said it before, and I'll say it again. Two wrongs don't make a right. If you steal from someone who stole from you, you'd be even MORE ridiculed and treated like you are the thief.
Icky: "Which he just freaking confessed to be."
Dr. Whooves: Then what am I supposed to do? Everypony believes that I'm a thief thanks to him. He's committing a conspiracy, and has been tricking people for years. He's getting praise he doesn't deserve. Nothing I ever did worked for me. Even telling the princess and warning her about that stupidity jinx didn't work! I almost had him caught red-hooved if he hadn't brought out that stupid excuse of a lie/truth jinx. I WAS TOO STUPID AT THE TIME TO EVEN GET A DAMN JINX-FIXING PONY!!! I ONLY GOTTEN TO ONE CAUSE OF MY FRIENDS GOING TO THE ONE IN CANTERLOT AND ASKING, AND ONLY SUCH, TO REMOVE THE STUPIDITY JINX?! PLUS, I WOULD NEVER, IN ANY WAY POSSIBLE, WANT TO GET A LIE-TRUTH JINX!! That kind of jinx is punishable by imprisonment for a reason.
Icky: "Says the pony who outright admitted to steal from someone who, as far as I'm convinced, has done nothing to you. Those words you said proves that you're no better than the pony you're claiming is a thief, and so far, your confession only cements that you legitmently are a thief."
Dr. Whooves: "... I... THAT'S BESIDE THE POINT!! That act of trickery Eureka had caused and how everypony actually BOUGHT it, including ALL OF YOU, just made me want to wish HE WERE DEAD!!!"
Icky: "AHA! A thief, AND would-be murderer! (Shenzi bonks him on the head) OW!? Ok, ok! I'll stop being the douchebag here?! Ow!"
Skipper: Doc, pull yourself together! You're starting to say things you'll regret. If you said that anywhere else, you'd be in jail faster than you can prove to us that-
Dr. Whooves: (Sighs) JUST SHUT UP, ALL OF YOU!!! (Everyone did that surprised)... (Sighs) Just forget it! I'm done with all of you! You won't face the truth, then so be it. He's never going to be punished. He's just unstoppable. He ALWAYS finds a way to trick people even when the truth is dead-pan in front of everypony.... (Sighs)... Perhaps I should retire.
Derpy:... Doc, you're quitting?
Dr. Whooves: I said 'retire'. But 'quit' works just as good.
Celestia:... Doc... While we may not believe you for the moment, you can't just quit if what you're saying is true... Though it is currently in doubt, cause again.... The Truth Jinx makes what could truthfully be lies feel like truth tricking my lie detection, and I legitmently ended up making mistakes because of that jinx, and well, they're not very detectable by even the magic of gods unless you're specalised. If it is, then you'll only give Eureka the satisfaction of knowing he won over you. He would WANT you to quit. He WANTS this. Quitting is not going to make it all better.
Dr. Whooves: Why are you even supporting me? You don't even believe me! You're just like Eureka, no, beyond that, you're just like everypony else! You're against me, and you let yourself get tricked by that manipulative d***-cheese into becoming a blind fool who gives me good reason to quit. I'm sorry to sound so stern to you, Princess, but it's best if I moved on with my life. If Eureka wants me gone, he sure as hell will get it. There's no reason for me to fight anymore.
Kowalski: Yes there is! You're wielding the Element of Intelligence, something that even Eureka couldn't achieve!
Dr. Whooves: And why is THAT? Huh?
Kowalski: Don't ask me, I don't know! But that's not the point! You have the power to set things right. You had the determination to achieve a big goal. You never gave up, even when you absolutely had no chance of seeing it through. If Eureka IS a thief, though we have strong doubt, cause again, the jinxes, then he's going to be happy that you quit. It will inspire him to do the same thing to other geniuses. If you can't stop Eureka, then perhaps nobody will.... Depending of circumstances of you actselly being right. The moment you throw that determination away, he's going to do the same thing to another pony genius. Again, depending on if your actselly right.
Celestia: Indeed. And I know that, well, depends on certain things, with all the pain you might be going through, you'd be most insulted to see that the same thing will happen to another pony genius. A dream that you don't fight for can haunt you for the rest of your life. You have been trying to prove this for years.
Dr. Whooves:... (Takes deep breath)... You know what... You're right! I can't give up and let that bastard steal from other geniuses. I don't care what happens, someday, he is going to pay for his crimes.
Shifu: Then prove you can still be determined by helping us defeat Tyranny. Prove to Eureka that you will not stop, and will NEVER stop, until he is brought to justice...... Provided if your right.
Dr. Whooves: YEEEEEEEEEEEeeee..... Ok, the doubting me thing kinda killed the moment.
Kowalski: Alright, then, Doc, are you ready for us to fix up your mech?
Dr. Whooves: You sure you can afford that?
Skipper: I think you'll find that we have just enough cash to get the job finished.
Dr. Whooves: "Thanks guys, even though you all obviously still don't believe me, I appresiate your helping me on this."
Icky: "Don't read too much into it. This is mainly to keep Equestia from getting fucked by Tyranny. Otherwise, we'd be pro-Eureka all the way."
Octavia: "Ugh. Look, not that I deny the existence of truth and lie jinxes, but, if Whooves was truely a scoundrel, would a very impourent element in key requirements to stop Tyranny even BOTHER choosing him at all, outside of redemption and being "humbler"?"
Lord Shen: "Well it's not like we can ask the jewels ourselves. So unless otherwise, Whooves' situation is merely a case of a poor commener driven to crime by a high-lifer's success."
Dr. Whooves: "OK OK, FINE! You lot DON'T have to believe me for the time being! Can we please give my mech the needed changes please?"
Kowalski: NEVER rush science! (Takes out a laser torch)
Eureka Corp
Dr. Eureka was sitting on his lounge chear by his desk enjoying a good drink.
Dr. Eureka: "Ahhh, that inn party was a smashing success. So what I am not the new hero of Equestia? Big whoop. I can always settle being the icon of geniusness."
La-Te enters relucently to Dr. Eureka's office.
Dr. Eureka: "Ahh, came to see me, La-Te?"
La-Te: Doc, forgive my skepticism, but... Don't you feel that conspiracy against even the Princess is going to never play well in your favor if you DO get discovered?
Dr. Eureka: If it means that I keep this much-needed company alive, then yes. I'm not proud of it per-say, but I am not gonna bad-mouth myself over it either. It's just like my father said. Surviveal of the Geniuses. And Hoofy just doesn't play the game right. I explain it like a million times before, La-Te.
La-Te: Yet are you aware of the penalty for conspiracies, sir? Plus, tricking the Princess is twice as punishable. I'm not against you, but don't you feel worried, or even ashamed, I mean, TRUELY, ashamed, that you had to commit a worse crime in order for you to keep your job? Plus, knowing how lie-truth jinxes are very frowned upon and punishable, you might have brought Dr. Whooves into the risk of being arrested for using a prohibited curse.
Dr. Eureka: If your that worried about that, then don't worry, the Main 6 have yet to be punished for their own screw-ups. Why, Twilight herself once caused a town brawl over a silly doll while abusing a want it-need it spell, and yet SHE didn't got punished! Heck, it didn't even do anything to her appeartent fate as Princess. While the one named Pinkie Pie caused a clone invadion, Rainbow Dash destroyed the weather factory, Fluttershy caused a Parasprite invadsion, Rarity was corrupted by a book, and Applejack was extremely suffering from sleep deprivation and drunkenly poisoned everyone with bad muffins! Hell, the main 5 of the lost elements' leader Lightning Dust caused a tornado!? Granted she was punished and was before her fame to herodom, but still. Whooves is likely spared from such nonsense. Heck, no one's even complaining too much that Octavia, the appearent daughter of equestia's most unlikeable critic, is allowed to be a hero and no one bats an eye at it, heck, surprisingly, even her father isn't complaining TOO much. I basicly won in a tecnecallity. Whooves is stuck to the life of the hero, and won't be able to resume a genius career. That means I have dominated him, and I'm free to seek out another challnager. Though I doubt he/she would be as exciting as poor Hoofy was. but above all, it is not my problem, La-Te.
La-Te: It WILL become your problem if Celestia discovers that you tricked her, made a conspiracy, AND ruined a pony genius' career. You will be facing SERIOUS criminal charges here. Again, not against you, I'm just trying to see if you're aware about it.
Dr. Eureka: It sounds like you ARE against me, La-Te!
La-Te: I'm just trying to warn you, sir!
Dr. Eureka: And what makes you think they WILL catch me? I've always have won over that worthless genius. He's never going to be taken seriously. Even the normally unfailable Lougers also deemed Whooves as a charlatan! You basicly have it made if hard to convince heroes take your word as an automaticly seriousness over the crier.
La-Te: But I must remind you that he is now the Element of Intelligence, and it was just explained to you as to why that is. That shows that one day, he's GOING to prove that he was right all along. And when he does, it will NOT end well for you. You do realize that, after tricking a Princess and getting an innocent pony shunned and charged of something he didn't do, that you're gonna have to think HARDER to hide your cover. Dr. Whooves is going to do great things as the Element of Intelligence, and you can't keep this up forever.
Dr. Eureka:... (Sighs) Okay, you're right. Maybe this is a pox waiting to happen. Why I am shocked at myself for not seeing the legit severity of this, my goodness me, I am BETTER then that! Which is why I'm going to make sure he never does. So the best way to do that, is to defeat Tyranny all by myself.
La-Te:... You're going to fight a murderous blood-thirsty Draconequus? The same one that killed millions? That's suicide!
Dr. Eureka: Oh, trust me, I have just the machine that will allow me to pull it off. I've been working on a device that can easily destroy even immortals through a laser based on a potion from my best scientists that negates immortality through a mental drug that actually manipulates morality illness, and so one blast from it's laser can INSTANTLY kill an immortal.
La-Te:... Isn't that a little extreme, sir?
Dr. Eureka: Maybe, but it's the best chance I've got here.
La-Te: "But, one flaw sir, and I know you hate being explained about flaws, but.... Even a monster like Tyranny perfectly understands the rules of immortals, and, though evil, has kept a strictly amoral viewing on mortal socity, akin to that of.... Well, demons since he's evil."
Dr. Eureka: "Oh don't worry La-Te, I'm aware that even a monster like him takes that very rule seriously.... Which is why, I sent a probe to where Tyranny was most likely located to inject the beast with a drug called, "RemorsanX.0989", or simply, The Remorse Drug. Once injected, even something as unredeemable as a demon, when taken it, will began to regret EVERYTHING it has ever done. Even an abomination like Tyranny can't resist it. It's only drawback is that, it's a little show and takes a while to take effect, by a day, but trust me, once it does kick it, Tyranny will start to become an extreme far-cry from the same abomination he is now."
La-Te: "Well, I seen the test results on rouge Draconquui and, it has proven legit. But won't that turn against you as well? I mean, why not just remove the kill thing altogather and just stick to the drug? That way, you can come into the group and say you sent a drone that caused Tyranny to reformed, and you'll still be a hero like that. That way, Whooves will lose reason to hate you and-"
Dr. Eureka: "La-Te, I appresiate the opitomistic enfusiasum, but Hoofy is not gonna look over my dominence because I gave a drug that reformed a monster! Besides, no one in their right mind would forgive a beast! Not over what he's done! And his remorse would mostly because of a drug and not out of true feelings! Even if it does make it legit, it can be easily remove by undesirables that will reserve it for their own benifit! Sure, he would still have morality illness, but a simple re-embracing of rules will protect him better. If we done it like that, it would be too risky, to not just equestia's safety, BUT MY OWN WELL BEING?! Is that clear, La-Te? We're sticking to plan number 1!"
La-Te: "...... Yes sir."
Dr. Eureka: "Good. Now.... Your dismissed."
La-Te dejectedly leaves.
A Meadow at night.
Tyranny was sleeping on the ground with his chaos storm still up as he was snoring with T-Rex roars.
Suddenly, a probe appeared, landed on him, and injected the drug into him as pianlessly as possable. The probe as quickly left as it appeared.
Tyranny: "(Dream talking) Soon, Equestia will be under my feet again, (snores)."
Dr. Whooves' lab.
Dr. Whooves: (He is wearing a blindfold as Kowalski and Sandy guided him into the lab) Oh, deary me, I can barely see a thing!
Sandy: Just follow our voice, and no peeking....Alright, open them! (Whooves takes the blindfold off and sees that the mech was improved into grayish metal, and had a lot of high-tech gadgets and improvements) Ta-dah!
Dr. Whooves: GREAT WICKERING STALLIONS!!! THAT LOOKS LIKE IT COST A FORTUNE!!! THAT LOOKS EXACTLY LIKE THE ABOMINATIONS EUREKA COJURED UP!!!
Kowalski: Oh, trust me, we made sure all that you wished for it to have are here. Has it all, hands that can transform into firework launchers, two laser cannons that pop out of the shoulders, jet-powered flight, superior strength, everything.
Dr. Cockroach: And you know something, we actually decided against gasoline. We decided to use another fuel source. We used olive oil as the fuel source.
Dr. Whooves: Olive oil? What a strange fuel source.
Sandy: Yeah, I suggested it. It worked for Phineas and Ferb, didn't it?
Kowalski: Actually, that was cooking oil. THIS is olive oil. There's a difference.
Sandy: I'm a scientist, so I should know that, genius! Excuse me for forgetting something that came out years ago.
Dr. Whooves: Guys, guys, it is quite alright. I'm sure this model is perfect. It shall show Eureka that I will NEVER stop until he gets his just desserts.
Kowalski: Provided if it's tru-
Dr. Whooves: YES, I GOT THAT!!! Sheesh! Now, let's take this thing out. (Checks the mech)...How do you get in?
Sandy: Lemme help ya' in! (Helps Whooves into the mech as his four legs were fastened into the mech)...
Dr. Whooves: Hmm... Seems to put on a bit of strain, doesn't it?
Kowalski: You just have to get used to it. And as a plus, it even comes with a helmet that you can attach and detach wires to and helps you survive in space, underwater, and other environments. The lens also has an interface which allows you to see any attack that comes towards you and see in UV, infared, and night vision.
Dr. Whooves: GREAT WICKERING STALLIONS!! All that in just a simple helmet?
Sandy: Yep. Go ahead, put it on. (He does that)
Dr. Whooves: (Gets a disguised high-tech voice)... Hmm, interesti- EGAD, LOOK WHAT IT DOES TO MY VOICE!
Kowalski: That's to make sure Eureka doesn't know it's you in the suit, because... Well... If he sees you in that suit then... He might not be pleased, and accuse you of trying to steal HIS work!
Dr. Whooves: Well, I suppose that makes sense. Wouldn't want the c***-burger making it worse on me.
Sandy: Well, go ahead, try it out!
Dr. Whooves moved a step in the mech.
Dr. Whooves: "..... It works..... And it didn't blew up in my face!? (LAUGHS VICTORIOUSLY!?) IT WORKS!? (LAUGHS!?)"
This plays as Dr. Whooves starts controlling the Mech suit around Ponyville, surprising Ponyvillians!
Icky: "Ok, what is with this song being played with trying out vicitcles is involed! This damn song even played when a granny was driving on her scooter once!"
Sandy: What, it's a good song.
Dr. Whooves:...Behold, Ponyvillians, your protector, the Element of Intelligence, has arrived--(The ponies panicked and went into their homes)...Oh, dear.
Icky: Well, I wouldn't go willy-nilly in that suit, Doc. And remember to make sure that Eureka doesn't know that's you.
Rainbow Dash: But... You do realize that terrifying the citizens of Ponyville WILL get Eureka's attention, and he'll want to sue whoever made that suit for stealing from him.
Dr. Whooves: Oh, don't worry, this thing isn't that dangerous, I'm sure. All I know is I'm gonna have some whimsical fun fighting Tyranny with this thing.... If I can use the Element of Intelligence in this thing.
Kowalski: There's a laser lens in the chest that will allow you to use it in the suit.
Dr. Whooves: Really? (Activates it and his Element is seen in it)... GREAT WICKERNG STALLIONS!! This mech has everything. I wonder if it comes with a radio and cup-holder.
Kowalski: Oh, it doesn't have those.
Dr. Whooves: F***!
Icky: "Hey it's a combat mech, not a fancy Toyota car..... Why is that thing Bypedial? Aren't you a Quedtraped?"
Dr. Whooves: "..... Well, a two legged mech is more intimidateing then a four legged one. Which was why Eureka was attracted to it."
Cynder: "You mean you ASSUMED that-"
Dr. Whooves: "OK OK, I GET IT, YOU STILL DON'T BELIEVE ME!? Honestly, it's like you people are either a broken record player or a bad comedian repeating the one joke he has cause it was damn funny the first time! You don't have to keep reminding me of that!"
Icky: Calm down, Doc! We can't help that we still doubt your claims.
Dr. Whooves:...(Sighs) Sorry. It's just that every time you say it, it reminds me of the crimes that Eureka caused, and it PISSES ME RIGHT THE HELL OFF!! (Smashes the ground)...
Spyro:...I'm sorry you feel that way, Doc, but still, unless we find some proof that he did all those things, we can't help you!
Dr. Whooves: Alright, fine! Let's not talk about Eureka for the time being and focus on that Tyranny guy! Does that sound better?
Mantis: Much better.
Later...
Discord was walking in paces.
Black Kat came in.
Discord: "How are the new Elements doing?"
Black Kat: Well, it was a little rough on the edges, but it went pretty smoothly. Bon-Bon did teach the ponies a few moves on dodging, but as for the self-defense techniques, they're just...mediocre.
Discord: Oy! These ponies are clueless in fighting.
Black Kat: Well, this IS their first time in doing something heroic. It's going to take some time for them to learn how to properly fight.
Discord: "I know it's their first time, but, that's my problem! Tyranny isn't exactly the kind of guy to be merciful because his rivals are rookies! The name "Tyranny" wouldn't be a fitting name if he was gentle onto newbies! He's the kind of guy who would pawn you no matter what! No questions even considered! Heck, they're not even sure of it themselves! What litterally stands between Tyranny and litterally, the world, is a uncertainly lying low budget "genius", Derpy of all ponies, an unlikeable critic's daughter, a maybe mute DJ, and a secret agent and her gay girlfriend who obcesses over hands as a fetish! How can a quirky bunch of misfits be able to defeat a destructive force?!"
Black Kat: "..... Ya know Discord? The same was once said about Twilight and Friends being able to stand up to Nightmare Moon. And after that, it was doubtful that a soon to be former Wonderbolt drop-out would be able to twart an almost perfect Team Nefarious sceme and an alicornised loser prince! And you know yourself that those same quirky girls managed to beat you and your brother! They did things that back then, people would've scoff at! Pinkie and Rainbow Dash reintroduse friendship to Griffinstone, Rarity and Applejack brought common curiticy and decenty to Manehatten, and Twilight and Fluttershy, FLUTTERSHY, brought peace to a McCoy and Hatfield inspired fued! They did and seen unbelieveable things that others would've originally doubt and scoff at! Now are these new Main 6 even more quirky and unlikely? Yeah. And yes, Tyranny's no freaking pushover, but did that stop the original barers, risk of great sacrivice and all? No. And they managed to beat Tyranny reguardless. Now, the new element barers, free of extreme sacrivcie tendingcies, are gonna put Tyranny in his place once again. What I'm saying is, you shouldn't underestimate the seemingly unlikely. Cause that's what got you to be a garden statue for a few extra years the last time you did it."
Discord: Oh, PLEASE don't remind me about that embarrassing moment. But...(Scoffs)...at least I can't take it seriously again after Mayhem fell for the same ruse. (Laughs) I can't even say that time without cracking up! He made the same damn mistake I did, and he paid the price for it.
Black Kat: Well, he did try to avoid it if you hadn't pushed his ego and forced him out of his scheme.
Discord: Well, duh, he was technically hiding and being a coward.
Black Kat: Isn't that what a LOT of villains are supposed to do? Just because they make things complicated for the heroes, it doesn't make them cowards...per say...it just proves that they're still trying their best to destroy the heroes and make them weak. What you told him to trick him like that wasn't entirely true, it was just a clever way to avoid his tricks. He wasn't being a coward, the heroes were being clever.
Discord: Yeah, but still, taking away the Rainbow Powers AND my magic is still a sign of cowardice. It's like cheating in kickball.
Black Kat: POINT BEING...that you can't judge ponies by their odds. Odds have been known to be broken in a world like this. If some unlikely ponies can prove to defeat a threat far beyond their comprehension, then ponies can do ANYTHING!
Discord:...Well, I suppose you're right. Let's just see if the ponies are progressing. (They teleport inside and see that Lyra was having a hard time using spy equipment)
Lyra: YAAAAAA!!! How do you grab this cable without any fingers?!? It's physically impossible!
Bon-Bon: Not unless you train yourself properly. Just keep trying. (Lyra does, but she ends up slipping and falls, bonking her head on the floor and getting a lump on it)...
Lyra: (Dazed) Why yes, I'd like a hoof massage from you, Adrian Brody! It'd be a sheer delight in more ways than one! (Slumps to the ground)
Discord: "..... This doesn't ease my concerns."
Black Kat: "I can clearly see that. But still-"
Discord: "I know, I know. Have faith."
Bon-Bon: (Helps Lyra up) Well, Lyra, you're still not good, but it's still an improvement. How about you take a break and try again later?
Lyra: (Dazed) Aunty Em, is that you?
Meanwhile...
Octavia: (She and Vinyl were seen listening to their own styles in music)...Ahh, nothing to clear your mind of the violence to come than by listening to glorious and harmonic music. Isn't that right, Vinyl? (Vinyl couldn't hear her as she was listening to Larger than Life)...I'll take that as a yes.
Discord: (He and Black Kat appear)...Hey, girls? How have you been doing with your training?
Octavia: Oh, slow as always. We always feel that non-violent solutions involving music are the best way to go. We barely have the patience for actual combat. It's just not our thing. (Vinyl nods no)
Black Kat:...I see...have you ever been in situations where somepony has annoyed you so much, you wanted to beat them up?
Octavia: HAH! You're serious? I was raised primarily by my mother since my father didn't raise me as much because of his controversy. My mother raised me until...she left the family, and left me to be raised by my father. I lead a troubled teenage life with a father that constantly gets shunned, but I never, in my ENTIRE LIFE, wanted to beat a single filly up for something as childish as annoying and obnoxious singing. I enjoy songs, and that's why I play the cello.
Discord: What about Vinyl?
Octavia: Oh, she's haven't had that much of a troubled fillyhood as I did. She was raised by a rockstar legend named Record Scratch since her mother wasn't always around. He's still alive but sadly on borrowed time. Yet Vinyl seems to be okay with taking care of him at such an old age. She seems to make him proud by being a great and passionate pony who gives parties a big push. Takes it after her father.
Black Kat:...That's pretty nice of her. So she isn't bothered that her father is soon to die?
Octavia: She doesn't seem like it. I've NEVER seen her bothered by it. All she cares about is music and the passion and strive to make it. She is the greatest successor of her father.
Discord: "..... I'm curious though, since I know that the introdusing demockracy thing was but a scare tactic, what really drove your father to be such a critical doughe? No offence."
Octavia: "..... It happened when I was a baby..... How well familier are you with what is known as, "The Starlight Insodent"?"
Discord: "Oh, you mean..... When Starlight went kooky over cutie marks? Why would your father even cared for that? You lived in ponyville, right?"
Octavia: "Yes, but..... My Aunt Sympathy Night was an earth pony guard, and was on duty when Starlight's rampage began."
Flashback.
A Pony simular to Octavia except with a white mane was seen among a group of Unicorn guards as destruction was seen! This was her aunt, Sympathy Night!
Sympathy Night: "We have to keep to keep Celestia's appretentise from doing more damage! Delta Formation Magic Sheild, keep Starlight from leaving! Go go go!" (The forces charged as Starlight was seen during her rampage)
(Octavia): Ever since she almost lost my father and a great brother, she has sworn to one day NEVER let anypony else go through what she felt when that event occurred. Thus, she became one of the greatest commanders of the Royal Guard. Nothing stood against her. She even claimed to have put a pony out of his misery after he was magically deformed into a freak. She knew no weakness. She didn't BELIEVE in weakness. All she knew was that she needed to do what was right.
(Discord): So...what happened?
(Octavia): What happened was...it was the last fight of her mortal life. After her forces failed to quell Starlight, believing she would be far superior, she decided to fight Starlight herself.
Sympathy Night: STARLIGHT GLIMMER!! (Starlight faces her)... Stop what you're doing this instant, or you'll leave me no choice but to prosecute you for terrorism! And you know for sure that I am NOT somepony for you to cross- (Starlight blasts at her, and slashes at her chest) YAAAARRRGGGHHHH!!! (She falls to the ground bleeding)
(Octavia): It was unbelievable. Starlight Glimmer was the first pony to actually catch Sympathy by surprise. She was reflexive, and always knew when somepony was gonna take her by surprise. But Starlight did something even SHE couldn't expect. She thought Starlight wasn't that kind of pony. She thought she was only releasing her anger through destroying buildings. But that was not true. Her anger... Was pure rage. Sympathy ended up dying from massive blood loss the next day, and it was added to the charges Starlight faced. Though she would never get punished following her disappearance.
Present
Octavia:... My father was devastated that he lost a sister to a student of Celestia. He criticized her for not sensing the darkness inside Starlight's heart, and not properly keeping a tainted pony of Starlight's calaber contained, and blamed her for the death. Ever since he was escorted out, that's what began my father's controversy.
Black Kat:... Wow!... So your father was cautious about Celestia's decisions because... He didn't want anypony else to die like that?
Octavia: Indeed. I'm lucky it just happened when I was only 5 weeks old. I never got to know my aunt as the hero she was.
Twilight was secretly listening to this, and was caught in tears.
Discord: "Is it possable that Sunset knew about this?"
Octavia: "She was a factor in the event, so... Chances are, yes.... And it was assumingly part of the reason why she herself went rouge."
Black Kat: "How will Twilight react if she knew about this?"
Octavia: "..... I, I don't even want to know. And, I worry about the implications."
Twilight walks away quietly.
The Royal Gardens.
Celestia sat down by the new placed Statue of Mayhem and sighed.
Twilight teleported near Celestia.
Celestia: "... Something concerns you, Twilight?"
Twilight: "..... (Sniffles)..... I just discovered that, Starlight might be even harder to reform then I thought.... I know, what became of Sympathy Night! I overheard Octavia talked about it to Discord and Kat!? Why..... Why didn't you mention this?"
Celestia: "..... I didn't wanted you scare you, Twilight..... You were afraid of her return, cause of a mangey wolf and a rabbit. The mere detailic discusion of her actions would've worsen your fears."
Twilight: "I, I know that, but.... I just want to know..... DID STARLIGHT, KILL ANY OTHERS?!"
Celestia: "Twilight, (turns to Twilight), I promise you, Sympathy was the only casualty of that dishastor cause Starlight was not in control of herself, and even then, she tecnecally didn't meant to kill her, she wasn't herself, Twilight, rage makes us to and say things our normal selves would never dream to do and will very much regret, and as such, the worse that happened to other ponies was mental and physical damage."
Twilight: "One victim or not, it's STILL proof that Starlight's not afraid to take a life!?"
Celestia: "Only if a certain boundery is crossed! That happened when I made the mistake of getting in the way of her sister to protect her from making the same mistake! Believe me, even Starlight is against ending a life."
Twilight: "BUT WHAT IF I MAKE THE SAME MISTAKE AND CROSS A PERSONAL BOUNDERY TOO!? Why, when we were captured by her, Rainbow Dash was almost killed by her because she made a crack about Sunset being Trixe number 2, and, and, she, SHE COULD'VE DIED DARTH VADER SYTILE BACK THERE?!"
Celestia: "She had relented obviously, sense Rainbow is still alive. It's highly likely she regrets what she did to sympathy."
Twilight: "It doesn't ease my concern that she can do it at all!?"
Celestia: ".... Twilight.... Are you concerned about..... Her escape awhile back?"
Twilight: "...... I still remember that fateful report ever since the Yaks' visit....."
Flashback.
A Well dressed Unicorn and two orderlies entered Twilight's castle.
Twilight: "Why, Black Staillian President Sunbeam. What brings you here?"
Sunbeam: ".... Your highness, we're afraid that, Starlight proved to be extremely clever..... She managed to de-spell her magic deactivation and escaped without a trace. We fear that means.... Her other side has came back worser then ever."
Twilight gasped!
Sunbeam: "But don't worry. You can always stop her again. We wish you to be careful. Whether you tell your friends or not, it is up to you. Just be cauious of, surprises."
Sunbeam and the Orderlies leave.
Twilight gained a nervious, unsure look.
Present.
Twilight: "..... That alone, was proof enough that Starlight's purity is harder to restore then I hoped. I was too afraid to tell my friends except Spike, and he was promised to keep it quiet. And I'm certainly not gonna tell the Lougers! This might force them to take Starlight to Prison 42 for it! And with Tyranny on the loose, worring about Starlight should be the last concern on their minds and-"
Celestia: "Then Starlight shall become a private matter for us. For as long as she doesn't include more otherworldly beings, we'll make sure Starlight is kept from becoming worse, in any shape and form. But I want you to promise me something. If Starlight did something extremely serious, and after you defeat her and should she get away, you can't afford to obscure this from the Lougers anymore. It's obvious that Equestia can't fix Starlight's purity alone, perhaps, her newfound quickness to relapse may be a last minute trick by Fem herself to cause enough chaos to free her and correct what we reaped. If so, we can't risk handling Starlight alone afterwords. Yes, it would mean that Starlight will have to answer to greater courts, but if she is to have any true hope at redemption, Equestia can't stubbernly obscure her from a force that managed to reform those argueably worse. Do you understand? It would not only hurt us more trying to change her ourselves, but it would also hurt Sunset, who is still  hurt her sister is even like this at all. Do I have this promise, Sparkle?
Twilight:... Yes, your highness. I just hope she doesn't come back quicker than expected. (The two left as Starlight was briefly seen in a bush chuckling)
Starlight: You don't know it, Twilight Sparkle, but your life has already been rewritten. (Teleports away)
Meanwhile...
Icky: (Feels something)... I just felt a disturbance. Something like... A foreshadowing for a new canon episode.
Iago: Oh, I'm sure it's nothing, Ickster. You're probably just thinking random thoughts like you usually do when you're bored. Let's just go check back on Derpy and see if she's getting better with HER training. (They enter through a door)
Elsewhere.
The place Derpy was in was trashed.
Derpy: "...... Oops. My bad."
Shifu: "...... Hi-yaaaa......."
Tigress: "Is it at all possable to make it that she can be able to be a threat to foes OUTSIDE of just being clumsy as an ox?"
Crane: "I, am not, even sure if that's a possability."
Derpy:...(Takes out a muffin basket) Muffin?
Monkey:...Eh, what the heck? (Takes a muffin)
Icky: (He and Iago entered) SANTA MARIA!!!
Iago: HOLY F****** FROG-LEGS!!!
Shifu:...Yeah, Derpy's just not good at being menacing more than she is good at being clumsy.
Derpy: I'm only trying, Master Shifu. I'm just not meant for combat like my adoptive sister Rainbow Dash is. I'm only a mail pony.
Tigress: Don't worry, Derpy. The Element of Innocence chose you, so you can surely find SOME way to battle against Tyranny.
Derpy: I'm sure I'm innocent, but I'm not sure how this actually helps me use the Element.
Shifu: That's because you six are not yet ready for handling the power of the Elements. First, you need to be trained to have the skills to make sure Tyranny doesn't get the upper hand. Yes, the Elements will make you invincible to whatever he tries, but you need to be experienced enough to let that invulnerability be yours to command.
Derpy:...Say what now?
Shifu: Oy! (Tigress face-palms herself)
Tigress: This is gonna be harder than I thought.
Icky: Did we come at a bad time?
Crane: Well, I think Derpy actually NEEDS a short break. She must be exhausted.
Derpy: Well, now that you mention it, I am a little queasy.
Icky: Then let's go.
Dining Hall.
The Peace Main Six are introduse to the dinning hall.
Celestia came in.
Celestia: "I wager you all must be hungry from working hard."
Octavia: Indeed. We all don't seem to fit well with our training, and just seem to be comfortable with what we got.
Lyra: I think we might never get the hang of this, your highness. We're built for other things, and not for fighting. You can't really change who we are.
Celestia: That's not what this is about. This is about you trying to defend yourselves against Tyranny. He's not the worst Draconequus in Equestria for nothing. He's INCREDIBLY clever. And he has ways of getting past flaws. This is just to make sure there IS no flaws.
Dr. Whooves: Well, I'm sorry, I don't see how we're gonna get this done any quicker. I may have a great and improved combat mech, but I feel even THAT won't be enough to bring down such a powerful havoc-wreaker.
Celestia: "Being physically capable is not what is holding back your ability to stand up to Tyranny. It is your own self-doubt. Your doubt on even accomplishing this is what's holding you back. You shouldn't let your own insecurities cloud your judgement."
Bon-Bon: Well, so far, I feel the only one who actually HAS the skill to take on a monster like Tyranny is me. But even with MY training, my friends don't seem to be shaping up. It's like teaching a fish how to walk.
Celestia: You'll get there eventually.
Derpy: Can't you just magically GIVE us the power to fight?
Celestia: Oh, I would, but I feel that the Elements don't want that. Cheating the way to fighting is simply not what the Elements would want, as it goes against what they chose you all for. I feel that they want you to figure it out for yourselves.
Octavia: Well, I just don't see that happening. We haven't done a single thing since the Elements chose us. We showed some great things in that presentation, so...wouldn't that mean that the Elements would've chose somepony else if THEY did something like that? Maybe this choice they made was just an accident.
Celestia: I feel that there ARE no accidents. The Elements choose based on the pureness of the pony. Think about Eureka. He wanted to wield the Element of Intelligence because he was considered a good choice as an intelligent pony. Yet the Element refused to choose him. Perhaps it was because of Dr. Whooves' claims on him being a thief, but we can't be sure. But Dr. Whooves himself, he was much different than him. I may not understand the choices, but they do eventually become proven. You all just need to find out what that is. Once you do, you'll know what to do.
Dr. Whooves:...Your logic is too cryptic for even my genius mind to crack. You're saying we have to know why the Elements chose us to use them?
Celestia: Not just know, but acknowledge! The training sessions you went through were just ways to give you the strength to discover them, as well as to defend yourselves.
Lyra:...How long will it take for us to actually GAIN that experience? I don't think learning how to kick somepony in the nuts is gonna help us.
Celestia: You'll get there soon enough. Once you do, you'll be ready to defeat Tyranny.
Lyra: ".... We'll just have to trust you on this, Princess. Maybe some lunch will calm my nerves."
Celestia: "Well, the Lougers were kind enough to make the dinner themselves as a make-up for being hard. They felt that being doubtful contributed in your slow progress."
Dr. Whooves: "Well as long as my dinner doesn't include pears, I HATE, pears!"
Octavia: "So that fan throey about you being a pony verson of Dr. Who is somewhat accreate at all."
Dr. Whooves: "Why? I just don't like pears. They taste odd and no one has any idea where pears grow from."
Derpy: I think they grow on trees, Doc. Does the Christmas lyric 'Partridge in a pear tree' mean anything?
Dr. Whooves:...Drat, I hate it when things pass my mind. Maybe Eureka's influence and crimes are making me not just bankrupt, but clueless. (Celestia tries to say something) Don't say it! I know what you're gonna say! But we agreed not to talk about it for the time being. Let's just get to eating.
Celestia:...Very well. Just remember to take the time thinking about why the Elements would choose you, and you'll start getting somewhere. (Leaves)
Derpy:...I'm as confused to the cryptic advice as you are, Doc. How are we supposed to know what made the Elements choose us? We should since we displayed it, didn't we?
Bon-Bon: Perhaps she's saying that it takes MORE than displaying it to acknowledge it. But I think she's right. Let's try not to doubt ourselves and just roll with it. I'm sure we'll get somewhere later. (The group started to eat).
A dat later.
Tyranny was walking acrossed the meadow and looked annoyed.
Tyranny: "I hate all this flim-flamming walking about! Why can't I just teleport and make it done already? Unless the Elements of Peace have managed to momentarly dampen my powers so it could be why I didn't tele- (Makes the relisation)..... Those, clever, jeweled, basturds. GRRRRRRRRRRR?! I am so mad, I need something to take my rage out on?!"
Tyranny stopped to here happy sounds of joy coming from another side of thick bushes, then he stealthfully opened them to see a field trip of shcool ponies.
Tyranny: "..... Ahhh, tormenting the young and innosent.... My faverite past-time."
Tyranny was about to toss a fireball when something stopped him: himself!
Tyranny: "What the-?! Me?! What gives? It's just abunch of stupid children?! Stupid, cute, adorable, innosent, (starts to get less angry), harmless, defenceless, barely bean to live, having done nothing to me at all outside of being so harmonic and the exact oppisite of me.... Children..... What, the, fuck?! Ordenarly, I would've done this in a heart beat, here..... Perhaps it was my smartness telling me to save them AFTER I deal with my rivals the Elements of Peace. Yes. That has to be it. So those shcool children got lucky."
Tyranny leaves the unaware field trippers undisturbed.
Tyranny sees a cute grey bunny eating some lettence.
Tyranny: "All right! A bunny! And, an ADULT bunny! (Grabs the Bunny) That means you lived a long enough life, Bugs. I could use a snnnnack. (Opens his jaw wide like a T-Rex with Shark-Teeth)."
The Bunny gave the Cute-Face and wimpered.
Tyranny saw that and stopped, closing his jaw.
Tyranny: "Oh don't do that, it's part of nature, you blasted rodent! Survival of the fitist! Don't they teach that in Prey Shcool?"
The Bunny's cuteness extends to almost Puss's level of cuteness.
Tyranny: "Ii-i-i-i-i-i-i-i-i-i-i-i-i-i-i-iI should want you! I am normally VERY ammuned to that! So cut it out or I'll snip your eyes out and-"
The Bunny's cuteness went 100%, where Tyranny, finally started to crack!
Tyranny: "D'OHHHHHHHH, WITH THE EYES AND THE WIMPERING LIP AND, THE ONE SMALL TEAR THAT IS DANGLING FOR SOME ILLOGICAL REASON AND, AND, AND, (SCREAMS WITH T-REX LIKE SOUNDS WITH SOME TRACES OF ELEPHANT), OK OK, FINE?! YOU WIN!? I..... I won't eat you.... But you are impressively malmitulative, little one. How would you like to accompany me?"
The Grey Bunny, not knowing better, nodded yes!
Tyranny: "Good. (Places the grey bunny on his shoulder). I shall call thy, Despot. I am on a quest for personal payback, Despot, and I want you see my power, personally and in first-handed sight. Just, don't end up ruining my image. I'm only even doing this is because.... I feel strange lately. Maybe being momentarly lost in an artic citcle has frozen my mind abit, did it? (The Bunny squeaks) Ah, your right, it's the stress of travel. And personally? You seemed to be the best thing to have come out of it."
Tyranny continued on his way as he was petting Despot the Grey Rabbit.
Canterlot.
Dr. Whooves was in the arena again, this time, with his Mech on standby.
Shifu: "Are you ready for your rematch with The Badlands Mountan Troll?"
Dr. Whooves: I suppose so. (Gets in the suit, and gains the disguised voice again) I hope this mech can withstand that ugly-face's blows. (The pen opened and the Mountains Troll appears roaring loudly)...(Gulps)...(The troll attacks, yet Whooves was able to block it with his mech, and he ended up dodging the attacks, and stepped on the troll's foot as it groaned in pain)...Heh...I actually did it! (The troll continued to attack, and Whooves prepared the firework cannons)
Celestia: Easy, doc, don't use those! They can do some maximum damage to the Coliseum.
Dr. Whooves:... (Sighs, and while he was distracted, the troll smacked him in the head) DOOF!!
Celestia:... Oops.
Dr. Whooves: (Gets dizzy and does mumbling gibberish as the troll tried to attack, yet Dr. Whooves recovered and, actually managed to grab the club from the troll's grip)
Mountain Troll:... Huh? (Dr. Whooves actually bonked the troll in the head, and it fell head-first to the floor unconscious)...
Dr. Whooves:... Well... That was pretty easy.
Celestia: Not that bad an improvement. And, sorry for distracting you, I wanted to make sure you don't end up doing more harm then good."
Dr. Whooves: "Well please be informed that I need maximum consintraction. I can't afford to be distracted ever."
Squidward: "Just like you can't afford much of anything else, Doc. (Snobbishly laughs until Banzai slaps him)"
Banzai: What did we say about being a bitch?
Celestia: Let's just see if Bon-Bon can fair better with the Nemean Lion.
Later...
Bon-Bon was breathing in and out.
Bon-Bon: "..... You can do this, Bon-Bon."
Luna: "Be made aware that we have to send in a different Nemean Lion because the one you beaten is afraid of you now. Also, it's the previous one's older brother..... And it is greatly vengeful for what your actions transpired."
Bon-Bon:...Does it have a trip-knee?
Celestia: Yes, but this one is much more vicious and deadly than it's brother. And it's quicker, too. You think you can handle it?
Bon-Bon:...At this point, I can handle anything. Bring him on. (The pen opens up, and reveals a much stronger Nemean Lion, with a darker coloration than the last one, much more vicious eyes, a muscular build, and a much more terrifying roar)
Lyra: YAAAHHHH!!! BON-BON!!! CELESTIA, DON'T LET HER--
Celestia: Don't worry, that roar gets anypony running for their lives. That's what makes this Nemean Lion so vicious. It was a former Nemean Lion from a Coliseum in Saddle Arabia, and it's brother was part of a zoo. This creature is often known by the name 'Caesar'.
Dr. Whooves: GREAT WICKERING STALLIONS!!! I know that name too well! It's killed hundreds of gladiator ponies in it's Coliseum in Equites, Saddle Arabia! Surely you're not letting Bon-Bon tackle a slaughtering master like THAT!!!
Celestia: Even I had doubts on choosing him, but sadly, he was the only other available Nemean Lion.
Lyra:...She's dead.
Bon-Bon:...CAESAR?!? THAT OTHER NEMEAN LION WAS THE BROTHER OF AN INFAMOUS GLADIATOR NEMEAN LION FROM EQUITES?!?
Octavia: Oh, dear, if my father was here, he'd be booing you all the way through, Princess.
Celestia: I'm sure she can pull this off.
Octavia:...OKAY, I'M STARTING TO UNDERSTAND WHY MY FATHER IS CRITICIZING YOU AT ALL, THIS IS CRAZY!! SHE'S GONNA DIE IN THERE!!!
Celestia: Octavia, calm down. Don't worry, she's been given enough training. I'm sure Caesar won't be too much on her.
Octavia: "IT'S BAD ENOUGH THAT YOUR MISTAKE WITH STARLIGHT GLIMMER LEAD TO THE DEATH OF MY AUNT SYMPATHY NIGHT, NOW THIS!?"
Lyra: "WAIT WAIT WAIT, BACK UP!? STARLIGHT KILLED SOMEPONY!?"
Octavia:...(Sighs) I don't wanna talk about it right now. Let's just hope she survives this without a scratch. (Caesar circles Bon-Bon as she shivers in fear. Then Caesar attacked, and Bon-Bon somersaulted above him, and tries to tackle the knee, only for Caesar to kick her away and to the ground)
Bon-Bon: OOF! (Caesar roars and tries to slash Bon-Bon, yet she grabs the paw before it could strike, and she struggles as the paw pushed on her, and Bon-Bon quickly thought fast and poked Caesar in the nose, agonizing it and allowing Bon-Bon to escape, Caesar giving chase)...CELESTIA, ARE YOU SURE ABOUT THIS?!?
Celestia: JUST TRY! IF CAESAR INFLICTS TOO MUCH DAMAGE, I'LL TELEPORT YOU OUT OF THERE AND HEAL YOU! (Caesar continues chasing Bon-Bon, and she then back-flips onto Caesar's back, and loops a rope around Caesar's mouth, yet Caesar snapped it by chomping it, and shook Bon-Bon off, and she dodged his incoming slash attack)
Lyra: OH, I CAN'T WATCH!!! THIS IS THE HUNGER GAMES TIMES A THOUSAND WRONG!!!
Celestia: Trust me, if she suffers too much, I'll teleport her out of there and heal her. I'm sure she'll think of something.
Bon-Bon: (Slides down underneath Caesar to try and tackle the leg, but then Caesar grabs her before she can reach it, roars loudly in her face, and tries to strike her down until Bon-Bon kicks him in the nose, and tries to tackle the leg, but Caesar blocks it in time, and smacks her into a wall with only a few inflicting marks in her chest)...OW!!
Dr. Whooves: My word! You still think this was a good idea, Princess?
Celestia: At least she's still alive. Gladiators in Equites only last a few seconds. If she was not trained before-hand, she would've been decapitated. Please, calm down. She'll get the leg eventually.
Bon-Bon: (Still running from Caesar, and she then performs a wall-run and jumps over Caesar, and in slow motion, she barely manages to jump towards Caesar just in time to reach the leg, which instantly causes Caesar to panic, cry, and run straight into the pen defeated)
Icky:...(Scoffs, and laughs as some of the heroes looked confused at him)...I'm sorry, I, you established that that creature is a Level 10 monster with an impenetrable hide, decapitating claws, and is the most feared gladiator creature in a desert land, named after an oppressive ruler from the years before the common era, and to see him...to see him (Scoffs)...to see him react like that?...(Holds it in, and laughs hysterically as tears filled his eyes) I-I-I CAN'T TALK! I CAN'T BREE-HEE-HEE-HEE-HEEATH!! (Laughs)
Celestia:...Well...at least she did it. (Bon-Bon layed down as blood leaked out the wounds)...And she needs urgent healing. (Teleports her back and heals the wounds quickly)...Sorry, Sweetie Drops. If it makes you feel any better, I can promise that your next training session will have the previous Nemean Lion in it. His cowardice will have worn off by then. But at least you did it.
Bon-Bon: (Taking deep breaths)...YEAH!...Goody for me! (Shrugs)
Later...
Octavia was in the arena again.
Octavia: "Let me guess: I have to deal with the Creten Bull again?"
Luna: "Actselly, because the creten bull would obviously be to easy cause of your too predictable ability, we desided to send out a captured Arimaspi named Oneus. And he's a known music hater."
Gilda: "AN ARIMASPI!? YOUR GONNA MAKE HER BATTLE ONE OF THOSE FREAKS!? HE'LL RIP HER TO SHREADS?!"
Octavia: "NOT BEING VERY ENCOURAGEABLE, GRIFFIN!?" (The pen opens up as an Arimaspi similar to the one in the flashback of Lost Treasure to Griffonstone was seen, and he roared)
Oneus: BEHOLD! I AM ONEUS!! SCOURGE FROM THE ARIMASPI TERRITORIES AND WELL-FAMED THIEF OF GRIFFIN WEALTH EVERYWHERE!! I STRIP GRIFFINS OF THEIR FEATHERS AND STUFF THEM IN MY PILLOWS! (Gilda was disgusted by that) AND THOSE GRIFFINS WHO DARE TO OPPOSE OR STOP ME ARE MADE INTO STUFFED ROAST GRIFFIN FOR ME TO FEAST ON WITH MY FOLLOWERS! AND I GET THE GIZZARD! (Gilda held in barf, yet couldn't handle it and let it all out)
Celestia:...I wouldn't be surprised that you would be sickened, some Arimaspi consider griffins a delicacy since...you know...their war against them. (Gilda barfs even more) And... To be honest, my parents know the taste of griffin all too well. A meeting with the Arimaspi lead to them accidentally trying griffin not knowing it was what they were eating. That single-hoofedly brought the Arimaspi into infamy as my parents banished them far into the Mysterious South for failure to inform them of eating griffin who were subject to due process of law, and--(Gilda barfed for an extended amount of time, and spread the barf across the area and the view window, and fell to the ground with a barf blob going across the air, leaving everyone in shock)
Iago:...(Laughs out loud)
Fidget: (Chuckles) I admit, that was kinda funny.
Icky: STOP DISGUSTING THE GRIFFIN PLEASE!!! JUST GET FOCUSED ON THE FIGHT!!
Octavia: (Oneus cornered Octavia to a wall)...Oh, dear, how am I supposed to defeat a monster without music?
Oneus: Pity your only answer to everything is something I loathe! Pity, indeed! But I suppose that's what makes this...SO MUCH EASIER!!! (Attacks Octavia as she dodges just in time and Oneus chases her)
Octavia: "(Thinks) It's ok, Octavia! Your dealing with a music hater! So, you need to think! What would Aunt Sympathy Night do!"
Octavia made a surprise face!
Octavia: "Alchourse!"
Octavia stopped and tripped Oneus!
Oneus: "WHOOAAAAAA (Slams face first into the floor)...... Owch."
Oneus lifts his head up, as Octavia bucks him right into the eye, causing Oneus to scream in pain and like a cowerd!
Shifu: "Impressive."
Oneus: WRETCHED MULE!!! I'LL HAVE YOUR HEAD ROLLING FOR THAT!!
Octavia: I'd like to see you try with your ONLY EYE HURT!!! (Oneus attacked willy-nilly, and Octavia just stepped on his foot)
Oneus: (Tom screams, then Octavia actually bites his hand, and he Tom screams again, then Octavia bucked him in the nose, and he Tom Screams louder than usual)...(Octavia then bends one of Oneus' legs)
Octavia: TIMBEERRRRR!!
Oneus: (Falls to the ground disorientated)...
Gilda:...(Sighs) Yes, it does me great to have an Arimaspi get his goat-ass kicked. That'll teach him not to make me barf like that!
Celestia:...Well, let's move onto Derpy, this time, confiscating the muffins.
Later...
Derpy: (She is seen in the Coliseum as the Nandi Bear from before appeared again, this time with a sore eye, and it roars loudly at Derpy) YAAAAAAAAHHHHHH!!! (Flies upward higher than the Nandi Bear can reach)...HAH! Nice try, you one-eyed hyena beast! I've got a nice juicy brain and I don't even wanna SHARE IT WITH YOU!!
(Celestia): Sorry to do this to you, Derpy, but this is supposed to be a fight, not an elusion. (Magically takes away her wings)
Derpy:...YAAAHHH!!! (Falls directly towards the Nandi Bear, and lands instead on it's back) AW, DARN IT!!! (The Nandi Bear runs around roaring as Derpy just held onto it's neck for dear life without her wings)
Dr. Whooves: Was it really worth taking away her wings, your highness?
Celestia: Well, yeah, we can't have her cheating like that. She can't just avoid the fight like that. That's what quitters do.
Derpy: HELP MEE-EE-EE-EE-EE-EE-EE!! (The Nandi Bear continues running around roaring) WHAT AM I SUPPOSED TO DO, USE IT'S LACK OF DEPTH PERCEPTION AGAINST IT?!?
Fluttershy: No, actually, Nandi Bears are perfectly adaptable without it!
Derpy: OH, DEAR!! HOW AM I SUPPOSED TO BEAT IT, THEN?!? I CAN'T HOLD ON FOREVER!!!
Icky: Just beat it in the eye again, if that helps.
Derpy:...Oh...(Punches the eye as the Nandi Bear roars in pain, and gets even more angry and rolls, cartoonishly flattening Derpy)...Aye!
Icky:...Well, worth a shot, it just pissed the bear off.
Derpy: (The bloodshot-eyed Nandi Bear roars angrily at Derpy's face, and she quickly inflated herself again and dodged the bear's claws) PLEASE, SOMEBODY GIVE ME SOME CLUE AS TO HOW TO BEAT THIS CREATURE!!!
Dr. Whooves: "I'd say do what Rainboow Dash would do, but, OBVIOUSLY that's out of the question!"
Derpy made a relisation....
Derpy: "..... Maybe not exactly LIKE Rainbow Dash, but what would she do IF she didn't had wings!"
The Nandi bear rose up, but before it could even preapre to swipe, Derpy kicked the Nandi in it's crotch!
Nandi Bear made a baby bear sound as it felt it's private harmed, and ploped down defeated.
Icky: "OOHHH, THE BELOW THE BELT TACTIC?!"
Derpy: "..... I beaten it? YAY, I BEATEN IT!? Celestia, can I have my wings back now?"
Celestia:...Well, I suppose the Nandi Bear is defeated, so yes. (Magically returns the wings)
Derpy: (Sees her wings, and does a cute Derpy smile, and laughs as she flies again)
Gilda: Yes, she's happy, next!
Later...
Vinyl: (Appears in the Coliseum)... (Looks at Celestia)
Celestia: Well, Vinyl, just like Octavia, you won't be fighting the Camazotz because of apparent reasons. Instead, you will be fighting another beast that may be at least a Level 8 monster, but still puts up a good fight like a Level 10 monster. A creature native to the far outback pony colonies. Meet... (A new monster came out as it appeared to be a crocodile-like beast with large hand-like front legs with long jagged claws, a mouth displaying devastating fanged teeth, large spines, and a lizard-like tongue)... The Bunyip.
Bon-Bon:... A Bunyip? Really? That beast native to Coltstralia in the far west? Come on, that's child's play! I can take on that beast easily.
Celestia: Yeah, but it is still dangerous. And they're twice as dangerous... In the water. (Magically opens up pipes which actually leak out water and start filling up the Coliseum, and allowing the Bunyip to retreat into the water)
Trixie:... You actually added water pipes to the Coliseum?
Celestia: Actually, they provide a unique makeshift pool for when the competitors do Olympic swimming.... Vinyl CAN swim, right?
Octavia: Yes, of course. She did it when she was young.
Celestia: Alright, just making sure.
Octavia:... I don't know if that will make me feel any better. (The water goes up to Vinyl's hooves, and she starts running as the Bunyip slid across after her like a penguin, and then great terrain came out from the squares of the field, and Vinyl got onto them in time to avoid the Bunyip)
Celestia: Find a way to beat the Bunyip before the water reaches it's maximum depth. Even those platforms won't protect you forever. (The water level gets higher as Vinyl started contemplating on what to do as the Bunyip stood waiting for the water to get high enough for it to grab her)
Vinyl quickly got an idea.
Vinyl used her horn as hard as she can to conjure up a surprise for the Bunyip!
The Bunyip gasped in surprised, as did everyone else!
A Female Bunyip was seen next to the other Bunyip, which judging by the original's eyes turning itto hearts, it was proven male.
Celestia: "..... I'm impressed. An alternate solution to violence when in a situation when it might not be nessersarly the answer, espiecally concerning in an area far out of your element."
The Two Bunyips cuddle and left as Celestia made the water retreat.
Octavia: "I probuly should've mentioned this earlier, but.... Vinyl isn't much for violence. The closest she does to dealing with monster problems, is Bass Cannon and, little moments like that. She was raised by a passifist mother and a violence fearing father."
Celestia: "I see. Then why did she parpisipate in the training?"
Octavia: "Vinyl is a great fan of exsirsize."
Celestia: ".... Not that I don't admired Vinyl for using peacefuler and/or talent based solutions to beat Tyranny, but just like using her talents, cleverness wouldn't be enough for Tyranny, espeically not conjuring up another female.... Tyranny has severe social issues, so we have to work on Vinyl at least momentarly understand sometimes alittle force is needed."
Octavia: "Trust me. The only time Vinyl ever gets truely violent is if I get into trouble. Like this one time when a perverted Griffin keep pinching my flanks and called me "Hot Ass". She had an aunt that hated Sexual Harassment and abuse. Why, you had to put me into a situation where I'm getting sexually assulted or in some kind of trouble if you want Vinyl to do violence, I.......... Please tell me I didn't gave you an idea..... Please?"
Celestia:... Actually, I might not HAVE to do anything like that. I think that's enough training for her. She only seems to get coordinated and fighting when her friends are in danger. Like with Tyranny. Octavia, you just gave us info that, just like that, completed Vinyl's training.
Octavia:... Uh... Thanks?
Bon-Bon:... Well... Let's see how Lyra deals with that Stymphalian Bird.
Celestia: Actually... The Stymphalian Bird quit. (Bon-Bon and the heroes were confused at this)... By that, I mean, it refused to fight Lyra again because... Well... It said it couldn't take Lyra seriously anymore.
Bon-Bon:... You actually speak that creature's language?
Celestia: Indeed. Like most Alicorns, I can communicate with wildlife. It's why I keep an entire array of wildlife in my garden so I can feel close to nature.
Fluttershy: I'm just glad I actually managed to get along and make amends with those animals after how I treated them at my first Gala. They actually love me now.
Bon-Bon:... So... what's Lyra gonna be fighting, then?
Later...
Lyra: (Appears in the Coliseum where the pen opens up to reveal a new creature, which appears as a creature with a turtle-like spiked shell, 6 muscular and clawed legs, a long whip-like tail with a spiked club-like structure on the tip, and a lion-like head as it roared loudly and smashed it's tail on the ground)
Twilight: Is that...a tarasque?
Celestia: Indeed. A creature with durable scales, a tail that can strike devastating blows, teeth sharper than daggers, and extremely hot flame-breath. (The Tarasque roared and breathed fire in the air and charged towards Lyra as she avoided it screaming)
Bon-Bon:...Well, at least it's a Level 7 monster.
Lyra: "You guys know I'll just sing my song again and it'll end up not taking me seriously as well!"
The Tarasque grunted and growled.
Luna: "The Tarasque said it won't work on him! He's too professonal as a arena beast for that!"
Lyra: "..... DAMN IT! I JUST HAD TO BE GIVEN A PROFESSONAL TO FIGHT WITH!?"
Bon-Bon: "You were choosen to be the barer of the element imagination! Be imaginative, think of something else creative that'll help you physically beat the creature."
Lyra:...Uhh...uhh...uhh...uhh...(The tarasque attacked with it's clubbed tail, and Lyra dodges it, and then the tarasque unleashed a sweep of flames across as Lyra barely avoided it) BY STARSWIRL'S BEARD, HOW AM I SUPPOSED TO OUTSMART THIS BEAST?!?
Celestia: This is YOUR test, Lyra. You can think of what to do by yourself.
Lyra: BUT I DON'T KNOW A THING ABOUT IMAGINATION!!! MY IMAGINATION IS NOT THAT GOOD!!!
Bon-Bon: Are you kidding? You wrote a song with imaginative lyrics...though it still doesn't make up for it's ability to prove that you're an anthrophile.
Lyra: NOT HELPING!!! (She dodges the tarasque's charge)
Celestia: Just try, Lyra!
Lyra: Uh...uhhhh...(The tarasque turned around and saw Lyra) OH, PLEASE, DON'T KILL ME! I NEVER GOT TO ENJOY BEING A HUMAN! I BET I WOULD LOOK BEAUTIFUL WITH SUCH A BODY! (The Tarasque breathed fire on her, and she appears to have been killed)...(As the tarasque looked at the ashes, Lyra appears alive and uses a lyre to restrain the tail, curling it up inside) GOT'CHA!!
Merlin: SMART MOVE, LYRA!! (The tarasque tries to free it's tail, but it's too tightly tangled in the lyre, and it roars)
Lyra: (The tarasque charges toward Lyra, and she runs out of the way as the tarasque crashed into a wall. Then when it turns around, Lyra has disappeared, becoming invisible. The tarasque runs around looking for Lyra, until she trips it to the ground, and quickly puts another lyre on it's snout, disabling it's fire breath) GOT'CHA AGAIN!
Fluttershy: "WAY TA GO LYRA?!"
Lord Shen: "..... I'll be damned. She DOES have an imagination after all."
Celestia:...Well, it's still an improvements. She's a few steps closer into achieving her goal.
Lyra: (The tarasque is escorted into the pen)...I...did it!...And I didn't die!
Bon-Bon: Nice going, Lyra. You're starting to improve. (The two bumped flanks with each other and hugged)
Icky: HAH! GAAAAAAAAAYYYYYYYYY!--(Banzai smacks him into a wall) DIYAH!!...Ow...I probably deserved that.
Banzai: Damn right you did.
Squidward: "Glad it's not me this time."
Sandy: "Provided if you do nothing to provoke it."
Squidward: Yeah, whatever.
Shifu: Well, I must say, these are all great improvements. They just need a few more. Dr. Whooves might need to do battle WITHOUT his mech, because I feel that Tyranny can easily destroy it or make it disappear.
Dr. Whooves:...But didn't you say that the Elements can protect us from whatever Tyranny can do to us?
Shifu: Yes, but your mech is not a part of you, and is only something that upgrades you. So Tyranny can easily take that away. He may not be able to destroy you, but he can destroy the mech. As for Bon-Bon, her skills are improving. But I feel she might need some more training, this time without an infamous creature like Caesar, just as a form of baby-steps. That doesn't mean you have to take on Caesar again, because we've made it clear that it's trained to be a killer. Octavia is improving in her skills, too. She's getting close to actual combat and not using music as a factor. Derpy is improving, too, but she may have to do a battle with the Nandi Bear again, this time with her wings and NOT trying to use them for quitting. Putting a limit on her can't count as her greatest strength, so she needs to balance herself between her courageous and cowardly sides. Vinyl...I'd say she can fight pretty well since we found out she'd do anything to protect her friends. And Lyra...she's doing pretty well also, and is getting a bit close to being a skilled and imaginative fighter. You six are getting closer to your goals in understanding why the Elements chose you. You'll soon be ready to face Tyranny.
Celestia: And we'd better hurry because I'm starting to sense that Tyranny has  made his way out of the Frozen North, and found almost familier Terratory. Though, strangely.... He STILL hasn't made his appearence known. Either he's stupidly lost again, or he's preparing an ambush or surprise..... Or maybe, something not even I would predict. I can't say what, but... It started to feel like less like true evil and more like, extremely and violently morally misplaced at best.
Luna: "Are you saying that something is happening to Tyranny?"
Celestia: I'd say so. If I know Tyranny, he would've arrived by now and would've caused some serious damage. But he hasn't. He's still trying to search for us. It's almost as if something is holding him back. Perhaps something, or somepony, did something to him to make him less of a threat. I don't know what it is, but we need to find out.
Luna: Well, if they DID do something to him, how could they have gotten past his chaos? Usually when he's around, there's violence and destruction. Nopony could've possibly gotten past without being destroyed.
Celestia:...I think something DID happen to him. We need to do something immediately. Whoever did this, I can't nessersarly say it's for the betterment of us in a way.
Discord: Who the hell would want to change someone who is virtually unreasonable and destructive?... Okay, maybe a lot of people, but Tyranny was made for true evil and destruction. He CAN'T be reasoned with unless something happens to him, like a spell or some kind of brain infection.
Rainbow Dash:... You kidding? Tyranny is sure to be immune to s*** like that!
Discord: Hey, Draconequui may be pretty powerful, but they're not omnipotent! They aren't all immune to infections and magic spells. Plus, he's the first of his kind. He's a deformed ugly creature who has never had any problems in his life due to his power. So, yeah, something MIGHT be turning him into a pacifist. Heck, worse then that, a total pussy!
Rainbow Dash: "I'm just saying that if it was as easy of injecting something into Tyranny and mentally change the guy, then getting the Element of Peace out would end up being freaking pointless!"
Discord: "I wouldn't say ENTIRELY pointless, but something does feel as if it's not solely the only answer as we originally thought anymore, like, something that didn't existed priorly is being used on him. But what?"
A field of Flowers.
Tyranny sat in a Flower Field with Despot and was sniffing them.
Tyranny: "Ok, this is weird. Normally I would've wrecked this field of flowers with choas, like I did with the Frozen North, but yet, both this palce and the Meadow I visited, PFFT! Did I ended up wasting my abilities in that worthless wasteland?"
Despot squeaked in what sounded like "Probably".
Tyranny: "...... If that's the case then, I'm gonna have to go back to that stupid lic world and retake it."
Tyranny teleported back to The Frozen North, snapped his claw, undid his choas and turned everything back to normal, and returned to Despot.
Tyranny: "There. Wasted choas fixed...... I can't shaked this feeling I'm more prouder then outside of the fact I restored my powers..... Man I can't get these weird feelings... (Looks at a flower, and takes a sniff from it.). Ahh.... Beautiful and Elegant..... WAIT, WHAT THE FUCK DID I JUST DO AND SAY?! I'm normally against that?! (Listens to birds chirping)..... (Sighs happly)..... The chirping of pretty birds...... WAIT WHAT!? I'm normally bothered by that!? Is that stupid artic ice still in my brain!? AGGH!? NO WONDER I WAS PLACED THERE?! THEY KNEW I WOULD GET LOOPY FROM YEARS OF BANISHMENT IN SOMEPLEACE COLD?! Oh why couldn't've been the tropics?!"
Despot gave Tyranny a calming touch, and Tyranny at first smiled at it, but then got confused and was un able to give his usual reactions to affection with disgust and anger.
Tyranny: "I, I, I know you meant well Despot, but, it's not helping in a sense! I'm REALLY not used to NICE touches! I'm used to physical violence?! I, SERIOUSLY, DON'T KNOW WHO I AM ANYMORE?!"
Citar playing was heard.
Tyranny looked over to see Treehugger and a gang of hippies listening to the Citar sytilings of A Hippie Guru Unicorn.
Tyranny: "..... Ohh..... Goverment denying outcasts. The perfect target."
Tyranny gives a quick pet to a concerned Despot as he walks over to the group, who surprisingly showed no fear to Tyranny, if most likely from either being too zenned out or because they're not afraid of any creature, maybe even the combination of the two.
Tyranny: "FEAR ME, SILLY PONIES!? I, THE GREAT TYRANNY, AM HERE TO-"
Unicorn Guru: "What's up, brother?"
Tyranny: ".... Well, the sky obviously, followed by the vastness of space and, (Bbbbbbb), WAIT A MINUTE, I wasn't finished, buster, I-"
Unicorn Guru: "Call me Zen Wistom."
Tyranny: "..... Ok, Wistom, as I was saying before you interupted, I-"
Zen Wistom: "No need to explain yourself, brother. We respect and understand all creatures, made by nature or magic. Come sit with us, brother."
Tyranny: "Ya know what? Fuck this! I was gonna do something non-fatally horrorable to you people but you keep rudely interupting-"
The Hippies laughed!
A Yellow-Maned mare next to Treehugger giggled!
Yellow-Maned Mare: "Your funny."
Tyranny: "...... Wait, you thought I was funny?..... Odd. Normally my sense of humor isn't to anyone's liking."
A Blue-grey Colt: "Welcome to my world, man."
Tyranny: "..... Oh, what the heck, it would be nice to have someone sentient to talk to. (Sat down)."
Treehugger: "So like, where'd you came from?"
Tyranny: "Originally Draconequua, but I was just recently freed from a millenda long imprisonment from the Frozen North."
The Hippies laugh again.
Treehugger: "Dude, your a riot."
Tyranny: "Well, it's funny you mentioned riots, you see-"
Yellow Maned Mare cuddled to a surprised Tyranny.
Treehugger: "I think, my sister Sunflower Love, like, really likes you man."
Tyranny got more surprised....
Tyranny: "Love? Nobody, ever gave me that emotion..... I..... I don't know what to say....."
Sunflower: "Say you'll love me back....."
Tyranny: "......... I do?"
Music starts to play as Sunflower and Tyranny stared, as Tyranny awkwordly grew a smile as Despot was smiling for him.
Tyranny: "Sunflower, I- GUNNNNNNNNNAAAAAAAAAAAAAAAAAAAAAAAAAHA?! WHAT AM I DOING!?"
Tyranny ran away from the group and grabbed a face-palming Despot!
Sunflower: "....... Ty? Ty?"
Tyranny only gave a brief, confused look and ran off again!
Sunflower began to cry.
Sunflower: "(Wimpers).... MAJOR MELLOW HARSHER MAN!? (Cries)"
Treehugger: "(Comferted Sunfllower) It's ok, Sis. He's just being REALLY hard to get."
Zen Wistom: "Don't worry Sunflower. He'll come back."
Different part of the vast meadow!
Tyranny was screaming like a fool!
Tyranny: "GOTTA HIDE GOTTA HIDE GOTTA HIDE?!" (Hides in a cave, and pants heavily, contemplating what had just occurred)...WHAT IS WRONG WITH ME?!? WHY AM I SUDDENLY FEELING SO MUCH BLISS?!? I'm supposed to be a destroyer, a conquerer, a master of chaos! Why is that all getting tossed out the window?!? (Despot gives an 'I don't know' gesture)...Despot, I think somepony might've done something to me to make me something I'm not! Whoever did this, I'll...I'll give him a great big hug--(Slaps himself as his antlers came off) NO! YOU WILL NOT GIVE HIM A HUG! YOU WILL...YOU WILL LOVE HIM LIKE A BROTHER...DYAAAAAAAAAAAAHHHHHHHHHHHHH!!! (Literally falls apart)...Whatever this is, it has to stop! I need to find a way to make myself an overlord again!...An overlord of...fffffff...fffffff...(Holds it in)...FFFFFFFFFFFFFFFFFFFFF OF PEACE!!!!...(Got a frustrated face)...AAAAAAAAAAAAAAARRRRRRRGGGGGGGGHHHHHHHHHHHHHHH!!! (Bangs his head on a wall) GET, OUT, OF, MY, MOTHER, F******, HEAD, RIGHT, NOW!!! I CAN'T TAKE IT ANYMORE!!! IF I KEEP DOING THIS, I'LL BECOME DIAGNOSED WITH MORALITY SICKNESS!!!
Tyranny calmed down.
Tyranny: "Come down, Tyranny.... I guess your appointment with The Elements of Peace will have to be delayed by another day. Hopefully, you don't become a bigger wuss.... Or even, (gulp).... A pussy!"
Canterlot Castle.
Celestia: "Now this is becoming TRUELY strange!"
Luna: "What is it sister?"
Celestia: I've had a vision. It would seem that Tyranny is acting...stranger lately. He's being less destructive and more...compassionate.
Luna:...The lord of destruction, Tyranny...compassionate?
Celestia:...I know it's hard to believe, but what I saw was true. Something has happened to Tyranny to make him different. And as a lord of things terrible, and a creation of Darkspawn-worshipping beings, he's sure to suffer morality sickness through this.
Luna:...What if...what if THAT'S the reason he's been changed like that?
Celestia:...What?
Luna: I'm just saying it might be possible. Tyranny is a powerful immortal creature who can't be killed with such impressive extremes. And what's the greatest way to kill an immortal?
Celestia:...Morality sickness?
Luna: Exactly! So it's possible that, whoever did this, MIGHT'VE made him compassionate through some kind of spell in an attempt to rid Equestria of him through the sickness.
Celestia:...That's...actually a very good point. But...if so...then who could our vigilante be? Because I'm sure that death by morality sickness, even to the Gods, is considered INCREDIBLY dishonorable. I know a few Darkspawn who have pulled this stunt, and it's dishonorable even to them. That's why several of them are exiled to certain magical prisons across the UUniverses.
Luna: I know, sister. I don't know who's doing this, but we need to stop them before they end up doing some serious harm. Execution by morality illness is not viewed very well, even to the High Council, and is often punishable in many ways.
Celestia: Then we must warn the others. Tyranny is better off trapped in his ice prison than being killed through an illness. That's why we have Euthenasia berries for animal caretakers like Fluttershy, so illnesses like that can't bring pain to more than just the sick victim.
Luna: "I'm worried that the Lougers might have a contredictory view because of.... Well, obviously Tyranny's death is tecnecally a good thing, considering his actions."
Celestia: "..... I, would imagine the same. Let's see if we can get them to understand our views."
A Private meeting in Celestia's chambers.
Icky: "Your saying Tyranny's acting super weird is because someone's trying to give the guy, remorse, and in sense give the dude morality sickness?"
Trixie: "And you want us to think that's, bad, even though Tyranny is otherwise extremely dislikeable?"
Shifu: "As odd as it is, in a, bizare way. Yes. It is. In fact, even to the standerds of Darkspawn, using mortality sickness as a weapon against any enemy is dishonorable."
Icky: "Wait, but didn't we established in Strictly Invitation Only that it can't be pulled off, sort've?"
Shifu: "In terms of, Qui saying that she'll never forgive Celestia just for the sake of activating it, as an exsample from that very time, yes, saying you won't forgive a immortality illness victim without a clear, REAL reason, is impossable. But it's a very different matter when you do something to cause a perfectly healthy immortal to get it through means! Like, sicence or magic."
Celestia: "Yes. And even if it's onto a darkspawn or a very dark immortal, it's the most disgraceful and dishonorable thing to have done."
Icky: "..... Then why the fuck did we do that in The Secret of the Golden Oak?"
Celestia: "That was a loophole. Your allowed to do it to deter a power hungry mortal turned immortal from being an immortal."
Icky: "Ohhh, so it's a sort've extreme scare tactic. But it's, seriously a no-go to do it to someone borned an immortal or god or, god creation with immortality or the like?"
Luna: "Most certainly. Even Tyranny doesn't deserve this fate. Whoever did it has a poor sense of honor."
Po: "One problem: THAT COULD BE PRETTY MUCH ANYONE! Tyranny victimised the world, did he? That means ANYONE WHO WAS A SERIOUS VICTIM IS A SUSPECT!?"
Sparx: "..... So, all of Equestia and Behold is on the list of suspects then?"
Luna: ".... If so then it would be a NIGHTMARE to resolve it! Ok, let us deal with the most likely first."
Discord: "..... Death Coffin was the one who suffered the most sacrivicing himself to stop Tyranny. Think it's possable that ex-Death God wanted to return the faver of having to be a walking bag of bones for the rest of his days."
Skipper: "A vengeful war vet. THE MOST EXTREMELY LIKELY OF LIKELY SUSPECTS!?"
Fluttershy: "YOUR SUSPECTING COFFIN!? But he would never do that!"
Rainbow Dash: "Your justifying the same guy who almost caused the end of Equestia through Heartless..... And stupidly unknowingly cheated in a game of Ponyball. Not that I complainted to much, he helped the best team ever win!"
Twilight: "I don't wanna sound like I suspect Coffin too, but, we can't risk doubting him just yet. But we will have to politely ask him first. We'll have to give the Element Barers of Peace a momentarly break and tell them that tyranny got stupidly lost again."
Fluttershy's cottage.
Death Coffin was seen cleaning his Sythe.
Death Coffin: "A nice and clean Sythe is a happy Sythe.... Not that an imanimate object feels emotions though."
Fluttershy shyfully came in.
Fluttershy: "Uh, Death Coffin? Celestia and Luna, and, everyone else, wants to talk to you about something?"
Death Coffin: "Alchourse. I'll politely and maturely have a conversation with them."
Main room.
Death Coffin: "YOU SAID I DID WHAT TO WHO!?"
Celestia: Look, Coffin, we can explain. Tyranny has been gaining a sense of morality lately, and we believe somepony made him like that through science or magic. And because you've been victimized by him because he's the reason all the Alicorns of Equestria are nothing but souls...
Death Coffin: YOU THINK I'M THE CULPRIT?!?... That is just absolutely preposterous! I'm not that kind of pony anymore. Even if I wanted Tyranny gone, I am too aware of the unethical concept of killing an immortal through a morality sickness to do something like that. All I was blaming was the mortal ponies for treating godly responsibilities as something to sing to and dance through traditions. There was nopony for me to take my anger out on but the ponies since Tyranny WAS already paying the price at the time when he was momentarly imprison until he returned in no true thanks to those criminal fools. But I'm still trying to get used to their customs because they keep telling me that they're all Equestria's got left of keeping the world's natural laws flowing, and that singing handlers are better than no handlers at all. Bottom line, I am too honorable for that!
SpongeBob: Then who do you think would be stupid enough to try and kill him with morality sickness?
Death Coffin: "Depends, remember the LAST pony who DARED attacked an immortal? A half-god, no less?"
Icky: "...... OH, SHIT?! PRED JUDU DES!?"
Lord Shen: "I bet he asked Hidden Shadow to cased a repentence spell on Tyranny to use morality illness against the fiend."
Fluttershy: "Again with suspecting people I have postitive feelings for?"
Pred's place.
Pred and Mara were doing a dance.
Pred: "Don't worry Mara. I'll promise I'll keep you save from Tyranny should he arrive."
Mara: "Oh Pred, you brave fool."
Sharp-Pay, Axe-Rella, and Chain came in.
Sharp-Pay: "Father, I know you don't want us to interupt your dancing, but Fluttershy and her friends want to talk to you and Shade."
Pred: "Oh really? SHADE!?"
Hidden Shadow came in.
Pred: "Good. Ok, what are the misfits gonna accuse me of this time."
Outside.
Pred: "YOU ACCUSED ME OF WHAT NOW?!"
Luna: "We mean no intentional offence, but given your record, we suspect you desided to stop Tyranny through morality illness."
Pred: ".... Ok, I won't lie, that does in some way sound like something I would ask Shade to do, BUT, as much as I would love more then anything to have that beast SLAIN like his followers before him, even I think it's unsportsmen-like to use a deity harming desisence to beat him! Besides, Shade's not capable to something powerful enough to even BARELY work on Tyranny! Don't believe me, ask Shade herself! Shade, say your not capable of it."
Hidden Shadow: "He's correct. No reforming or repentence spell I have is even remotely capable to even make Tyranny even slightly regret his sins."
Applejack: "In otherwords, you two have nothing to do with it?"
Pred: Hell, no! Maybe it was somepony else who is wanting to end this so quickly because of certain reasons. Besides, I know of Tyranny TOO well, and even I wouldn't DREAM of challenging a Draconequus who can literally rip my head off like it was styrofoam. Even somepony as experienced as me would have trouble destroying him. It's just not possible.
Hidden Shadow: So you're out of luck if you think we did it.
Lord Shen:...What do you think, Celestia?
Celestia: They're telling the truth.
Lord Shen:...Are YOU using a truth/lie jinx?
Pred: WHAT?!? WHAT'RE YOU TALKING ABOUT, I CONSIDER JINXES BIG TABOOS!!!
Celestia: Shen, calm down, I know they're telling the truth. And they're against jinxes because Hidden Shadow was jinxed before. They're all innocent.
Lord Shen:...(Sighs) Very well. Then I believe them. But who else do we know who could've done this?
Luna: "Perhaps it was a Draconquui who feared Tyranny's returned..... Espeically if they're in the same bloodline as the ansisters who aided in betraying Tyranny. Espeically if your related to Diplomicy."
Discord gasped dramaticly!
Discord: "ARE YOU ACCUSING MY PARENTS?!"
Celestia: "Please know that we would never hold it against your parents for being driven by fear, Discord. But we will still handle it with grace and respect."
Draconequua's castle.
A servent Draconquui came in.
Servent: "Princess Celestia and the heroes of Equestia and beyond requested an audience."
King Wacky: "Oh? Do they have questions about Tyranny?"
When they came in.
Wacky and Pranks: "YOU THINK WE DID WHAT?!"
Luna: "We would understand fearing him because of your desendent Diplomicy lead the revolt against him."
King Wacky: "Look, if it wasn't for the fact that myself and my beautiful are afraid of Tyranny, I would be more then just alittle hurt that you people would think we'd even let fear make us DO something so, BEYOND cowerdly, even if it's on HIM!?"
Spyro: So... You're not the ones either?
Queen Pranks: Of course not. It would be a disgrace in our family legacy to execute Tyranny in a way so irresponsibly... I mean, aside from our family legacy being disgraceful as it is with Mayhem and Discord.
Discord: Hey! Not that I don't deny it, it's still hurtful mom! But I diegress. So that's three down for the count! WHO ELSE IS THERE LEFT?!? I'M STARTING TO FALL TO PIECES JUST CONTEMPLATING ON THIS!!! (Literally does that)
Twilight: Well, before we go to somepony else's door step accusing them of something they didn't do like idiots, let's think more about this. Our culprit has to have been a pony who was so scared of Tyranny's return, they wanted to cheat their way into defeating him. Perhaps it was somepony who was in the presentation, yet failed to prove themselves.
Private:... You don't think... It was EUREKA who did it, do you? (The Lodgers and ponies paused and then burst out laughing)... What?
Celestia: Well, I find that pretty unlikely, Private. Eureka does appear to be a famous individual who had brought 21st century technology to Equestria since Kevin, yet in the right way.
Private: Well, didn't he seem pretty angry about not being chosen to wield the Element of Intelligence? I think that does seem like a good motive. If what Dr. Whooves said about him was true, perhaps Eureka would've been so jealous, that he wanted to make the Doc look bad by defeating Tyranny before he could.
Squidward:... That... Just might be... THE MOST STUPIDEST CLAIM I'VE EVER HEARD!!!
Private: But it does seem pretty legitimate.
Celestia:... Maybe, but I don't think Eureka would even behave like that. Making Tyranny go into morality illness to defeat him first out of jealousy seems like something too idiotic, and Eureka wasn't THAT mad when he left. He seemed to let go after exspeariencing admited disappointment, though.
Luna:... But it actually might make sense. Perhaps we should go check on Eureka just in case.
Celestia:... I suppose it's worth a shot. I mean, we have to have SOME clues as to who might've done this. Let's go.
Eureka Corp
Dr. Eureka was drinking a fine wine with some pretty mares of each pony tribe.
Dr. Eureka: "And to think, Jocks like to think that "Nerds" can't get chicks."
The mares giggled.
La-Te walked in and quickly blushed seeing Eureka with the Mares.
Dr. Eureka sighed.
Dr. Eureka: "I'm afraid you ladies have to go back to the room again, ladies. Business came up. (The Mares left). Yes, La-Te?"
La-Te struggled to get rid of her blush.
La-Te: "Ahem! Sir.... There may be an issue."
Dr. Eureka: "Like what?"
La-Te: "..... (Quietly) Princess Celestia and the heroes are here. They seemed to suspect you for what is going on with Tyranny."
Dr. Eureka doesn't look TOO surprised.
Dr. Eureka: "(Quietly) I suspected Celestia must've sensed Tyranny's depature of his usual shenanigans. In the event they want a tour of Eureka Corp, tell the ponies behind the remorse drug to hide any evidence to it! This must be keep conceled. Leave them to me."
La-Te relucently obeyed and left.
Later.
Dr. Eureka calmly sat on his desk.
Dr. Eureka: "So, your highnesses, Main 6, Main 5, Lougers, Discord, to what I owe this completely unexpected surprise?"
Celestia: Dr. Eureka, we have some news concerning something about Tyranny ending up turning uncontrollably compassionate. He's started socializing with animals and even a hippie pony. We feel that this will end up in morality illness, and conclude that whoever made him like that was intending that purpose to kill him off and defeat him. Even to the Gods, that's considered pretty frowned upon, and can be pretty punishable to the High Council.
D. Eureka:...(Kept his cool)...Well, what does this have to do with me?
Skipper: A lot. We think that because you were...a bit...upset that you didn't get to wield the Element of Intelligence, we feel you may be involved, especially since we're curious about what Dr. Whooves claimed about you, which in terms, meant that you were intending to defeat Tyranny first out of jealousy.
Dr. Eureka: Me? JEALOUS?!? (Laughs) That's ridiculous! Dr. Whooves' an idiot, and a poor and under-budget one at that with crappy knock-offs of my superior, AND orignal, inventions, I would never be jealous of him. And as for your concerns, I simply had nothing to do with it.
Celestia:... I'm still sensing lies, but can't confirm if it's a jinx or not.
Dr. Eureka: I'll say it again, I am no thief, and I'm certainly not a murderer, not even to an abomination like Tyranny. How can I anyway? Immortals are IMPOSSABLE to kill, even WITH science! But let us consider something more impourent here! I brought grand technology to Equestria, and ponies everywhere can enjoy TV, VCR, DVR, DVDs, and any form of entertainment.
Lord Shen:... If you're absolutely sure, then we'd like to have an inspection of this place. A COMPLETE inspection. We want to see every single portion of this facility inspected, and if you even try to sway us out of even one of them, we will immediately assume you are the culprit for hiding something, and place you under arrest.
Dr. Eureka: I assure you I have nothing to hide.
Lord Shen: You'd BETTER not! Especially since, if you ARE the culprit, and really HAVE been doing all those things to an innocent scientist, then you will face charges of theft, conspiracy against the princess, AND attempted immortal murder through morality illness, and don't think you'll be easily excused by the fact that it was on an evil immortal, that's no longer a valid justification for something so dishonorable to the High Council! In fact, I'm sure that even they will be displeased by something like that. So you'd better hope we don't find anything suspicious.
Celestia: Shen, please, don't be THAT stern to him. If he DOES have something to hide, we WILL find it because we have magic and good investigation tactics. But you're right, the consequences will not be pleasant.
Dr. Eureka:... Okay... I'll have La-Te escort you-
Lord Shen: Uh, excuse me, LA-TE escort us? I'm sorry, I think you need to be with us personally, because if you ARE the culprit, then we can't allow you to make a quick run for it. You're not going anywhere unless we have all the information we need.
Dr. Eureka: "Ok, ok, if your THAT concern about the whole matter, then I'll give a personal tour myself. Just, allow me to sent an instigram message to La-Te, she's aiding in properly disposing of hazordious materials. Ya know, the end results mixing chemicals needed for the future of evioment friendly cars I plan to unvail soon."
Dr. Eureka brings out a Ipod like device and sent a message to La-Te.
Labs.
La-Te resheaved the message.
La-Te: "..... Ok, Dr. Eureka has asked you all to put the remorse drug and all resipes relating to it to the indesturctable and magic proof magic-undetectable safe, and hurry! Eureka said that tehy want every initch seen, so that means the drug lab isn't gonna be made an exception. Do it now, people, the fate of this company rests on it!"
Scienctist and staff ponies do what they can on taking all things related to the remorse drug into the vault!
La-Te sighed sadly.
Hallway.
Dr. Eureka: "Let's first visit the robotics room. Our first ponybot is gonna be a marvel to be admired for generations! Now-"
Lord Shen: HOLD ON THERE, PAL! Let me see that iPhone! I'm sure we'd like to see what you sent your friend just in case you're trying to order her to have anything hidden from us before we can find it.
Dr. Eureka: HEY, I DON'T GO AROUND LOOKING AT YOUR PERSONAL STUFF!!
Lord Shen: Excuse me, I gave you an order! Give me the iPhone immediately!
Celestia: Shen! Forgive my bluntness, but that's going a little too far. You can't just look at other people's messages like that! They could be personal.
Lord Shen: But what if he told La-Te to hide exactly what we're looking for in a place even WE can't find it?
Twilight: Shen, please, perhaps this whole mission and the stress of a lord of destruction is starting to get to our heads.
Lord Shen: I know what I'm doing, Twilight! Last chance, Eureka, give me that iPhone, NOW!
Eureka:...(Gives Shen the iPhone, and he sees that what Eureka originally sent was replaced with something involving disposal of hazardous material)
Lord Shen:... Huh?... I guess I DID over-react.
La-Te's Location
La-Te: (Had the message edited)...(Sighs) Sorry for this, Lodgers. (Continues work)
Eureka's Location
Celestia: Shen, that was absolutely uncalled for!
Lord Shen: Hey, you'd do the same thing, you know. We can't allow people to hide something sensitive, so I simply HAD to do it. Plus, he was resisting orders! That sounded like he was hiding something.... In fact... I think he was quick about it.
Dr. Eureka: Sir, I assure you, I am not a thief OR murderer.
Lord Shen:... Very well, I'll take your word for it. But I swear, if we find out later or any other time that you were hiding something, then we'll have to add conspiracy against the SHELL LODGE to your charges, good sir! Now you show us around so we can investigate this place.
Dr. Eureka: Very well, then. Follow me. (They walk off)
After touring some labs.
Dr. Eureka: "Now the next lab is the drug and narcotics lab. Now, I need to be able to see if they're done disposing of the hazordious materials first, so please, wait out here for say, 5 minutes, cause we wouldn't want them to end up hurting anyone, do we?"
Kaa: "Certainly not."
Dr. Eureka enters the room alone.
Dr. Eureka appourched La-Te.
Dr. Eureka: "(Quietly) Has the project been safefully secured?"
La-Te: "(Quietly and sadly) Yes sir. The vault you designed is capable to be undetectable by even to Celestia."
Dr. Eureka: "(Quietly) Good."
Dr. Eureka leaves to return to the Group.
Dr. Eureka: "Ok, the hazordious material is taken cared off. The Drug and Narcotic labs are completely safe now."
Lord Shen:...Were you REALLY discuss--
Celestia: Shen, please, let it go!
Lord Shen:...(Sighs)
The Group enters the Drug labs, and after awhile, they found nothing.
Trixie: "Well, nothing."
Dr. Eureka: Now, let us continue the tour...
Icky: Everyone, I think it's best we just skipped this tour...
After tour...
Lord Shen:... Well... I suppose you really AREN'T the culprit as I was expecting.
Dr. Eureka: See? What'd I tell you? All my projects are safe and absolutely non-controversial.
Lord Shen: (Grabs him by the collar) That doesn't mean we'll suddenly trust you. All that had just occurred has made me certain that you might be involved in some way. I'm warning you once again, if you are caught red-hooved, the punishment will not be pleasent. We'll make sure your business is shut down forever, and that no other ponies will EVER hire you again, not even Dr. Fruit Salad! You will no longer do science again, and you'll be in as much a doozie as Dr. Whooves! You understand?!
Savio: Believe me, Mr. Shen, there are much harder things to swallow than his obvious innocence.
Lord Shen:... Get me the lie detector!
Icky: Forgot it again.
Lord Shen:... DAMMIT, PREHISTOIC ONE, I TOLD YOU TO KEEP THE LIE DETECTOR WITH US AT ALL TIMES!! I'm starting to believe Dr. Whooves for once, maybe this pony IS a criminal and a thief.... And that's why we'll be back, Eureka. This time, you will not be permitted any ins and outs, no messages, no phone calls, not even bathroom breaks. You will be monitored every single second.
Celestia: Shen, please, calm down! If you want us to return, fine. We will eventually.
Skipper: You kidding? We just checked every single spot in that facility. There's nothing, not even a single hidden vault.
Lord Shen: Well, perhaps he's hiding sensitive information in places even WE can't locate. I know a lie when I hear it, and this guy seems to be hesitating a few moments. I can feel his fear. There's something wrong with him that he's not sharing, and I will not rest until I find out what. So you'd better not turn your back on us, Eureka! You will be punished harshly if we find out you lied to respected heroes AND authority. Good day to you, sir. (The Lodgers left)
Dr. Eureka:... (Sighs) Once again, I remain uncaught, as I always will be. (La-Te arrives) See, La-Te? I have everything under control. Even the Lodgers never suspected a thing.
La-Te:... You do realize that the peacock will make good on his threat of having you ostracized from the science community, right? Especially since you lied to authority. I don't know if I can shake off the feeling that I can't take the risk.
Dr. Eureka: La-Te, trust me, everything will be fine. I made it all the way through many investigations before, so discovering me and my intentions will not be possible.
La-Te: Yes, but I... I'm starting to feel uneasy with this. The risk of hiding secrets from even the Shell Lodgers, containing High Council members no less, is going to possibly be discovered. And when we do, hundreds of ponies will be put out of a job, and I'll actually suffer your fate in the process.
Dr. Eureka: Are you starting to go against me, La-Te?
La-Te: No, sir, but maybe I might if this keeps getting worse. We can't keep this secret forever, and I feel that no matter how hard we try, the Lodgers will eventually discover us! I can't live with a conspiracy if the punishments start to build up.
Dr. Eureka: "Oh for goodness sake, La-Te, it's not a conspiracty! It's just playing it smart, keeping your enemies as uncreditable as possable and keeping higher ups in a ignorated bliss. It's what my father always say."
La-Te: "But-"
Dr. Eureka: "Ok ok ok ok fine! If it'll make you feel less worried, then I'll give the misfits their "Suspect". That way, some other fool will get blamed for it, the peacock will realise he's being unreasonable, and I get off scott-free."
La-Te: "Ya-ya, ya mean your gonna turn someone into a scape goat?!"
Dr. Eureka: "Would you rather WE take the fall for something TECNECALLY the greater good, La-Te?"
La-Te: "Well, no, but-"
Dr. Eureka: "Then PLEASE, work with me, La-Te. Not just as your boss, but as the only pony who cares for me, more then just professionally. Please La-Te. Don't abandon me."
La-Te: "...... I, won't sir."
Dr. Eureka: "Ahhh, THAT's a good girl. Now, come with me, La-Te, I know the PERFECT scape-goats for anything!"
A secluded area.
A disguised Eureka and La-Te stood before a huge figure.
Eureka: "I want you to say that what happened to Tyranny was your doing. They'll be a big reward for you if you do so."
???: ".... Pay me upfront so I'll know it's not a trick."
La-Te relucently handed over a suitcase filled with a large amount of money.
A Long blue hand grabs some of it.
???: "...... Your a wealthy genius, good sir."
The Figure finally reveiled itself as Ahuizotl
Ahuizotl: "I'll gladly calm credit for your company's appearent, "Contribution" against Tyranny. But I need new minions. My old ones turned on me, and my pets..... Well. The blasted all Aspca confincated all of them. Appearnetly, evil villains aren't allowed to have pets! Good grief!"
Eureka: "Well, I heard there's a cave in the grimmer side of Everfree where a group of Lizard men have moved in. And they love, gold. The money we paid you is gold. I believe it shall be serviceable."
Ahuizotl grinned.
Eureka: "Oh, one more thing. You'll need a truth jinx so Celestia will actselly believe you. Do it."
La-Te even more relucently casted the spell on Ahuizotl.
Ahuizotl: "Consider the deal, about to be met."
Cave.
In a scarier part of the Everfree forest, a rowdy party was heard.
A Gang of Lizard men are seen rough-housing, drinking beer, and enjoying themselves and gold.
A Leader Lizard Man sat on a golden crudely made throwne.
???: "ATTENTION, YOU SORRY REPTILIAN THUGS!?"
The Lizard Men looked at Ahuizotl entering the cave.
Lizard Men: "AHUIZOTL!?"
Lizard Man Leader: "Ahhh..... The Infamous Ahuizotl. To what I owe your unexpected arriveal?"
Ahuizotl: "You may've heard I ran into some, henchmen and pet troubles recently. I no longer have henchmen anymore."
Fat Lizard Man: "Well that's what happens when you make henchmen out of PONIES!?"
The Lizard Men laugh!
Skinny Lizard Man: "Yeah, and a bunch of wild cats!? AND A PERSION DOMESTIC?!"
The Lizard Men laughed harder!
Lizard Man Leader: "SHUT UP, YOU HALF WITS?! Forgive my metathorical brothers, Ahui. They don't know how to respect a troubled evil like yourself."
Ahuizotl: "I've been insulted by worse. Anyway, Daring Do is busy with another former accomplise of mine in the Aztec Cobra ruins. She tends to take forever with that kind of scenario. I desided to take advantage of the distraction and hire you men for an invadion of Canterlot."
Lizard Man Leader: "Whoa bro! That's Sunbutt's terf! If you want us to mess with Celestia, you have to make it worth our while!"
Ahuizotl brings out the suitcase and opens it, exposing the spilling money, making the Lizard men hiss and moan in delight.
Lizard Man Leader: "..... I love it when we speak the same languise. So what's the plan, boss?"
Ahuizotl: I'm sure this will be one that is sure to give us some great pleasure. (Cackles wildly, as do the Lizard Men, then the fat Lizard Man coughed wildly, surprising everyone.)... Oh, way to ruin the suspense!
Fat Lizard Man: What? I swallowed a bug!
Chapter 5: Suspicions Are Lost/Tyranny Arrives/The Elements Rise
Meanwhile...
Lord Shen: Kowalski, you got the SpyBug ready yet?
Kolwalski: "Yes indeed, sir. But in all honesty, I don't think it's really Dr. Eureka, Shen. Can't we just drop it already?"
Lord Shen: NEVER! His actions during our investigation were too suspicious for me to drop it. He's pretty much #1 suspect in my book if you ask me. And I feel that as long as public are around, he's always going to be one step ahead. So that's why I'm sending this SpyBug to spy on the facility and make sure he wasn't hiding something.
Private: How would you know if Eureka was the guy? We didn't find anything at his facility.
Lord Shen: That's probably because there's hidden spots we were unable to find, even with science or magic. So, let's go over this again.
Kowalski: Well...that map of the facility that Celestia reluctantly supplied you with does seem to be a legitimate one. But...(Sighs) We looked at it a hundred times, and there's no one spot we haven't checked.
Lord Shen: Oh, really? Well, what about THAT spot right there? (A small area not highlighted as room is seen)
Kowalski: That spot near the biological and drug/narcotic labs?
Lord Shen:...There's another one right there! And another!
Kowalski: Many spots that look like miniature rooms?...I...I suppose it's possible. (Does physical work with abacus and tools)...Uh...sorry, Shen! Seems pretty small for even a pony at only a length of 3.5ft, and calculations say that these gaps are no more than 1.6ft, roughly the size of a toy dog. With a room as small like that, even building in something that can be undetectable by magic or science would be all but impossible.
Lord Shen: Then we must get the SpyBug ready before Tyranny gets here. I feel if we don't do this now, we might never find the true culprit.
Skipper: Shen, we've been wasting 10 minutes with this. Kowalski said it himself, these spaces are too small for anything to be built or hidden clever enough in. There's no point in prolonging this, Eureka is clearly not the culprit.
Lord Shen: "I'm sorry, but I sensed nothing good in that guy. He looked as deceiving as a few other villains who were good at hiding secrets. So unless our "true" suspect desides to laungh an attack out of nowhere, then I am not gonna change my mind!"
Guards bursted in!
Guard: "YOUR HIGHNESSES!? CANTERLOT'S BEING ATTACKED BY AHUIZOTL LEADING AN ARMY OF LIZARD MEN!?"
Celestia: What?!?
Lord Shen:...Seriously? In the middle of another eventual attack? (Sighs) We've got our work cut out for us!
Skipper: Well, we'd better get ready to fight off that monster and his 'lizard men', then. (Sighs) As if Tyranny wasn't bad enough.
Canterlot.
The Rowdy Lizard Men are seen messing up Canterlot!
The Fat Lizard Man burps at a Canterlot Mare's face!
Fat Lizard Man: "Consider that a freebe from ol' Skalebutt! (Hearty laughs as he slaps the mare in the butt, sending her running)!"
The Skinny Lizard Man was dunking Fancy Pants into a chamber pot.
Skinny Lizard Man: "AHAHAHAHAHAHA! Limpstick got you good, here! AHAHAHAHAHAHA!"
Ahuizotl and The Leader Lizard Man watched it unfold.
Ahuizotl: "I'll admit, Kronthorn, your men are crude, but effective."
Kronthorn the leader Lizard men: "Crude is what me and my boys do best. (Laughs). Yo, Skalebutt! Burp another Mare in the face!"
A Loud burp was heard as a Mare was sent screaming and running!
Ahuizotl and Kronthorn laughed!
Ahuizotl: "I imagine that Daring Do's accursed accomplises will come running out very shortly. Are you men ready for them?"
Kronthorn: "We're ready for anything, Ahuizotl. So these mares beaten guys WAY tougher then even both of us combined? So what? They're still puny ponies! How bad could they POSSABILITY be?"
???: Well, would you like us to show you, Ahuizotl? (Raibow Dash and her friends arrived with the Lodgers)
Ahuizotl: WHA?!? WHO ARE THOSE NEW GUYS?!?
Kronthorn: Those, I believe, are the Shell Lodge Squad. Rumors of their accomplishments get around Equestria like wildfire. They've been protecting the UUniverses since 2009.
Ahuizotl:...And we're supposed to fight THEM?!? 
Kronthorn:... I suppose so. I don't know if our armies can overwhelm them, but--
Rainbow Dash: CHARGE!! (The heroes charged)
Ahuizotl: ATTACK! (The Lizard Men charged, and the two ended up fighting)
Rainbow Dash: You guys take the lizard men, Ahuizotl is MINE! (She flies straight towards Ahuizotl and restrains him to the ground) You aren't going anywhere, pal!
Ahuizotl: Oh, if it isn't Daring Do's BIGGEST fan! Rainbow Dash, isn't it?
Rainbow Dash: Yeah, and you've got a lot of nerve to attack this place. What did you hope to gain from this invasion, money?
Ahuizotl: Oh, I have far greater goals to get out of this than money. I want to defend this place from the creature you call Tyranny!
Rainbow Dash:... HOW DID YOU KNOW ABOUT TYRANNY, YOU SCUM?!?
Ahuizotl: Isn't it obvious? I've found out about his arrival in my crystal ball. That's why I had him intoxicated with a magic powder that can give a serious brain infection to make him uncontrollably nicer.
Rainbow Dash:... YOU made him that way?
Ahuizotl: Precisely. I cannot have a spirit of destruction causing any havoc on a world that is soon to be mine to claim! Though destroying Equestria DOES mean I can rebuild it in my own image, but that's not the point! Besides, that out-dated freak is nothing more than an upstart taking advantage of my rightful infamy while I am going through some tough times as a villain! I lost my own pets thanks to Daring Do getting the ASPCA involved when one of my pets ran away and betrayed me.
Rainbow Dash: Well, it didn't help that you were treating them badly. I'm surprised you don't have TV! Those commercials for the ASPCA?...GOD, I couldn't stop crying for hours!
Ahuizotl: Well, at least I got to see you again, Dash! Taking on a big fan of my arch-nemesis will definitely be pleasing.
Rainbow Dash: That's another thing, too! Why the hell didn't Daring Do try to stop you?
Ahuizotl: Oh, I'm sure your idol is busy on a few other adventures besides the plans I unfold, like she is now. That's why I'm intending to take control of Canterlot, and make sure that Tyranny never lays a finger on it.
Rainbow Dash: Hmmph! You do realize that using morality illness is punishable by the High Council, right?
Ahuizotl: If it means keeping this land safe, then it's all worth it!
Rainbow Dash: Look, pal, some ponies ALREADY have it under control. They can stop Tyranny on their own, until you had to make it easy for them in your pointless pursuit! We're gonna have to report you to the Princess! Besides, why the heck are you and your new friends attacking Canterlot if your interested in protecting it?
Ahuizotl: "Well I'm STILL a villain! Conguring Canterlot is mere a way to establish a terratory against that anichent freak."
Rainbow Dash: "Chances are, he's NOT gonna take it, or YOU, very seriously."
Ahuizotl: We'll see about that! (Uses his tail hand to pull Rainbow Dash off of him, and he gets up in a combat stance) LIZARD MAN!
Rainbow Dash: Oh, cut with the henchmen, Ahuizotl! Why don't you be bold and fight me yourself?
Ahuizotl: I've seen such tricks before in my time. Even Daring Do fooled me with that same trick. There's no way I'll let myself be defeated by a sign of provoking.
Rainbow Dash: Oh, okay, then. ALLOW ME! (Bucks him in the face and to the ground)
Ahuizotl:...ALRIGHT, THAT'S IT, LESBO DASH!! PREPARE TO DIE!
Rainbow Dash: Again with that stereotype! Just because I have rainbow hair, it doesn't mean I'm gay! But let's fight anyway! (The two begin fighting)
Skalebutt and Pinkie Pie had a stand-off!
Skalebutt: "No pony has ever lasted a minute against my burps!"
Skalebutt burps a very foggy burp that engulfs Pinkie!
Skalebutt laughs for a bit, but gasped when he saw that the fuggy burp reveiled that Pinkie had a gasmask on as the burp faded.
Skalebutt: "HEY!? THAT'S CHEATING!? Wait, how did you get that here so quickly?"
Pinkie: "Easy. I'M Pinkie Pie!"
Pinkie brought out an extremely big party cannon!
Skalebutt: "...... Oh, shit, dude." (A rainbow blast appeared off-camera as Skalebutt flew in the air and straight into a building where a baby foal looked at the window and saw Skalebutt's mushed face on it as it slipped down and made the child laugh)
Pinkie: Oh, yeah! THAT'S what I'm talking about.
Twilight: Wow, Pinkie, you're amazing with your party cannon.
Icky: Yeah, do you have a party nuke, or something?
Pinkie: Oh, I tried that before. Didn't go over very well.
Cutaway
Pinkie: (The camera was seen on Ponyville) I WANNA SEE YOU SMILE!! (A rainbow nuclear explosion of confetti covered the town, and several screams were heard)... Whoopsie.
Present
Pinkie: Luckily, no serious injuries occurred, so I didn't get sued. But I decided not to use my party nuke again.
Icky:... I suppose I should feel stupid for asking that.
Applejack: Hey, ya' big horny toad, you DEFINITELY don't wanna mess with me.
Limpstick: Oh, really? You're just a Southern stereotype pony named after an alcoholic beverage and a certain brand of breakfast cereal. (Poking her nose) What're YOU gonna do to me? (Applejack bucked him off into the sky) YAAAAAAAAAAAAaaaaaaaaaa... (He twinkled far into the sky)
Applejack: Don't say I didn't warn ya'. My legs are the strongest of anypony in Ponyville. NOW WHO THE HELL WANTS IT NEXT?!? (The Lizard Men backed off and panicked away)... Yeah, that's what I thought!
Kronthorn: "AW COME ON, DUDES, THEY'RE JUST PONIES!?"
Rarity kicked Kronthorn acrossed the area and sent flying and screaming!
Rarity: "Not just any ponies! We're THE ponies!"
Ahuizotl: (Manages to beat up Rainbow Dash pretty good) HAH! You think I can't deal with ponies as fast as you? Daring Do is a fast-flying maniac who can be pretty formidable, even with a broken wing. She says you and she are pretty good soul mates.
Rainbow Dash: Well, yeah, she seems to have a similar hairstyle to me.
Ahuizotl: Point is that I beat up pegasi as skilled as you almost every week.
Rainbow Dash: Well, news flash, I'm a rookie for the Wonderbolts. Plus, I'm a physical marvel when it comes to fighting. I do almost 1,000 wing-push ups a day, and the Wonderbolts charted my flying speed at an average of 3,800 mph, Mach 5 at best, though it can increase at times like when I perform the Sonic Rainboom. I've even beaten Spitfire in a race before. So if you're hoping to defeat me, then you've been chewing on bad leaves.
Ahuizotl:... Okay, I am a bit flummoxed, but I don't care. You're still going down.
Rainbow Dash: That's what they all say... BEFORE THEY GO DOWN!!
Ahuizotl: "Just because your friends got lucky on the lizard men doesn't mean I don't have a contendsioncy plan!"
Ahuizotl pulled out a green orb, dropped it, and summoned a different colored clone army of himself!
Ahuizotl: "Sometimes, the best reliable help, is litterally yourself!"
Rainbow Dash: A clone army? Pfft, like that'll help! Has that EVER worked against Daring Do? (Ahuizotl tried to say something) Don't say it, I already know. I'm a serious egghead who reads books. I read every single one of Daring Do's books.
Ahuizotl: (Sighs) Those books seem to give a whole lot away to the public. Pity very few know she actually exists.
Rainbow Dash: Oh, believe me, word quickly spread about her existence. Though most people HERE didn't believe it. Yet your attack...kinda proved them wrong. Even the fillies are gushing in fan-gasming joy of seeing your attack. (The fillies are cheering near their skeptical parents)
Ahuizotl: Oh, whatever! ATTACK, MY CLONE ARMY! (The green clones begin attacking Rainbow Dash)
Rainbow Dash: (Performs awesome moves, and despite being overwhelmed at first, she manages to overwhelm them, and renders all the clones dissipated)...You can't beat me and my friends that easily, Ahuizotl. Go ahead and do your worse, we're gonna beat you and have you reported to the Princesses in no time flat.
Ahuizotl: I've been locked up in PLENTY of dungeons in my time. I've ALWAYS been able to escape. Locking me up in Canterlot will be no different.
Rainbow Dash: You sure about that? Celestia's dungeons are pretty hard to escape from.
Pinkie: Didn't YOU rip your way out of the cell in a fit of rage during Kevin's crazy actions on this place years ago?
Rainbow Dash: Yes, but can HE do it? Even the BOOKS prove he's not as strong as I am.
Ahuizotl: Have the books claimed that I am a master of escape?
Rainbow Dash: Okay, enough of this! GET HIM!
Ahuizotl: (Takes out a magic ball, and throws it on the ground, creating a cloud of smoke and he disappears cackling)
Applejack: Dag nabbit, he got away! (The Lizard Men are able to corner the heroes to a wall)
Kronthorn: No more games, heroes! It's time to die, and leave protecting Equestria to us! Any last words? (Suddenly, distant screaming was heard as Limpstick crashed into Kronthorn) OOF!
Skalebutt:...Limpstick, did that cowgirl mule just hit you around the world?
Limpstick: Yeah! The world view ain't that bad actually!...But MAN did that hurt! (Moans, and falls to the ground)
Kronthorn: GET OFF ME, YOU IDIOT!! ATTACK--(The heroes were gone, and right behind them)...Where'd they go?
Alex: Boo! (The heroes overwhelmed the Lizard Men)
Kronthorn: YAAAHHHH!!! CURSE YOU, APPLEJACK, AND YOUR DISTRACTION!!!
Later...
Ahuizotl was about to escape.
Ahuizotl: "I'll have to return with a bigger army next time! Lizard Men are obviously not enough! Next time, I'll bring the Badlanders into this! (Rainbow Dash flies out of the sky and pins him down)
Rainbow Dash: Not so fast, Ahuizotl! I think the High Council would like to know about your little stunt! (Royal guards arrive and restrain Ahuizotl)
Ahuizotl:... Blast it!
Later...
Ahuizotl: (He is thrown in the dungeon with the other Lizard Men) OOF!
Celestia: Well, Ahuizotl, I never would've guessed that YOU would be behind this. Though I start to question why you would WANT to be involved in affairs outside of your own territory.
Ahuizotl: This IS my territory! And I don't want ANY Draconequui ruining it. You'll need me to protect you from this.
Luna: Tyranny is fine enough trapped inside an ice prison than being dead in your hands. (Lord Shen has a skeptical face)
Ahuizotl: But then he'll be back again someday. He'll keep finding ways to return.
Twilight: Yeah, he only escaped because of Mayhem, the Griffin Mafia and the Mafia Alliance! I don't see him getting out all by himself. Your actions are extremely unforgivable. And because this is a crime punishable by the High Council, the High Council as a whole shall decide your fate.
Ahuizotl: We'll see about that. I'll be out of here soon. Just you wait. By the time you come back, I'll be gone.
Celestia: Not if you're being guarded. (Signals her royal guards to watch his cell) You and your lizard men will be given a contraband check and roll call every hour of your stay.
Shifu: You'd better hope we High Council members take it easy on you, Ahuizotl. Because punishments for this kind of crime can often result in banishment from your own world. Good day. (The Lodgers and ponies left as Lord Shen was still skeptical)
Lord Shen:... Hmmph!
Later...
Lord Shen: I don't buy it! Not for a single second. Ahuizotl HAS to be an accomplice.
Skipper: You're SERIOULY still on about this, Shen? We caught the perpetrator.
Lord Shen: Think about it, you tuxedo-wearing clown bird! Ahuizotl may be a powerful magic user and a grand master planner, but aren't you starting to question why he would want to spontaneously attack Canterlot outside of what he has claimed? Even HE wouldn't dare attack the capital of Equestria, because he was sure to know of it's defenses. If you ask me, I think he was paid or blackmailed into doing this. I'm still sending in the SpyBug for this. Eureka is SURE to have paid or blackmailed Ahuizotl into posing as the culprit. Again, I know lies and deception, and Ahuizotl was sounding suspicious to me.
Skipper: "That's a no-go on the Spybug, Shen. It's obvious Eureka's not our guy. The freaky Aztec Monster is."
Lord Shen: "Kolwalski, surely you believe me and-"
Kolwalski: "With due respect Shen, I think it's clear that Ahuizotl was our guy all the long. Do I agree that the attack on Canterlot was out of character? Yes, but I thoeriesed it's because Tyranny was coming to Equestia and making a MUCH more smarter plan would've taken too much time, where by then, Tyranny would be the one already attacking Canterlot."
Private: "Shen, your gonna have to accept that we were legitamently wrong about Dr. Eureka. For all we know, he was just a victim of being wrongfully accused cause he wasn't entirely happy for Whooves."
Lord Shen: "(Groans angerly, then calmly sighs in defeat).... Your right..... I was probuly being a paraniod old fool again. I'll admit, it was FAR too easy to accuse him just because he acted half-jealious, or just gentlemenly disappointed at best about the whole thing. Now I felt like an ass looking at his messages for nothing! Maybe he WAS removing hazordious waste for us and just looking out for our well-beings. I can't believe that I thought accursed unoriginal thief Whooves was actselly right! I doubt his ability to be a hero even further for this!?"
Skipper: "Which makes us the even MORE baffled WHY the element of Intelligence picked him and not Eureka!"
Lord Shen: "I vote we give that ingrate a piece of our minds!?"
???:... What? (The group turned around to see a surprised Dr. Whooves)...
Dr. Whooves:... You actually think... I'm NOT a hero?
Kowalski: I, uh, I, no, of course not, we-
Dr. Whooves: YOU'RE ALL UNGRATEFUL FOR THIS!!! IT'S WORDS LIKE THAT THAT MAKE EUREKA SUCH A SUCCESFUL CONSPIRACY GENIUS!!! I thought you all believed in me! But you really ARE like him! You're all like the people who continue to be fooled by him! And what you were intending to do to me, calling me a thief AND an unworthy hero? YOU SHOULD ALL BE ASHAMED OF YOURSELVES FOR DENYING MY ELEMENTS' CHOICE!!
Lord Shen: Doc, please, I didn't really mean it! It's nothing but anger talk, I swear! I was more mad at myself for being wrong about Eureka being the one who did something to Tyranny!
Dr. Whooves: Well, go ahead, DON'T believe me! Nopony's going to take me seriously again. Eureka's finally won in his war against me!... So... (Takes off his element) I'm quitting!
Skipper: YOU CAN'T!!
Dr. Whooves: Why shouldn't I? You don't believe me about Eureka, which as far as I'm concerned, it's what got me AND Muffins into this whole thing in the first place. You disgrace yourselves by saying I am not a worthy hero! I'm sure the others won't be very pleased when they hear I'm gone. I'm sure this Element can find some other gullible fool to replace me! Good day to you, so-called 'HEROES'! (Leaves)
Kowalski:... What... Have we done?
Private: "I think we'd all hurt Whooves' feelings."
Lord Shen: "(Gets angry)..... THEN I GUESS EUREKA WAS RIGHT ABOUT YOU ALL THIS TIME, WHOOVES?! YOUR NOTHING BUT A COWERDLY, UNORIGINAL THIEF!?"
Skipper: "INSULTING HIM'S NOT GONNA MAKE HIM COME BACK SHEN, WHETHER IT'S THE DEAD OBVIOUS TRUTH OR NOT?!"
Lord Shen: "Let's not bother with that phathic cowerd?! If he would rather WATCH EQUESTIA BURNED TO THE GROUND OVER BEING A WHINEY CRYBABY ABOUT A WAY BETTER GENIUS THEN HIM, THEN WHY THE BLOODY HELL SHOULD WE COMPLAIN!?"
Dr. Whooves heard Shen's words and started to cry from them.
Lord Shen: "WELL, WHAT'RE YOU WAITING FOR?! LEAVE ALREADY!?"
Dr. Whooves, hurt beyond belief, leaves.
Lord Shen: "(Sheds a small tear)...... Damn, fool."
Throwne Room.
Celestia: "Whooves left us?!"
Lord Shen: "I'm sorry Celestia.... He took what I said in meaningless anger too seriously and ran off like a blasted cry-baby!"
Celestia: "(Sighs). I know when you say mean things to others, your truely blaming yourself for being incorrect on something. I can undertsnad completely. But though we still can't truely believe that Whooves is the victim, we at least owe him an apology for calling him out like that."
Luna: "AND BECAUSE OF YOUR INSULTS TO HIM!?"
Lord Shen: "WELL PARDON ME FOR NOT LIKING BEING CALLED A DISGRACE FOR NOT WANTING TO BELIEVE IN AN OBVIOUS LIER?!"
Spongebob: "I can see that, but we do at least owe him an apologie for putting him down once again. He was really hoping we somehow proved that the slightly more superior genius was the wrong and he was the right. But he ends up not getting that."
Lord Shen: "Ok, but I sincerely doubt Whooves will ever give us another ear for this."
The other Elements of Peace were listening in.
Octavia: "(Sighs)... You know a situation is grim when even great heroes and a god are easily fooled by a man-pony's tricks."
Derpy: "Poor doctor. Thanks to that meanie Ahuizotl, they're never gonna doubt Eureka again."
Lyra: ".... Guys, it's Whooves who's being the problem. He keeps making un-intelligence moves by trying to expose a far too clever pony for what he is. It should've been obvious that if even good heroes can't expose him, no one will, and no higher up status will change that. Whooves doesn't need to expose Eureka. He just need to be on a stronger level them him. And finally ignor him."
Octavia: "..... Your right. Whooves should stop dignifying Eureka's trickery with respondsence and leave the matter be. Eureka has way too much credability at this point in time anyway thanks to his father's questionable teachings."
Bon-Bon: "Then that means, we have to tell Whooves to let go of his problems with Eureka and forget about his hopes to finally be on top of Eureka and make a truely smart move and ignor him."
Derpy: "But, won't Eureka end up declaring it a victory against Whooves and just pick on another pony?"
Octavia: "Then, I'm afraid not even Celestia herself can help with that. We can only hope Eureka would make the mistake of attacking a pony with a larger credability then his, and it would all fall downhill from there. The least Whooves should do now is stop encouraging Eureka's behavior and let him have the satisfaction of victory, otherwise he'll never be happy against an oppentent that'll quickly adapt to every attempt to surpass him."
Lyra: "Exactly. I think Whooves we'll be happier if he stops feeding the trolls of his life and moves on. I'll teleport us all to Whooves' place right now."
Celestia: (Arrives) Girls, I appreciate how you want to help Dr. Whooves out... But... We just looked out the window and... I think it may be too late. Look! (They look out the window to see Tyranny's chaos storm turning on and off and sounds of Tyranny's fruststraighted screams are heard!)
Lyra:... A thunderstorm with an on and off malfuntion?
Celestia: It's a sign that Tyranny is almost here..... And it's clear Ahuizotl's spell is not gonna leave on it's own.
Octavia: Oh, no!
Bon-Bon: BUT HOW ARE WE GONNA DEFEAT HIM WITHOUT THE DOC?!?
Black Kat: (She, Wacky, Pranks, and Discord teleported there) Oh, I think we already have a plan for that. We can be sure to distract Tyranny long enough for you to find the Doc and bring him back so you can finish the job. And don't worry, I'm a MASTER of distractions. Knowing Tyranny's uncontrollable niceness, he's sure to fall for a gorgeous Draconequus like me, so I guess Ahuizotl being an interfearing dick has a benifit here. (Discord gets angry at that) Oh, don't worry, honey, it's just for a distraction. I still love you.
Discord: Then we're coming with you to make sure it goes smoothly.
Lyra:... Well, if you're sure you can pull it off, I hope we can get the Doc back here and help him get past his problems in time.
Luna: And we need to find a way to remove that condition before it DOES kill him.
Wacky: Leave that to us! We can remove any kind of spell from a Draconequus.
Celestia:... Good, then I suppose our plan is set, so let's get to it.
Tyranny's path.
Tyranny eventally gave up on his storm and started to throw a tempertandrum!?
Tyranny: "HOW AM I SUPPOSE TO KEEP UP WITH MY REPUTATION IF!? IF?!..... Oh, who am I kidding, Despot? (Sat on the tree stump). Let's face it, my dear bunny, I've lost my edge. I think the stupid elements of peace have offitcally broken me."
Despot gave a petting "there there" jesture.
Tyranny: "...... Ya know what, Despot? FUCK DESTROYING EQUESTIA?! FUCK EVEN NON-VILOENTLY CONGURING IT?! I clearly lost my nerve after litterally ONE loss to the elements of peace. I don't even freaking care anymore. Maybe, maybe I'll just go back to the hippies and fall in love with Sunflower, what do you think, Despot?"
Despot gave a smile and an approving thumbs-up."
Tyranny began to walk away.
Black Kat, King Wacky and Queen Pranks were surprised.
Black Kat: "..... Well shoot, this changes everything. And also, I was REALLY looking forword to that song."
King Wacky: "..... Do you all realise what this means? Maybe we don't need to imprison Tyranny after all. Maybe, we just need to do what his condition cannot: Change what he truely is!"
Queen Pranks: "You mean, change Tyranny from someone NOT him?"
King Wacky: "I know it's a big streached, but, when you think about it, maybe Ahuizotl ended up doing us a big favor in an, albeit jerk-offish way. Besides, just imprisoning him again will risk a much more compident evil force to free him again and actselly succeed in having him accept their help, like, The Villain Leage for exsample? Maybe if we make him into a force so good, he won't even be a threat to a nat!"
Black Kat: "Now that I think about it, just turning him back into an evil monster is an EXTREMELY stupid and risky idea and this condition tecnecally was helpful to us, if not in a completely our idea way."
Queen Pranks: "Well, not that I doubt you husband, but... Your talking about someone who did alot of unspeakable things and-"
King Wacky: "Think closely to what I mean by "Change what he truely is!" I mean, change him into his complete polar oppisite."
Queen Pranks: ".... Husband, your name does not at all justify your genius mind. And I meant that in a good way."
Black Kat: "Alchourse, I think we're still gonna need the elements of peace cause, again, they're the only things powerful enough to do ANYTHING to him."
Queen Pranks:...(Looks at Tyranny)...Wait a second...I'm sensing something about that change in him that isn't...exactly...magical.
Black Kat:...What? What do you mean?
Queen Pranks: I'm saying there's nothing magical about his change. There's some strange activity in his brain that's affecting his amygdala at an incredible degree.
King Wacky: Is that even possible?
Queen Pranks:... So... So perhaps this WASN'T a spell. Maybe it was some kind of infectious cocktail or something.
Black Kat:... Who would do that?
King Wacky: It's beyond MY guess. I don't know any ponies capable of anything like it.
Queen Pranks: "Well I know who isn't capable of it. Eureka."
Black Kat:... Well, isn't HE a scientist, too? Maybe he DID do it.
Queen Pranks: Look, we already proved it wasn't him because we already found the culprit.
King Wacky: "Yes, but we can't exactly say it was Ahuizotl anymore either. But we shouldn't care about who's behind it or not. It doesn't matter anymore. Whoever this vigilante is, he/she just gave us an alternate to dealing with Tyranny once and for all."
Queen Pranks: Agreed.
The three Draconquui left.
Later...
Lord Shen: So that spell on Tyranny wasn't REALLY a spell?
Black Kat: No. It was actually a something strange that affected his amygdala.
Lord Shen:... Hmm... I think I'd better take this up with Ahuizotl!
Queen Pranks: If you're thinking about asking him about Eureka, Shen, then I think we should just drop it already.
Lord Shen: I'm NOT going to do that unless I find some clues concerning him. Maybe I will, maybe I won't.
Celestia: Then me and Luna shall accompany you, Shen. Ahuizotl should know who the REAL culprit is. While we can't agree that it might be Eureka, we CAN agree that he was paid or blackmailed by somepony to do what he did.
SpongeBob: So... We're not going to imprison Tyranny again?
King Wacky: "Well, because of how the Mafia Allience knows about him now, and they are very unlikely to keep quiet about his location, just imprisoning him and risking a new attempt by a more compident dark force like the Villain Leage is no longer a vital ideal."
Po: What about his morality illness? Surely that can get in the way.
Celestia: Well, he IS a Draconequus. He can be easy to reform.
Queen Pranks: Indeed. In fact, Tyranny is already in love with a pony named...Sunflower.
Fluttershy: Sunflower? As in...sister to Tree Hugger?
Discord: Wait, Tree Humper has a sister?
Fluttershy: It's Tree HUGGER, and yes, she has a sister. She, too, is a member of the Equestrian Society for the Preservation of Rare Creatures, and I met her on the same Breezie trip. Tree Hugger has a lot of friends with her who work for the same job.
Icky: Are THEY hippies, too?
Fluttershy:...I...yes, I believe so.
Icky: Oh, boy, we're gonna be surrounded by hippies during this mission. Hope they don't offer us hallucinogenic s***.
Fluttershy: (Scoffs in offense) Tree Hugger and her friends are NOT like that. They are actually calm and against drugs.
King Wacky: Fluttershy, please, calm down. I'm sure it's his sarcastic rude side that's saying that. Bottom line, not only will imprisoning him in ice leave him open for other villains, but it wouldn't seem right to separate him from a life he seems to be comfortable with.
Lord Shen: Yes, but that's just the condition that's making him do that. Now let's get down to the dungeon and see if Ahuizotl has some answers for us.
Dungeon
Kronthorn: "I have to admit, Ahuizotl dude, this should've worked out, WAY better bro."
Ahuizotl: "Oh calm your reptilian head, Kronthorn. Once I complincate the perfect escape plan, we'll all escape to my temple in the forbidden jungle, then we shall enact revenge on my new and second most troublesome enemy: The Shell Lougers!"
Kronthorn: "I'm all for that bro, but, that's kinda hard to do when like, the guards have ears to hear that." (The guards were watching them)
Ahuizotl:... Drat!... Well, I'll still find a way to get out of here.
???: Maybe you will, Ahuizotl! (The heroes appeared)
Celestia: Provided you answer some questions concerning your motives about this 'spell' of yours.
Kronthorn: (They were surprised)... (Whispering) They're onto us!
Ahuizotl: Never! I won't say a single thing.
Lord Shen: Oh, I'm sure you will. Especially considering the fact that we think YOU'RE NOT THE ONES WHO DID SOMETHING NON-MAGICAL TO TYRANNY!!
Ahuizotl:... Uh... I...
Celestia: If you were the one who did it, then how DID you do it?
Ahuizotl:...
Kronthorn: (Whispering) You think the truth jinx will work?
Ahuizotl: (Whispering) I hope so.... (Clears throat)... Well, I am a master at herbs and potions. I created it out of psychedelic fungi and several chemicals. The symptoms include remorseful moods, and complete niceness.
Lord Shen: Look, pal! I don't think anything's going to protect you this time. You told us that you did it using a spell, and Celestia sensed it as truth. Yet THIS revelation about it actually NOT being a spell... You did something to make Celestia sense it was a truth instead of a lie, when it really WAS a lie!
Celestia: He's right! YOU'VE GOT A TRUTH JINX!!
Ahuizotl: What? Of course not! I may have a wide knowledge of jinxes, but I assure you I was telling the truth.
Lord Shen: Oh, yeah, I suppose that lie came in all by itself!
Ahuizotl: Look, I MEANT to say it was a potion that did it, okay?
Rainbow Dash: You think we're idiots, pal? You genuinely and openly claimed that it was a spell, and showed no signs of lost attention span! YOU SAID IT WAS A SPELL, AND YOU LIED TO US!!!
Ahuizotl:... I... I...
Celestia: Ahuizotl, you and your Lizard Men are coming with us! Clearly there is something you aren't telling us!
Ahuizotl: I'M NOT GOING ANYWHERE!! There's NOTHING in this world that forces Ahuizotl to move for anyone!?
Kronthorn: "Not us either! We budge for no horse!"
Celestia: Well, if you won't come with us, then we'll have to do it here. Send in Canterlot's best jinx master. We'll see if you're a liar or not, Ahuizotl.
Ahuizotl:... (Gulps)...
Later...
Jinx Master: (In small Canadian accent) Wow, all the requests I'm getting recently. You ponies must be having some crisis, eh! First some outdated scientist mysteriously gets pranked by some stranger, now a villain having a truth jinx? Wow, something must be occurring here.
Celestia: Glad you made it, Mystery Hex. I'm sorry for being such a bother on your busy shedule.
Jinx Master Pony (Mystery Hex): Oh, not at all, your highness. Jinxes these days, they're just tish-tosh that causes trouble just for amusement, eh. Stupidity jinxes, smartass jinxes, rudeness jinxes, friend/foe jinxes, genius jinxes, jinxes used for cheating, jinxes used for corruption, hell, jinxes used for lies. That kind of jinx in punishable here for a reason, eh! But don't worry, I'll have this jinx off this fraud in no time flat.
Ahuizotl: "Your wasting your time! I am NOT under any form of Jinx! In fact, I only said Spell to mislead you fools to protect my real shorce in the herbs!"
Celestia: Nothing's going to persuade us from doing this anyway. Mystery's an expert at detecting jinxes.
Ahuizotl: I am NOT jinxed!
Mystery Hex: I'LL decide if you're jinxed or not, eh! Now hold still!
Ahuizotl: NEVER!
Icky: Why not? If you WEREN'T under a jinx, would you resist this much?
Kowalski: He has a point.
Twilight: I got this. (Magically freezes Ahuizotl in place)
Ahuizotl: YAAAAHHHHH!!!
Mystery Hex: (Analyzes Ahuizotl's mind)...Hmm...well, it is confirmed. He is under a Level 4 Truth Jinx. One of the hardest to remove.
Luna: Can you remove it?
Mystery Hex: Would I be the best in Canterlot if I WASN'T? I can handle jinxes at up to Level 9. (Magically holds her hooves around Ahuizotl's head as cyan-blue energy was sucked away from the head, and dissipated)...Well, it's removed.
Celestia: Thank you, Hex. Here's your tip of 500 bits. (Gives her a bag of bits)
Mystery Hex: Glad to be of assistance, eh.
Ahuizotl: "Ok fine! You caught me with my pants down!.... Metathoricaly speaking anyway. But your far from able to get me to admit ANYTHING!? Besides, my hirer was well disguised! Even IF I wanted to say anything, I can't give a good discription!"
Icky: "So reguardless of you wanting to talk at all or not, we're still gonna be freaking left in the dark about this."
Ahuizotl: "Exactly, you fools!"
Celestia: "Well, luckly for your hirer, dealing with Tyranny has a higher priority. We only wanted to confirm that your not the real culpret, and your not."
Lord Shen: "But you are still in for a world of trouble for partaking an a radicalist vigilantie's extremeisum and interfearing with offitcal louger business, AND attacking Canterlot!"
Rainbow Dash: "It looks like future additions of the Daring Do books might see you become abit absint for awhile, Ahuizotl."
The Group leaves.
Kronthorn: "..... Well, it's a good thing that hirer guy was smart enough to not share who he is to you."
Ahuizotl: "And I admire him for it. Otherwise, had Tyranny not been considered a bigger concern for needless to explain reasons, Celestia could've been able to read my mind or had Discord do that accursed tamerainian thing!"
Kronthorn: "So, I guess this means we're on our own from here on out."
Ahuizotl: "Worry not, gentle-lizards, I, Ahuizotl, am a master of surprises! We'll get out of here eventally."
Eureka Corp.
Eureka's mech, which was a bit larger and more advanced than Dr. Whooves', being blacker, having a similar voice-disguising helmet with a red translucent visor was being prepared for battle, with the speical pink immortality-negating laser being adjusted into it.
Eureka was in a speical black spandex suit to accomindate the mech and grabbed the tech-helmet.
La-Te: "Sir, please! Why do you need to still do this? The heroes are very likely to take advantage of Tyranny's confusion and use that to stop him as a recuring threat. And before you start doubting that again, they once did it to a half-darkspawn pony named Sopony, so it's possable Tyranny will be changed from what he is to what he can be as a good force!"
Dr. Eureka: "It is not a matter of me having any faith in the Louger's abilities or otherwise. And it's certainly more then just keeping Hoofy from being able to top me. I may've realised that my tactics may've regretably, caused the Elements of Peace to disban. Knowing Hoofy, he's not gonna take another event of being doubted lying down, so.... The poor dumb basturd is most likely to just quit like an idiot and forget about the monster he was destine to fight against!"
La-Te: "... So, your doing this to make up for the fact that, your "dominance securing" may've gone too far?"
Dr. Eureka: "..... La-Te, I know, your not a terrably big fan of how well I play the game of Survival of Geniuses, and how your not fond of my father's methods. But contarary to what lessers like Whooves thinks, I am not doing this to get fame he THINKS he desevres for "Borrowing" his ideas for my benifit. I shamelessly admit I enjoyed the highlife, the fame, and the phrase, and the satisfaction of turning a primitive world like Equestia, into what could be the next Futurasia. But.... Equestia is still my home.... And, it wouldn't've sat right with me, if I inadvertingly contributed in causing him to quit, and lead to Equestia to suffer the reign of a morally asundered beast. If Hoofy is not gonna be the one to do it, I may as well do it as a act of silent redemption."
La-Te: "..... I'm proud of you sir."
Dr. Eureka: "It's, not just that, La-Te. I, had an empifeny. I realised that Draconquui lose control of their powers for getting the mere case of the sniffles, or turn into a rampaging beast over getting alittle down in the dumps! It made me wondered. What would happen if they get Morality Illness?"
La-Te: "Well.... I, imagine it's like them getting the Magic Flu, only, except, no sneesing."
Dr. Eureka: "Exactly.... So instead, the sicker they become with it, the more their magic runs rampent without the mere snap of their fingers or their claws or pinchers, or whatever they have! Can you even fathom how dangerious, Tyranny with morality illness is? When he normally DOES control his powers he's a dishastor waiting to happen, but with something like a compromised morality?! It's..... It's an artifictally created Judgement Day waiting to come to Equestia. That's why I need to put that abomination out of his, and all of Equestia and beyond's misery!"
La-Te: "Sir please, I can understand wanting to make up a mistake, but, by murdering him? Two wrongs don't make a right sir!"
Dr. Eureka: "La-Te! I need to do this. If I don't, it would be too late for the heroes to reconicel with Hoofy over a petty disagreement. And as I said before. No one other then a drug-addict hippy and a bunny rabbit actselly care about him. And said hippy will end up forgetting about him through her drug-peddling habits! Also, remember that Tyranny is a monster through and through! His death will be celebrated like Nightmare Moon's banishment! He's already gonna be like a dying animal soon anyway, so like a professional vet, (Puts on the helment with disguised voice) I'll have to put him out of it's pain and misery. Good bye, La-Te."
Eureka leaves and boards into the mech as La-te started to cry in self-shame and regret.
Dr. Eureka: "..... Down, with Tyranny." 
Outside of Whoove's lab.
Dr. Whooves was crying as was preparing to leave, pushing all his belongings into a massive van-like carriage pulled by several muscular stallions.
Dr. Whooves: "..... I just, wanted to be believed in..... I just want people to understand me." (Throws the last of his belongings into the carriage) But Eureka's just too clever! Now even the Lodge is against me....Perhaps there's somewhere else in Equestria where I can start a new life. One where... Nopony knows about Eureka and my claims.
???: DOC! (The rest of the Peace ponies arrived, also carrying Dr. Whooves' element) Don't leave, please! We need you!
Dr. Whooves: Why should I? The Lodgers don't believe in me anymore, and refuse to see that me telling the truth is what got the Element to choose me and Muffins.
Derpy: Doc, you can stop calling me that. Only the CANON show isn't allowed to call me Derpy anymore. Bronies keep calling me that.
Dr. Whooves: I'm sorry. But there's no point in prolonging the inevitable. If I can't take down Eureka, then I never will. He's just too deceptive for even me to deal with.
Bon-Bon: Doc, you just need to realize that trying to expose Eureka isn't worth it anymore. You shouldn't make it hard on him and yourself by constantly trying to do it yourself, and let fate decide.
Dr. Whooves: Are you saying... I should STOP trying to report Eureka? Why? He's the one who made my budget low! He stole all my technology, and ruined every attempt I had to make millions of bits, and had to rely on funds from my family. He's getting praise he doesn't rightfully deserve. I can't let him get away with that! But there's nothing I can do, nor ever WILL do. So, Allonz-y, it was nice knowing you all.
Octavia: "Well it's YOUR own fault dignifying his antics with actual respondsences! You should've given him the satisfaction that you aren't gonna complain about it! But instead, you desided to make yourself someone he wants to mess with since day one and lead yourself into this bebacle?! If you ask me, that is NOT very intelligent of you "feeding a troll" as one would say."
Dr. Whooves stopped trying to get into the van, and looked at Octavia.
Dr. Whooves: "..... Are you saying that I'm DUMB for just trying to stand up for myself?"
Lyra: "Not exactly that. She meant that you keeping trying to win a battle that you can never win. That's something a truely unintelliegnt person would do. You should know that if Eureka is just too tricky for even the lougers, then it's best not to allow yourself to be so willing to give him someone to mess with and end up even having the Princesses doubt you. Your mistake was, trying to force fate into giving you what you wanted. Your being a bigger idiot letting that get to you and allowing Equestia to rsik suffer under Tyranny."
Staillian: "Wait, your suppose to fight against that guy?"
Dr. Whooves: "I was, but, I couldn't stand being doubted and-"
One of Staillains tossed out all of Whooves' things!
Staillian: "Sorry pally, we don't help DESERTORS!?"
The Staillians ran off with their carrage!
Dr. Whooves: "...... Why me?"
Lyra: ".... Anyway..... You shouldn't forsake Equestia just because you can't have not completely perfect heroes punish ONE GUY for being a jerk! Eureka is obviously clever in hiding his tracks and scapegoat you as a thief of HIS work. That makes you look as if you HATE Equestia for letting someone you don't like become famous and leave you poor. That makes you look, bitter, resentful, and phathic... The exact words Eureka used to discribe you. And the fact that your willing to desert Equestia over something as petty as revenge on someone your not happy for, ends up making him look right! And ponies will only grow to hate you more as a cowerd and a whiner! Is that what you want?"
Dr. Whooves: ".... (Sniffles). No?"
Octavia: "So get a stiff upper-lip and repeat after me. For now own, now and forever, I will stop making Eureka my problem and I shall refraign from making him WANT to be my problem."
Dr. Whooves: "For now on, now and forever, I, I, I will stop making Eureka my problem, and, and, I shall refraign from making him want to be my problem."
Octavia: "I will act like a true genius and stop dignifying his nonsense with real respondsences."
Dr. Whooves: "(Alittle bit more confindent) I will act like a true genius and stop dignifying his nonsense with real respondsences."
Octavia: "Equestia's safety is more impourent then petty revenge on an old collage bully."
Dr. Whooves: "(Abit more confindent) Equestia's safety is more impourent then petty revenge on an old collage bully!"
Octavia: "And even if I am ever presented an oppertunity to have him exposed here and there, I will not care and refraign from there."
Dr. Whooves: "(Full Confidence) And even IF I am ever presented an oppertunity to have him exposed here and there, I will not care and refraign from there!"
Octavia: "For I, am Dr. Whooves, and I happly will leave a losing fight!"
Dr. Whooves: "FOR I, AM DR. WHOOVES, AND I HAPPLY WILL LEAVE A LOSING FIGHT?!..."
Octavia:... Feeling better, now?
Dr. Whooves:... Actually... I do. Why am I wasting my time and my patience going after a guy who just keeps winning? I'll just let him know that I will no longer let him feel the pleasure of hurting me. He can steal as much as he wants, but he'll at least know that my intelligence is worth WAY more than any invention or a few bits. So when Eureka comes back, I'll walk right up in his face and say 'I'm no longer your bitch. You can steal whatever you want from me, but someday, your scam will be discovered, and when it does, even I won't smoke a cigar to celebrate. But I'll have the satisfaction of saying 'I told you so'. (Suddenly, his Element glows bright, and returns to his neck, and it begins glowing in power, and Dr. Whooves gets a Rainbow form)... GREAT WICKERING STALLIONS!! What just happened?
Octavia:... I think you finally discovered the true reason why the Element chose you. It knew you had the intelligence to throw away your personal desires, and let them work themselves out. I think the Element is seeming pretty proud of you for making an ultimate sacrifice.
Dr. Whooves: ".... Well I'm proud of myself too. Your right, ladies. Stopping Tyranny's vastly more impourent then dealing wit Eureka. And I'll forgive the mistfits and the princesses for not believeing me. Heck, they can still do that for all I care. Doing the right thing is more impournet then becoming famous and popular, and I was a twat for thinking otherwise."
Whooves and the mares hugged eachother.
Derpy: So you won't care if Eureka does get discovered and punished?
Dr. Whooves: Perhaps not. It will be satisfying to see him get what he deserves though, but I won't shove it in people's faces. But still, with him around, my business won't do very good since he makes me look like a copycat. And science is the only thing I'm good at. So...what do I do?
Bon-Bon: I'm sure we can figure something out, Doc. But I suppose the next thing we should do is to find a way to discover the same thing like you did, that way we can learn how to properly use the Elements to defeat Tyranny.
Derpy: Don't see how we can do that so easily on such short notice. I mean, Celestia DID say we're supposed to acknowledge our Elements' decision in order to make them work.
Octavia: "We already did when we were looking for the Doc, remember?"
Derpy: "Oops. My bad for asking a stupid question."
Dr. Whooves: So...you guys already acknowledged your elements?
Octavia: Indeed. Derpy seems to agree with me that trying to report Eureka and proving innocence just for a good friend doesn't seem to matter, and she acknowledged that trying to assist him and poke his pointless pursuits of revenge, therefore representing the GREATEST of innocence.
Derpy: Indeed. I didn't even notice my Element glowing. (She shows off her Rainbow Form)
Dr. Whooves:... Very nice work, Muff... I mean, Derpy. Gee, it sounds so dirty calling her that now. But what about the rest of you?
Octavia: Well, I went to my father's house earlier to check on him, and he seemed to have been in some kind of situation....
Flashback
(Octavia): There was an angry mob at his house when I came. Don't know how it started, but perhaps it came from the ponies who were angered that my father broke into the presentation for the Elements and even tried to urge his own daughter into doing what he always does. They were blocking the front door, but luckily the back door was clear.
Octavia: (Came in) FATHER! FATHER, ARE YOU OKAY?!?
Sir Octive: "Well, concerning I'm being hounded by an angry mob of ponies still mad at me, I'M THE QUITE OPPISITE OF FINE!?"
Octavia: "You didn't had to shout angerly. I don't get it. I thought everypony took my speech seriously."
Sir Octive: "These aren't the ponies from the presentation. They're abunch of Pro-Celestia fanactics! It has nothing to do with the presentation, it's just their usual shenanigens! They'll get bored eventally or get chased out by the guards."
???: WHERE ARE YOU?!? WE'RE NEVER GONNA STOP UNTIL WE LOVE AND TOLERATE THE F*** OUT OF YOU!!!
Octavia:... (Sighs) I'll handle this! (Comes out and tries to speak until a pony interrupted her)
Pony #1: HEY! It's the critic bastard's daughter!
Pony #2: GET HER, TOO!!!
Octavia: Oh, balls! (Goes back inside as they locked all the doors and barricaded them and the windows)
Sir Octive: Honestly, these ponies just don't give me a break! I'm just trying to help Celestia make more logical choices. Speaking of Celestia, how is she treating you? Did your training in the Element of Forgiveness treat you well?
Octavia: You might say that. There was some parts where I felt she went too far like getting a gladiator Nemean Lion named Caesar to fight Bon-Bon for training, but-
Sir Octive: WHAT?!? WHY WOULD SHE DO THAT?!?
Octavia: She said it was the only one left after the last one was too much of a wuss.
Sir Octive:... IS SHE INSANE?!? THAT'S A HOMICIDE WAITING TO HAPPEN!!! I've got a right mind to report this to the Royal Guard, and have her put on trial for this!
Octavia: FATHER, DON'T!!!
Sir Octive: I must! Her thoughtless actions have gone far enough!
Octavia: But what about the angry mob outside?
Sir Octive: I'll tell them ALL about it. They'll think less of their own princess the same way I do, and she'll think twice about making incredibly-irrational decisions!
Octavia: YOU'RE GOING TO PETITION AGAINST THE PRINCESS?!? ARE YOU MAD?!?
Sir Octive: Yes, I am mad! I'm mad as hell! She can't make ponies suffer through her decisions anymore, and I'm going to end them once and for all!
Octavia: Father, please, don't! Think of the risks that will happen once you say something sensitive out there! Are you REALLY willing to get an entire community to turn on their princess just to get her to take things seriously? She's going to have you severely punished for this!
Sir Octive: If it's worth the punishment, then I'm afraid I have no choice. Her decisions are going to be the death of us! Now if you'll excuse me, I've got to do what I must!
Octavia:...FATHER, THIS IS ABSOLUTELY ABSURD, AND I WILL NOT ALLOW IT!
Sir Octive: Octavia, honey, please don't make this hard for me! Celestia risked the life of one of your friends, wouldn't YOU be upset about that?
Octavia: YES! In fact, I was just as worried as you are of that choice. And Caesar was SURE to be a bad choice, even to me and my friends. But hey, she did assure Bon-Bon that she would heal her if she suffered too much injuries.
Sir Octive: What if she was hurt too badly that she would've DIED?!? Only Death Alicorns can bring back the dead, and the Alicorn Death Coffin is no longer in charge of the Equestrian Underworld! If that pony died, then she would'vebeen guilty for orchestrating a murder! I swear, once ALL OF EQUESTRIA knows about this, including the Unicorn Council, it'll be bigger than the both of us, and there will be serious consequences for her!
Octavia: (Actually begins to softly sob)... But father, you can't do this! You're going to be as lost to me as my mother! I've lost her long ago, I don't wanna lose you through this! The moment you step out there and tell this to the mob, you're going to be even worse than you already are!
Sir Octive:... But honey, I thought you wanted to support me! You're my flesh and blood!
Octavia: Maybe. But forgiveness is something that simply cannot support everything. There are times when you can and cannot be forgiven. And if you do this, I don't think I'll EVER learn to forgive you for ruining the reputation of our great ruler. I don't think it's what Auntie Sympathy Nights would've wanted! (Softly sobs) So if this is how you feel, then... Then... Then GO AHEAD!! You'll someday wish you never did it. I won't be there for you because you refused to listen to reason. Now go ahead. Do it. (Softly starts crying) I'm sure Equestria will be thankful.
Sir Octive:... Good lord!... What am I doing? I've become a monster!... (Touches the crying Octavia's shoulder)... Darling, I am so sorry. You know me, and I feel that Celestia is just making things rough for us. I can't help with my beliefs. Can you ever forgive me?
Octavia:... *Sniff*... Yes, father. I can. (The two hug, and her Element glows and she displays a Rainbow Form)
Sir Octive:... Sweet merciful Celestia!... What is happening to you?
Octavia:... I think... I think I proved my worth to the Element of Forgiveness. I can finally wield it.
Sir Octive:... I can see why. You've taught me that sometimes a criticism can go too far, and you have to know not to go too far, because... You said it yourself, there are some things that are just unforgivable. I'm glad you stopped me from making a big mistake.... You grew up so fast. (Sheds a tear, and they hugged again until an apple was tossed through a window and shattered the glass and the apple splattered on the wall)
Pony #3: GET YOUR ASS OUT OF THERE BEFORE WE BREAK IN!!!
???: Stop right there! (The guards arrived and held off the angry mob with shields and chased them off)...
Octavia:... Well, I suppose that's that.
Sir Octive:... Go out there and make me proud, honey. (Rubs her hair, and she heads out)
Present
Dr. Whooves: (Most of the six ponies were touched by this)... That... Was so... Touching.
Vinyl: (Softly sobs as she took off her glasses and wiped off the tears)
Octavia: Yes, my father was about to make a mistake that would've threatened him as well as Equestria. I had to do something about it.
Dr. Whooves:... How about Bon-Bon?
Lyra: "Well, on the way to find ya, we ran into some unwelcomed company."
Flashback.
Bon-Bon and the rest were moving on as suddenly, the Bug-Animals appeared!
Bug-Wolf: "We have unfinished business, Sweeite Drops!?"
Bon-Bon: "YOU HEITENS AGAIN!? This is an extremely bad time! Tyranny's on the way!"
Bug-Badger: "Oh, we heard about how the guy's losing his edge as of recently!"
Bug-Fox: "A pity really. The great ones relapse the most."
Bug-Wolf: "Not to mention it conflicts with Snakemantis' plans for him! So that's why we desided to ease his troubles by eliminating the Elements of Peace for him! It's a kingpin deal! We get rid of some future heroes, AND get revenge on you, Sweetie Drops!? Oh, and P.S.: YOUR ABMISYL FAILURE AGAINST CAESER WAS HILARIOUS?!"
Bug-Badger: "We liked it so much, we busted out both him AND his bro to go after yous, AND we gave them knee guards?! So no more of that cheap-shop kicking them in their trick knee gags!?"
Bon-Bon: "You senseless beasts did WHAT!?"
Bug-Wolf: "Why should we repeat ourselves when we can show you?"
The Bug-Animals rose up when Caeser and his litter brother arrived with shin-guards on their knees.
Bug-Wolf: "No revenge sounds sweeter then the sound of a pony's blood cuddleing scream! SIC'ER, CAESER AND CAESER'S BRO?!" (The Nemean Lions attacked as the ponies panicked, running around and avoiding them)
Bon-Bon:...(Gets angry, her hair cartoonishly turns into fire) WHY CAN'T I GET A SINGLE BREAK FROM YOU MONSTERS?!? AAAAAAAAAAAAAAAHHHHHHHHHHHHHHHHHH!!! (She manages to overwhelm both Nemean Lions before they could do a fatal blow, rips off their knee guards, and punches the knees, rendering them into running off straight into a trap set by the royal guards)
Pony Guard #1:...Huh? We didn't have to use some effort.
Shining Armor:...Okay, well, bring them back to Canterlot.
Bug-Wolf:...NOOOOOOOOOOOO!!!!
Bon-Bon: AAAAARRRRRRGGGGGHHHH!!! (The Bug creatures screamed and retreated)...(She ends up breaking into tears)
Lyra:...Bon-Bon, what's wrong? You saved our lives.
Bon-Bon: Yeah, but...but now they know about all of you, and you're lives are now being put in utter peril! They'll be hunting you all and me down until we're all dead, probably forever!...And it's all my fault! If I had just told you about my secret identity, none of this would've happened. I don't think I can accept having to constantly protect you....I...I should never have become a secret agent. (Sheds a few tears)
Lyra:...Bon-Bon, I'm sorry. We don't blame you for this. You were just trying to be a good agent. You had no choice. And...I'm sorry I had to accidentally leave the secret to be discovered by the Doc.
Bon-Bon: Yes, but...now Snakemantis knows about it, and he's going to make you all intended targets. I won't always be around to protect you, so I can't handle the pressures of trying to keep you safe....I don't think I can tolerate it.
Lyra:...Of course you can, Bon-Bon. You've tolerated a lot of things. You've tolerated how odd I am with a human hand fetish I can't seem to help. You've tolerated my accident in revealing your secret identity. Hell, you've tolerated a lot of secrets we've shared together. We're best friends. You didn't complain when I told you about eating your imported oats.
Octavia: Besides, we're the Elements of Peace now. We are perfectly capable of defending ourselves, even when you're absent. You've seen us defeat monsters like you can, so you've got nothing to worry about. Right, girls? (Everyone agreed)
Bon-Bon: But that was your first time. Even you wouldn't stand a chance against a monster like Caesar. He's killed a LOT of ponies where he came from, and not many have survived even 60 seconds against him, or survived any of his inflictions or injuries without aid. I can't guarantee that you'll all survive a monster with a similar reputation.
Derpy:...You trust us, don't you, Bon-Bon?
Bon-Bon:...Yes?
Derpy: Then will you trust us when we say you can tolerate defending us? The Mane Eleven are just as good as you are in protecting us against a creature like Caesar.
Octavia: Indeed. We're going to be heroes anyway. You can trust that we can survive anything thrown at us. What do you say?
Bon-Bon:...Well, I don't know...
Octavia: "Think about it. Wouldn't Snakemantis and his boarish beasts WANT you to basicly lose your nerve so ending your existence would be made vastly more easier?"
Bon-Bon: "..... Yeah.... They, they would."
Octavia: "And I bet your first encounter with each of them was nerve racking alone. But you perservered. Just because the days of secretcy are over, doesn't mean your ability to be a threat to Snakemantis is. He's obviously the kind of villain that would more then enjoy the confindence of the one pony who managed to surpass him without magic or flying to dwindle. And didn't your agentcy teach you not to allow these beasts to be entertain with the idea that you can lose your confindence?"
Bon-Bon: "They did, but-"
Octavia: "Then don't! Don't let Snakemantis and his brutish friends get away with ever doing that to you! You didn't before, and we don't dare let you start now! Do you promise to never let that happen to you, ever?"
Bon-Bon:...Yes!...I do! (Her Element glows and she gains a Rainbow Form)
Octavia:...Well, it seems YOU'VE discovered the Elements' purposes for you as well.
Lyra:...I'm proud of you, Bon-Bon! (The two hugged)
Present
Dr. Whooves:...My word, that seemed a little dramatic, even for you, Bon-Bon.
Bon-Bon: Well, you can imagine how hard it is to protect good friends when there's a threat that will constantly try to kill them. And the thought of having to do this for the rest of your life is something that can stress out a hero, or sometimes make them break down and cry.
Dr. Whooves:...How about Vinyl?
Octavia: "She actselly already had it before this whole thing was even a thing, like, WAY back to when we got the elements."
Dr. Whooves: "She did even beforehand of this situation?"
Octavia: "Of course. She just didn't talk about it yet because, well, outside of not being much of a speaker, she didn't wanted to make us all envious and kept to herself. Show him, Vinyl." (Vinyl displayed her Rainbow Form, which is much dazzling than the others)
Dr. Whooves: GREAT WICKERING STALLIONS, you look pretty nice like that.
Bon-Bon: And as for Lyra, well...she hasn't exactly discovered it yet. She's still having a hard time learning why the Element spontaneously chose her.
Lyra: It's true. I'm not that much into imagination. The only thing I ever remember about my imagination was the creative stories I made as a filly concerning humans. I liked the movies depicting them.
Dr. Whooves: Were you focusing on their hands all the way through?
Lyra:...Maybe. But that's not important. I grew out of those stories upon reaching adolescence. I barely have the imagination for that anymore. I'm just not an imaginative pony.
Dr. Whooves: ".... Actselly, Lyra, I thought things like using my Hydroworks to make a dramatic enterence was very imaginative."
Lyra: "It's like Icky said. I'm not THAT imaginative of a pony. Pretty much anyone would've done the same, if not with the Hydrowork."
Dr. Whooves: "Ah, but what about your dreams of being a hero? I call THAT being imaginative, right? Including that one you had recently?
Bon-Bon: Or the one where you were a cyberpunk hero in a futuristic Equestria which was oppressed by villains like Dr. Robotnik, and Borg-like soldiers wanted to assimilate all beings, and you... Fell in love and got married to a human... Okay, that part kinda ruined the suspense, and always seems to do something unmentionable to you, but otherwise the suspense was built up massively.
Dr. Whooves: And what about that dream where you were a rebel who lead... Human... Freedom fighters into stopping the Darkspawn infestation, turning all people and ponies into Heartless, and you learned how to use the Chi-Blade to totally rip them a new one, and then...you fell in love with another human...I admit, it was a pretty good environment your mind concocted until that human romance part flattened the suspense like a pancake.
Octavia: Not to mention that one where you were a pony who fought with several pony commados who fought against... A human empire... Lead by a human cursed into Darkspawnhood, and you bravely made peace with the two races, and... Fell in love with another human. Yes, your dreams are down-right Hitchcockian, but the human parts just make me... Gag.
Derpy: And what about the dream where you were cast off into a human world and stopped a war?... I... I guess that doesn't help much.
Bon-Bon: Our point being dreams like that are what make you an imaginative pony. Sure you're an anthrophile who loves hands, but underneath the clouds of that awkward personality is a pony who can do great things and come up with great plans for the future of Equestria. You are born with a wild imagination, Lyra. Even your parents still keep your old stories because they think you're imaginative and creative. With something like that, you can change the world.
Lyra:... You... You actually feel that way?
Octavia: But of course. You've had it from the beginning, and you know you do.
Lyra:... I... Thank you, everypony. (They all got into a group hug as Lyra glowed and finally gained her Rainbow Form, and all the Elements start to interact with each other in rainbow-like lights)
Dr. Whooves:... Well... Looks like we've done it. Now it looks as if we're more then abit capable to face Tyranny.
Octavia:...Then, in that case...Elements of Peace, UNITE! (The six put hooves together, and raise them in the air)
Dr. Whooves: Let's whoop some Tyranny ass! (Suddenly, screaming was heard as the mailpony from Make New Friends But Keep Discord appeared crashing in the middle of them)
Mailpony: OOF! Ouch!...Yeesh, what a trip! Are you all...(Reads mail)...Dr. Whooves, Bon-Bon, Lyra Heartstrings, Ditzy Doo 'Derpy' M. Hooves, Vinyl Scratch, and Octavia Melody? The Princess has sent you a message to return to Canterlot and discuss something concerning your mission.
Dr. Whooves: (Takes the letter, and reads it)...GREAT WICKERING STALLIONS!!...It says that Ahuizotl wasn't the culprit we thought he was upon discovery of him being under a truth jinx.
Octavia: Really? Blast! And here, I thought we were getting somewhere.
Dr. Whooves: It also says that we need to use the Elements of Peace for another purpose since...Tyranny might not need to be imprisoned.
Bon-Bon:...Why would they suggest that? Isn't Tyranny supposed to be a monster who wreaks havoc wherever he goes?
Octavia: You'd think he would've showed up by now.
Dr. Whooves: Well, it says he made a few new friends. He adopted a pet bunny rabbit named...Despot...What an unfortunate name...and a girlfriend named Sunflower, member of the Equestrian Society for the Preservation of Rare Creatures.
Bon-Bon:...A spirit of destruction...falling in love with a pony...AND adopting a harmless little bunny?
Dr. Whooves: Yeah, it's right here in black-and-white....Well...a dullish-tan to be quite honest. Well, we may've discovered how to use the Elements, but now we might have to use them to CURE Tyranny rather than imprison him.
Lyra: I never knew Tyranny had a soft spot.
Dr. Whooves: That's probably because of the spell he's under...which, according to this letter, was actually not a spell at all, and was actually some sort of biological affliction.
Bon-Bon: Hmm...I never knew a biological agent could cause remorse.
Dr. Whooves: Well, whatever this cause is, it certainly wasn't caused by Ahuizotl, nor will I care if it was Eureka. We need to find him and do what we must.
The Group ran off.
Mailpony: ".... At least I didn't ended up getting in trouble this time."
A Piano falls on him!
Mailpony: "OWWWWWWWWWCH!?"
Two Mover Ponies were seen.
Mover #1: "..... Nice going, dipshit, you pulled a total Derpy here!"
Mover #2: "Oh no, it was YOU who pulled a Derpy!"
Mover #1: IT WAS YOU!
Mover #2: YOU!
Mover #1: YOU!
Mover #2: YOU!
Mover #1: YOU!
Mover #3: BOTH OF YOU, STOP BLAMING YOURSELVES! Nopony got hurt, right?
Mailpony:...I beg to differ!...Ow!
Mover #3:...Sorry about that, sir!
Chapter 6: The Changing of Events/Dr. Eureka Finally Exposed
Canterlot
Lyra and friends came in!
Lyra: "So your highness! We heard about the change of plans with Tyranny. Was there something wrong with just imprisoning him?"
Celestia: I'm afraid he's left too much of an impact on society in his condition to return to an icy prison. If we did that, then we'd look bad to those who care about him. So, seeing as how I sense you've already discovered your Elements' potential, I feel that your Elements need to be used in another way.
Dr. Whooves: Are you sure that's even possible? Reforming a monster with unredeemable blood lust?
Luna: He's a Draconequus, a race which has proven themselves with a better existence. There's no denying that Tyranny can do the same.
Celestia: Indeed he was the first of his kind and seems unredeemable, but that's because he's been exposed to so much darkness, even reasoning with him or making allies with him wasn't possible. In order to reform a person like that, you need to get him to look inside his heart and see a better person, either through a spell or through what he currently is afflicted with. And seeing how much of an impact he's made, it would be wrong of us to take him away from that.
Octavia: What about that morality sickness? Wouldn't being born with a closer relation to Darkspawn than others mean he'd be as easily inflicted with it as they do?
Celestia: I feel your Elements can fix that. Use them right, and you can burn away all the Darkspawnic instinct inside of him, and make him a better person. Though we still need to get rid of that affliction before it ends up claiming his life.
Octavia: "Wait, but, what if we end up getting rid of the affliction before we could magicly reform him? Won't that end up freeing his beastly nature? But what if we ended up changing him without getting rid of the affliction? Then he's pretty much dead either way. Even for the Elements of Peace, that's one dasterdly balencing act we have here!"
Celestia: It won't really matter. The Elements of Peace will handle both issues at once.
Dr. Whooves: Sounds simple enough.
Lyra: Now, where is Tyranny?
Skipper: "Lover boy's heading to the hippies. Thing is, we, don't want them to see us doing anything to Tyrant boy, so, we need to slow down Tyranny into an isloated location."
Black Kat: "YES! I GET TO SING THAT SONG AFTER ALL!?"
Icky: What song?
Black Kat: You'll see. You Elements just get ready, I'll distract Tyranny, and the others must warn the hippies and Sunflower about Tyranny so they'll know what we're doing and they won't get the wrong idea.
Fluttershy: I'm sure they will. Tree Hugger and her friends and sister are forgiving types when they understand the situation.
Black Kat: But there's a good chance that, given the fact that Tyranny isn't into a female of his own species now, then I'll just have to take the form of Sunflower, AND magically create clones of her sister and other friends.
Discord: Me and my parents will do that, actually. We need to make sure this goes according to plan...AND that you're not in any situation.
Black Kat: If it's about your skepticism about me seducing another Draconequus, I already told you I still love you. You three can join if you want, just make sure you stick to the plan.
Discord: Got it.
Celestia: Alright, here we go...
Forest
Tyranny: "Just a few more paces, Despot, and we'll be back with those hippies. Nothing will possibly-"
???: TYRANNY!! (Sunflower, Tree Hugger, and their other friends were seen)
Tyranny:...SUNFLOWER!! (Teleports to them and spin-hugs Sunflower as they laughed) I never thought we'd see each other again!
Black Kat: (Disguised as Sunflower's and speaks in her voice) Oh, it's totally cool, dude! I knew you'd come back for me!
Discord: (Disguised as Tree Hugger) ("Okay, Discord, you've never spent as much time with Tree Embracer except for your jealous situation, but try your hardest to actually ACT like her")...Really digging your...uh...'skoshiness'?
Tyranny:...My what?
Sunflower: Never mind her, she's just...uh...recently been through a bliss ceremony, and anything she says usually makes no sense for the moment.
Tyranny:...Oh...well, okay then, you hippies have your own beliefs.
Sunflower: What say we celebrate this whole thing with a song?
Tyranny: You got it, sweet-cheeks! HIT IT! (Music played as the heroes began to prepare and gear up)
Icky: THERE'S GONNA BE SNAKES IN THE HOUSE TONIGHT, BITCHES! (This song plays as the heroes continued to prepare for a fight, Dr. Eureka was still on his way in his battle mech, and Bon-Bon briefly got bothered with the Bug Creatures again until she was rescued when cornered, and Discord sung with a harmonized and unrecognizable voice)
Tyranny:... Hey, you sounded different! You sounded like a man in a girl's body! Wait a minute!... (Snaps, and magically reveals the Draconequus' disguises)...WHO ARE YOU FOUR?!? WHERE'S SUNFLOWER?!?
King Wacky:... Uh, okay, we'll be straight with you, Tyranny, you need help! You're not acting like yourself because you've been infected with some kind of brain condition.
Tyranny: BRAIN CONDITION?!? WHAT'RE YOU TALKING ABOUT?!?
Black Kat: Think about it, you're unable to do evil and just keep feeling remorseful. Your amygdala is being affected by this condition, and we need to-
Tyranny: YOU WANT ME TO BECOME EVIL AGAIN?!? AFTER HOW MUCH HAS CHANGED WITH ME?!?
Discord: Wait, you don't understand, if this condition continues, you're gonna get morality illness and die!
Tyranny: I don't care, can't you see I'm changing? Your Elemental friends have NO right to take that life away from me!
King Wacky: We're not-
Tyranny: SILENCE!! (A brief chaos storm silences and disorientates them)...I'M NOT GOING BACK INTO THAT ICE PRISON! I DON'T WANNA BE EVIL AGAIN! I WANNA LIVE! I WANNA CHANGE! And you just can't accept that and want me to go back to the ice! Well, you should be ashamed!
Black Kat: Tyranny, we're trying to help!
Tyranny: Like TARTARUS you are! I've got better things to do than to be distracted by you fools! I've got to find Sunflower! (Teleports away)
Discord: WAIT!... (He was gone)... Well, I can see he still retains SOME amount of anti-socialness.
Queen Pranks: "Well luckly, this distraction didn't happen for not. I'm sure the others have made sure the Hippes weren't in there usual location anymore."
The "Usual" Hippie location.
Tyranny appeared and realised that they were gone.
Tyranny: "Sunflower? Treehugger? Guru? Other Hippy Ponies? Oh just my luck, THEY'RE NOMADIC IN NATURE!? That means they don't stay in one place forever! Oh well. At least they'll be back eventally. All I can do from here on out is wait here and finish this sentence completely un-interup-"
Dr. Eureka's mech landed in front of Tyranny!
Tyranny: "...... I didn't know Equestia even had robots."
Eureka: "It's a mech, you abominable simpleton."
Tyranny: A mech IS a robot! Who's the simpleton now, huh?
Eureka: SILENCE! I've got you right where I want you!
Tyranny: "Ohhh, just what I needed, (Puts Despot down and gets him to leave), another jerk. Look, 4 of my own kind just wanted to throw me back into the ice prison, I don't need another."
Eureka: "You probuly misinterprete them. You see, they didn't want you to go back into the ice prison, you idiot. They wanted to reform you without the drug I've administered through a probe."
Tyranny: ".... Wait, was THAT what they meant? Well, in a sense, I'm pretty much now changed just fine with the drug, so I don't see why they needed to-"
Eureka had the mech fired the ray and caused a small sign of Morality Illness.
Tyranny: "(Coughs)!? Morality Illness! ...... Ok, NOW I see WHY they wanted to do it that way. And once again, Ol' Tyranny made a stupid mistake that's going to cost him dearly. I really, really, REALLY should learn to take what my people said SERIOUSLY SO I CAN AVOID THESE SITUATIONS?!"
Eureka: "Well that's why you lost the Choas War. You were a very poor listener then, and you are clearly still are now. I only gave a small beam of what is going to happen to you. Powered up, and I believe, you won't be given the mercy of a slow painless death."
Tyranny: "..... Look, if it's about certain, fiascos in the Choas War, that not's my sytle anymore. I, ironicly thanks to you, offictally gave up on wanting to wreck this place. I now just want to spend time with my hippie girlfriend and-"
Eureka: "It's beyond just your actions of the Choas Wars, beast! Reformed or not, a beast like you is all too tempting for the villains of the universes, from places beyond Equestia! The fact you were freed by, two mafia groups of all things, proves it to be beyond circumstances! It's time your legacy of pain and destruction, not to be allowed to be continued, ANY LONGER?!"
Tyranny: "Now, can't we just talk about this like civilised gentlemen and-"
Eureka zapped the powered up beam and worsen the Morality Illness to beyond any form of repair!
Tyranny: "AGGGGGGGGGGGGGGAAAAAAAAAAAHHHHHHHHHHHHHH!? (Coughs)?! Just when I was starting to like this life."
Tyranny falls flat on his face as his choas powers died out and his body showing signs of decay.
Eureka: "..... Victory."
The Mech lifted off the ground and leaves the area.
Lyra: (The Elements teleported there)...Oh, no! (They all headed for the dying Tyranny)
Dr. Whooves: GREAT WICKERING STALLIONS, WHAT HAPPENED?!?
Bon-Bon: What do you think, his morality illness is starting to take effect!
Dr. Whooves: Yes, but why was it much quicker than expected?
Derpy: Uh...has anypony realize where we're stepping? (They noticed the mech footprints in the ground)
Dr. Whooves:... The footprints of a machine!... The one who gave him the affliction must've came here and accelerated the sickness!
Bon-Bon: (Grabs the weakened Tyranny) Tyranny, who did this? Tell us everything!
Tyranny: (Coughs blood)... Pony in mech... Well, at least what I assumed it's a pony, infected me with... Drug... With probe... (Coughs more blood)... Ray accelerated... Sickness... (Falls unconscious)
Octavia:... Oh, no! Is he dead?
Bon-Bon: (Feels his pulse)... No, he's still alive. Though probably not in a few minutes. We need to cure him and fast.
Dr. Whooves: So... So it was a drug and a probe that did this? Eventually followed by a mech no less? So... Our culprit is... A genius in scientific levels, and wasn't just some... Potion master?
Bon-Bon: Don't worry about that, Doc, we need to heal him quickly!
Lyra: "How are we gonna do that in a short matter of time?"
Derpy: Can we just do it with the Elements? I mean, they were created by Gods, right?
???: I'm afraid that won't work. (Celestia and Luna arrived)
Celestia: The powers of the dead are limited to even us Alicorns. Only death Alicorns can heal fatal injuries, and Death Coffin is no longer in charge of that. And even THEY can't heal morality sickness. I'm afraid the only way he can heal is to get him back to his evil self so it can instantly heal him. And that means getting rid of the drug first.
Dr. Whooves: How? We didn't prepare for this because we didn't know it was a drug.
Celestia: We can do this. (Magically scans his body)... That's peculiar! This drug is highly advanced! It can handle magic greater than the both of us. I think we need the power of more Alicorns in order for this to work!
???: Say no more, daughter! (Nightus and Heavenslight arrived) We're here to help!
Derpy:... Is that...?
Octavia: Upon my word! It's the fabled King Nightus and Queen Heavenslight! I thought they were lost!
Nightus: It is understandable you six didn't pay attention to the Lodgers' history since you barely have the time for it. Now, Celestia, Luna, I think our combined efforts can get the drug out of his system.
Luna: I hope so. And we'd better hurry. He hasn't got that much longer to live. (They combine beams into a large magic orb that enters deeply within Tyranny's mind, and his brain is seen spoiled and decaying as the amygdala is actually red and heated, and the magic essence clears up the redness, and restores it, and gets the rest of the drug flushed towards the middle)
Dr. Whooves: Is it working?
Celestia: Yes, but we need to get the drug out of the system and outside his body because all that stuff has to go somewhere.
Derpy: Why don't you just make it disappear?
Heavenslight: While we could, the energy that follows could damage the inside of his body. I'm afraid we'll have to get the drug flushed out... Naturally.
Octavia:... My word, you don't mean...
Nightus: Yep. He needs to urinate it out. It's the safest way to get it out.
Derpy: But where are we gonna-
Heavenslight: (They bury Tyranny's body in the ground)... Like that.
Dr. Whooves:... Wow...
Nightus:... Alright, it's coming out...
Bon-Bon: Blech! (The six ponies took a step back)...
Heavenslight:... Alright, it's all out. (Vinyl barfed)
Lyra:... So... What happens now-
Muffled screams!?
Tyranny: "(Muffled) GET ME OUT OF HERE?!"
Tyranny popped his head out!
Tyranny: "WOW THAT WAS NARLY DREAM!? I THOUGHT FOR A SECOND THAT I-"
Tyranny suddenly realises that he is in the presence of the new barers of peace and the remaining Alicorns.
Tyranny: "...... That wasn't a dream, was it? HOLY SHIT, THIS CANNOT GET WORSE!?"
The Barers of Peace turned into their reainbow forms.
Tyranny: "...... I don't remember the elements of peace doing THAT befor-"
The group fired the ray at Tyranny as he screams during a big blinding flash!
Elsewhere.
Eureka was still flying in his mech.
Eureka: "You did good, Eureka. You did-"
The Flashing Light arrived and blinded Eureka momentarly, causing him to crash into a lake!
SPLASH!?
Eureka came out of the lake, wet, ruined, and with a malefuntioning helmet.
Dr. Eureka: "(Glitched voice) Well THAT was rather unfortunate."
Dr. Eureka removed the helmet and saw where the shorce of the light came from, a resulting Rainbow-Sploudion.
Dr. Eureka: "..... Oh boy, Like I have NO idea what this means."
Dr. Eureka ran off!
Back to the original area.
The meadow was seen again, as a still blinding light surrounded the area.
The Barers of Peace stood exhausted, as they look to see a figure rising from the ground.
The figure reveiled himself to be a completely different Draconequus.
Different Draconequus: "Ugh..... What happened? Where am I? WHO am I?"
Everyone was surprised.
Nightus: "..... Tyranny?"
Different Draconequus (?Tyranny?): "Who's that? I don't even know my own bloodly name, let alone some other guy."
Lyra: "...... Guys, I think we did more then reformed Tyranny. We turned him into a completely different guy! He, no longer even looks like Tyranny!"
Nightus: "Perhaps the elements felt reforming him as he was would be too, difficult given his history, and, perhaps he was so unlike the Draconquui was BECAUSE of his Darkspawn inhereitence. Cause of the removeal of it, it changed Tyranny into an extremely different being."
?Tyranny?: "I still don't know what's going on here?!"
Celestia: "..... It's..... A very, LONG, story to explain."
Later...
?Tyranny?:...Oh, DAMN! I was seriously THAT bad? It's all coming back to me, now!...(Sighs)...Well, I'm glad I'm no longer a destructive psychopath. Now I can finally make a life of my own....By the way...where is Sunflower?
Sunflower: TYRANNY! (The two, as well as Despot, embraced each other, and the heroes awed at this)...
?Tyranny?:...Call me 'Benevolence'. The Tyranny I once was is no more. I'm free to be who I wanna be. I'm free to be with you. (Pets Despot)
Sunflower:...I'm so glad you're better than who you once were now.
?Tyranny? (Benevolence): As am I!...Now we can finally start our own future...(The two slowly begin to romantically kiss each other)
Icky: YEESH! That's reminds me TOO MUCH of those bizarre Fluttercord fanfics!
Lyra:...You sure he can have a living with a mortal girlfriend without the morality illness?
Celestia: I have my own relationship with a mortal, so yeah, I can safely say yes...as long as he doesn't go into another depressive mental breakdown.
Dr. Whooves:...So, Benevolence...do you remember who tried to kill you?
Benevolence: Well I couldn't make it out with the helmet disguising his voice, but some of his body was seen, and his coat was blue, though I couldn't see his hair color.
Dr. Whooves:...A blue coat...Dr. Eureka has a blue coat...
Lord Shen:...Hmm...I think, just in case...we need to check Eureka Corp one more time. We need to check those spots on the map.
Kowalski: But Shen, I told you, they're too small for anything to be cleverly hidden in.
Lord Shen: But he is a clever genius, isn't he? Plus, Benevolence said it himself that the culprit used a mech with high-tech design. If Eureka doesn't match that, I don't know what does.
Celestia: Shen, we--
Lord Shen: Listen, I'm not going into this like I did before. But I think we must look into this. Were going back there and inspecting those spots. If they're not as they seem, then we'll leave, and never bother with it again. As Lodgers, we need to look into whatever we can. We owe it to Benevolence to find out who drugged him. So are we doing this or not?...(The Lodgers and heroes were skeptical)...
Twilight:...Very well, then. I suppose we DO owe Benevolence to catch whoever drugged him. Let's go check that place.
Eureka Corp
Lord Shen: (The Lodgers arrived in his office) Dr. Eureka! We need to talk!
Dr. Eureka: (Shrugs) What will you accuse me of now?
Lord Shen: Oh, we're not here to accuse you this time, Doctor. We just need to investigate this company again.
Dr. Eureka: You already did. You found nothing.
Lord Shen: Then explain THESE areas of your facility! (They bring out the map and see the small spots that are highlighted)
Dr. Eureka:...Those places? You kidding, they're just small spaces, nothing but solid concrete.
SpongeBob: Listen, Doc, we're going to check those spots for anything suspicious, and we won't like you getting any ideas.
Rainbow Dash: Especially since we thought we captured the culprit, Ahuizotl, who used to claim to have put a spell on Tyranny to make him remorseful. Then we discovered that it was ACTUALLY a chemical agent, and Ahuizotl had a truth jinx. You wouldn't happen to have anything to do with that, would you?
Dr. Eureka: Absolutely not!
Lord Shen: Then explain how we discovered that he was actually inflicted with a kind of drug through a probe, and that a blue-colored pony wearing a mech suit accelerated his morality illness to try and end his life!
Dr. Eureka: (As La-Te was watching) Listen, I may be a scientist who seems to match such a motive but it was not me! Perhaps this imposter was using a magical disguise. It has happen before you know.
Celestia:... Oh...
Lord Shen: No more excuses, Dr. Eureka! We want those spots inspected immediately, or we might have to turn you in.
Dr. Eureka: Listen, it's not true!
Lord Shen: Your words mean nothing anymore. This is your last chance, let us see those spots, now!
Dr. Eureka:... (Sighs) Fine!
Later...
Celestia: (The heroes were analyzing every spot marked on the map, yet come up with nothing)... I'm not sensing anything here.
Kowalski: Me, neither. Seems like concrete wall to me.
Lord Shen: Keep looking!
Dr. Eureka: Listen, you've been taking 10 minutes with this search, guys. Just drop it and leave. You've seen enough.
???: NO, THEY HAVEN'T! (La-Te arrived)
Dr. Eureka: La-Te? What're you doing?
La-Te: What I SHOULD'VE done a long time ago! (Presses a hidden button, and it ends up exposing a hidden vault, surprising the Lodgers, and La-Te got out several papers, and showed them to the Lodgers)
Dr. Eureka: LA-TE, NOOO- (Lord Shen points his spear at him)...
Lord Shen: (They see Dr. Whooves' initials on the blueprints)... What are these, Eureka?
Dr. Eureka: That's not your concern, now give them back! (Shen points his spear at him again)
Lord Shen: YES they are! Answer me!
Dr. Eureka:... They're my blueprints for my inventions, of course.
Rita: Why are there initials of 'DW' on them, then?
Derpy: They stand for 'Dr. Whooves'.
Lord Shen:... Is this true?
Dr. Eureka: No, they could mean anything!
Lyra: We SAW these blueprints before, Eureka! They belong to Dr. Whooves!
Celestia:... So you WERE stealing his work!
Dr. Eureka: No, that's not true! He could've planted those there!
La-Te: Oh, I don't think that would be a good excuse when you hide it, along with the remorse drug you used on Tyranny, INSIDE AN ANTI-MAGIC VAULT!!
Dr. Eureka: LA-TE, DON'T YOU DARE!!!
La-Te: You're not my boss anymore! I'm quitting, AND making sure I no longer take part in this conspiracy. If I had let you get away with this any longer, I could NEVER forgive myself. I simply cannot stand around waiting to get blamed for assisting you in your crimes. That's why this ends HERE and NOW!
Dr. Eureka:... You traitor!! SECURITY!! GET ALL THESE PEOPLE OUT OF MY SIGHT!!
La-Te: "I told the guards you gave them all a day-off today, so they're not gonna help you. And before you call in your troll bodyguards, I told them they can have a day-off too."
Dr. Eureka: "........ La-Te, how could you? I, I thought you understood me! You, you were practicly my soulmate!"
La-Te shedded a small tear.
La-Te: "..... I'm sorry sir.... I couldn't stand letting you further ruin yourself with your BASTURD OF A FATHER'S TEACHINGS?! That, nonsensical survival of the geniuses garbage ruined the lives of not just Whooves, but the other geniuses of Equestia, even the rightful inventer of the equestian helacoptor!? I.... I couldn't stand myself anymore, and I couldn't stand what were you were doing."
Dr. Eureka: "But look to what my learnings from father has done for Equestia, La-Te! The closest to Equestia had to real tecknowagey prior to my asendsion into Eureka Corp was Kevin Longbill, and I am trying to restore what was lost from us cause of Villain Leage interference, if not improved apawn it. I did things Kevin would've wished he had the chance to do! I only did it because it was what my father wanted?! Did you think this company would even happen if HE'd let himself get obscured by some usurper of my family's rightful place as the greatest minds in Equestia?! Equestia would've been still a primitive wasteland had it NOT BEEN FOR ME AND MY FATHER?! I UPGRADED EQUESTIA?! I UPGRADED DAILY LIVES!? I UPGRADED HARMONY?!"
La-Te: "But at what cost? Obscuring and ruining the lives of real geniuses for your own benifit?"
Dr. Eureka: "THAT HIGH-LIFE STUFF, I ASSURE YOU, IS BUT A COMFERTABLE BONUS?! MY REAL GOAL, WAS FOR THE BETTERMENT OF EQUESTIA?! WHERE'D WE ALL BE IF IT WASN'T FOR EUREKA CORP?!"
Derpy: "We'd be in an Equestia where Dr. Whooves was the one who has that."
Dr. Eureka: "OH SHUT UP YOU OFFENCESIVE INSULT TO THE MENTALLY CHALLNAGED!?"
Everyone gasped from that.
Derpy was about to cry from that.
Lyra: "..... No one, calls Derpy that."
Dr. Whooves: "Ok, that tears it! You can degrade me, you can steal from me and make ME look like the thief, you can even lie and cheat heroes into treating me unwell, you can even try to rob me and my friends the oppertunity to become heroes of Equestia through an unfair and unfaverable means, but NO ONE, HURTS DERPY'S FEELINGS!?"
Dr. Eureka: "THIS IS SOME THANKS FOR TRYING TO MAKE UP INADVERTINGLY CAUSING YOU TO LEAVE THE ELEMENTS THROUGH HIRING THAT BEASTLY AHUIZOTL!? I DIDN'T WANTED TO BE UNINTENTIONALLY RESPONDSABLE FOR EQUESTIA'S DOWNFALL BY TYRANNY'S HAND?! I MADE UP FOR THAT MISTAKE, DIDN'T I!?"
Icky: "Well, argueably you did, but in a rather shitty way."
Shifu: "Not to mention dishonorable."
Missing Link: "Buddy, your gonna go down to Chinatown!"
Dr. Eureka: "YOU ALL WILL REGRET THIS?! I'LL MAKE SURE THAT NO ONE BELIEVES EVEN THE OVER-RATED PRINCESSES?! NOT EVEN YOU MISFITED CLOWNS WOULD HAVE ANY REAL CREDABILITY ANYMORE?! YOU WILL ALL LEARN TO RESPECT MY GENIUS DOMINENCE!?"
Dr. Eureka runs off!
Po: "GET HIM!?" (The Lodgers chased him down as he constantly avoided them every single turn, and he actually managed to reach a certain lab)
Dr. Eureka: GET OUT OF MY WAY!!! (Runs past the scientists, grabs his helmet and boards a duplicate version of his mech without the immortality-negation beam, and prepares it for combat)
Icky: What's he doing with that... HOLY CRAP, HE'S GOT A MECH!!!
Skipper: (Eureka aims his arm firework cannons at the heroes) GET DOWN! (The heroes ducked as the fireworks did massive damage above them, piling some debris on them, which Celestia blasts away)
Lord Shen: YOU SICKEN ME, DR. EUREKA!! I KNEW YOU WERE THE CULPRIT FROM THE VERY START, AND YOU WOULD'VE BEEN FREE TO RUIN OTHER PEOPLE'S LIVES FOR YOUR OWN SELFISH BENEFITS IF IT WASN'T FOR LA-TE!!
Dr. Eureka: Oh, she'll be given the proper punishment for destroying my career soon enough!
Lord Shen: You destroyed YOUR OWN career! You deceived your own superiors, you deceived authority INCLUDING us, you stole great inventions and forced a minor genius to go bankrupt, AND you dishonorably tried to use morality illness as an act of execution! You're looking at SERIOUS life imprisonment in Prison 42, pal! You- (Eureka shot more fireworks at them, causing Shen to dodge, and actually ended up breaking one of Derpy's wings)
Derpy: AHHH!! My wing!
Dr. Whooves: DERPY!!
Eureka: I will NOT be talked to like that! I was supposed to be the greatest genius in Equestria! My father wanted me to bring the 21st century to Equestria! And he said to do whatever it takes to bring them great technology MILLENNIA beyond our own! I was going to change the world! AND I WILL NOT LET THAT OUTDATED RIVAL OF MINE, OR HAND-BE-DOWN MEDDLING MISFITS TAKE THAT MOMENT AWAY FROM ME!!! (Fires more fireworks as the heroes constantly avoided the chaos)
Dr. Whooves: (Got the injured Derpy out of the facility)... Derpy, stay here. You'll be safe!
Derpy: Okay, Doc!
Dr. Whooves: Alright! I'd better get back to the lab! I need to end Eureka's reign of conspiracy once and for all!
Celestia: I'll teleport you there! (Teleports Dr. Whooves off to his lab)
Dr. Eureka: (He continues to ravage the lab trying to destroy the Lodgers, and then notices La-Te, and grabs her) YOU! You're not going anywhere, traitor!
Twilight: LET GO OF HER! (Blasts at him, causing him to drop La-Te and teleport her away, and right next to Derpy)
Dr. Eureka: (Grabs Twilight by the neck)... You're an Artificial Alicorn! So YOU shall die with La-Te, the Doc, AND his retarded friend! (Chokes Twilight)
Lord Shen: (Sees Eureka strangling Twilight, gets out a cannon, and blasts at him, sustaining significant damage to the mech)
Dr. Eureka: (Growls, grabs the cannon, and lights it pointing it at Shen)
Lord Shen: Oh, crap! (The cannon fires, and he actually appears blasted as the cannon ball did a devastating amount of damage, yet Lord Shen and a few others that were caught in the blast radius survived)... (Coughs)...
Dr. Eureka: The next shot will be fatal, you slime! And just to make sure you ALL die... (Aims his mech's other weaponry at them)... THIS will kill all of you! (Suddenly, rocket sounds were heard and Dr. Whooves was seen in his own mech and punched Eureka's mech to the ground) OOF!
Bon-Bon/Lyra/Octavia: DOC!
Dr. Whooves: Eureka, you will not hurt ANY of these people! I will not stand by and let you ruin more intelligent ponies' lives like you did mine!
Dr. Eureka: (Dubbed as Stewie) Bring it on, bitch! Time for me to finish what I started anyway!
Dr. Whooves: (Aims his firework arm cannons, and Dr. Eureka manages to avoid them, and grab the arms and crush them, disabling the firework cannons. Dr. Whooves activated them back to hands again, and then Dr. Eureka switched to his mech's shoulder-mounted laser cannons, as did Dr. Whooves as they ran sideways shooting at each other, and Dr. Whooves took cover from behind a wall, as did Dr. Eureka, and they let their laser cannons cool down after being overheated, and then they lunged after each other laser cannons blazing until they crashed into each other, and they both activated their rocket feet and they blasted into the air throwing punches at each other, eventally flying miles away from Eureka corp and around the land of Equestia and beyond and they were falling straight into Ponyville as the civilians saw it and panicked. Dr. Whooves then pushed them away before they could crash, and they reached an open area as they continued to punch each other, and Dr. Eureka punched Dr. Whooves to the ground, and readied his firework arm cannons, but Dr. Whooves quickly kicked him to the ground before he could fire, and Dr. Eureka jumped back up and ripped a small tree from the ground and used it as a sword, and Dr. Whooves did the same thing, and the two dueled with each other, yet Dr. Eureka threw Dr. Whooves' tree away and pushed him to a bigger tree)
Dr. Eureka: DIIIIIIE!!! (Dr. Whooves ripped the tree out and used it to duel Dr. Eureka again, then Dr. Eureka rolled backward and aimed his firework arm cannons again, and began setting the battlefield ablaze with explosions) GEE, IT FEELS LIKE A MICHAEL BAY PRODUCTION HERE, DOESN'T IT, DOCTOR?!?
Dr. Whooves: I'll say! (Grabs one of the fireworks, and threw it straight back at Dr. Eureka)
Dr. Eureka: SHIIIIIIIIIIII- (The firework hit him and exploded and set fire to the area)...
Dr. Whooves:... EUREKA?!? Are you okay?!?... PLEASE still be alive!...
Dr. Eureka: AAAAHHHHHH!!! (Jumps out of the fire and onto Dr. Whooves with a few wounds and having no firework arm cannons or hands, yet manages to aggressively beat up Dr. Whooves, and bring great damage to his mech, and then ends up crushing his arm cannon hands even more, and Dr. Whooves' helmet's tech-visor says 'Warning: Arm Cannons Reaching Critical Damage. Firework Pressure Reaction Imminent.
Dr. Whooves: GREAT WICKERING STALLIONS!!! (Abandons his mech as it explodes, sending him and Dr. Eureka flying straight back into Ponyville as the civilians panicked)... Urrgh!... (Dr. Eureka notices the two hands of Dr. Whooves' mech are still intact, and quickly replaces his mech's hands with them, and grabs Dr. Whooves by the throat)
Dr. Eureka: THIS FIGHT CHANGES NOTHING, WHOOVES!!! I'LL CRUSH YOUR FRIENDS, YOUR ALLIES, AND YOUR WHOLE CAREER EVEN MORE THAN I ALREADY DID! Nopony else will ever know!
Rainbow Dash: (The heroes appeared from behind him, and Rainbow Dash removed his helmet) Nopony except your own employees whose lives you endangered and all the witnesses in Ponyville, that is! (The ponies saw the finally-exposed Dr. Eureka's true colors)
Celestia: And while the Doc had you distracted, we called for a little help! (The Pony Royal Guard appeared, as well as the High Council members)
Dr. Eureka: WHAT?!?...(Chuckles)....This, isn't what it looks like. I, was rehearsing for, a big movie coming out.
Pony 1: "HE'S CLEARLY BULLSHITING?!"
Dr. Eureka: "Nn-n-n-n-n-n-n-n-no! Alchourse not! I, I, I! (Looks somewhere else) OH GOD, IT'S AN ASTERIOD!?"
Everyone actselly looks the otherway, allowing Dr. Eureka to drop Whooves and blast away on the jets of the feet and make an escape!
Dr. Eureka: "AND THUS, TRUE GENIUS WINS AGAIN!? I WILL EVENTALLY INVENT A MEMORY ERASER THAT WILL REVERSE ALL YOU JUST LEARNED, AND I'LL BE BACK GIVING EQUESTIA TECKNOWAGEY AGAIN BEFORE YOU'LL KNOW IT!? IT'LL BE LIKE THIS UGLY MESS NEVER-"
Vinyl aimed a Bass cannon at him!
Dr. Eureka: "WHAT THE-?!"
Vinyl: "...... I'm the V to the I to the N-Y-L S-C-R-A-T-C-H, and ain't no other pony fires a bass cannon like me, I'M VINYLIOUS?!"
Vinyl fires it as an epic blast of music and ray asends across the land and hits and greatly damages Eureka's mech as he was heard screaming!
Po: "..... Ska-Doosh."
Marty: "AND HE'S OUT OF THERE?!"
Rainbow Dash: "He just got served!"
Octavia:...Huh? Vinyl actually spoke.
The Bass Canon finished it's attack as Eureka's damaged mech falls into the ground!
A wimpering trumatised Eureka panicly came out of the wreck!
Dr. Eureka panicly tried to activate an emergency jetpack escape feature on a hidden activation wristband, but welped when the heroes slowly began to mob onto him!
Dr. Eureka ran off screaming like a wuss!
Dr. Eureka was in a sevre panic until La-Te interseted him!
Dr. Eureka: "La-Te, La-Te, La-Te please, I'll, I'll, I'll do anything to get you to erase everyone's minds! I'll, I'll give you a raise, I'll, I'll give you a promotion as vice-CEO, I'll, I'll give you an all expsenses paid vacation, I'll, I'll, I'll give you a nice brand new futureistic Eureka Corp desk, I'll take you to the spa, I'll give you everything if you just do me this faver and we can forget this major oversight ever accured!? What do you say, La-Te? La-Te? La-Te? La-Te, please, I mean it, I'll do all those nice things and more!"
La-Te did nor say nothing.
Dr. Eureka: "....... La-Te, please, your likely all I have left in this world, your the closest to a real friend I have, I even have greater feelings for you. Those women I hang out with during my Playboy exploits are just for Playboy priviages! The only real mare, more then that, the only real woman I loved, was you. You were the only mare who didn't turn away from me when I admited everything to you. You were the only one I trusted with the truth of my success. You sympathise me with my troubles of living up to father's expectations. I, would've sacriviced my company, for you. I, was even planning, (bring out a small black box), to propose to you. (Opens it). This, horn ring, would've interwine our destines togather, in beautiful marriage. You meant the world, hell, you meant the universes to me! And you've, thrown it away, for some backwater half-wit from Ponyville?"
La-Te: "YOU STRAIGHT UP THREATEN TO KILL ME?!"
Dr. Eureka: "Oh for goodness sake La-Te, haven't you ever heard of Scare Tactics?"
La-Te: "YOU NEARLY TRIED TO KILL THE HEROES!?"
Dr. Eureka: "Those exploudions and weapony were as powerful as a cherry bomb?!"
La-Te: "I saw debre fall!?"
Dr. Eureka: "..... They were very STRONG Cherry Bombs. But I promise they worse they would've done was disorantate and disable the misfits so I would've had their memories erased! You know I'm not a murderor!?"
La-Te: "I SAW YOU STRANGLE THE PRINCESS OF FRIENDSHIP!?"
Dr. Eureka: "THAT, was to scare her into surrendering! I would've stopped if she was actselly gonna die! La-Te, please, you know Equestia can't change from the culturaless wasteland that it is without me! Without Eureka Corp! Without us! We can change Equestia La-Te, we could do wonderful things togather, we-"
La-Te: "Even IF what you said was true, your still guilty of assulting heroes AND royalty with the risk of murder?! You endangered your own employees and civilians! You did things even your hired BIMBOS can't ignor! Even your idiotic childhood friend trolls Goro and Coro won't be able to overlook this! I, even think, THIS WOULDN'T BE EXACTLY WHAT YOUR BASTURD HEADED FATHER HAD IN MIND!? WHY, EVEN HE, WOULD HAVE LIMITS AGAINST ATTACKING HEROES AND GODS!?"
Dr. Eureka: "La-Te, please, I was only acting in the interests of father! I was only doing what HE wanted me to be?! A true dominating Genius! And a dominating genius is NEVER afraid of breaking the dreams of his/her challnagers! Unconventional as it is to the standerds of Equestia as they may be, look to what those methods brought. Equestia is on the path of a greater future, and looking no less different to the likes of Kratos and Futurasia! Even almost on par with most of the entire Alternate Universes! You know WHY those places have great tec? Because they have dominating geniuses willing to do what it takes to have it stay that way!"
La-Te: Funny, I don't remember ANY of those geniuses stealing from others just for something as silly as that.
Icky: Well, actually, during our AUU Reconstruction trip, Xandy told us the story about how Globex almost got destroyed by corrupt CEOs who stole technology and resulted in a robotic war that resulted in the deaths of millions of people. When they were returned to their rightful owners, because most Globex tech was stolen, the company went almost bankrupt and was on the verge of collapsing. It didn't take until the Interuniversal War, which called for hundreds of technological works, that the company was restored to it's former glory.
La-Te:...Oh...well...YOU'RE ACTUALLY NO DIFFERENT FROM THEM!! I'm sorry I had to go against you, but you left me no choice. I'm no longer going to be an accomplice to your crimes, NOR will I ever want to marry a person and a thief like you! You steal technology, you get people to beat up innocent people, you lie to superiors and authority, you did years of conspiracy, you attempted to kill an immortal through an incurable immortal illness, you tried to murder, and you destroyed property, AND you injure a harmless mailpony, and insult them. I don't see WHY I should cut you some slack after all that.
Dr. Eureka:...Please!...Don't let this happen to me!
La-Te: I've got nothing else to say to you. Enjoy your punishment, you disgraceful jerk! (Leaves)
Dr. Whooves:...La-Te?...I feel terrible for saying this, but...did you have to be so hard on him?
La-Te: I'm sorry! I simply couldn't let myself be arrested with him for a conspiracy. I've done the right thing, and stopped him from ruining your life, Doc. So...would you like to be the new CEO of Eureka Corp?
Dr. Whooves: (Was surprised)...Really?
La-Te: Yes. You are more deserving of the inventions than him!
Dr. Whooves:...Okay, but first...I don't feel that Dr. Eureka should suffer such harsh punishments.
La-Te: Wha...why not? Didn't you say you wished he never had all that fame?
Dr. Whooves: Yes, but certainly not like this.
Twilight:...(Thinking about a familiar situation, and looks at Eureka as his image changed into Gary Skalesworth)...He's right, La-Te!
La-Te:...You too, your highness?
Twilight:...(Sighs)...Can I tell you a story about how I made a similar mistake?
La-Te: Surprise me, then! I can see no reason why Eureka deserves the harshest of all punishments for ruining people's lives!
Later...
Twilight: (As La-Te was almost in tears)...And when I realized the mistake, I went there to see if Gary was alright, and...instead, all I found was an anti-social, despondent, depressed, and ruined dragon who was put through absolute hell for the next 10 years since I shunned him. Before he was rescued with the Reality Stone by a a very good friend, whenever I was reminded of him, I would just feel remorse and guilt. I cried myself to sleep every night when he was stuck in my thoughts. It was one of my biggest mistakes that I still get torn up about even today.... (La-Te finally broke down crying)
Patrick: (He was crying as well)
La-Te:...*Sniff*...(Sobs)...(Looks sadly at Eureka and feels remorse)...Now I see a reason!
Twilight: Then please, don't make the same mistake I did. If you do, it'll later haunt you, and give you the same torment and pain that I had gone through.
La-Te: "..... You still agree that-"
Twilight: "Oh, don't get me wrong, he SERIOUSLY still has to deal with major punishment for ALOT of needless to reference obviously already known things, but.... Don't leave him thinking you've abandon him."
La-Te: "(Sees Eureka being taken away by guards)..... WAIT!"
The Guards were momentarly confused, as is a slowly heart breaking Eureka.
Dr. Eureka:...La-Te?
La-Te: Look, Doctor...I'm sorry this has to happen. But you've done some crimes that I don't wanna be a part of. I care about you and your family a lot. But when push comes to shove, I will always choose what's right above all else. That doesn't mean I no longer care for you, but you need to face the consequences of your actions. If it'll make you happy, I'll try and convince the High Council to take it easy on you.
Merlin: Well, as a High Council member myself, I'm afraid crimes such as attempted execution through morality illness is something INCREDIBLY unforgivable and dishonorable. Gods have punished people harshly for such a crime. I don't see how the High Council here will see past that.
Zeus:...As true as that is...he had a bit of good intentions. He believed that doing so would rescue Equestria from a threat powerful enough to annihilate it. Though, his rivalry with Dr. Whooves made him blind to the fact that he and his friends would've handled him just fine.
Yen Sid: Indeed. Good intentions cannot makeup for an act like that. But, I feel because he actually tried, we should tone down with the punishment. Besides, I think it should be in Equestria's jurisdiction to carry out his punishment.
La-Te: So...he won't suffer that worse a punishment then?
Master Chao: No. But he's done so many crimes, there's no saying he won't suffer a harsh punishment in some way. The laws are abit more, amoral then those who had created them. But otherwise, he might be okay.
La-Te:...Thank you.
Twilight:...I'm proud of you, La-Te.
Dr. Eureka said nothing, but only gave a sad, reliefed sigh with a hint of hope, as the guards, momentarly caught in the sappiness by crying, quickly regained professional composure and carried off Eureka.
Kolwalski: "Never had I seen a fall of a once respected genius as tragicly painful as this."
Private: "Espeically since he was just doing what his father wanted him to."
Icky: "I can respect the guy for just being respectful to his family legacy, but if I was in that guy's shoes, I would've opted to not follow the family legacy for once."
Skipper: "Sometimes people don't have that choice, Ick. To some people, satisfying family oblingations was more impourent then your own feelings, even if they're not something accepted by socity."
Dr. Whooves: "..... I must admit, I am at odds with  myself. I actselly almost feel, sorry for Eureka's downfall, when this should've otherwise be the happiest day of my life."
Octavia: "That's because you got to know him more then just being a dishonest flanderor. He did all this, including messing with your life, was not out of inheredly true malice, but because of family expectations. His father wanted him to follow in his footsteps, and that's exactly what happened. It was argueably better not to go after him over petty revenge. What happened to him now was because of circumstances required us to."
Dr. Whooves: ".... Kinda ironic I must admit desiding to stop making a big deal out of Eureka ruining my life ended up allowing me that such chance to expose him."
Octavia: "Yes, (chuckles), fate is a fickle mistress, I imagine."
Lyra: "..... THAT, WAS, AWESOME!? I SO FINALLY GOT TO LIVE MY DREAMS AS A HERO AND IT WAS GREAT?! I CAN'T WAIT FOR THE NEXT ADVENTURE AND-"
Bon-Bon grabbed Lyra in a romantic pose.
Bon-Bon: "Shut up and kiss me, ya darn foal."
Donkey: WHOA, WHOA, EASY WITH THAT STUFF, GIRLS!! We don't need the bronies to go 'Ha, GAYYYYYYYYYYYYY' at the sight of this happening.
Bon-Bon: Ok, ok, fine! I'll just give her a friendly hug. What ya people, a bunch of homophobes?
Icky: "Don't get us wrong, it's kinda a rule this series has about introdusing controverseal stuff. Gay stuff is kinda included because SOME people don't really appresiate an alternate sex life, even in modern socity!"
Shrek: ".... Let's uh, give these two some privacy, eh? We've already embarrassed them enough as it is."
The Group looked away as Lyra and Bon-Bon gave a friendly hug as music started to play.
At a celebration festaval.
A huge party was held in celebration of the Elements and the reformation of Tyranny as Benevolence and Sunflower kissed and everyone was dancing in Celebration. The song went as it showed even a hidden in secret Starlight dancing to this!
As the song was finish up we cut to see the Lizard men dancing as well in a rock yard, to the annoyence of Dr. Eureka, Ahuizotl, and Criminal Deed.
Then we cut to the other hippies dancing, as well as Despot who was there as well and had his name changed to "Kingship" as evidented by the collar.
Then we cut to the Arena Monsters but Caeser dancing, who Caeser stared annoyed.
Then we see the Razer beaks but Ronan and a slowly angering Thigana stood annoyed, as did Grouse who gave an annoyed sigh.
We finally cut to Lyra and Bon-Bon dancing while cheered on by their friends.
As the song climaxes, the Elements of Peace high-fived each other.
Fade to black.
Epilogue
Skullian Prime.
The Architect stared blankly at the screen.
Titan was staring blankly from his screen as well.
Architect: "...... I think another break is in order."
Titan: "Good freaking idea."
Following into December.
The Van enters Equestia as it's about to enter Hearths' Warming.
Icky: "Ahh, nothing screams an exsellent day to celebrate chrismas and/or their holiday like a visit to Equestia. The time for chirismas is when villaint starts to ease up for abit and cool down for the holidays, giving us a rare chance to actselly freaking enjoy ourselves for once."
Spyro: "Best part, we get to see Taiku again."
Skipper: "Here's hoping we don't have to see another villain's ugly mug ever again. For the time permitting I mean."
Lord Shen: "I think we can afford to enjoy the holidays without ever seeing any villains. No villain leage, no team nefarious, no scourge imperials, no blasted independent villain of the week, no returning threats, no-"
Trixie: "STARLIGHT GLIMMER!?"
Lord Shen: "Well yes, cause she is locked up in Black Staillian Asylum and-"
Trixie: No, she's...WITH THEM!! (They looked outside to see Starlight Glimmer herself with the Mane Six)
Lord Shen: (Gasps, and immediately got out and pinned Starlight to the ground)
Starlight: OW! WHAT THE TARTARUS?!?
Lord Shen: WHAT ARE YOU DOING HERE, YOU TREACHEROUS BITCH?!? You're supposed to be in the Black Stallion Asylum!
Twilight: Shen, calm down for a second, and listen! She's not evil anymore. She's changed.
Boss Wolf: She's good now? Since when?
Icky: Yeah...I kinda forgot to show you the Season 5 finale of the show.
Pinkie: I've got the Party Camera ready to show them what happened.
Lord Shen:...Surprise us.
Later...
Lord Shen: (The Lodgers had just finished watching the 2-parter)... YOU TAMPERED WITH TIME?!?
Starlight: Why, is that bad? Because the map sure that spell was gone for good.
Cynder: Yeah, you need to know that time-travel is something pretty dangerous.
Kowalski: Indeed. Attempts to alter time can cause a paradox that comes from the fact that accomplishing such an act would mean you wouldn't have been motivated to do it in the first place, resulting in a looping paradox that can grow and grow and grow until eventually, it RIPS THE VERY FABRIC OF THE UUNIVERSES!!!
Starlight:... What?
Icky: That's nerdy talk for 'time travel creates doomsday paradoxes that will destroy the UUniverses'. Especially since there are beings out there that watch over time-travelers such as a certain ally of ours. You need to be a lot more careful when you do something like that.
Starlight: I was actselly. You see, Starshwirl's spell was paradox proof. You can actselly do any change to history you want without serious world ending consinquences. He meant it to enable him to make it that the Alicorns never sacriviced themselves to stop Tyranny and that another solution was made, and I wagered it would've prevented that Death Coffin fiasco in a sense cause of alot things, so the worse that really could've happen is Equestia just having a rotten future cause a group misfit mares never met, which in my opinion is kinda a real slap to the face to any other would'be choices to the elements of harmony that some bronies think it's stupidly unfair to think that Equestia can't even funtion without a studious bookworm, a party animal, a shy recluse, a commenly accused of being gay daredevil, a drama fastion queen, and a shouthern steriotype, I mean, aren't there any OTHER ponies with a sense of honesty, kindness, loyalty, laughter, generosity and friendship understanding in Equestia just as possabily worthy of the elements?"
Applejack: "Well, I'd imagine Twilight only saw the worse case scenario futures and that eventally ya'll would've found less horrorable futures, like simular but totally different ponies having those elements and being the ones who changed everything. I bet a few more alternate changes or conditions would've activated them somehow."
Rarity: "I wager the negitive futures happen because of negitive changes or those that happen with intent for one's own benifit, so it's why those futures were so beastly. I bet if a more nicer change happened, we get a simular but still different nicer future."
Twilight: "Well, now that I think about it, it would've been a grand study oppertunity to see all those futures, but I guess a paradox-free way to change time without risk of a universe destroying doomsday is dangerious in it's own marrits, and the map must've known it would've intracted more then just Starlight to use it for their own gain, so it had to get rid of it."
Starlight: "Well, if it's any consulation, even with another way to not cause a Paradox doomsday, my time traveling days are offictally retired, and.... I'm sorry for ever using that stupid spell to begin with."
Cynder: It's okay. I did worse things myself.
Twilight: But I'm sorry to say that... The Unicorn Council is not agreeable with her new choice in life. She still committed crimes that need to be answered, and so they're going to be later putting her into custody and put her on trial.
Rainbow Dash: Yeah, those Unicorns are pretty furious. They're demanding that Starlight be banished from Equestria forever.
Shifu: They can't do that!
Twilight: That's why we're trying to find a way to get her out of the situation before it comes. We need to make sure that this punishment doesn't go too far.
Po: How will you do that?
Applejack:... We wish we knew.
Starlight: "..... IT'S NOT FAIR?! I FINALLY MADE FRIENDS SINCE SUNBURST, AND HERE COMES A BUNCH OF IDIOTIC POLOTISIONS TO-"
Trixie: "WILL YOU CALM DOWN?! Getting angry at those ingretes is not gonna make your situation less violetale. Take it from someone who made the same mistake."
Rainbow Dash: "Twice."
Starlight: "How am I to do that when, when everytime I had a friend or friends, something STUPID happens to ruin that! First it was cutie marks, now a bunch of self-centered ingretes!? It's BAD enough they root for an obvious psycopath that murders mythic creatures, NOW they're picking on me?!"
Squidward: "Well you did pretty much commited Chronoterrorisum, so-"
Starlight: "Besides the FUCKING point?! I..... (Calms down abit)..... I just wish Celestia would not constinetly bow to those hypocrites and show her ahortity."
Saa: "You and an entire community of mythical creatures and beings, honny."
Spyro: "I know I would be rejoicing to when Celestia finally puts her hoof down into those jerks, espeically to Shineflare, who's most likely the only one with the real grudge on you cause of your assusiation with otherworldly beings. The others would've otherwise be more then happy to leave you alone had it not been for Shineflare once Celestia convinced them that you changed for the better."
Pinkie: "Weeeeell, there's still the matter about escaping Black Stailian Asylum.... And the whole spying us thing.... And stealing Starwhirl's spell from Canterlot castle..... And the whole cutie mark communist thing...... And rampaging Canterlot..... And busting out an AUU villain and those Jailbird guys and the Batmen Bros Bandits..... And killing Sympathy Night."
Starlight: "I swear to Celestia's good name, I didn't mean to do that to Sympathy! I was trapped in an uncontrolable rage, it must've boosted up my magic and, it just happened! She was like another mother to me, I, I would've never-"
Shifu: Alright, we get you didn't mean to commit the murder, but you still did some bad things that the Unicorn Council can't just as easily overlook. They're still crimes that need to be given consequences to. It won't be easy to defend you from them because they're a very demanding authority.
Icky: Yeah, the damn whores once got the Galactic Federation involved to send us to jail for even doing our jobs in defending Discord. Plus, they are xenophobic twats who end up defying even superiors greater than themselves if it means they do what they think is right.
Twilight: Regardless, they are still a reliable and reasonable Council. I'm sure we'll help you out of this situation soon enough, Starlight. We'll defend you no matter what.... (The seven hugged each other)
Icky:... Well, looks like we'll have to change these girls from the Mane Six to the Mane Seven now... Assuming Hasbro's doing the same thing. Just like with Sunset in the Human Equestria which has their own Twilight now.
Twilight: Oh, yeah, I paid a visit there once. Sunset was warning me of something troubling going on there, and because of Starlight's time-travel incident, I didn't get to pick up on it until it was over. Then I met my alternate self, and was a little...freaked out.
Squidward: Wait... If that world has it's own Twilight Sparkle and Mane Six... Then where's it's own version of Sunset?
Twilight:... That is a pretty good question. But it's probably best if we didn't worry about it now. This is a year where we don't just celebrate Hearth's Warming, but also Christmas.
Skipper:... You ACTUALLY celebrate Christmas in Equestria?
Rainbow Dash: Only a couple of years or so. The Guardians of Childhood introduced their own holidays to Equestria during the end of the Great Fear War, and we Equestrians have since been celebrating them every few years.
Twilight: Speaking of the Guardians of Childhood, I've invited them to join us in our Christmas celebration.
Starlight:... Well, I don't know if the Unicorn Council will let me enjoy the holidays until the trial begins.
Twilight: I'll take it up with the Princesses. They're sure to talk a little sense into them.
Starlight: "Well..... I just hope those half-wits are the worse I have to put up with."
The Group leave as a familier figure was hiding in the shadows seductively giggling.
???: "My little Starlight Starbright...... Don't worry.... Momma's back from her vacation. (Giggles darkly)."
Fin?
Community content is available under
CC-BY-SA
unless otherwise noted.