The Hidden History of Twilight's Friends is the 38th Episode of Season 3B of the SpongeBob and Friends Adventures Chronicles series. Twilight, after wondering what her friends were like after they got their cutie marks but before they met Twilight, discovers an old newspaper that happen 2 years after the Professor Eagle Beak incident, concerning the 5 of the Main 6, Rainbow Dash, Pinkie Pie, Applejack, Rarity, even Fluttershy, actually meeting Celestia before the canon show events and something about thwarting an illegal pony slavery operation they were captured by. Twilight becomes greatly confused. Celestia never mentioned this. Due to Celestia being too busy hanging out with Shen and the other misfits in Canterlot, Twilight decides to bring her friends over and explain themselves about the newspaper. They explain it as the REAL first adventure before the Nightmare Moon fiasco, to the confusion of Spike and of course, the very curious Twilight which explained why they were so brave to help Twilight defeat Nightmare Moon in the first place. Placed together with Celestia and the Lodgers by the over-hearing Discord, the Mane 5 revealed that during the days before Nightmare, the other 5 were not entirely like what they are today. Rainbow Dash was almost a jerk and very arrogant like Gilda's nasty side due to certain reasons involving the Wonderbolts, Pinkie Pie was almost the annoying bane of everyone's existence since she was just beginning to build her reputation, Rarity was a self-centered type who wanted to get money out of her career since she wanted to provide for her sister, Fluttershy was a shut-in because she was still trying to get used to the world on the surface outside of her animal friends, and Applejack, while still having honest traits, wasn't interested in befriending those OUTSIDE her family tree because she was afraid outside friends would not last very long since life is unpredictable on how their lives would play out. It only took them a situation involving an illegal pony slave trade to turn their lives around. The slave operation was run by Stormtrolli, A near-Giant-like Cave Troll version of Stromboli, and A Nigel the Cockatoo near imitator Griffin who's incredibly violent and scary named Mr. Lawerence, aided by a trio of Hobgoblins named Chuck, Bluck, and Muck. The Hobgoblin Trio and Mr. Lawerence kidnaps the Mane 5 and placed them in a containment area along with other kidnapped ponies, and forced them to not just be slaves, but to serve in Stromtrolli's Bar, 'The Scumbucket Pig', where the nastiest of dragon and non-pony mythic beasts came to drink, eat, and abuse the pony 'waiters and waitresses' as well as female ponies being used as entertainment (sometimes in more ways than one). Ironically, this offers trails based on their true traits to allow them to embrace what they're meant to truly be like and to be enlightened to be the Mares they are today, and inspire them to hopefully stand up to Stormtrolli. But at the same time, can Celestia and a special group of her finest elite also come and save them just in time, and bring Mr. Lawerence and Stromtrolli to justice, and save all of the ponies from abusive slavery?
Transcript
Chapter 1: The Old Newspaper/Confessions of Friends
Party-Planning Cave
Pinkie: (The Mane Six slid down)... Whew! Never THOUGHT I'd come down HERE in THIS part of the Party Cave again!
Twilight: I thought we were going to tell the story of how you five made your place here in Ponyville.
Rainbow Dash: We are. I just... Never expected Pinkie to have a relic of that time here.
Pinkie: (Rummaging through old newspapers) Now where did I leave that old thing? Oh, no, don't tell me Mr. Cake recycled it! He wouldn't have known this place existed-- YES! Here it is! (Pulls out an older newspaper)... WOW! Praise Gleea this newspaper is STILL readable! It's years old! (She showed it to them as it was in horrible aged shape)... Oh, forgot to... (She blew it off) Read it and weep, Twi-Twi.
Twilight: (She laid it on a table)... No way... "Five Unexpected Filly Friends Stop Illegal Slave Trade. Celestia Offers Honor To Five Fillies"?... Something tells me Celestia brought me here because she felt you five were the greatest friends available.
Pinkie: Heh. Who know Celestia was a friend bachelor?... Or... Friendchelor? But still, yeah, it paid off.
Twilight: Seriously, girls, you did all this at such a young age?
Applejack: Yep. Who would've guessed we would? That Mr. Lawrence guy was a mean sonova crotch.
Rainbow Dash: Pfft, I could've gone with 'Sonova Grinch' or some s*** like that.
Pinkie:... I almost can't believe it's been THAT long since we did this.
Twilight: I just... This explains SO much. It explains how you five were willing to help me when Nightmare Moon returned. You five had a friendship just as strong as you shared with me.
Fluttershy: It was honestly not much. We just... Felt like we didn't want to live a life with that mean old griffin selling ponies off as slave labor.
Twilight:... I have heard that name many times in penitentiaries before. Even Black Stallion Asylum mentioned him once or twice.
Applejack: Ohho, trust us, sugar cube, we'd have been on our hooves if we heard that name again. Taking him down was how we actually defined ourselves here in Ponyville. Before that time, I was abit of a strict loner. I once thought being social would distract me from work and chores.
Pinkie: Yep. I mean, I was still this much Pinkie, but, there actually was a time when ponies didn't always appreciate my charm.
Rarity: And back in my filly years, I had to be a LITTLE greedy so as to found my business. Every businessmare's gotta be that way when they're getting their hoofing.
Rainbow Dash: Pfft. I always chocked THAT up to youthful selfishness. I mean, everypony, and everyone for that matter, has to start off selfish. How else are people gonna define their lives?
Fluttershy:... Needless to say I was still a little skeptical about being social, even after this, and especially when there's somepony new in town.
Twilight: You just got attached to me because of Spike.
Fluttershy: It still did something. After I got my cutie mark, I found that cottage when it was abandoned. I didn't want to do a lot of paperwork because of how... You know... But I still found it to be a good start. It had a lot of animals inside for me to start too. My talent helped me spruce it up to what it is now.
Twilight:... And... Celestia honored you for it?
Pinkie: Yeppity doodah. Before that, we thought we'd never amount to anything.
Twilight:... Spike? Take a letter.
Spike: On it. (He wrote)
Twilight: Dear Princess Celestia, I just discovered something... Surprising. That my five friends have apparently did something heroic before they met me. Something about an illegal pony slavery operation, and I was never even told about it. I... If the Lodgers are at all in town, I'd like them to know this too. After all, seems that Equestria itself has lost a lot of magic relevance in the UUniverses... Or feels like it. So, come by and invite us at any time if you wish. Signed, Princess Twilight.
Spike: (He blew it off)... Whew. I can't remember the last time we took a letter like that.... Nostalgia seems to be flooding the place.
Rainbow Dash: Mmmm, I wouldn't say it's an achievement we were COMPLETELY proud of. It had a LOT of... Roughness around it.
Pinkie: You kidding? You're just saying that because you were the jerk off the group at the time.
Rainbow Dash: Well, I thought I was too cool for social interaction back then. I mean, the bullies didn't really help me on that matter.
Pinkie: You WERE friends with Fluttershy before she got her cutie mark.
Rainbow Dash: Well, we were close, and that was before I became the cool type. We kinda HAD to be close when I was still trying to find who I wanted to be.
Pinkie: Still counts.
Rainbow Dash: "It was also because that she was an even BIGGER recluse then even when that dragon slept in the mountain. I mean, if you thought the Season 1 days were bad, Flutters could barely even leave her house without freaking out at even so much as a filly saying hi. She couldn't even handle a neighbor asking for sugar. She handled me just fine cause we knew each other."
Fluttershy: "Sad, but true."
Twilight: "Well, the fact you interacted with me all the same when I first came is, a considerable improvement from what was said of you."
Rarity: "Oh believe me, if she was still THAT Fluttershy, she would've already zoomed off into her house before you completed your first sentence. She one time had to go into the hospital, cause she had a heart attack, FROM FILLY SCOUTS WANTING TO SELL HER COOKIES?! FILLY SCOUTS?!"
Fluttershy: "(Deadpan) Okay I get it, I was a mess back then. Can we move on?"
Applejack: "Yowsa, wasn't expecting some Fluttersass today!"
Fluttershy: Look, it was at least something I HAD to be a part of because Mr. Lawrence saw me as a perfect slave, and threatened my livelihood.... Also, because Rainbow Dash was REALLY pushy.
Rainbow Dash: Hey, you had to grow out of it SOMEHOW! (Celestia teleported in)
Celestia:... So you finally discovered the reason Ponyville was a good location to have you make friends.
Twilight: So that WAS an intentional choice.
Celestia: Friendship IS our dominant philosophy. Royalty has come to view friendships well and how they can blossom. That day... Was the day that defined these five and showed to me that they were perfect for you.
Twilight:... Well... What happened?
Celestia: Well, I'll tell you. (They teleported)
Canterlot Yards
Lord Shen: (The van landed there)... Good landing for once, Dodo.
Squidward: And once again, Celestia's topiary garden is spared.
Shen: (quietly) Thank goodness for that.
Dodo: Why are you all making it sound like I have a fetish for crashing like Launchpad?
Squidward:... C'mon. You know why.
Dodo:... Hmmph. Racist. I am LITERALLY the head driver of the van, why are you NOW assuming-
White Rabbit: In their defense, Dodo, you've been doing it a LOT lately.
Shen: And since we haven't visited Equestria in a while-
Icky: AND because the producers have limited content to work with ever since the canon show ended and that they keep getting distracted with the off-wiki material like- (Shen pointed a blade at him) AHHH!!! RIGHT RIGHT RIGHT, NOT SUPPOSE TO REFERENCE SEASON 9 YET?! Someone get me some lemonade!
Gloria: Really? You're gonna ASK for that cheap joke?
Icky: "What can I say? It surprisingly caught on and it's a good way to hide ACTUAL Piss!"
Shen: JUST, since we haven't visited Equestria in a while... I would like for that to occur right now.
???: Then you're just in time. (Celestia and the others teleported there)
Rainbow Dash:... We're seriously telling this story HERE?! Wasn't the Party Cave secretive enough?
Celestia: Yes, but it cannot fit the entire Shell Lodge Squad.
Private: Story?
Twilight:... Yeah, I just learned that my five friends defeated a pony slavedriver when they were fillies.
Gilda:... Is that a joke? Why wasn't I told about that?
Rainbow Dash: Because the guy was a griffin, and I felt that would come off as... Awkward.
Gilda:... Fair point.
Pinkie: Wow, even as a former jerk, you sure kept a lot of standards.
Rainbow Dash: We're PONIES! Everypony's gotta have standards.
Icky: "Ahem, may we go ahead and get right back into the latest flashback episode?"
Pinkie: Wait, didn't we JUST have a flashback episode? Feels too redundant.
Rainbow Dash: Pinkie?... (She did this)
Pinkie:... OOOOOOH!! Nice voice, RD! Surprised you never sang with that voice.
Rainbow Dash:... (Face-hooves)
SpongeBob: So, did you five REALLY defeat a griffin slaver as fillies?
Pinkie: "Wait, I kinda thought Stormtrolli was in charged-"
Rainbow Dash: Just roll with it, Pinks. Yeah, I know, hard to believe, right?
Lord Shen: I suppose it explains why Ponyville was a good choice for Celestia to send you to make friends.
Boss Wolf: Yeah, I suppose she felt you needed to stop obsessing over Nightmare Moon's return by yourself and have someone else accompany you. Meh, you DID have friends IN Canterlot, why not invite THEM?
Twilight: THEY seemed a little occupied with something else. Celestia must've wanted some more hardcore ponies to help me out.
Celestia: It's true. Nopony really expected five new fillies in Ponyville to defeat Mr. Lawrence.
Razoff: Well, who would? You wouldn't expect a BABY to take down an Outer God, would you?
Thunderclap: Or an ANT to bring down a SKYSCRAPER?
Trixie: Or a SINGLE aphid to bring down a large crop.
Sandy: Yeah yeah yeah, we get it. So... How did you five pull that off?
Applejack: Glad we FINALLY get to explain this story to Twilight. I felt she had to know about it sooner or later.
Fluttershy: I... Kinda didn't want to talk about it.
Pinkie: OHHO, I DID MORE THAN ALL OF US!! That was the day I became everypony's favorite party gal! Now enter the flashback effects! Blublublublublu!
Chapter 2: A Rainbow Jerk, A Pink Outcast, A Yellow Shut-In, A Greed-Riddled Drama Queen, and A Lone Apple
Flashback
(SpongeBob): (Laughs) That STILL tickles!!
(Pinkie): "Let's start with me. Those days were a dark time."
Pinkie was seen being herself, but to ponies, this was viewed as being more annoying then funny.
(Pinkie): "Ponies didn't really appreciate my charm and style back then, nor my attempts to give them great parties. Back then, they were all like Cranky and thought that I was, an annoyance!"
(Rarity): "It probably didn't helped that you kept showing up at random when they weren't prepared for you."
A montage of Pinkie freaking ponies out and/or frustrating them was seen as a lot of ponies scream appropriately!
Young Pinkie: WHY DON'T YOU LIKE ME?!
(Pinkie): Okay, point taken.
(Icky): "Wow, so it wasn't just Cranky that couldn't handle your absurdity back then."
(Pinkie): Unfortunately, yes. (Pinkie was seen trying to spread joy in a grumpy Ponyville, but she only ended up in comical situations where they ended up getting back at her like when she tried to use her party cannon, but the grumpy pony, angry at being spooked, stuck her head into it as the party cannon blew in her face, or when she tried playing tunes with her many instruments until another grumpy pony stuck an apple in her bugle causing her to blow up on air comically)... And in time... It seemed to aggravate me... Then came a time when it got to me.
Pinkie: Moving moving moving moving, c'mon, Pinkie, move move move move!! (She fell off a roof and ended up swinging a makeshift box on a clothesline, hitting many trees) Ow, ow, ow, ow, ow, why, are there, so, many, trees?! (She almost hit another house) AAH!! (She jumped alongside holding the box, but ended up falling comically on many parts of a tree) MOUTH! LEG! TAIL! RIBS! KKH, GIBLETS!!!... (She arched down on a branch as the box landed next to her)... YAY- (The branch launched her into the air) AAAAHHHHHHHhhhhh!!! GOTTA THINK OF FINDING A WAY TO FLY, AAAAAAaaaaAAAAAAAAAH!! (She felt straight into a pond spooking away fish)... (Gurgling) Oh, good, I'm almost there! (She poked her face out) BREATH-BREATH (Gasps as she got out of the pond and get a fish off her butt) Bottomfeeder! (She ran up to the door and rang before getting a clown attire on. She approached a toddler mare younger than her) TA-DAHH!! (As the toddler screamed) Happy birthday to you, happy birthday to you, happy birthday dear... Uh... (She checked a note) "Skipstep, Wheat Allergy, Doesn't Like Clowns"... Ohhhh, boy. Ehe... Okay, uh... (She got her clown face off) Well, anyway, Happy Birthday!
Skipstep's Father: Oh, hey, P. You must be SO disappointed for being THIS late.
Pinkie: Heehee, I'm not late, silly. Look at the clock. The order said "Before Noon". (The clock went to noon)
Skipstep's Father: Okay, NOW you're late.
Pinkie: Uh...
Skipstep's Father: What kept you?... And, what's with the weird box?
Pinkie: Heh, funny story, you're gonna laugh. I fell on the last one. (She opened it to find the cake was still intact minus a squirrel) Oh, the squirrel, that's on us. Free Squirrel.
(Icky): "Wait are we suddenly mimicking the Angry Birds Movie-"
(Pinkie): Hey, who's telling the story here?
Skipstep's Father: Hear that, Honey? The clown we paid to be here an hour ago nearly fell on our son's cake. That's why our son's birthday party is ruined!
Pinkie: Oh.
Skipstep's Father: And the next you mess up, don't tell me a story, just take responsibility.
Pinkie: It wasn't a story, it's the truth! Here, I think I got the bruise to prove it! (Inadvertently shoves her butt in Skipstep's face) See anything back there?
Skipstep: Uh...
Skipstep's Father: Look, why don't we cut to the chase and say the cake's on you?
Pinkie: "..... (Mane deflates) Oh this is diffidently gonna come out of my pay. The Cakes will NEVER let me hear the end of it."
Skipstep's father: "Hey it's nothing personal otherwise, it's how the motto "The Customer is always right" works, ya know?"
(Iago): "That doesn't mean you have the right to be an asshole."
Pinkie: Look, I did my best!... You're right. The cake's on me! (She splattered herself with it, and it ended up making Skipstep laugh the moment she left and accidentally fell in the water again)... (She was heard gurgle-screaming in extreme aggravation)
(Rainbow Dash): As for me... Well... I wasn't just a jerk. I was... Well... A BIG one. Not the kind that makes me a local bully or public menace, but the kind that likes to play harmless jokes on ponies. Me and Pinkie had met before this moment, but... Let's just say it... Brought us close.
Rainbow Dash: (She came in seeing the same guy with another of the same cake and Pinkie was in a corner making a super-sad face)... What's this?
Skipstep's Father: I'm a SCWEWUP WHO WOKE UP LATE AND FELL ON THE CAKE, WAAH WAAH!
Rainbow Dash:... Are you talking about HER?!... Are you seriously making fun of her?! What did she ever do to you?
Skipstep's Father: (He put the cake on the counter) She woke up late, couldn't make it with my son's birthday cake intact, and tried to make up a cover-up story.
Rainbow Dash: Cover-up story? Why the HECK would THIS pony do something like THAT?! She looks WAY too jumpy and giddy for THAT!... I mean, she doesn't hurt ponies on purpose, but still. She's not THAT bad.
Skipstep's Father: Well, it's not really your business. The cake's still on her. And frankly, right now, it's on YOU! (He tapped her and it ended up ticking her off a bit)
Rainbow Dash: I'm sorry, it's on HER?!
Skipstep's Father: Well who else would it be on?
Rainbow Dash: Hehehehe... Well... Uh... I'm not sure you're gonna like this, but... Since you asked... Rather than being on her or me, as you suggested... This cake... IS ON YOU!!! (She picks it up and splats it all over Skipstep's Father to even Pinkie's shock) SO, YOU WANNA HEAR A REAL STORY?! I for one RUBBED MY BUTT OFF, to get a GLUTEN-FREE CAKE for my brother! WHAT THE HECK IS GLUTEN?! I MEAN DOES GLUTEN EVEN EXIST?!?
Mrs. Cake: Who ARE you?!
Mr. Cake: Get outta here, you're making a scene!
Rainbow Dash: OH, ALREADY?! But he's the only one that's had cake! (She wiped it off Skipstep's father's head and ate it) MMM-MMMMM-MMMMM, oh, that's good stuff! I mean, come on, Father of the Month, at least your poor kid hasn't been SCARRED for life. So, yeah, I think you owe the poor filly here an apology. But don't just say sorry, I think she's supposed to have some kinda customer satisfaction guarantee, you know? So, on a scale of 1-to-3 stars, what would you say about her performance? Hmm? I bet you that- (Rainbow Dash was kicked out of the place and into the mud) PMMMMMPH!!!
Mr. Cake: DON'T COME BACK IN HERE EVER AGAIN!!!
Rainbow Dash: PLEH! WELL EXCUSE ME FOR BEING ASSERTIVE!! Euaahck!
(Icky): "In hindsight, it's kinda no wonder why you were friends with Gilda even back when she was aggressive as fuck. (Gets smacked) OW?!"
(Gilda): "I know you're not wrong, but that still deserved a smack."
(Rainbow Dash): "Yeeeeaaaaah, I admit it, that attitude, got me kicked out of a lot of places."
(Applejack): "Well you're lucky it didn't catch on, or Alicornia forbid it would've kept you out of the Wonderbolts cause of you mouthing off superiors."
(Rainbow Dash):... Well... That's what lead up to this attitude. I actually met them for the first time... Then they ended up laughing and humiliating me in front of everypony when I crashed and burned my attempt to do a Sonic Rainboom again. It was a nightmare that has followed me until then. Even those bullies back in Cloudsdale wouldn't let me live it down. So, you can imagine how that would turn ANYPONY into a jerk.
(Pinkie): I was lucky I talked the cakes into lifting the ban, but we'll get to that later.
(Fluttershy):... Well... As for me... Like I said, I just refurbished the cottage since it was long abandoned before I came. It had a lot of animals inhabiting it. So, I managed to strike a deal with them. I'd live with them if they could refurbish the place to fit me. And we did. It took a considerable effort, but in the end, the cottage was good as new.
(Rainbow Dash): Impressive if you ask me. It happened practically overnight.
(Fluttershy): But still... Back then, I was too scared to even interact with anypony. Given my long history being a social outcast, I couldn't bring it in me to try it again. The closest ponies I ever interacted were Rainbow and Pred and the daughters, but Rainbow was the most frequent since Pred was most doing his mythic slaying a lot of the time. Otherwise....
Salespony: "(Knocks on door) Sir or madam, I came to offer the newest invention sensation that's sweeping the nati- (Fluttershy was heard whimpering inside the cottage, as suddenly the salespony was attacked by animals) BAAAAAAAAAAAAAAH?! WHO KEEPS HALF OF THESE ANIMALS AS PETS?! (Harry pounced in) OH MY CELESTIA, IS THIS A BEAR?! YAAAAAAAAAAAAAAAAAAAAAAAAAAAAAAAAAAAAAAAAAAAAAAAH!?"
(Icky): "But hey, it kept ya from dealing with solicitors. I bet Rarity was a mess before she became a--"
(Rarity): Talk and your feathers will become part of my newest winter fashion.
(Icky): Hey, this was way before you met Twilight, and even longer you accepted Spike's-- (Rarity kicks him into a wall) (Dubbed as Molt) Shutting up.
(Rarity): "...... This being said, I can't disavow that I was quite the OPPISITE of a pony that would become element of generosity."
Rarity was seen covering her exported clothing with extortionist prices.
Rarity: "I am gonna make SO MUCH money with these designs! AHA, MONEY MONEY MONEY?!"
(Squidward): "You actually said that?"
Sweetie Belle: "Rarity, did you seriously just said that?"
Rarity: "Sweetie, be silent and go back to adding in the price tags on the latest summer wear underwear like I asked!"
Sweetie Belle: "AND WHY BOTHER MAKING UNDERWEAR?! EQUESTRIA IS ESSENTUALLY A LAND OF NUDISTS?!"
Rarity: "Well that won't change with an attitude like that! Ugh, why mum and dad made me take you in, I can only guess! NOW GET TO WORK OR NO BREAKFAST?!"
Sweetie Belle: "Can I at least be allowed to make some friends?"
Rarity: "Now what is the word I'm looking for- Oh quite right! NO?! GET BACK TO WORK!?"
Sweetie Belle sighed dejectedly.
(Icky): "Yeesh, did we have to add being a bitch to your kid sister too- (Another smack was heard)..... Shutting up."
(Rarity): "In my defense, as explained before, I was just recently made to take tin Sweetie Belle and, suffice to say, I wasn't really ecstatic."
(Applejack): "Not much of a family pony back then, huh?"
(Rarity): "If it helps, she did came to grow on me with time, especially after what occurs later in the story."
(Pinkie): And speaking of family...
(Applejack): Yeah. I s'pose it's my turn.
Applejack was seen over-working.
(Icky): "Applejack overworking, how original."
(Applejack): "AHEM! I was getting to it!"
Granny Smith and a much younger toddler Applebloom were seen staring at this....
Granny Smith: "...... (Sighs)..... She's working her flank off again."
Big Mac: "(Shows up) Eeeeeyup."
Applebloom: "Gwanny, why is Applejack working too much?"
Granny Smith: "Cause she ain't exactly a social apple if ya catch my drift. Strict loner that one."
Applebloom: "She gets awong with us just fine."
Granny Smith: "That's 'cause we're family. I mean she doesn't socialize with other ponies. She thinks it'll distract her from the farm. (Sighs)..... What became of your parents still gets to her."
Applebloom:... You never told me what happened to them.
Granny Smith:... I'll tell you at another time, AB. HEY, AJ!!
Applejack: Ugh, what is it now, Granny?!
Granny Smith: Don't y'all think you should, take it down a bit?
Applejack: Nope. This stuff's gotta get harvested quick. Otherwise, we might have ANOTHER Vampire Fruit Bat infestation on our hooves.
Granny Smith: Look at ya! You're TOO YOUNG to keep up this pace!
Applejack: I gave up a fancy life at Manehatten for y'all. The least I can do is prove that I made the right decision.
Big Mac: No, she may be right, Applejack. You're a little too young to do THIS much work.
Applejack: Well, you just did YOUR share, and YOU'RE a stallion. You're naturally BUILT for this kinda hassle, even when you're still a pre-teen. But me? I ain't even a pre-teen yet, and APPLEBLOOM just learned how'ta speak longer sentences. SOMEPONY'S gotta do this!
Big Mac: Well then, I'll take it off your hands.
Applejack: Uh, Big Mac, I appreciate the kindness, but YOU need a break.
Granny Smith: So do YOU! In fact, YOU need a BIGGER break than HE does. I say you go out into town and make some friends.
Applejack:... Granny, you and I both know I don't do well with other ponies.
Granny Smith: Only cuz you never tried. You tried once, and it was a little hard because they were too civilized to have even seen or even know what a rooster is.
Applejack: Exactly!
Granny: Alright, hoof-down time. APPLEJACK!
Applejack: WHAT?!
Granny: Get out yer trottin' hat, little filly. You're goin' out there and taking a break. AND I MEAN NOW!!
Applejack:... (Sighs) FINE! But don't expect me to get all buttery on my first try, kay?
(Cynder): "Wow, you used to be a lot less upbeat back then."
(Applejack): "Well that's what personal family drama does to ya. Makes ya question how the world works."
(Twilight): "Well, I'm honestly glad I met you in a more upbeat tone sense. It would've made it hard for me to befriend anyone if I had met ya in a more, dower disposition."
(Rainbow Dash): "Much less if the rest of us were still those hot messes. Pinkie would've ended up being too much to you, you wouldn't even be able to TALK to Fluttershy, Rarity would've been a bitch to you, obviously you would've gotten worse then a bad mane day if you met me earlier back when I was a hothead, and Applejack wouldn't even try to throw ya a welcome party with the family."
(Starlight): "..... Wow, and I thought I was a mess before you showed up."
(Pinkie): "Well to be fair, Twilight used to be a lot more of a Serious McSeriouson herself back in the day, and kinda still was even after Magic University."
(Icky): "Yet it's amazing on how you girls shaped up to be able to make an inner circle that prevents world-changing disasters."
(Rarity): Well, it wasn't easy for US. Like I said, the reason I was a greedy jerk was because, well, selfishness is how all people, including ponies, start. It's how we define ourselves. Unfortunately, I had to found my business... Well... A rather poor position. Looking after my little sister, especially since she was still between a baby and a toddler back then, didn't make that easy for me. The last owner of the Carousel Boutique, my Grandma Dainty Bouffant, was pushing me to be just like her. See... When my mother got her cutie mark for making cookies alongside my father... She disapproved. Her family had long been into fashion, and this... Got her to disown her.
(Gilda): Wow, what a bitch.
(Rarity): Yes. That's why she never talked about HER mother. But... When I got MY cutie mark, Grandma couldn't resist the opportunity to have me take over the family business.
(Napoleon): So, she was using you, huh?
Rarity: Look, Sweetie Belle, you need to understand that you're not supposed to be here. Not just because I'm at work, but because I don't want Grandma wanting to make a bit off you or something.
Sweetie Belle: Oh why the sudden inconsistency, you dragged me here to put labels on underpants to begin with!
Rarity: That was back when I thought I had time to do such, but I discovered that grandmother is coming back earlier, so just- (Suddenly an elder pony with a large diamond cutie mark appeared and was behind Rarity the entire time)
Old Pony: Why is there a toddler in my boutique?
Rarity: BAH! Celestia, Grandma, don't sneak up on me like that!
Dainty: You know how I feel about kids in the workplace. They're not really useful unless it's to make cute outfits for child beauty pageants. Want the kiddies to not grow up with nopony to love. So, give me one good reason why I shouldn't punish you right now!
Rarity: It's my little sister, Sweetie Belle. Mother and father have positioned the care for her under myself.
Dainty:... You neglected to tell me about this, WHY?!
Rarity: Because you never asked?
Dainty: "........."
Sweetie Belle: Yeah, you always have to ask-
Rarity: "(Deadpan) Sweetie, you're not helping?!"
Dainty: DON'T GET SMART WITH ME, YOUNG LADY!! Well, if she's your sister, then... Maybe she can help test some adorable little baby-style fashion.
Rarity: Grandma, she's JUST here because mother and father left her in MY care, NOT to become an exploit.
Dainty: Well CLEARLY your parents forgot that you are in MY boutique, as it appears that you did, young lady, and therefore, it's MY rules.
Rarity: Grandma, please- (Dainty slapped her)
Sweetie Belle: RARITY!!
Dainty: You do as I say! She stays, or YOU don't!
Rarity:... Fine!
Dainty: Good girl! Alright, little one, how do you feel about- (Sweetie Belle ran off crying)
Rarity:... Nice job, Grandma, you scared her off! THIS is clearly why mother never talked about you, AND why she changed her name to Cookie Crumbles.
Dainty: "Still not crazy for that name, by the way."
Rarity: WELL WHO'S FAULT IS IT THAT MADE HER DECIDE THAT NAMECHANGE?! All you care about is the family business. You don't care about me and MY parents or sibling because of their cutie marks.
Dainty: "Yet you have NO problem wanting to make a lot of money here."
Rarity: BESIDES THE POINT?! Well, I may have a fashion cutie mark, but I will NEVER do my job for YOU! If anything, this boutique should be MINE! I have to go. I have to apologize to Sweetie Belle for YOUR behavior. (She left)
Dainty:... UGH! (She slumped on her desk) Ponies these days are so uncultured and don't see the fine liberties our family gave to them long ago. Now even my GRANDCHILDREN are drifting away.... What am I to do with them?!
(Patrick): Wow, that is sad.
(Rarity): Tell me about it. How was I supposed to pursue my career if a jerk like my own GRANDMOTHER of all ponies was the best method of making a big name for myself?
(Rainbow Dash): I for one didn't have it great either. At school, well... I was caught on with my little Sugarcube Corner stunt and they had a little mock trial.
Skipstep's Brother: Ms. Jovial, our family had ALWAYS offered the best for our children. The risks of having a ruined birthday are TOO great. My father came with the last cake my little brother wanted in stock, splattered all over his face, by THIS jerk. And all I saw when I arrived, was the sad face of my little brother.... I can NEVER forget that moment, nor ignore how he'll fare out in later years!
Rainbow Dash: Dude, I NEVER wanted to ruin your little brother's birthday. I mean, what jerk would WANT that?! I'm not THAT kind of filly. I mean, what're we talking about, he's so young, be probably doesn't even REMEMBER that moment!
Skipstep:... (He cried at the sight of Rainbow Dash angering his brother) I WANTED THAT CA-HA-HA-HA-HA-HAAAAAAKE!!!!
Rainbow Dash: Aw ponyfeathers- NONONO, KID, CALM DOWN, COOL IT!!... Ugh!... Alright, look, fillies and gentlecolts, am I a passionate mare? Yes. Guilty as can be. It was a QUALITY cake, and Pinkie went through a LOT to make it there, ON TIME! AND HIS DAD, WOULDN'T, EVEN, TRY IT!!
Skipstep's Brother: You don't get how serious this is, do you, Rainbow?
Rainbow Dash: Look, he was being a jerk to Pinkie, and SHE tried. REALLY tried. I was ONLY standing up for her.
Skipstep's Brother: And did she ASK for you to stand up for her? No. Does she even KNOW you till now? No!
Rainbow Dash: "What can I say, I'm fast at first impressions."
Skipstep's Brother: BUT CLEARLY NOT VERY GOOD ONES?! And I can see why. You're the town jerk. One who was so humiliated by her own idols, she took her pain out on everypony else, and now look where it got you.
Ms. Jovial: I am VERY disappointed in your behavior, Rainbow Dash! This recurring issue of yours has to stop.
Rainbow Dash: Oh? Have YOU been humiliated by YOUR idols? Hmm? No? THEN DON'T JUDGE ME!!
Filly Bully: Ohho, this is so pitiful.
Rainbow Dash: STAY OUT OF THIS, SOARING EYES!! THIS DOES NOT CONCERN YOU!!
Soaring Eyes: It does now, so get used to it. You really think being angry is gonna get ponies to ignore what happened to you? I mean, look at you. Since you dropped out of flight school because you got your cutie mark with that CRAZY Sonic Rainboom making you too good for it, all you've ever done is waste your time here. Frankly, you shouldn't have been born a Pegasus, because, where else would you ever wanna go now? AHAHAHAHAH!!!
Rainbow Dash: Oh, you're one to talk, Mr. I'M GONNA SABOTAGE THE WEATHER FACTORY ON BRING YOUR KIDS TO WORK DAY AND THEN GET SENT HERE BECAUSE MY FEEBEES GOT HURT!!! (Everyone gasped)
Soaring Eyes:... This is not about ME, Rainbow! This is about YOU!
Rainbow Dash: You're ABOUT to make it about you. I don't think I have issues, frankly. I think YOU got issues.
Soaring Eyes: Hmhmhmhm. A wise mare, huh? Let me ask you something. When you moved outside of Cloudsdale, did you notice that NOPONY tried to stop you BESIDES your parents? Ponies, they may smile at you on the streets and the skies, but that doesn't mean they LIKE, YOU!!!
Rainbow Dash: Well, at least there was an attempt of BEING POLITE, BUTTHOLE!! (She stomped on his hoof causing him to cry hard causing everyone to gasp in horror) Yeah, that's right! CRY! Next time, remember that he who lives in a glass house shouldn't throw stones! Hmph!
Ms. Jovial: RAINBOW DASH!
Rainbow Dash: Oh come on, you heard how he treated me! He was saying it IN FRONT OF YOU!
Ms. Jovial: That's no excuse. I can't have ponies like you giving a bad impression and causing the other students to imitate that behavior.
Rainbow Dash: Oh come on, who's going to go crazy just because they saw me kick someone? (Skipstep did just that to his own brother laughing, causing Jovial to look angrily at her)... He's a baby, he doesn't count!
Ms. Jovial: (Sighs) Rainbow, I'm sorry, but given the severity of your behavior, I don't have a choice but to suspend you, but not before giving you a brand new homework assignment:... Make, some friends, and learn to respect others!
Rainbow Dash: "...... Honestly, that could've been worse. But man, living in a world where friendship is our main religion can do some WEIRD things sometimes-"
Ms. Jovial: HEAR ME OUT BEFORE YOU DECIDE TO NOT TAKE ME SERIOUSLY?! Don't come back until you do, because if you want to earn back the Wonderbolts' approval, you can't grow up like this! So, since it's almost summer, I'll give you one warning and one warning only: if you don't fix this attitude by the time it comes, you'll have to be sent to... SUMMER, SCHOOL!
Rainbow Dash:... Uhhhgh. Okay, that, I am obligated to take seriously now. Buck my life.
(Tito): "Maaaaan, you got chewed OUT!"
(Rainbow Dash): I know. You don't have to rub it in.
(Tito): Whoa whoa whoa, gal, I didn't mean it to be an insult... Much!
(Rainbow Dash): I was a kid, okay? Kids do all SORTS of stupid things, they watched the Fred movies for crying out loud! Besides, how was I supposed to know that was the last one in stock?!
(Fluttershy): Well... I wasn't exactly able to keep myself unknown forever. After that... Stunt of Harry's, Pred came and told me that I might end up becoming a menace of sorts, and that I'd probably get sued, or worse. So... He and his daughters convinced me to go out and socialize.
(Pleakley): Well, I can imagine THAT went well.
(Fluttershy): It was terrible. I was so scared, that Pred had to keep an eye on me.
(Squidward): Woooow-
(Sandy): Squidward, don't speak... Unless it's not something mean!
(Squidward):... Hmmph! (She was seen with a younger Pred and her daughters as fillies)
Pred: Oh come now, Fluttershy, it's NOT that bad out here.
Axe-Rella: Yeah, it's wonderful out here. Look around. There's so much s-
Pred: Axe! Language!
Chain: Ahh, come on, that's on you, Daddy! (Woody laughs)
Sharp-Pay: Yeah, you've used bad words around us all the time.
Axe-Rella: I was going to say "There's so much stuff to see." (Sighs) I still can't believe we have to babysit this poor creature.
Pred: She's rather live here with her animal friends than go back home, especially since she hasn't properly learned how to fly yet, we have to do SOMETHING for her!
Axe-Rella: Why don't you just have her parents pick her up?
Pred: I tried, but... Apparently, she's a REALLY good hider, and I felt that if she's going to go back home, she has to toughen up, and I'm the best pony for the job.
???: YOU'LL BE SOOOOORRYYYYYYYY-
Chain: AAHHHHH, SHADDAAAAP!!! (She tossed a beehive right next to the pony's seat and caused the bees to swarm over her, causing Chain to Woody laugh again)
Pred: CHAIN! What kind of example is THAT for Fluttershy?! You go there, save that pony, and APOLOGIZE!
Chain: Awwww, do I HAVE to-
Pred: DON'T MAKE ME SPANK YOU IN PUBLIC AGAIN!!!
Chain:... Okay! (She went to the pony and saved her, coming out with sting marks all over her)... Done!... Uhaahhahh! (She fell)
Fluttershy: You could've just had me talk to the bees.
Pred: No offense, Fluttershy, I know that cutie mark means you're good with animals, but I don't think bees are good starter animals for you. Bees are aggressive creatures. Especially if they're the killer variant.
Fluttershy: Well, how do I know they're aggressive if I don't actually talk to them?
Chain: (Recovers cartoonishly quick) Kinda ironic this came from somepony who accidentally pooped herself after seeing a dragon.
Pred: CHAIN!
Chain: Sorry.
Pred: "Anyway, I think we're side-tracked. Now, Flutters, there ain't nothing wrong with animal companionship. Heck, what's why I have Toadstool. (Toadstool baas) But by George without proper interactions with ponies, ya might end up being a cat lady at best, a hoarder of beasts at worse. And I'm worried that arguably you are already on the path of that. And obviously me and my daughters are gonna be busy at times going after mythics, so, you clearly need friends. Heck, why not at least hang out with that Rainbow Pony more, she's basically the closest to a pony you're comfortable with."
Fluttershy: "Well, yes, but, Ms. Tweet-Tweet told me she got in a bit of trouble recently."
Sharp-Pay: "Oh I heard about that, IT WAS HILARIOUS?! (Breaks into laughter) She smacked a birthday cake in some dude's face?! SOME BIRTHDAY THAT KID GOT?! (Laughs but Axe-Rella smacked her) OW! THE BACK OF MY HEAD?!"
Fluttershy: "..... And I'm worried she, might be busy dealing with a punishment."
Pred: "Well, actually, luck would have it, gossip says that the punishment might be about how she has to make friends."
Fluttershy: "Why would ponies gossip about her like that?"
Chain: "We're talking about a pony infamous for being a REAL- (Pred cleared his throat)...... Jerkface. And you think ponies would NOT talk about Rainbow getting due karma?"
Pred: Who cares? What matters is that she'll need help herself. Fluttershy? What do you say we do that for her? At least help her out, to help yourself?
Fluttershy: I... Don't know...
Pred: Hey, she'll at least protect you as well as we can.
Sharp-Pay: Yeah. She could be REALLY violent if she put the effort into it.
Chain: Hey, ain't that her over there? (Rainbow Dash was seen prancing angrily through Ponyville)
Filly Berry Punch: Oh, hey, Rainbow Dash! How are you today?
Rainbow Dash: Oh, I'm horrible, thanks for asking, go get drunk off of wine or something! (She left in a huff)
Axe-Rella:... Sweet Celestia... She must've been chewed out hard.
Pred:... Well, what're you waiting for? Go with her. She'll at least need YOU. You're the only friend she's got at the moment.
Fluttershy:... Alright.... (She tried to take her first step until she panicked and hid underneath Pred, and then tried to do the same multiple times)
Axe-Rella: Wow. THAT was hard to watch.
Sharp-Pay: COME ON, IT'S NOT THAT DIFFICULT!!! Let me help you! (She bucked Fluttershy as she screamed and landed on Rainbow Dash)
Rainbow Dash: AHHH!!... Oh... Hey, Fluts. You finally decided to come out of that rickety cottage.
Fluttershy: Oh, it's just Pred and his daughters who helped me do that.
Rainbow Dash: Of course.
Pred: Rainbow Dash? Would you kindly help Fluttershy? She clearly needs friends of her own as well, that AREN'T animals.
Rainbow Dash:... Heh. Always thought you'd need ME to come out of your shell. Alright, big guy. I'll do it. She DOES feel safe when she's next to me anyway.
Chain: Ohhohoho, given what YOU went through, I doubt tha- (Axe-Rella smacked her) OW!
Axe-Rella: (Clenched teeth) SHUT, UP!
Rainbow Dash:... (Sighs)... I'd better go, I do NOT like seeing your kids argue like the fillies they are. (She left with Fluttershy)... So, what's new? One of your animal friends need a bottle or something?
Fluttershy: No, I just...... Look, I didn't want to do this, but-
Rainbow Dash: Fluts, just, just stop. I can see why that Pred guy brought you out here. You just need to toughen up a bit. Take a look at me.
Fluttershy: I am. And now you're in trouble.
Rainbow Dash: BESIDES that. (Sighs) Alright, let's just go find some friends already. I'm starting with that Pinkie pony I stood up for.
Fluttershy: Alright.
Rainbow Dash: But... there's a problem. I've been banned from Sugarcube Corner, so we're gonna have to meet her at the right time. Particularly, if she's trying to do another one of her crazy parties.
Fluttershy: Oh, you mean THAT pony? The one who scared me with her fireworks?
Rainbow Dash: Yep.
Fluttershy: Um, I'll pass-
Rainbow Dash: Nope. Not taking that for an answer. Pred told me to help you out, so given I have to do this to avoid summer school, that's what I'm gonna do. Now come on!
Rainbow Dash charged off.
Fluttershy: "..... (Sighs), (Follows her)....."
(Spyro): "For as much as I was once terrified of the guy back in the Tman era of things, I kinda have to give mad props for that he's why Fluttershy got set off to be with you six."
(Sparx): Yeah, how did that make sense again?
(Icky): "A lot of Tman tropes make me ask that question, especially with things involving Kairi, Spyro, Tyro, and the over-romanticizing of the three, Centaurs, and the occasional attempt to try and fetishize BUTTS for some reason."
(Rarity): "Back, on point with Pred: I know, it really almost gives you a new viewing of him...... Warts and all on what interactions would be like SINCE. Now, back to me...."
Rarity: Look, Sweetie, I'm sorry. I'm sorry Grandma was a little... MEAN to me, and I'm SORRY you had to see her SLAP me!
Sweetie: Why do you WORK for Grandma?! She's awful!
Rarity: Well, yes, she's not the most, grandmotherly of grandmothers, I'm aware, but she's my only ticket to fulfilling my cutie mark's needs.
Sweetie: Why haven't you exactly gotten any PROGRESS then?
Rarity: UGH! She INSISTS on doing things HER way. And HER way? That posh has been LONG dated. Nopony wears her gloomy dresses anymore, but she keeps saying 'her fashion is timeless'.
Sweetie: "Is it really necessarily that and not your extortionist prices-"
Rarity: "HEY, ALOT OF THAT IS HER PRACTICE TOO, TO BE FAIR HERE?!"
Sweetie: Just saying you adopted some of her bad habits, Rare.
(Icky): "Damn, Sweetie Belle was a smart kid for her age."
(Rarity): "One does have to give her credit, she mentally grew faster then her body."
Sweetie: You got the cutie mark to HELP her, so why don't you ACTUALLY help her fashion with it?
Rarity: You think I haven't tried already? Last time I added MY spin to her fashion, she had me punished greatly. She is JUST so difficult to impress, and she has HIGH expectations on how her fashion is supposed to be, ignoring the fact that NOPONY HAS EVER BOUGHT A SINGLE DRESS FROM HER!!! If she CONTINUES being this pushy, her boutique is going to go out of business!
Sweetie:... Well, why not ask for advice from some, friends or something?
Rarity: Nonsense! Just because I live in Ponyville doesn't mean I'm not a Canterlot Pony at heart! I mean no serious offense to ponies here, but Ponyville, is certainly NOT Canterlot! It's most iconic location is A FARM for no reason!
Sweetie: "Well I had heard it was a key factor to why Ponyville exists, to be fair here-"
Rarity: It just drives home my point! Besides, not a lot of these ponies share my vision. As you once said, Equestria may as well be a nudist country! I literally feel like I'm the one with real vision here! I can't have anypony else clash with MY style. I need MY views to build my career, or I may end up losing MY special touch.... Or, rather, I risk stealing somepony's work.
Sweetie: Then don't let them do any creative liberties. Just ASK for advice on how to help with Grandma!
Rarity:... Alright... I shall... Attempt to get some... Counseling advice.
Sweetie: Yeah, I mean, this town's got a LOT of ponies who'd like to help you. Just do what I do and give them puppy dog eyes.
Rarity:... You ACTUALLY do that?
Sweetie:... Just once.
Rarity:... Sure. I'd rather just ask. Seems less manipulative.
Sweetie: This coming from the girl whose greed is growing as she tries to jumpstart her new career whenever she needs to.
Rarity: I have to start said career SOMEHOW. Seriously, Sweetie, how did you get so talkative? You're barely old enough to go to school.
Sweetie: "But I AM a fast learner."
Rarity: ".... Well I suppose that DOES have benefits."
Sweetie: So?
Rarity:... Alright... I'll give it a shot.
Sweetie: Good. You can start with... Uuuububububububuuuu... (She saw Applejack, Pinkie, Rainbow Dash, and Fluttershy all together)... Those four.
Rarity: Wait, why those four specifically?
Sweetie: They look like they're pretty good friends, and who knows? You could ask for advice from the modern era, and make sure to add a modern spin... Just... A suggestion.
Rarity:... As you wish... (Deep breath)... Excuse me, mam?
Applejack: Me?
Rarity: Yeah, you. I was wondering- (Sniffs) Ugh, my GOODNESS GRACIOUS! You smell like you've been bathing in your own sweat!!
Applejack: I know. I've been working non-stop lately, and Granny insisted I be more social. What's YOUR deal?
Rarity: I'm just... Asking for some modern fashion advice from a... Country pony. No racism intended.
Applejack: It's not so much racism as it is more of a thing between city slickers and country folk.
Rarity:... Surprised you knew what that word meant.
Applejack: MANY country ponies do... Are you SURE you're not being racist?
Rarity: UMUMUM, NO!!! I didn't mean anything by it, HONEST!!! Ahem. Uh, what would YOU consider is a good fashion statement these days?
Applejack: What do I look like, a fashionista?
Rarity: "Not with that hat. Seems a LITTLE too big for you."
Applejack: Ha ha, real cute, fancy-mane! I'll have you know, it was my dad's. He... Well... Granny said he and my mom left to go to finer pastures.
Rarity: Oh... Must hold value to it then, ehe.
Applejack: So, yeah, way to not be harmful in a DIFFERENT way. My cutie mark ain't diamonds, or thimbles, or whatever. They're apples. So, you can guess what I'm meant for in life.
Rarity: Just try. Just because you do not have a cutie mark like mine, that does not mean you're useless at something else. Everypony's got to have a hobby or two. Go on, darling. Give me any ideas. Any at all.
Applejack: "...... Dare I even ask why you're even trying to fish for advice?"
Rarity: "Well, I-"
Pinkie: "Wait, you're the fashionista pony with the mean granny that made ya an extortionist meanie."
Rarity: "....... So much for tact, then."
Applejack: "Wait a second, you're Dainty's granddaughter? That old crone chewed my Granny out for her scarf!"
Rarity: "(Nervous laughter), I apologize on my grandmother's behalf. She's not what one calls, a ponies pony."
Applejack: "(Skeptic stare) Okay, so far, you look like a fruit that fell far from the tree."
Rarity: "Uh, to be fair, I more or less take after my mother, Cookie Crumbles. Which I guess you can say that she's the fruit that fell the farthest from the tree."
Rainbow Dash: "So that makes ya like the seed that fell from the fruit that fell from the tree, but the tree somehow managed to get it back..... Yeah that doesn't make sense to me neither."
Fluttershy: "(Quietly) Must, resist urge, to mimic an ostrich and bury head in ground."
(Kolwalski): "That's actually a myth about ostriches, they don't actually-"
(Rarity): Quiet!
Rarity: Well, anyway, I'm trying to wriggle out of my grandmother's grip and put my own spin on things. She's a… What do you say… Old-school pony when it comes to fashion.
Rainbow Dash: Oh we know about that old crone's obsession with old-timey dated fashion. Glad she's not into those hippie or cool era ponies, or you would have been MORE embarrassed.
Rarity: Yes… Lucky me…. So, any advice you can give me, any at all, I'll gladly take it.
Rainbow Dash: What's it matter to you?
Rarity: Just wanna do something good for my cutie mark. But I sure am not going to just waste it by being like my 'old-school' Grandma! I want to be a MODERN fashion pony.
Rainbow Dash: You ask me, just wait for the crone to croak and take her business.
Applejack: WOW! Really?!
Rainbow Dash: Hey, at least I didn't suggest she MURDER her to take the business!
Applejack:... I recognize you now. You're the local, as Granny sometimes likes to put it, jackass. (The adult ponies gasped at that)... Wait... Was that a bad word?
Rainbow Dash: EEeeeeeeeeyep.
Fluttershy: "(Anxiously) If not also a slang slur for donkeys, and by extension, ponies since we're closely related."
Applejack:... Oh, crab apples! UH, SORRY, EVERYPONY, GRANNY AIN'T QUITE THE, MOST MATURE PONY IN PONYVILLE! JUST, GO BACK TO YER DAY, AND WE'LL GET BACK TO OURS!
Rainbow Dash: OR I'LL KNOCK YOUR BLOCKS OFF!!!
Fluttershy: RAINBOW DASH!!
Rainbow Dash: UGH, I STINK AT THIS!!!
Applejack: I doubt you even TRIED!
Rarity:... Heeheeheehee... You four are actually pretty entertaining oddballs if I had ever seen them.
Rainbow Dash: WHO ARE YOU CALLING ODDBALL, SISTER?!?
Rarity: I MEANT THAT IN A GOOD WAY!! You... You four aren't really that bad if you just put your mind to it. Take it from me. I may be a little... Full of myself, but I'm a filly! We're SUPPOSED to be filly ourselves, I MEAN, FULL OF OURSELVES!!... (The five laughed)... My name's Rarity, by the way.
Rainbow Dash: Ah, who says that nowadays? We say BTW now.
Rarity:... Odd words to abbreviate. They're already short words.
Rainbow Dash: Hardly understand it myself, but who am I to question it? Name's Rainbow Dash.
Applejack: Applejack.
Pinkie: Pinkie Pie.
Fluttershy:... I... (Muttering under her breath) fluttershy.
Rarity:... Could you repeat that, darling?
Fluttershy:... (Muttering again) fluttershy!
Rarity: Not quite catching you!
Fluttershy:... (Squeals softly)
Some Ponies: AWWWWWWWWWW!! (Fluttershy ended up hiding her face in her hair after that)
Rainbow Dash: HEY, BUZZ OFF!!! (Sighs) Her name is Fluttershy, and... She's the perfect textbook definition of shyness. I'm watching her to take her out of her comfort zone and grow as a mare.
Applejack: Why does she look a lot slimmer than us?
Rainbow Dash: How the heck should I know? Your guess is as good as mine! Even she doesn't know! Least she's not as slim as her BROTHER! ICK! Guy flirted with me every chance he got. Don't ask.
Applejack:... Well... I guess... Much of us just got what we needed. I got friends, and so did RD, Fluts got to meet new ponies, Pinkie got her... What I can assume, first friends in a while... And... Oh, yeah, you were here for fashion suggestions. Anypony got any ideas?
Pinkie: What, like, how to be a fashionable clown for her birthday?
Rainbow Dash:... Wow! I can't tell if you're stupid, or just so high on sugar that you have little common sense. Either way, no offense.
Pinkie: "(Sighs), Don't worry, I'd been called worse. Ponies usually have a hard time appresiating my charm."
Rainbow Dash: "That might be because you're so, random. You tend to be abit hard to predict."
Pinkie: Kinda the point. I can hardly explain it myself, but since I became... Who I am now... Things have started to crop up in me.... (She began twitching)... Oh boy! Not the muscle spasms again.
Rainbow Dash: Muscle spasms?
Pinkie: Oh, it's nothing, just some freaky psychic tremors that my body goes through a few times.
Rainbow Dash: Psychic?... Pheh, yeah right, and I'm a flying pig- (Suddenly, a carriage ran past them and splashed them all with mud)... WHAT THE MUD?!? Okay, note to self, spend more time in the air! Also, WHAT THE WHAT?!
Pinkie: See? Psychic muscle spasms.
Rainbow Dash:... PFFT! That was just a coincidence. (Pinkie shook again)... Again, coincidence. I can just fly around. (She did just that until a young Derpy appeared and accidentally struck her with lightning)
Young Derpy: OH MY GOSH, I KILLED MY BIG SISTER!!!
Rainbow Dash: NO, I'M GOOD!! OWWWW!!!
Pinkie: Yeah, sure, you can try and run away, but it'll still happen, if not to you, then to somepony else.
Rainbow Dash:... Okay... Are you an alien or something?
Pinkie: Heeheehee, I get that a lot.
Rainbow Dash:... Ooooookay, I'm in the midst of somepony that can defy the laws of common sense. I've officially gone insane. I guess that's the price I pay for being such a jerk.
Applejack: Nah, if you were insane, that'd mean so are we. And we're more sane than... Uh... Uh... Wow. I lost my metaphoric edge lately.
Pinkie: More sane than a Cornish pixie on a sugar rush?
Applejack: Thank you.
Pinkie: Oh, you're welcome, I heard that from a foreign pony. Anyway, I kinda don't have a name for these spasms.
Rainbow Dash: "I'd go with "Pinkie Sense"...."
Pinkie: "(Looks like she was just enlightened by that)...... I don't know what, but, that has to be the greatest name anypony has suggested to me."
Rainbow Dash: Really? What else did ponies suggest?
Pinkie: Eheh... You don't wanna know. They're too weird even for me.
Fluttershy:... Somehow, being near somepony whose spasms can cause bad luck, does NOT make me feel safer.
Pinkie: It's not bad luck.
Rarity: Certainly feels like it. Whatever this phenomenon comes from, I do NOT want it to soak me in mud again! UGH! If it wasn't easily washed off, YOU COULD'VE RUINED ME!!
Rainbow Dash:... Wow. You are SUCH a drama queen. Have you considered being in the theater?
Rarity: Oh, very funny.
Applejack: We'll like you said, everypony's gotta have a hobby or two.... I'm confused, are we friends or not?
Rainbow Dash: Well, I wouldn't go THAT far. I'd say more like... Acquaintances.
Applejack: Oh... Well, it's a start.
Rarity: "Oh yes, it's, somewhere, at the very least."
Pinkie: Bring it in, acquaintances! (Pulls the rest in for a group hug)
Rarity: "..... Well, I see you're, uniquely affectionate."
Pinkie: I try. HEEHEEHEEHEEHEEEEEE!!!
Rainbow Dash: Well, how about you try learning about PERSONAL SPACE!
Pinkie: Oh, uh, sorry. (She let them go)
Fluttershy: (GAAAASP) AIR!!! THAT DOES NOT MAKE ME FEEL MORE COMFORTABLE OUT IN PUBLIC!!!
Rainbow Dash: See? Like I said, personal space. If you wanna be a GOOD party pony or whatever you wanna be, then you need to UNDERSTAND ponies. Get to know them.
Pinkie: Isn't that stalking?
Rainbow Dash: Not if you-... Okay, you know what, yeah it is, but, I can't think of any other way to get these stubborn ponies to like you.
Pinkie: Still feels naughty.
Rainbow Dash: Hey, the word 'naughty' didn't exist for nothing. Sometimes you gotta get your HOOVES dirty.
Pinkie: Well, I'm STILL not doing that. My parents taught me better than that.
Rainbow Dash: Ohho, really? Were they like dirty rock farmers or something?
Pinkie:... As a matter of fact, yes, they were.
Rainbow Dash: Oh... Ehe, for a second there I thought I was gonna sound offensive, AGAIN!
Pinkie: Again? I mean, being fair, we do get kinda dirty on the rock farm, ya know, sometimes there being rocks deep in the ground at all, and hey, again, I had heard worse. I'm extremely numb to insults unless it REALLY gets to me in a special way.
Applejack: Alright, alright, everypony, calm down. We're acquaintances, so we can just TRY to be better than this.
Pinkie: Oh, it'll be easy if you put effort into it. What could possibly go wrong?
Fluttershy: EVERYTHING! That's why I prefer to stay in my cottage. Ponies here can-
Rarity: Cottage?... You live alone, in a cottage?... Don't you get lonesome?
Rainbow Dash: Well, if you haven't noticed her cutie mark, she's got animals to keep her company. It was once an old abandoned cottage infested with animals. She just booked it like a hotel and had them refine it for her.
Rarity:... My word! You got wild animals to refurbish an abandoned cottage?
Rainbow Dash: Cutie mark, baby. Makes us literally GODS to what it represents.
Fluttershy:... I've said enough! I'M OUT OF HERE!! (She tried to run, but Rainbow Dash grabbed her long tail as she could only run comically going nowhere)
Rainbow Dash: You ALREADY came this far, Fluts. Don't throw it away now.
Fluttershy: (She wimpers softly)
Ponies: AWWWWWWWWWWW!!
Rainbow Dash: WHAT DID I JUST SAY?!?
Fluttershy:... (She fainted)...
Rainbow Dash:... (Sighs) This is going to be a painful experience. (to the others) The point is, she can't just keep living by herself. Next thing you know, she's gonna be a feral pony, and THAT'S sadder than being a shy recluse.
Applejack:... Well, should we get out of her mane?
Rainbow Dash: Might as well... Uh... Nice to meet you girls.
Rarity/Applejack/Pinkie: You too.
Rairty: But you STILL haven't-
Rainbow Dash: (As they left) LOOK AROUND TOWN! YOU'VE GOT AN INSPIRATIONAL MIND, YOU'LL FIGURE IT OUT!!
Rarity: "..... A bit brash, but I'll be fair here and acknowledge that as a part of your persona. But decent advice nonetheless."
(Twilight): Hey, uh, not meaning to sound like I don't care for full details, but can you girls skip to the part about the slave trade? Don't get me wrong, it's great hearing about how you all met, but we just need to get to the point here.
(Icky): "Oh, way to pull an X on us and not have ANY respect to world-building and character developments!"
(Rarity): "AHEM! That aside, we were GETTING to that, just a few intermediate things first. I mean, if we skipped to that now, you'd ask how we knew each other anyway."
(Twilight): Alright, alright, just keep going.
(Rarity): "Thank you, now please be patient with this."
The young five go their separate ways, with Fluttershy still with Rainbow Dash.
Fluttershy: "Well, that was...... Something."
Rainbow: I'll say. But, at least we're right on track with the friendship or summer school thing. At this rate, I wouldn't have to worry about summer school after this.
Fluttershy: "Well, you're kinda only acquaintances at best at the moment."
Rainbow Dash: Hey, like AJ said, it's a start. Hmm... maybe I'll run that by her, see what she thinks. Anyway, give it time. I'm sure YOU'D fit right in yourself.
Fluttershy:... (She hid her face in her hair whimpering)
Rainbow Dash: DON'T MAKE ME IMPALE SOMEPONY!!! (The ponies stopped and went back to their day)... (Sighs) This is going to be a PAINFULLY long day.
(Icky): "Honestly, I can personally appreciate Modern Fluttershy more then past Flutters. Past Flutters was an even BIGGER wuss!"
(Fluttershy): I WAS a filly back then. Being as cute as any animal has its perks... AND disadvantages. Now I'm finding myself with ponies who want to go on dates with me.
(Missing Link): Well, not that I blame them. Look at you. You'd be like a Disney Princess if you put your mind to it.
(Fluttershy): Umm...... Thanks?
(Applejack): Now then, onto the REAL salad of the story...
Chapter 3: Raid Of The Weirdoes/The Scumbucket Pig/Meet Mr. Lawrence
Meanwhile...
The Everfree Forest is seen...
???: "SKIP TO THE LOE, MY DARLING?! (A tree was smacked down as Ed Edd and Eddy sound effects were heard as they crashed down)....."
A Hobgoblin with a fur coat came in laughing.
Another Hobgoblin came in with a mushroom hat, nervously looks at the damage.
Mushroom Hobgoblin: "For heaven's sake, Blunk, much you disrupt the ecosystem with such carelessness?"
Blunk (Fur coat Hobgoblin): "...... I forget what we were doing..... Wait, my brain stopped."
Mushroom Hobgoblin: "...... Oh Blunk, what are we gonna do with you?"
Deformed Hobgoblin with Peglegs: "(Gets by the duo) HEY MOVE IT OR LOSE IT, MUCK, BLUNK?! (Tries to move but plops into the ground) D'OOW!!...... (Moans)...... Muck, are we at the pony place yet?"
Muck: "Oh, well, (Pulls out map) According to my calculations, Chuck- (Blunk chomped onto the map) BLUNK?!"
Blunk: "(Burps)! Location, location, location?!"
Chuck: "BLUNK, YOU IDIOT?! THAT WAS THE LAST MAP THE BOSS WOULD LET US HAVE?!"
A Hobgoblin on a worg came in.
Hobgoblin on a worg: "Hey, the others are getting impaitent, when are ya gonna find that Pony Town already?!"
Muck: "Um, well, Carver, there were, um, complications. Blunk ruined the map..... Again."
Carver: "I'd figured as much. DORKS?! (Laughs as he rides off on the Worg) LET US KNOW WHEN YA FIND THE PONY TOWN?!"
Chuck: "..... NOW LOOK WHAT YOU DID, YOU MORON?!"
Blunk: "(Laughs stupidly), Gravy."
Chuck: "(Groans)!"
Muck: "I don't suppose there's no shame in asking for directions?"
Chuck: "Oh, and who are we gonna ask, IN A STINKING FOREST?! (An owl flew past him) AAAAGH?! I HATE BIRDS?!"
Blunk: Oh, birds are too PRETTY to hurt people. (He strayed into the nest of a long-legged ostrich that looked at him)... Oh, hye there, pretty bird. Can you say- (He was smacked into a tree with his neck going through the trunk) AAAHHHHH!!! (The bird screeched) I KNEW YOU COULD!!!
Chuck: (Sighs) WHY did we keep him around?
Muck: Because he has the brute strength to carry 50 ponies at once... Somehow!
Chuck: Yeah, if he KNEW how to USE it right!
Muck: DUMB strength is STILL good strength.
Chuck: He hit you so hard, he's PROBABLY the reason you're the smartest of us.
Blunk: OOOHOHOHOHO! YOU GOT BURNED, MUCK!! (The bird lunged for them)
Chuck: AHHH!!!! WE TOTALLY FORGOT ABOUT THAT BIRD!!!
Muck: (Sighs) Blunk? That bird thinks you're a weakling.
Blunk: IT WHAT?!? I'LL SHOW HIM A WEAKLING!!! (He comically fought the bird cartoon style and caused the bird to be scared off as it took its eggs and ran)
Muck: See? Dumb strength is GOOD strength, IF ANYONE ELSE knows how to use it.
Chuck: You're lucky ONE of us is smart enough to keep him under control.
Blunk: So, where are our next PONIES?!
Chuck: We'd know, IF SOMEONE DIDN'T EAT THE MAP!!!
Blunk: Oh, then in that case, ask me! I can take us there!
Chuck: Pfft, yeah RIGHT!
Blunk: OKAY THEN, LET'S GOOOO!! (They ended up riding him like a horse and they ended up where they were headed)... TADAAAH!!!
Chuck:... (He fell down comically as his peg legs popped off)...
Muck: "..... Well, that was, an experience."
Chuck: Remind me to feed him a TREASURE MAP after this. Alright, let's do this in a quiet and sneaky fashion- (He stopped Blunk by giving him a bacon strip)... And see which pony is the best at our whole slave trade!
Blunk: "Forced Manadory labor."
Chuck: "....... Yeah, that's, what slavery is."
Muck: "Sometimes I feel like he's in his own little world."
Chuck: "Ya don't say? Okay, who do we got?"
Muck: "Well the setting looks to be of primary healthy adults, so options are limitless."
Blunk: Let's pick ANY pony then.
Chuck: No, you numbskull! We can't just nab the first pony we see willy-nilly! (He gave him a bacon strip to stop him from doing it anyway)
Muck: Good that you're starting to catch on to controlling Blunk's stupidity.
Chuck: Don't push it! Anyway, that random pony we get could buck us so hard we could be hospitalized or worse. Gods forbid it be those Sweet Apple Acres farmers I heard about. I heard their bucks could KILL!
Muck: Actually, recently, the ones called Bright Mac and Pear Butter... Left due to an incident involving a business and vampire fruit bats, the granny is too old to properly buck anymore, and the two ponies' kids aren't even at PROPER bucking age. The stallion and mare are still young, and there's one recent toddler addition.
Chuck:... Oh... But still, we GOTTA be careful! We don't want to end up with a concussion worse than what BLUNK here can give us. We'd rather be comfortable abducting fillies at this point.
Muck: NO! We can't abduct CHILDREN! That'll bring us unwanted attention, and that's the LAST thing we need since pony slavery was banned. We could ALL be tracked down and arrested.
Chuck: Well so would if we abducted ponies of ALL ages! Kidnapping is STILL a crime that can draw attention, and look how well we've turned out.
Muck: YEAH, but KIDS are more serious!
Chuck: "Well excuse ME if I think kids would pack less of a punch then grown ups!"
Blunk: "Not unless they're that kid. (Points to a colt with extremely gigantic hoofs for his age)."
Chuck: "..... Well, freaks like him are outliers, I meant in GENERAL, a kid wouldn't be able to fight back as hard. (Notes some fillies being trained karate)..... Well, provided if they don't know martial arts. (Saw colts and fillies being able to train with swords)...... Or know weapons. (Sees a lot of fillies with stranger danger-whistles) Or if they have stranger danger whistles- OH COME ON?!"
Muck: "Well, there goes your hypothesis of children "Being Easier"."
Chuck: "Aw shut up, Mushroom Head."
Blunk conked out and drooling randomly....
Chuck: "..... Okay, maybe we can try like, I don't know, the most isolated and off-mind of ponies here, like, outcast level here, thing these equines won't bat an eye too much for!"
Muck: "Well given their extremely social nature, as ponies are herd animals, the odds of such a individual case seems questionable."
Chuck: Let's just PICK one already before ONE of them sees us!
Muck: Alright, alright, bossy! But remember, no children.
Chuck: Whatever you say. (Sighs) Alright... Let's see... (Pulls out a telescope to monitor the entire area).
Blunk: (He looks around, too, then sees Rainbow Dash with Fluttershy) Ooh, oh, Chuck, Muck! There are some ponies we can get!
Muck: "What did I JUST say about going after fillies?!"
Chuck: "Ahhh, they look like they're in their early teens at best. Especially the yellow one. She's slimmer than you."
Muck: Wow. First off, and pardon my pranch, screw you. Second, no! Young ponies, whatever age, are STILL risky targets. Police investigation will STILL sniff out the kidnappings right to us, and before you know it, we'll all be locked up and our business shut down!
Chuck: Well, again, that's gonna happen to ANY kidnapped individual, and yeah, even though kids are a HIGHER priority, then we may as well... Say... Raise them to grow up in a setting that allows them to SEE the benefits of pony slavery. I mean, they ARE creatures that can carry LOADS on their backs. They could do SO MUCH MORE! Maybe if we can Stockholm syndrome them into our cause, MAYBE we can-
Muck: CHUCK- (He covered his mouth as they hid before ponies who heard them could see them)...... (Quietly) CHUCK CHUCKY CHAYKOVSKY!!! I CANNOT BELIEVE THOSE WORDS CAME OUT OF YOUR MOUTH!!!
Blunk: "Would that be because we can't see words outside of written form?"
Awkward silence....
Muck: "...... That meaning to say, that I am SHOCKED and appalled by what you're suggesting!"
Cluck: Oh, since when did YOU have ethics in that shroom brain of yours?
Muck: Well not enough to keep out of this life in general, but enough to have commonsense of at least wanting to be SMART in this charlatan life! I just want us to do our job in a way that does NOT make our business look INSANE!! Raising ponies, to side with our cause?!
Chuck: Come on, it's a GOOD idea!
Muck: Perhaps in OPPOSITE WORLD it does! But in the UNOPPOSITE WORLD, (Quietly) IT'S PRACTICALLY CRAZY ENOUGH TO GET US ALL IN DEEP S***!!!
Blunk: "Good thing I already took a mud shower this morning."
Muck: "It's metaphorical, Blunk."
Chuck: Look, I get what you're saying, but, think about this pragmatically. We can return them back to this place when they understand what we're doing. We won't do any real harm. We just need to find a way to boost our business, that way we can thrive.
Muck: Uh, how long do you think ponies age?
Chuck:... A few years?
Muck: (Quietly) NO! THEY AGE AT THE SAME RATE AS ANY OTHER RACE!!! THEY'RE NOT ANIMALS!!!! YOUR PLAN WOULD TAKE YEARS TO COMPLETE, AND THAT'S STILL NOT ENOUGH TIME TO AVOID INVESTIGATION BY THE KIDS' PARENTS!!! We are NOT abducting them into slavery, and that's final!
Chuck: "Ugh, spoilsport. Ya know Carver's gonna give us crud for time-wasting."
(Icky): "Something's gonna happen that's gonna make these idiots nab you girls anyway, I just know it."
(Rainbow Dash): "This episode wouldn't even be a thing if it was that simple."
(Icky): "Well that, and those Hobgoblins are OBVIOUSLY ED EDD AND EDDY ANALOGS! Something ALWAYS goes wrong with that trio!"
(Iago): Not quite. Remember the Big Picture Show moisode?
(Icky): Don't push it, Iags! They still manage to screw up somehow! And at the risk of insulting X, this is probably the reason why he may have to scrap those three from PTE. I mean, he does have plans for them, but it's like he doesn't know how to execute them.
(Lord Shen): "May we PLEASE put the meta aside and continue the story?!"
At carousel Boutique...
Rarity: I'm back! And I've got some brand new ideas!
Dainty as seen sitting at a sewing chair by a sewing machine completely motionless......
Rarity: ".... Now Grandmother, I know we had our, moments, earlier before, but, that's no reason for something as immature as the silent treatment?! (Approaches the still figure of Dainty) Now how's about you pay attention to me for once and- (Saw that Dainty's eyes were closed)........ Oh for Equine's sake, I know you're old, but I didn't fancy you old enough to need naps. Surprisingly silent sleeper though. Not even a light snore-...... (Rarity's face melted from one of annoyence to shock)......."
Outside the Carousel.
Silence...... Then Rarity was heard screaming like a banshee as ponies were shocked!
Later…
Paramedic Ponies zipped up Dainty in a bodybag as ponies stare in surprise......
Rarity and Sweetie Belle were staring sadly at this....
Sweetie Belle: "..... Rarity, why is grandma being taken in a bag? Isn't she only sleeping?"
Rarity: "..... Sweetie..... You're, going to have to take this up with mother and father. When, they get here."
(Icky): "HOLY SHIT, THE OLD BAG DIED?!"
(Rarity): "I may have, neglected to mentioned that, my grandmother was, of a very frail heart."
(Iago): "But what triggered it?"
(Rarity): "Would you believe, because she saw a MEASLEY LITTLE MOUSE?! She got so scared of it that her heart couldn't take it?!" (Scoffing was heard) OKAY, SERIOUSLY?!
(Iago): SORRY, BUT WE PREFER LAUGHING OVER CRYING, ESPECIALLY IF THE DEATH IS TOO FUNNY TO EVEN APPROPRIATELY BRING UP!! It's KINDA how we cope with death in general. That's how we easily got past STOICK'S death.
(Thundera): Still, shame on you.
(Iago): Oh, kiss me where you dared not to!
(Shifu): "My apologies for your loss."
(Rarity): "I mean, I know my grandmother wasn't, a very sunshine and smiles pony, but, she was family nonetheless. And because of the apparent existence of rodents in the Carousel, well, obviously I was now interested in having a cat."
(Spongebob): "You mean that's why you have Opal?"
(Icky): "Though how did ya know it was because of seeing a mouse that caused your grandma to drop deader than Jodie Foster's career?"
(Iago): Wow! When's the last time we made a pop-cultural joke?
(Icky): Well those ARE some of the hardest jokes to make. When we DO make them they're usually one of the stolen jokes from other media.
(Rarity): "AHEM!… As for how I knew, there were, prior red flags of rodent presence time and time again. Mouse holes, food being ruined, um..... "Presents". Grandmother was uneased by this as she had a more severe mousephobia than an elephant if it was like Fluttershy."
(Twilight); Actually, that's an urban myth. Elephants are just surprised by mice. They could instantly shoo mice away. Also, there are multiple terms to describe the fear of mice, such as musophobia, from the Greek μῦς "mouse", murophobia from the taxonomic adjective "murine" for the family Muridae that encompasses rodents, or suriphobia, from the Pranch-
(Rainbow): AHEM, HOW OFTEN HAVE PEOPLE OR PONIES THANKED OTHERS FOR NERDY RANTS OF INFORMATION?!-
(Twilight): "WHAT'S THAT, NEVER?!" Yeah, we used that Camp Camp line plenty of times already, it's no more original than the old-school cut-and-paste scenes in the Moisode days. But, we're getting off track again. AND SO HELP ME CELESTIA WHO'S PRESENT RIGHT HERE, MARCH HARE, IF YOU SUGGEST WE CHANGE THE SUBJECT AGAIN!!!
(Icky): "Yeah way to pull a Kolwalski on us, Sparks."
(Kolwalski): "HEY?!"
(Skipper): "Is he inaccreate on that, Kolwalski?"
(Kolwalski): "..... Touche."
(Rarity): "Ahem. Point is. my grandmother was afraid of mice. So I sought out a cat… You know, in case I got close to her age and ran the risk of dying the same way."
(Icky): You mean if you don't outlive it?
(SpongeBob): Anti-catism, Icky!
(Icky): Oh what, are we supposed to pretend cats are immortal?
(SpongeBob): Well no, BUT STILL?! It's also in bad taste to remind Scroopfan of what happened to his earlier cat!
(Icky): Just saying!
(Rarity): But alas, Ponyville wasn't much for pet stores, and thus, if anyone wishes to procure an animal, you would have to see Fluttershy. So call it, fate's cruel way of getting me to know Fluttershy more.
At Fluttershy's cottage...
Fluttershy: Oh... I'm so sorry to hear about your grandmother, Miss... um... Charity?
Rarity: Rarity. Well, never mind the miss. Just plain Rarity will do. I mean, we have met before.
Fluttershy: Right. And to be fair, we didn't, really interacted. So.... You're here to look for a cat?
Rarity: "Well, yes. Cause I need one to sort out my mice problem after the little vermin cause a death of my grandmother. Now, say what you will about her attitude, but it's the PRINCIPAL AT STAKE HERE?!"
Fluttershy:... Well if it's a mouse problem, then why get a cat to do that problem for you?
Rarity: Beg pardon? (Fluttershy went to a mouse hole and brought out her cute mouse friends as Rarity squealed comically)
Fluttershy: CALM DOWN! They're friendly! They were living here long before me. They helped me redecorate the cottage for me.
Rarity:... (Deep breath)... I almost feel uncomfortable being here. But, I do have to respect that you're a very, animal person kind of pony.
Fluttershy: I promise you that none of the animals here are dangerous. (Rarity was on edge as she saw a spider cage with the spiders she had in present day still in eggs, and even Harry when he was still a cub)
Rarity:... (Gulps)
Fluttershy: Alright, alright. How about this: I'll give you a kitten as a pet. But I'd much rather you not have her around as a guard animal. It could make things very messy, and you wouldn't want that, would you?
Rarity: I-... No, actually. I didn't even consider that a cat would drag a dead mouse in my place.
Fluttershy: So let me take care of your mouse problem. They can live with me.
Rarity:... Why on Earth have you not considered doing this more often, dear? You would really benefit from this if you could just… Passively remove an infestation.
Fluttershy: I'm not comfortable around other ponies, remember?
Rarity: Ah, right, you have social anxiety issues, that is, much apparent... You really should work on that, then. Otherwise you may end up... Well... You know.
Fluttershy: What?
Rarity: Alright, just get me my kitten and I'll let you keep the mice in the boutique as payment.
Fluttershy:... Alright. I suppose that sounds fair. (She got out a small kitten as it let out a small adorable meow) I haven't given her a name yet. I just found her abandoned on the streets. I don't even know what breed it is.
Rarity: Oh that poor thing... Oh... Those eyes... They aren't exactly bad to look at... I shall name her Opalescence. But for short, I'll call her Opal.
Fluttershy:... That's a very good name. Alright. She's all yours. Take good care of her.
Rarity: I shall indeed. Now then, you are free to help with my mice problem.
Carousel Boutique
Fluttershy: (After a while she came outside)... Well... It's going to be harder than I thought.
Rarity: WHAT?! Whatever do you mean?!
Fluttershy: Turns out mice are not the only pests here. In fact… I don't think it's MICE that scared your poor grandmother to death.
Rarity:... Then... What did?
Fluttershy:... (Deep breath)... Rats.
Rarity: RATS?!? (Some of the ponies freaked out at this) NOT OUT HERE!!!
Fluttershy: I think it wasn't just her frail heart that killed her. It was... Possibly these rats infecting her food with diseases that made it easier to kill her. Has there ever been any pest problems bigger than mice lately?
Rarity: Well, now that you mention it, Grandmother DID bring up that there were bigger chew marks in places. I just assumed these mice were the nastier type.
Fluttershy: They may have been... Thanks to these rats.
Rarity:... I'm sorry, dear, you're not making any sense.
Fluttershy: See for yourself. (She opened the door)
Rarity: Why, what's going on in THEEEEEEERE?!? (She saw that the mice in the boutique were being treated like slaves by bigger rats, and they noticed her arrival)... HOW IN THE WORLD DID THEY TURN MY GRANDMOTHER'S BOUTIQUE INTO A SLAVE OPERATION THAT QUICKLY?!? I WAS ONLY GONE FOR LIKE, A FEW MOMENTS?! (The rats squealed and attacked, but they closed the door before they could hit her)... MY HOLY WORD!!! THESE RATS ARE EVIL!!!!
Fluttershy: (Deep breath)... I got this.
Rarity: Are you sure?! Those rats aren't the kind that will hesitate to infect you! And I'm kinda sure these rats aren't much for suggestion!
Fluttershy: "Don't worry, I have a special technique for animals that AREN'T so easily nor readily nice!"
Rarity: And what might that be?
Fluttershy: Just trust me.
Rarity: "...... Okay, you're the expert." (Fluttershy went in and confronted the rats)
Fluttershy: (Softly) ALRIGHT LISTEN UP- (She was immediately tied up in the next shot)... Maybe I need to work on my tone. (Some of the rats squeak-laughed)
(Icky): "Not gonna lie, I'm kinda disappointed the stare wasn't used here."
Rarity: (She saw this through the window) Oh dear! I KNEW I should've gotten an ADULT cat for this.
???: And what was a CAT gonna do about this? (Rainbow Dash was looking through the window with her)
Rainbow Dash: I'm pretty sure these rats have EATEN cats for breakfast!
(SpongeBob): AHEM! Anti-catism!
(Rainbow Dash): Uh, yeah, I'm making Icky's point, cats aren't immortal and no standards and practices are going to change that.
(SpongeBob): I get that, but I was more referring to the implication that these rats had KILLED cats! That's my point of contention here.
(Rainbow Dash): Okay okay, yeesh, forget I said it that then!
Rarity: (Sighs) Then what are we supposed to do?... Wait! You're a quote-on-quote, jackass- (Ponies gasped) OH DON'T YOU PONIES HAVE JOBS?!? (To Rainbow Dash) So can't you kick their butts?
Rainbow Dash: And risk getting a disease? TO HECK WITH THAT! I'M JUST A FILLY!!
Rarity: YOU'RE COMPLETELY USELESS!!!
Rainbow Dash: NOT SO MUCH USELESS AS MORE LIKE I DIDN'T GET A CUTIE MARK FOR PEST CONTROL!!!
Rarity: "Just because a Cutie Mark designated you with a specific ability doesn't mean you can't multi-task!"
Rainbow Dash: Well that's to say the methods I would've used on the rats, would also mess up your clothes store.
Rarity: "...... Fair enough."
Rainbow Dash: Besides, usually Fluttershy is the best at those. Just have faith in her. I have many times before. I mean, just the matter of the Stare getting involved in the case of THESE literal rats.
Rarity: "..... The what?"
Fluttershy: Here, I'll show you. (to the rats) EXCUSE ME! Which one of you is in charge here?
A very fat rat with a sewing thumb protector for a crown came in.
(Icky): "Hold up, how can that rat have that thumb protector thing for a crown if ponies don't have thumbs?"
(Fluttershy): "He was a rat from Abyssia I had since discovered."
Fat Rat: "(Authoritive Squeaking and Screeches)."
Rainbow Dash: "That is one fatass rat."
Rarity: SHH!
Fluttershy: Tell me, sir, why are you using my new friend's boutique as a workshop for those cute little mice? (The Fat Rat snorted with a scoff and just gave a short angry squeak) Of course, you tell me that's not my business. And I respect that. It's just, the grandmother of a pony I am getting to know ended up dying cause of seeing you. She had, real bad musophobia. (The Fat Rat squeaked offendedly for a bit) Hey now, I know that phobia comes off as racist to you and you didn't liked her, but I think what was done about it was, a gross over-reaction. (The Fat Rat Squeaked again) The same applies to her nearly discovering your colony.
(Icky): "One-sided conversation much? (Gets kicked)... Continue."
Fluttershy: You rats have caused her a lot of grief, so if you could just apologize to her and leave the boutique for a new place to live, then everybody's happy. (The Fat Rat Squeaked aggressively) Oh believe me, you wouldn't WANT me to "Make you".
Rainbow Dash: I'd listen to her if I were you.
Fat Rat: (Screeches aggressively)
Fluttershy: All right, then. Just remember, I warned you. (Gets close to the fat rat and uses the Stare)
This effected the fat rat greatly that he got so fearful, he ended up farting in fear!
(Icky): "Fear-farts. Epicly hilarious!"
Fluttershy: Now then, what do you say? (The fat rat squeaked to the other rats and they decide to clear out and let the mice go)
Rarity: ".... Incredible! Who would need a pied piper if you are around? Now I can get to work on getting my boutique up and running again.. (Starts feeling sad) And perhaps... Ornery as she was.... Grandmother can rest in peace."
Rainbow Dash: "Yikes, tough break on that, by the way."
Raruty: Thank you for that, darling.
Back at sweet Apple Acres
Applejack was getting back to work and doing it hard.
Mr. and Mrs. Cake arrived.
Mr. Cake: "Excuse me, Young Mare, do you know where Granny Smith is? We need some apples to make our latest order for Apple Pies. A baker's dozen of them. An order made by Big Gulper."
Applejack: "Big Gulper?"
Mrs. Cake: "A Unicorn from canterlot who's a netourious gultton. He's been known to eat pasteries out of business because, he orders way too much deserts! We need to keep up with this order and all other pastry orders!"
Applejack: "....... Have you tried getting Pinkie Pie to help?"
Mr. Cake: "..... I mean, Pinkie Pie, I'm sure she means well, but.... You did hear about the birthday incident, right?"
Applejack: "Heard it from the pink pony's mouth herself."
Mr. Cake: "Well, her problem is..... Well not meaning to be mean, but..... She's, kinda a spazz."
Mrs. Cake: "I'd go with utter imbecile."
(Icky): "Dayyyyyyum, the Cakes used to be JERKS to you, Pinks."
(Pinkie): "In their defense, it, might be abit of a response from how I made Sugar Cube Corner what it is. It used to be a normal building till I came to work for them."
(Iago): "Somehow, I can believe why that building looking the way it is was somehow you're doing, obvious homage to what PTE did with ya aside."
Applejack: "Yikes, why so hard with her? It was just one birthday cake?"
Mrs. Cake: "I can handle a dilivery gone south. IT'S THE FACT SHE TURNED MY BUSINESS INTO A GIANT SWEET IN OF ITSELF?! IT LOOKS LIKE SOMETHING OUT OF HORSEAL AND NEIGRETAL?!"
(Icky): "Is THAT like Hansel and Gretal but horsified?"
(Applejack): No idea. YOU tell me!
(Icky):... Toushe. Just tell the story.
Applejack: Look, the filly means well. Much of that was on Rainbow Dash. As for HER... She ain't really bad if you get to know her. She just... Well... Had a bad day involving her idols, and it... Labelled her persona for life.
Mrs. Cake: I would hardly call that a good excuse.
Applejack: My point BEING, Pinkie could do WELL if she JUST had the chance. I'm sure we could both work together on this one.
Mr. Cake: Are you sure?
Applejack: Well, I'll STILL get Granny Smith for ya, but maybe I can go and arrange something. Maybe you'll find your good ol selves surprised.
Mrs. Cake: Well, after the reputation we got lately, we'll need it.
Applejack: Then I guess it's a done deal.
Later...
Pinkie: And you think we can do it?
Applejack: We CAN do it. I may be a filly who can hardly do a full-strength buck like my Pa, but I can work PRETTY darn fast.
Pinkie: Well, did you get the apples?
Applejack: Ohho, I got em. (She pointed them all out outside)... Let's get sweet cookin'.
(Icky): Yeah, I'm gonna save you guys the trouble and say ahead of time that you five started helping each other out, right?
(Applejack): I-JU-BA, DUDE, ARE YOU ALWAYS A SPOILSPORT?!
(Icky): No idea, YOU TELL ME!
(Applejack):... A touche back at ya, Icky. Alright, yeah, that's basically what we've been doing for weeks. We came close to appreciating each other's strengths, and improving them.
(Iago): "Yeah we kinda figure that's the direction the story's gonna go for until the main plot kicks in."
(Rainbow Dash): Speaking of which...
Chuck: (The three Hobgoblins were watching them)... Are you SURE we can't take no fillies? Look at those five!
Blunk: All I see is a nice-looking and FRIENDLY one! She can even pull a good conversation. (He was talking to a pony-shaped stump)... See? She even agrees with me on that.
Muck: Ugh! Blunk, that's a stump!
Blunk: HEY, CAREFUL! SHE COULD BE SENSITIVE!!!
Chuck: ".... Yeesh, and I thought Woody from the Tribe was the weirdo that talks to wood."
Cutaway.
A Hobgoblin like Johnny 2/4 Was seen with a tall stick he was walking with.
Hobgoblin (Woody): "What's that Sticky McStickerson? (Silence)...... (Laughs)! You're funny."
(Icky): "Okay, are a lot of the Hobgoblins in this tribe these three are from gonna be based on Ed Edd and Eddy characters?"
(Pinkie): "Most likely, give or take outliers."
Flashback Present
Muck: But, no, not even THEM!
Chuck: Aw come on-
Muck: Don't 'come on' ME! Abducting children is a DANGEROUS prospect. It attracts more attention than a simple abduction.
Chuck: "Spoilsport."
Muck: Very good. Now let's move in.
(Icky): "I know there's gonna be something that makes this trio of obvious homages to old Cartoon Network Characters nab you 5."
(Applejack): You would. But yes. And it's all because of... A request.
???: Oh boys? (A troll identical to Stromboli appeared behind them, shocking them)
(Icky): "Well, not exactly how Scroopfan wanted to introduce the guy, but then again this episode was also meant to be done with Tman, sooooooo, meh."
Muck: Mr. Stormtrolli?! What're you doing all the way in pony territory? I thought you were banned in this region!
Stormtrolli: Ah, it's only breaking the law if you get caught.
Muck: I thought that only counted for cheating.
Stormtrolli: THAT'S only ONE way to break the law... Or rules... Or what have you. But I was just, say, doing your job with my own eyes, and I say, these five fillies you're eying?
Muck: DON'T tell us you want them-
Stormtrolli: Oh, I do not WANT them... I NEED THEM!
Muck: "D'ooooh, Drat!"
Stormtrolli: They're the PERFECT ones to aid me in the Scumbucket Pig.
Muck: Uh, sir, if I'm correct in assuming you've been spying on us for a while, then I'm ALSO correct in assuming you heard EVERY WORD I SAID: we CANNOT, ABDUCT, CHILDREN!! It's TOO risky!
Stormtrolli: Nonsense! We have abducted fillies MANY times before.
Muck: I think you mean YOU have abducted them many times before. Well, we're more careful with this pony slavery operation. We collect slaves in a way that does NOT attract unwanted attention.
Stormtrolli: "Bahhh, you'a big wimp! Not like we don't have eyes on us at every waking moment anyway! So what are FIVE little pintas gonna change?"
Blunk: "What do beans have to do with this?"
Stormtrolli: "...... (Breaks into boastful laughter!) Blunk's stupidity never ceases to amaze me! Well, it doesn't cause accidents anyway."
Muck: I'll tell you what it's gonna change: A LOT! If those five fillies turn up missing, their loved ones are gonna come looking for them. And THAT one?! (He pointed at Fluttershy)... SHE'S got the WORST ponies imaginable looking out for her: The infamous Pred Judu Des, AND his bloodthirsty daughters.
Stormtrolli: Really?
Muck: So yeah, I have a GOOD reason for being against doing THIS! If we abduct HER in particular, then we WILL get attention from Pred, and he won't just shut down the slave operation. HE'LL EVISCERATE US ALL IN AN INSTANT!!
Chuck: Yeeeeah, I'm NOT one to get on THAT pony's bad side. That is a gamble NOBODY wants to take! EVER!
Stormtrolli: Well, then, how about this? You get those five ponies, or if Pred doesn't eviscerate you first... I WILL!
Muck: But, Stormtrolli-
Stormtrolli: (Pounds Muck into the ground) QUIET! SHUT UP! Before I knock-a you silly!
Blunk: (Hides behind Chuck) Stormtrolli's dark side makes my armpits sweat, Chuck.
Chuck: What doesn't?
Stormtrolli: "So, are we SET on something?"
Chuck: "(Gulps), Sure Boss, five little snot-nosed brats, coming up!"
Muck: "(Quietly) Oh, I just know we're gonna regret this."
Stromtrolli: I have-a NO regrets whatsoever!
Chuck: (To himself) Famous last words.
Stromtrolli: WHAT?!
Chuck: I said we'll get those vast turds!
Stromtrolli:...... Well, that's a weird thing to say, but whatever! Then DO IT!
The trio zoomed off!
Muck: Well everyone, we better say our prayers. We are TOTALLY dying after this because SOMEONE signing his own death warrant!
Chuck: Well, we at least we have HIM to take ALL of the blame for making us do this.
Blunk: HaHAhaha, he's gonna get in trouble.
Muck: BUT, Pred is not one to spare lives. We'll have to run when the getting's good. (They approached the five fillies in a hidden spot in the park)
Pinkie: "Applejack, I can't thank you enough helping me out with the cakes."
Applejack: Not a problem. What are friends for?
Pinkie: Oh, it's ju- FRIENDS?!
Applejack: I MEAN- UH... Oh, forget it, we've spent enough time together for that.
Rarity: Oh my goodness, my business may be run by a FILLY, but it hasn't been this big in AGES!! The suggestions you gave me, have worked WONDERS!!!
Rainbow Dash: Well, Fluts is also becoming less of a p-word now.
Pinkie: Rainbow!
Rainbow Dash: I said P-WORD!
Pinkie: I mean... I guess that's better. But it's a work in progress.
Rainbow Dash: Look, I'm TRYING, but I've done so many mean things, ponies here aren't going to just act as if it never happened... (Claps her hooves) just like that.
Pinkie: Just figure SOMETHING out, RD. You can do it. Who knows? Maybe you might get Wonderbolt attention, and they'll start to take it easier on you.
Rainbow Dash:... You really think so?
Pinkie: Being honest, I'm not a prophet, so it's not my call to say.... But it's a possibility.
Rainbow Dash: "..... Then I'll work hard to MAKE IT POSSIBLE! Time for me to lose the 'tude and get, 20% cooler!"
Rarity: "Why, 20%?"
Rainbow Dash: "Hey, I have realistic expectations, I know I might still have haters along the way, can't impress everyone. I know 100% is too Alicorn-Tier for me."
(Icky): "That is ironically humble considering what you end up getting into if canon's concerned!"
(Rainbow Dash): "(Nervous laughter), I admit I, ended up becoming my own fan. But can ya blame me? I'M ME!"
(Twilight): Sometimes a little TOO much.
(Rainbow Dash): I think I can say the same thing about YOU on several occasions.
(Twilight): Well, Rarity can have that side a little bit too, and SHE'S the Element of Generosity!
(Rarity): Like I said in the story, pride and greed can be a foundation for our-
(Everyone): WE KNOW!
Pinkie: Look, you JUST have to keep trying harder.
Rainbow Dash:... Like, how much? 2%?
Pinkie: Nope.
Rainbow Dash: 5%?
Pinkie: Nu-uh!
Rainbow Dash: 7%?!? ARE YOU OUTTA YOUR MIND?!?
Pinkie 100%!
Rainbow Dash: WHAT, YOU'RE BEYOND OUT OF YOUR MIND!! NOPONY CAN DO 100% OF ANYTHING!! NOT EVEN BEING COOL!!! IT'S PHYSICALLY IMPOSSIBLE!! YOU'RE ASKING ME TO DO THE IMPOSSIBLE!!
Pinkie: NOTHING, is impossible!
Rainbow Dash: Oh, well that's easy for YOU to say, you LITERALLY defy reality! You have muscle spasms that can PREDICT THE FUTURE!! YOU ARE LIKE A CARTOON AND WE AREN'T!!! You know why? BECAUSE WE ALL AREN'T LIKE YOU!!
Pinkie: Well maybe that's your problem! You just don't have any confidence in yourself, and somepony like you should have OODLES of that.
Rainbow Dash: I defended you in Sugarcube.
Pinkie: I meant the RIGHT kinda confidence, not the confidence that makes YOU look like a jerk.
Applejack: Alright, alright, everypony, let's calm down for one second. We ALL got what we wanted, except Rainbow Dash, so NOW she's got friends to help her with that. Right?
Fluttershy/Pinkie/Rarity: Right.
Applejack: Then let's DO it. Rainbow Dash, NEEDS us more than ever.
Fluttershy: "Yay verily."
Pinkie: Ohhhhh, somepony's starting to talk more all by herself.
Fluttershy: (She hid her face behind her mane)
Applejack: It's alright, sugar cube, we can get through this as friends. Besides, you were friends with RD before us. Let's at least make it easier for her. Would you want to see her in trouble again?
Fluttershy:... No.
Applejack: Then what do you say?
Rarity: Of course, darling. You helped me with those rats and mice, so you can certainly help with Rainbow Dash.
Fluttershy: "Well, if it's for Rainbow, then I-"
Pinkie comedically gasped!
Pinkie pointed to a solitary pink cake on a small table next to a sign that reads "Free Cake"!
Pinkie: "FREE, CAKE?! (Charges for the cake)!"
Applejack: "HOLD IT, SUGAR CUBE!! (Pinkie stops within biting distance of the cake) DON'T EAT THAT! (Pinkie groans) There's, a cake, on a table, in the middle of a park during a lazy day where we're the only ones present, with a conspicuous "Free Cake" sign..... Does nothing in the Apple Orchard smell rotten here?"
(Donkey): Wait a minute, I thought Shrek 4 didn't come out at that time.
(Applejack): "Who said I said that line based on knowing about that?"
(Donkey): "..... Fair enough."
(Shrek): Well either way, I think we all know where this is going.
Rarity: Surely you don't- (Pinkie inches closer to the cake) No, what are you- I'm telling you- we said don't! Don't- NO! GET AWAY FROM IT! (Pinkie licks the frosting).... You just HAD to lick it, didn't you?
Pinkie: MMM- (the cake is suddenly flung off the table) Uh-oh.
Chuck: "(Appears with a net) (SHOUTING GIBBERISH)!?"
Rarity: "HOBGOBLINS?!"
Blunk: "(Appears as well) AHHH-OOOOHGA?!"
Rainbow Dash: "THIS IS DEFINITELY A STRANGER DANGER SITUATION, LET'S AMSCRAY!? (They fled thanks to her speed)"
Blunk: WHOO!!!... What happened?! Did they disappear? Or were they NEVER there to begin with? (Dramatic choir until he was slapped by Chuck)
Chuck: THEY'RE RIGHT THERE, MORON! (They saw them flying away) AW, THEY'RE THAT FAST?!
Muck: I TOLD you a free cake trap was too suspicious!! NOW we're gonna be reported and chased out for SURE!
Chuck: Hey, it worked many times before! I just thought those fillies were stupid enough to fall for it.
Muck: Uh, they're KIDS, NOT Blunks!
Blunk: Ahahaha, your plan didn't work!
Muck: You DO realize that this affects you too, right?
Chuck: I think he's too stupid to even RECOGNIZE danger or even feel it.
Blunk: (He smacked his head into the ground four times) I'm a woodpecker! (He continued three times) Except with dirt!
Chuck: Alright, I got a BETTER idea!
Later...
Chuck: (They saw that he built a trap from captured and caged animals with the cage as a weak trigger for a wooden cage trap hidden in a tree) That wussy little yellow slender pony can NEVER resist the impulse to help animals, so when they do, they'll fall for the trap lickety-split.
Muck: And you're SURE this'll work better than your LAST ingenious plan?
Chuck: If it doesn't work, then I'll, uh... I'll be a JACKASS!
Nearby donkey: "Hey, I find offense to that!"
Chuck: "..... BLUNK?!"
Blunk: "(Leaps up over the Donkey) PREPARE TO MEET YOUR MAKER?!"
Donkey: "Mommy- (Gets bodyslammed) D'OOOOOOOOOW?!"
Later...
Muck: Did you give the amnesia dust?
Blunk: Yep. Gave him ALL of it.
Muck: ALL OF IT?! Blunk, that can cause BRAIN DAMAGE!!!
Chuck: Well, I guess you learned a valuable lesson.
Muck: YOU were the one who sought him after the donkey!
Chuck: SHHSHHSHH!! Here they come! (The five fillies arrived)
Fluttershy: I'M COMING, LITTLE ONES!!! (She found them)... Ohhh. Poor things. Must've been some nasty poachers.
Applejack: Whoa, hold up! Must've been them weird hobgoblins again.
Rainbow Dash: Uhhh, what makes you think THAT?!
Chuck: ("Yeah, how the f*** did she know that?!)
Applejack: If it was poachers, why haven't they taken them away by now? In fact, why don't we see any FIRE or encampment anywhere? It ain't poachers. This is CLEARLY a trap.
Blunk: NO IT ISN'T!!!
Chuck:... DAMMIT, BLUNK!! (They went in after them as they fell into their own trap thanks to Applejack and Fluttershy, making them flee again)
Blunk: JACKAAAAASS, A JACKAAAASS!! HEE-HAW, HEE-HAW, HEE-HA- (Chuck shoved a rock down his throat)
(Icky): "Not meaning to distract the plot, but how did you guys know about that donkey?"
(Rarity): "We would learned about him as a friendship mission given to Twilight and Fluttershy where Twilight would discover the dust was responsible. See, his brain-damaged nature was being a splintering issue to his other friends and the tree wanted us to fix that."
(Icky): "...... Kinda sad to know that guy was messed up in the head for that period of time until Sparkle was given a magical "Friendship Conflict Detector" Table Map."
(Applejack): "We know, real depressing, but, at least that detail was given a happy ending in the end."
(Icky): Because why the hell not?
Muck: (Sighs) Alright, let ME come up with a REAL plan!
Chuck: "Okay, Mushroom head, let's see you do better!"
Later...
Muck: (He individually set five traps each for the fillies in different parts of town)... Alright. Here it is. We capture each one individually when they least expect it, and made EACH trap inconspicuous. The good ol' divide and conquer. For the apple pony, I made it look like her hat was misplaced earlier today. For the shy yellow pony, I had the trap set near her cottage for animals to be trapped in what looks like a hazard later. Once the animals call for help, she'll go right into it. For the Pink pony.... PFFT, come on, she's easy. If she's distracted well enough and don't give her ANY red flags, she'll fall STRAIGHT into a trap. For the white fab pony, I made sure that her new pet kitten wandered too far and it'll have her go after the poor thing and right into our trap, by having the cat get stuck in bushes. And finally... There's the biggest challenge. The quick rainbow pony.
Chuck: Pssh, yeah, what's your gameplan with HER?!
Muck: Simple. I mean, for me, not for you. See, the rainbow pony can be easily provoked, so all we need to do is push her buttons in a way that doesn't make her suspicious and then she can wander right into our trap.
Chuck: And how are you gonna make sure she doesn't-
Muck: Bash her way out? Easy. Limb restraints. And ones that I managed to swipe from outside lands. These restraints are great for one as strong as that filly, the more you struggle, the tighter they get. She won't get out one bit. I calaculated it all after some... LOST sleep.
Chuck: Pheh. What a waste of your sleep. Those five are no doubt weary of us and have told ponies about us by now. There's NO way- (A cut of Applejack finding her hat right where she thought she left it and falling into a trap was seen, alongside Fluttershy freeing her stuck animal pets and getting stuck in a trap, Pinkie falling for a trail of candy and falling into the trap, Rarity freeing Opal from branches only to get trapped, and Rainbow Dash getting lured by Fluttershy's cries as she was being used for bait, and she moved too fast to be warned before being trapped)... A-... A-... A-...
Muck: You were saying?
Chuck: "..... Okay, not bad for a guy that didn't even wanted them until the boss made us."
Muck: "Well given your ego and that Blunk's, Blunk, clearly I have to be the brains around here."
Rainbow Dash: LET US GO, YOU WASTES OF LIFE!! WE WILL NEVER BE YOUR SLAVES-
Later...
Stormtrolli: AHHHHH, THEY'RE HERE! Good work, boys!
Muck: For the record, we are STILL against abducting fillies here. You ARE aware of the risks this poses, like Pred! I must not have to remind you over and over that if he finds this yellow filly abducted, he'll come after us, and leave NO survivors! So, sir, I'm begging you, this may be your last chance to back out and-
Stormtrolli: SILENCIO!!! MY MIND IS MADE UP! I AM NOT AFRAID OF THAT BROWN TURD PRED!! It's about time SOMECREATURE stops taking s*** from him! He shall not DARE harm-a me unless he wants to see this little yellow pony's throat slit. (He got his blade arm near Fluttershy's)
Rainbow Dash: Uh, buster, while I was not expecting it to come out of one of these jokeheads' mouths, you MAY want to listen to them. I've seen Pred do NASTY things to non-ponies. Do you WANNA be a part of his kill count?
Stormtrolli: NO TALKING UNLESS I-A SAY SO, SLAVE!!!
Rainbow Dash: Oh, I'm not afraid of YOU! We will NOT be your slaves-
Later...
The 5 are suddenly in cages......
Rainbow Dash: "....... Frickadick."
Blunk: BAHAHAHAH! That sounds funny.
Rainbow Dash: Your NAMES sound funny.
Applejack: Soooo... (They looked at the place they were forced to work at, which a sign said was called 'The Scumbucket Pig')... THIS is where you're making is work?
Stormtrolli: Yessie indeed-a.
Rainbow Dash: Scumbucket Pig? Wow. That's the lamest name I ever heard.
Stormtrolli: I wasn't the one that named it, so don't judge me. ESPECIALLY since you work for me now.
Rainbow Dash: Or what? You gonna whip us like we're a bunch of mule-... Don't answer that last question.
Rarity: But seriously, what happens to us if we DON'T?!
Stormtrolli: You do NOT want to know.
Rarity: Oh, I'm fairly certain we do.
Stormtrolli: Well then... Let me introduce you to the one guy in charge of this. (Whistles as tremors occurred)
Pinkie:... Who's THAAAAAAT?!
Stormtrolli: Say hello to... (A black griffin with a hook-hand, a red-and-black cape and a top hat with a purple feather and several stitches appeared)... Mr. Lawrence.
Rainbow Dash:... PHAH! THAT'S supposed to be a scary name for someone as SCARY-looking as him? I mean, I KNOW a griffin so I know firsthand how vicious they can be, but, COME ON! He could've gone for a more intimidating name, like Sheldon, or Tim. Or maybe even- (Mr. Lawrence grabbed her by the neck and pinned her to a wall)..... (Strained) Stanly.
Mr. Lawrence:... Hello, pretty pony. Whatsa matter? Griffin got your throat?
Stormtrolli: Mr. Lawrence! I think they get the idea.
Mr. Lawrence:... To be continued. (He let her go)
(Shenzi): Daf** does he sound like Nigel? Didn't we already put FAGIN through that treatment?
(Icky): "This episode was introduced in the early days back when mimicking villains were more common... I mean, not as common as the Moisode Era, but still common... And is only now being done, so, yeah, it's gonna be like this. Not saying the practices necessarily died down, but, I think later episodes try to diversify their villain of the week formulas since then."
Rainbow Dash: Where'd you get THAT literal AND figurative loon?!?
Stormtrolli: Wouldn't YOU like to know? Now get to work, fillies! Don't wanna keep Lawrence waiting.
Rarity: "(Sarcastically) Oh heavens forbid we get tardy."
Stormtrolli: What was that!?
Rarity: Nothing, nothing.
Stormtrolli:..... Could've sworn I heard you say something. Oh well, I won't further question it.
Chuck: "Uh, sir, she was literally being sarcastic and sassy with ya- (Rarity smacked up with an Ed Edd and Eddy sound effect heard) YOWCH! JUMPING GERONIMO! HOOVES ARE HARD!"
Muck: "Well of course hooves are hard, they are made of a biological component that hardens their feet and-"
Chuck: "I wasn't asking for a biology lesson, Mushroom head!"
Mr. Lawrence's voice: HEY! YOU PONIES COMING OR WHAT?!
Rainbow Dash: "KEEP YOUR STUPID HAT ON, WE'RE COMING?! (The ponies enter) (Quietly) Impatient Hook-Handed Freak."
Mr. Lawrence: I HEARD THAT!!!
Rainbow Dash: UGH! I always forget griffins have REALLY good hearing.
(Rainbow Dash): So it was days upon days of back-breaking labor. In the case of Pinkie, literally... And then she spontaneously got back together again. At least SHE doesn't have to worry about actually dying. I bet she couldn't even kill HERSELF... I mean, if for some unlikely reason she GETS that urge.
(Pinkie): Ah, I didn't mind.
Pinkie: Hey, girls... It's not always that bad even in crazy conundrums like this. (She sang this, except with no vulgarity)
Troll: SHADDAAAAAP!!! (He tossed a mug at her) WE DIDN'T ASK FOR DINNER AND A SHOW!!!!
Pinkie: "(Snorts) Everypony's a critic."
Goblin: NONE OF US ARE PONIES, DUMBASS!!!
Pinkie: Okay, then. Every-BODY'S a critic! How's that?
The Mythics Grumbled.
Rainbow Dash: "..... (Quietly) Gees, what's their problem?"
Mr. Lawrence: Usual Scumbucket Pig Patron demeaner. Those guys are ALWAYS cranky... I mean... Most of the time, they are. Now shut up and give them what they want.
Rarity: What does it look like we're trying to do? We're not being clowns here!
Mr. Lawrence: Well your PINK friend here might be fit to be one.
(Icky): "Okay I'm kinda conflicted here, cause, in one hand, that came out of the mouth of a bad guy so I know I'm not suppose to agree with him, but at the same time, he isn't, necessarily wrong about Pinkie considering how she is in the canon show, I mean-"
(Rarity): "Well the way I see it, he loses his right of being even technically correct for being so BRUTISH about it! Especially towards Fluttershy"
Mr. Lawrence: Well, she's showing off more than that yellow pony! She's... I don't even know WHAT she's doing.
Rarity: "(Sees Pinkie on a giant beach ball juggling random things in the Scumbucket Pig) We're, getting to know her ourselves, so, how that mare works is anypony's guess."
Mr. Lawrence: I meant that! (Points to Fluttershy, who is standing there, her eyes shrunk) She's standing around like a peryton in front of a flashlight.
Burly Peryton: "OY?! I RESENT THAT?!"
Mr. Lawrence: SORRY!!!
Burly Peryton: YEAH, LIKE THAT'S GONNA HELP!!
Mr. Lawrence: SECURITY!!!... Uh... That's YOU!
Rainbow Dash: WHAT?! What about the OTHERS?!? (Mr. Lawrence got out his hook-hand) Ugh! (She beat him up and kicked him out comically) Happy?
Mr. Lawrence: Yes. You could REALLY use some toughening up.
Rainbow Dash: I'm ALREADY toughened up.
Mr. Lawrence: Not from MY perspective.
Stromtrolli: Watch it, Mr. Lawrencio.
Mr. Lawrence: I told you not to call me that!
Stromtrolli: Don't see what the issue is, really. Anyway, you might wanna be careful. We do NOT want her to be ANY tougher than she already is-a.
Mr. Lawrence: Hmmph. Like it'll matter. I'D RIP HER TO SHREDS!!
Rainbow Dash: Would you?
Mr. Lawrence: I WOULD! I may not be a pretty birdy, but I used to be QUITE the looker. (Music was building up) A MAJOR star player in countless battles-
Pinkie: (Smacks the appearently present record player as a record scratch was heard) Yeah, we're gonna stop you right there before you rip off a song that hasn't been released yet. Just give it to us straight, we are NOT in a song mood right now, mainly because these guys are quite the philistines.
Orc: YOU WANNA COME DOWN HERE AND SAY THAT?!
Mr. Lawrence:... Killjoys. Fine, I'll just boringly talk about my past and- (Pulls out another record player) PSYCHE?! (Plays it).
Pinkie: "Darn it! You just CAN'T avoid ripping things off, can you?!"
Mr. Lawerence: "Lights, camera, action...."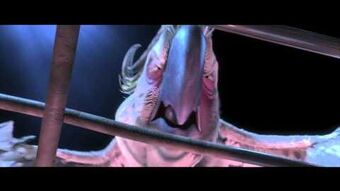 (Icky): "Goes to show ya can't keep a villain song down."
(Pinkie): Yeah, you MAY wanna consider changing THAT for your reevaluation.
Applejack: "..... Okay, so, judging from all them lyrics, was all that song about how cause of Celestia ending pony slavery and that you lost your hand in the process is why you're in cahoots in all this?"
Fluttershy:... That's... Awful! But it's still wrong to keep ponies as slaves.
Mr. Lawrence: Ignoring the talk from a pony who can't even DEFEND HERSELF! So, let me tell you something, pride-mane-
Rainbow Dash: FOR THE LA- I'M NOT GAY!!!
Mr. Lawrence: -If you wanna be treated less brutally, you do as we say. Wouldn't even want THESE OTHER FOUR hurt because of you, would you?
Rainbow Dash:... I swear, one of these days, ALL of you will get exactly what you deserve. Let's not forget the risk you were RETARDED enough to take: FLUTTERSHY HERE IS LIKE A DAUGHTER TO PRED JUDU DES!! (The jukebox in the Scumbucket Pig cut off with a record scratch as everyone was shocked)
Harpy: DID SHE SAY PRED JUDU DES?!?
Ogre: YOU STOLE A SURROGATE DAUGHTER FROM PRED JUDU DES?!?
Stromtrolli: I-I-I- (Everyone panicked and ran out) NO, COME BAACK!!!!... (He looked at Rainbow Dash with a comically-angry expression) (High-pitch angry squealing), (Speaks angrily in Troll Language Gibberish that sounds strangely Italian as he grabs Rainbow by the neck)
Rarity: "..... Oh nice one, Rainbow Dash, you enraged him!"
Rainbow Dash:... Ehehe...
Later...
Fluttershy: (She was sobbing out of control as she heard Rainbow Dash being tortured brutally in another room)
Applejack: By Celestia's mane!
Rarity: While I applaud her for making a point clear... That was NOT a good idea to cross these people.
Fluttershy: SOMEPONY PLEASE MAKE HER SUFFERING STOP!!
Stromtrolli: You will do NO SUCH THING! You all have put my business in PERIL!
Applejack: You did that yourself by taking the risk of kidnapping Fluttershy. If Pred finds out what you did, your place will by shut down, and people are gonna DIE!
Stromtrolli: DO NOT TALK BACK TO ME LIKE-A THAT!! I'LL KNOCK YOUR PLOT INTO YOUR OWN FACE!!
Applejack: I'm JUST warning you how CLOSE you are to making a mistake that'll cost you not just your business.
Stromtrolli: "Keep'a talking like that and that party of one becomes TWO?!"
Rarity: Seriously?! Nobody's THAT stubborn!!!
Stromtrolli: THERE'S PLENTY OF ROOM IN THAT PARTY FOR YOU!!!
Rarity:... Fine! Keep us here all you want. Do whatever you desire to us. Whip us like the horses we are. But I advise that if you value your life, you'll free us and AVOID Pred's wrath. You KNOW that when it comes to him, he leaves NO SURVIVORS!
Stromtrolli: I'll pretend I didn't hear ANY of that. (Rainbow Dash came out mentally scarred)
Pinkie:... He didn't whip you?
Rainbow Dash: No! WORSE! He forced me to watch children's shows for an hour! (A winding-down dramatic choir played)
(Icky): "Well at least Rainbow Dash's nightmare of cutesy flute playing flowers is justified now."
(Rainbow Dash): "Kinda why I am glad to lose the ability of feeling fear since that time with the robot circus, give or take resurgence."
Applejack:... (Sarcastically) Wow. How horrible! I'm trembling with fea- (She saw the horrid effects on the screen) AAAHHHH, OKAY, I TAKE IT BACK, IT REALLY IS HORRIFYING!!!
Mr. Lawrence: Next time it really WILL be whipping! Now you all are going to FIX the mess you made until the Scumbucket Pig looks better than when you came in and bring it ack in business.
Rarity: I do not think that will be at all possible. Everyone knows that you stole a filly Pred loves as much as his daughters. They KNOW that he'll kill THEM if they're even a yard NEAR him. NO survivors.
Stromtrolli: NOT ANOTHER WORD ABOUT THAT!!! EVER!!! You will get us BACK in business, or DIE trying! AM I CLEAR?! (The fillies nodded yes) Good! Do not disappoint me! Mr. Lawrencio? You know what to do. (He left)
Rarity: Fine! You have been warned. Well, everypony? Let's... TRY to get this place back in business.
(Rarity): "And here's the part where things get LESS dignifying."
(SpongeBob): Well I certainly believe that.
(Rarity): Well... Getting the business back was... Shall we say... Not possible. Nobody wanted to go to a place so long as Fluttershy was there and putting a target on its metaphorical back, and that stubborn brute would not listen to reason. The only way to save the business was to get rid of her, and us, but... You know. But at any rate... We went to try, and- (An entire montage of creatures slamming their doors on the five ponies was seen, all out of fear) Well suffice to say, it was the same all over.
Goblin #1: DON'T COME NEAR MY PROPERTY, I DON'T WANNA DIE TO A NON-PONY SLAYER!!! (He slammed the door in a comedic fashion)
Applejack: Mr. L, this is hopeless. The people here just won't talk to us because word has ALREADY spread about Fluttershy's relationship with Pred. They ain't ever gonna come back unless you and Stormtrolli let us go.
Mr. Lawrence: NOT happening! PERIOD!
Applejack: You two would risk your lives for that?
Mr. Lawrence: You think we're going to take S*** from that scary pony? NO! We're NOT going to take it. We're NOT going to let Pred know we're just like all the others he killed: dying pathetically. We WILL defend our business with our lives.
Rainbow Dash: WHAT KIND OF SENSE DOES THAT MAKE?! PRED IS GOING TO KILL YOU AND THAT FAT GREEN SWORD-ARMED TROLL!! In fact, HE'LL DESTROY THIS ENTIRE TOWN TO TEACH OTHER NON-PONIES A LESSON!! (Everyone heard that and began to panic in an angry mob as this played)
Mr. Lawrence: NONONO, THEY'RE JUST OVERTHINKING- AAAHHH!! (The six were trampled all over by the people)
Later...
Mayor: Mr. Stormtrolli, I am going to say right now, that for our safety, you MUST fire these five ponies, IMMEDIATELY!
Stormtrolli: Mister Mayor, I assure you, maybe our people are overthinking-
Mayor: YOU KNOW PRED NEVER LEAVES WITHOUT TAKING MORE THAN ONE OR TEN BLOODY SOULS!!!
Rarity: I TRIED to tell him, but he WOULDN'T LISTEN!
Mayor:... And you were WARNED MANY TIMES?!?
Stormtrolli: Don't listen to her, she's a drama queen.
Rarity: I BEG YOUR PARDON?!?
Mayor: URRRGHHH!! STORMTROLLI, WHAT THE DEVIL WERE YOU THINKING?!? DO YOU HAVE ANY IDEA HOW SERIOUS THIS IS?!? YOU'RE PUTTING THE LIVES OF OUR PEOPLE IN DANGER!!! This is the ONLY time I'm ordering this to you: Either let them go, OR YOU'RE FIRED, AND BANISHED!!
(Icky): "Well that wraps up the story in a nice bow-"
(Pinkie): "There's still 3 chapters after this."
(Icky): "..... He's gonna secretly still keep you bunch, wasn't he?"
Stormtrolli: Mr. Mayor, I can personally guarantee you that these ponies will be returned home safe and sound.
Mayor: Hmm... well, see that you do.
Rainbow: Well that wraps things up in a nice little bow-
In a secret area...
Stormtrolli: (He throws the five ponies in a cage) THERE! (Locks the cage) THIS will be your home, where Mr. Lawrence and I can find you always.
Pinkie: NO!
Rainbow: NO!
Applejack: NO!
Rarity: NO!
Fluttershy: NO!
Stormtrolli: YES, YES, YES, YES, YES! TO US, YOU ARE BELONGING!
Lawrence: We'll find some people that are NOT afraid of that Pred Judu Des, and we will prevent you from telling them about it, and you'll be sorry!
Rainbow Dash: "I'm pretty sure guys like that are either long dead for going after Pred to begin with, or are nowhere near any place nor would be interested in a place called "The Scumbucket Pig"."
Stromtrolli: Be grateful I'm keeping you alive after THAT stunt.
Rarity: UGH! HOW?! How is it that NOTHING people say GETS THROUGH TO YOU?! YOU'RE-
Stormtrolli: I HAVE HEARD ENOUGH-A!!! I didn't want to use these, but... I have no choice. CHUCK?! MUCK?! BLUNK?! (The three showed up)
Muck: Y-Y-YES SIR?!?
Stormtrolli: GET ME, THE COLLARS!!
Muck:... Sir, you said you wouldn't use those-
Stormtrolli: I SAID GET ME, THE COLLARS!!! (They zoomed off and got the box as Stromtrolli opened them with Legend of Zelda Treasure opening music played, but then winded down at the DUNUNUNUUUN when they saw that there were bite marks on them)... AGGUAAAHHHH!! (This played)
Stormtrolli: (He made comically weird noises trying to process this and then had an insanely comical smiling expression when talking to them) HEEEY, BluUUUUUUUUUUUUUUUUUUUUUUuuuuuuuuuuuuuunk... YOU DIDN'T PERCHANCE, EAT, THE COLLARS, THE MOST IMPORTANT BACKUP PLANS FOR KEEPING SAFETY IN MY BUSINESS, DID YOOOOOOooOOOOOOU?!?!?... (His eyes twitched)
Blunk: (As everyone's expressions were in comical shock) Of COURSE I didn't! And they CERTAINLY didn't taste like lead-flavored BUTTERSCOTCH!!! (Awkward Drum Sound)...
Chuck: "..... (Quietly) Idiot."
Mr. Lawrence: "(Quietly) Absolute moron."
Rainbow Dash: "(Quietly) Dumbass."
Rarity: "(Quietly) Imbecile."
(Icky): "Obvious Ed from Ed Edd and Eddy Espie. (Smack) OW?! CHIRST, SHEN?!"
Muck:... I'm disturbed how you KNOW what lead tastes like!
Chuck: It WOULD explain a lot. (Stromtrolli got red angry and steaming)
Pinkie: Wow, when did he become somewhat like me?
Mr. Lawrence: I had a feeling you'd entrust such important devices to an idiot like him. So I made backups.
Stormtrolli: RAAAAAAAAAAAAAAA-Ahhhhhhhhhhhhhhhhh... OH THANK THE PANAN GODS!!!
Pinkie: "The whata Gods?"
(Rainbow Dash): "To interject any inevitable stupid questions from Icky, no, we had never since kept up with what Stormtrolli meant by that."
Stormtrolli: (He gave them to him and they were perfectly intact) HAHAH!!! Bullet, DODGED!!!
(Iago): "Wait, how would he know what a bullet is if-"
(Icky): "Iags, literally a season 2 episode ago we had Granny Smith wield a shotgun, I think guns are not that outta the question for Equestria to acknowledge."
(Iago): Whatever.
Stormtrolli: (As the collars were put on) To make sure you don't cause anymore trouble, you are to be wearing these magic collars. They do ANYTHING to you. Shock you, inflict pain on you, mind-control you, make you dizzy, you name it. It will activate if you disobey any orders or if you try to take them off.
Rarity: "Well that's a bit inponane, don't you think?"
Mr. Lawrence: Maybe, but with these collars, we'll be on top of the pony slavery business!
Pinkie: NO!
Fluttershy: NO!
Stormtrolli: YES AND YES! WE START TONIGHT!
Muck: "(Dejected) I'll get the tribe to start making posters."
Stormtrolli: Good. (To the five ponies) In the meantime, you will make lots of money... FOR US! And when you are growing too old... you will make good use in, THE SULFUR MINES!!
Rarity: That's ONLY going to make Pred even MORE mad-
Stromtrolli: I DO NOT WANT TO HEAR ANOTHER WORD ABOUT PRED! YOU THINK I'M AFRAID OF HIM-A?! WELL, NO! THE ONLY REASON OTHERS DIED TO HIM IS BECAUSE THEY WERE SCARED!! HE WILL NEVER HARM US!!! If I hear ANOTHER word on the matter, those collars will save me the trouble! Lawrencio?
Mr. Lawrence: Oh trust me, they won't be doing anything.
Stromtrolli: They BETTER not! (He left)
Rarity: UGH! It INFURIATES me how stubborn that troll is!! Why won't he LISTEN TO REASON?! He's going to get EVERYCREATURE HERE KILLED!
Mr. Lawrence: Pred is not harming a single soul in this town if he doesn't want the backlash of a mob and in turn make him look bad with ANOTHER slaughter, in front of everyone in Ponyville! He'll be disgraced for life!
Rainbow Dash: You think Pred CARES about his reputation?! He only does this under the respect of his family AND his belief that he's what ponies NEED. He'll still protect them and kill non-ponies whether they want him or not! Don't think for a SPLIT second you have an excuse to- (Her collar crippled her flight) AHHH!!! MY... MY WINGS!!
Mr. Lawrence: Oh, pity. Now we have a useless flightless pegasus. (Cackles)
Rainbow Dash: YOU LITTLE-
Mr. Lawrence: Uhuhuh! Collars took away your flight, do you REALLY want it to take away MORE?
Rainbow Dash:... I SWEAR you are all going to pay for this, ONE way or the OTHER! If WE don't stop you, PRED will! And I SWEAR, he WILL kill all the people in this town, if he hears that you kidnapped Fluttershy! In fact, he's probably already heard, and HE'S COMING FOR YOU!! So this is our LAST warning to you: If you don't set us free right now, and neglect to make things worse... The punishment he gives, will be WORSE than THAT! Pred, spares NOBODY because he always sends a message: If you pull a stunt like THIS to somepony he cares about, you and so many others will pay the price for it. It's cruel, but it's PRED!
Mr. Lawrence: Perhaps we're doing this because we want to show that not ALL non-ponies are gonna take s*** from him. Oh, sure, he's a killer who's slaughtered hundreds if not thousands of innocent non-ponies... But does that mean something should be done about it? Maybe somecreature set this up, so that he could be assassinated.
Fluttershy: WHAT?!
Mr. Lawrence: Now, I'm NOT saying it was me. I know I can't take someone like him. That'd be suicide. No. If you are to kill someone like him, you have to do it RIGHT!... Again, I didn't do it... But imagine. What if Stromtrolli had kidnapped Fluttershy, for a reason? What if he wanted to make sure that Pred died in the hands of a non-pony? No doubt, if word got out that a non-pony offed Pred, then not only would the Scumbucket Pig be saved... THEN HE'LL BE THE MOST NOTORIOUS NON-PONY AROUND!
Rainbow Dash: Pfft. Take it from somepony who KNOWS awesomeness like that and LOVES to win. Fame can be overrated, and in this instance, it can come with a price. What if for the sake of argument, one stronger OR bigger non-pony decides 'if I take down the guy who took down Pred, then I'LL be the toughest non-pony around'? Then the domino effect takes... Well... Domino effect, and non-ponies EVERYWHERE begin to try to kill him. Trust me, Stormtrolli can NOT afford that kind of fame.
Mr. Lawrence: Stormtrolli may be a little... Unorthodox at times, but he is NO fool.
Rarity: Ohho, I respectfully disagree. Have you SEEN what he's like?! Not heard, but SEEN WITH YOUR OWN EYES?! I had that misfortune ONCE! It was TERRIBLE, and if I had seen more, then as a filly, I would have been SCARRED FOR LIFE! He's constantly ignoring our warnings that Pred will come for Fluttershy and kill EVERYCREATURE here as a warning to other non-ponies as to what happens when you cross him, and he even deliberately disobeyed his own town's LEADER to let us go for everyone's own safety! He's literally ASKING for everyone in this town to be murdered, and there's NO excuse to defend his decision. We're not going to warn you this again, but you must at least THINK! What if this could all be avoided if you LISTENED to reason?
Fluttershy:... She's right. I've seen him kill. It's horrible. In fact, that's why I avoided the ground in my earlier years. I feared that there were a LOT of ponies like him out there, and that you non-ponies really WERE no good. But you're just people like us. You want to live. Do you REALLY want your entire town killed just because of someone as bad as Stormtrolli?
Muck: Kid, you think we WANTED to kidnap you five? I was the one who warned Chuck and Blunk, and even STROMTROLLI for that matter, how dangerous it was to kidnap even FILLIES, and especially YOU! But Stormtrolli is our only means of profiting from this pony slavery thing. It's our LIFE, and without him, there's no US!
Chuck: Yeah, so, even if Pred DOES show up, we'll get the hell out of dodge when we suspect he'll come.
Fluttershy: He won't exactly give you the chance to expect him. He NEVER does. He's ALWAYS subtle when doing his 'job'. (Sobbing) Please... Let us go. If you don't, you and everycreature here in this innocent town are going to die, and I don't want them to die because of me!
Chuck: "(Gets bothered by the tears) D'ooooh, with the puppy dog eyes and the waterworks, ugh, UGGGGHHHH?! Kid, even IF we wanted to, IT'S NOT OUR FREAKING CALL?! We're just Stormtrolli's and Lawrence's stooges. We have no say in anything! (Deadpan) Especially not Blunk."
Blunk: "(Petting a Cockatrice) Pet the Cockatrice, Pet the Cockatrice."
Mr. Lawrence: "BAH?! WHAT DID I TELL YOU ABOUT BRINGING THOSE GORGON BIRDS HERE?! And don't be distracted by the yellow one's tears! Hurry up and get them into their staying arrangements!"
Blunk: Kay boss! (They left)
Mr. Lawrence: (Dubbed as Stromboli) Good night... (Air-kisses) my little goldmines. (He left as he laughed evilly)
Pinkie: No! No, wait! Let us out!
Rarity: You don't realize what you're doing! You're certifiably insane!
Muck: (Quietly) Correction: Lawrence and Stromtrolli are certifiably insane. We do not support this stupid decision one bit, but we're dead hobgobs if we don't do it.
Rarity: You'll be DEAD hobgobs if you DO!
Muck: We don't have a choice.
Rainbow Dash: (Face-hooves) Why don't you run away?!
Muck: With Mr. Lawrence? We can run all we want, we'll never escape him.
Fluttershy:... I almost feel sorry for you all, but... You're all just like me. Afraid to stand up for something.
Chuck: AFRAID?! PSSH! NOOO! We're not scared of ANYTHING-
Rainbow Dash: AH, PRED'S BEHIND YOU!!!
Chuck: WHERE?!? (Rainbow Dash laughed hysterically) (Groans)....
Blunk: "(Laughs), She got you good, Chuck. (Laughs)."
Chuck: "Shut up, Blunk."
(Icky): "Okay I think 3 has enough content, can we change chapters now?"
Chapter 4: Show-Ponies/No Dignity
Elsewhere...
Canterlot castle is seen.
(Twilight): Wait, why are we suddenly cutting to Canterlot?
(Pinkie): "Doi, it's a pre-requisite shot establishing Celestia learning about our situation."
(Twilight): Uhh... Yeah, I was considering how she knew that. I mean, she's a God, so... Okay, how did she find out? Even I hardly understand what Celestia can do.
(Pinkie): Lotsa ponies do. Anyway...
Guard: "(BARGES INTO CELESTIA'S THRONEROOM) YOUR HIGHNESS?! BAD BLOODY NEWS IN PONYVILLE?!"
Celestia: WHOA! Uh... Ahem!... Of course. Is it Pred controversy again? Because I swear to myself if that's the case-
???: I'm afraid it's nothing LIKE that. (Pred and her daughters came in)
Celestia:... Pred. Ahem... I don't think you're a pony who should be seen in this castle.
Pred: Oh come off it, Shineflare said otherwise!
(Icky): "Good riddance she's not in office anymore."
Pred: But putting your unladylike welcome aside, I had come here many times and have protected Canterlot from monsters PLENTY of times, your highness. I can make my case, and at least try to do so without violence.
Axe-Rella: Yeah! Just the smell of blood on our weapons are enough to have ponies respect us.
Pred: Now now, girls, remember what I said about that kind of respect?
Axe-Rella:... That it's false respect?
Pred: Precisely. Now then, back on point, your highness... There are some non-ponies that have abducted Fluttershy and four other ponies.
Celestia: How can you be sure?
Pred: My instinct does NOT lie. Hobgoblin. Three in particular. Smelled their rottenness a mile away.
Guard: "Hey no fair, I was gonna warn her about tha- (Chain slam-dunks the guard) D'OHHHH?!"
Chain: "(Laughs like Woody Woodpeaker)!"
Celestia:..... And, you decided to come to me personally even when I was already gonna be informed, because?
Pred: Well, at first I didn't need your input, but the fillies' loved ones and/or guardians insisted that I consult with you.
Guard #2: Gee, I wonder why.
Pred: YOU HAVE SOMETHING TO SAY, SOLDIER?!
Guard #2: NO!!!
Pred: That's what I thought!
Guard 2 sighed in relief, but got slam-dunked by Chain anyway!
Chain: "TWO FOR THE PRICE OF ONE?! (Laughs again!)"
(Icky): "Even before all of the other evidence that proves that Equestria's military sucks, a mentally challenged filly with a Woody Woodpecker laugh has no problem beating them up. Kinda makes ya wonder why Celly wasn't out of the picture by now before the canon series got made."
Pred: "CHAIN, DON'T GET OVER-EXCITED AGAIN!? Ahem. Back to the point, what is there to be done about this?"
Chain: WE GONNA RIP THEIR ASSES OFF AND ON MULTIPLE TIMES!!!
Sharp-Pay: Chain! 1, language. 2, that doesn't make ANY sense!
Celestia: And 3, we must NOT solve this with violence.
Pred: Your highness, with all due respect, I have always practiced sending a message to all who cross us ponies to never EVER pull things like that. They will never learn if I let any one of them go to tell everycreature else how soft we are.
Chain: Aren't we supposed to be, daddy?
Pred: Well physically wise without proper training or the right cutie mark, yes, but non-ponies tend to take advantage of that, whether for conquest or just for petty crimes and bullying. We all know the stereotype about the royal guard being rather... Burdensome, and in some ways, it's starting to become accurate. Hell, they couldn't even handle CHAIN?! There's a chance that ANY smart enough non-pony will take advantage of that and take over Equestria. I do what I do to show that we ponies are NOT just loving and tolerating. We show that we do NOT take s*** from ANY non-ponies out there!
Celestia: I'm sorry, Pred, but my decision is final. No violence. Not this time. Fluttershy, if I recall from your messages, is a sensitive soul. It would break her heart if these non-ponies died because of ONE or MORE greedy souls that do not represent their community as a whole.
Pred: Oh, they're NOT just any greedy souls, your highness. I believe they are remnants of the long-defunct pony slavery operation that you broke down in the past. And I know, because I recognize the smell.
Celestia: "(Sighs), Figures that would end up coming back to haunt me."
(Icky): "And spoiler alert, it haunts ya again at random points in this series."
(Lord Shen): "Besides the point, Prehistoric One!"
Celestia: Well, see what you can do, but do it as non-violently as possible.
Pred: "I- Wait hold up, you're not gonna come with and help?"
Celestia: "..... Actually, ya know what? This is a problem caused by me, so I may as well clean up my own mess."
Pred: Well, splendid.
Chain: Yeah! You'll finally get to do something.
Celestia:... (Sighs) THAT stereotype again? I'll set the record straight that I got to be PLENTY involved in my time ruling!
(Icky): "Canon would disagree with ya- (Shen smacks Icky) D'OW?! PEACOCK BITCHSLAP?!"
Pred: Ignore her, your highness.
Celestia: "Then with that, we must set off at our quickest."
Meanwhile...
(Twilight): "So, NOW are we gonna learn about what you meant by "Further Indignity"?"
(Rarity): "Oh where do I even begin?!"
Rarity: Pinkie, dear, this is NOT going to get everycreature back to the Scumbucket!
Pinkie: I gotta TRY! (She sang this as everyone saw through the windows)
Cyclops: GET OFF THE STREEEEET!!
Everyone: BOOOOOO!!!!
Pinkie: AW COME ON, I WAS SPECTACULAR!!! (They avoided the stuff being thrown at them)
Rainbow Dash: UGH! It's no USE! NO ONE in this STINKING town is gonna wanna come back to the Scumbucket. AND FOR GOOD REASON! They'd rather come back home ALIVE and not having a target on their asses!
Rarity: "Well alcourse safety is an obvious issue! Pred's name is such a cancer to the mythic community that even a dragon would defecate bricks at the mentioning of it!"
A Dragon was next to the ponies and suddenly pooped out bricks upon hearing Pred's name in passing......
Rarity: "..... I rest my case...... Even if that was GROSS!"
Rainbow Dash: Ugh!
Pinkie: Well it's not like we can give up with these stupid collars!
Pinkie's Collar: SPONTANEOUS KNIIIIFE!! (It actually manifested a knife)
Pinkie: AAHHH, I TAKE IT BACK, YOU'RE NOT STUPID!!!
Pinkie's Collar: MMM-HMM!! That's what I spontaneously THOUGHT!!! (RIMSHOT!)
Pinkie:...
Rainbow Dash: Who-hoaah! Didn't see that coming!... I mean, frankly, it's Pinkie, so I really SHOULD have.
Rarity: "Well at least threat of straight up death is the worse these collars do-"
Rarity's collar: "ROTTEN EGG FARTS?! (The Collar released a foul smelling gas onto Rarity as the cloud spread quickly!)"
Mane 5: "EWWWWWWWWWWWWWWWWWWWWWWWWWWWW?!"
Pinkie: "PEEEEEEE-YUUUUUUUUUU?!"
Applejack: "I just found something that makes the pigs at the farm smell like a spring meadow!"
Pinkie:... I... Girls, I think the collars are actually imprinting on us.
Rainbow Dash: That WOULD make sense. I mean, the best way of torture is to see what it is for the one who's experiencing it.
Fluttershy: Which does NOT make me in particular any more at ease.
Applejack: Yeesh. I have NO idea where Stormtrolli got these things, but... Whatever. Let's just do something because they ain't gonna just let us stall around.
Pinkie: "Even more so if they fart on us again!"
Meanwhile...
Muck: (The three Hobgoblins were sulking on a bench at the Scumbucket Pig after what had just occurred)... You and your STUPID need to make a quick buck off of that nefarious slavery!
Chuck: Like you were picking daisies! You built the stupid trap that nabbed us those girls! And besides, if you'd just gone along with the plan, we'd be complaining about not having money for the tribe!
Muck: "Oh now it's MY FAULT?!"
Chuck: "Yeah!"
Muck: "Really?"
This continued for a while like in this video.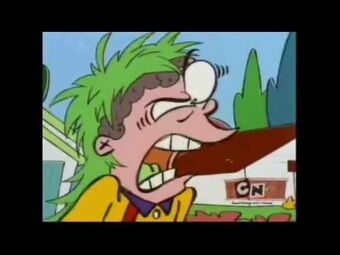 Chuck: "Yeah really!"
Muck: "........."
Blunk: "...... I feel like that's a reference to something...... Nope! Can't think of what it is....."
Muck: Well, if YOU had paid attention to what I said and NOT go after them... (They fight as Blunk watches, who immediately manage to get what is going on now)
Blunk: Stop! I demand you tickle each other right now!
Both: STAY OUT OF IT, BLUNK!
Blunk: The evil dark side has consumed them both! Trouble! Bad! Big!
Muck: I've had enough! (He kicks Chuck off) I'm going home!
Blunk: But we can't get killed by Pred, Muck!
Muck: I'd rather face my consequences, Blunk, than continue this pointless blunder with a so-called friend!
Chuck: "Well good luck getting the tribe to welcome ya back without proof that we did something SUCCESSFUL FOR ONCE?!"
Muck: I DON'T CARE!! If I don't go back home, I may as well live under a ROCK! Anywhere's better than this DEATH TRAP!!! (Stormtrolli was right in front of him)
Stormtrolli: And WHERE do you think YOU are going?
Muck: Sir! We've given it a lot of thought-
Chuck: HE did, he does NOT speak for us!
Muck: And we decided, WE QUIT!
Stormtrolli: Oh, really? On WHAT grounds?
Muck: On the GROUNDS that you are going to be the DEATH of us! You have been warned over and over again that what you did is going to attract Pred, and you didn't listen, and not even those fillies are going to get you your business back, so we are going-
Stormtrolli: NOWHERE! (He pushed him back)
Chuck: Yeah, nice going, idiot, now he's gonna punish US for YOUR words!
Stormtrolli: Nobody in MY establishment is going ANYWHERE-A! Not even a single STEP!
Muck: But sir, PRED IS GONNA KILL US ALL AND THE ENTIRE TOWN! YOU JUST DISOBEYED THE MAYOR TOO!! REMEMBER HOW YOU LOST THAT EYE AND ARM!!
Stormtrolli: Don't EVER talk about my eye and arm!!
Muck: (Sighs) Sir, it's time we stood up to you, and I don't give a DAMN if we get fired or worse, because you have to get it through your head: YOU, CAN'T, DO THIS!!! WHY ARE YOU SO INSISTENT ON NOT LETTING THOSE FILLIES GO?!
Stormtrolli:... I'll tell you why, fungus-head. Because the day I lost the pony slavery business ALONGSIDE my arm and eye... I decided I was going to run this underground-a business, and make sure there was NOTHING that could daunt me. I absolutely REFUSE to let ANY ponies bully, harm, or tell ME what to do any longer! NOT EVEN THE LIKES OF-A PRED JUDU DES!! Everyone's afraid of that pony, and yet we could all kill him, if we had JUST the right leverage. And now, we HAVE it!
Chuck:... Wait... You... Was Mr. L, right?! Did... DID YOU HAVE US KIDNAP THAT YELLOW FILLY, JUST SO YOU CAN BRING PRED INTO A CONFRONTATION?!?
Stormtrolli: Take it however you like. But I want to show those-a farm animals high on magic, that I will NOT be intimidated! NOT EVEN FROM A NON-PONY KILLER!! I want to show EVERYONE in this town, INCLUDING the mayor, that we should not let ponies PUSH us around! When I see to it that Pred himself is MURDERED, AND his daughters, AND the yellow pony he cares so much about... I'll have the pony slave business back up again, because if we can kill Pred Judu Des, the LAST of the Judu Des Clan... Then NONE OF THOSE PONIES WILL DARE MESS WITH US-A!! So maybe I DID kidnap them to call him out.
Blunk: OH, YOU MANIACAL GENIUS!!!! (Muck and Chuck looked confused at him)... What? He is!
Muck: Sir! That's SUICIDE!!
Stormtrolli: Spoken like a true COWARD!!
Muck: UGH!! SIR, WE CAN'T LET YOU DO THIS!! YOU'RE GONNA KILL THE TOWN!! We're telling the mayor THIS INSTANT!
Stormtrolli: Uh-uh! I told you... (He placed them all in steel cages)... YOU AREN'T-A GOING ANYWHERE! Until the job is done, and I've proven to the people in this town how they should never be bullied any longer, you are staying HERE!
Muck: STORMTROLLI, PLEASE!! You're making a BIG mistake!
Stormtrolli: Oh STOP overreacting! Even if Pred DOES kill me, he wouldn't-a DARE commit such a LARGE genocide, and risk disappointing Celestia, EVEN if I kill his precious yellow surrogate daughter! Whatever the case, I win! Either I kill him, or he kills his own reputation! A-BRILLIANT!! Whatever happens to Pred, it happens here and NOW! It's TIME for non-ponies to STOP FEARING HIM AND TAKE A STAND! If I don't, NOBODY WILL!
Muck:... Stormtrolli... Please!
Stormtrolli: So long. See you whenever. (He slammed the door on them shaking the entire room)
Chuck: "..... Okay, I am prepared to be a bit fair on you on this one, Mushroom head: I think you were onto something about not wanting to be apart of this."
Muck: "OH NOW YOU TAKE WHAT I SAID INTO CONSIDERATION?!"
Chuck: "Well it's different if the boss wanted to bring Pred here ON PURPOSE?! Getting his attention by accident's one thing cause, just about anything can set that crazy little horse off, but GETTING HIS ATTENTION ON PURPOSE?! Ugh, and the money here was good too?!"
Blunk: "Should we try to tell Mr. Lawrence about it?"
Chuck: "Chances are Lawrence is in on it or he's no better and is plotting to let Stormtrolli go through with this to basically have him out of the way without doing it himself and basically take over the slavery operation himself and get all the money! Or at the least he would hear about what Muck tried to pull and assume we're not worth listening to anyway!"
Muck: "Awfully quick to assume ill of Mr. Lawrence?"
Chuck: "Well duh, the guy started out as a rich griffin that benefited from Pony Slavery! Kinda easy to see Lawrence is no bastion of morality here! I mean for crying out loud, he dresses like a stereotypical bad guy with a tophat and cape, that ridiculous handlebar mustache, AND HE HAS A HOOK FOR A HAND?! HOW MANY GOOD PEOPLE YOU KNOW, LOOK LIKE THAT?! I mean seriously, he even broke into a villain song!"
Muck: ".... And now it's my turn to offer you a fair point. But it still leaves us in a troubling situation!"
Chuck: Yeah, well, this is the part where you have some big-word, smart-guy way for us to get out of situations like this. Go for it.
Muck: "I can't promise this will be on the fly and as we go along! I need to ponder this hard and get a moment to formulate a plan and-"
Blunk: NO!!! I AM HUNGRY!!! I GET HUNGRY WHEN I'M IN A TIME OUT!!! UUUUUUAAAADYAAH!! (He smashed the cage, but nothing happened)... AHHHHHHHH!!! (He continued smashing but it did nothing)
Muck:... Well... Stromtrolli's smarter than he looks. Any ONE of us could've done that.
Chuck: But, IT'S NOT WORKING!!!
Blunk: DYAAAAAHHHH!! (He kept smashing, but it only moved the cage, giving Muck an idea)
Muck:... Hmmmm... Blunk. Keep trying. Maybe you'll get it.
Blunk: OKAY!! AAUAAHH!! (His bashing made the cage move allowing them to slowly but surely escape the room by smashing the cage through a wall and into an alley, with the three comically on the ground from the chaos)... I DID IT!... OHHH, I GET YOU NOW, MUCKY!! DYAAAHHH! (He kept bash-moving the cage)
Chuck: "..... Blunk never stops surprising and amazing me."
Muck: "Truly, he's in his own little world."
Back with the ponies...
An Orc was seen running away like a pansy!
Pinkie: "COME BACK HERE AND LET ME GIVE YOU A SOOTHING BACKRUB TO ADVERTISE THE SCUMBUCKET PIG?!"
Orc: "NOOOOOOOOOOOOOOOOOOOOOOOO?! I KNOW WHAT PRED DOES TO ORCS?! GET AWAY FROM ME?!"
Rainbow Dash: (She's seen chasing a goblin) YOU GET BACK HERE AND TAKE YOUR LAP DANCE LIKE A MAN!
Goblin: BUZZ OFF, LADY! HAVE YOU SEEN WHAT PRED DOES TO THE LIKES OF ME?! ALSO, YOU'RE A F*****G KID?! I DON'T WANNA LOOK LIKE A PEDO-LIN!!
Rainbow Dash: "HEY, I'M VAGUELY ABOUT TO ENTER MY TEENS AT BEST, I'M NOT THAT YOUNG!!"
Goblin: "SAME RULES APPLY, YOU CRAZY HORSE!! (Everyone was chased out)"
Rarity:... Well, back to the same place where NOTHING HAS BEEN ACCOMPLISHED! It's hopeless! Simply, HOPELESS!
Applejack: "Well, I reckon that Stormtrolli's never gonna let us hear the end of it. Nor are these collars gonna be less pain-inducing."
Rarity: I just don't understand! Why won't Stormtrolli listen to reason? He KNOWS how dangerous Pred is, why is he refusing to let us go when he KNOWS it'll attract Pred? Nocreature's THIS stubborn!
Pinkie: Well, just spitballing here, but maybe he's kidnapped us on purpose to call Pred out so that he can have him killed and thus not only restore pony slavery business, but also inspire the townspeople to stop letting ponies push them around.
Rainbow Dash:... PFFT! Suuure! Like he'd be stupid enough to TRY such a possibility. I mean, Mr. Lawrence did speculate that, but there's NO way he'd risk an ENTIRE-
Applejack: RD, he's LITERALLY risking it RIGHT NOW!
Rainbow Dash:... Oh yeah. But, it's not like we can do anything about it... If it's true, that is. These damn collars won't let us.
Fluttershy: (Sobbing) These innocent people are going to get killed!
Rainbow Dash: Fluttershy, get a hold of yourself! Things are gonna be fine. As soon as the mayor sees us with these collars on, which is an EXTREMELY likely possibility that I'm now realizing Stormtrolli did NOT consider, pfft, dumbass, then he'll inform Celestia and we'll be out of here lickety-split.
Applejack: I ain't sure. Stormtrolli made it THIS far, so he could've made sure the mayor was preoccupied.
Rainbow Dash: And HOW would he possibly distract the most IMPORTANT person in this town-
Gossiping Goblin 1: "(He and another goblin were walking by) Hey, did you here that the mayor's beloved Cat-Dragon got stuck in a tree again?"
Gossiping Goblin 2: "Yeah, real shame. The Mayor's gonna take forever to get that critter off the tree again. The poor guy burst into tears last time."
Gossiping Goblin 1: "Which makes the whole thing rather confounding, I mean it's half-dragon, shouldn't it fly?"
Gossiping Goblin 2: "I hear it has a crippled wing."
Gossiping Goblin 1: "That's a shame. (The duo walked off)."
Fluttershy: "(Concerned) Oh that poor dragon kitty! I mean, I'm usually afraid of dragons, but a hybrid of one and a kitty sounds CUTE! We have to help!"
Rainbow Dash: "Well the collars MIGHT have an issue with that even if we DO want to!"
Applejack: Well, maybe if we rescue the dragon-kitty, the mayor will see what happened and he'll report Stormtrolli to Celestia, like you said.
Rainbow Dash: "Was I on mute? I SAID THE COLLARS WON'T LET US EVEN IF WE WANTED TO?!"
Pinkie: Come on, Dashie! We won't know unless we try.
Rainbow Dash: Uhhhh, is everypony deaf all of a sudden? These things imprint on us, so we can't do anything that will defy Stormtrolli. Ergo, WE CAN'T GET THE DAMN DRAGON-CAT!! (She raged so much it shook the earth and caused the dragon-cat in the tree to get scared enough to run back down the tree and right back to the mayor)
Mayor: OHHH!! MY BABY!!! MY BABY KITTY!! YOU'RE SAFE!!
Gossiping Goblin #2: WOW! Who knew a tremor was all the kitty needed to nut up and climb down itself?
Rainbow Dash:... Ahh s***! (She was tortured by having her front legs crippled) DAAAHHH!! MY LEHEHEGS!!! OWWWW!!!
Pinkie: Heh, at least it MIGHT be worth the torture.
Rainbow Dash: IS THAT SUPPOSED TO MAKE ME FEEL LESS PAIN?!? WORSE ENOUGH THAT I CAN'T FLY, NOW I CAN'T EVEN WALK!!!
Pinkie: Ahh, they'll be fine if you let 'em heal.
Rainbow Dash: AND WHAT IF THEY DON'T HEAL?! I AM NOT AN ADULT PONY HERE!!! THESE LEGS ARE-
Applejack: OH WILL YOU PIPE DOWN ALREADY?! And I thought RARITY was the melodramatic one.
Fluttershy: So, what do we do now? Do we still do what Stormtrolli says?
Rainbow Dash: Not like we have a choice- (Violent cracking) DYAAAAAAAAAAAAAAAAAHHHHH!! (She actually started crying and then finally the legs were back to normal condition)... AAAHAHAHAHAOOOOWWWCH!!! I'M IN SO-HO-HO MUCH PAAAAIIIIN!!
Pinkie: See? Totally worth it in the end. Look, you're all better as if it never hap-
Rainbow Dash: UTTER ONE MORE WORD, AND I SWEAR TO CELESTIA'S NONEXISTENT BEARD THAT NO CARTOONY NATURE YOU GOT WILL FIX WHAT I DO TO YOU!!
Fluttershy: "(Whimpers at that)..."
Rainbow Dash: "..... (Calms down after hearing Fluttershy whimper like that) (Sighs), I'm sorry about that, this is a stressful situation."
Rarity: "Quite alright and understandable. It hasn't been a picnic for any of us either."
Applejack: So what do we do? We can't go back to Mr. Lawrence with nuthin'.
Rainbow Dash: "Well not like we can get a suicidal nihilist who lost fear of death and Pred on short notice."
???: "Pred? Who cares."
An extremely goth Harpy was seen.
Harpy: "Who cares if ya die by him or some other mythic hunter. It ain't like any of us are immortal outside of dying spefificly to him. We're all perpetually stuck in an endless loop where yer born to then die eventually less you actually have immortality, but even then, does it really meet the hype of death fearing folk and not have it's own problems?"
(Icky): "(Clears throat) AHEM MORALITY ILLNESS?! (Clears throat) AHEM ALSO THAT IS STUPIDLY PLOT CONVINENT?!"
Pinkie: "..... Uhhhhh, miss, you, wouldn't mind going to a local bar, would ya?"
Harpy: "I ain't much for alcohol, but, whatever."
Pinkie: "Is that a yes "Whatever" or a no "Whatever"-"
Harpy: "Alicorns damn it, do I have to spell it out?! YES?!"
Rarity: "Oh thank goodness, now we don't have to suffer further humiliation from Mr. Lawrence. What's your name, miss-"
Harpy: "Nancy McBitchalot."
Silence.....
(Icky): "(Snickers)!"
Rainbow Dash: "....... Wow. No wonder you look like you stopped caring about life."
Nancy: "Hey, it's a lot more NUANCED then that!...... (Dejected) But it doesn't help. I come from a long line of harpies who have done next to nothing about any of the troubles in the world, and all they want to do is complain and just take things into their own talons. They just lived by themselves. And so have I."
Applejack: Then... Why are you here?
Nancy: I never said I was gonna help ya! You're all doomed anyway. We ALL are. Whatever happens, Pred's gonna be all over us like food on a platter.
Rainbow Dash:... What if you were willing to die to save us?
Nancy: Kid, I ain't no bait bitch! You ponies-
Fluttershy: Uh... Nancy, was it? Can you please let us speak up?
Nancy:... Alright, I'll peck. This should be good.
Fluttershy: "Now, as it was asked before, why are you here?"
Nancy: "..... (Sighs), Okay fine, I'll fess up. This town your in? In the Mythic Community, it's called "The Villa of Garbage". This town is where society's rejects and misfits go when they can't fit in with their own race or kind. We're literally, a town of losers, degenerates and drifters. And soon enough, Pred is about to be our garbage truck and take us to the dump that is the afterlife..... Where people will continue not to care about us."
Pinkie: "...... Nancy, we're misfits with ponies too. I guess you could say here, we're misfits among misfits."
Nancy: "(Surprised a bit)..... But don't you ponies have friendship as a religion and junk?"
Rainbow Dash: "It's more like a philosophy."
Nancy: What's the diff?
Rainbow Dash: The DIFF is one is a belief and the other is a higher belief.
Nancy: Exactly! A religion!
Rainbow Dash: (Sighs) Well, whatever it is, that doesn't mean we ALL get along 24/7. I'm usually a bit of an asshole.
Nancy: "...... Did you just cuss? But you're a pony."
Rainbow Dash: "My point exactly."
Pinkie: "I try too hard to make ponies happy to the point it comes off annoying."
Fluttershy: "I'm, not a people's pony."
Rarity: "I'm, a bit materialistic beyond comfort."
Applejack: "Well, with me, let's just say all I do all day is just doing chores and farm work. I'm reclusive in a way that I work too much."
Rainbow Dash: "Granted, we were doing better to change that around until Stormtrolli made these three hobgoblin idiots kidnap us."
Nancy: "Ya mean Blunk, Muck and Chuck? Those three are from that Hobgoblin tribe of super weirdos that live in the caverns under town. If it helps, they aren't trying to be as bad as that griffin asshole and the Scumbucket Pig's s***hole owner, their tribe is under some bad times. It ain't easy for them being among the few sentient minded Hobgoblins while the rest of their race are usually tribal as all hell."
Rarity: "We were curious about those three being able to speak perfect ponish."
(Icky): "Well that was a very late explanation on why those guys were different from Hobgoblins in Equestria before this episode."
(Rarity): Well, better late than never, perhaps.
Fluttershy: Well... This kinda changes everything. Oh my Celestia. You know what I think, girls?... I... I think these people need our help. (Rainbow Dash did this)
Fluttershy:...
Rainbow Dash: Sorry. Just... In a REALLY bad mood after the TORTURE I ENDURED!!
Nancy: "Yeah no one's blaming ya for that, those collars tend to SUCK!"
Rainbow Dash: How would you know how that feels?
Nancy: "Not from personal experience, but I have seen how it effects ponies under Lawerence and Stormtrolli that wear collars like that. Even for me, it ain't easy to watch."
Applejack: Slavery ain't EVER easy to watch.
(Icky/Iago/Thunderclap/Fidget/Trixie/Gilda/Shenzi Banzai and Ed/Pain and Panic): "Damn straight!"
Applejack: But... I guess, now that you're here, we can help each other.
Rainbow Dash: Assuming you still got a death wish.
Fluttershy: Rainbow Dash!
Rainbow Dash: What?! I'm just making sure!
Nancy: I still do... But that does NOT mean I should just let an opportunity to die making a difference go to waste. Better than dying a pitiful or suicidal death.
Rarity: You truly are a sad piece of work, and you have our pity.
Nancy: I don't NEED your pity. I'll help you, but it BETTER have me either dying great, or at least survive with stories to tell of my own! Since you guys can't do anything with those collars, I guess I can do the jobs FOR ya.
Rainbow Dash: "We'll take what we can get. In that case, we wish you good luck."
Nancy: Whatever. (She flew off)
Applejack:... Yikes, she's a real stick in the mud.
Fluttershy: Poor girl.
Pinkie: Ahhh, she'll lighten up by the end of the flashback story.
(Icky):... D... Did you just-
(Pinkie): Don't worry about it, let us finish the story.
(Icky): "...... Okay, fair enough."
Nancy: (She flew towards the mayor's place) Hello, Mister Mayor.
Mayor: (He was busy bathing his dragon-cat) Who's a safe wittle poopsy poo?! YOU are, yes you are- AHH! Oh... It's the downer McBitchalot. So, what MUNDANE thing you got to complain about this time? Or did you just come to be a goth loner again since you have nobody else to complain to?
Nancy: Wow, with all due respect, sir, f*** you! Besides, I'm here to say... (The camera went to his building)
(Mayor):... STORMTROLLI DID WHAT?!?! (The words echoed and scared off birds nearby)
(Rainbow Dash): Buuuut she wasn't just finished with that. She... Left the town, and... Let's just say... She tried to talk to Celestia about Stormtrolli... Buuuut... She fled right back when she saw-
Nancy: PRED!!! He's coming! And he's with Celestia AND his daughters!
Fluttershy: Oh dear.
Rainbow Dash: GREAT! No doubt he's fed lies to her to make things worse!
Applejack: You sure you ain't overexaggerating, sugar cube?
Rainbow Dash: AM I?!? I'M SO MAD, I COULD JUST... JUST... JUST... RAAAHHH!! (She was so enraged she overloaded her collar into shriveling up and dying, falling off her neck and restoring her peak self and flight)... I.... I'M FREE!!!
Rarity:... Seriously?! THAT'S what it took?!? I... I... I... RAAAAAAAAAAAAHHH!!! (She did the same thing and so did Applejack for the same anger and reason)
Pinkie: OOOOH, THAT SOUNDS FUN! YAAAAAAAAAHH!! (She overloaded her own collar)
Applejack: Okay, everypony, let's not get carried away. Alright, Flutters. Your turn.
Fluttershy: But, but I can't get angry. it's just not in my nature-
Rainbow Dash: Let me remind you that Stormtrolli put the mayor's dragon cat into a tree just to distract him. MAYBE he was the one who crippled the poor kitty's flight.
Fluttershy: (Stunned silence)....... Duh, duh.... Deedee duh......... RAAAAAAAAAAAAAAAAAAAAAAAAAAAAAAAAAAAAAAHHHHHH!!! (Her collar was destroyed) I'LL GIVE HIM THE MOST UNPLEASANT F*****G TIME OUT OF ALL TIME!!! (Everyone was surprised by her vulgarity as she covered her mouth innocently with a squee)
Rainbow Dash:... Wow. I... I didn't think I could piss her off THAT much!
Fluttershy: We... We're free! We... We can-
Nancy: Well, good for you. Looks like you don't need me anymore.
Rainbow Dash:... Actually... We may need you for ONE more thing...
Nancy: "(Sighs) All right, fine, but only because you 5 are starting to grow on me. You're honestly the best entertainment I had in forever. Just name it and it's done."
Rainbow Dash: Well... If it's not too much... Can you divert Pred and the others off-course?
Nancy: WHAT?!? OH HELL NO!!!... Uh... I mean... Uh... I don't know.
Rainbow Dash: Come on, Nancy. The only chance we have of saving this town of losers is to defeat Stormtrolli right here right now before Pred comes. If he comes, this town's screwed.
Nancy: But, if that griffin friend of his finds you without your collars-
Rainbow Dash: Relax, you already told the mayor about Stormtrolli's defiance. He'll buy us time.... I hope...
Nancy: "(Sighs), Doing this is likely gonna cost me some feathers, if not potentially my life, hateful to it as I am currently, but fine. However, I must warn you. Stormtrolli is not going to give up so easily. He'll do anything to keep his plans secure. Even the most criminal of things."
Rainbow Dash: The MAYOR of this town is calling him out! There's literally nothing else he can do to make this worse, save murdering the mayor!
Meanwhile...
Stormtrolli: (The Scumbucket Pig was closed down) YOU, YOU CAN'T-A DO THIS!
Mayor: Yes I can! I am the MAYOR! And YOU disobeyed me! I TOLD you to let those fillies go and YOU KEPT THEM!! And what's worse, you put MAGIC COLLARS ON THEM?! NOW PRED'S LIKELY FOUND OUT AND IS ON HIS WAY! If he finds out more of what you did, THE ENTIRE TOWN WILL PAY FOR YOUR CRIME!!
Stormtrolli: Sir, you cannot be scared of Pred ANY longer! I-a did this for-
Mayor: FOR YOURSELF!
Stormtrolli: NO! I DID IT TO INSPIRE EVERYONE IN THIS TOWN OF LOSERS, TO STAND UP FOR THEMSELVES!!!
Mayor: BY SENDING A NON-PONY KILLER TO US?!?
Stormtrolli:... How did you know that?!
???: We told him! (Chuck, Muck, and Blunk arrived, still inside the cage)
Muck: Word of advice, you REALLY need to glue that cage to the ground next time. This harpy found us and we made sure to tell the mayor what he HAD to know.
Stormtrolli:... (Sighs) None of you understand. I'm-a TIRED of watching these people cower in fear of ponies. Since the slave business was shut down, we've had to live in dark times! Especially thanks to-a the Judu Des Clan! The people outside of Equestria are cowards. But, now that-a Pred is the last of the clan, and that means we have a CHANCE to end the lineage, ONCE AND FOR ALL, THAT WILL ALL-A END!! Killing him, will mean that non-ponies EVERYWHERE will have nothing left to fear.
Mayor: Stormtrolli, this is MADNESS! Pred has slaughtered entire ARMIES! You can't possibly fight against someone like THAT!
Stormtrolli: Oh, I can, because I have-a something he cares about! I STILL have that yellow pony he cares so much about on a leash. He even lays a HOOF on me, she DIES!
Mayor: PRED IS THE DEVIL!!! HE DOES NOT BACK DOWN FOR ANYTHING, AND HE'LL TAKE ADVANTAGE OF ANYTHING!!! YOU'RE GOING TO GET THIS TOWN KILLED!!
Stormtrolli: Doing the right thing has NEVER come without the cost of several lives-a.
Mayor: Stormtrolli, I have had enough of your nonsense! Stand down this instant or I'm gonna have to turn you in!
Stormtrolli:... Shame. Real shame, mayor. I honestly expected BETTER from YOU at least. Mr. Lawrencio?
Mayor: What are you- (He felt a slight poke and saw that Mr. Lawerence was trying to stab the mayor but wasn't succeeding).........
Mr. Lawerence: "...... Uh, hehehehehe, you had, a slight itch."
Mayor: "..... Stormtrolli, did you just tried to assassinate a Rock-Skinned Troll?"
Stormtrolli: "... Well, technically, he did NOT-a do that, but, uhh.... Plan B! (Punches the Mayor into unconsciousness)!"
Chuck: "Well frick, that didn't went as well."
Stormtrolli: "..... (Takes the mayor's hat) Here'a on'a out, I'm Mayor! And, Mr. Lawrencio? We'll discuss getting you a BETTER stabbing weapon than that hook later!"
Mr. Lawerence: Fine! Ugh, that was SO embarrassing. Thank GOODNESS nobody saw that.
Blunk: "We saw it."
Chuck/Muck: "BLUNK?!"
Mr. Lawerence: "Oh, that reminds me.... Time for a better cage for you defective Hobgoblins!"
Later...
Chuck: (They were in a better much heavier cage that was so strong, it knocked Blunk out when he tried to move it)... Dingleberries! Though, ya gotta hand it to Lawrence, when he say it's a better cage, he REALLY means it's a better cage.
Muck: "(Dejected) Evidently, Chuck. (He sat down depressively)......"
Chapter 5: Ponies Learn Who They Are/Standing Up
Meanwhile...
Rainbow Dash:... Alright, everypony. Let's go over the plan one more time.
Applejack: Yeah yeah, RD, we been through this 16 times already. While Nancy distracts Pred and the others however possible, we pretend we're still under Stormtrolli's leash with THESE! (She notes the fake collars)... And THEN make our move at the right moment.
Rainbow Dash: Good. Glad you guys memorized. Fluttershy? You remember YOUR part?
Fluttershy:... *Gulp*... I don't know.
Rainbow Dash: Hey, imagine how proud Pred would be to see that you helped bring down Stormtrolli. He did send you to make friends to help you after all. Maybe with us, he'll see you made the right choice.
Fluttershy:... I... I'm still a little scared.
Rarity: We all are, darling. There could be bloodshed, physical violence, and there's the slightest chance we may not make it. But we have to try.
Fluttershy: "Why did you brought those things up as if they're suppose to help?"
Rarity: "In my defense, it would've been worse if we tried to dance around those inevitabilities."
Applejack: "I think Rarity meant to say, is that whatever happens, happens. We just gotta be brave. Specially you, sugar cube. Be brave for ONCE in your life."
Fluttershy:... Okay... I only promise to try.
Rainbow Dash: It might help that, if Stormtrolli finds out you're free, he MIGHT keep that dragon-cat of the mayor's hostage.
Fluttershy: (A glass shatter was heard)... That... SON OF A B- (She stopped herself from swearing again)... I'm in!
Rainbow Dash: See? All it took was a little motivation. Who knows HOW many innocent pets are in this town? Come on!
The 5 head for the Scumbucket Pig.
Back with Blunk, Muck and Chuck...
Chuck: This is all your fault, Mushroom head. (Muck is silent) Hey, did you hear me? I said-- (Goes to grab Muck's shoulder, but Muck slaps his hand away)
Muck: DON'T YOU DARE TOUCH ME! I HAVE NO IDEA HOW IT'S ALWAYS MY FAULT WHEN STORMTROLLI GETS ANGRY AT US WHEN OUR ULTIMATE PLAN GOES AWRY!
Chuck; Well, you didn't stand up to him before! You should've KNOWN it would go bad!
Blunk: And boy, did it go bad!
Muck: WELL, IT'S SURPRISING, BECAUSE HIS STUBBORN DESIRE TO ENSLAVE, TORTURE AND HUMILIATE INNOCENT PONIES IS WHAT PUT US HERE IN THE FIRST PLACE! So, enlighten me, HOW IS THE FACT THAT WE WORKED WITH AN INSANE TROLL, MY FAULT?!
Chuck was about to say something...... He had nothing.......
Muck: "...... My, hypothesis, exactly."
Chuck: "...... Okay, it's to say that-"
Muck: "Oh let me guess, you're gonna blame me about Stormtrolli usurping the mayor, right? WELL IT'S NOT LIKE WE WOULD'VE BEEN ABLE TO DO ANYTHING ABOUT IT DUE TO THE FACT THAT STORMTROLLI TOWERS OVER US?! AND THAT'S NOT EVEN MENTIONING WHAT LAWRENCE CAN DO TO US?! ESPECIALLY WITH THAT HOOK!?"
Chuck: Okay, okay! Gees louise, ya didn't had to tear my head off!
Muck: Believe me! I WISH I could sometimes. But without you, just having Blunk around would've been GARBAGE!
Blunk: Uraaagh, I miss mah mommy, she was a gabubwah, oh, and she went- (Farts)
Muck: UGH! DAMMIT, BLUNK!!!
Blunk: B-But, Muck, I'm not religious! EHAhaha!
Chuck: Ugh! He must've hit his head harder than he should've. Maybe having him hit his head many more times from the last cage wasn't that great of an idea.
Muck: "We'd done worse, all things considered."
Chuck: "..... (Sighs), Touche. The big one was getting involved with that crazy troll to begin with."
Blunk: It's a long ball, coach!
Chuck: Go to sleep, Blunk.
Blunk: "Awww, but it's not even bedtime ye- (Suddenly falls asleep)......"
Muck: "..... Bemusing moments like this make me understand why we're around Blunk a lot."
Chuck: "I feel like you can make a documentary around Blunk."
Muck: Heh. Maybe.
Chuck: So what do we do now?
Muck: For the moment, not sure there's anything we CAN do. This cage is WAY too much for even Blunk. Amazed Lawrence and Stromtrolli even HAD a cage like this on standby. Why didn't they use THIS one instead of the other one?
Chuck: Who the HELL knows? Maybe they're just idiots.... I mean, not as much as Blunk.
Muck: Look, at least we did A part. Let's hope for a miracle.
Chuck:... Muck, I'M not a religious type, either. There's no such thing as miracles. Only circumstance.
Muck:... Would it hurt to have a LITTLE bit of belief once in a while, HUH?!
Chuck: Yep. A WHOLE lot.
Muck:... (Sighs)...
Meanwhile...
(Icky): "So at this point I guess it was all up to you gals, right?"
(Rainbow Dash): You'd better believe it.
(Applejack): Course, we couldn't do it right away.
(Icky): "Well yeah, the finale is still a chapter off."
(Applejack): "I mean in a NON-META sense that we still had other problems."
(Pinkie): Like ACTUALLY making sure our plan WORKED. Stormtrolli was super-nasty, and SUPER unpredictable. That's impressive, even for someone as stubbornly suicidal as him.
Pinkie: So, how do we actually make this plan work?
Rainbow Dash: I'M the pony with the plan here, I'LL decide how to make it work.
Applejack: Well there goes the neighborhood.
Rainbow Dash: This is NOT the time to be smartaaaaaaaaaaa-lecks.
Rarity: Hmph. Good save.
Rainbow Dash: "(Rolls eyes) Gee, thanks."
Applejack: So, back on the subject, how ARE you gonna make it work?
Rainbow Dash: "Well, uh, I..... Ugh?! I WISH WE HAD AN EGGHEAD ON THE GROUP OR SOMETHING FOR THIS?!"
(Twilight): "(Deadpan) Wow, was I THAT impactful to your lives?"
Rarity: "Well may I suggest we turn this plan into more of a group effort so your mind is, less strained?"
Rainbow Dash: Yeah, sure.
Rarity: Then everypony, let's get started. This poor town needs us.
Pinkie: So... How are we going to do this with Stromtrolli thinking we're still under his leash?
Rainbow Dash: Well, let's start with myself. I'll be the scout that makes sure everything goes according to plan. I can watch over everything.
Pinkie: What about me?
Rainbow Dash: What ABOUT you?
Pinkie:... Right... Hmmm... Well, Stromtrolli DOES want to do this for 'inspiring bravery' in these creatures. What if I did it?
Rainbow Dash: Huh?
Pinkie: Hear me out, colors! If I inspired bravery before him, then confronting Pred publicly will be pointless. It'll just make him look like a fool. And the BAD kind.
Applejack: Hmmm. That COULD work. But how are you gonna do that with Stromtrolli around?
Rarity: Leave THAT to me! I'll have him 'fit for the confrontation'. As in, use my fashion skill to make him look intimidating, when I'll only make him look like he's compensating for something.
Rainbow Dash: PERFECT! Applejack?
Applejack: "Well, there's alot of risk factors here, but, I don't see any better alternatives."
Rainbow Dash: Eh?
Applejack: What I mean is, I can make sure everycreature who can't stand for themselves are evacuated. The kids, the elderly, the infirm, you name it.
Rainbow Dash:... Whatever, we can use that. Now for the most important role of all. Fluttershy. (The four looked at her)
Fluttershy:... Me? I'M the most important role?
Rainbow Dash: You're the reason these creatures are in danger. Pred spares NO lives whenever he goes on a rampage, so you'll need to keep Stromtrolli on the ropes. Make sure he doesn't suspect anything. Not even while Rarity's doing HER part. You're the leverage here. You'll be able to keep things in balance here.
Fluttershy: I... I can't!
Rainbow Dash: OHHH yes you can! You just gotta try. You can't spend the rest of your miserable life hiding under your bed. Pred would expect better from you. You gotta learn to take a clop once in a while.
Fluttershy: How? What if somecreature here gets killed?!
Rainbow Dash: If you DON'T do it, EVERYCREATURE will get killed, and you don't want it to be because of you, do you?
Fluttershy:...N-N-N-... (Sobs) NO!
Rainbow Dash: And let's not forget what he did to the Mayor's dragon-cat. Do it for everycreature, including yourself.
Fluttershy:... (She saw the innocent people all over the town fearing and even sobbing for their lives)... (After shedding a tear, she toughened up)... Alright... I'll... Do SOMETHING.
Rainbow Dash:... Close enough. Alright, everypony. We ready? I'll be the scout, Pinkie will be the spirit-boosting jester for the townscreatures, Rarity will occupy Stromtrolli with her fashion statements, AJ will help out the gifted and needed members of the town, and Fluttershy will distract Stromtrolli. Any questions?
Random Bytander from afar: "GOLD TEAM RULES?!"
(Icky): "HA! Random Spongebob Joke out of nowhere even if it doesn't contextually fit, classic!"
(Squidward): Yeesh, you'll laugh at ANYTHING, won't you?
(Icky): Shaddap, d***-nose!
(Squidward): Who are you calling d***-nose, d***-ta-bird?
(Icky): Oh, you did NOT just call me the Harvey Korman bird from that stupid Flintstones movie and made it an insult! (The two of them fight)
(Rainbow Dash): "Continuing with the story!"
Rainbow Dash: Now get moving! (the ponies split up)
Dungeon.
Chuck was seen trying to use his finger nail as a lockpick.
Muck: "I'm still saying using your fingernail is a physical risk to you, Chuck."
Chuck: "Well given you're basically more stumped than Woody's Stump friend, this is kinda our best option! Sheesh, did you forget to pay the- (Feels incredible pain) YOWCH!"
Chuck pulls his finger out to see a cracked nail.....
Muck: "Well now that's a future visit to the tribe's witch doctor that needs to be addressed after this."
Chuck: Oh, yeah! let's go see the tribe's witch doctor... AFTER WE FIGURE HOW TO BREAK OUT OF THIS STUPID CAGE!!!
Muck: "I DID SAY AFTER THIS?!"
Chuck: URGHH!!! (He pounded his head hard on the cage) Well, that's that. We're all gonna die to a crazy killer pony and it's all because some ugly troll has the most SUICIDAL PLAN OF ALL TIME!!!
Blunk: Duuuurrrrrr, who might that be?
Chuck:... Are you STILL concussed?
Blunk: I know you are, but what am I?
Chuck:... I'll take that as a yes.
Muck: Okay, I know this has everyone aggravated for their lives. I am too, but, we at least need to do SOMETHING.
Chuck: So far, the only thing we CAN do that I can see is, oh, I don't know, WAIT FOR OUR STUBBORN FORMER BOSS GET US AND THIS ENTIRE TOWN OF LOSERS KILLED!!! Heh, one would say that's a good thing to wipe the unwanted off the face of the planet, but if we're one of them, I say, I'd rather DIE!... Oh wait. I mean, I'd rather be the ONLY one who dies.
Muck: Chuck, get a HOLD of yourself. We are GOING to figure this out.
Chuck: Yeah RIGHT! We're gonna DIE here! Die to a pony! How EMBARRASSING! I never even got to touch a bo-
???: Ahem! (Applejack arrived)... You three done being overdramatic? That's Rarity's shtick.
(Rarity): "Pardon my french, but HA FREAKING HA?!"
Applejack: I'm here to help evacuate everycreature who can't be prepared for our... Plan.
Chuck: I'll NEVER understand why you ponies have 'everycreature' or 'everypony' in your vocabulary. It makes me feel like your language is nothing but horse puns!
Muck: Hey, different cultures, different languages. Old Ponish, all that.
Chuck: Muck? When's the last time ANYBODY asked for a damn lesson in language?
Muck:... Never.
Chuck: THEN SHADDAP!
Applejack:... You guys are weirder than we saw from you.
Chuck: Pfft. If I had a coin for every time people said that, I'd be rich by now.
Applejack: (Sighs) Just let me let you sorry losers out so we can move forward with stopping Stromtrolli before Pred comes and slaughters everycreature.
Chuck: Good luck. Do you even have the key? And I DOUBT your mouth OR hooves are good for even lockpicking. I couldn't even get this lock off with my fingernail and just cracked it!
Applejack: "Owch. Sorry to hear that."
Muck: "Well it's not the worse thing to happen to him physically, all things considered. (Points to Chuck's peglegs)."
Chuck: "Oh hardy har har, smart-fungus!"
Applejack: Well, no, I don't have the key. But... I can find another way.
Chuck: Like what?
Applejack: Well, I'm too young to buck the thing down, and even if I wasn't, it looks too tough. Could end up spraining myself. So, I gotta better solution.
Chuck: Again, what's THAT?
Applejack: Ya can't break it. You can just pick the lock. I may not be able to do it, and neither can this guy. Buuuut, maybe it's not that. This kinda thing looks magical.
Muck: Yes. These a very special locks from a land that, shall we say, is unlike equestra. Enchanted stuff. Magic-proof, too. Seems a bit of an oxymoron if you ask me.
Applejack: Well, I learned this little trick when I was a filly and sneaking into places I shouldn't. (She got an apple and splattered it on the lock)
Chuck: Uhhhh, what was that about? Ya just made applesauce on the thing!
Applejack: From what the unicorns that brought the smallest bits of magic protection to Ponyville had, I learned that you can trick enchanted anti-magic locks with the right tools. (She pressed her hoof on the apple-mucked lock and it managed to unlock it) And, badda-bing-badda-boom! You're free.
Muck:... Incredible!
Chuck:..... Ah, anyone could've done THAT! Even BLUNK!
Applejack looks at Blunk jut blankly staring at the sky look as if his brain was in static.....
Applejack:.... I'll, take your word for it. Just get outta the darn cage! We got work to do.
Chuck: "(Quietly) Yeesh, and I thought you were very demanding, Mushroom Head."
The trio got out.
Blunk: A thousand gesundheits, oh apply one!
Applejack: "(Confused by that...)"
Muck: "..... Ahem, mind Blunk, the words Blunk says is, a rather random anomaly."
Applejack: Well, I believe you on that. He LOOKS pretty dumb.
Blunk: AHAhahaha! That's the idea!
Applejack:... Ignoring that, come on! (They fled)
(Applejack): So ah did my part and helped all the creatures in the town that couldn't fight or run good enough evacuate. Didn't really want Fluttershy to cry for the most innocent of the townscreatures. The elderly, infirm, and children, didn't especially deserve it.
(Rarity): As for me...
Stormtrolli: You sure I should look-a more intimidating?
Rarity: It's Pred Judu Des. He is not going to be intimidated that easily. Luckily, Fluttershy knows him the most. She gave me some tips.
Stormtrolli:... Why are you so loyal to me now? Usually you're only-a doing this for me out of false loyalty thanks to those collars.
Rarity: We're ALL in danger here, so it's kinda every creature for him/herself. I'm particularly afraid of Pred as well. Freeing us from these collars his way will not be pleasant. He is not the one to listen to reason either, and since you said they activate if you try to take them off, that means he may be sentencing us all to death.
Stormtrolli:... Good point-a. Glad you see it my way.
Rarity: But don't think this means we're still going to be your slaves. The only reason we're still here is because of these blasted collars, and I would NOT entrust Pred to remove them from us.
Stormtrolli:... What about afterward?
Rarity: Well, you may still have to let us go another day. Why? Because someday, we may end up saving your life. If you help others, they may help you someday. That's what comes with our philosophy of friendship.
Stormtrolli: Oy! SO over the cute pony thing.
(Twilight): Oh COME ON, there's NO way he said THOSE words specifically!
(Rainbow Dash): I know, I know, just like the Storm King, but, it's true. I mean, anycreature outside Equestria would say that. We are usually underestimated as a children's land of rainbows and lollipops, but we're... Ahem... Anyway...
Rarity: I am simply saying, you need to recognize the consequences, even once in a while. What if Celestia herself comes?
Stormtrolli:... What makes you think SHE would be involved?
Rarity: Just a thought. Think about it. Celestia might be involved because Pred has the favor of the Unicorn Council. They haven't always been known for wise choices. Shineflare in particular, heaven forbid it be Violet Flame. THAT mare has anger issues.... Or so I've heard. They'll likely have Pred bring Celestia with him, so a violent-happy stallion will be the least of your concerns. You may have to contend with Celestia herself, again, and you did say yourself she took your arm and eye.
Stormtrolli: Actually, those were her guards. They may get the usual stereotype that they suck horse's ass, but for me, I say it's true. They couldn't slay a dragon if you gave them a captured ichneumon. Dragons and ichneumons get along like snakes and mongooses... Which is practically the same thing when you think about it.
Rarity: But Celestia is no fool. She will not hesitate to take serious action. I'm not saying she will come. I'm saying it's a possibility. You must be prepared for anything if you wish to inspire bravery against Pred.
Stormtrolli:... Alright... If you desire to make me more intimidating, what did you have in mind?
Rarity: What FLUTTERSHY had in mind, but very well...
Stormtrolli: "Well out with it, time is money!" (An entire montage of Rarity dressing him up and making him actually intimidating was seen)
Rarity:... So, what do you think?
Stormtrolli: (He had a black short robe and his sword arm was serrated like Sweet Tooth's and his eyepatch was more strapped and more decorative)... I could've used a cape, but THIS is amazing-a!
Rarity: No capes. You have ANY idea what anypony with half a BRAIN would do with it? (She pulled it over his face as he screamed)
Stormtrolli: AAHHH, MAMA MIA, I CAN'T-A SEE!!!! (Rarity got it off)
Rarity:... And believe me, darling, that's the FIRST thing Pred would do before stabbing you up good. I know fashion, and if you're fighting, every detail counts.
Stormtrolli:... Fair enough-a.... But what about a short cape? (He soon got one that was very short)... Okay, this'a feels comically short, but otherwise, PERFECT'A?! HAHAA! No way THAT could bite me in the butt.
Rarity: Oh yes... No way indeed. (She evil cackled in her mind)
(Icky): "Wow, even Nefarious would've known better from that."
(Pinkie): For me, I was finding a way to lift spirits but helping ease the people one creature at a time.
Goblin #1: GET OUTTA OUR HOUSE!!!
Pinkie: Madam, I mean you no harm. I only want to help save you from Pred. (It frequently cut to her changing houses to talk to each of their inhabitants)
Troll #1: No way. You're just INVITING him here.
Pinkie: Whaat? (She gave an adorable face) DOES THIS LOOK LIKE A FACE THAT CAN DO YOU HARM?!
Troll #2: AaAAAaah!! YES!!!
Pinkie: I honestly wish to help. You can't just keep hiding like this.
Orcess #1: Ohhh yes we can! We can hide here FOREVER!
Ogre #1: WE CAN HIDE EVEN LONGER!!!
Pinkie: But do you really want Pred to be happy knowing he scares you?
Goblin #1: Kiddo, you're asking the impossible from us. We go out there, we'll be killed.
Pinkie: Not if we have anything to say about it. Me and my friends are making sure Stormtrolli gets his just desserts... (Scoffs) Hahaha!
Orc #1: WE ALL ABOUT TO BE SLAUGHTERED AND YOU MAKE PUN?!?
Pinkie: YES, BECAUSE NOBODY LIKE THINK ABOUT SCARY STUFF!!!
Hobgoblin #1: Look, kid, I guess you mean well, but we're comfortable hiding in here.
Pinkie: You sure about that? What makes you think Pred and his daughters won't go into every house and kill everyone inside one-by-one?
Girl Troll #1: DYAAHH!!! YOU'RE NOT MAKING THIS EASIER ON US!!!
Pinkie: What do you all think hiding is going to accomplish? This town's full of losers, but it's time the losers become WINNERS!
Centaur #1: Against PRED?! Nu-uh! I'd rather DIE... I mean, uh, die without anyone else dying with me!... Unless you count my girlfriend-
Centauress: "NOT HELPING, HOOFS'NMOUTH?!"
Scattered snickers were heard in the houses.
Pinkie caught that and immediately got the idea of how to win the residence over.
Pinkie: "... Ya know, I feel like the only reason you people are afraid of Pred, is because you only heard about the SCARY stuff about him."
Troll 1: "That's why we're hiding!"
Pinkie: "Well see, Fluttershy told me a lot about Pred's softer sides, some of them sweet, but ALL really are funny when you think about it!"
Harpy 1: "Kid, nothing ya would say would suddenly-"
Pinkie: "This one time when Fluttershy needed help to make some uni-cat kitties feel happier, Pred agreed to put on a uni-cat costume to pretend to be their mommy! (Various snickers were heard)....."
Orc 2: "(Slightly resists urge to laugh) I mean, sure I suppose that can help make us take him LESS seriously, but I feel like that's a rare event and-"
Pinkie: "This other time, Pred accidently swallowed an entire swarm of glow fairies that were stuck inside him for weeks, so when Fluttershy had him stayed over to get them out, HE BECAME THE NIGHTLIGHT FOR THE ANIMALS IN THAT TIME PERIOD?! (Snickers turn to laughter)!"
Centaur 2: "(Struggles to hold off laughter) I mean, that doesn't mean the hype about him is suddenly untrue now cause of telling us these things, I-"
Pinkie: "And don't get me STARTED on the fishing accident he had!"
Cutaway.
Doctor: "So, let me get this straight... You took a swordfish, (A Giant Swordfish was seen impaled right into his butt)... To the flank..."
Pred: "Yeah, not a fish tale I'm excited to tell at the tavern, I admit."
Cutaway dissipates to a roar of laughter!
Dragon 1: "A SWORDFISH TO THE ASS?! CLASSIC?!"
Pinkie: Oh, oh, and Fluttershy told me this one time...
Meanwhile...
(Icky): "Aw come on, I wanted to hear about more embarrassing Pred stories!"
(Pinkie): "I'll tell ya in post."
(Fluttershy): As for me, I was having troubles of my own for... The actual first brave thing I've ever done in my life. (She was seen occupying the spot where Stromtrolli wanted her)
Stormtrolli: Oooohohohohoho! After so many years, the feared-a Judu Des Clan, will DIE! No-a longer will the creatures of this world-a have a reason to fear ponies! So-a long as I have this little cutie in stabbing range, I have-a NO problems!
Rarity: Now now, Storm-boy, let's not get too cocky. Remember that Pred has MANY ways to kill you before you kill her, in an INSTANT! Having her in stabbing range will only make him madder! That'll make your chances of death HIGHER!
Fluttershy:... (Squeals in fear)
Stormtrolli:... Did you just... Ohho, my, GOD, are you CRYING?! (Fluttershy was shedding small amounts of tears)
Fluttershy: No!... I'm not!
Stormtrolli: Honestly, now I just-a feel bad. Usually I-a whip ponies senseless, but with you, I've gotten attached. I am earnestly tempted to turn-a you into a pet. Hey, in fact, I could also start turning pony slaves to pets too! Makes a lot more money than owning this bar! Especially since I feel as if at this point, even if I pull this through, nobody's gonna wanna use the Scumbucket Pig again! (Fluttershy was a bit miffed about being considered a pet) So, I'm thinking of keeping'a you around even AFTER I got rid'a Pred'a!
Fluttershy: (Stands up and wipes her tears) Are you serious? I mean, I know you're upset about your business, but you would sell innocent ponies as something as household pets for other mythical creatures?! REALLY?!
Stormtrolli: Uh, little one, that's just what I do, so you might want to-
Fluttershy: OKAY, LOOK AT ME, YOU BIG BULLY!! I am NO animal! I am NO slave! I am NO, PET! I KNOW pets. And you turning innocent ponies into pets?! No! If you're going to do this, you do it while showing me some RESPECT!
Stormtrolli: Pheh. Or what? (Fluttershy used the Stare for the first time in her life and it actually slightly frightened her/him) WHAT THE-... WHAT KIND OF DEVILISH STARE WAS A-THAT-A?!? IT'S, IT'S UNNATURAL!!!
Rarity: Beg pardo- (She saw it for herself)... Excuse me, I need to use the ladies room. (She ran off)
(Fluttershy): That was not actually the first time I used the Stare in my life. It was the first I used it on a PERSON. I never even thought it was going to work.
Stormtrolli: I... Mama f*****g MIA!!! This-a kid is insane! No filly has a gaze THIS absolutely-a manic! I... Whatever Pred did to you, it ALMOST worked. Well, you still don't-a scare me, even with such stupid tricks. I can STILL stomp-a you into oblivion if I wanted to!
Fluttershy: You do that, and Pred's going to wipe the floor with your blood.
Stormtrolli: I said, if I WANTED to, and I don't! You're... Way too unpredictable for that. Whatever you-a are... You're NO pony! You're a demon'a in a pony costume?! I'm-a staying away from you until Pred gets here! (Leaves).....
Rarity: "............ How, are you feeling, Fluttershy?"
Fluttershy:... Scared, and yet... I actually feel... Much better!... This is a new feeling.
Rarity: It has to be. That has to be the first time you stood up to something bigger than you that WASN'T an animal. How did it feel?
Fluttershy:... Scary!
Rarity: Again, it has to be for your first time. Trust me, Fluttershy, not everything can be solved with your methods. You must learn to do that more often.
Fluttershy: How?
Rarity: It's not that hard. I do not take nonsense from anypony, and neither should you. Remember that.
(Icky): "Yet throughout the canon show she ended up having to relearn that over and over and over and over and over and over and over and over and over-"
(Rainbow Dash): "BABY, STEPS, ICK!"
(Icky):... But I digress.
(Applejack): It wasn't as easy from my end neither. And it's an honest truth. I went to check on what Pinkie was up to.
Back to Pinkie.
Pinkie: So you see, even the scariest of us have a secret side. You're lucky that Fluttershy KNOWS Pred, and she will likely convince him to spare everycreature here. You just have to think of all the positivity he hides inside him, and... And... Just, smile.
Hobgoblin #2:... That's actually, kinda funny. (Many of the interviewed creatures smiled)
Pinkie:... (She smiled the wildest)... That's it! I'VE FOUND MY SPARK! I'll do what it takes to make everycreature... Or, everyone in their terms... SMILE!
Hobgoblin #1:... What do you take us for, SICK F***S?! WE'RE SUPPOSED TO SMILE IN THE FACE OF CERTAIN DEATH?!? (Pinkie realized her mistake)
Troll #2: HOW DARE YOU SUGGEST WE LAUGH AT DEATH?!? DEATH IS NO LAUGHING MATTER! Why don't YOU laugh at YOUR grandmother's death while you're at it? Or better yet, laugh at innocent people who DIED to Pred and his family THROUGHOUT history?!
Harpy #1: This little brat is hiding her own feelings unhealthily by laughing at things when laughter is NOT appropriate!
Pinkie: T-T-That's not true! It's like I said, you just have to look on the bright side of life.
Ogre #1: Life's NOT that simple, you dumb pink mule! This is NOT like your homeland! THIS, IS THE REAL WORLD! While you ponies are wasting your lives prancing around like careless children in a land of milk and honey, WE have to SUFFER, especially because of one of YOUR KIND!
Golem #1: Yeah! So, why should we believe you when you say to look on the bright side of life, WHEN THAT'S WHAT YOU PONIES DO ON A REGULAR BASIS?!?
Pinkie:...
Applejack: Now, HOLD ON, rock-boy! You think we have it good ALL the time?
Goblin #3: Could have fooled US! Your colors, your jubilee, the fact you look like you belong in a children's cartoon?
Applejack:... Wow. Y'all are SO racist. Just because we have a lot of cheers and sings, and we have friendship as a primary philosophy, does NOT mean we're free of hardships either. I'm sure y'all know that OUR future wasn't very jovial.
Centaur #2: Heh. Let me guess, you founded Equestria because some spirits fed off negativity, and you had to hug each other and be nice. Not only does THAT sound like the premise of a children's cartoon episode, BUT YOU BROUGHT THOSE CREATURES ONTO OTHER LANDS!
Applejack:... Sheesh. No wonder ponies and non-ponies have bad blood with each other.
Ogre #2: Well, tell us what makes us wrong. What makes YOU all so much more mature than US?! I, DARE ya!
Applejack: "Well, first off...... YOU'RE the ones afraid of one such pony."
That got to the Mythics....
Ogre 2: "....... Hey give us credit, Pred's a capable slaughterhouse on hooves-"
Applejack: "But y'all ever wonder why he does that?"
Goblin 3: "Cause he's crazy?"
Harpy 1: "An old fears war veteran looking for purpose?"
Hobgoblin 1: "Both?"
Applejack: "Maybe at first glance, but maybe he does that violence cause HE'S MORE AFRAID OF YOU ALL THAN YOU OF HIM?!"
This made the Mythics think about it.....
Applejack: "Think about it. He calls a lot of you "Monsters", "Freaks", "Abominations", "Impures" and other such insults."
Troll 5: "Mostly the "Monster" thing, but you're not wrong."
Applejack: "So maybe he's coming from a place where he was done wrong by a mythic before?"
Goblin 6: "..... I mean, there HAD been rumors about that, but, nothing concrete."
(Icky): "Nice continuity save for when we DO get to Pred's Origins of being a nutcase killer."
Centaur 2: "...... WELL THERE'S STILL THE THING ABOUT-"
Centaur 1: "Dude, ya know what, just, SHUT UP! Does it MATTER if their reasons for being what they are sounds like they're meant to be apart of a Y7-TV Show meant to shell cheap toys to little girls?! You have the NERVE to think that, AND YET WE'RE ALL AFRAID OF PRED, WHO CAME FROM THAT?!"
Centaur 2: "....... That is a compelling argument."
Pinkie:... Thanks for the save, AJ.
Applejack: Glad to oblige. (To the mythical creatures) So, you can see we don't have it any better than y'all. So, in truth, Pred's as afraid of YOU as YOU are of him. Show him that you can reflect his own motivations back at him.
Pinkie: Yeah! Maybe smiling isn't for everycreature, but sometimes you need to have a way to cope with the bad moments of your life. Have fun now and then. Show Pred you aren't gonna take his fearmongering crud!
Troll #1:... A... Alright...
Fairy #1: Eh, what the hell, he was bound to be a problem one of these days anyway!
Golem #2: Beats hiding under a rock the rest of your life. (Pinkie scoffed at that) NO PUN INTENDED!
Goblin: (As awesome music played) You know what? You're right. I'm TIRED, of just hiding, and never doing ANYTHING! I... I... I wanna try. (The music winded down) No, forget it, sorry I said- NO, YES! (The music returned) I, want, to TRY!
Satyr: "I-........ I got nothing good to say, so I'm just in!"
Applejack: Splendid! As much of a jack Stormtrolli's being, he's right about ONE thing: yall need to get your manure together and stand up for once in your lives. Show the world, AND Equestria, you ain't a bunch of sticks in the mud. You started out as losers, but now, you can come out BETTER than that.
Satyr #2: Kid, we JUST said we're in, you don't need to make this cheesy.
Applejack:... Oy! Alright, just get yourselves ready. Pred will be here soon, and we'll make sure to show him what you're all REALLY made of.
Orc 4: "Let's hope it's in a metaphorical sense and not literally."
Rainbow Dash: (She flew in) Does she SOUND like she meant that literally to you?
Orc #4:... No.
Rainbow Dash: Then shut up and get your ass ready, because you do NOT want it sliced off of you!
Orc 4: "Okay, yeesh, I get the picture!"
Rainbow Dash:... Sorry, trying to get used to being nicer. Got embarrassed by my idols, and it turned me into a jerk.
Orc #4: Get in line, kiddo, my idols did the same to me.
Rainbow Dash: YOUR idols?
Orc #4: Great orc warriors from Pana.
Rainbow Dash:... Sounds like this Pana place produces such great badasses.
Orc #4: Ehhh, I'd wait to learn more about that place when you're older. Trust me on that, it's not pleasant there.
(Rainbow Dash): Heh, never did thank him for that warning considering the fact the Storm King is a Panan.
Orc #2: Well, I for one agree. It's time to stop hiding.
Rainbow Dash: Then you better do it fast, because Pred and Celestia are almost here.
Applejack: Wha? Did Nancy distract them like we asked?
Rainbow Dash: Oh she did. It's just that Pred is NO fool. He'd KNOW a distraction when he sees or hears it.
Applejack:... Fair point.
Pinkie: Alright, everycreature... You ready for this?
Centaur #3:... Well, we can't say yes, nor no. But... More like... Maybe.
Pinkie:... Good enough for me. Let's do this thing.
(Icky): So, uh... When are the other revelations coming in--
(Rainbow dash): We're getting to those! Jeez!
(Icky): "Hey sorry, that line was written by X that time! That guy, has NO respect for lore building! I mean, I get that he wants to get the story going, but come on! Up, there he goes writing lines for me again!"
(Lord Shen): "CAN WE KNOCK IT OFF WITH THE META HUMOR AND GO ON?!"
Chapter 6: Saved by the Sun/Putting Mr. Lawrence In His Place
Middle of Town
Satyr #2: (He saw in the distance Pred and the others arriving)... AW S***!! (Everyone barricaded themselves and got ready for a big fight)
Pred: Oy! That damn harpy! I swear, the kids have GOTTA learn to stop falling for what is OBVIOUSLY a distraction.
Chain: HEY, SHE HAD IT COMING! LEAST I RIPPED OFF SO MANY OF HER BUTT FEATHERS!! (Woody laughs)
Axe-Rella: That's not exactly a good trophy. It's just feathers that smell like her poop!
Chain: HEHEHE, THAT'S WHY IT'S A GOOD TROPHY FOR ME!
Axe-Rella:... You have issues.
Sharp-Pay: Oh, hey, you know what I think? (She did Rainbow Dash's frantic DUUUUH from earlier with a donkey sound in the background)
(Icky): "Repeat jokes. An SAF classic."
Axe-Rella: "Okay wise girl, I get it was obvious!"
Little did Pred realize that while he and the daughters were closing in, Stormtrolli was also getting ready for his big fight.
Stormtrolli: That's it, Pred. Come to Papa Stormtrolli..... And Mama Death!
Rarity:... (Deep breath)... Good luck, I suppose. Not that you deserve it.
Stormtrolli: There's no such thing as natural luck. And I do not need it. I have all the hope I can ever need. (He got out a fancier serrated sword for his arm and got his getup ready, coming out as brooding music played)
Applejack: Oy! I can't stand the thought that blood will be spilled out there.
Centaur #1: I hear he drinks blood, even though ponies are supposed to be herbivores.
Applejack: I've seen him do it... Or rather Granny Smith did, and it ain't pretty. Blood alcohol's s'psed to be illegal in Equestria, but not to this guy.
Stormtrolli: (He came out to face Pred as Celestia watched with worry)
Celestia:... Pred, let me handle this!
Pred: No! That guy is CLEARLY the one who took Fluttershy! This is MY business, and MINE, ALONE! You do what YOU must, and I do what I must!
Celestia:... Very well.
Pred: ".... (At Stormtrolli) Alright you one-armed troll, START, TALKING?! Where's, Fluttershy?!"
Stormtrolli: Oh, your precious foster daughter is safe... for now. Besides, this does not concern her. This is between you and me. But don't worry. By the time I'm done with you, I'll make sure she gets the best treatment. I will push her in the public's eye. Her face, she will be on everybody's tongue.
Chain: "Wait, you'll make her a celebrity? How is THAT bad?"
Pred: "..... Chain, Fluttershy isn't good with social activity, in fact, she has bloody stage fright."
Chain: "Ohhhhhhh, I get it now...... (At Stormtrolli) YOU BIG FAT ONE-ARMED DOODOO HEAD?!"
Stormtrolli: Did-a you just call me a DOODOO head?! Wow, you really ARE a child-a!
Chain: Oh, I'm sorry, I meant ******** ********************* ***************** *************** ****-SUCKER!!! (Everyone was surprised by that)
Stormtrolli:... MAMA'S-A CRAZIEST MIA!
Chain: HAHA, THAT'S THE BEST SWEAR I'VE USED!! (Woody laughs)
Stormtrolli: "..... That one ain't'a right'a in the head, eh?"
Pred: As if YOU have any right to point that out, beast?!
Stormtrolli: But sure, I'll make her a celebrity. Beloved by not just ponies, but the entire mythic community as well! Even DRAGONS!
Pred: "Brutish troll, SHE'S AFRAID OF DRAGONS?!"
Stormtrolli: "Though how much of that is from actual personal'a experience or cause of you'a?"
Pred: JUST GIVE HER BACK, AND WE CAN FORGET THIS EVER HAPPENED!!
Stormtrolli: You think I'm-a gonna let that happen? We BOTH know how this-a ends, murderer! Whatever happens, you SLAUGHTER THIS ENTIRE-A TOWN OF GOOD PEOPLE! I'll be-a DAMNED if I let that happen!
Axe-Rella: Well, waah, who's fault was it for INVITING us here? You mess with Fluttershy, you mess with US!
Stormtrolli: All these years, you-a ponies have been telling us what to do, and getting away with anything Scot-free! ESPECIALLY-A YOU!
Sharp-Pay: Oh, hey, kettle, name's pot, you're blacker than I remember.
Stormtrolli: You call it hypocrisy-a, I call it, returning the favor. These people NEED to-a take a stand, and it starts by showing them how much of a coward YOU truly are against OUR-A people!
Pred:...... Excuse me?
Stormtrolli: Oh-ho, I began to gain such-a secrets about you. Secrets that are-a OURS alone to know! Word really travels fast about'a what you'a did to a personal rival cause of girl-related reasons'a! Behind all-a the bloodshed and-a gore, you're just a little filly in a blood-stained vest crying for someone to-a love you besides the little fillies you-a took in, out of PITY! Such a pathetic thing to know about a murderer like-a YOU!
Pred:...... You... Just, pressed, the WRONG BUTTON!
Stormtrolli: It's a bad'a habit, I admit'a it! Go ahead! Stab me! When I die, any-a chance your precious yellow filly getting out alive, is HISTORY! Plus, I doubt-a CELESTIA out there would approve of-a such an unfounded murder. Surely you know the stakes in this.
Pred: You think I give a DAMN about how everypony views me?!
Stormtrolli: No, else ya wouldn't'a be'a doing'a this even'a. But what about-a the yellow filly? What will SHE think if you killed me, and THEN the innocent people in this-a town? Hmm? She cares-a about this town. Imagine how-a she'll feel, if this town died, because of HER, when she let such an infamous-a murderer, come in and commit unnecessary genocide?
Pred:...
Axe-Rella: Oh, Celestia! Dad, he... He's actually calling you out!
Pred: I am NOT letting it get to me! I'll kill WHOEVER I must to get Fluttershy back!
Stormtrolli: Hmhmhmhmhm. Like 'Fluttershy' would-a WANT blood spilled for her rescue. You don't DESERVE her.
Pred: Shut, UP!
Stormtrolli: LOOK AT HIM-A, PEOPLE! THE INFAMOUS KILLER, PRED JUDU DES! HESITANT IN THE FACE OF-A DANGER! LOOK AT HIM! EVEN SOMEONE AS-A HEARTLESS AS HIM, HAS A WEAKNESS! THIS-A, IS THE PONY WE HAVE BEEN AFRAID OF ALL THESE MOONS! ARE WE GOING TO LET-A SOMEONE LIKE HIM, PUSH US AROUND?!? (The townspeople saw Pred as he was now, doubting himself) HE HIDES HIS-A FEARS BEHIND RAGE AND BLOODSHED! NOW I HAVE UNVEILED HIS TRUE COLORS! TIME-A, TO PUT HIM OUT OF HIS-A MISERY!!
Pred:... I, will NOT be humiliated, by an amputee brute pony slavedriver!!
Stormtrolli: Then come get me. Show EVERYCREATURE WHO YOU REALLY ARE!! (They fought with no bloodshed as this music played, with everyone watching, including the Hobgoblins, the Mane Five, Celestia, and Pred's daughters)
Mr. Lawerence was hiding in the shadows and saw this as well.
Mr. Lawerence: "(Quietly) Just in time for the big act."
Fluttershy:... Oh, Rainbow Dash, I hope we're ready for this. I'm not!
Rarity: Dear, calm down. All the suggestions I made to him were just a ploy.
Fluttershy: Really?
Rarity: Yes. That short cape of his? No matter what length, it's gonna bite him in the butt very soon in this fight.
Fluttershy:... I'm at least proud of him for not deciding to end the fight the same way he always has.
Rarity: "Albeit it is likely because of Celestia keeping him on a tight leash. It's a safe bet he wouldn't hold back so much otherwise, espeically not after Stormtrolli touched personal buttons."
Fluttershy: "But I'm still glad he even is, Celestia or no Celestia."
Rarity: That, and it concerns you. Stromtrolli, as asinine as he can be, knows what he's doing... Mostly. I don't think ANYCREATURE had actually made Pred pause like that. But then again, perhaps that's because of us.... And you. He wouldn't dare kill a single soul in this town if it disappointed you. You're the only pony whose opinion matters to him, and now, that, AND your life is on a thread.
Fluttershy:... Are you sure this is going to work?
Rarity: Hey, Rainbow Dash is the one with the plan here. Besides Applejack, she's the closest one I know can fight.
Fluttershy:... What about Nancy? Did she do her part?
???: Oh, yes, I did. (She came in with a bald butt)
Nancy: And I must say, it did NOT work on Pred, EVEN FOR A SPLIT SECOND! That stallion, is NOCREATURE'S fool! As much as I wanted to die, I would rather NOT die to HIS blood-stained hooves! That's a death thousands if not millions of non-ponies suffered. Being one of them would be dying like a PUNK! But his daughters?... They were more gullible... At least until Pred knocked some sense into them.
Fluttershy:... Well, you tried. Thank you.
Nancy: So... How's it looking out there? (Pred and Stromtrolli were still fighting)... He's not killing him?
Rarity: No. He was wise to call Pred out for killing innocent people even if it was not necessary, and called him out against doing it here, and... May've pushed wrong buttons. If Pred kills him, he'll risk Fluttershy's disappointment, let alone Celestia's. He may not care for others' opinions, but-
Nancy: Yeah, say no more, I can see the reason. At least it keeps him from staining the streets with blood.
Fluttershy:... What, do we do now? (Suddenly, the Hobgoblins appeared from the bushes outside)
Muck: Uh, guys? You may want to get ready. Mr. Lawrence is on his way! If he sees you all like this, he'll put two-and-two together, and realize you're not wearing collars. We can't guarantee he won't slaughter Fluttershy upon that realization!
Nancy: Ohh, crap.
Chuck: "Yeah, oh crap!"
Rarity: Just play it cool!
Fluttershy: What about the others? If they're not here, how can be believe what we say?
Nancy:... I got this.
Fluttershy: What?
Nancy: I may not be able to stall Pred... But I CAN stall that Lawrence bastard long enough for you girls to finish your plan.
Rarity: B-B-But, what about you?! He could KILL you!
Nancy:... At least it'll be a BETTER death than being killed by Pred! It'll be a sacrifice worth making. A death I would WANT.
Fluttershy:... I... I can't bare the thought of such a thing! Some poor creature killing themselves, even if it's for a good cause.
Nancy: Kiddo... Sometimes you have to accept that not everything is going to have a happy ending. Happy endings are overrated nowadays. I've lived a life good here as a loser, IN a city of losers. Even if it wasn't much, it was MY life. Now stop wasting time! Let me go, and make sure he doesn't mess anything up!
Rarity:... Then... Godspeed, Nancy.
Nancy:... (She went out)
(Icky): "..... I am incredibly depressed because I am already predicting where this arc is going for Nancy."
(Rarity): Oh, we all did. But... Well...
(Icky): Oh, she lived?!
(Rarity): Well... Yes, and no.
(Icky): The f*** is that supposed to mean? Normally there isn't a grey area between dead or alive unless zombies or necromancy's involved!"
(Rarity): Just let us explain.
Nancy:... (Deep breath)... Well, Nancy... Been nice knowing yourself. (Mr. Lawrence appeared)
Mr. Lawrence:... Well, well, if it isn't one of the McBitchalots. One of the headaches of the Villa of Garbage. What an untimely but bemusing distraction.
Nancy: And if it isn't the c*** with more c**t than he knows what to do with.
Mr. Lawrence: Please, I could come up with a better retort than that. Now get outta my way! I have to get that yellow filly to complete Stormtrolli's plan.
Nancy:... I think not. (Rarity and Fluttershy were shocked)
Mr. Lawrence:... I REALLY suggest you do what I say, UGLY!
Nancy:... Yeah real pot calling the kettle black move there, you questionable hybrid of very different animals. Then kill me! I dare you!
Rarity: (Quietly) IS SHE CUCKOO CRAZY?!?
Mr. Lawrence:... Alright but that's LITERALLY on you. (Lifts hook) NO TAKE-BACKS! (He stabbed her with his hook hand getting the two to wheeze-scream)... HaHAHAHAHA!... Pathetic!
Rarity: (Quietly) THAT IS THE EXACT DEFINITION OF "DYING LIKE A PUNK"!!!!
Fluttershy: "(Quietly) I know she wanted to leave this world, but that was too soon!"
Mr. Lawrence: (He pushed open the door) Knock KNOCK! Time for Pred to choose your fate, YELLOW ONE!
Fluttershy:... (Gulps)...
Rarity:... You know what? If you want her, you'll have to go through ME!
Mr. Lawrence:... Seems you STILL forgotten your place here! (He got his remote out and pushed, but nothing happened)... What? (He tried it again multiple times)... WHY ISN'T THIS WORK- (Rarity jabbed him back with her horn) OW!!!! DAMN UNICORNS AND THEIR FREAKING HORNS!!! EVEN WHEN YOUNG THEY'RE SO POINTY?! OWWW?!
???: Ohh... Trust me, those horns are capable of MORE than stabbing. (The three were shocked to find that Nancy was alive as the wound immediately healed)
Rarity:... What, in Celestia's nonexistent beard?!
Fluttershy:... Wha... What's happening?!
Nancy: NOW you see why I'm so suicidal! I've been cursed. Cursed... With immortality.
Mr. Lawrence: WHAT?! YOU, YOU, YOU WERE SERIOUS ABOUT THAT CRACK ABOUT YOURSELF?! I, I THOUGHT THAT WAS A JOKE FROM THE FACT THAT YOU SURVIVED THE CRAZIEST OF LIFE-THREATENING SHENANIGANS!!!
Nancy: (She pinned him with a large pipe by tipping it over on top of him as he caw-screamed comically)... Please. Not even those with artificial luck are that lucky. I've had this curse since I was a chick! As punishment for my complaints ruining a witch's work, she cursed me to be like this, while my family would die a slow death by next year.... They're starting to succumb to it.
Fluttershy:... That's... Horrible!
Rarity: Oh, dear!
Mr. Lawrence: Well sucks to be you, huh? No wonder you're such a hot mess! PHAH! A fitting death for your family, I add.
Nancy: (She grabbed his face with her foot talon) DON'T, EVER, MOCK MY FAMILY LIKE THAT!!! (Mr. Lawrence bit her talon) OW!!!!
Mr. Lawrence: What's not to make fun of? The family name itself tells the entire thing. I always knew your family would screw themselves over one day, now here you are, doomed to never die while your entire family dies, leaving you with NOTHING! Really shows that immortality's very overrated and I don't envy those that have it personally, not even the Alicorns! Never mind YOU! HahaHAHAHAHAHAHAHAHA!!!
Nancy: SHUT, UP!
Mr. Lawrence: Well, not that I'm here for THAT! (He managed to push the pipe right off him) I came for the yellow one, and clearly since the collars have been disabled, she's gonna have to DIE!
Rarity: NO! (She charged, but Mr. Lawrence grabbed her horn and tossed her off, and grabbed Fluttershy)
Nancy: LET HER, GO! (She attacked him, but he pushed her back and pushed one of the other pipes on her wing) AHH!!! NO!!! YOU BROKE MY F*****G WING!!!
Mr. Lawrence: Oh, quit whining, that curse will heal it right up... But getting it OUT of there on the other hand, heh, not gonna be easy. (Fluttershy got angry for that as he cackled)
Fluttershy: (She bit his hand as he screamed)... You have just crossed the line, you monster!
Mr. Lawrence: Oh, I'm REAL scared. You think that crazy stare trick is gonna work on ME?! GROW UP, KID! THIS, IS THE REAL WORLD! IT'S COLD, AND IT DOESN'T CARE ABOUT INNOCENT PONIES LIKE YOU! BY THE TIME PRED FINDS YOU, HE'LL BE TOO LATE! I'LL KILL YOU RIGHT HERE, RIGHT NOW!
Fluttershy: Oh? And with what hook hand? (She took it out, and tossed it at the industrial fan behind him. It stuck him there)
Mr. Lawrence: AHH!! NO!! GRRRH!!! EVEN FOR MY BLOODLINE, THAT BLASTED HOOK DIDN'T COME CHEAP, ESPECIALLY AFTER I LOST PONY SLAVERY!! (Fluttershy and Rarity pushed the pipe he was trapped under before back onto him) GYAH!!... WHAT... WHAT DO YOU THINK YOU TWO ARE DOING?!?
Fluttershy:... A flight for a flight! (She got ready to turn the fan on)
Mr. Lawrence: NO!!! (She flicked the switch) NOOO! AAAAAAAAAAAAAAAAAAAAAAAAAAAAAAAAAAAAHH- (His feathers and body were shredded off-camera as he screamed)
Nancy: What the heck, kids?!
Fluttershy: Oh, he'll live. That fan's not sharp enough to do anything worse than it did. Now come on! Let's get out of here!
As the three leave, Mr. Lawrence's wings were slightly crippled and he is featherless, and his eyes opened up bloodshot, Family Guy Giant Chicken style!
(Icky): "Oh that snob is PISSED now!"
(Sandy): "Who wouldn't be ornery after that?!"
(Icky): I know, I know, I'm just saying here.
Outside
The fight was still going on between Pred and Stormtrolli.
Pred: ENOUGH OF THIS FOOLISHNESS, BEAST! WHERE IS FLUTTERSHY?!?
Stromtrolli: You still-a can't make me tell. And-a how do you know she STILL isn't gone already?
Pred:... If she was, then you'd have LOST your leverage. I am NOT going to fall for your tricks!
Stromtrolli: Ohho, you-a don't know if I AM playing you for a fool!
Axe-Rella: WILL YOU QUIT WASTING OUR TIME?!
Pred: YOU THREE PLEASE STAY OUT OF THIS?!
Stromtrolli: Listen to him, kiddos, you-a don't want to be next on my hit list! This is between him and ME!
Chain: THAT AIN'T FAIR!!!
Stromtrolli: Well TOO-A BAD, LIFE'S NOT FAIR!
Pred: DON'T TELL THEM WHAT TO DO! (He continued fighting him, and they ended up taking the battle into property damage)
Stromtrolli: (He managed to catch Pred off-guard and disarm him, allowing him to grab him and smash his head into walls, and daze him into unconsciousness) HAHAA! AND JUST-A LIKE THAT, PRED JUDU DES, FALLS! YOU SEE THAT, MY FRIENDS?! THIS PROVES THAT PRED CAN BE DEFEATED! AND, HE WILL! (He got his arm sword ready) ALL IT TAKES, IS FOR ME TO END HIS LIFE, ONCE AND-A FOR ALL, AND NO LONGER SHALL-A PONIES PUSH US AROUND!! PONY SLAVERY, WILL-A BE RESTORED!
Axe-Rella: DAD?!
Sharp-Pay: FATHER!
Chain: "DADDY?!...... That's all the names for male parents, right?"
Sharp-Pay: "...... GET HIM?!"
Stromtrolli: UHUH! (He held the unconscious Pred hostage) I wouldn't do-a that!
Sharp-Pay:...
Stromtrolli: That's right. Good little ponies! In fact-a, how about a deal? How's about YOU THREE-A be the first in our new pony slavery operation? That bald gray one with the bone chain looks like she belongs-a there.
Chain: (Woody laughs)
Stromtrolli: And in-a return, I leave Pred alive. He shall-a serve as a warning to ponies everywhere, what-a happens when you MESS with-a creatures like us, and get away with it.
???: ENOUGH! (Fluttershy came out)
Sharp-Pay: SHE'S OKAY!
Stromtrolli: WHAT?!? HOW-A?!?
Fluttershy: We got out of your collars, Stromtrolli! You don't control us anymore!
Stromtrolli:... (Sighs) Well, this is-a unfortunate. Luckily, I-a STILL have leverage. If you and your friends agree to put more collars on, Pred can live. However, anymore-a headaches, and I can-a KILL Pred right here RIGHT NOW! I have spent-a TOO MUCH TIME, GETTING BACK THE BUSINESS THAT WAS-A STOLEN FROM US, AND I WILL NOT ALLOW IT, TO GO TO-A WASTE!!
Rarity: You think PRED has something to fear? LOOK AT YOU! You're using him as a MEAT-SHIELD! You're AFRAID of ponies, so you'd hide behind his unconscious body like a COWARD!
Stromtrolli:... You, DARE, call me a coward?! Tell me why I shouldn't SLIT HIS THROAT TO PROVE YOU WRONG!!
Rarity: "Wouldn't that also be a cowardly act of acting macho to be in denial of such a problem?"
Stormtrolli: "I-...... Duh, dee, duh, be,........ (Groans high-pitched and angerly)! (Speaks in angry italian-like troll languise again) WHY DO I GIVE A DAMN ABOUT YOUR OPINION OF ME?! BACK-A DOWN, OR HE DIES-A!!!"
Fluttershy:... Then do it! Eventually, there's gonna be somepony WORSE than him that'll come by. Probably because of you. They'll come, and END you. Killing him won't mean ANYTHING if there's going to be somepony out there to take his place, Celestia forbid her daughters. The pony slavery operation went down once, it can go down AGAIN!
Stromtrolli: UH... AH... STOP-A TRYING TO-A CONFUSE ME!!!
Fluttershy: LOOK AT THIS, EVERYCREATURE! EVEN HE'S AFRAID OF PONIES! He's holding PRED as a shield, because he's afraid of us. He KNOWS what we can do.
Stromtrolli: SILENCE! (He kicked her into a wall, shocking all the creatures) YOU THINK-A THESE PEOPLE ARE GONNA LISTEN TO YOU?! THEY'RE ALL AFRAID OF-A PRED, AND PRED IS AFRAID OF-A US! I HAVE-A THE ABILITY TO KILL HIM RIGHT HERE RIGHT NOW! IT'LL BE QUICK AND-A PAINLESS! WHEN HE'S GONE, WE'LL BE FREE! NO MORE COLD-BLOODED MURDER TO NON-PONIES! THE SCOURGE OF-A NON-PONIES EVERYWHERE, DEAD AT LAST!! MY NAME-A, WILL GO DOWN IN HISTORY!!! SO GO AHEAD, EVERYONE! SAY-A THE WORD, AND HE GOES TO HELL, WHERE-A HE BELONGS!!... Or-a Tartarus, cause, that's'a closer.
(Icky): "Okay, I'll give fatass this, he does handle being driven nuts better then THE VAST MAJORITY of our rogues' gallery."
(Rarity): "Well it wasn't to say we weren't affecting him all the same."
Stormtrolli: What say you, everycreature?!
???: ...No. (a little troll girl stands up, and eventually all the non-ponies glare at him)
Old Lady Harpy: (Dubbed as Mrs. Packard) (Sighs) We are all gonna die.
Stormtrolli: Huh? What's this? (The non-ponies exchange angry looks at him) STAY-A BACK, OR PRED-A DIES! (the non-ponies took a step a la Bugs Life).... (Gets unsure) Uh, duh, uhhhhh..... (Quietly) Okay Lawrence, now's your freaking cue!?
Fluttershy: Oh, we took care of him.
Rainbow Dash: (As she appeared behind Stormtrolli) Boo!
Stormtrolli: AHHH!! (He dropped Pred as he woke up)
Pred:... AHH!! WHAT THE-
Axe-Rella: DAD! Come on! (Pred went to them as they witnessed what went next, and Applejack and Pinkie arrived)
Stormtrolli: HOW COULD-A YOU ALL BE ON HIS SIDE?!? HE'S A MURDERER! HE'S-A KILLED THOUSANDS OF NON-PONIES!!! HE'LL-A KILL YOU ALL TOO, AND SAVING HIS-A LIFE WON'T CHANGE ANYTHING!!
???: Well you see, Storm-boy... (Nancy appeared with her wing slowly healing and an embarrassingly-ruined Mr. Lawrence tied up next to her) If we have to choose between destruction and becoming no better than him thanks to someone like YOU, we'll pick destruction!
Stromtrolli:… If you-a do this, I can assure you, you WILL have it! Pred, stops at NOTHING! All he does is kill kill and-a KILL!
Goblin #1: I would prefer it over becoming worse than him!
Satyr #2: ME TOO! (Everyone shouted in agreement, surprising Pred)
Stromtrolli:… Then you-a preferred DEATH!
Nancy: We're losers to society anyway. If we're gonna die, it'll be on OUR terms! GET HIM!!!
The crowds charged!
Stormtrolli: "I DON'T SUPPOSE IT'S NOT TOO LATE TO OFFER FREE BEER- (Gets slammed by the crowds) MAMA MIA IT IS!?"
(Icky): So much for being "Saved By the Sun", am I-
(Rainbow Dash): Don't ruin the moment!
(Icky): All right, all right! Sorry! Learn to take a meta joke!
An unconscious Stormtrolli is carried to the Mane 5 by the crowd.
Applejack: What do y'all reckon we should do with him?
Rarity: "Hmm, I don't suppose the locals don't have any suggestions....?"
Nancy: "Oh, I think the mayor would have some ideas."
Later....
Stormtrolli and Lawrence were made to cut Goblin Onions that makes them cry and grow warts everywhere!
Nancy: "..... Cutting unwashed Gobling Onions that make you cry like a baby AND grow Gobling Warts. Always the worse one."
Mayor: "And when they're done, they'll be ALL set for prison then after."
Rarity: "Well, perhaps not the most grand deos or climatic commupence, but all the still deserving."
Celestia: "(Apporaches the 5).... I must say you 5, I'm, honestly impressed how you managed things. Down to the point that I ended up not being needed at all."
Pred: "(Comes in awkwardly as well) I, uh..... Ended up feeling redundent too, admitingly....."
Chain: "If not flat out useless to the situatio- (Sharp-Pay smacks her) OWCH?!"
Pred:... I... I must say... Everyone?... Don't expect this to change my opinion on non-ponies! You all have saved my life, so, I will be honorable and spare your lives... But only with a warning.
Celestia: Pred!
Pred: What? I'm BEING as generous as I can be here!
Nancy:... I have to say, seeing this side of Pred seems... Pretty weird to me.
Applejack: We're ponies. EVERYPONY has a soft side. Even him.
Orc #2: Could've fooled us.
Hobgoblin #2: Yeah. He's killed HUNDREDS of innocent non-ponies, and now, he's in our midst. The kids around us must be pissing themselves right now!
Pred: Then by all means, let them. That's all I need to show you do not mess with me.
Stromtrolli:... Don't think-a this is over, Pred! I still made you-a look bad in front of all these people.
Axe-Rella: Does it really count if this town being one full of LOSERS is any indication? All you did was show him off to the black sheep of non-ponies. If you did it to more SERIOUS towns, you would've had a stronger impact. But nope, you decided to show it off in THIS place.
Stromtrolli:... (Sighs) This isn't-a over, Pred! Not by a LONG shot! I may not be around to torment you, but there'll surely be OTHERS-A who can do just as well as I. They'll-a knock your block off, and-a MORE!
Pred:... Well then I'll just have to kill them before they do!
Fluttershy: PRED!
Sharp-Pay: Fluttershy, it's dad. What did you expect?
Fluttershy: I don't know, maybe to choose words that won't garner fear from the creatures that saved his life, even if they KNEW it could've cost THEM their lives?
Pred:... (Sighs) It's true. In all my years of mythic... This was something I was not prepared for... I shall indeed spare your lives, I.E. I won't go through any plans I would've had for this town, even if Celestia wouldn't've let me do them anyway, but, now it's on a courtious priniple. But if this town causes any ill again from even so much as chaos meth peddlers selling drugs in Ponyville, I can't be blamed for acting accordingly!
Mayor: From you, I suppose a stern warning's better then no promises at all. Which is exactly why we're going to make sure EVERYONE gets the idea into their heads. THAT MEANS YOU, STROMTROLLI! You harmed my precious dragon-cat, and you deliberately disobeyed me! I could have you exiled or sent to prison for life right now. But you gotta suffer a befitting punishment first.
Mr. Lawrence: Ah, big deal. We've gotten out of WORSE! We can escape.
Fluttershy: Sorry to say, but that damage you suffered in that fan?... You may never fly again.
Mr. Lawrence:... WHAT?!?
Rainbow Dash: Yeah. Serves you right, BI- (She remembered Celestia was nearby)... GIRL DOG! That's what you get for crippling MY wings, and breaking NANCY'S! If it wasn't for that immortality curse of her's, that wing would've been seriously MESSED UP! Consider it fitting karma.
Mr. Lawrence:... You will all pay for this!
Pred: You lay a talon on them, and you'll lose MORE than your one talon OR your flight! You do that again, THE REST OF THIS TOWN PAYS THE PRICE FOR IT! You don't want that again, do you?
Mayor: Which is why he'll suffer the same punishment as Stromtrolli... But DOUBLED!
Mr. Lawrence: AAHH?!?
Rainbow Dash: Hah.
Pinkie: Rainbow Dash, can you please not mock him? I wouldn't mock you if YOUR flight was permanently crippled, would I?
Rainbow Dash:... No.
Pinkie: Then show some respect. He may have tried to kill Fluttershy, but he's still a person.
Rainbow Dash: I doubt there's any PERSON left in there.
Pinkie: "Well at the least it would do good to not motivate him on wanting revenge for all this."
Rainbow Dash: "..... Okay, that makes more sense."
(Icky): "FYI, We Lodgers got your backs if these bozos do try to come back again."
Celestia: Now now, everycreature, calm yourselves. It's all over.
Mr. Lawrence: "Maybe a mere battle, but not the long term wa- (The door was closed on him and Stormtrolli by Nancy)."
Nancy: "..... That smell of Goblin Onions was getting to me anyway. Those two ranting didn't helped."
Applejack: Well, I guess our work here is done.
Rainbow dash: (Dubbed as Cody from Rescuers Down Under) Let's all go home!
Equestria, present day
Rainbow Dash: "And that's all she wrote."
Twilight: Wow... That was, quite an adventure you girls had.
Applejack: "Aw shucks, it ain't no saving a magic teaching multi-racial university school from an angry griffin professor."
Twilight: "Oh don't be so modest, it makes me understand everything about you 5 so much more. It explains so much on why you have have little qualms about helping stop Nightmare Moon."
Pinkie: "Well NMM did kinda wreck the Summer Sun Festival, so, we kinda didn't had much to do outside of that, sooooo-"
Rarity: "AHEM! But it IS to say that something as serious as an angry Moon Goddess Alicorn was certainly not a solo project, what with the elements and all that."
Applejack: "And if we didn't backed out from THAT, we didn't backed out from much of what came after."
Rainbow Dash: "What can we say? I myself wasn't gonna let Nightmare Moon punk us out of the sun! A lot of the Wonderbolts' best performances need sunlight!"
Fluttershy: "Well, it's, not to say she didn't intimidated me, but, I was worried a sunless world would have a bad effect on animals, even ones that love the night, oh, and of course plants NEED the sun, so, I was honestly concerned that Nightmare Moon didn't realized she was gonna hurt the evironment just because she wanted validation, so, I wasn't gonna stand by."
Spike: Plus, it DOES explain why Ponyville of all places was the perfect one for Celestia to select when she wanted Twilight to grow out of her obsessions with her studies and get a social life again.... I suppose she DID see you six as potential new wielders for the Elements, and knew how to, well... Help everypony out. Her sister, Twilight, everypony else, you know?
Twilight:... I suppose that does make sense.
Icky: "(Quietly) Pity this ain't a canon reason to the canon series."
Lord Shen: "(Shoves Icky) But irregardless a well explained reason that wrapped up your personal mystery in a nice bow."
Pinkie: "So, Lodgers, now that you guys are here, you wanna spend some time with us?"
Squidward: "Tempting as that is, we're in the middle of finally settling things with that Illegit Vodka Brewery Mafia run by that cretin Vodka King. He and his legion of grizzly and polars have been driving us NUTS?!"
Rarity: "Well, he doesn't sound all that pleasant."
Icky: "Oh that's not even the worse of it, he's a HYBRID of Grizzlies and Polars! A Porizzly if you will! He's as big as the Kingpin from the Animated Spider Man movie, ya know, "Into the Mulitverse", an aspiring Mafia Alliance Member wanna-be, and EXTREMELY BANKRUPT in the morals department?! That guy is INFAMOUS for over the top mafia punishments even the most intense crime boss would nerviosuly pull their collars in questioning their life choices at?! Even the actual Kingpin would be like "Hey whoa whoa whoa, tone it DOWN, buddy"! And worse off, HE ACTUALLY KNOWS WHAT HE'S DOING AS A BAD GUY?! He's among the very few baddies we STILL have a shit time dealing with EVEN IF AFTER WE WIN ONE FIGHT WITH HIM?! That fucker doesn't mess around!"
Lord Shen: "Well beyond that, word has it he aims to unvail a zombieifcation Vodka he LITTERALLY intends to infect people with to turn people into zombies addicted to his twisted brews?!"
Spyro: "While doing so with messing with magic from Dante's Freezer. Suffice to say, we have a need to put that bear down."
Rainbow Dash: "Well don't let us slow ya down, go right ahead and kick his butt extra hard for us!"
Po: "Oh you bet! That guy is gonna get an extra dose of Panda JUSTICE! We Lodgers will-"
Mr. Dodo: "(Comes in with a communicator) Ummmmm, Actually, everyone, there's uh, no more nessersary need for uh, intervention against Vodka King."
Duke: "Oy, did those "Amazing Nine" guys finally jumped him, and without US?"
Mr. Dodo: "Uh, no, it's not them."
Lord Shen: "....... Then WHY, the bloody hell did you say that we aren't needed against Vodka King?!"
Mr. Dodo: "Weeeeeeeeeeeeeeeeeeeeell...... I'm on the communicator with Ignitus about that..... And..... He, expects us to answer some questions to Scorch."
Lord Shen: "Okay fine, but I don't see how this means that the Vodka King is now a non-issue."
Later.....
The Lougers stared flabbergasted at the sight of a burning building in Dante's Freezer......
Icky: "......... Sooooooooooo........ Ya see it now, Shenny Boy?"
Lord Shen: "........ (Serious stern) Who....... Did, this?"
Hermes: "Well sadly babe, it's likely all footage would NOT survive that fire, so, at most we're under guess work that it's by some new-age vigilantes. I bet ya ones that REALLY did not vibe with V.K.'s shenanigans!"
Lord Shen: "....... I wouldn't say I blame them...... That BEAR, was a monster......... But this?...... On top of all the un-necessary deaths of even amoral armed criminal patsies to Bosco's follies, they set his Zombie Vodka Liquids to FLAMES without knowing the RISKS of burning it?!"
Hermes: "Hey don't worry, your pal Xenon's quick to cover for ya, air's gonna get cleaned and any un-burned stuff will get captured...."
Lord Shen: "..... All the same, make sure Scorch is informed that while these unknown maniacs have their reasons, we will keep a cautious eye if need be should they PULL ANOTHER RECKLESS STUNT LIKE THIS?! What they did was no better then how the Vodka King would've done?! NOW?! (Hermes was ready to make a go for it) NOW NOW NOW NOW?!"
Hermes: "Gone babe! (Zooms off)!"
Gazelle: "...... Shen, you seem, extra worried about this....."
Lord Shen: "...... Because, if anyone was capable of doing THIS, to one of the few villains that can be a CONSISTENT threat outside of the villain teams on their best A Games, THINK of what would happen if any of our enemies were to get AHOLD of them!? And the worse part is that we know NOT of what they even are?! There's a potential that they would surprise us one day and we wouldn't be able to handle it?!"
Spongebob: "If it helps Shen, at least this happened to someone who was a major bad guy anyway. Nobody innocent got hurt."
Icky: "So, yeah, if anything, that frees us up to hang with Equestria for a bit. (Deadpan) Albeit as sort've the episode's excuse for us to stick around for the inevitable next headache Equestria's set to have."
Lord Shen: "..... (Sighs), Right, I can't risk imitating Gazelle's panic attack with Widowus, we must not worry about things we can't always be around to prevent."
Gazelle: "Crude as it was to reference THAT episode again, I agree. We can only be able to best handle surprises like that when we don't let them get to us. This way, should we be able to intervene at the right time something like this happens again, we will be ready."
Gilda: "Besides, it'd be cool to chill in Equestria for a bit. We did a lot of off-camera work if I'm being frank here."
Trixie: "And Trixie does need to catch up on BE-DAZZLING ponies again!"
Icky: "And again, cause we're CLEARLY being set to be already here in time for Equestria's next big headache threat, so-"
Squidward: So we can just dump whatever did this onto the AMAZING NINE'S door. Fine by me, cause we had ENOUGH on our plate as it was! We NEED a break every once in a while from the villain of the episode, am I right?... (Everyone looked at him, and then Mr. Krabs did this)
Squidward: AAAHHH!! (He dug himself into the snow)
Mr. Krabs:... Wow. I only learned that from a new YouTube meme, I didn't think he'd ACTUALLY fall for it. (Laughs)
Icky: "Also where did that snow came from? It's barely still the dog days of Summer."
Derpy's voice: "Sorry, my bad, I was trying to catch a runaway snow cloud!"
Rainbow Dash: "AGAIN, DERPY?! THIS IS WHY THE WEATHER TEAMS ARE GIVING ME CRUD ABOUT THESE KINDS OF THINGS?!"
Icky: "Well it's certainly more original to not end this on that Buzzord guy being the nutty professor again-"
Pinkie: "DON'T CHALLNAGE KARMA ON THAT?!"
Icky: Sorry, sorry. Just... Let's get outta this episode now.
Epilogue
Changeling Territory.....
The Ground of Changeling Territory was seen, and at first things are peaceful...... But then suddenly, holes began to form as mole shaped figures began to emerge, among them, a taller, fatter figure with a weaponized staff.....
Fin...?