Obi-Wan Finale - The Loop
Play Sound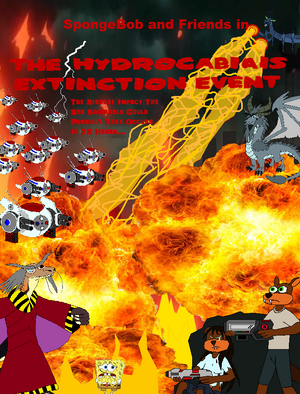 Thanks to Dark Magnus making things between the Hydrocabiais species and the universes they live in worse, things in the Grand Council fell apart! Because the other Major Members refused to commit to harsh actions, the angered up minor councilers, in favor of Minor Councilman Jakamor, a large victim of the va's crimes, was voted-in to be the one who will play for their interests as a new head master while booting the other members out! The Alternate UUniversal Grand Council under this new regime has already decreed a genocide of the Hydrocabiais. Because everyone else didn't had the heart to kill the still cute but still negitively opinioned race, they had no choice to hire none other than the appearently not really exicuted Deathslaughter to do the job. And in return, he would be allowed to walk free in a merciful exsile to a giant flower plains planet filled with only non-sentient life. Now, Jakamor has ordered Deathslaughter and an army of soldiers to do one thing: exterminate every Hydrocabiais in the Alternate UUniverses immediately and forever. Xandy's hometown is destroyed, and Xandy's life is at stake because the Alternate UUniversal Grand Council has decreed that any Hydrocabiais must be killed on sight. No one is strong enough to stop this mass extinction event, even Kung Hao is helpless to stop this, reguardless of being a member of the grand council and that everyone else keeps ordering him to shut up, and soon, Xandy herself will surely die. Xandy didn't want her species to go extinct, so she fled to the Original UUniverses with Magnum and Serpentos to warn the Shell Lodge. The Shell Lodgers agree to help, but Xandy's growing fear is suddenly making her vulnerable to corruption, and is slowly turning her evil. The Lodgers soon learn that there is a wise magician that is capable of controlling time itself named The Great Timer who just might be the answer to all these problems. But Xandy, with her growing corruption, intends to make The Great Timer bring her species back from the dead by force. The Lodge must now find a way to get things back to the way they were before Xandy becomes permanently evil, and before every Hydrocabiais gets slaughtered until there is none left.
Material
Music/Songs/Videos
(Hydrocabiais Evacuation Theme)
Scenes
Prologue
Dragon Temple
(After casual scene)
Duke: GUYS! Gazelle said that something happened! And it came from the AUU!
Sandy:... What? Does the HA need us again?
Duke: Actually... Gazelle said that only a small escape pod came in being attacked by some crazy combat drones with AUU Grand Council symbolism on it. And Xandy and Clifton were inside it. Clifton was fine, though barely, but Xandy was unconscious and wounded.
SpongeBob:... That can't sound good.
Later...
Gazelle: (Clifton was resting and Xandy was unconscious and bleeding with bandages applied)... I may not yet understand the full context of the situation, but this looks like evidnece that something bad happened.
Kowalski: I'd say so. (Analyzing the drones) These drones were indeed manufactured by the AUU Grand Council, but they also resemble the guard drones of the Apeirogon, so it's safe to say they may be involved.
Gazelle: I'll say. When I saw them, the drones were pretty determined to annihilate their pod.
Flashback
(Gazelle): I saw the Interdimensional Portal open above the atmosphere of the Dragon Realms, and the escape pod came in, but then 10 seconds later, 19 combat drones came in after them. They looked like they were about to finish them off. I had to stop them. (Gazelle flew in and intervened)
Combat Drone #1: Defiance detected. New target aquired. Attack defecter. (They attacked her, only for Gazelle to destroy 10 of them while the other nine targeted the escape pod as she flew down and finished them off, but not before the last was able to criticially damage the pod and cause it to crash not too far from the Dragon Temple)
Gazelle:... (She flew down and opened the pod to see Clifton and Xandy)... Clifton? Xandy?
Clifton:... Gazelle... You need to... To... (He coughed blood)...
(Gazelle): I knew I couldn't heal them until the time was right. I could tell that the drones reacted heavily to them being alive. (A drone reacted heavily when she tried to heal them, and when it attacked, she knocked it down and broke it.)... So I got as much aid as I could to ensure they weren't a problem.
Present
Gazelle: So Kowalski made sure that they were completely dismantled before I can heal them.
Kowalski: Aaaand... (Unhooked a wire as a 'FYOOOOOM' was heard, indicating that the last drone was shut down) Done!
Gazelle: Excellente.
Shifu: This is concerning. I don't think I would like the story they're going to tell when they wake up.
Xandy: (Gazelle healed her, she slowly recovered as she saw where she was)
SpongeBob:... Well, at least it worked.
Mantis: Yeah, no joke. (He jumped onto SpongeBob's head) So, how's our favorite early MSM creation doing?
Xandy: (This music played as she reacted to Mantis' appearance)
Xandy: (She saw visions of Clifton's father being killed and disintegrated, and Xandy fought unsuccessfully against a Mantis-like figure, whom ended up destroying Buckling City in front of her eyes, including apparently her aunt and uncle, all while the figure, revealed to be Deathslaughter, watched in delight)... (She breathed heavily)
Mantis:... Uh, Xandy? (Xandy saw him as a chuckling Deathslaughter, and immediately attacked him) WHAT THE- (He blocked her attack as she held it, shocking everyone)
Xandy: (With tear-driven tragic eyes) YOU MAD MEGALOMANIACAL BASTAAAAARD!!! (The whole song played until Clifton awoke when Gazelle healed him, got up and slapped the sense back into her)
Clifton: XANDY! It's okay! We made it!
Xandy: (She slowly recovered and saw Mantis)... Oh!... Mantis!
SpongeBob:... I admit, that was not the reaction I was expecting.
Soothsayer: I agree. I read a lot in her mind. It's been traumatized by what she's been seeing.
Sparx: Oh, PLEASE don't tell me it's another 'sea-squirrels looking bad' bulls*** incident!
Xandy:... (She broke down crying her eyes out)...
Shenzi:... Xandy, what's going on?
Clifton: Just let me take her somewhere where she can cool down. She's not in the mood right now. I'll explain everything later. (They left as Xandy continued crying)
(After a few scenes)
Clifton:... Well... She's recovering for the moment.
Sparx: And I take it with that little breakdown, that's a yes on that sea squirrel prejudice bulls***?
Clifton: Yes. I fear that what Penombra told us has been realized, and the prejudice against our kind has just gotten as worse as it can get. The Grand Council has crumbled under it's new prejudicial leader, Minor Councilor Jakamor. Or, in a more undeservingly formal sense, Headmaster Jakamor.
Spyro: You mean that angry Jenovis lizard we were refered to in one of our earlier adventures?
Clifton: Afraid so. And... It's a LONG story!...
Mr. Krabs: "I got a bad feeling in the pit of me wallet."
A Minor Counciler Revolt
Flashback.
(Clifton): "It all started with typical political chaos in the Grand Council about this..... As per usual."
Alot Minor Councilers are arguing and demanding things, while the Main Councilers were helpless to stop it.
Warson: "ALL OF YOU!? CALM, DOWN?!"
Minor Counciler 1: "ONLY IF YOU AGREE TO DESTROY THE SEA SQUIRLS?!"
Minor Counciler 2: "THEY DID TOO MUCH IRREDEEMABLE THINGS?! THEY, ALL, MUST DIE?!"
Minor Counciler 3: "DEATH TO THE SEA SQUIRLS?!"
The Minor Councilers cheer in blood-thrist?!
Warson: "Uggh. And I thought Jling Sling going away on personal business would be a good thing..... ALL OF YOU, PLEASE?! I know certain events have been long upseting, but let's not go down an unsavery road?!"
Minor Counciler 4: "WHO'S BEING UNSAVERY?! WE WANT JUSTICE?! JUSTICE THROUGH THEIR DEATHS!?"
Bayo: "Have all the lessons of racial forgiveness and tolerence regressed from your minds because of Xandronian?!"
Lotus: "That disgraceful rodent is only representive of himself and NOT truely his races' interests?!"
Minor Counciler 5: "THE FACT ALL OF THE SEA SQUIRLS LOVED HIM INDICATES OTHERWISE?!"
Galeno: "Hey, hey, come on people! The VA may've been the consistently worse 14 years of everyones' lives, but don't forget that they were mainly a collection of rouge individuals! And Xandronian is that! A rouge individual who just SO HAPPENED to managed to get into politics. Why, Overlord Tokath was a Kepelian, and nobody wanted to destroy HIS race!"
Minor Counciler 6: "ALOT OF THE VA ARE MAINLY WAR CRIMINALS, PARIAHS, OUTCASTS, AND OTHER UNDESIRABLES, ALL ARE PEOPLE WHO WERE DENOUNCED BY THEIR PEERS?! But the Sea Squirls? THEY HURRAHED XANDRONIAN?! THEY MUST'VE KNEW ABOUT EVERYTHING ABOUT HIM AND STILL SUPPORTED HIM?!"
Minor Counciler 7: "AND SUPPORTED OUR PEOPLE'S SUFFERING AS A RESULT?! ALL THE WHILE PLAYED US FOR FOOLS WITH THAT XERXES NONSENSE?! SCAPEGOAHTING A RACE THEY VICTIMISED OVER THE INFMAOUS WATER TOWER DEBACLE?! AND ON A TOWER KNOWN FOR IT'S OUTDATED FLIMSY CONSTRUCTION BEING UNDONE TIME AND TIME AGAIN?!"
Minor Counciler 8: "SAVAGES, THE LOT OF THEM?!"
Warson: "Savages? SAVAGES?! THE ONLY SAVAGES I SEE HERE ARE YOU DOLTS?!"
The Minor Councilers gasped!
Warson: "..... Pardon my rudeness, but I HAD to say it?! I know alot of you are from worlds victimised by the VA, or were friends of victims, or were consumed by fear of being targeted next. The VA was terrorable on EVERYONE of us, all of our communities, everything we hold dear! Look, I am not happy with what accured for awhile now. It was awful of Xandronian to malmitulate our heartstrings like that, and it was obvious that Xandy was..... Far, from an ideal hero, given her..... Issues. But we must NOT dare neglect the idea that the VA should be guilty of their own crimes. If we never punished the races of the other VA members before, let alone their founders' races, THEN WHAT GULL DO WE HAVE TO START NOW?! Thinking like that gets you impeached from service?! We owe it to our other universeal neightbers to handle upsets like these, with grace and dignity."
???: "What grace and dignity is there in neglecting justice, Warson?"
An aged lizard in a robe came in with several heavily armed drones.
Taleen: "Oh no, it's Jakamor."
Jakamor: "That's "COUNCILMEN" Jakamor to you! And I came to be representive, to not just my fellow minor councilers, but to the people?! Not only just your worlds..... But mine as well..... You all know well, of the Tragity of Jenovis....."
Flashback-within-a-flashback.
(Jakamor): "Jenovis was once a beautiful world of peace. Many reptiles of that world were happy, loving, and we never bothered anyone...."
A prospering city of community sprited reptiles were seen enjoying a paradise.
(Jakamor): "Everything was a beautiful, beautiful paradise..... Until..... It happened."
Suddenly, shadows loomed over the concerned citizens as VA ships were here.
(Jakamor): "The VA could not resist the urge to attack a defenceless world with no meaning of self defence, over our reshources and a shot to prove their desistating might, with their monsterious machines?!"
Warobots were dropped from the ships as they wrought chaos onto Jenovis!
It's people scream and panic as the Warobots wrought destruction to the world!
(Jakamor): "Our cities and towns, destroyed?! Our beautiful lands....."
Polluting factories are seen.
(Jakamor): "Ruined by intoxicating factories to make more metal monsters?! Our people..... Either killed, or..... Subugated to endless abuse."
Survivers are turned into slaves and are basicly nearly worked to death.
(Jakamor): "Jenovis..... Once the envy of all worlds....."
A ruined Jenovis was seen......
(Jakamor): "..... NOW ONLY RIVALS PHARAGU POST GARBAGE DUMP ON HOW UGLY IT IS?! And many survivers since the VA..... Are left without our beautiful world, that could not be fixed in THIS lifetime!"
The Inner Flashback ends.
Jakamor: "Jenovis is lost as a beloved culture and community. Many survivers lost their ways. I, included, am nothing without Jenovis. And now, to learn that the VA, was because of the Sea Squirl Xandronian, it proved that the Sea Squirls are beyond redemtion for ever causing Jenovis' destruction?! Now, by all means, those of who are victims of the VA, I sympathise with you..... But consider this..... The VA, made Jenovis the first to suffer the worse. And the Jenovisians, may never recover from this horror. (The other Minor Councilers began to weep from this.) So I plea to the Main Council Leaders, reconsider your feeble attempts of making us forgive those monsters, and let us reap GODLY JUSTICE?!"
Minor Councilers: "JAKAMOR?! JAKAMOR?! JAKAMOR?! JAKAMOR?! JAKAMOR?!"
The Chant Continued as Warson was stressed out beyond belief?! He could not handle the loss of control of the situation?!
Warson: "WILL YOU HALFWITS ALL SHUT UP?!"
Silence as everyone stared in shock of Warson's outburst.....
Warson realises his mistake and began to sweat....
Warson: "...... Fellow councilers, please, understand, alot of you were basicly suggesting an immoral action of, genisiding the Sea Squirl race?! And we all know that our neightbers in the other universes don't appresiate such barbarianisum?!"
Jakamor: "I meant NO disrespect to our neightbers........ BUT THE TIME TO PLAY NICE IS OVER?! It's time for the Sea Squirls to become the Next Vixxmites and Ceallans! This is a fate they deserved?! JENOVIS MUST BE AVENGED?! ALL OF YOUR WORLDS, DIRECT VICTIMS OR OTHERWISE, MUST BE AVENGED?! And if the current leadership are too afraid of bad press to see it through, then they MUST BE RELIEVED OF SERVICE?! Article 78263 paragrath 90210 clearly states that in an event the Main Councilers can't addhere to the people's wishes or that of fellow councilers, then the Minor Councilers shall vote in faver of the Counciler who challnages them the most! In this case..... Me."
Naeem: "(LAUGHS LIKE AN ASS?!) Are you kidding, you miserable old handbag?! You're actselly more unpopular then Jling by a margin! Sympathic backstory or not, the good councilers will never, EVER-"
The Minor Councilers began to raise their hands while saying Jakamor's name and saying they vote for him to be new Headmaster.
Naeem was shocked as a gitaur string was heard breaking......
Naeem: "..... Well, shut my beak."
Galeno: "OH WAY TO PROVOKE KARMA, YOU TRIBEOPHILE?!"
Jakamor: "It has been done..... Consider your services, no longer needed."
The Drones flew up and grabbed the now former main members and dragged them away!
Warson: "No, Jakamor, please! This will only end badly for you! Doing this will incur ineditable interfearence by the Lougers and the HA. (Loses his staff.)"
Jakamor: "(Jakamor picks it up) Then I will congure those hurdles like I congured you. The new age of Jakamor, begins, with the end of the Sea Squirls?! That way, once secured, WE, SHALL LIVE IN PEACE, FOREVER UNDER MY NEW REIGN?!"
The Ex-Main Councilers look in shock as the Minor Councilers began to applaude Jakamor as he raised his arms, embracing the applause, all the while still being dragged away.
Rishon: "..... This is the Grand Council's darkest hour....."
The Sea Squirrels Attacked
(Clifton): "And unfortunately, Rishon was right. Worse still is the aftermath. The Grand Council's darkest hour would become the Sea Squirls' darkest hour, because Jakamor did NOT wasted time on his plans."
Jakamor: "(On all warships in the AUU on the planet of every Hydrocabiais population) Attention all people of the UUniverses! It is time for the reckoning of the species known as Hydrocabiais! Their sins will no longer be tolerated. As you are very well aware, it was recently discovered that a Sea Squirl was a secret founder to the VA! Now, I know your confused as to why this never happened to the races of the other VA members. That's because those individuals were mainly war criminals and maniacs, among other unsavery things, and do not represent the grand design of their races, even when they would think they do. But Xandronian..... He was not a criminal, war or otherwise, nor a fanactic, or anything that the VA typically breeds! No..... He, used to have a legitiment place in power, and his race, WORSHIPPED HIM LIKE A GOD?! That means that they KNOW that he was gonna make the rest of us suffer, even at their own expense! Yes, the Xerxes fiasco turned out to be a front gone rightiously wrong and it played with our emotions?! Now, you can argue that Xandronian was simply just a maniac in of himself all you want, but the fact of the matter is, Xandronian did WORSE things then lie?! He founded the organisation..... THAT DESTROYED THE ONCE BELOVED WORLD OF JENOVIS?! Now thanks to him wanting his race to be taken more seriously then the under-atthiver race status they used to have, the beautiful paradise of Jenovis, is just another ruined world, that won't be able to be so easily fixed, at the least, not in this lifetime! Xandronian wanted his race to go down in history as something more? WELL HE GOT IT ALL RIGHT?! THE SEA SQUIRLS SHALL BECOME THE NEXT CEALLANS AND VIXXMITES?! So, now, as the new Headmaster of the Grand Council, I will annihilate their species for the sake of justice. Know that any Hydrocabiais will be shot and/or killed on sight by ANY and ALL law enforcement under our regime. And for any clever ones, I have recruited the finest soldiers in the AUU millaterry to slay them, and if they continue defience, well, that's where my classifived champion will come in. Who is he? Well let's just say, Xerxes won't be the only ironic thing from the VA to harm them. Most impourent thing to know..... Consider THIS your one and ONLY warning: You will not do anything to aid or support them, NOT EVEN TO DO ANY OF THAT HIPPY-DIPPY PROTEST SHIT, because as of now, that is expressively forbidden. Anyone caught in violation of this ban, OR any law enforcer who refuses to heed to my order of killing any Hydrocabiais on sight, will be tried for treason, and be punished under penalty of law. Do not think that you will be spared of this because of ill-fated compassion for any reason what-so-ever, because they had their chance of redemption, and failed..... EXTERMELY MISERABLY I DARE ADD?! They will have no more chances of redemption, as I have called down the verdict. On note of that, I am looking for two wanted individuals. (Xandy and Cliton were seen) Anyone who catches the now FORMER HA DISGRACES, Xandy Noin Wargander and Clifton Sagan Calvert, will be well-rewarded. They are wanted for being the most dangerious of the Sea Squirls, and I want them captured alive.... So they can be saved best for last, along with Xandronian, as I want them to die as future endlings! And once so, their extinction will be the greatest justice the universes resheived, espeically for Jenovisans, and all who suffered from the VA's madness. Some of you may deem this curel and hypocritical. Perhaps. But what else are we to do with them?! Wait for another Xandronian to rise?! I rather not take chances. AND NEITHER SHOULD YOU! There will be approximately 120 hours before all Hydrocabiais are destroyed and my mission of ending their sins are complete. (As the laser cannons charged and other offensive powers came in) I will ensure that no harm comes to any others, as long as you do not defy me. These weapons are only meant to harm creatures of Hydrocabiais genetic signature. They won't harm anyone but them. Keep in mind, however, they are modifived to reckindised any who aided in Sea Squirls Post-Ban. They will recognize you as a threat, so I cannot STRESS this enough, that coming to their aid is EXPRESSIVLY TABOO?! (As the timer counted from 0:05)... And Sea Squirls? Pray to your god all you want...... But I, WON'T, BE, LISTENING? (The time reached zero) LET JUDGEMENT DAY, BEGIN!?! (The weapons attacked as sea squirrels were running scared, panicked, and lead to some to be annihilated!)..... At last...... NOW IT'S YOUR TURN TO FEEL JENOVIS' PAIN, YOU POULTRY EATING WATER-VRATS?! THAT IS WHAT MY PEOPLE FELT BECAUSE OF WHAT YOUR LEADER DID?! ROAST YOU VILE VERMIN?! ROAST AND FEEL THE LONG DUE JUSTICE, OF THE PAIN YOU HAVE GIVEN TO MY PEOPLE AND BEYOND?! FEEL IT?! FEEL IT?! FEEEEEEEEEEEEEEEEEEEEL IIIIIIIIIIIIIIIIIIIIIIIIIIIITTTTTTTTTTTTTT?!"
(Clifton): Thus, nothing was able to stop him from destroying a countless number of Hydrocabiais communities on hundreds of planets. We went to our respective homeworlds to rescue our families.
Chimerum
(Clifton): I fought through thick and thin, avoiding the highly-efficient executor drones that were making a B-line for my parents' home. I made it in time to save most of them. (He fought off against the executor drones as their accurate attacks made it difficult for him)
Clifton: STAY AWAY FROM MY FAMILY!!!
Drone #1: Do not resist, and accept your execution.
Clifton: (They overwhelmed him as he used a last-minute EMP to shock them, and he and his family escaped, and they made it, but his father was captured by a tractor beam from one of the bigger drones) FATHER! NOOO!!!
Clifton's Father: I... I CAN'T MOVE!! (He was guided directly to them)
Large Drone: Execution commencing! (It charged)
Clifton's Father: "...... Son...... It looks like, you're gonna have to be the man of the house. Take care of the family, even if it costs you yer life. Get them somewhere safe."
Clifton: DAD?! (The Large Drone fired!) NOOOOOOOOOOO (His father was disintegrated into ash immediately as his screams echoed in his mind, along with Clifton shouting no)...
(Clifton): I was lucky enough to get the rest out of there alive, but my father... Was murdered. There was nothing I could do to save him. The best thing I had to do was avoid their tractor beam lock, because if they caught me, I was done. It didn't go so well for Xandy either.
Buckling City
(Clifton): That was where Deathslaughter was doing his work when Xandy came in. (Deathslaughter charged a magical energy attack that devastated Buckling City and it's inhabitants)... But Xandy was able to save her aunt and uncle in the nick of time... But not for long.
Deathslaughter: Oh look, Princess Gummy! Mr. Jakamor was right! She did came!
Xandy: I WILL NOT ALLOW MY PEOPLE TO BE ENDANGERED AGAIN!!! (Takes out a large Plasmablast Gun) STAND DOWN!
Deathslaughter: How cute, Princess Gummy, she thinks guns can hurt me! That oversized gun of- (She fired as it seemingly killed him, but then he was revealed to have taken it)... Yours, isn't gonna do a thing! I'm indestructable to guns!
Xandy: (She dropped the gun in shock)...
Deathslaughter: Ohhh! Nice gutted-fishface! And I haven't even gotten started with that yet! (He fired a massive dark energy blast as they avoided it and disappeared)... OHHHHH! HIDE AND SEEK?! I LOVE HIDE AND SEEK!? I ALSO LOVE CHEATING IN IT! IN FACT, I MIGHT AS WELL BLOW UP THIS ENTIRE GHOST TOWN RIGHT NOW! IT'S WAS PRINCESS GUMMY'S IDEA?!
Xandy: NOOOOO!!! (He cackled strangely threatening and yet disterbingly playful at the same time as he unleashed a deadly dark magic blast as Xandy tried to intervene, but he reflected her attacks like they were nothing, and even destroyed her golden sword in the process)
Uncle Splinter: XANDY! YOU NEED TO GO!!!
Xandy: I'M NOT LEAVING YOU!!! (Deathslaughter unleashed a shockwave that pushed them off, weakening Splinter and Knitter and pushing Xandy out of their reach)
Deathslaughter: YAY! YOU CAME OUT! LIKE PRINCESS GUMMY SAID YOU WOULD?! Fun as you were, Gummy said in order to enjoy our freedom, Jakamor saids I need to destroy this town along with other Sea Squirl cities and bring you back either dead or alive depending on circumstances. He's real nice to me, and I would like a chance to be free again. So play fair or I have to play rough, okay?
Xandy: WE'LL SEE ABOUT- (He unleashed the energy as it blasted the entire town) NOOOOOOOOOOOOO!!! (The entire town was destroyed in a flash, including seemingly her aunt and uncle, who laid motionless)... No!... (Kneels pathicly.) AUNT KNITTER! UNCLE SPLINTER!!! NOOOOOOOOOOOOOO!!!
Deathslaughter: K-O! I win! Flawless victory! Atthivement Unlucked! New Highscore! (Sees Xandy standing up) New Oppendent!
Xandy: YOU BASTARD! (She failed to even scratch him as he continued overwhelming her, and she had no choice but to escape with her life)
Deathslaughter: Ohhhhh! Now we're playing tag! I LOVE TAG?! TAG, YOU AND A GOOD CHUNK OF THE AREA ARE IT?! (He unleashed a powerful blast of energy that devastated the entire area, as Xandy was able to survive)
(Clifton): I am still taken back by how she even survived a blast like that. But I found her weak and bleeding, and I was able to get her to a healing tank. We travelled across the UUniverses dodging danger around every corner, never getting a break, until we made it to a hiding place Rishon specified.
Clifton and Xandy made it to the hideaway.
???: "Have you been followed?"
Clifton: "No, I wasn't!"
The Ex-Head Grand Council Members but Jling arrived.
Warson: "It's a relief to know you two made it. I was worried Jakamor's methods would be too efficient."
Bayo: "How has miss Xandra been doing?"
Clifton: "She's been blank for a while now. I don't think she's even aware of her location. I think her brain might be in a temporary shut-off."
Galeno: "Well considering that this is someone who started out having a raging lady-murder-boner against Xerxes, maybe that's a good thing! With Jakamor making a mess of the Grand Council's name, once people should wake up from their bloodlust against Sea Squirls and realise their horrorable mistake, no one would take us seriously ever again!"
Lotus: "That is, if any will wake up. As long as Jakamor keeps saying the right words, he can get away with just about everything, even if we exposed Deathslaughter's involvement."
Clifton: "Speaking of that..... WHAT'S THAT CRAZY BUG DOING ALIVE?!"
Naeem: "Weeeeeeeellllllll, you see, we, felt a lot of sympathy for how detached from reality he was and how broken he was, so, we, kinda only SAID he's dead to keep people from freaking out about him being alive while he just sent him to a mental ward in Oranos. We hoped he would be able to hold his mind in a better position."
Clifton: "Well, apart from acting more childish, he's STILL relitively dangerious! In hindsight, you just gave your usurper an easy access to the second most effective villain in destruction ever to be recruited by the VA, behind Gordon!"
Bayo: "WELL PARDON US NOT BEING SOOTHSAYERS OR PROPHETS AND HAVE AN ABILITY TO SEE INTO THE FUTURE, YOU UNGRATEFUL VRAT?! We're not like those ever weird and eccentric Seesans of planet Seesa."
Cutaway
(Something like this was seen as Planet Seesa was seen)
Seesan #1: I CAN SEE THE FUTURE!!
Seesan #2: THE VILLAINS ACT GETS REMOVED FROM REALITY!!!
Seesan #3: THERE'S AN ALTERNATE UUNIVERSAL TEAM FORTRESS!!!
Seesan #4: XANDY'S BROTHER IS A BOUNTY HUNTER!!!
Seesan #5: XANDY AND HUDSON'S MARRIAGE RIPS OFF AN OUU STORY!!!
Seesan #6: ALL TEADR 1 RACES COME BACK TO LIFE!!!
Seesan #7: XERXES' SISTER CAN MANIPULATE REALITY BUT SOMETIMES CIRCUMSTANCES GET IN THE WAY OF LETTING HER EASILY SLOVE PROBLEMS AND ENDS UP NOT DOING CRAP UNTIL THE PLOT ALLOWS IT!!!
Present
Naeem: "Indeed! How were WE suppose to know Jakamor would somehow coherse people in trying times and convince them to okay this!?"
Clifton: "Well why didn't you fire Jakamor, or, at the least, suspend him from ever attending meetings again until you can fix this, giving what the VA did to his home planet, AND that Xandronian, WAS A FREAKING, FOUNDER?!"
Warson: "First off, having Jakamor removed from a position, even in temporary effect, espeically in these trying times, would look as if we had NO respect for the tragity of Jenovis! Second, it wouldn't've make this problem any less ineditable as it was! If anything, him not being bound to the Grand Council could've offered him more freedom to seek these activities out anyway, and along side this, he could've found other ways to rise into power! 3rd, as previously stated, WE, DIDN'T, KNOW, THIS WAS GONNA HAPPEN?! Without an ability to see into the future like an open book, our hindsights are always just guesswork and assumtions!"
Clifton: "Well, thanks to you people being TOO considerate to a tragity, FROM 1997, Jakamor went from being another Jling Sling to becoming someone ACTSELLY crediable to people that are forgetting themselves?!"
Inigo: "Keep in mind, Jenovis' conguring by the VA was a trumatic time back then! We included Jakamor to show diplomatic curticy and the diplomacy of sympathy. It would've seem rude and uncaring of us to not've allowed him in, espeically if we had assumtions he would turn against us! The worse that he was is being too forceful on punishments! Alot of polotisians wanted the worse onto the VA! How would've had it been fair to treat Jakamor poorly because of him having a reason behind his harshness?"
Clifton: "..... (Sighs)..... I get it, polotics can be a hard-to-work-with, pain-in-the-ass thing. I'm not gonna act like you guys had the power to stop this eitherway, based on what you guys said. You can't please everyone no matter what you do. BUT CONSIDER THIS?! Whether you saw it coming or not, fact of the matter is..... My father's DEAD, thanks to you being politically kind to Jakamor! Killed by Jakamor's death bots?! FROM ONE OF THE GREATEST MILLATERRY BASES OF OUR TIME, NO, FREAKING, LESS?!"
The Ex-Councilers gasped.
Warson: "..... Please, understand, Master Clifton. If we had any prior understanding to what Jakamor was doing during these trialing times, we surely could've stopped it from ever being a reality."
Oswin: "Believe us, we would've never let him succeed with this!"
Clifton: "WELL HE MADE SURE YOU ALL WERE LEFT IN THE DARK ABOUT THIS!? And he figured you bunch would've been an obsicle, so he convinced those restless clowns to have you all usurped via a Grand Council rule that PROBULY shouldn't've existed to begin with, or at least, not be useable by guys like Jakamor, because in their eyes, you were failing to get "Proper Justice" on the race "That founded the VA"?!"
Naeem: "Well PARDON us if we thought he was too unpopular to pull off that section successfully!"
Clifton: "Even the worse of people can be mistaken as, and become, the most creditable person ever, if times ended up being bad enough! Jakamor rose to power because of Sea Squirl hate! I know you guys were trying to stop that, but sometimes, words and polotical promises can only get you so far when people felt that harsh justice wasn't being done! They deemed you guys weak, while Jakamor looked strong!"
Jarvis: "We figured people were too sensiable to take Jakamor THAT seriously, let alone encourage this sort've thing and blindly pardon his actions!"
Galeno: "Yeah, cut us some slack, Cliff! We would've looked like tyrants for doing anything negitive to someone who was legitamently hurt by the VA! Esepically over the Sea Squirls' controversey!"
Clifton: "...... Whatever happened to thinking about the needs of the people, not the needs of polotics?"
Rishon: "Alchourse we were thinking with the Sea Squirls in mind, Master Clifton. It's just, in order to take care of the United Universes at large, we need to maintain a benvolent relationship with all leaders and representives, even if they're not being currently, sensiable. Censoring any of their opinions, even if they were as harsh as Jakamor's, would've only worsen things."
Clifton: "And I get that! You don't wanna come off as leaders who don't care about the wider needs of people! But look at what your fear of bad press has brought! Jakamor became more and more inviting while all you did was saying no, even if you said it nice and firmly. Being weak leaders, is just as bad, as being unfair leaders. Because at least unfair leaders aren't afraid to hurt people to show that they will not be pushed around!"
Lotus: "You have NO idea what it was LIKE in that council room, boy! Any negitive action or even a mere word out of place, would've set-off a chain reaction of having people denounce us, even the USRA races, and proceed to defelupt isolatetionist ways, maybe even become friendler to UIS in a worse case scenario, and would've gone into the way of Phend Hunting back in the days of the Phends being what everyone had a murder boner for?! Only it'll be onto the Sea Squirls instead!"
Clifton: "I know enough that your failure to be decisive, even at the cost of political street cred, only allowed this to accure! True leaders don't care about alittle bad press as long as if it meant doing what was right!"
Lotus: "HOW DARE YOU SUGGEST THAT BEING KIND TO JAKAMOR WAS AN ACT OF BEING IRRESPONDSABLE!? ARE YOU SAYING SHOWING SYMPATHY TO A VA VICTIM IS NOT RESPONDSABLE?! YOU DISRESPECTFUL-"
Calixto: "EVERYONE CLAIM DOWN?!....... Going after eachother's throats is not making the situation better."
Taleen: "He's right. What's in the past is in the past. We must worry about what can be done now, and not what should've been done instead."
Calixto: "And you, Clifton! (Clifton recoiled as Calixto approuched him with athroitive figure)..... (Gives him a face of pity.)..... Your father's death was, most unfortunate. But blame not us, only Jakamor. As stated, we have no way of knowing he would do this. And doing anything to surpress him would've only make this more ineditable. At least we only went down as not being the leaders they wanted, as suppose to being the leaders that grew corrupt and uncaring in their eyes. This way, all it will take is Jakamor royally screwing things up to wake the people from his silver-tongued spell. Is that to be understood, Clifton?"
Clifton: "But-"
Calixto: "I am speaking to you as your superior! IS, THAT, TO BE, UNDERSTOOD?!"
Xandy Recovers
Xandy's Room
Clifton: (He, Sandy, the Hyenas, Icky, Fidget, Iago, Spyro, Sparx, Cynder, and Gazelle came in) Xandy, are you oka- (He dodged a vase being thrown at him) DYAAH!!
Spyro: Holy moly, Xandy! That was a gift from Hercules and Meg?! That thing's priceless?!
Merlin: "Oh don't worry, with magic, it'll be like it never happened."
Xandy: (With red tear-driven eyes) TOO BAD MAGIC CAN'T MAKE THE SAME THING HAPPEN FOR MY SPECIES!!! I thought I could... I could TRUST the Grand Council. But now, they allow some... Some... SOME MONSTER, to treat us this way?!?
Clifton: It was NOT their fault!
Xandy: Maybe not directly, BUT THEY'RE GUILTY OF NOT STOPPING IT SOONER!? They had a MILLION opportunities to kick Jakamor out, and they didn't take advantage of it?!?
Clifton: "Look, to be fair, up until now, Jakamor never did something truely irksome and worthy of being impeached. And even then, you have to understand, Jakamor was from a world that was heavily victimised by the VA, something Xandronian caused over our race not being taken seriously. You can't exactly, hate on them for going by politics."
Xandy: BUT THAT'S THE THING!? NOBODY BUT THE OTHER FUCKING FOUNDERS ASKED HIM TO DO IT?! HE CLEARLY REPRESENTED HIMSELF, NOT THE ENTIRE RACE?! ALOT OF MEMBERS OF CERTAIN RACES HAVE WENT ROGUE BEFORE, BUT THE RACE THEMSELVES MADE IT OUT FINE?! HECK, EVEN THE YATERONS HAVE ALOT OF IRKSOME MEMBERS OF THEIR RACE, BUT YOU DON'T SEE PEOPLE WANTING TO KILL THEM OFF!?
Icky: "That would be because they have other USRA races to back them up AND having god-eqsed tec to boot, so, they can have as many doughebags as they want and people will still love the Yaterons."
Xandy: "SO?! I DIDN'T EXACTLY LIKED GLUTUS, OR GORMAC, OR BLABCRAP, OR MALMITULATUS, ESPEICALLY NOT OAKAAN NOW-A-DAYS, OR KRAVER, OR THAT ONE CREEPY YATERON WHO STABBED HIS MIDDLE EYE WITH A FREAKING SPORK THINKING HE CAN STOP THE INTERUNIVERSEAL WAR?! BUT THAT DIDN'T MADE ME WANT TO KILL ALL YATERONS OVER THOSE DIPSHITS?!"
Gazelle: "Xandy, that doesn't mean that races didn't suffer because of bad eggs. We have seen races in equily bad predicerments because of misconceptons and hate. By all reguards, your race is not the first one to be unfairly mistreated because of an ill exsample."
Xandy: I'm not gonna pretend that it ain't the first time people acted so stupid like that?! I get it?! People fear things for petty and stupid reasons. I get that?! But, I would've been fine if it went as far as people viewing us as outcasts!? That much, I can make peace with?! I can always defy expectations and redeem my race for what is clearly Xandronian's own doing?! I could've been able to re-earn that trust if it was just being my race being treated poorly?! BUT THIS?! AND SOMETHING AUTHERISED AND APPROVED OF BY THE GRAND COUNCIL?! NEW MANAGEMENT OR NOT, THAT'S, THAT'S NOT FUCKING FAIR?! I CAN'T EVEN THINK I CAN SERVE THEM AT THIS POINT!! NOW MY AUNT AND UNCLE ARE DEAD!!! CLIFTON?! YOUR FATHER WAS KILLED IN FRONT OF YOU!!!
Clifton: "Xandy, please?! I want answers about this as badly as you do, but I still remember that the Grand Council's under the control of a clearly unfit leader?! Also, you have to understand that Jakamor was from Jenovis, the planet that is the WORSE victim of the VA's attacks! You, you can't exactly deny the fact that, even if it is just Xandumbassian, his planet suffered, because Xany was upset about how our kind were nothing speical to the universe?! Jenovis was ruined, because Xan wanted our race to be entitled like we were gonna become a Teadr 1 or even 0 race! Even if Xan wasn't a true picture of our race, it doesn't change the fact that..... Many planets are ruined, because the VA, was founded by a Sea Squirl. A Sea Squirl, who mind you, wanted to make our race more impourent then what we really are?! It was almost no different then how the Phends reacted to having Mazor killed by the Fangpos, or how the Cunones and Serons hated eachother over a communist uprising, or hell, even how Xerxes felt when our race killed his parents?! It's another exsample of over-reactive respondse! The Phends, were caught off guard on how "cruel" otherworlders can be, even when it was just the Fangpos, or how the Cunones poorly handled the communist uprising and strained their friendship because of it, and..... How Xerxes was hurt about how a race he once loved, acted so unjust and cruel.... AND OVER A FUCKING PRANK RUINING A FLIMSY WATER TOWER THAT ALREADY HAS A HISTORY OF FALLING APART OUT OF NOWHERE ANYWAY?! People, do stupid things, for stupid reasons! It's a fact of life, Xandy. The Grand Council is in a dark place right now, and it's not because of Warson, Calixto, not even Jling Sling! Not even the councilers from worlds still INCREDABLY BUTT-HURT, about what the VA as a whole did, acting as if the Sea Squirls intended their suffering, when really, it was just ONE ASSHOLE this entire time?! Don't you think I'm upset about this too?! Thing is, Jakamor is being a bad enfluence to the other councilers, and he's the one who's our enemy here?! So basicly.... CAN YOU COOL IT?!"
Spyro: I agree Xandy, please, calm down before you make a bigger scene!
Xandy: NO! I CAN'T stop thinking about what has transpired! MY RACE CREATED A MONSTER THAT KILLED MY PARENTS!!! THEN ONE OF THEM TURNS OUT TO BE GENUINELY EVIL, AND ONE OF THE VA FOUNDERS NO LESS?!? THEN THE RESULTING PREJUDICE MAKES IT HARD FOR US TO HAVE A GOOD LIFE!!! AND NOW... THESE... THESE BASTARDS RESORT TO GENOCIDE LIKE XERXES DID?!? I... They could've prevented this! ALL OF IT! But they DIDN'T!! MY AUNT AND UNCLE ARE GONE, BECAUSE THEY FAILED TO STOP JAKAMOR FROM DOING THIS TO US!!! I... (She gained corrupted eyes similar to Shen's) I WANNA KILL THEM!!!
Cynder: (She was shocked at the eyes she just displayed, as they resembled Shen's corrupted eyes, all until the eyes returned back to normal as she cried again)... I... PLEASE tell me any of you saw that and it's not just me!
Spyro: Afraid so!
Clifton: WHAT... WHAT WAS THAT?!? HAS XANDY GONE FULL-ON VILLAIN AT THIS POINT?!?
Xandy: I'M SERIOUS!!! THEY DESERVE TO DIE FOR WHAT THEY DID! JAKAMOR FOR DECLARING THIS, AND THE COUNCILORS FOR NOT STOPPING HIM!!!
Icky: "Okay, Jakamor is, currently debatable, but it's not fair to shame the other councilers for it for not knowing better, espeically not the main ones who we established were FIRED FOR NOT GIVING INTO THE MAIN PROBLEM-MAKER'S DEMANDS?! So cool it with the behavior missy?!"
Fidget: Yeah Xandy, you need to calm down before you make a mistake you'll soon be sorry for! So why not just go back to bed and-
Xandy: SHUT UP!! (Fidget screamed)
Clifton:... CAN SOMEONE PLEASE EXPLAIN WHAT THE F*** IS GOING ON?!?
Spyro: (Sighs) This world is widely known for it's high concentration of Darkspawn activity.
Clifton:... You never truly explained to us what that is. I mean, sure you gave us passing glances, but, what is, the full gist?
Spyro: They're, Born-Demon, or Made-Demon, enemies of ours from our version of hell, which we usually refer to as the Banished Realms. Don't ask why, it's mainly to avoid relijustus undertones. They have been around since the dawn of our universes. Created by an evil named Chernabog, their only goal in life is evil in every sense of the word. We heroes had them exiled to the Banished Realms more times then can be accreately recorded. The things they are capable of can be beyond our comprehension.
Clifton:... So, they're like the Ehaexons?
Icky: You mean those demon beings you keep referring to? Believe me, these guys would make your demons look like Cornest Pixies, or whatever quilifives as pixies in your universes. Unlike mortal villains, those guys are consistently rough! Even our toughest members can only succeed in giving them minor dents in a fight!
Spyro: THIS world in particular gave birth to one of their New-Age members. We Purple Dragons are known to master all forms of elemental abilities. The first of us, was a praised hero like me when he was my age. But by the time he reached mid-adulthood, his greed for power made him into a Darkspawn pawn for Chernabog. He attempted to destroy this world and reforge it into another through a process infamously called the Great Cleansing. The first time, he was stopped by the Dragon Guardians. The second, was thanks to me and Cynder. This world has had a HIGH activity of Darkspawn influence. We dragons are prone to corruption a lot. It happens in extreme emotional stress, whether from a horrible tragedy, or by cruel circumstance. We could give into a deadly darkness within us. That's pretty common to visitors and non-native residents here.
Clifton:... ARE YOU INSINUATING THAT THIS IS HAPPENING TO XANDY?!?
Cynder: That's still being desided, but it looks close to it. Her unstable emotional levels can allow her to give into harsh action out of desperate haggle, and thus, she will do ANYTHING in her power to fix this.
Clifton: Bu... BUT... BUT SHE'S NOT THAT FRAGILE!!! Sure she nearly sided with Xerxes, and almost got herself to turn into another Black Kranmort, but she-
Sparx: Okay, dude, at this point, you're just making up excuses because you're afraid of what Xandy is TRULY capable of if she DOES go onto the wrong side.
Clifton: I AM NOT!!!
Spyro: Oh, really? Then tell us, how many time has she used her abilities selfishly? (A flashback of her making the deal with Dark Magnus was seen)... How many times has she hurt or acted out against others unreasonably? (Another flashback of her reacting to her accusations to Amber's parents was seen, as well as all her harsh words and unexpected attacks)... How many times has she worried about her own problems before anyone else's? (She was seen in the past scolding harshly about Amber's parents after their accusation, how she reacted to finding out about Clifton's relationship with Samantha)... How many times has she assumed, that HER answers were the right and ONLY ones. (Xandy was seen trying to justify her deal with Dark Magnus, and all the other things she did wrong and illogically)... Does she EVER ignore the suffering of others? (She was seen not noticing Clifton's gross-out moments when she was in love with him, as well as that of those of which her depression was affecting)... Or is she off in her OWN LITTLE WORLD, while people like you are trying to get her attention for FIVE MINUTES?!? (Her dark flashback was seen, as well as the many reckless things she did without listening, and then to her present self as she was sharpening her golden sword)... Our thoughts and our actions, shape who we are. And Xandy? In a tecnecial aspect, she's more antihero as opposed to an actual hero. She's only into her own problems, as much as those of her missions. She ALMOST became another Black Kranmort, she was nearly turned against her own species, she is TOO sensitive to her species' well being because of the death of her parents. No doubt that Jakamor is trying to get a rise out of her so horrible, it will turn everyone around her against her for good. Nobody will be there to stand for her if that happens.  She'll have nowhere else to turn to, but the darkness. All she has tried before has failed, and nobody is helping her. You can't excuse this any longer, Clifton. Xandy is just TOO morally fragile to everything happening around her. She hates what circumstance reaps on her, and if they are as worse as this, it's going to no doubt turn her evil. Maybe even permanently if this isn't resolved with careful planning. Without Hudson around to act as her voice of reason, it's up to you. I suggest you ask her and yourself to ponder who she really is, because you two NEED to help yourselves.
Clifton: "...... But, if she is an anti-hero, then, why was she allowed to join the HA? We usually have strict guidelines about grey area heroes or those trying to repent themselves!"
Gazelle: "Sometimes, people are not always matching to their quirks. Xandy may've started out as a straight-forword hero, but that's because she thought Xerxes was clear-cut himself. That he was an evil warlord out to do bad things because he's evil, and there for, she has to stop him, because she's good. But when she discovered that there was more to Xerxes then him just being an evil dictater. That his actions are argueably justifyable. She was broken that real life is more complicated then a mere story about good vs. evil. Now for the most part, she came to be more willing to accept this fact, give or take, that things are not always so basic, but her real breaking point was when we saved the Weaviods from Oak. He was once considered a hero to you two, but apawn realising that he was no real hero, she couldn't cope with the idea that Oak didn't had good intentions in handling the issue with the Weaviods. Sure, she came to make peace with that now, but apawn knowing that the Grand Council, build priorly to always be benvolent and considerate, new management or not, approved of a geniside of an entire race. That, is obviously the poor thing's breaking point. And because of life being more then an ideal fantasy, she began to fell apart more and more, reveiling a more darker grey then what everyone originally assume."
Clifton: "Wait, your saying that, because of discovering that life's more complicated then your average fairytale and fantasy adventures that she's having a meltdown?! Your basicly saying that she's going through the equilent of a toddler being upset to know that real life is not a fantasy?! How, HOW IS THAT POSSABLE?! She wasn't THAT young with Xerxes attacked her hometown?!"
Icky: "Well we kept tabs on Xandy's files, and, well, turns out...... The kid suffers from defeluptmental growth. That means she mentally grows up slower then supposed to. Basicly, while Xandy was likely a teen when Xerxes happened, she had the mind of a 6 or 7-year old when the attack happen."
Clifton: "Are..... ARE YOU SAYING SHE HAS THE BRAIN OF A CHILD?!"
Sparx brings out Xandy's medical file.
Sparx: "Read'im and weep."
Clifton: (Reads it, and sees her as a baby) Aw! (Clears throat) Pardon me! (She reads her file)... Hmm... S***. You're right. Developmental disabilities. She's had reports of being emotionally and verbally abused, physically abused people once or twice, had signs of envy, joy, has mood swings, is emotionally fragile and easy to anger, and... Oh, shoot! She had a period of bullying?!? I... That doesn't sound anything like her!
Icky: This surprised us too, pally. The only reason she hasn't went this far, even when there was little to stop her from abandoning her mission to defeat Xerxes with us, is that she has had peers in her past that were not only like her, but she could identify with. One of them being not only Chase, but a long-lost brother. As well as several others she had in the past in which we don't need to mention. They taught her as much life lessons as she could get on television. They gave her the ability to see right from wrong, and thus she couldn't let herself get tricked by someone whom she saw murder her parents. She STILL has that moral edge to her. But with her other problems, it's gonna take a LOT for her to remember that for herself. With the s*** she just went through, it's clear she needs DESPERATE help. With Hudson gone, you need to learn to guide her.
Clifton:... I... I don't know. I've always known she was a ticking time bomb. I'm scared that, if I screw up and misguide her, she'll be a villain. How can we keep her around if she's easy to manipulate?
Spyro: We're still figuring that out. But as the one who made a great sacrifice, she needs to become a better person, because if she murders a SINGLE soul, she's gone.
Clifton: "Tecnecally, she has killed off people before, some of Xerxes soldiers in the old days, Oakaan, among others, ectera."
Spyro: "We mean that if she kills out of anything other then self-defence or punishing someone who's gone too far and would be exicuted anyway, like out of pure unholy revenge, then THAT is what will ruin the Xandy we know and cared for!"
Clifton:... That only makes it harder to take your word for it. I find her growth admirable, but not when it leads her down a dark path.
Shenzi: Well, you gotta do something, honey! You don't want her to be a villain, then don't let her! If you cower like this waiting for her to go off, it's not going to get you anywhere, and if it happens, it will haunt you for the rest of your life. Don't do it for just her, or your species. Do it for yourself. Show her that she, in a villainous mood, can't have the power to control you.
Clifton: "....... I'll..... Figure something out."
The Great Timer
Large Tower
Spyro: (The heroes arrived there)... Well... This is where the Chronicler said that the Great Timer lives.
Clifton: Good. The place looks like it has a LOT of power. I'm GLAD Xandy, in her current state, isn't here. (Xandy was seen hiding with corrupted eyes)
Spyro: Yes. The Great Timer has a lot of power, and provides good solutions to things like this, even when it's in other dimensions. As the last of the Time-Dragons, he has ensured that the time-based powers wielded by the dragons of the past aren't abused. Using time-travel brings the risk of grandfather paradoxes, which cause a feedback loop that can damage the space-time continuum itself.
Clifton: Yes, I am aware. Time travel has been extinct in OUR UUniverses for who knows how long. The closest we have to it is a version where we only exist as quantum images that can only view the past or future, yet not interact with anything. The race primarily responsible for it's creation have been guarding it for as long as time itself has turned. There was also gonna be the Clockwiser guys, but, we all know how well THAT turned out.
Spyro: Well, that's not the case here. We need to come here to ensure that Xandy isn't a danger, and that we have an effective solution besides just using a cheap paradox from Saldaron. Besides, he says that he can only do paradoxes in THIS universe. Paradoxes in YOUR universe are up to time lords THERE and nobody else outside.
Clifton: Then we must go. (They went inside, and Xandy secretly followed them)
Inside Tower
A Magnifisent hallway of history is seen.
Clifton: "(Whisles impressed.) Nice decor. And I love that this place is it's own history museum."
Icky: "Oh yeah, this place has the biggest recording of Dragon Realm's history way more then even a well versed history book. All thanks to the History Sprites who always treat the walls like a giant art project."
Clifton: "Everything? Even the times where you guys battled foes here, major or minor?"
Icky: "Heck, they're even recording us entering the place as we speak."
Clifton: "Okay, that's a phsyical impossability, there's no way that- (That was seen as many history sprites were seen)... I stand corrected."
Icky: Yeah, be careful around them. They do NOT, like to be called fairies, even when they aren't much different apart from defining features. It's not that they aren't aware of the simularities, they just don't want to be constintly reminded of it. They do NOT like being provoked. I learned that the hard way.
Clifton: Duly noted. Let's just find the Great Timer. (They advanced)
Large Chamber
Spyro: (They arrived)... GREAT TIMER?!?... WE MAY NEED YOUR HELP!... (A shatter was heard)
???: WHERE IS IT?!?
Clifton:... Oh, I swear to tap-dancing Kraan, that better not be- (The Great Timer was seen as a time dragon who was being attacked by Xandy with a gun similar to the Huncus BNG-886) AW, COME ON!!!
Great Timer: (He flew to the heroes)... I trust the crazy rodent is a friend of yours?
Spyro: Sir, we are SO sorry!
Great Timer: No need, Spyro. I have been expecting this anyway. Though it's still rather embarrising that even with great hindsight, I still couldn't prevent this crazy she-creature from ruining my study!
Xandy: GOOD! (She got the cannon ready) Then you'd better give me what I want! My species is in danger! With that Chronosphere thingomajig, I will be able to prevent the GREATEST injustice to our species ever!
Great Timer: Miss Xandy, be made aware of this cautionary warning! Time is not to be messed with- (Xandy blasted at them, ruining another part of the study).... This doesn't change the fact that time shouldn't be treated like history can be changed like a mistake on an essay test. Just because history isn't always set in stone, doesn't mean you earn the right to do whatever you want to it and not expect dire consinquences. Whatever troubles your race, great and grivious as it is, it will only pale to the possable paradoxic doomsday you would bring apawn everyone. In essence, your race will be doomed either way, if not one way, it's the other.
Xandy: I HAVE HAD IT UP TO HERE WITH THAT EXCUSE!!! GIVE ME, THE CHRONOSPHERE!!!
Clifton: XANDY, WHAT ARE YOU DOING?!?
Xandy: CORRECTING THIS MADNESS!!! I'M TRAVELLING BACK IN TIME TO STOP JAKAMOR FROM GETTING INTO POWER!!!
Merlin: Xandy, you KNOW time travel is dangerous!
Xandy: I DON'T CARE!! I'VE RUN OUT OF OPTIONS, AND I'VE COME TOO FAR TO LISTEN TO SOME ETHICIST BULLS***!!! IF YOU HEROES AREN'T WITH ME, THEN YOU'RE MY ENEMIES!!! NOW, LAST CHANCE!! CHRONOSPHERE, NOW!!!
Great Timer:... While I can respect that you are someone who is dedicated to her race, this isn't a way to show that. And keep in mind. Even if Jakamor didn't existed as he is, who's to say your race wouldn't suffer any extremes? There will still be others determined to get blinded justice on to them because of even only the actions of one bad individual. Even if there is no Jakamor, there will still be people out to hurt your people.
Icky: "Exactly! All Jakamor did was just make it more intense! Even if he was never a thing, there'll always be plenty of butt-hurt minor councilers out to make hell on earth for the Sea Squirls. All Jaky did was lead them into an ugly direction. You have to remember that alot of people were hurt badly by the VA, directly or indirectly, and for them to know that it was because of a member of the very race that Xerxes, a VA Benufactor, was victimising? Those people felt like they were played for saps by what they thought was a race that supported Xandronian!"
Gazelle: "You must also remember that your universes has a long and unfortunate history of ugly racial mistrust! Even if Jakamor never became powerful, people will still come to hate the Sea Squirls in an alarming degree. Remember the Phends problem? There was people dedicated to hunting innosent defecter families because they were either too upset with their main race's actions or were just anarchists looking for free pardons from inexcuseable murder because of their particular race being treated worse then second class citizens. While the current extreme is worse, at least it's only a crazy bug hunting down your race, and not the rise of Sea Squirl Hunters if the Grand Council never gotten usurped by Jakamor. In people's minds, if the goverment wouldn't do anything about it, you may as well do it yourself. That being said, it's horrorable what is happening, but things wouldn't be any better without Jakamor. There would be alot of people dedicated to kill off Sea Squirls reguardless of anything, including whether or not Jakamor happened."
Xandy:...... FINE!!! THEN I'LL MAKE IT THAT THE VA WAS NEVER FOUNDED BY KILLING XANDRONIAN?! THAT WAY, THERE'LL NEVER BE A TRAGITY OF JENOVIS, AND JAKAMOR NEVER BECOMES A GRAND COUNCILER?! (She continued blasting as this music played)
Merlin: XANDY, STOP!!
Xandy: NO! I'M DONE WAITING FOR MY SPECIES TO BE DESTROYED!!!
Great Timer: Miss Xandy, you must stop! I have the power to offer suggestions to your problem.
Xandy: I HAVE NO TIME TO PLAN AROUND!!! THAT'S WHAT IS NECESSARY FOR THIS!!!
Clifton: XANDY- (Xandy blasted him to a wall)
Xandy: IS IT SO MUCH TO ASK, THAT THE GREAT AND POWERFUL LORDS OF TIME, BEND THEIR PRECIOUS RULES, TO FIX THE PAST?!? IS IT?!?
Icky: "WHEN THE FUCKING ALTERNATIVE IS CAUSING A PARADOX DOOMSDAY EVEN FOR THE MOST WELL INTENTIONED THING IN THE WORLD, THEN YES?! IT IS TOO MUCH TO ASK?!"
Xandy: THAT WAS A RETORICAL QUESTION, RETARD?! (She started firing more, and reloaded to do it again)
Clifton: (He saw the raw fury and emotion within her and hesitated, remembering all her harsh words in his head, but ignored it, and tackled her, as they tussled for the cannon) XANDY! I'M BEGGING YOU! THERE IS NO NEED TO BE RECKLESS!!
Xandy: GET OFF OF ME! (She tore the cannon from his grasp, kicked him in the stomach, and blasted him again) WHERE'S YOUR PRIDE, CLIFTON?!? OUR SPECIES IS DYING, AND YOU'RE SUPPORTING A LOUSY ETHICIST?!?
Clifton: Xandy, stop! You're not thinking straight! You know the laws about time travel and how they don't go as planned!
Xandy: I, DO, NOT, CARE!!! (She sobbed to herself) I HAVE to do this! If not, we're not going to last. (They continued fighting)
Sandy: IS SHE INSANE?!?
Po: She's trying to shift time by force, so, that ain't something a sane person would do!
Great Timer: Allow me to handle this. (He freezes time, effectively stopping Xandy from delivering the fatal blow to Clifton, and rearranges it many times as to get Xandy trapped in a temporal loop)
10 Seconds Ago...
Xandy: (She was earlier in the fight)... What?!?...
Great Timer: I have trapped you in a temporal loop, Miss Xandy. From now on, whenever you act recklessly, you will go back 10 seconds in time. Spending time arguing with me will repeat until you wake up and accept reality.
Xandy:... YOU ARE A SOULLESS CARELESS FOOL IF YOU THINK I WILL DO THAT! (She armed herself) CHRONOSPHERE!! NOW!! (She went back)
10 more seconds ago...
Great Timer: (Xandy was back before Clifton pounced on her)... Forcing your issue is not the way to solve your problems. I will not give you the Chronosphere. It will only destroy you, AND both UUniverses.
Xandy: (Growls and tries to shoot him until Clifton pounced on her)
10 more seconds ago...
Xandy: IS IT SO MUCH TO ASK, THAT THE GREAT AND POWERFUL LORDS OF TIME, BEND THEIR PRECIOUS RULES, TO FIX THE PAST?!? (She realized that she gone further in time)
Great Timer: It is. You must understand. (He shows a magical representation) Time travel, if used wrongly, or incompidently, is like a poison to the space-time continuum. Traveling back in time and changing an event, erases the timeline you changed out in favor of a future more befitting of the change. And like your friends had said, even if Jakamor never came to power, Sea Squirls would've suffered unreasonable hate reguardless. That being said, yes, I do agree that it's horrorable that your kind is suffering their, current predicterment, but consider that, while Jakamor is the shorce of the extremes now, Sea Squirls would still suffer unreasonable hatred if even Jakamor was never born or didn't existed like he did. That hatred would still exist with or without him, because Jakamor is but one of many victims by the Villains Act. All Jakamor did was malmitulate that hatred to his advantage. That much is true, but that hatred is something that is still real even without Jakamor, and removing his existence as he is, won't change that. But there are worser things at play then an unplanned alternate future. Swirling Paradoxes will come and destroy the effected timeline. It has many ways, but it's most infamous involves the Time-Loop. The first one would be done by you with newfound time traveler ammunity. Then it happens all over again when the person comes back since the event occurs again. This causes a feedback loop as it keeps looping over and over. The longer it loops, the more damage it does to the fabric of the UUniverses. It will eventually weaken it, and cause the universe to destroy itself.
Xandy:... THAT IS JUST A WAY TO SCARE ME INTO GIVING UP!! THAT SOUNDS AS HALF-ASSED AS THAT SOUND OF THUNDER BOOK I READ ON ONE OF MY MISSIONS HERE, AND HOW STUPID MEETING YOUR PAST SELF DESTROYING THE UNIVERSE IS!!! I'M NOT STOPPING FOR ANYTHING!
10 more seconds ago...
Xandy: (She stopped before she shot Clifton)... WHAT?!?
Great Timer: You WILL stop eventually. This is NOT you.
Xandy: HOW WOULD YOU KNOW ME?!?
Great Timer: Because I see past, present, and future. That's my best service in life. All you have to do is ask me, put this anxious meltdown behind you, accept a better solution, and don't allow yourself to become the same person you became in the reality where you harmed Samantha.
Xandy:... DON'T... YOU... F*****... DARE... BRING THAT UP!!! (She tries to fire)
10 more seconds ago...
Great Timer: (She was at before she blasted at the Lodgers and Timer)... You're scared, I know. But do not let this pressuring tragic event turn you into something you're not.
Xandy: I AM NOT SCARED!!!
Great Timer: I see it in your eyes. You cannot hide it. You are terrified.
Xandy: (She cried aggressively) JUST GIVE ME WHAT I WANT! PLEASE!!! (She tried to fire again)
10 more seconds ago...
Xandy: (In his office) STOP DOING THAT!!!
Great Timer: I cannot do that until you-
Xandy: I'M NOT ASKING! (She aims)
10 more seconds ago...
Great Timer: (Xandy was mad and crying her eyes out)... You must calm down! I am doing this to save you. Every time you try to attack, you're just proving to be too determined to fix your own problems instead of everyone else's. In fact, this is getting too old already. I must give you a visit to your past.
Xandy: Why are you resisting this?!? My species is in danger!
Great Timer: I am not blind, nor amoral to this. Yes, your race does NOT deserve this treatment, for any reason! But there is a better solution. If I cannot calm you down this way, I have another way.
Xandy: I'M THROUGH NEGOTIATING!!! (She tries to fire)
Black Void
Xandy: (She was sent directly there as her gun levitated away) NO! NO-NO, NO!!!... (She saw her surroundings)... WHAT THE HELL IS THIS?!?
(Great Timer): This is the future you create if you continue to do this.
Xandy: "...... But, it's just an empty black void. What happened to the future where I go around and redeem the Sea Squirl name?"
(Great Timer): "I was generious enough to show you only the aftermath of the paradox doomsday as suppose to smackdab you into the middle of it. And even then, idealistic futures are rarely atthived. Cause here is the TRUE intermediate future you created should Jakamor not happen."
The Intermediate Future.
Xandy found herself in Buckling City, only it's a down-trodden crime infested area where Sea Squirls went into crime for surviveal while Sea Squirl Hunters go around and shoot down droves of fleeing Sea Squirls.
Xandy: "NO?! NO?! THAT'S, THAT'S NOT WHAT I WANTED?!"
(Great Timer): But is it exactly what your friends warned you about. This is proof that the hatred on your race is not dependent of Jakamor. It can just as easly exist without him, because xenophobia is greater then any angry politiction. While the current benvolent main council did all they could to discourage this, the people grew tired of what they deemed to be their weakness, and went to make Sea Squirls suffer on their own accord. And even with the Lougers and the HA, little to nothing can be done about this. As with hatred of any kind, there's little even the most enfluenceal of heroes can fix. Even you being the best exsample of your race changes nothing. As far as they would care, you and Clifton, among certain others, are abnormalonlies, and that other Sea Squirls are no different then Xandronian. And yes, the future without the VA is more ideal, but remember..... Even getting an ideal future ends up moot, when soon.... (Everything vanished as they were back in the black void).... It goes back to this.... What I claim about the fragile nature of the timeline, is not half-assed.... Though I won't deny that it is, complicated and hard to understand. But.... It is, truth. Yes, it is possable to get an idealistic future, but only with either the blessings of a Time Lord and/or using a paradox free loophole, but you're not currently worthy of neither. You must break out of this denial phase. Or better yet, break out of your anger, haggle, AND depression phases.
Xandy: I TOLD YOU, SCARING ME WON'T WORK! All it will do, is break me more!
(Great Timer): That's your choice. I am making you see the consequences of your actions. You need to get out of this scene, and look onto the brighter side.
Xandy: (Cried to herself) Just... Just give me what I want! I'm tired of fighting this!
(Great Timer): Tired of fighting me or your crisis?
Xandy: BOTH!!!
(Great Timer): What you SHOULD be fighting, is yourself.
Xandy:... WHAT GOOD IS FIGHTING MYSELF, WHEN THE WHOLE WORLD IS CRUMBLING APART AROUND ME?!?
(Great Timer):... Because it's what you live for. You must conquer yourself. Just witness what you were in the past.
Past
Xandy: (She was a spectral image in Carbungia in it's past)... Where am I?!?
(Great Timer): Buckling City. Julrey 18, 1981. Or 1982 in OUU time.
Xandy:... Ain't that my birthday?
(Great Timer): Correct. Back then, your world of Carbungia is still cleaning itself up after the events of the Interuniversal War, after being caught in the crossfire. Behold. (They saw Buckling City, as it was in shambles as the sea squirrels were cleaning up and providing for each other)
Xandy:... (After one sea squirrel passed through her)... Well... We may not be incredably speical or as great as the Yaterons, why, we didn't even had the cute thing before Xerxes happened...... But what we lacked in ungiteness, we made up for it by being decent folk. Xandronian failed to understand that. We don't need to be unigte or fancy, or even actselly being considered cute to earn anyone's respect. We just needed..... To act like normal people. We are a proud people. Strong. Unrelenting. Hardy. Being a famous or beloved race matters little, as long as you don't let hardtimes get to you.
(Great Timer): And you were no different the day you were born. (They went into her childhood house and watched as Xandy was born)
Young Sea Squirrel: Mommy! Mommy! I wanna see the baby!
Xandy's Mother: Okay, okay, Xrandy! Just, be careful. We have to give her a name soon.
Xrandy:... How about Xandy?
Xandy's Father:... Strange name.
Xrandy: It's Thexan for 'Defender of the People'. And she DID seem to be our motivation to get us pretty far. Plus, I think it's a pretty cool name.
Xandy's Mother:... Seems... Fitting enough. Alright. Xandy it is.
Xandy:... That's seriously what my name means?
(Great Timer): Indeed. Your birth gave your parents and brother hope of surviving throughout the Interuniversal War period.
Xandy:... And... I kinda forgot about Xrandy.
(Great Timer): Yes. Your older brother.
Xandy:... What happened to him since he was exiled?
(Great Timer): I feel that's a tale to tell another day.
Xandy: NO! I want answers! Tell me what- (They shifted to another time)... Wha?
(Great Timer): Xaono City, Julrey 17, 1987.
Xandy: Wait... Why does that date sound familiar?
(Great Timer): Because it is the date where you met a considerably memorable early 6th birthday gift. (They were seen at a daycare)
Xandy: (She saw all the young children, then heard giggling, recognizing it as her own, as she saw her 6-year-old self with another familiar face)... That... That's me! And... That's Chase!
Young Xandy: (Sitting near a pond dipping her feet in)... So, what do ya' do for fun here?
Young Chase: I pretend to be hero.
Young Xandy:... Really? So do I!
Young Chase:... Wow! Are you new here?
Young Xandy: Mommy's on a business trip, and brought me here until she gets back.
Young Chase:... Me, too!
Young Xandy:... Strange. We meet coincidentally in the same circumstance?
Young Chase: Yeah. It's strange!
Young Xandy:... Xandy. Xandy Wargander.
Young Chase: Chase. Chase Cannell.
Young Xandy:... So... What else do you like?
Young Chase:... Swimming.
Young Xandy: NO WAY!!! Me, too! What else?
Young Chase: (As Xandy and Great Timer watched them talk) People who enjoy having a thrill?
Young Xandy: People who love to roam the world looking for it?
Young Chase: Burning carbs?
Young Xandy: Being a hero someday?
Young Chase: Beating up bad guys?
Young Xandy: Shooting their first gun?
Young Chase: Flying their first heroic spacecraft?
Young Xandy: Exploring the wonders of space?
Young Chase: ENJOYING SNORKELING IN THE SEA?!?
Young Xandy/Young Chase:... UNDER THE LAW?!?!? WHOOOOOOOOOOOOOOOOOO!!!
Xandy: (She started smiling)
Young Xandy:... (The two jumped into the pond and started playing together laughing) YOU'RE UNDER ARREST!
Young Chase: You'll never catch me! (Laughs as he dived, along with Xandy, and their bubbles were seen as Xandy was happy)
Xandy:... I gotta say... Meeting Chase that day... Really WAS a good early birthday gift. The next day was especially wonderful. (They shifted there as they saw the two doing amazing things like swimming in the sea, playing hero, having fun in water towers, play-fighting, amazing sports, and many other things, all while they got older, as this music played)
Xandy:... Oh, those were good times.
(Great Timer): "So, are you done with going after time travel?"
Xandy: "Uh..... Well, I'm alittle detered, but some part of me still-"
(Great Timer): "No need to explain. I have one more trip just in case. But be warned.... It's the most painful part of your life.... Your rise to heroisum through your first encounter with Xerxes."
Xandy: "Hey wait a minute, there's no need for that-" (They shifted to 5 minutes before the attack)
(Great Timer): This is the time when you were starting to get pretty determined. You were questioning yourself as to what you would need to make your dream come true.
(Xandy):... (She witnesses her 16-year-old self)... Hmm... I remember doing that before my parents were killed. Then...
Xandy's Father: (He and her mom came in) Xandy, sweetie?
Xandy: Oh, hey daddy!
Xandy's Father: Xandy, we need to let you know we are about to run off to another business trip. Xaono City is in dire need of financing since this rumor of an uprising "villain dystopia" as alot of people liked to have called it.
Xandy: Oh, I'm sure it won't be that bad. After all, you two are the best at providing for 'em. My best friend's father had known you for a while, and came to appreciate you like friends.
Xandy's Mother:... (Sighs) You're right. But... We just wanna let you know... If something should EVER happen to us... Do remember, if you even feel like you're in a hopeless situation, whether it be doom to our species... Don't let your stress and mental issues get to you, and just follow your heart.
Xandy:... Why are you telling me this?
Xandy's Father: Because... Well, we fear that with this possible uprising, we might be at stake here. We know you are capable of great things, sweetie. We WILL be around to motivate you, if you need us.
Xandy:... This... Makes me feel a little uneasy- (Suddenly, a series of marching was heard)... What's that? A parade? (Screams were heard with the sound of destruction)..... That doesn't sound like a very happy parade!
???: ATTENTION, ALL SEA SQUIRRELS!!! YOU HAVE REPAID YOUR LONG DUE KINDNESS TO ME AND MY ROYAL FAMILY, WITH AN ACT OF AGGRESSION! I AM HERE TO GIVE YOU THE PUNISHMENT YOU DESERVE FOR THE LOSS OF MY LIVELIHOOD! I TRUSTED AND ADMIRED YOUR KIND, AND YOU BETRAY THAT TRUST, IN HORRENDUS AND UNFORGIVEABLE WAYS! (Xerxes XX came) And so... THE SENTENCE, IS DEATH!
Xandy's Father: (He noticed the Villains Act symbol on his robe)... No!... It's the-
Xandy's Mother: The 20th Descendant of the Xerxes Family!
Xandy: Mommy? Daddy? What's going on?!?
Xandy's Father: Xandy! You need to hide! (They brought her to the closet) Now, stay here, and don't come out! (They prepared to run away until Metavincemanders came into their home as this music played)
Metavincemander #1: Looks like you two tried to get out of dodge too late?!
Metavincemander #2: Ya should've skipped town while you have the chance?!
Metavincemander #3: Next time your kind considers ruining someone's livelihood, ESPECIALLY one of which you give these WORTHLESS necklaces to... You'd better not ignore the consequences of your actions like an insensitive asshole. (Shows one similar to the one Xerxes had)... (Sighs) I loved this thing, but knowing the sins your kind reaped on our kingdom... (He smashes it in his grasp)... Prepare to die!
Xandy: NO!! (They shot them down as they disintegrated) NOOOOOOOO!!!!
Metavincemander #1: (Their bloody ashes were on the floor)... Well done soldiers. Two down, an entire city to go. Now it's their turn to know how we felt.
Xandy: (She came out) YOU... YOU SONS OF GRUTTS!!!
Metavincemander #2: The hell was- (Xandy kicked them all into comical situations)
Metavincemander #3:... Did we just get hit by a teenager-
Xandy: (She got her golden sword)... WHO IS YOUR LEADER?!?
(Metavincemander 1: PLEASE, WE, WE WERE ONLY FOLLOWING HIS ORDERS?! (Points to Xerxes)
Xandy: (She growled furiously)
Xerxes XX: (Stands at the center of his rising destruction as sea squirrels were being slaughtered and disintegrated left and right)... Vengence, has never tasted so sweet......
???: You murderous monster! (Xandy came out with her sword)
Xerxes XX:... (Laughs)... An adolescent sea squirrel? I'm supposed to be scared of YOU?!?
Xandy: You SHOULD be! You disintegrated my parents!
Xerxes XX: Try not to take this personally. I am only doing this, because it is my duty to the Metavincmancer people. Their crimes shall not go unpunished. And to ensure things like what happened to me, never occur again, I am declaring a genocide against these creatures.
Xandy: The only crime I see here, is a HATE crime! You think you can kill my parents, and THREATEN OUR LIVES, AND JUST LEAVE?!?
Xerxes XX: Would you be surprised if I said yes?
Xandy:... (Growls)... How DARE YOU?!? YOU CAN'T JUST DO WHATEVER YOU WANT WITHOUT CONSEQUENCES!!!
Xerxes XX: Trying to be ironic, are we? Well, then here's the price of your hubris?! (He aims his staff at innocent children)
Xandy: (She jumped onto his flightless bird steed, kicked him down, and stepped on his face) THAT'S, WHERE I DRAW THE LINE!!!
Xerxes XX: OFF OF ME, YOU WASTE OF A PELT?!! (He attacked, as she defended herself)
Hydrocabiais #1: Is... Is that Xavier's daughter?
Hydrocabiais #2: The hero wannabe?
(Xandy): (Watching the battle start)... I... I don't know what got into me that day! My kind are typically instinctionally, well, non-fighters unless trained into it. We typically avoid violence like it was a plauge! And here I am taking names and kicking tush!
(Great Timer): Well that's because, from what I see, this, is a hero being born. You were wondering how to start a life of heroism, and the answer, came to your doorstep. This person, who threatened a genocide of your species, for a crime you would not understand until the Lodgers came, was the missing piece to give you the push to make you the hero you are now. (The musc climaxed as they began an elegant spectating fight)
(Xandy):... You know, to this day, I wonder how I could fight him for almost 30 minutes.
(Great Timer): The determination, and your dream, motivated you, to never stop fighting, until he fell.
Xerxes XX: (He finally fell to her feet)... UURGH, DIRTY VRAT- (Xandy pointed her sword at him)... YOU... YOU'RE NOTHING BUT A BRATTY TEENAGER!! I AM A MASTER OF A MILLION FIGHTING SYTILES?! HOW?!?
Xandy: F*** you, that's how! Leave this place, NOW! I will NOT let you terrorize my town anymore! GO, or so help me, I will cut off both your hands and feed them to my pet horboo!
(Xandy): Heh. My daddy had one. He was QUITE rambunctious when it came to dismembered body parts.
Xerxes XX: Y-y-y-yes, ma'am, whatever you say! EVERYONE, RETREAT! (The soldiers load their giant birds into the dropships, and take off with Xerxes XX viewing her from one of them)
Xandy: AND DON'T COME BACK!
Xerxes XX: I swear to you, child, I WILL get you for this! And when I do, I'll kill the rest of your kind! Every single Hydrocabiais will pay for what they did to me! And nobody will stop me! (Leaves)
Hydrocabiais #1:.... You did it! You actselly freaking did it! You saved our lives! What's your name?
Xandy: Just call me Xandy. And I promise you this: I will NOT let that tyrant harm any of you. Buckling City will sleep safely knowing that it will be under my watch! Once that careless tyrant returns, I'll be ready and waiting! (All Hydrocabiais cheer)
(Xandy): Wow, I remembered some parts differently when I told the story... But.... Despite what was taken from me that day... I have to give Xerxes credit for one thing... He gave me a reason to BE a hero.
(Great Timer): Exactly. Now, I am asking you, with this into account, try to remember all the lives, Hydrocabiais or otherwise, you saved, all the friends you made, all the good things you did, and take them into account with the bad things you've done.
(Xandy): (She thought it over as all the things that occurred afterward made her appreciate herself again)... I... I think I'm ready.
(Great Timer): Not yet. There is ONE challenge left for you to face. You, must confront yourself.
Xandy:... Wha?
The Black Void
Xandy: (She was there again, in an asteroid field)... Where am I?
???: Hello, Xandy! (She was seen as the Black Kranmort version of herself)...
Xandy:... Oh, you got to be freaking kidding me?!
(Great Timer): This, is you, at your evilest potential. In fact, it's you in this apocalyptic future, as your tragedy turned you into something crazy, and beyond reality, or anything both UUniverses have seen. This, will be the challenge which you must face.
Xandy:... Your NOT kidding me......
Black Xandy: You cannot escape this! THIS, is what you will be eventually! No matter what you do or what you face, one simple mistake or tragedy, will bring you to what you CAN be! I, will be, you, eventually! (She displayed a deadly sword like hers, glooming in ominous energy)
Xandy:... (Pulls out a sign from nowhere that saids "Meep")
Black Xandy: We have the power to FIX things! At THIS potential, nothing could, or will, stop me. Give into your inner potential. Let it FLOW through you like a streaming river. The world is ALWAYS going to be unkind to us. The world takes, and doesn't offer anything in return. All it does, is ruin lives, because of one major law: life, isn't, fair. Well, in MY reign, it is! In THIS void I created, I am unopposed. You can still fix this. No more xenophobia or suffering. No more cruelties and injustices heaped on innocent lives. No more broken bonds. No more Villains Act, no more Jakamor, no, more, EVIL! I, am, the BIGGEST hero of this reality. I sacrificed, EVEN MY OWN UUNIVERSES, TO GET THIS FAR! I, AM, AN OUTER GOD NOW!!! This has been my true destiny from the beginning. An amoral hero who does what is right for not just our UUniverses and theirs, but all others in general. So, don't fight it. EMBRACE it! It's time, we become SO great, no hero can EVER reach it, and SAVE our ways of life!
Xandy:... No!
Black Xandy:... Par-don? (Suspenseful Western music played)
Xandy:... You wanna save everything you ever loved. You wanna show both UUniverses that everything they ever did to your kind was wrong. But in the end, all you did was destroy your worlds just because you came to the conclusion I likely would've: "If life isn't fair, then life shouldn't exist". That doesn't make you a hero. That, actselly makes you worse then your average nilist! Even the VA would think your awful about this?! That makes you a MONSTER! You're trading one's imposed views, for YOUR imposed views.
Black Xandy: You don't understand! LOOK AT WHAT OUR PEERS HAVE DONE TO US! Having to stab us in the backs, AND THE HEARTS, again, and again! They NEVER CHANGE!!!
Xandy: I have to correct you on that! We WILL win through eventually! I thought I could force my way through. I ALWAYS have. My mother always told me I couldn't always think straight. But if I overcame that flaw, I could be something more powerful than, what YOU turned yourself into! The way I see it, you destroyed BOTH UUniverses, because they couldn't cope with YOUR demands. Our mental conditioning, has made YOU too greedy, and too needy. Where it helped ME learn. If I was ANYTHING like you years ago, I would've just given up, and accepted Xerxes' offer to leave us in peace. But what he did, and how much he gave me and defined my life, made me TOO untrusting of him, to even come CLOSE to considering a plan. YOU, are just that, but on a much LARGER scale! This isn't bettering us. This is a COMPLETE RELAPSE!!! We can't just force our issues. We win hearts and minds. We EARN sympathy from others. We don't FORCE sympathy, and we sure as hell don't put a gun to their heads, and say 'accept it or die'!
Black Xandy:... I thought that long ago! It was destroyed by the harshness and slowness of reality. When I wasted my life WAITING, it just allowed WORSE things to happen.
Xandy: Even if it's what happened to you, the world does NOT revolve around you, or me. What you did, and what I would've eventually done, is mindless, senseless, and wrong. And I, am going to correct it!
Black Xandy:... So that's how it's going to be? THEN destroy yourself with your softness and weakness! In THIS reality, I, AM, LIFE! (This music played as they fought)
Deadpool suddenly shows up and interupts the fight as the music died down!
Deadpool: "HOLD IT, HOLD IT, HOLD IT?! ARE WE REALLY GONNA SLOW DOWN THE ENTIRE EPISODE WITH A FIGHT SCENE NOT RELATED TO THE PLOT?! I mean, isn't there an entire race being slaughtered and-"
Poof as Deadpool vanished.
(Great Timer): "Sorry, just a minor interuption. I sent him off somewhere else with no memory of this event. Please, continue."
MSM: Oy! He can be both an advantage and disadvantage sometimes.
(Great Timer): Besides, this is all happening while the current situation is frozen in time. Once this is over, time will resume, with Xandy fully pacified.
Dark Xandy:... Last chance! I am, what you deeply wish!
Xandy: All you are, is the WORST things I deeply wish! No matter WHAT happens, I will NEVER be like you!
Dark Xandy: We'll see about THAT! (She engorges her sword, and slashes the asteroid they were on, as they dodged, jumping off of many asteroids) (She takes out her dark Oalanx Pistol) DODGE THESE!!! (She fired powerful adaptive and turning and curving blasts of energy, which Xandy was able to dodge)
Xandy: (She darts into an asteroid as Dark Xandy slashed it in half, yet found she was missing)...
Dark Xandy: WHERE ARE YOU?!? SHOW YOURSELF!!! (She unleashed a bomb, which exploded wildly, spreading asteroids off into space, including the one Xandy was in)
Xandy:... Fool!
Dark Xandy: Am I? (She appeared behind her) I was waiting for you to show yourself.
Xandy: UGGH!
Dark Xandy: (She attacked multiple times, and managed to overwhelm her)
Xandy: OW! ARRGH!!! (She kicked her into another asteroid)
Dark Xandy:... WELL, NOW YOU'RE WINE ON THE ROCKS! (Cackles)
Xandy: (She got out without a scratch)... Peek-a-boo! (She took out her LNG-880 from before)
Dark Xandy:... (Laughs) Your puny LMG-880 Huncus toy is PATHETIC! Lemme show you a REAL WEAPON!!! (She got out a more powerful version in her image which unleashed an unbelievably-powerful barrage of laser energy)
Xandy: OH, S***! (She was seemingly blasted into oblivion)
Dark Xandy:... Well, ain't THAT a kick in the hea- (Xandy kicked her in the face) HOOOOOOooooooo!!- (She crashed into planetary debris)
Planetary Debris
Dark Xandy: (She recovered, as Xandy landed right near her)... How... the f***?!?
Xandy: Ever hear of Newon's Laws of Motion? (She revealed that she used the LNG-880 to propel herself away from the laser blast)
Dark Xandy:... You got lucky. I am an outer god. I, am beyond good and evil. A being, more complex and grand, than anything that has existed, or ever WILL exist. I traded a LOT, to earn this title!
Xandy: Oh? Like your home? Your friends? Your family? Your boyfriend? All you ever loved?
Dark Xandy: A tribunal sacrifice. I am seeking to create MY OWN UUniverses soon. I can recreate my home, and have it go MY way.
Xandy: What good is creating the UUniverses in your image, KNOWING how much you sacrificed to make it? Think of the fond memories you... WE, have!
Dark Xandy: They mean NOTHING anymore.
Xandy: You sure about that? You don't miss them a little bit?
Dark Xandy: I am, amoral! I traded any and ALL weakness for this power! I am you, at your greatest!
Xandy: You think so? I REFUSE to let myself be fooled as I almost was with Xerxes! You're letting everything horrible in our lives define you. What defines ME, is my heart, NOT my past.
Dark Xandy: Then I may have to RIP it clean out of you.
Xandy: Go ahead and try. (They continued fighting as their battle shook the void, as they went to many areas normally unsuitable for them)
Dark Xandy: (She fired two powerful blasts from two LNG-880 duplicates that homed on Xandy as she hopped across surfaces and guided herself with her gun avoiding them, guiding herself to Dark Xandy) Really? You SERIOUSLY think that pathetic million-year-old trick is gonna- (Xandy blasted the area around her as the dust obscured her vision) CLEVER C**T!! (She was kicked in the face by Xandy) HOOOOOOOOOOOOOOOOOOOOoooooooooooooooooooooooo- (She crashed into another asteroid)...
Xandy: (She stopped herself in place)...
Dark Xandy: (She survives)... You think you can defeat me, as a GOD?!? I cannot be stopped! I am immortal, omnipotent, AND omniscient! I, AM, ETERNAL!!! (She gained two duplicates of her energy swords)
Xandy: (She tries to move until she discovers she ran out of ammo)... Aw, son of a Vellan whore!
Dark Xandy: (Chuckles) Looks like you're motionless. (She engorges her swords)... Time, to end this! (She attacks)
Xandy:... (She gets a bold face)... You think you're better than me? I will never be you. You know why? Because I have friends. I have family. I have everything I could ever want. In the face of an evil crisis like that which made you a monster, I will NEVER share your fate. My peers are all the power I need. More powerful, than that of an outer god like you! (She charges her sword with the willpower of all the souls she destroyed) I'm sure everyone, out of sympathy for you, would like to see this! A monster, destroyed by her purest self!
Dark Xandy: YOU THINK THAT CAN DEFEAT ME?!? WHAT PART, OF GOD, DO YOU NOT UNDERSTAND, YOU FOOLISH ANIMAL?!?
Xandy: I could ask you the same. I will ensure you are all but a memory. (Her sword grew into a purified one, which she used to clash against Dark Xandy's, which shattered)
Dark Xandy: WHAT?!?
Xandy: YOU MAY HAVE AN UNDERSTANDABLE PAST, BUT I WILL NEVER LET THAT MAKE THE SAME MISTAKE IT DID TO YOU! GOODBYE, FOREVER! (She sliced her sword into Dark Xandy)
Dark Xandy:... NOOOOOOOOOOOOOOOOOOOOOOOOOOOOOOOOOooooooooooooooooooooooooo... (She exploded, as everything faded into white)
Later...
It turned out that Xandy was unconjustus all this time.
Icky: "..... She's been unconjustus for awhile now. Is she done yet?"
Great Timer: (He came) Oh worry not. She's just about done with the challnage I simulated for her. She should be awake any minute.
Xandy: (She woke up)... (Sighs)... I... I'm so sorry, everyone.
Clifton: It's cool, Xands. It's not the first time you had a mental breakdown.
Great Timer: Besides, there was no harm done.
Spyro:... I gotta ask, though. You have a Chronosphere? Isn't that-
Great Timer: Yes. There's more than one of them. The one in Underland is only one of them. This one belonged to the Time Dragons. I'm one of the last of them. I do not alter time anymore. Instead, I joined the other time lords in the UUniverses, to guard the props of time, and go to great lengths to protect them from those who would abuse them for any misaimed or malitious reasons, like you just saw.
Xandy:... You said you could do that paradox stuff. Can't you do that?
Great Timer: I can only do them for THESE UUniverses. If you want a paradox, find a time lord in YOUR UUniverses. Those are the rules.
Xandy:... (Sighs)... Well... I guess I should do what I SHOULD'VE done from the beginning:... Ask for a solution to saving my species.
Great Timer: Isn't it obvious? A handful of your species is still alive. All you have to do is... Move them.
Po: Move them?
Great Timer: As in, relocate them to a location where they cannot be harmed.
Clifton: Like another version of our UUniverses?
Icky: The location doesn't matter as long as it's away from Jackassamor!
Clifton: Actually, it matters more then you think. You should know that... Different dimensions mean different physical laws. Ours aren't comparable to your worlds that much, baring very few exceptions to a limited extent. Planets in OUR worlds have different physics than those here. Not to mention our life can, in a way, affect the alternate nature of other worlds like this. There's a LOT of risks with relocating a species.
Great Timer: If your species is suffering, you have to take risks, even if they aren't ideal. Remember the Psychozoans and how things were too dire for them to just stay and find a world more native to them?
Clifton: Well, yeah, I mean, that's how I learned about physical law risks regarding our UUniverses. The Psychozoans... Ended up being assimilated to these UUniverses by it's physical laws. I mean, by all means, they can always come back and get re-addjusted because the idea of your native universe being poisonious to you for not being at it for too long is a long disproven crackpot throey because they were still born to our universes to begin with, because let's face it, if that was true, then the Lougers shouldn't even be ALIVE by this point when they came here by accsident, and we shouldn't even be able to enter here! But.... One concern still rings true. They would be so out-of-touch by the standerds they once accepted that, they may as well no longer be of our universes. I worry, that's gonna happen to our kind, that, we would no longer be proper people of our native universes.
Great Timer: Do not worry. There IS a world that is right for your species. Similar conditions, similar physical laws, everything.
Shifu: What is this world?
Great Timer:... Yonder.
Sandy:... The artificial Space-Western world where we beat Master Crux? But, that's tecnecally not a real world, like I said. It was actselly a lost Futuriasin science project hijacked by a gang of outlaw wanna-bes that ruined it's intended purpose and turn it into a giant irony of itself.
Great Timer: True. It is a far cry of what was intended of it, and clearly was not a world created by the gods. But as you had learn when you were there, just because a world isn't real, that doesn't mean it does not make it less a home to those who live in it. For what it is worth, an artifical mortal created world is still a world, flaws aside. But let's look more at it's benifits. It has the appropriate conditions for the sea squirrels. Water, desert, similar plant life and fauna, everything that could help your species survive until it's safe to return. This world won't assimilate you into our physical laws either cause of it's simularities. They will know your AUU nature, and keep you from being assimilated.
Xandy:... I... Guess it DOES sound like a good world to get into, for the time being anyway.
Gazelle: "Wait, but, what about the possability of certain, if not all, natives being outplaced by the changes?"
Great Timer: "It's great you are more considerate of any and all actions and the consinquences they hold. Yes.... I can't garrentie that everyone will welcome the change, even if it's only for a certain period. Which is why it's impourent to keep the peace in Yonder even more then what is normally required until the Alternate Universes can make peace with the unfortunate truths. Let no one make the Sea Squirls suffer more then already for any reason, justifived or not, because Yonder, reguardless of not being of the gods design, is the only place suitable to them."
Shifu: "Then we will show naysayers no mercy if they wish to bring harm to them, justifived or not."
Saving the Sea Squirrels
(Pending)
Deathslaughter's Illusion
Deathslaughter: (He lays beaten from his battle with Gazelle)...
Gazelle: That's enough, Deathslaughter! Your master's wrongful actions are done!
Deathslaughter:... (Takes several exhausted breaths)... What's that, Princess Gummy? You think I should? I don't know, that spell's kinda extinct and.... Okay, okay, woman, you don't have to be dramatic!? Oh wait, let me get serious for a moment.
Icky: "Alittle too late for that, wacko."
Deathslaughter: AHEM! You think you've won? I'M NOT DONE HERE! (He unleashes a white flash as everyone was blinded, and when they recover, a red deadly energy beam is blasted into the sky as Deathslaughter became a part of it and the beam creates a intense thundering blast that spreads dark clouds across the sky of Breezso Prime as everyone, the heroes, the sea squirrels, and the Councilors, watch in horror as the clouds formed many Deathslaughter faces that all cackled maniacally)
Xandy: WHA-WHA-WHAT'S HAPPENING?!?
Samantha:... I think... I think he's trying to become the UUniverses itself! But... But that's impossible! Such a spell has been long-extinct since the reign of Vulxun! HOW COULD HE MASTER THE UNIVERSAL PURGE SPELL?!?
Private:... That doesn't sound like a good spell.
Samantha: It shouldn't?! In his time, Vulxun used it to nearly destroy the UUniverses, wiping it's planets clean so he can remake them to his image.
Xandy: IT DESTROYS UUNIVERSES?!?
Samantha: Well it depends on how it's used! Sometimes it only goes as far as to wipe out races since that is what Deathslaughter's hired to do! Trouble is, if not used properly or if your mind isn't right, it hurts more then the intended targets?! AND SINCE DEATHSLAUGHTER'S MENTALLY ILL......
Lougers: "OHHHHHHHHHHHHHHH, CRAAAAAAAAAAAAAAAAAAAAP?!"
Deathslaughter's faces laughed maniacally as the clouds covered all of Breezso Prime as his face was seen cackling, and his face spread out throughout the rest of the AUU
Merlin:... Wait a minute!
Gazelle: Something's not right! He couldn't possibly be this stro- (One of the faces opened and unleashed a deadly red beam of energy, as did the rest of them as they obliterated everything on the planet, as the heroes shielded themselves as much as they could, the beams destroying the last of the sea squirrels, destroying everything, the planet's surface being scorched and wiped clean with Deathslaughter cackling)
Later...
Xandy: (They woke up, and all the magic users were seemingly killed, and only a handful of the Lodgers were alive)... What... What happened?!? (She gasped as the entire surface was wiped clean)... What... WHERE ARE THE- (She sees them gone)... No!
Telthonatron: He didn't!... He didn't...
Xandy:... They can't be dead! Jakamor didn't just win!... (She picked up Tollund's gun) THAT CAN'T BEEE!! (She shot in the air at the Deathslaughter faces as it had no effect until it ran out of ammo) NO!! HE DIDN'T KILL THEM! IT'S NOT TRUE!!! HE DIDN'T!!! THEY'RE NOT GONE!!!
Clifton: XANDY, STOP!
Xandy:... (She fell to the ground crying hard and hysterically)...
SpongeBob:... I don't get it! How can he reach this level of power so easily? Wait... WAIT!... I've seen this trick before!
Reality
SpongeBob: (Everything changed around him as everything was truly fine, except all that were killed are merely unconscious except for the magic users, and everyone who was still alive are under dark spells as Xandy was still crying and on the verge of corrruption)... What... WHAT DID HE-
Gazelle: It was just an illusion! He's trying to scare us into giving up!
Deathslaughter: (Puts up a shield) Oh no, Princess Gummy, they figured it out! What's that? You don't care as long as we win? Oh, you are always my faverite bubbly yet strangely sadistic imaginary bubble gum princess! I should explain? Okie dookie!
Trixie: "Okay, I am VERY conflicted to still consider this hilarious or to now truely fear him?!"
Deathslaughter: (Gets serious) You heroes may've figured everything out! But it helps little as Princess Gummy's plans are working! The silly rodent thinks half of you are dead! And is now on the verge of giving into the darkness she was inflicted with in your UUniverses, she will no doubt turn into a pawn once again! Princess Gummy and I would LOVE a servent! (Xandy does so as she had teary eyes, mentally-tricked eyes as in the illusion she saw Deathslaughter as he went out of his fake spell and duplicated himself) But first, let's have our fun Princess Gummy!
Deathslaughters: YOU'RE NEXT! (Cackles)
Xandy:... I'LL KILL YOU!!! (In reality, the Deathslaughters were those that were still alive, and while all who were still under the illusion saw them as that as well and fought for her in revenge, Gazelle tried to intervene)
Deathslaughter: Hold it! Princess Gummy has a very strict rule! You try to intervene, and they attack YOU! (The Uniter Blade reacted to that) They have been afflicted with this illusion, and now they will not be so easy to snap out of because they will be focused on their own revenge so much, they won't give you the chance. (The Uniter Blade got stronger and stronger) All you can do is watch as they do my work on you, WHILE I SLAUGHTER THE LAST OF THOSE VRATS!!! (He charges up a deadly red blast and prepares to fire it at the sea squirrels who panicked for their lives until the Uniter Blade finally had enough, and it unleashed it's own blast) WHAT?!? (The blast shortened out his attack) WHOA?! Princess Gummy, I don't think we planned for this?!
Illusion
Xandy: (The magic blast ended up getting their attention as the black clouds turned into white as all the faces ended up being obscured, then started faded away along with the rest of the illusion, everything fading to white)
Later...
Deathslaughter: (Deathslaughter awoke, depowered and unable to stand)... Awww, don't cry Princess Gummy, it could be worse- (He was grabbed by Xandy) AAHHKK!!! (She picked him up).... Ooops! I Forgot about the REALLY angry Sea Squirl.
Xandy:... You, stupid... Ugly... Bastard! YOU TRICKED ME INTO BELIEVING MY KIND WAS EXTINCT!!!
Deathslaughter: To be fair, I was only taking Princess Gummy's advice.
Xandy: "WILL YOU STOP IT WITH THE IMAGINARY FRIEND SHIT ALREADY?! IT BARELY EVEN REDEEMS YOU ANYMORE?!"
Deathslaughter: (He panicked, but he couldn't use his magic, then starts to chuckle nerviously) Please, I was only doing what Mr. Jakamor and the other councilers asked for, they only wanted to be happy with your race's extinctio-.... Yeah your right, Princess Gummy, poor choice of words there. C'mon, I was only pullling, a practical joke? Ya know, with the big scary faces and the annihilation of the surface? (Chuckles) Wasn't that hilar- (She tightened her grip) AAHOOOWCH!! Princess Gummy, ack, I don't think she's amused!
Xandy: There is NOTHING funny about death and destruction of innocent lives, you MONSTER!!! You have done sick s*** in your time, BUT THIS TIME YOU HAVE CROSSED THE LINE!!! NOBODY LIKE YOU DESERVES TO LIVE!!! (Everyone watched the clear emotion in her!)
Deathslaughter:... (Starts to whimper). (This surprises everyone but only further enrages Xandy).... Do you seriously think I'm not aware how broken I am? What do you expect from someone with my mental illness? I was only llistening to Princess Gummy! All my actions is because she encouraged me! She was the only friend I had.
Xandy: "WILL YOU STOP IT WITH THE PRINCESS GUMMY CRAP?!"
Magnum: Xandy, he's beat! He's lost all his magic. Let him go. And please, stop criticisizing the poor fool's delutions. He can't help being like this. He's sick in his mind, and we have to understand that his morals are not well defined. It isn't better to punish him because of how unwell he is.
Xandy: NO! It's a trick! All he's done, all the innocent lives he took, he deserves to DIE for what he's done to us!
Magnum: What he deserves is debatable, but if you kill him like this, you'll be right back where you began. This is NOT the hero way.
Xandy: Do you HONESTLY expect me to let him live after all this? I ALMOST HAD A HEART ATTACK!!! I THOUGHT I FAILED!!! WHY SHOULD HE STAY ALIVE?!?
Lord Shen: Because you should leave it to those who are more qualified to offer punishments. If you do it yourself, you'll commit murder. It doesn't matter what he's done, it's still murder! And on top of that, coming from someone like myself who does not faver him greatly, even I agree that it's not fair to judge the poor insect because of how broken he is. Also, you end the poor maniac's life, you'll only serve to prove that Jakamor was right about you and that your kind DO deserve death, is that what you wanted? For a racist being right about your kind?
Xandy: LET THAT FUCKER THINKS WHAT HE WANTS?! IT DOESN'T CHANGED ON WHAT THIS, VERMIN OF A BUG, DID?! HE NEARLY KILLED MY SPECIES!!! HE SCARED ME HALF TO DEATH!!! HE IS A TIME BOMB THAT NEARLY WENT OFF!!! AFTER ALL THIS, THE UUNIVERSES ARE BETTER OFF WITHOUT HIM!!! IF I END UP BEING LABELED A MURDEROR, THEN SO BE IT!!
Hudson: XANDY, STOP! (Xandy faced him)... They're right. You need to let him go. You think I don't sympathize with you? I was as traumatized as you were by his little mind trick. But, to be fair, the poor guy doesn't have a good sense of right and wrong, and, even IF I was capable to have grudges and be angery, I won't hate him for being broken. He's kinda like my brother Edison. They're both products of broken, hard to fix brains, and it's not right for us to hurt them for that. But he's not really to blame, now is he? He's only been a pawn to Jakamor, the guy who encouraged him to even be allowed to do all of this. He's just been doing what he was paid with freedom to do.
Xandy:... Hudson, I love you, but Deathslaughter is still someone dangerous. If I don't put him out of his misery, what's to say he won't be hired by somebody even worse? This is my one chance to make sure he doesn't harm anyone again.
Hudson: Be that as it may, this is not the way to fix that. You can't just commit a murder of someone, even if they're Deathslaughter. That's for the Council to decide. Otherwise, if you go through with this.... You'll end up being another Black Kronmort and prove Penombra right. Please, Xandy. Don't sacrifice it all for the sake of justice, espeically not your idea of it. I can't stand to see you go to jail for this. He's too weak to fight back, and this is his final attack. Don't let it destroy you.
Xandy:... (Sighs, and drops Deathslaughter)...
Deathslaughter:...... Sooooo...... No hard feelings?
Sandy: The kind of things you did, mental illness or otherwise, is NOT easy to glance over!
Tollund: Exactly. And you're in BIG trouble, bug! (They trap him in a jar)
Deathslaughter: Awww, I hate these jars! You should know that Princess Gummy won't stand for this!
Clifton: Okay, CUT IT OUT WITH THE PRINCESS GUMMY CRAP?! And don't go assuming that Xandy won't recover from this. I will be there for her every step of the way of recovery. You may have destroyed her spirit, but you didn't destroy her hopes. Xandy will be back soon, this I swear. I will not let this horrible tragedy ruin her OR me. Jakamor is going to pay for this. WHILE YOU GO BACK TO THE MENTAL WARD IN ORANOS YA SHOULD'VE STAYED YA SCREWED UP LITTLE-
???: "(A DEATHLY SCREECH IS HEARD?!)"
Deathslaughter: "Uh-oh! Princess Gummy's not happy!"
Tether: "Wait wait, what?! I thought that was an imaginary friend!"
Deathslaughter: "Well, yeah, she is, but.... Well, turns out, her plan worked perfectly, it was just.... Delayed."
Magnum: "WHAT, PLAN?!"
Deathslaughter: "Well, you see, mental illness and dark magic really kinda don't mix well togather, so, when Princess Gummy became sentient and more then just my imagination, she became quite colorfully dark and interestingly macabe! It, also effected her appearence, and well.... She's only called "Princess Gummy the Bubble Gum Princess" only by name now."
Icky: "......... I, don't like the sound of this."
Another Deathly Screech was heard as a large, tall, insect like figure rose from the ground and looked like something out of an extremely dark Tim Burton Production with abit of American Mcgee on it, with a spiked tiara on her head and with a face that resembles a perfect porsilen mask, but the lower chin turns into a bug manabale.
Icky: "...... AWWWWWWWWWW COME ON?!"
Music started to play!
(Princess Gummy began singing this!)
The heroes do battle with the singing Princess Gummy!
Jakamor looks in shock of this.
Jakamor: "...... I, I didn't wanted this?! I wanted revenge! M-m-m-m-m-m, Maybe, I can be able to do some lib service and re-earn their faver and make them forget this! Heck! I'll blame it on Sea Squirls! Perfect solution?!"
Princess Gummy overwealms them all and defeats even Gazelle as she finally gains and frees Deathslaughter!
Deathslaughter: "YAYYY?! PRINCESS GUMMY SAVED ME?! (He hugs Princess Gummy) Now, let's continue to play with our toys, then finish our job and earn our freedom!"
Princess Gummy screeches as she turned to the heroes!
Jakamor: "..... Better yet...... I can have Deathslaughter wipe everyone's memberies on this and replace them with the Sea Squirl Race attacking us! Genius! An even better plan!"
Princess Gummy loomed over the heroes, as things look bleak.
Gazelle: "...... Everyone, I want to say, that, it was my pleasure to have this final encore with you!"
Princess Gummy reaches the climax of her song as she picked up the Lougers' Van and the HA's ship, and was ready to smash them with it!
???: "MARTEN, PLEASE STOP?!"
Princess Gummy halted and saw a barnity orderly waving for it's attention!
Deathslaughter: "..... Oh hey! Your the nice Orderly from Oranos! Say hi Princess Gummy!"
Princess Gummy snarled softly.
Jakamor: ".... Oh no. Back to making my speech! (Closes the binds!)"
The Orderly: "Marten, please! You and Princess Gummy need to stop! Your doing very un-nice things here!"
Deathslaughter: "Well, Miss Jakako, I was only doing what Mr. Jakamor wanted."
Miss Jakako: "Marten, I kinda have strong reason to believe that the Grand Council might not honor the agreement anymore, because after all this, Jakamor will get impeached for this and his supporters will regret everything.... Provided if they're not as hopeless as he is. That..... That may mean the deal's off."
Deathslaughter was shocked....
Deathslaughter: "(Whimpers, CRIES UNCONTROLABLEY?!) WHY DOES THINGS GO BADLY FOR ME?! (CRIES?!)"
Miss Jakako: "Oh, it's okay baby, I'm here, I'm here."
Deathslaughter flew off and went right into Jakako and embraced him and comferted him.
Miss Jakako: "There there, Marten, it's okay, it's okay, shhhhh, it's okay. (Stares sternly at Princess Gummy) As for YOU young lady, apologies to the entire planet and the nice heroes and go back into Marten's mind!"
Princess Gummy: "(Surprisingly Child-like voice) But Missus Jakako, they were being mean to me and Marten, and one of them wanted to kill us?! That's why I emerged! And the male Sea Squirl insulting me didn't helped, along with everyone else?!"
The heroes stared blankly at Xandy.
Xandy: "..... OH PARDON ME FOR OVER-REACTING?!"
Miss Jakako: "Well who's fault is it encouraging Poor Marten to go to deadly extremes?"
Princess Gummy: "..... Okaaaaaaay. (Starts to fade) I'm really swaorry. (Completely vanishes)."
Miss Jakako: "(As she places Deathslaughter in a pet carrior) I am, so sorry about Marten. My superiors were forced by Jakamor to let him out. And I was doing SO well to make him better, but then Jakamor had to go and encourage his and Gummy's bad behavior. Please don't be mad at them."
Gazelle: "...... Don't worry, we won't hold it against him."
Duke: "Espeically if his imaginary friend would kick our asses otherwise."
Xandy looked unflintching.
Hudson: "..... Xandy, what did we talk about?"
Xandy: "AW COME ON, DO I HAVE TOO?! BOTH OF THOSE FREAKS TRIED TO KILL US?!"
Tollund: "To be fair, if it wasn't for Jakamor, NONE of this would've happened?! Now stop being as bad as when Xerxes messed with ya and get over it?! He basicly has your problem, if not slightly worse. Think about it! If not for Hudson, who'd to say you wouldn't be in his shoes by now?"
Xandy thought long and hard, and, sighed in defeat and anger withdrawl.....
Xandy: ".... Okay, okay...... Marten, as much as I would be the BIGGEST insult to my race to say this, but..... I won't, ENTIRELY, blame you for nearly destroying my race. Everything, is solely Jakamor's fault! I'll, respect that at the least."
Xandy walks off.
Clifton: "..... Word of advice, Miss Jakako? Try and make sure Marten never crosses Xandy's path again, or, any Sea Squirl for that matter.... Just to be safe."
Miss Jakako: "Duly noted. (Leaves with Deathslaughter)."
Serpentos: "..... This, admitingly, gives me an entirely new perspective on Deathslaughter."
Icky: "Well, that's that I suppose-"
The Soldiers surrounded the Sea Squirls.
Icky: "..... Oh yeah.... There's, there's still the goverment issue."
Jakamor came out.
Jakamor: "Well, ONCE GREAT Heroes Act and Lougers. You may've ruined my champion against the Sea Squirls, but it does NOT change anything! Perhaps Marten ended up being over-kill, but still! This does not change the fact that the Sea Squirls are respondsable for his existence as he is now, because, just as much, they're respondsable for the VA, because they could not handle being the under-atthiver race, consisting of generic, mundane, boring, cowerdly, and not even that advance collection of ugly backwoods red-necked white-trash rodents?! By my order of the law, they STILL deserve to be destroyed?!"
Icky: "...... Dude...... Seriously? The world was nearly wasted by a mantis taking advice from an elderrich abomination of an imaginary friend, everyone nearly died, even us, even YOUR ASS WAS ALMOST GRASS, and even then, AFTER ALL THAT, YOU STILL WANT TO WIPE OUT AN ENTIRE RACE?!"
Jakamor: " Now don't go peg me as ignorent of unfortunate circumstances. I mean, let's be honest here, "Heroes". In all fairness, this only happened because you heroes were too infaverably soft-hearted and kept getting in Deathslaughter's way?! Had you just LET HIM DO HIS JOB, then maybe he didn't had to do what he did?! WAS IT REALLY, HARD FOR YOU MISFITS, TO LET THE UNIVERSES HAVE OUR REVENGE AGAINST THAT HORRORABLE, SINFUL RACE?!"
Some Sea Squirls began to cry and whimper as they cuddled and embrace their families and loved ones!
Shrek: "..... (Sarcasticly) Oh yeah, look how deplorable it is, on how they are (Seriously and stenfully) FEARFULLY SAYING GOOD BYE TO THEIR FAMILIES AND LOVE ONES?! REAAAAAALLLLLY EVIL?!"
Squidward: "You disgust me!"
Jakamor: "OH COME ON?! ARE YOU FORGETING WHAT A SEA SQUIRL DID?! HE FOUNDED A FORCE THAT DESTROYED THE ONCE BEAUTIFUL JENOVIS?! MY PEOPLE'S HOME?! I..... I lost my family to them..... AND ALL BECAUSE XANDRONIAN WANTED HIS RACE TO BE RECKINDISED AS MORE THEN THE GENERIC AND COWERDLY WASTE OF EVOLUTION THEY ARE?! HOW IS THAT FAIR?! HOW IS IT FAIR THAT YOU PEOPLE GET TO NEARLY DESTROY THE META RACE, AND YET NO ONE BATS AN EYE, BUT WHEN I TRIED TO DESTROY THE SEA SQUIRLS, EVERYONE THROWS A SHIT FIT?!"
Lord Shen: "First of all, what happened with the Metas was an accsident at best! That was an act of punishment by a benvolent spirit being prevoked into it by Xerxes' own irrational misuse of the diamond! And even then, it was a punishment that was eventually corrected by a villain from our universe! Second...... You are blaming an entire race, for the actions of clearly just ONE, SINGULAR, PERSON?! I mean, yes, it's disgusting to know that your emotions were malmitulated like they were! But at the end of the day, it is STILL solely the VA's fault, Xandronian NOT withstanding! I can understand and sympatise with your pain, but your failure to accept the fact that using Deathslaughter was a clear mistake, our interfearence or not, and still insisting on destorying the poor creatures after everything, proves that you are indeed UNOWRTHY OF RULE?!"
Jakamor: "PREPOSTERIOUS, YOU FALLEN HEROES?! I AM A GREAT LEADER?! AM I RIGHT, FELLOW COUNCILERS?!...... (Everyone looked angrily at him)...... Uh, Fellow Councilers? (Such Councilers get closer) Fellow, fellow councilers?"
Later...
Jakamor: (He was placed inside an elaborate electric chair as he was struggling with guards trying to keep him from getting off) NO, NOOOO!!! LET ME GO, PLEASE!!! DON'T DO THIS!!!!! OKAY, I ADMIT, MAYBE DEATHSLAUGHTER WAS OVERKILL AND MAYBE HE COULD'VE BEEN BETTER MANAGED, BUT IN MY DEFENCE-
Warson: HUSH UP!? Jakamor Avinsky Hazamonza, for the mass murder of millions of innocent people and sea squirrels alike, treason, manipulation of higher powers, and conspiracy against the Grand Council, you are to be sentenced to death. Please know that otherwise it pains me to do this to you, in that Jenovis was a very severe victim of the VA, but it is being done because now people have turned their revenge hungry anger on you! And alas, your death is the only way to properly restore their faith in goverment.
Jakamor: WARSON, PLEASE?! I WAS ONLY AVENGING MY HOMEWORLD!!!! IT WAS NEVER ANYTHING PERSONAL TO YOU?! IF YOU HAD YOUR HOMEWORLD DESTROYED IN SUCH A DISCIPABLE FASTION, YOU'D UNDERSTAND?!
Warson: Well, now you can tell the poor souls of those that did died in the Jenovis invadtion in the Boundary Cluster about how you shamed them and spilled endless gallons of innocent blood in their name. You will surely know the pain and torment you put all the people you killed there.
Jakamor: NO, PLEASE!!!! (He was strapped in the chair begging as Clifton had left a wet zongue on it) COULDN'T I JUST AS SIMPLY BE EXSILED BEYOND BOTH UNITED UNIVERSES?! NO ONE WOULD EVER HAVE TO SEE ME AGAIN?! FOR KRAAN'S SAKE, HE WOULDN'T WANT THIS FROM YOU ALL?! PLEASE?! DON'T DO THIS?! I BEG YOU- (The lever was pulled and Jakamor was graphically executed off-camera) AGAGHHHHHHHHHHHHHHHHHHHHHHHHHHHHHHHHHHHHHHHHHHHHH...
Icky: ".... Yeeehhhh. Talk about going the way of Robot Chicken Joker."
Lotus: "Ugh, and we just cleaned this floor from the last guy who was being exicuted."
Clifton:... I'm sure he will be a great leader for the merciless Ehaexons!
Hudson: "Well, that depends if they would even accept him, given that he's a mortal."
Zosimo: "And that he went down like a bitch begging for his life."
Samantha got close to the off-camera corpse of Jakamor and pulled out the wet zongue magicly....
Samantha: "..... Clifton, is this your zongue I gave you for one of our annaversieres?"
Clifton: ".... Don't worry, I'll be willing to replace it soon, dear."
SpongeBob: That was pretty merciless of you to put that zongue in the chair, Cliff.
Clifton: I lost all mercy when he had my father killed, even when Jakamor had his reasons for it. And yes, Councilers, I will pay for the clean-up of the mess.
Galeno: "Oh, don't worry, you're, not the first guy to put something wet on the electron chairs to make it worse on these kind of guys then it had a right to be, this sort've thing's common."
Clifton: "Well, at least this nightmare is over."
???: "More like it's the start of something else."
Jling Sling was seen with some gaurds.
Jling Sling: ".... Now, by all means, I'm willing to agree that Jakamor was a severe case of idiots gone wild, but just because that was the case, that doesn't mean that Sea Squirl hate just, MAGICLY ends, or at least, not in the way that it did for Phends or other discriminated creatures. There's still gonna be people that would dare brush off Jakamor's crimes as him simply being too ambitious and him not planning for this to backfire. Worlds, are still hurt by Xandronian's respondsability in the VA, and I can't promise that ending Jakamor's miserable existence would just get them to start liking Sea Squirls! If anything, now that they're going to be given an impression that the goverment's not doing a thing to the sea squirls anymore, they'll just take a number from the book of Phend hunters and just start going after Sea Squirls themselves, and-"
Xandy: "We already know that, you miserable downer..... That's why the Lougers' universes are offering us a place away from these universes until people are given enough time to reflect those feelings. Call it, an imprompto exsile from these universes."
Jling Sling: ".... A self-made exsile, eh? Well, good. I'll just go to the media and say that this exsile will be made offictated by the goverment so any ravinous fools that still dispise your kind no matter what are contented with something."
Hudson: "Wait, exsile?! But, Xandy helped saved this planet from being accsidently destroyed by Deathslaughter, shouldn't that be enough?"
Jling Sling: "Boy, if Jakamor failed to really give a fuck about that, possable mental illness aside, what makes you think alot of other victims of the VA would? If anything, they'll scratch off his excution as another case of the goverment being incompident and still see him as the victim, who's only crime was trusting a product of the VA to eliminate the Sea Squirls, of which, mind you, ONE OF THEM WAS STILL RESPONDSABLE FOR?! The fact Jakamor commited one of histories' most grosome genocides, doesn't change the fact that ONE sea squirl, was respondsable for 14 years, of suffering under tyranny of the VA. And to some, living under the cruelty of a group with mistranslated ideals, is ALWAYS, going to be worse then some madman sicing robots on people!"
Hudson: "With due respect, Jling, all your doing is risking Warson to comedicly bonged you on the head like always after these sort've things, cause-"
Warson: "Alas, I'm afraid Jling has a point..... Jakamor's death won't change anything other then giving victims of the VA the impression that we're once again unrelieable for justice..... I'm afraid we do need to offictalised their leaving as an exile, to give them a consolation in replacement of the Sea Squirl's absolute extinction."
Hudson: ".... But.... But.... That would mean that.... I would never see Xandy again."
Jling Sling: "(Grabs Hudson forcefully by the neck) Make no mistake, boy?! If she stays, she'll be the constint target of vengeful assassins from worlds victimised by the VA, or friends of victimed worlds! No training would protect her from a surprise killer in waiting! HEAVENS FORBID, SUCH A VENGEFUL TWIT, HIRES A NAAAR ON HER?! IS THAT WHAT YOU WANT?! FOR YOU TO MAKE A NAAAR BUTCHER VERY HAPPY?!"
Hudson: "(Starts crying) I, I, I don't want to lose her! In any which way!"
Jling Sling: "Well tough! You should've thought of that, when you fell in love with a Sea Squirl. Now, I must go and give out this goverment offictalised consolation to the said VA victims. (Let's go of Hudson, then leaves)."
Xandy: "..... (Comes closer to Hudson) Hudson, as much as he was being an asshole about it..... He's right. I hate to say it, but..... These universes are not gonna automaticly forgive Sea Squirls because of Jakamor going crazy. It's, it's the only way to keep people from wanting to still kill us."
Hudson: "But, Xandy, that, that.... That might take forever! What if people never change their minds about it?"
Samantha: "(Comes forth) Hudson, please, it pains me as well to lose Clifton once more, but.... It would be more painful for the both of us, if they gotten killed by some revenge seeker or a hitman hired by one. Esepcailly if the hired killer is a Naaar."
Clifton: "Or if they desided to be espeically dickish and sick those kinda assassins on our family and friends. Huds, it, kinda HAS to be this way. If people are given SOME satisfaction that the goverment is tough on controverseal races AT ALL, then, they'll be given a chance to calm the fuck down about Xandronian's existence and think things through. Even if it's only Xandronian's fault the VA was a thing, it doesn't change the fact that people still suffered, because they lost loved ones to the VA too. Not helping that the Sea Squirls being legit victims of the VA via Xerxes was also considered to be nothing more then a phoney baloney trick, and that Xandrony only made the VA to further a crazy agenda of making Sea Squirls more impourent then what we had any right to be, AND that he was making a bomb to turn people into Sea Squirls! Alchourse people would get PISSY about that!"
Hudson: "It's, (cries), it's not fair. Things, things are suppose to get better after the bad guy's gone!"
Icky: "(Sighs), It doesn't always work like that, kid. Sometimes bad guys are only the syntom of problems, not always the shorce. The problem doesn't always go away just because a main instigater, gets the axe, (Points to Jakamor's unseen corpse) or even the chair for that matter, espeically even if the ones who were suffering from him, are the ones that saved the day."
Gazelle: ".... Things, don't always end well because of the right thing being done. Believe me, I am someone who would love nothing more then anything to do more to this situation, but... Learning from what went on with the Phends, there will be people who would seek bloodlusting vengence because of the actions of individuals who do not always accreately represent a large group. The only way to sooth those that are in pain from the actions of even only one individual, is to give them something."
Duke: "Yeah. This way, with the Sea Squirls in our universes, it'll be the old "out of sight, out of mind" approuch. The less likely they see or hear of sea squirls, the more their pissed off attatudes torwords them eventually die out, or lessen, at the least. In that time, the Grand Council will try to fix those espeically mad-at-them worlds to see things in their prospective, maybe even remove some unfit leaders along the way, espeically another Jakamor. It may be balls to the walls long, but, it'll get things done."
Hudson, finally broke into crying and plopped to the floor. Xandy picked him up and hugged him solumly. The other HA heroes joined as well.
The Lougers and the remaining Main Councilers looked on sorrowfully.
Calixto: ".... Do we really have to go through with this, Warson?"
Warson: "..... We have no other better opitions. Like how Jling warned.... If the Sea Squirls stay.... Then it will only get more tragic."
Shifu: ".... Warson, you have our word that the Sea Squirls will be protected from further harm in our universes. This you have our solum oath on."
Transcript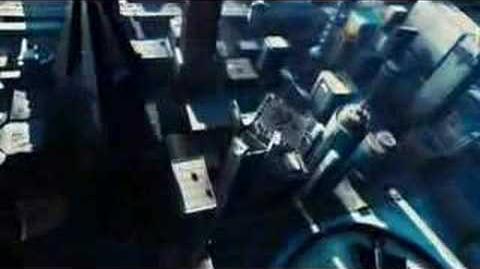 Intro (Ultraviolet Soundtrack- 24 by Jem)
Chapter 1: The End Begins
Chapter 2: Deathslaughter
Chapter 3: Xandy's Doom
Chapter 4: Seeking Help From the Shell Lodge Squad
Chapter 5: The Great Timer
Chapter 6: 72 Hours Until Extinction
Chapter 7: Great Timer's Hidden Cottage
Chapter 8: 24 Hours Until Extinction
Chapter 9: Operation: Relocation
Chapter 10: The Hydrocabiais Get Rescued
Epilogue