Hank Jr. is up to his no-good tricks again. He steals the forbidden blueprints to the most famous genetic device: The SPORE Machine. He builds his own illegal duplicate, and uses it to create an army of mutant soldiers, as well as a few monstrous guardians. With an army of mutants the size of the the biggest army you can think of, several worlds are conquered. In response to this, Monty and Seven11, who had recently become guardians of the SPORE Machine, but have been labeled outlaws by the Galactic Feds thanks to Hank Jr., come to the Lodgers asking for help. Forced to protect their old friends, the Lodge goes to POI-SON, only to find that it's been taken over by Hank Jr. and his new mutant soldiers and guardians. Hank has been made wanted just like Monty and Seven11 since he created Hank Jr., and the Lodgers are again forced to accompany him. As their adventure continues, the mutants get stronger and bigger. The heroes know that if they don't do something, the mutants could become unstoppable. But once they finally make it to Hank's hideout, they find that the mutant soldiers are at their maximum strength, and are tough to defeat. Hank Jr. even creates a cybernetic monstrosity called 'Sporaclide', which is his ultimate guardian mutant and has killed anything standing in front of it. Will our heroes be the only ones in this conflict to defeat Hank Jr. and Sporaclide and restore order to POI-SON?
Transcript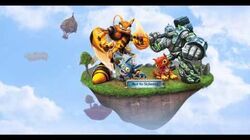 Intro and Climax Theme (Skylanders Giants- Kaos Theme)
Coming soon...
Community content is available under
CC-BY-SA
unless otherwise noted.